✒ Feb. 16, 2018 – Soup Nation, Eugene, OR
We felt like true Urban Sketchers today at Soup Nation. We enjoyed coffee, tea, and cookies to start out, then several stayed for the yummy, warming soup, or bought frozen soup to take home.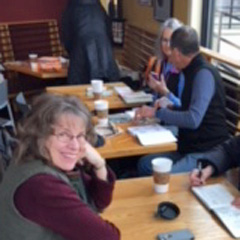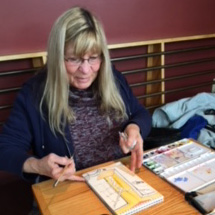 Bev, Sandy, Hugh (with Helga at work); Lena is new to the group but fit right in! Katie is behind the camera & we appreciate that.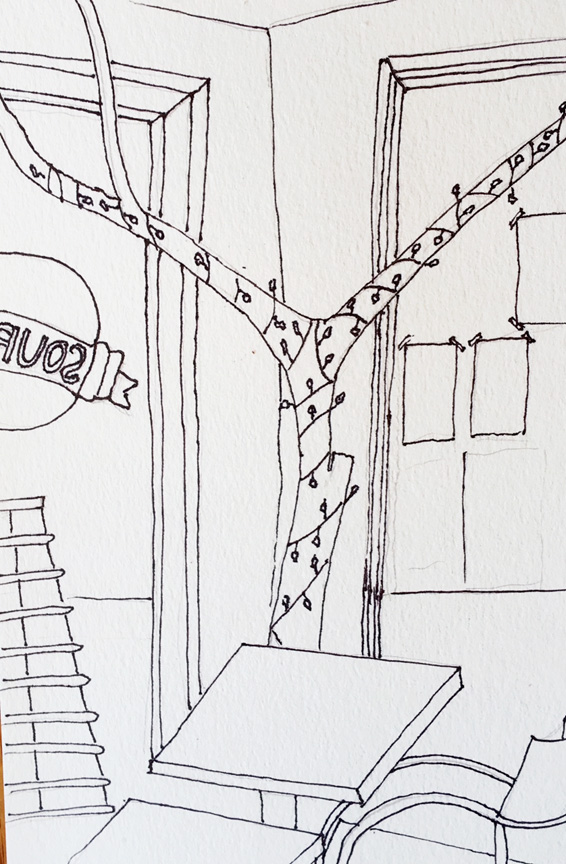 Here is Lena's sketch – great to see how it developed with color.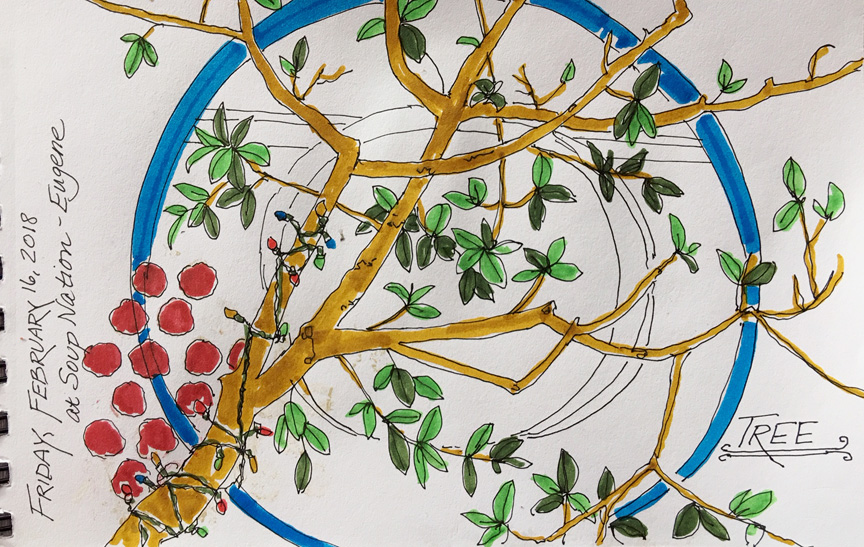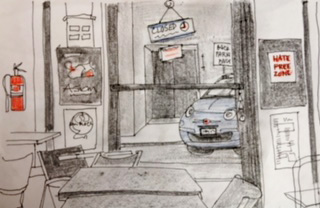 Bev is always prolific – look at the second sketch!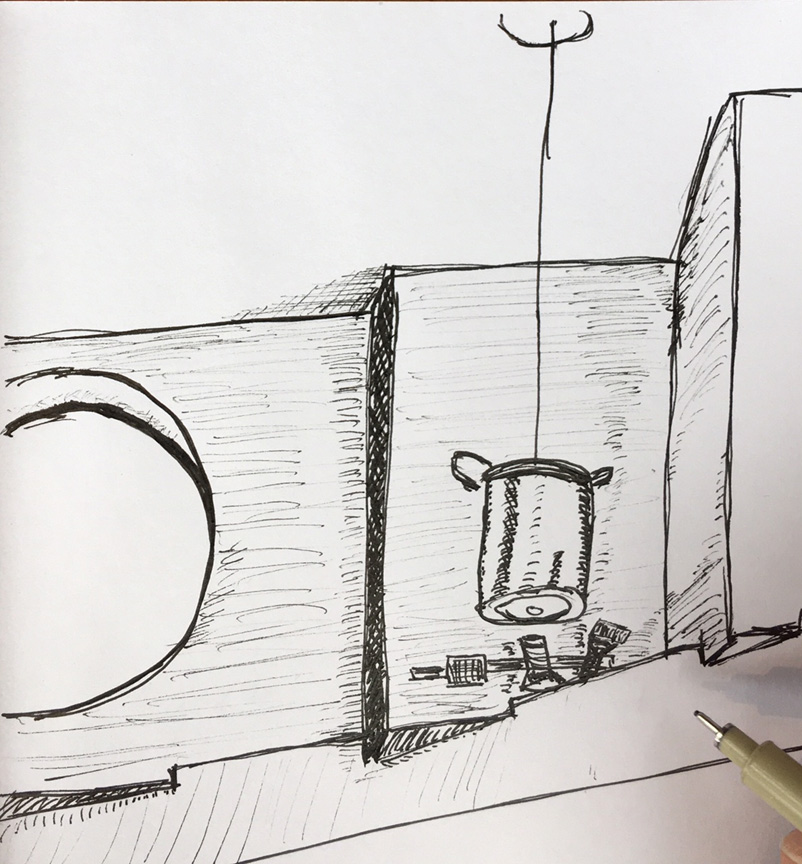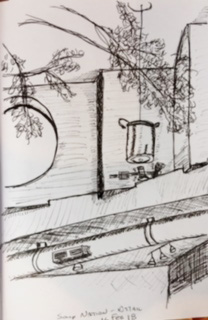 Hugh added quite a bit of interesting detail to his initial sketch.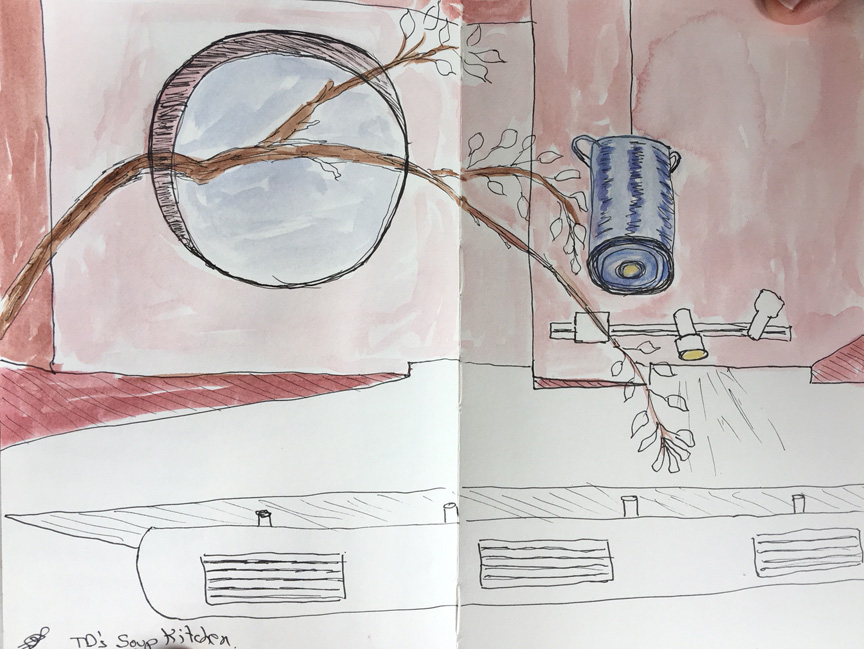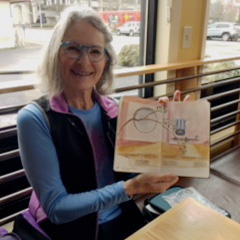 What a difference color makes! Sandy is justifiably pleased.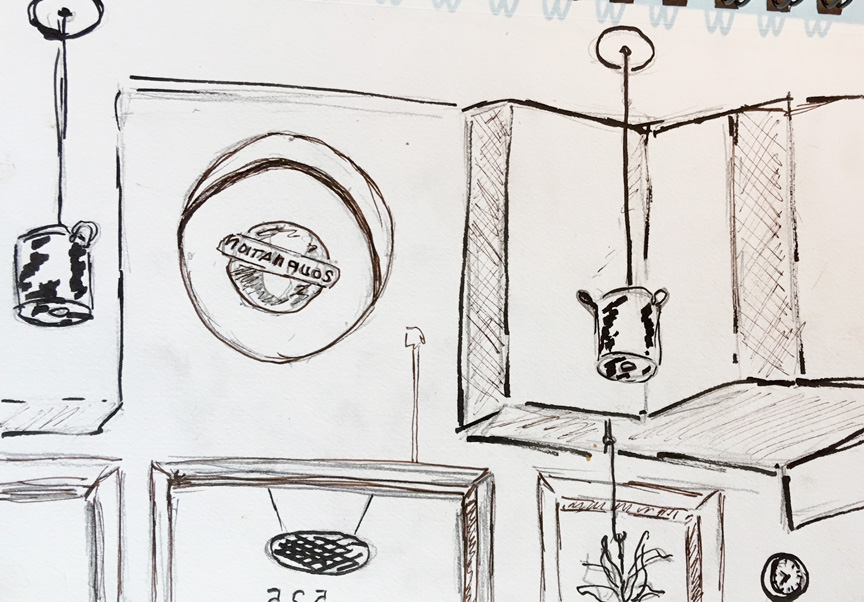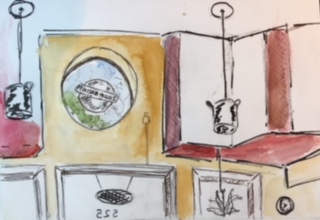 Penny even got the address seen in reverse in the window. Nice!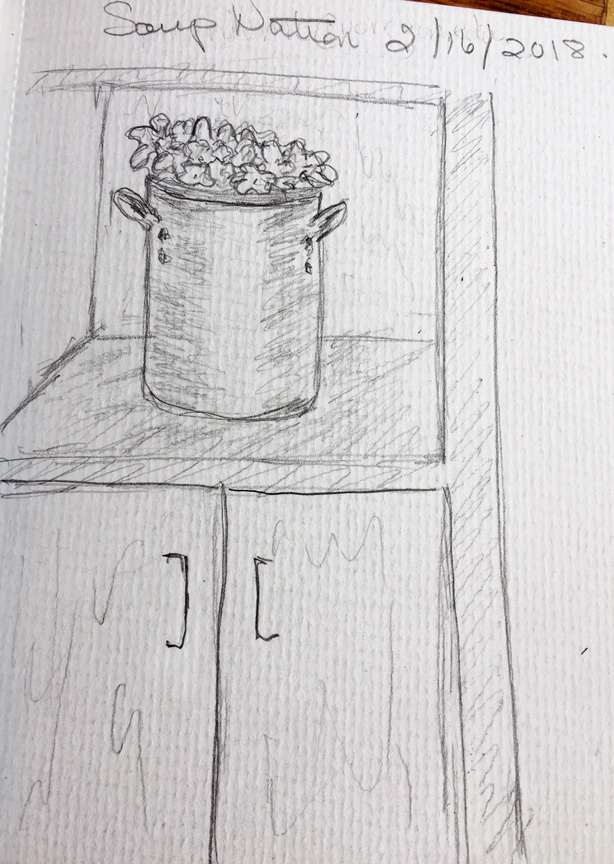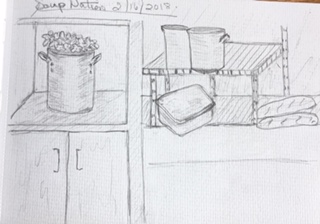 Helga kept adding detail to her sketch – next step may be color, yes?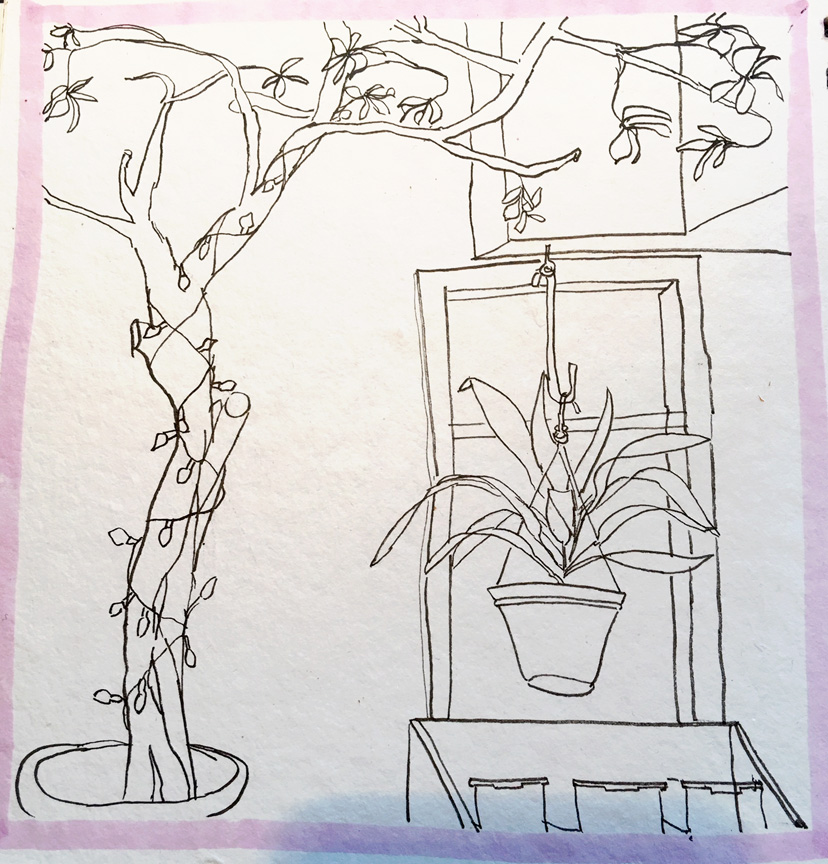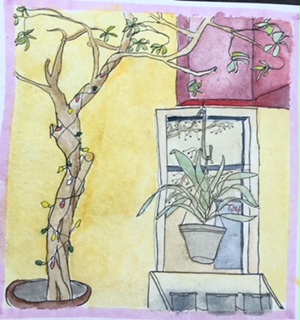 Katie not only took photos, she also did a delightful sketch. Thanks!
✒ Feb. 2, 2018 – Washburne Café, Springfield, OR
Unaccustomed as we are to SUN! (except for Hugh in the shadows), we were happy to sketch back at Washburne Café.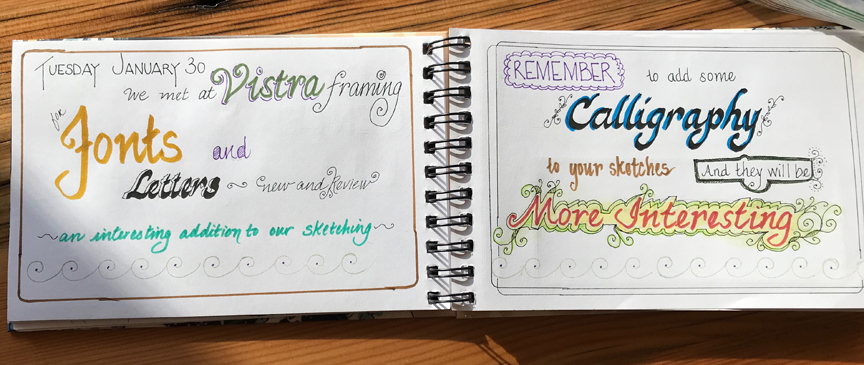 Bev started us out by showing us what she'd done in her sketchbook since our last session on fonts and lettering. Zow!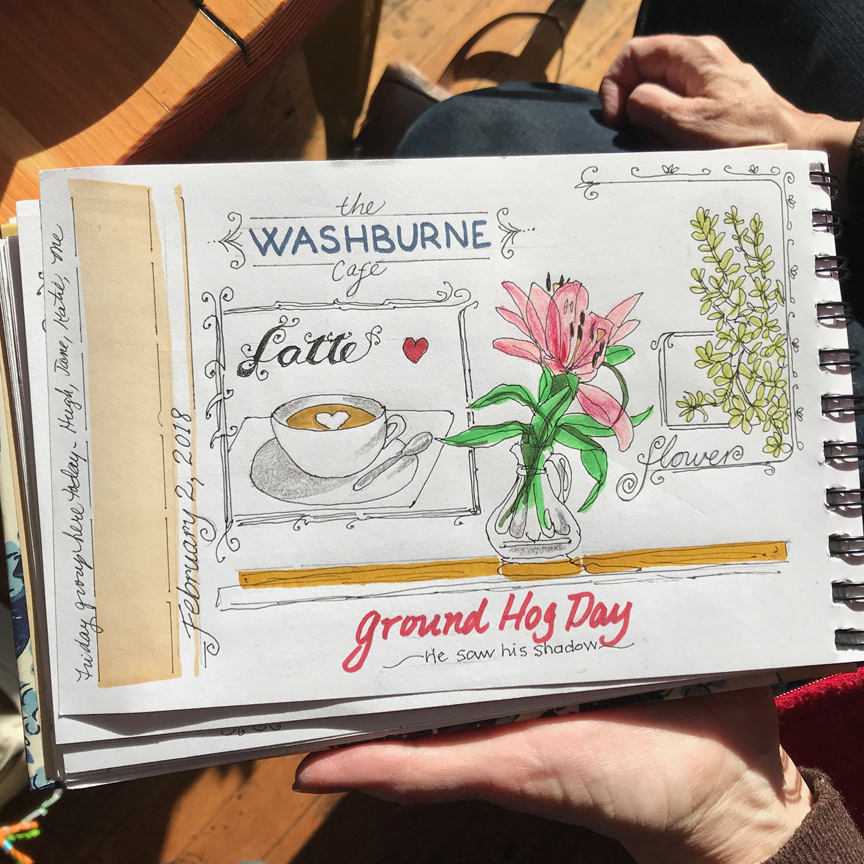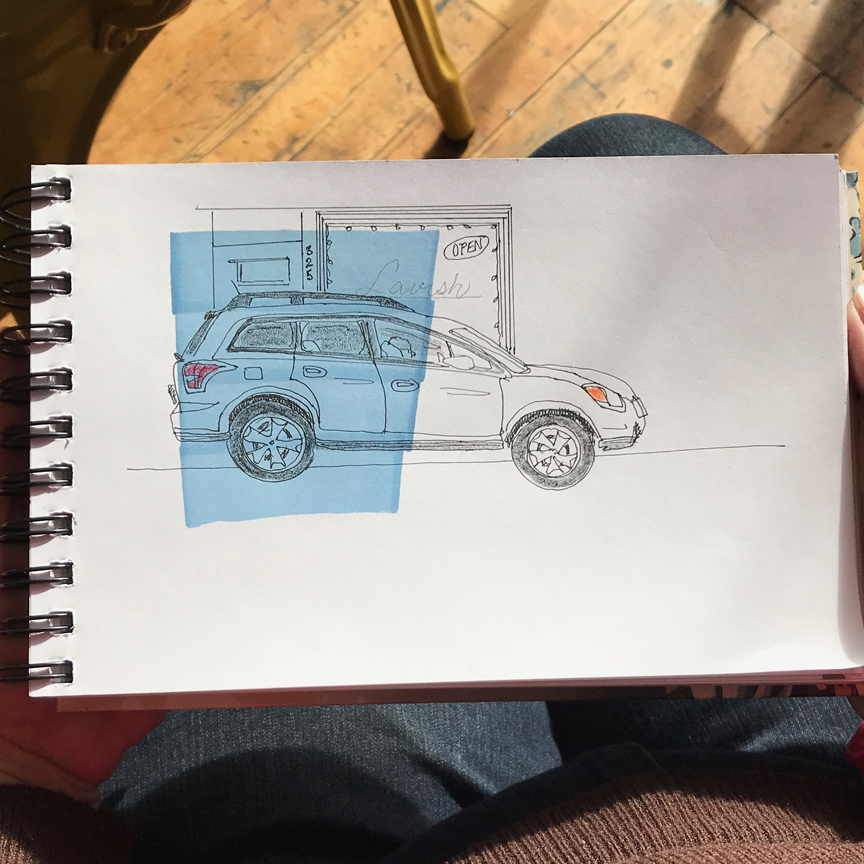 And here's what Bev did today. Note her use of color wash done previously – she hadn't known how it would work, but this did.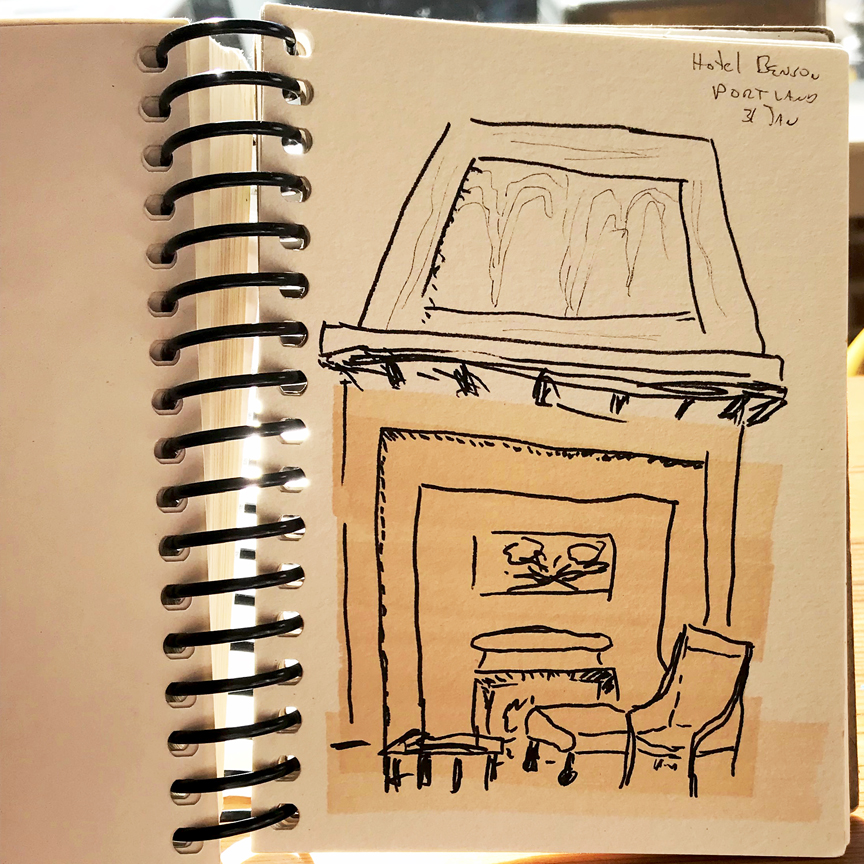 Here's how Hugh used a previously done marker wash – perfect!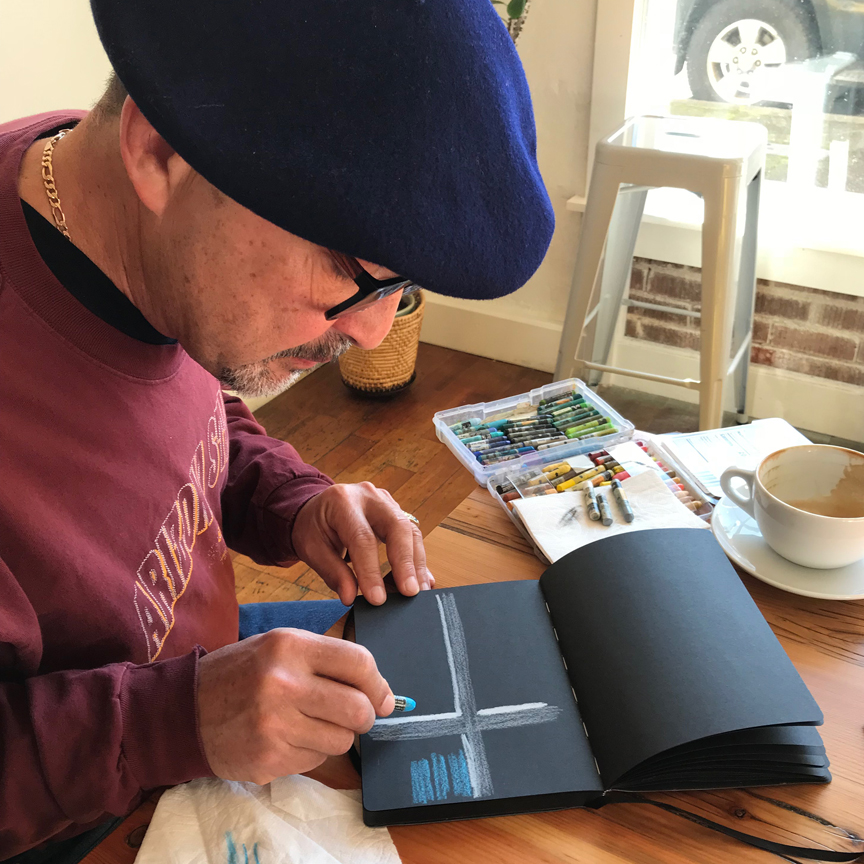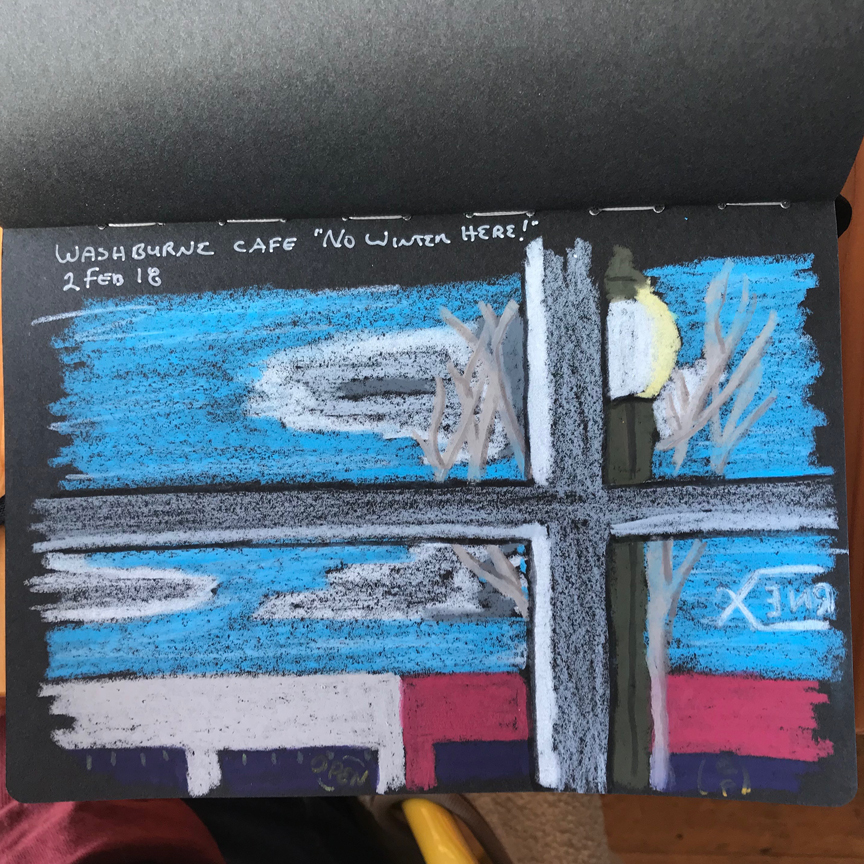 Hugh says he owes a lot to watching how Erik uses wax crayons, including scratching layers off so the next is clean and deep.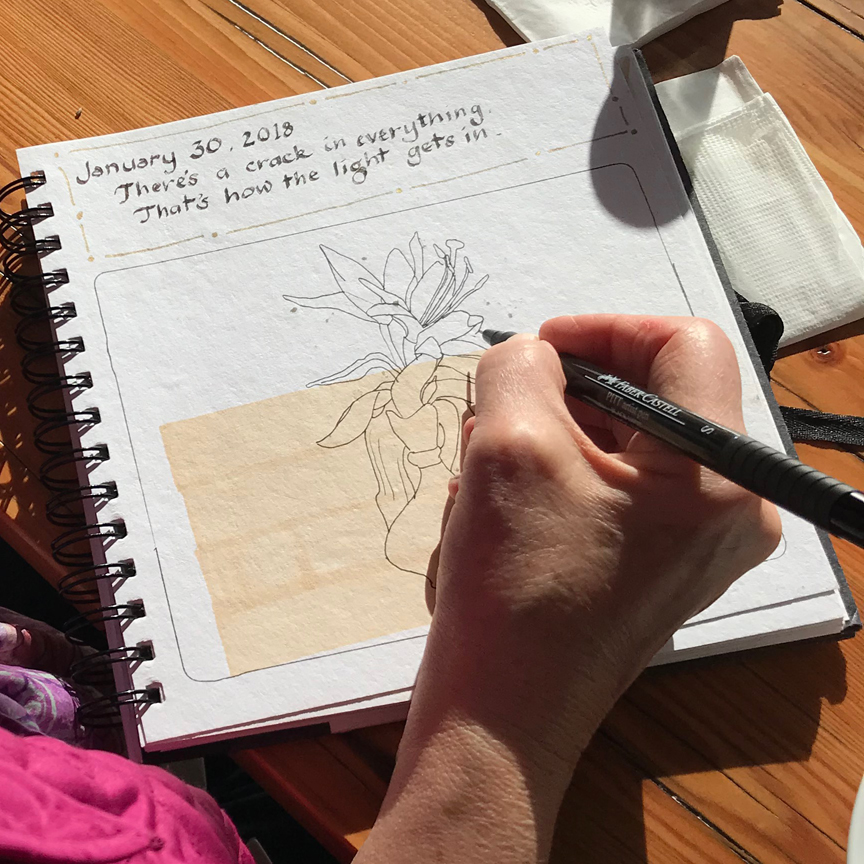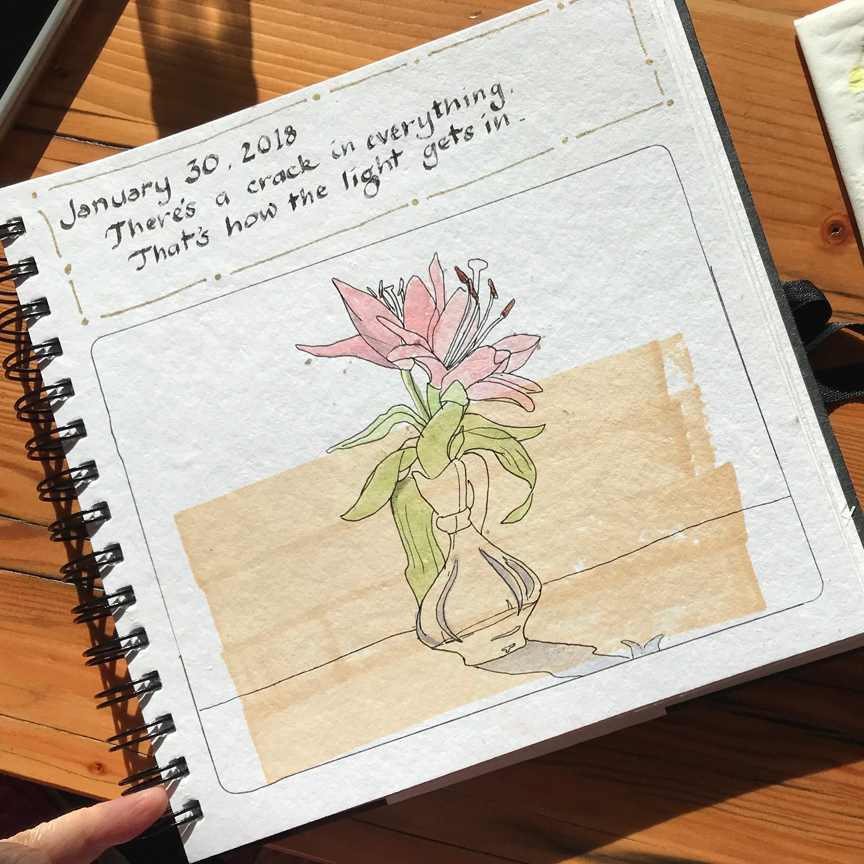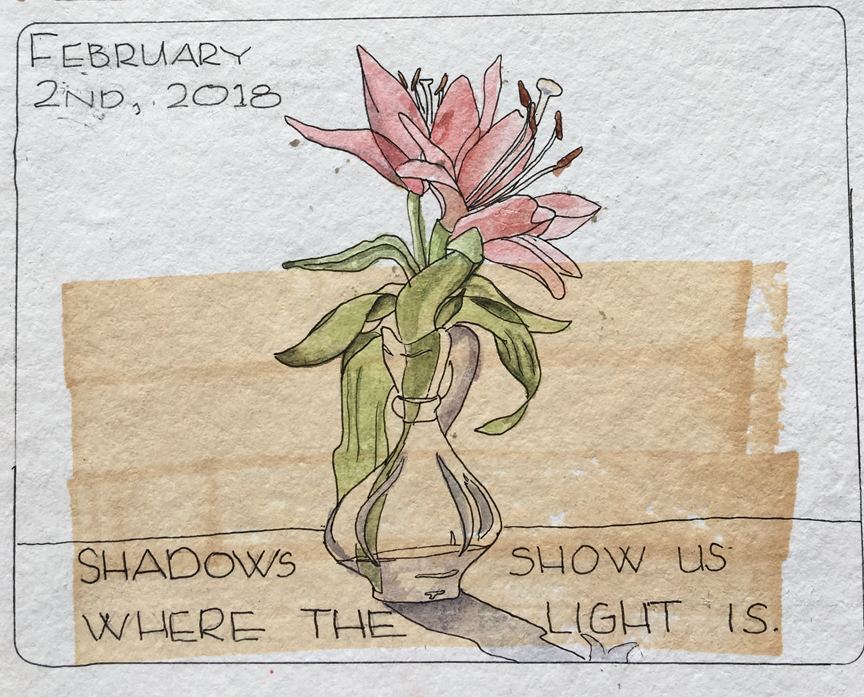 Katie had a marker swash on her page, and look how well it worked for her sketch today!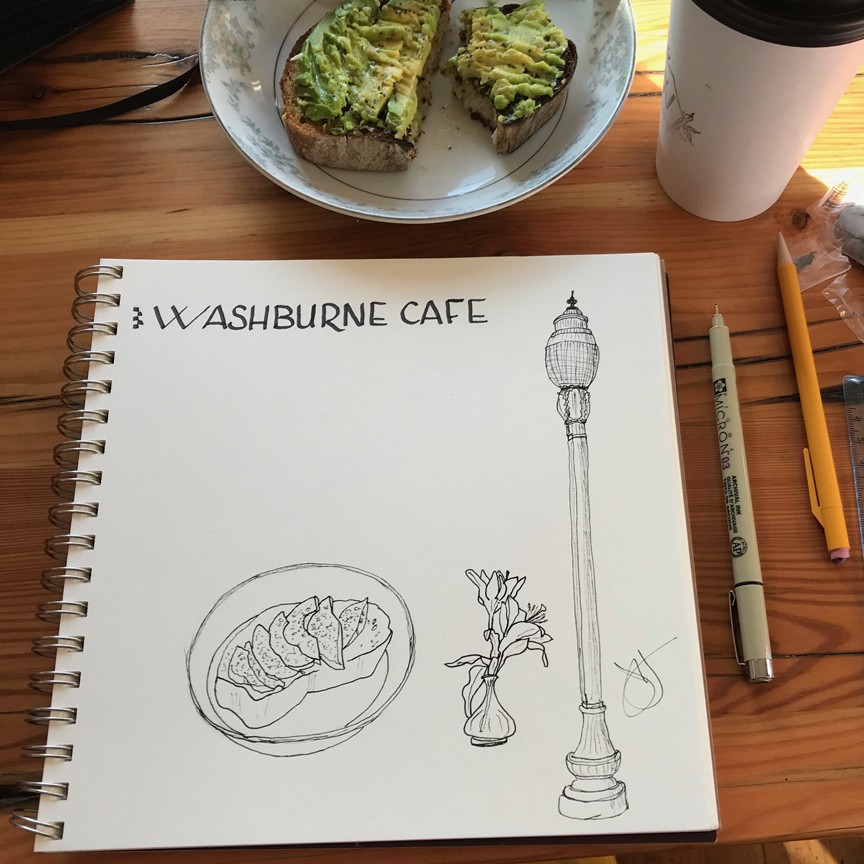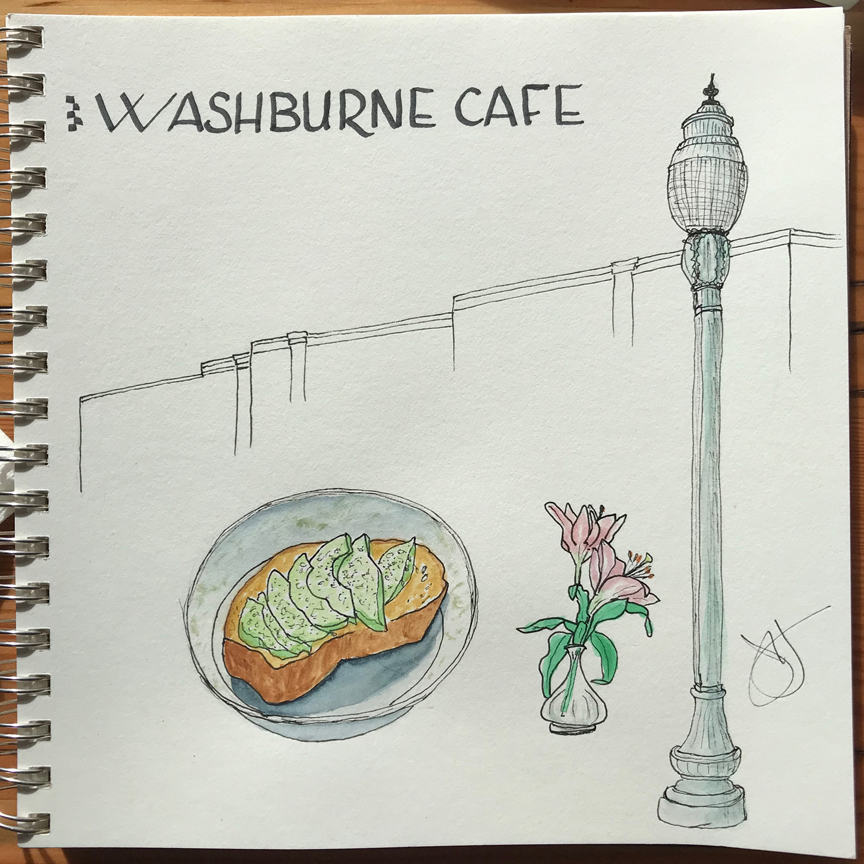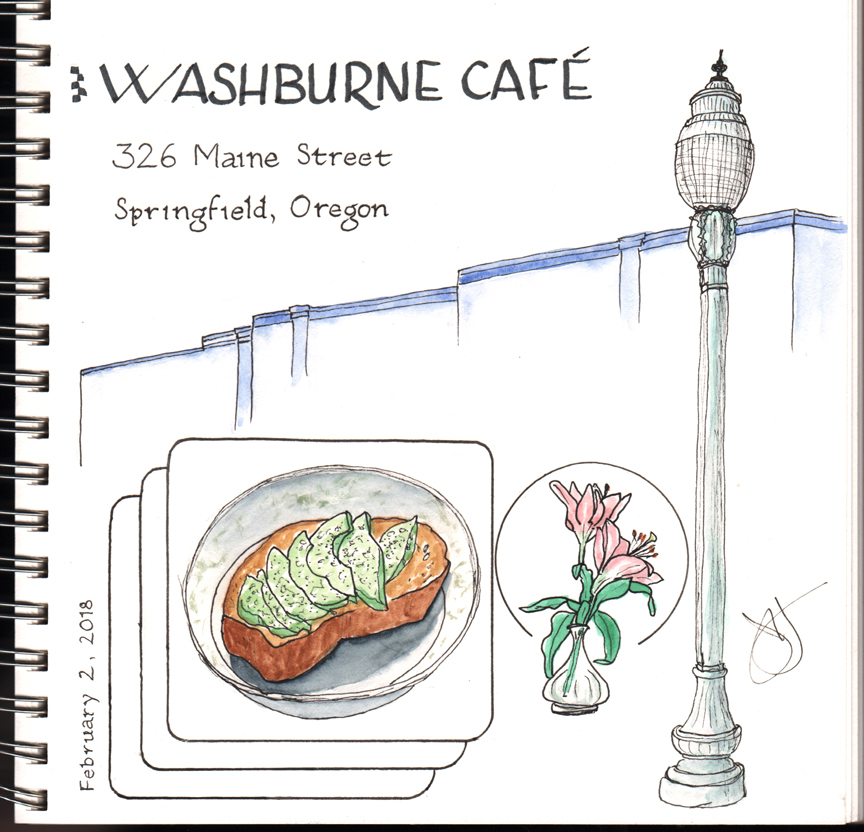 Jane's enjoying putting a whole page of sketches together – it started with the tiny flower, and look what caught her eye to add to it.
✒ Jan. 19, 2018 – Washburne Café, Springfield, OR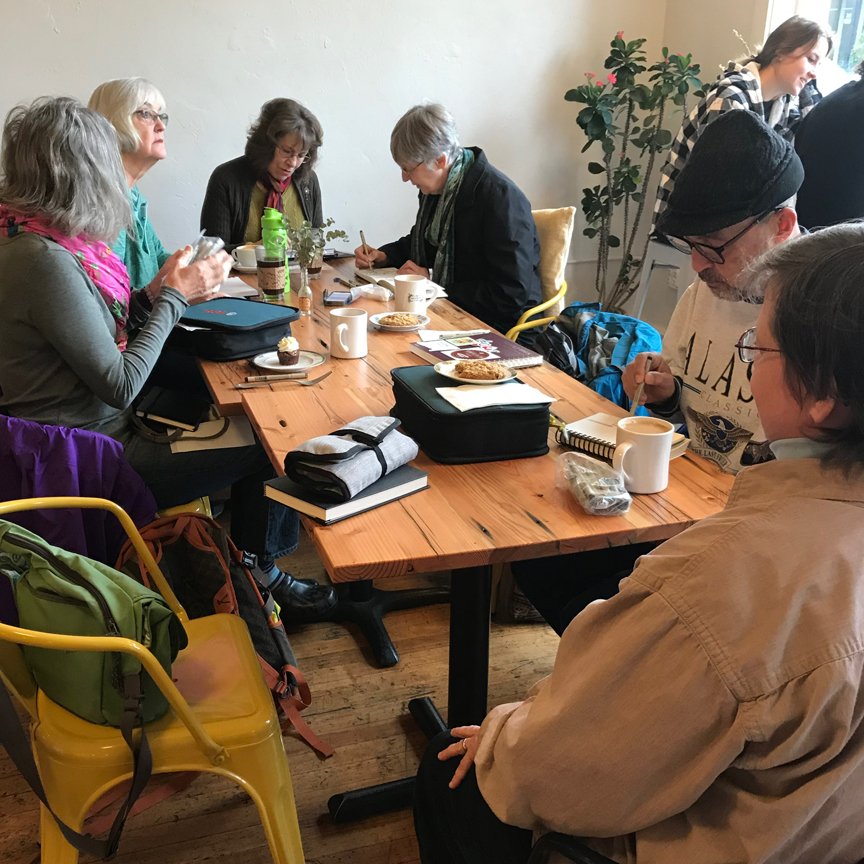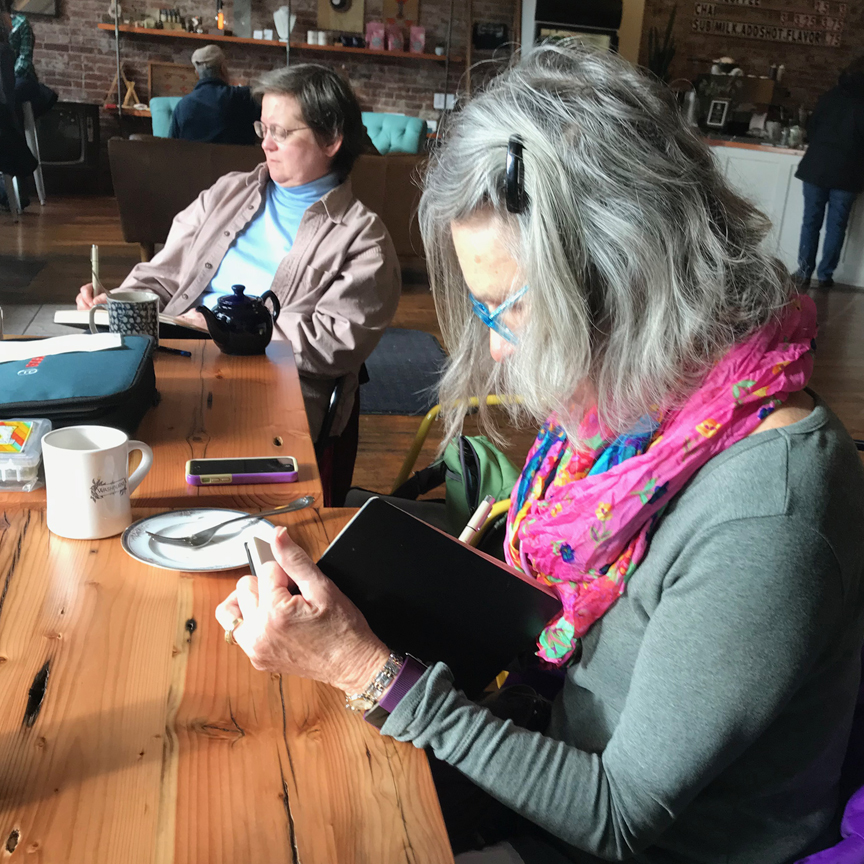 There was great light in the front window here! Sandy, Katie, Bev, Helga, Hugh, & Daisy; then Daisy & Sandy from a front-ish view.


Here's how Bev's pages evolved. Look how she modified the stamp pattern at the bottom of the second page. Now it belongs!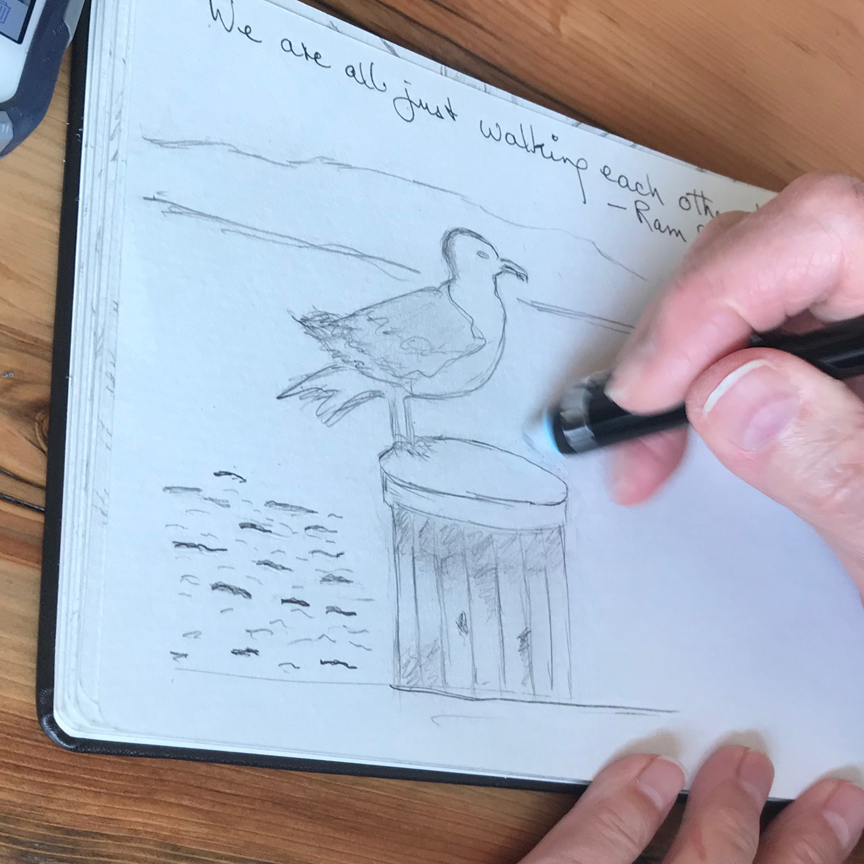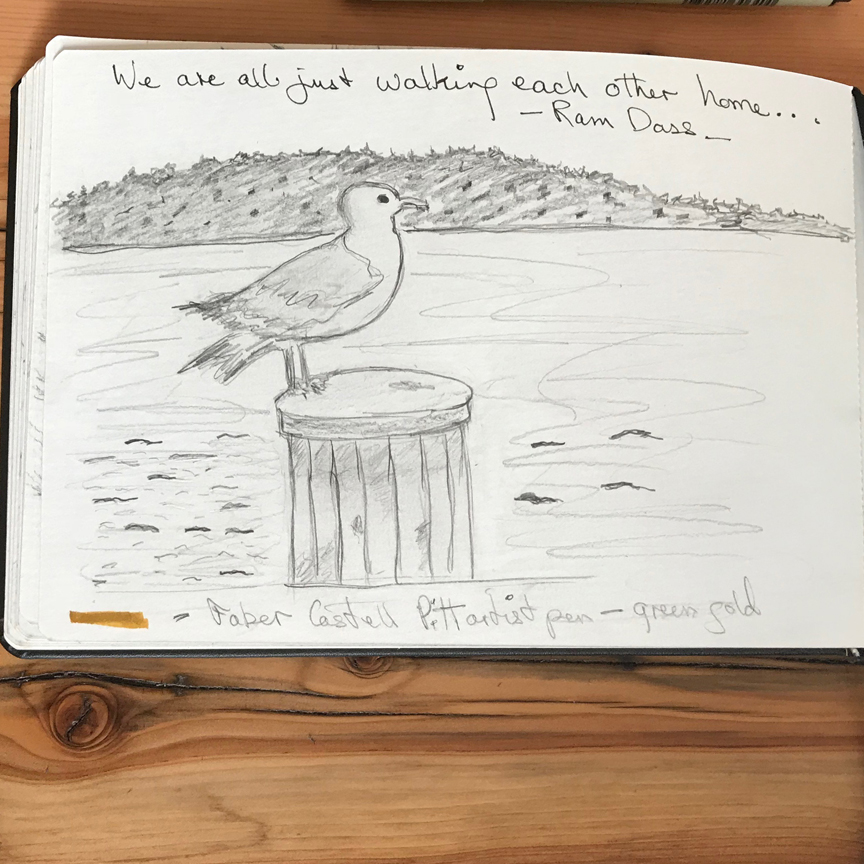 One of the things we like about this group is how we learn from each other – here Helga plays with graphite tricks, & a marker sample.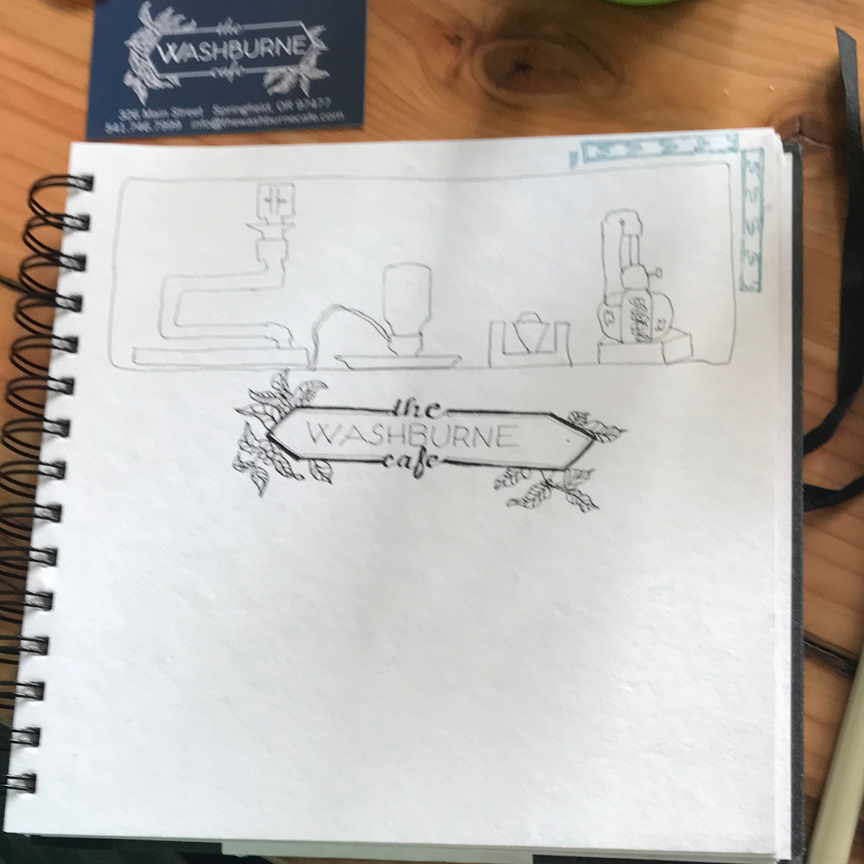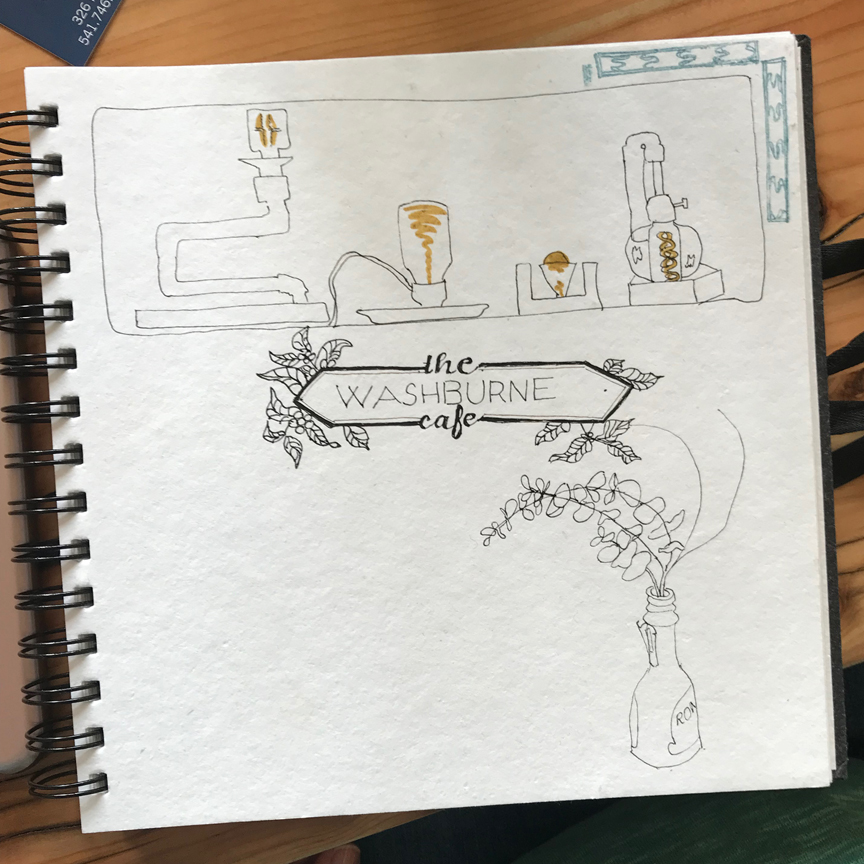 Katie added colored marker to her sketch, and what life it brought!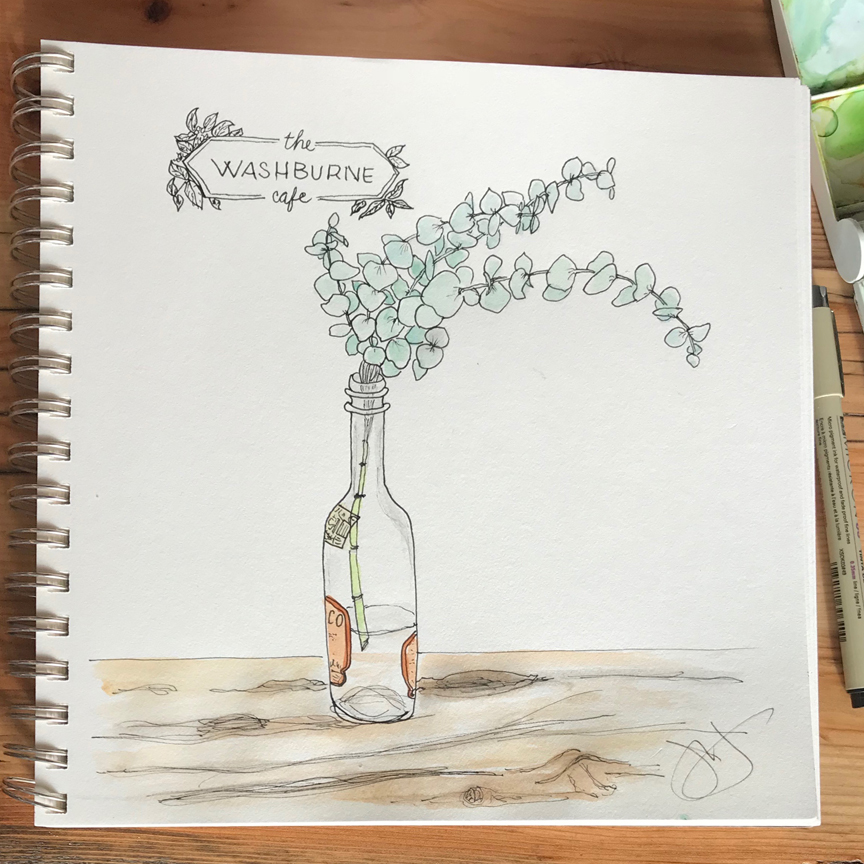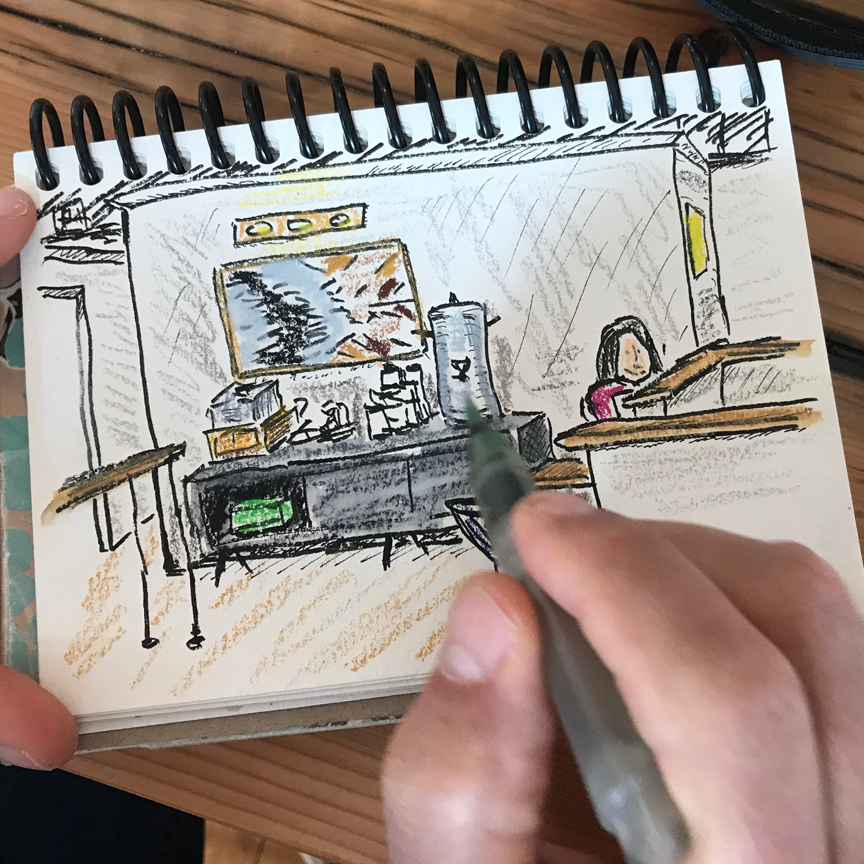 Jane sketched the eucalyptus sprig, too, while Hugh took on the larger view of the room.
Daisy started by sketching the lily in the window until the sun (!) became too intense, then turned to her coffee cup – another challenge! This woman does NOT back down.
✒ Jan. 5, 2018 – Mes Amis Café, Eugene, OR
We really like this little café – cosy and genial for our intents.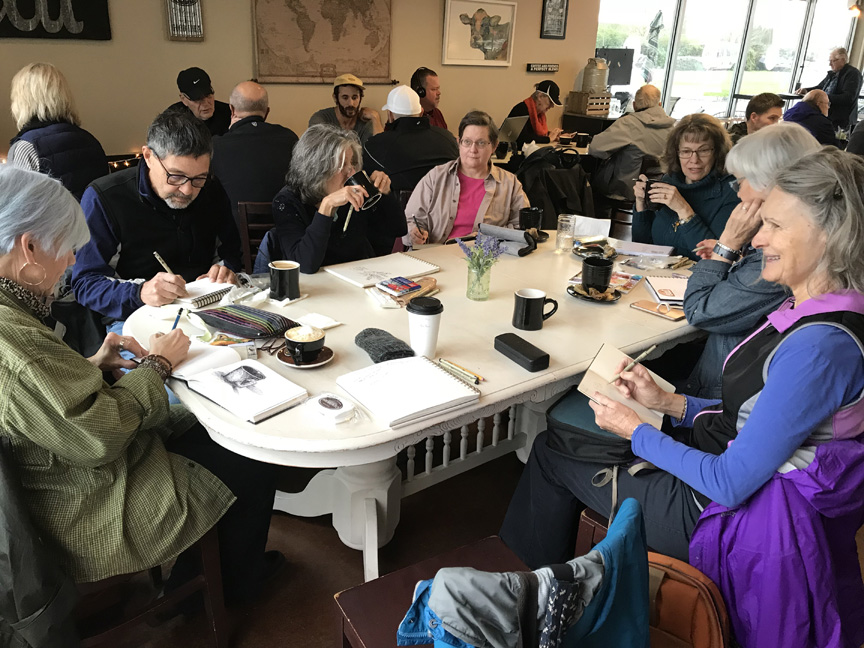 Marnie, Hugh, Penny J, Daisy, Bev, Katie, Sandy (& Jane with camera)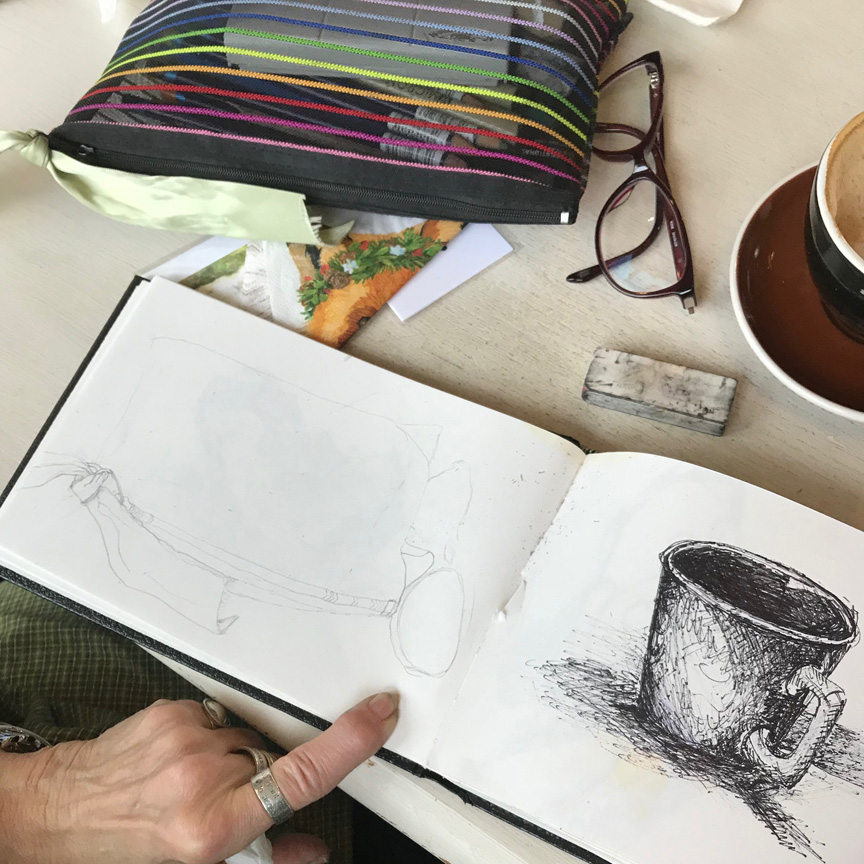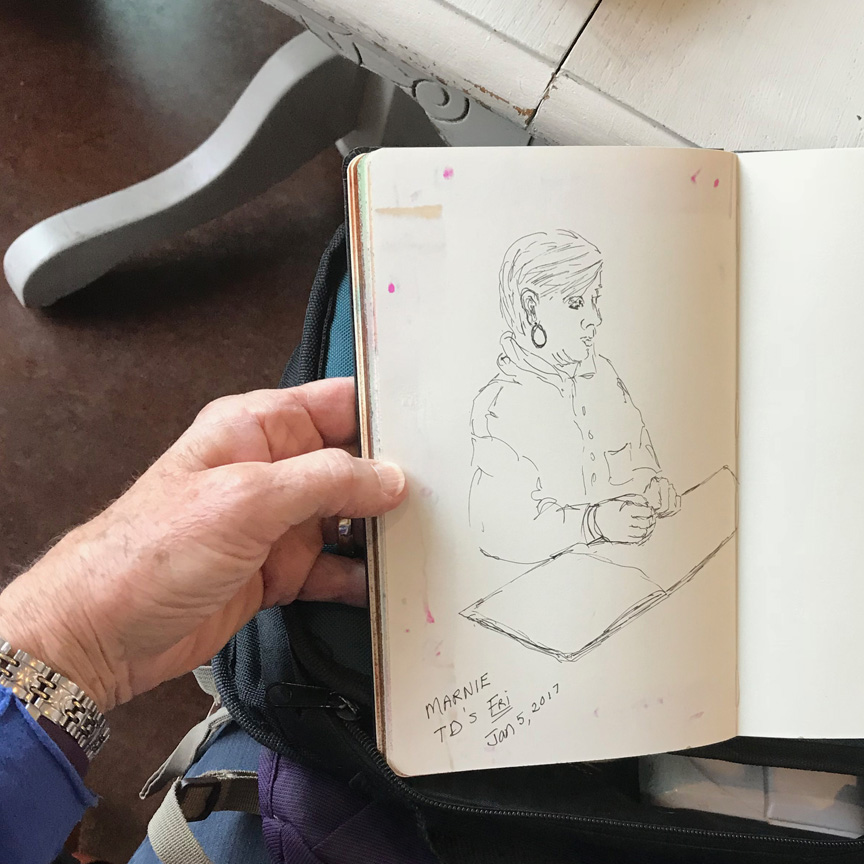 Marnie got right after sketching what was in front of her (across the page from a previous cup sketch), while Sandy sketched Marnie!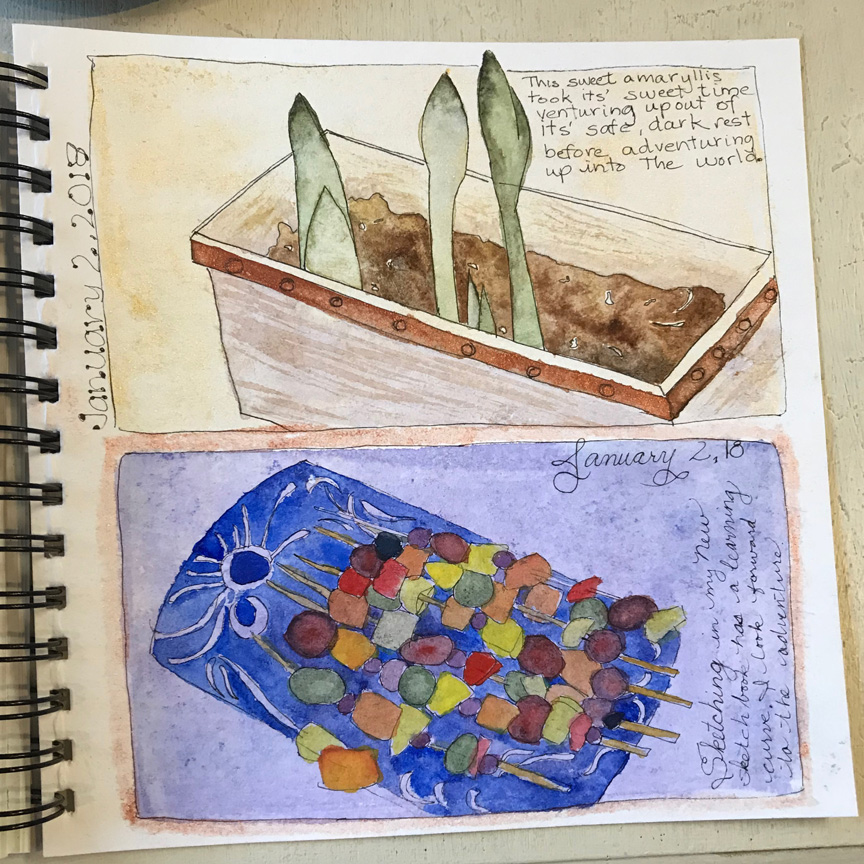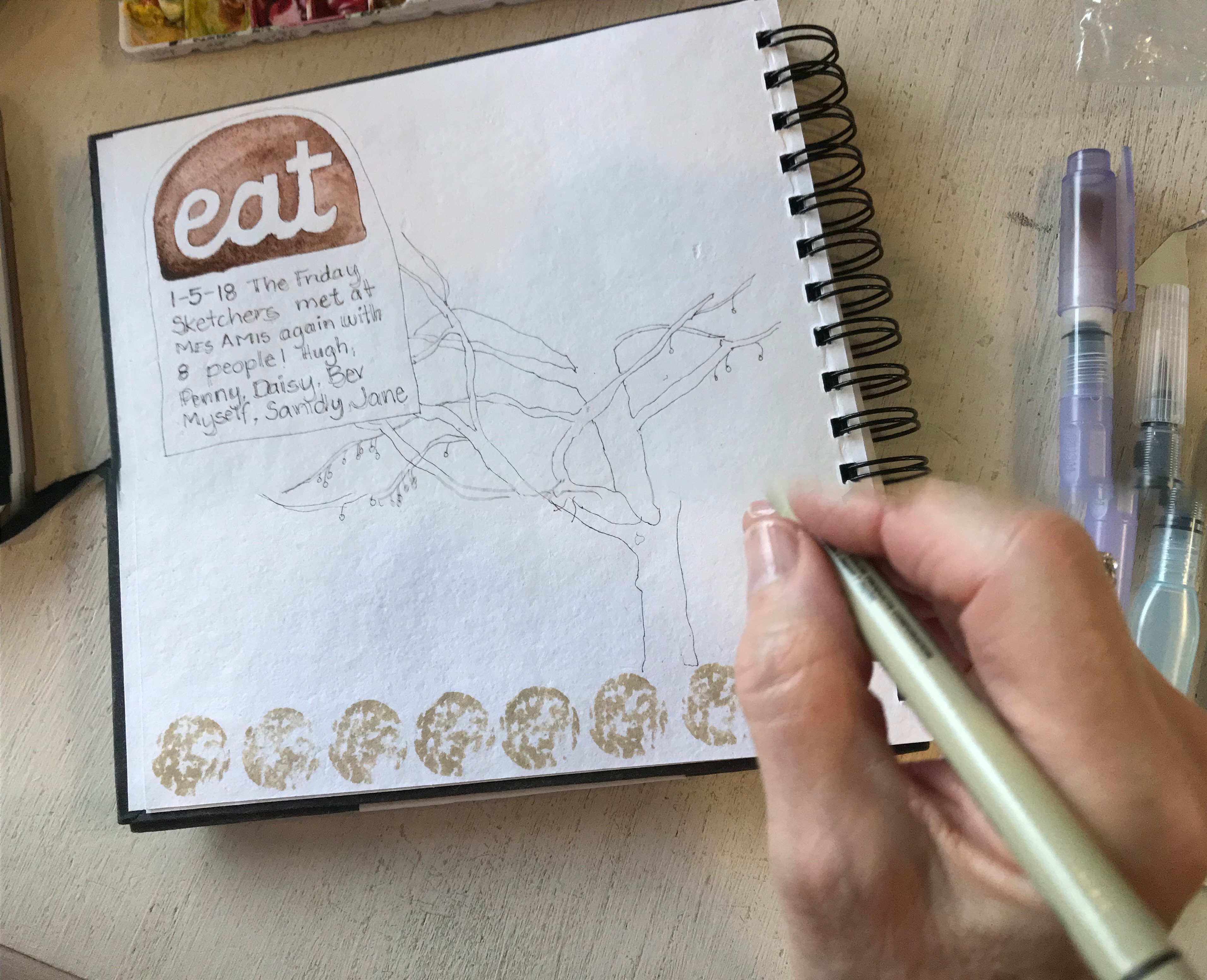 Katie shared some sketches on the washed blocks from Tuesday's workshop, and then sketched on a page with a pre-stamped border.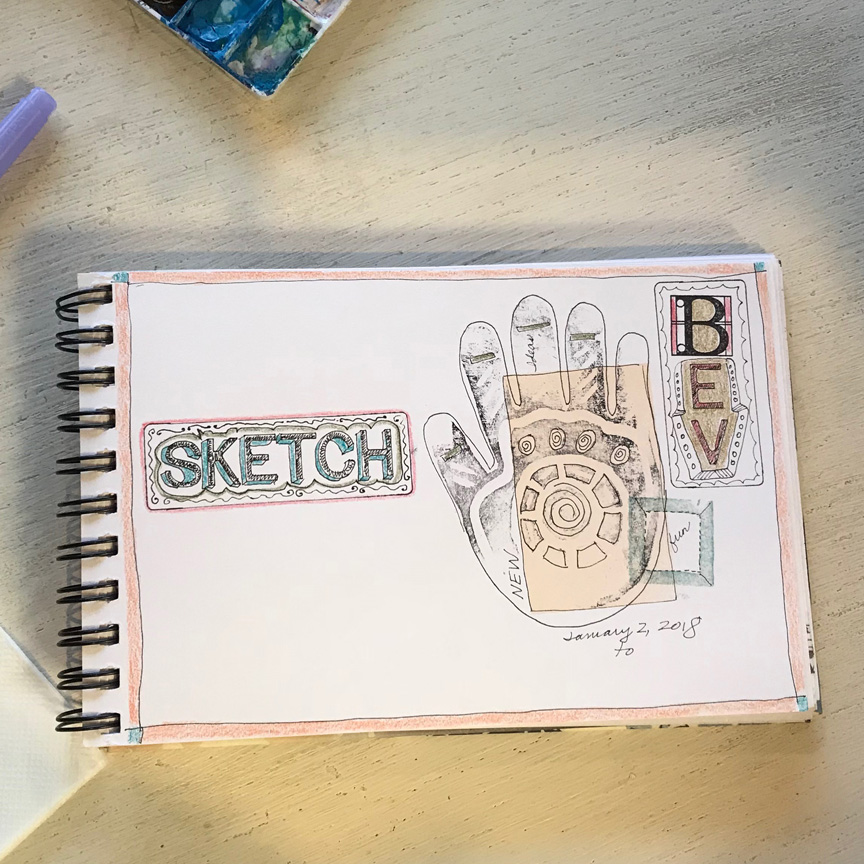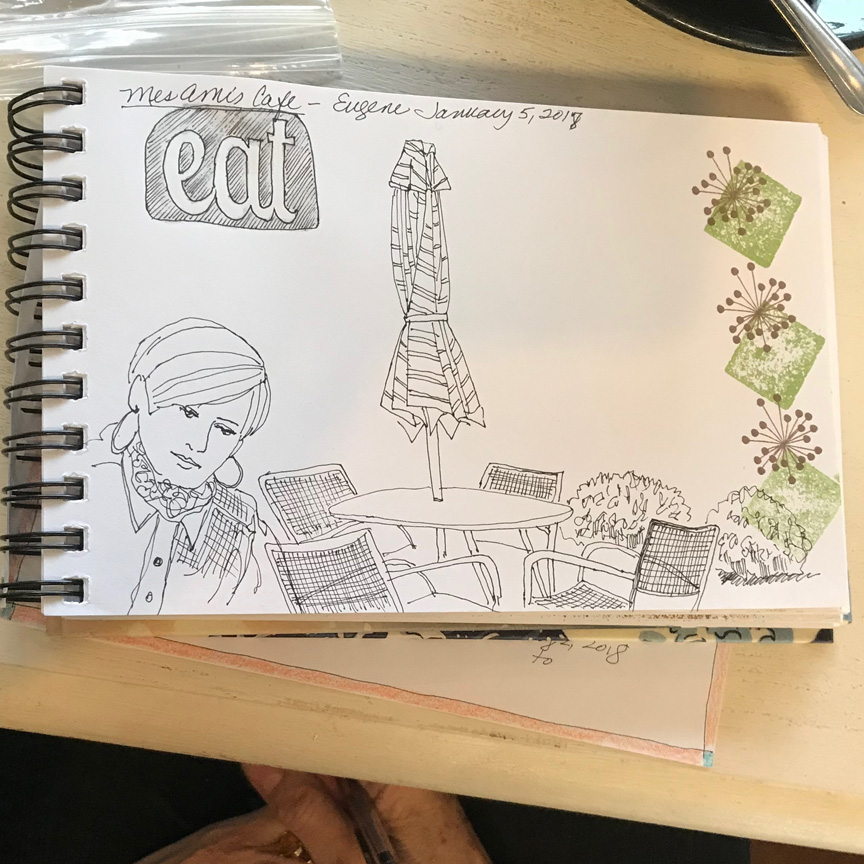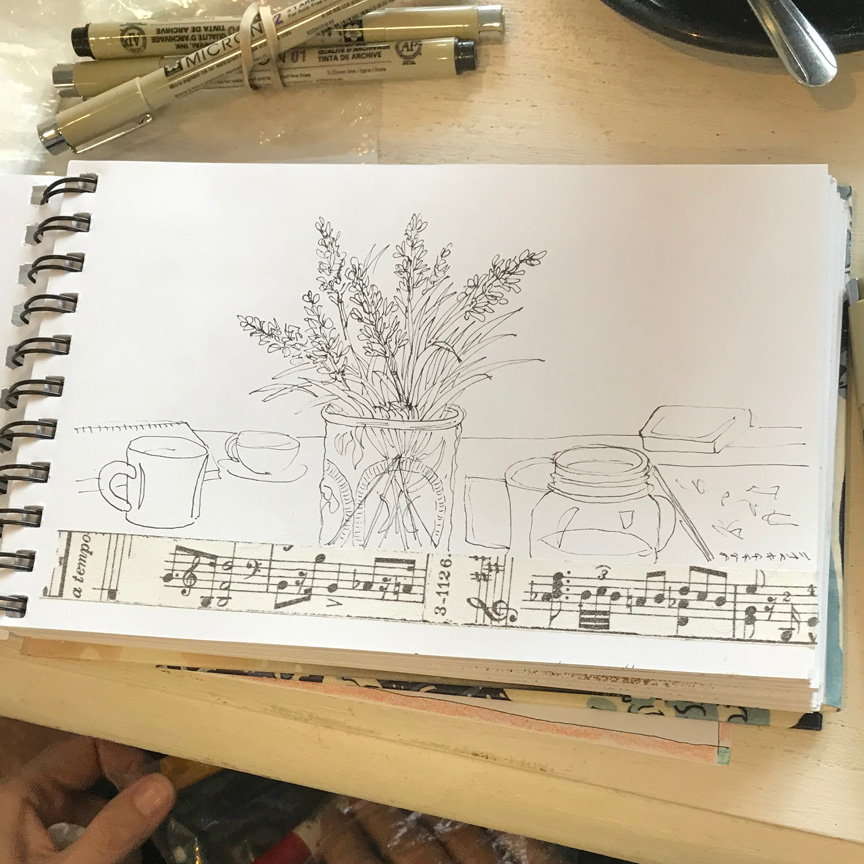 Can you tell Bev's background is in graphic design? What a delightful use of pages with color blocks, stamped borders, and Washi tape!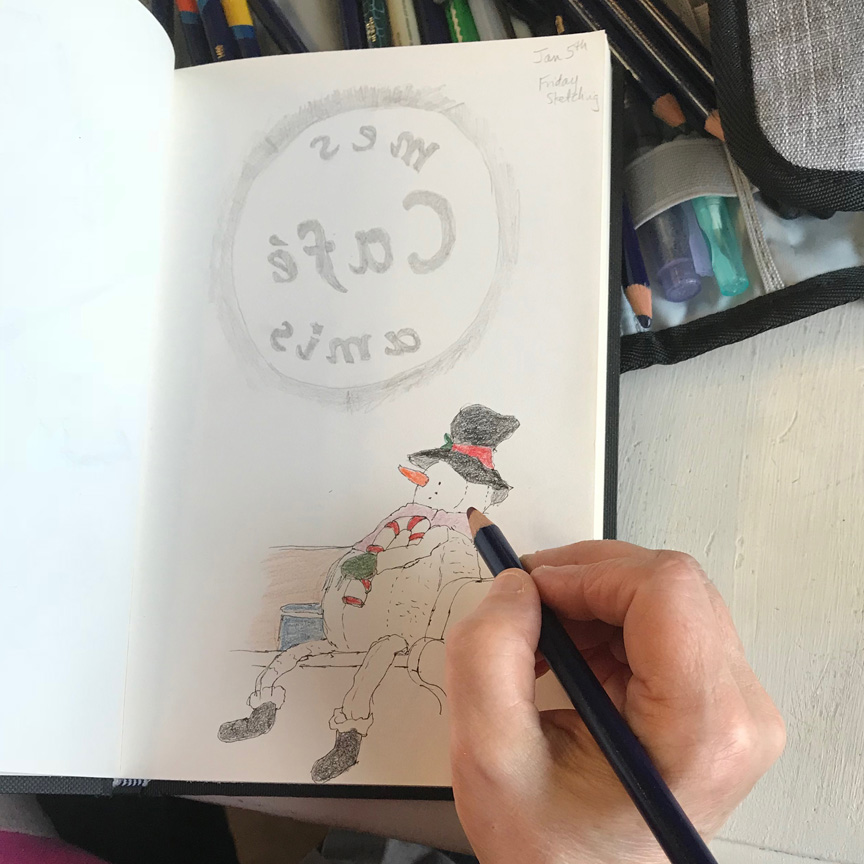 Daisy took on the challenge of doing the café logo shown in reverse on the door, then added the cute snowman decoration on the shelf.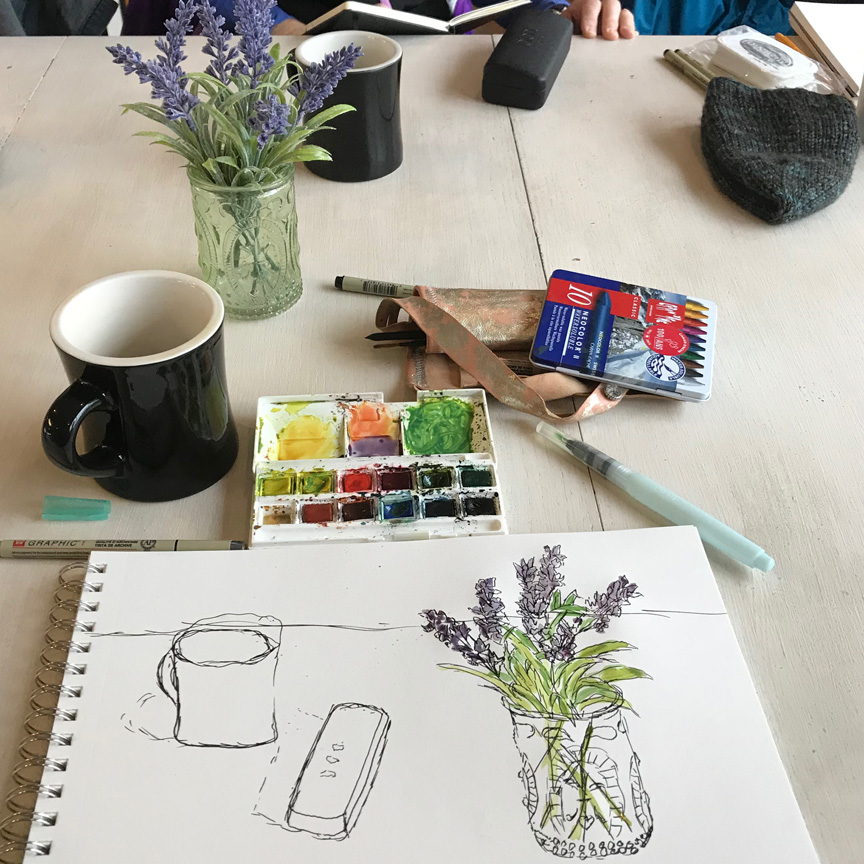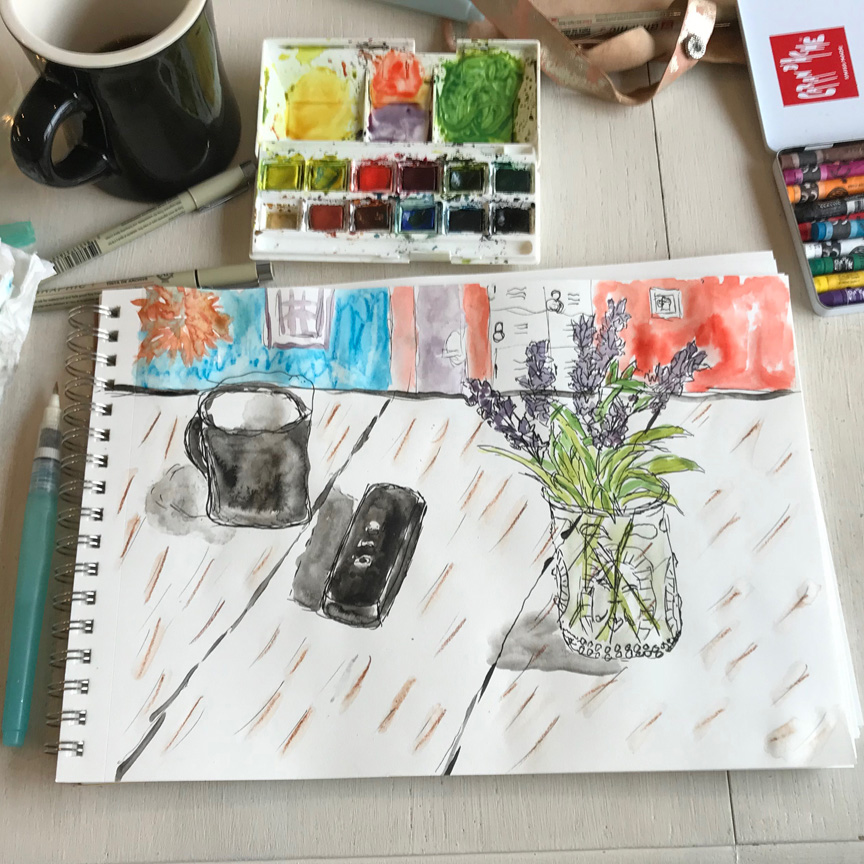 This was Penny J's first time sketching with us, but she sure fit right in and seemed to have great fun sketching, too.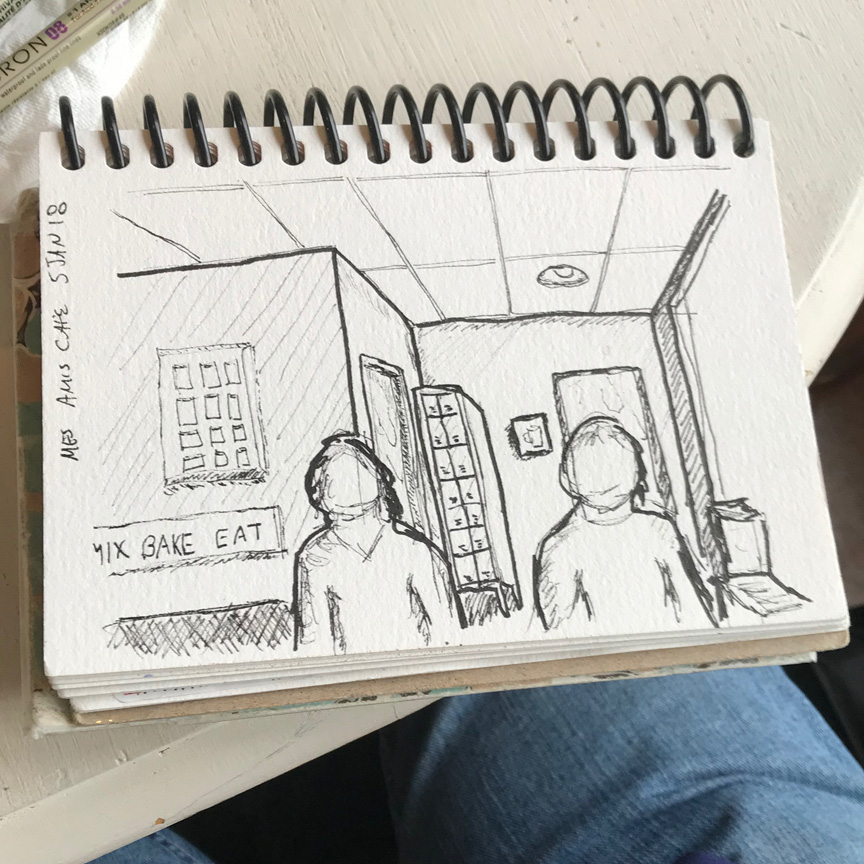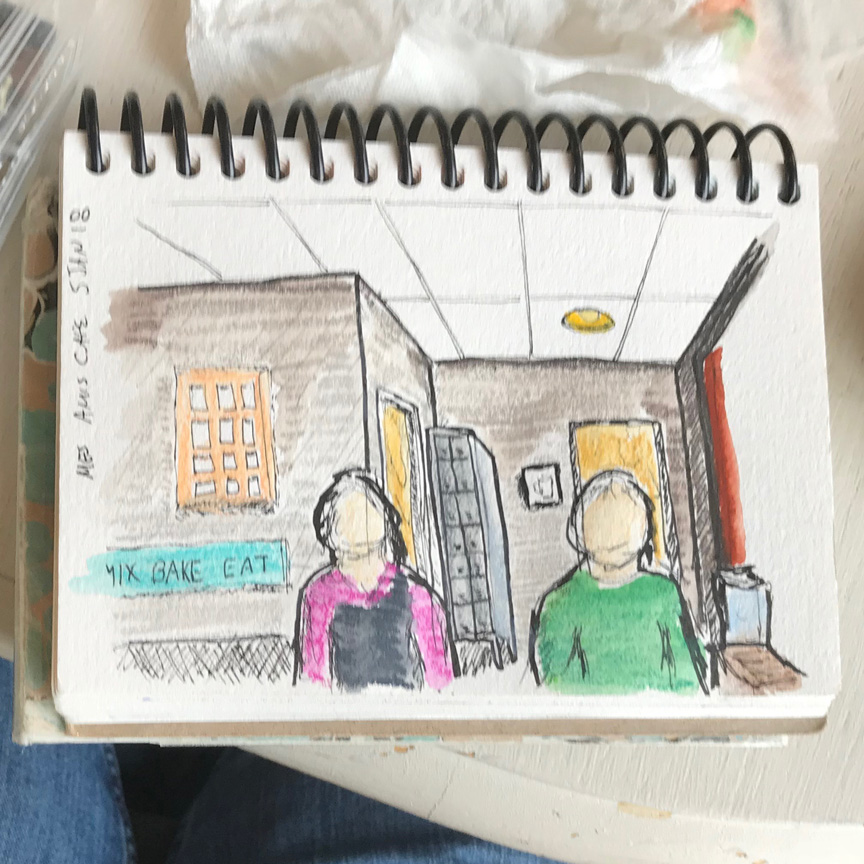 Hugh has decided he wants to incorporate people in his sketches to give them more life & dimension. What a great start!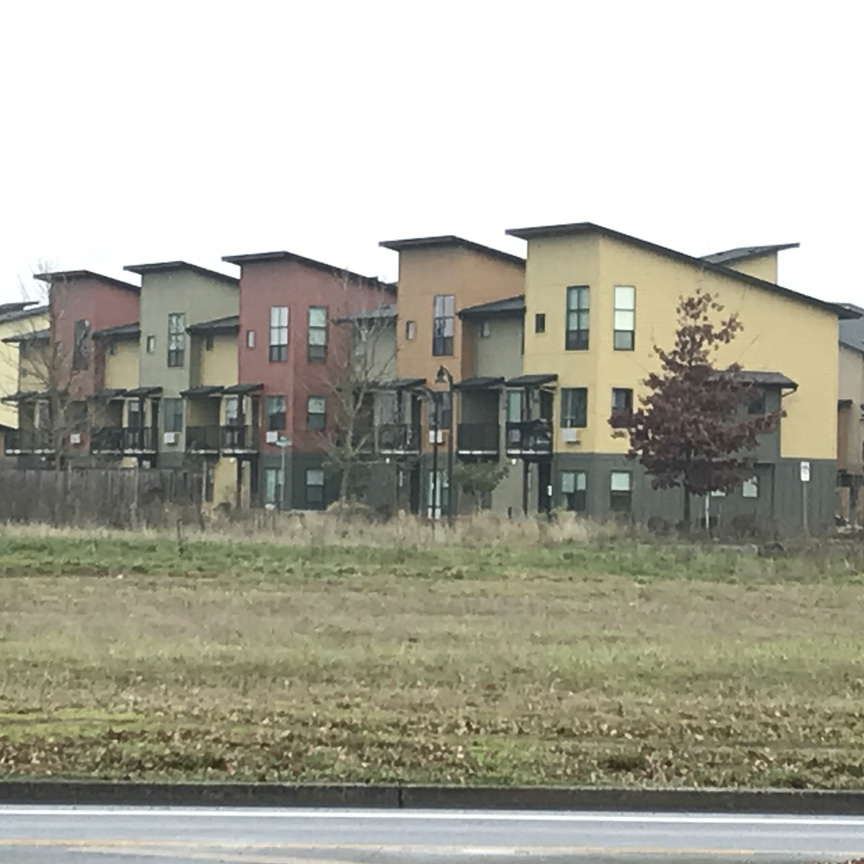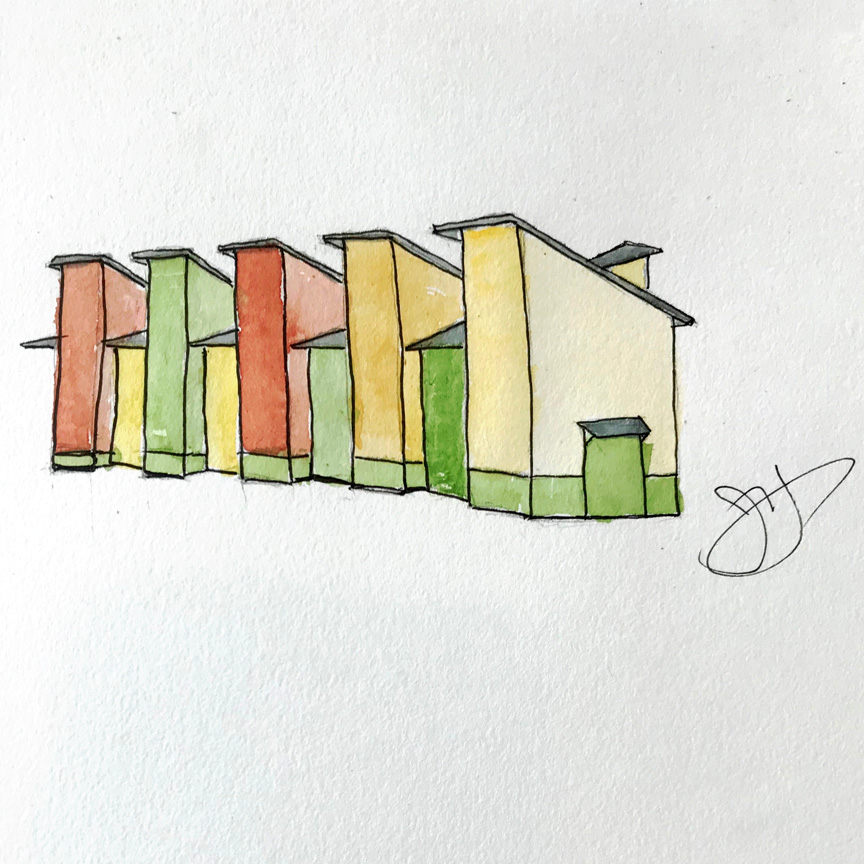 And Jane, remembering Lealan's exuberant sketch of the condos across the street, did a very tidy little block sketch – those angles!
✒ Dec. 15, 2017 – Mes Amis Café, Eugene, OR
It was a small gathering right in the thick of holiday preparations, but these three had a great time sketching together.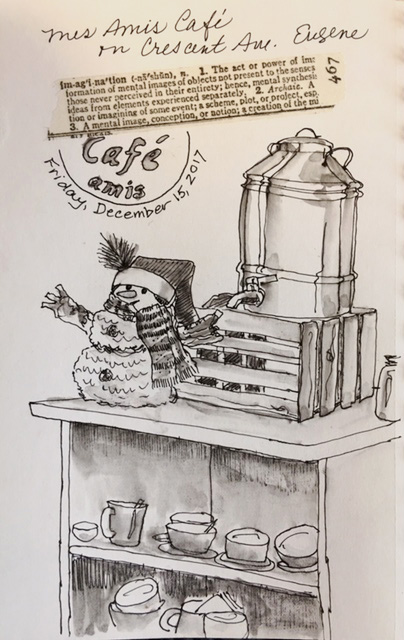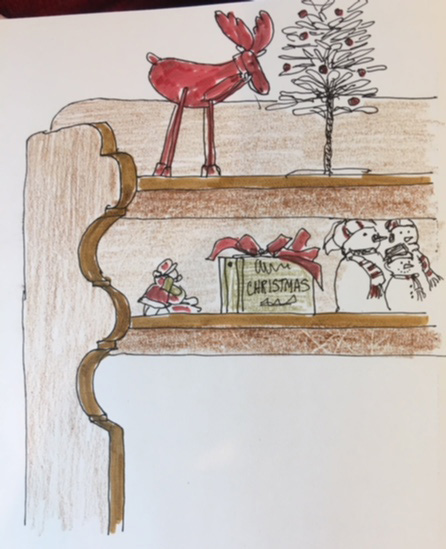 Sketches by Bev, our busy bee!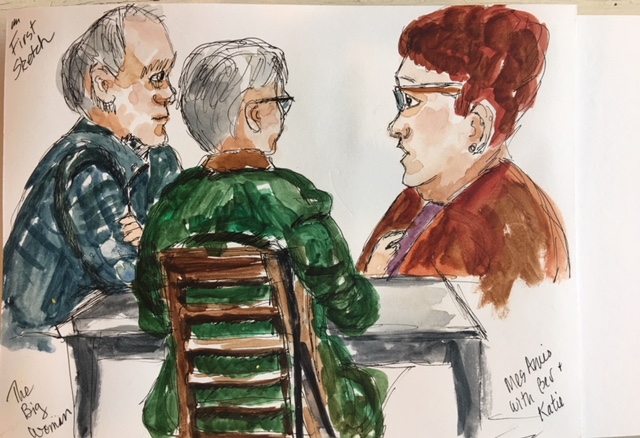 Welcome to Marnie – what a fun sketch! Keep coming back!
✒ Dec. 1, 2017 – Indulgence, Gateway Mall, Springfield, OR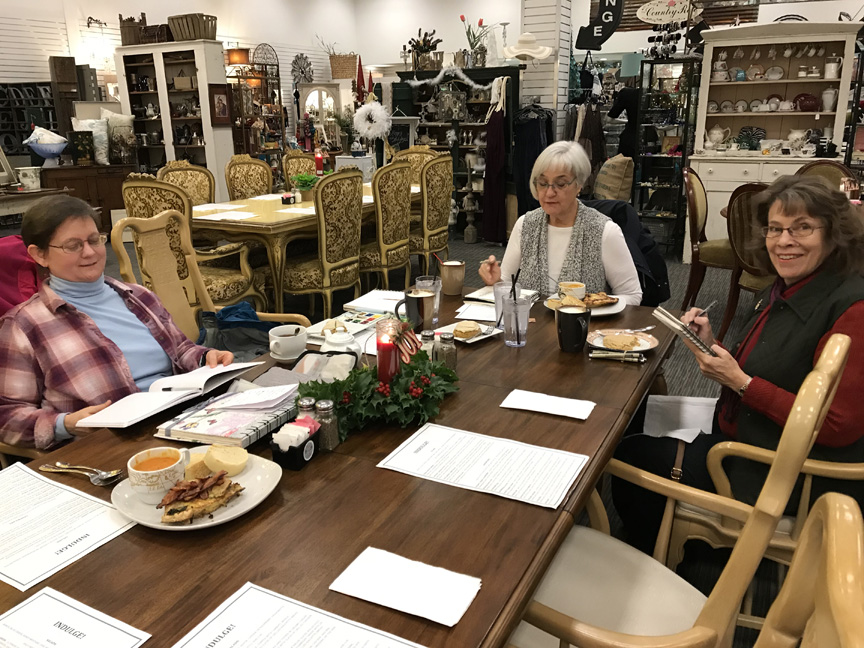 Daisy, (Jane), Katie, & Bev met at Indulgence for our second Friday sketch group. It's a busy time, and a busy place, but we like it.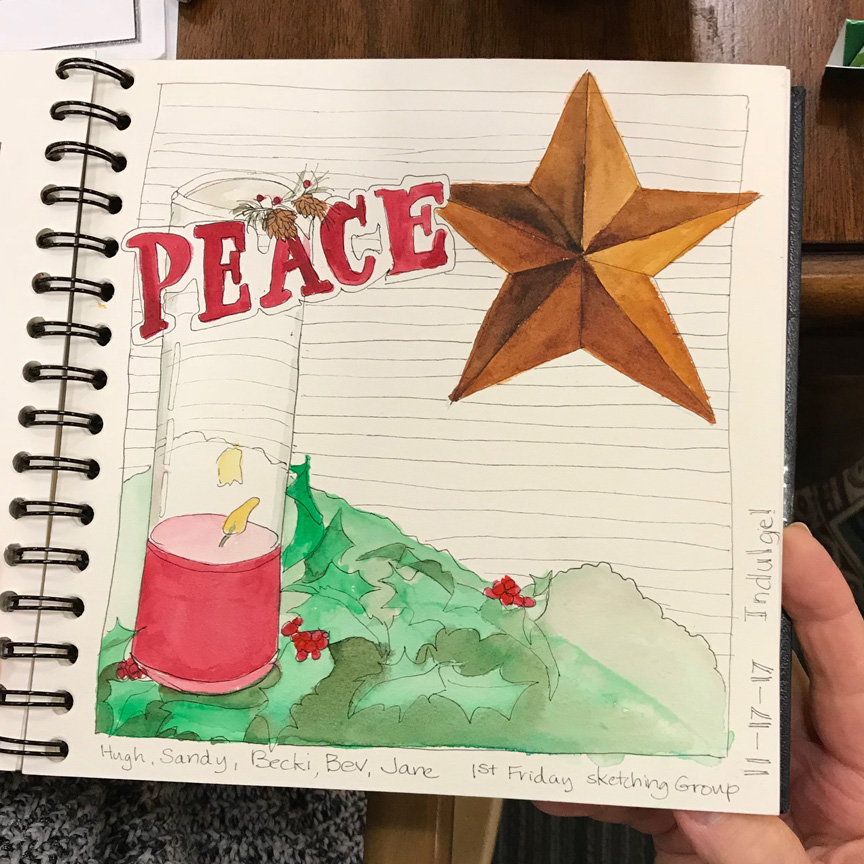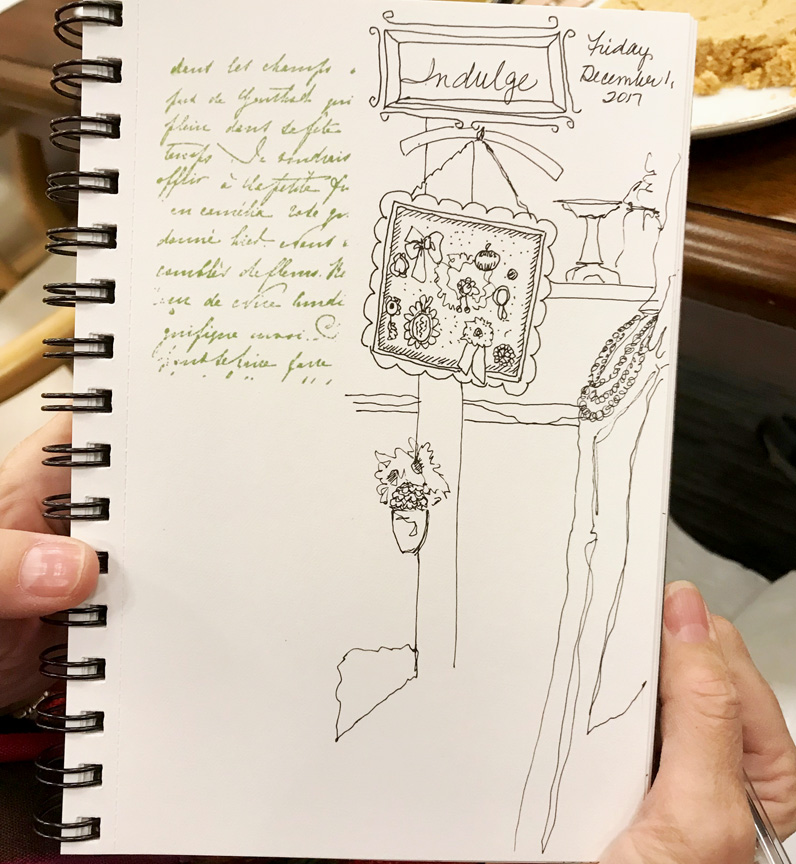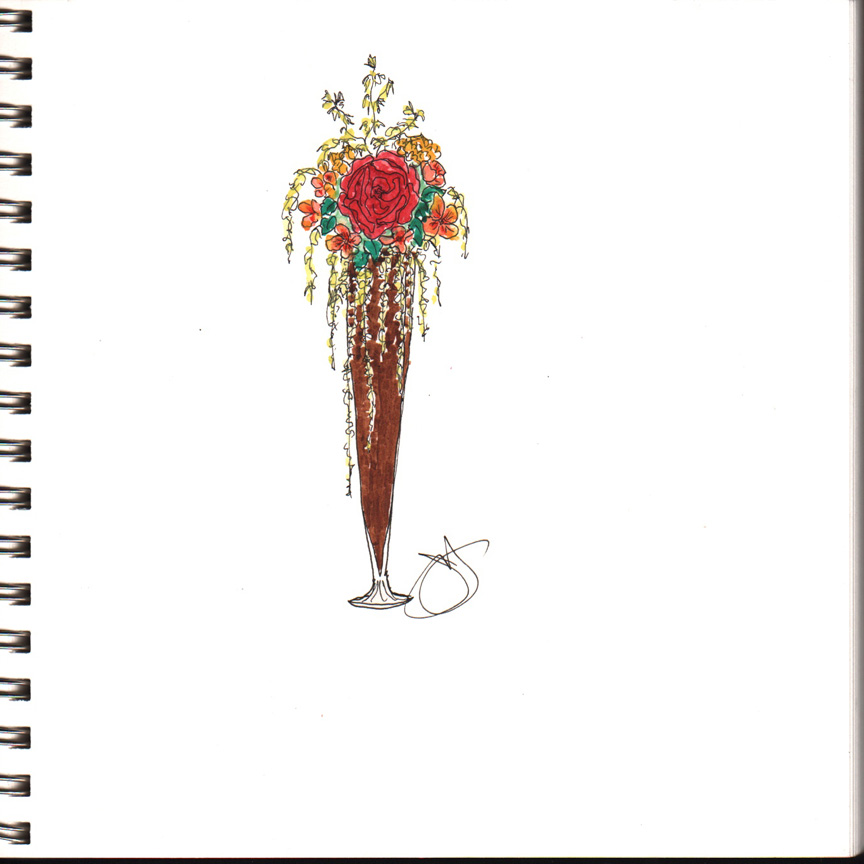 Katie shared her finished piece started last time, Bev got right into a new sketch, and Jane just had time to do a quick sketch before she had to leave. We like sketching together. We're going to keep on!
✒ Nov. 17, 2017 – Indulgence, Gateway Mall, Springfield, OR
On Friday, Nov. 17, the first time meeting of the newly formed Friday  Sketch Group met with much enthusiasm and delight.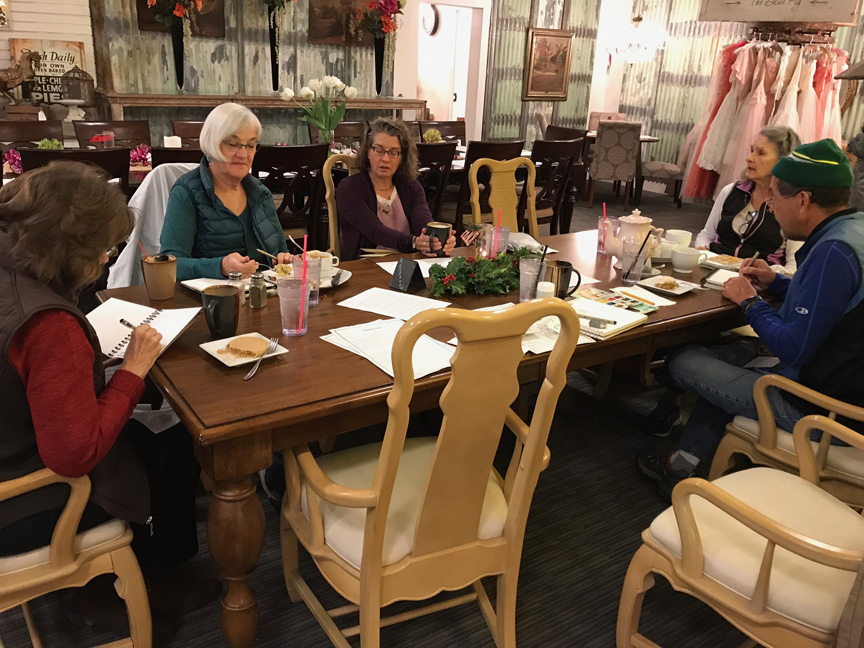 Marsha, Katie, Beki, Sandy, Hugh, & Jane behind the camera.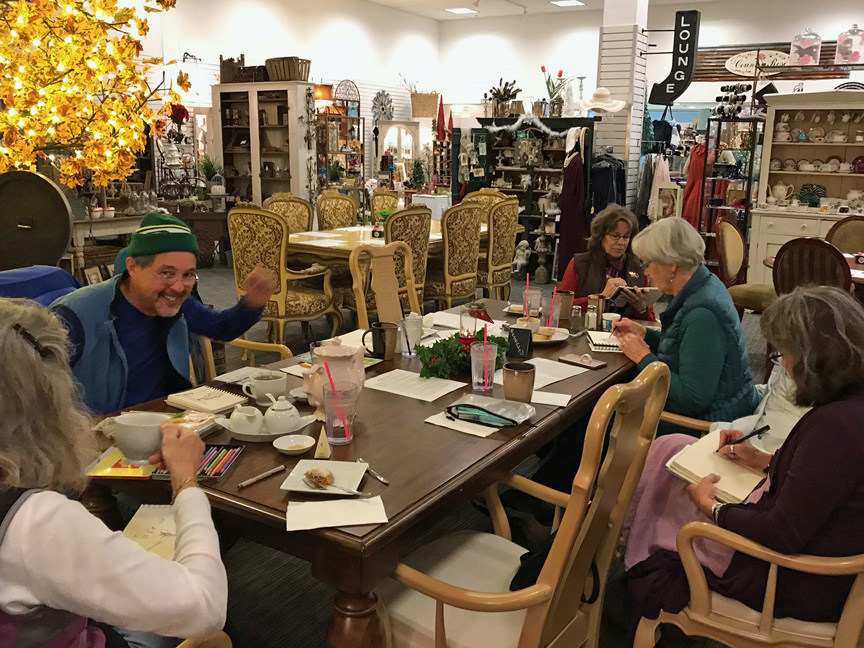 This was such a fascinating place for sketching and noshing.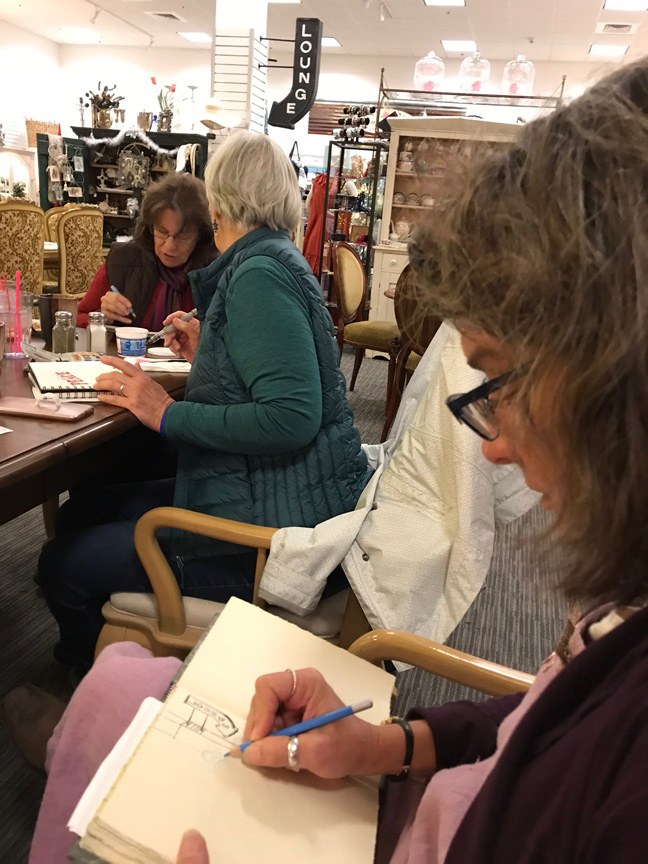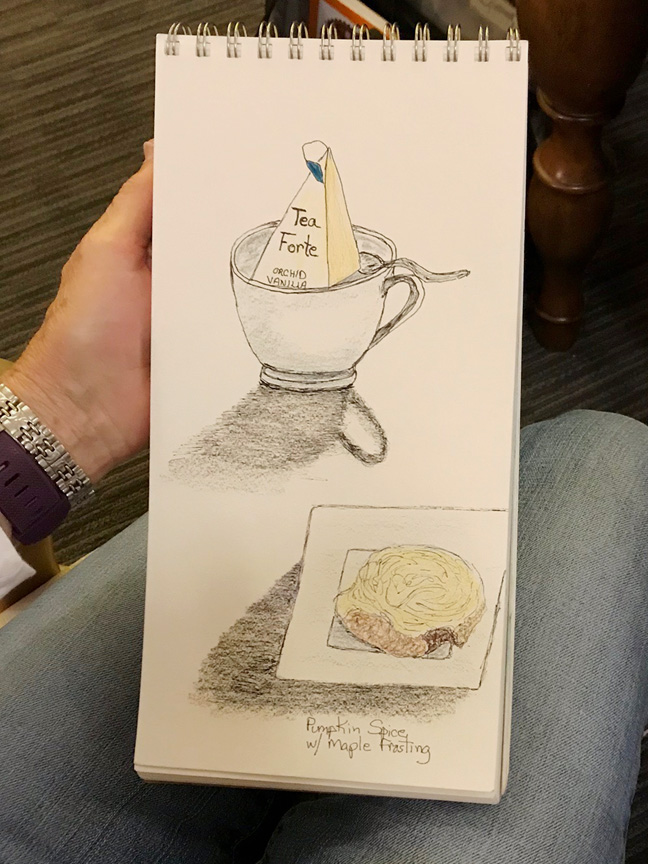 Beki chose to sketch a sign, and Sandy her tea & cookie.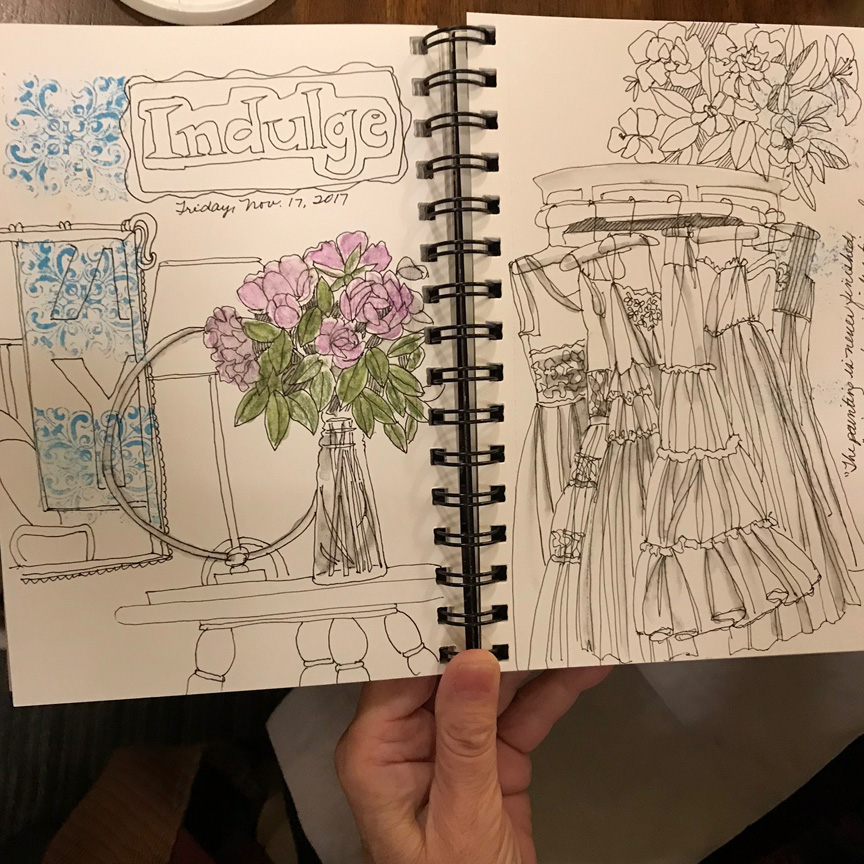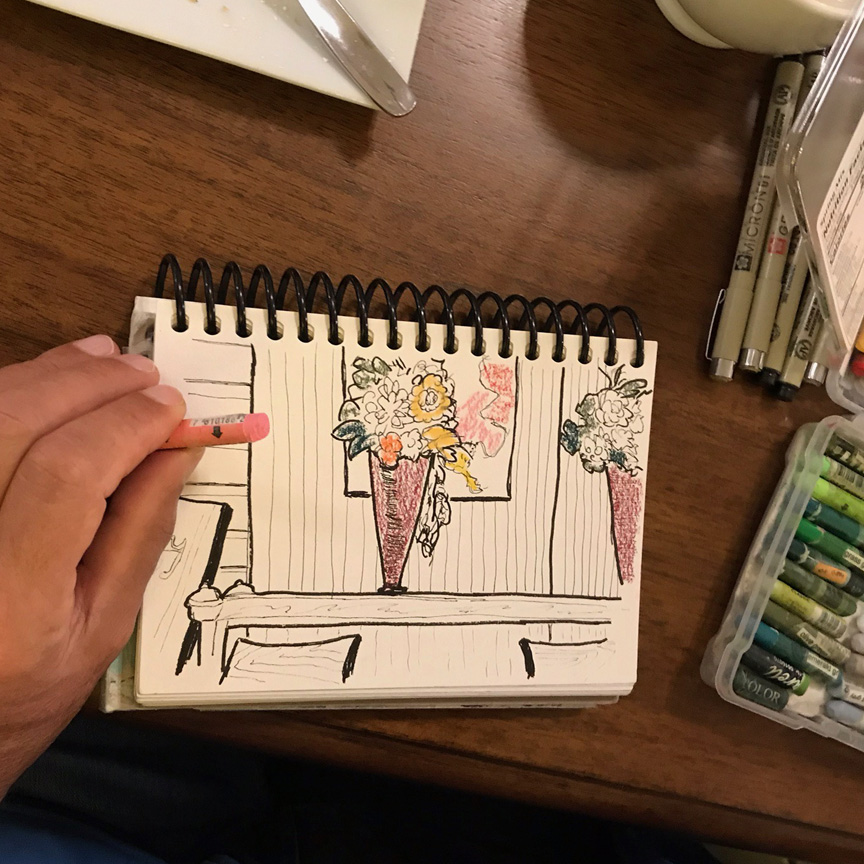 Bev caught a lot of the complexity of the place, and Hugh zeroed on on a shelf with wonderful flower vases.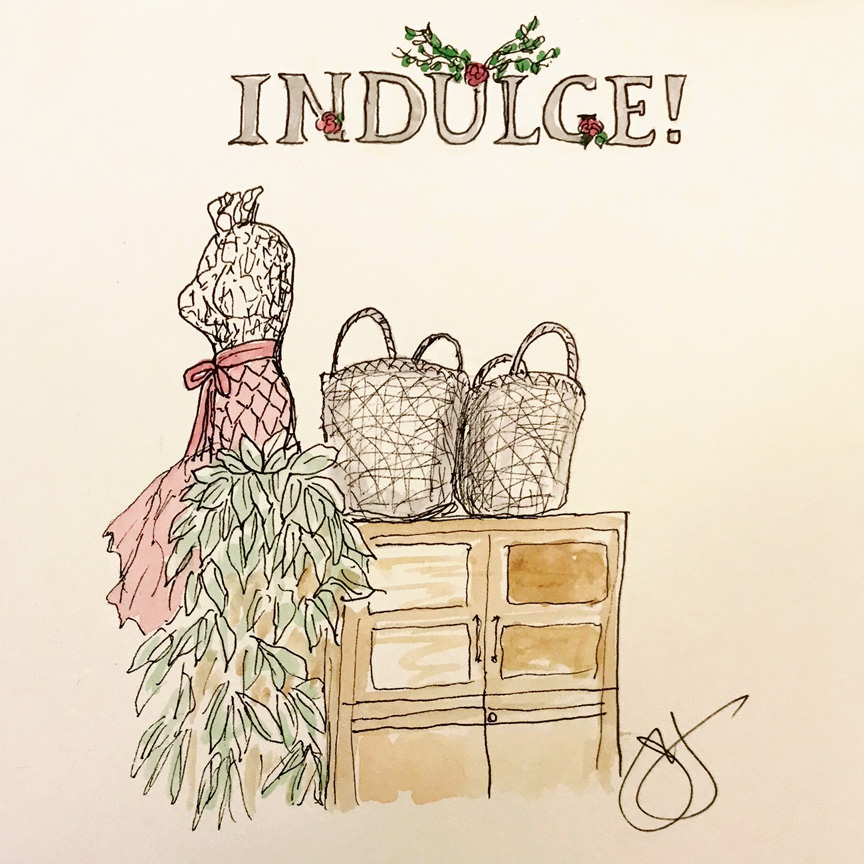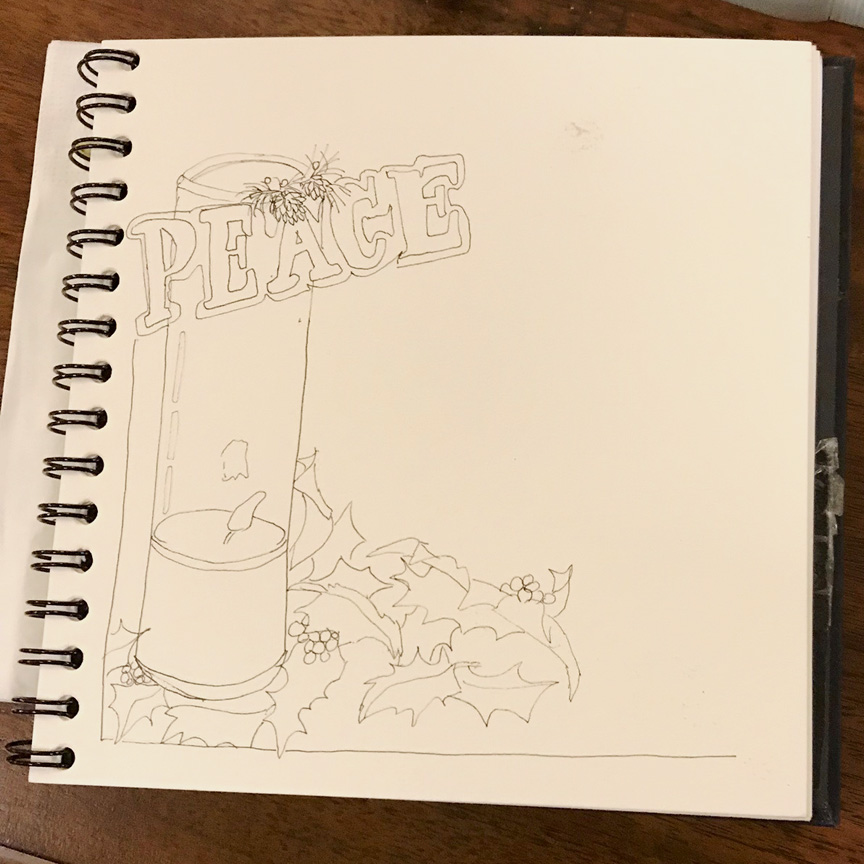 Here's Jane's sketch, followed by an exquisite ink sketch done by Katie. Yes, we like this place. Yes, we like sketching on Friday's, too. We'll be back!