Talk about timing! We'd been invited back to Cortesia for a longer day today for sketching, having a potluck lunch, and trying out some of the exercises in the book The Tao of Sketching. And it is typically 10 degrees cooler up there in the woods than it is down in town, where the temperature was slated to be in the upper 90s.  Whew.
Forest shows Barb Sommers his newly completed deck – Erik gives serious thought to just staying there!
Jane picks the front deck again, surrounded by Stargazer Lilies.
Erik & Barb Sommers succumb to the front deck's charms, too. Here's Barb So's sketch of the same lily from her own backyard.
Barb Aten finds a different lily variety – look at those lush colors!
Jan's on the new studio deck, intent on capturing the scene.
Tricia, our hostess, is there, too – lovely spot, lovely sketch!
And then it's time for lunch!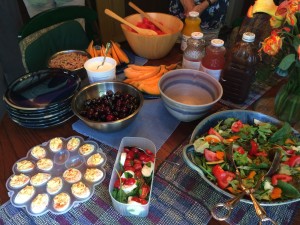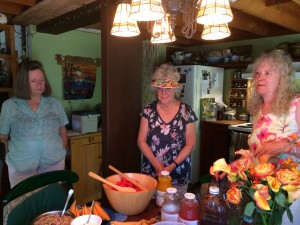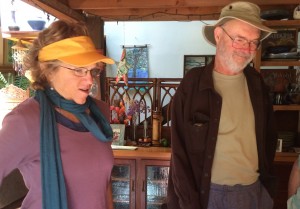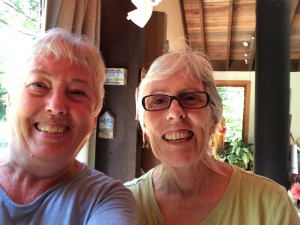 A yummy lunch on the new deck, a quick overview of lessons and suggestions from The Tao of Sketching, and we were back at it.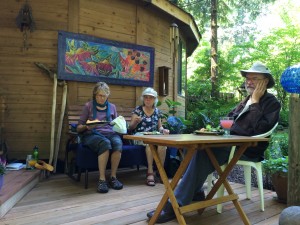 What are we doing? Hard to concentrate after that wonderful lunch (followed by dark chocolate with raspberries – thanks, Tricia!).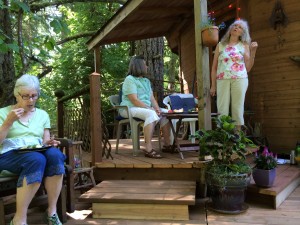 Tricia suggests we try one of two techniques in the book: 1) doing a simple contour sketch and adding a wash of color; 2) doing an ink sketch & adding color to only a specific part of the sketch for focus.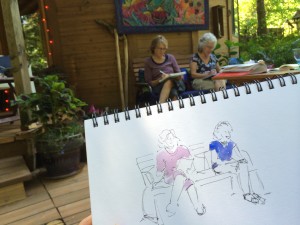 Here's Jane's quick sketch of Penelope & Barb A.
Here's Barb So's of the same two, & Jan's sketch of Erik.
Tricia sketched Jane, Hanna Yoshimura & Barb So., while Penelope did the same from a different perspective.
Speaking of perspective, here's Erik, and then his sketch of Barb So.
Barb A was determined to capture the fruit juice in her glass goblet!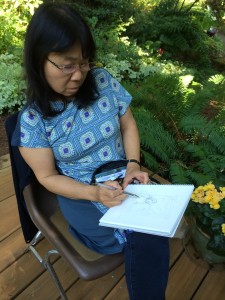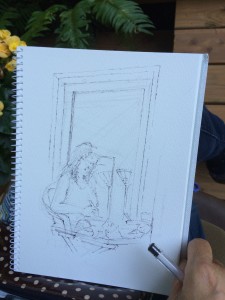 Hanna joined us in time to sketch her long time friend Tricia.
Here's Hanna's sketch done at the Famers' Market last week, and Penelope's sketch of some of us and the labyrinth at Cortesia. What a wonderful (& cool)  time together.  We are deeply appreciative!