Coffee Plant Roasters, Eugene, OR
There were some new faces joining us over coffee & sketching!
Amy Gibson, Barbara Shirk's sister and Barbara, Barbara's daughter Manda and her husband Ezra, and behind them Libby Masarie.  At the next table were Libby's husband Fred, Sandy, & Heidi. What an interesting group! They are all artists of some sort (Manda & Ezra are part of the performance group, The Meriwethers), which made for a lively interaction.
Barb & her sister take a look at Manda's sketchbook from Italy, then Libby gets a tour of Barb's Italy sketchbook.  Wonderful memories.
Heidi has been busy – look at these marvelous sketches!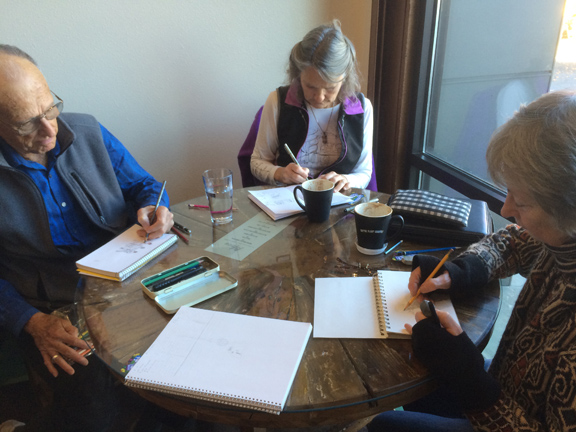 Fred, Sandy, and Heidi get after the sketching business – no chit chat!
Fred, Sandy, & Heidi were all sketching people "modeling" nearby.

And what was Jane doing (besides photos)? Sketching people, too!