Market of Choice Coffee Shop, Willakenzie, Eugene, OR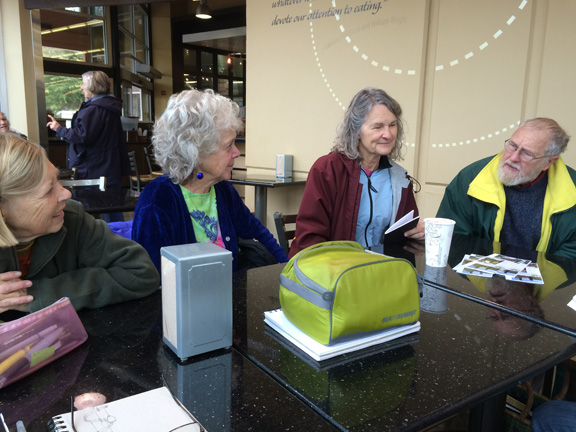 Barb Shirk, Barb Aten, & Sandy Larkin all listen  to Ken the guru.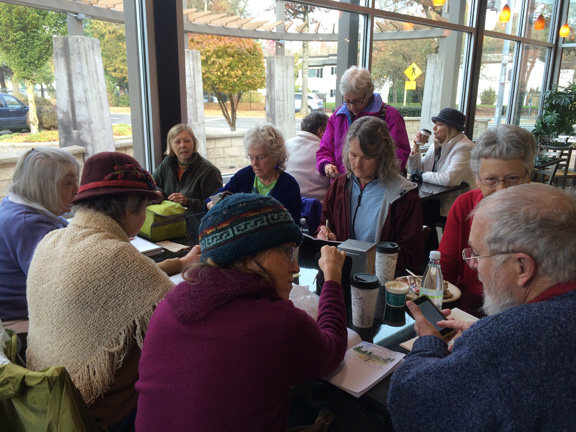 It was a large group cozied up in a small space – around the table starting at the top left: Barb Shirk, Barb Aten, Barb Sommers, Sandy Larkin, Carol Schaafsma, Ken O'Connell, Penelope Youngfeather, Heidi Sachet, Rita Cavin, and Jane Harrison behind the camera.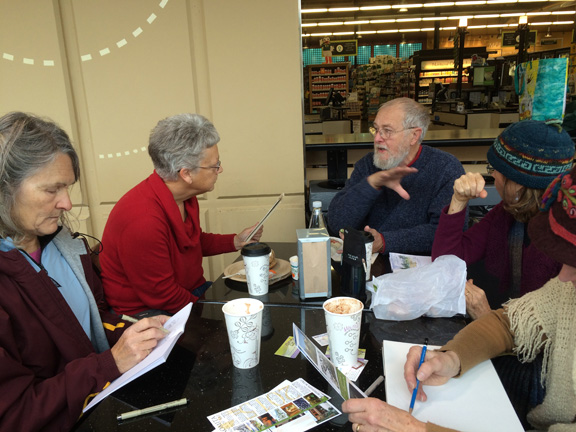 Ken only gets so much attention, and then people get to  sketching!
We do sketch what's in front of us – here's a "then" sample – Barb Shirk in Assisi, Barb Sommers in her backyard.
And here's a "now" – Heidi sketching an olive branch from the brochure about La Romita (where she's going in Sept. 2015!).
Penelope picks out pastry – put in red, Ken says! YUMMY!
Rita's "now" is her hand in front of her, and here's her red, too!
Carol starts sketching her cup, and Sandy does some nearby faces.
The warm color of the overhead lights catch Jane's eye.
Barb Shirk sketches the cement pillars outside, with vines, and then adds color for the trees beyond them.
Then the finalé – Rita poses with Ken to show off the two pieces done in Europe which she's entering in the upcoming "World Sketches by Ken O'Connell and Fellow Travelers"  show at the Watershed Gallery, December 16-January 18.  Be sure to come to the Reception and Holiday Party: Friday, Dec. 19, 6-8 p.m.