5th St. Market, Eugene, OR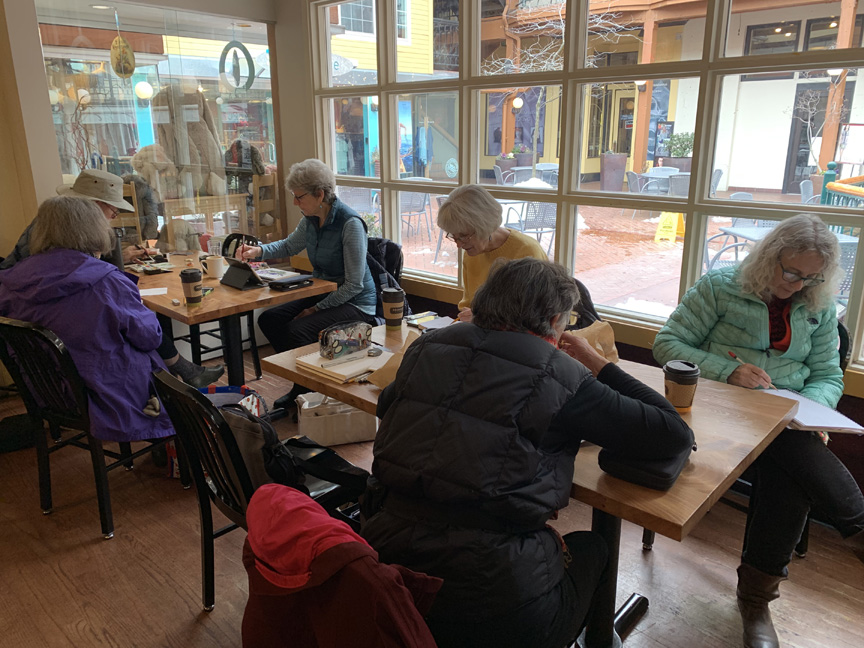 We took over a whole corner of the market – ended up with 17 people showing up to sketch! Here are Bev, Jim, Daisy, Danita, Barb So, Laura; Marsha, Erik, Penny M, Liz, Lealan, & Ellen.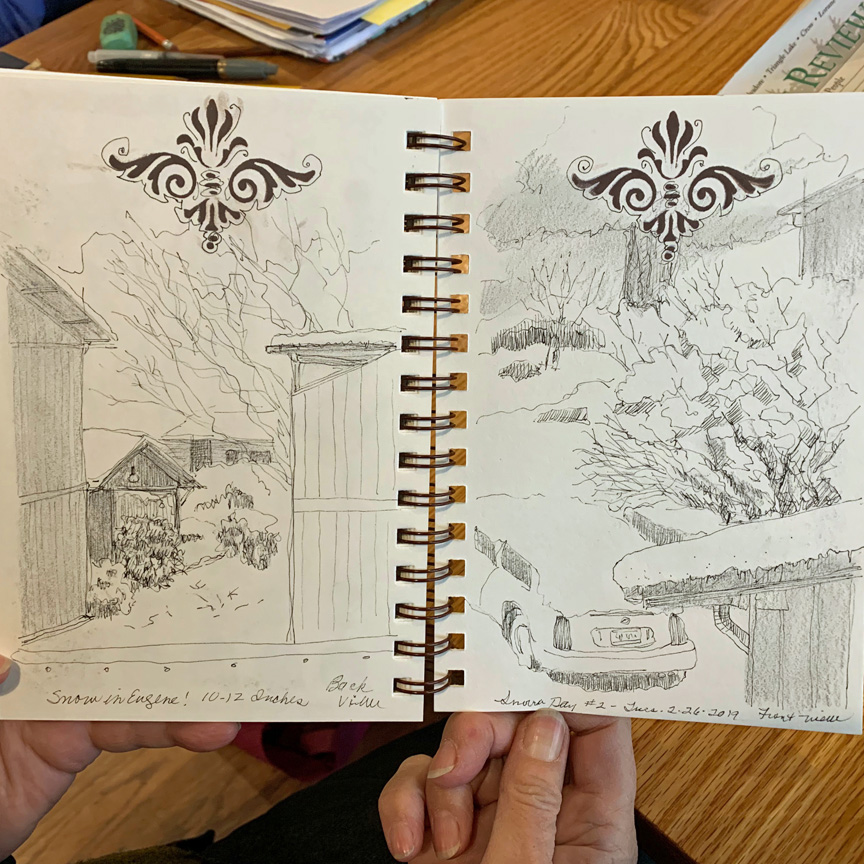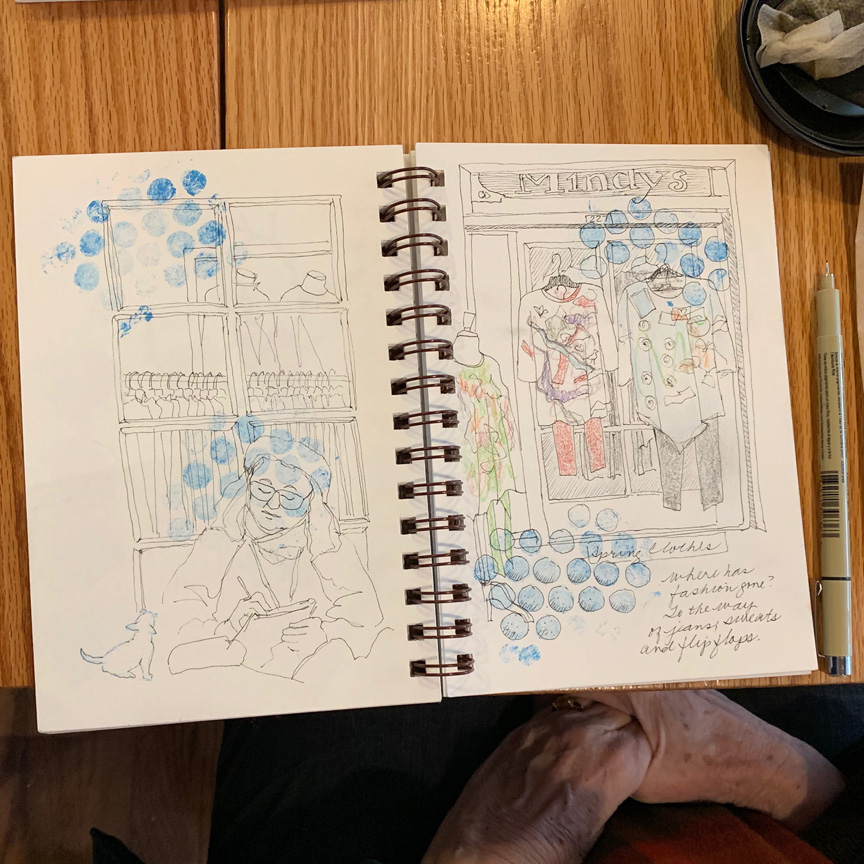 Bev's snow scene sketches, and the sketches done today. Charming!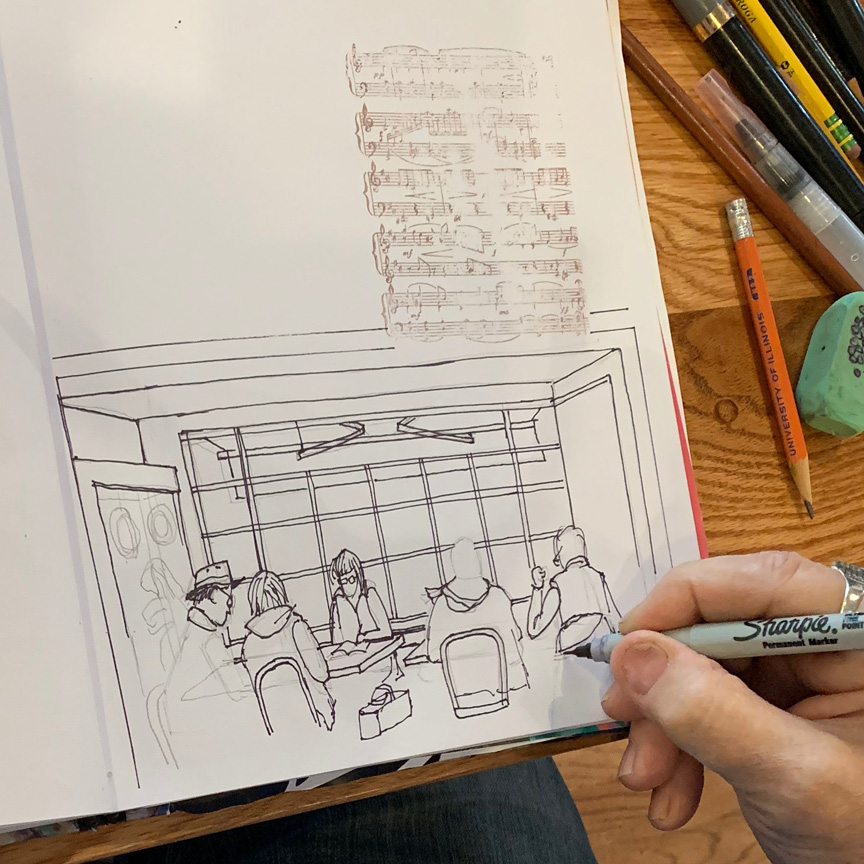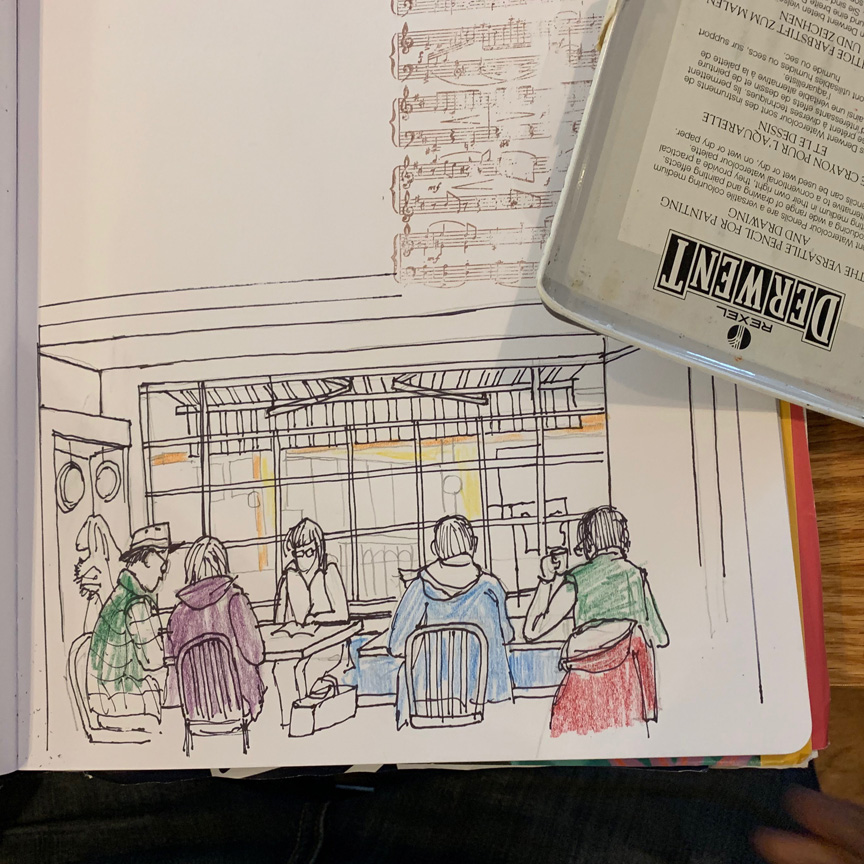 Jim took on the sketchers scene in the window – what a nice scene.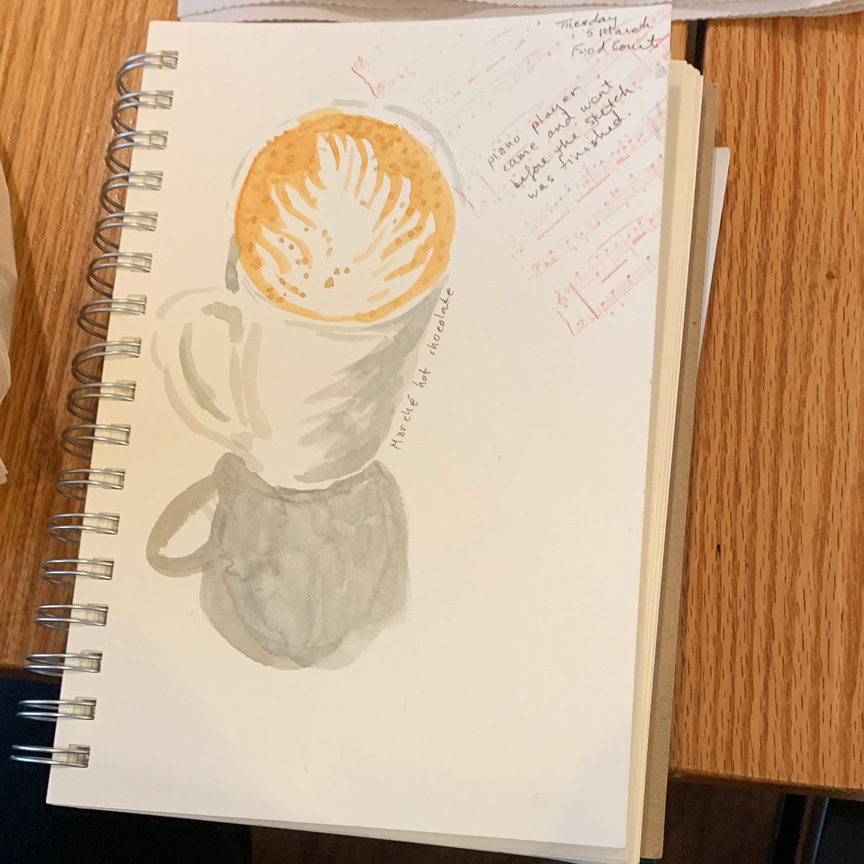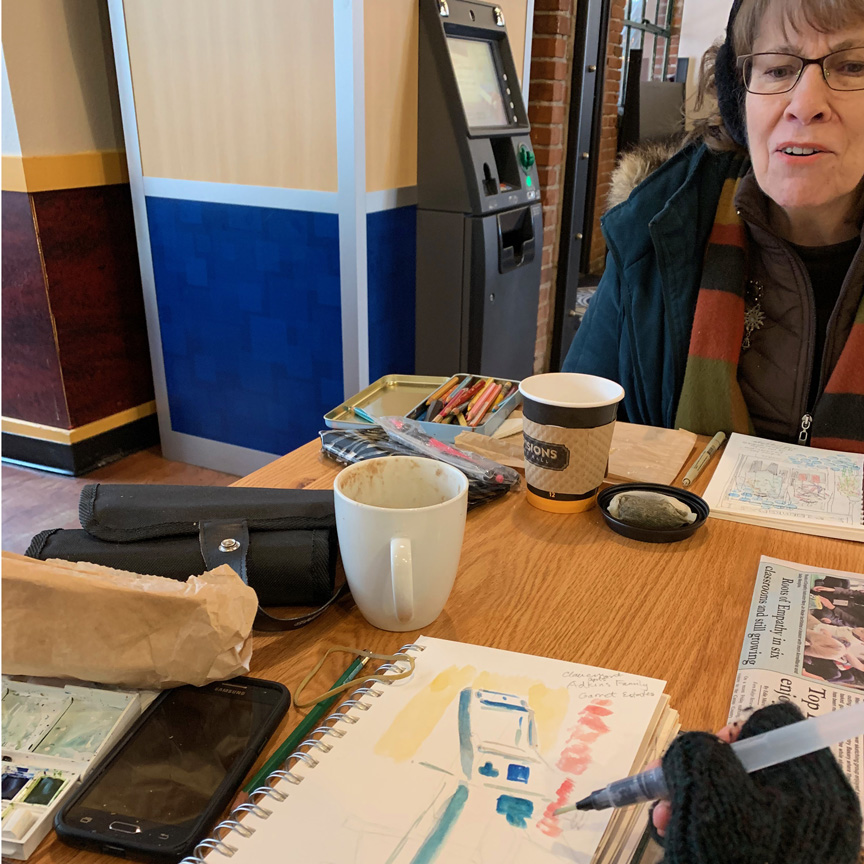 Daisy did a wonderful sketch of  her coffee. Then Bev said, "What are you sketching!" Oh, the ATM machine behind Bev's back!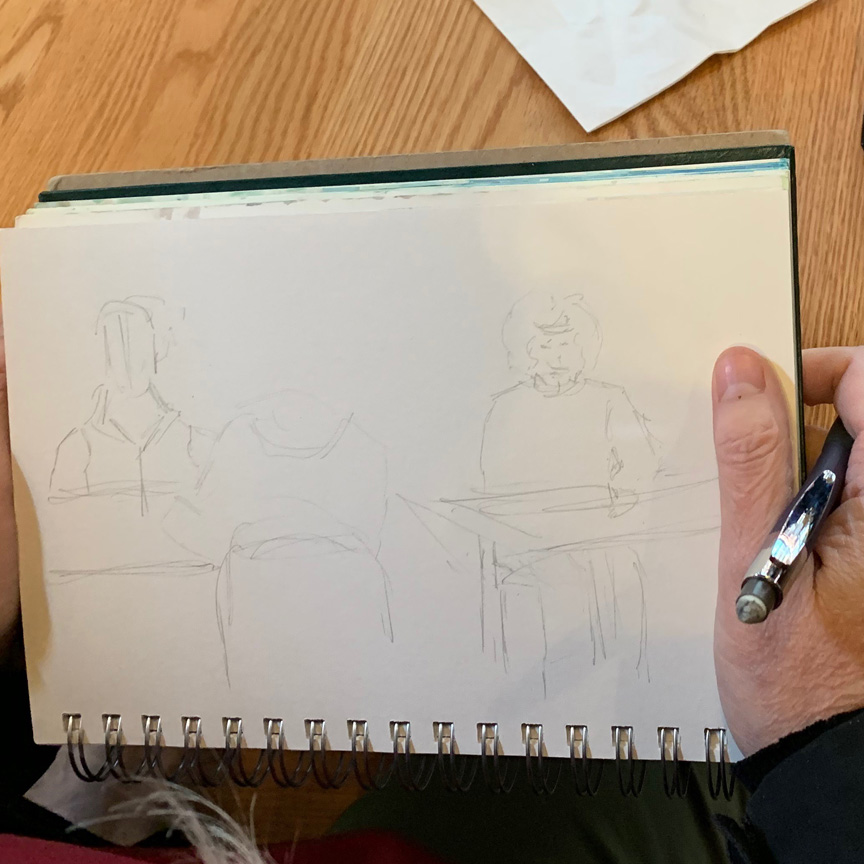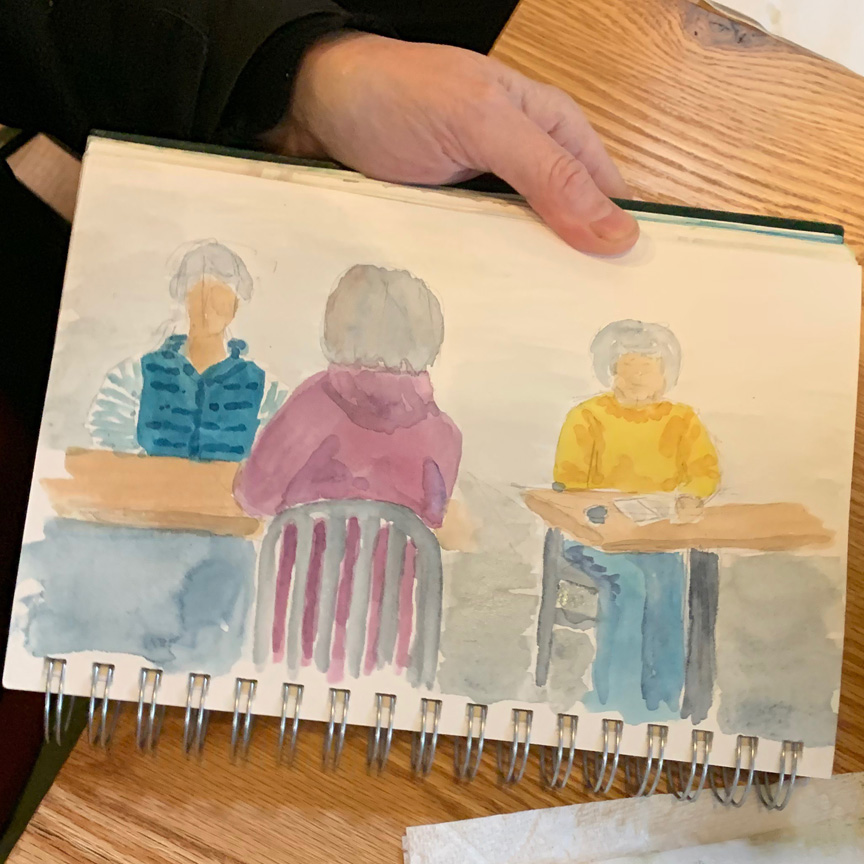 Danita chose just three of the sketchers to sketch – her water color rendition definitely caught the essence of the people.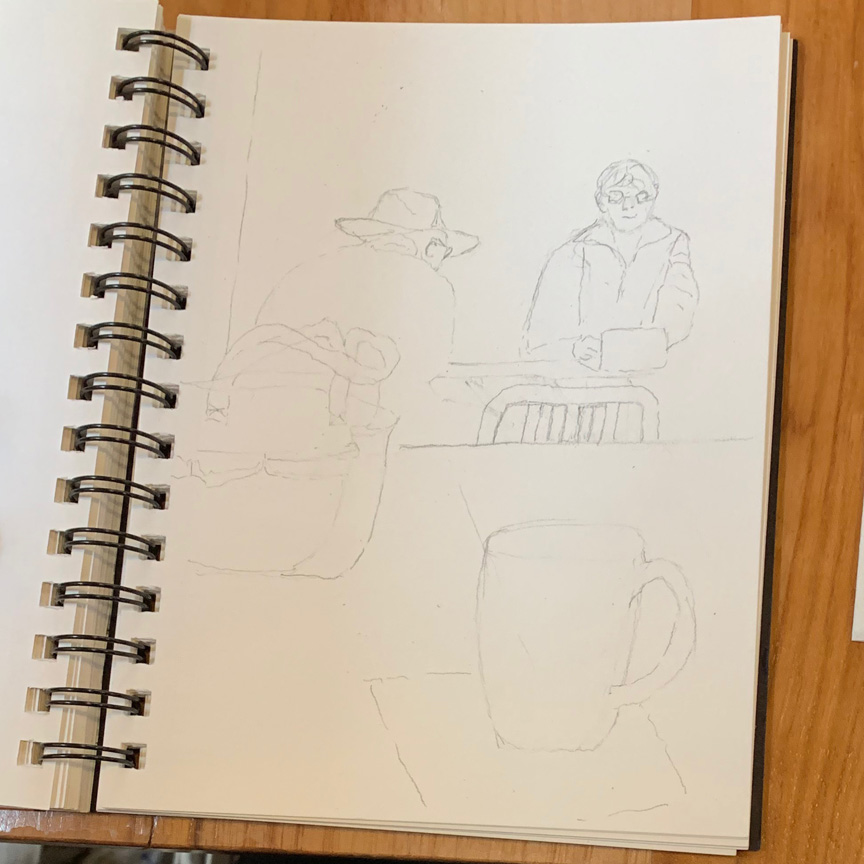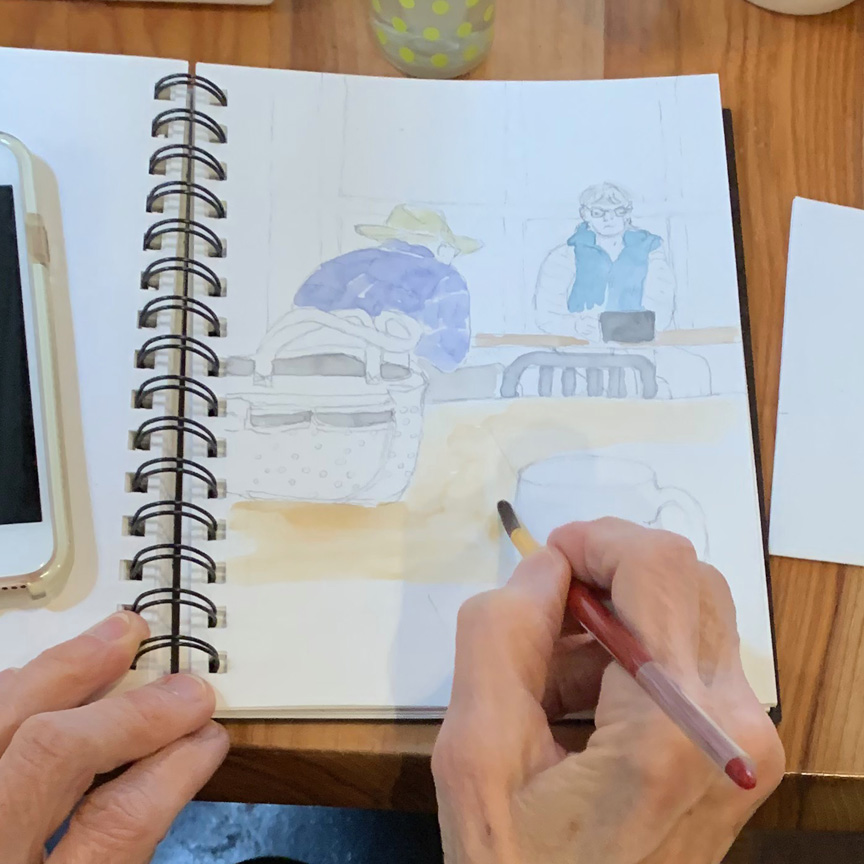 Barb So had a slightly different angle for sketching people, and incorporated the table in front of her as part of the perspective.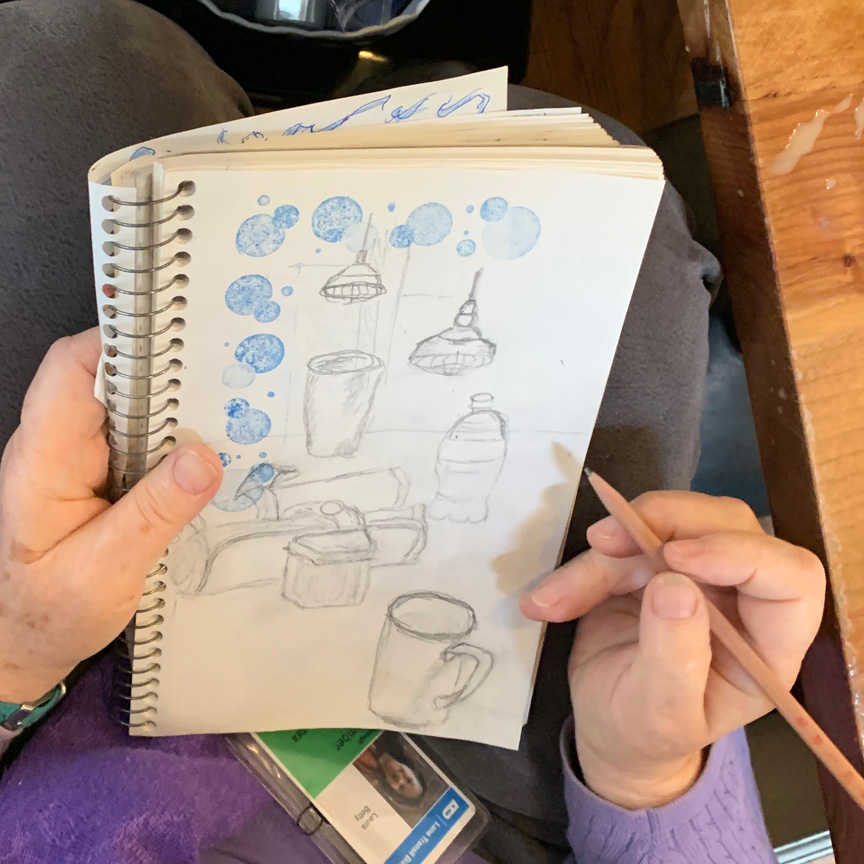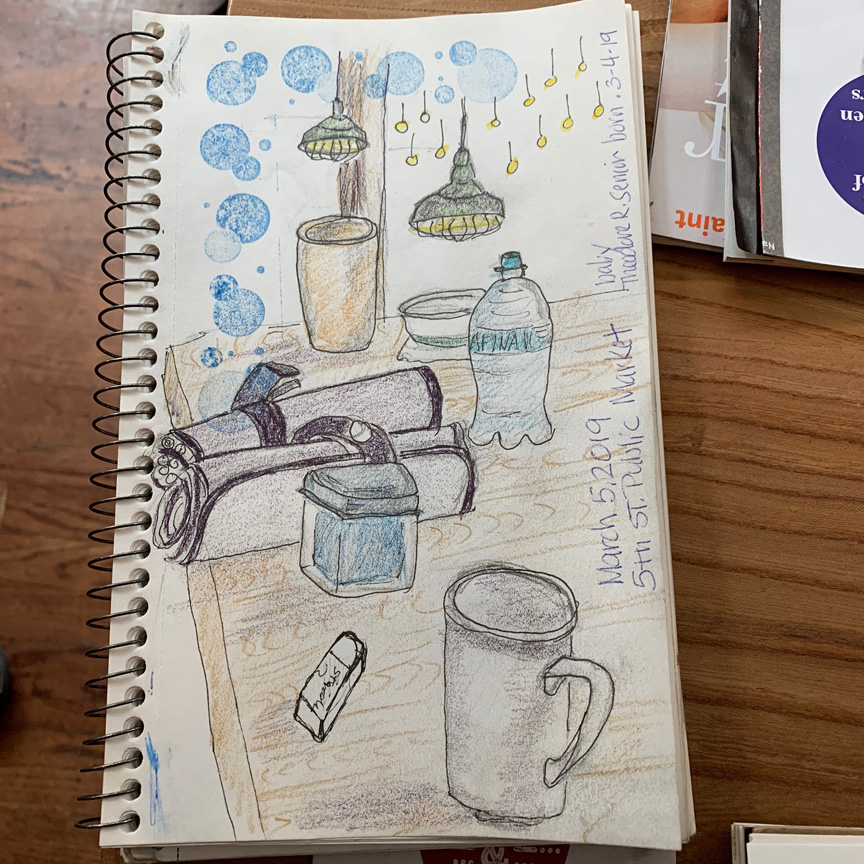 Laura was looking the opposite way – her stamped page lent a whimsical attitude which she carried on with the lights. What fun!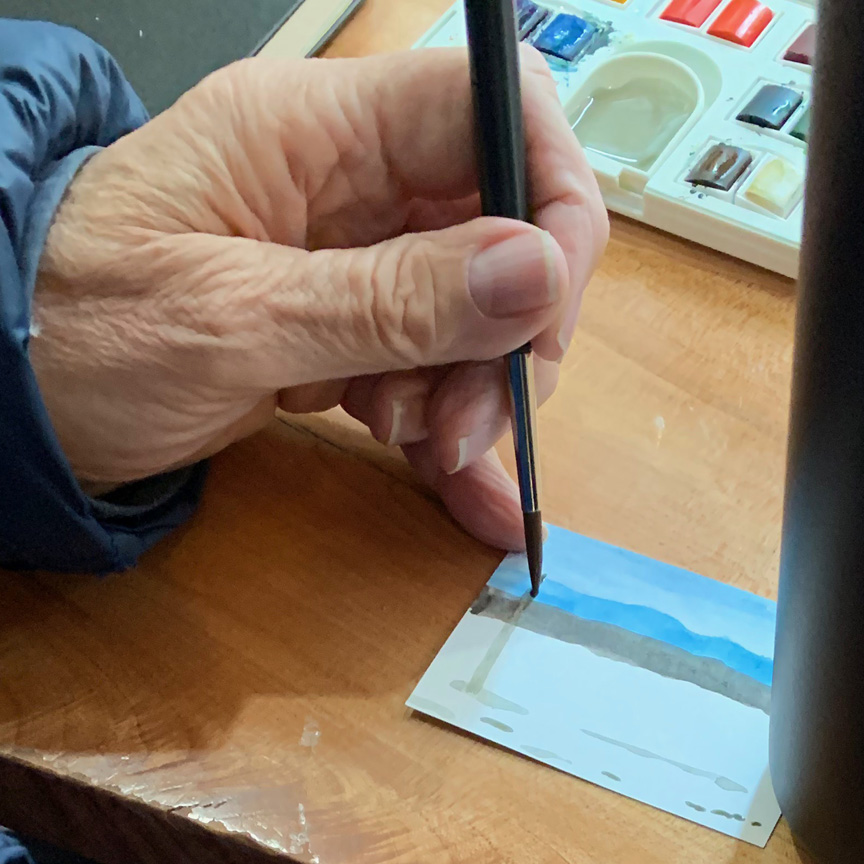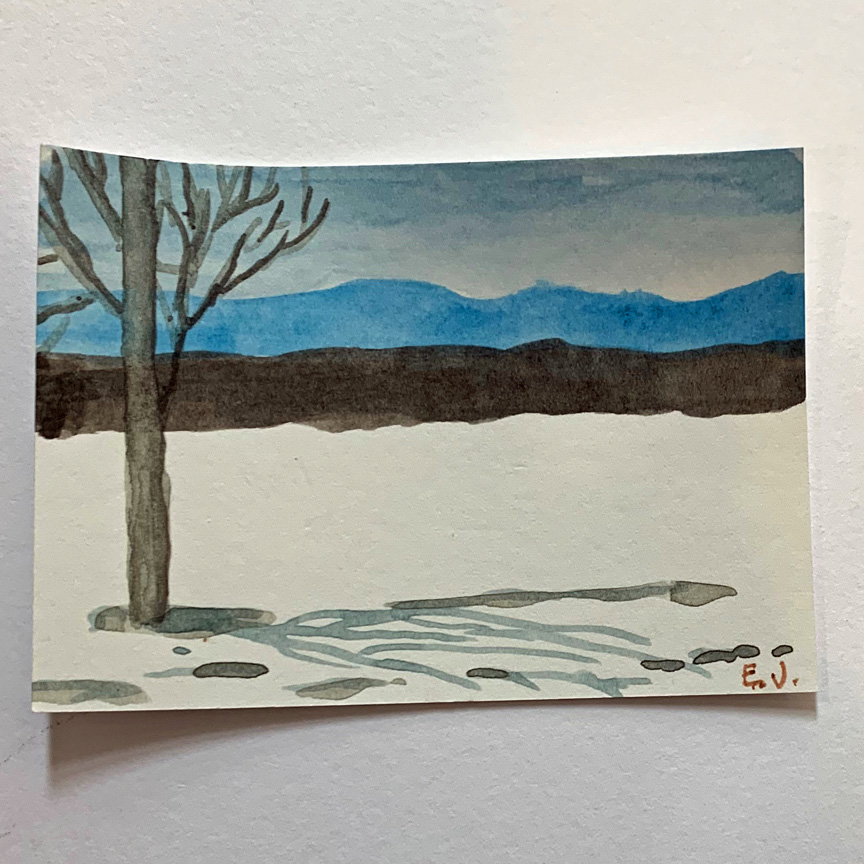 Erik had just uncovered his small watercolor palettes along with a pack of "artist's cards" – speaking of having fun, isn't this great?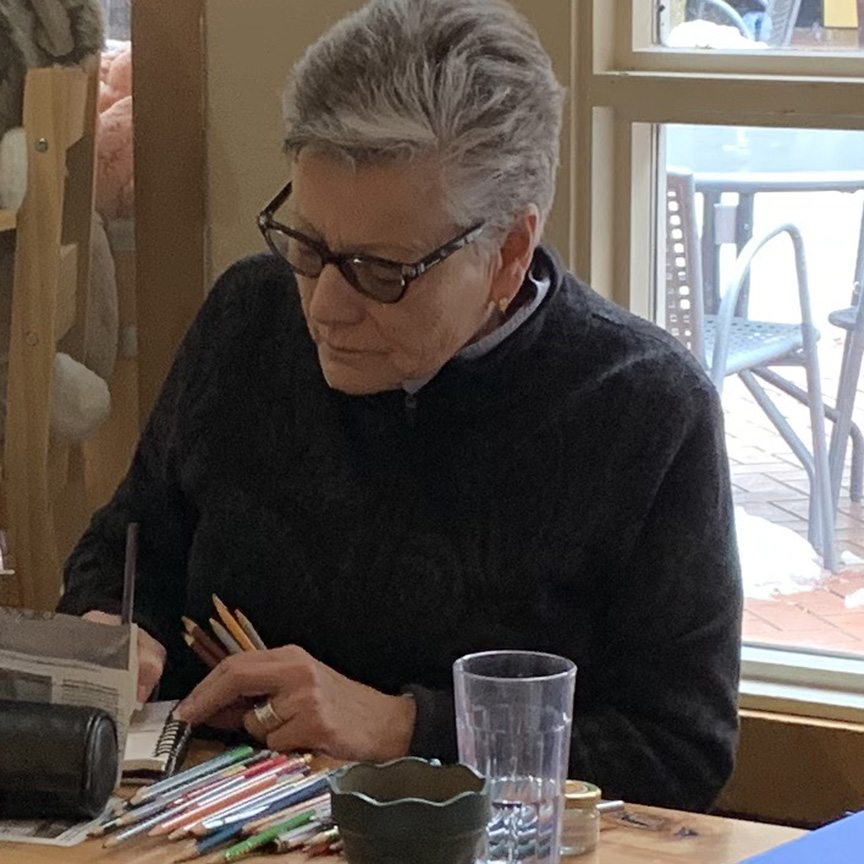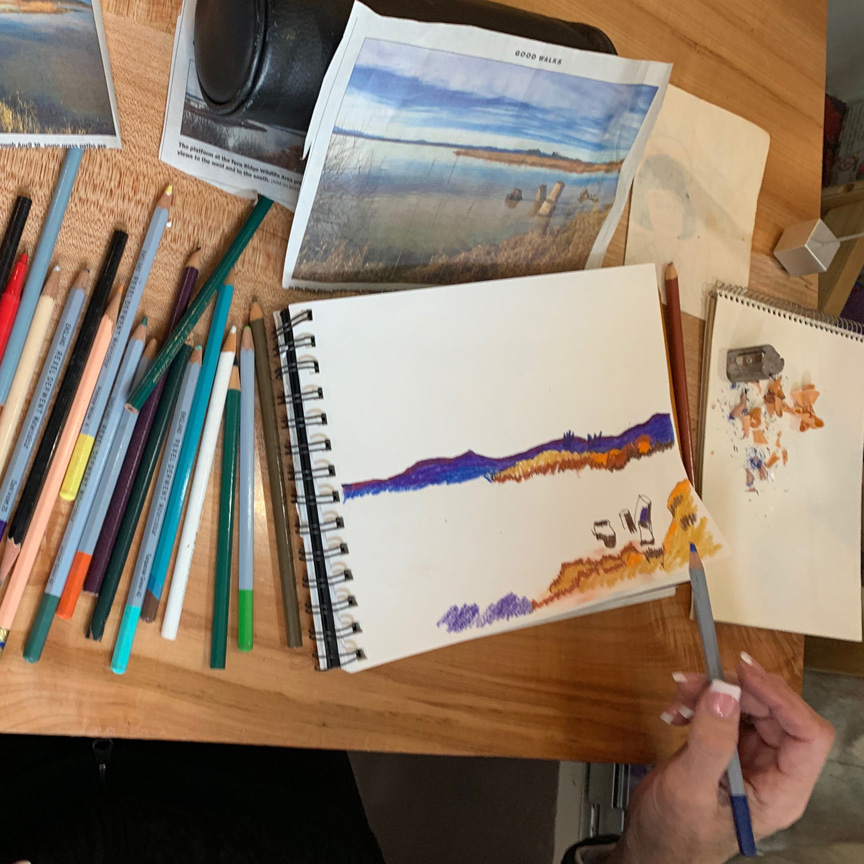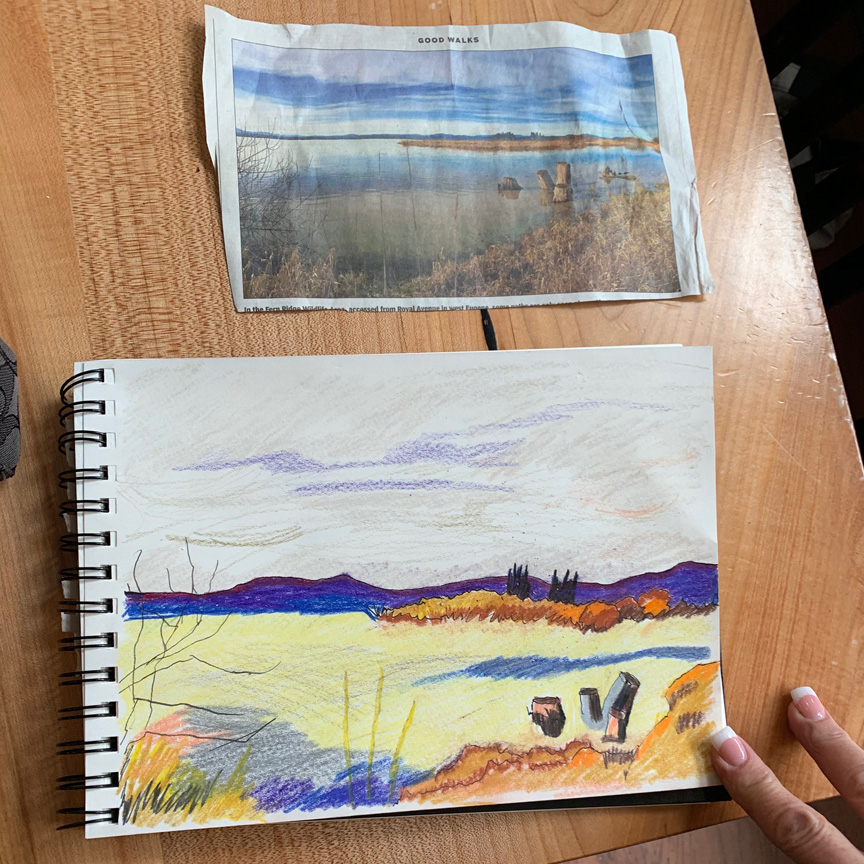 Franzi slipped into the back corner, taking on the challenge of replicating a photo using colored pencils – she'll add more layers, too.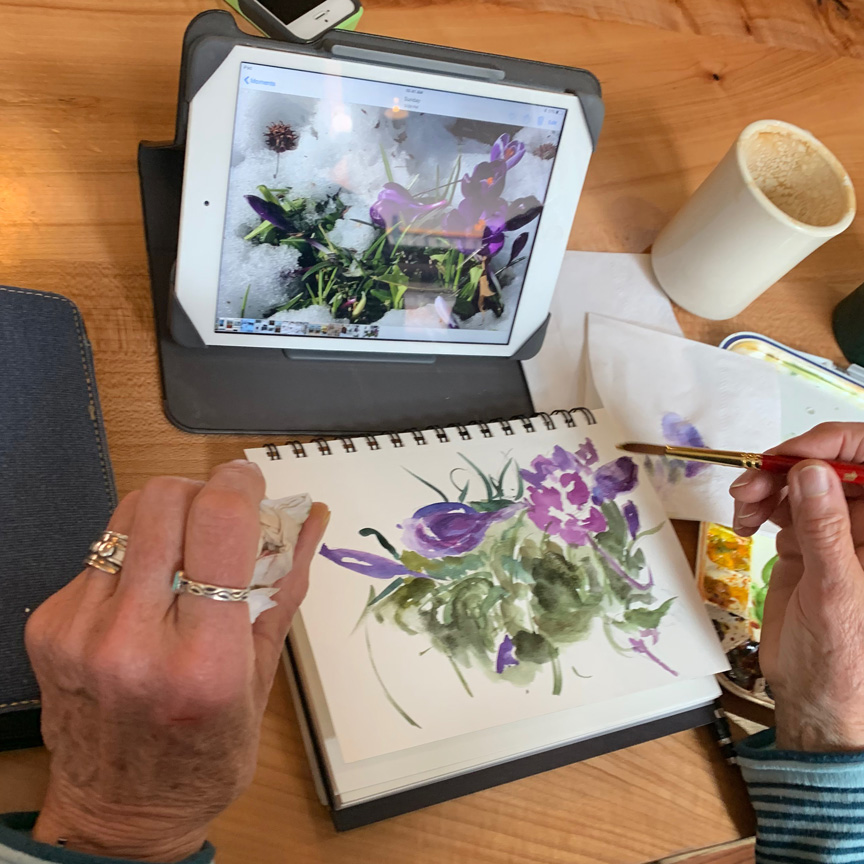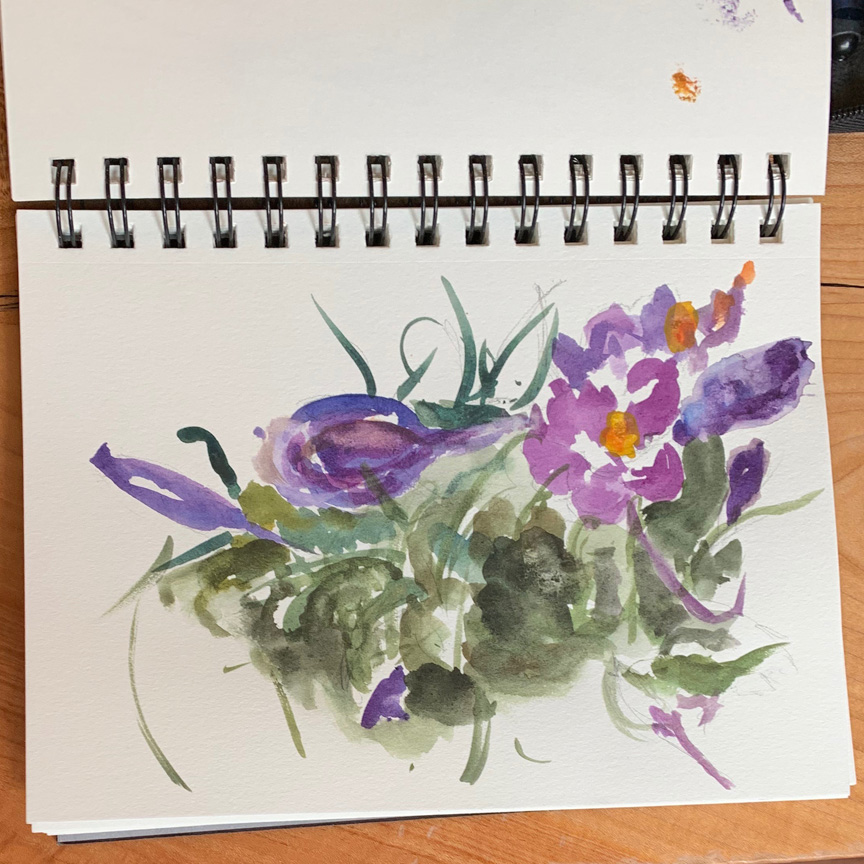 Penny M. said she'd just painted that same scene in oils, but here she is inspired by a picture of crocus, doing a watercolor interpretation.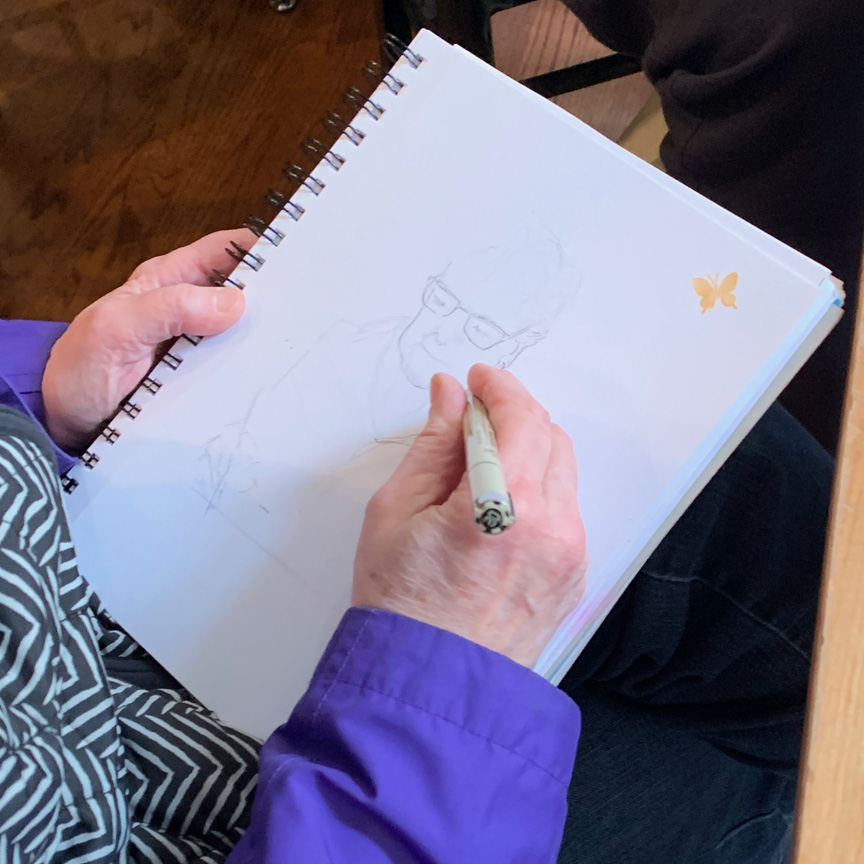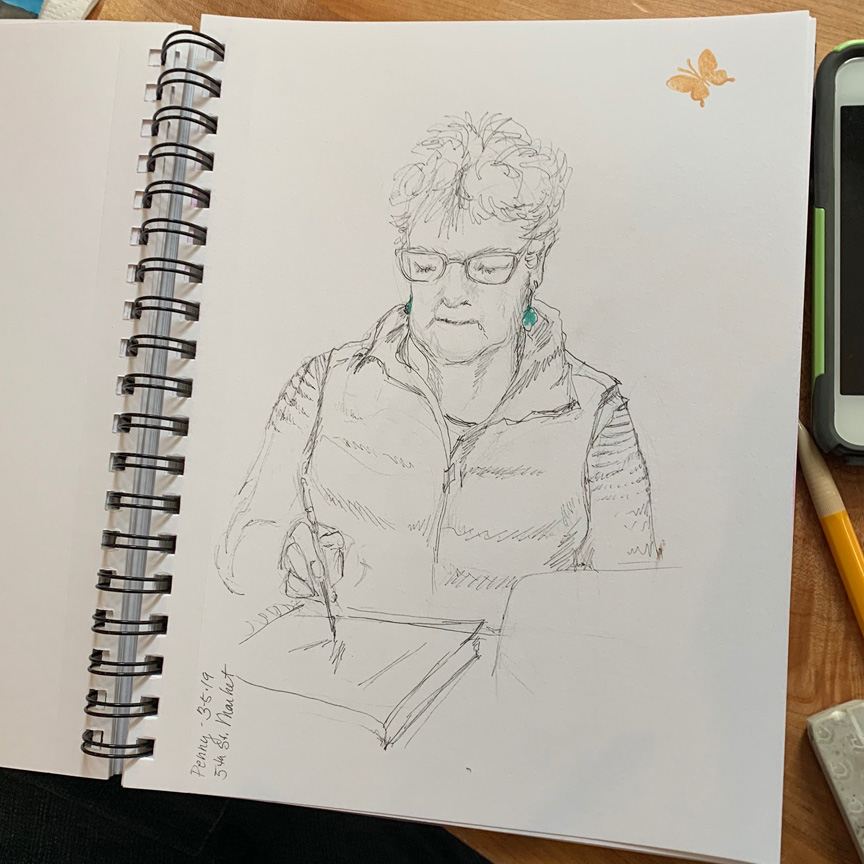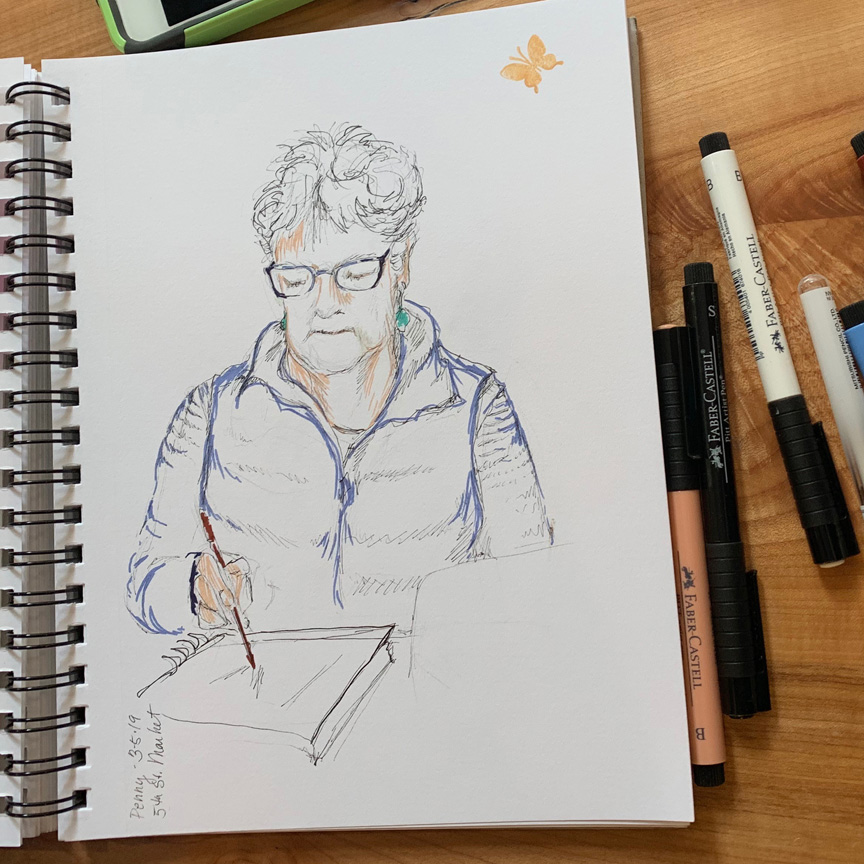 Marsha, sitting across from Penny, is continuing to develop her portrait skills, using Pitt pens with a light hand to bring the color out.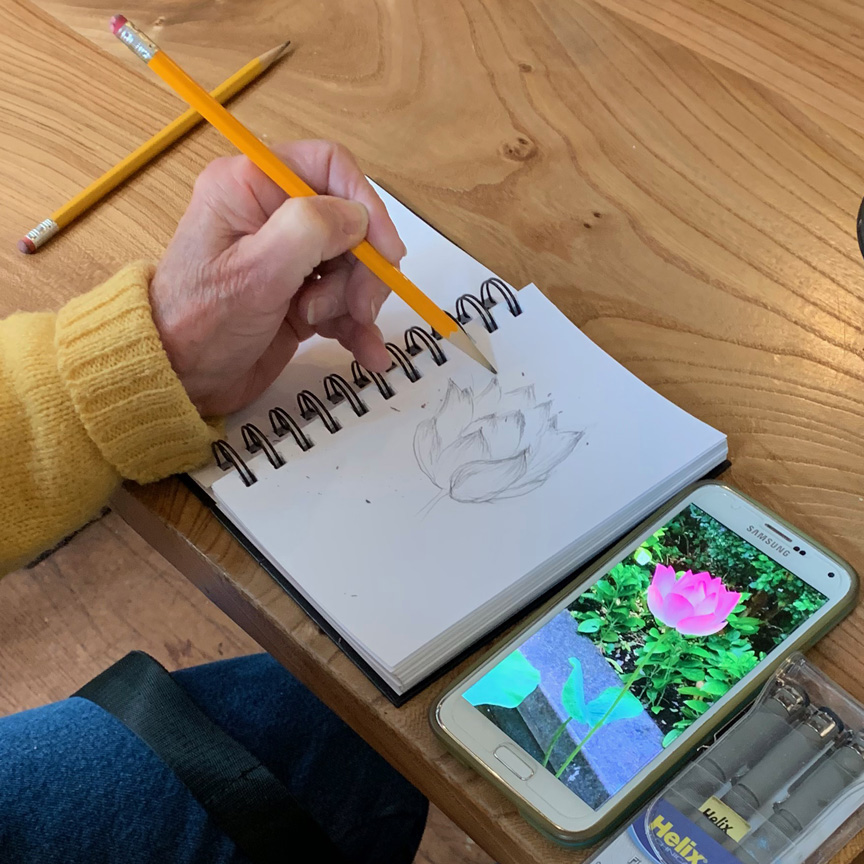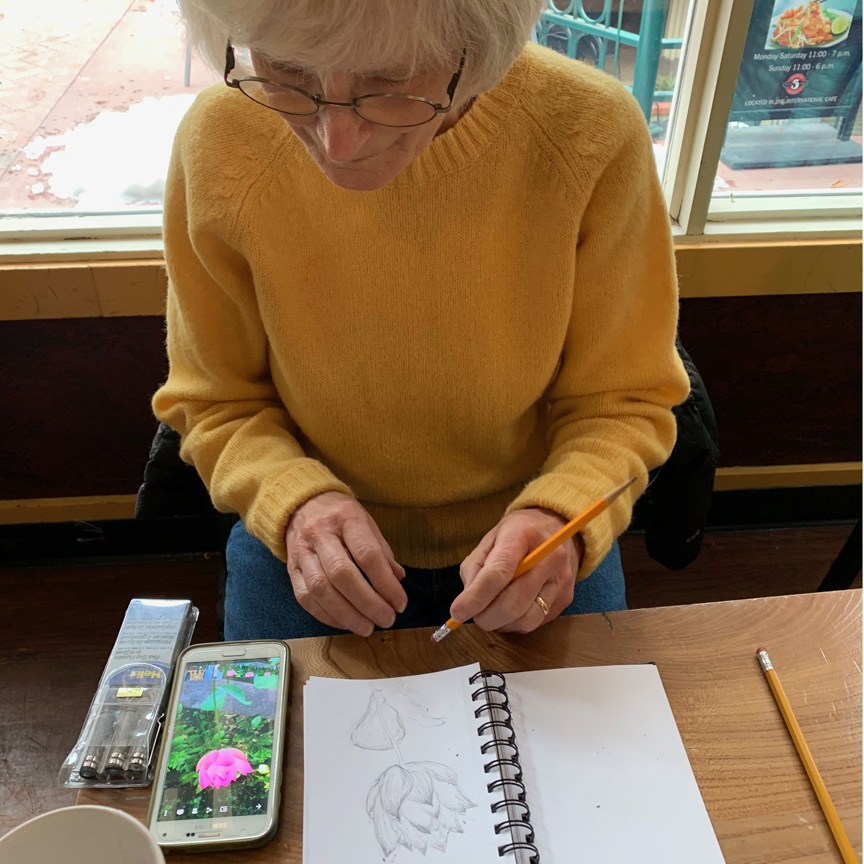 Liz, joining us for the first time, came prepared with a beautiful flower photo she wanted to draw, and did some nice shading, too.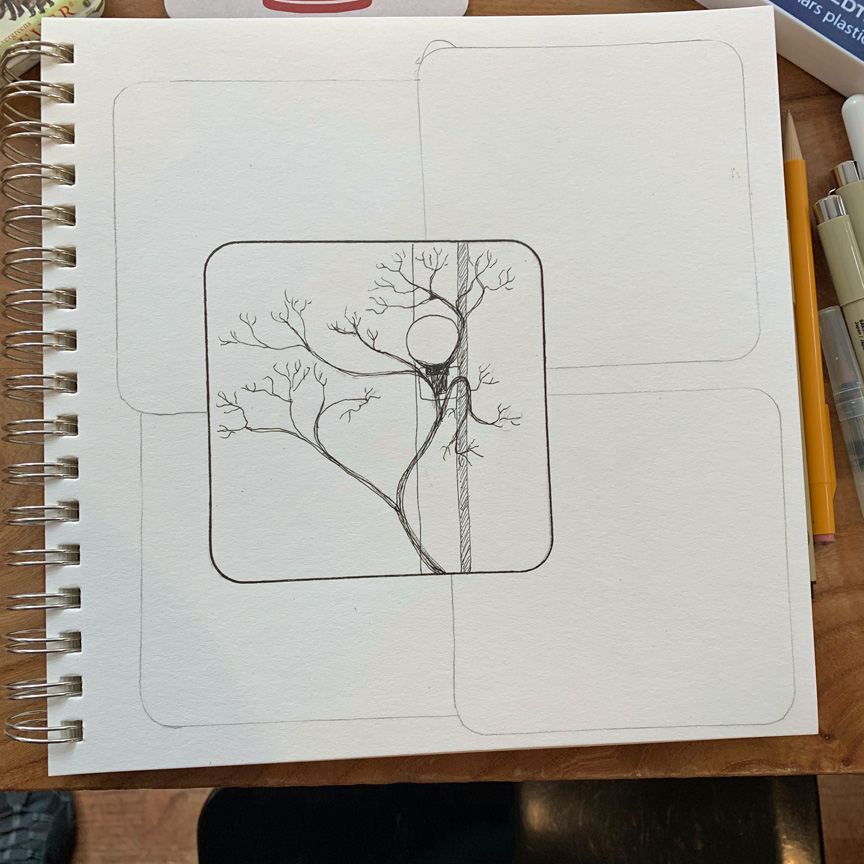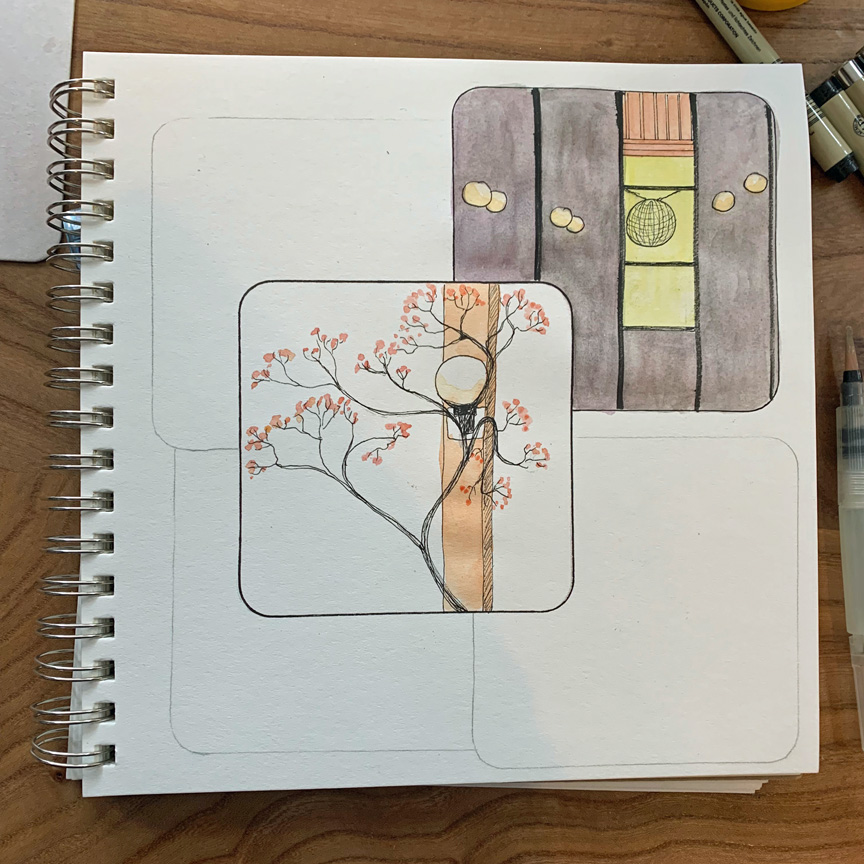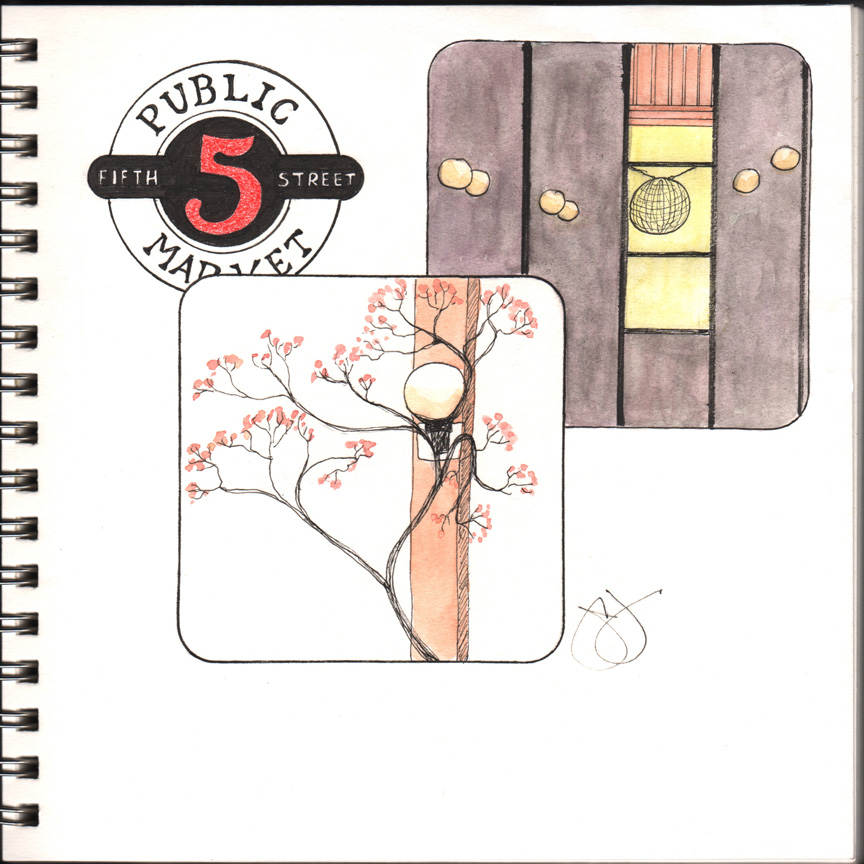 Jane decided to try vignettes in interlocking frames – at first kind of a maze of lines, but she cleaned up the page for a delightful finish.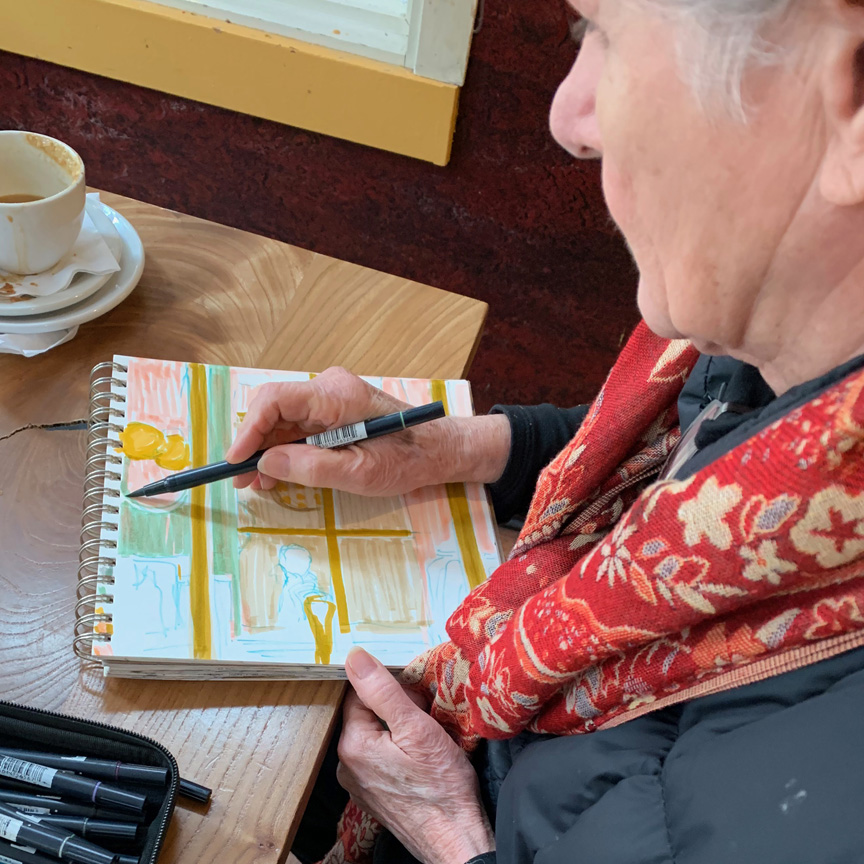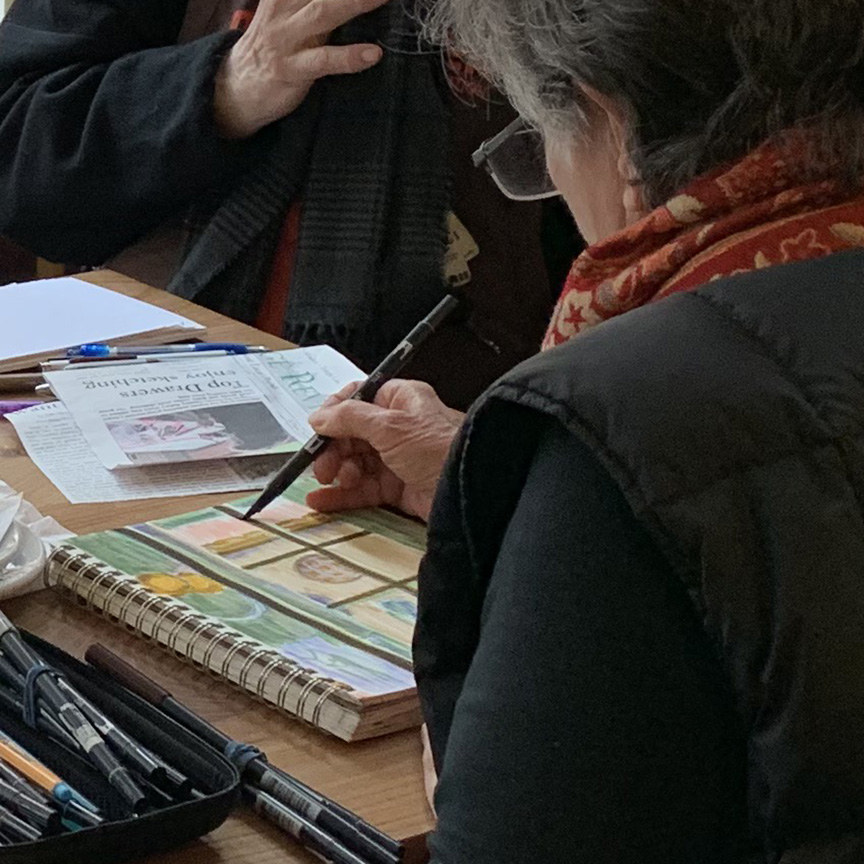 The view of the round lights and sphere in the window caught Lealan's attention, too; a  very different approach using markers.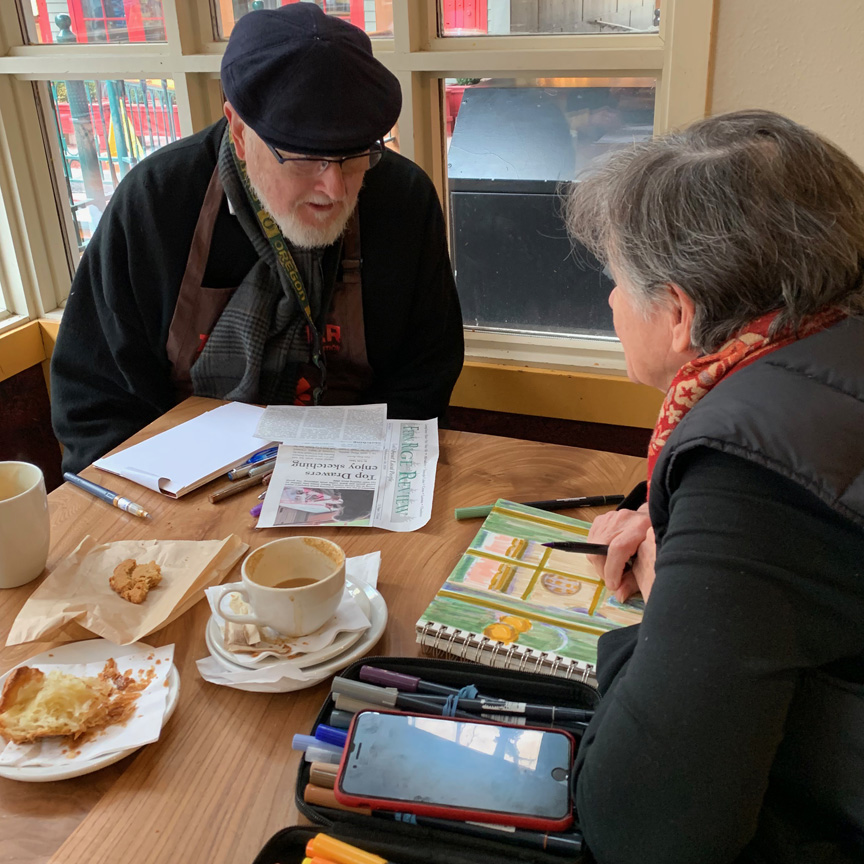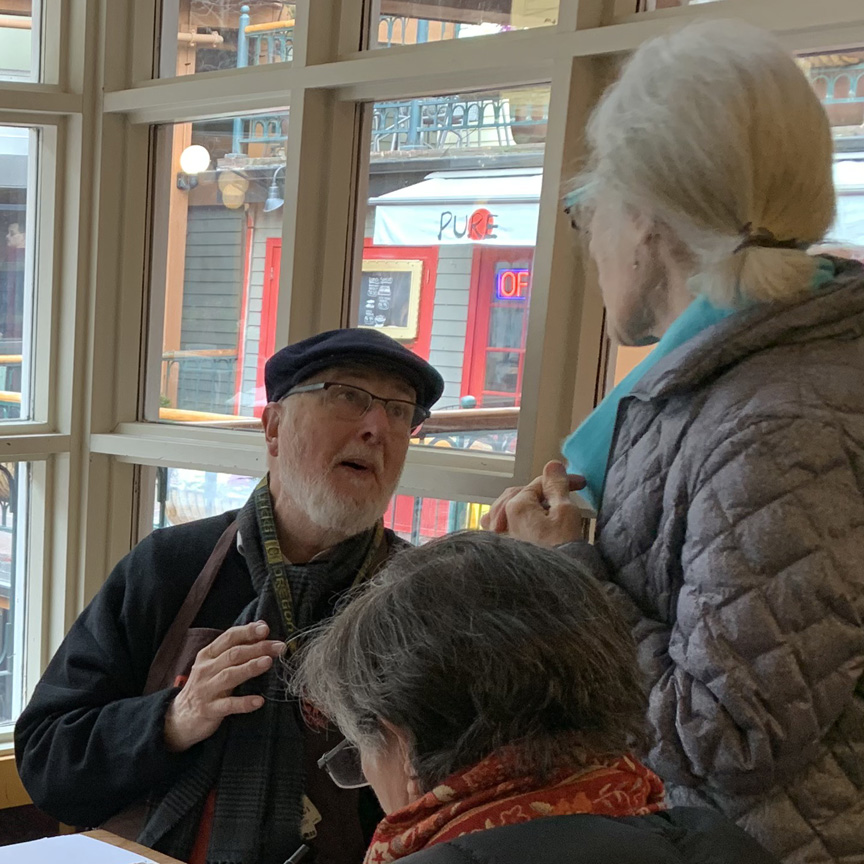 Ken never stops teaching and encouraging eager artists. Lucky us!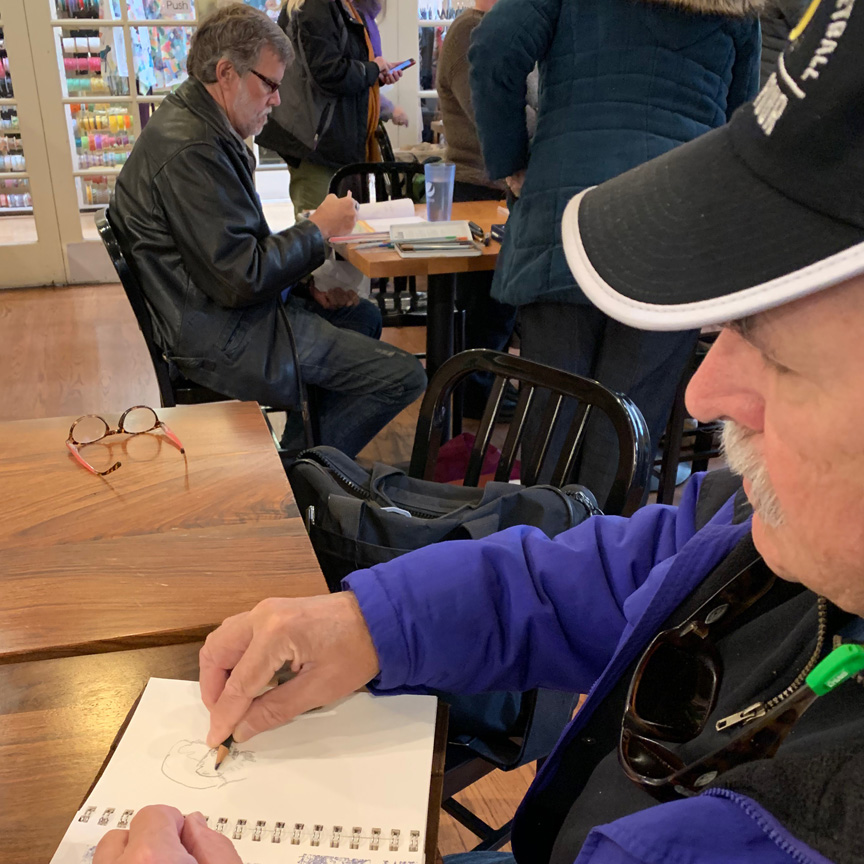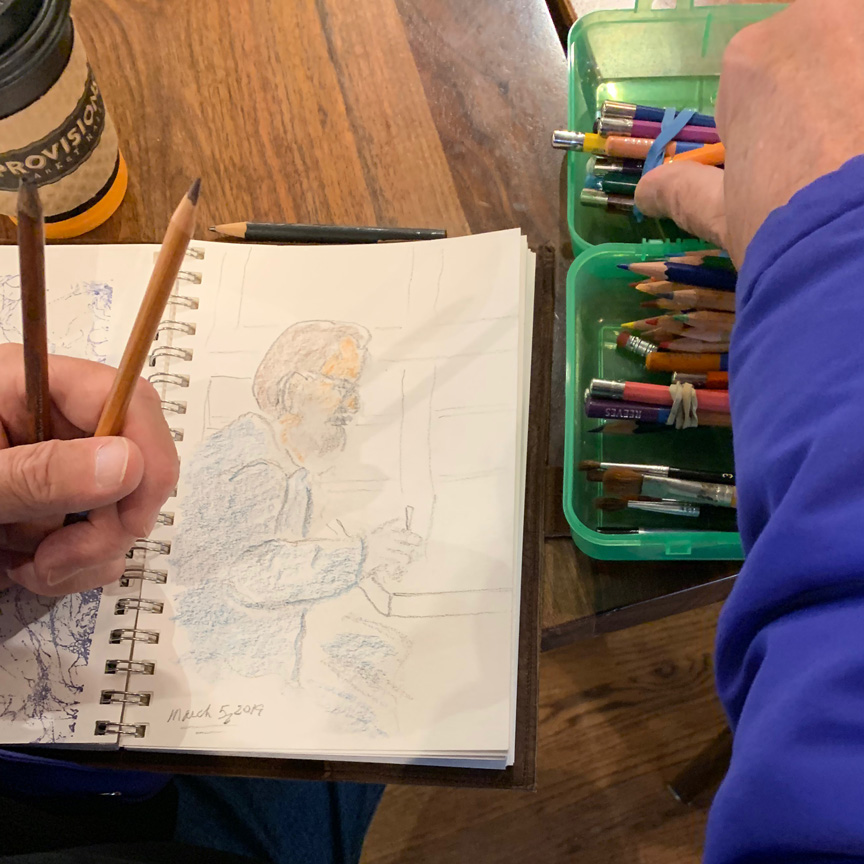 Bill came late from an appointment, but he was ready to draw his subject – Jim – in preparation for a birthday card for his buddy.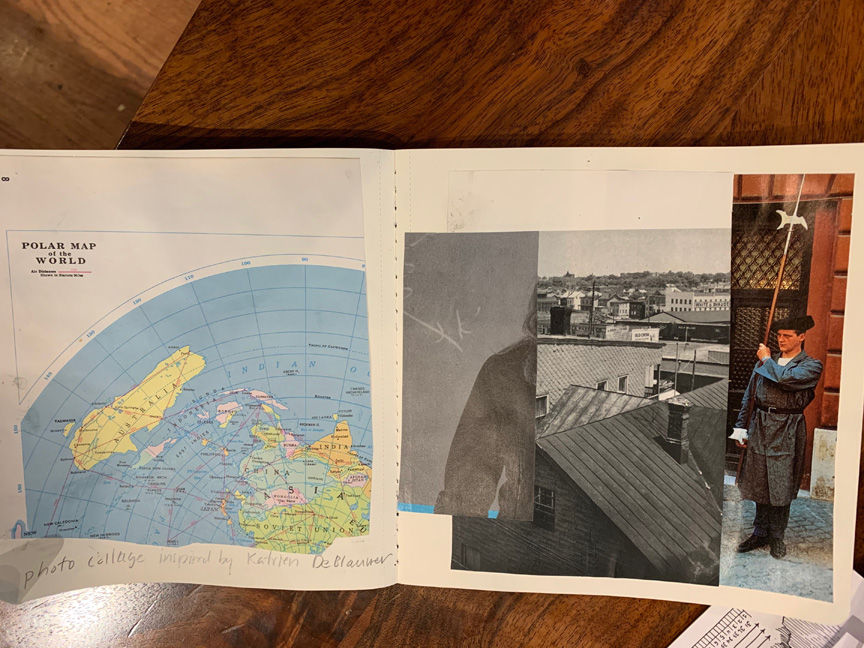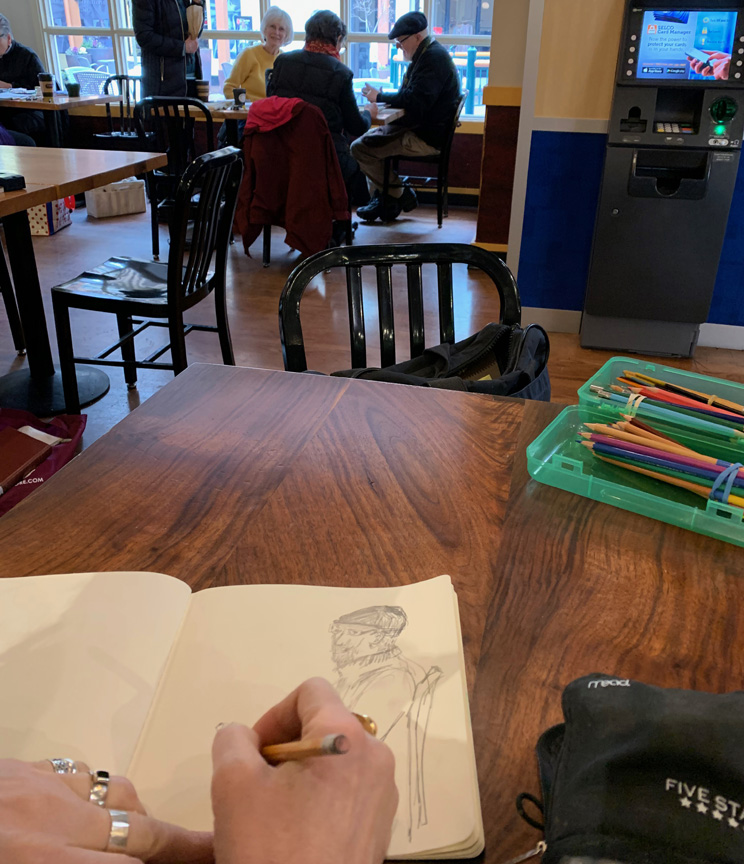 Zoe said she was just glad to be with us. She added onto a collage she was doing, then started sketching Ken across the room – nice!