Cornucopia outside patio, 19th & Lincoln, Eugene, OR
Woke up to frost this morning, & thought maybe we'd have a small turnout, but oh no! We remembered overhead heaters, vinyl walls.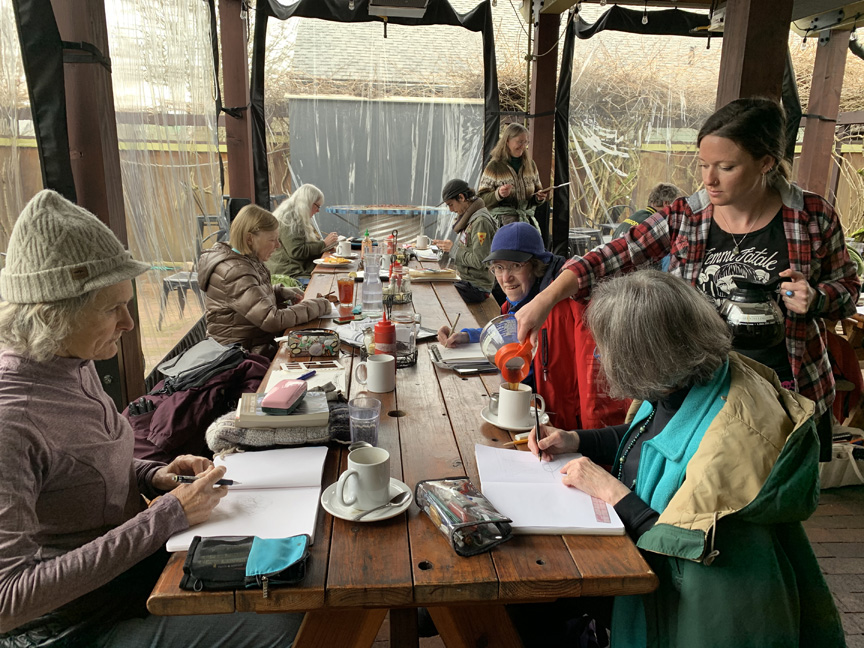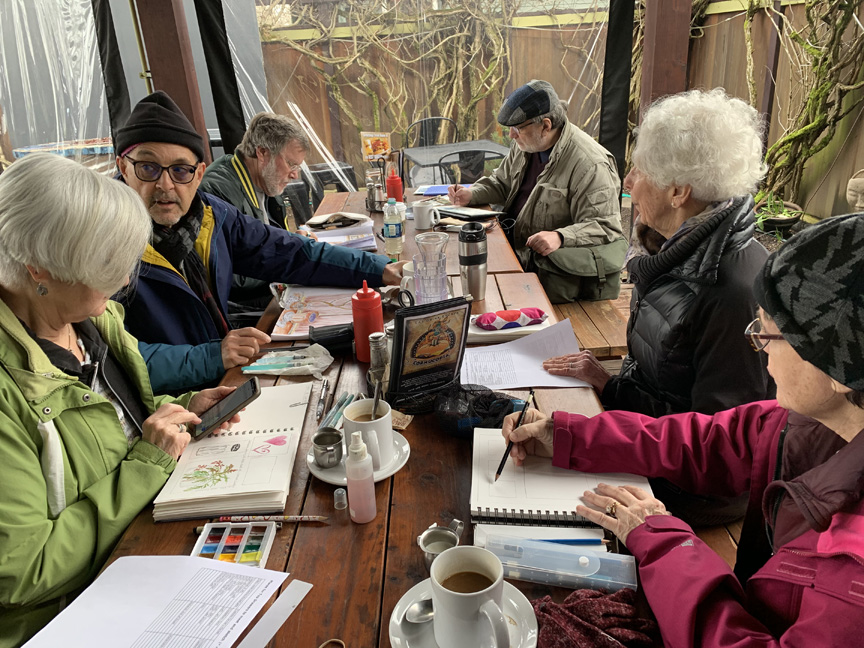 Sandy, Barb Sh, Danita, Sam, Bitty, Peggy, coffee server, Marsha; Katie, Hugh, Jim H, Serge, Lynda, Jackie. Intrepid sketchers, all!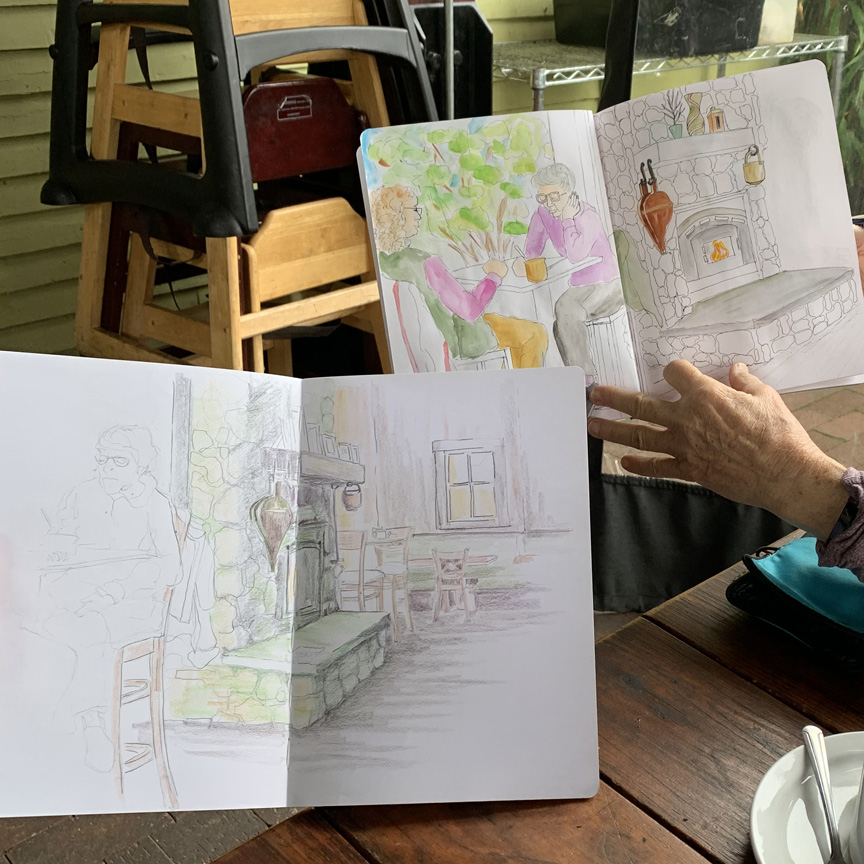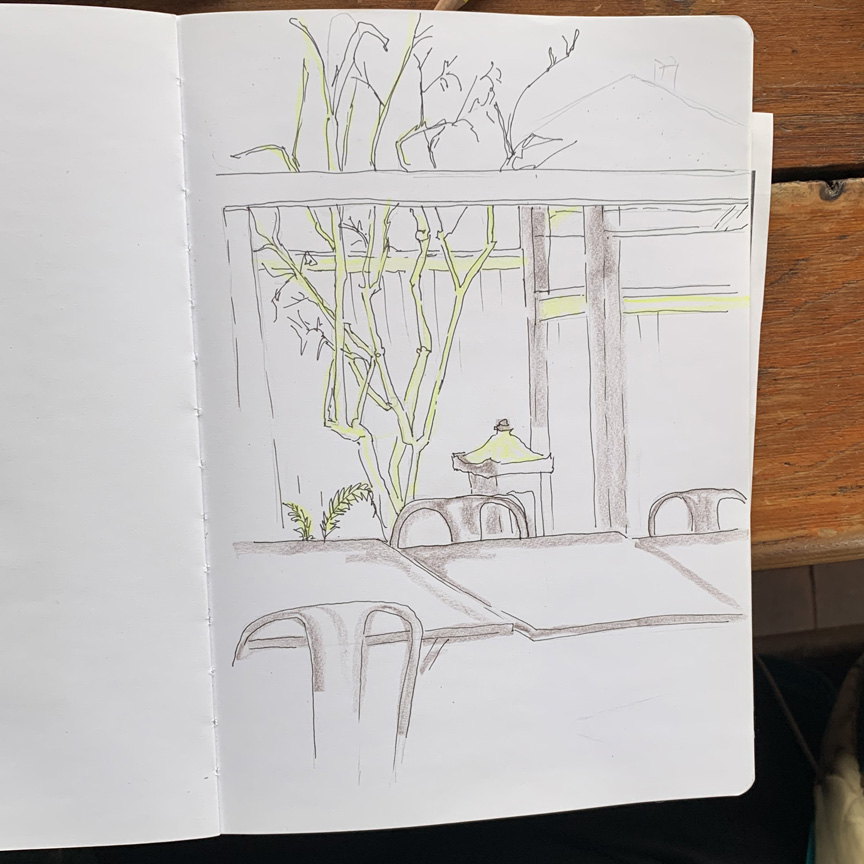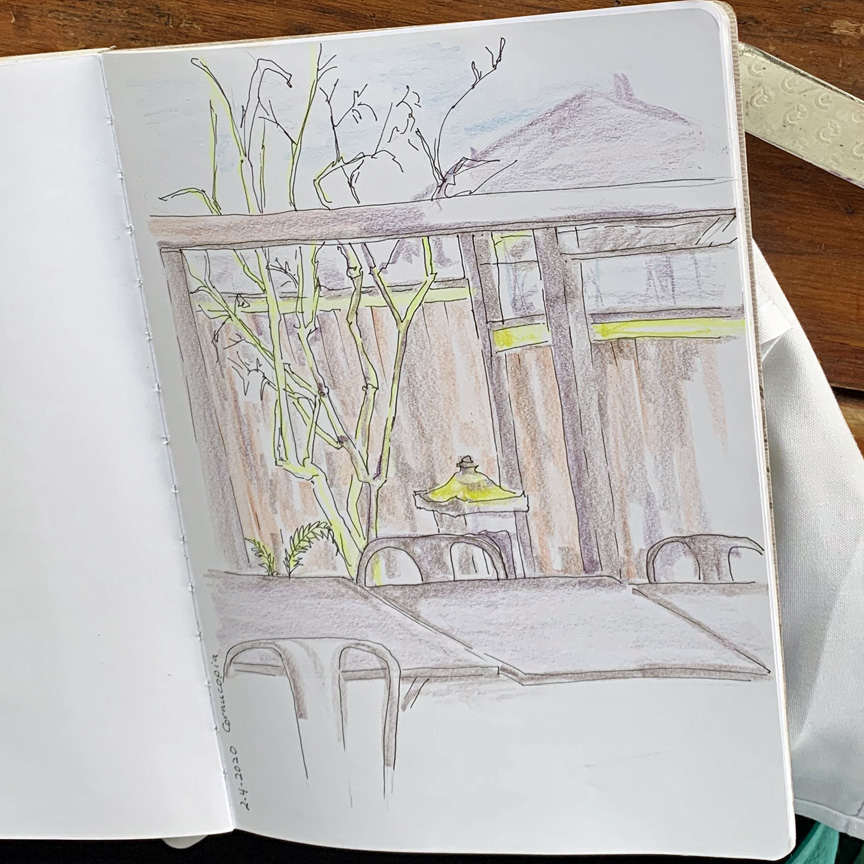 Marsha & Sandy started by comparing their sketches from last week. Marsha then took on the chairs and fence across from her.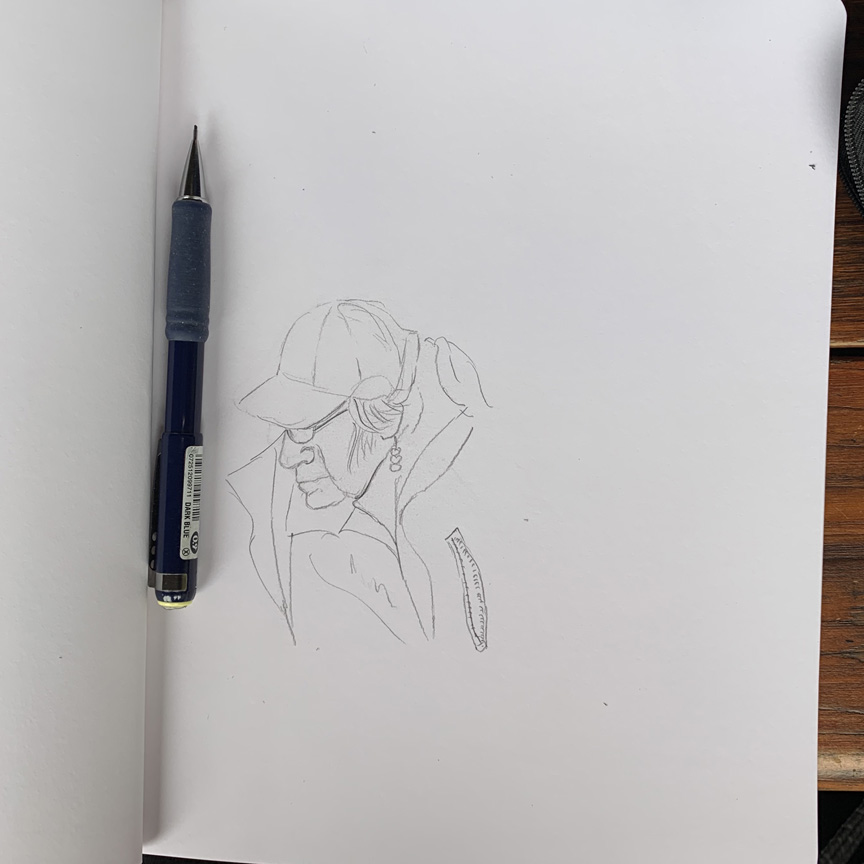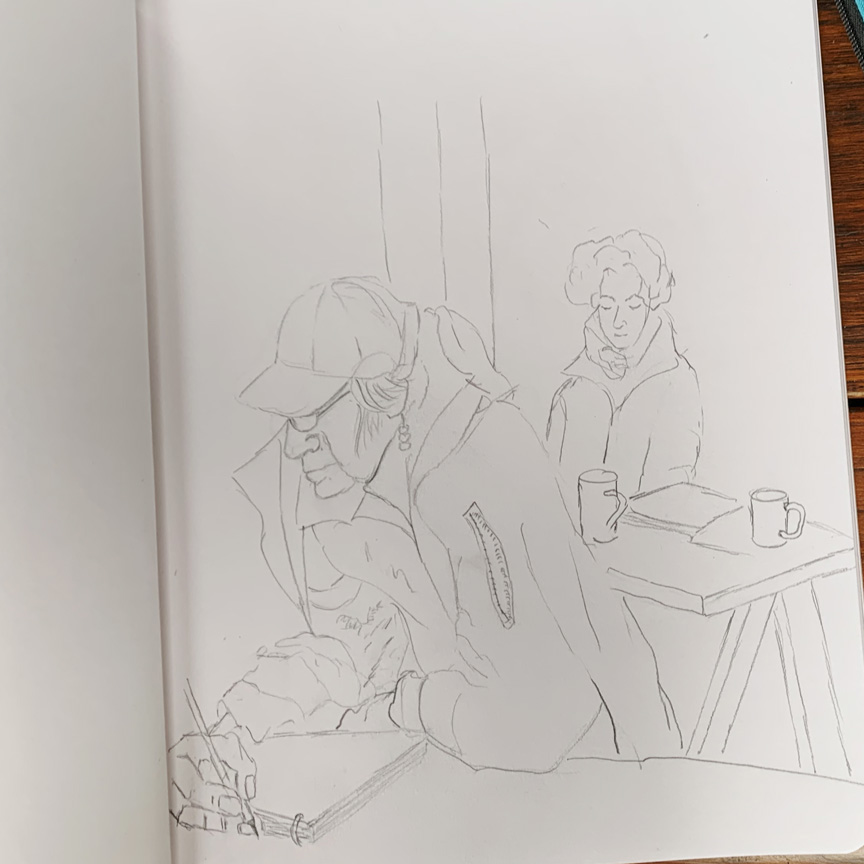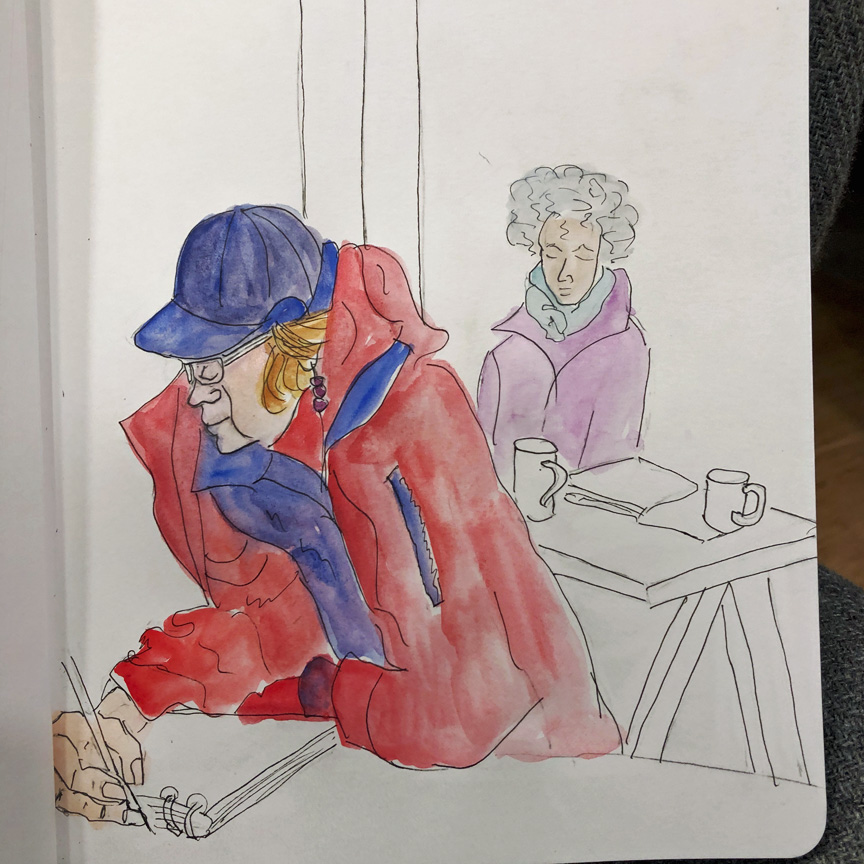 Sandy was looking the other way, and captured Peggy (all suited up for the cold weather) and Lynda at the next table. Nice color use!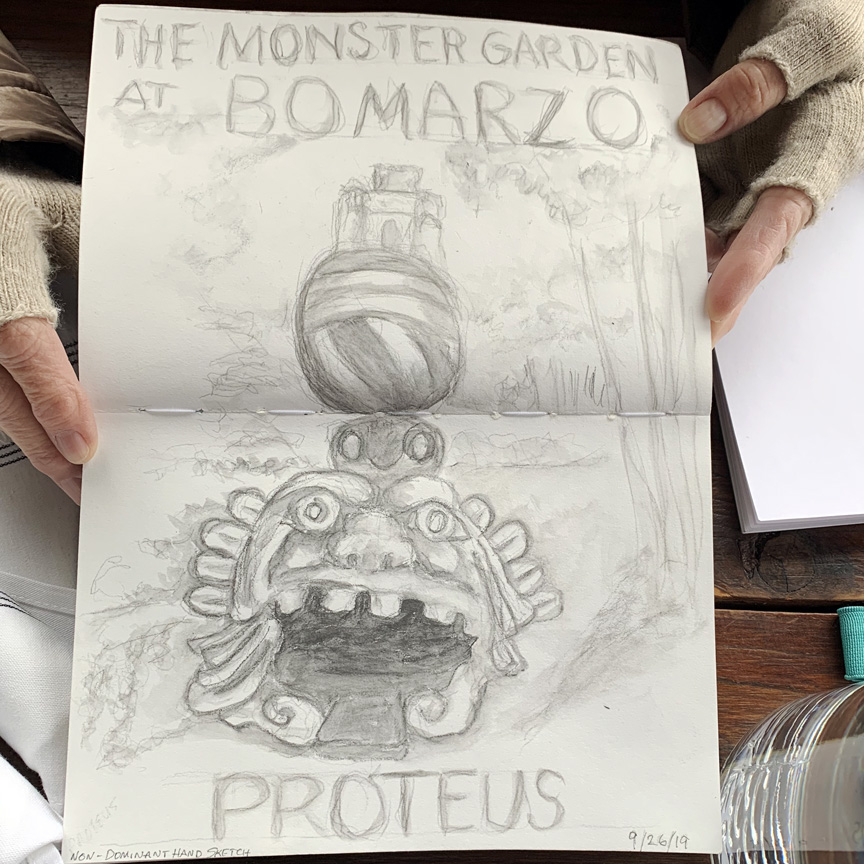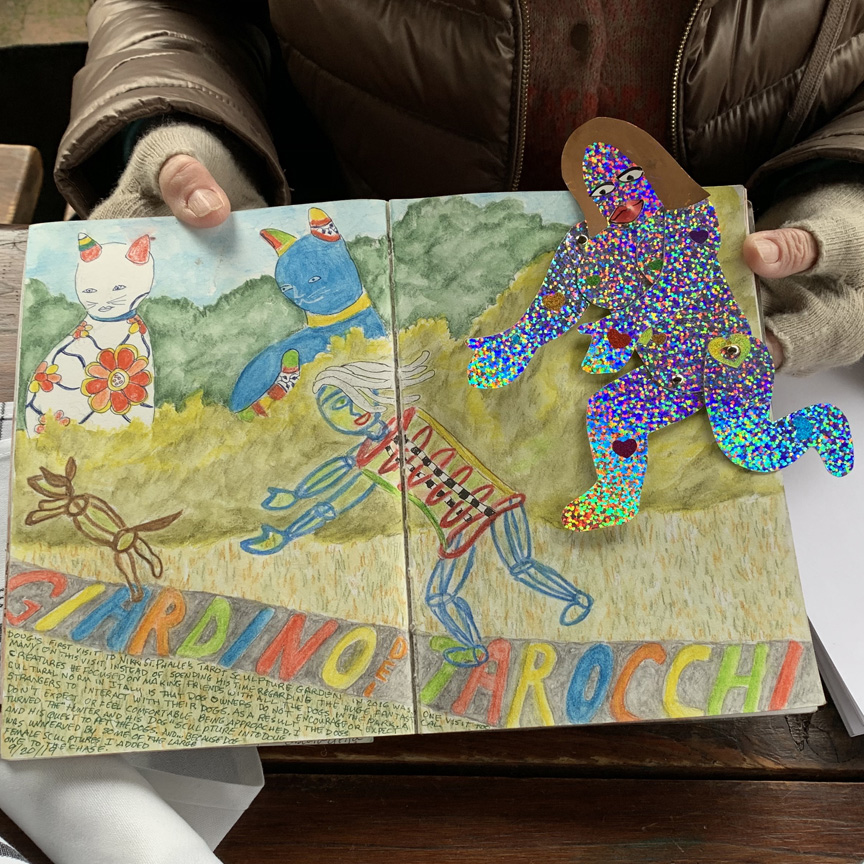 Barb Sh finished her sketchbook from Italy – here two of the wild gardens we visited – The Monster Garden, & the Tarot Garden.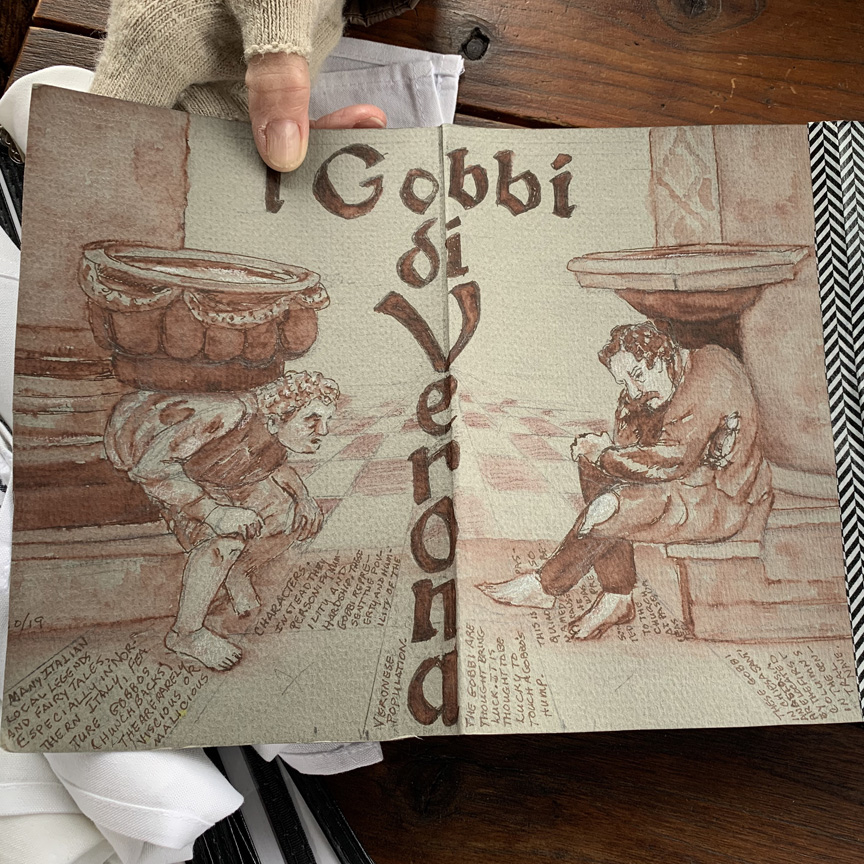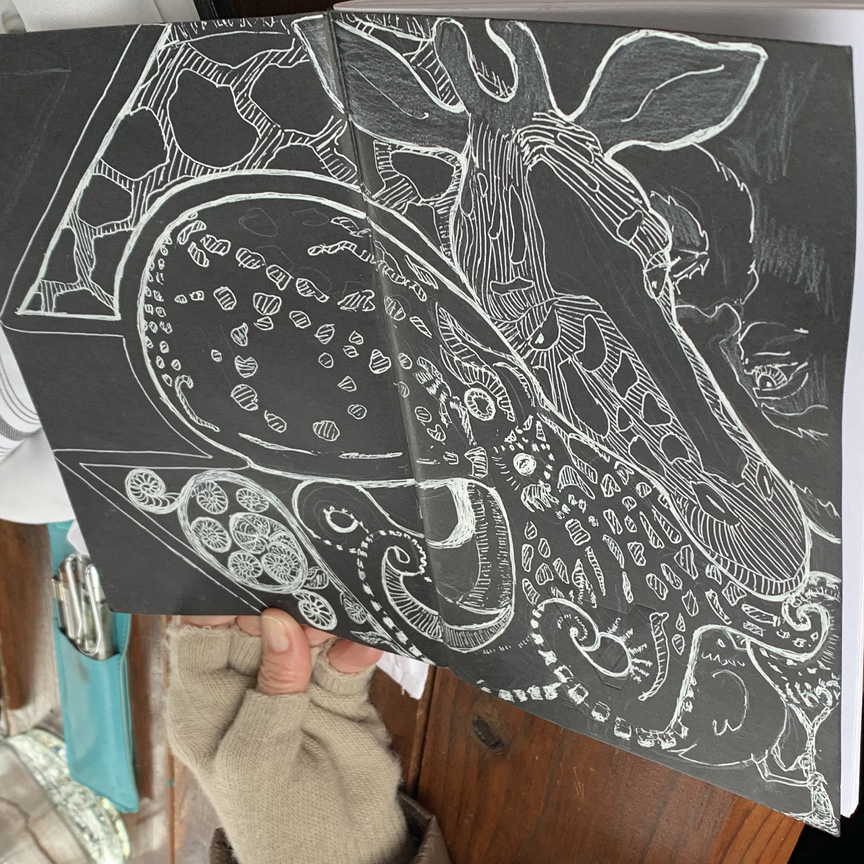 Barb Sh solved the problem of how to add commentary to her Verona sketch – in the pavers! Then she broke free into abstraction.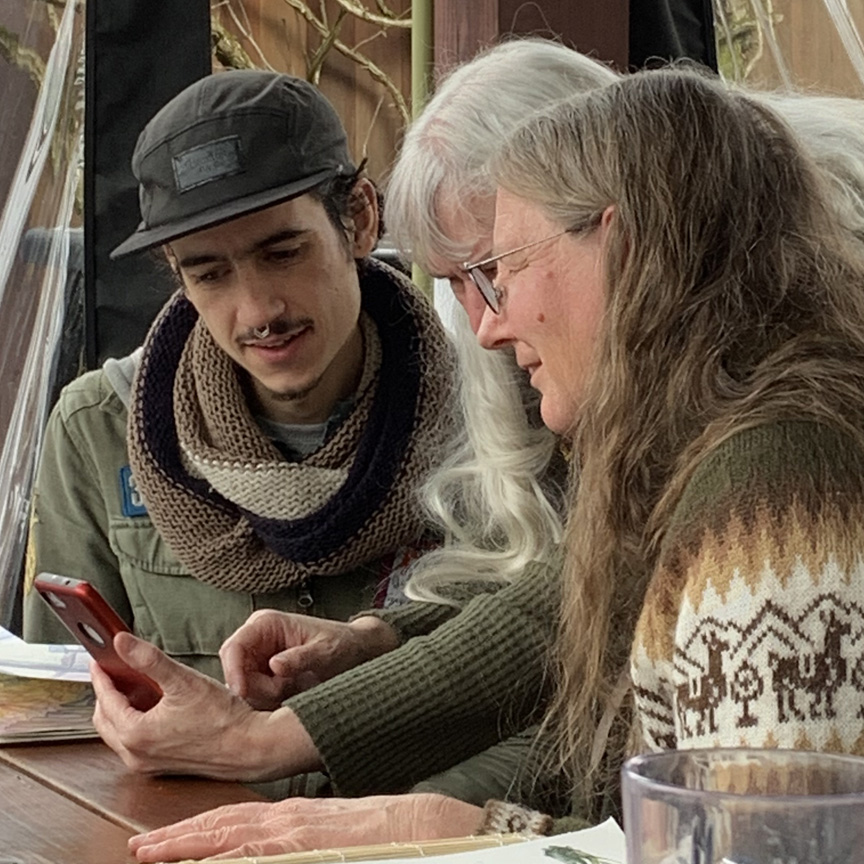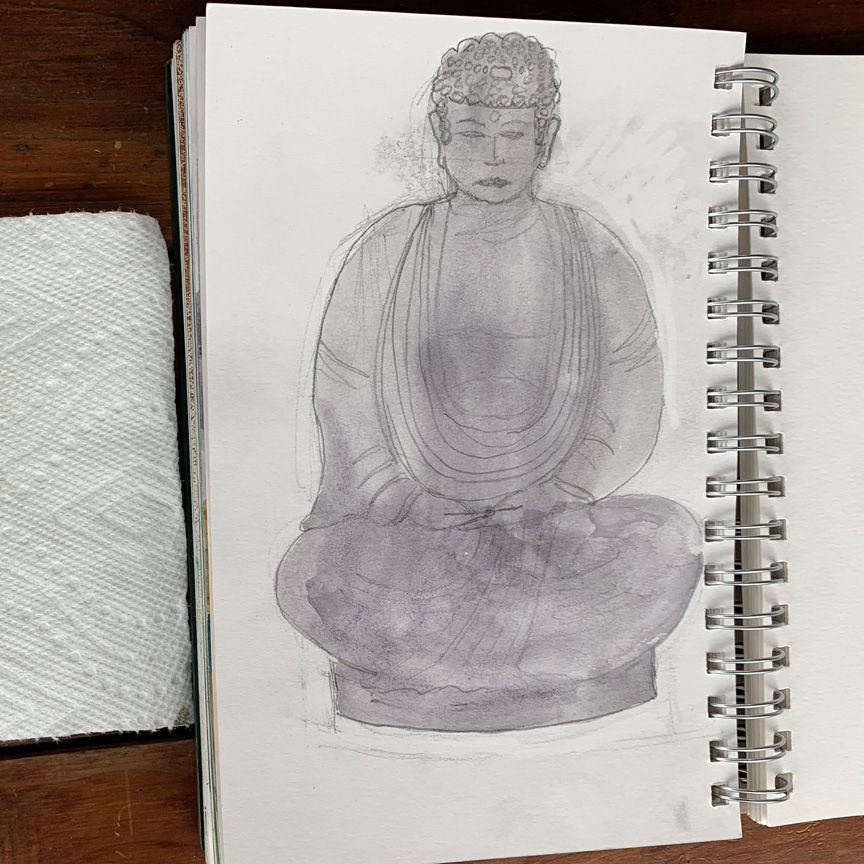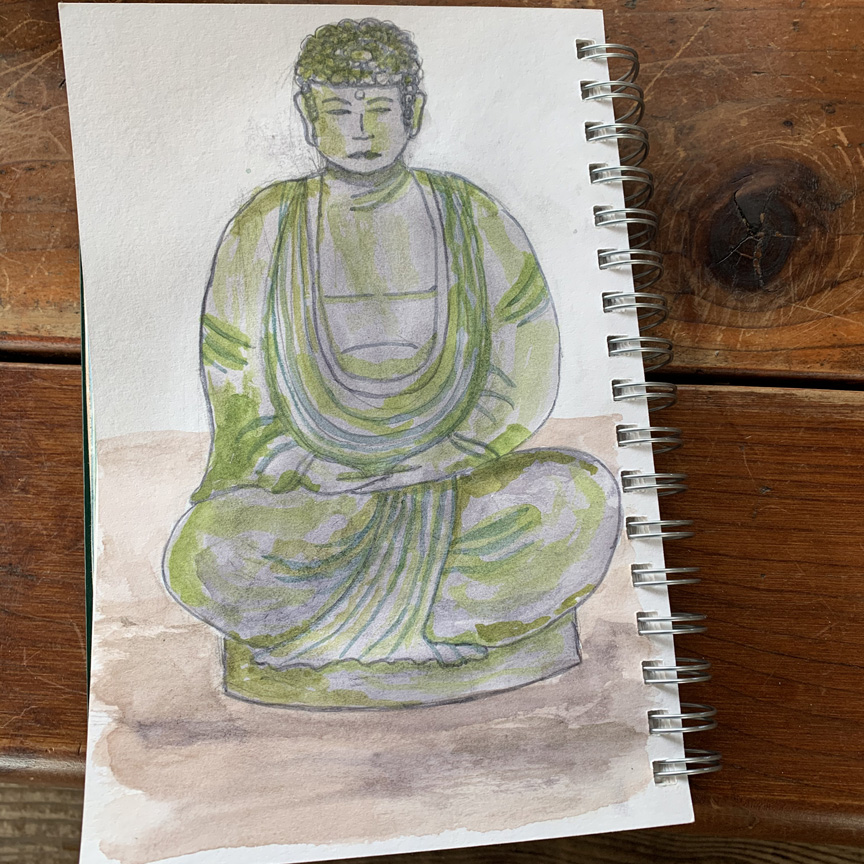 Danita shared some insights with newcomer Sam and Bitty, then sketched the weathered Buddha in the courtyard patio. Nice!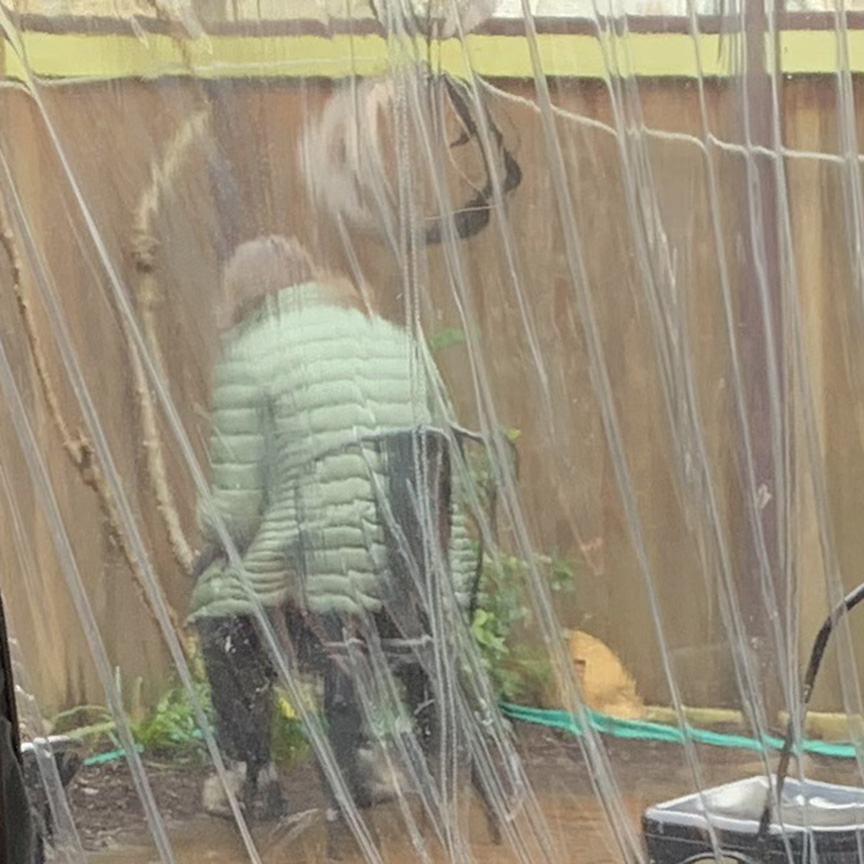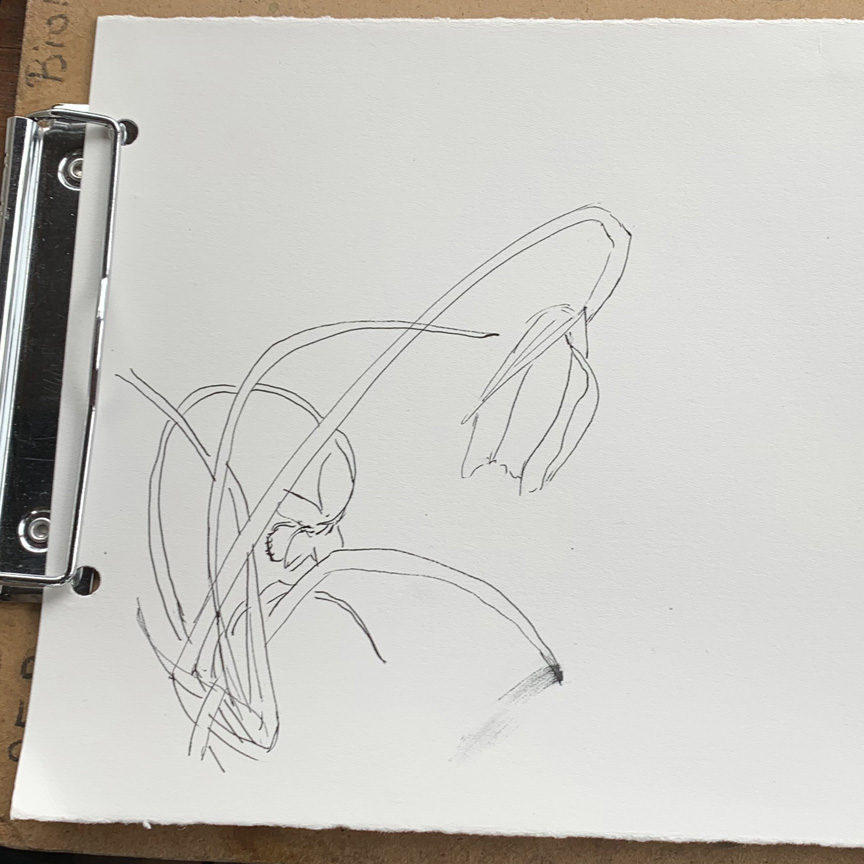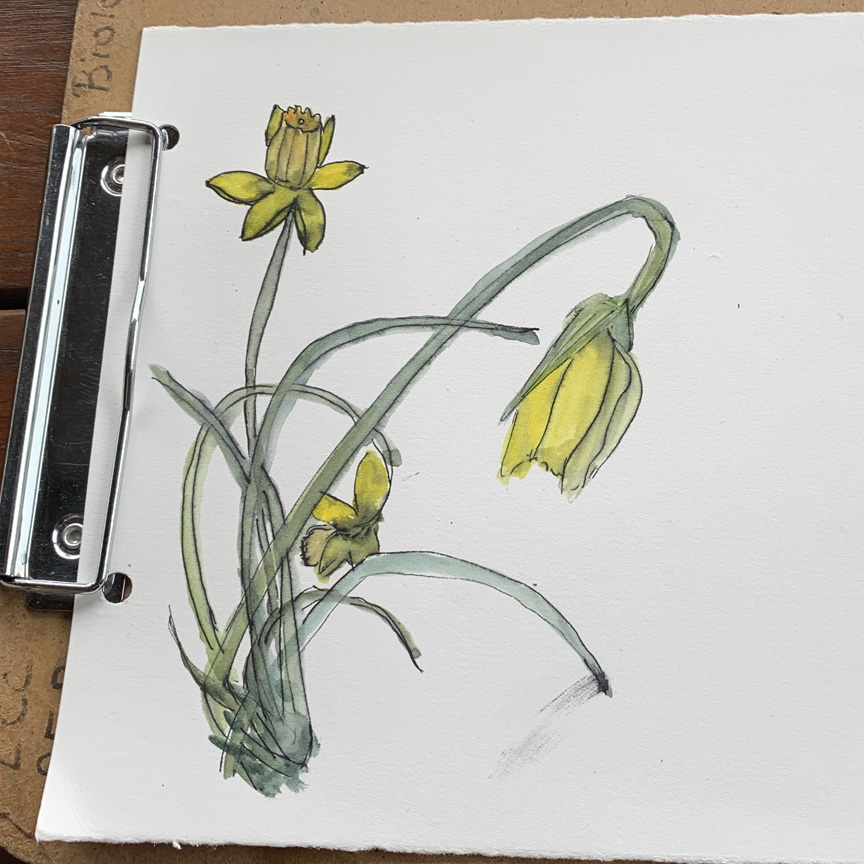 Bitty likes to get up close and personal in her sketches, and didn't this sketch of narcissus turn out charmingly! Love the design.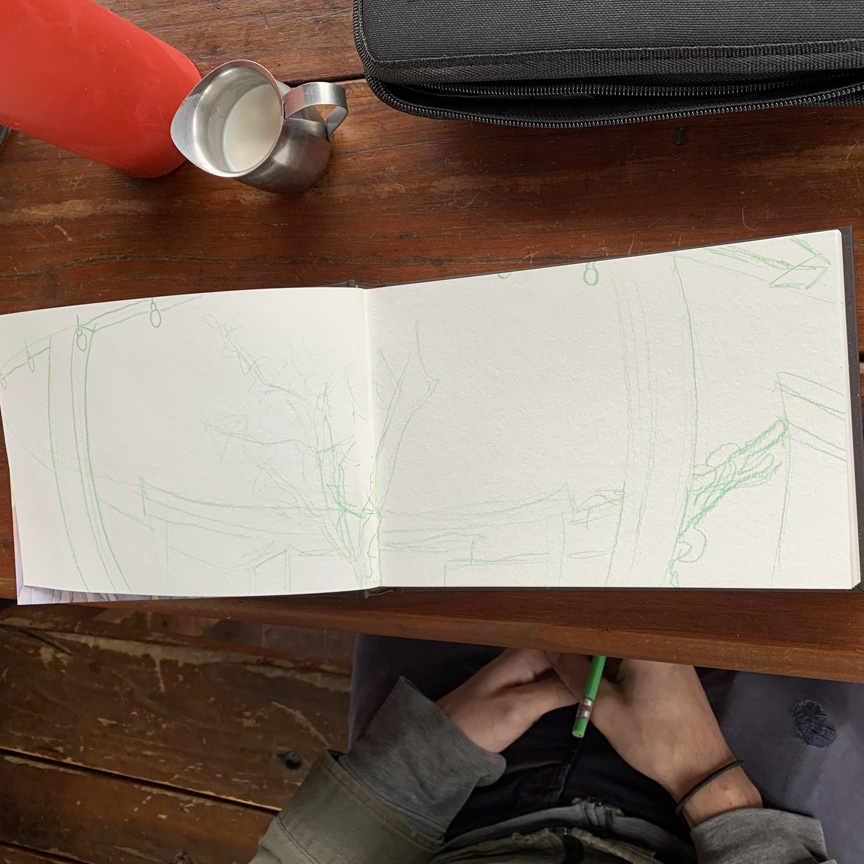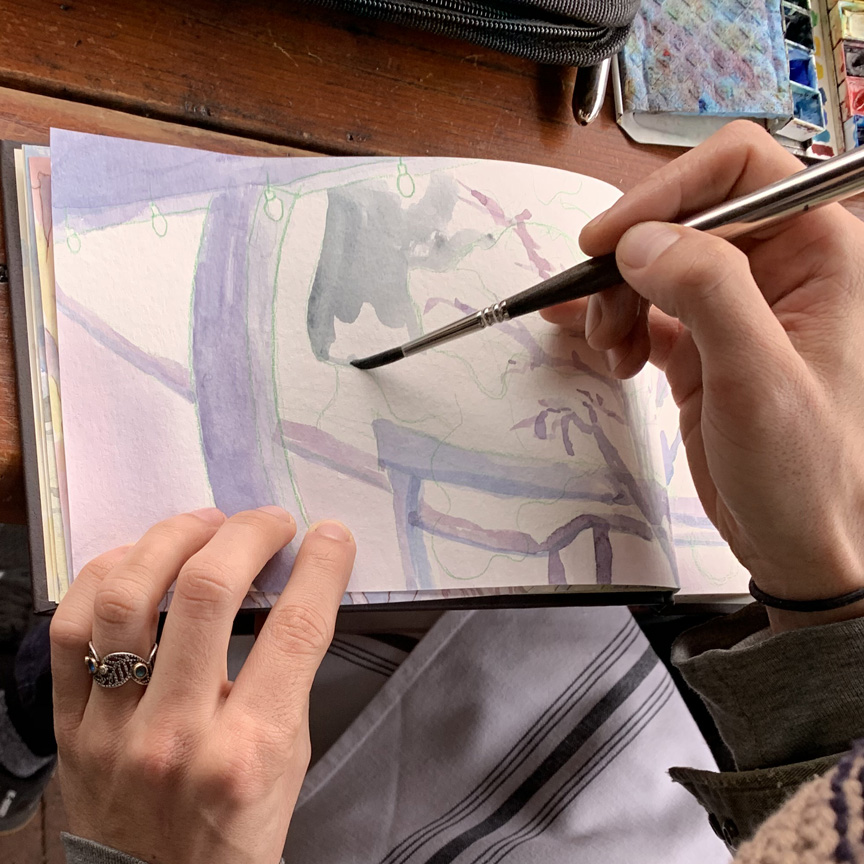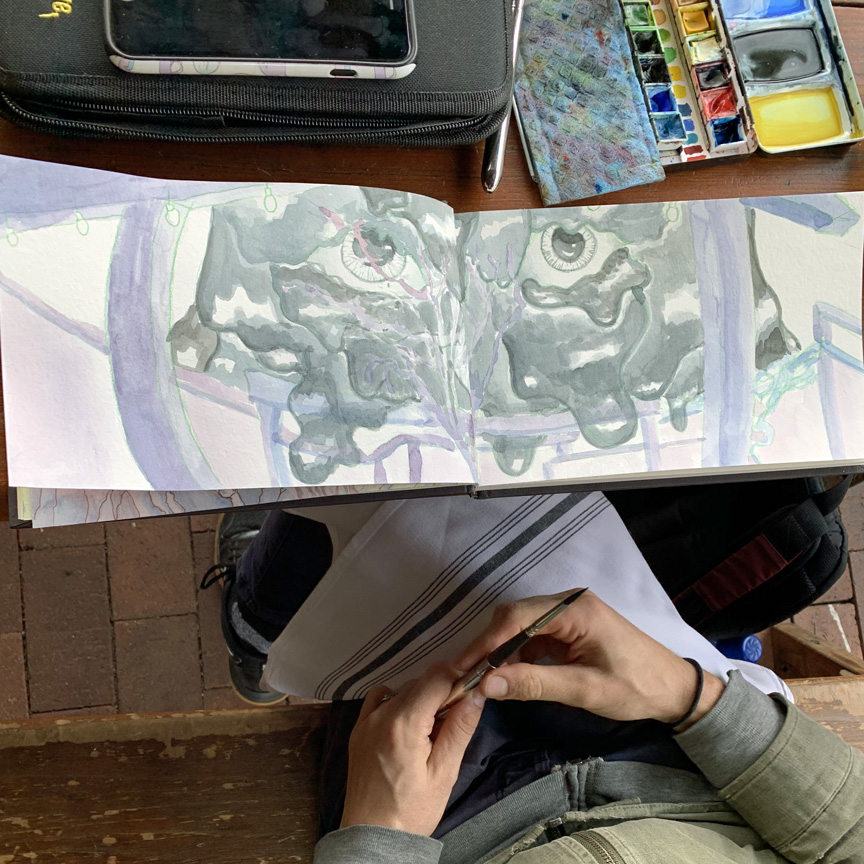 Sam began his sketch with light green colored pencil, then let loose with watercolor, layering colors for a dynamic result. Way to go!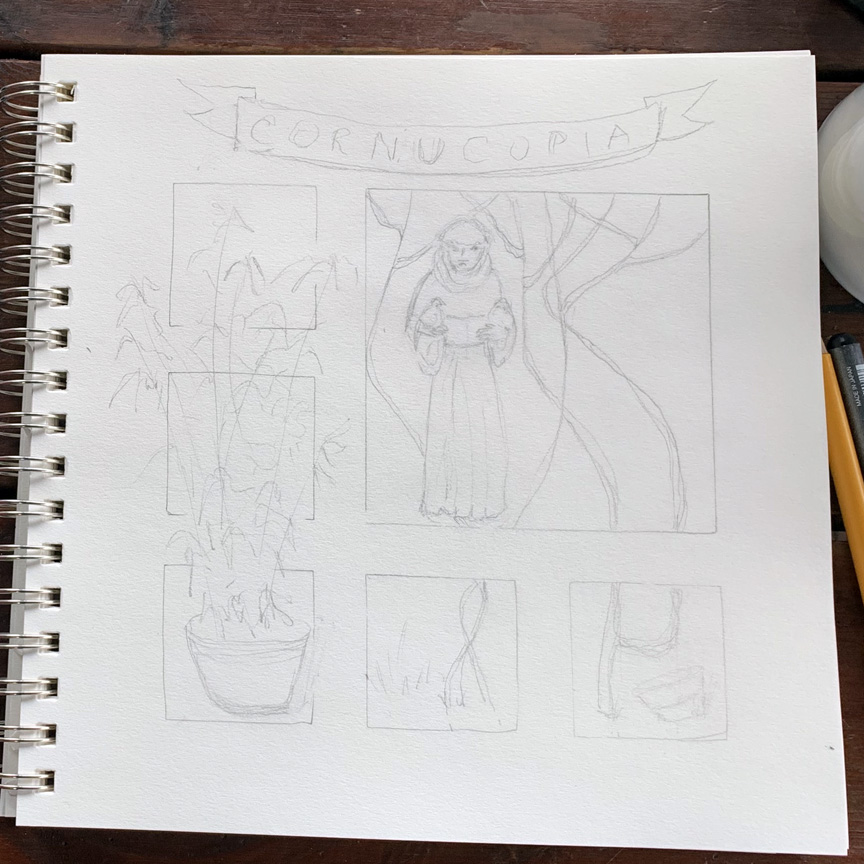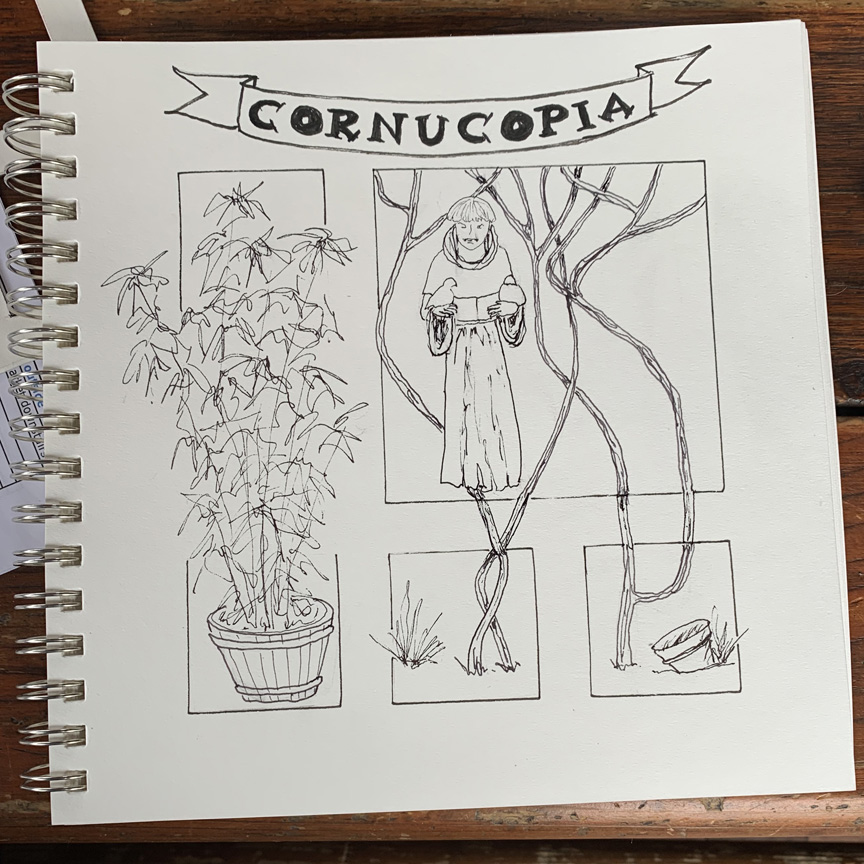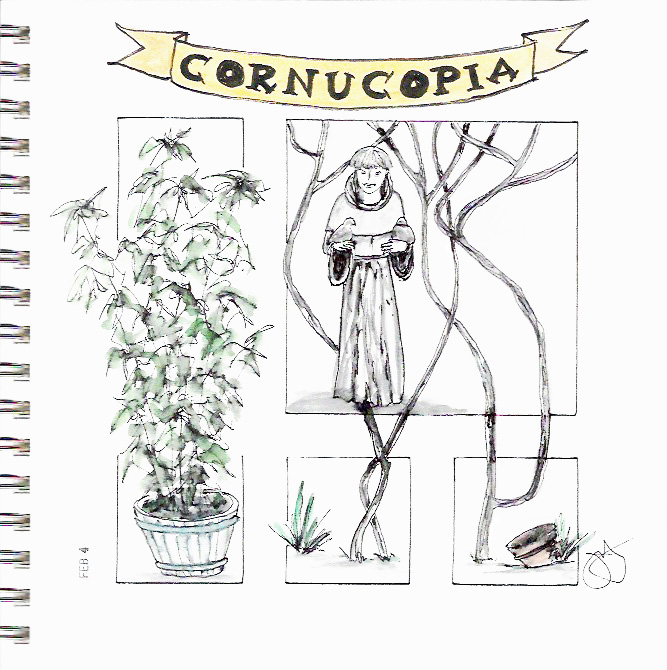 Jane did her sketch outline (except for banner & frames) using Lamy ink which is water soluble – have to let go of control with this one!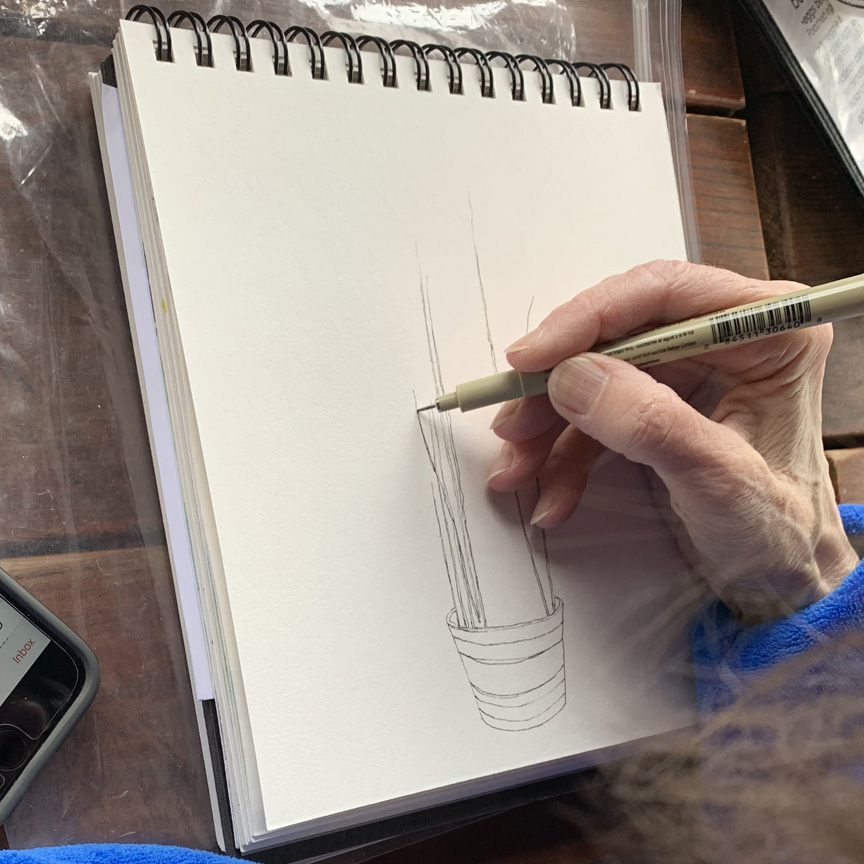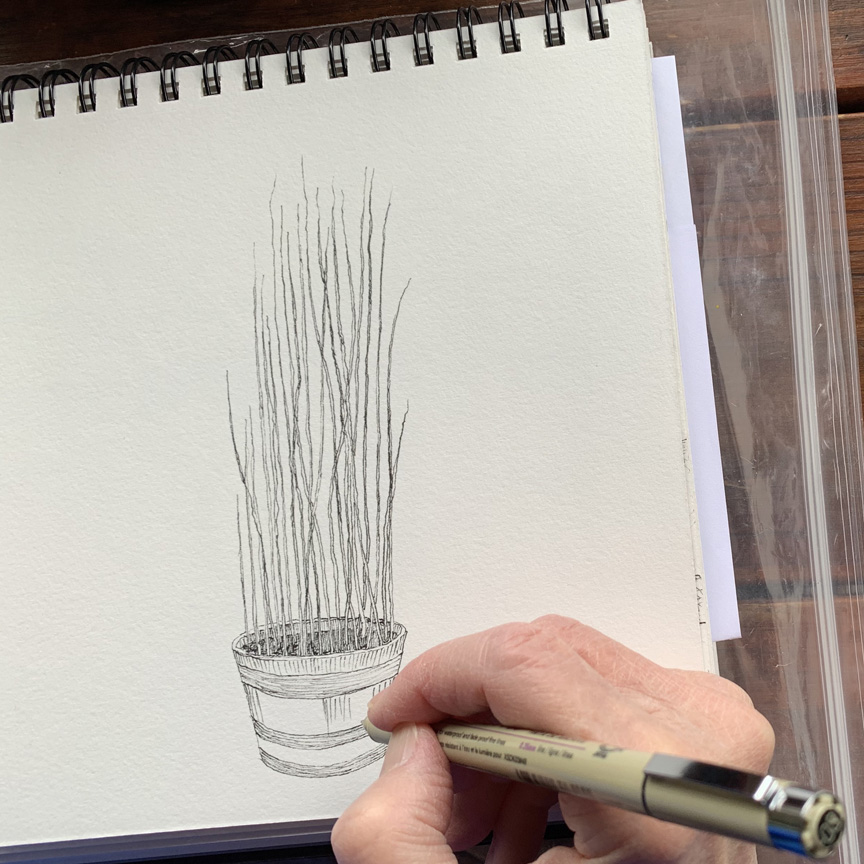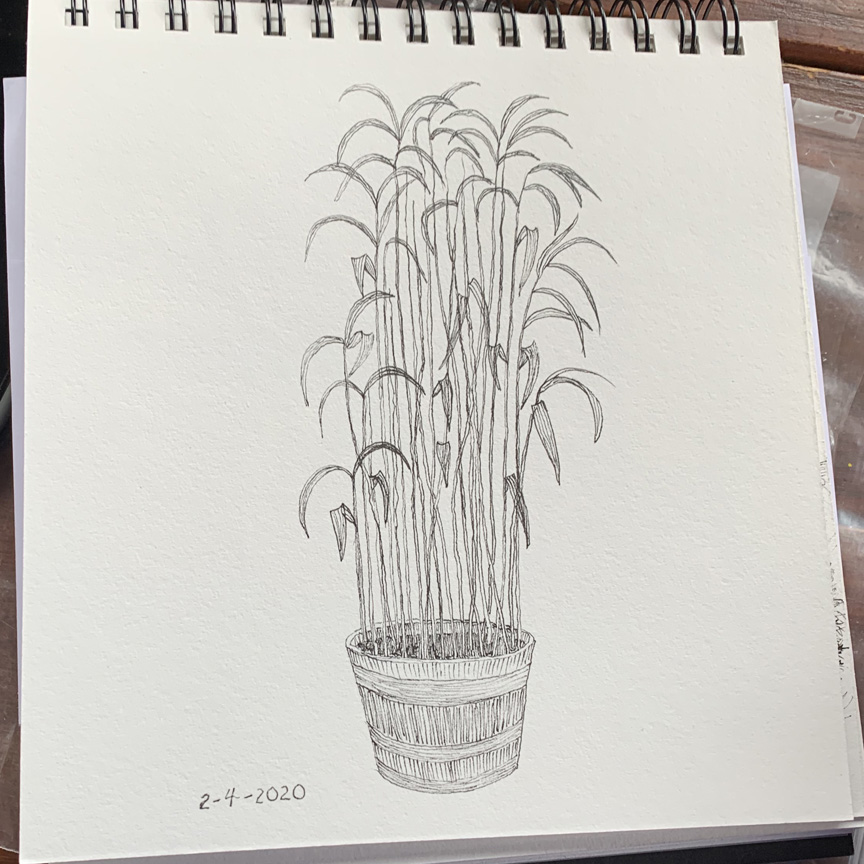 Peggy took a very different approach to the pot of bamboo than Jane did – Micron ink pen directly to paper. Now that's control.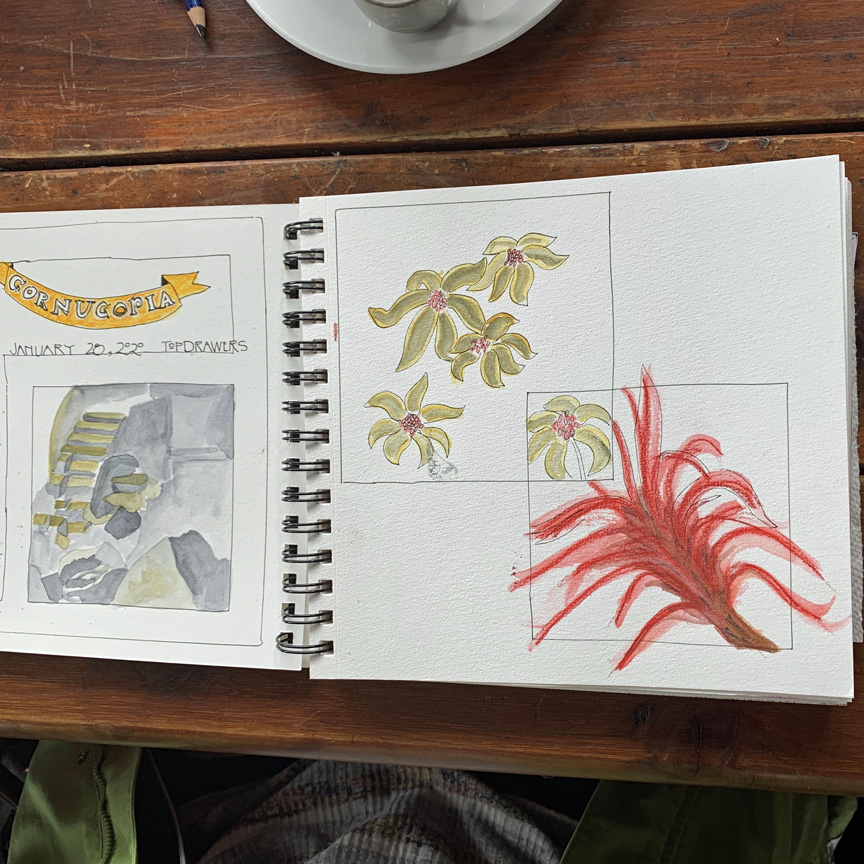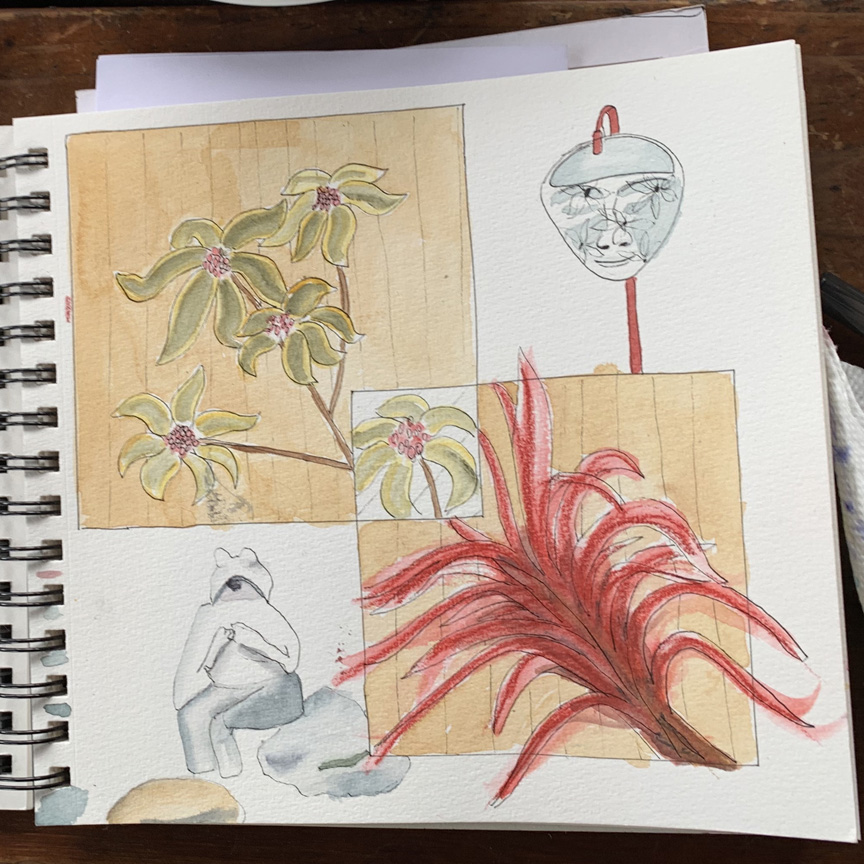 Katie took her watercolor sketch from last week and added ink for definition, then couldn't resist adding some garden sculpture.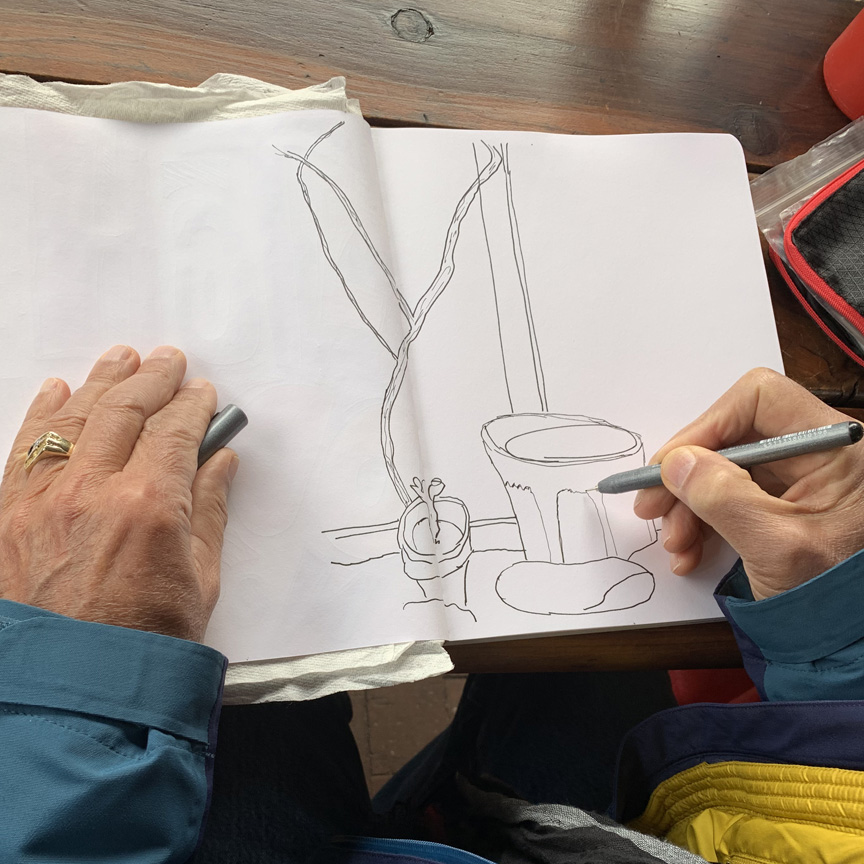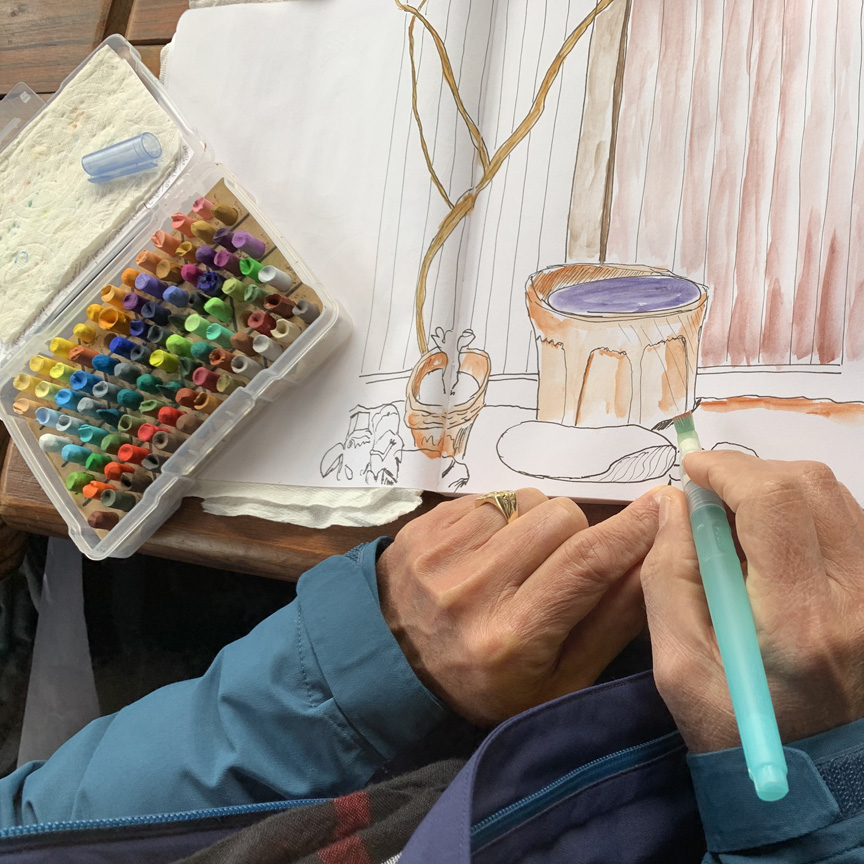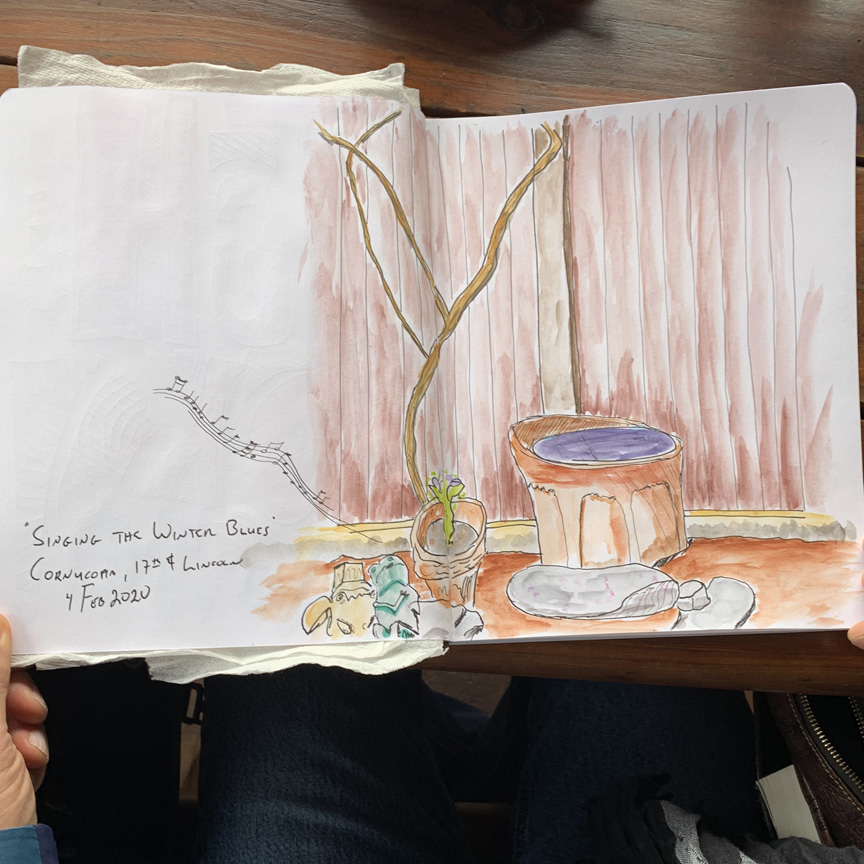 Hugh typically starts with ink contour lines. Here he takes his water brush to the Caran d'Ache crayons and gets a watercolor effect, too.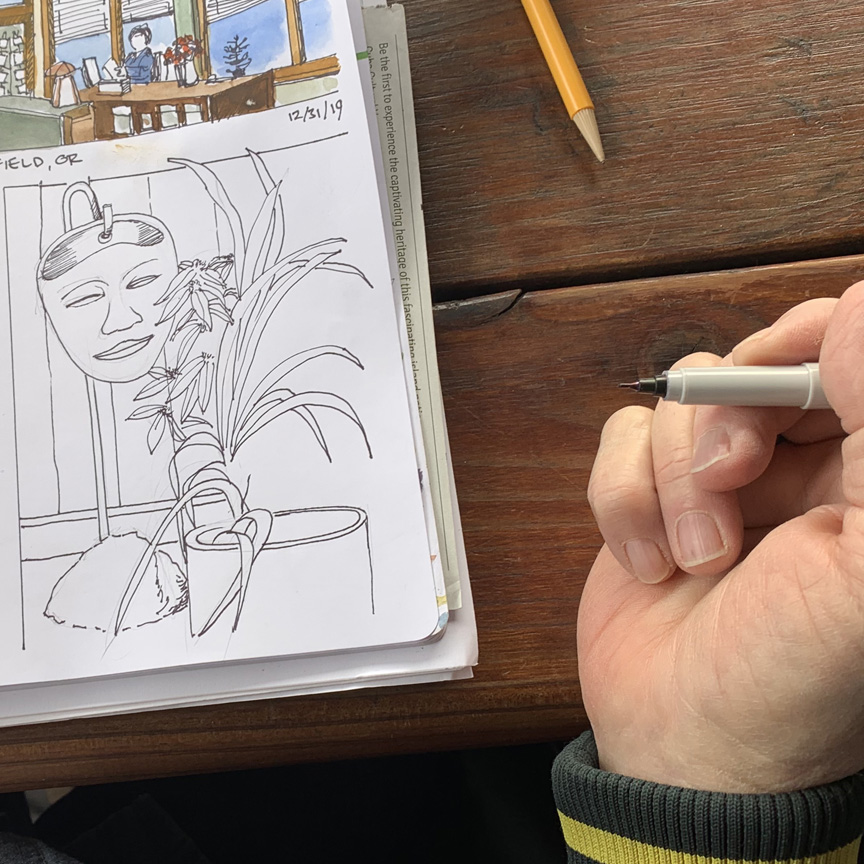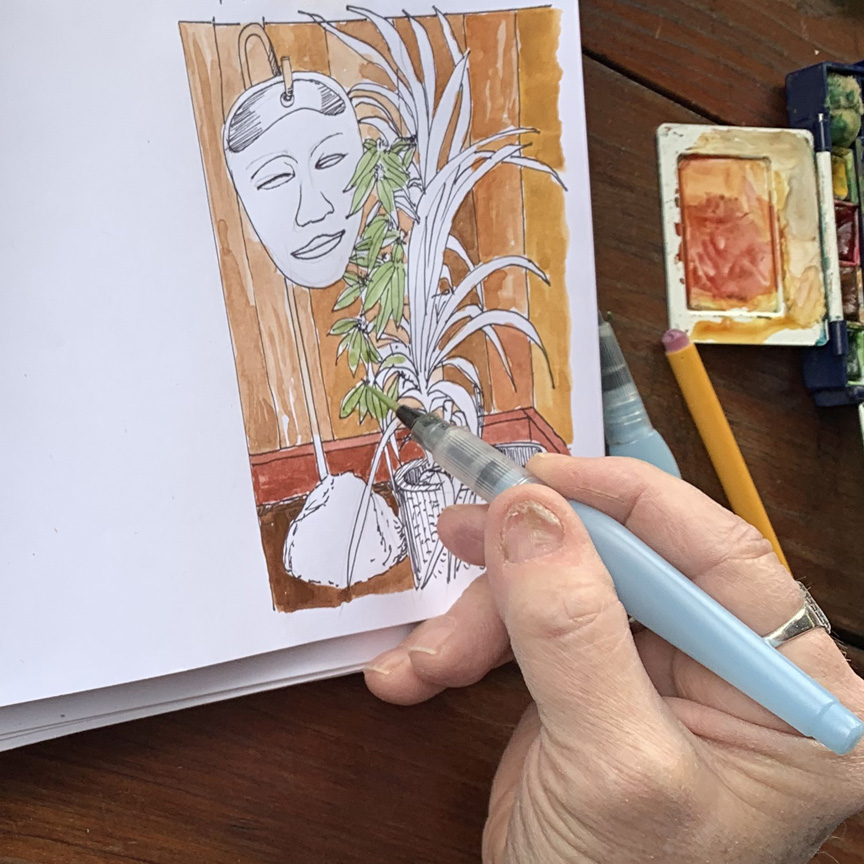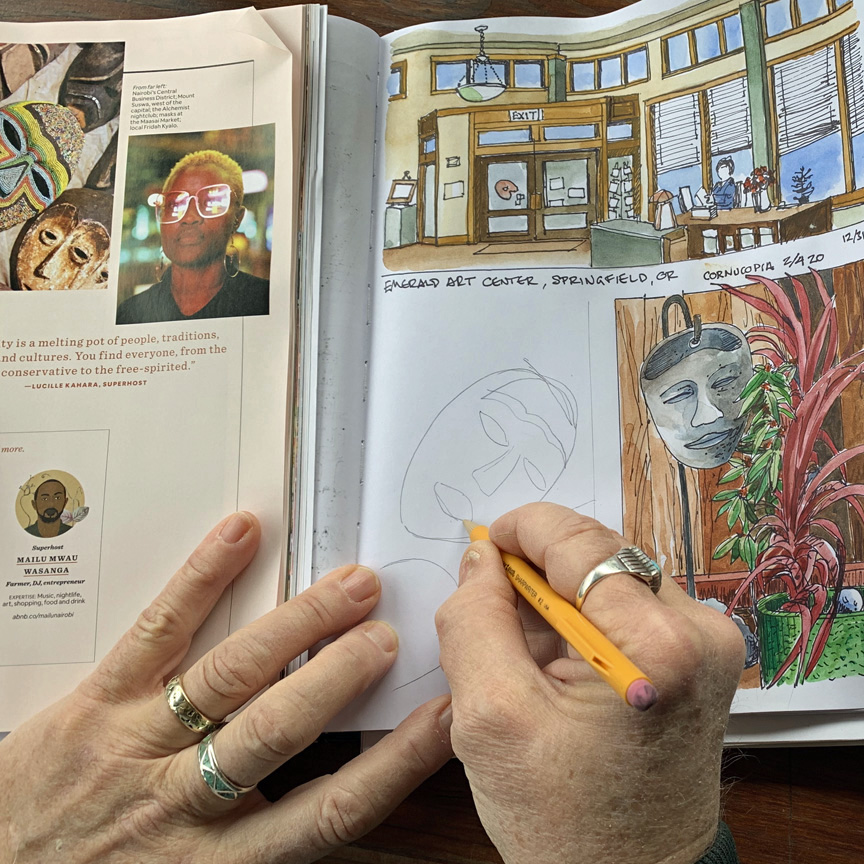 Jim H did a quick sketch of the garden art, then found a similar mask shape in his travel magazine to add to the page, too.  Nice eye, Jim!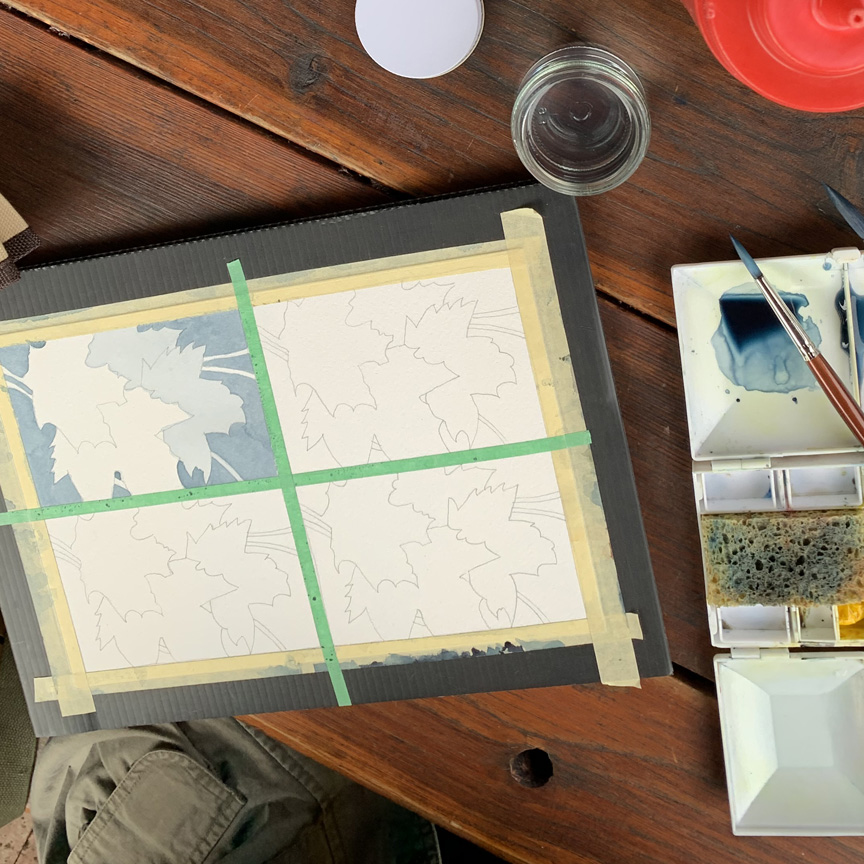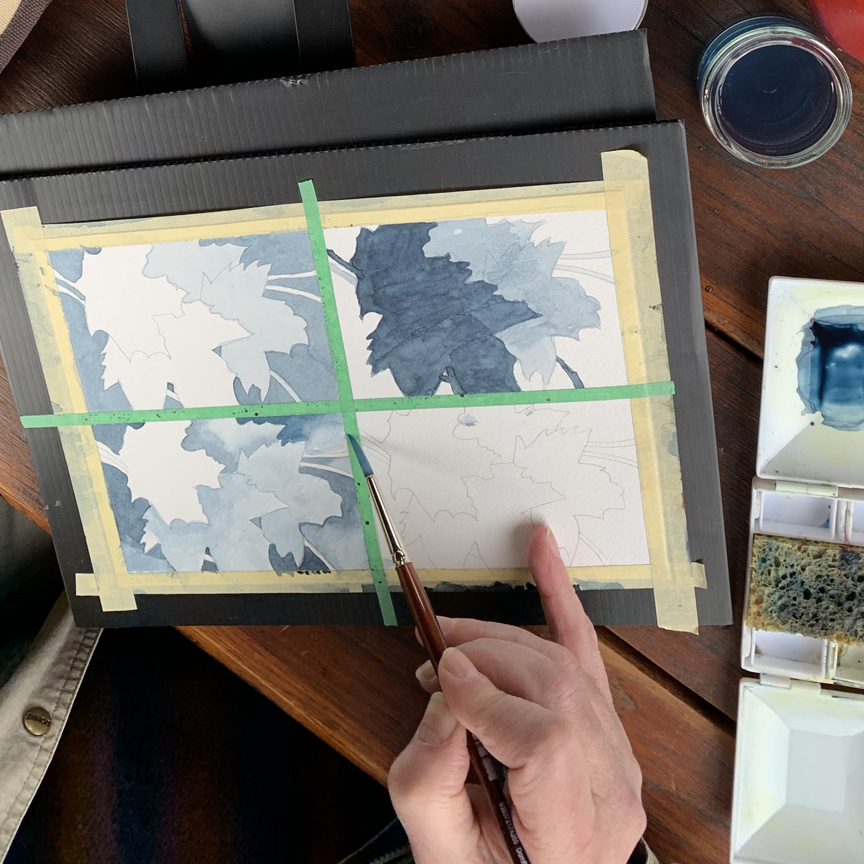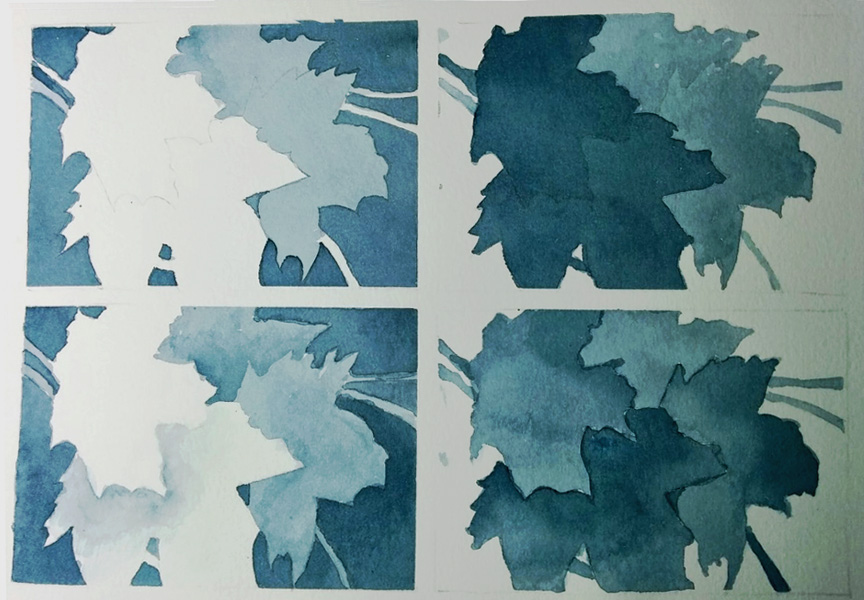 Serge may be the most determined experimenter/learner of all of us. Here he's looking at the varying effect of values on the same sketch.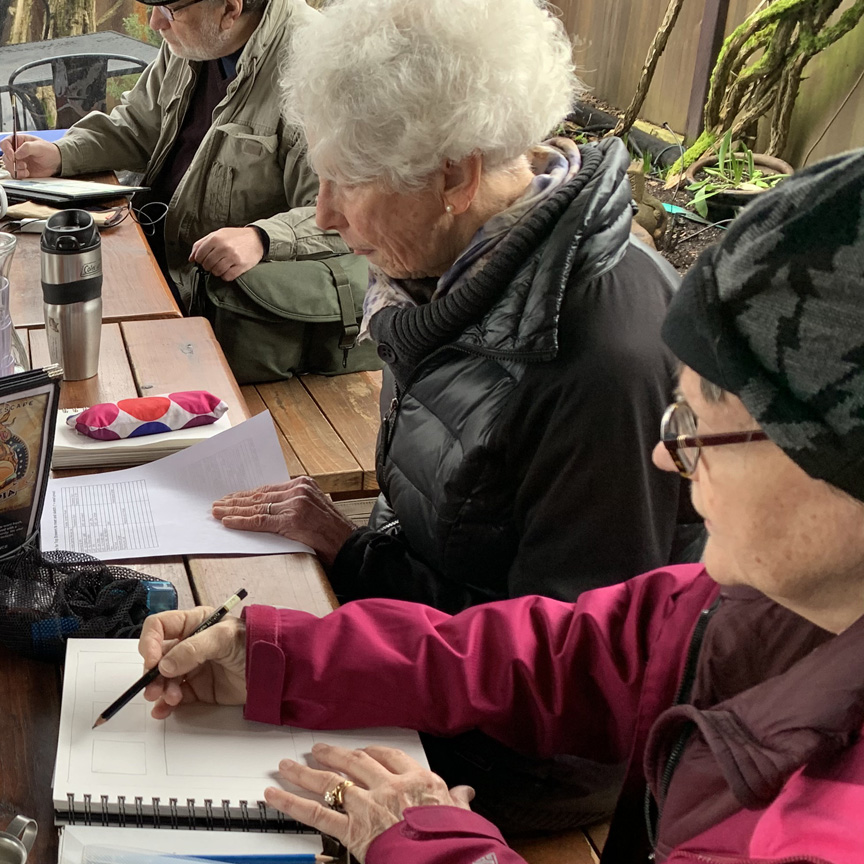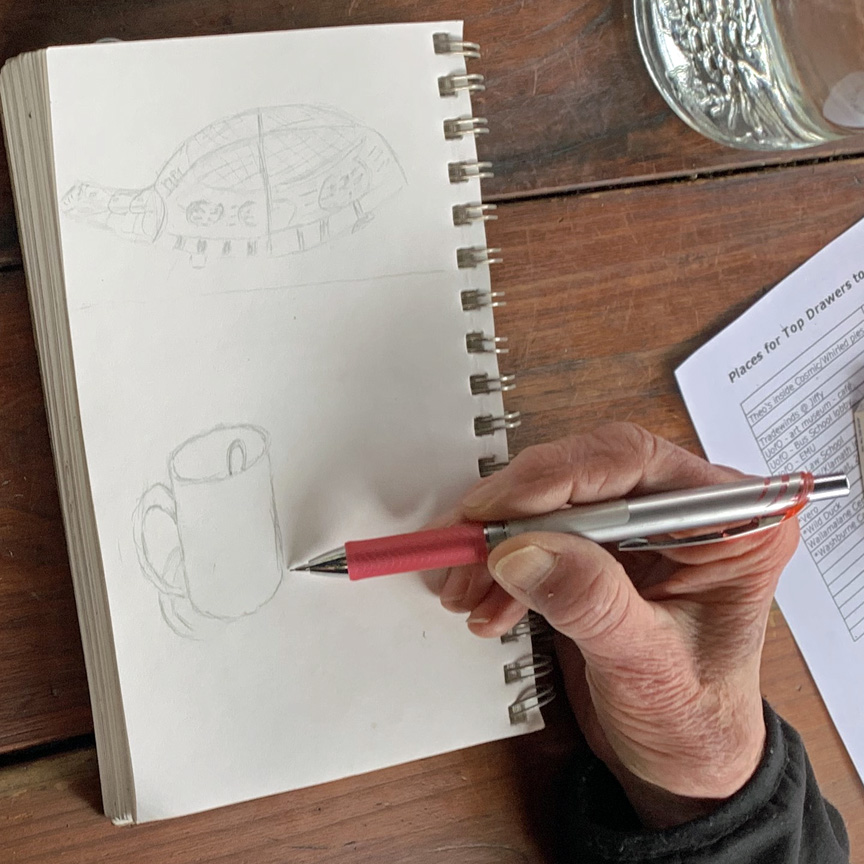 Lynda brought her friend Jackie with her. Lynda is sticking to pencil for her sketches until she feels confident in what she's doing (soon!).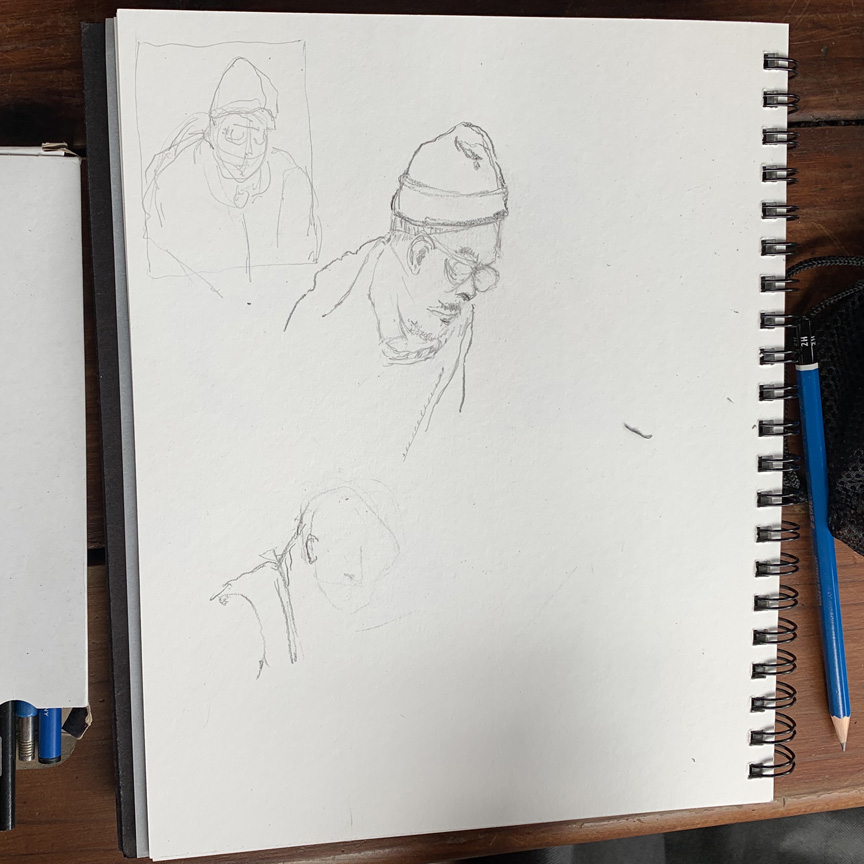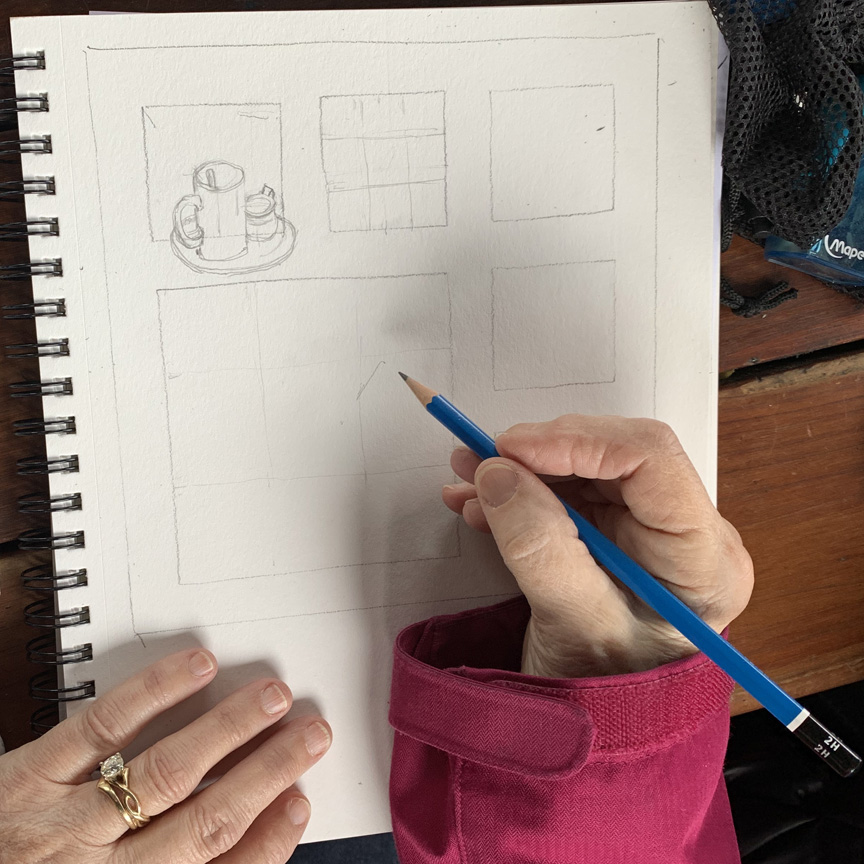 Jackie did a couple of head sketches before she was tempted to try using Katie's frame layout, daring to start outside the frame, too.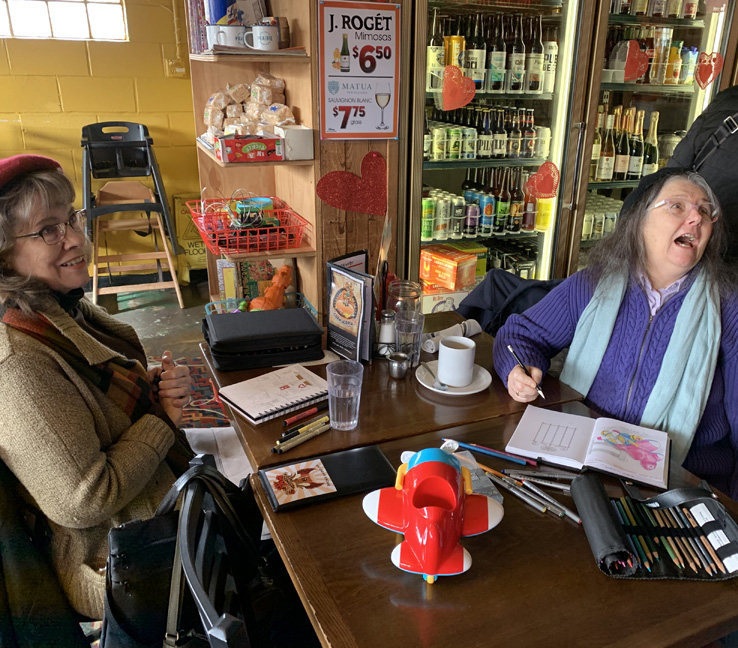 Look who we discovered (warm) in the  "annex" – Bev and Laura!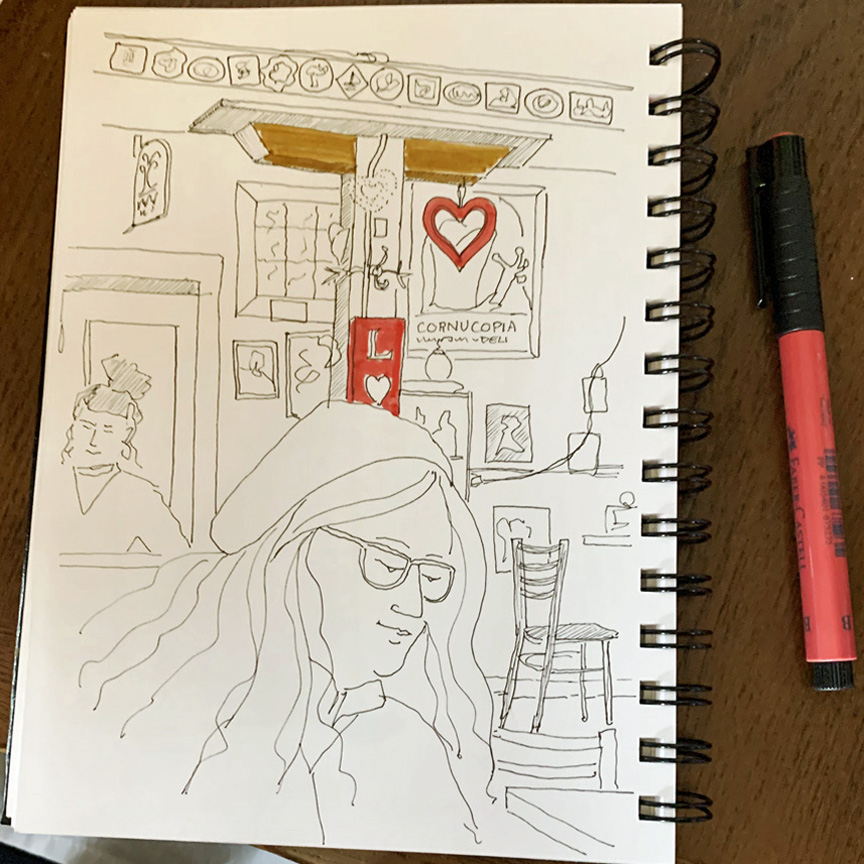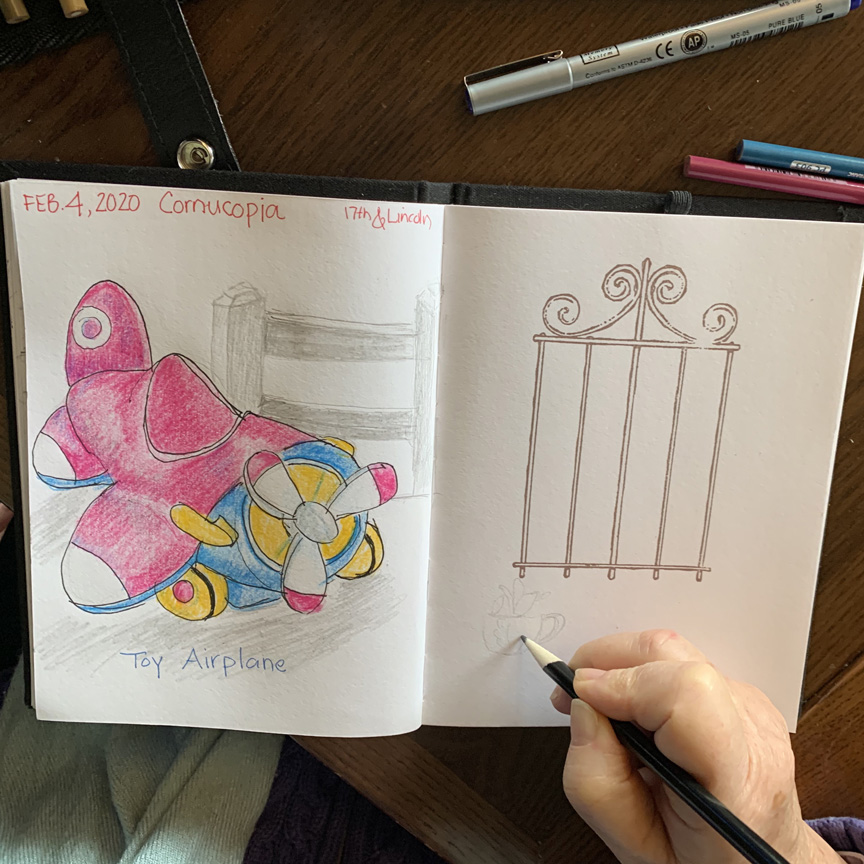 Bev sketched Laura in context inside the restaurant, and Laura sketched the kids' toys the restaurant had on the shelves. Sweet.