Nov. 19, 2021 – #52 Zoom Meeting
Nov. 12, 2021 – #51 Zoom Meeting
Nov. 5, 2021 – #50 TD Zoom Meeting
Oct. 29, 2021 – #49 Zoom Meeting (check last entry for a surprise!)
Oct. 22, 2021, #48 Zoom Meeting
Oct. 15, 2021, #47 Zoom Meeting
Oct. 8, 2021 – #46 Zoom Meeting
Oct. 1, 2021 – #45 Zoom Meeting
Sept. 24, 2021 – #44 Zoom Meeting
✒ Sept. 17, 2021 – #43 Zoom Meeting
✒ Sept. 10, 2021 – #42 TD Zoom Meeting
✒ Aug. 22, 2021 – Zoom meeting #40!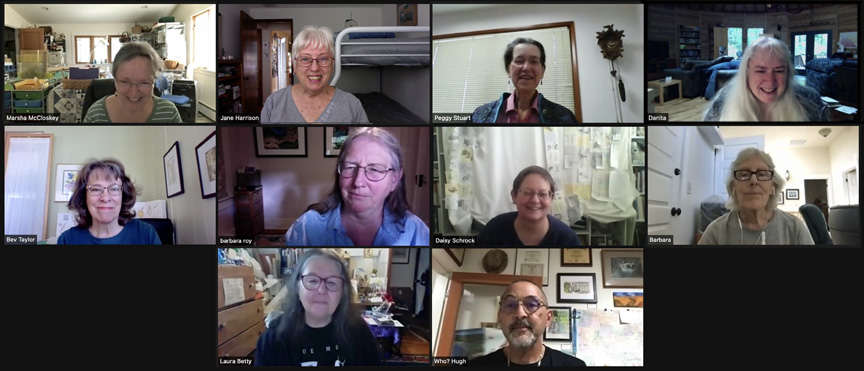 ✒ Aug. 20, 2021 – Equiano Coffee Co.
✒ Aug. 13, 2021 – Danita's & MIchael's place – Forest Haven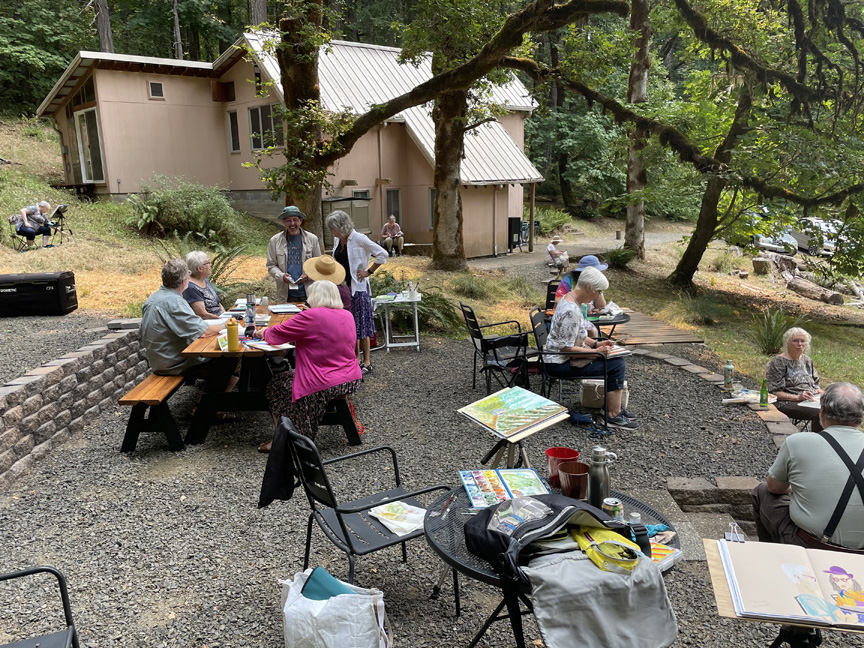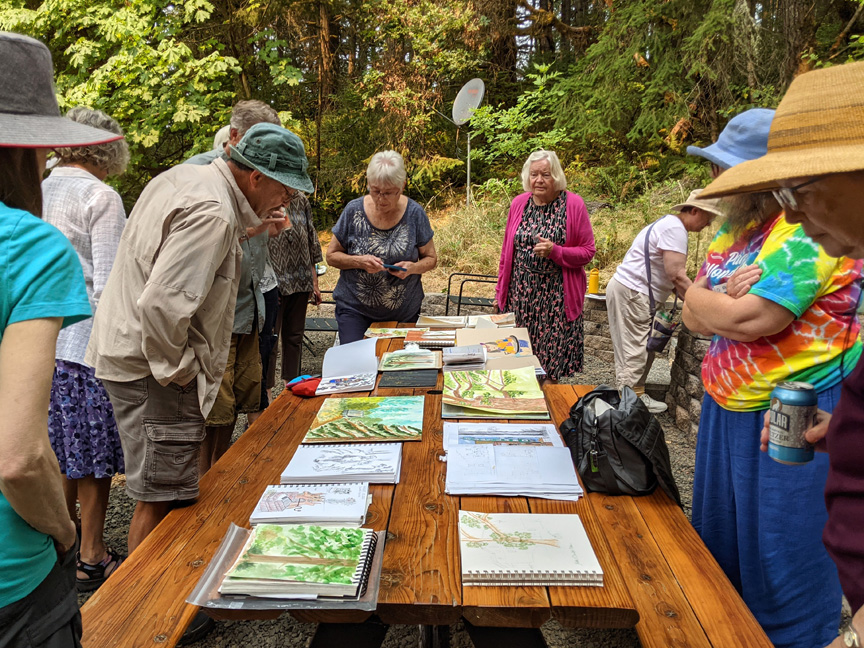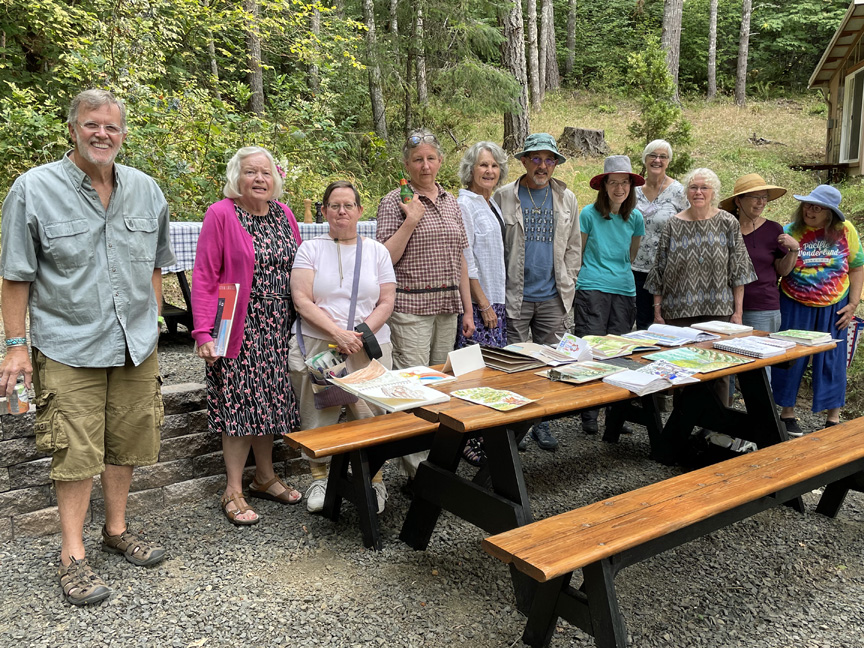 Jim, Lona, Daisy, Bitty, Sandy, Hugh, Peggy, Katie, Daisy, Marsha & Laura (Danita & Michael busy getting the salads for lunch).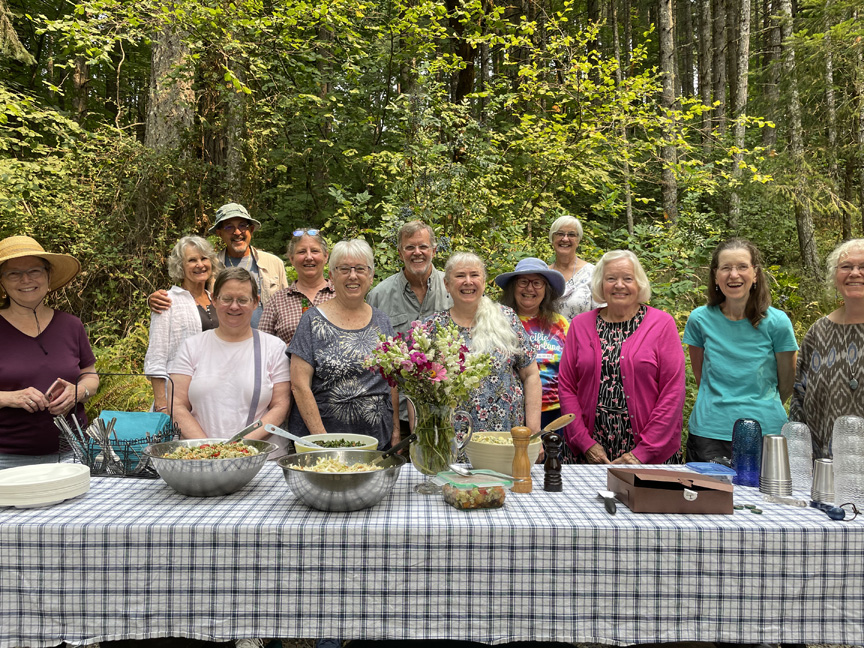 Happy campers about to dive into gourmet salads, & Bitty's berry pie from Sweet Life. And it is a sweet life.
✒ Aug. 6, 2021 – Book Reveal Party at Jane's!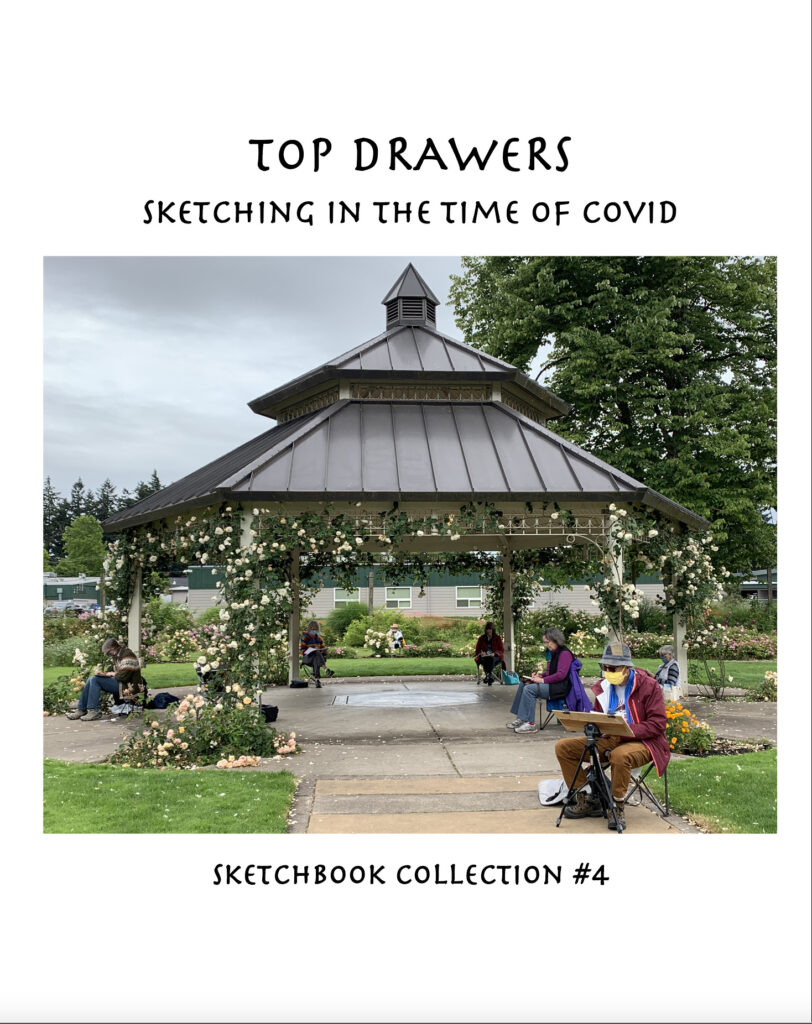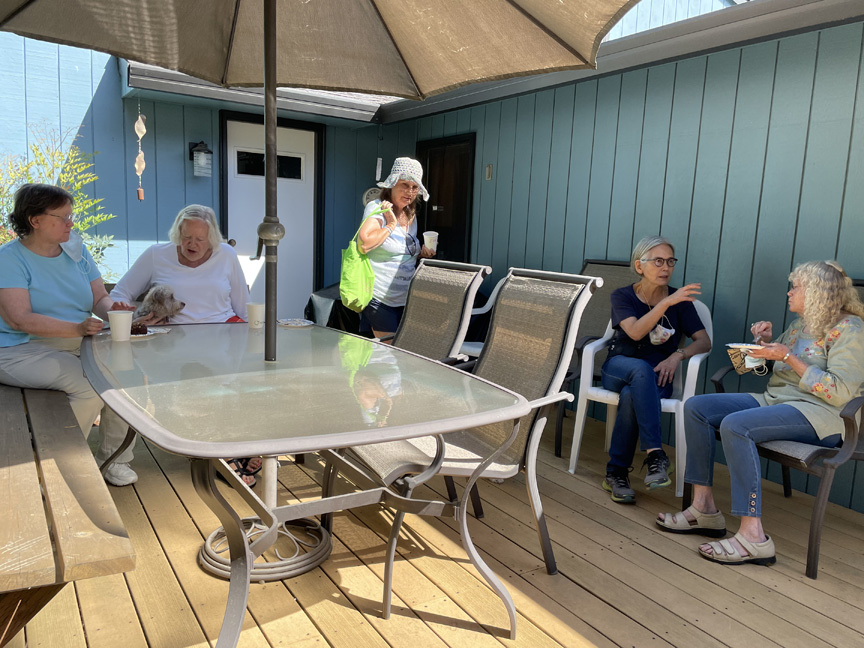 ✒ July 30, 2021, Laurelwood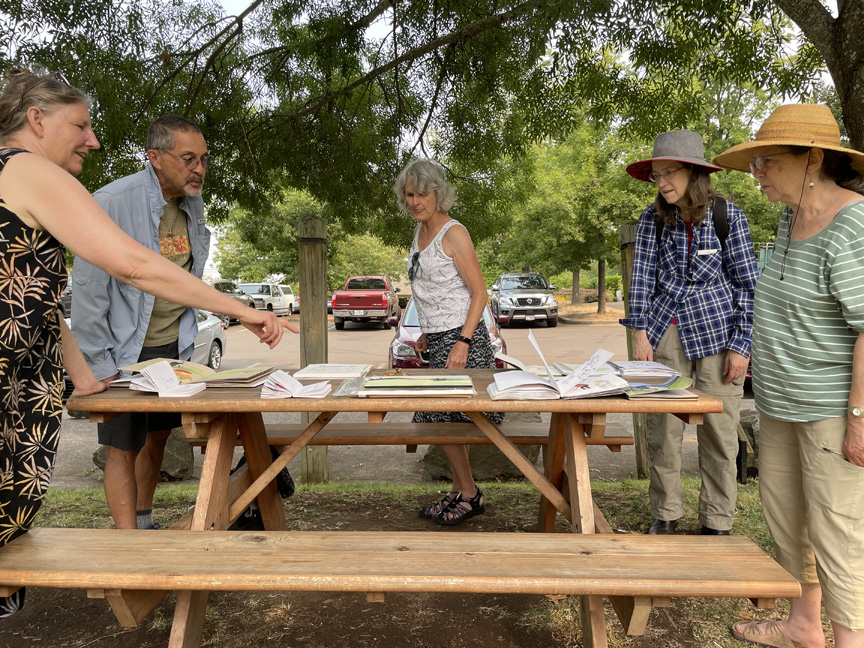 ✒ July 23, 2021, 5th St. Market, Eugene, OR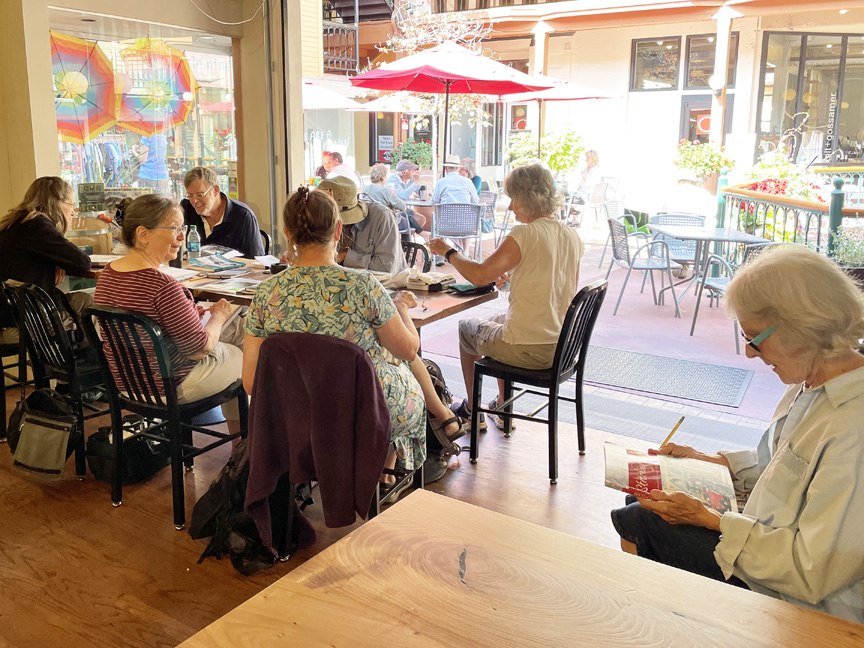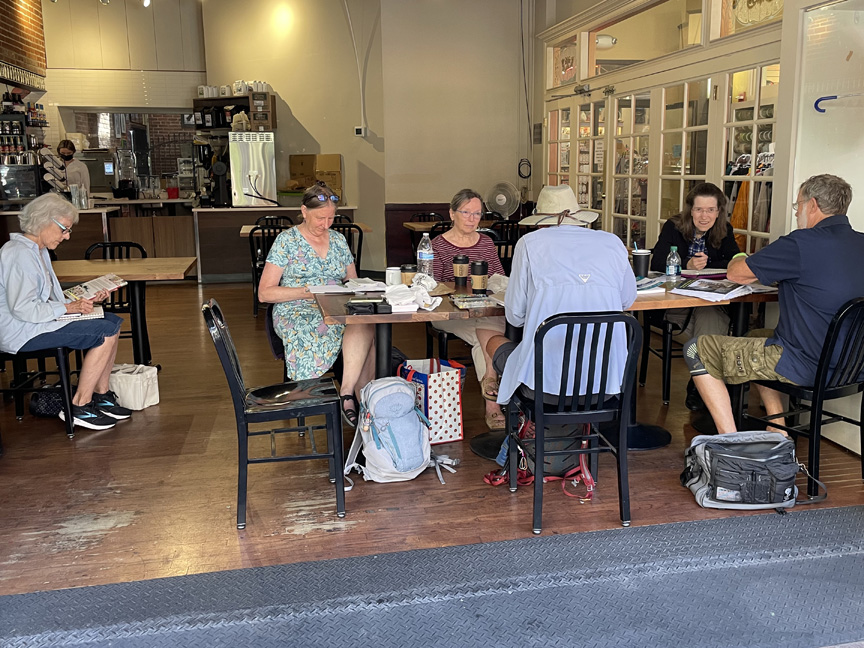 Peggy, Marsha, Jim, Bitty, Hugh, Sandy, Barbara – and then in reverse order looking the other way (except Sandy, off to get coffee).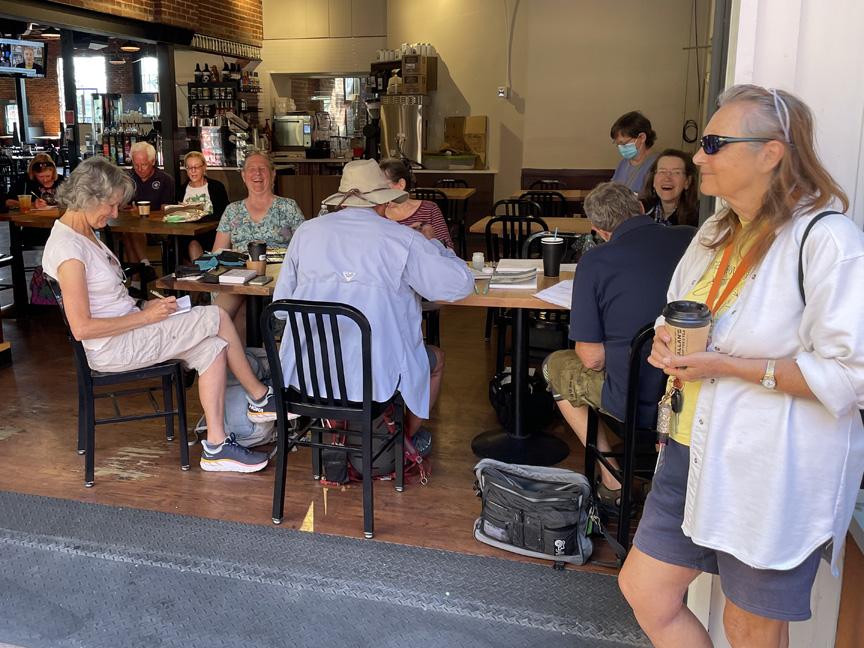 But there's more! Barb Sh, Sandy, Doug, JoAnn, Bitty, Hugh, Marsha, Jim, Daisy, Peggy, Eva (BarbSo gone, Jane behind camera).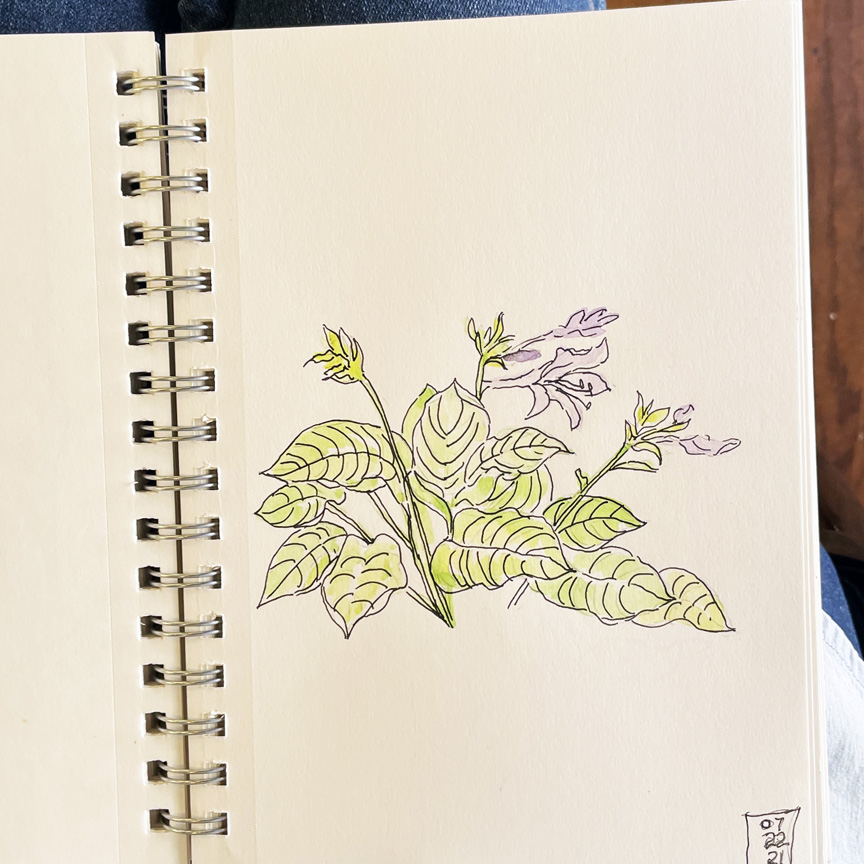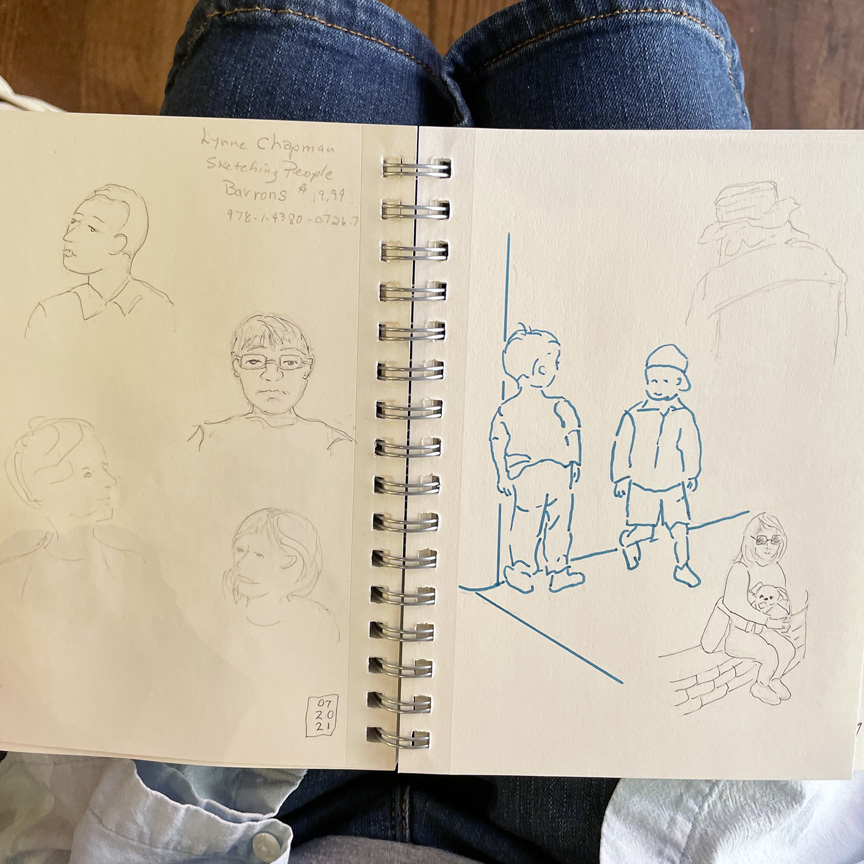 BarbSo's hosta at home, then people sketches (Eva, upper right!).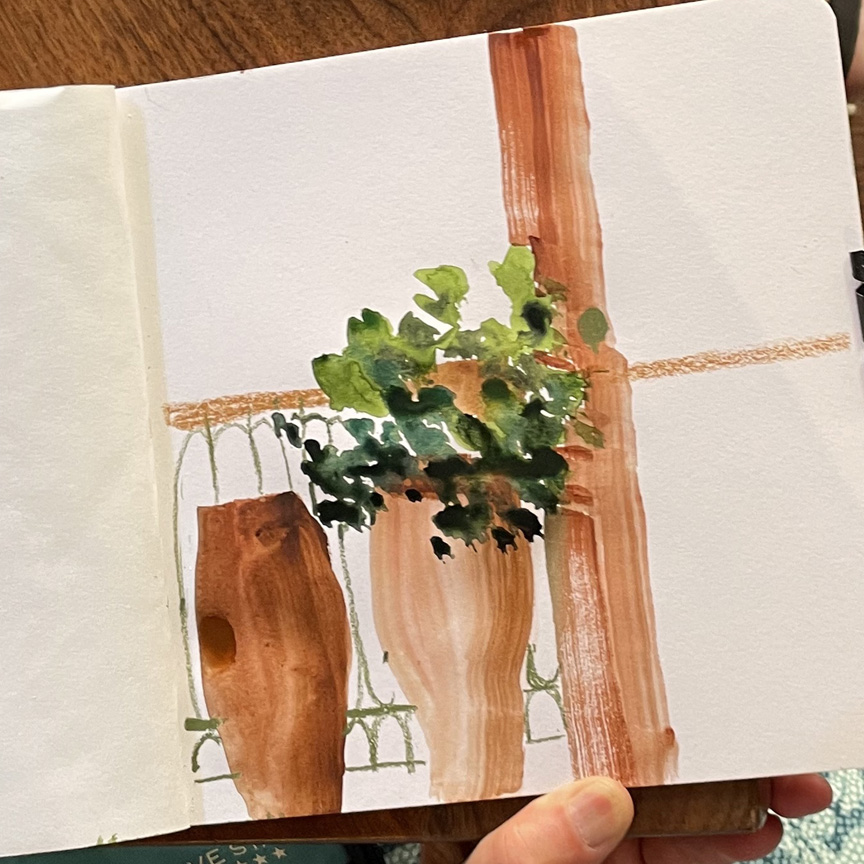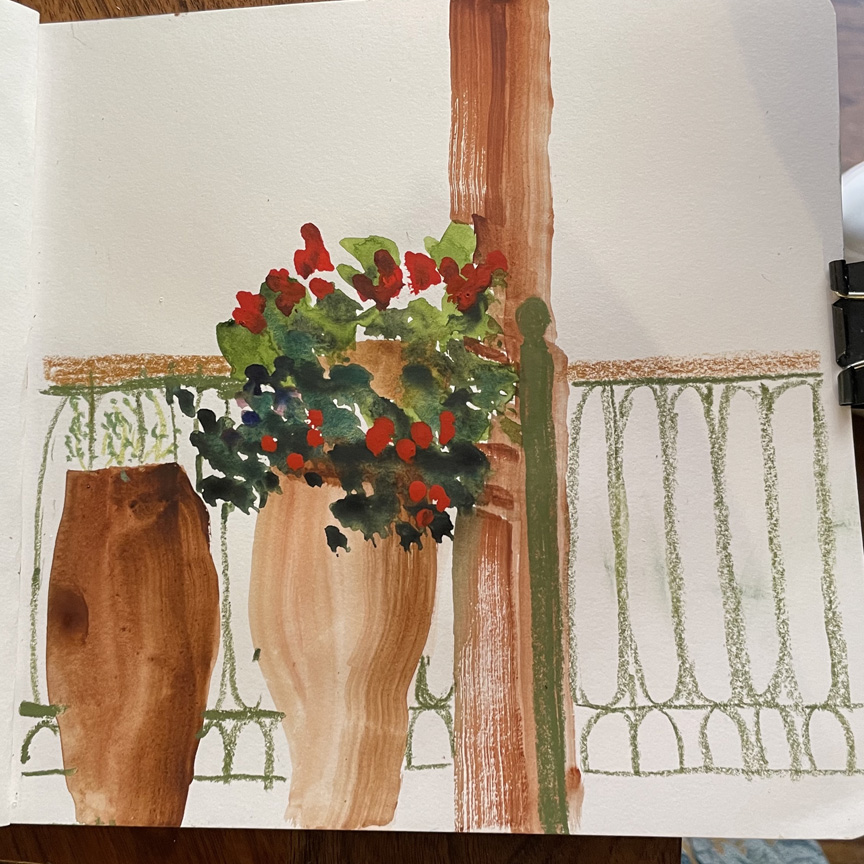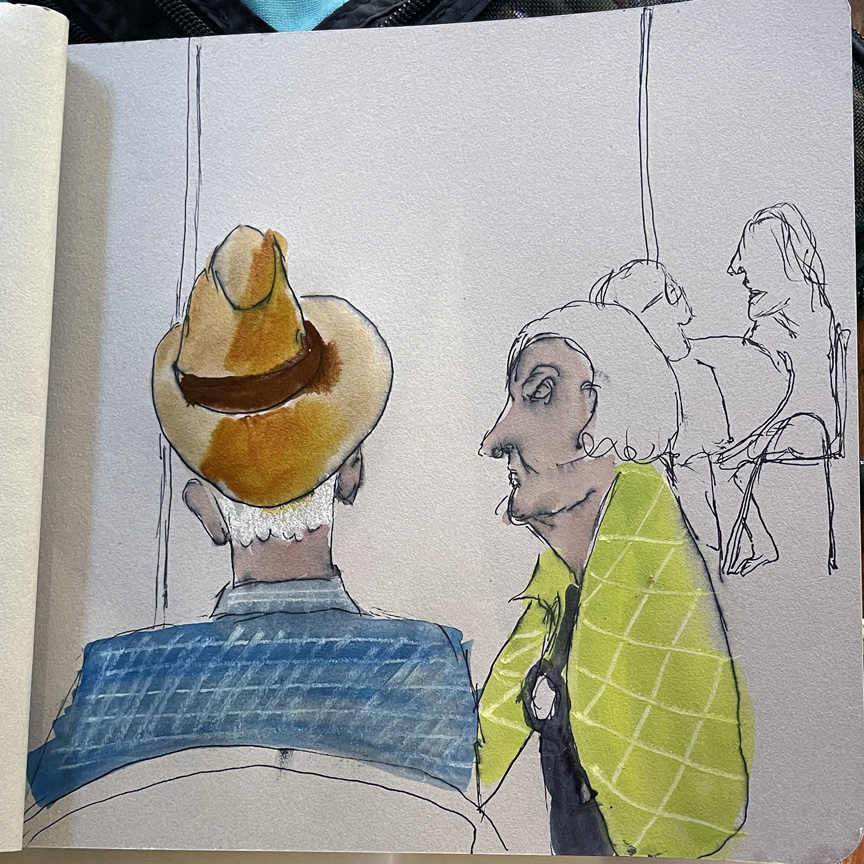 Bitty got the flowers on the deck railing, and …people…a trend?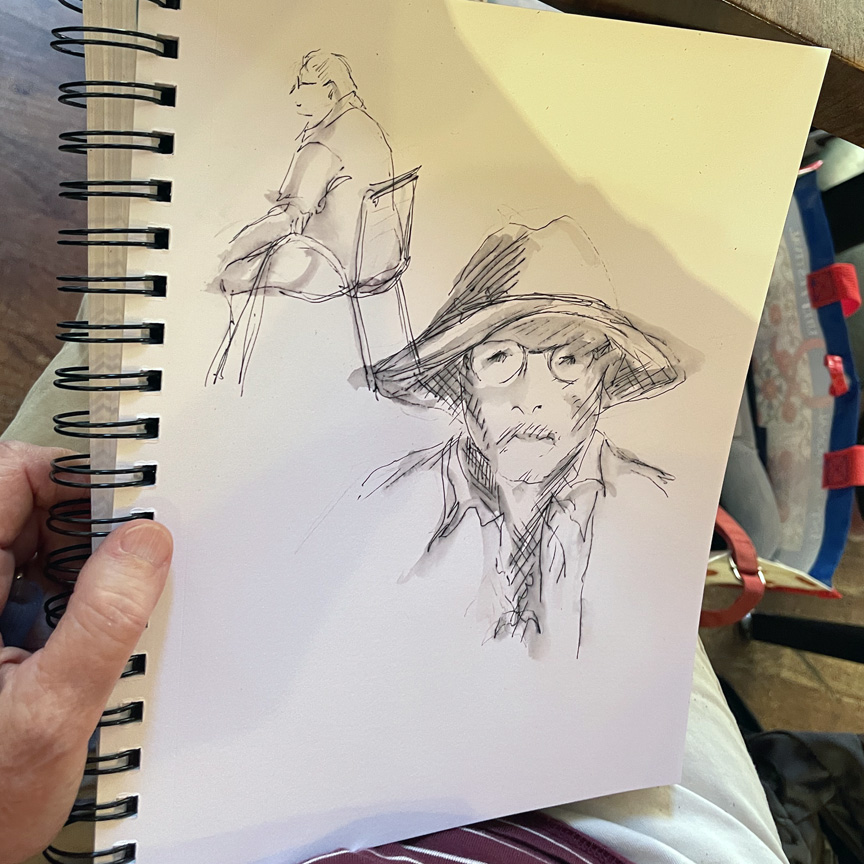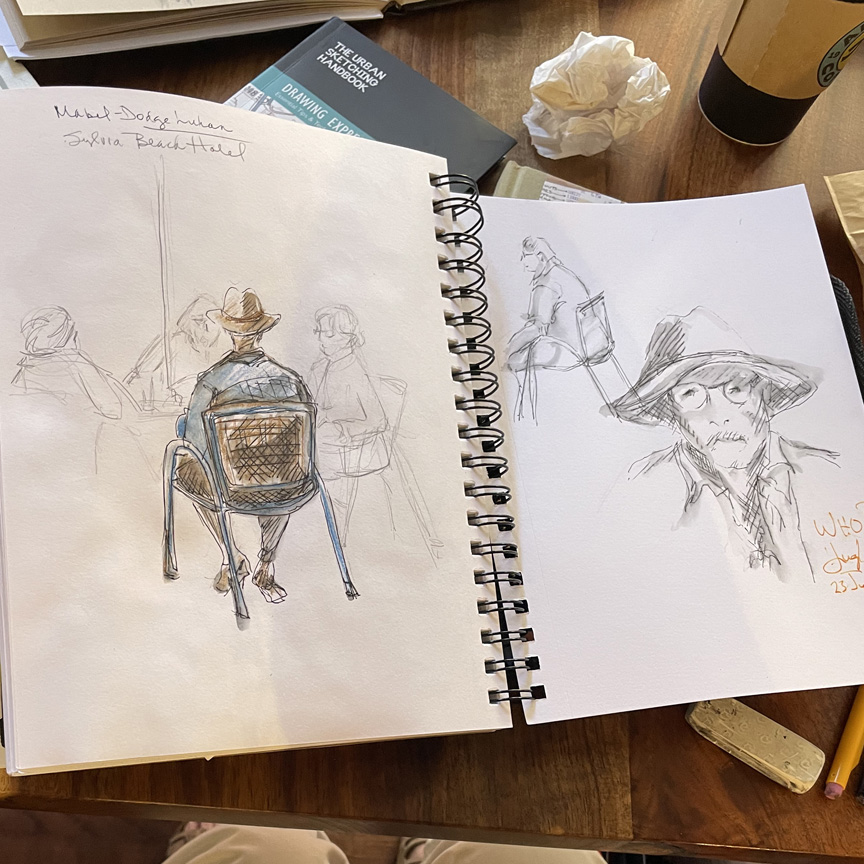 Marsha's doing people, too. Hmmm. And Hugh even signed his pic!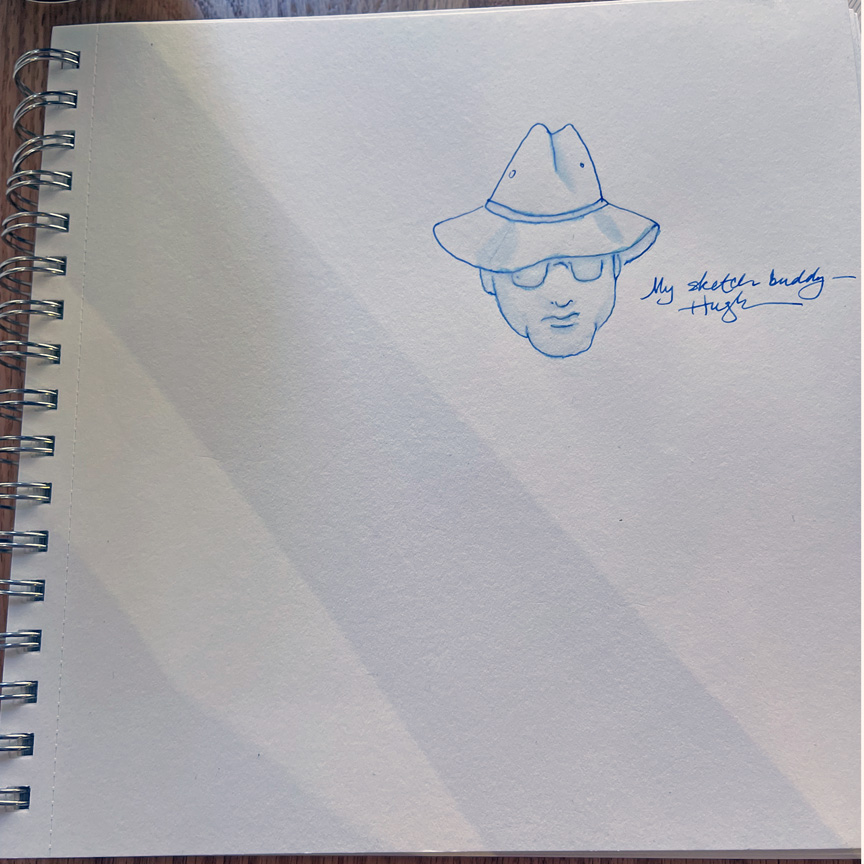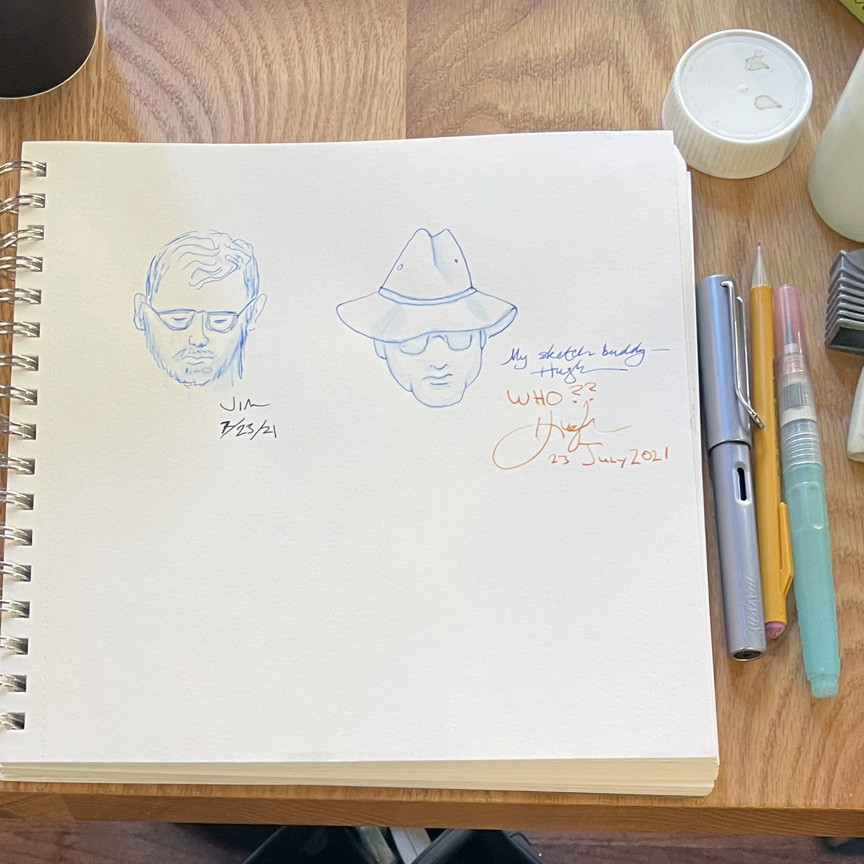 It's a people binge! Jane sketch the guys across the table – handy.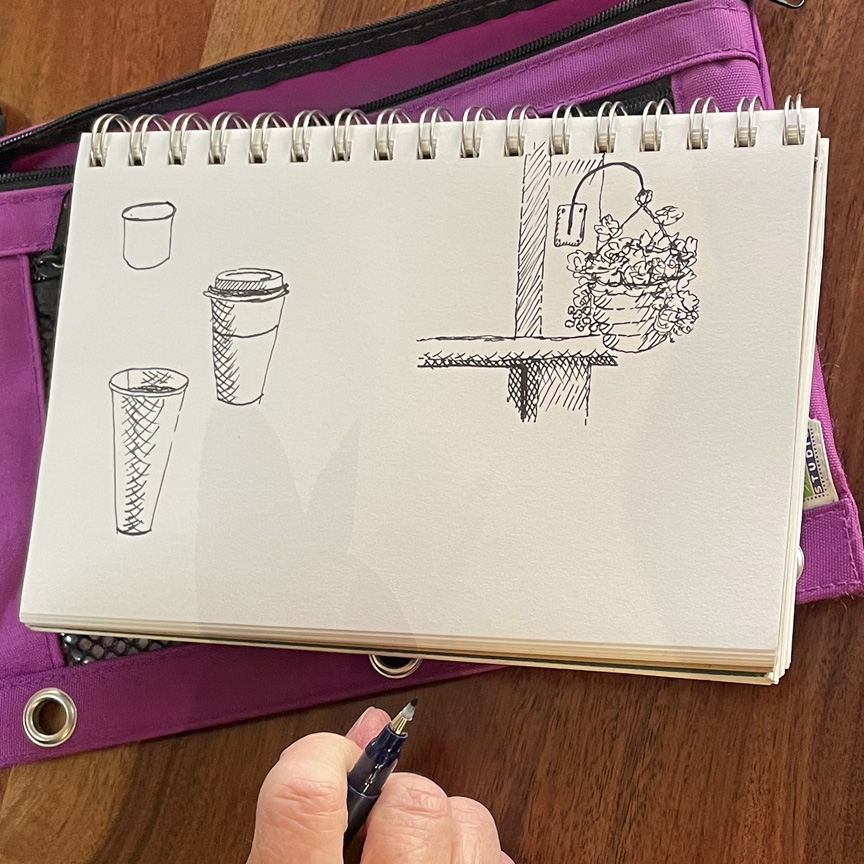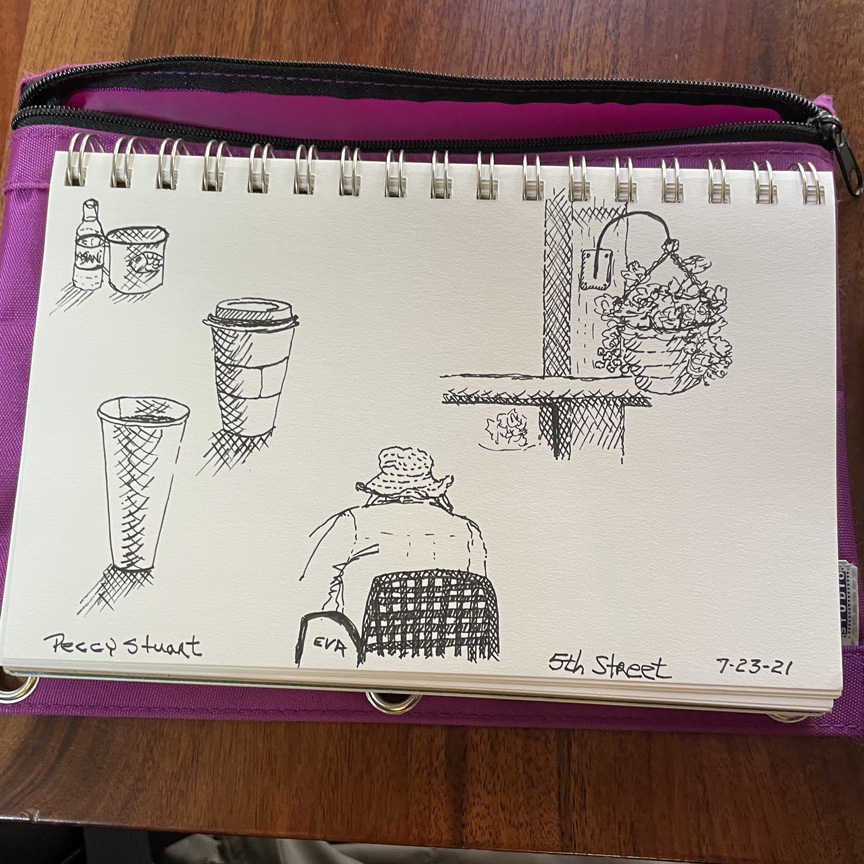 Peggy was doing artifacts, then sketched artist Eva on the deck.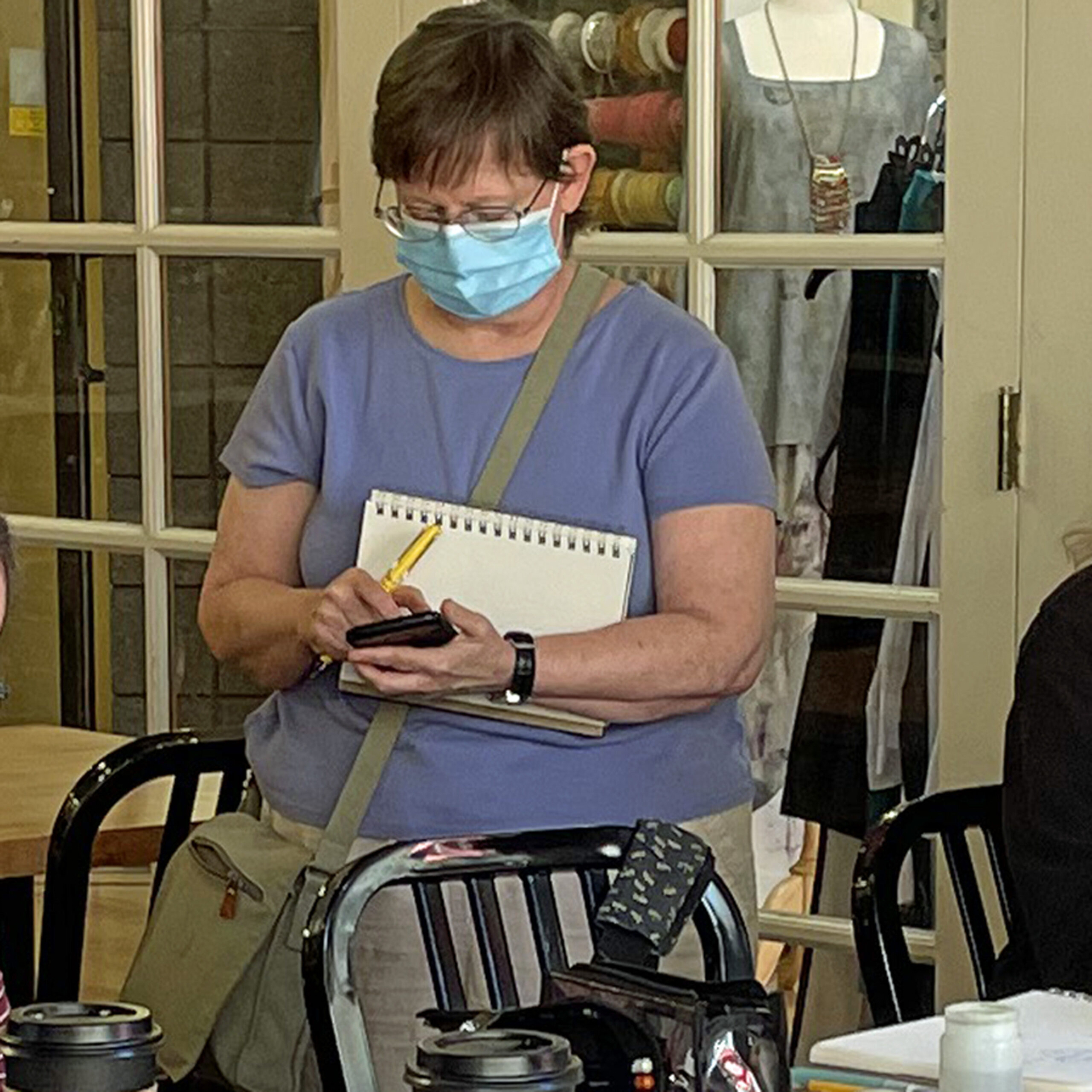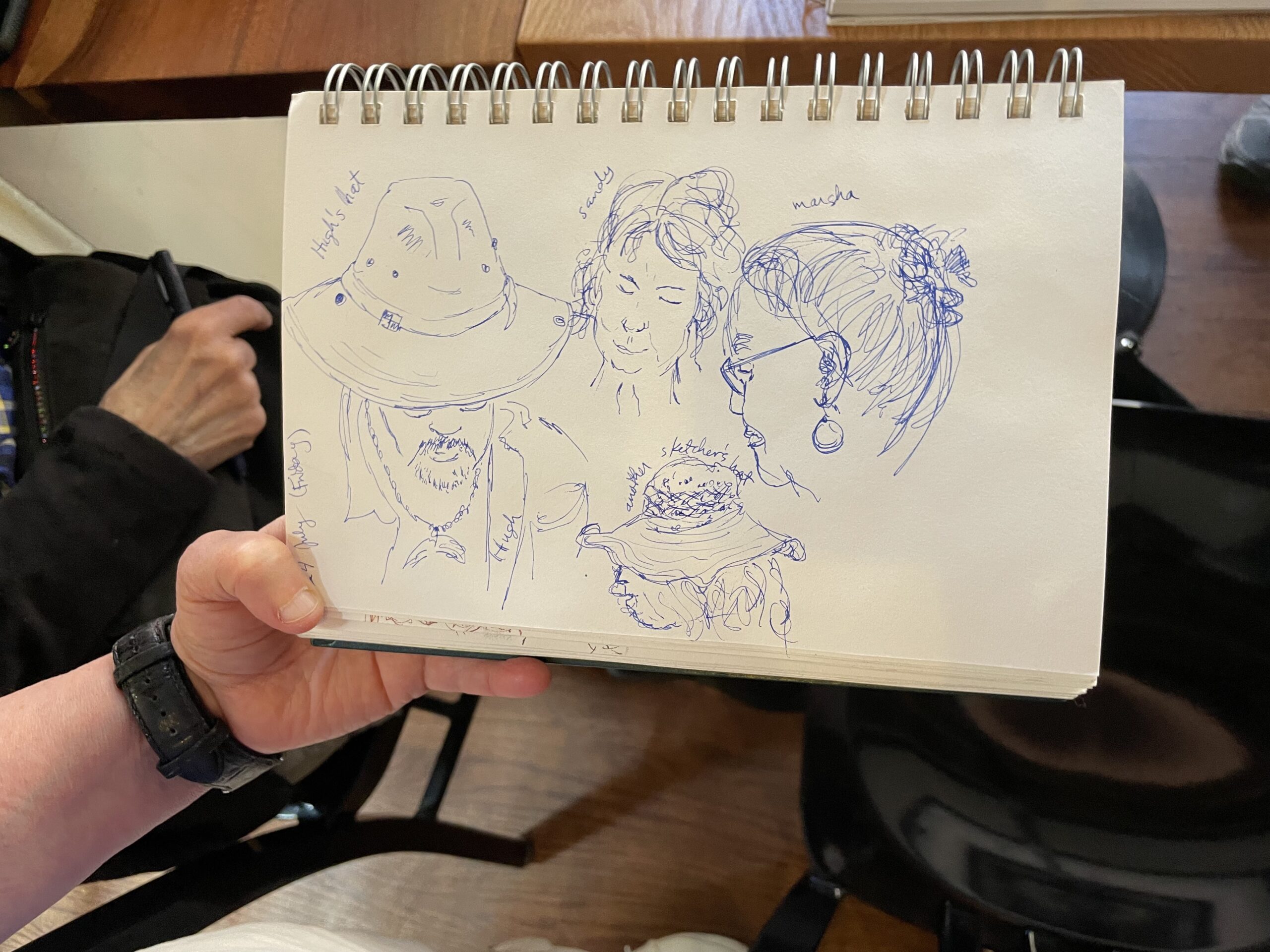 Daisy, our standup artist, was sketching people, too. It's a rage!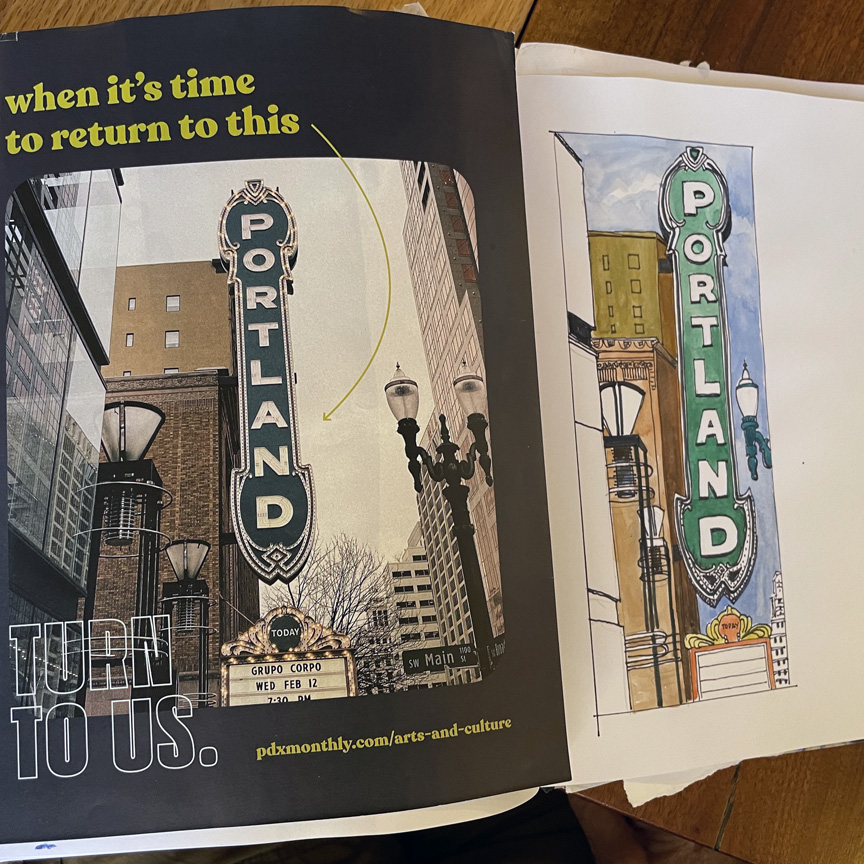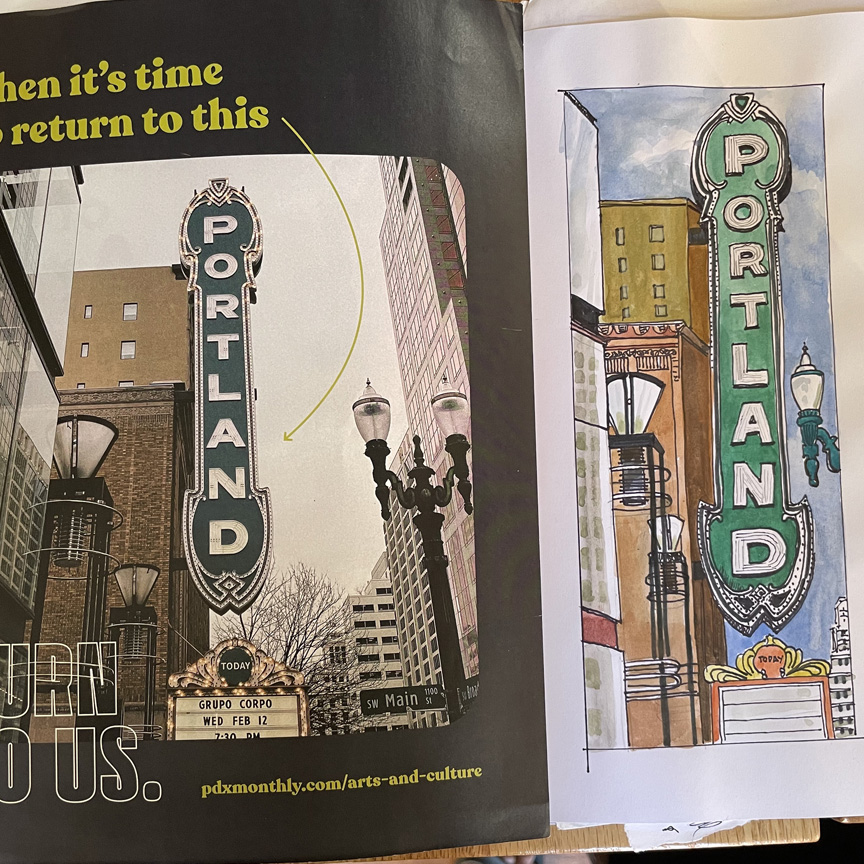 But across the table, Jim resisted & refined a previous sketch – nice!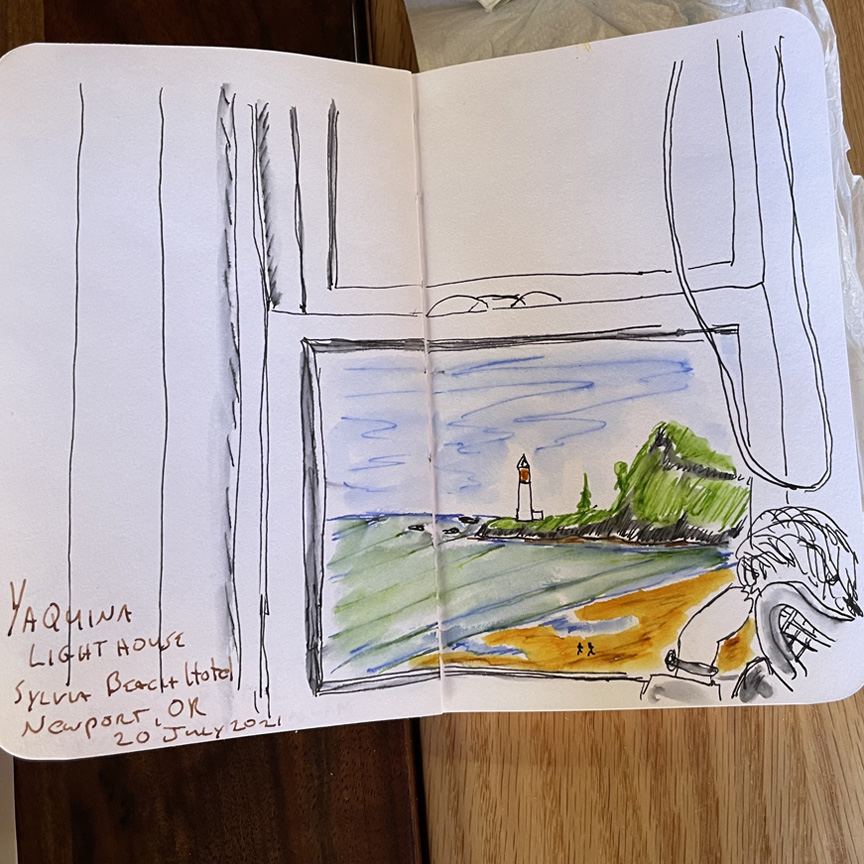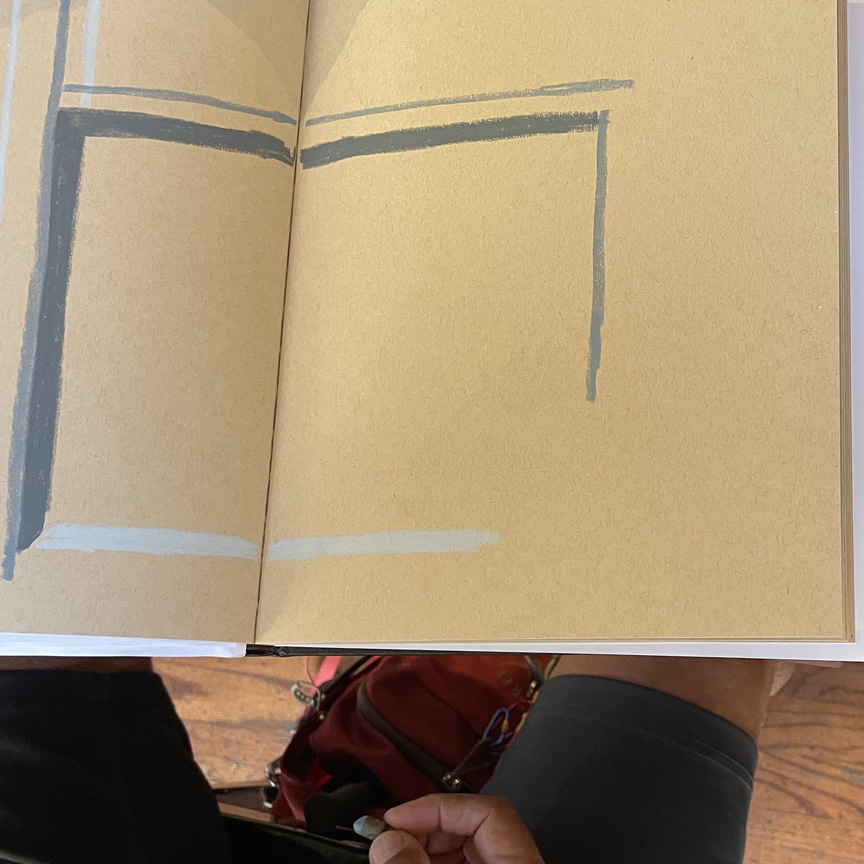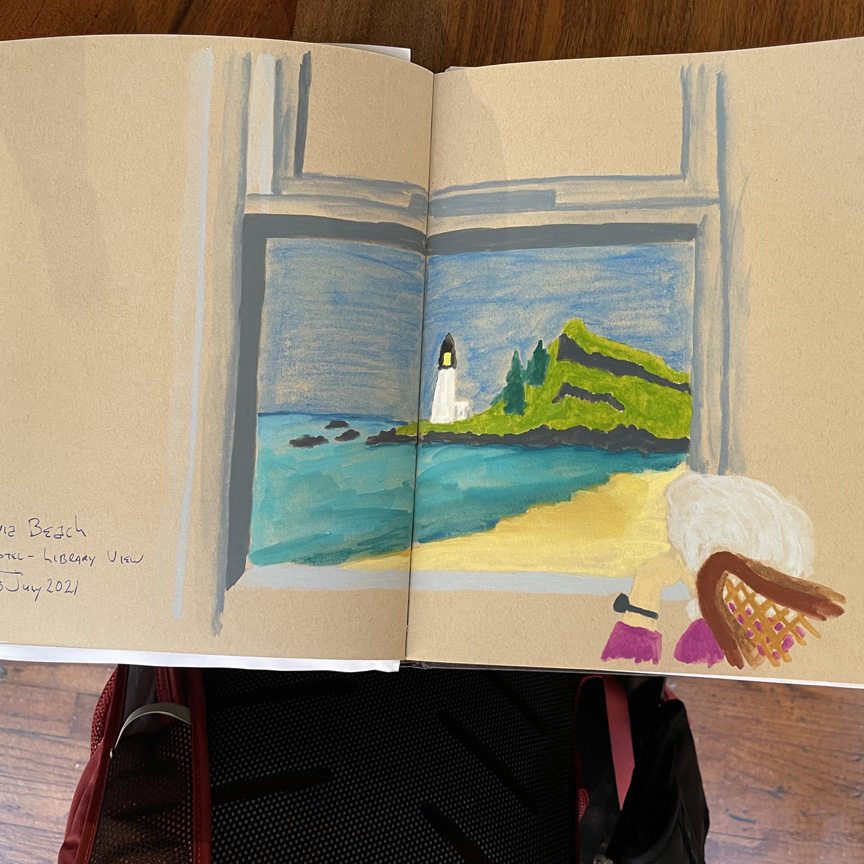 Hugh, too, had other plans – replicating a sketch in different medium.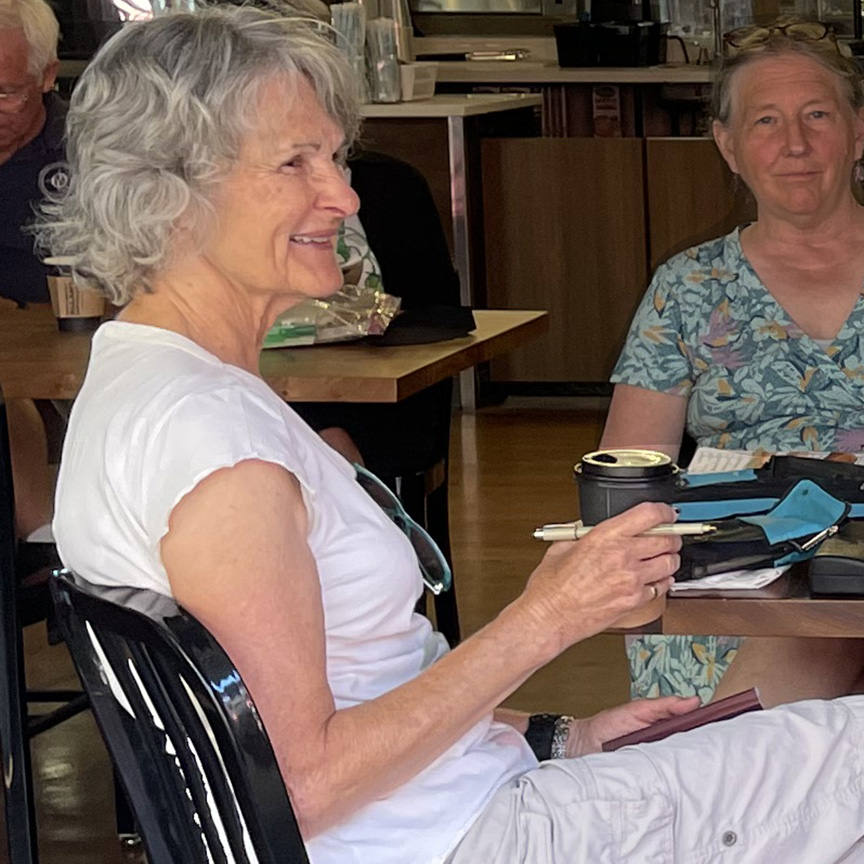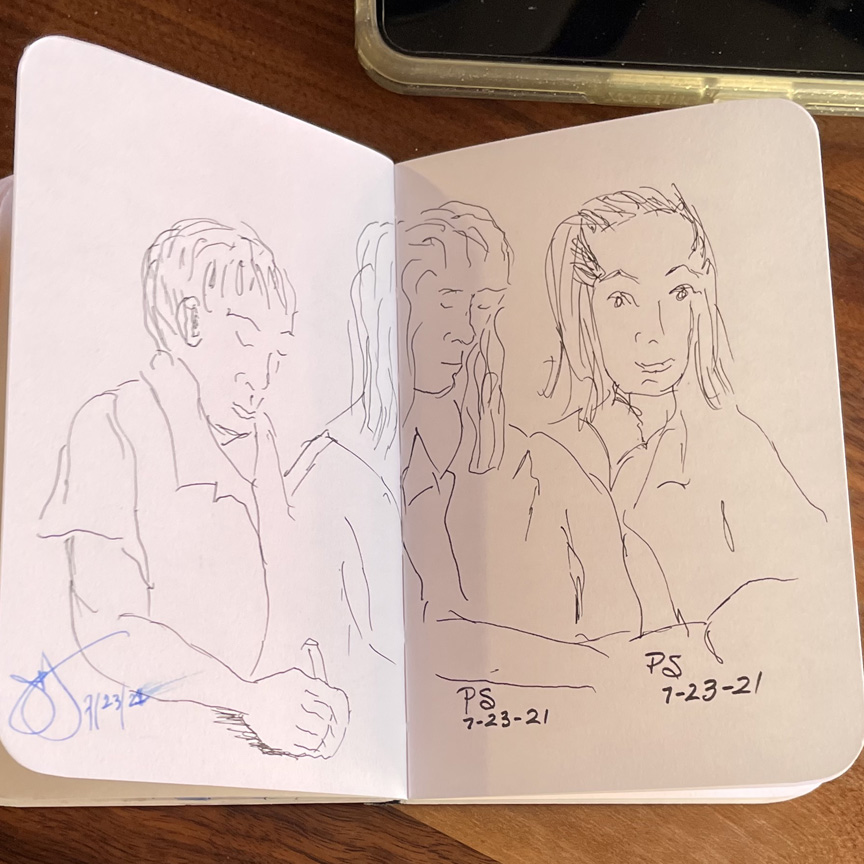 We can always count on Sandy to be sketching people – you go, girl!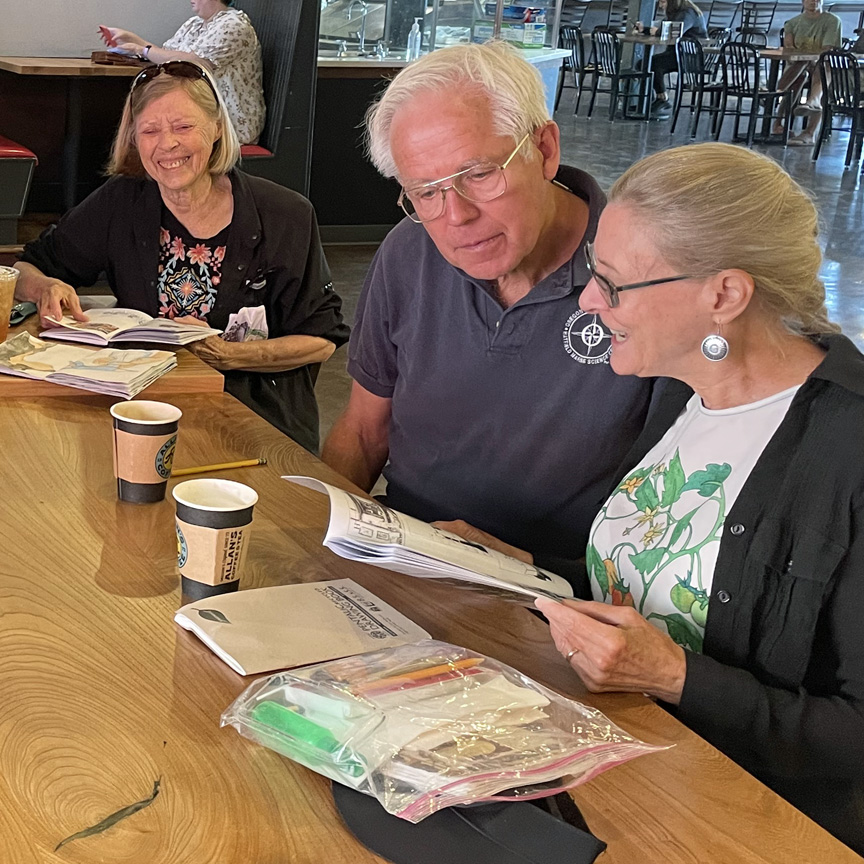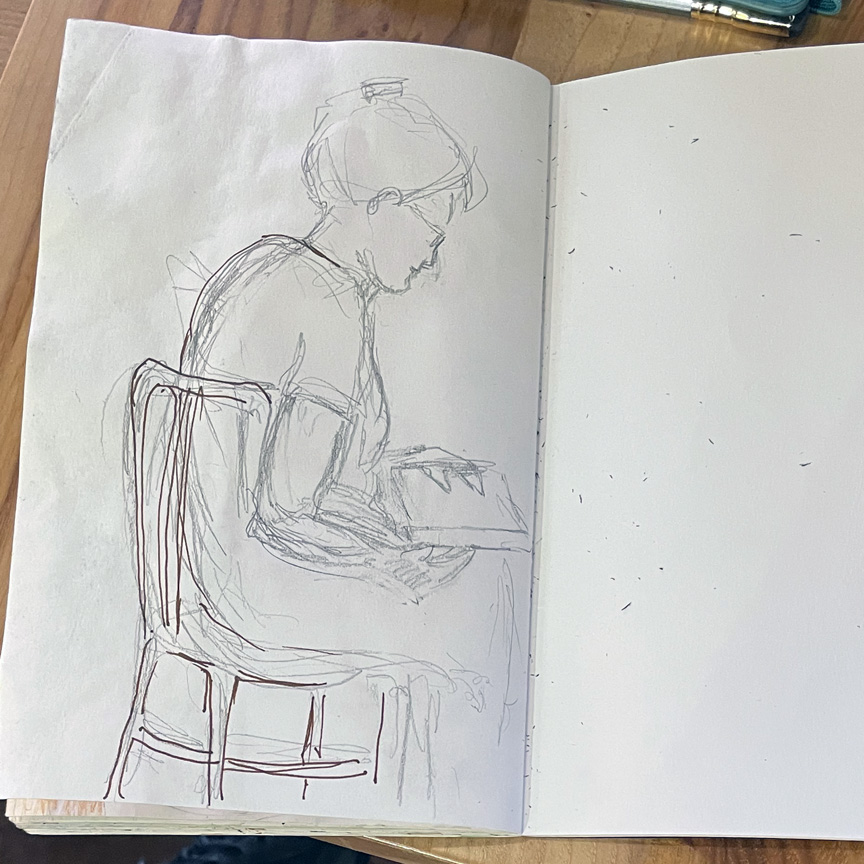 Look who BarbSh brought – sister JoAnn & husband Doug. Shades of sketch trips to Italy in days past. Here's JoAnn's sketch.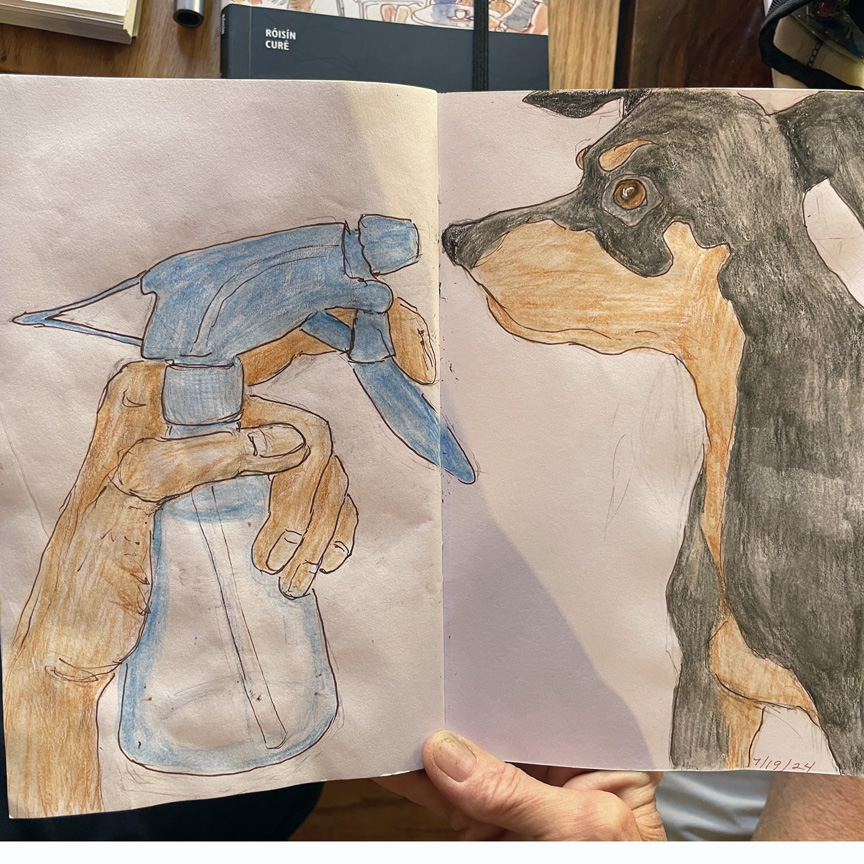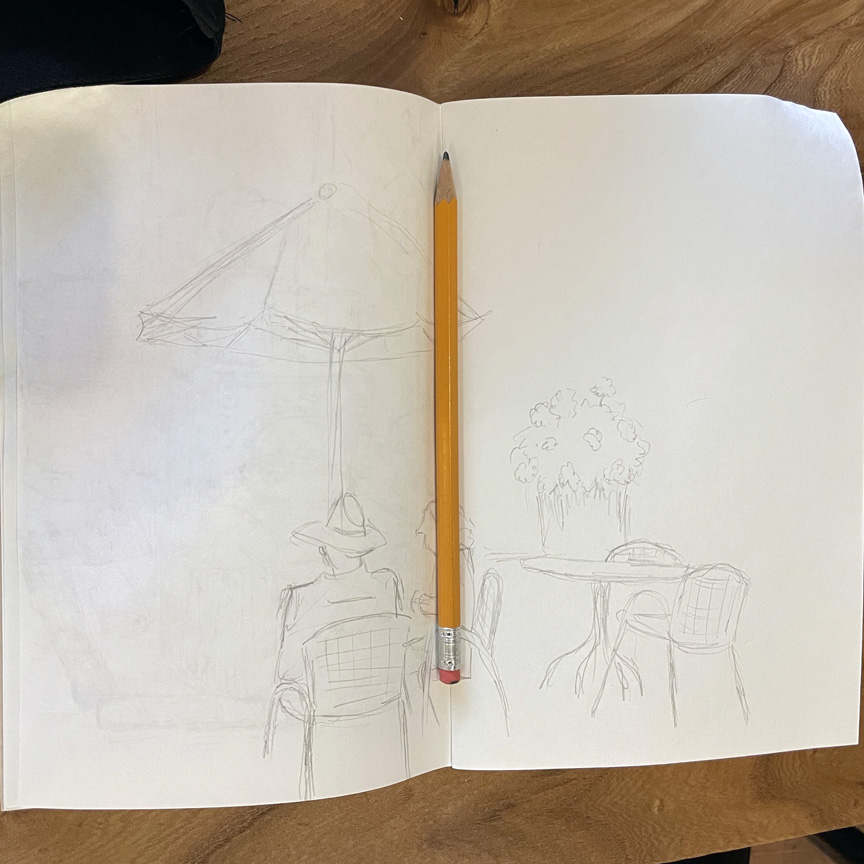 BarbSh had a clever sketch from home, then started a people sketch.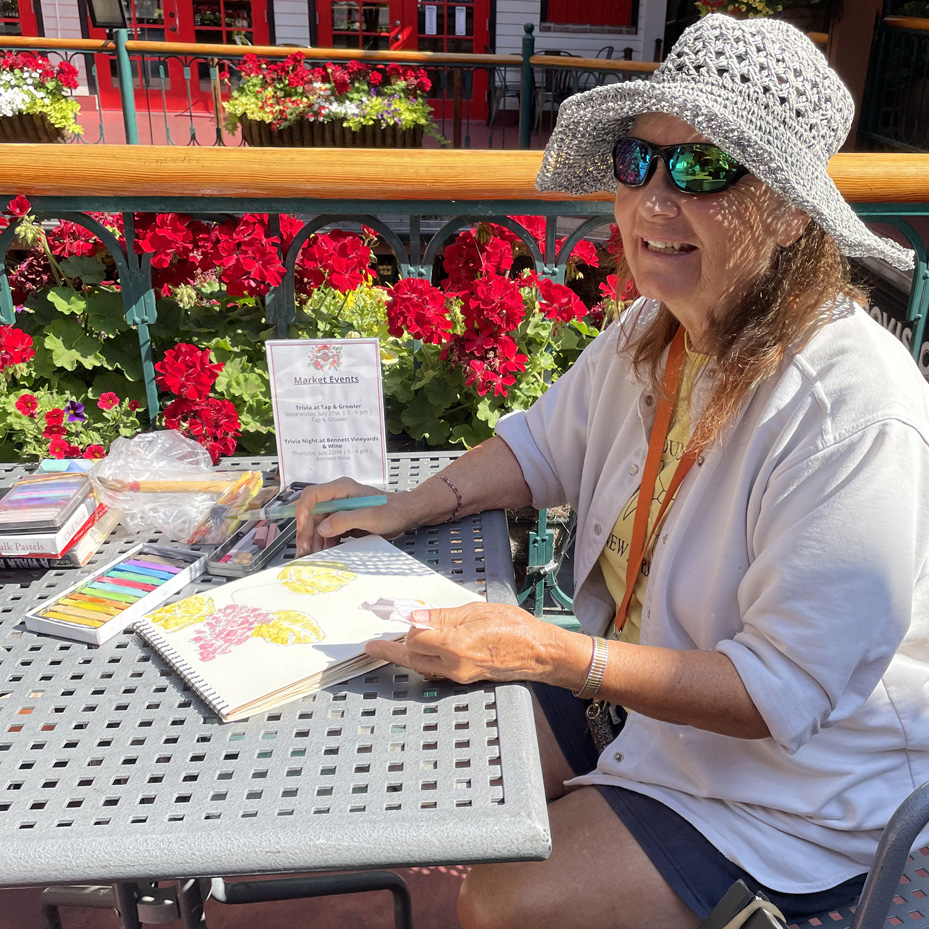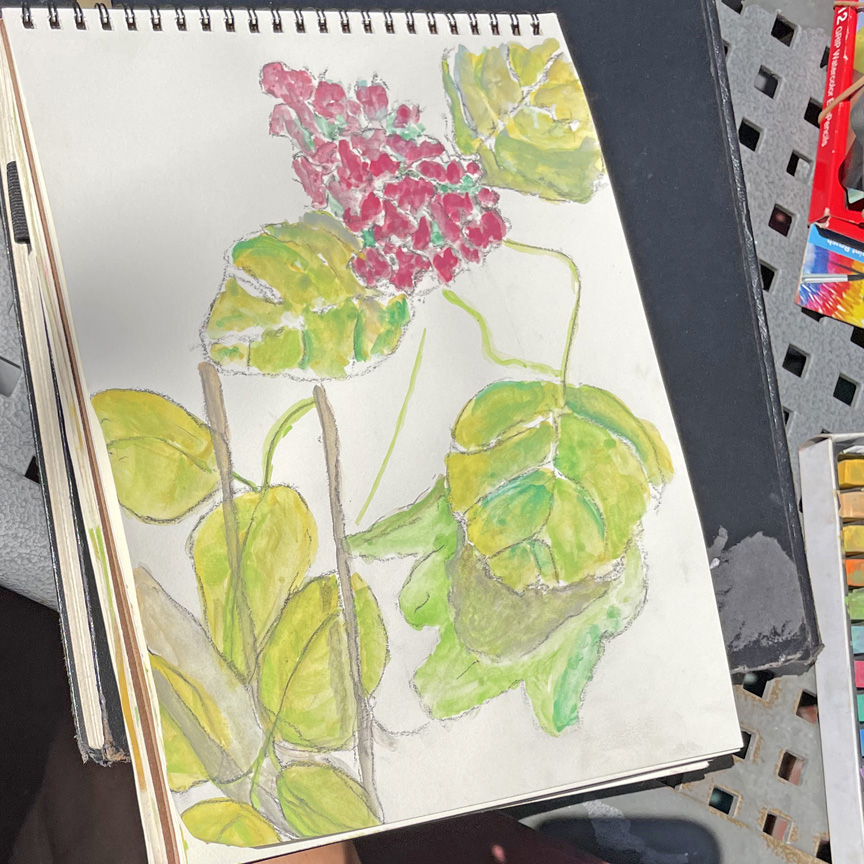 Meanwhile, Eva (out on the sunny deck) used water on her chalks!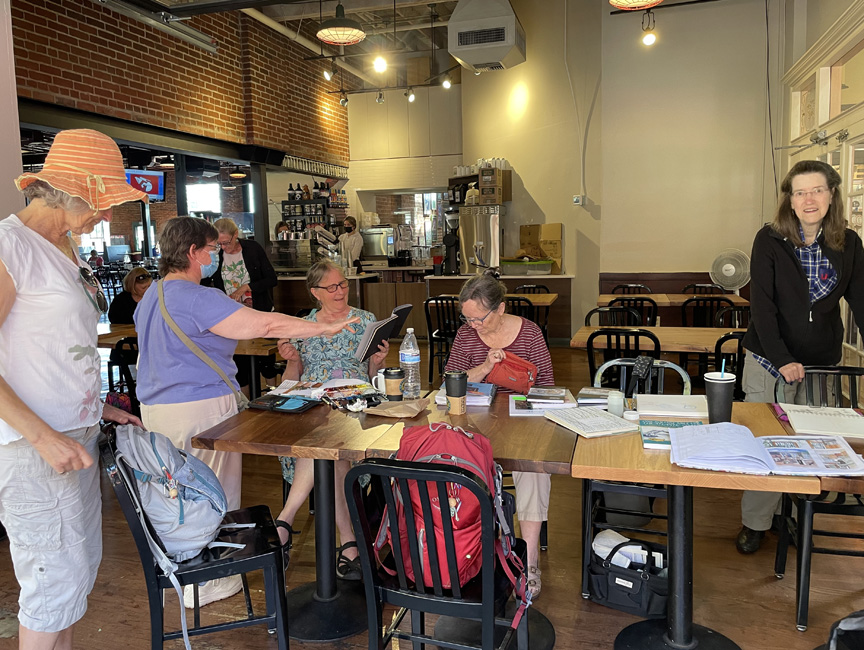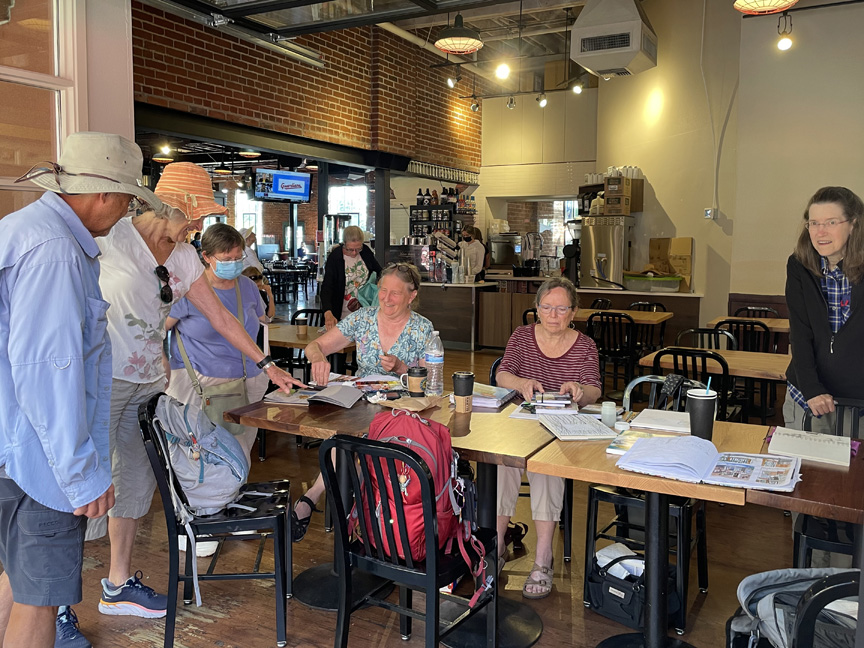 And it's sketch review time! Lots of interaction with this one!
✒ July 16, 2021, Cortesia Sanctuary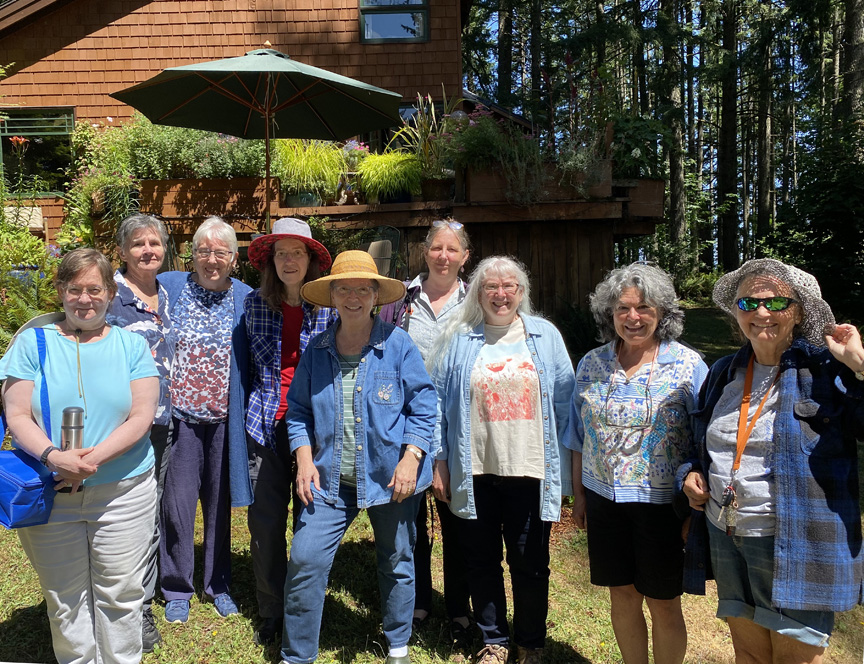 Daisy, Lealan, Jane, Peggy, Marsha, Bitty, Danita, Gail, Eva (Tricia behind the camera, BarbSo missing).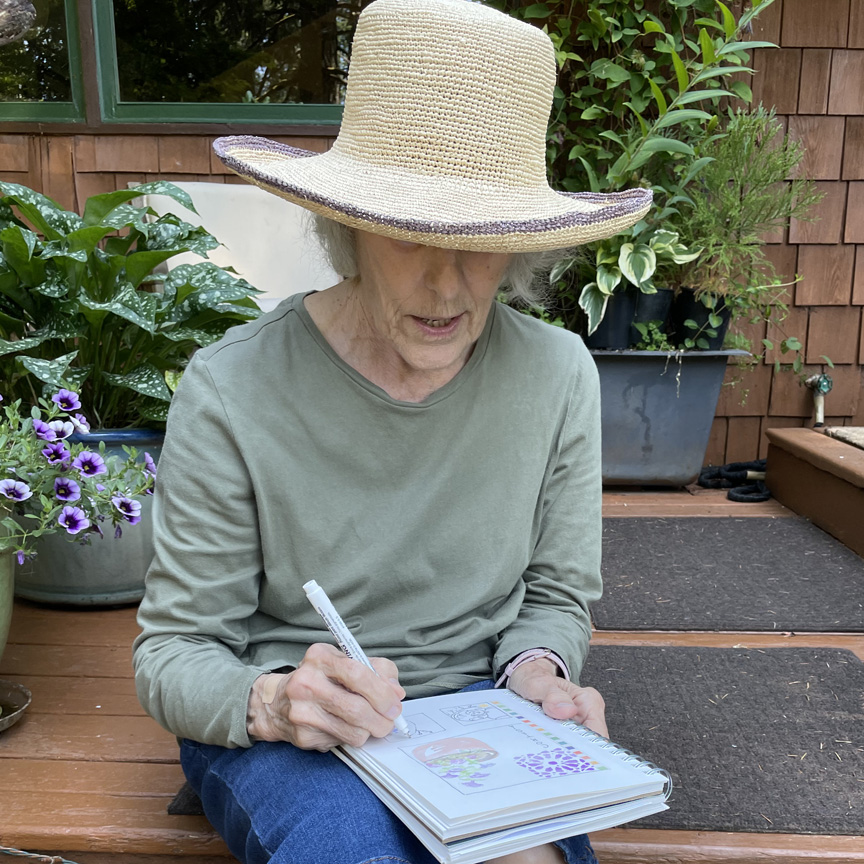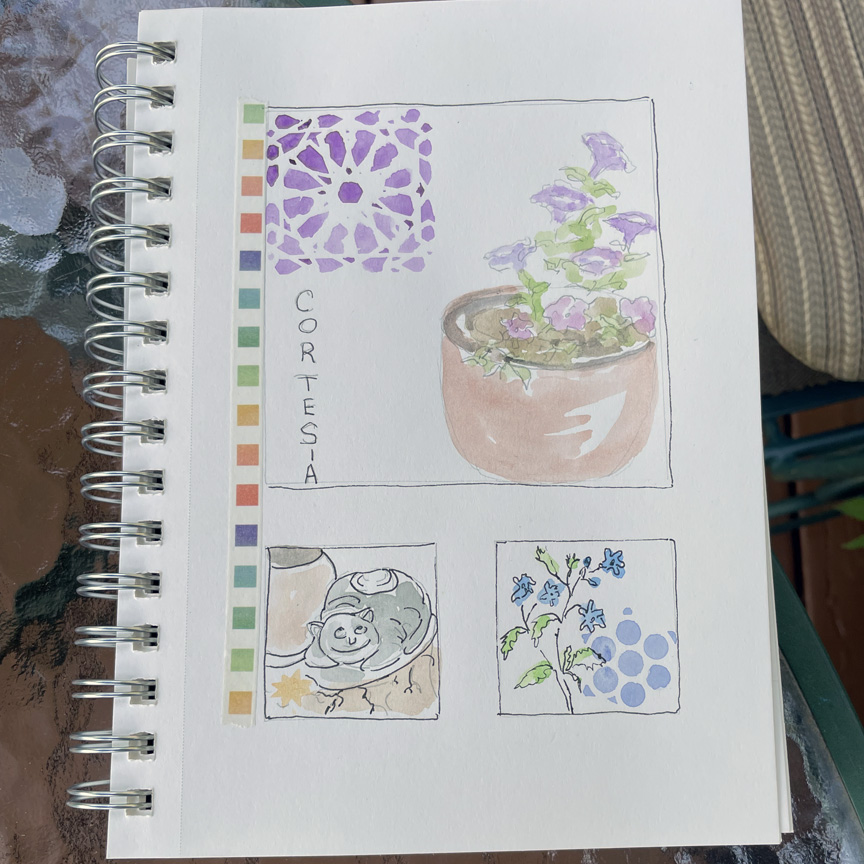 And speaking of Barb So, here she is, with her charming sketch!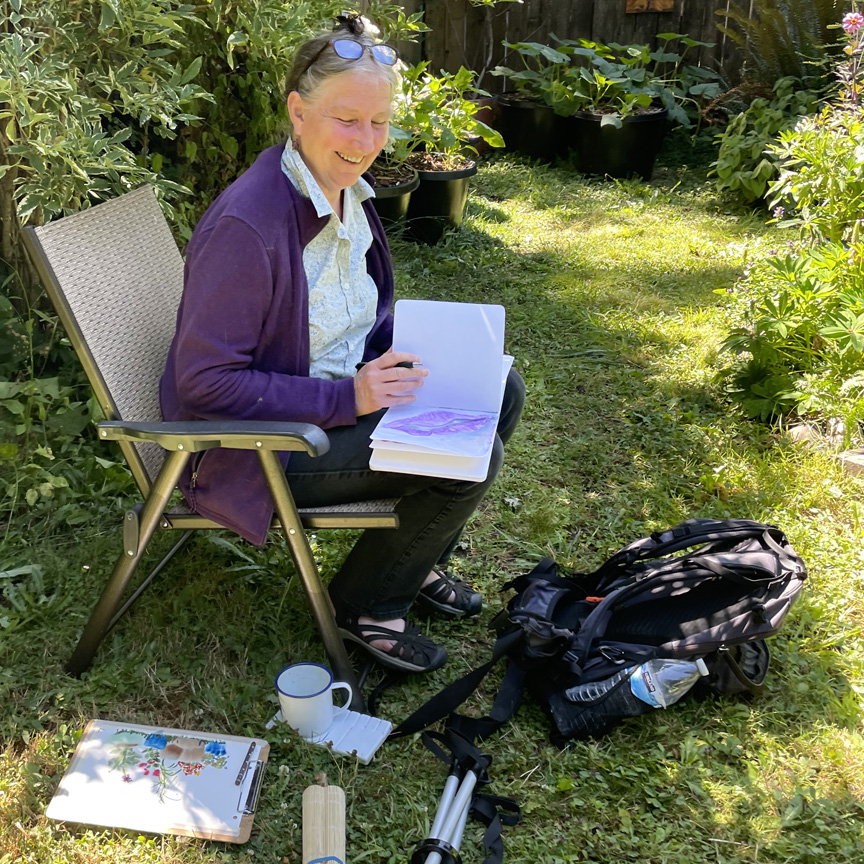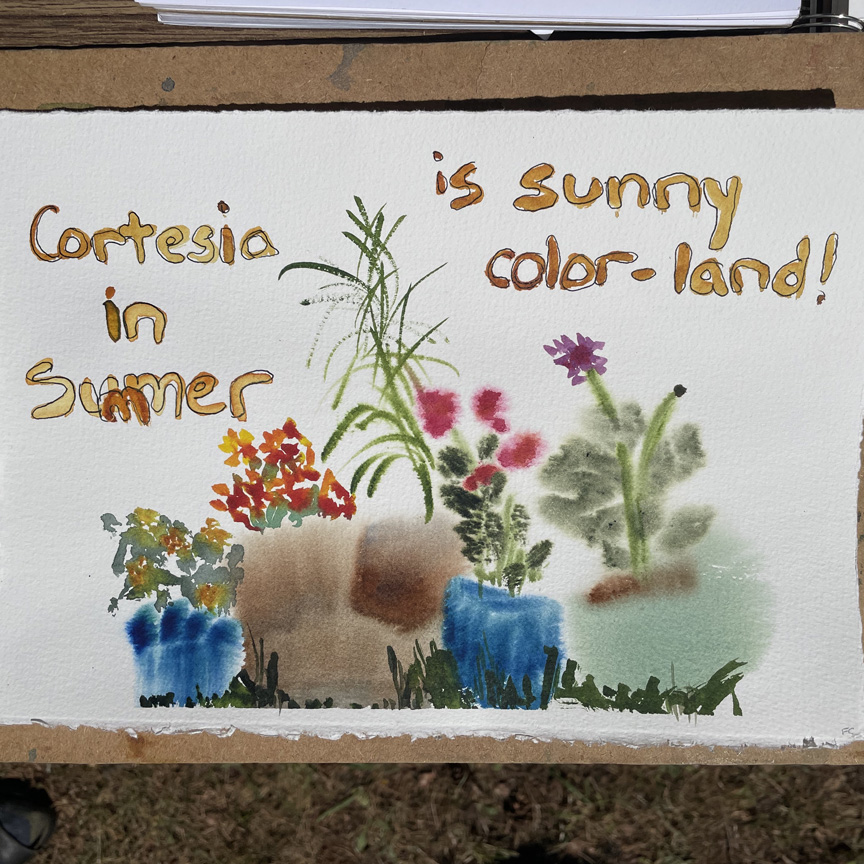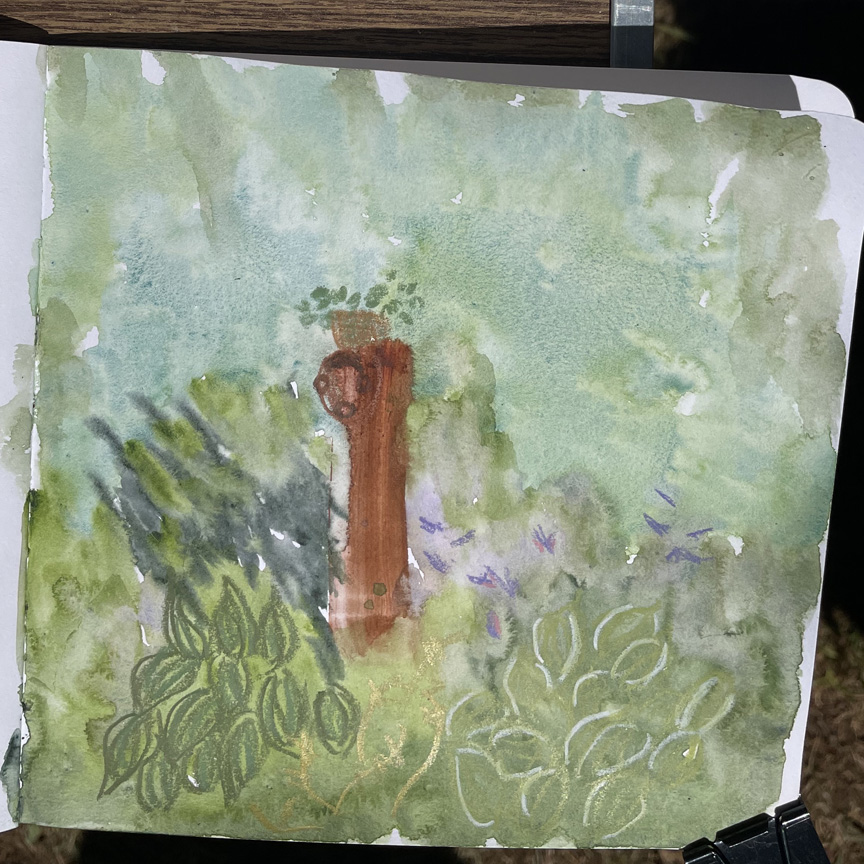 Bitty is enjoying exploring different media, from ink, to watercolor, to using Caran d'Ache water soluble crayons (without water, too!).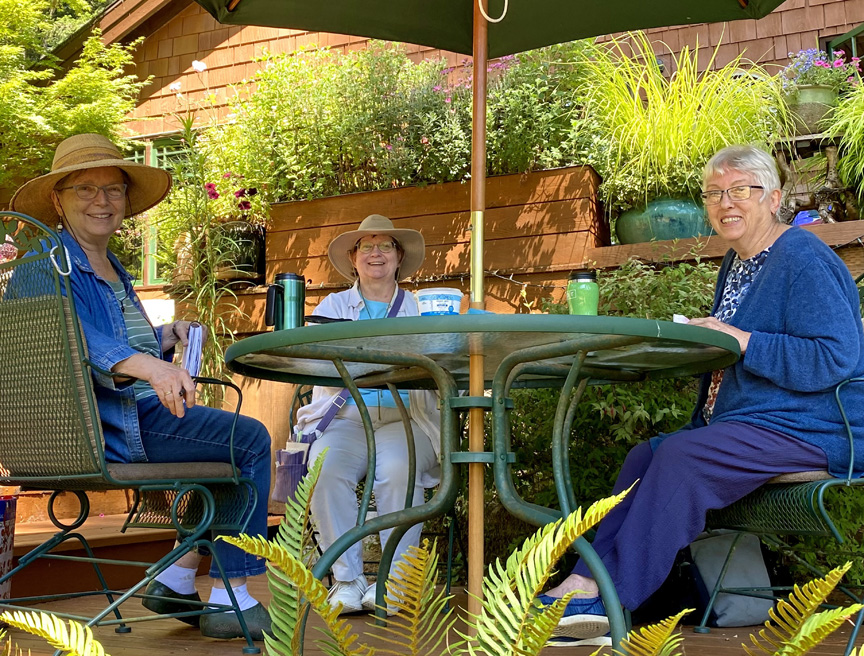 Marsha, Daisy, & Jane on the front deck, captured by host, Tricia.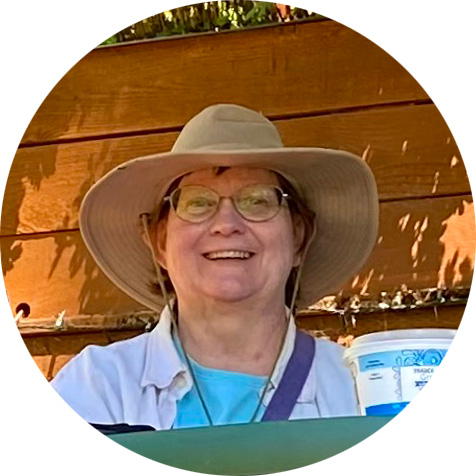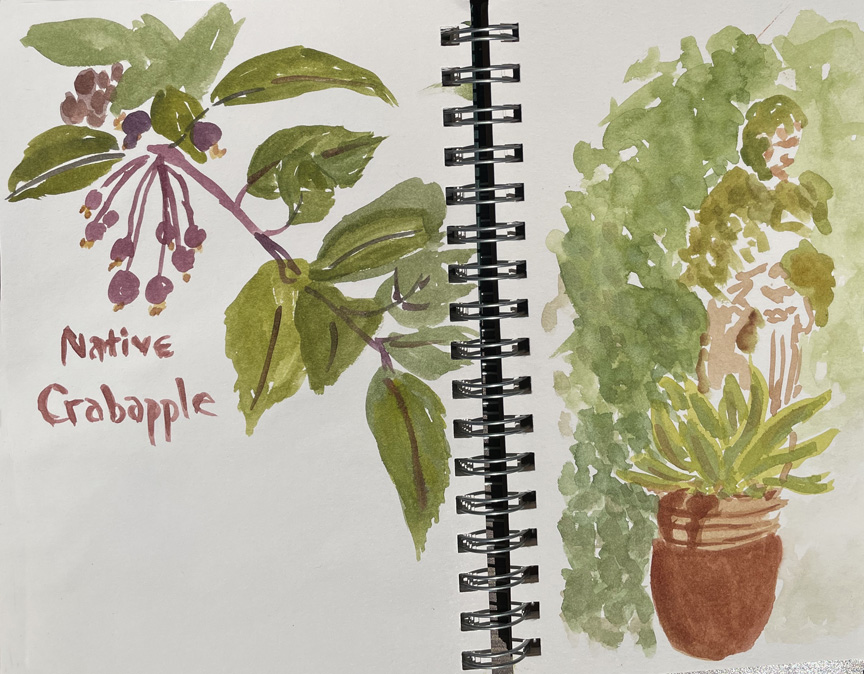 But Daisy did find things to sketch in the garden, too.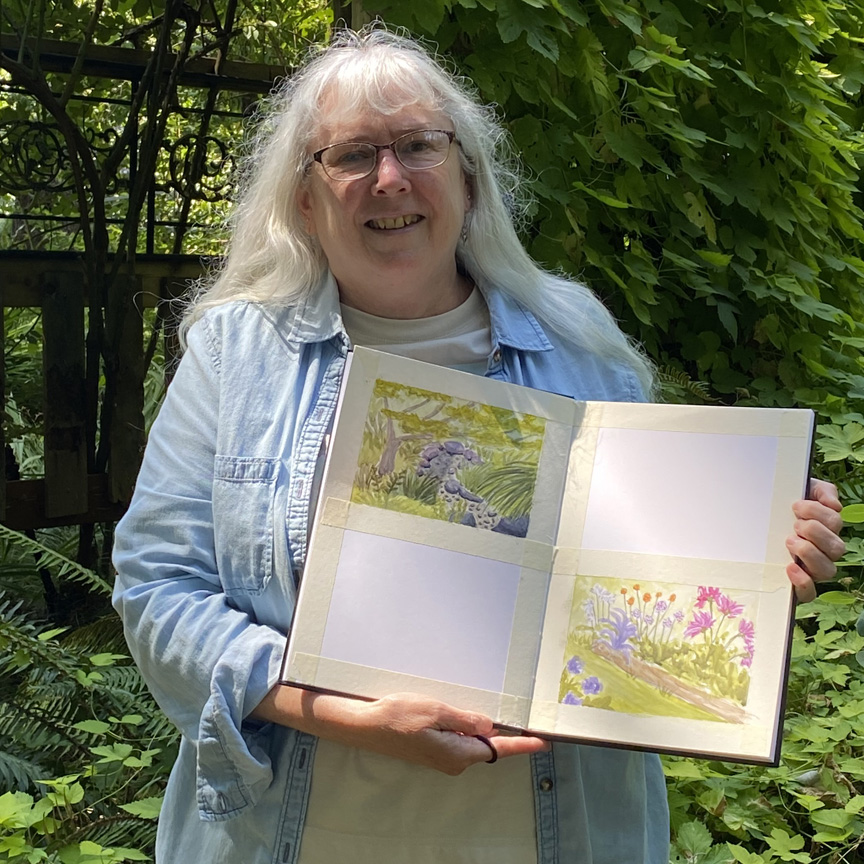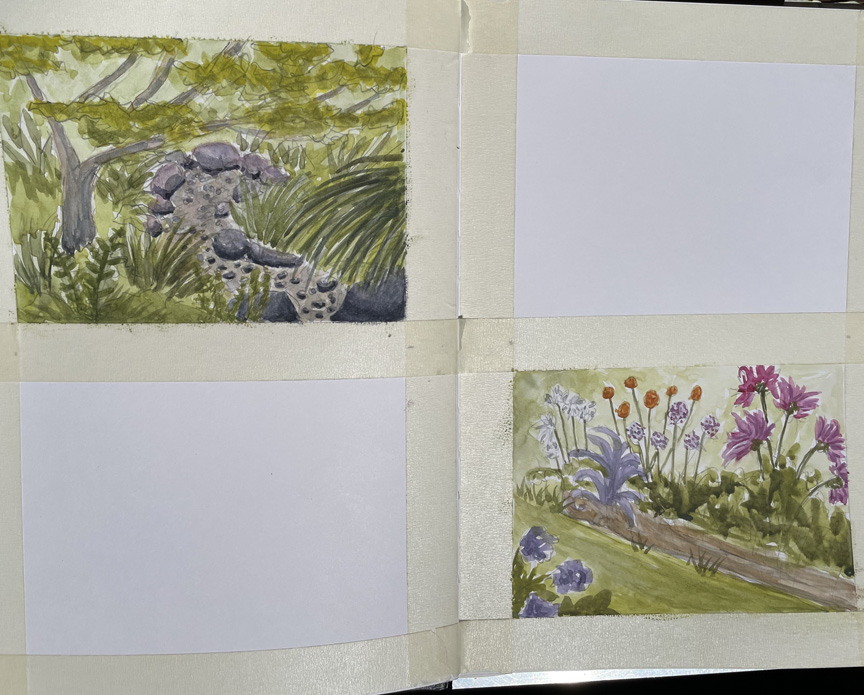 Danita has plans for a 4 framed set of images – she got two of them done today, and they are totally lovely!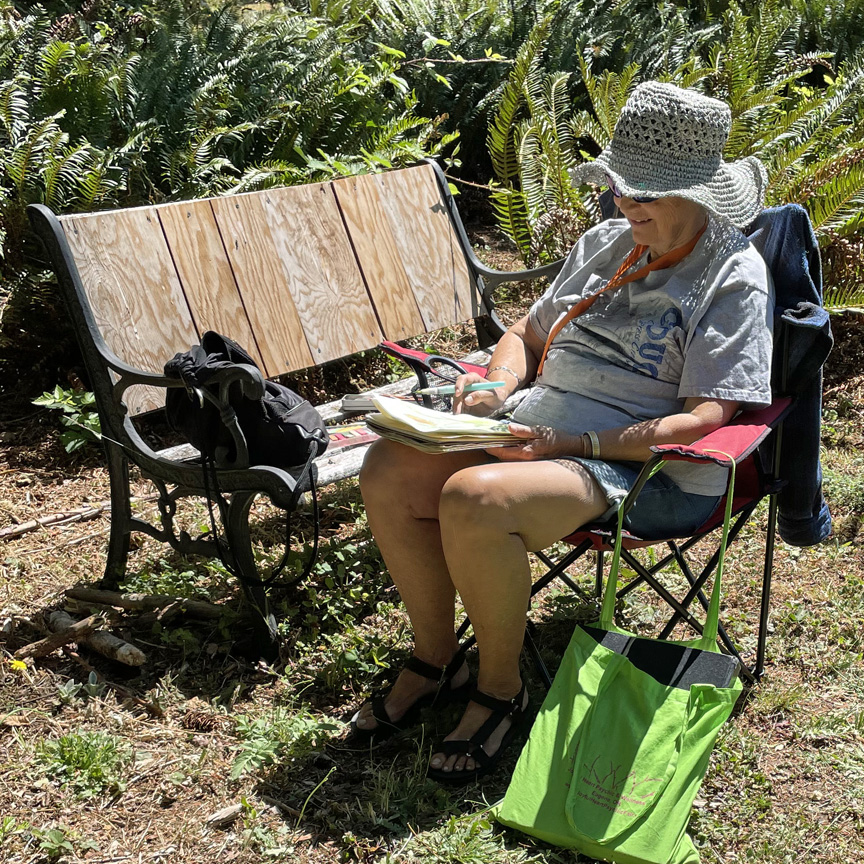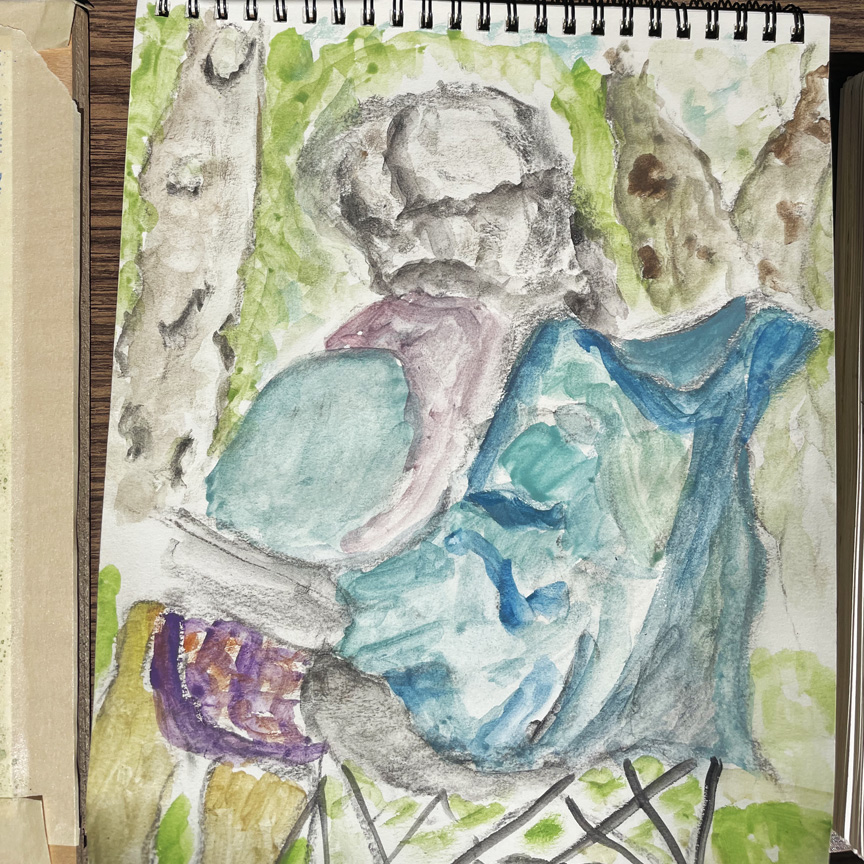 Eva settled in to sketch the woods, and did Gail in a chair instead! She's feeling her way into how to go darker, make it distinct.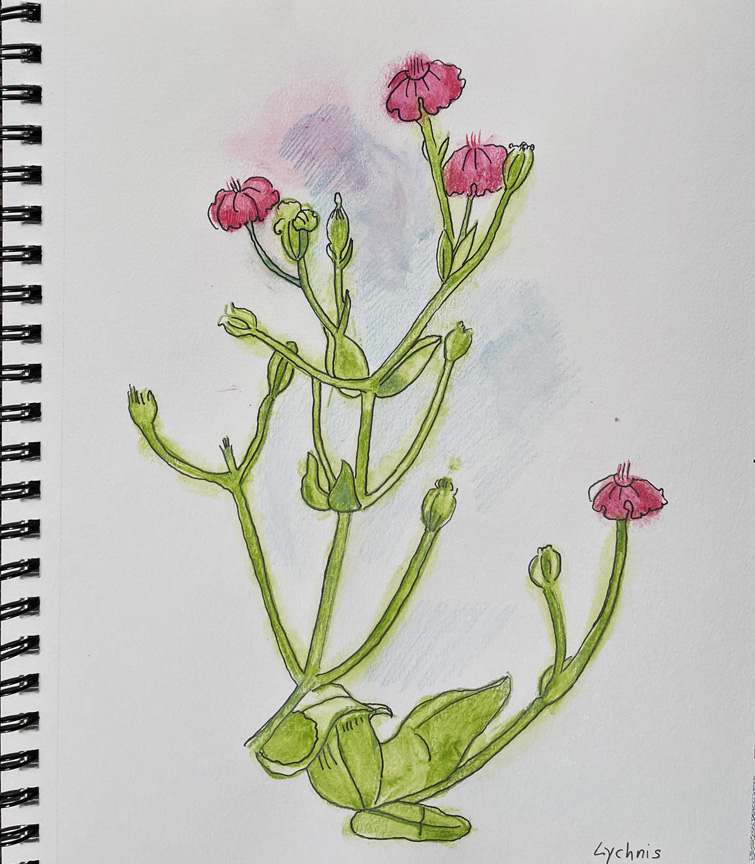 And what's Gail up to? Not her usual pointillism! Rose Campion in all its color and grace – nice job.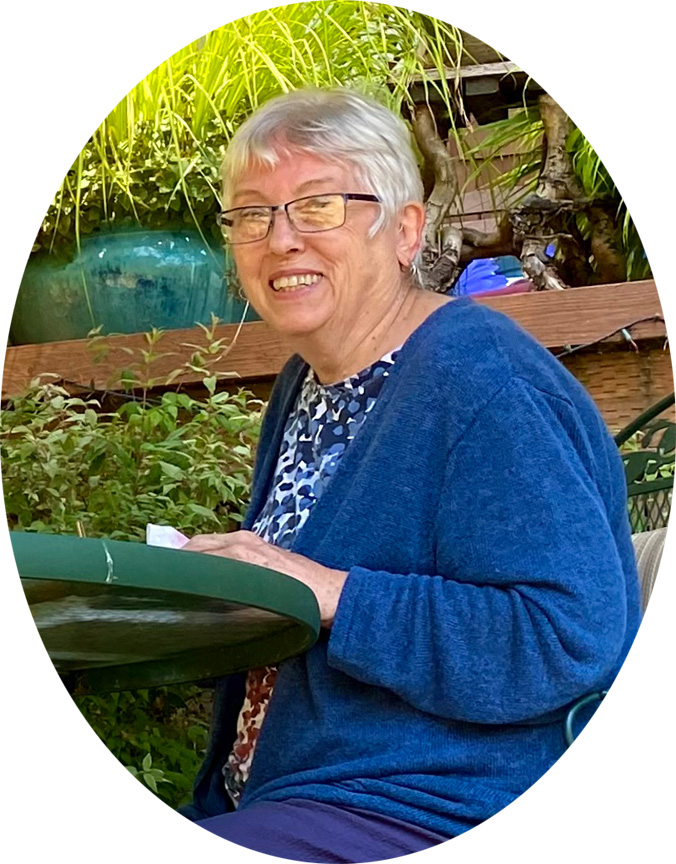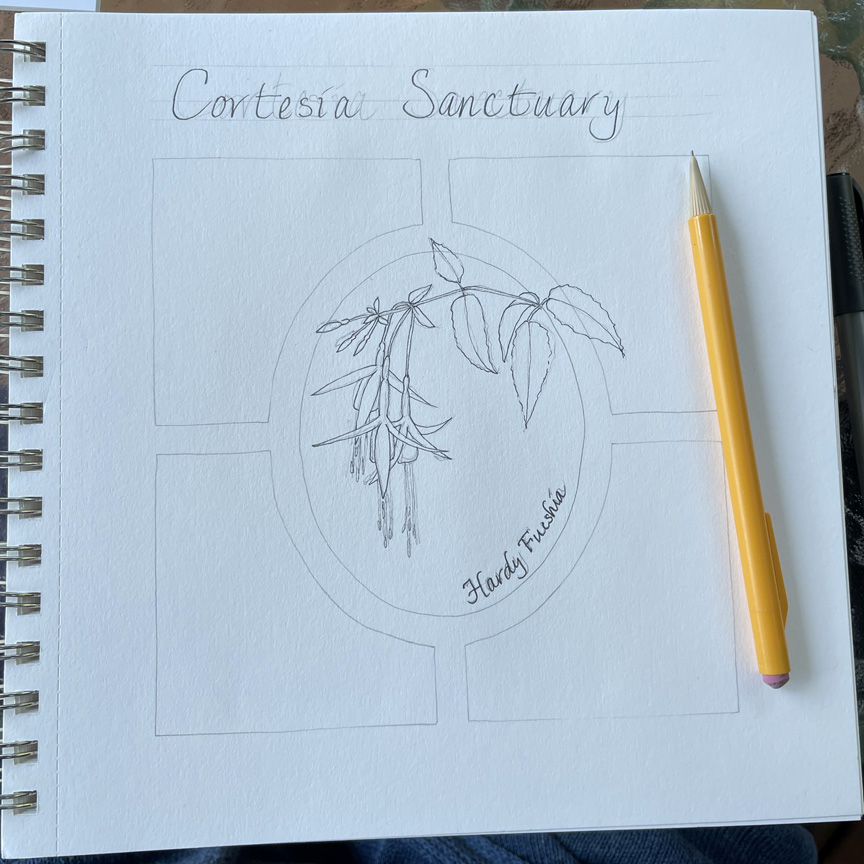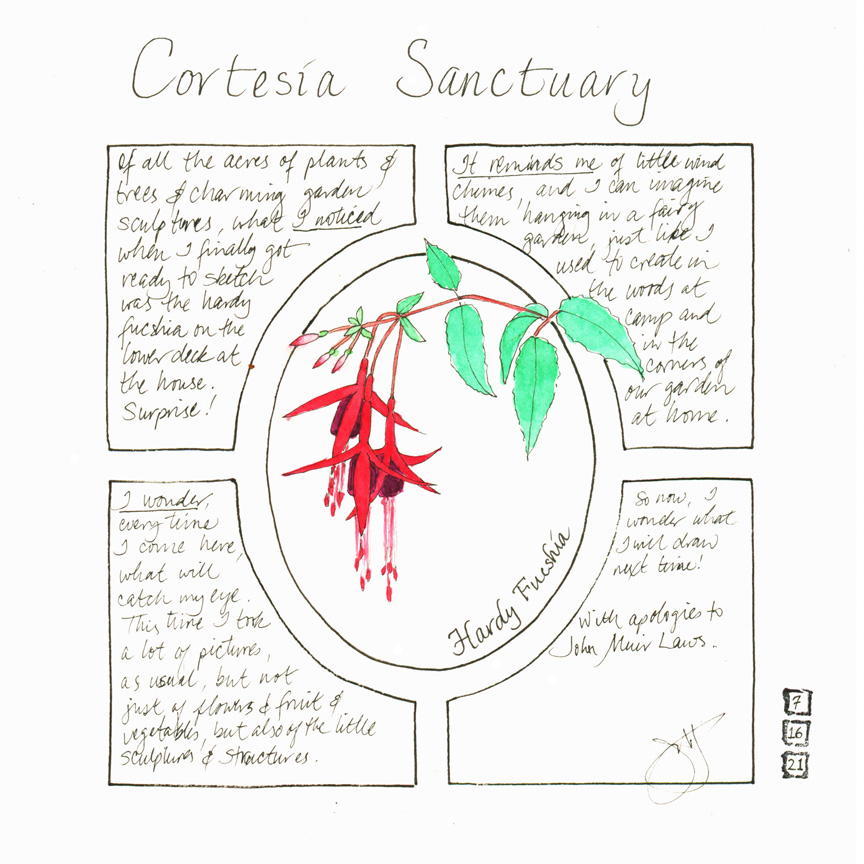 Of all the forest & garden around her, Jane zeroed in on the tiny hardy fuchsia on the deck! Narrative in her sketch is unusual, too.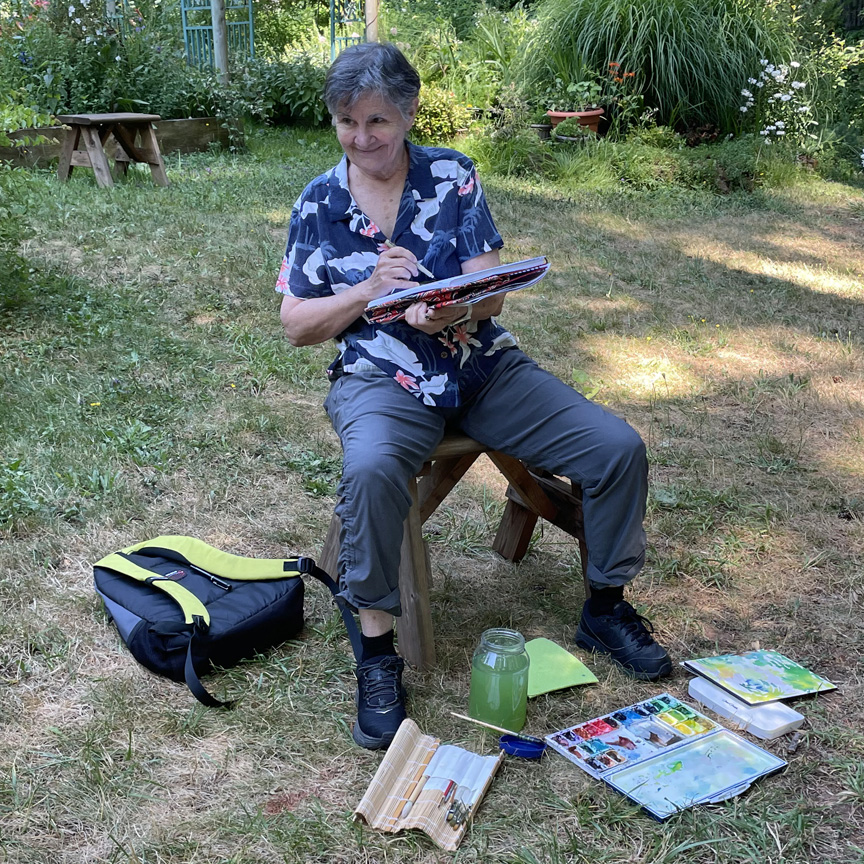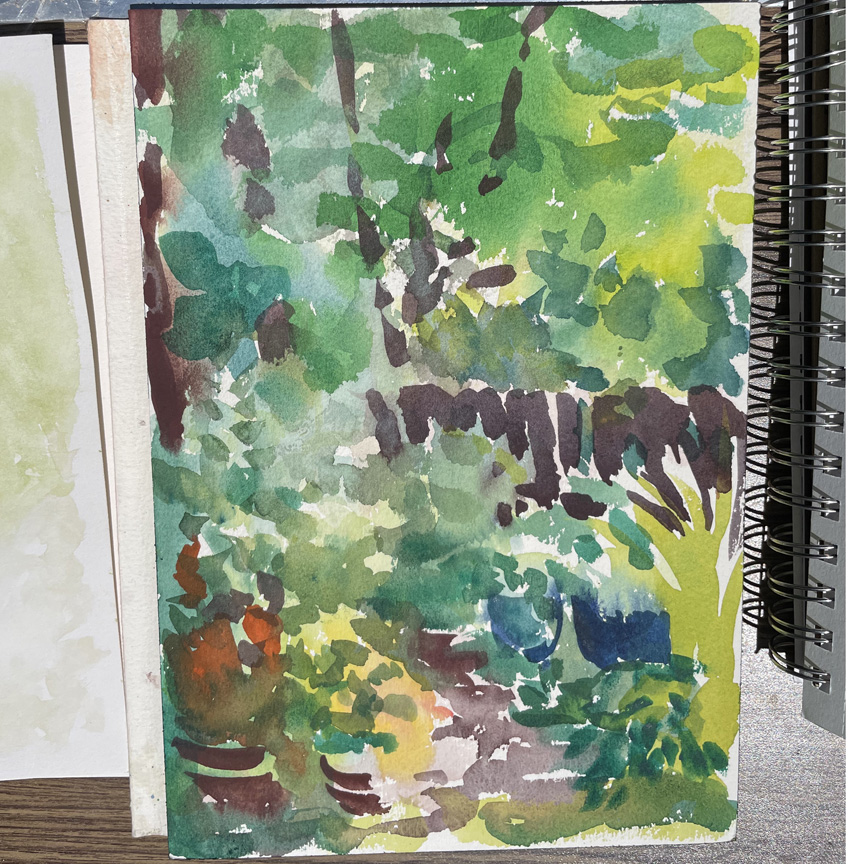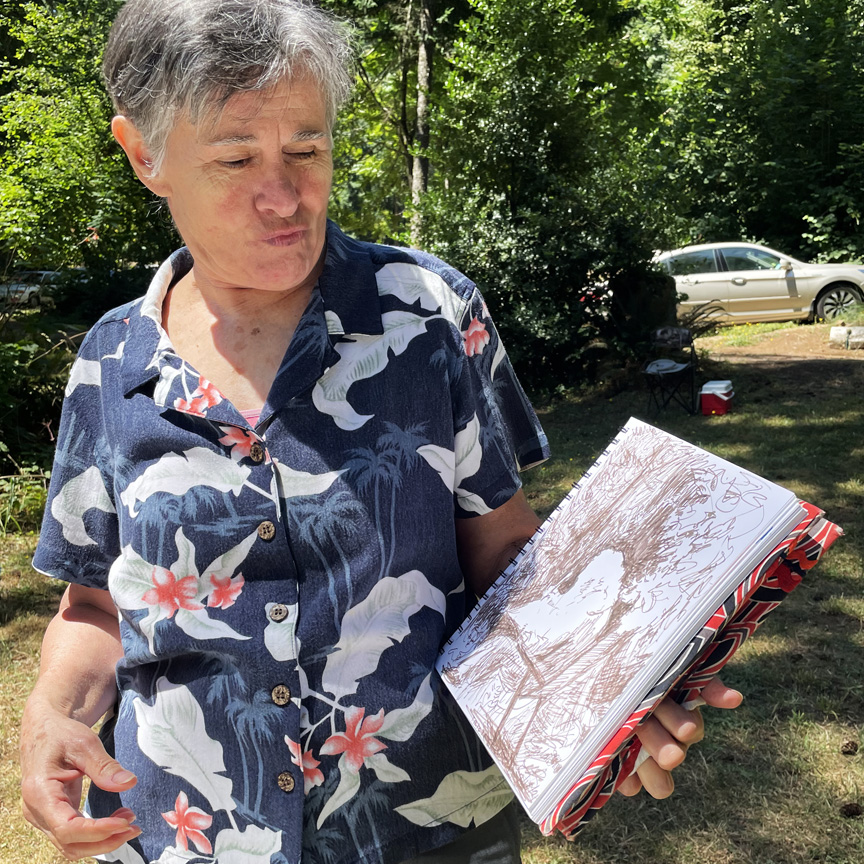 What's Lealan up to? Her usual vibrant garden & forest scene, and then, oh yeah!, a glowing Tricia, with the woods around her.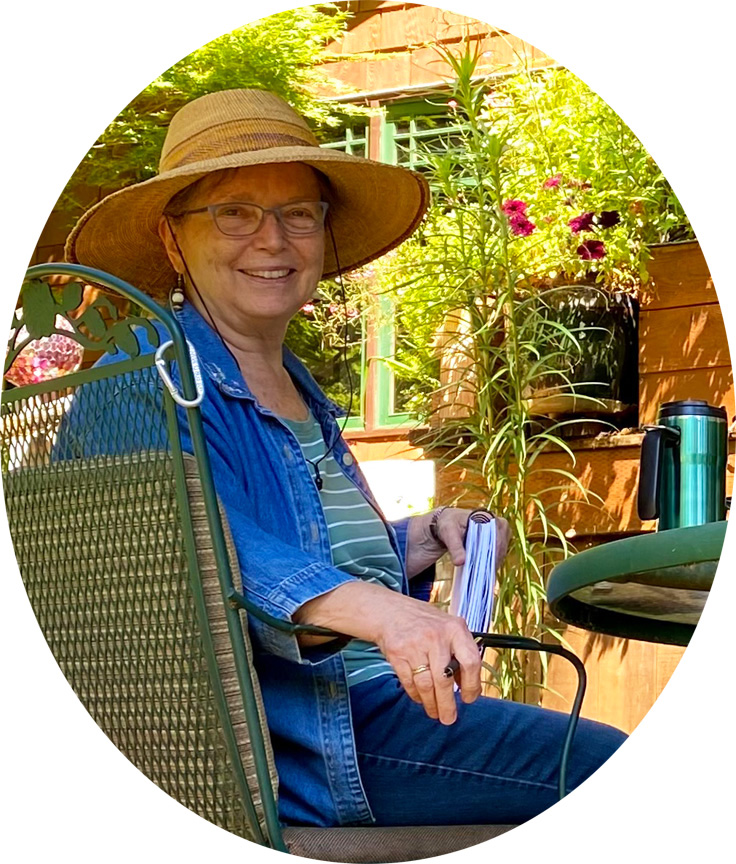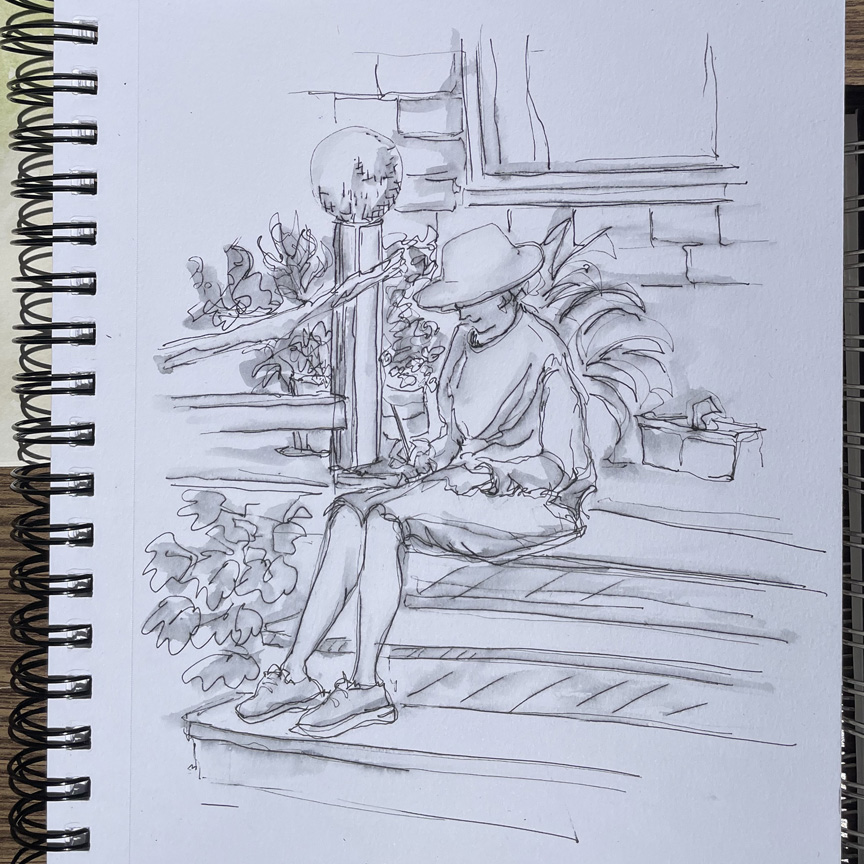 Surprise! Marsha is on a roll sketching Barb So again. So delightful!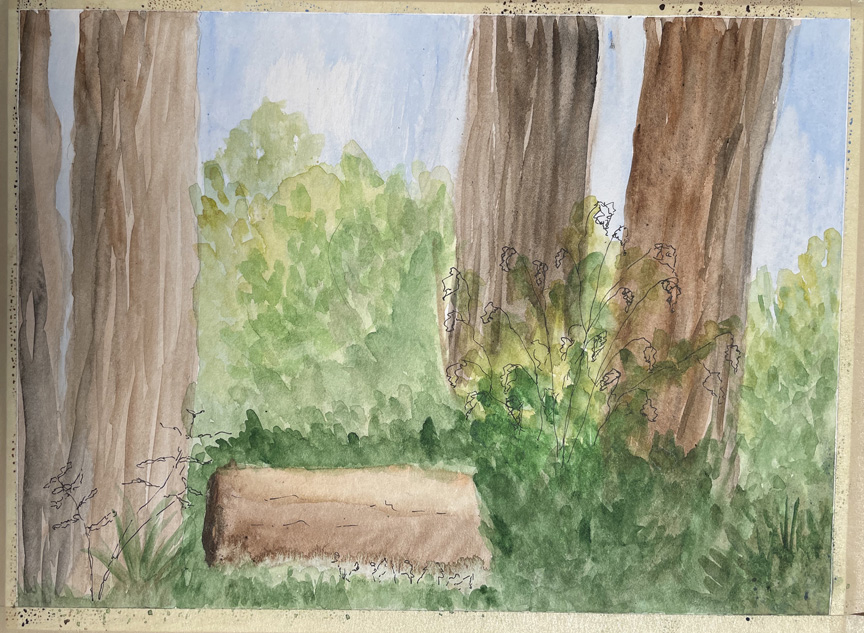 Peggy is set up for serious plein air watercolor sketching – great texture of tree bark, and depth of field, too.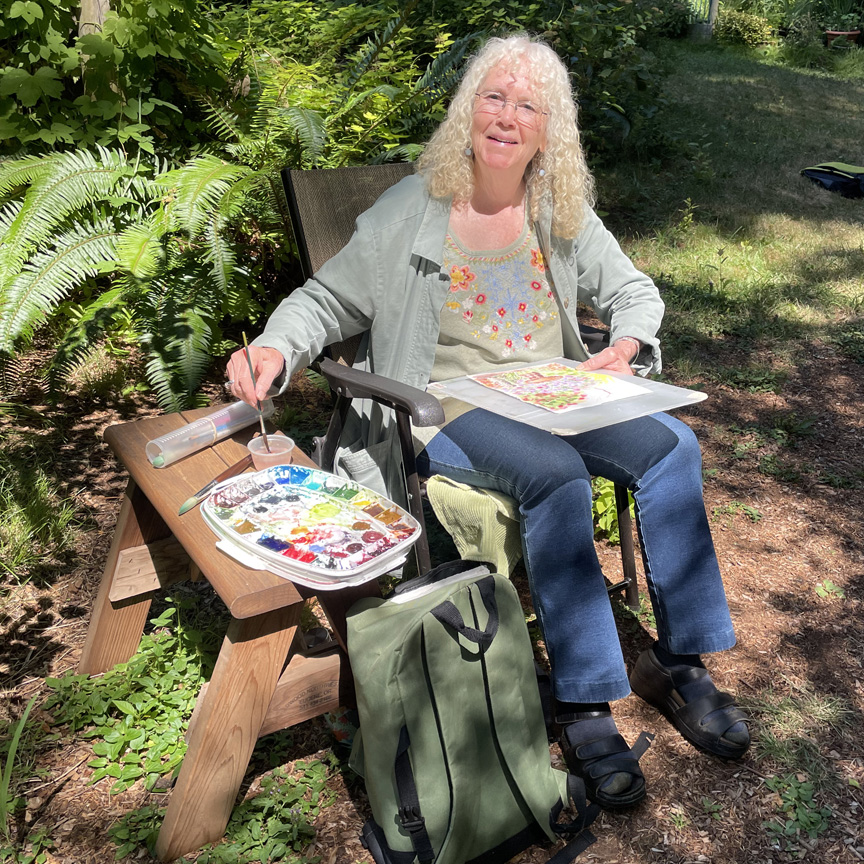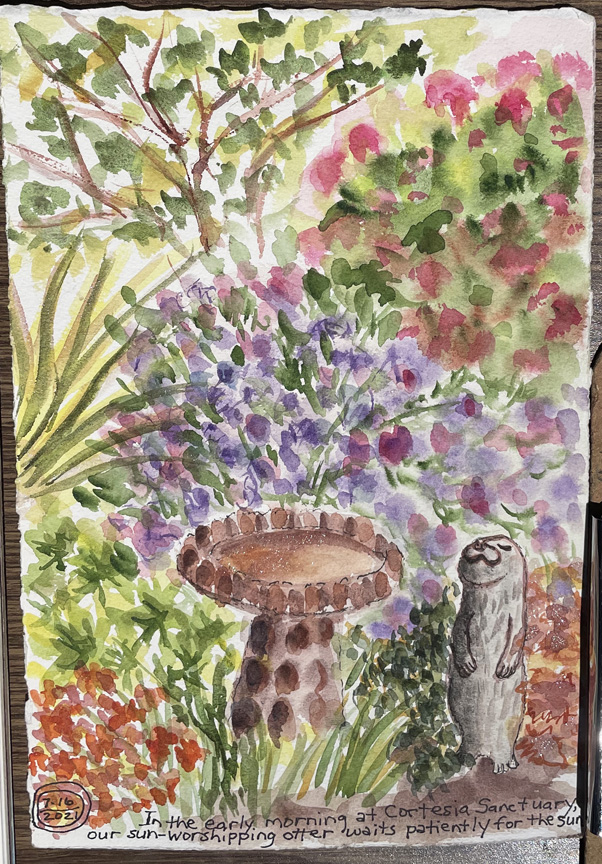 Tricia is an avid watercolor enthusiast, too – nice sketch!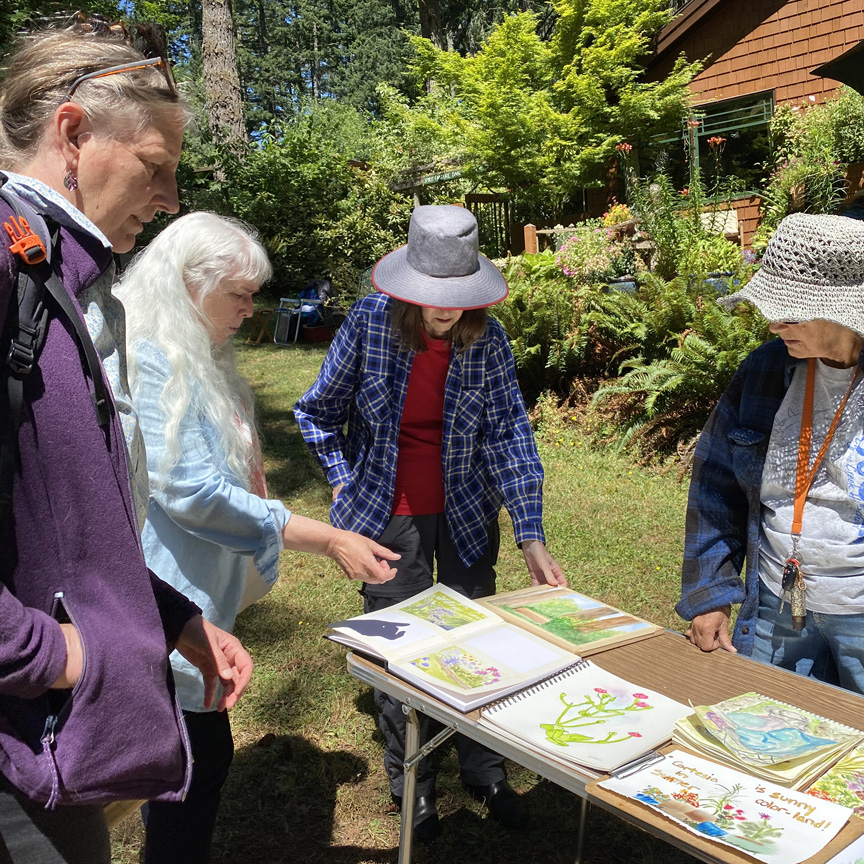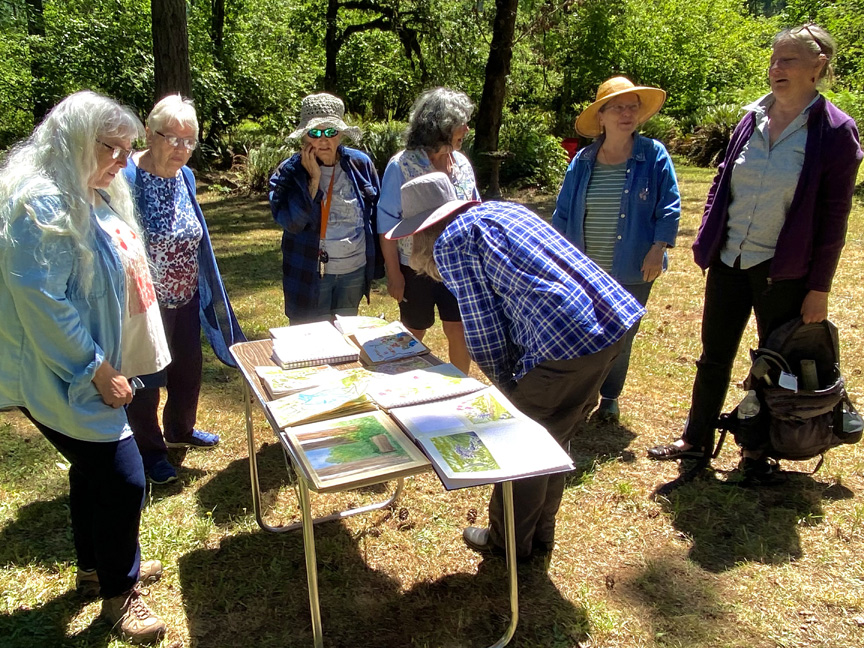 And it's sketchbook review time – we all start to gather to see what everyone has done, commenting & asking questions of each other.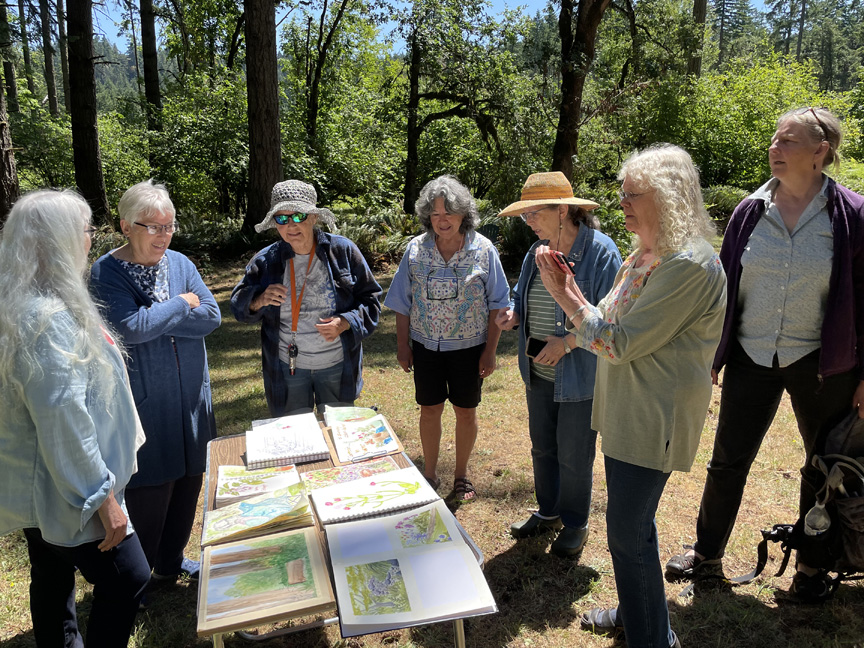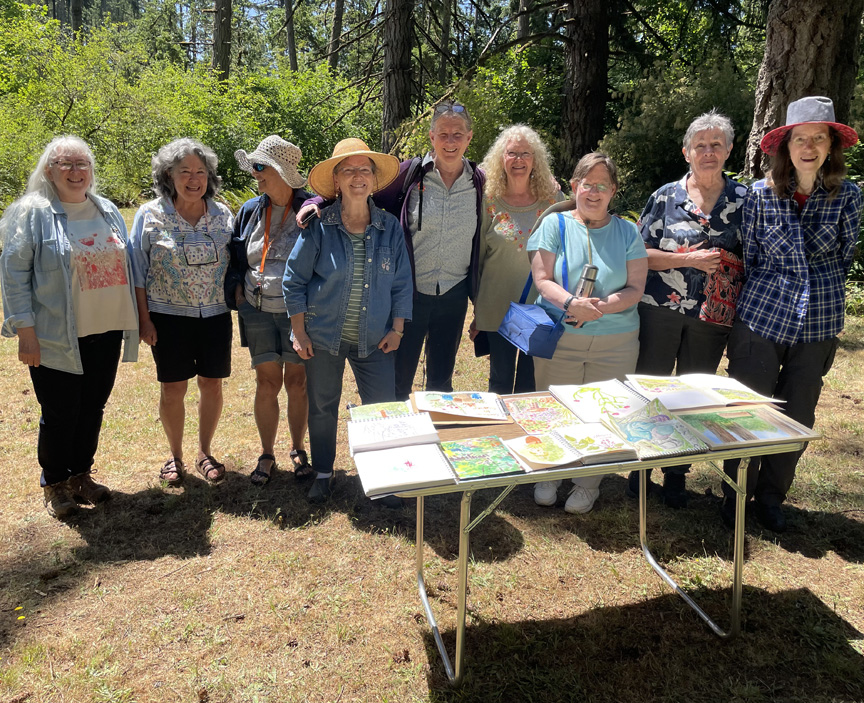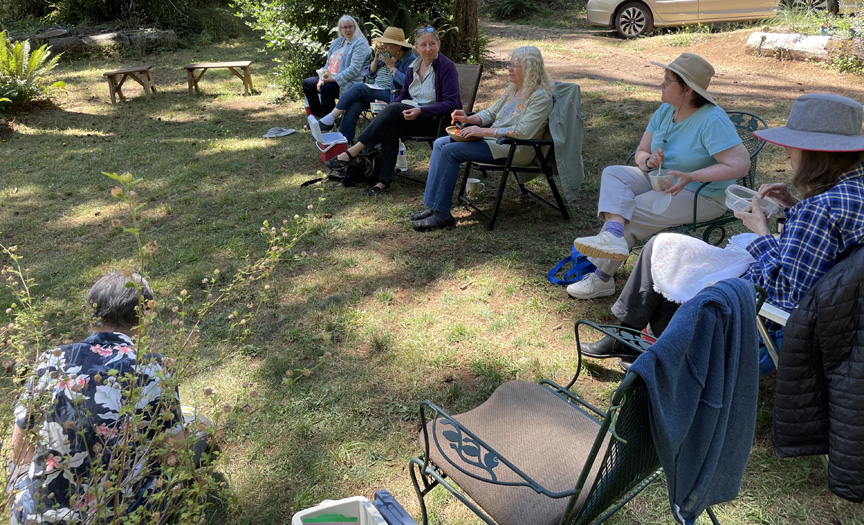 We ended this session with a picnic lunch on the front lawn. Sweet.
✒ July 9, 2021 – Emerald Art Center, Springfield, OR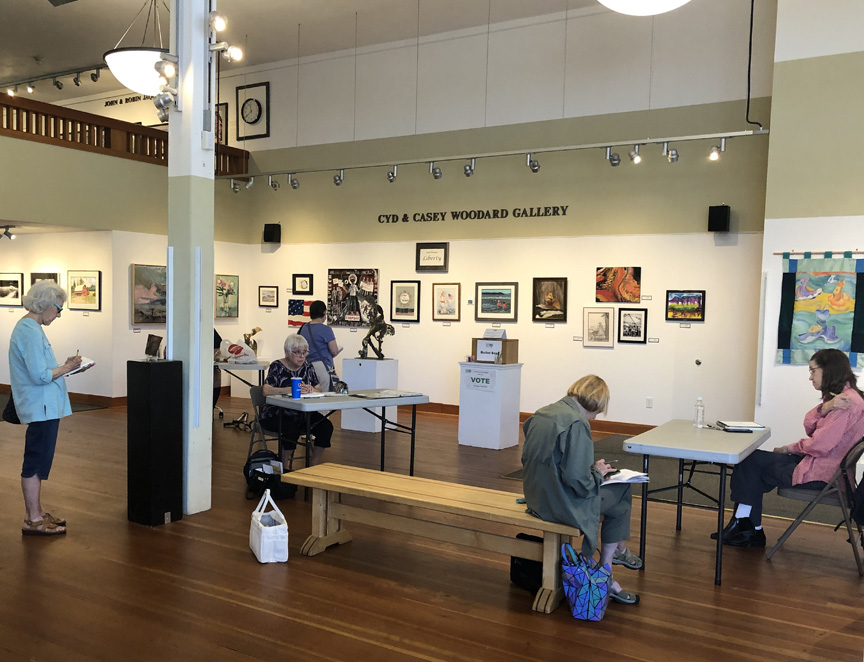 Barb So, Jane, Daisy, Barb So., Peggy (photo by Katie), Marsha, Eva and Gail out of picture.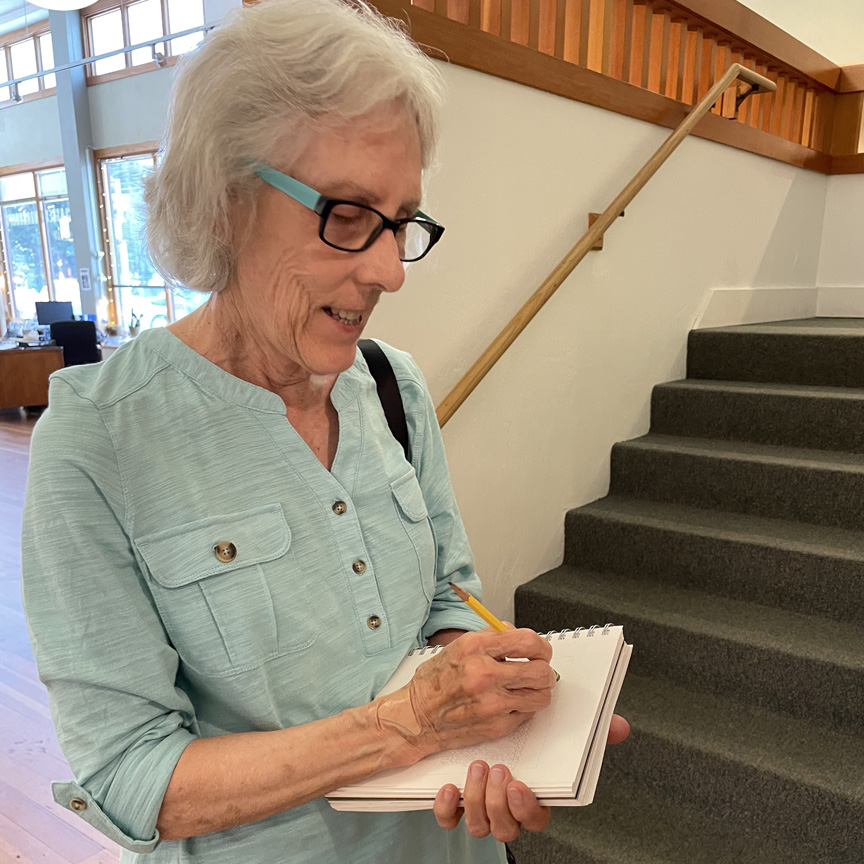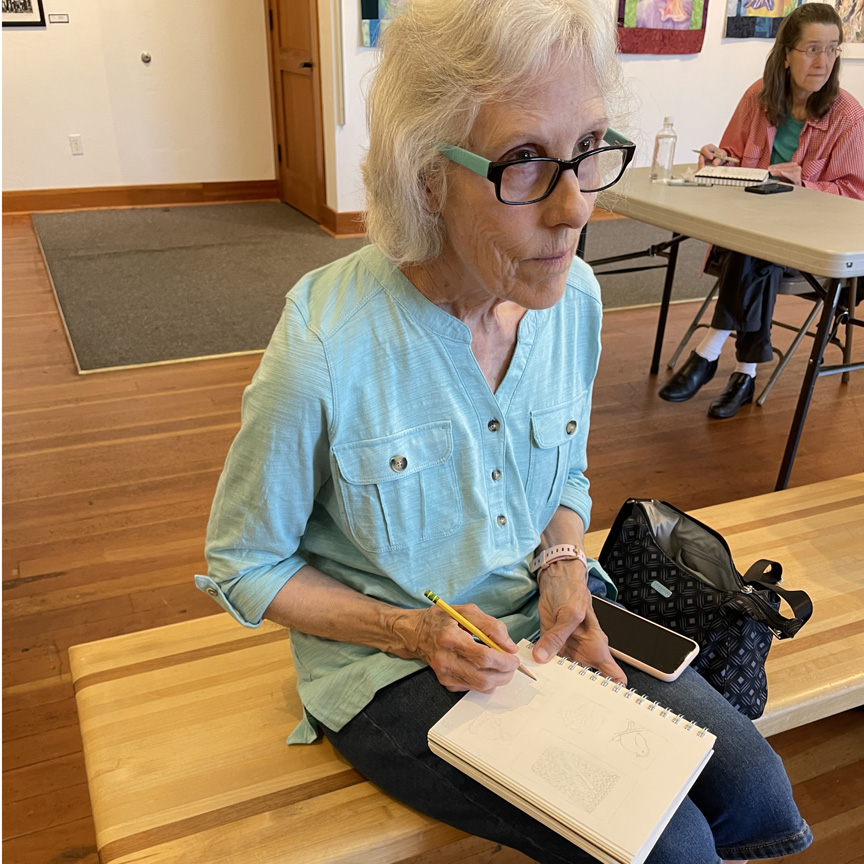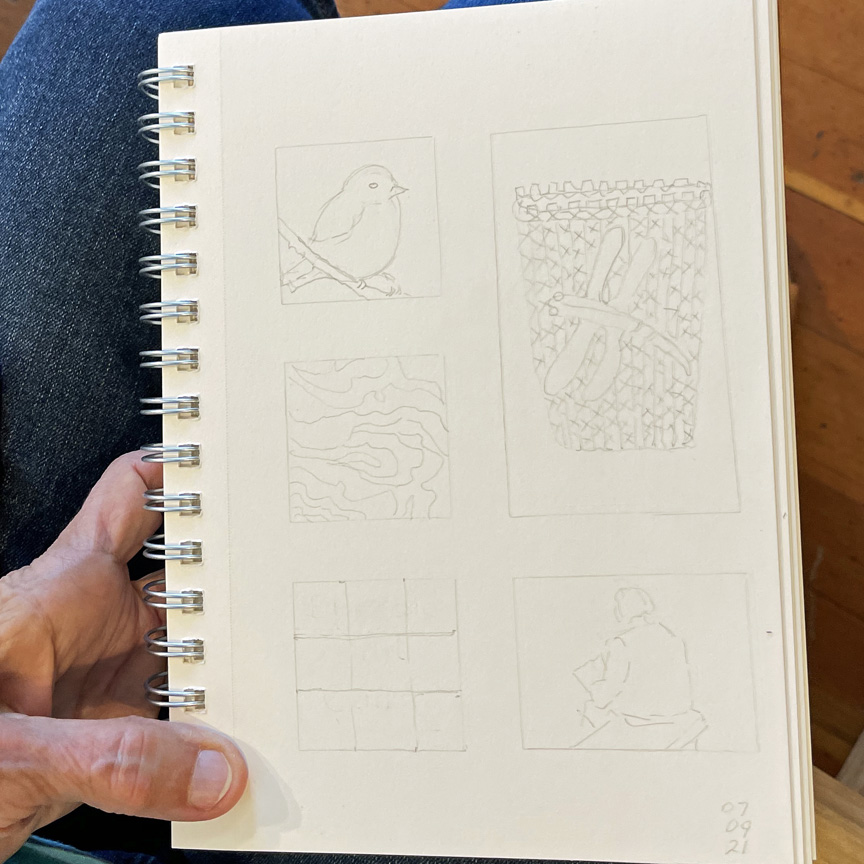 A wander about gave Barb So lots of things to sketch!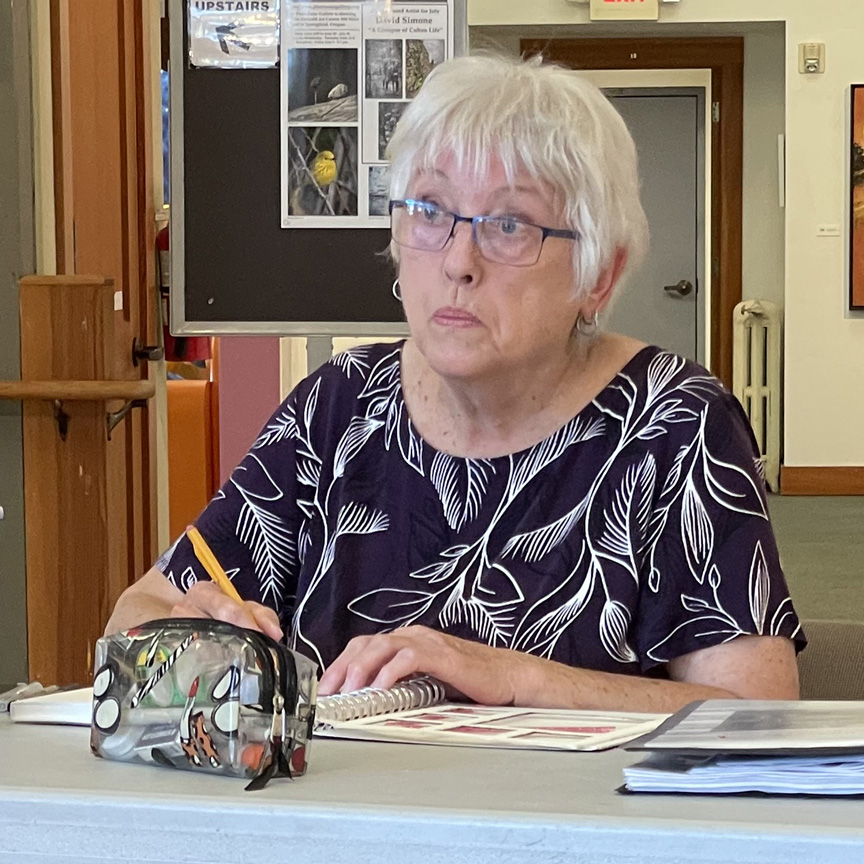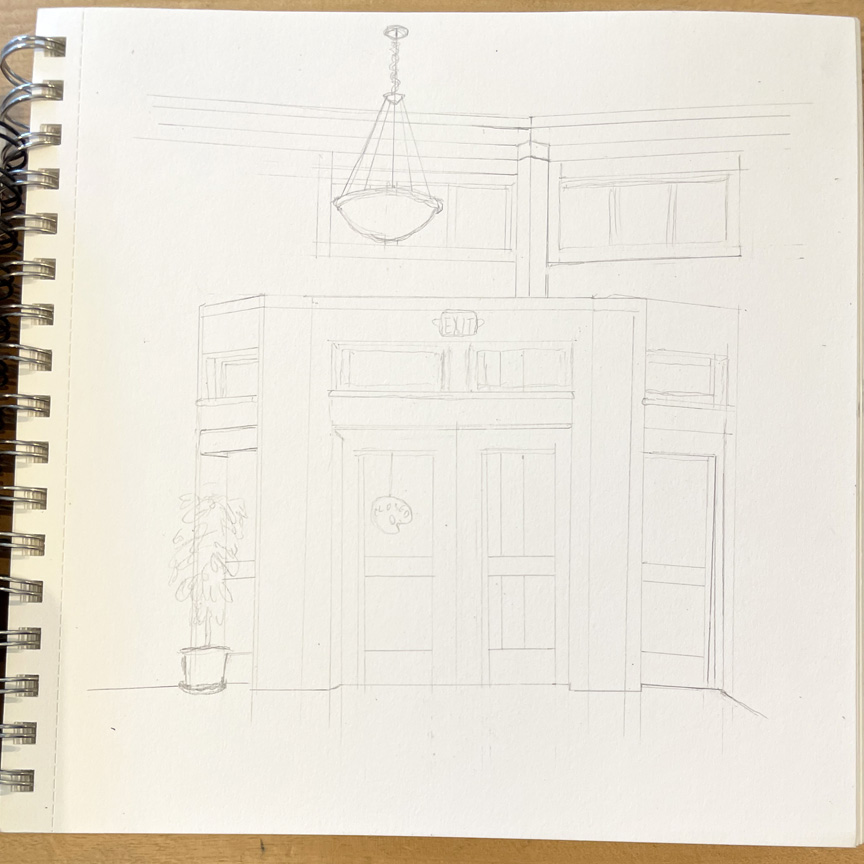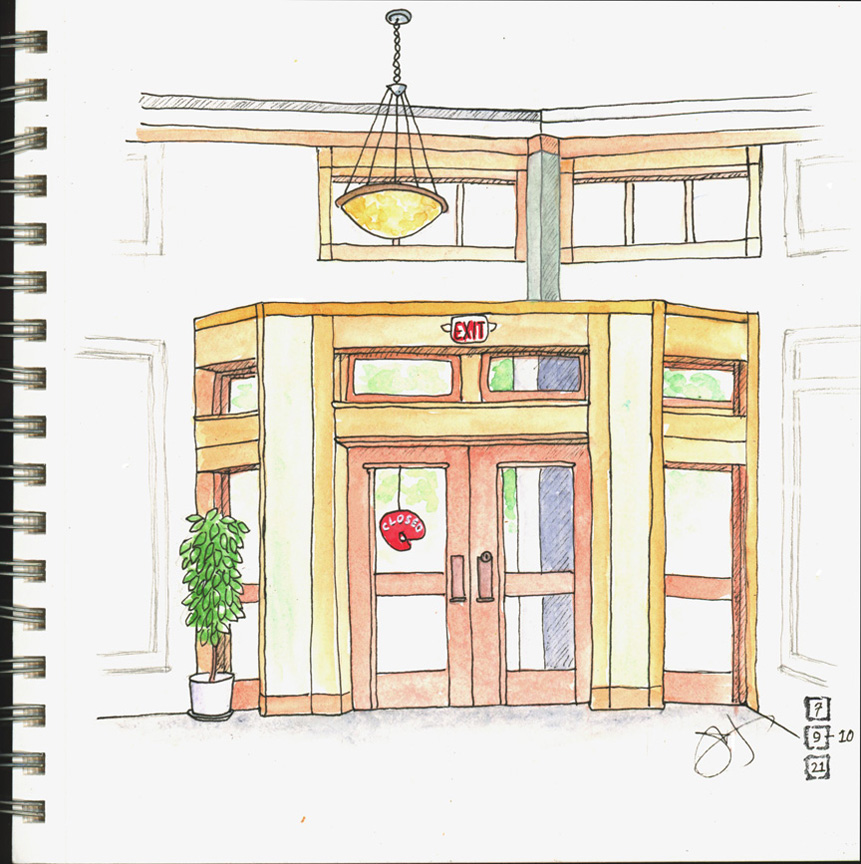 What's Jane so intent about? The doorway interesting structure!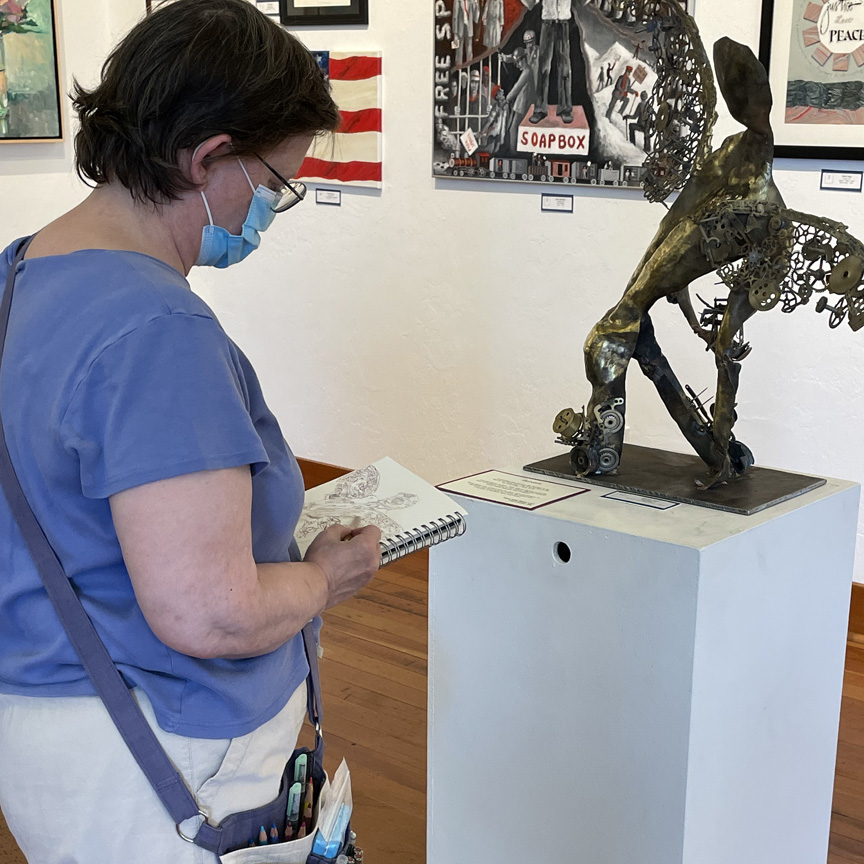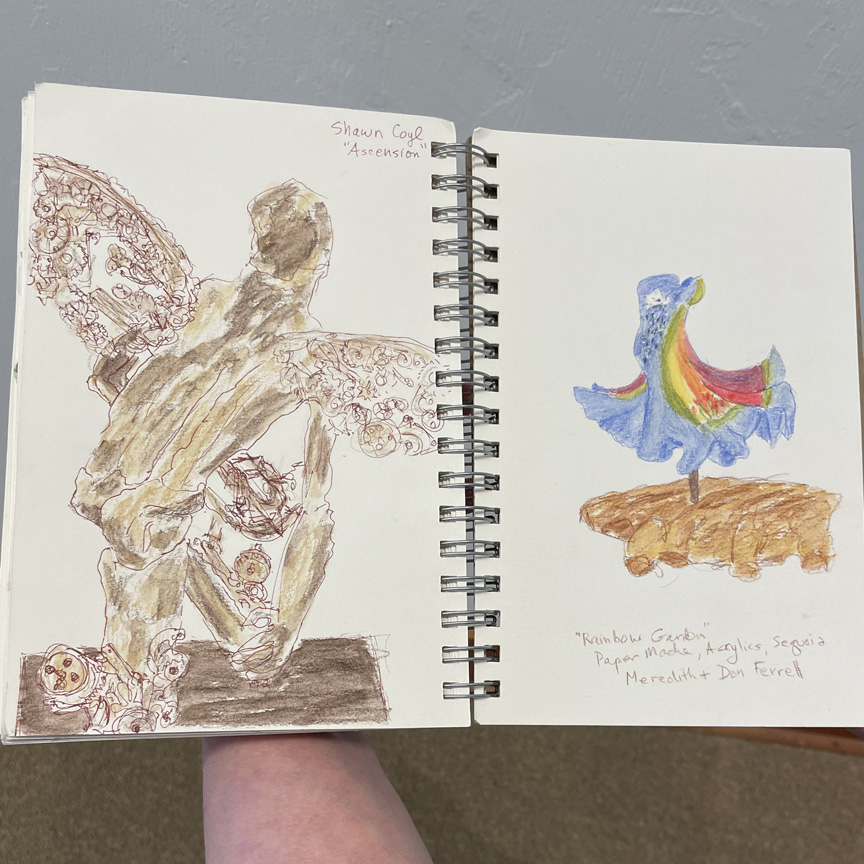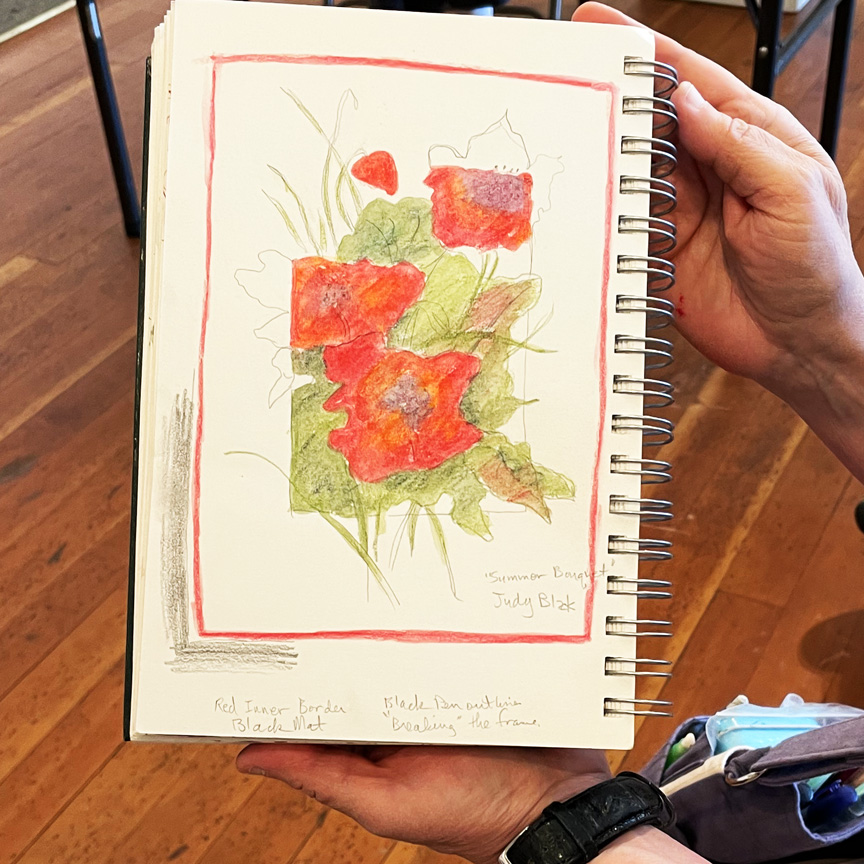 Daisy sketched the art! What a concept. Fascinating, too.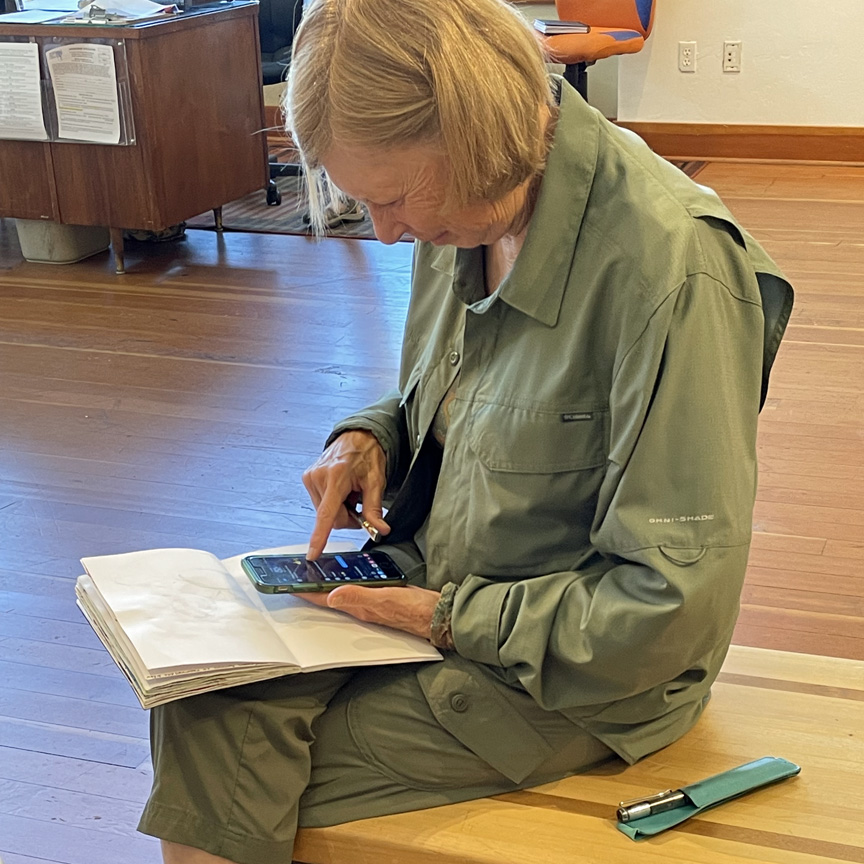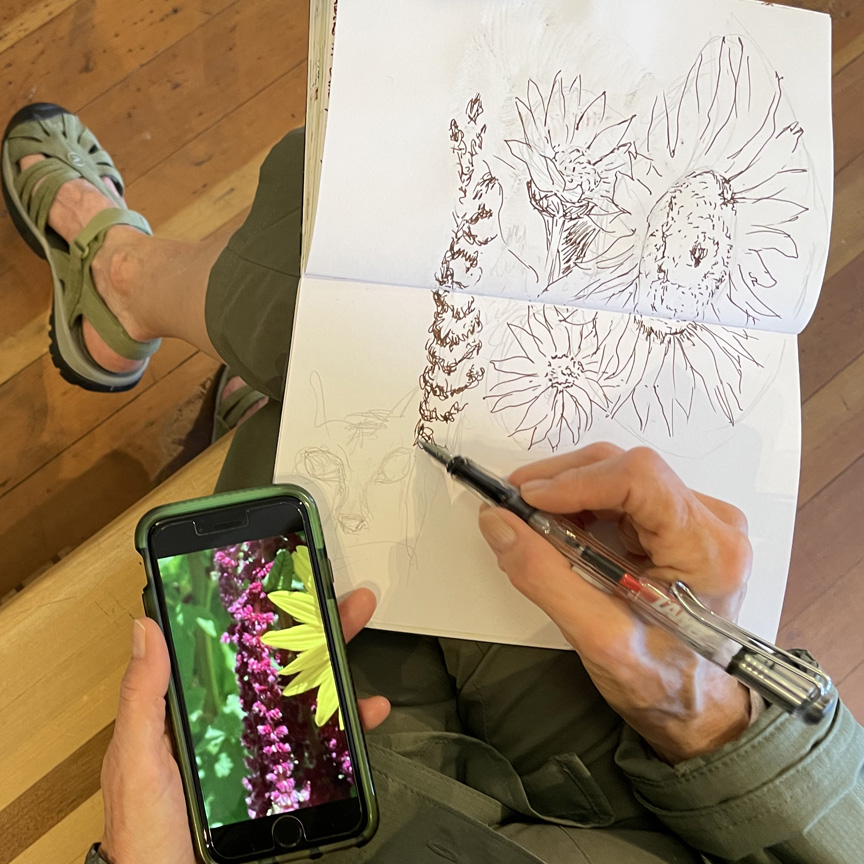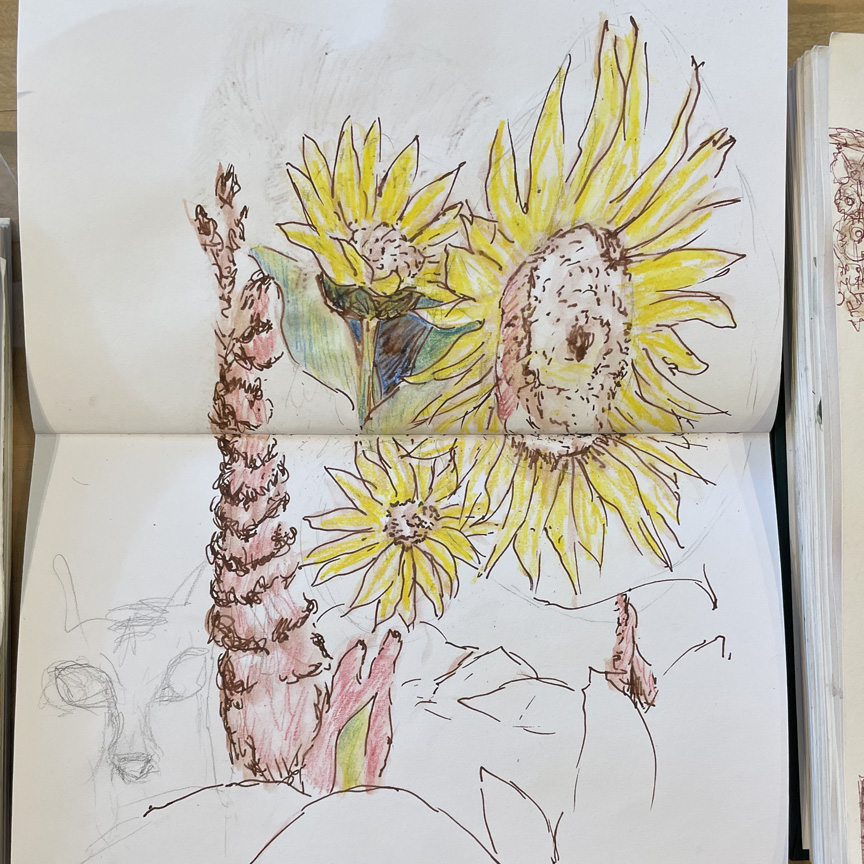 Just when you think Barb Sh is doing a straightforward sketch of a flower…look closer…there's a cat emerging!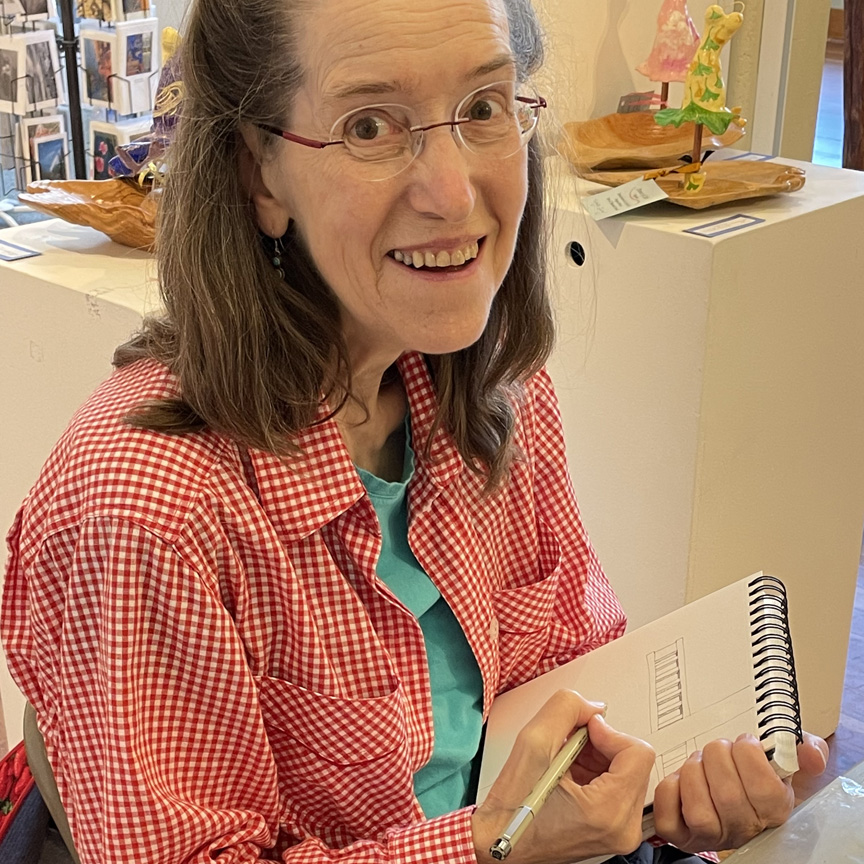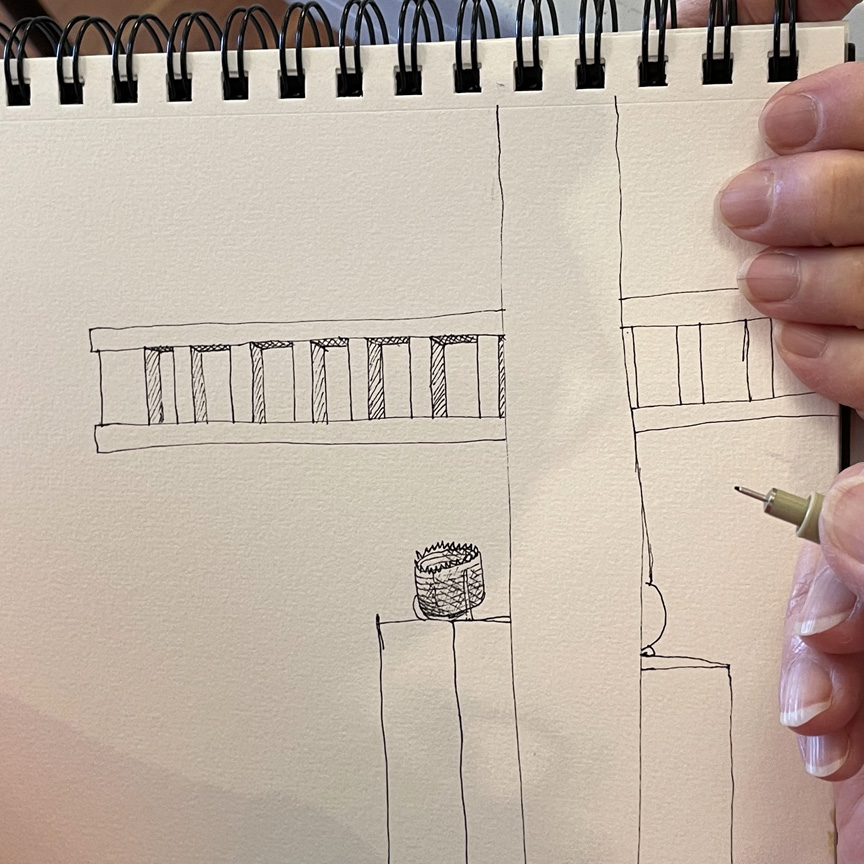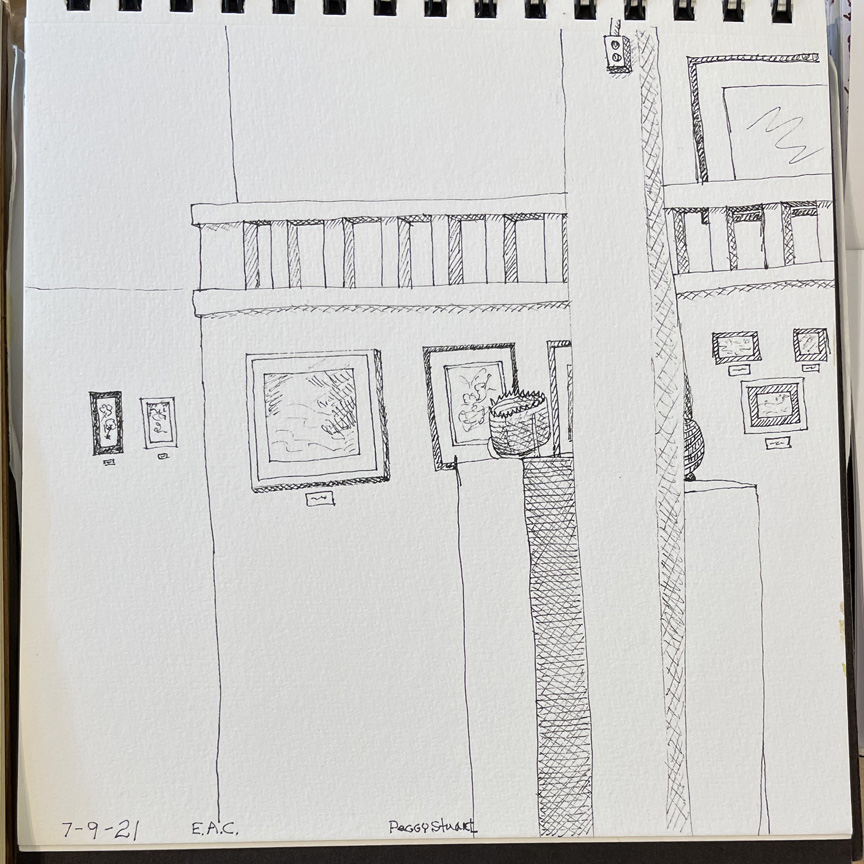 Oh goodie, there's someone else interested in structure – Peggy!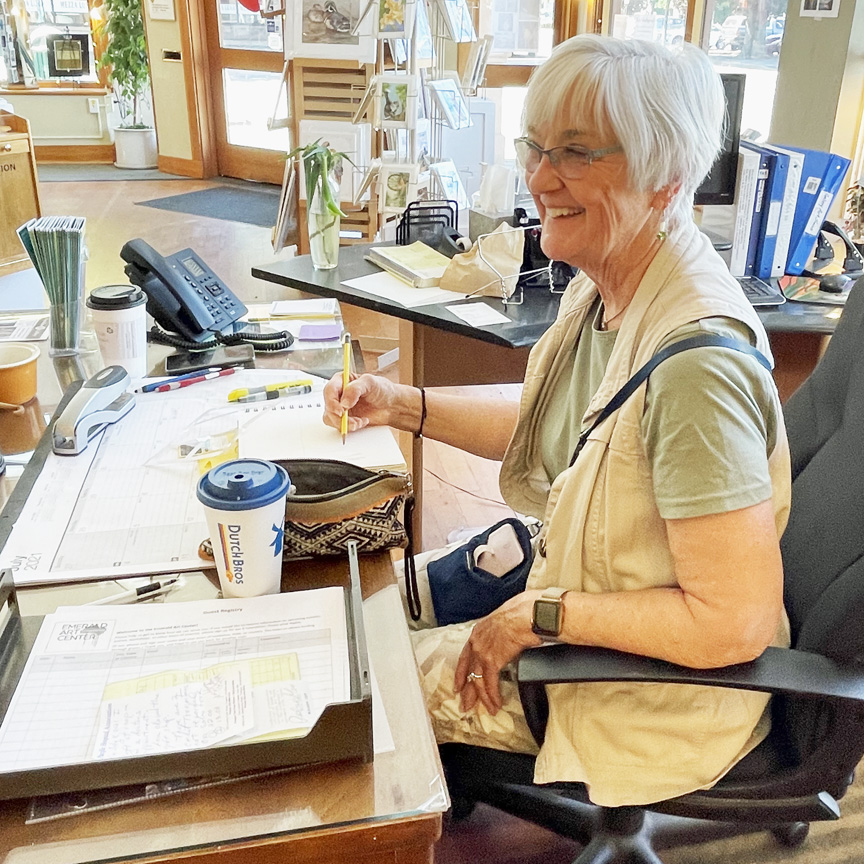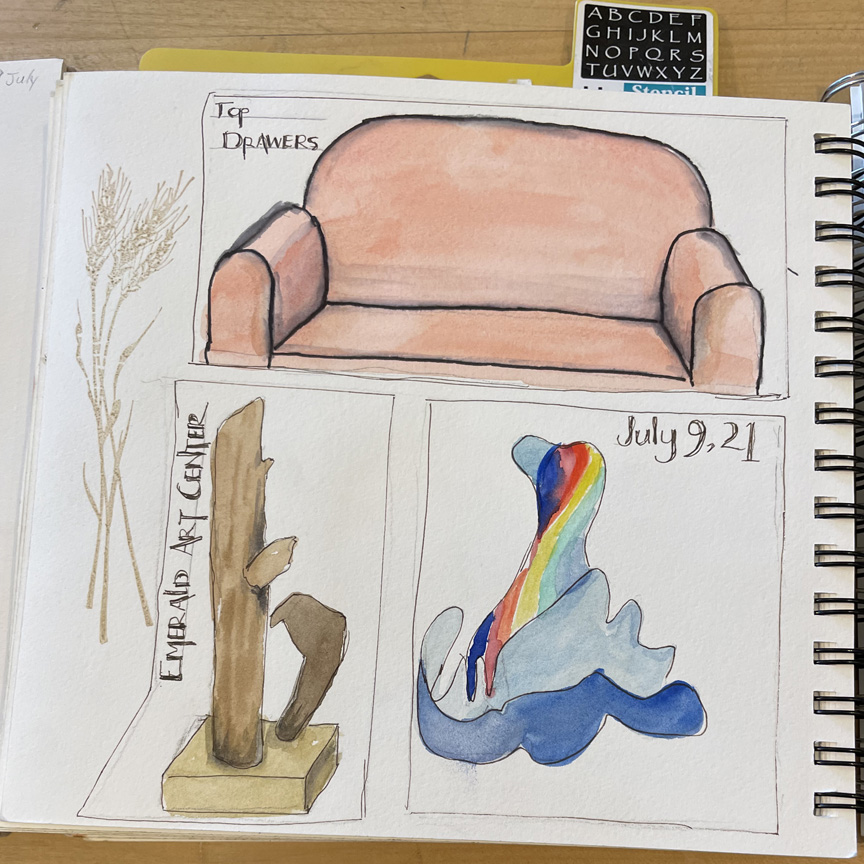 Katie was being a gracious hostess, and sketching, too!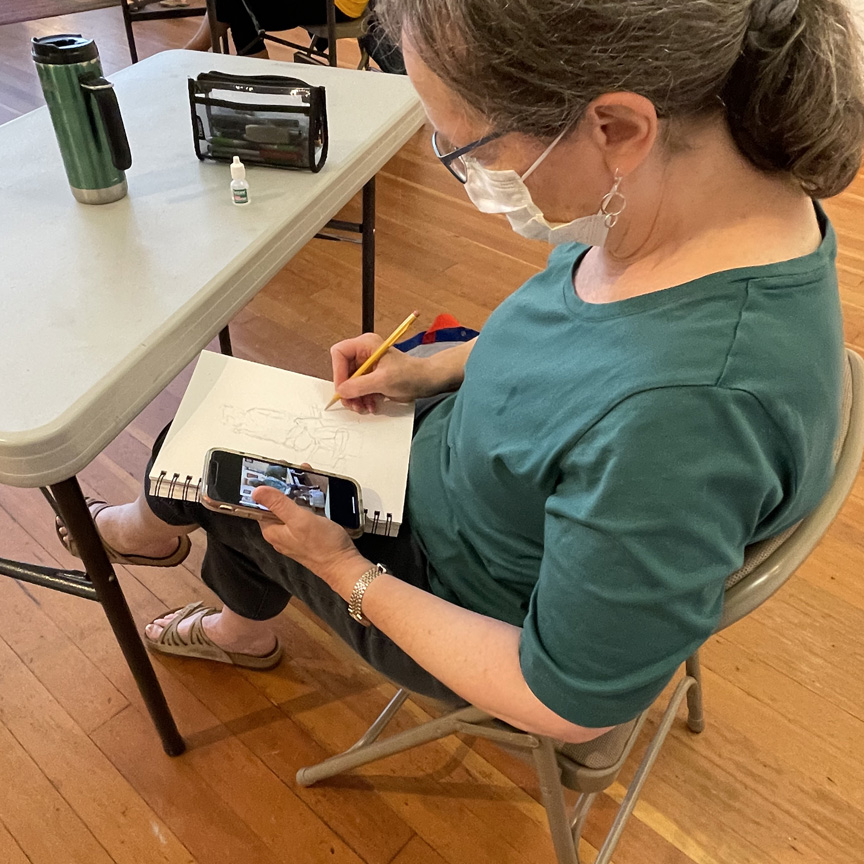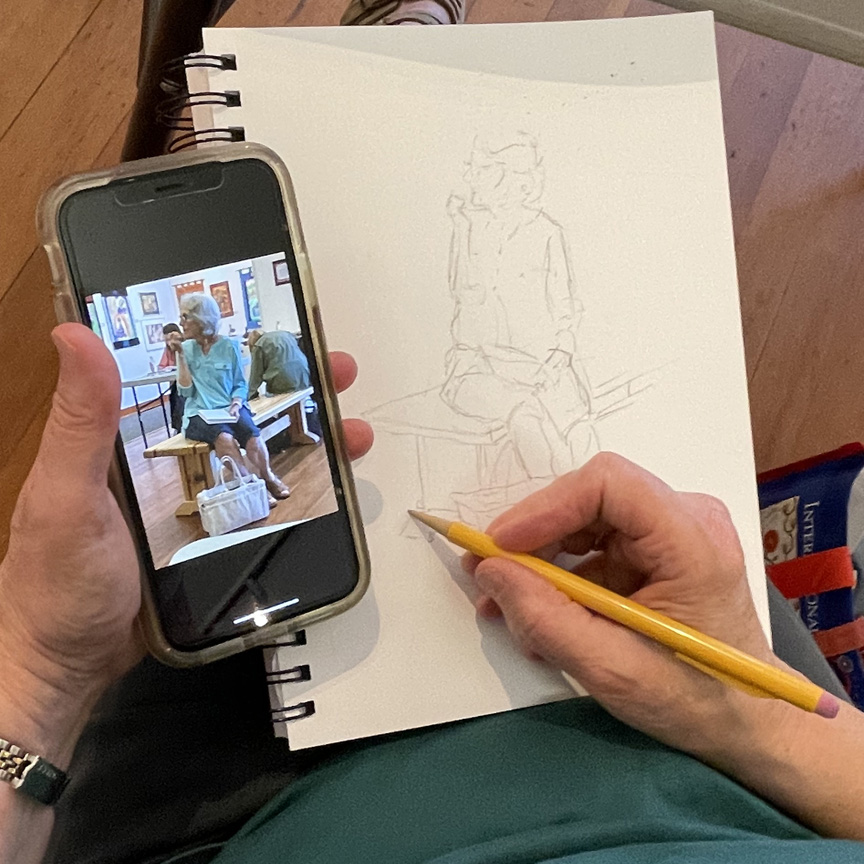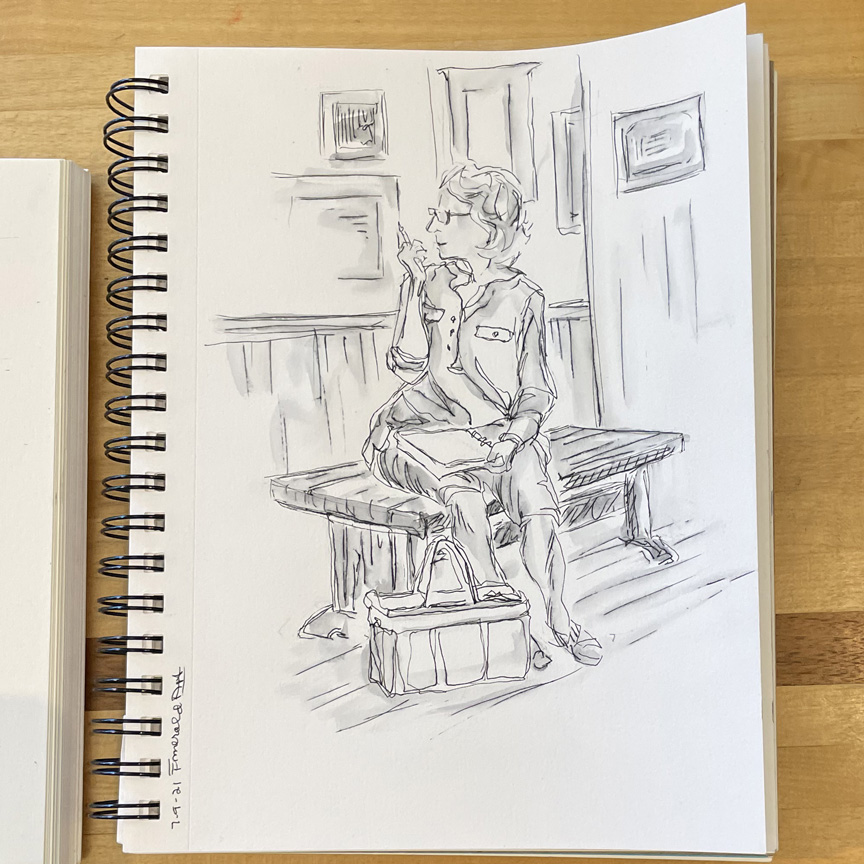 Marsha's figured out a way to get her model to sit still!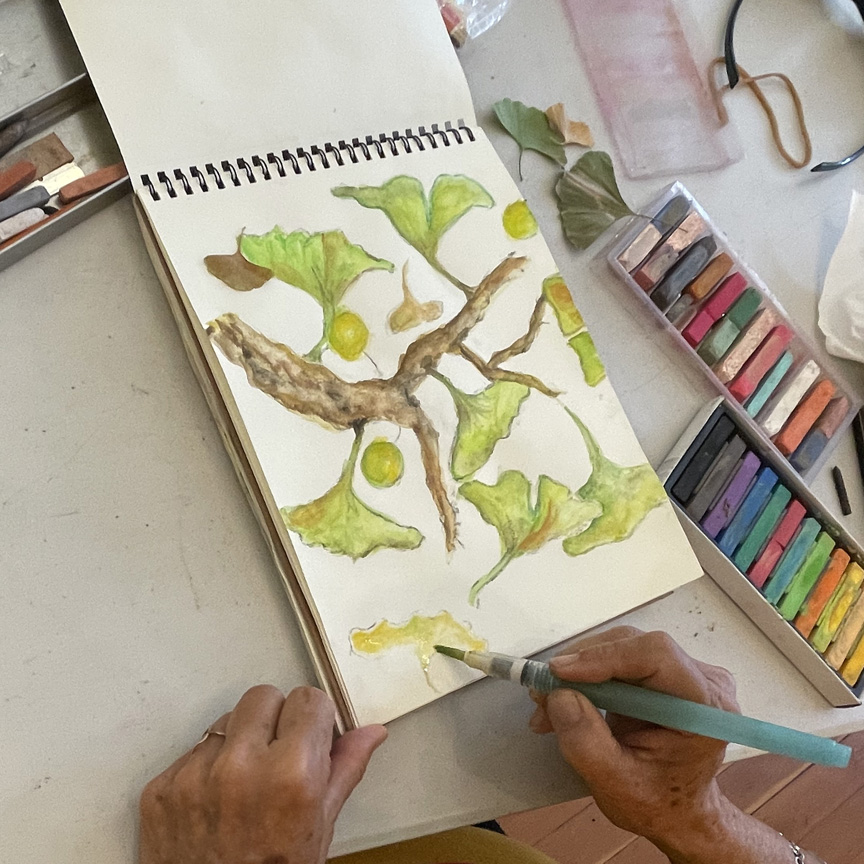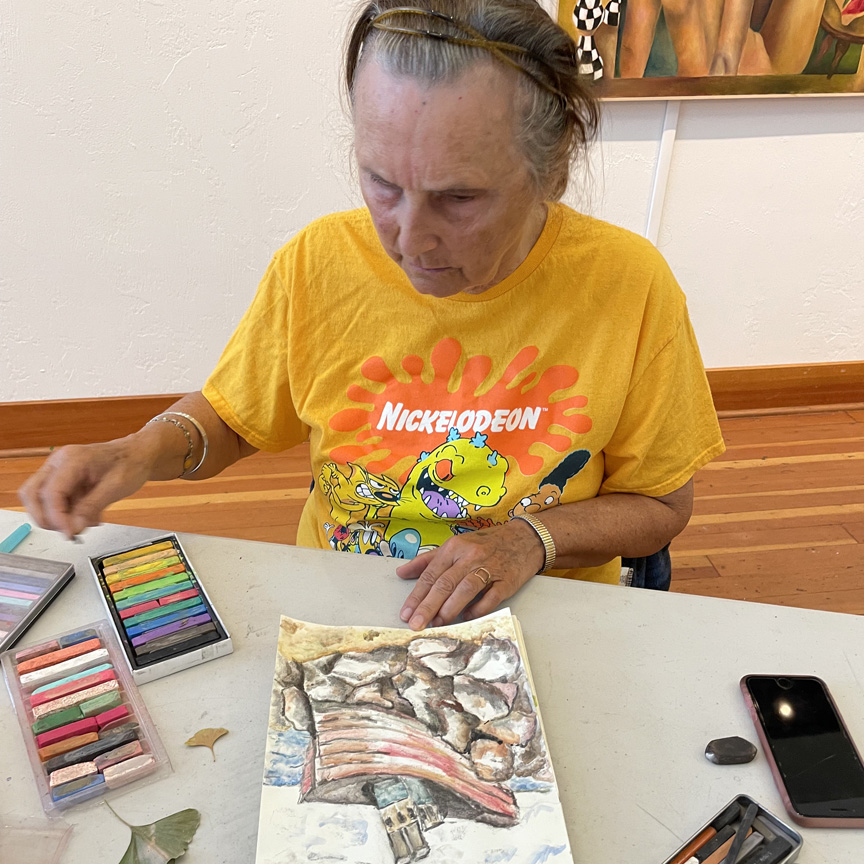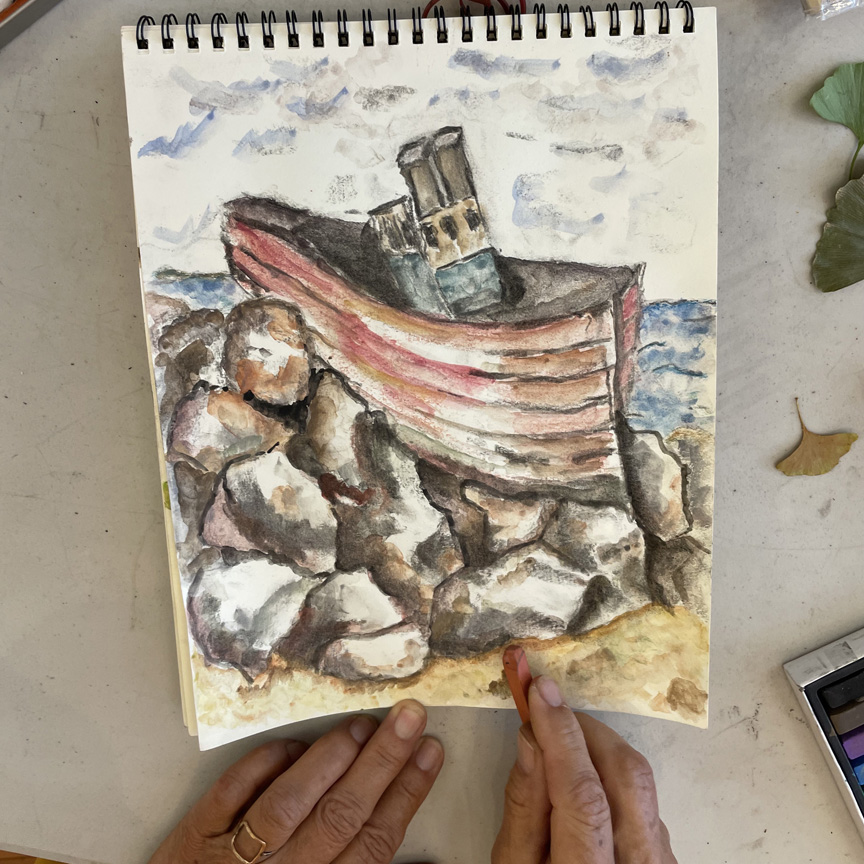 Eva learned a lot in sketching art in the room – nice rocks!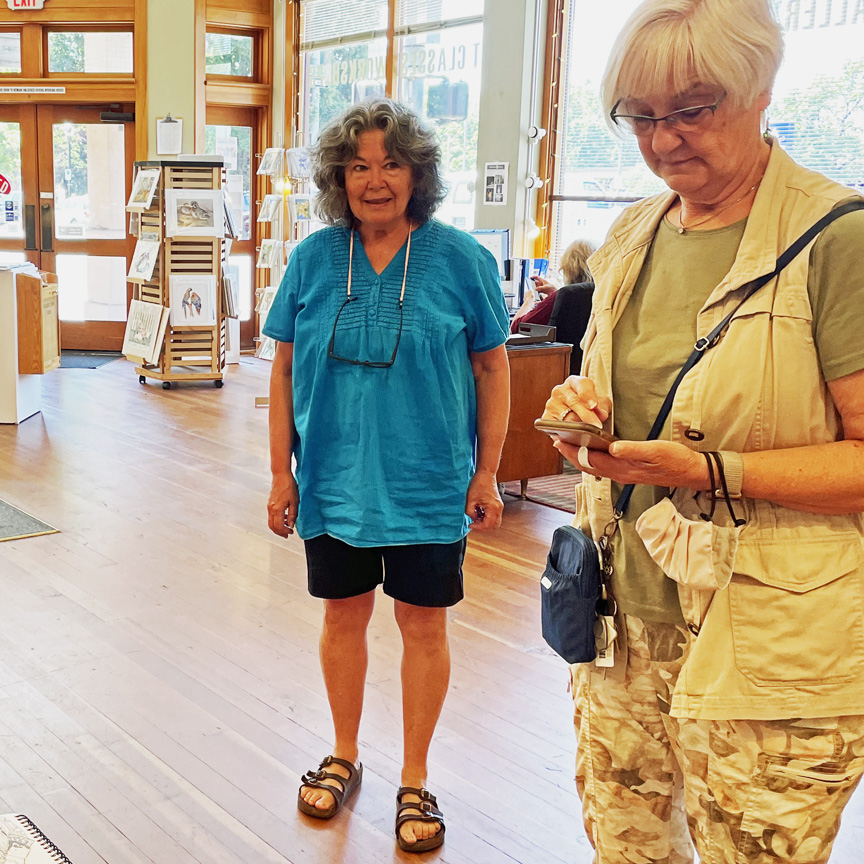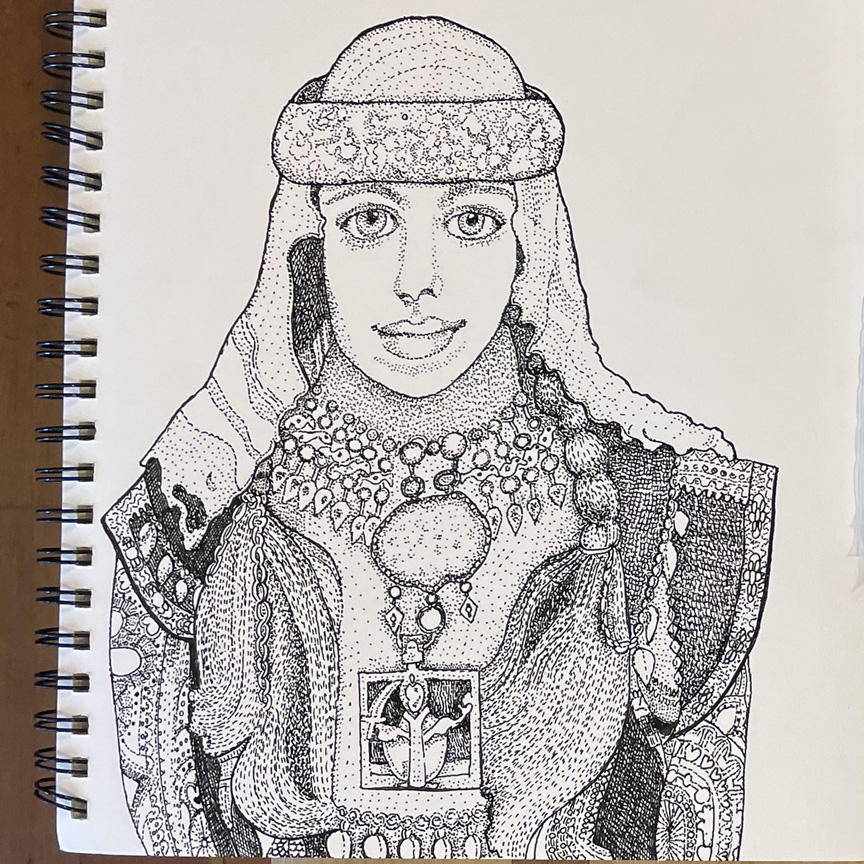 Gail showed up in time for the review – incredible sketch to share.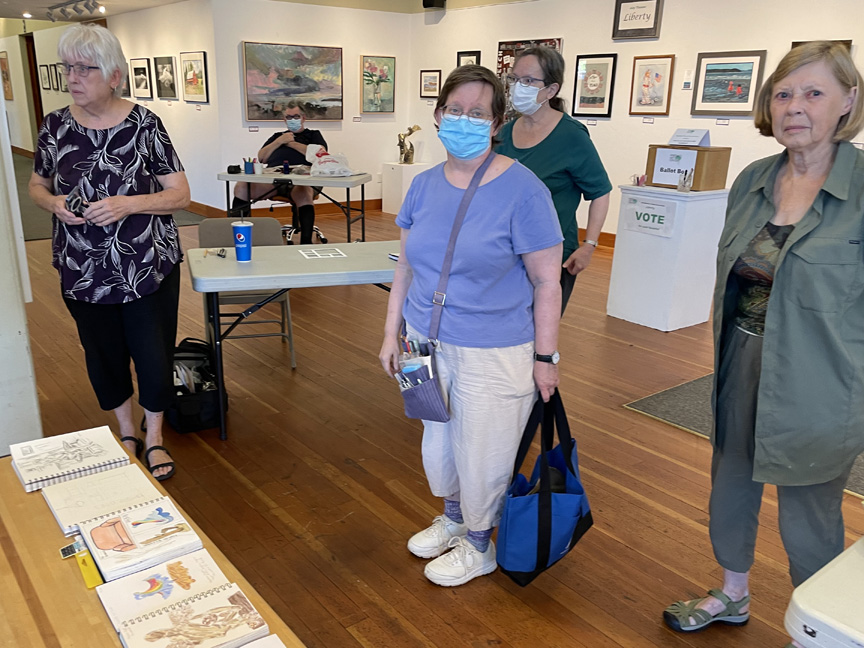 Sketchbooks lined up to share – with Jane, Daisy, Marsha, BarbSo.
✒ July 2, 2021 – Cortesia Sanctuary, Eugene, OR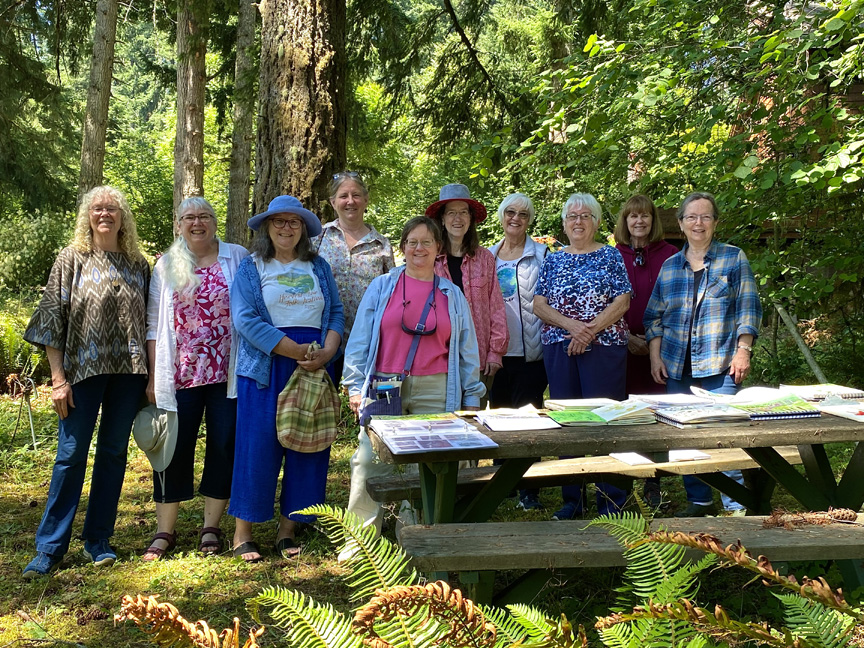 At the review: Tricia, Danita, Laura, Bitty, Daisy, Peggy, Katie, Jane, Sharon, Marsha. What a gorgeous setting! We love it here.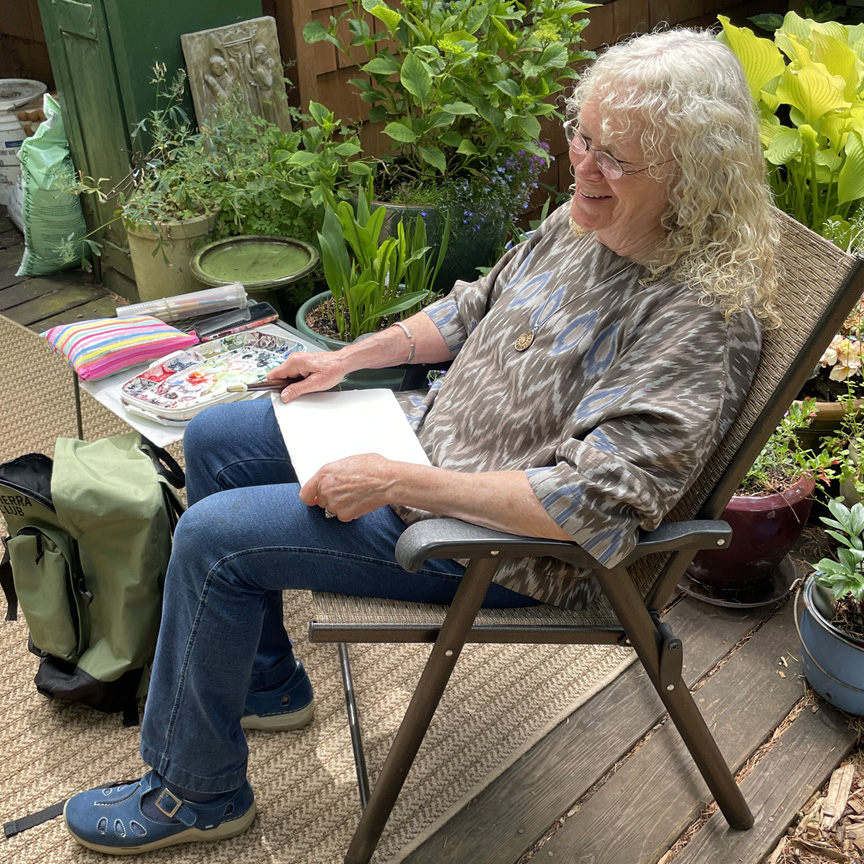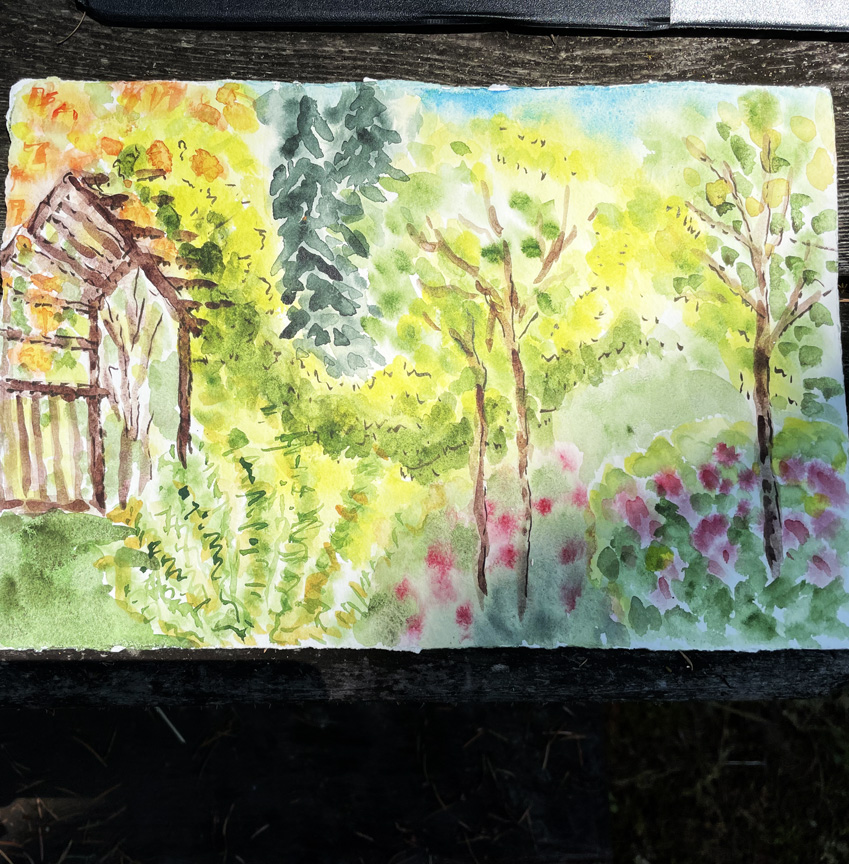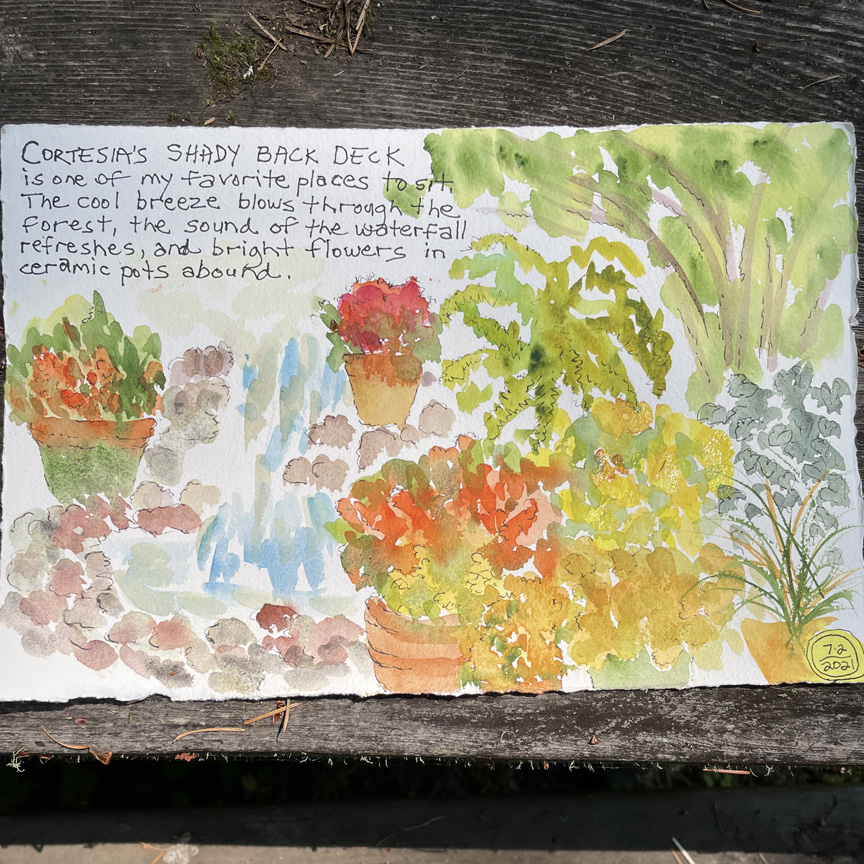 Tricia, our host, had her sketch finished from our last visit, and got in a quick sketch from her back deck of all the flowers & waterfall.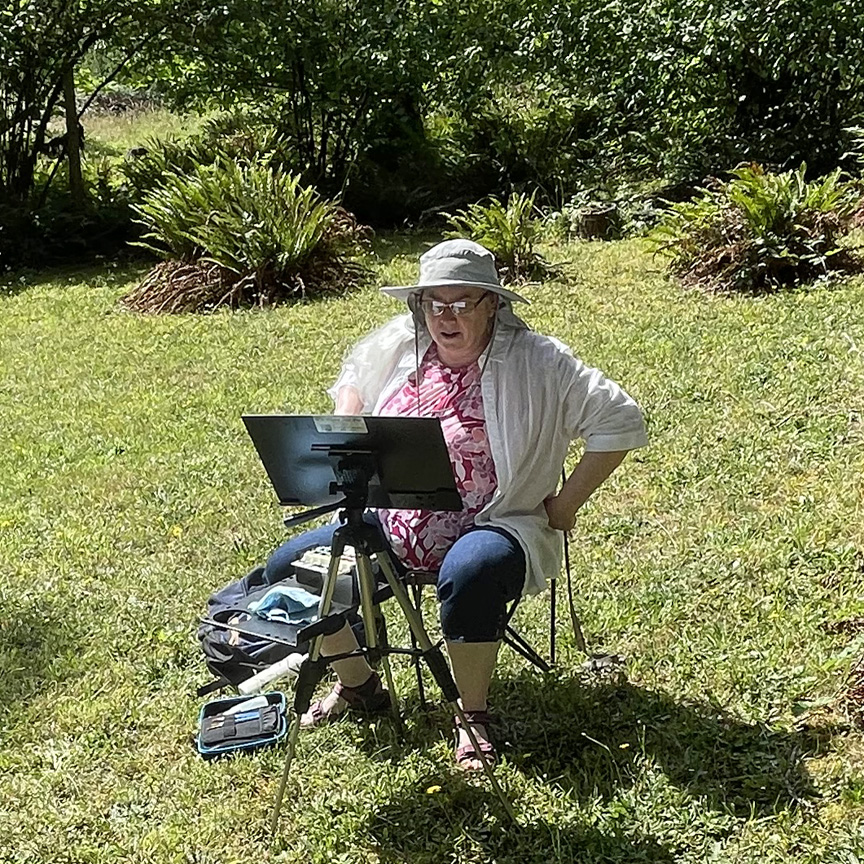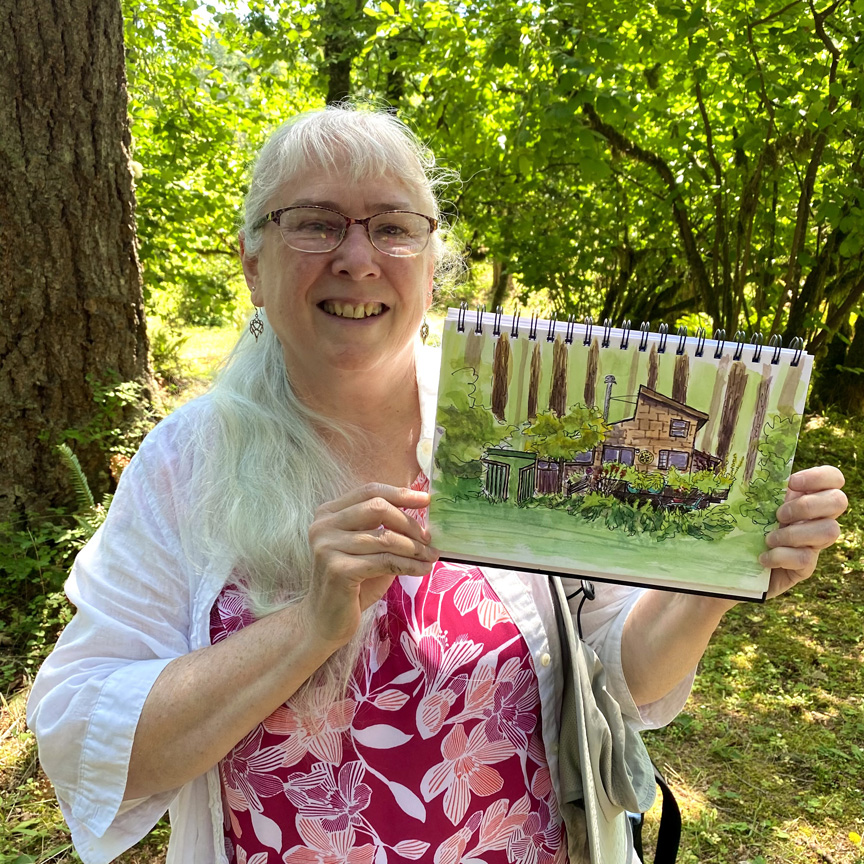 Danita was out in front, and did a lovely sketch of the house & surrounding garden with forest behind.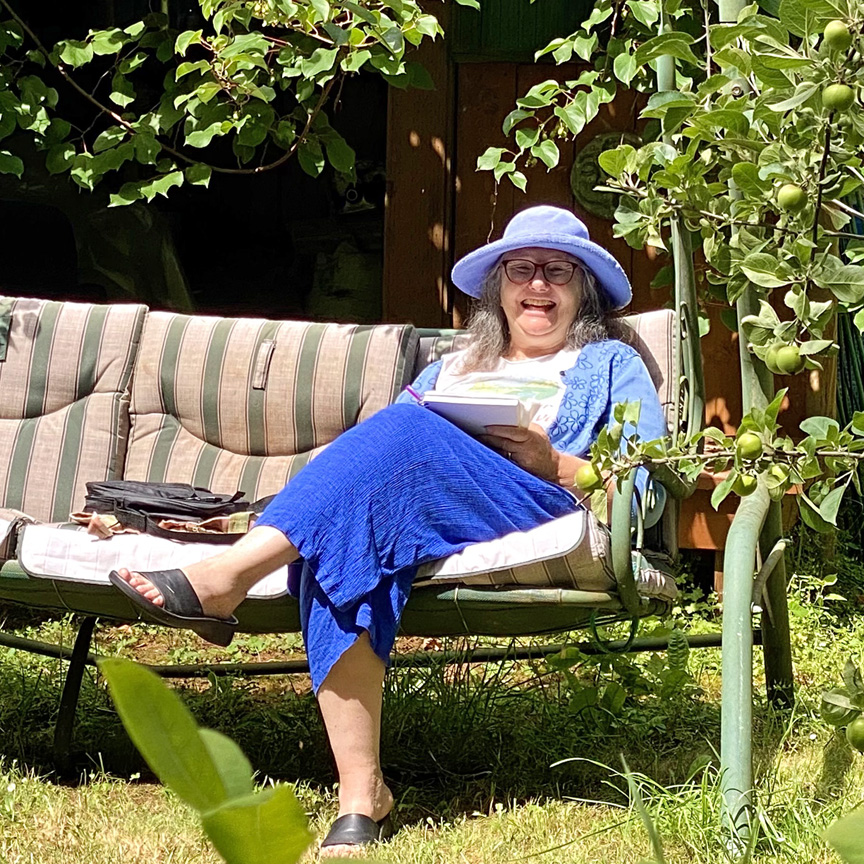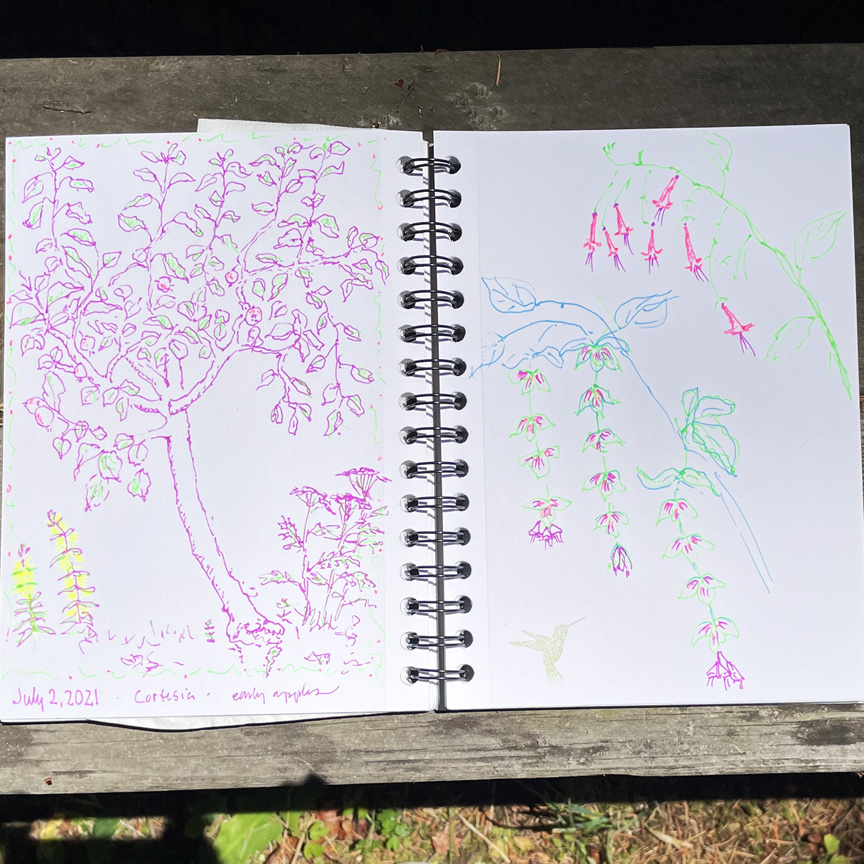 Laura was back in the garden, having fun sketching with her different colors of ink pens – whimsical approach, very fitting.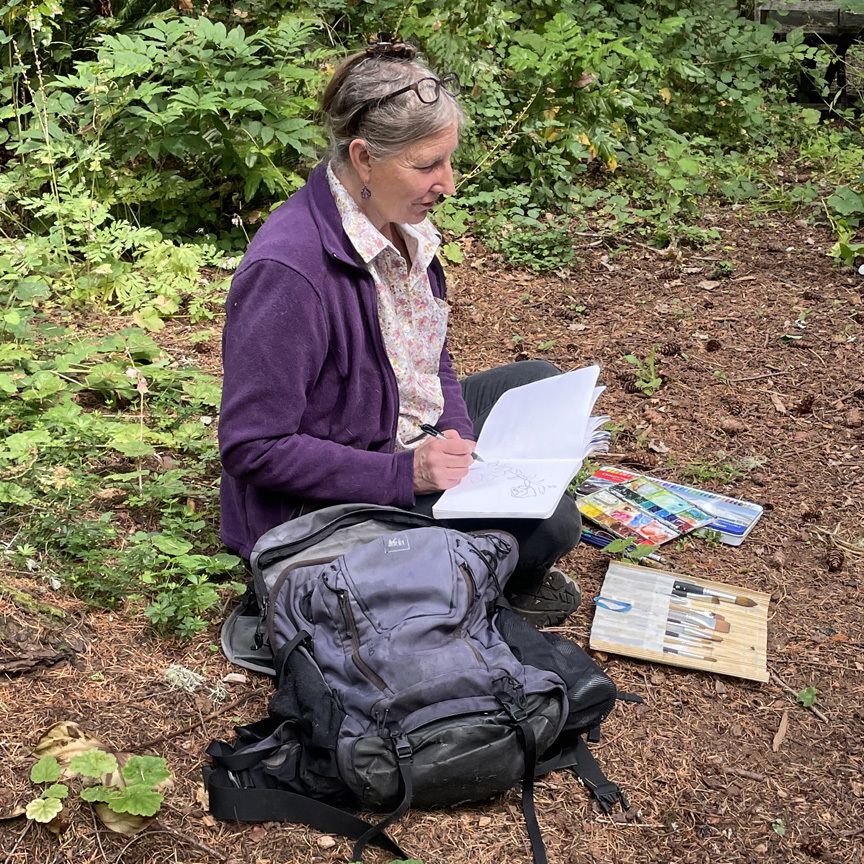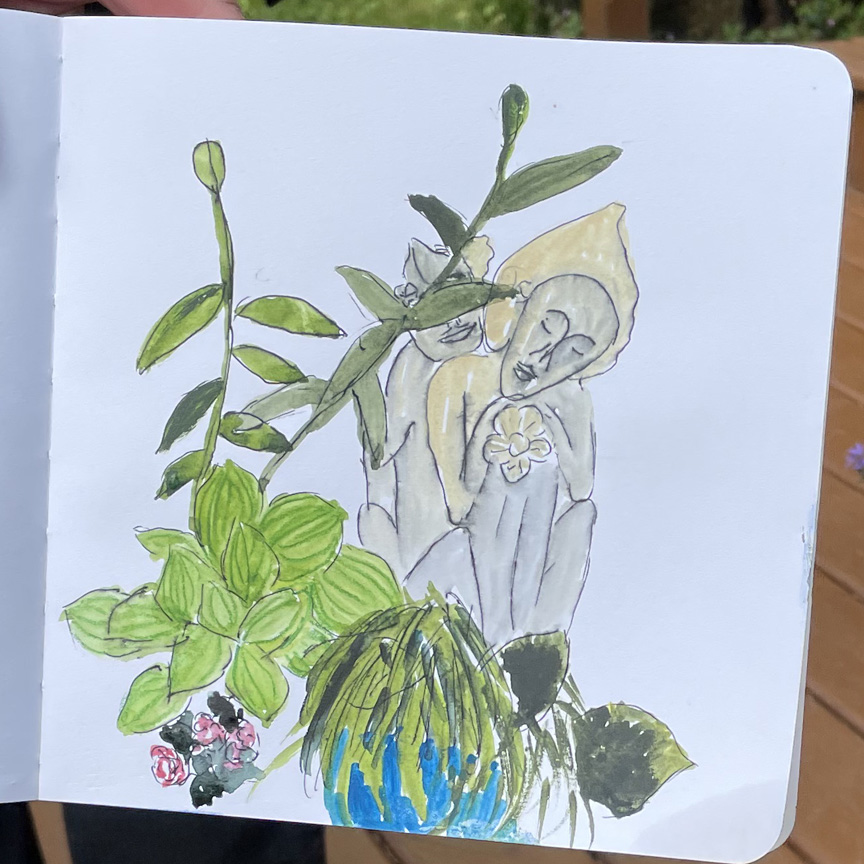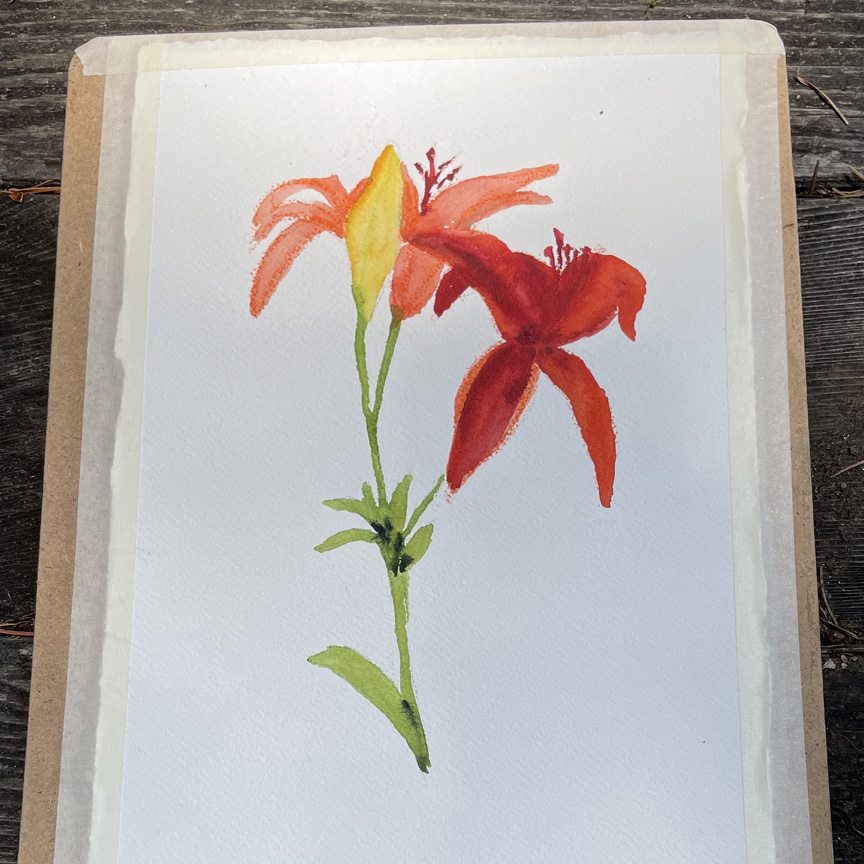 Bitty got up close & personal with sculptures & plants – wow! look at that lily! It vibrates!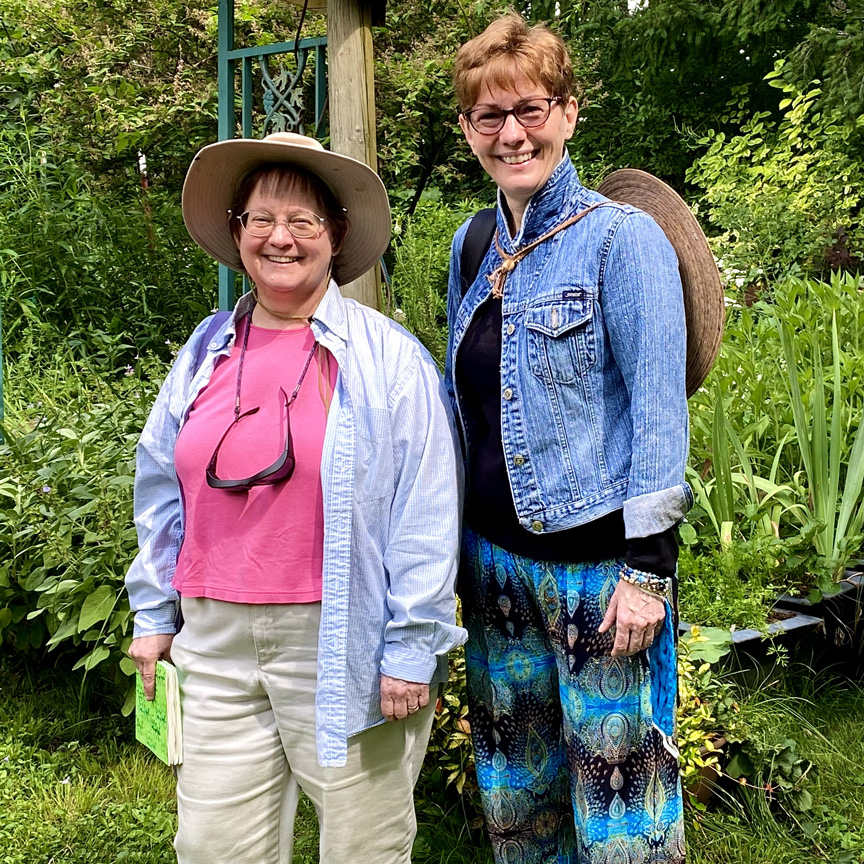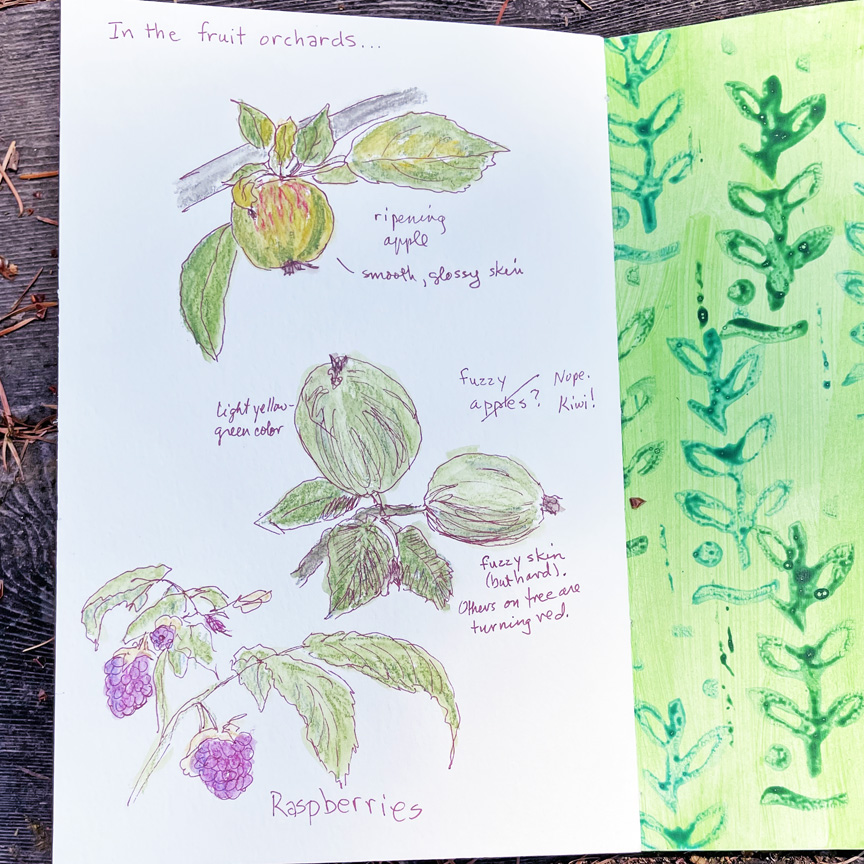 Daisy brought her house guest, Leslie (who enjoyed photographing), and then sketched fruit in the garden (fuzzy apples? kiwis!).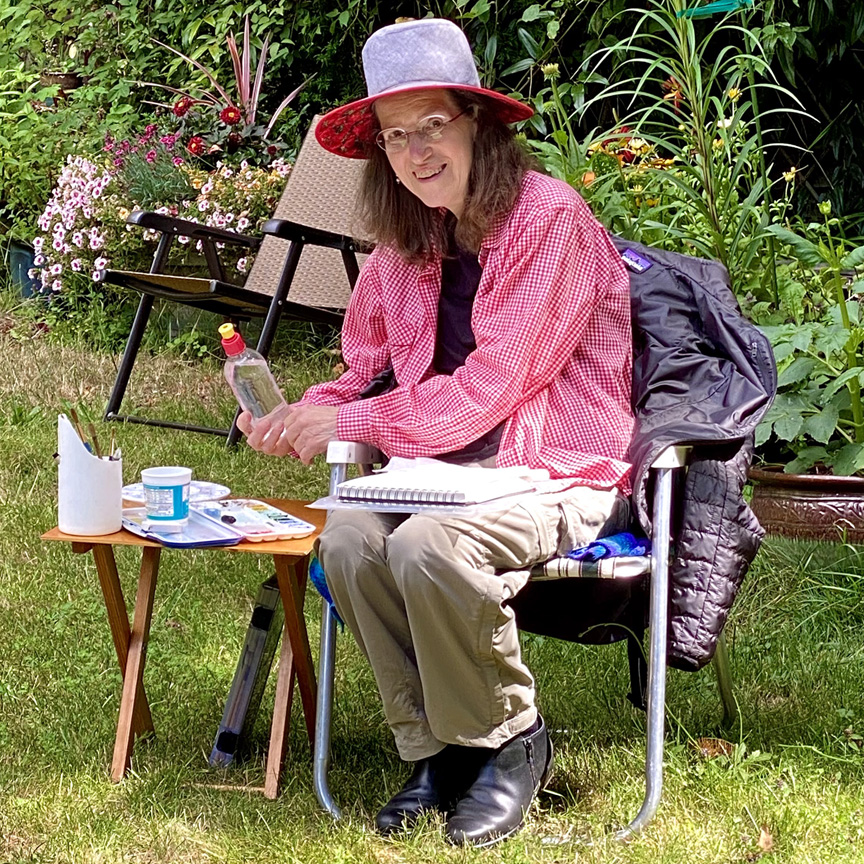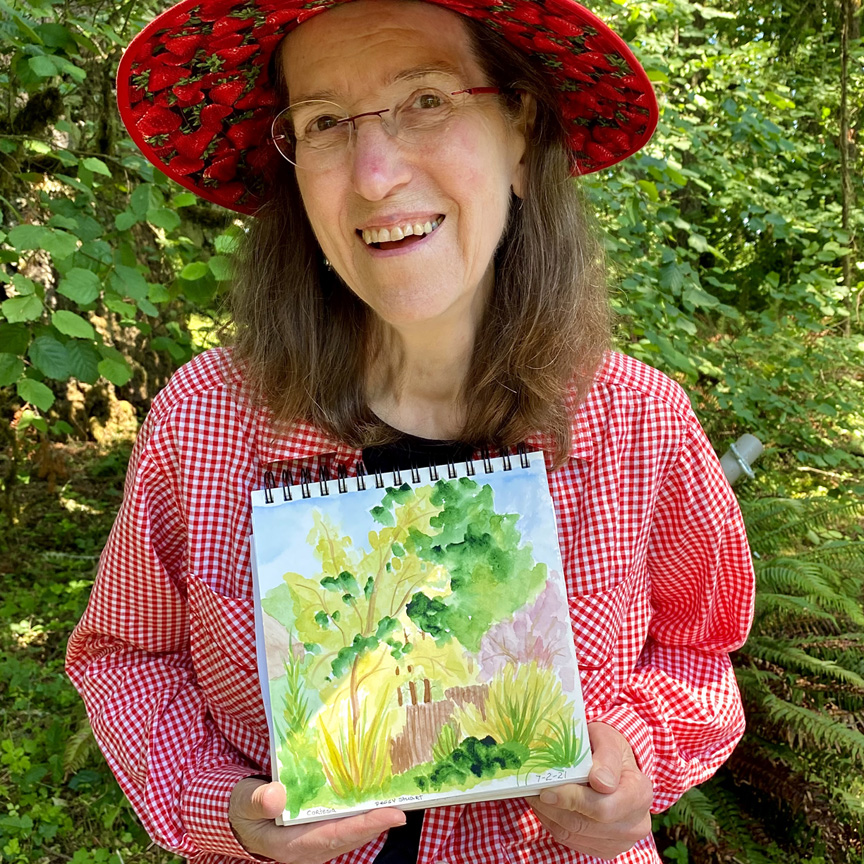 Peggy is on a roll with loose watercolors, this time a different view.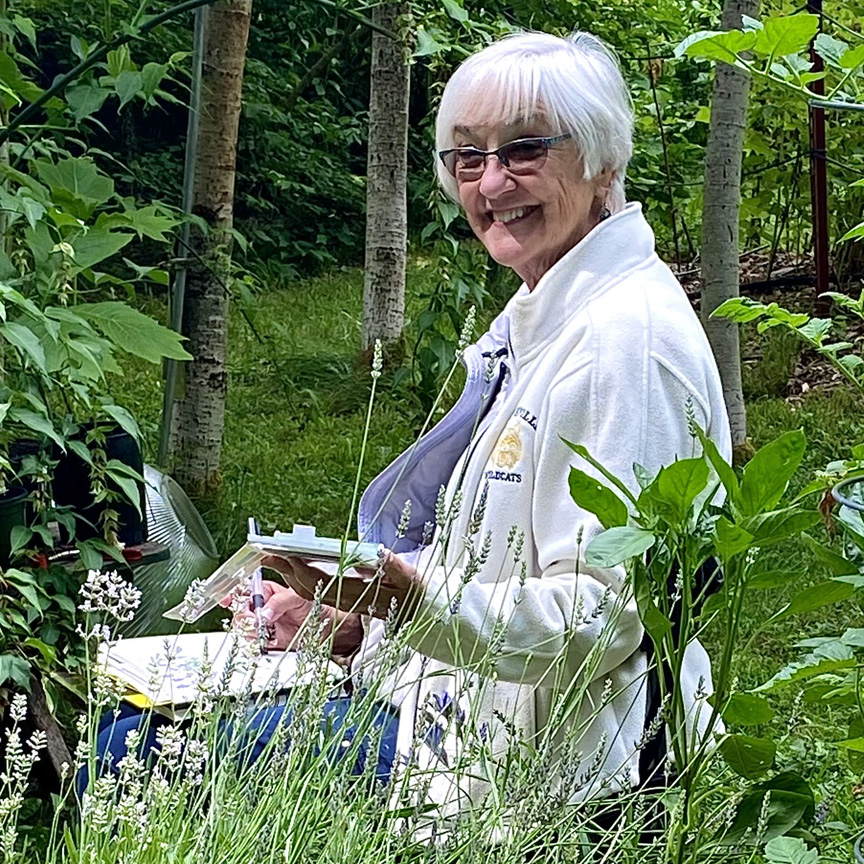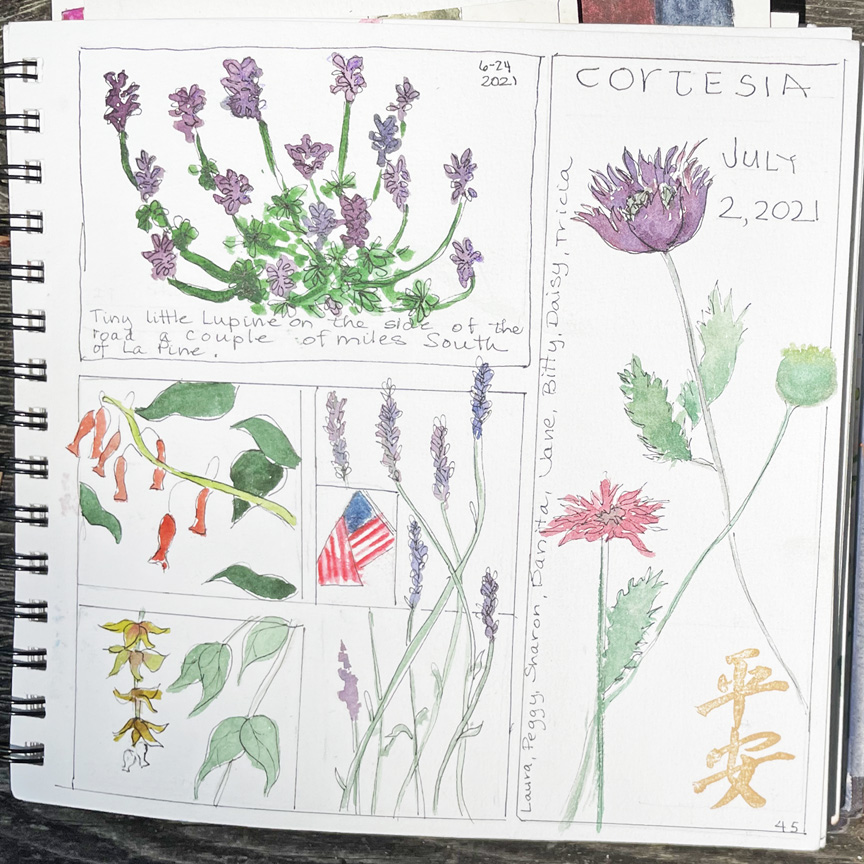 Katie had a great time filling her page with little vignettes.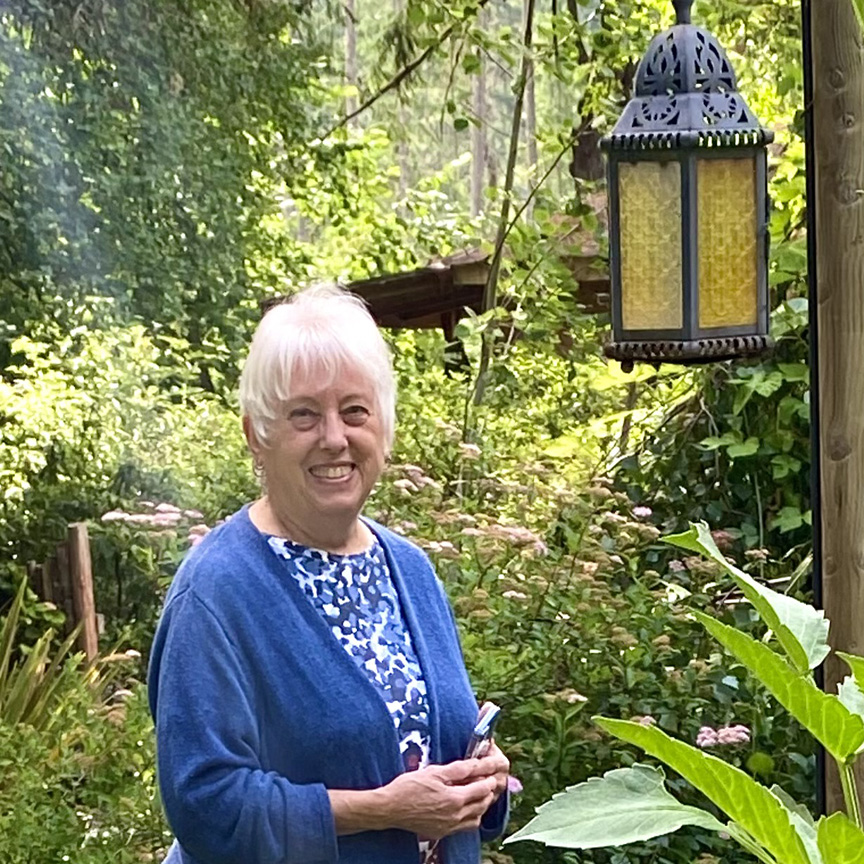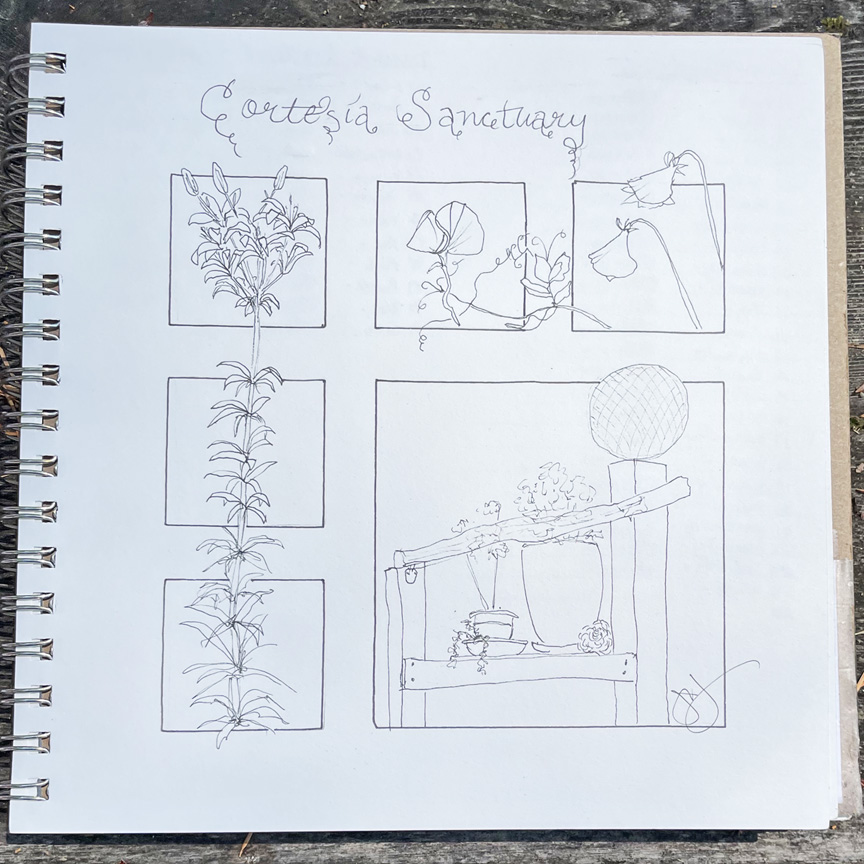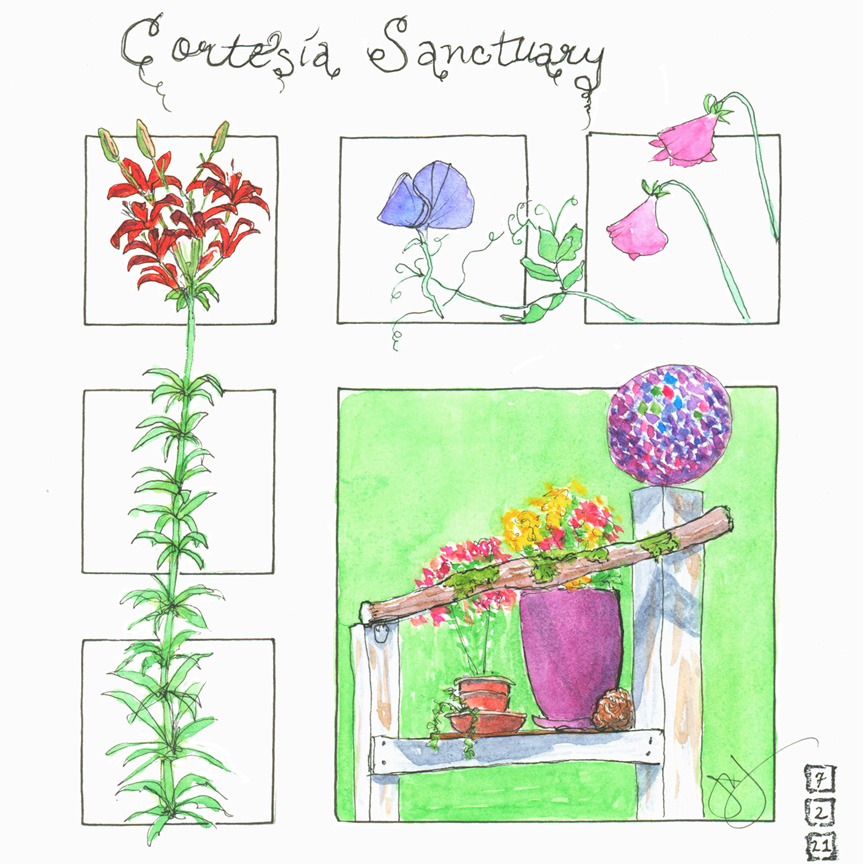 Jane was running around with her camera in between doing bits of the framed format page, water colored back at home.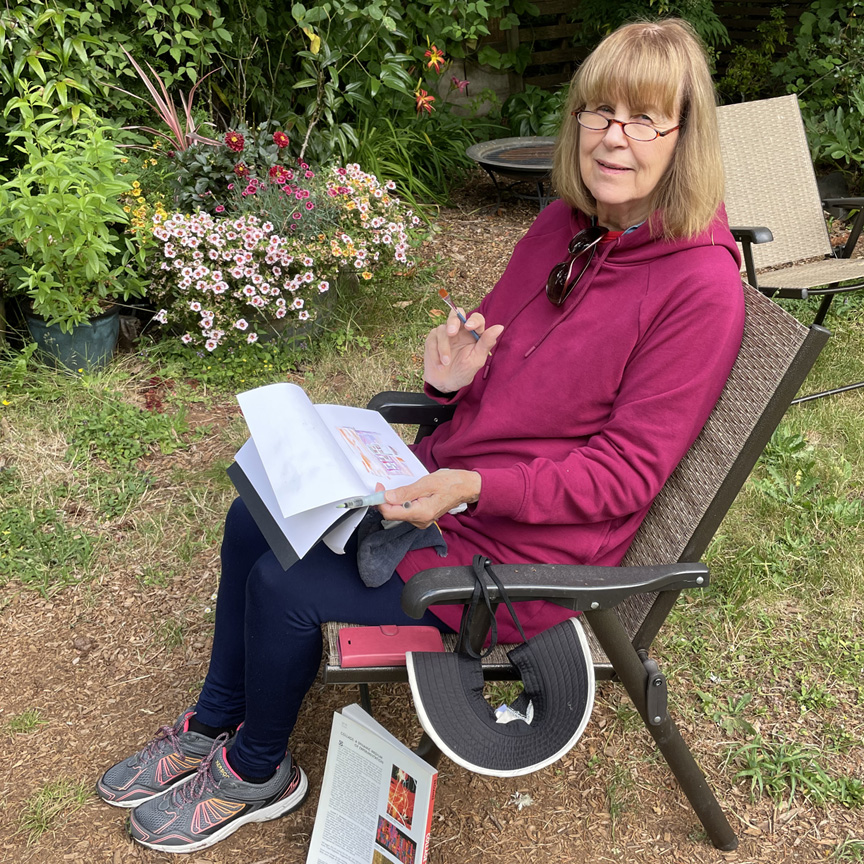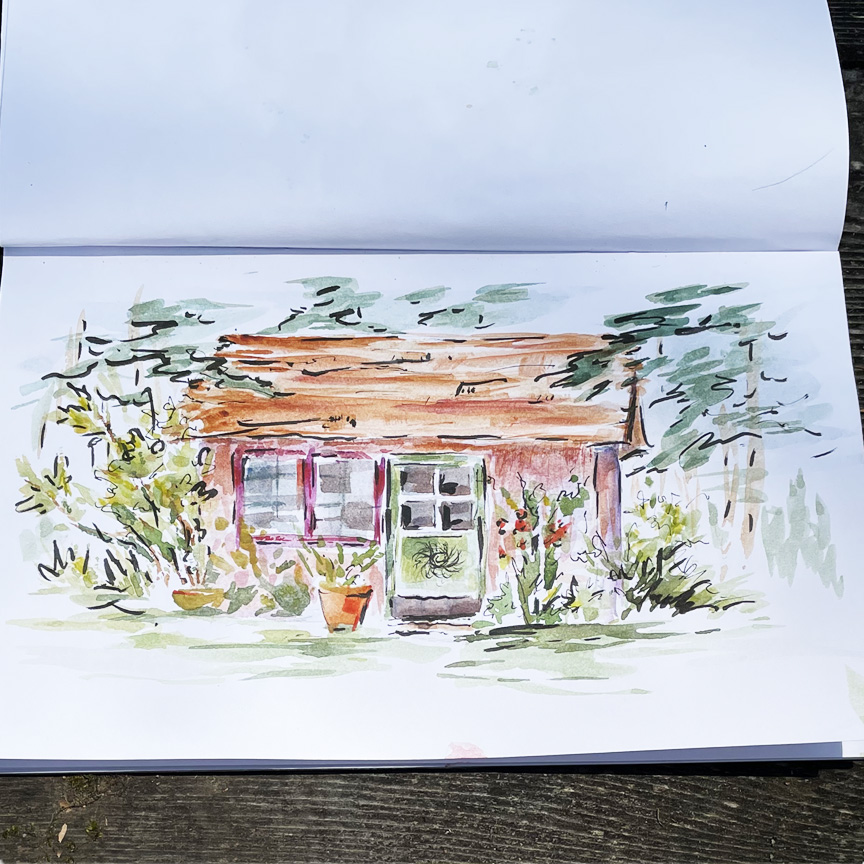 Sharon said, "yes, I know, another cottage!" They are so charming, both in person and in her sketches.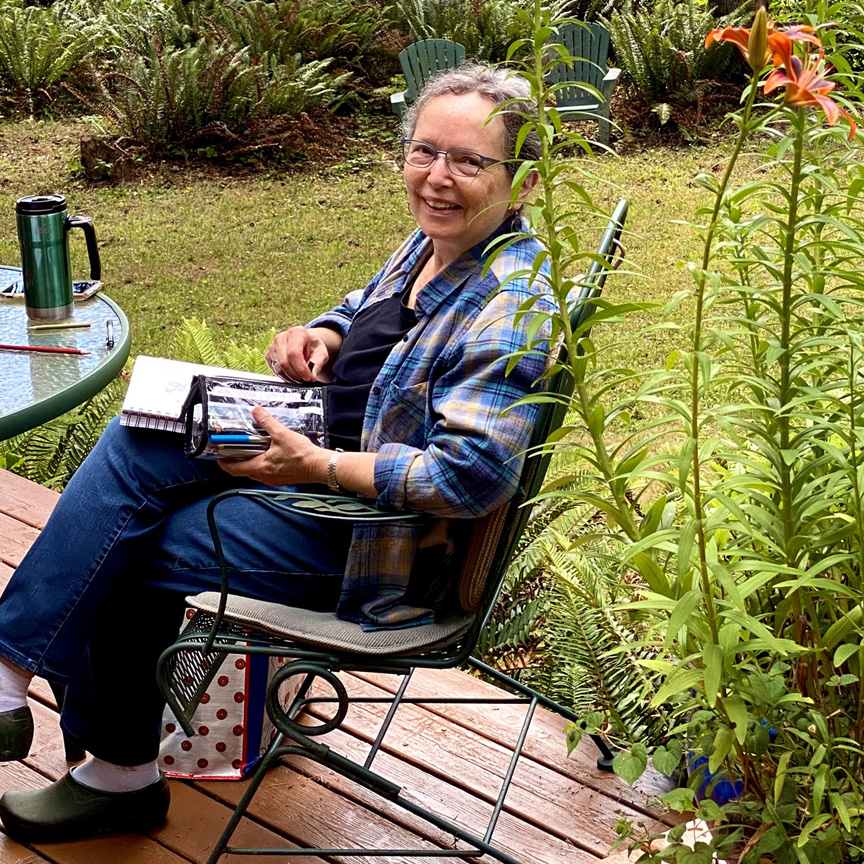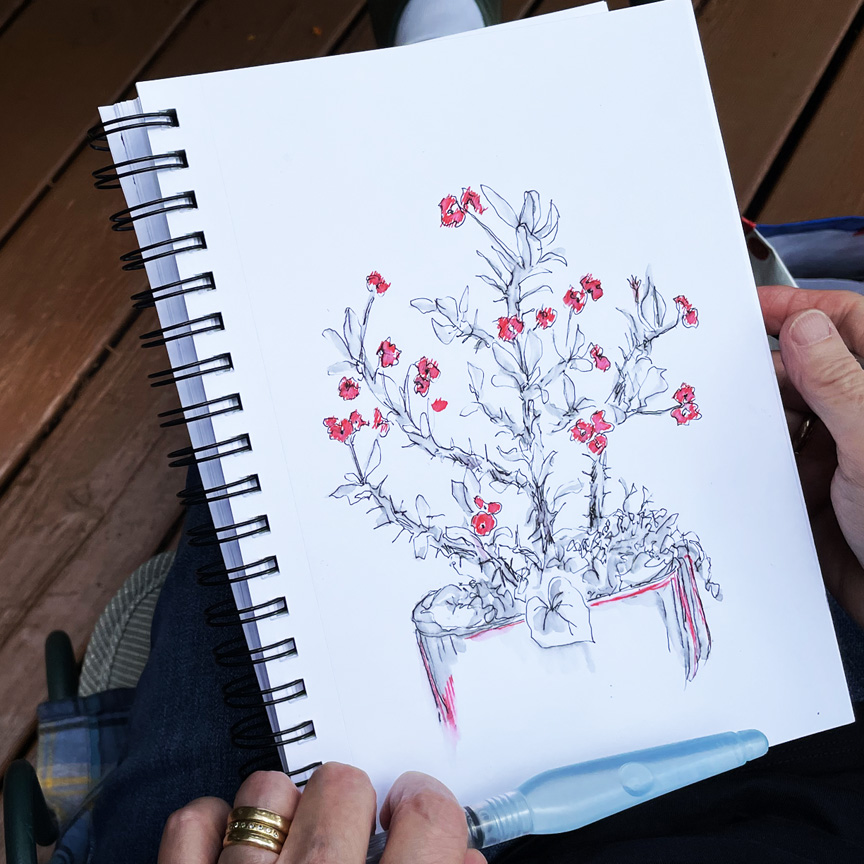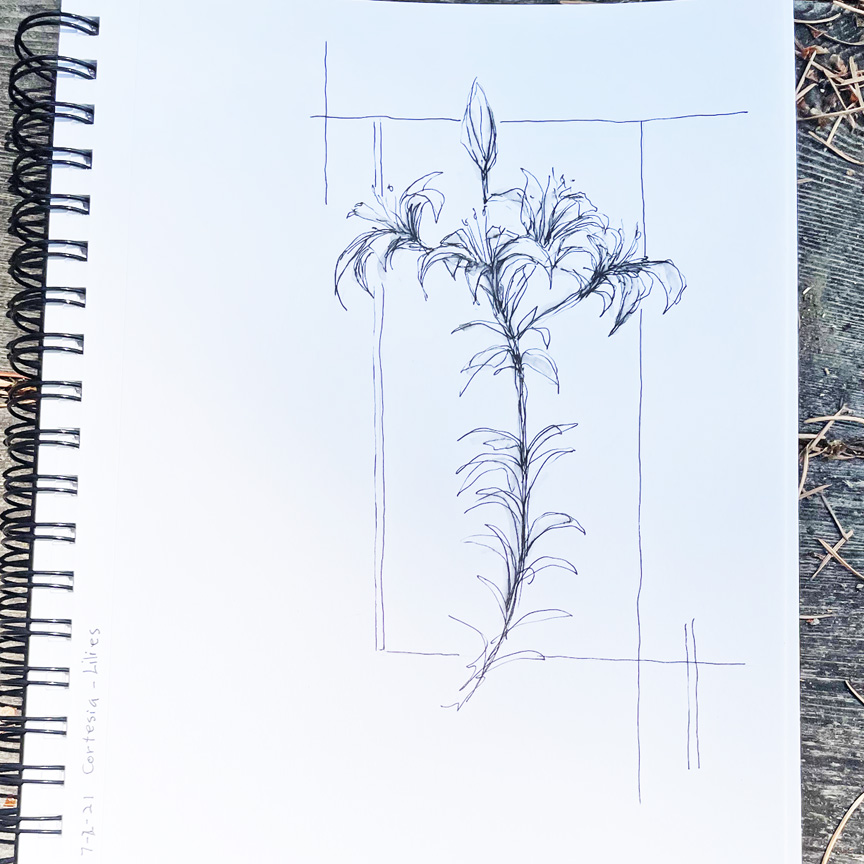 Marsha never strayed from the front deck, fascinated with the "Crown of Thorns" and the tiger lilies – lovely sketches!
✒ June 25, 2021, Norma Pfeiffer Park, Coburg, OR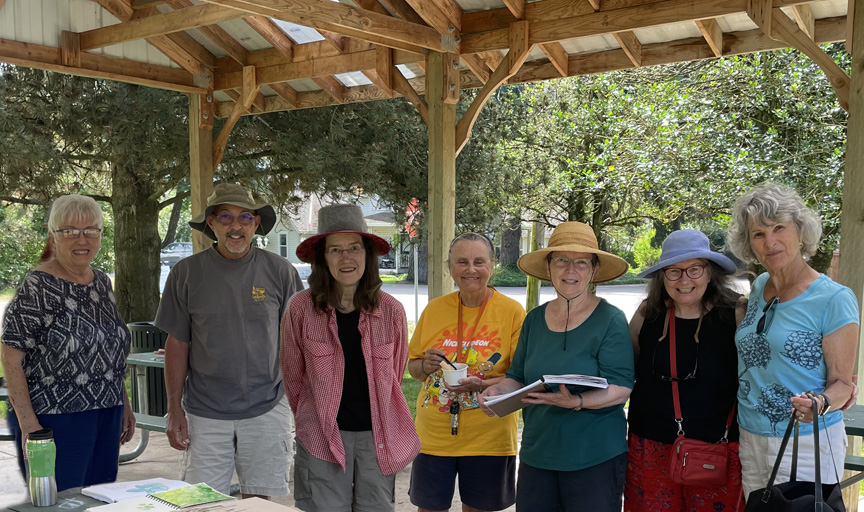 Beating the heat – Jane, Hugh, Peggy, Eva, Marsha, Laura, Sandy.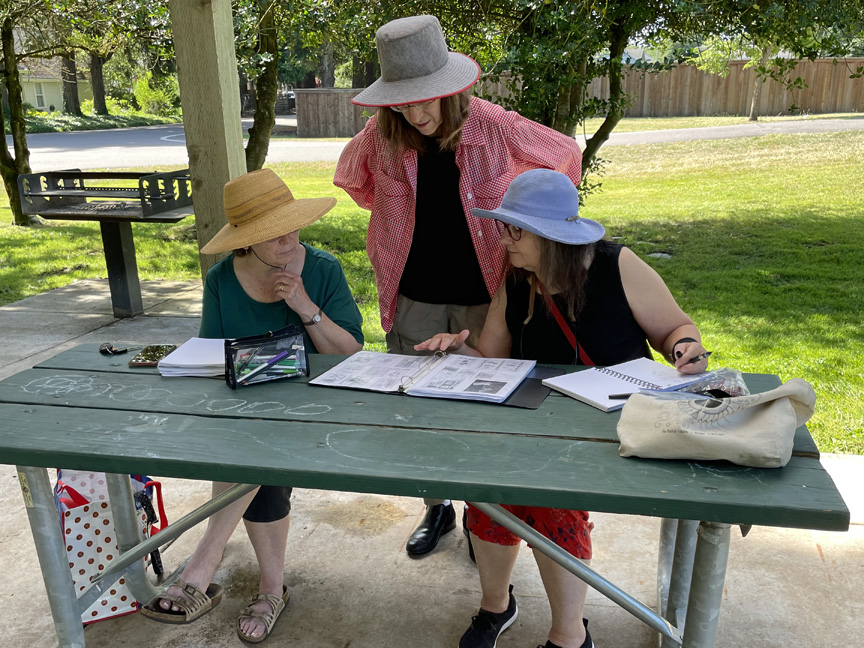 Marsha brought a b&w printout of the draft of our upcoming book, which Peggy & Laura really enjoyed reviewing (esp. their pages!).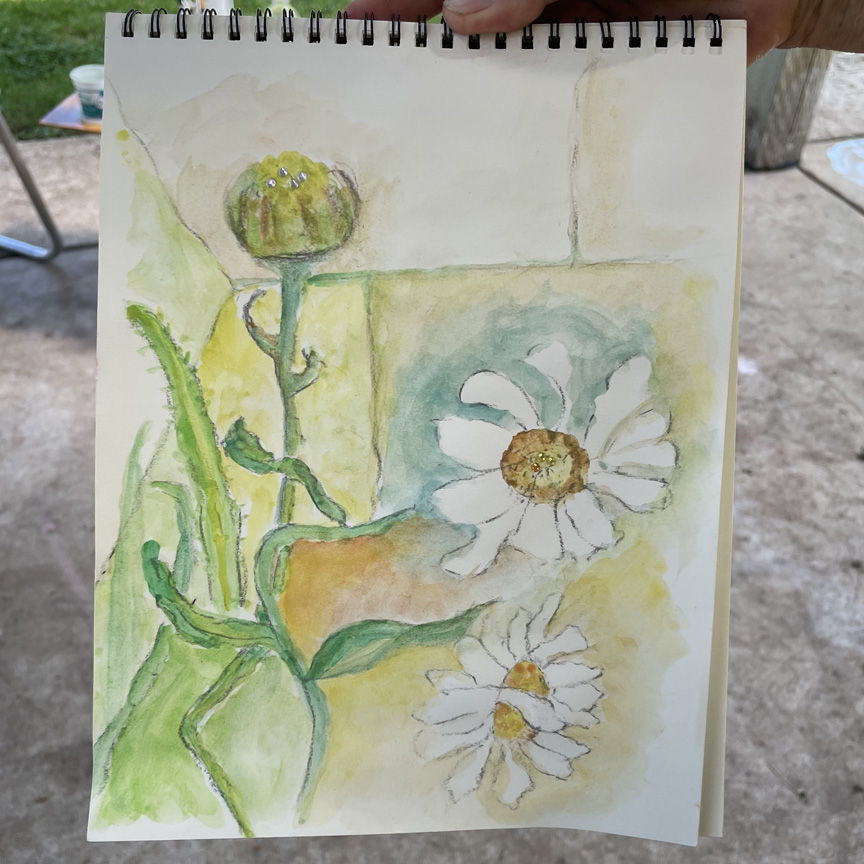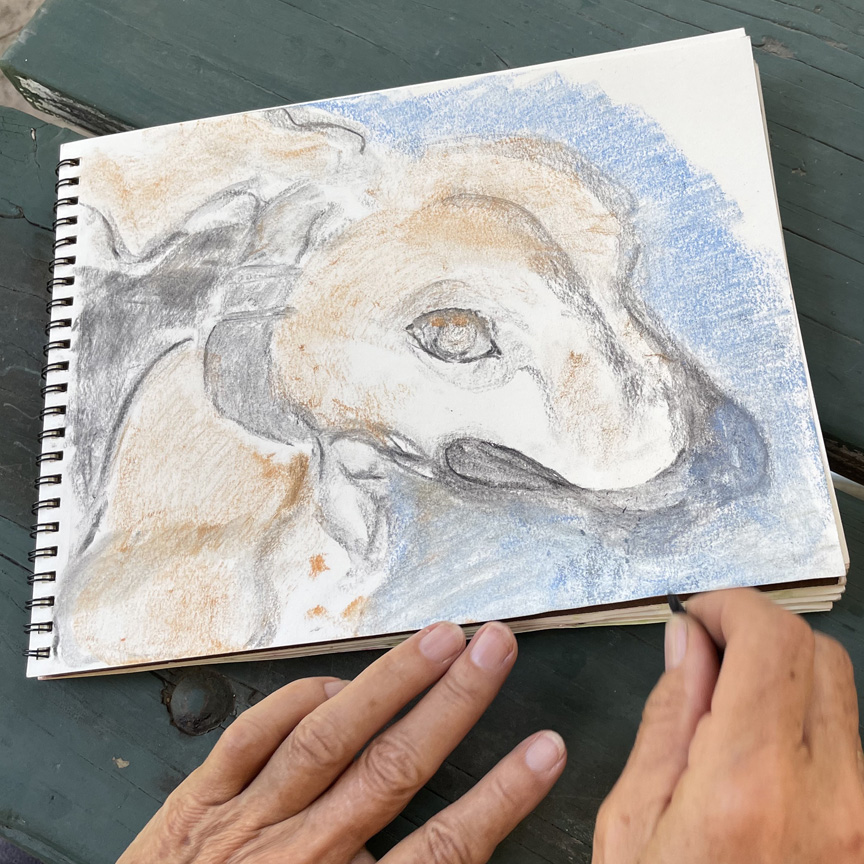 Eva added sparkles to her sketch from last week, and today she's sketching her moving model – her dog Mickey! (Difficult angles)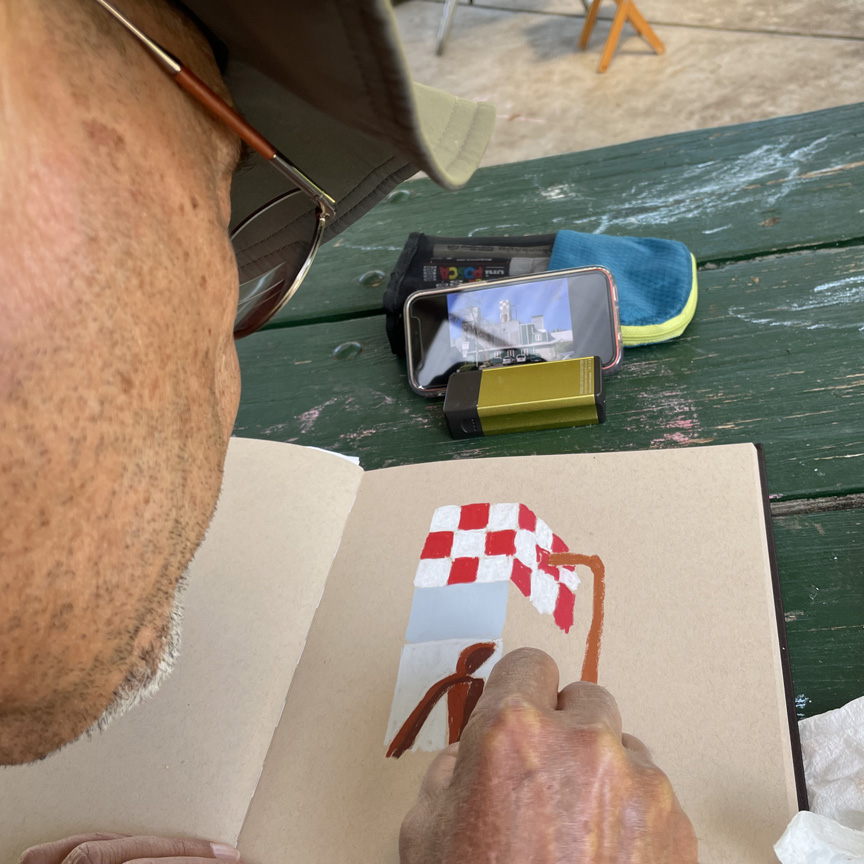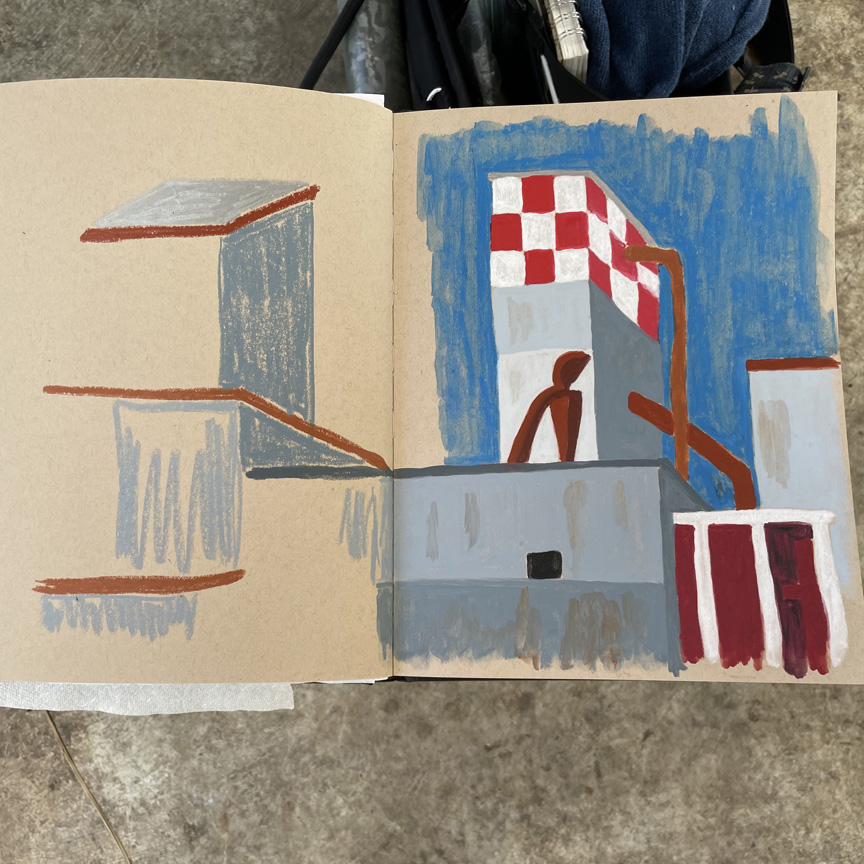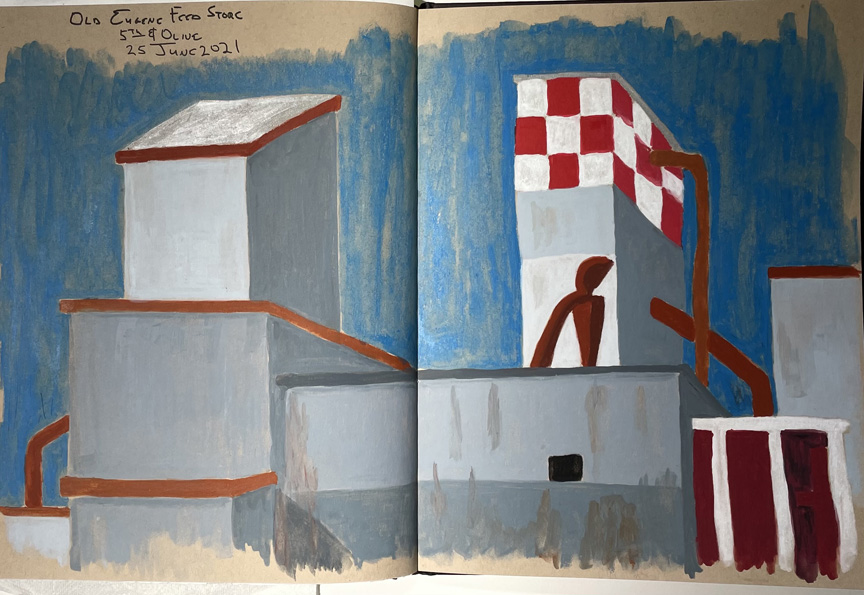 Hugh picked the perfect medium for his vivid sketch of food storage buildings in Eugene – Caran d'Ache water soluble crayons.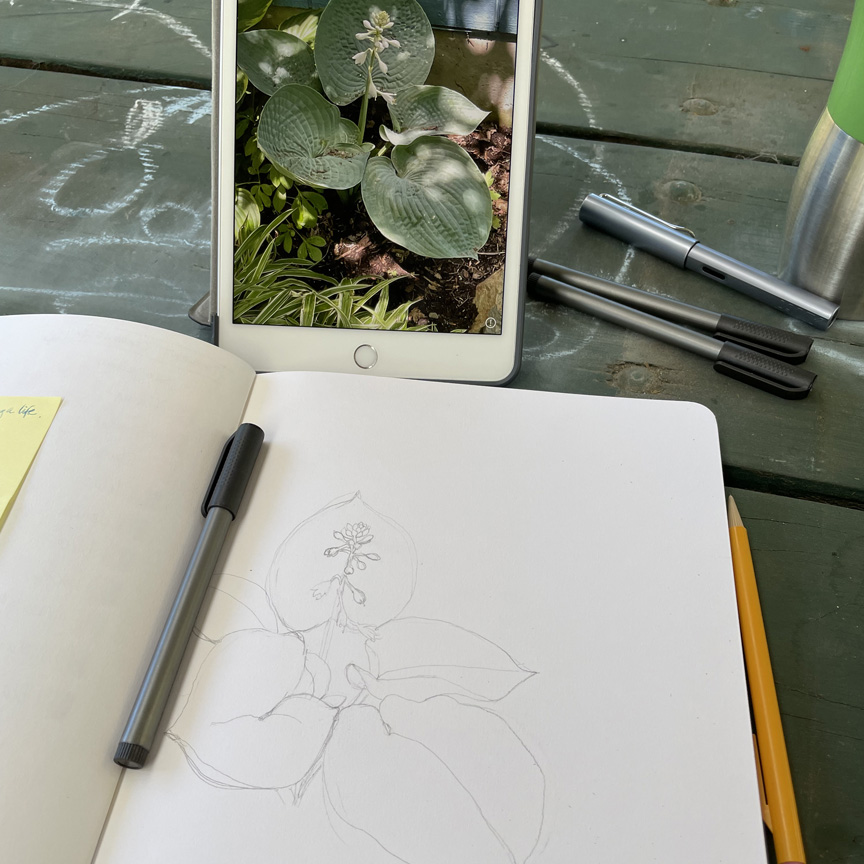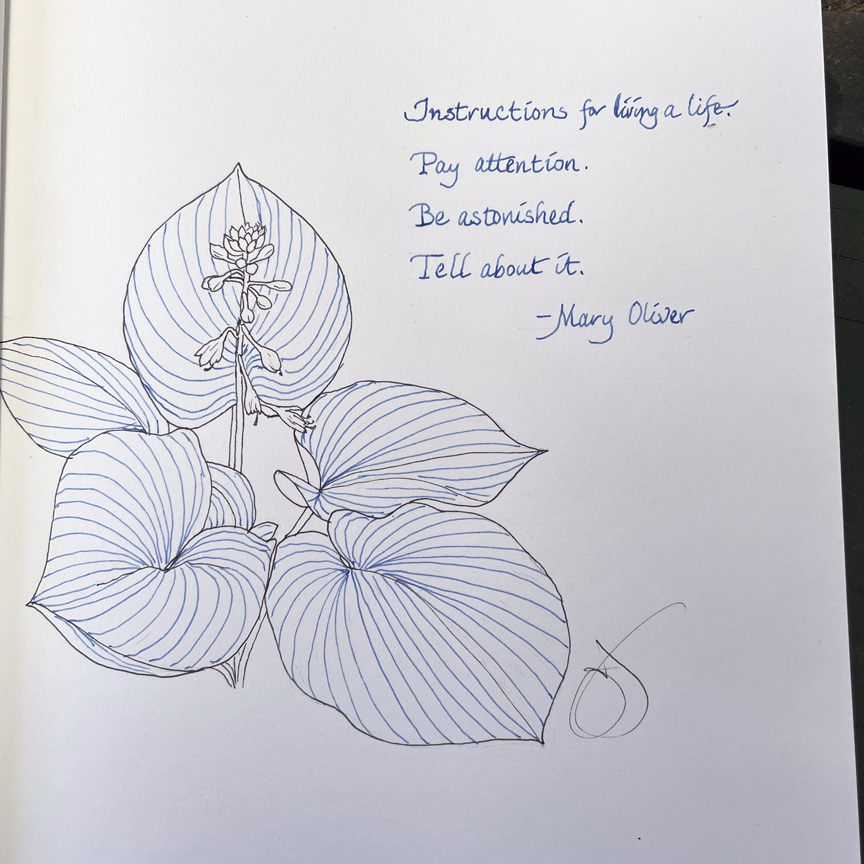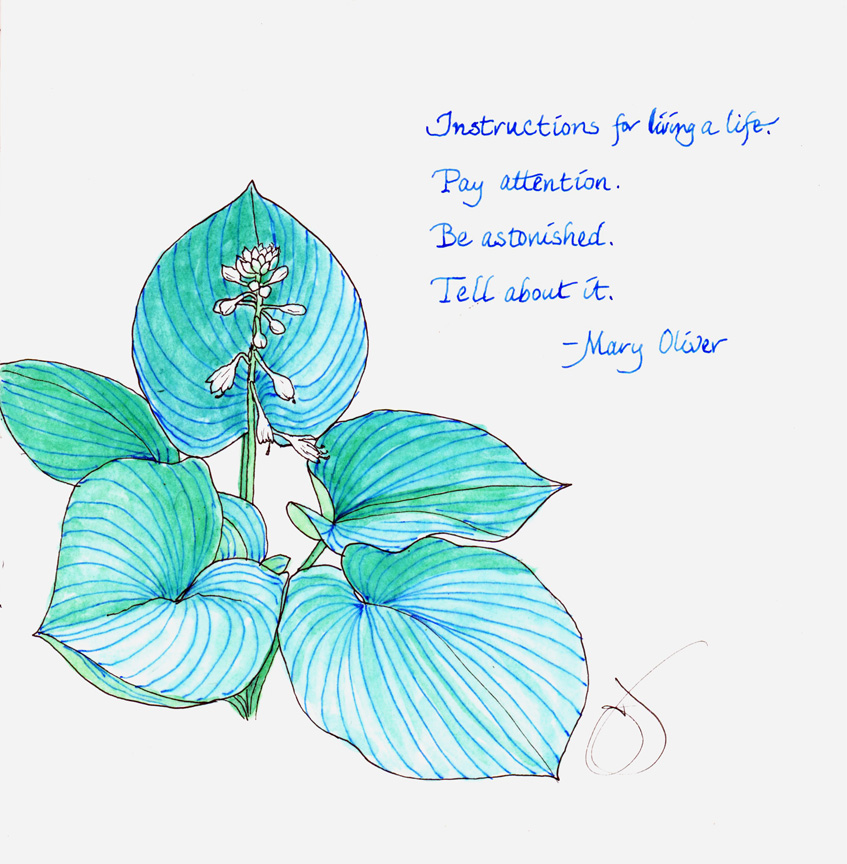 Jane was sketching a hosta photo from home, using her Lamy fountain pen with blue permanent ink for comments (& veins!).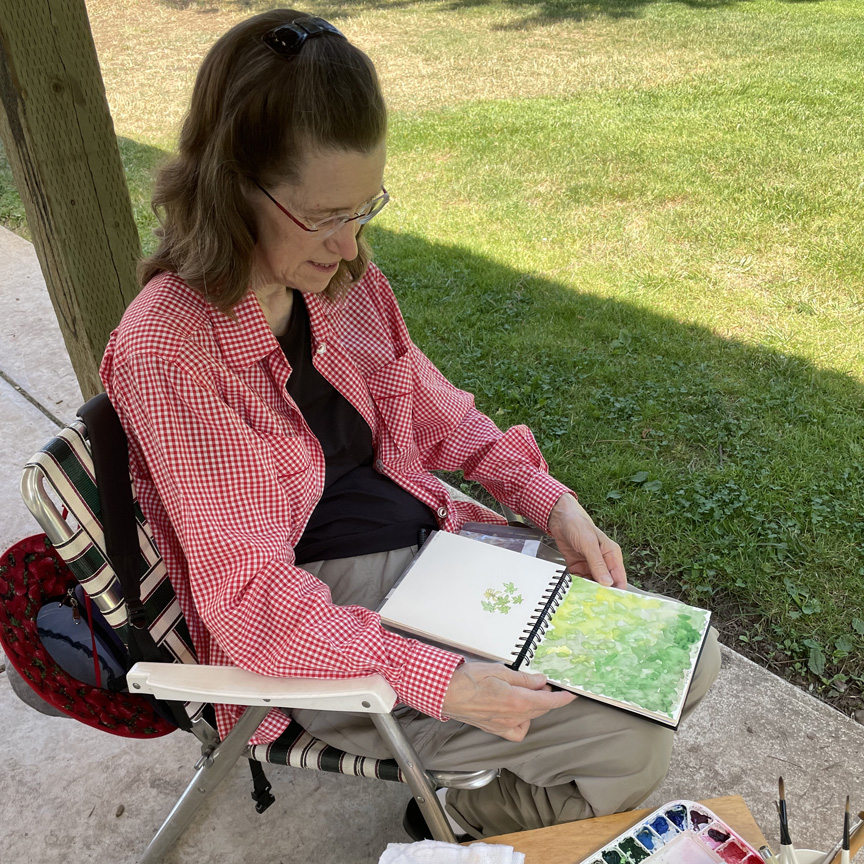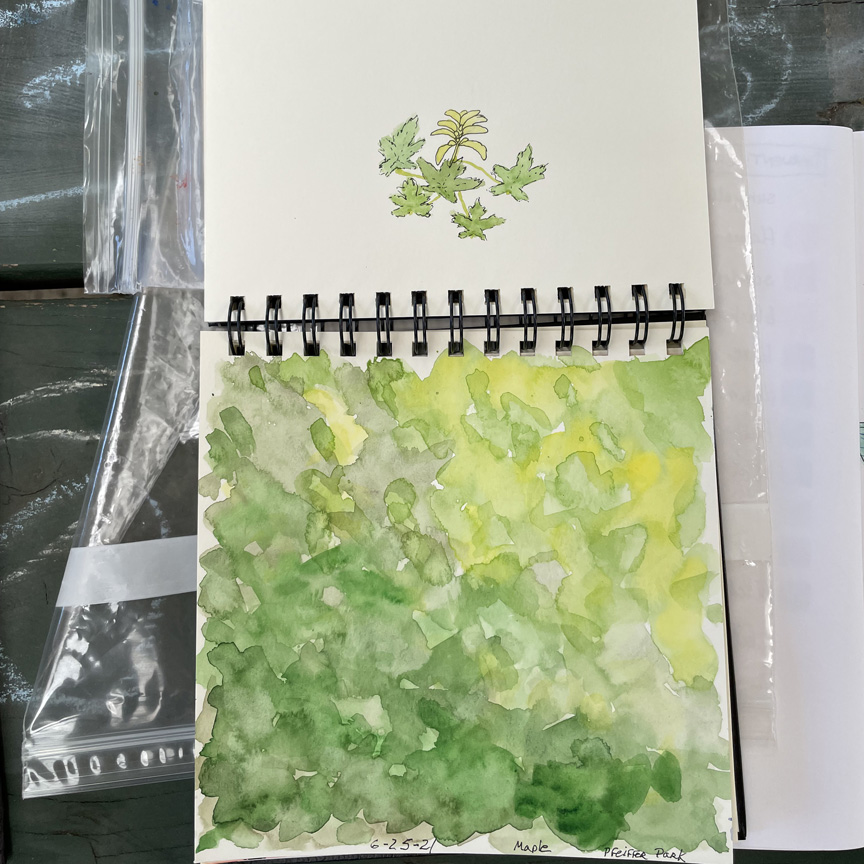 As a fine detail acrylic painter, Peggy is pushing herself to try a loose approach with watercolor – now, to add ink for leaf shapes?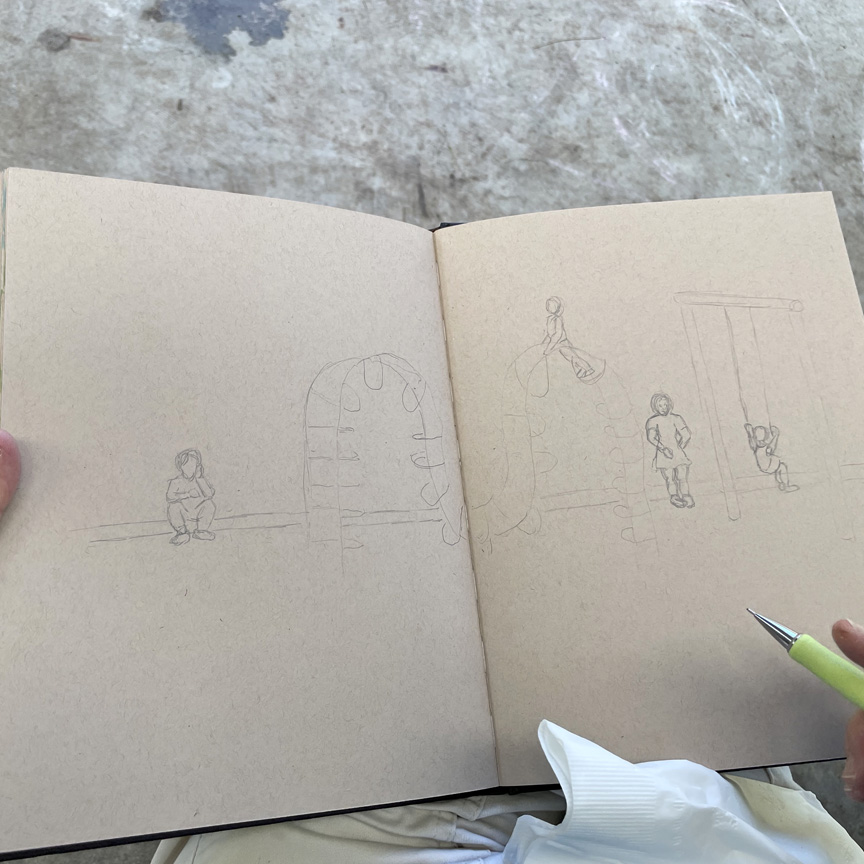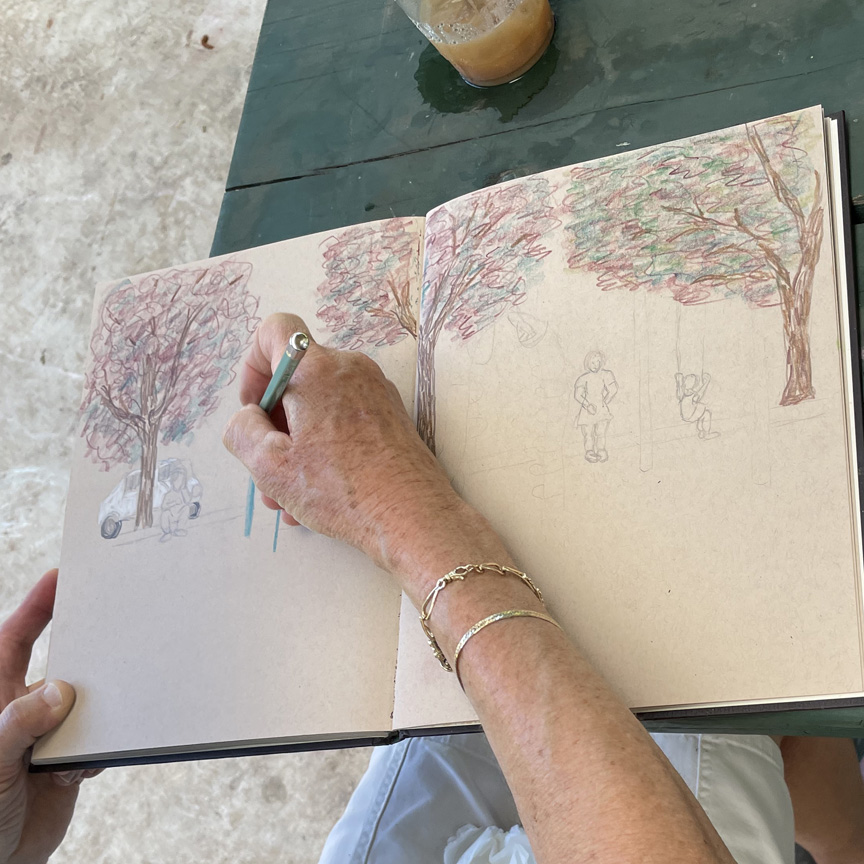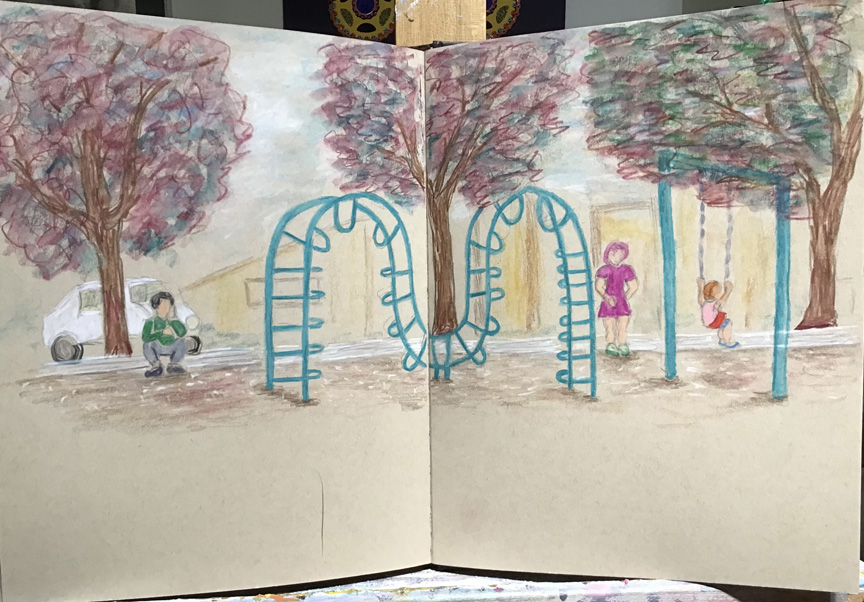 Sandy's attention was all on the kids in the playground – using the Caran d'Ache crayons, and then water brush on toned paper.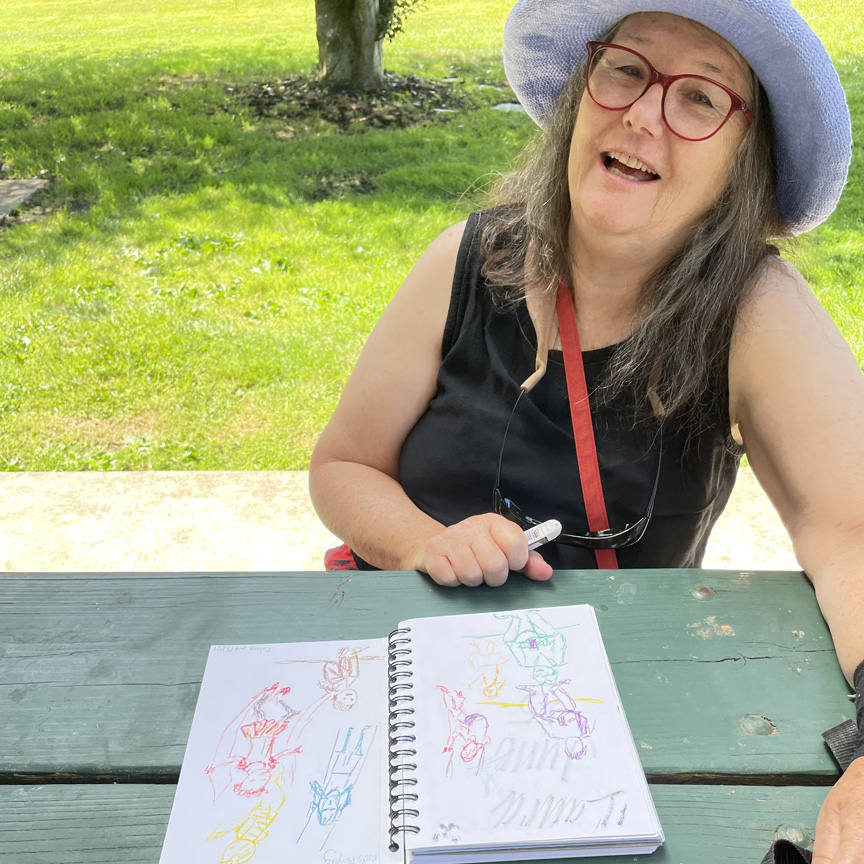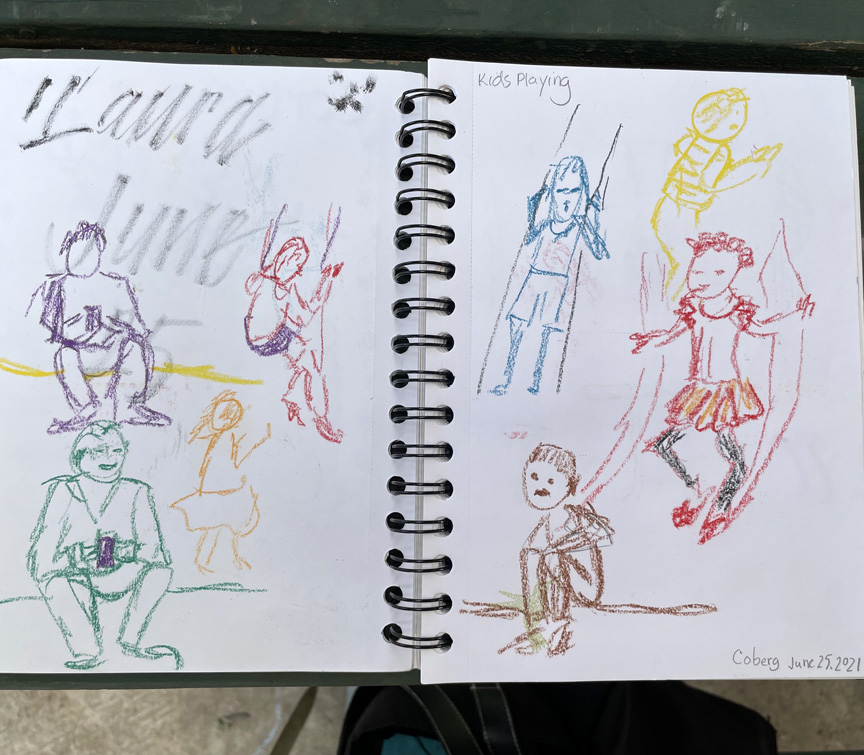 Laura got a kick out of the kids, too, capturing their active joy with different colored pencils – what a fun way to represent them!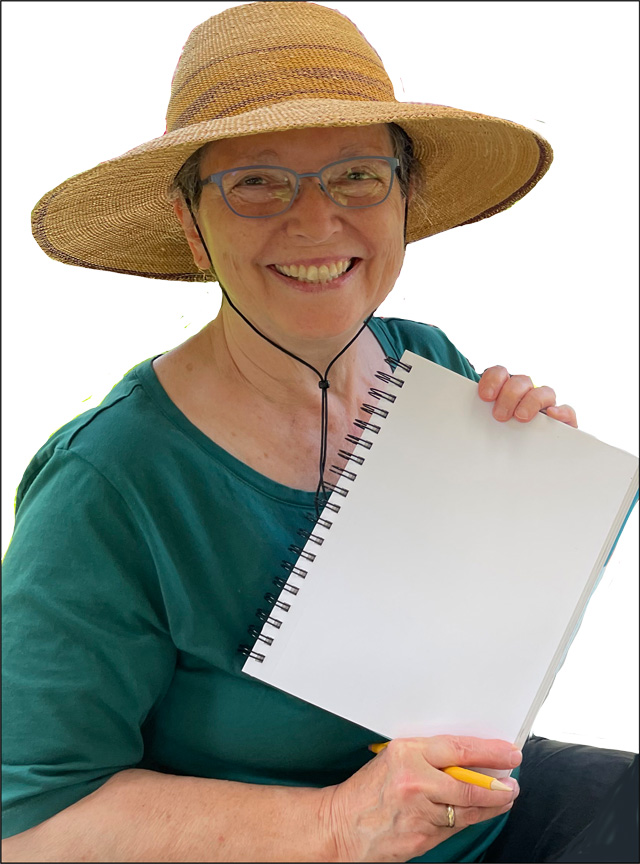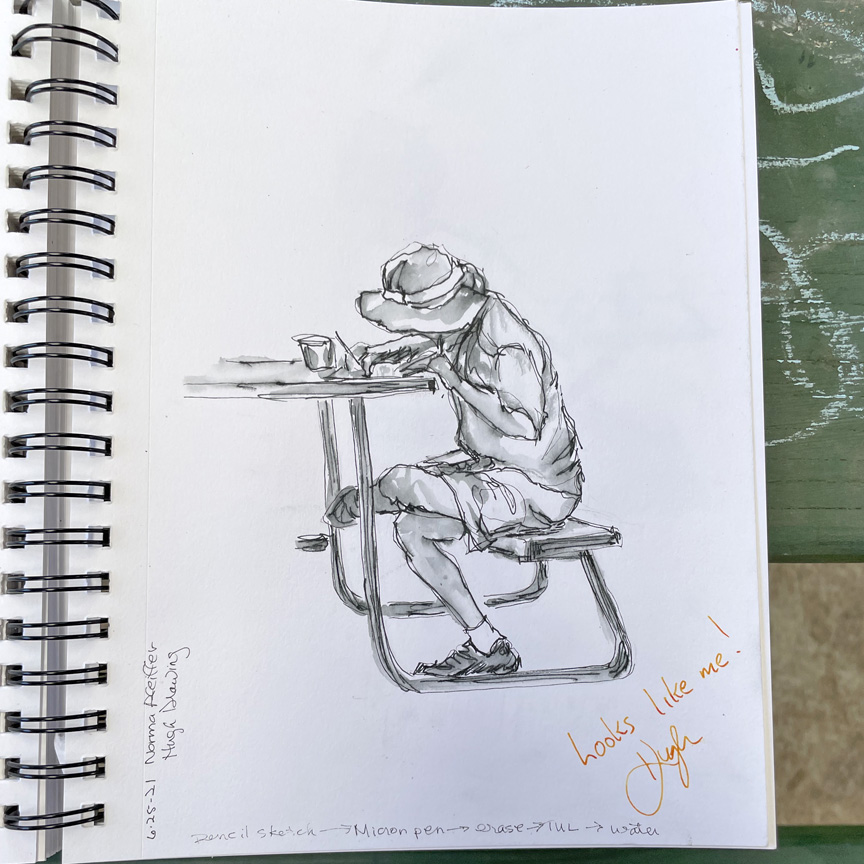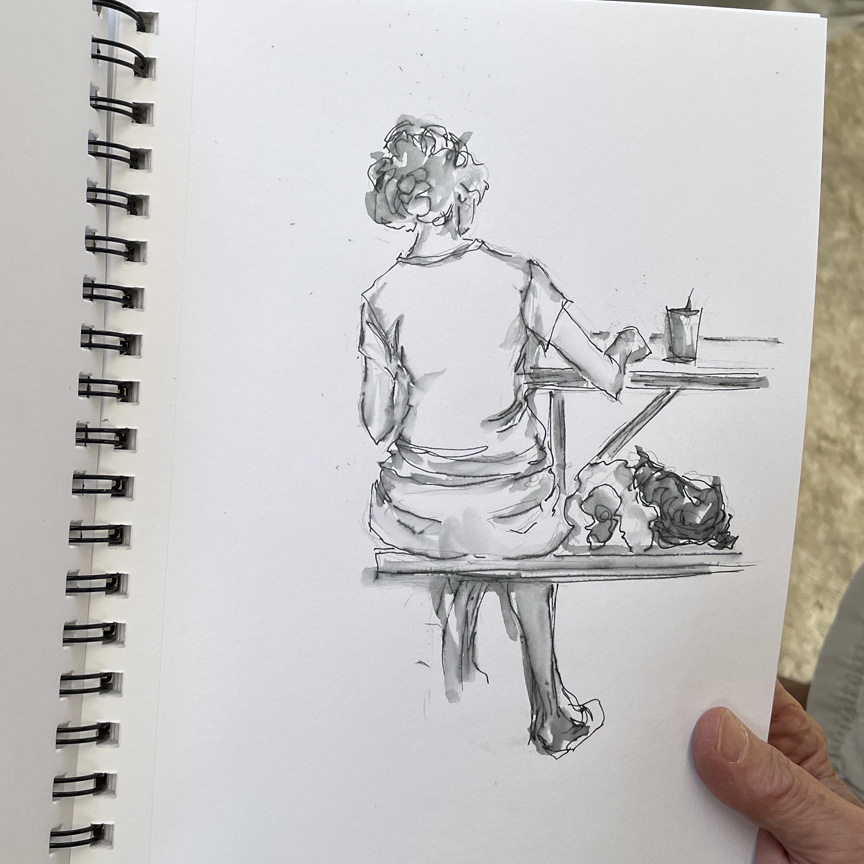 Marsha had to think about where to use permanent ink, and where to use her water soluble ink so she could have shadows – well done!
✒ June 18, 2021, Cortesia Sanctuary, Eugene, OR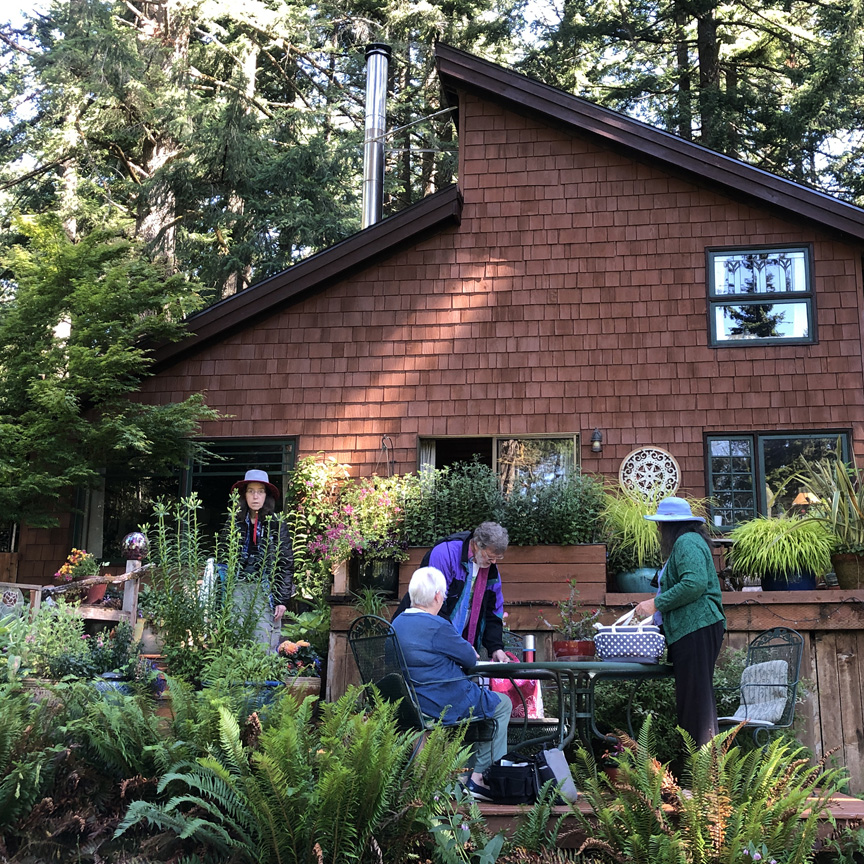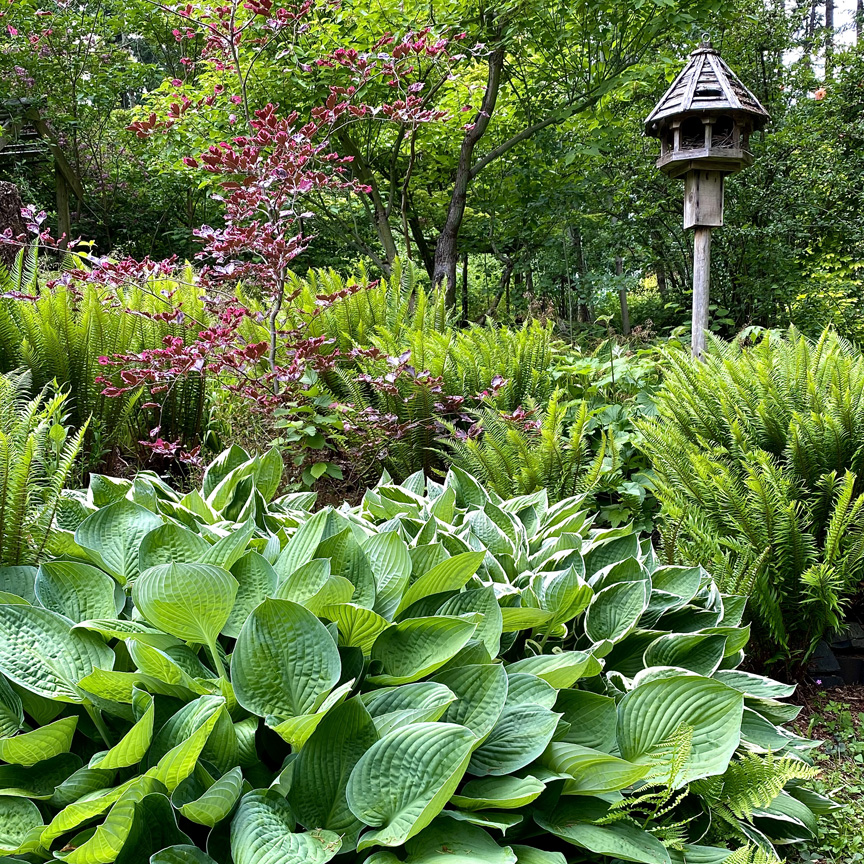 Peggy, Jane, Jim, Laura at the wooded wonder of Cortesia.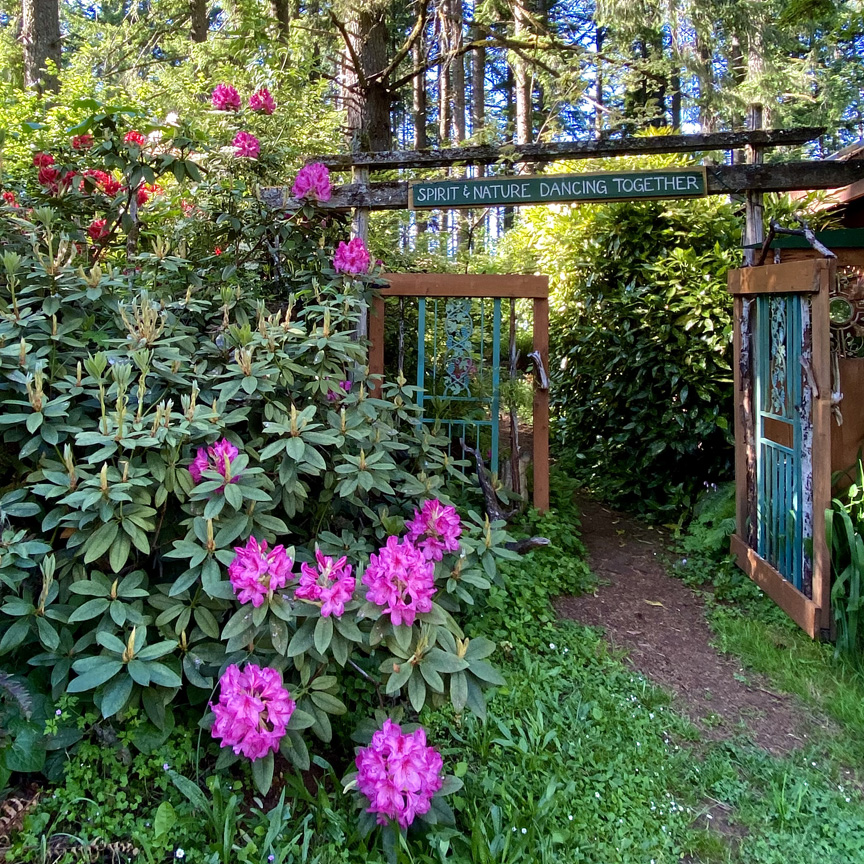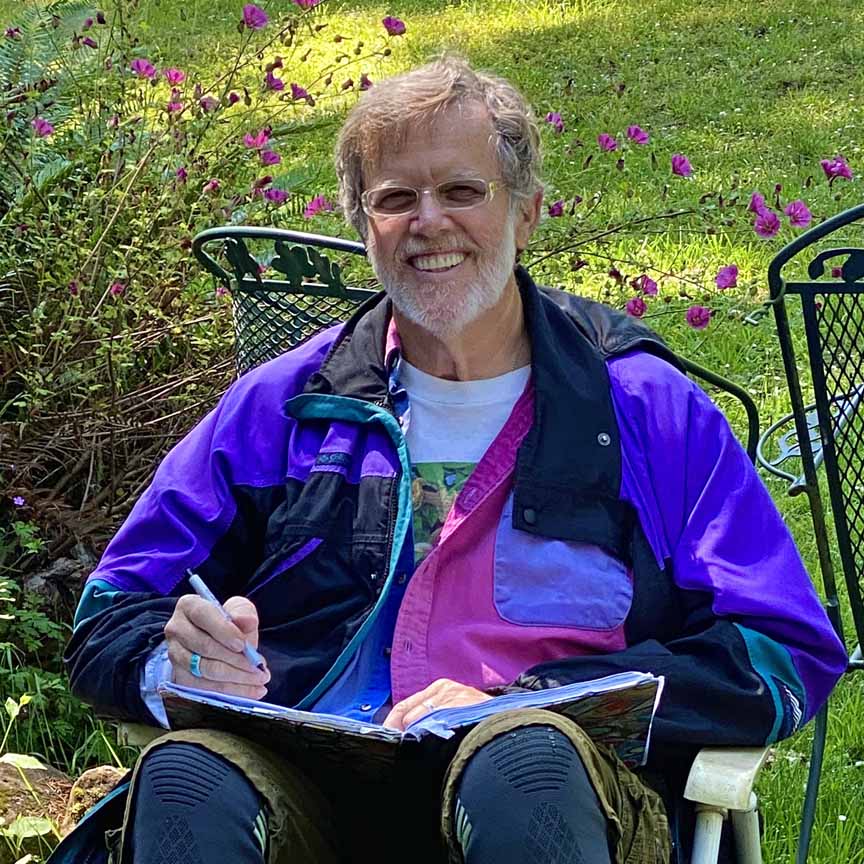 Jim immediately started sketching the gate to the garden.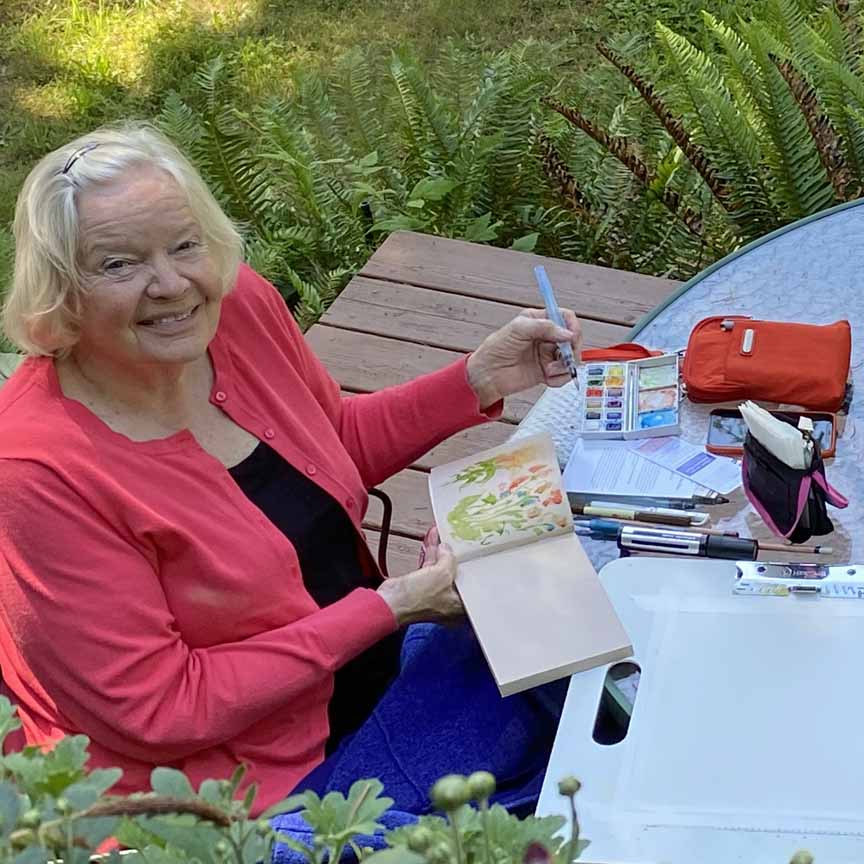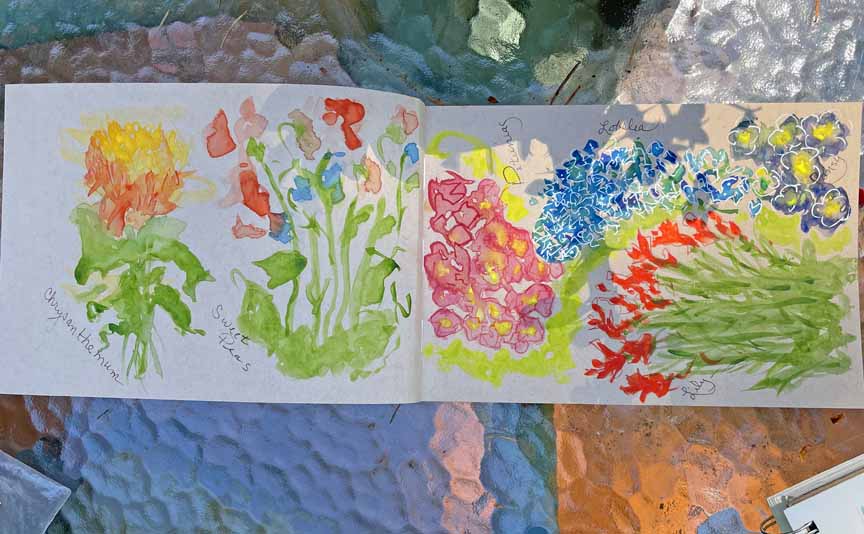 Lona didn't get past the house deck, with plenty to sketch!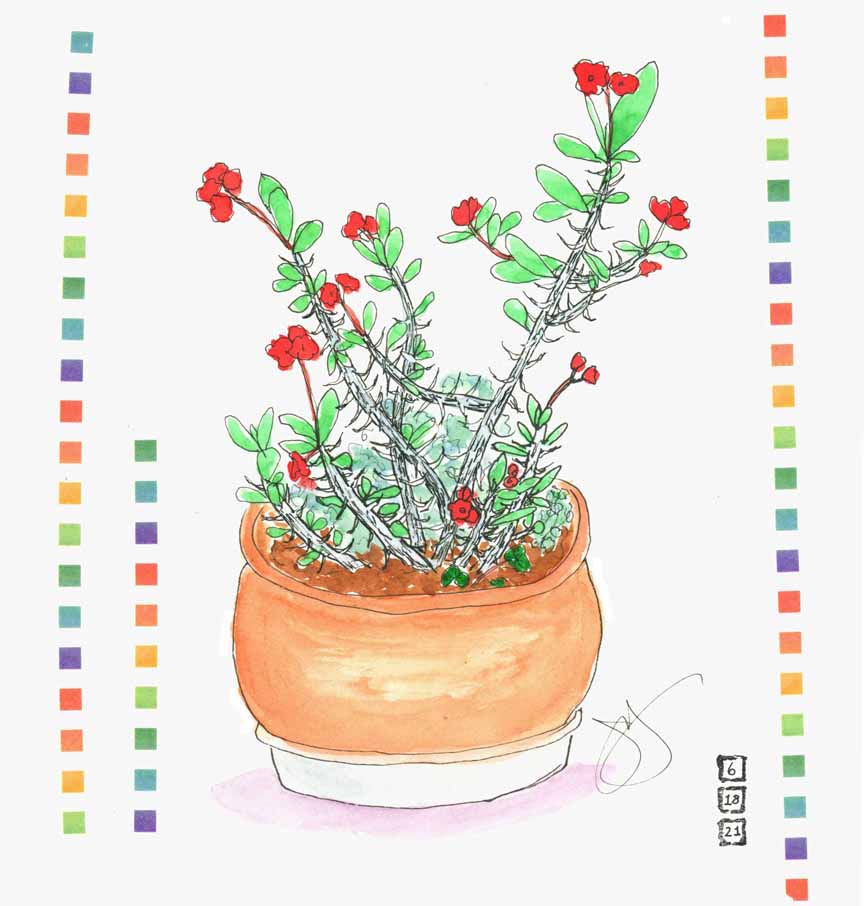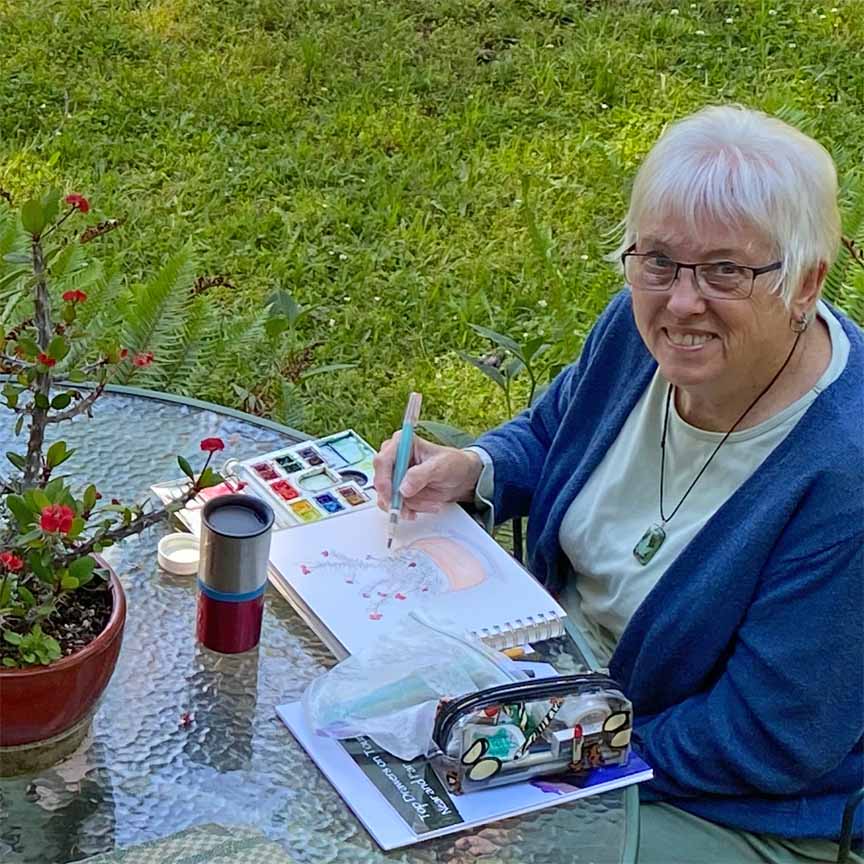 The plant on the deck table fascinated Jane – "Crown of Thorns"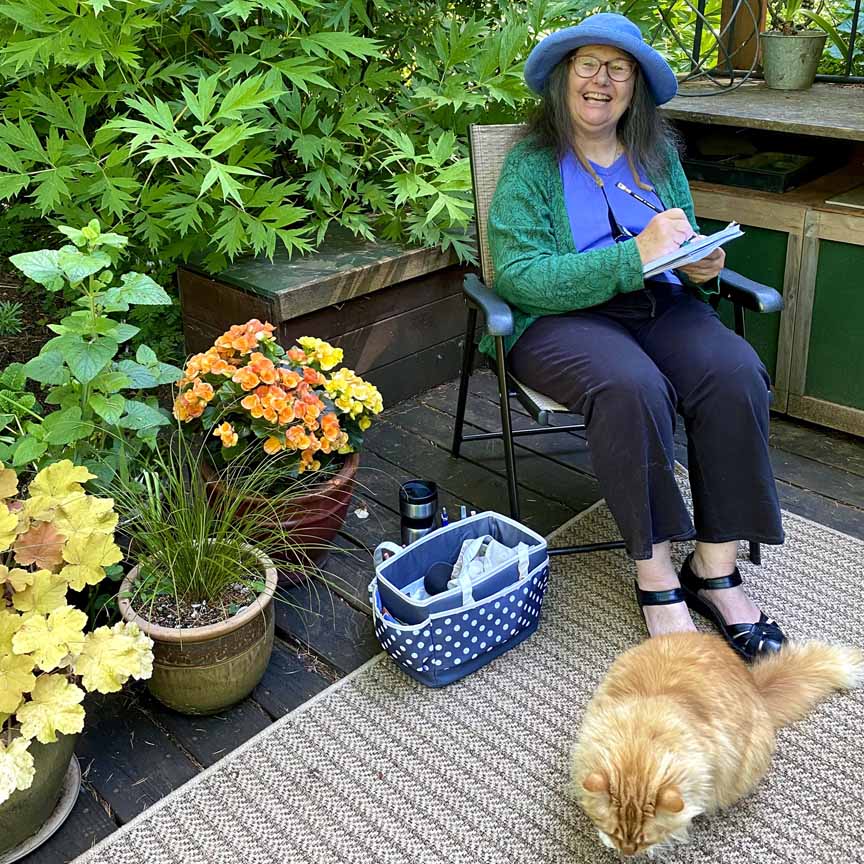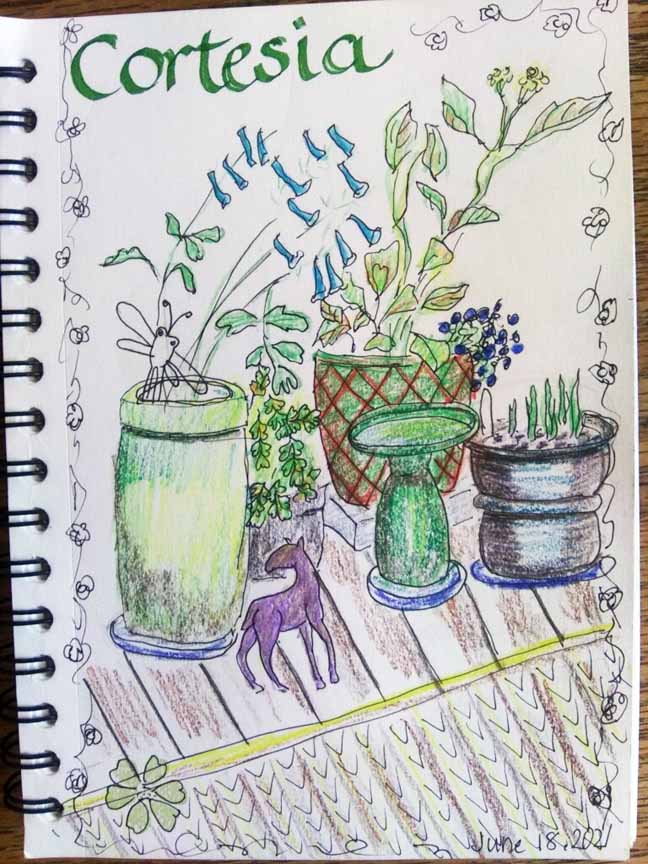 Laura didn't get very far around the house for an interesting sketch.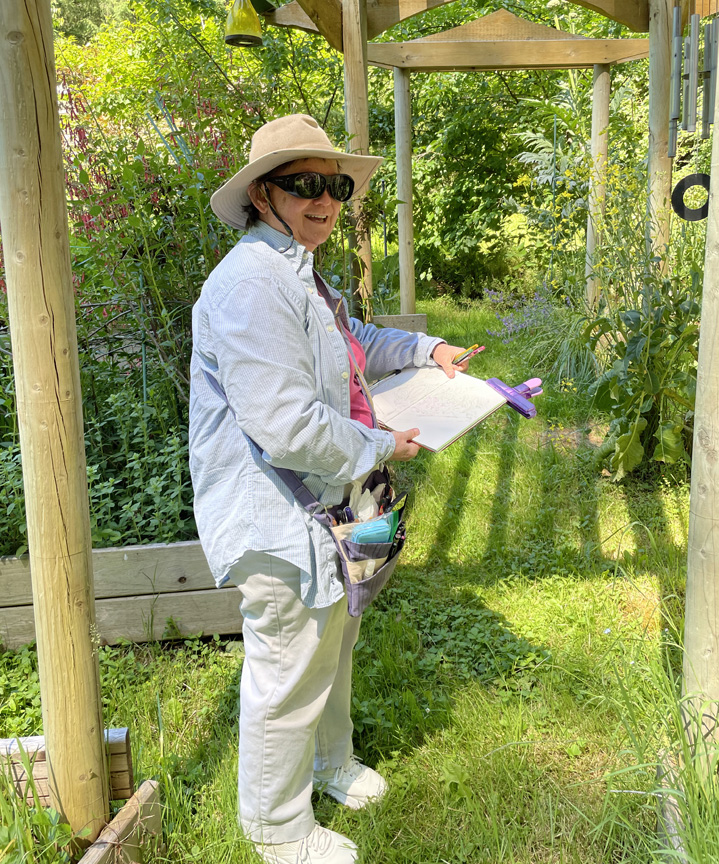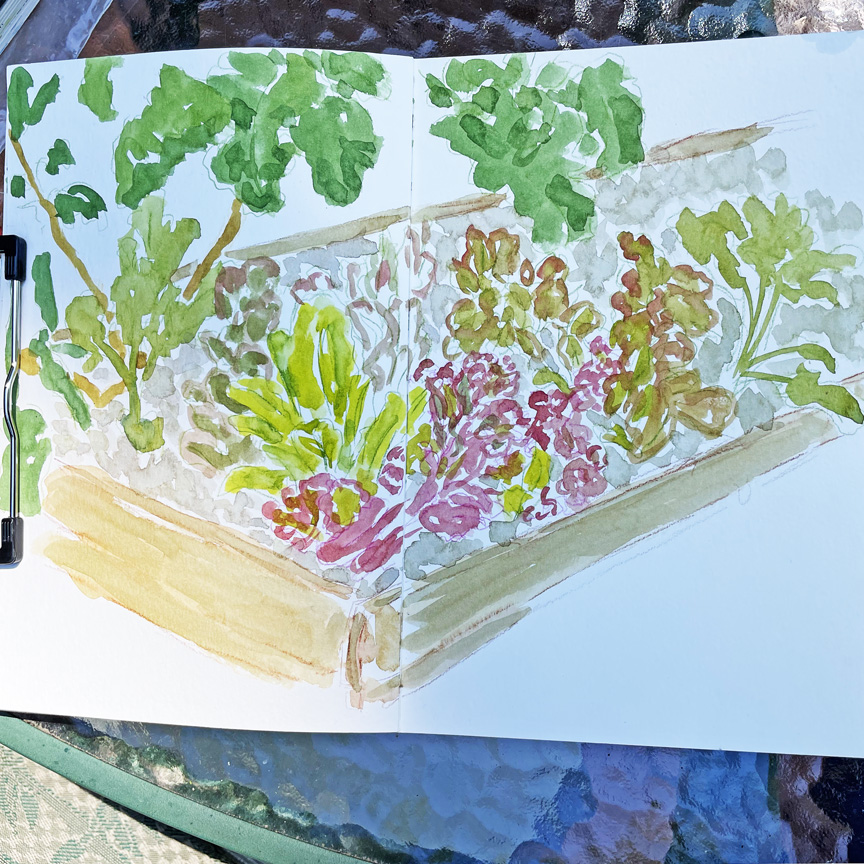 Daisy is our stand-up sketcher – and, oh! those veggie leaves!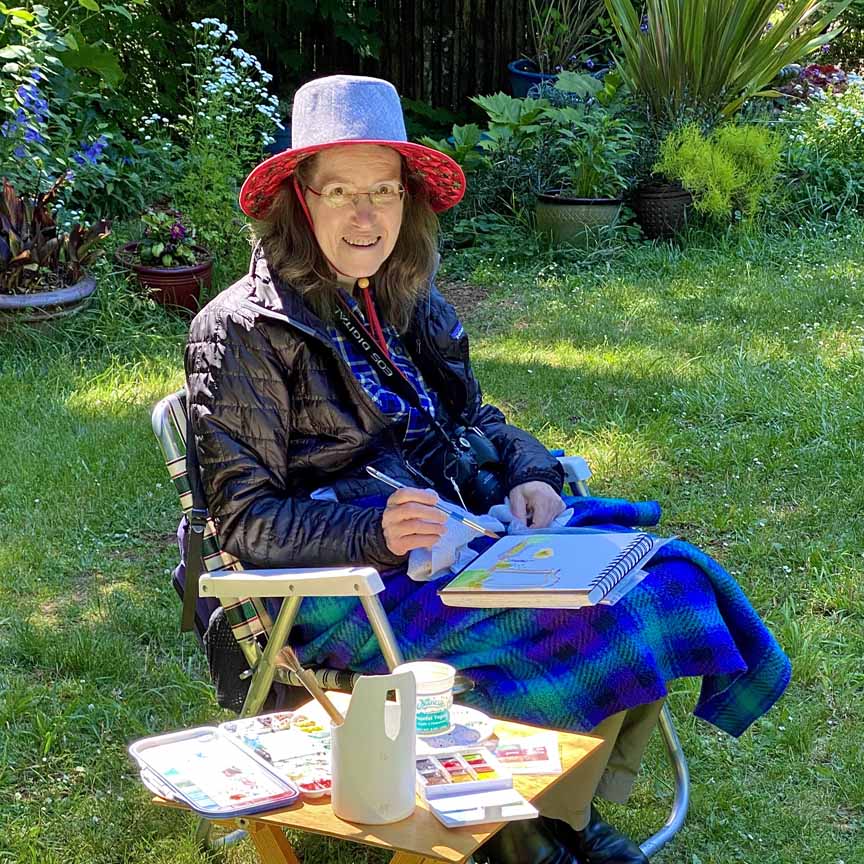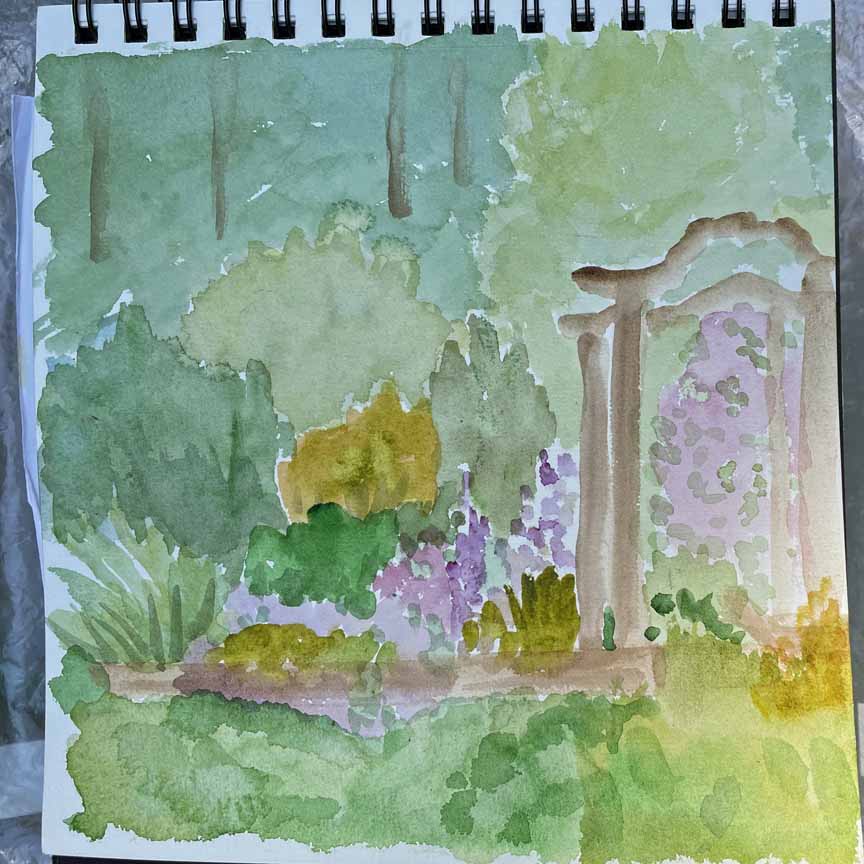 Yes, Peggy's blanket was nice in 10 degree cooler Cortesia.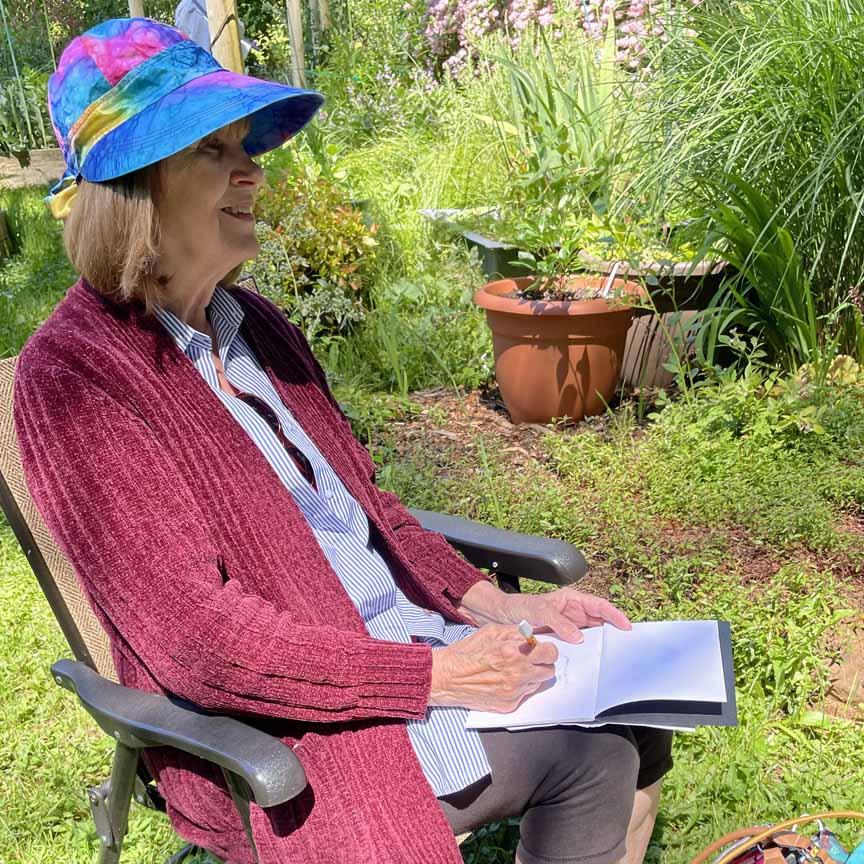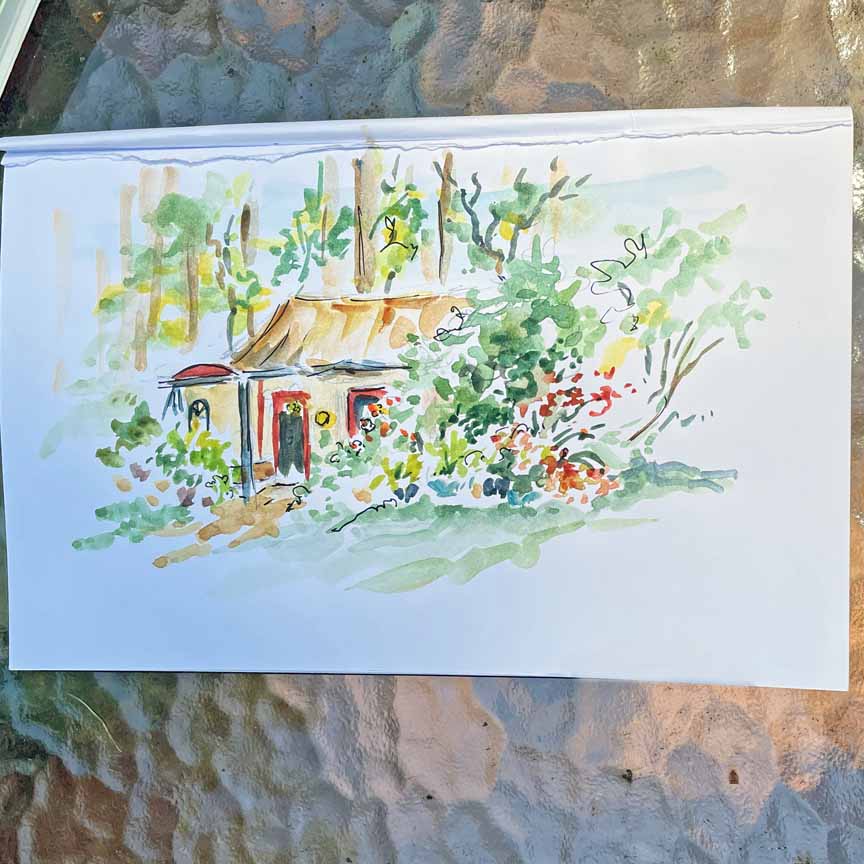 Sharon's back with us again! Lovely sketch of one of the cottages.
✒ June 11, 2021, Owen Rose Garden (in the rain)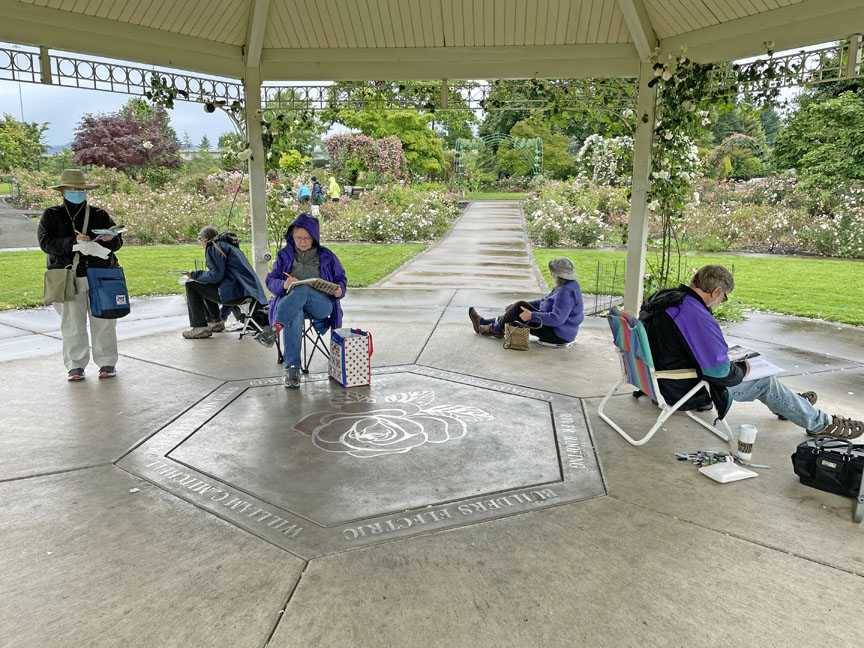 The intrepid sketchers – Daisy, Bitty, Marsha, Laura, Jim (Eva went home to get her dog, Jane behind the camera).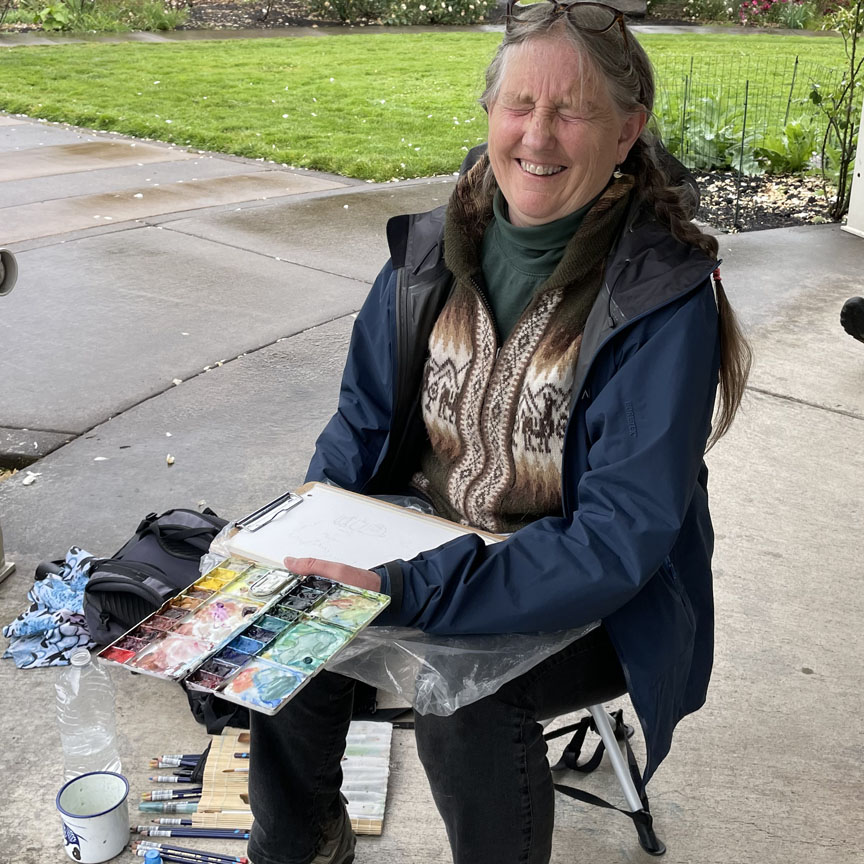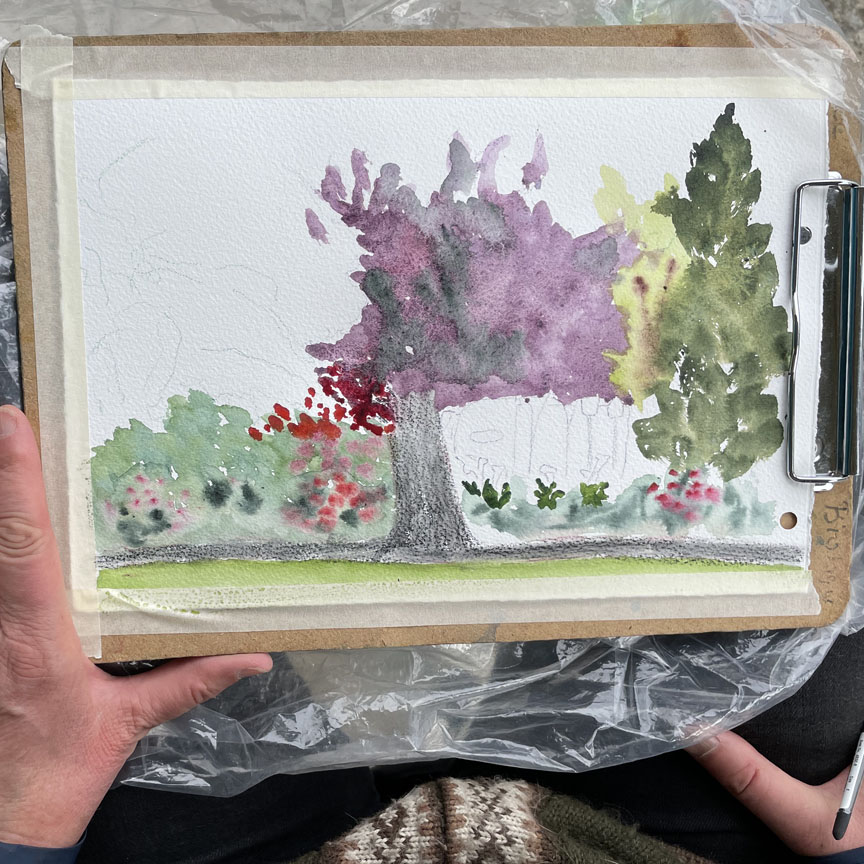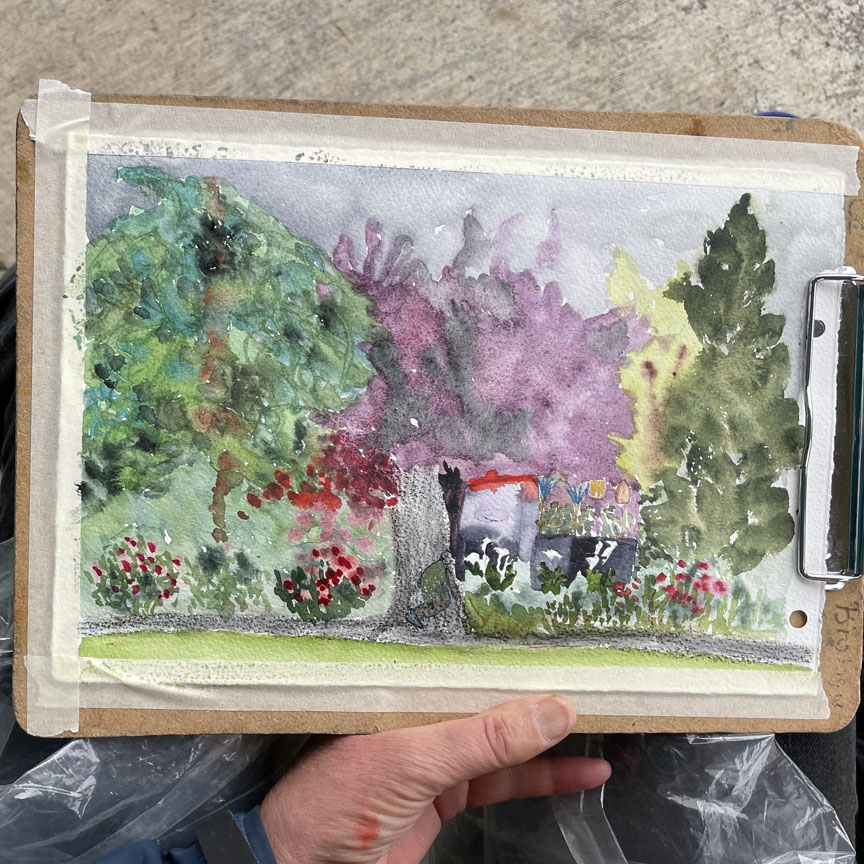 Bitty, are we having fun yet? Perfect day for wet-on-wet painting.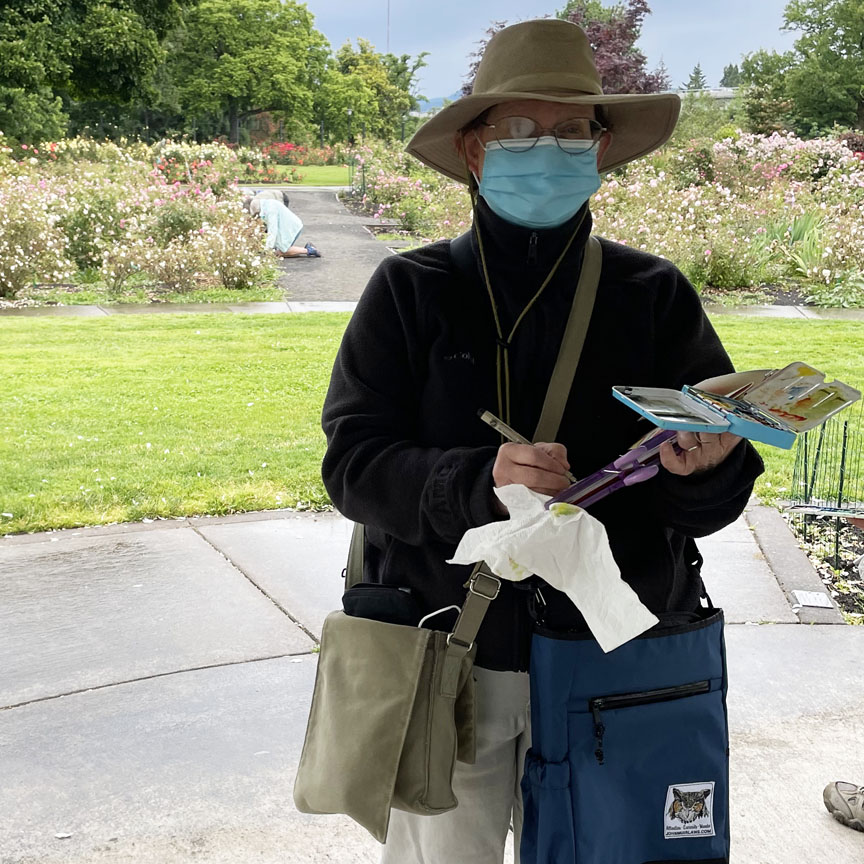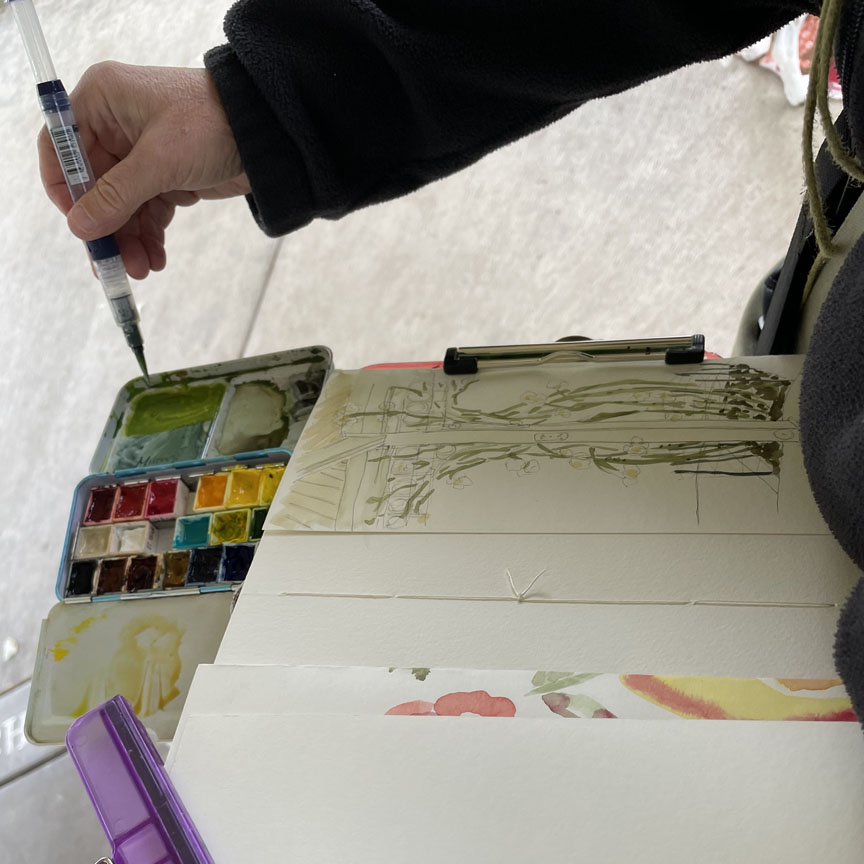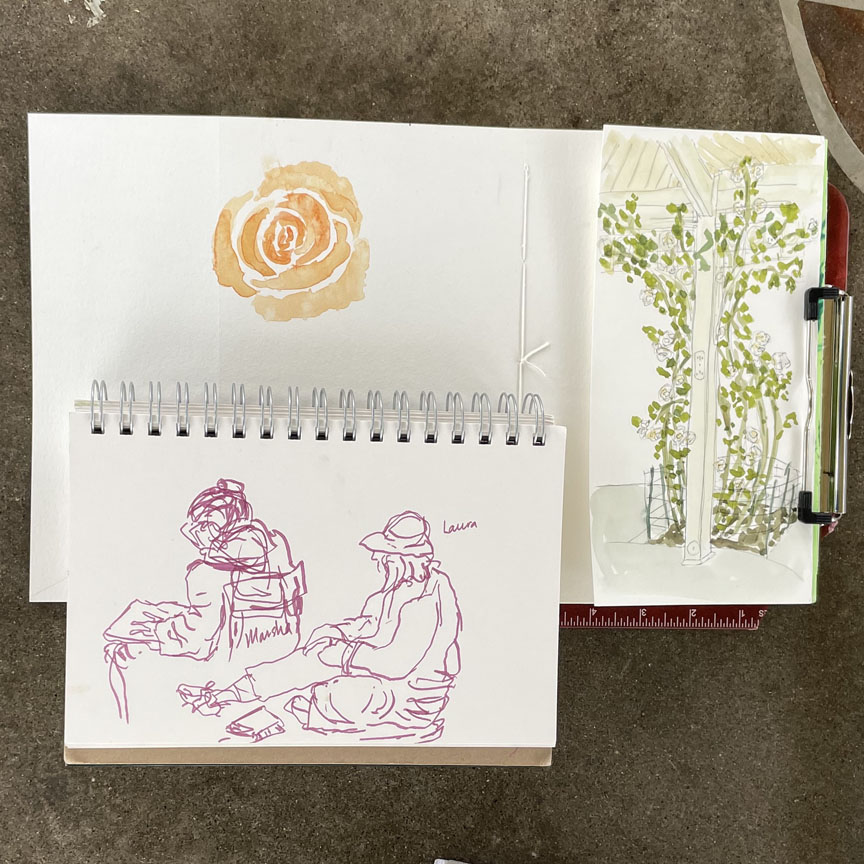 Daisy in her signature standing sketching stance – nice work!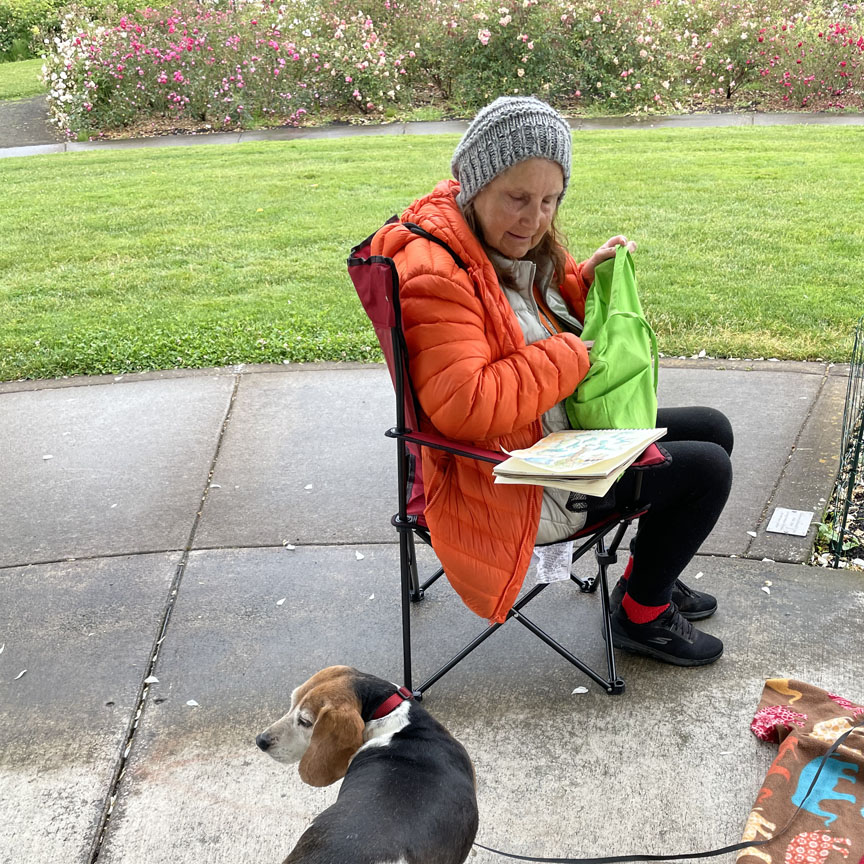 .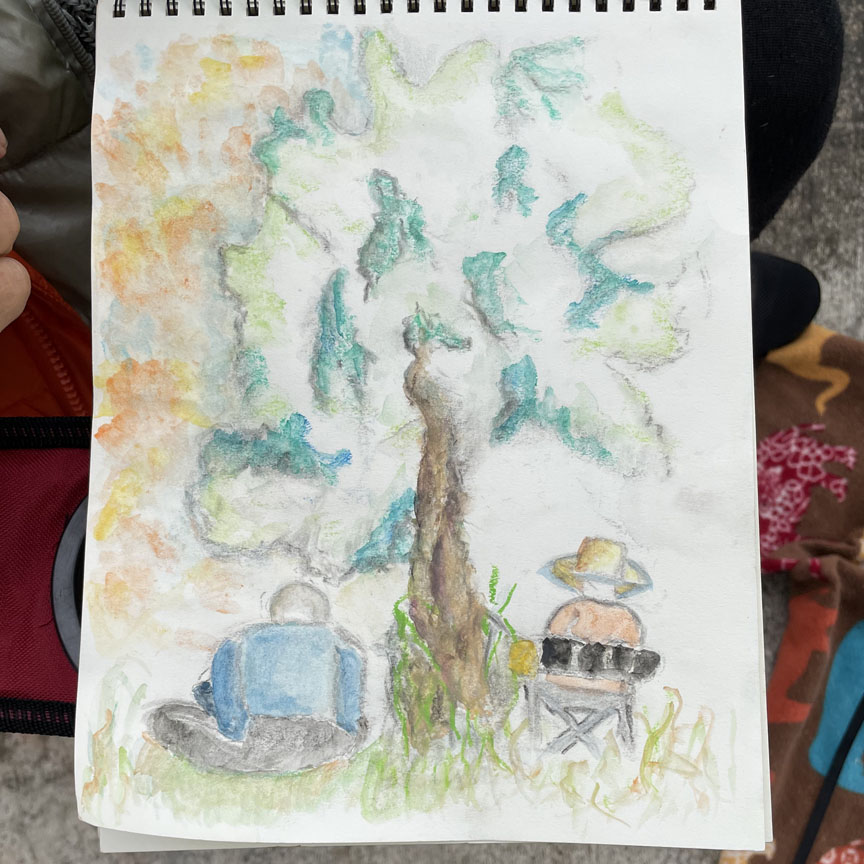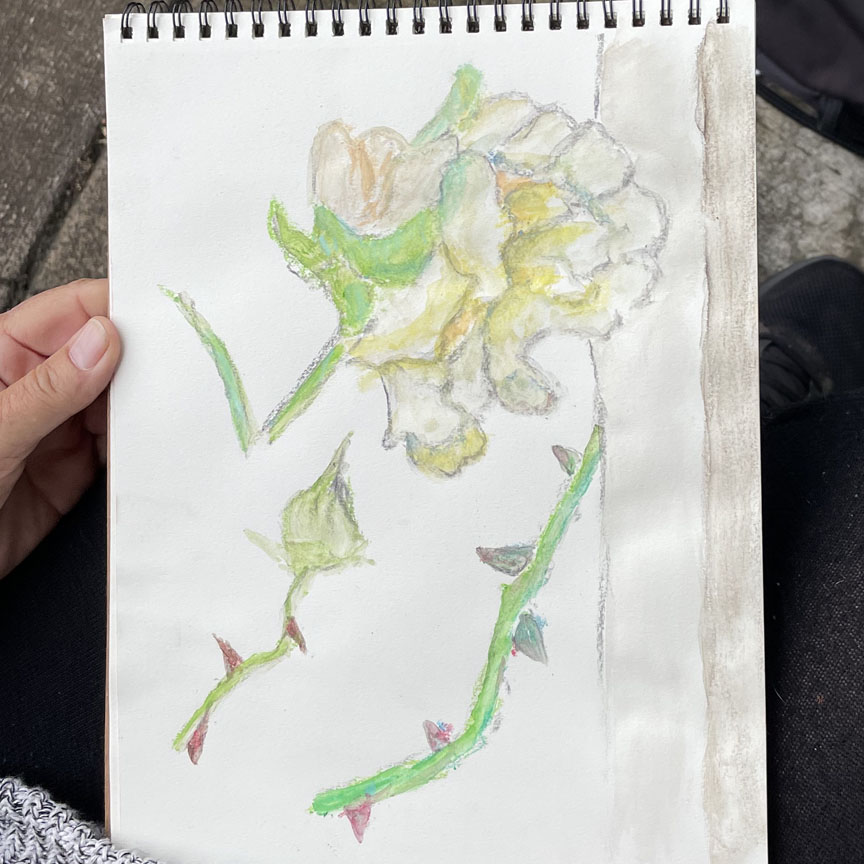 Eva (with dog, Mickey) is exploring colored chalks, with soft effects!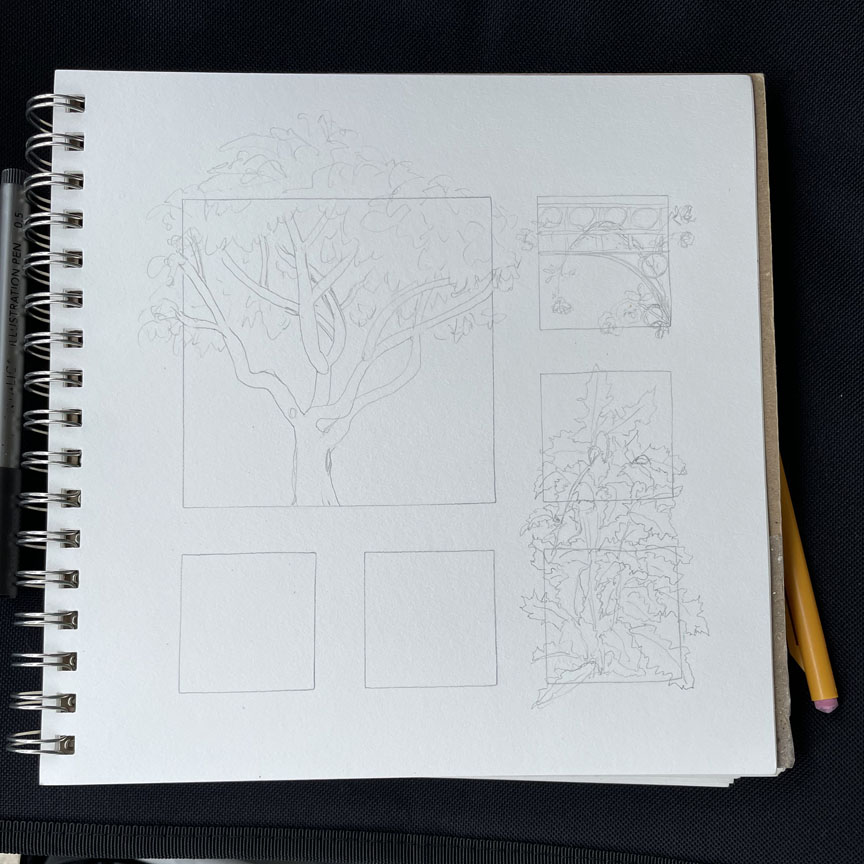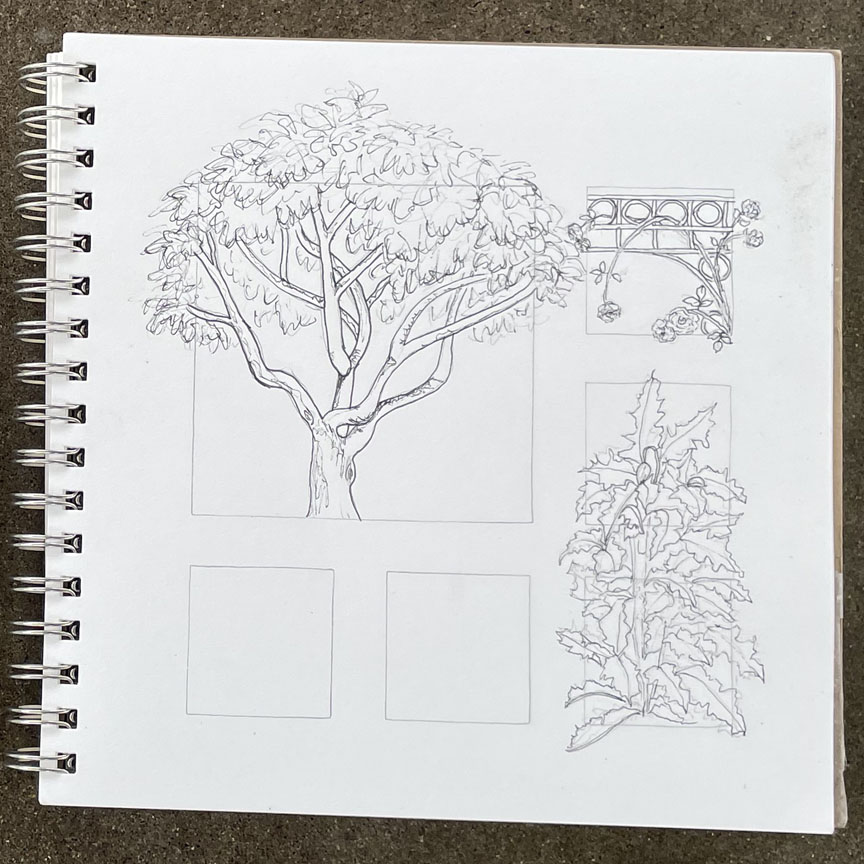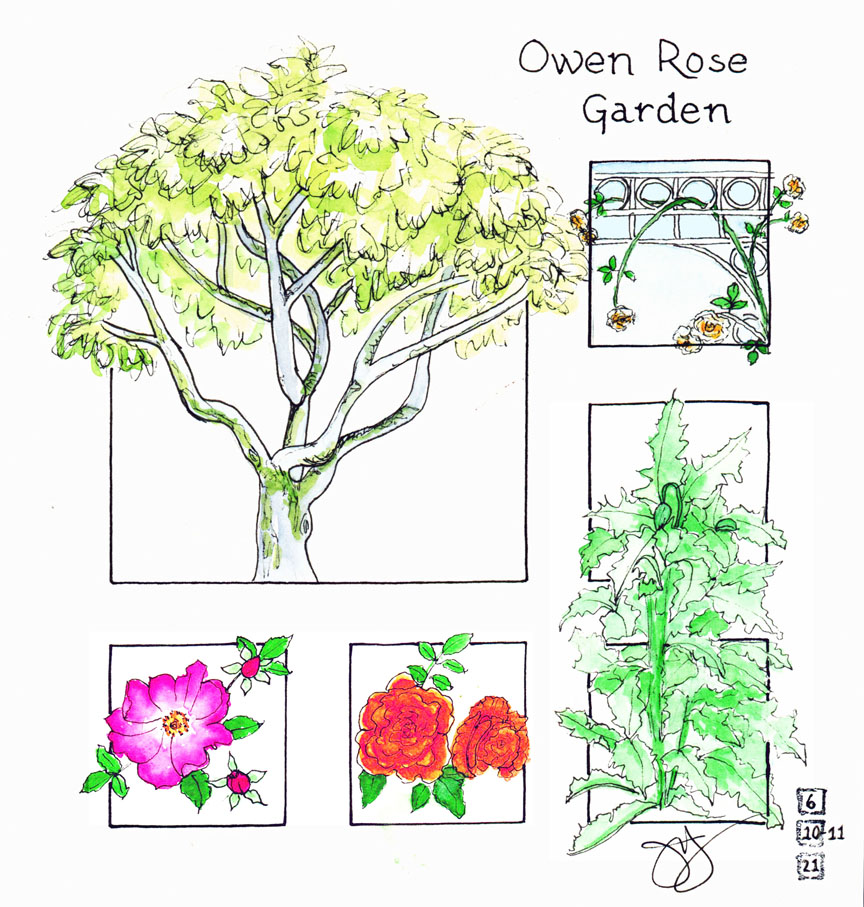 Here's how Jane's sketch evolved – from pencil to ink & watercolor.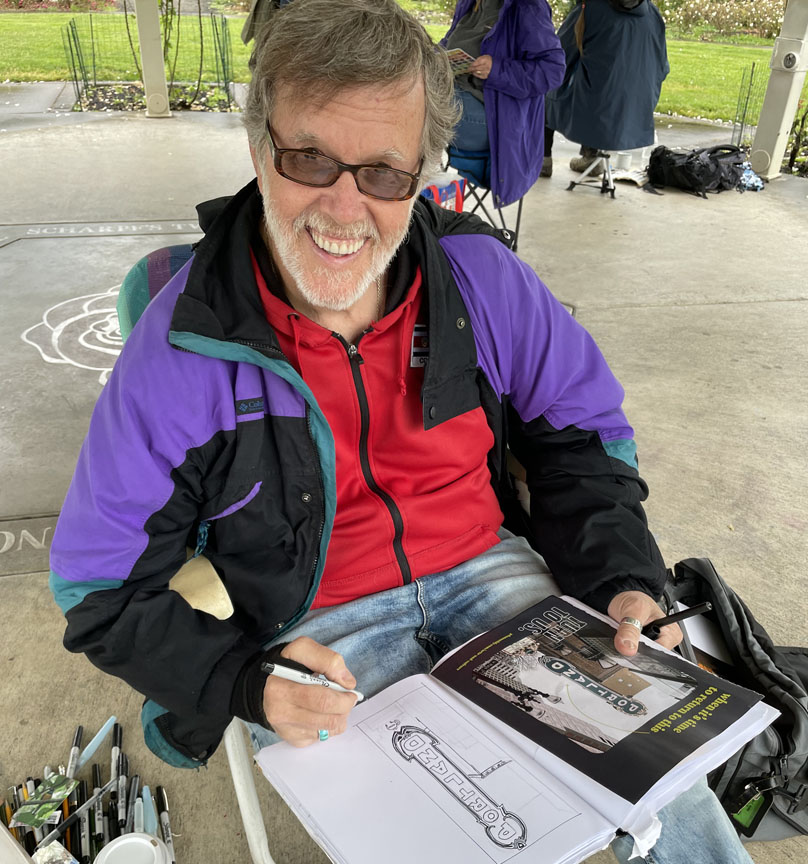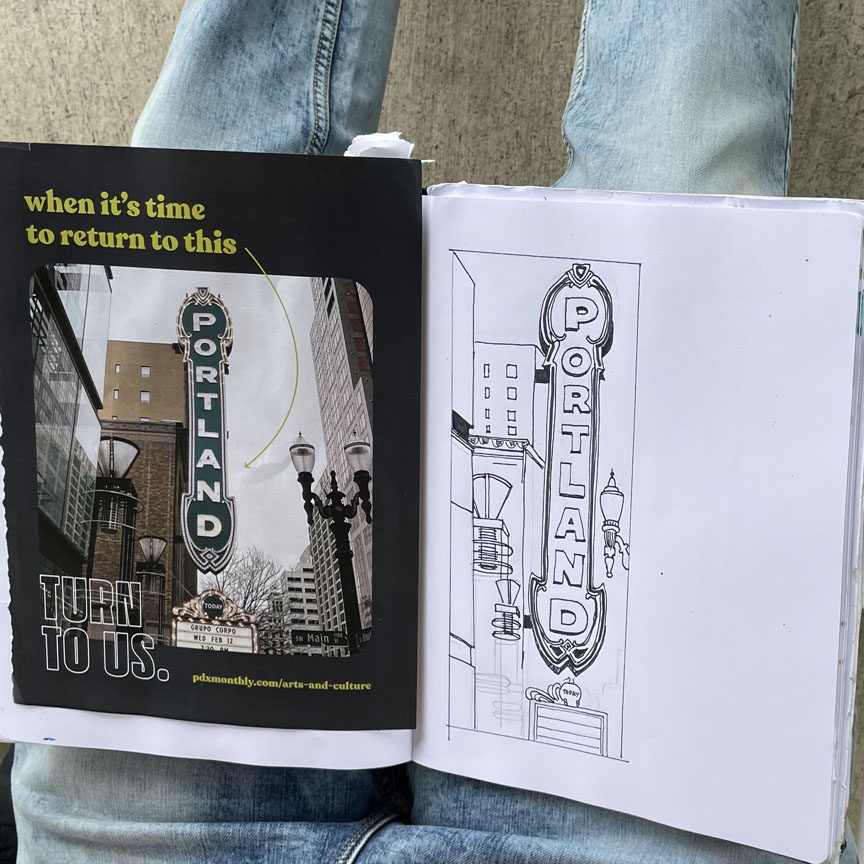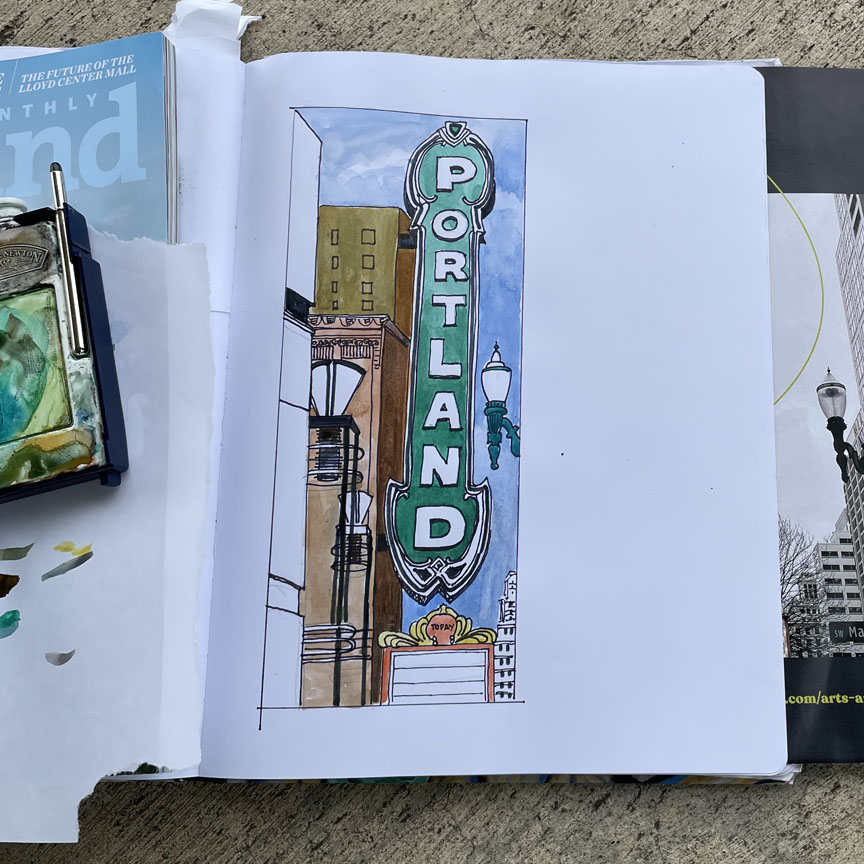 Jim does such a lovely and precise graphic sketch – nice to see.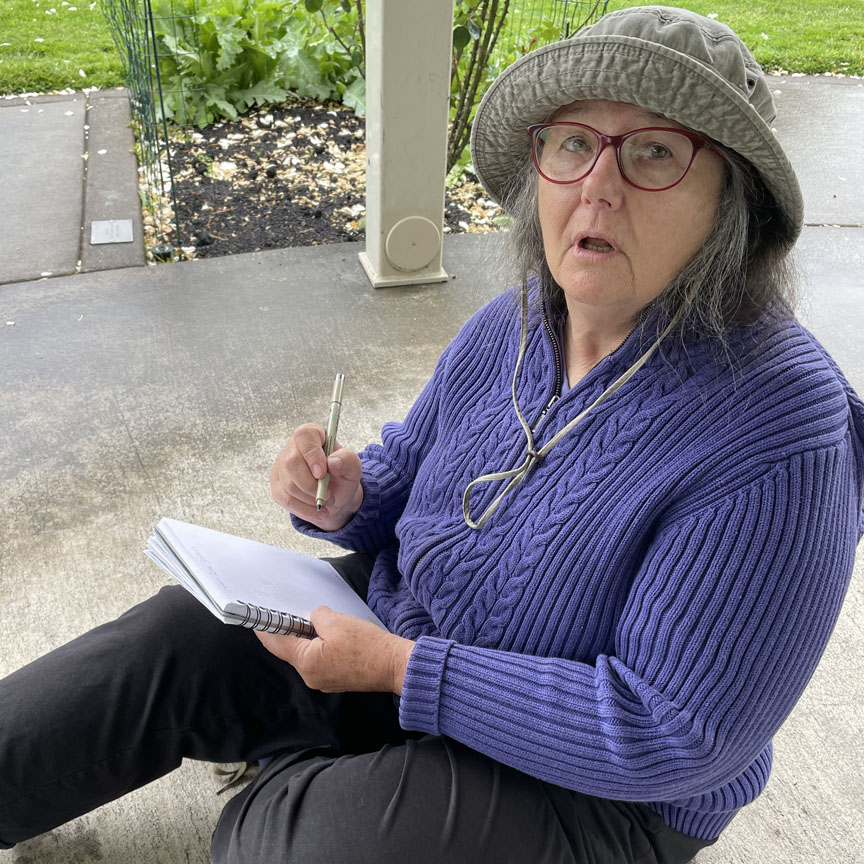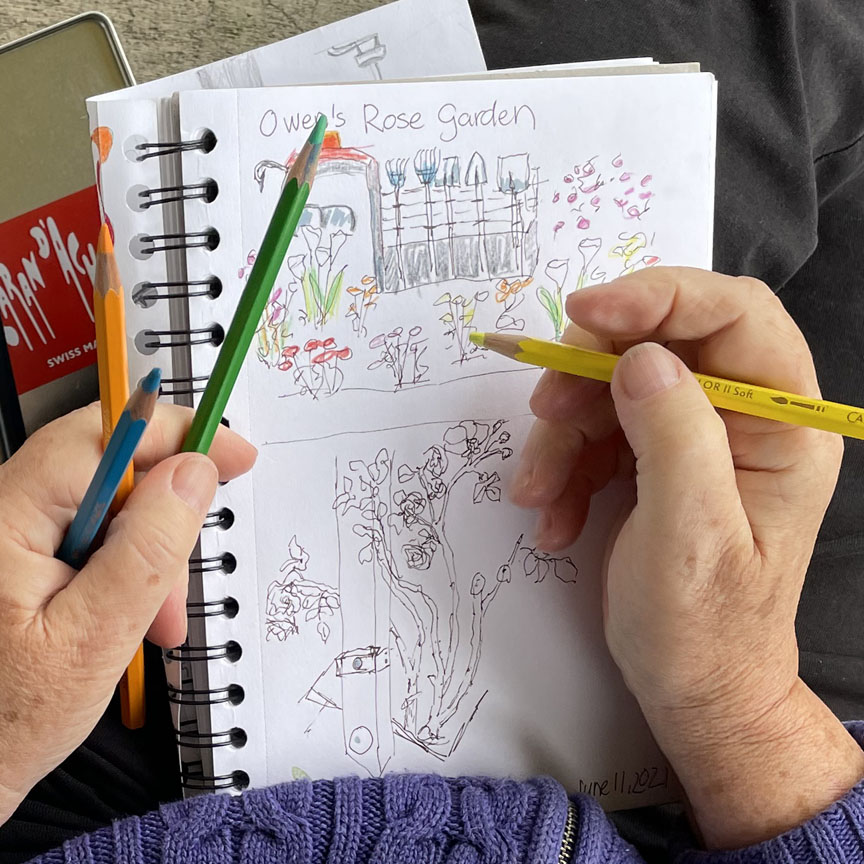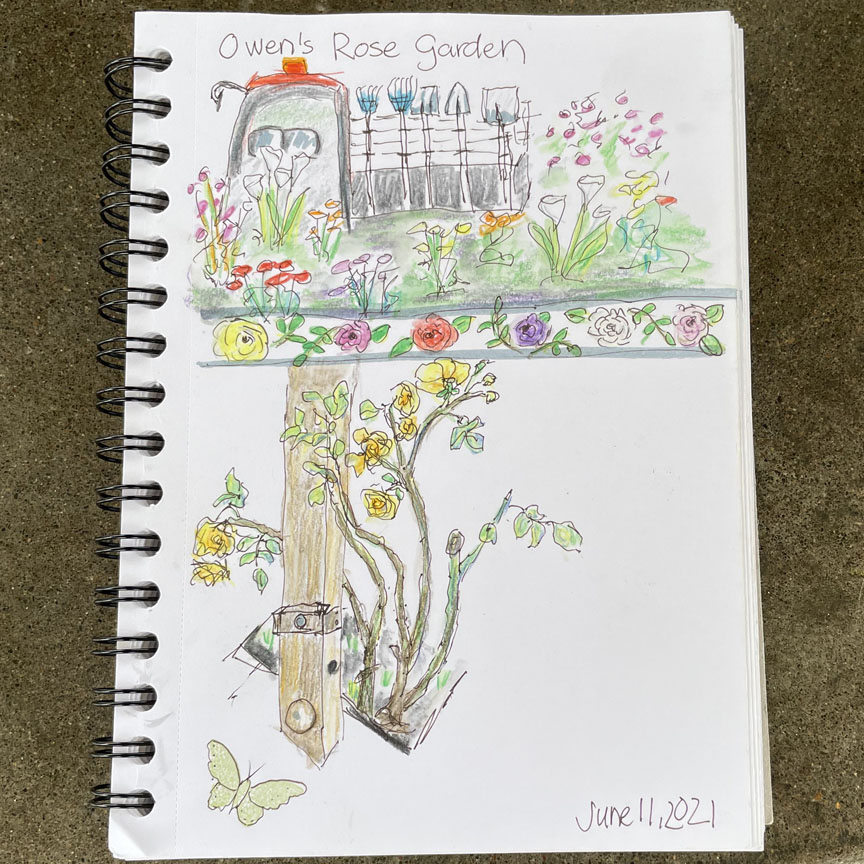 Laura didn't let sitting on the ground stop her from sketching!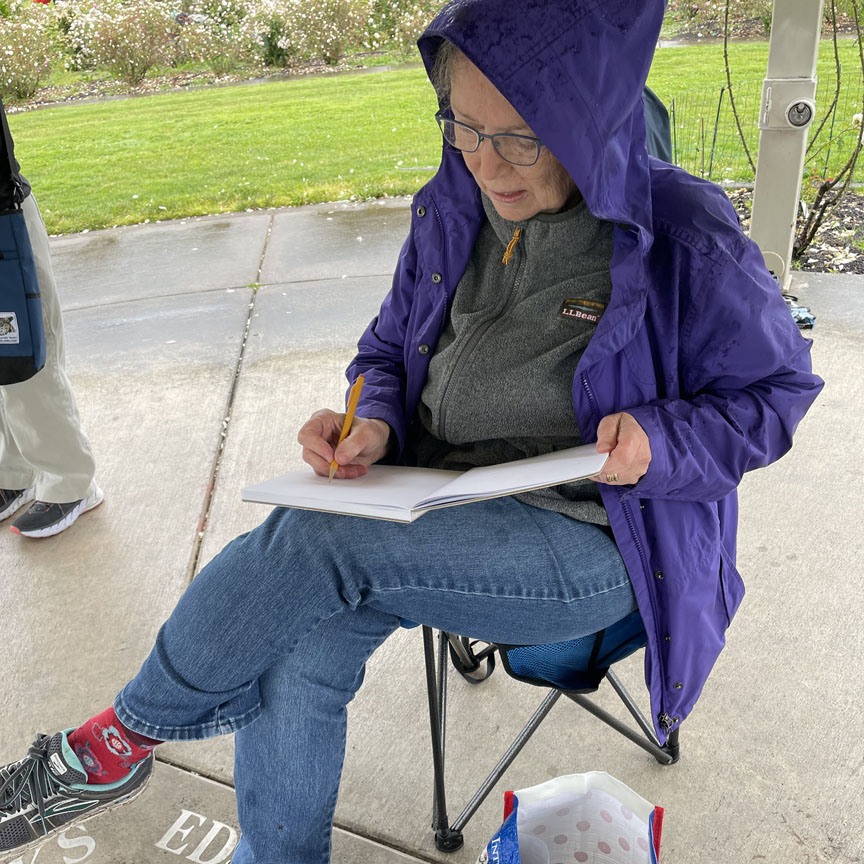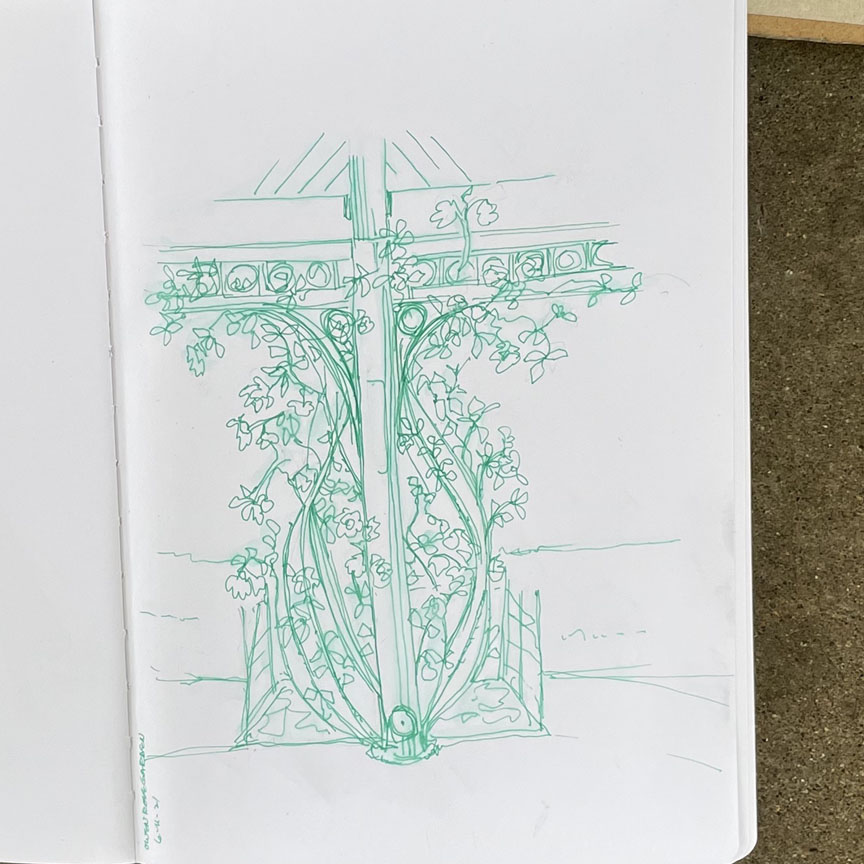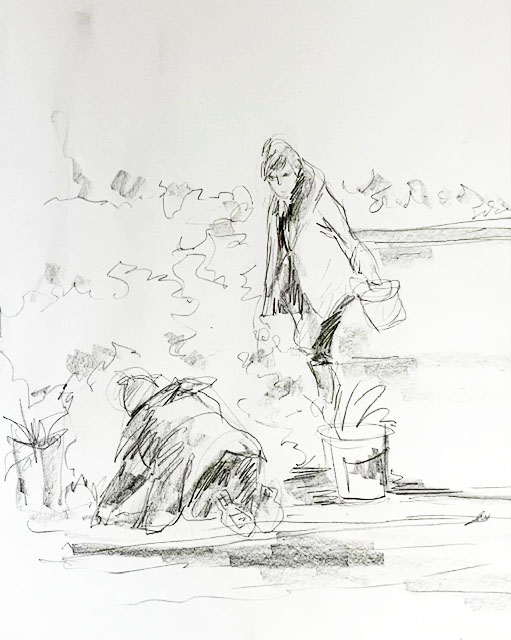 Marsha tried her TUL pen first, then back to graphite – super!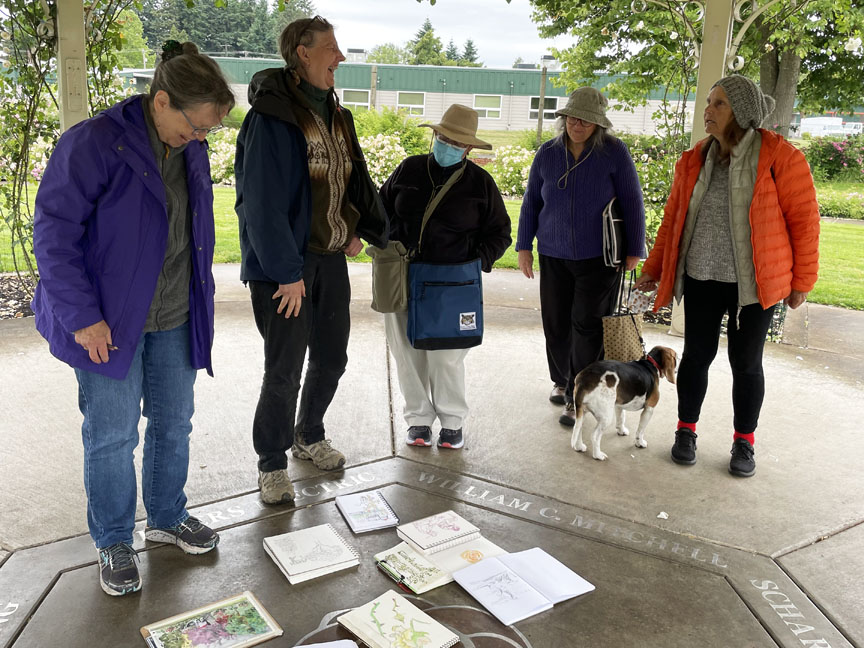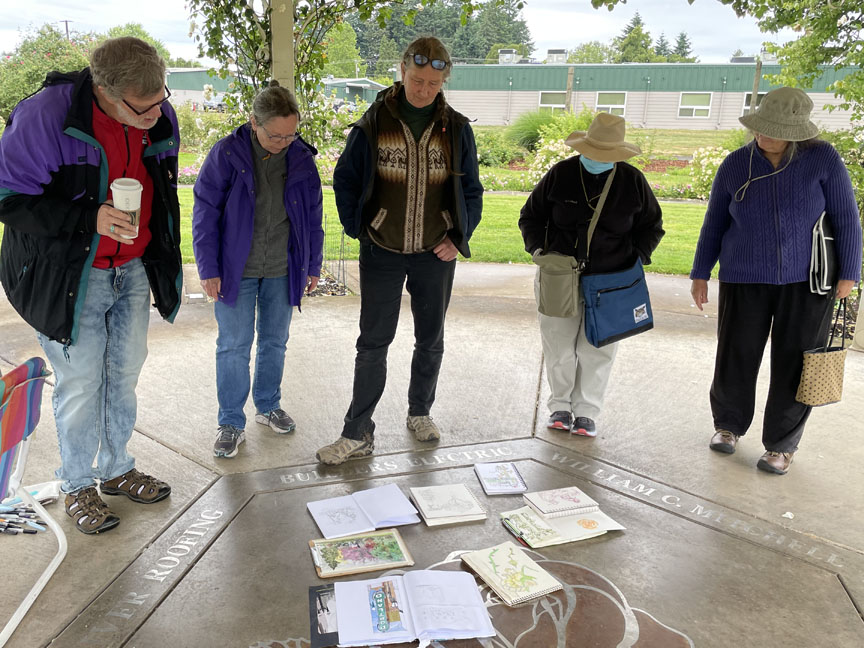 The review resulted in consensus that we were glad we came!
✒ June 4, 2021 – Alton Baker Park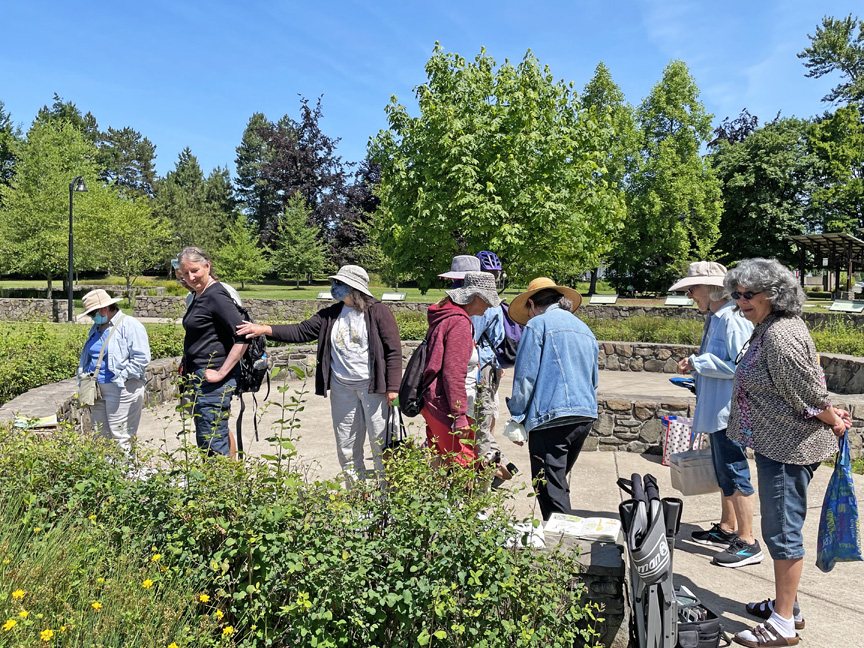 Everyone scattered when we got there, so this is a shot of the sketchbook review at the end with: Daisy, Bitty, Laura, Sandy & Hugh, Eva, Marsha, BarbSo, & Gail.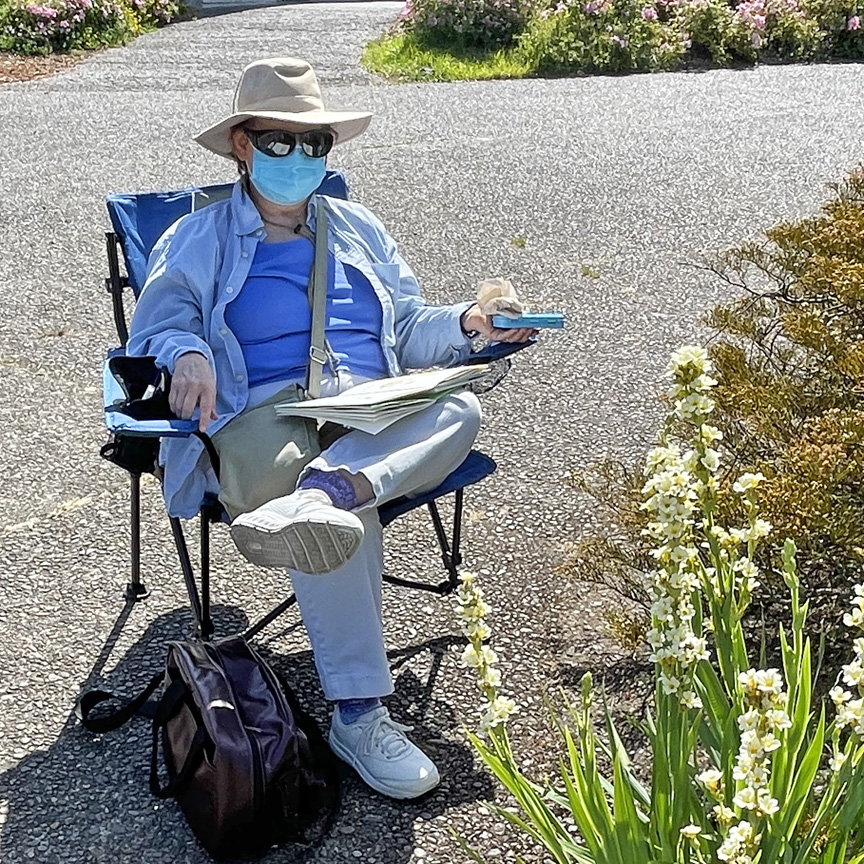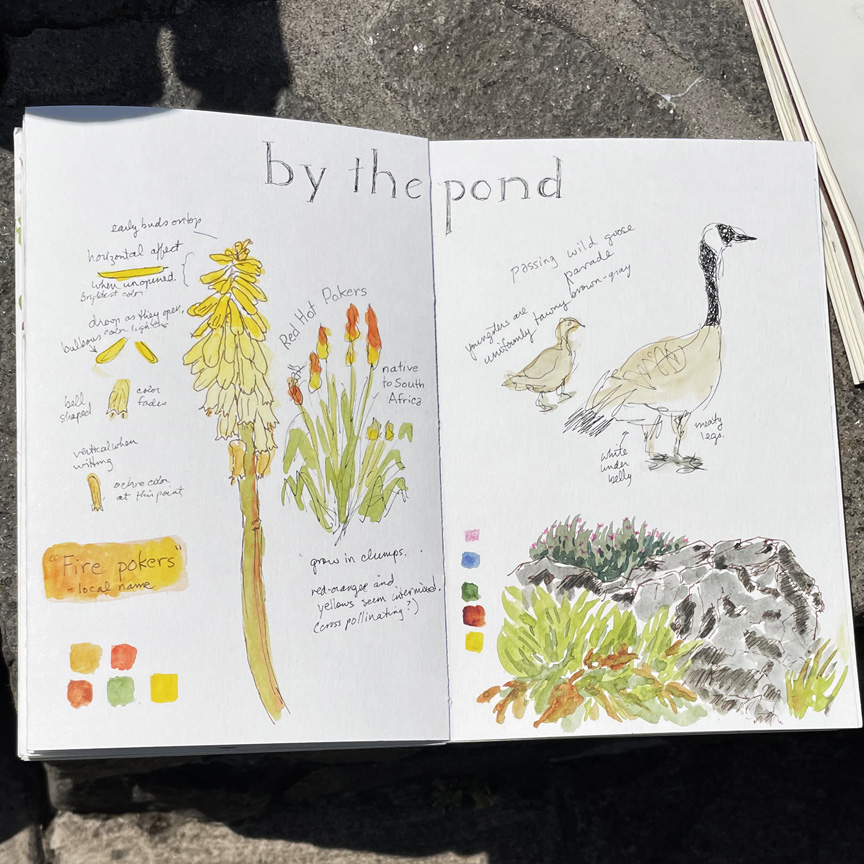 Daisy got up close & personal with the fauna & flora. The day started out cloudy & cool, but got bright and warm as the morning went on.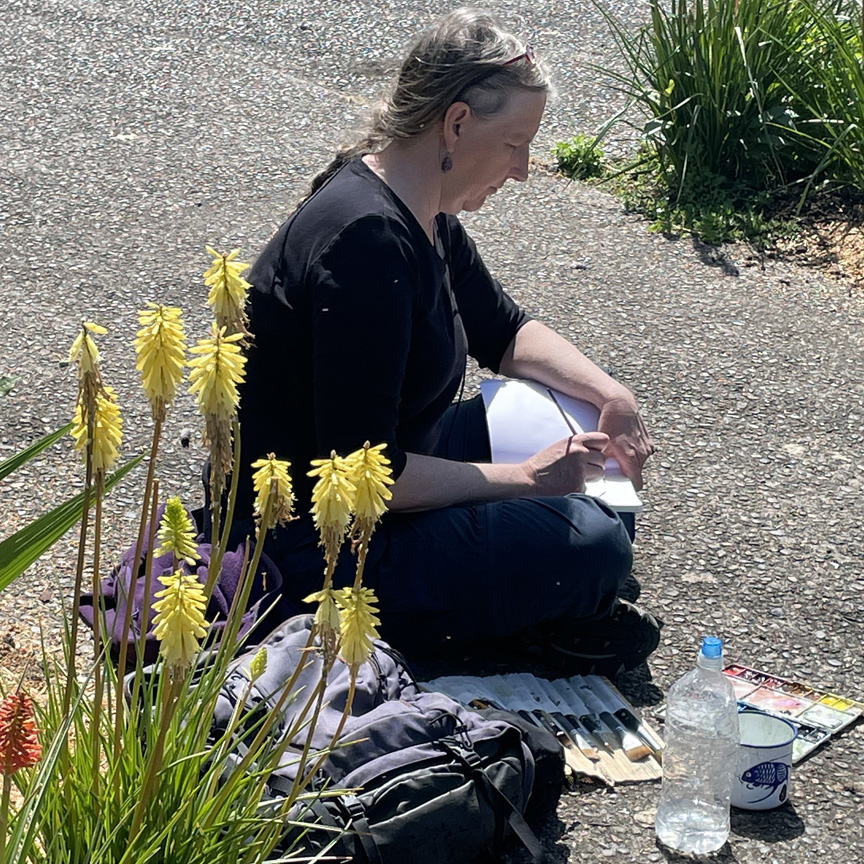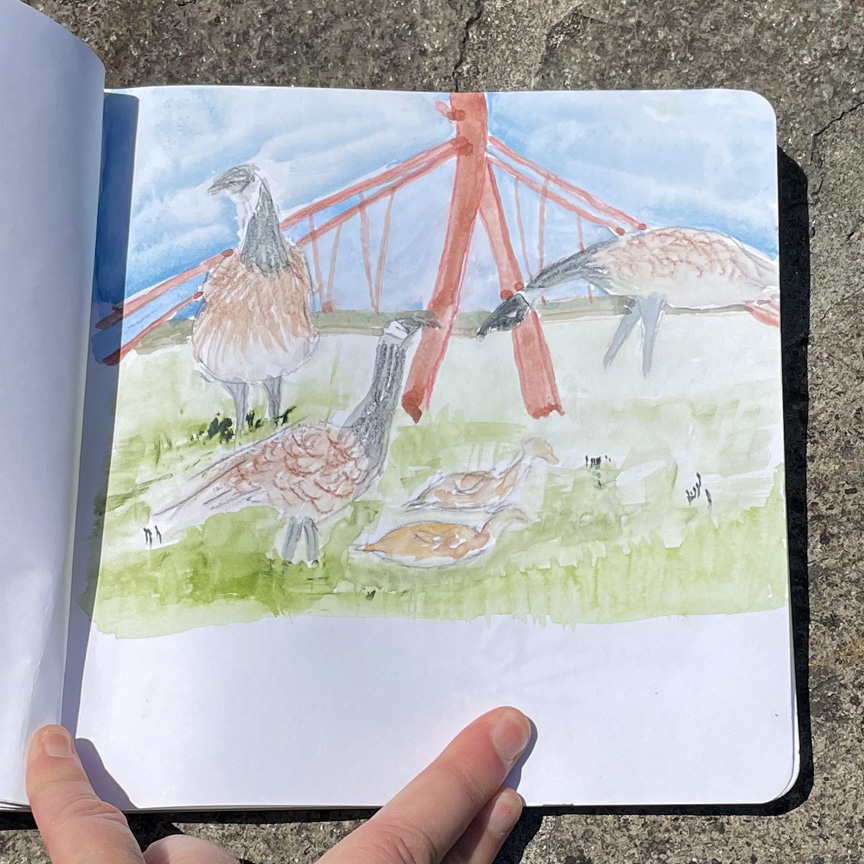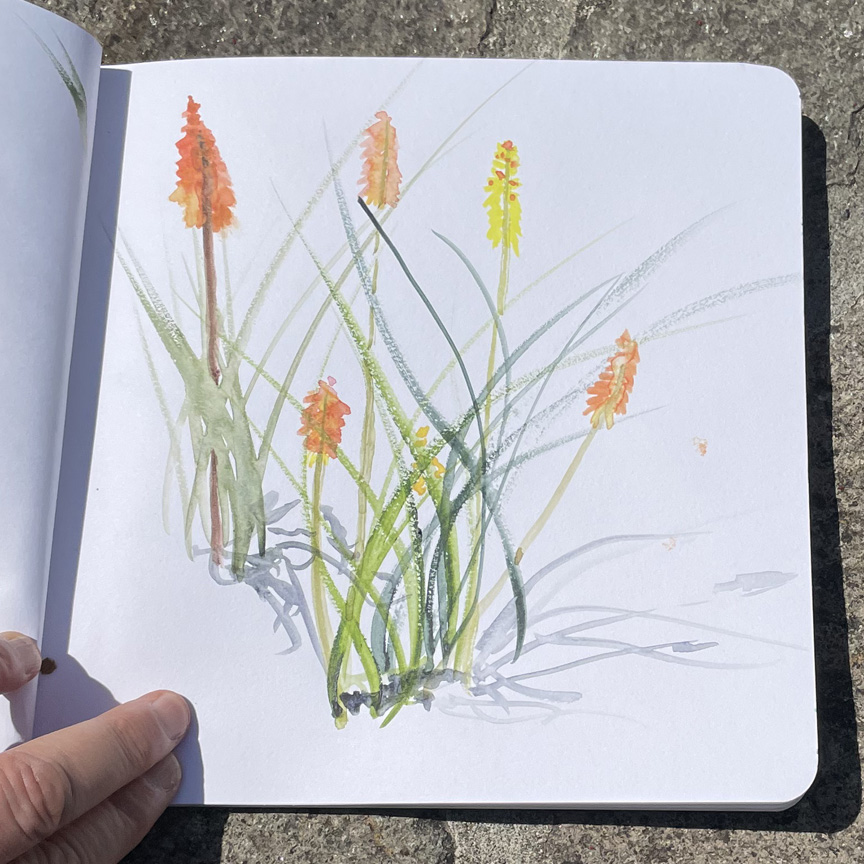 Bitty got right down to it (& in it) – the deFazio Bike Bridge with geese, and the fire pokers.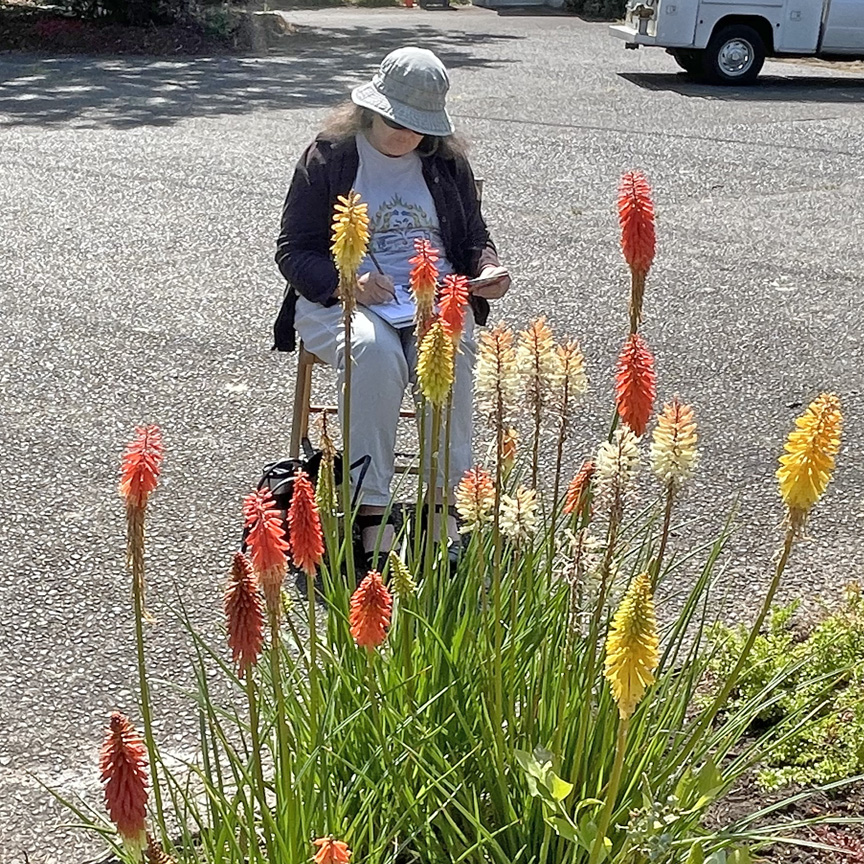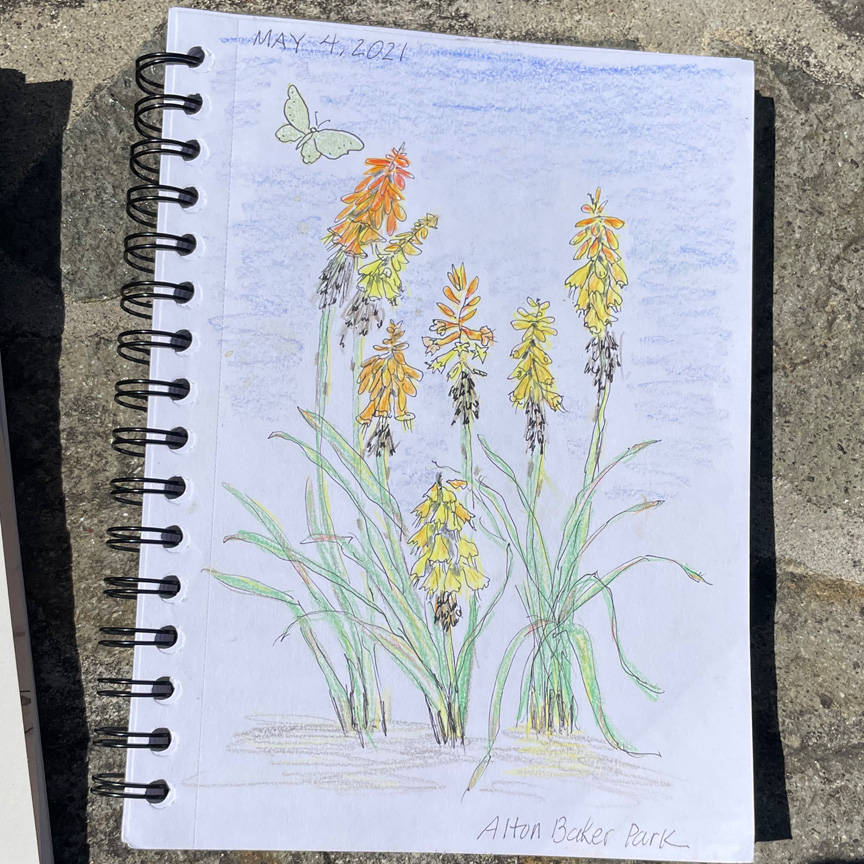 The fire pokers caught a lot of eyes, including Laura's. Quite a challenge to sketch those multi-petaled round rascals.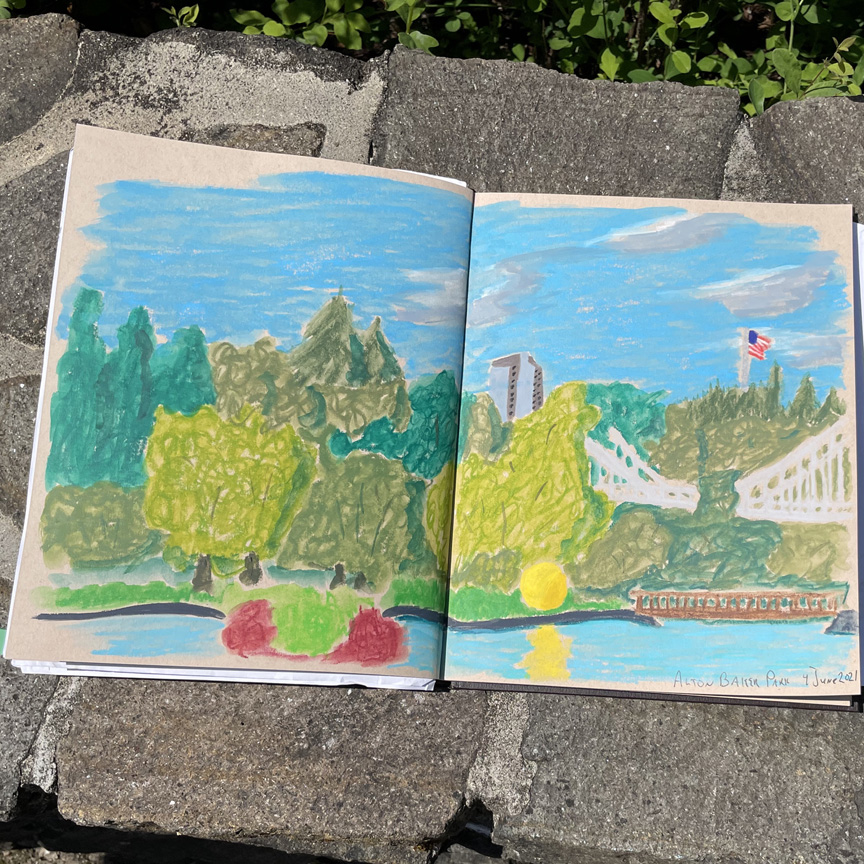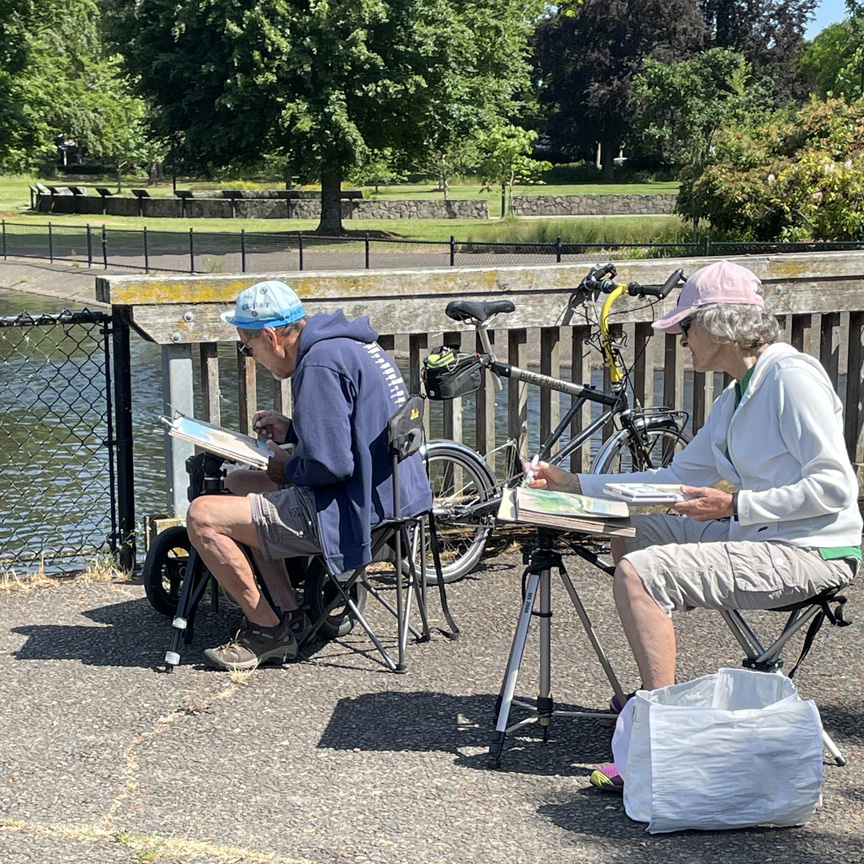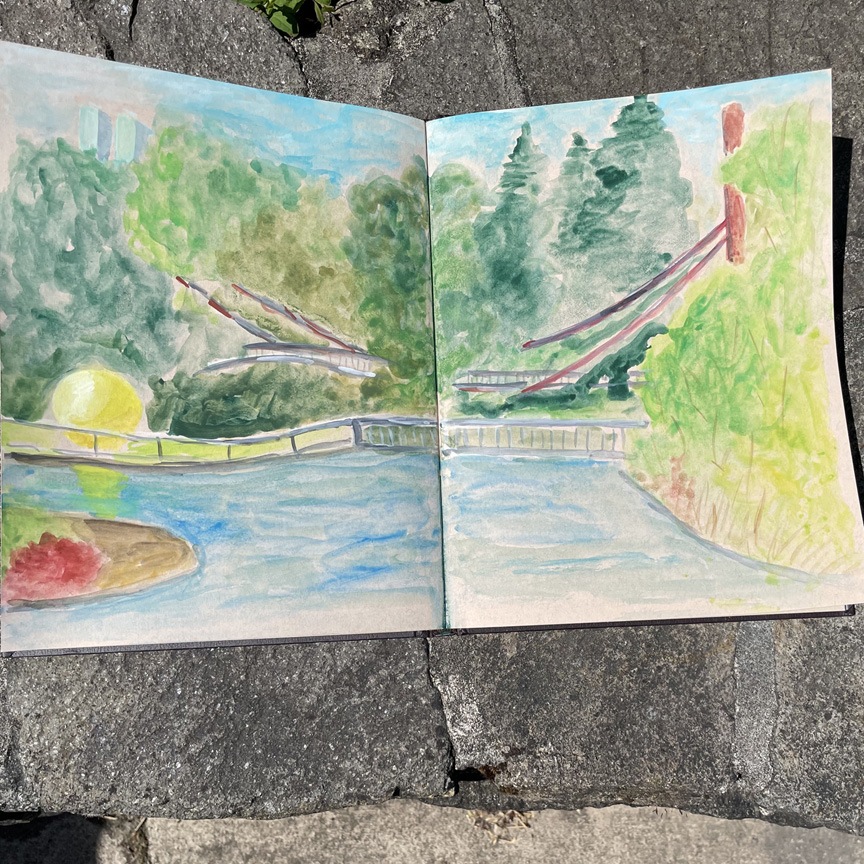 Hugh & Sandy were looking the same way, but their approaches and use of tools were quite different – such an interesting contrast.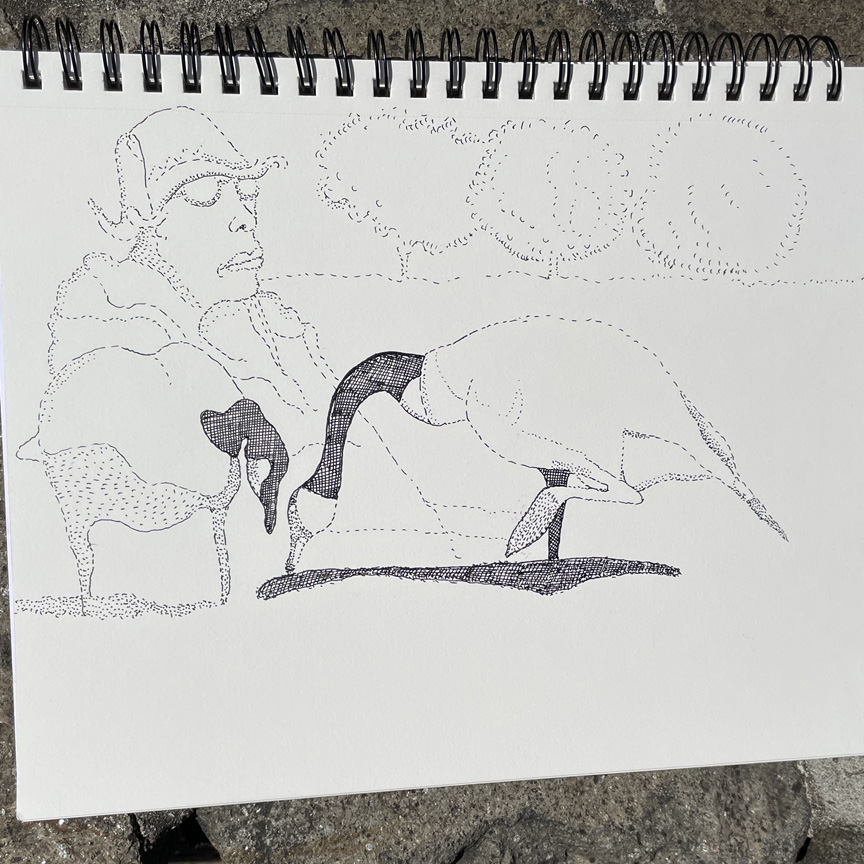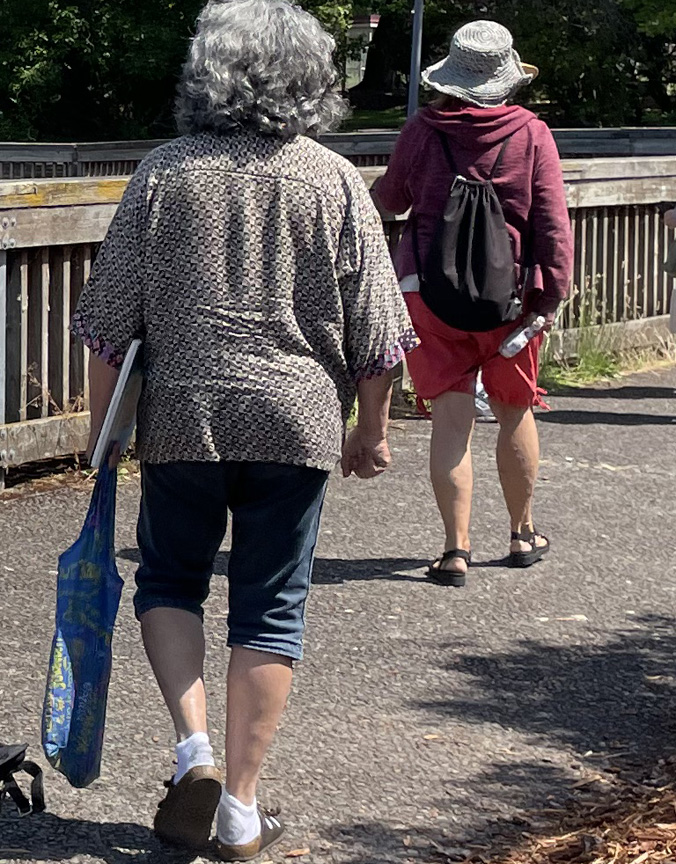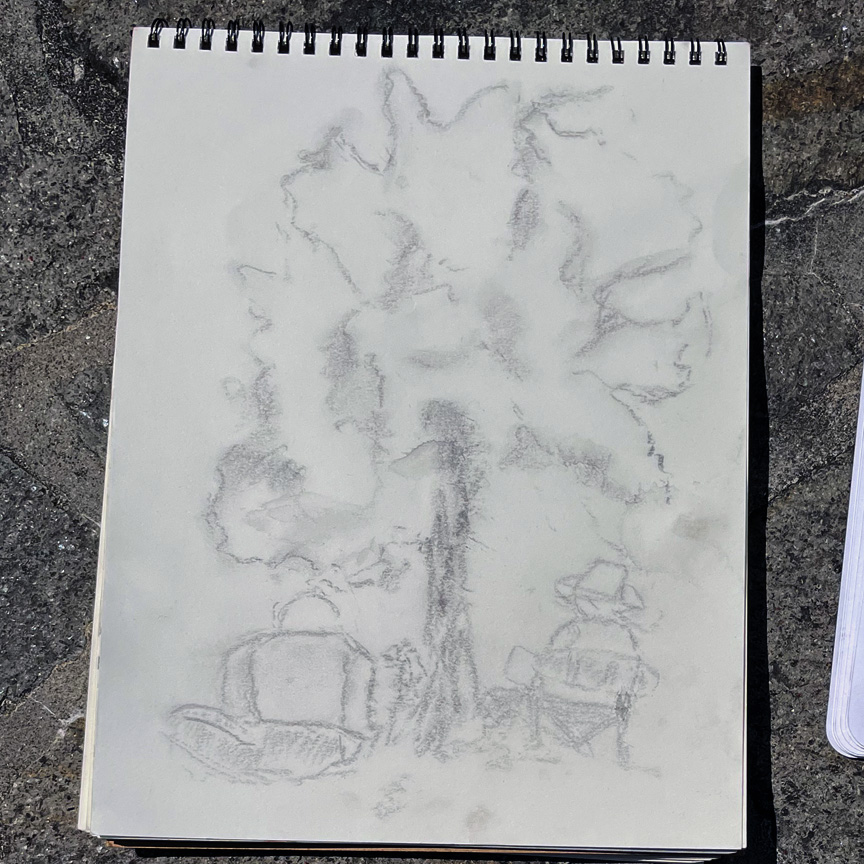 I don't know where Gail & Eva were sketching, but they were definitely there – Gail's geese, Eva's people under a tree – nice!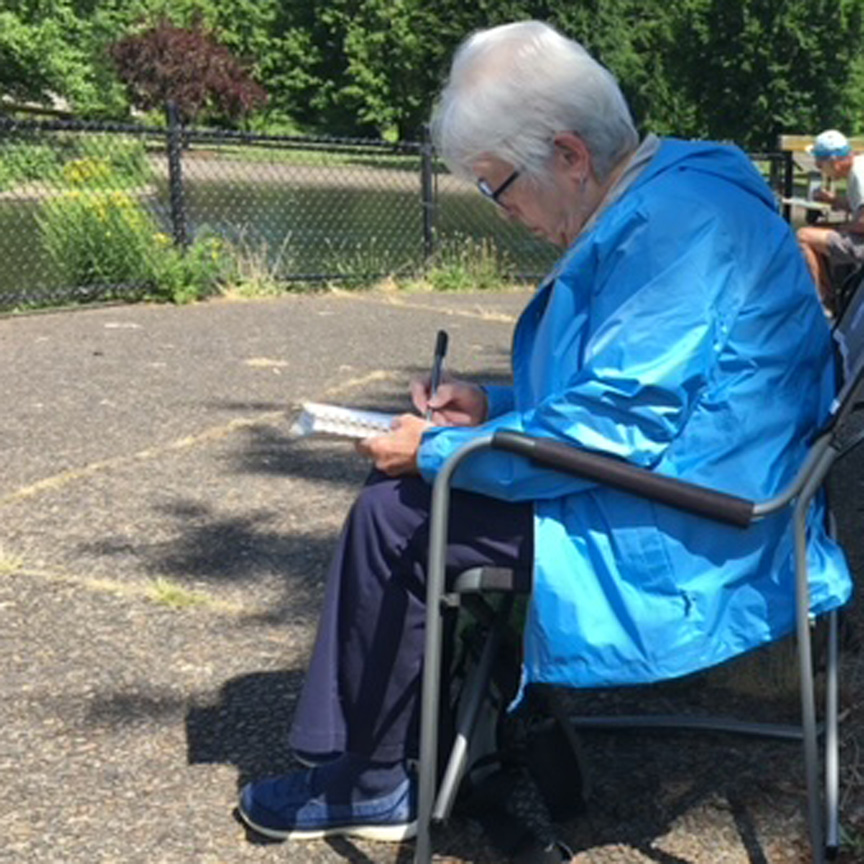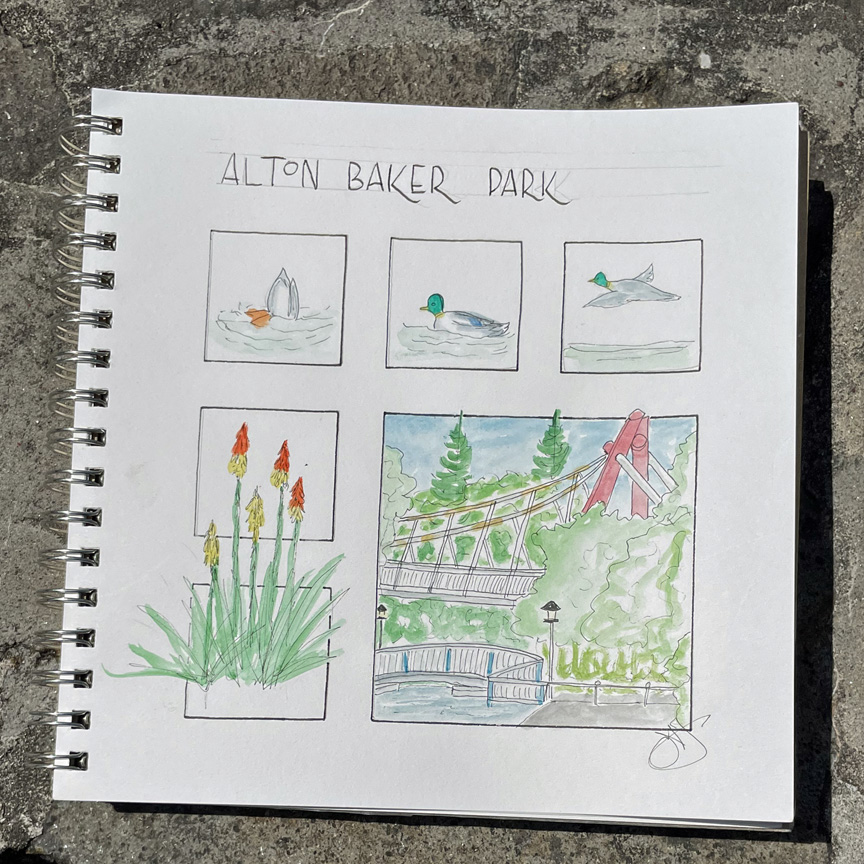 The ducks put on quite a show in front of Jane, so she included them in her collection of sketchettes.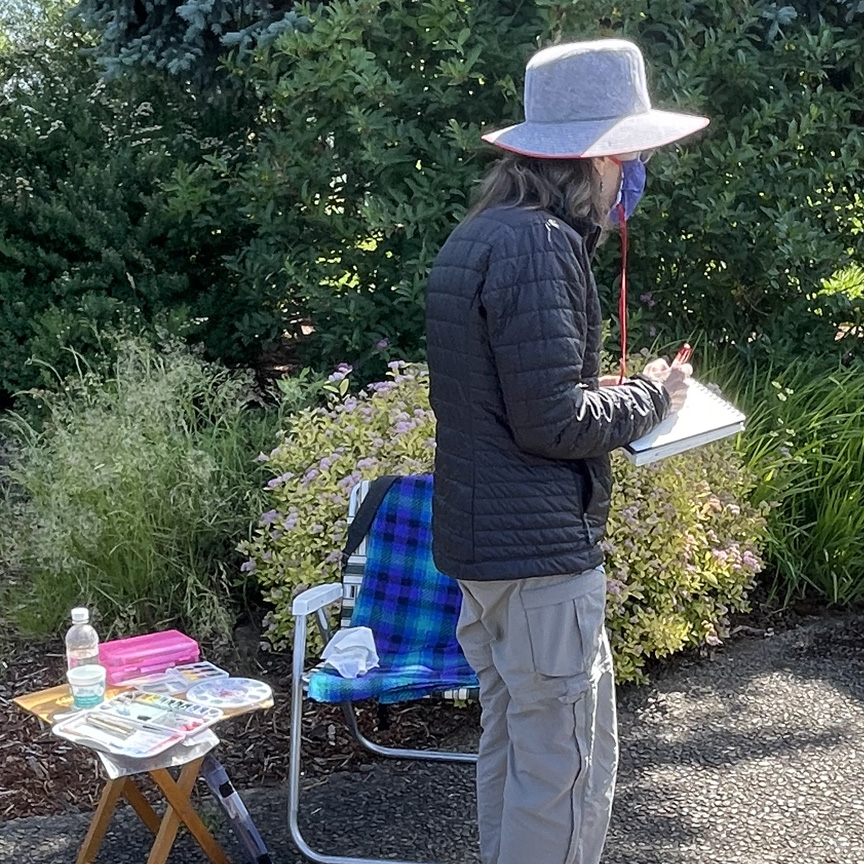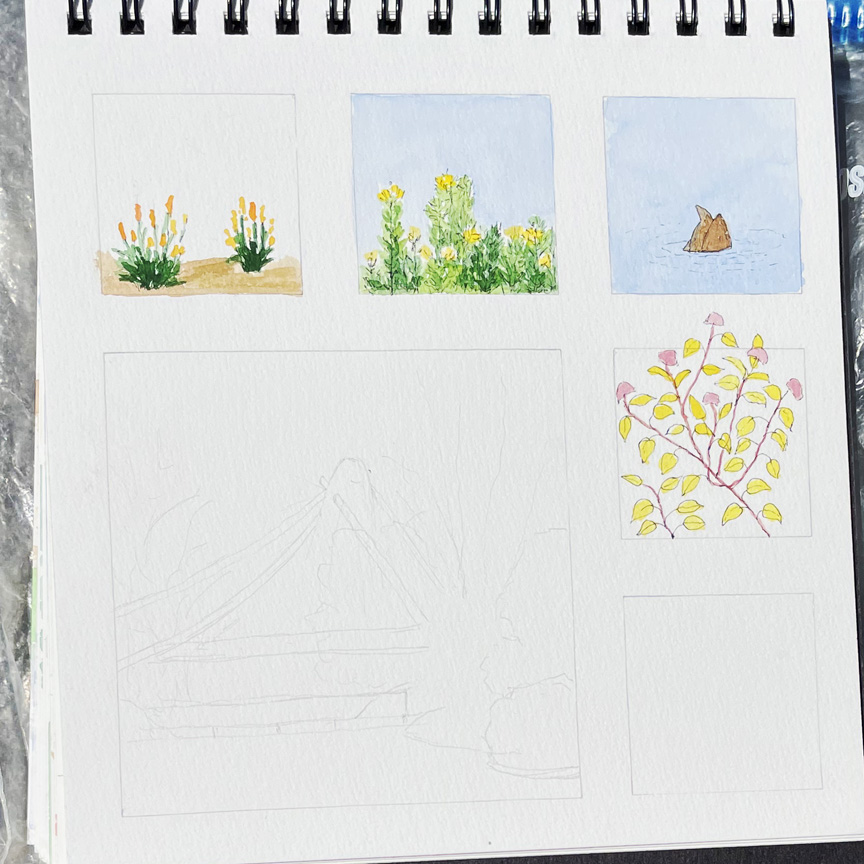 Peggy's trying out the little frames format, too, and having a lot of fun keeping it simple…or is it simple…more to come!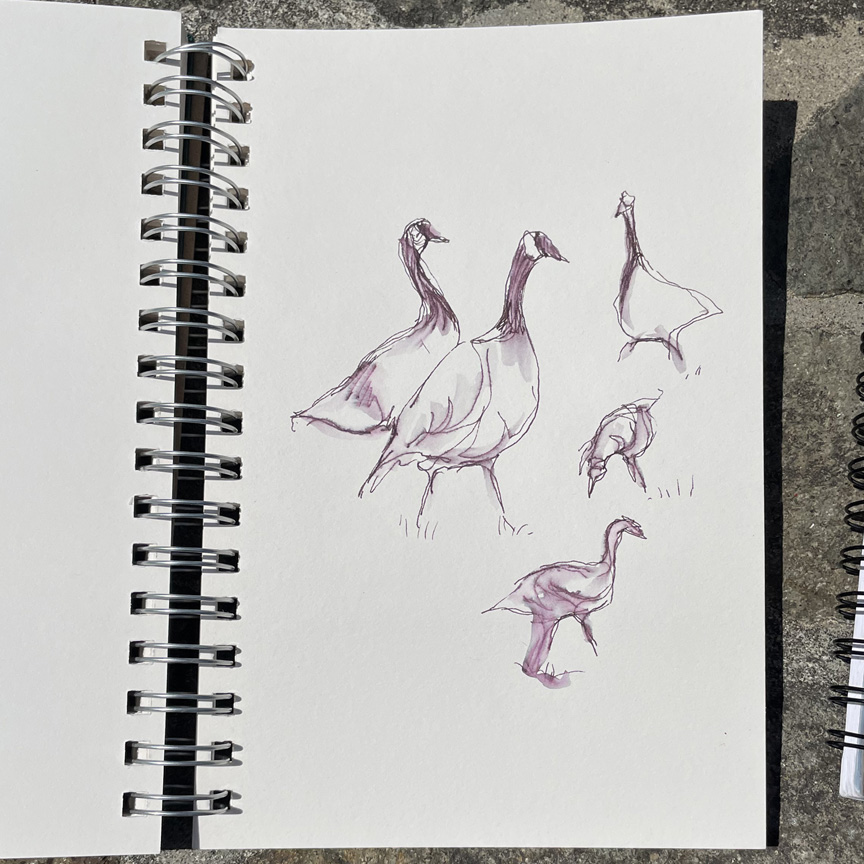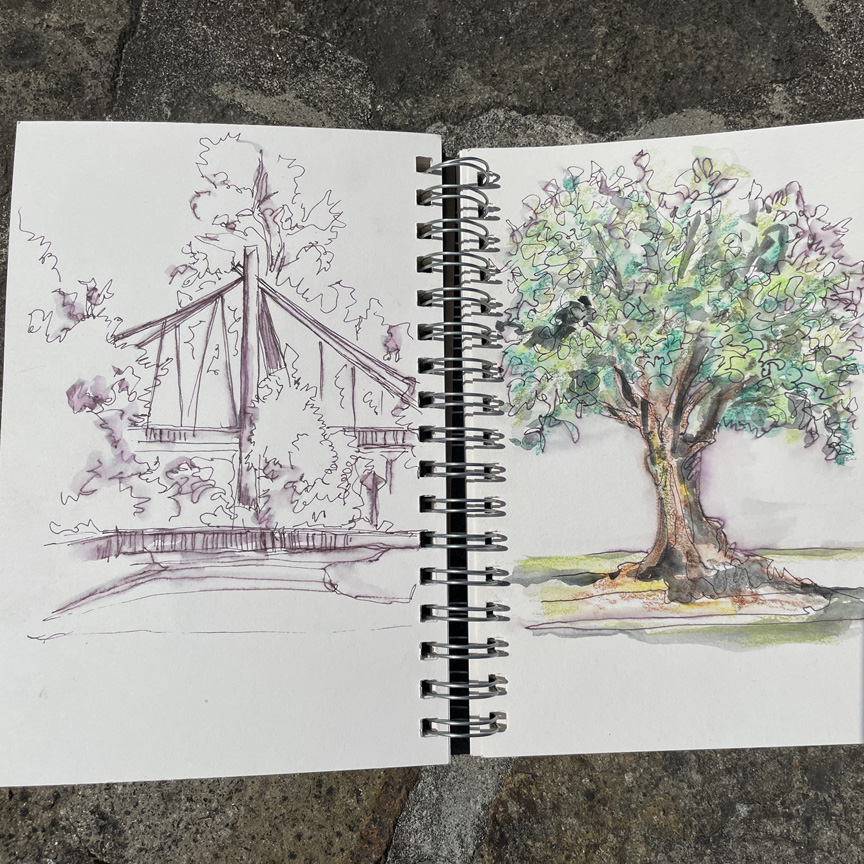 Marsha was busy! Almost as busy as the geese (nice capture!). She sketched the bridge, too, and a wonderful old tree.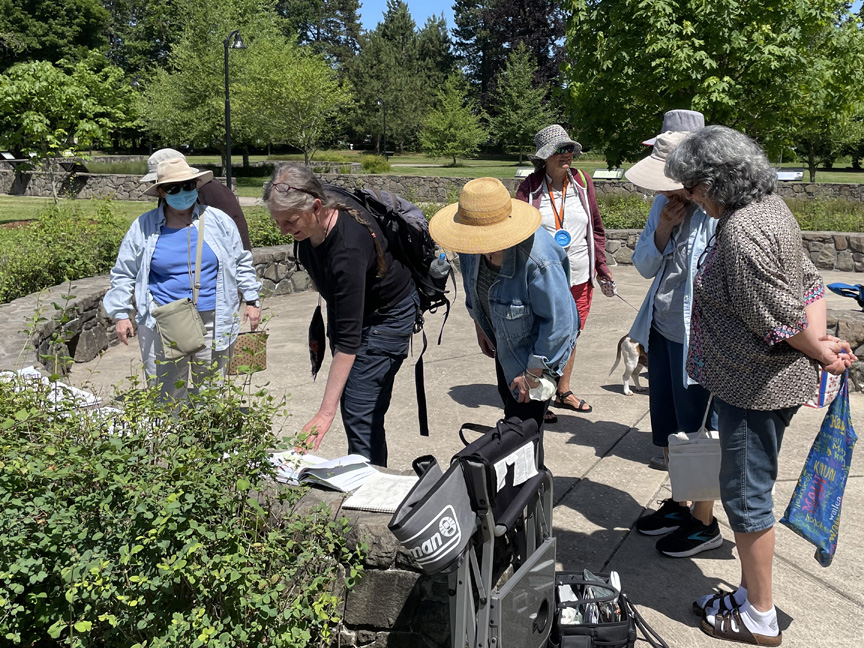 And a good time was had by all. Of course, and as usual!
✒ May 28, 2021, New Day Bakery
Now that Covid restrictions are lifting, we're learning we have to be conscious of "paying" for our tables buy buying food & drink, and not overstaying our welcome as the venue becomes busier.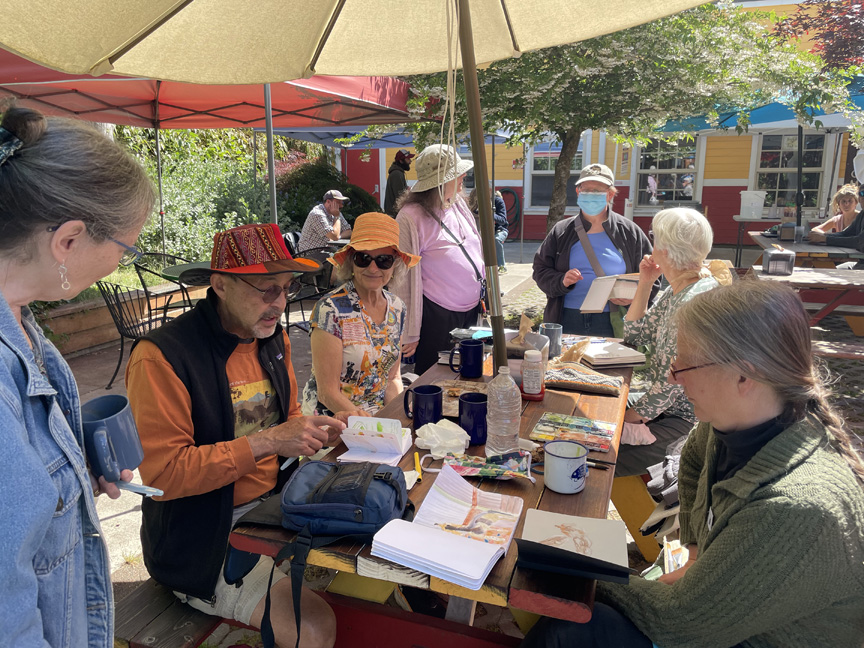 Marsha, Hugh, Sandy, Laura, Daisy, Katie, Bitty. But there were more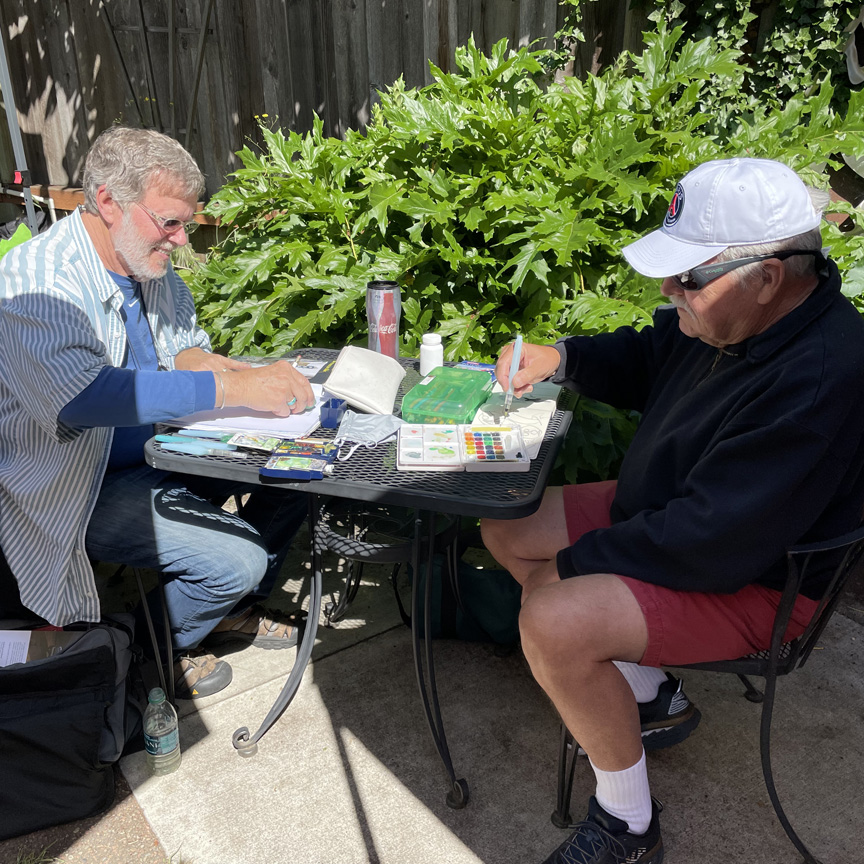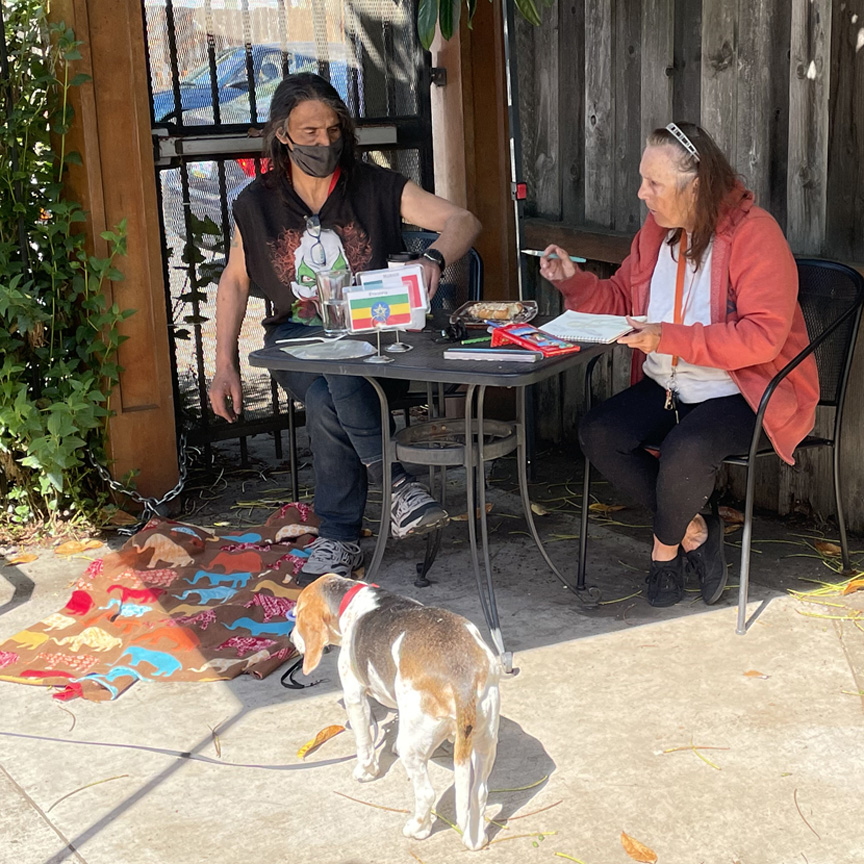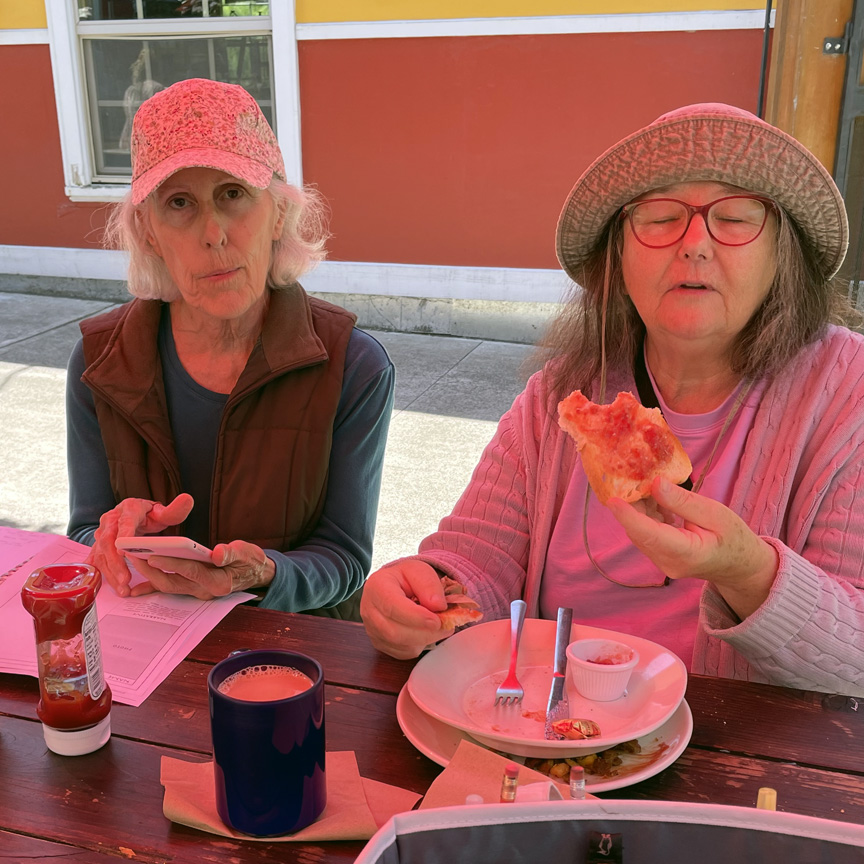 Jim & Bill; Eva with her son Michael, Mickey the dog; BarbSo, Laura.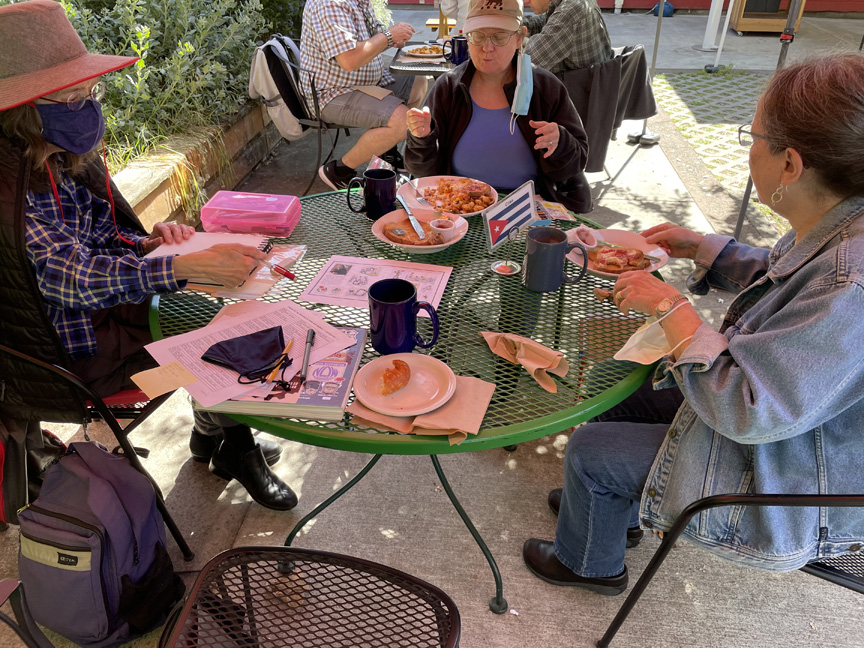 Peggy, Daisy, Marsha (& remnants of Jane's presence)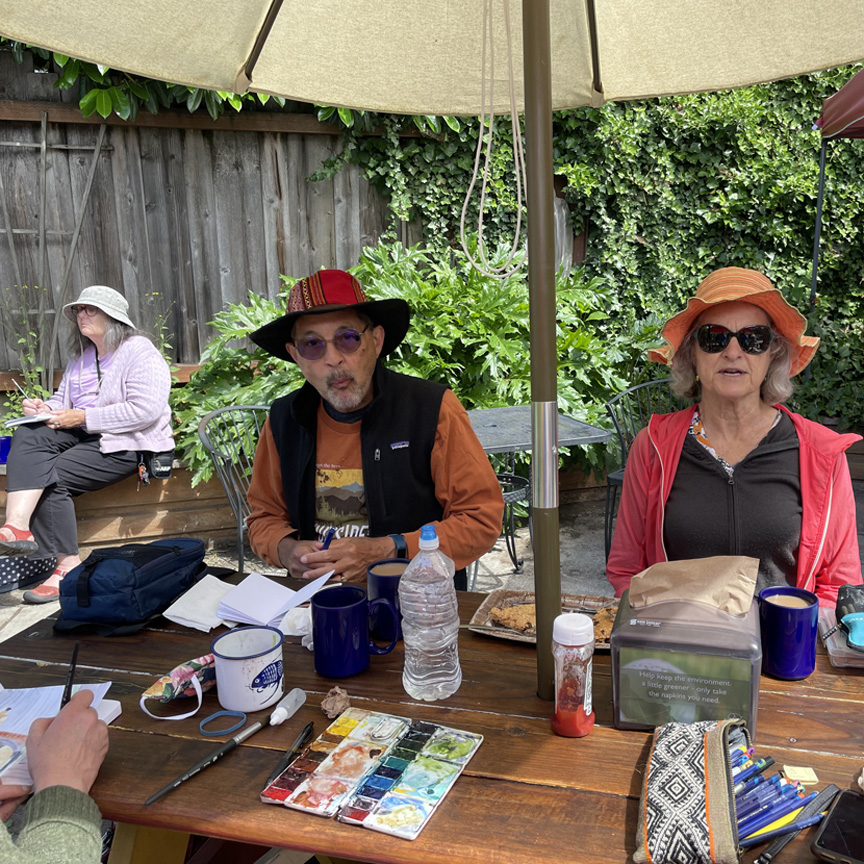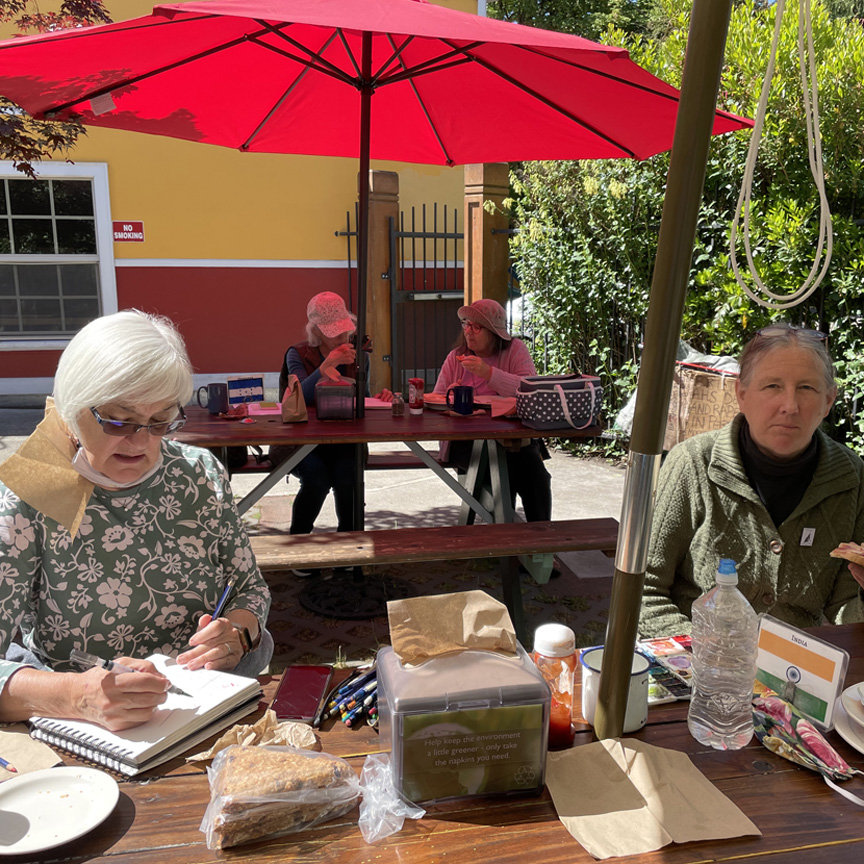 Laura, Hugh & Sandy; Katie, BarbSo & Laura, Bitty.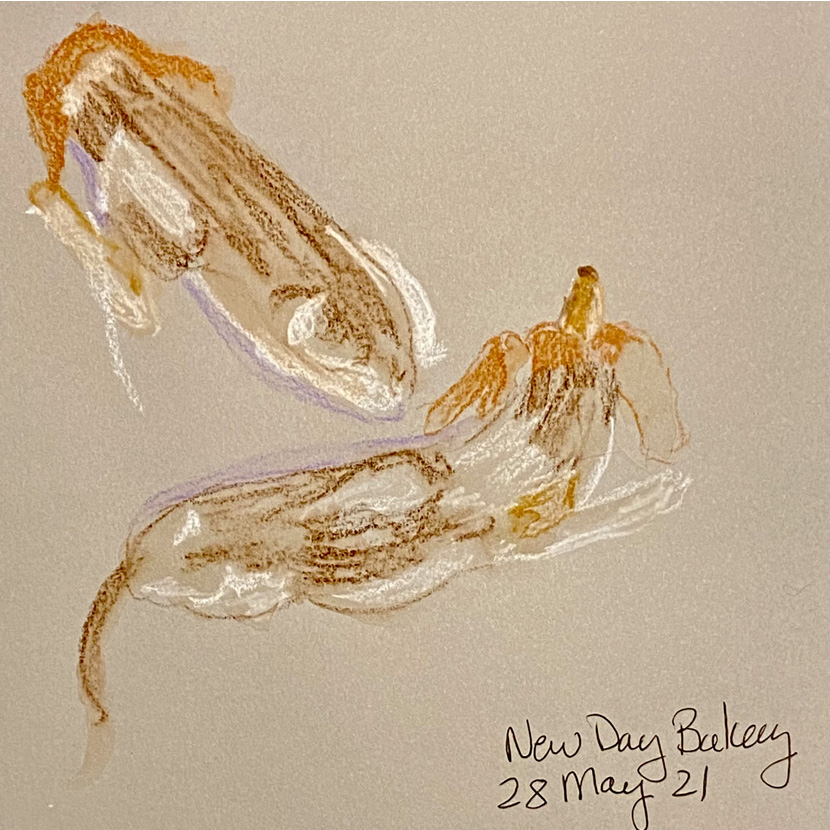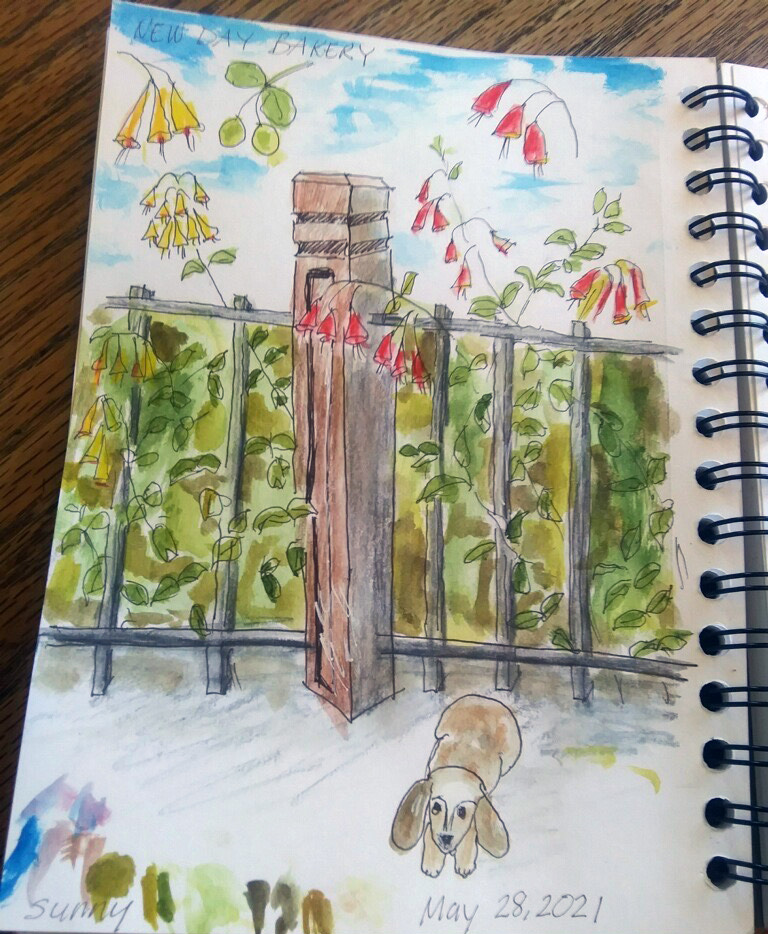 Eating & drinking didn't give us a lot of time to sketch, and with more people coming in many of us left early. But Bitty & Laura did manage to get a couple of sketches done (with Mickey featured in both!).
✒ May 21, 2021, New Day Bakery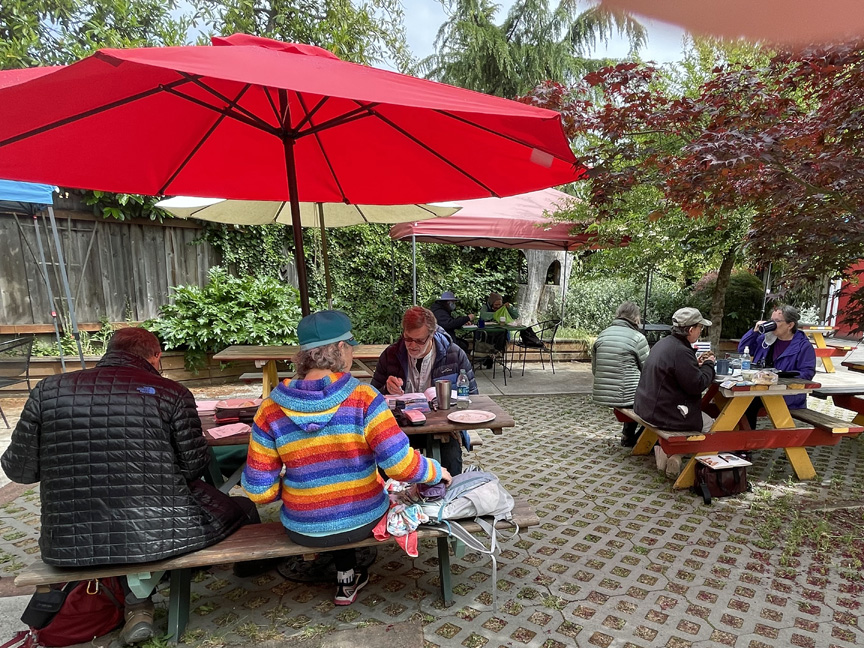 Hugh, Sandy, Jim, Laura, Eva, Bitty, Daisy, Marsha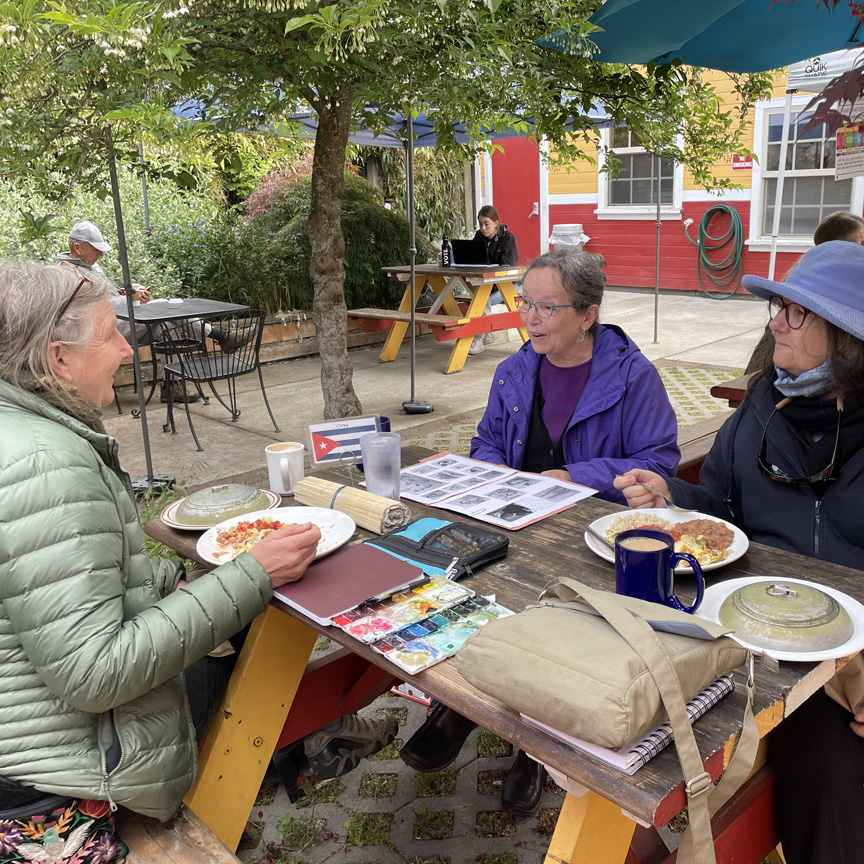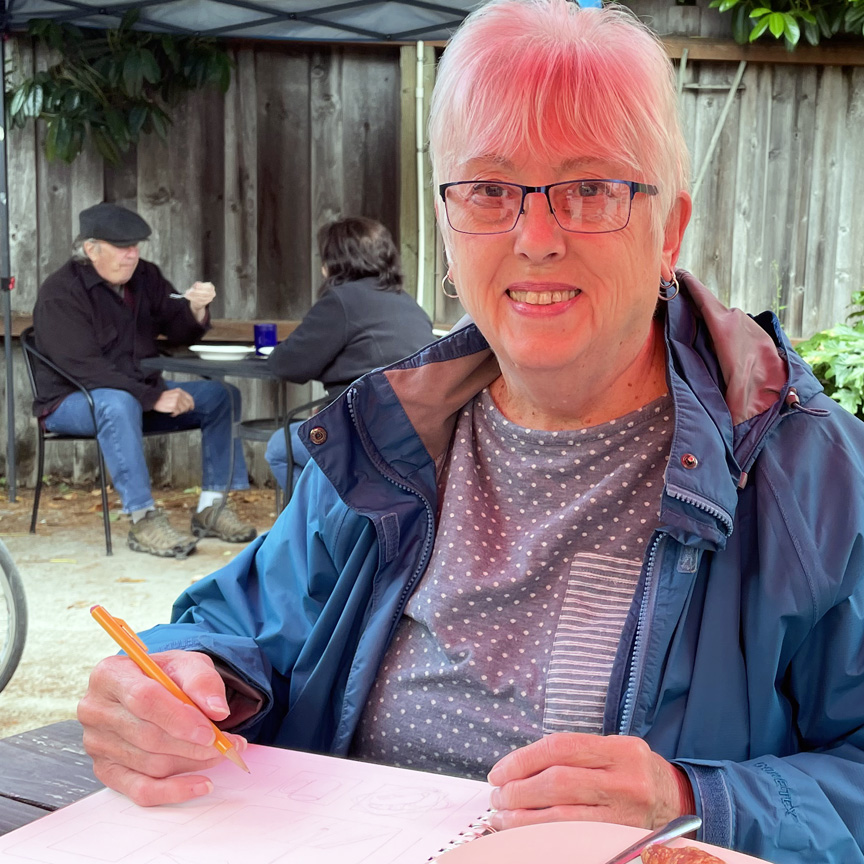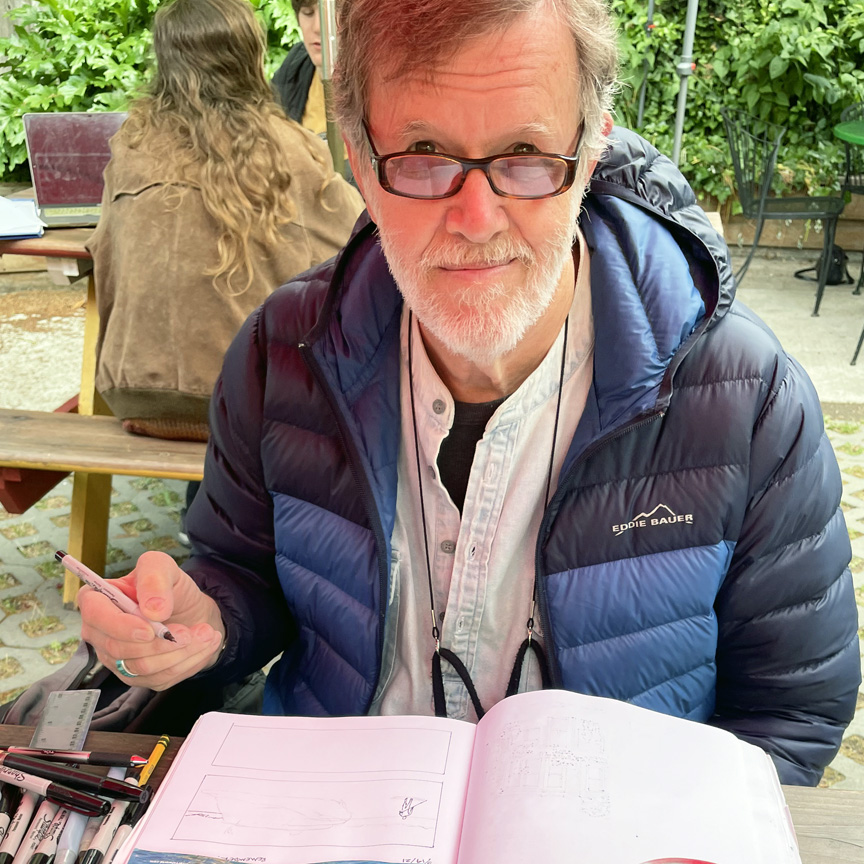 Bitty, Marsha, Laura; Jane; Jim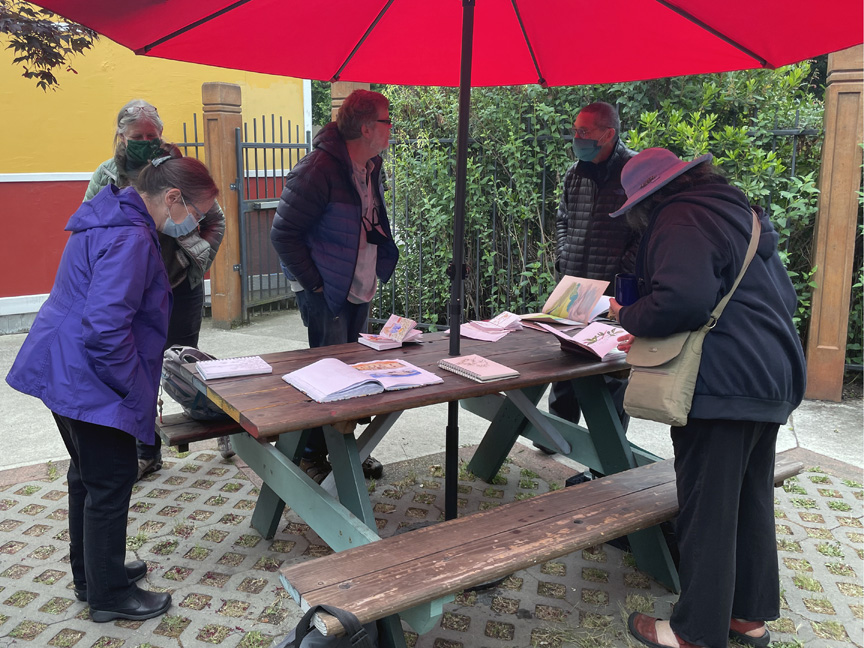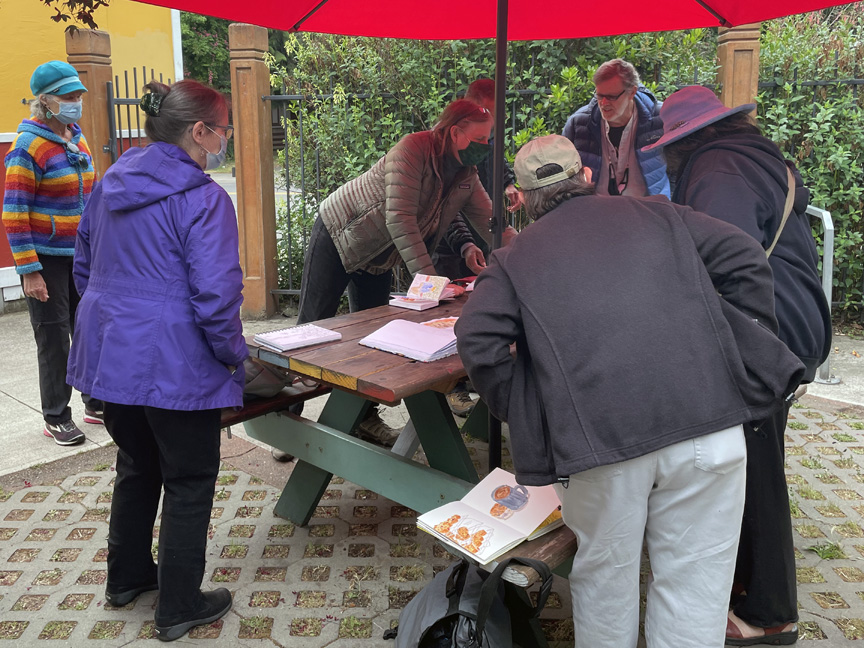 The review! (& why the paper has a rosy cast)
✒ May 14, 2021, Oakway Center Courtyard – our first time sketching together, everyone fully vaccinated, without masks!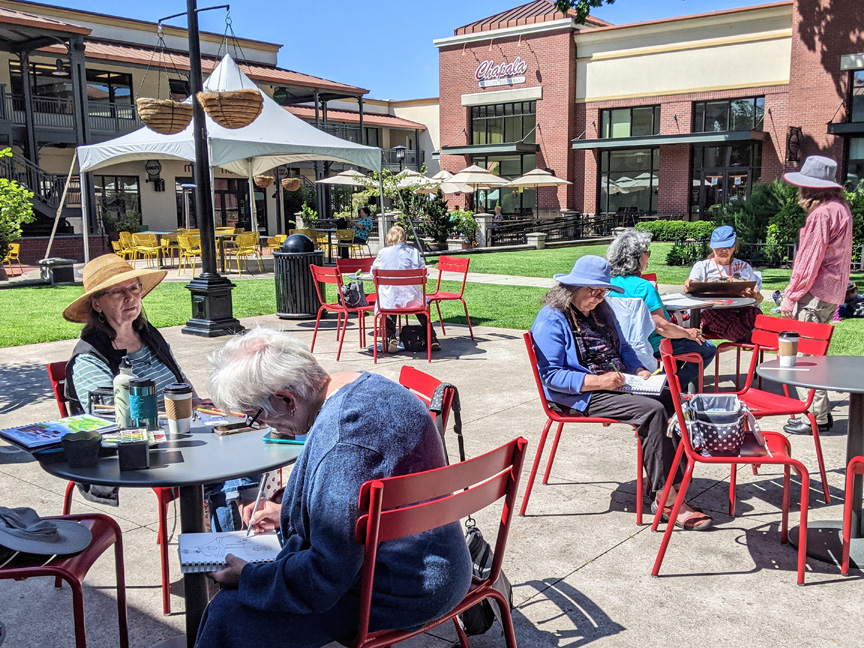 It wasn't wet & chilly this week! – Marsha, Jane, Barb Sh, Laura, Gail, Eva, & Peggy. Danita behind the camera, Bill & Jim behind us.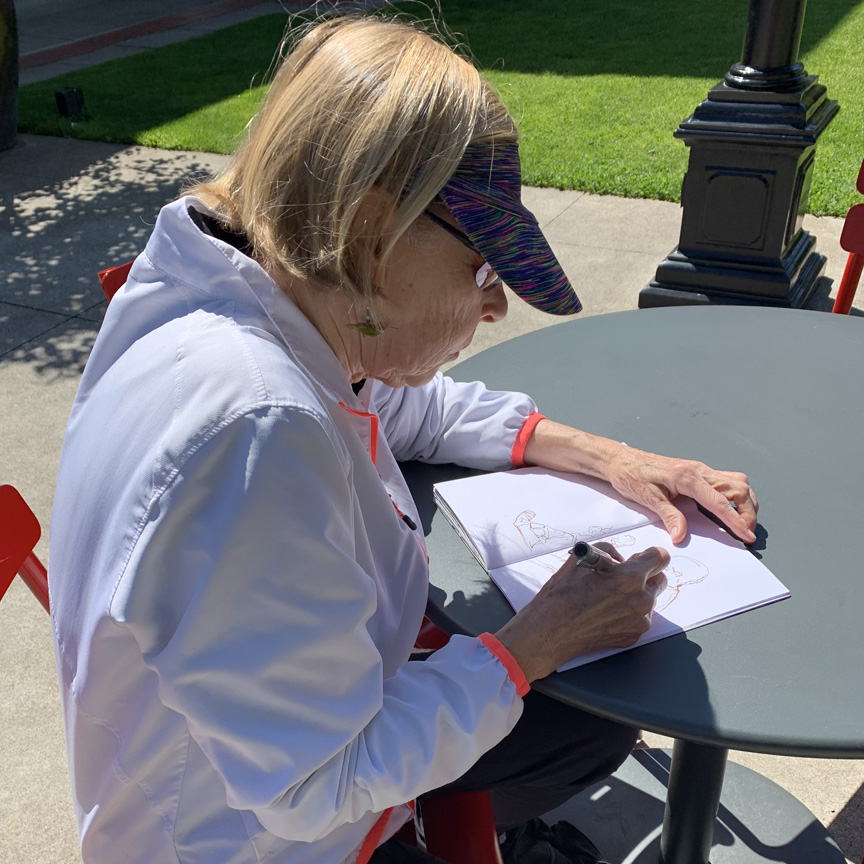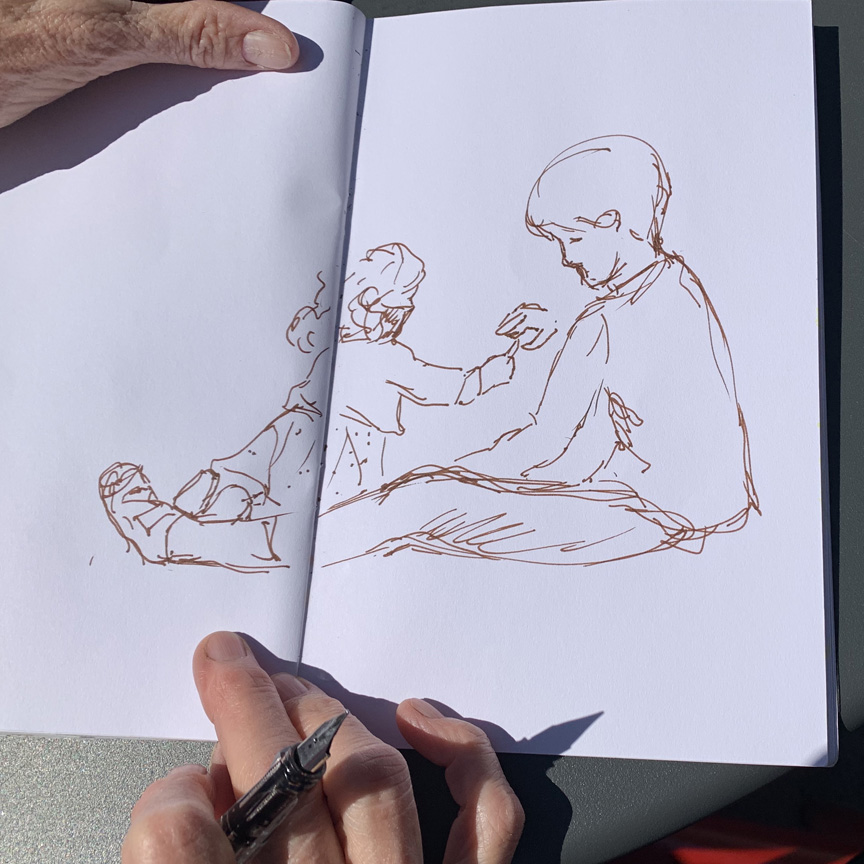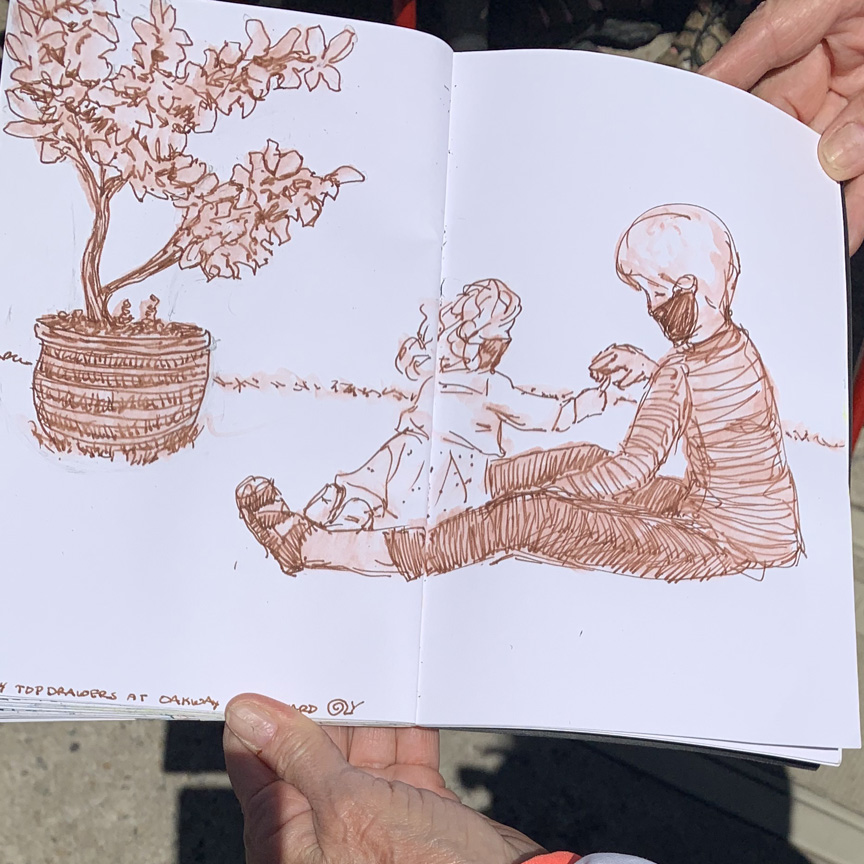 Barb Sh enjoyed sketching a mother & child on the lawn.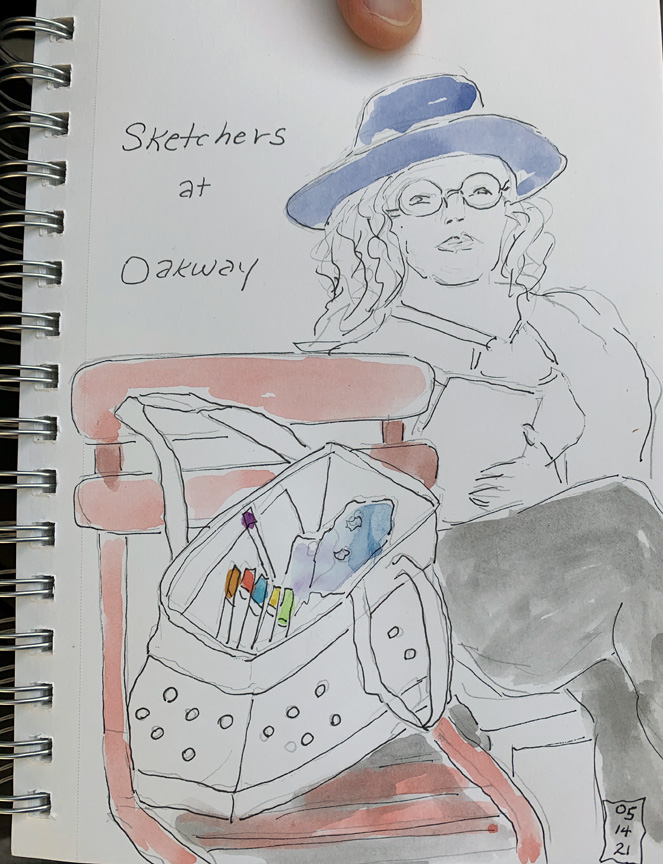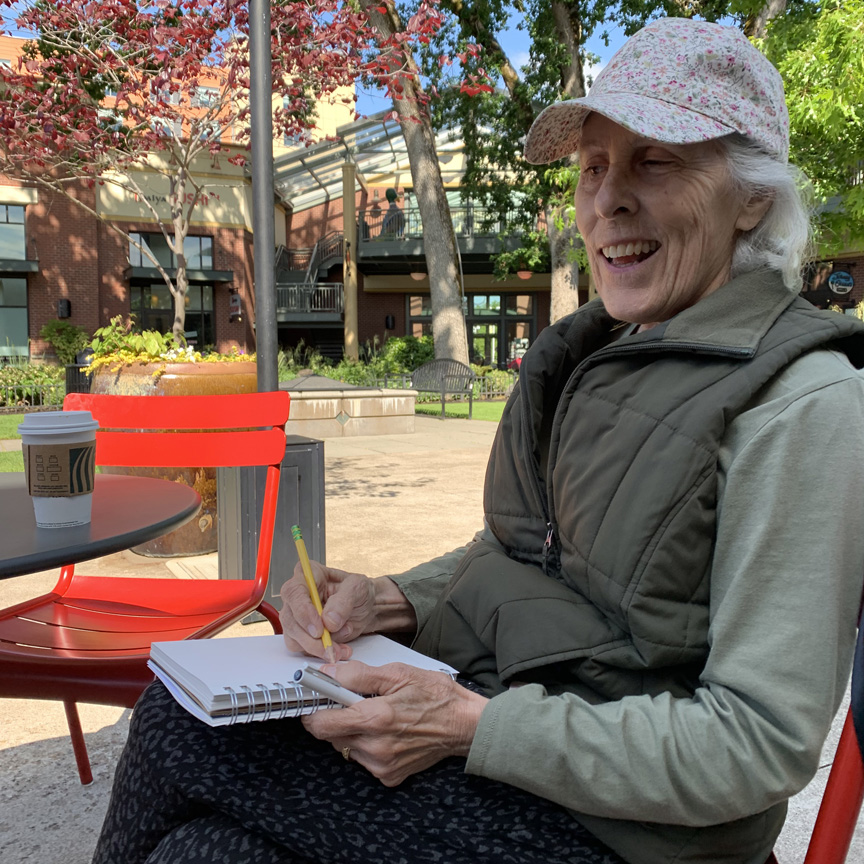 Laura made a convenient model for Barb So to sketch.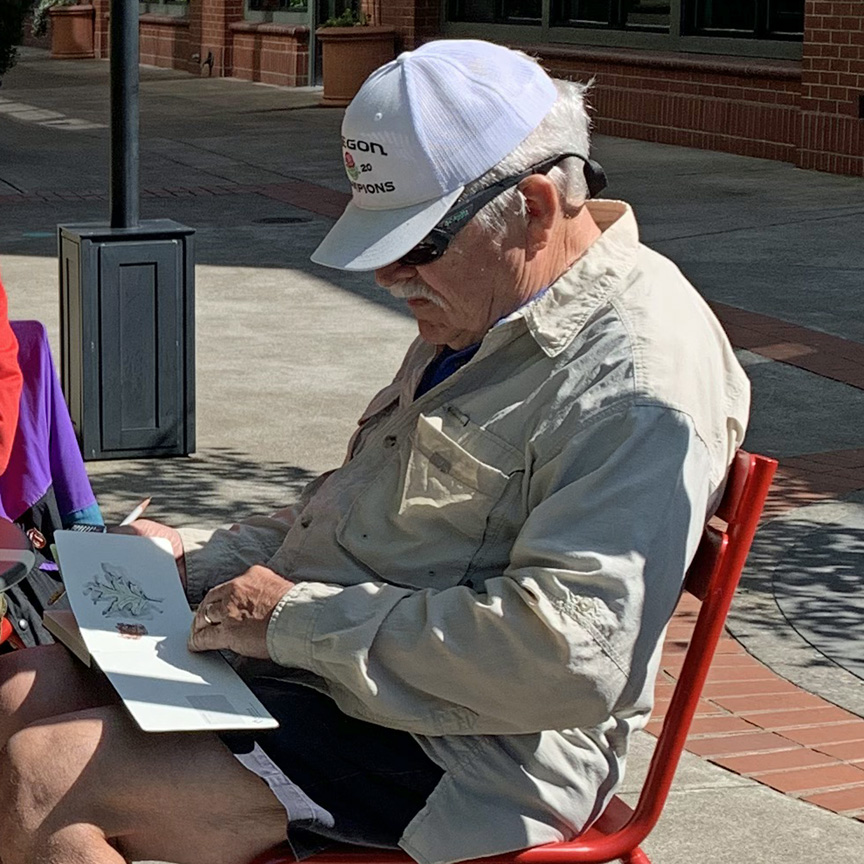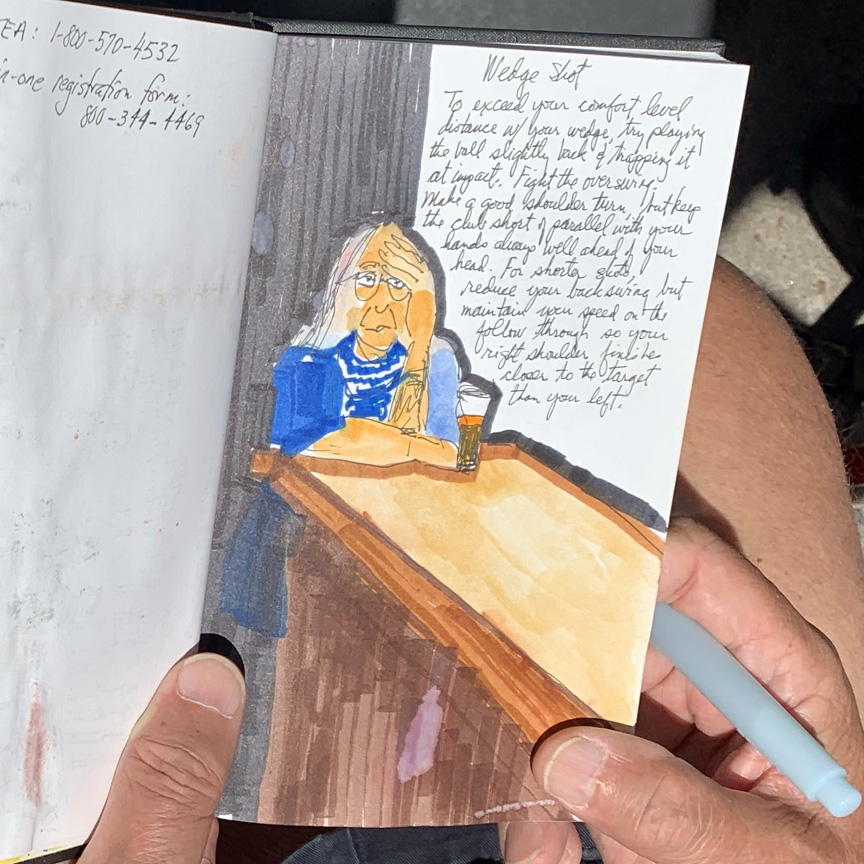 Bill brought an old sketchbook to work on – his guide to golfing!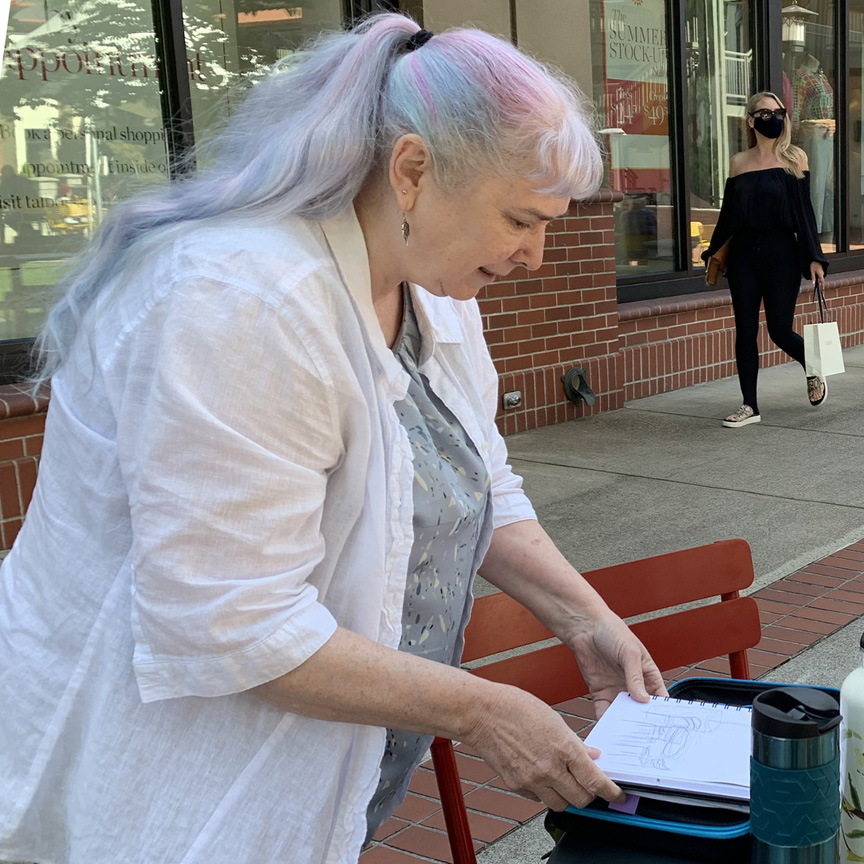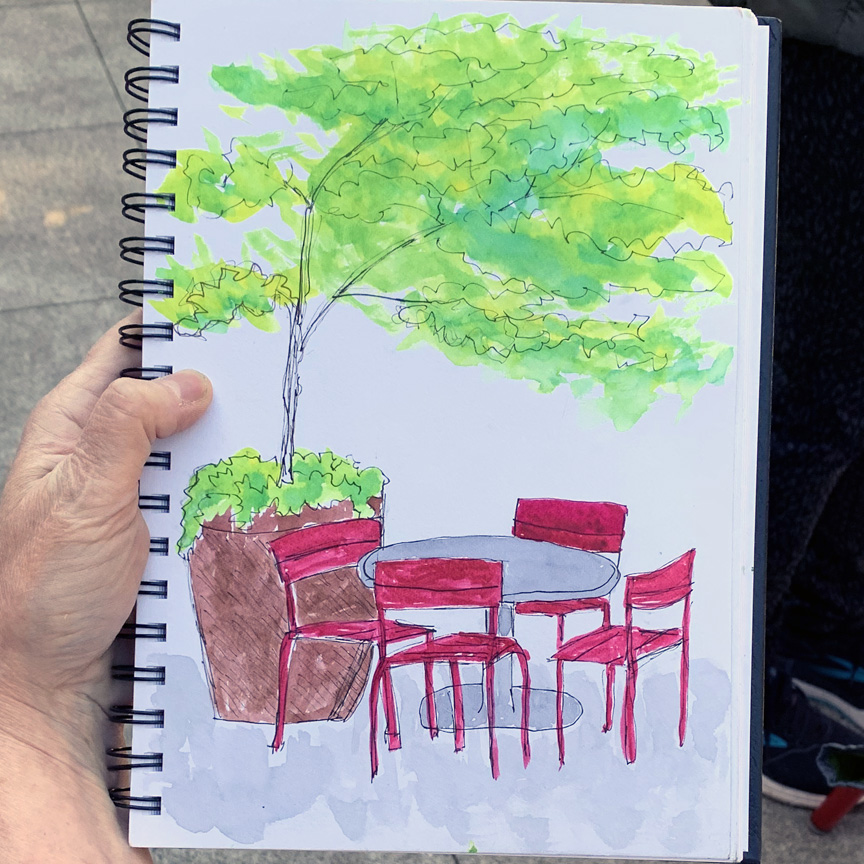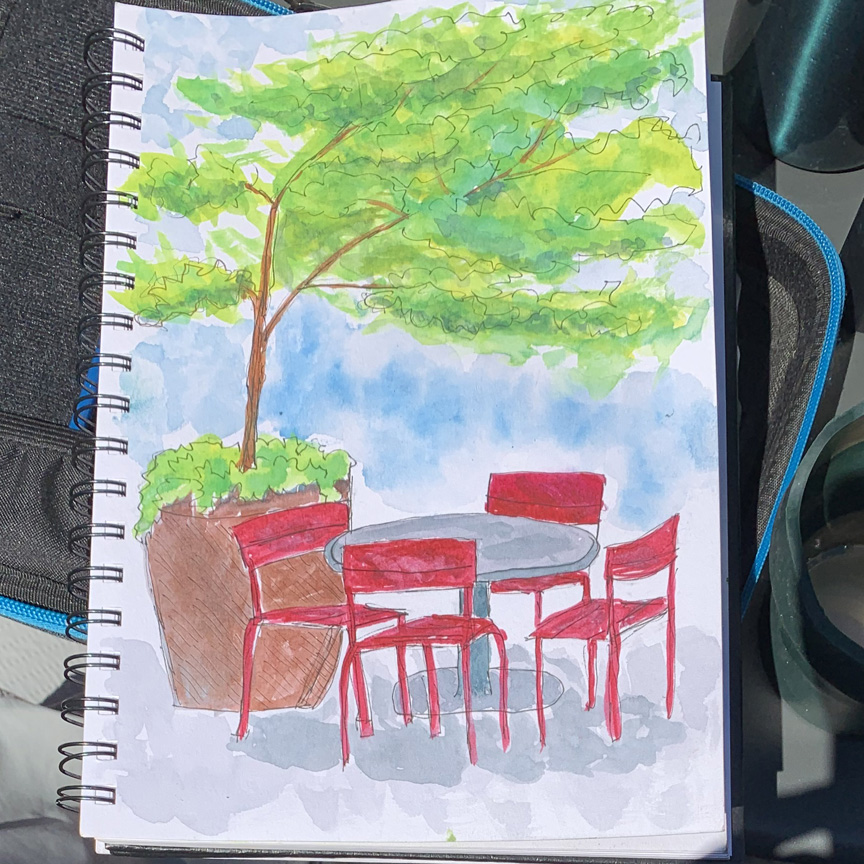 Danita balanced her vivid green & red sketch with some blue.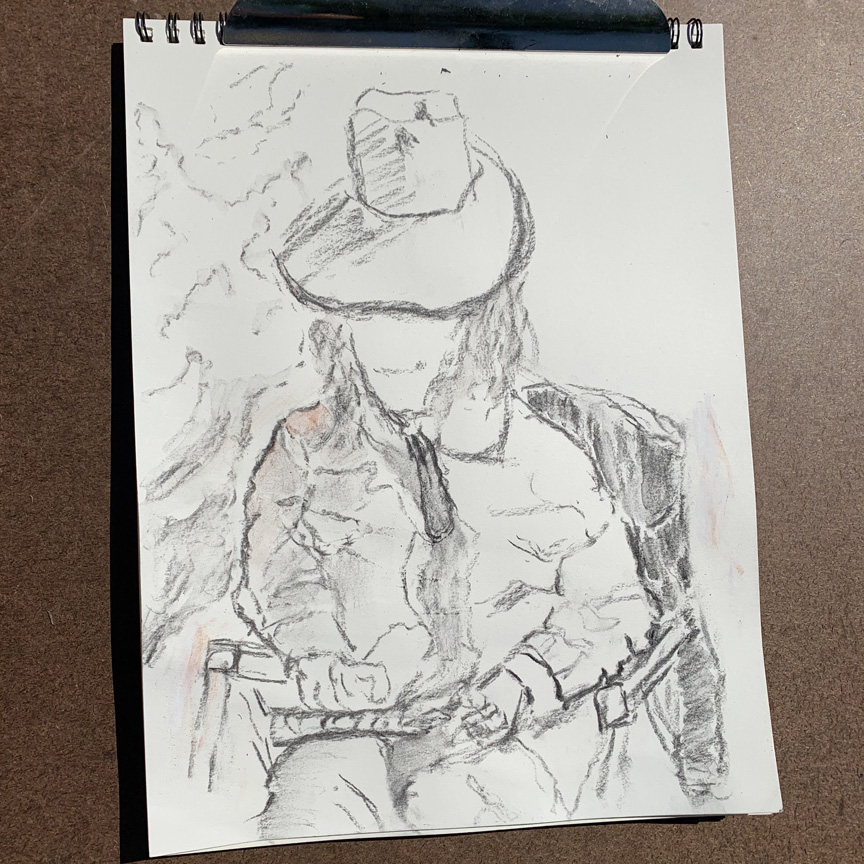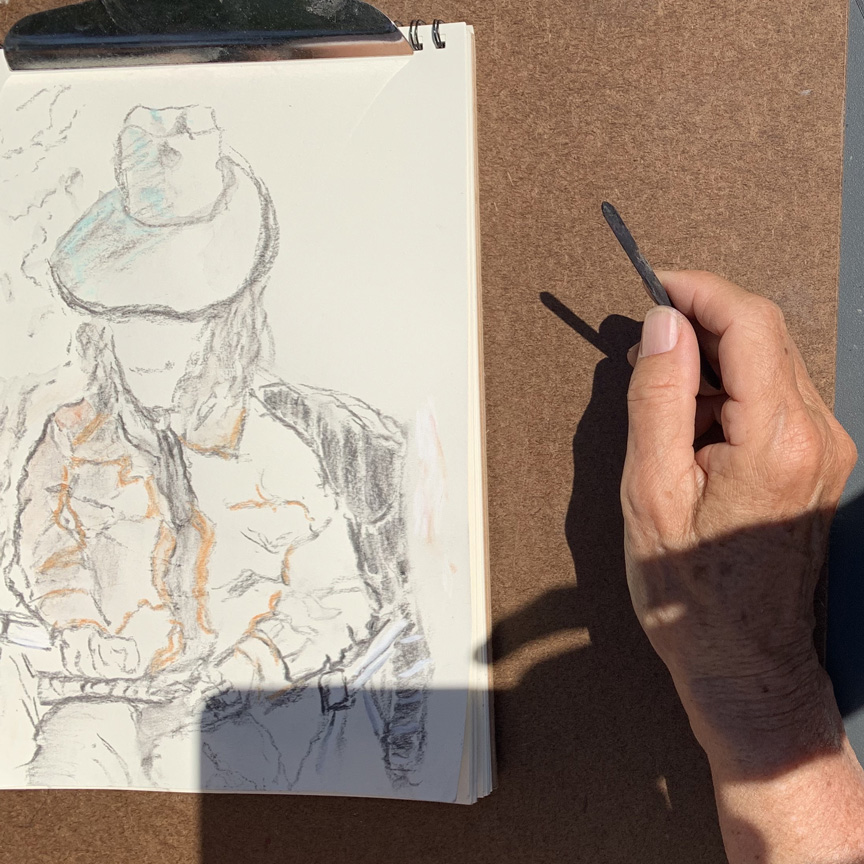 Eva is very comfortable using charcoal – nice sketch of Peggy!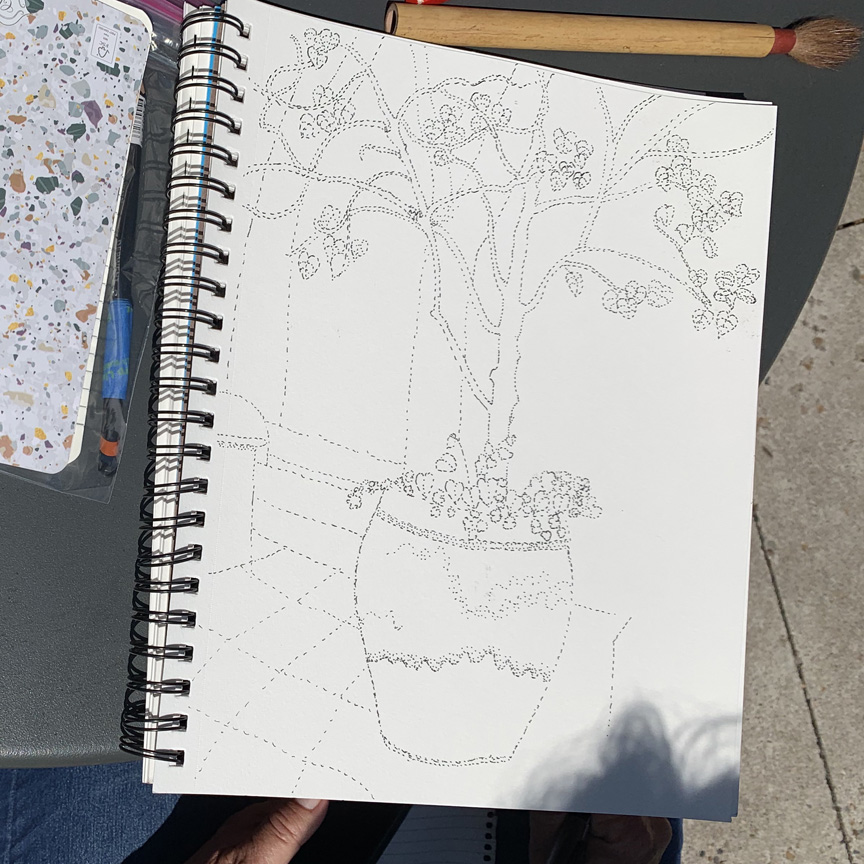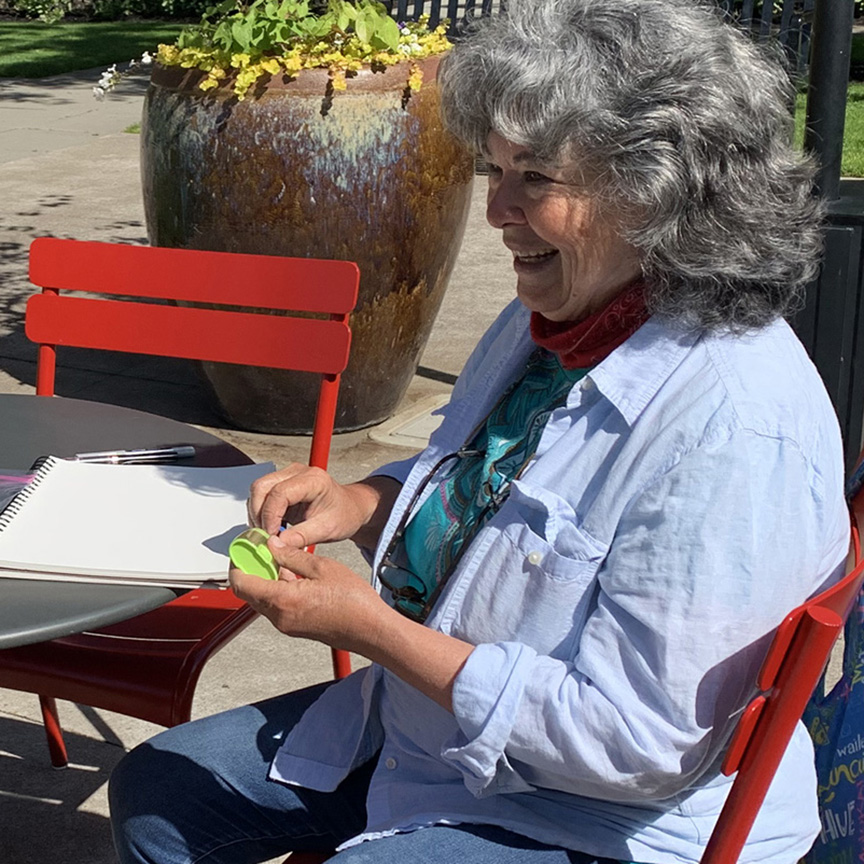 Every new person who joins us brings unique skills and talents – we were happy to welcome Eva and her friend Gail in joining us.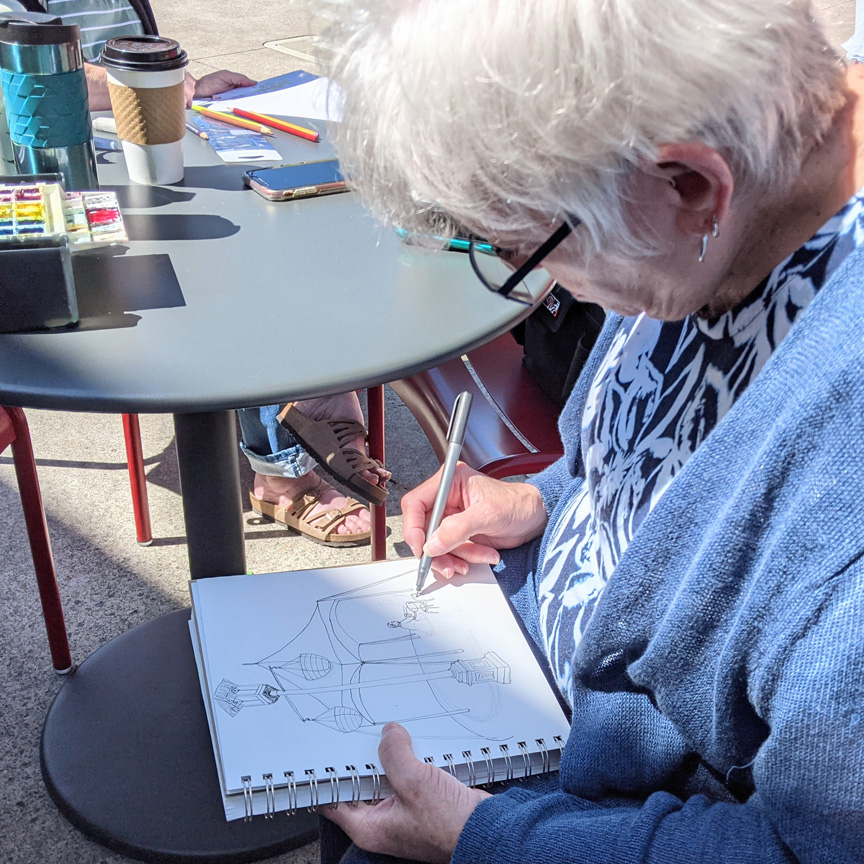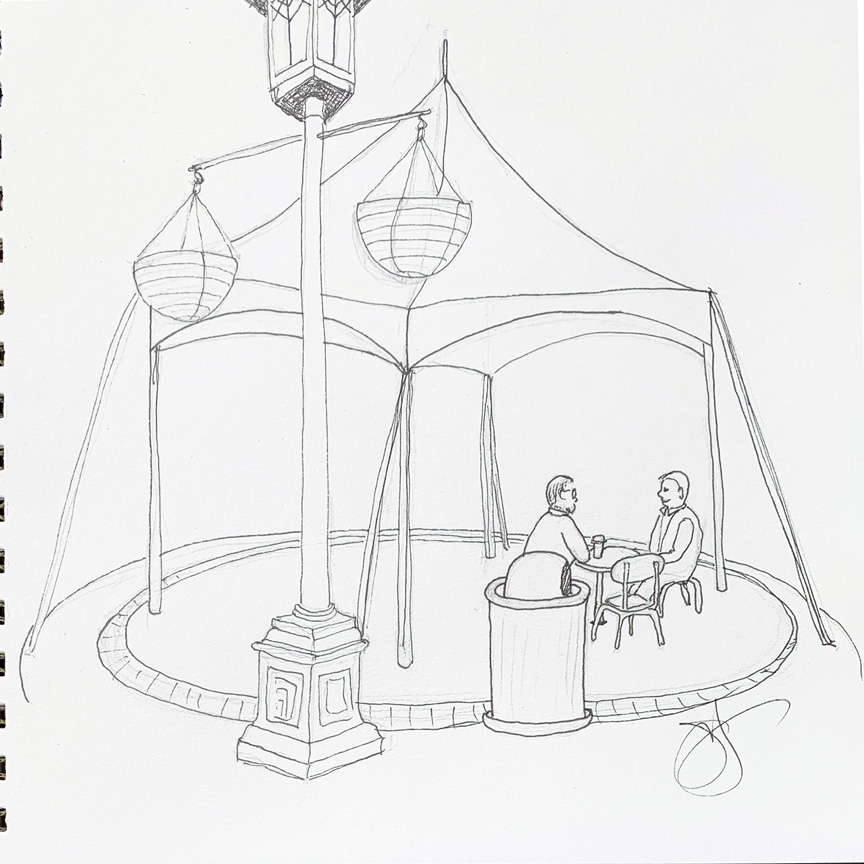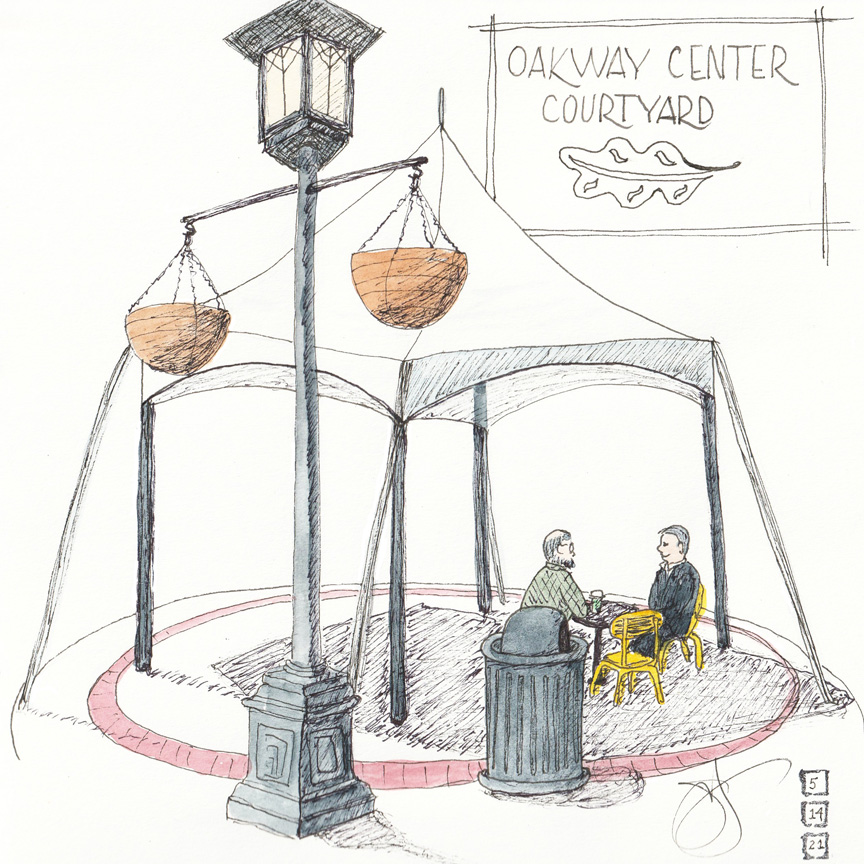 Jane started sketching the tent shelter, ending with a touch of color.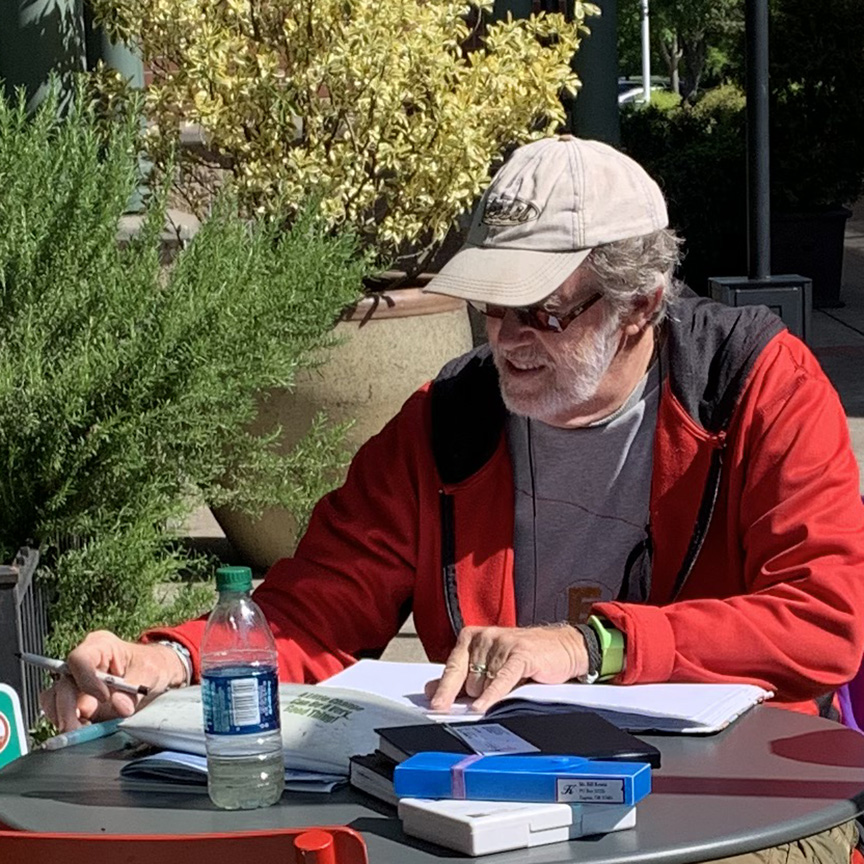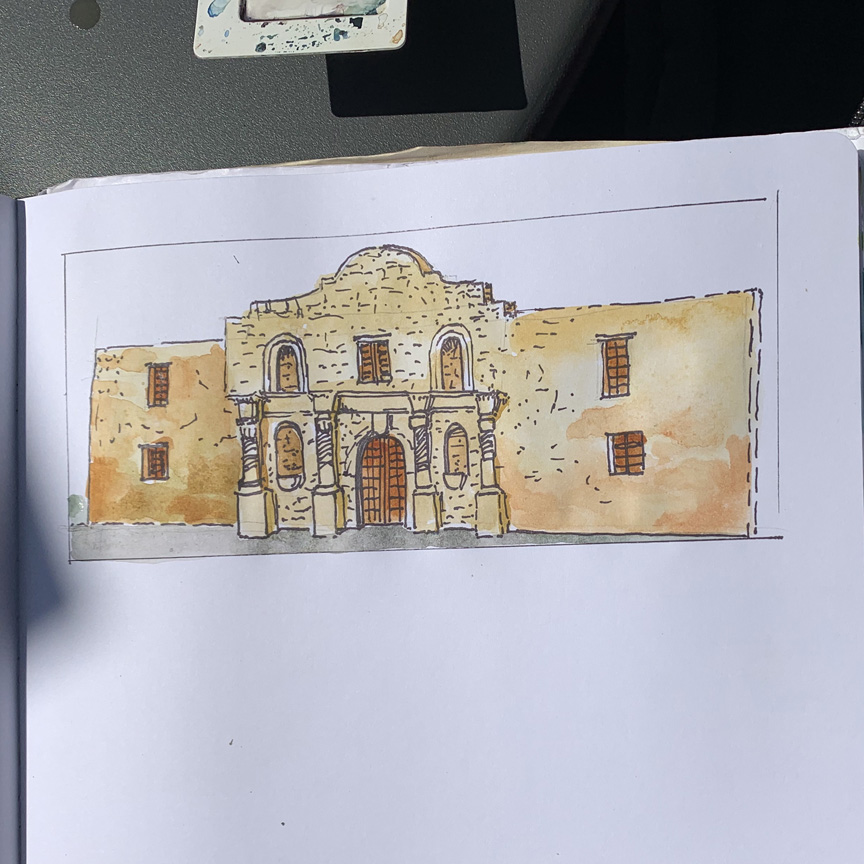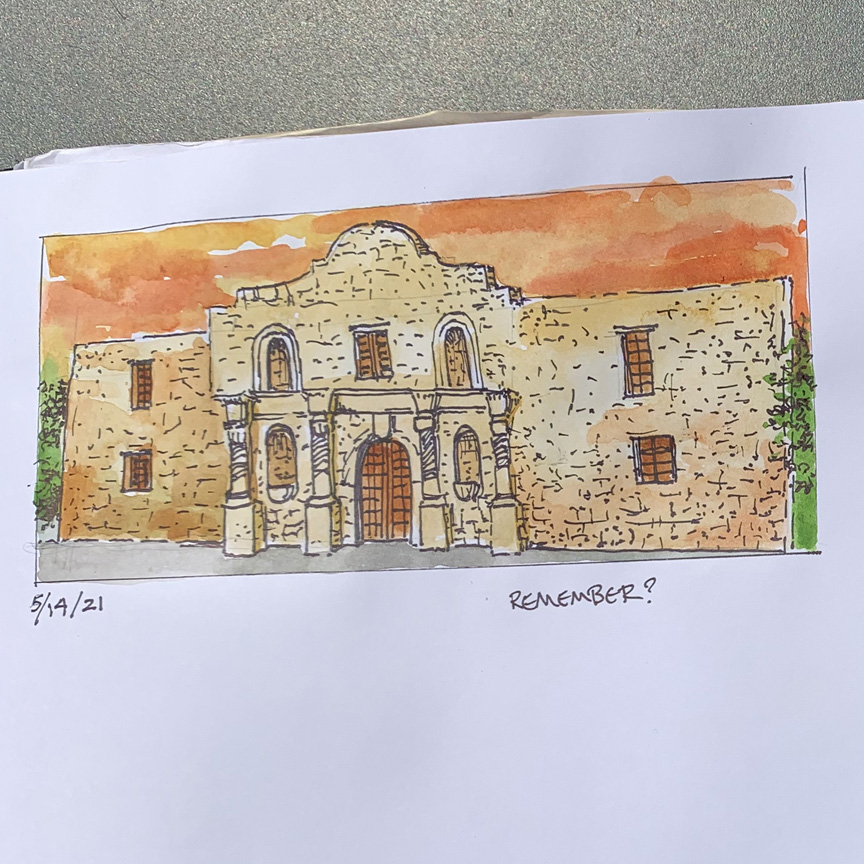 Jim's found a way to keep on traveling, thanks to sketching!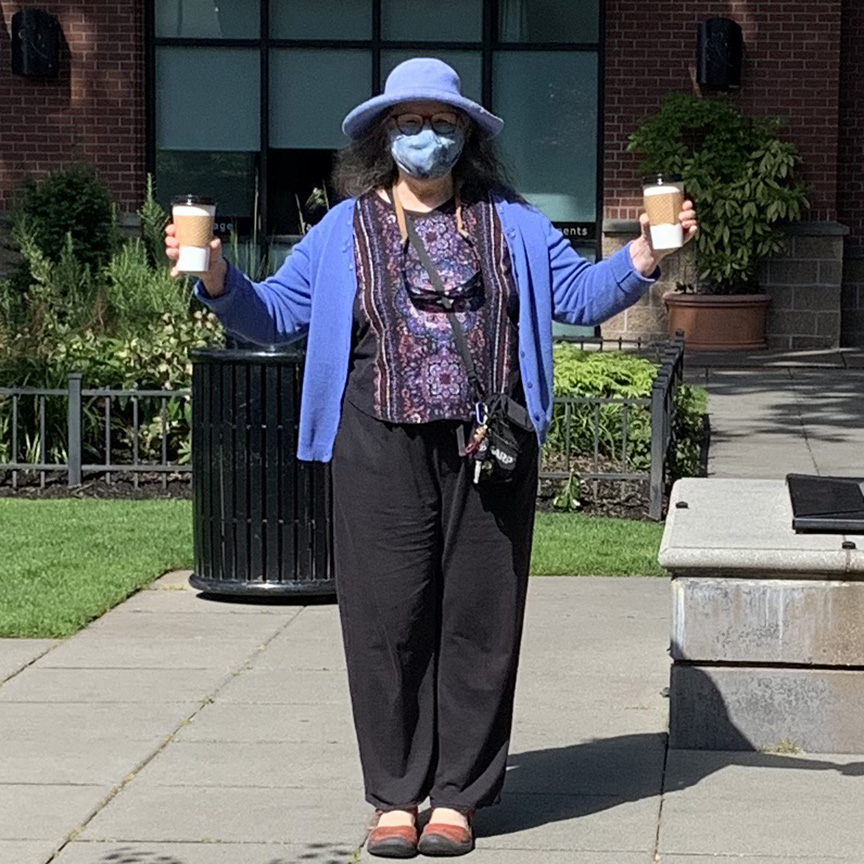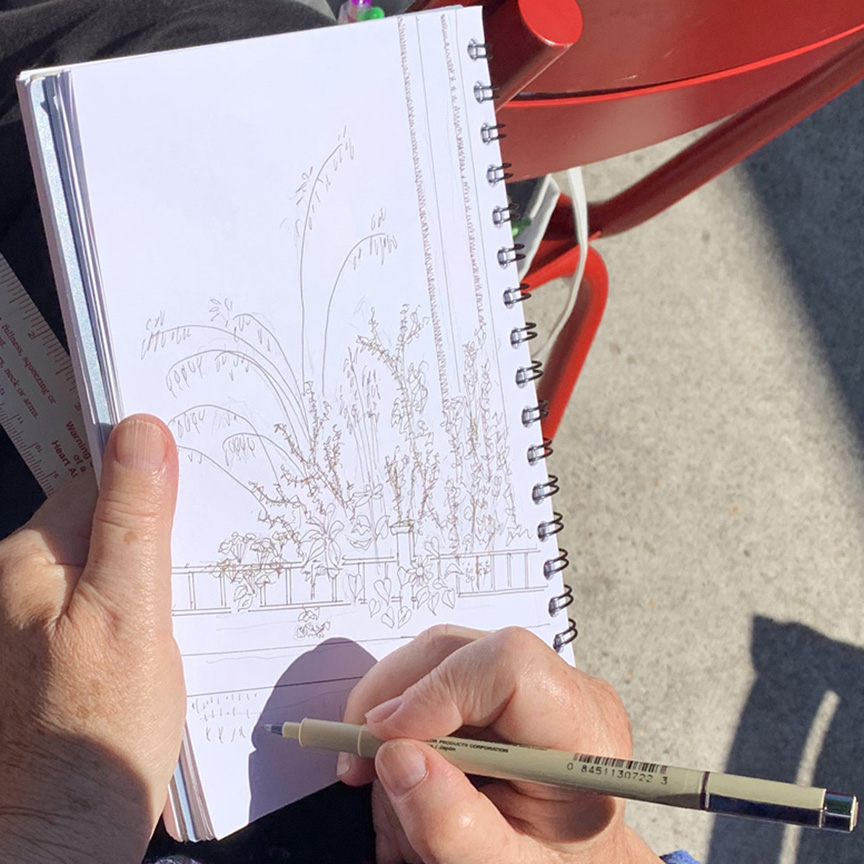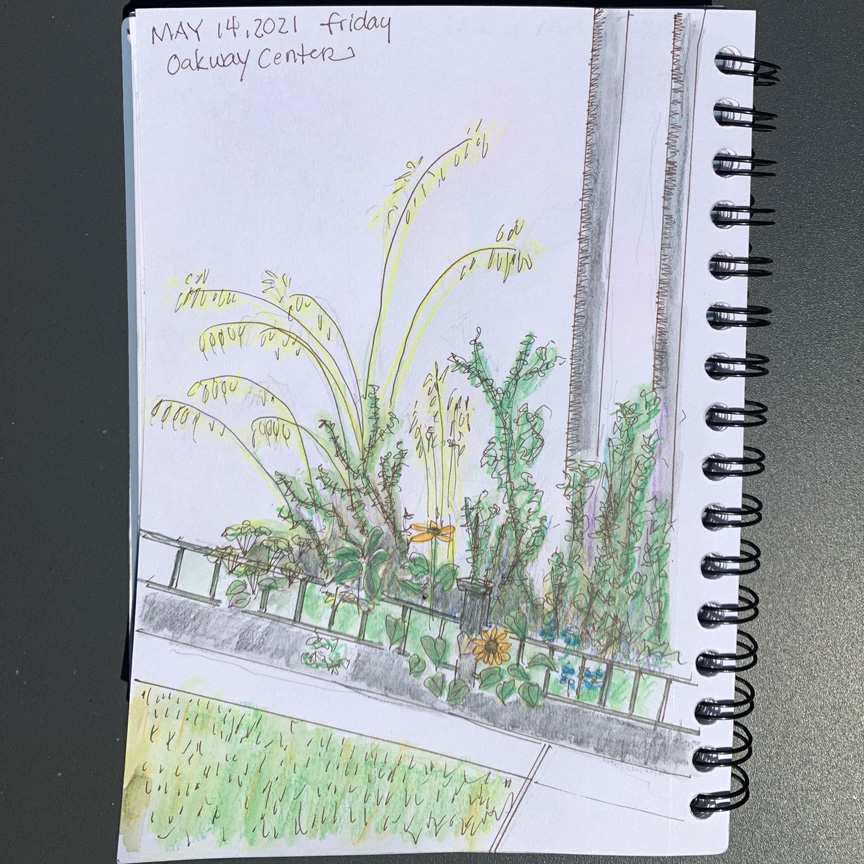 TWO coffees, Laura? Didn't keep her from sketching the landscape.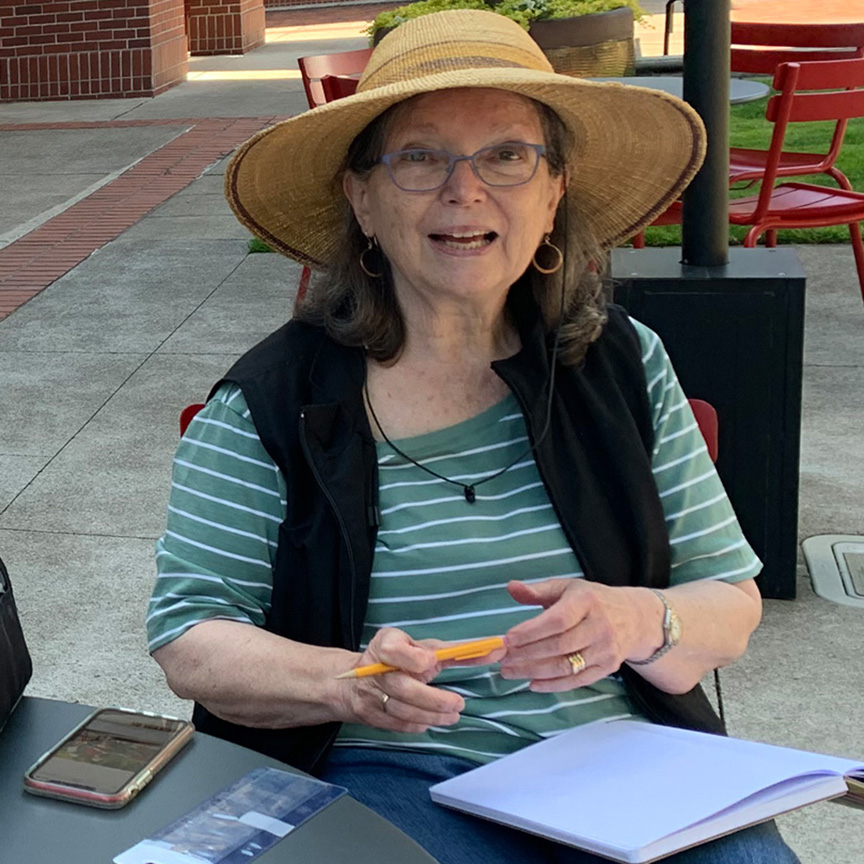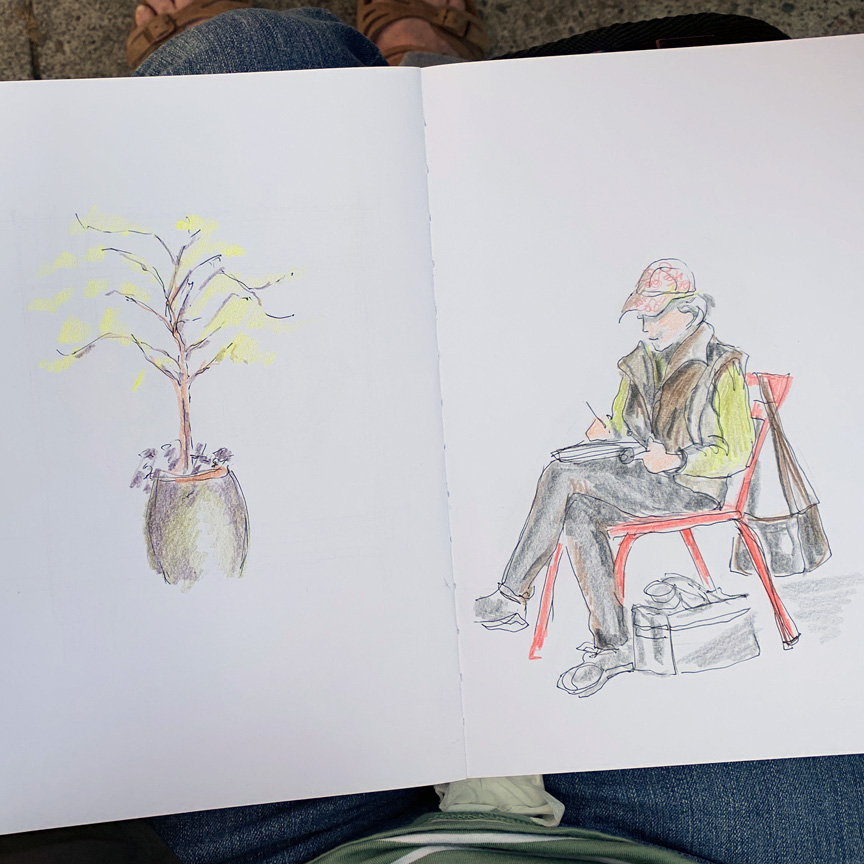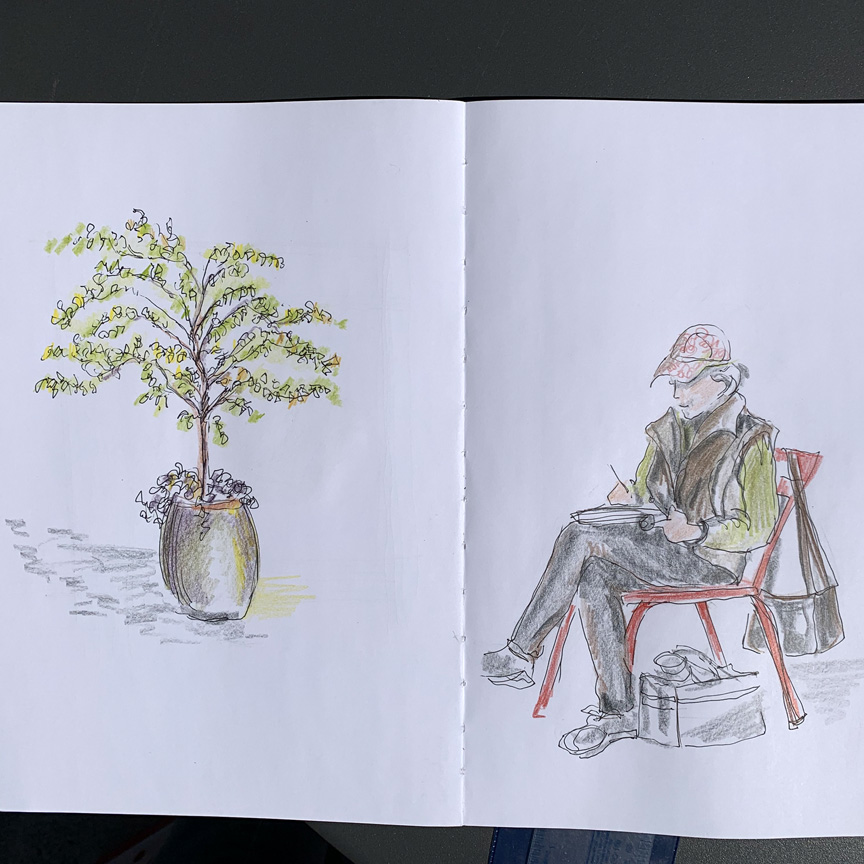 Can you tell Marsha's happy sketching with everyone, maskless?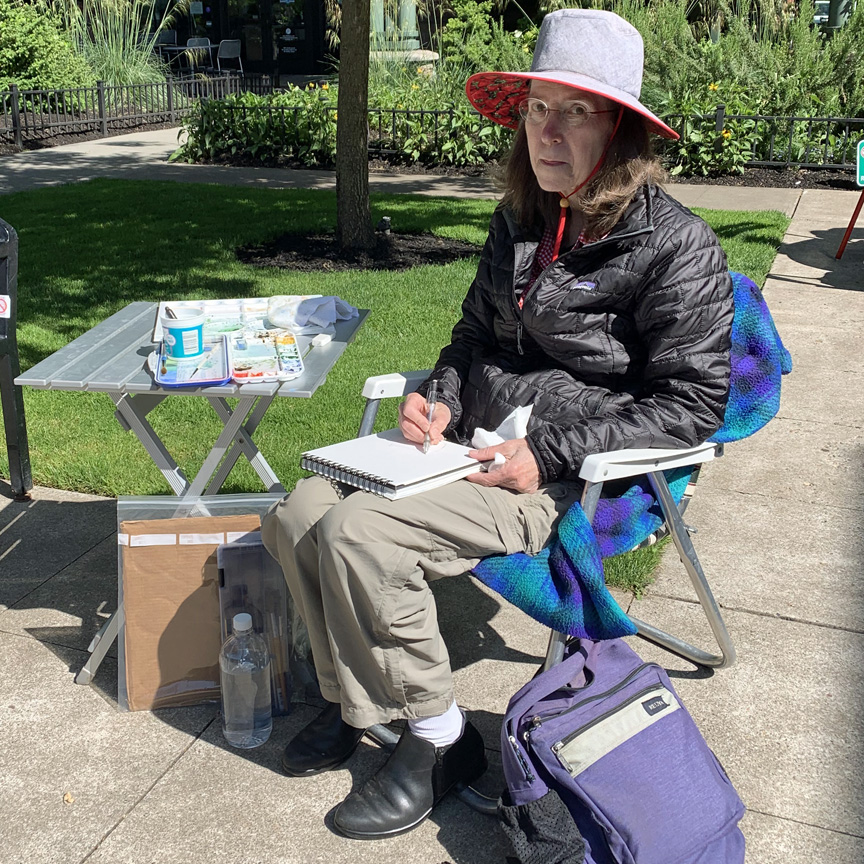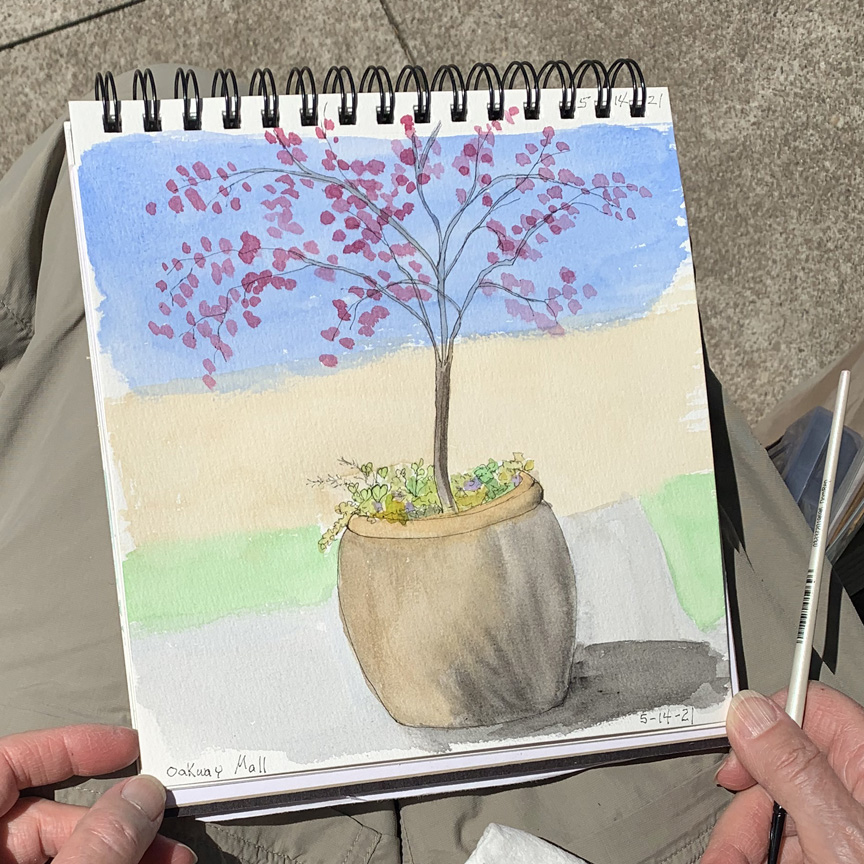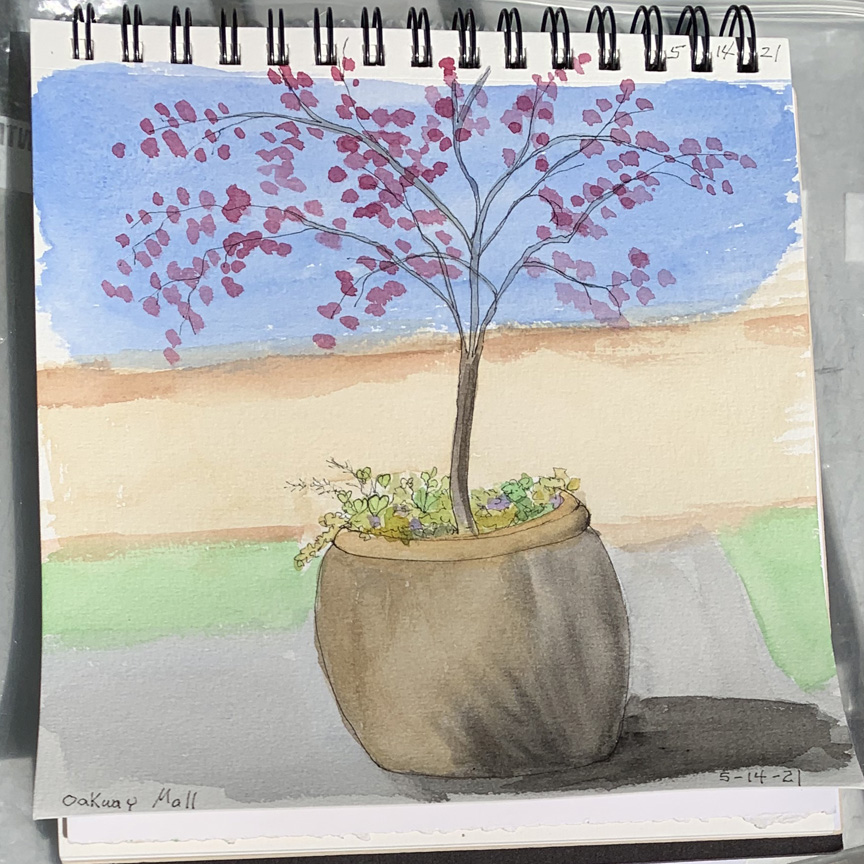 Peggy's having another go at the tree in a pot, determined looseness.
✒ May 7, 2021, Oakway Center Courtyard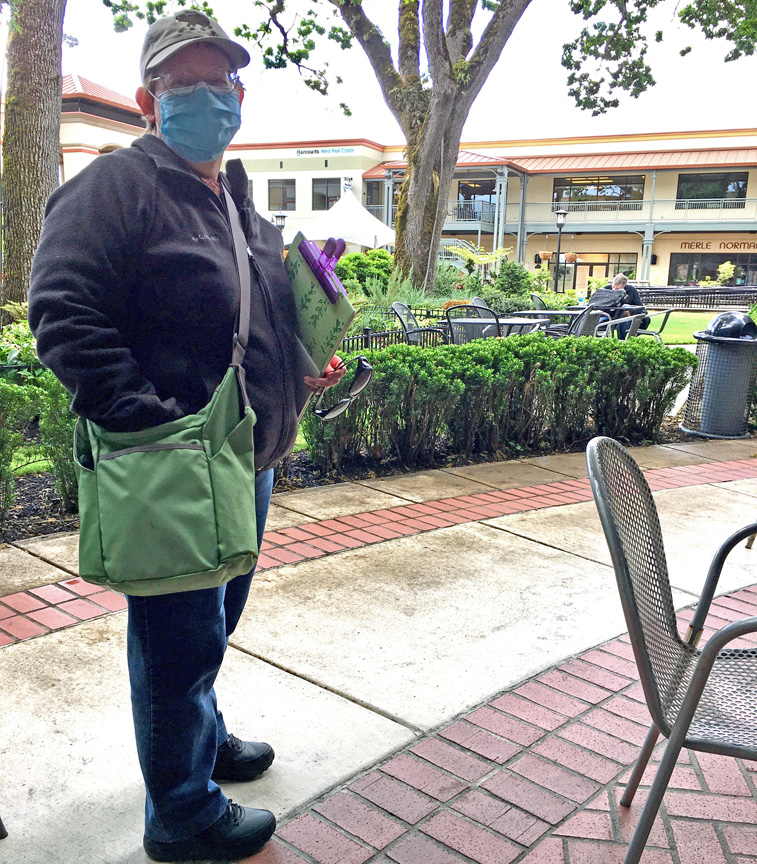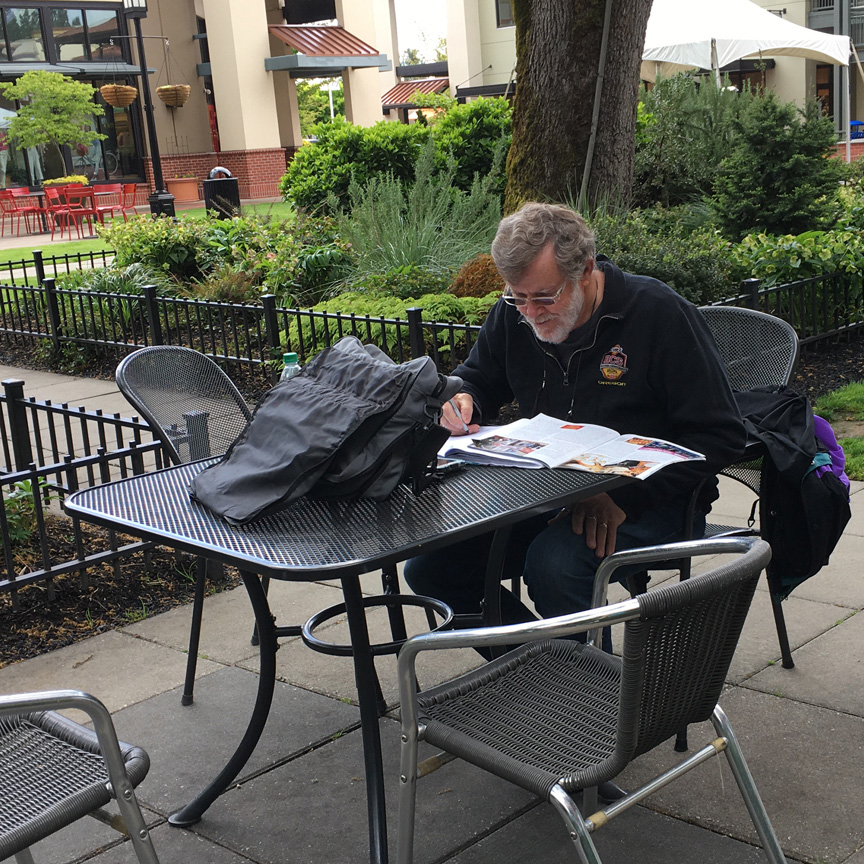 Wet & chilly weather didn't stop Daisy, Jim, and Gail!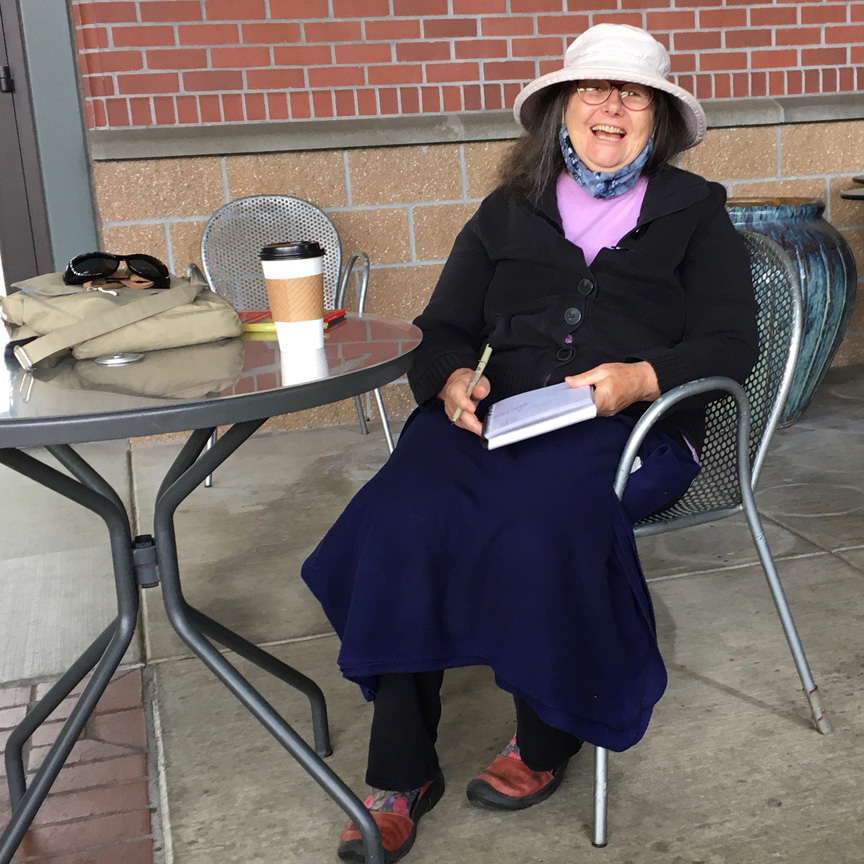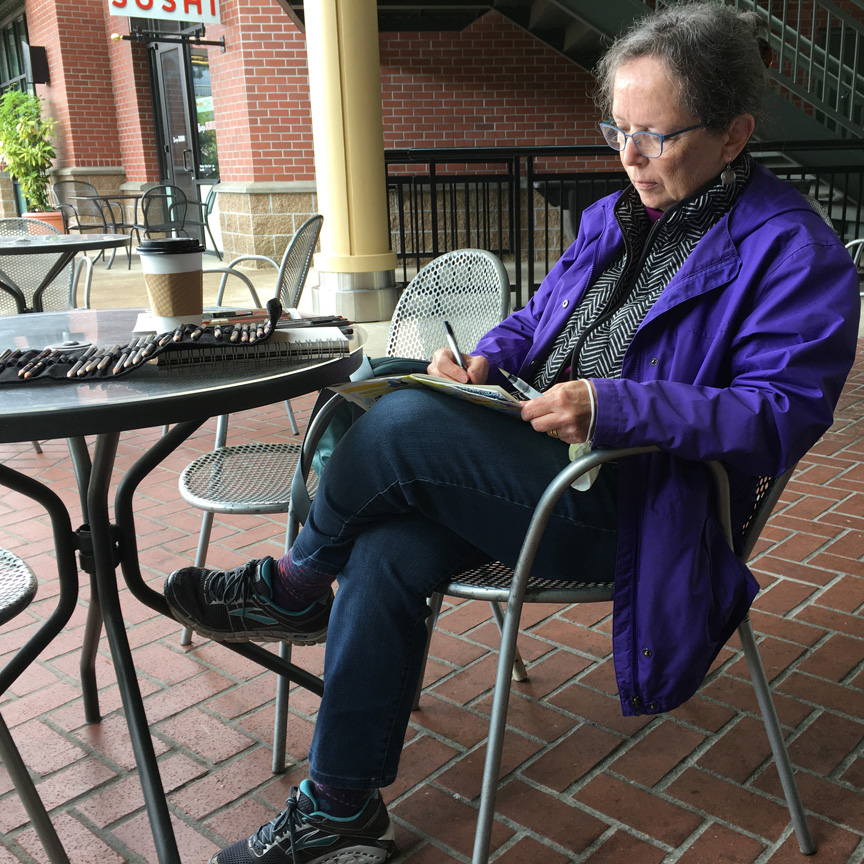 Laura and Marsha took advantage of the overhang shelter.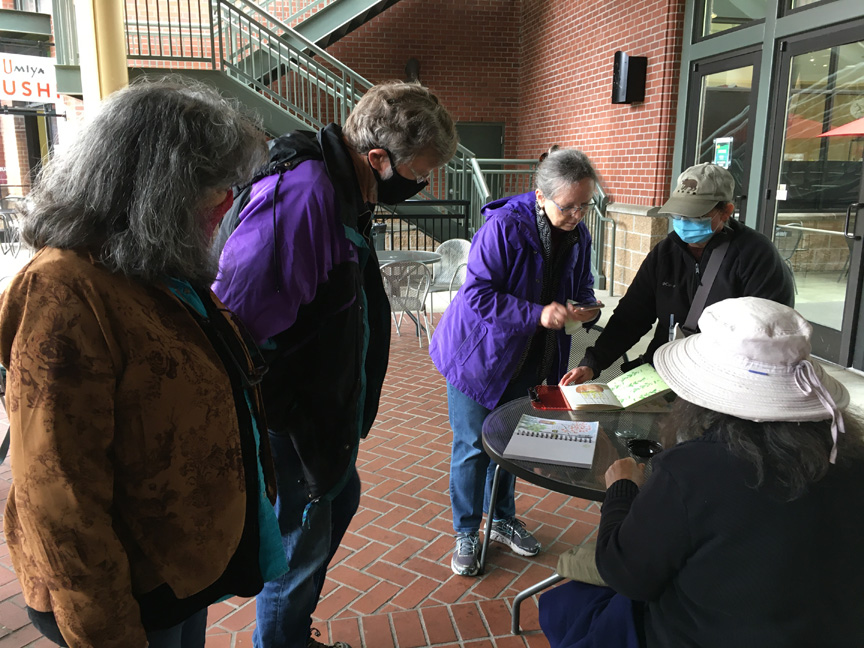 Gathering for the end of session sketch sharing, samples below: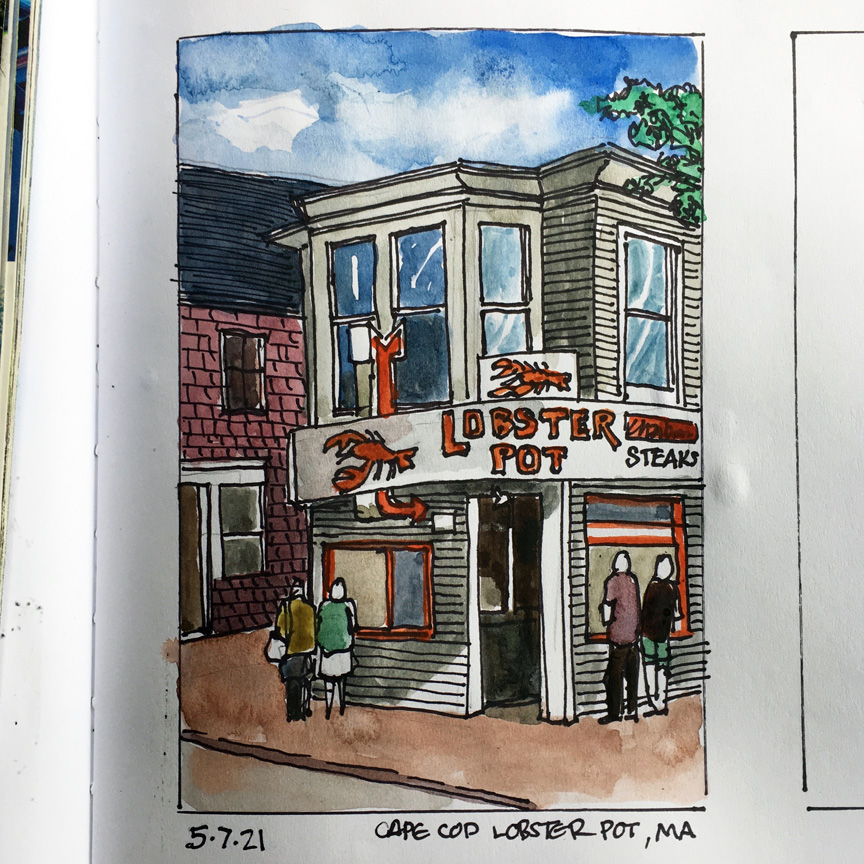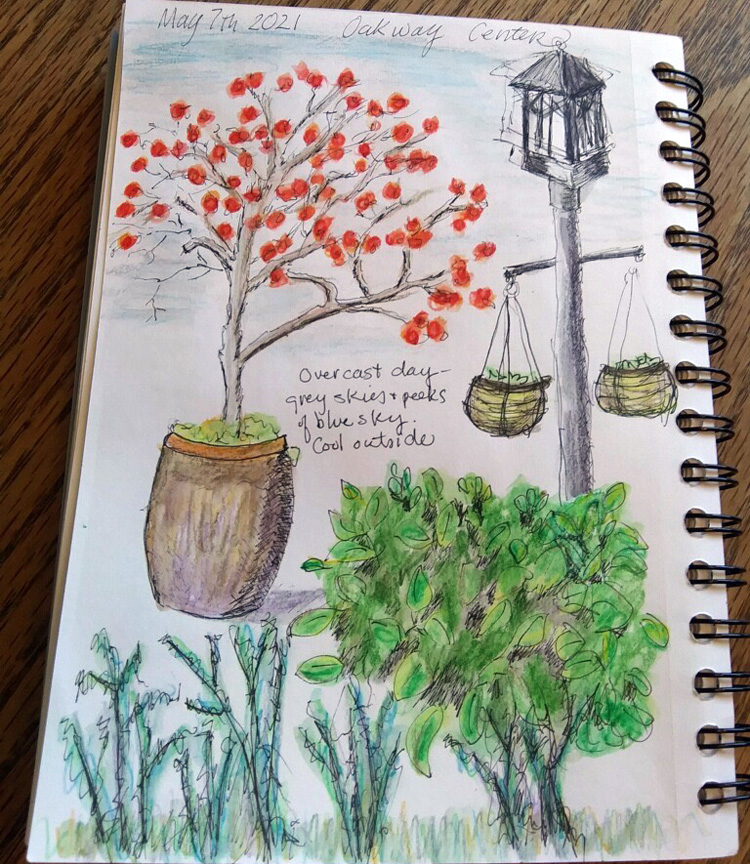 Jim did a sketch from a travel mag, Laura a montage of what she saw around her in the courtyard. A fun day despite the iffy weather.
✒ Apr. 30, 20021, Masonic Cemetery/Hope Abbey Mausoleum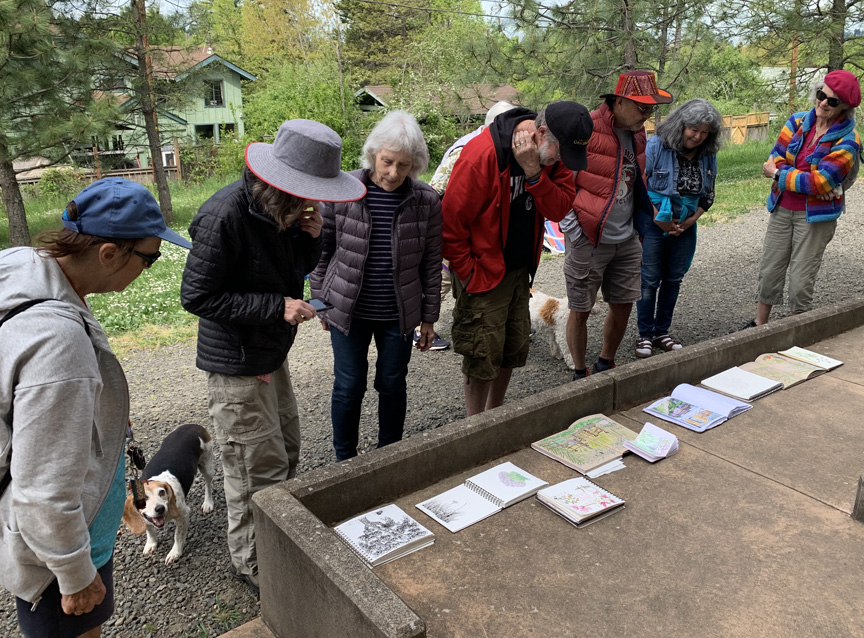 Here we are at the end of our sketching session, sharing our sketches: Eva (& Mickey), Peggy, BarbSo, (Katie & Alma behind), Jim, Hugh, Gail, & Sandy. Laura had to leave early, Jane's behind camera.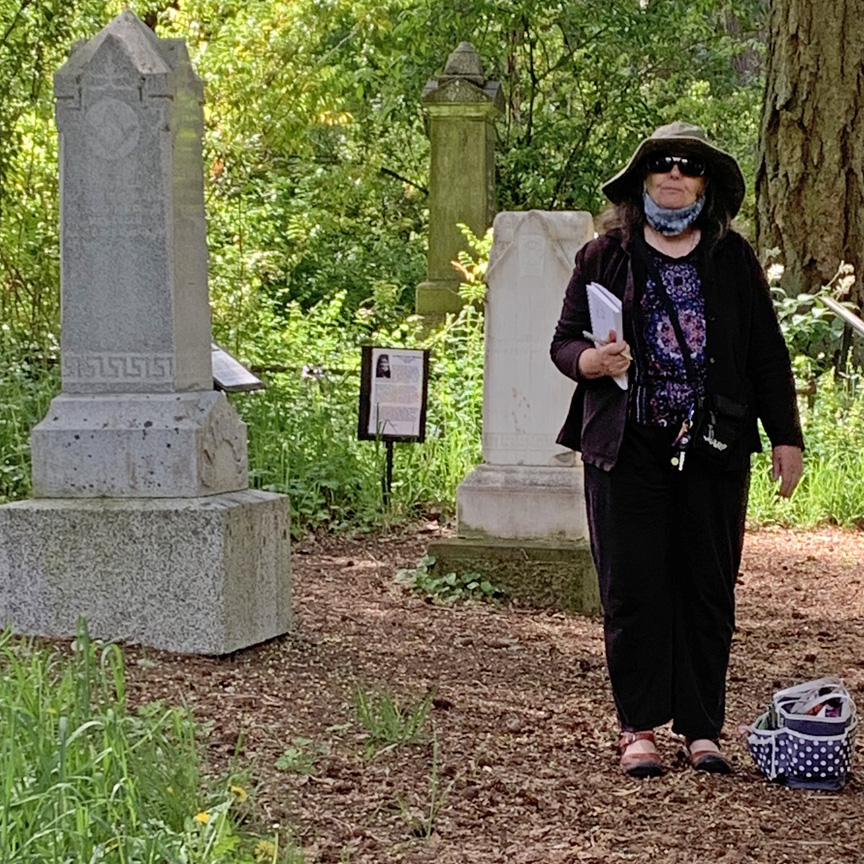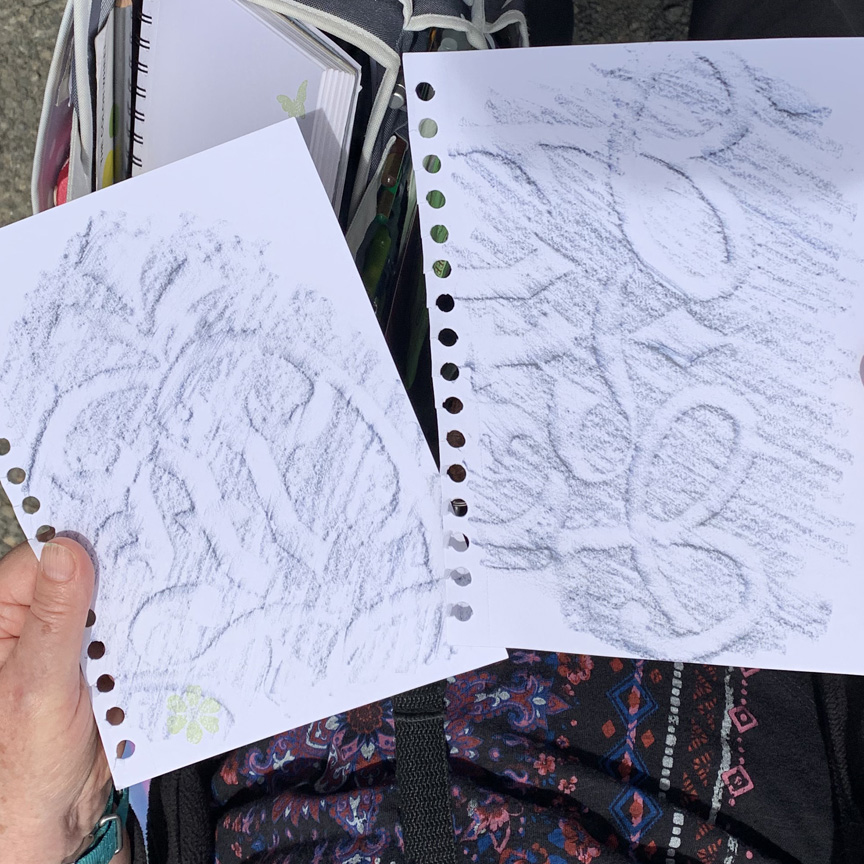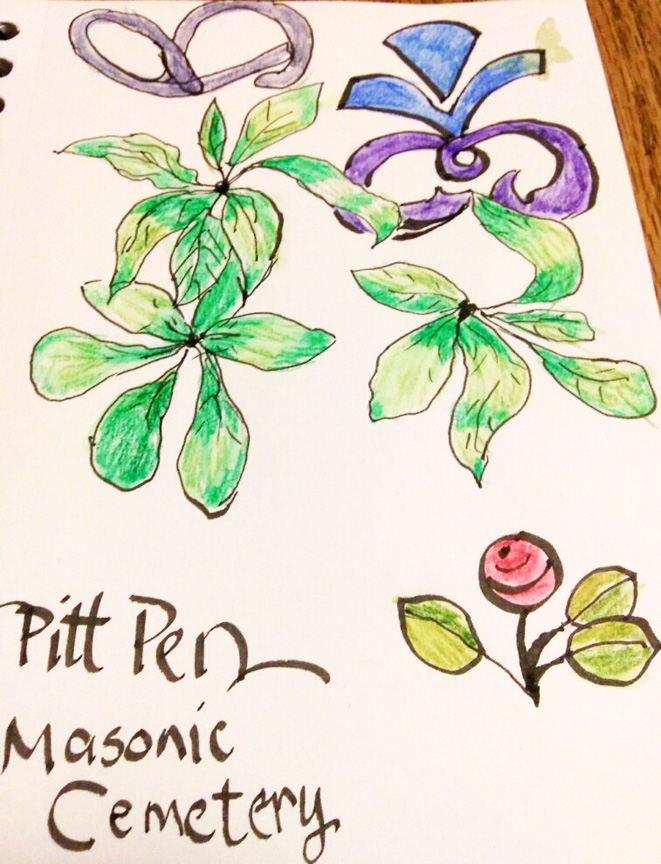 Laura (by Eugene Skinner's stone) got into headstone rubbings, and then did the designs in colored pencil – really turned out interesting!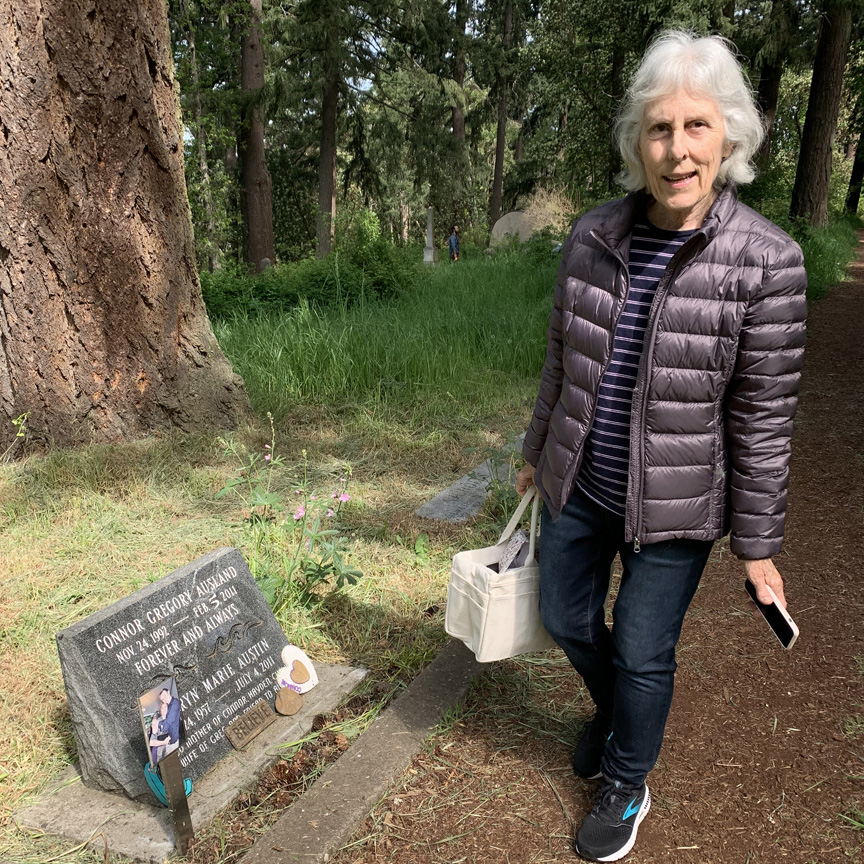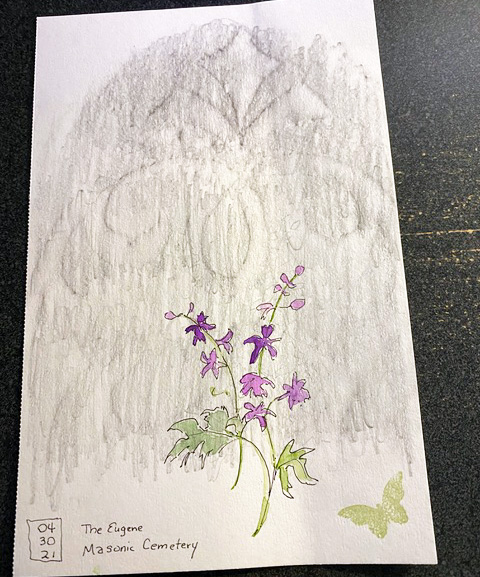 Barb So. did a headstone rubbing, too, then sketched one of the native flowers in bloom in the cemetery for a lovely sketch page.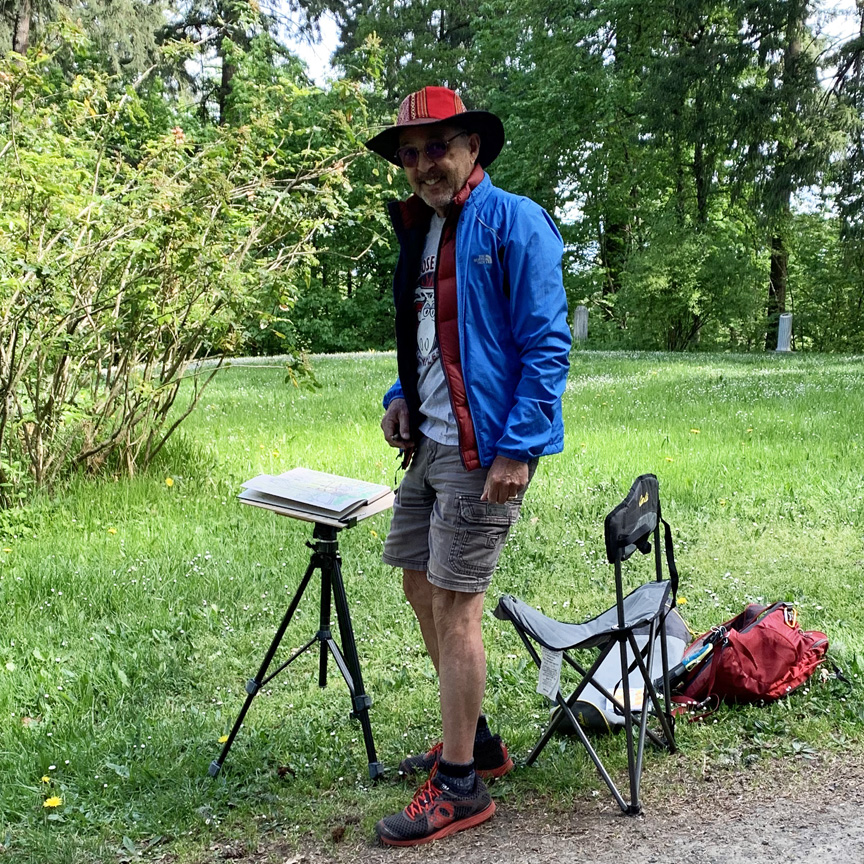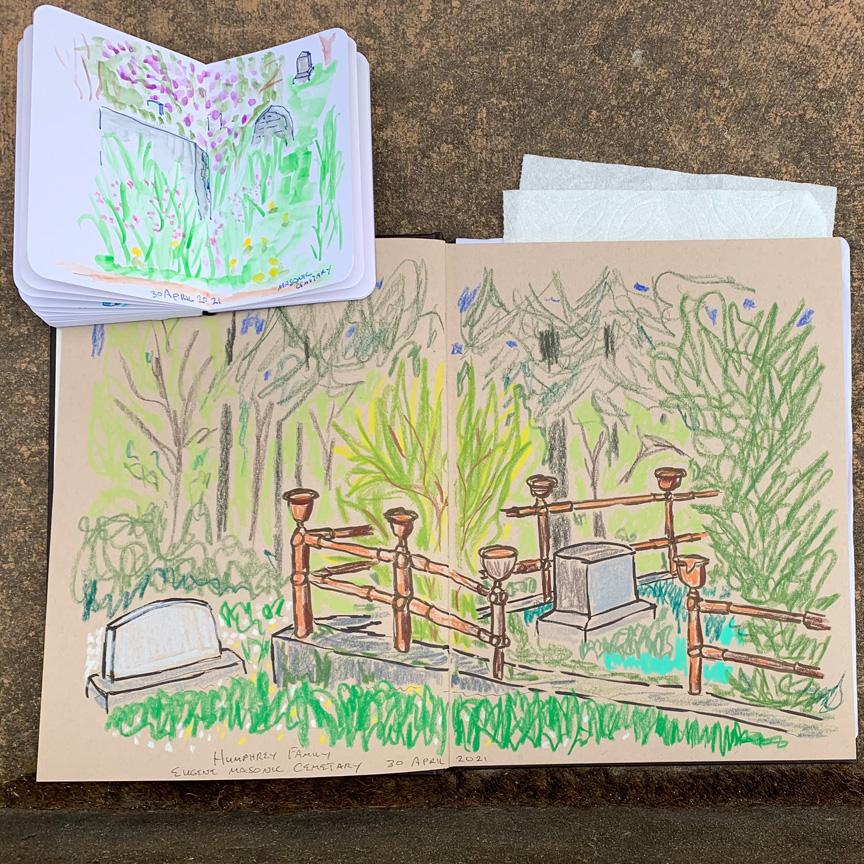 Hugh's set up allows him a steady hand to go big – a double page spread, then a small sketchbook impressionistic sketch, too.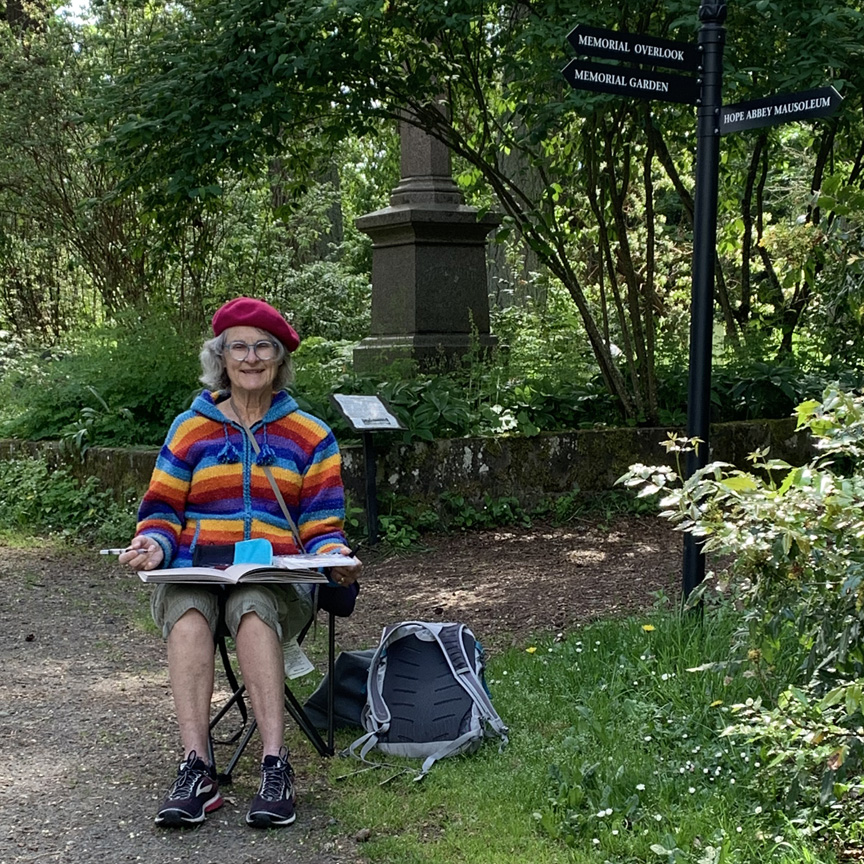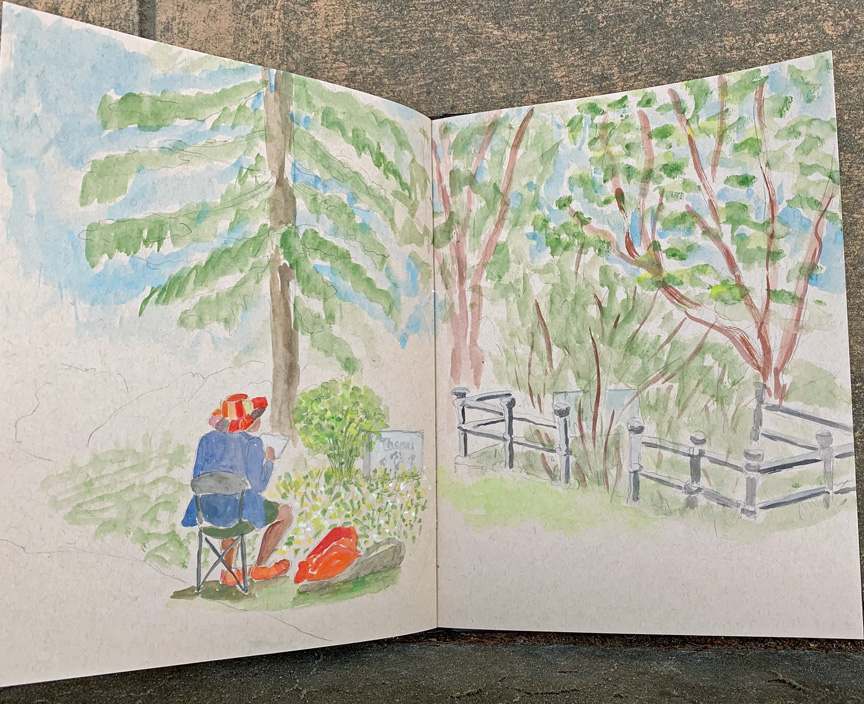 Where's Sandy? Uphill, doing a sketch of Hugh and his view. Nice!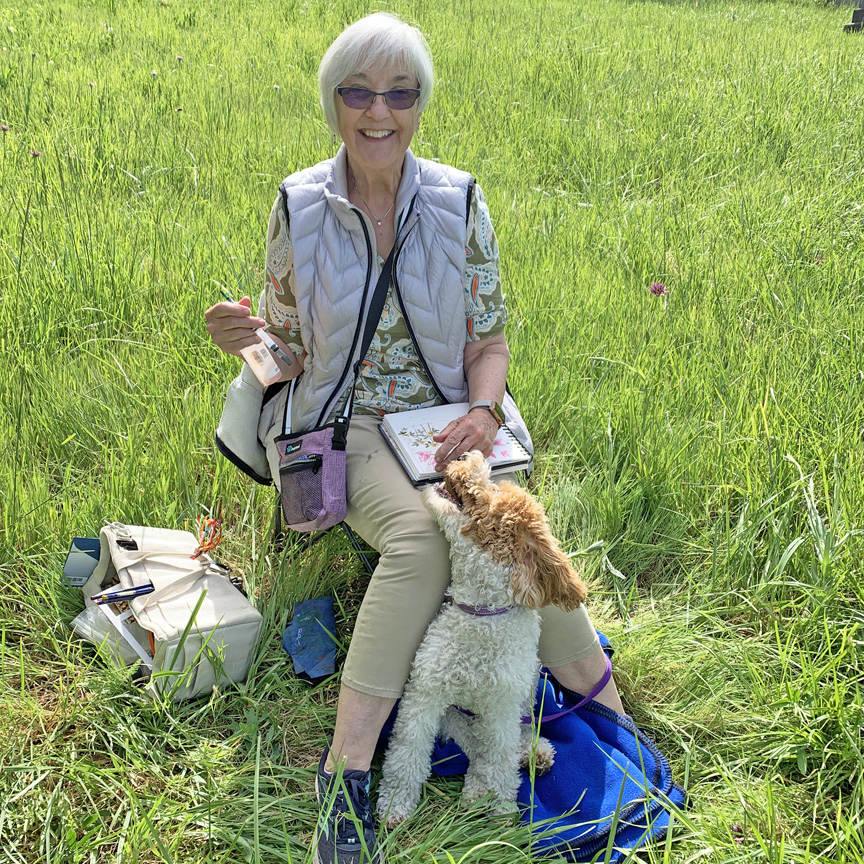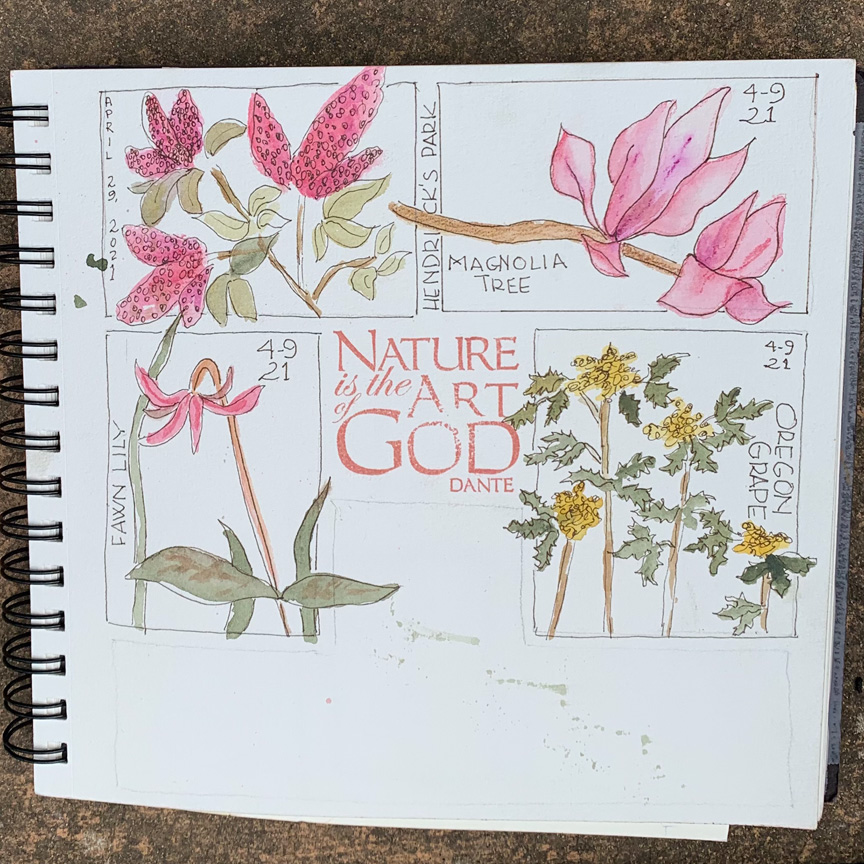 Katie brought her puppy, Alma, and when she wasn't untangling the dog she added to her sketch page begun at Hendricks Park.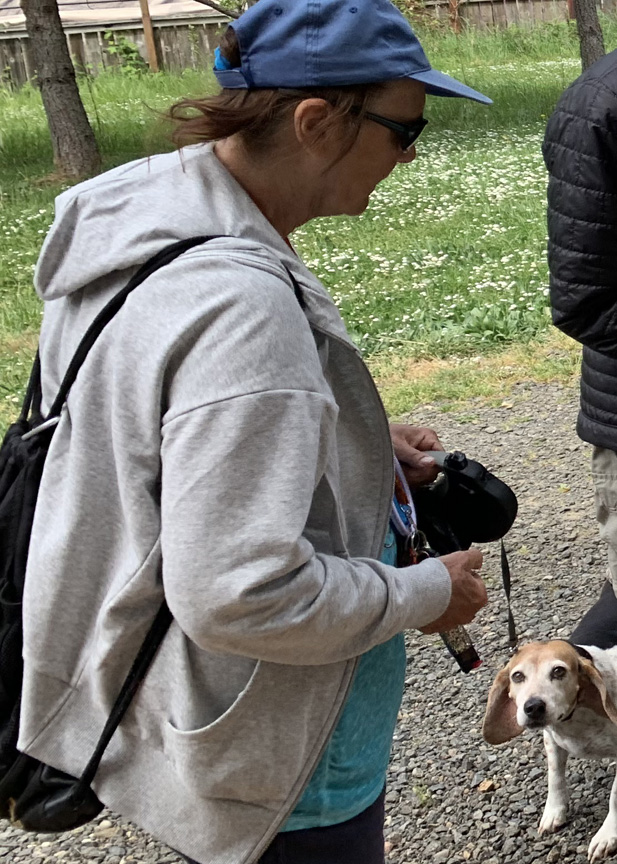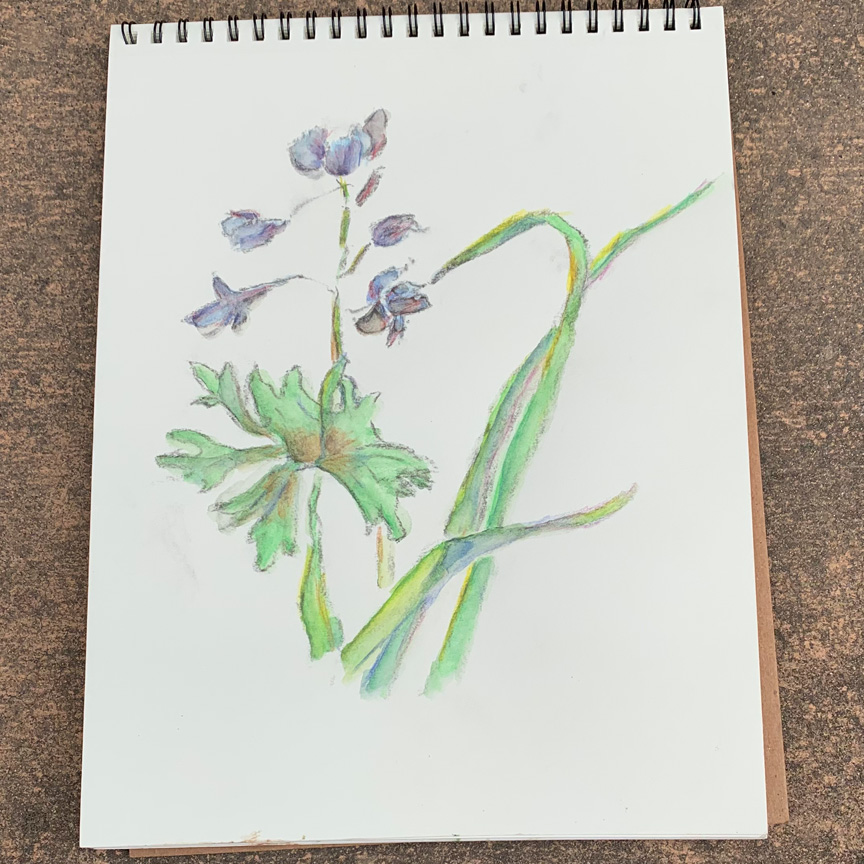 Eva brought her dog, Mickey, too. But he was a little more sedate, and so she was able to do this lovely graphite & watercolor sketch.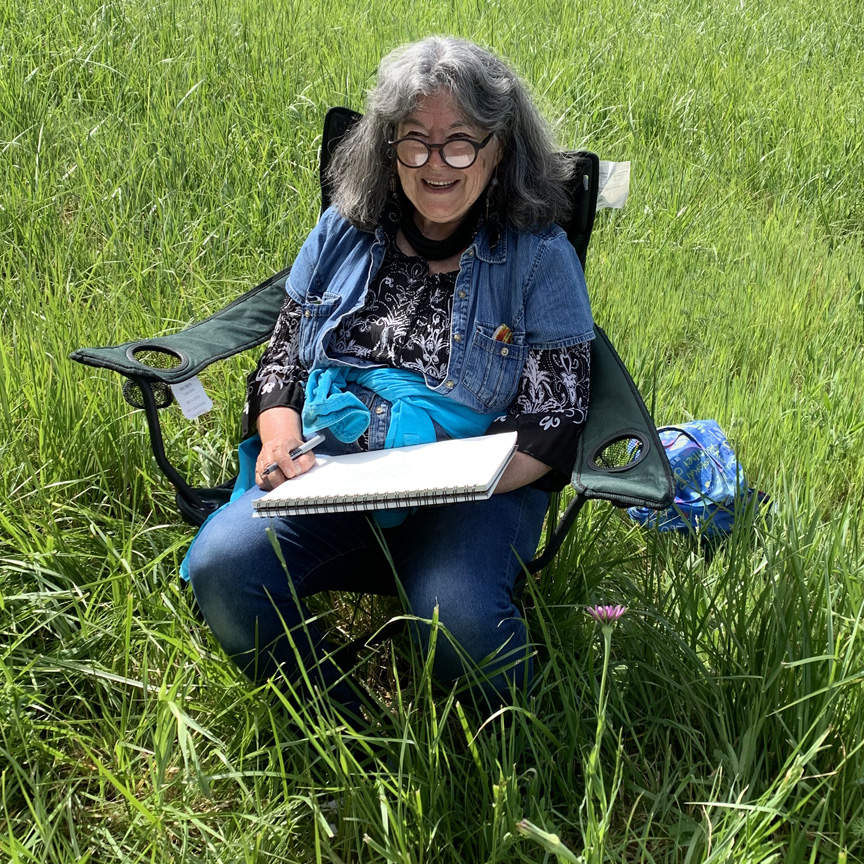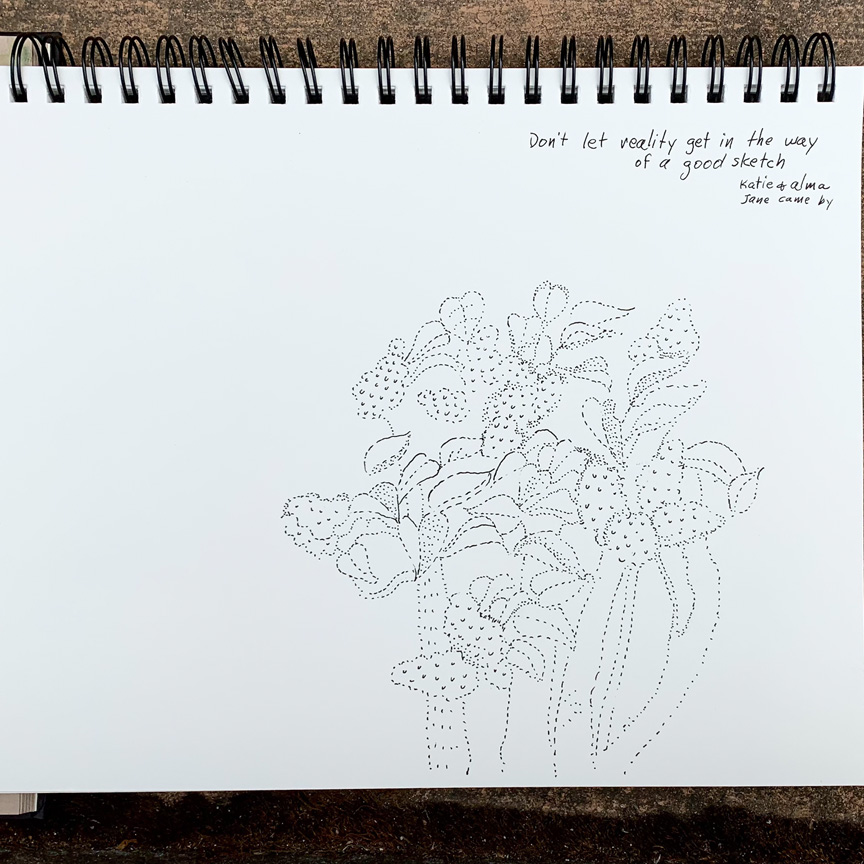 Gail heard about Ken's quote from Katie, which seemed fitting for her pointillistic flower sketch – quite an effect!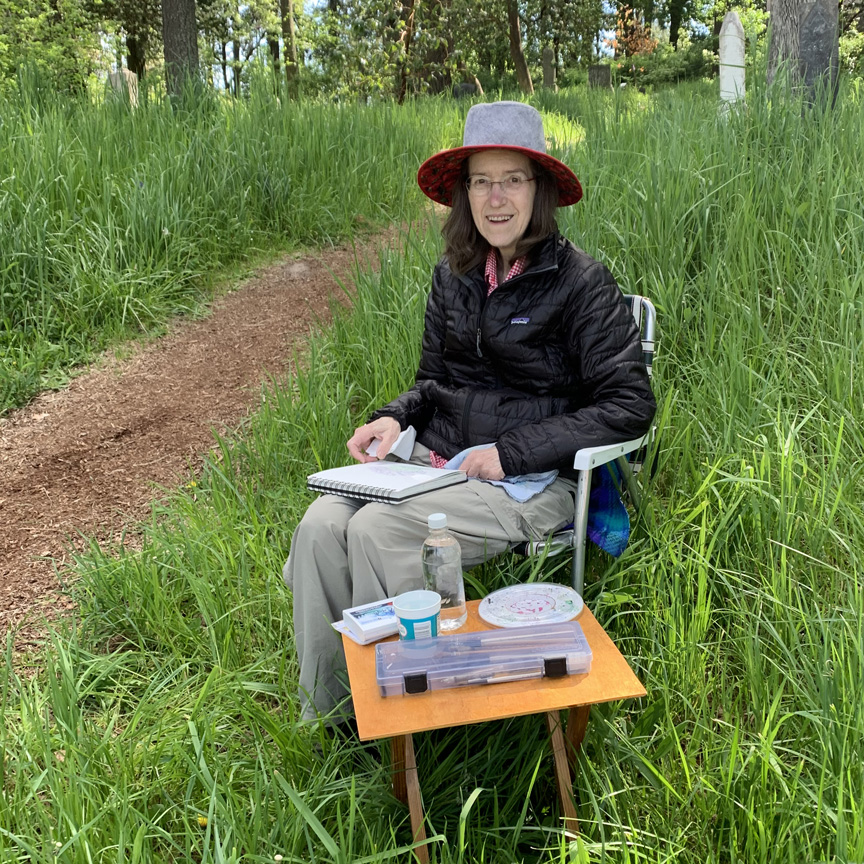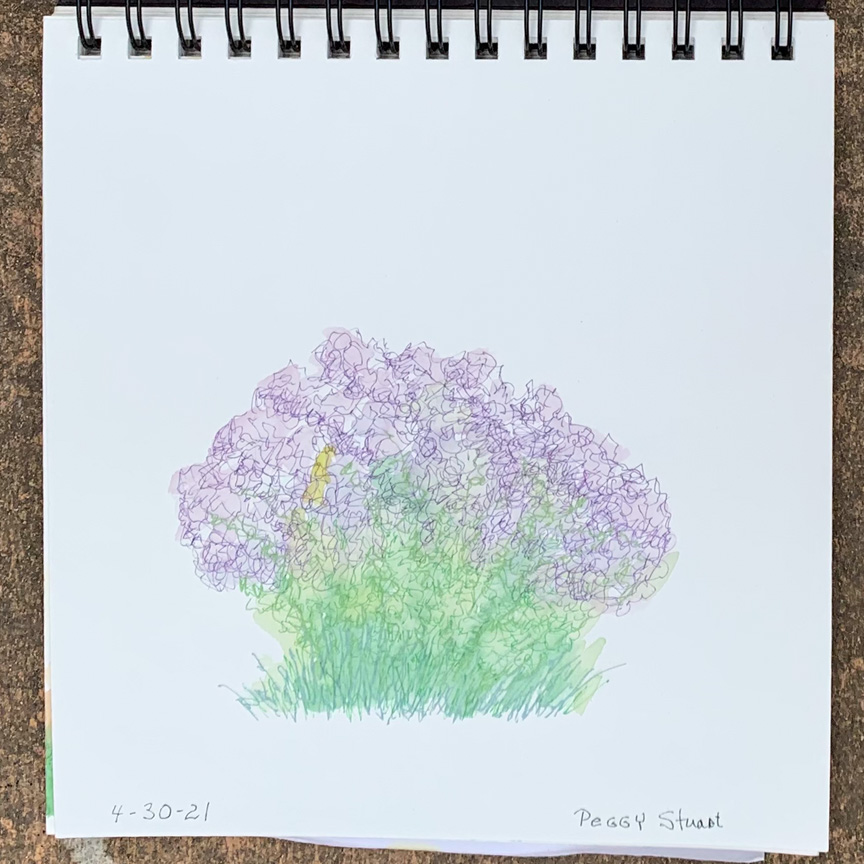 Peggy was into the flowers, too – an oyster flower behind a gravestone (nice contrast with color), and an abundant lilac bush.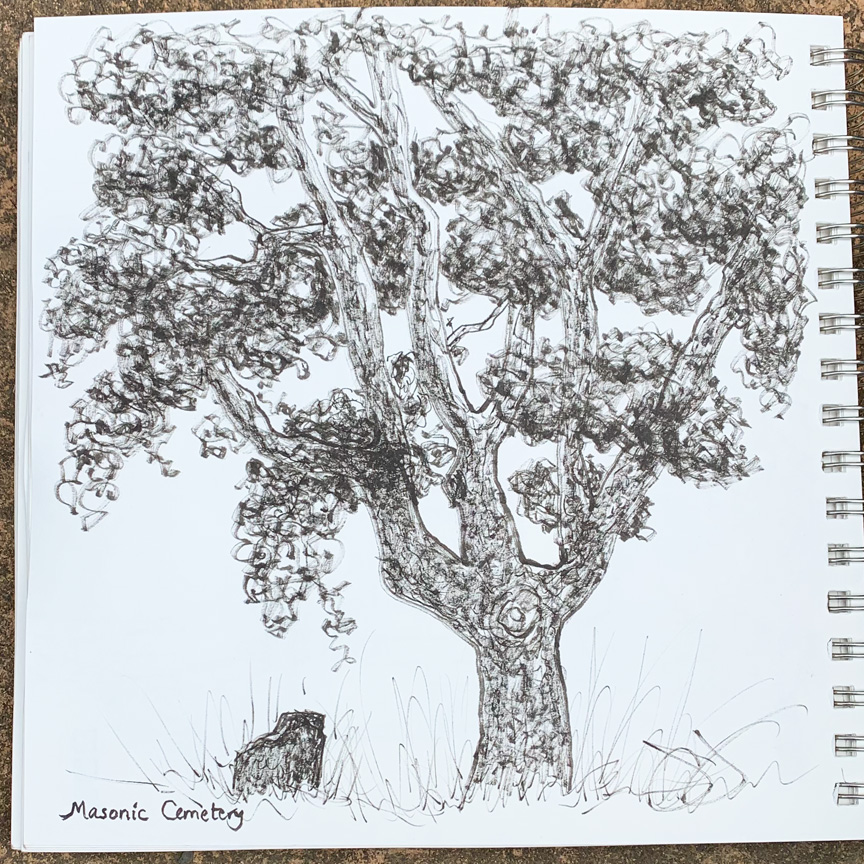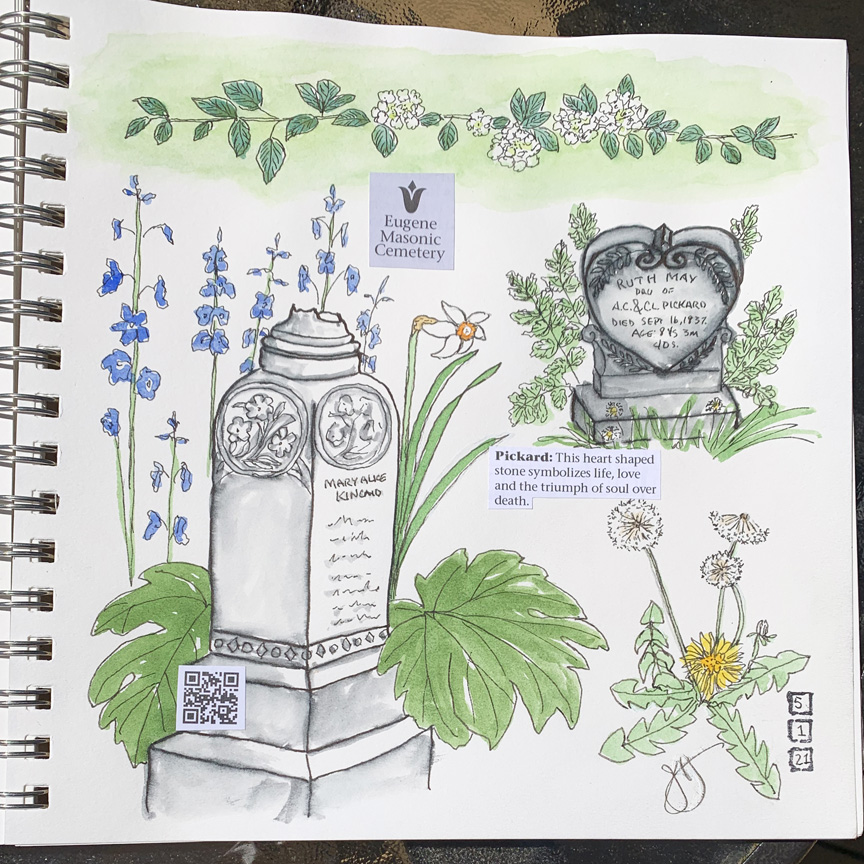 Jane (dealing with loose dogs at home) just stayed in one place to do the tree, then did the rest of the sketches when she got back home.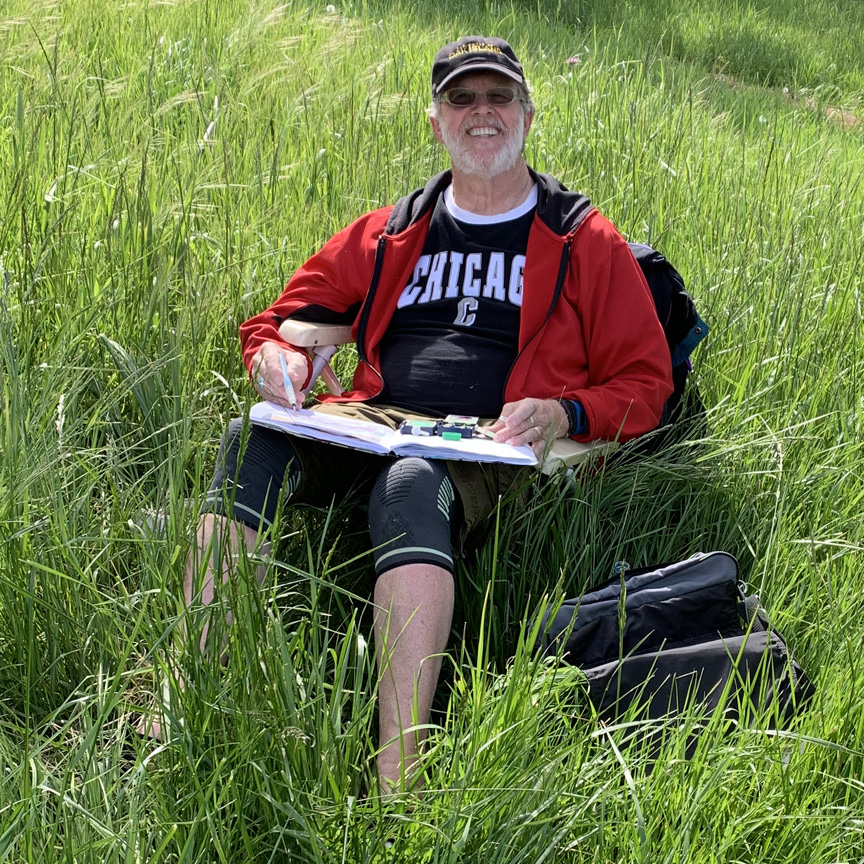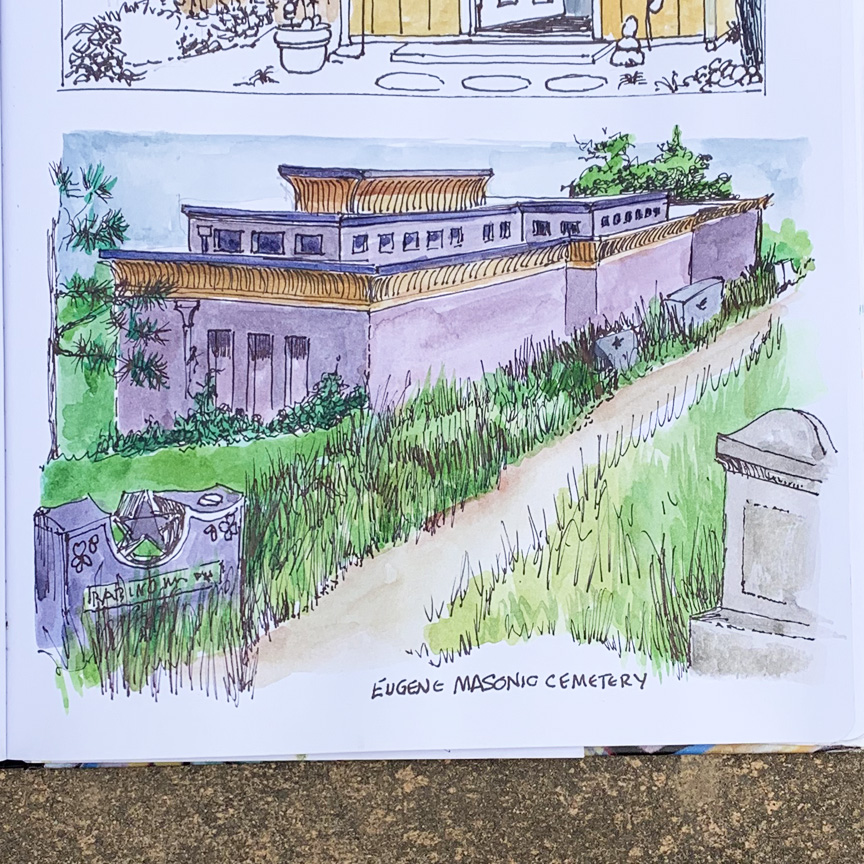 Jim found the back side of the mausoleum very interesting to sketch, and included some headstones for context. Nice sketch!
✒ Apr. 23, 20021, Masonic Cemetery/Hope Abbey Mausoleum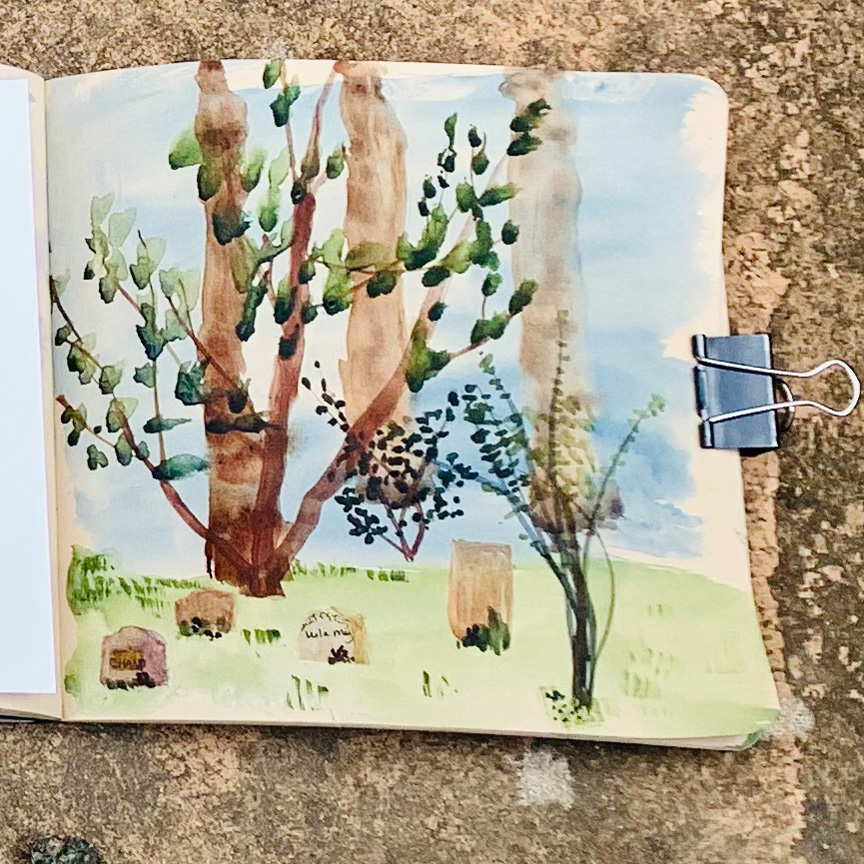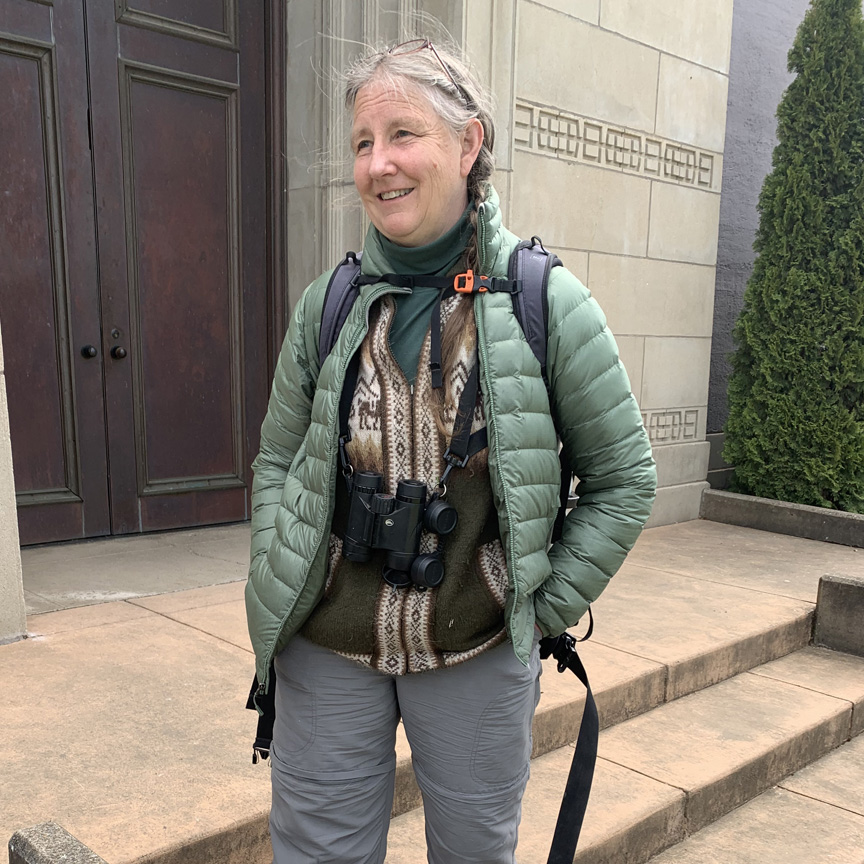 Bitty really got into the atmosphere – beautiful historic cemetery.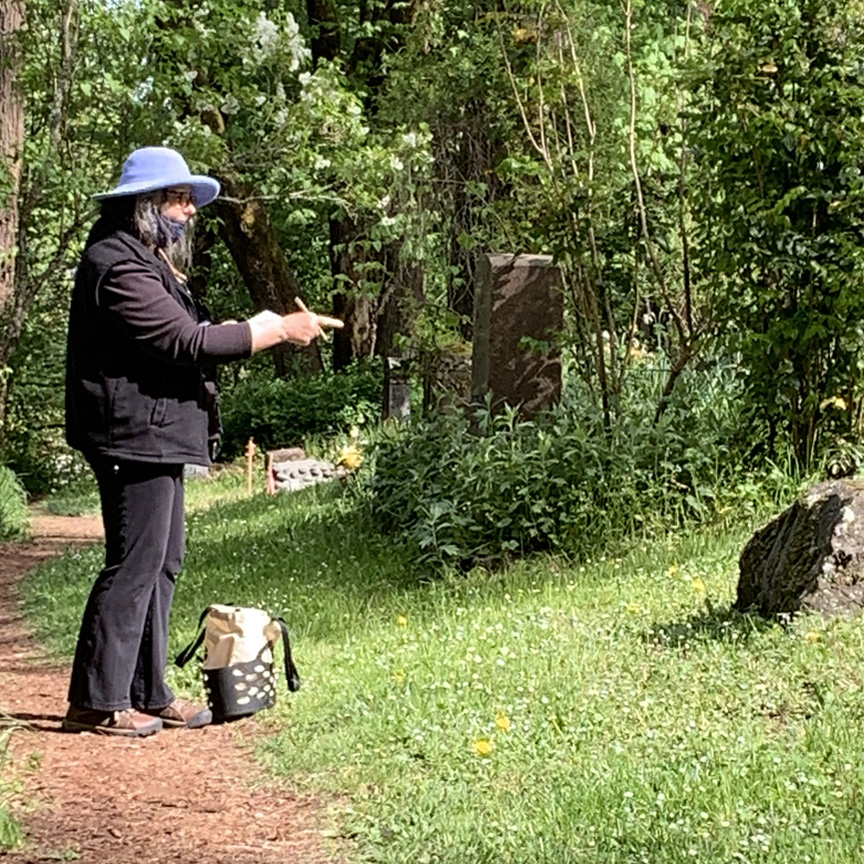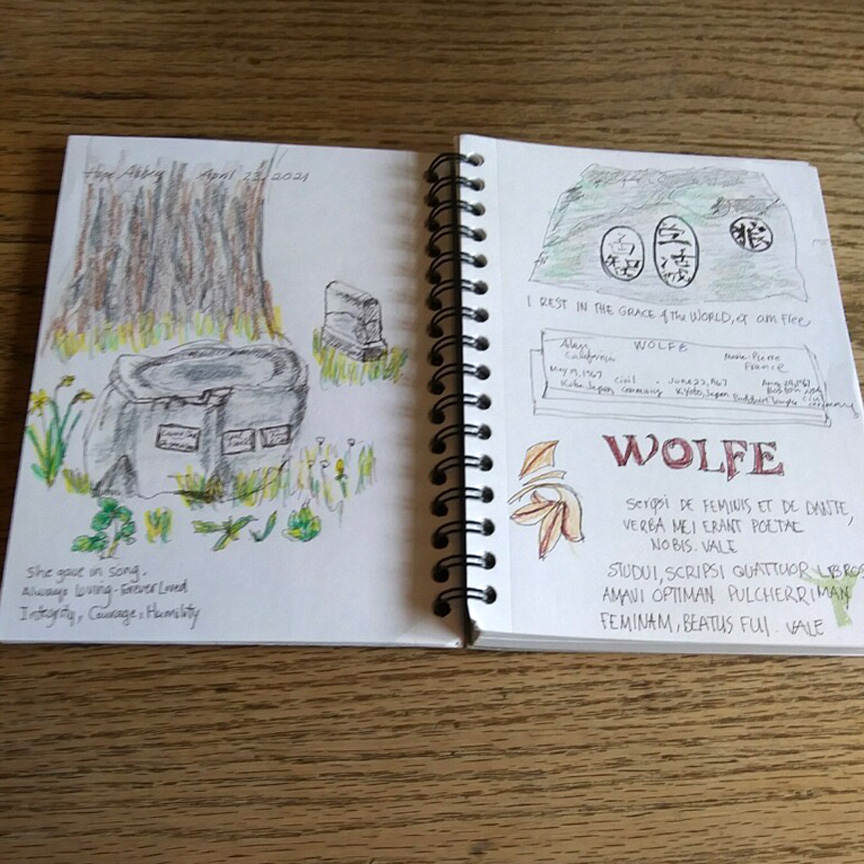 Laura was fascinated with Chinese & Hebrew on headstones.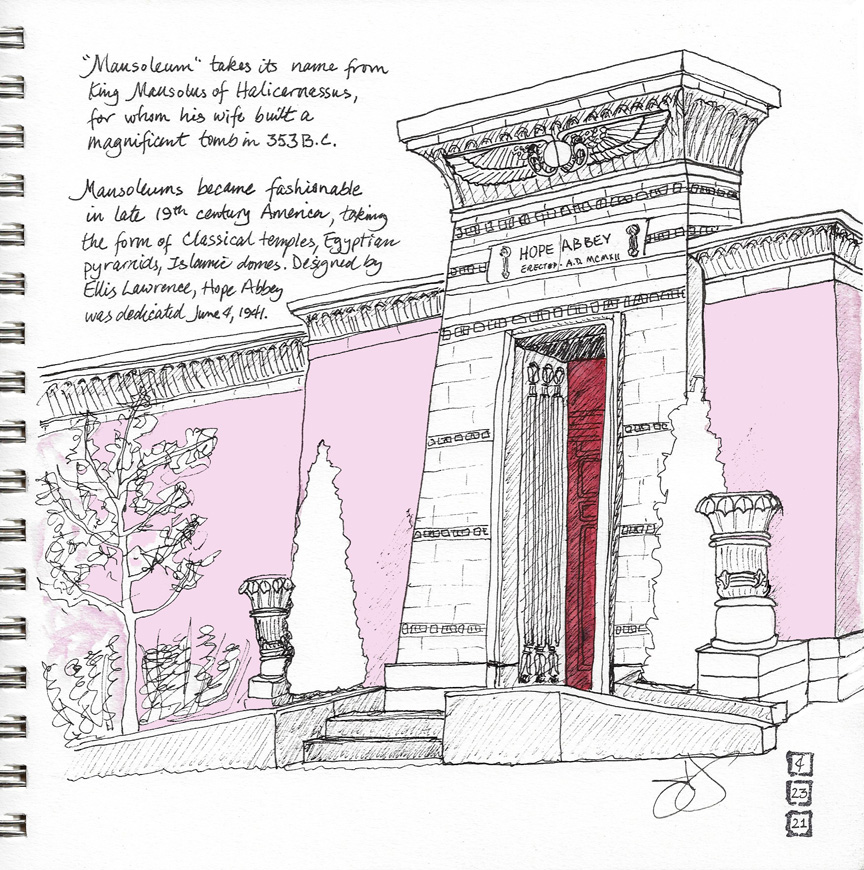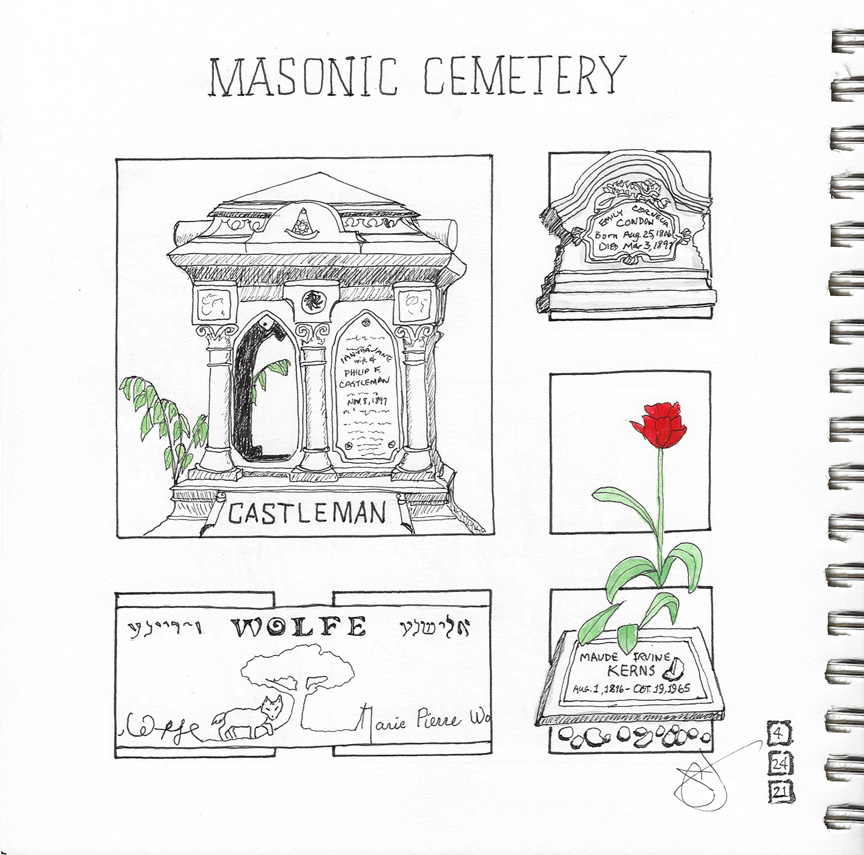 Jane started at the mausoleum, did special headstones at home.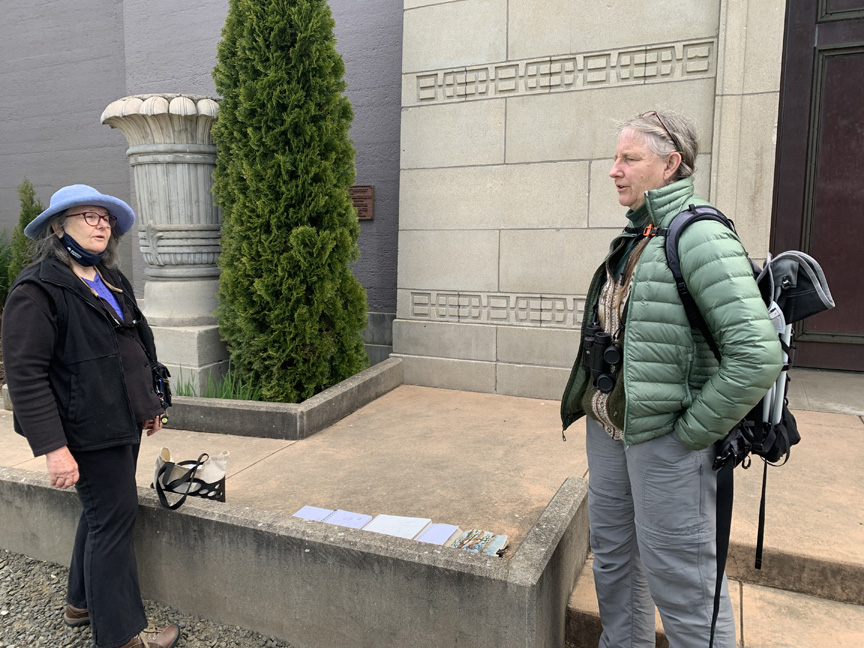 When time for sharing our sketches came, we wondered why there were just three of us…we knew some folks had conflicting things.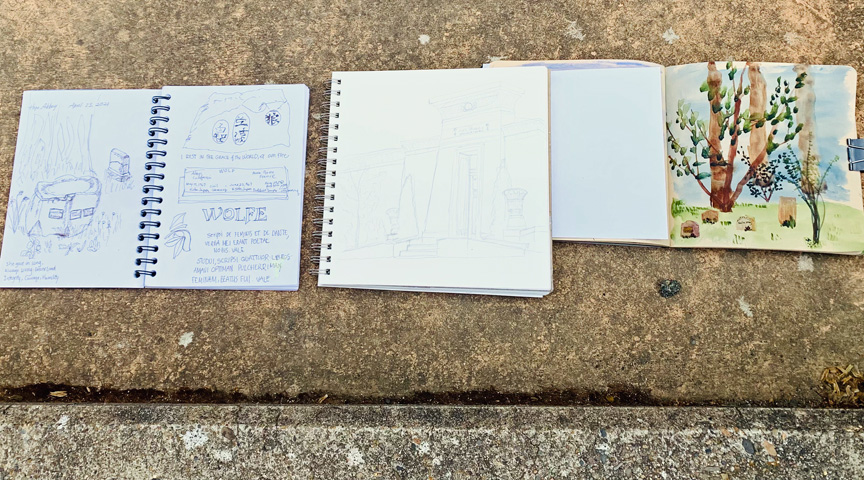 Laura & Jane were at stage 1 in sketching, Bitty was DONE!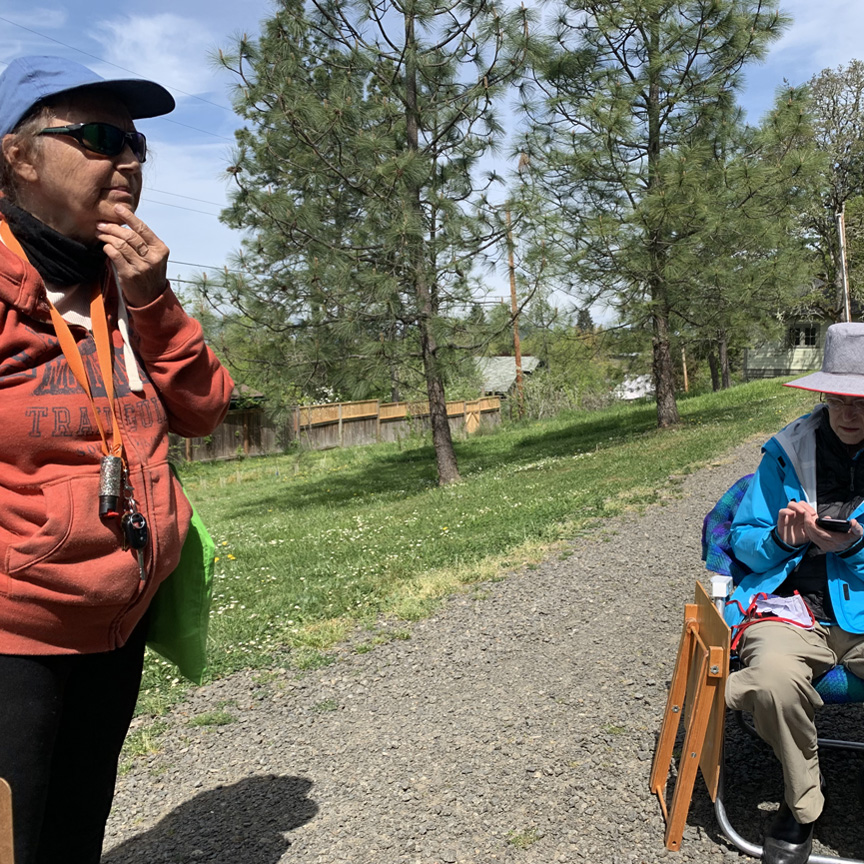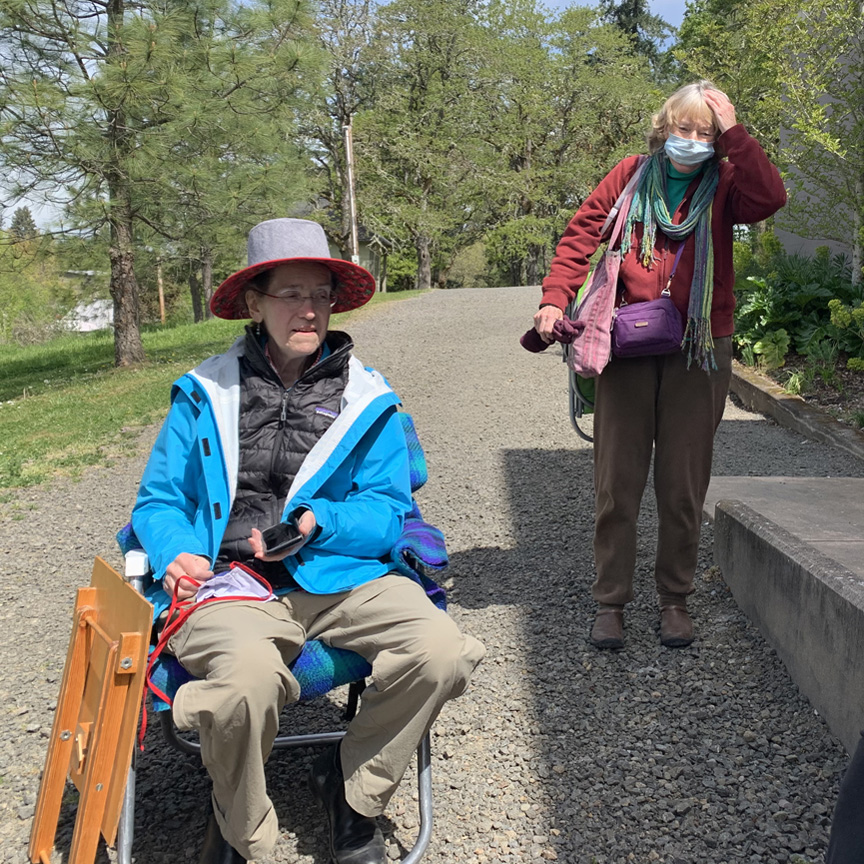 Eva, Peggy, & Sue said "there was a sketching get together time change? Guess we'd better read our email next time!"
The Friday Sketch Group is now meeting together outside every Friday that the weather allows!
✒ Apr. 16, 2021, Owen Rose Garden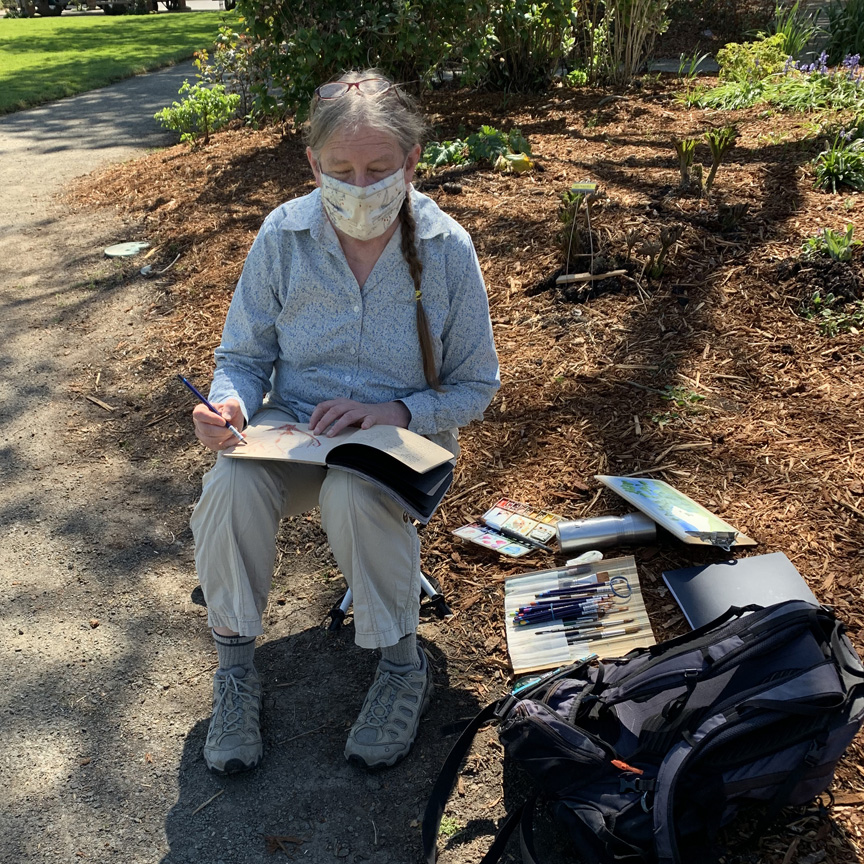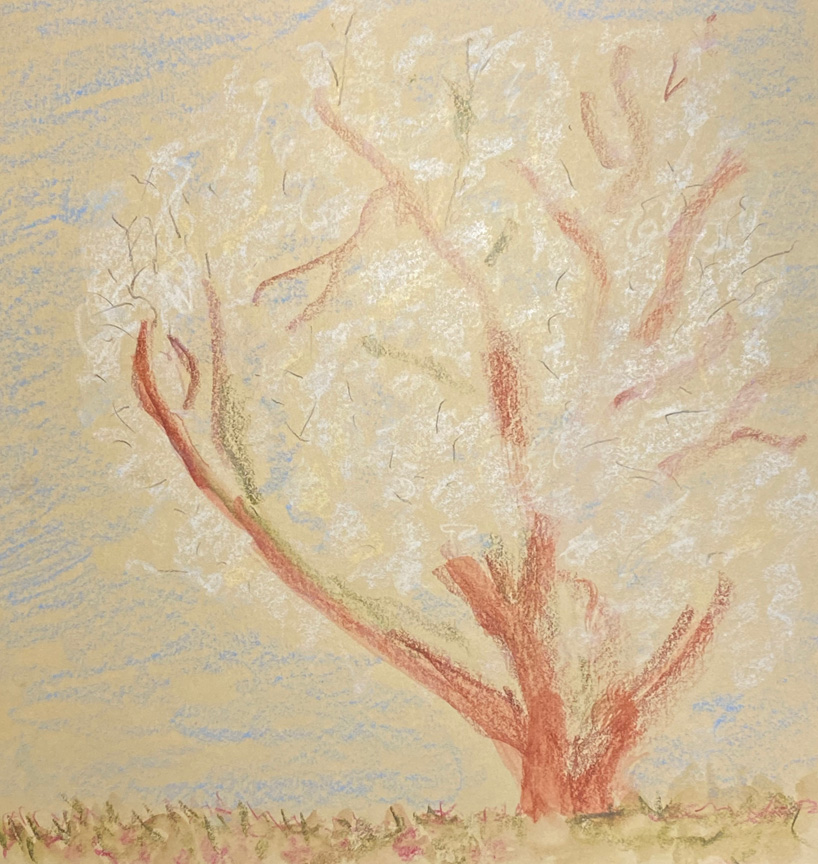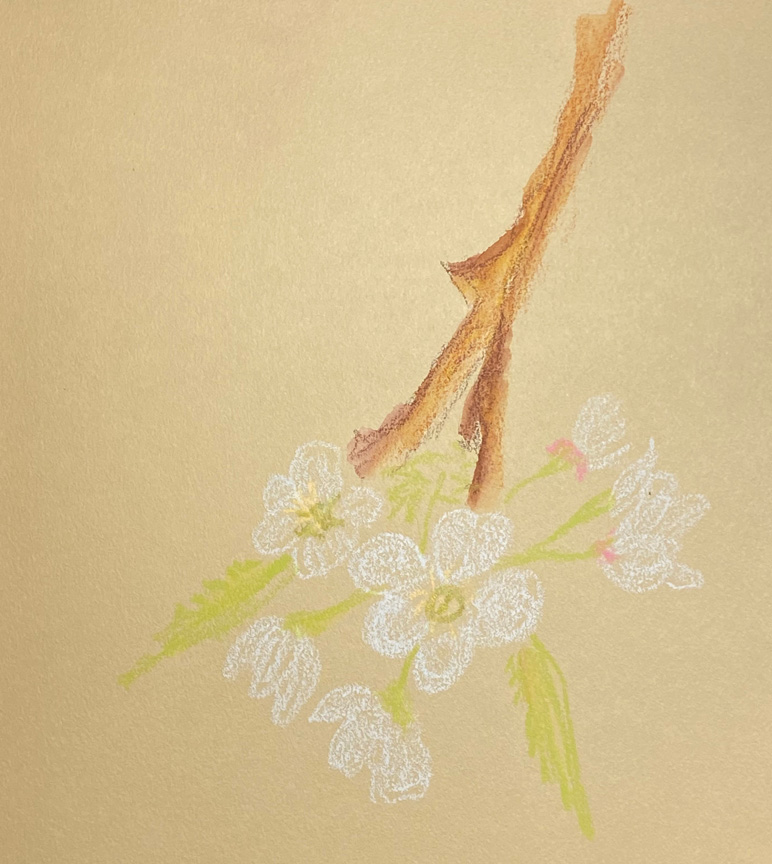 Bitty sketched the famous Tartarian Cherry Tree a couple of times.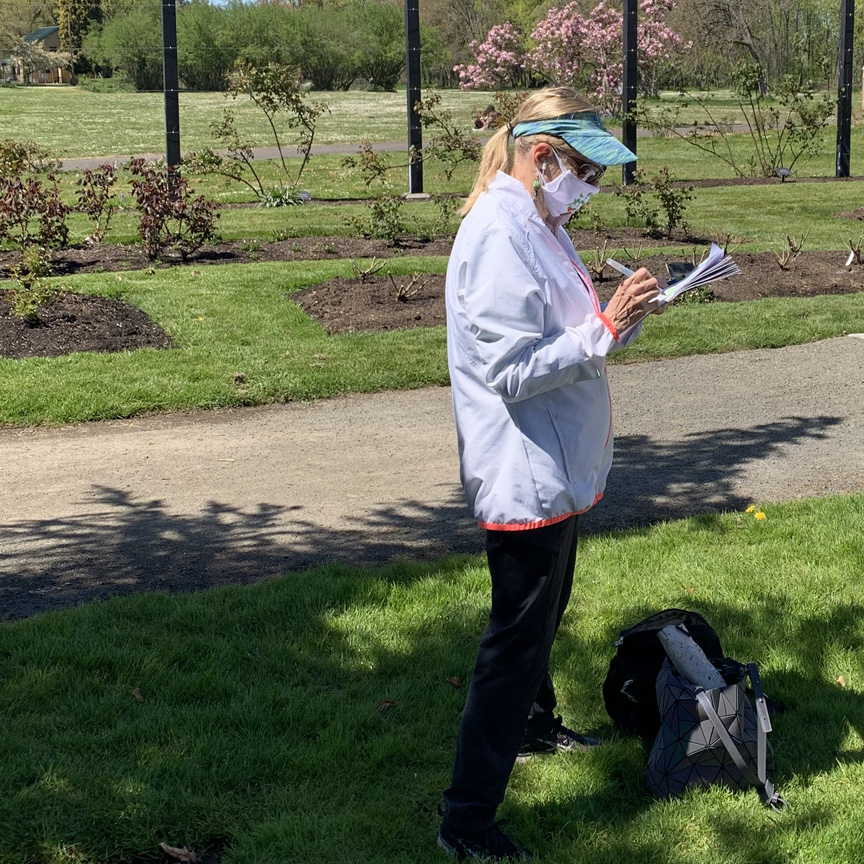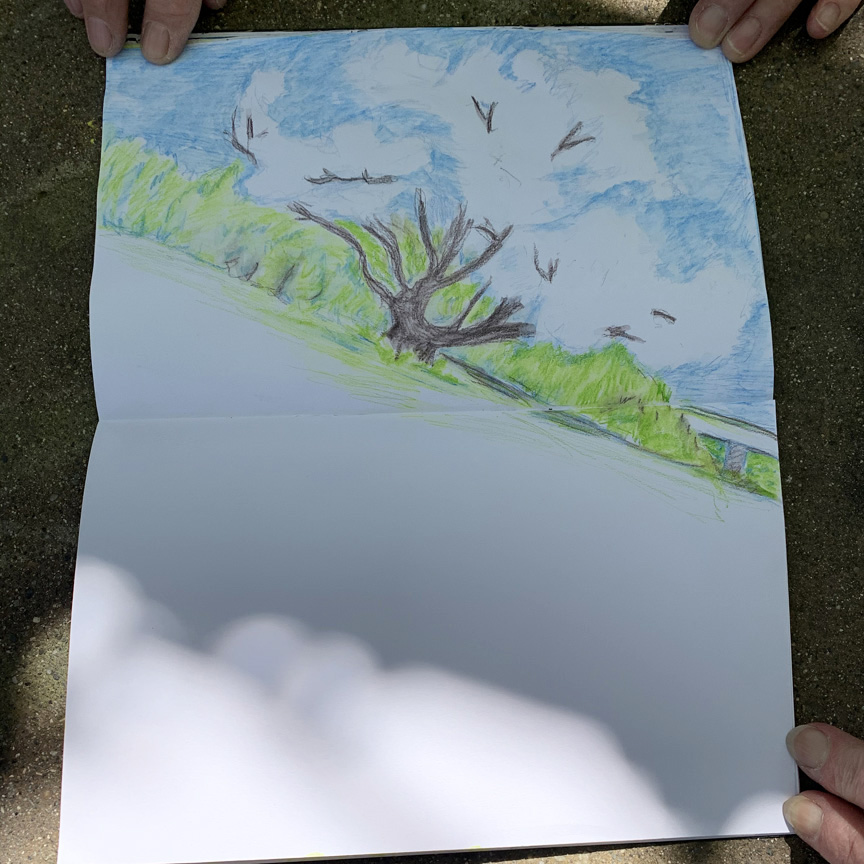 Barb Sh got an entirely different slant on it!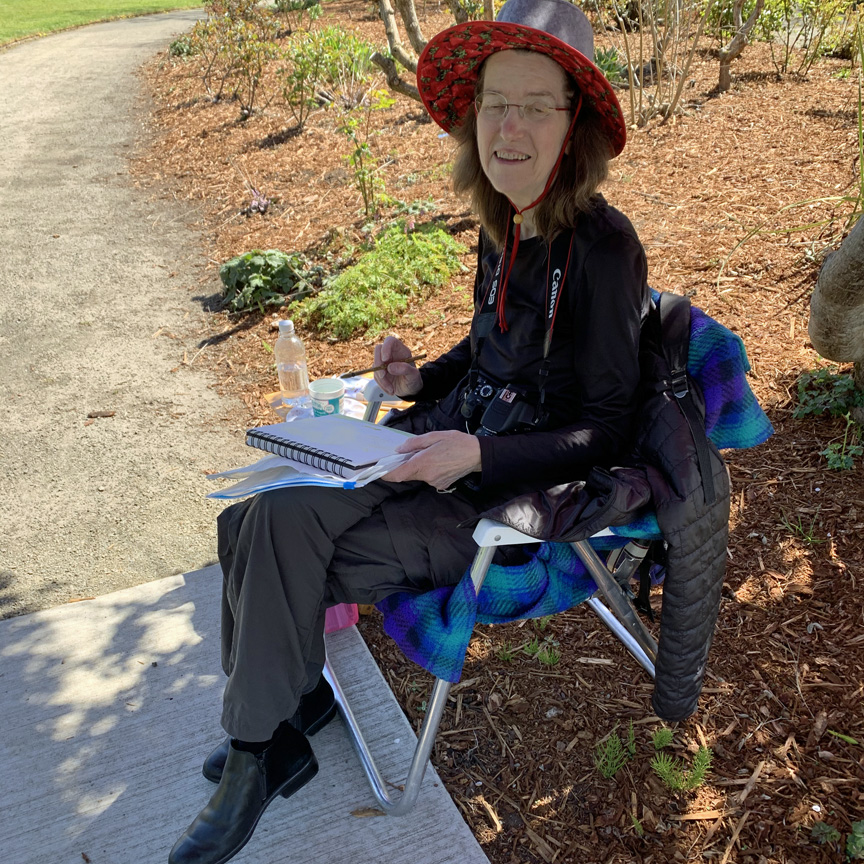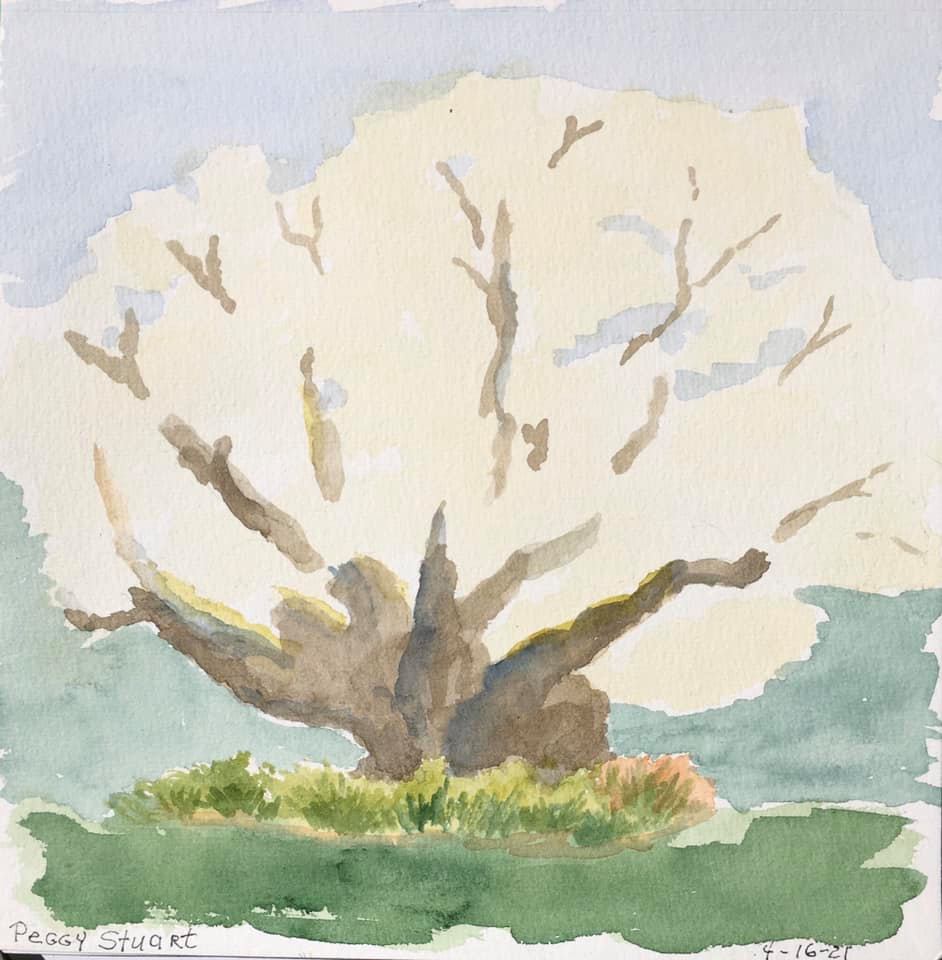 Peggy dealt with the whole thing, catching its massive presence.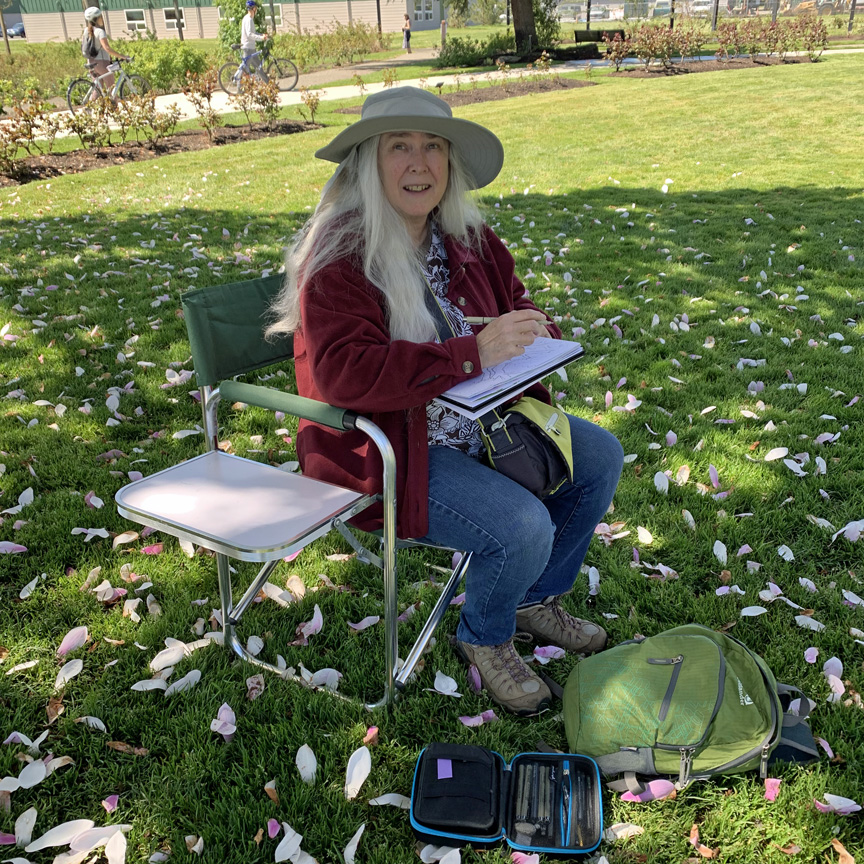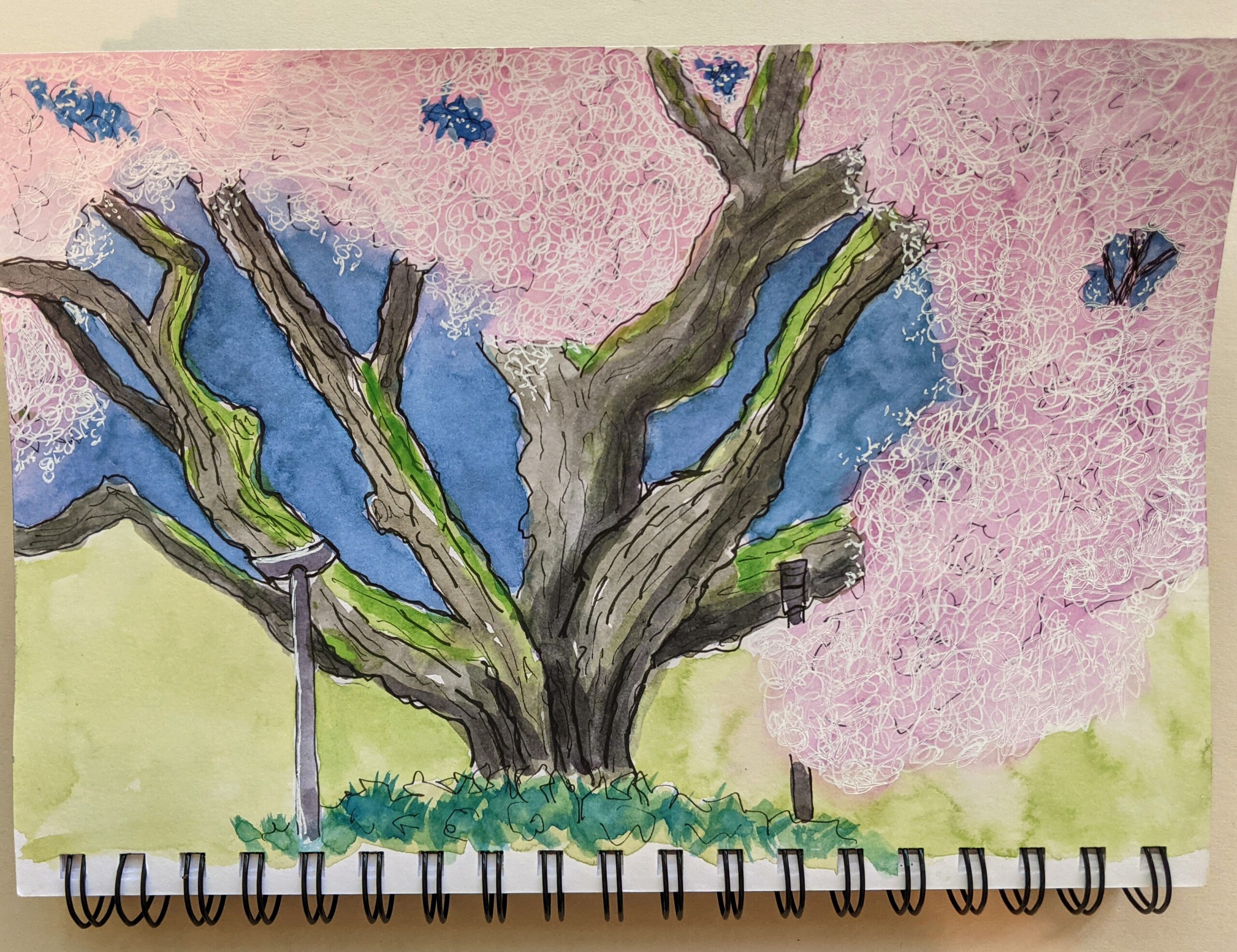 Danita was paying attention to the negative space between limbs.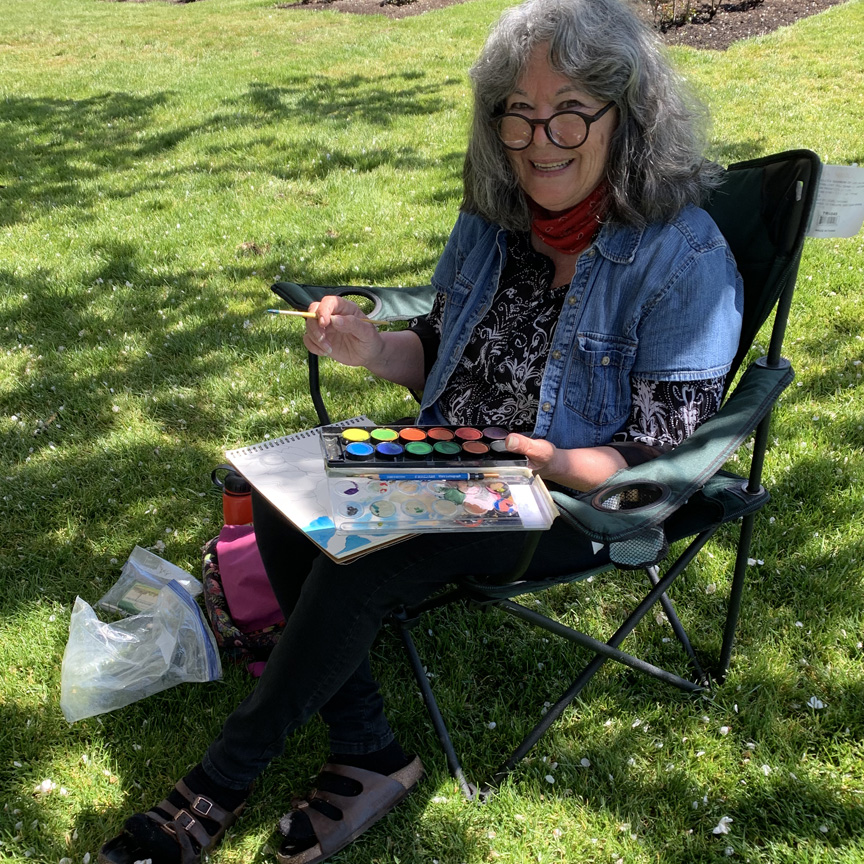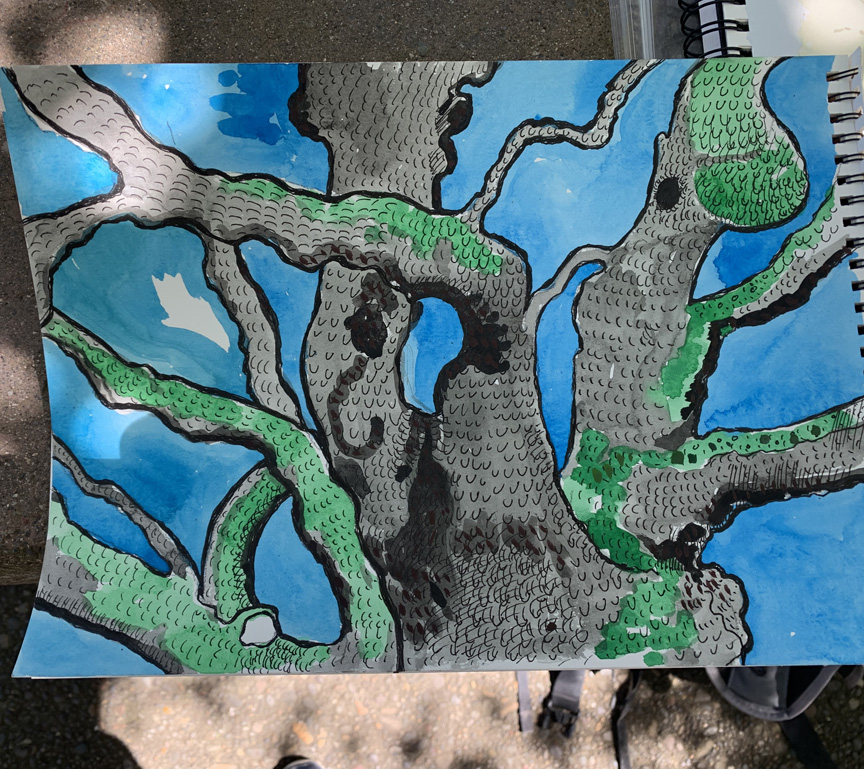 Gail's closeup of limbs & negative space make a great design.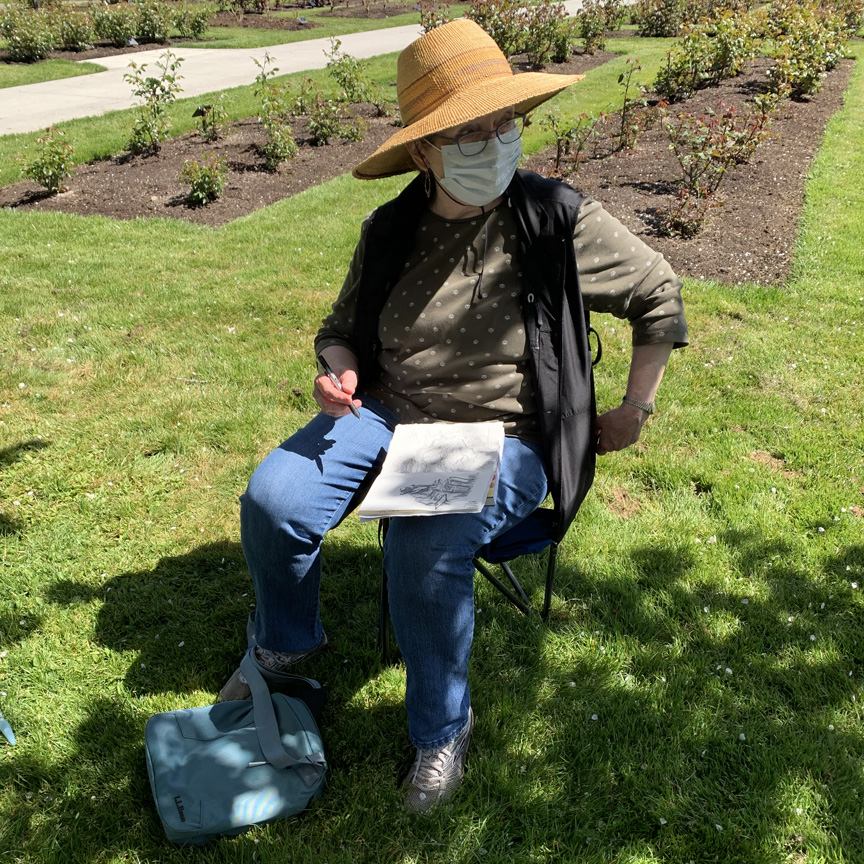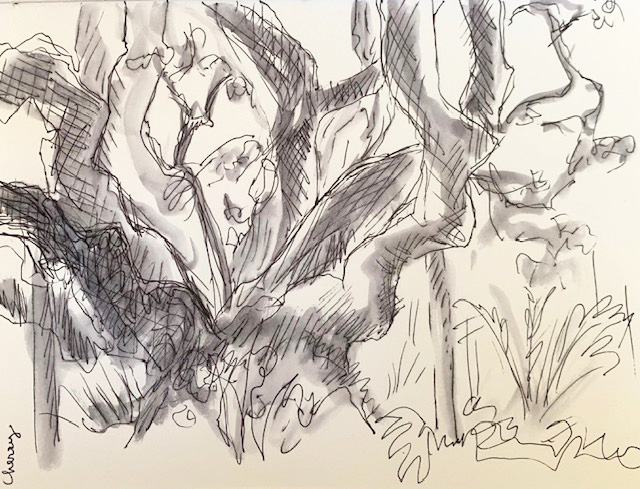 Marsha made the most of her 15 minutes to sketch – wowza!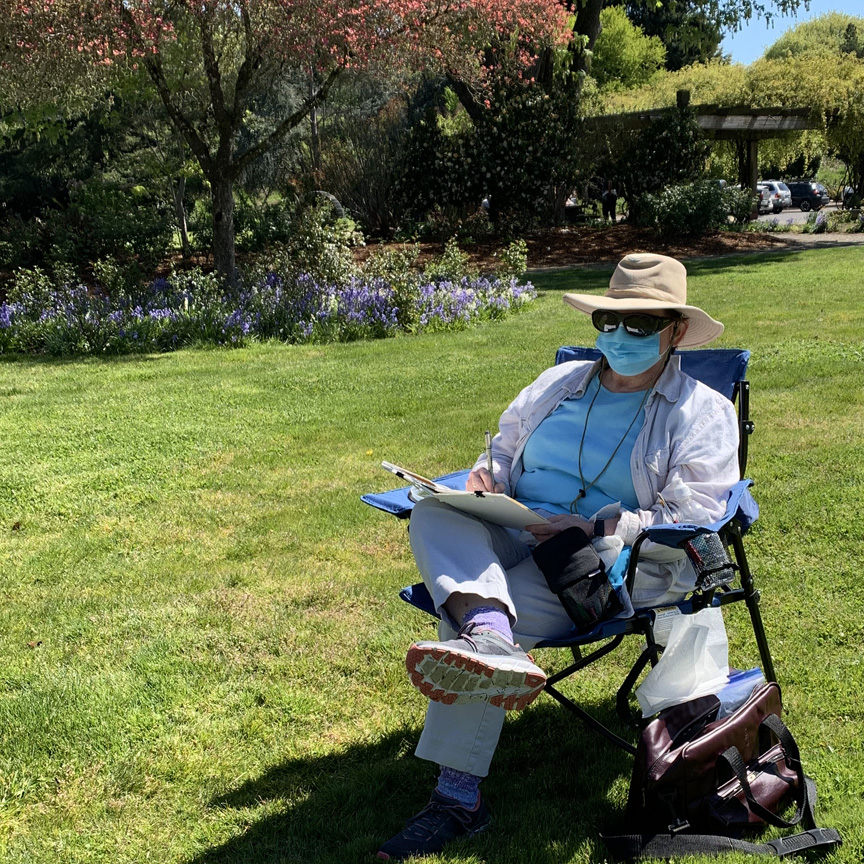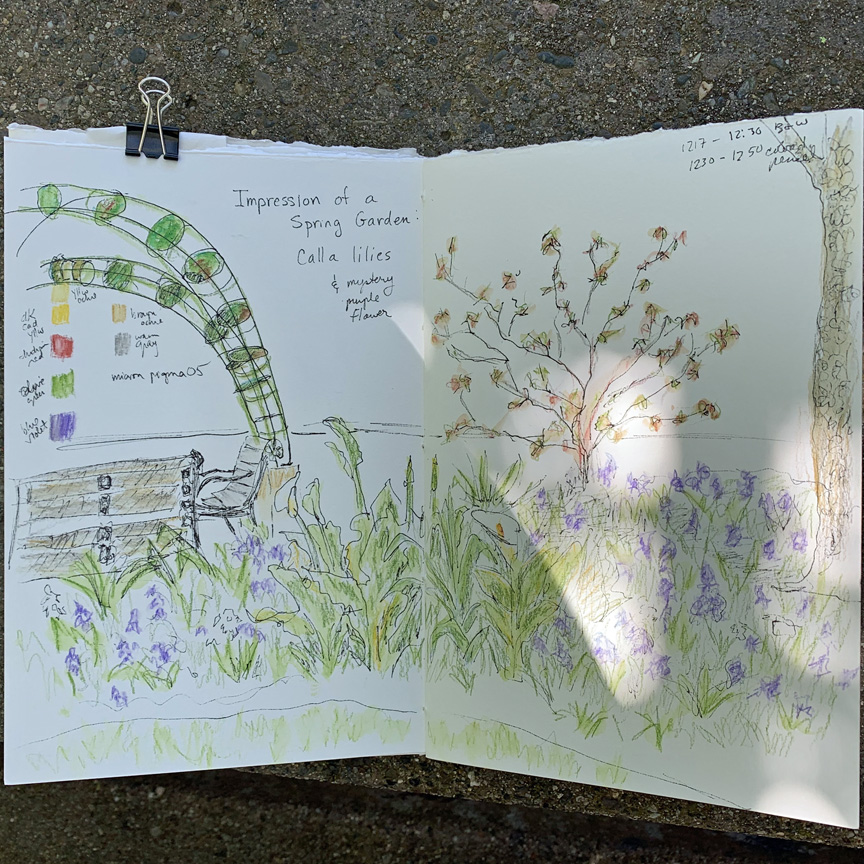 Meanwhile, Daisy was capturing the ambience of the place.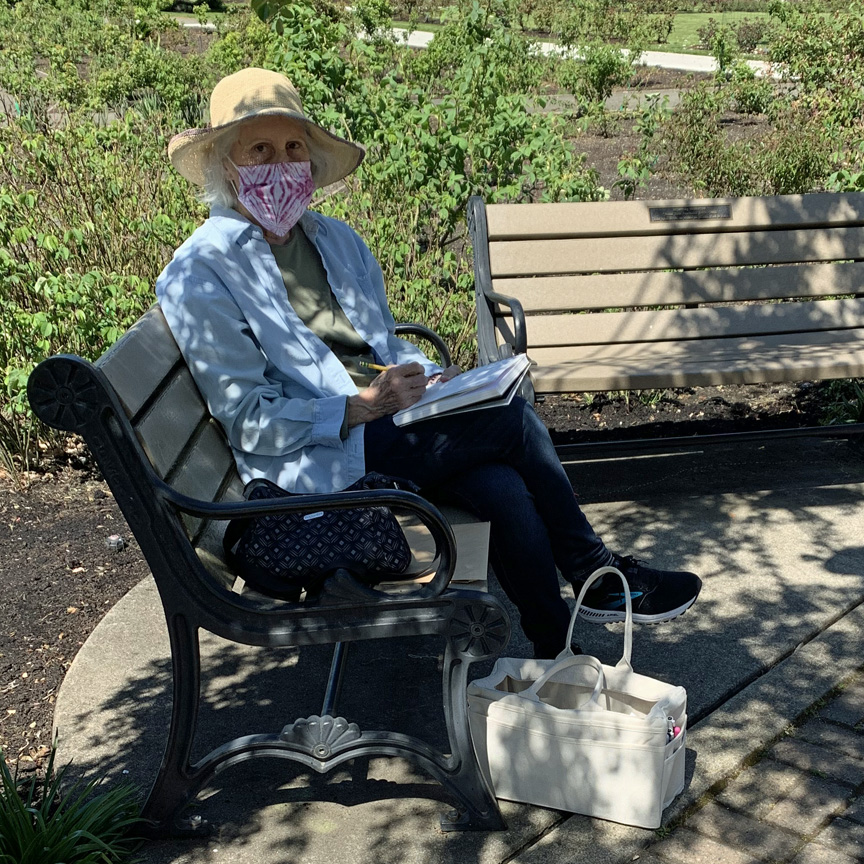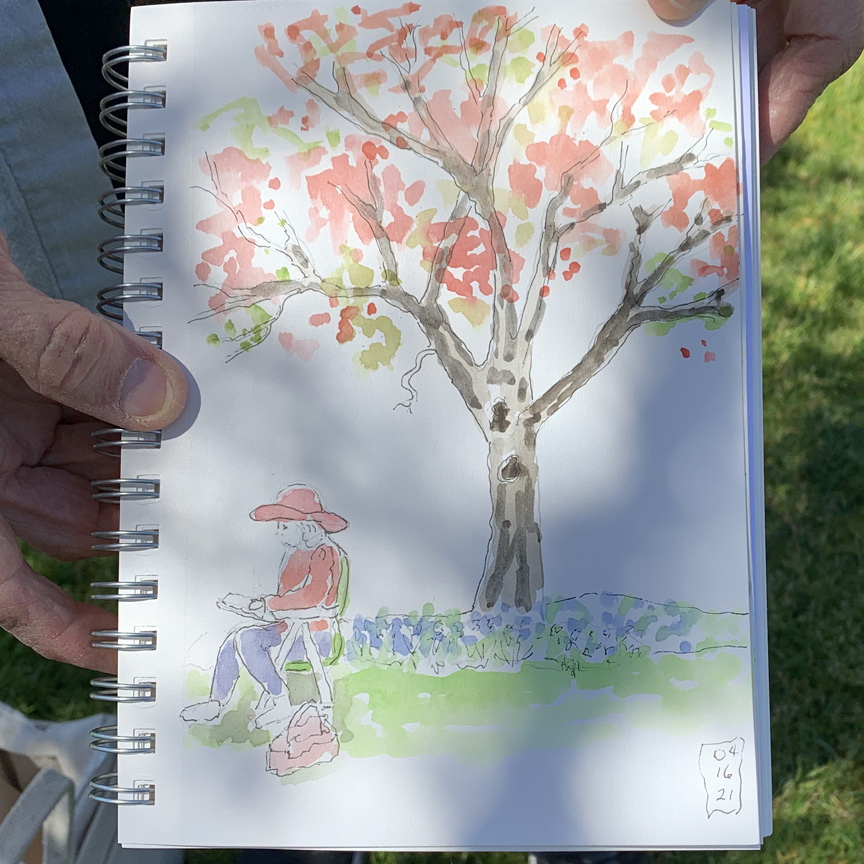 And Barb So was capturing our new sketcher, Sue, in the ambience.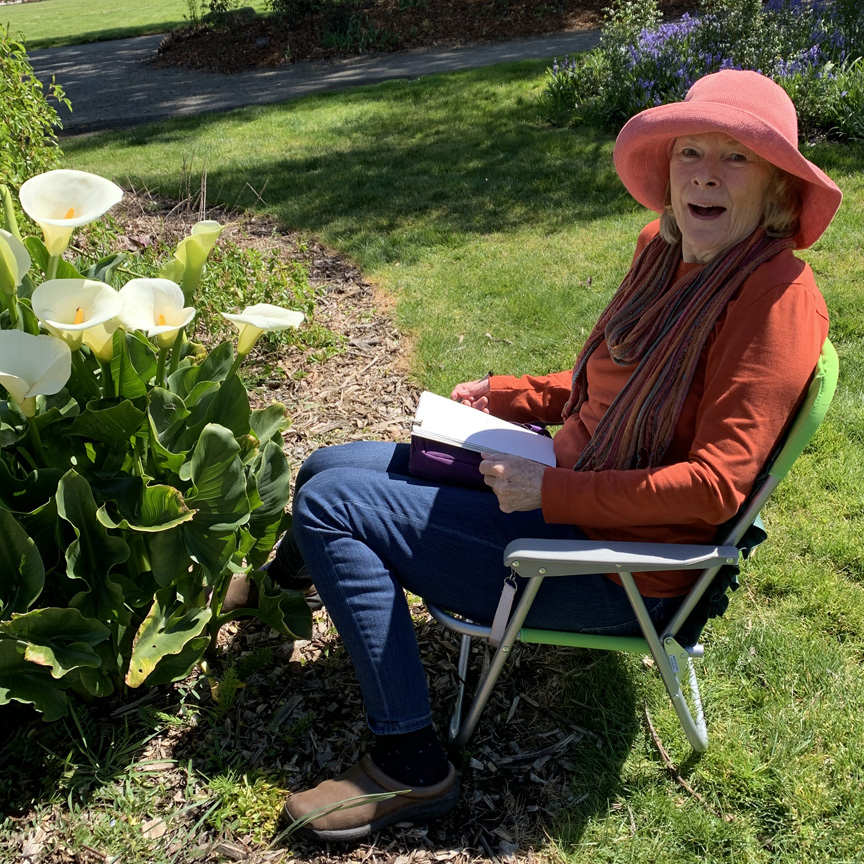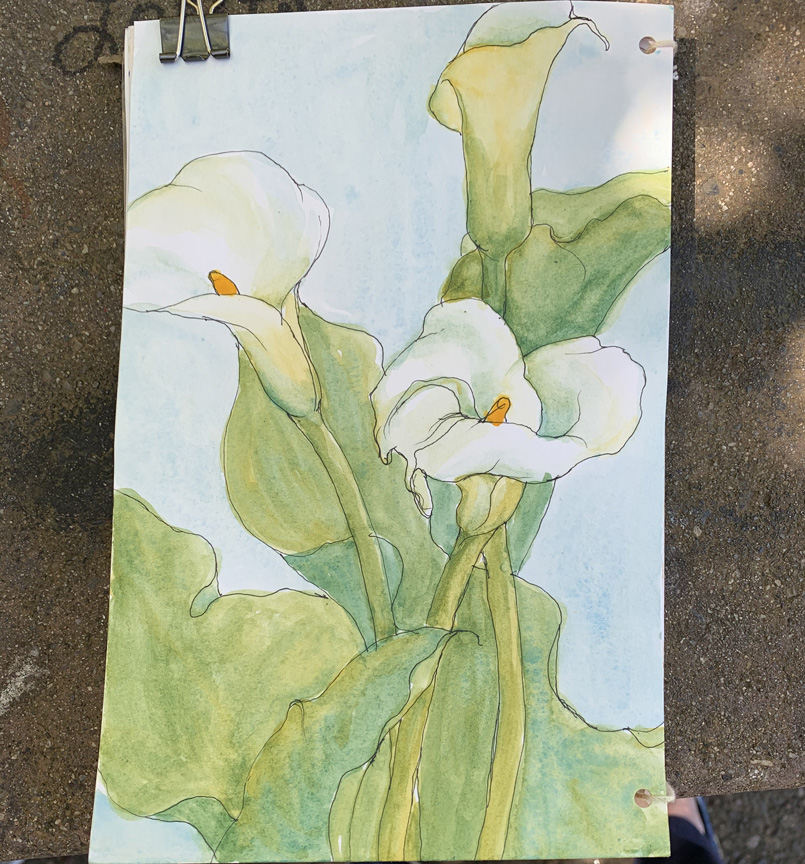 While Sue was getting up close & personal with the canna lilies.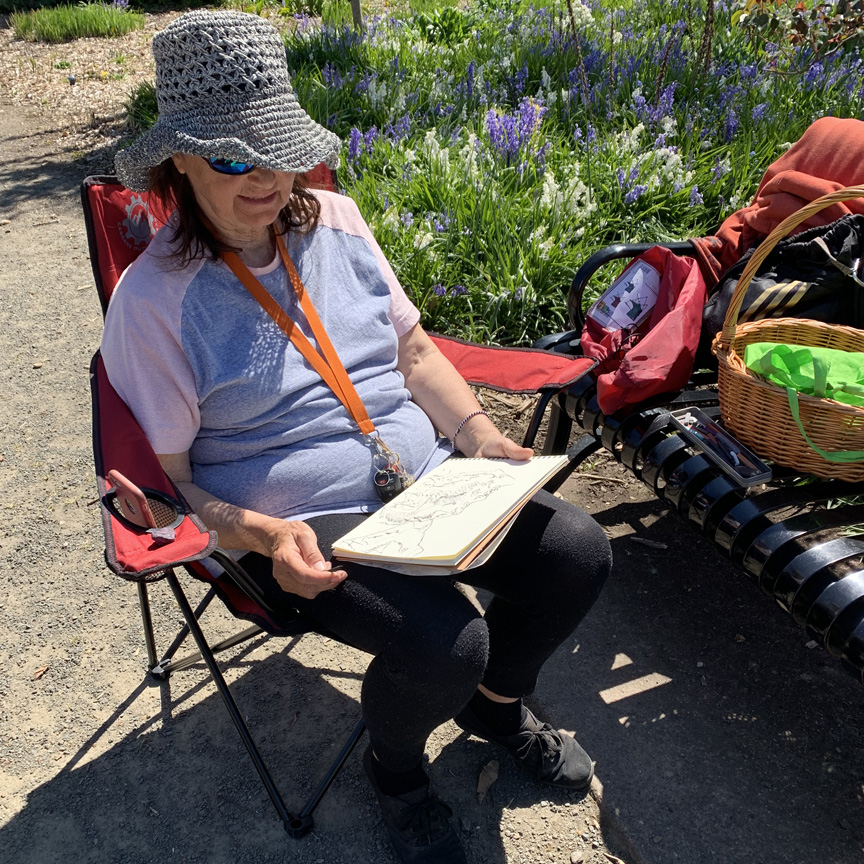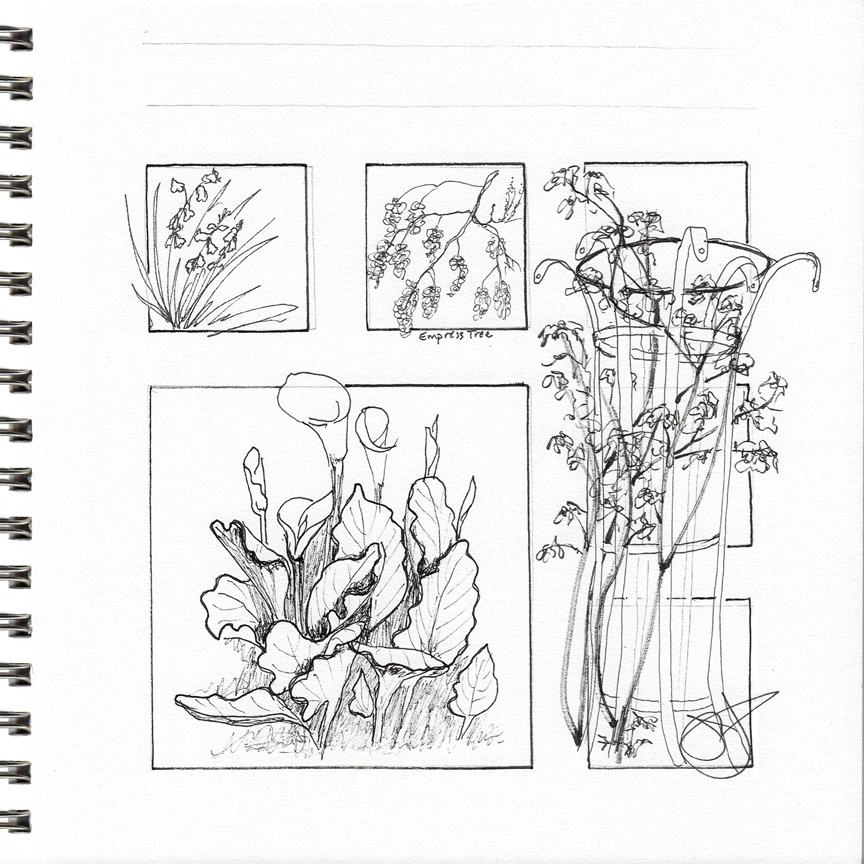 Eva (no sketch shown) declared she was sticking to charcoal; Jane (no photo shown) petered out with a b&w ink sketch. Good times.
Our forth time meeting since the Covid shut down!
✒ Apr. 9, 2021, Hendricks Park, Eugene, OR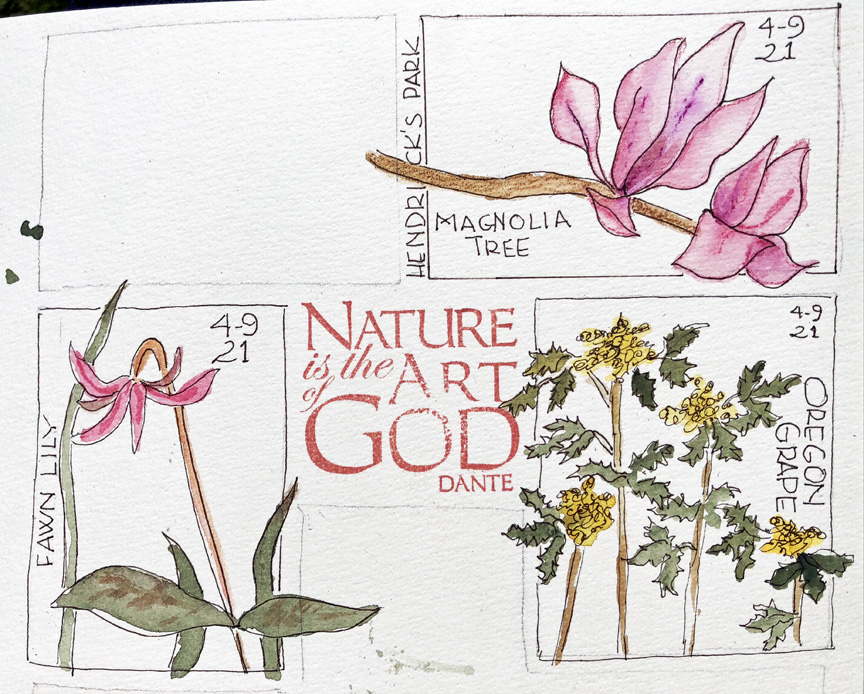 Katie got there quite early before us, so she passed on her sketches as she was on her way back home. Lovely work.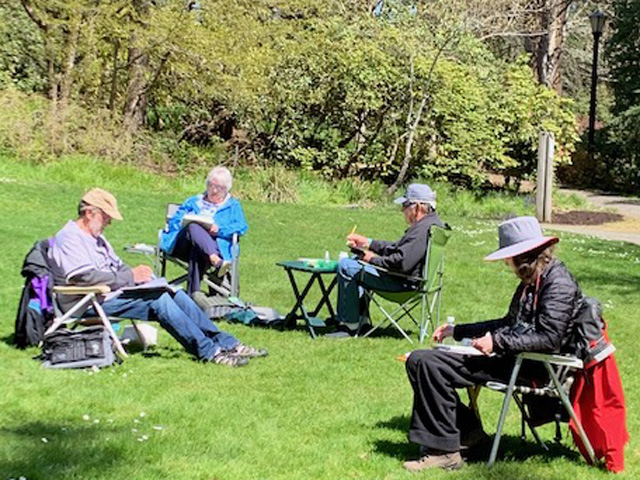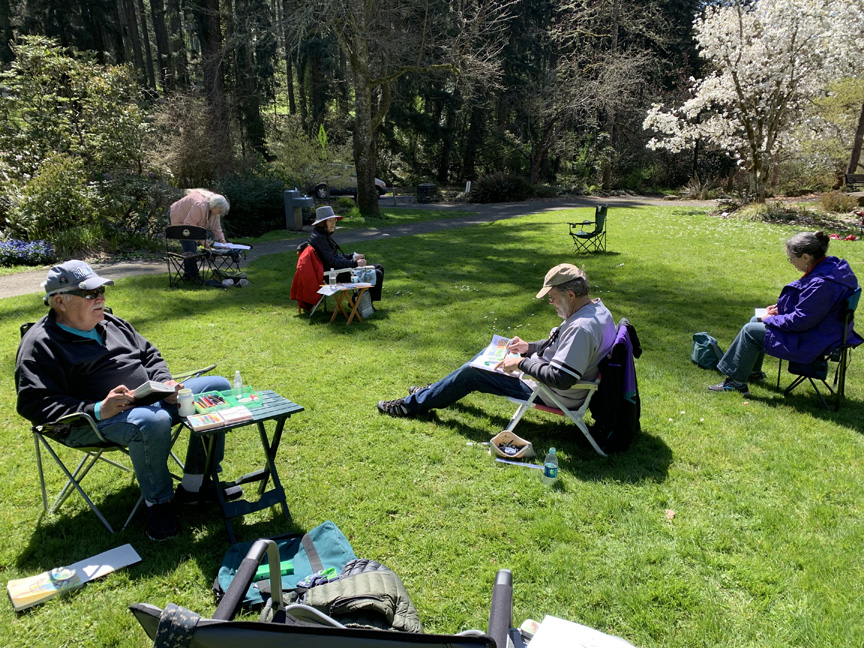 Jim, Jane, Bill, Peggy; Bill, Danita, Peggy, Jim, Marsha. There were others of us were sketching elsewhere in the park.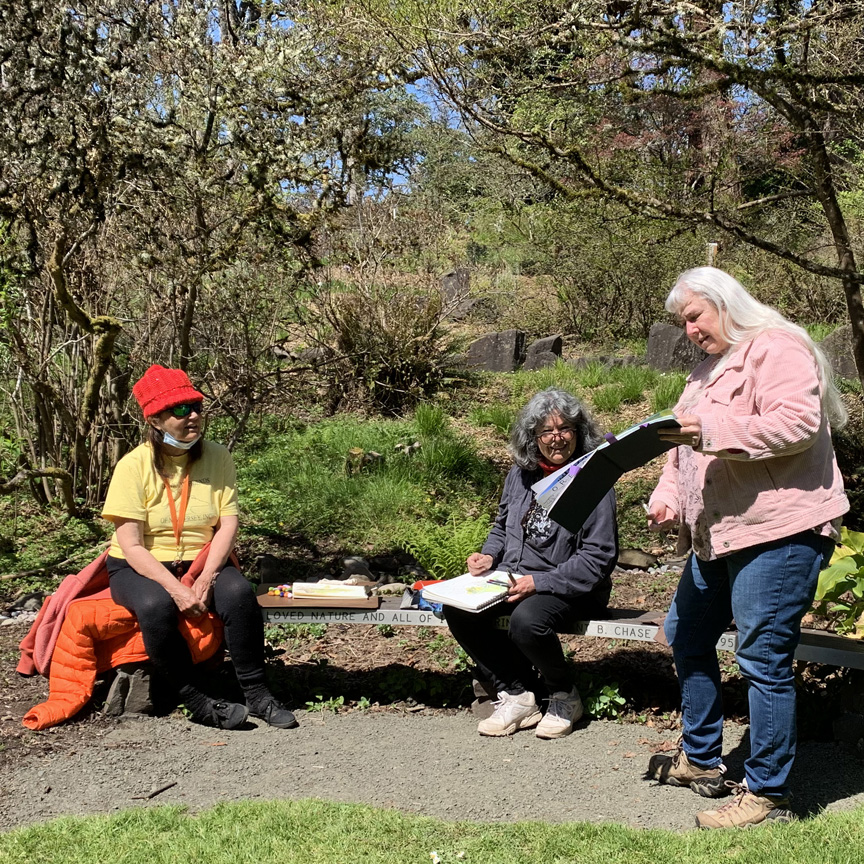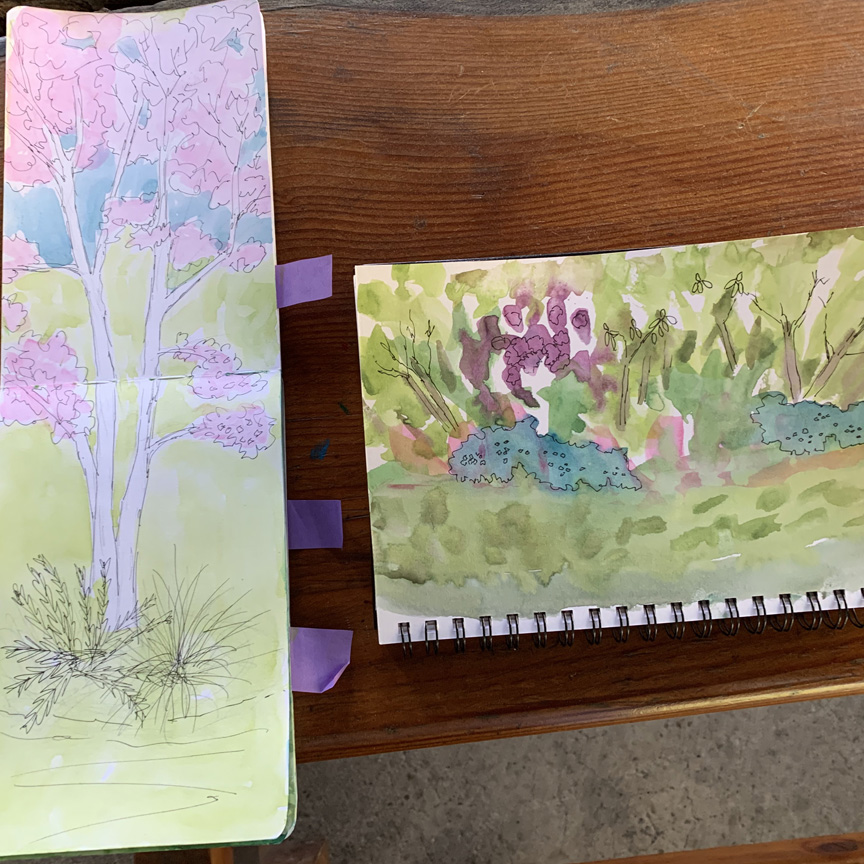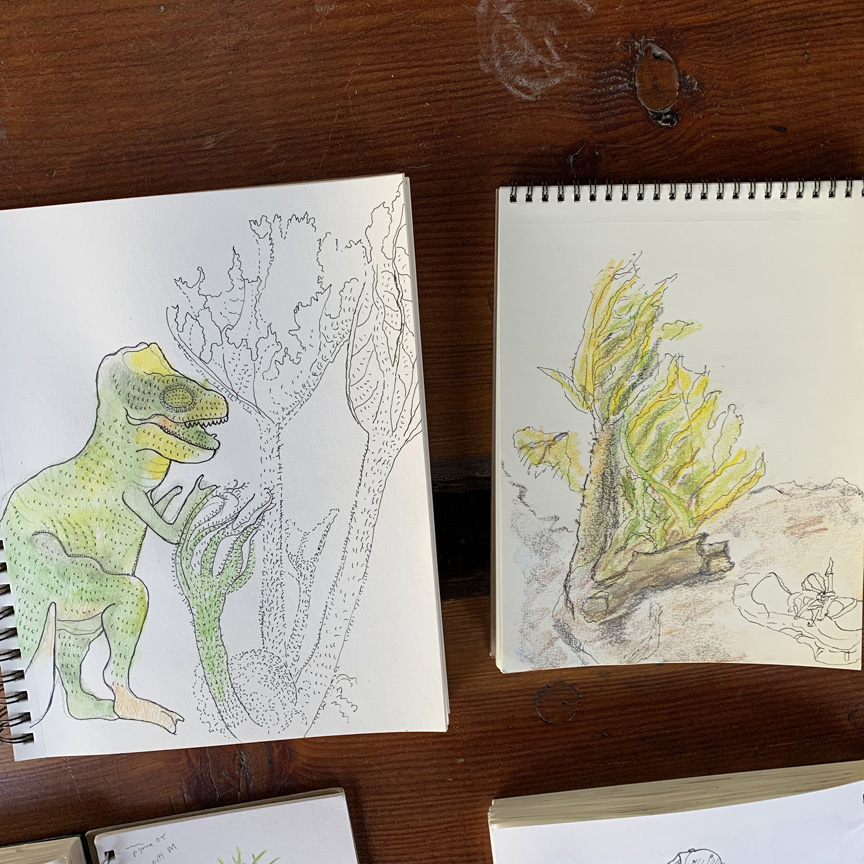 Newcomers Eva & Gail talk with Danita about technique. Sketches by Danita; Gail & Eva.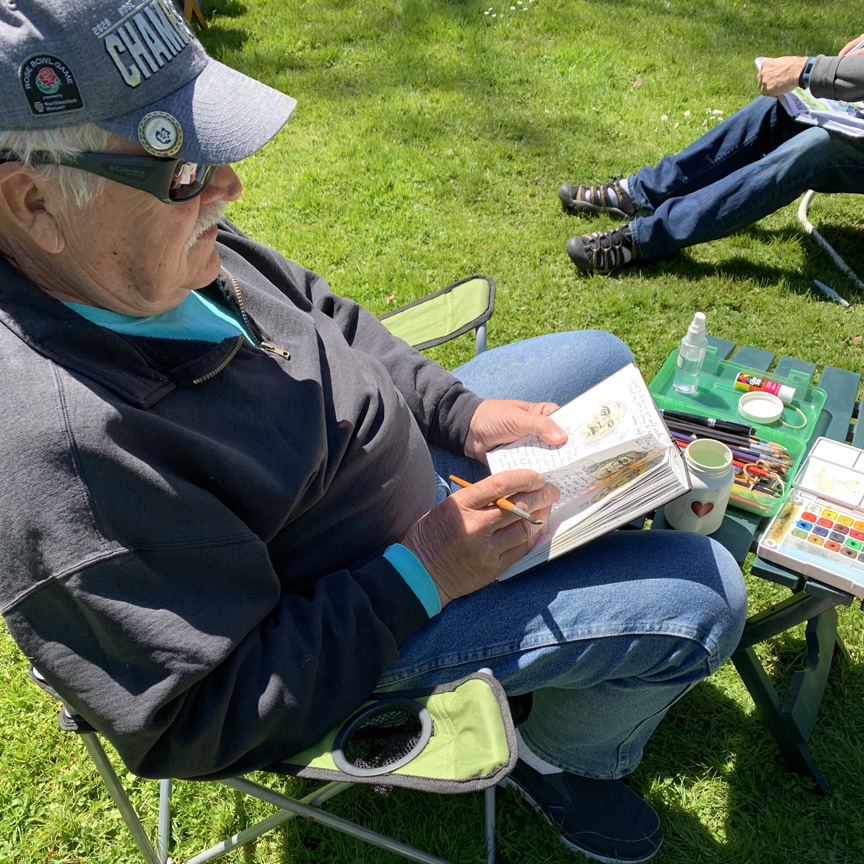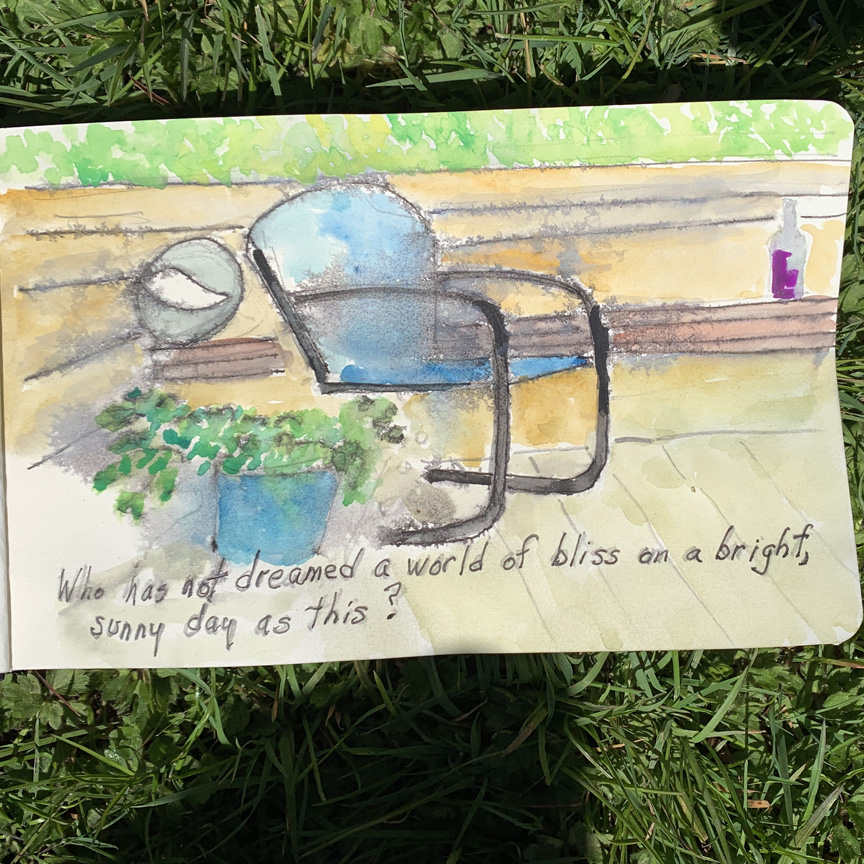 Great to have Bill back sketching with us – we missed his wit!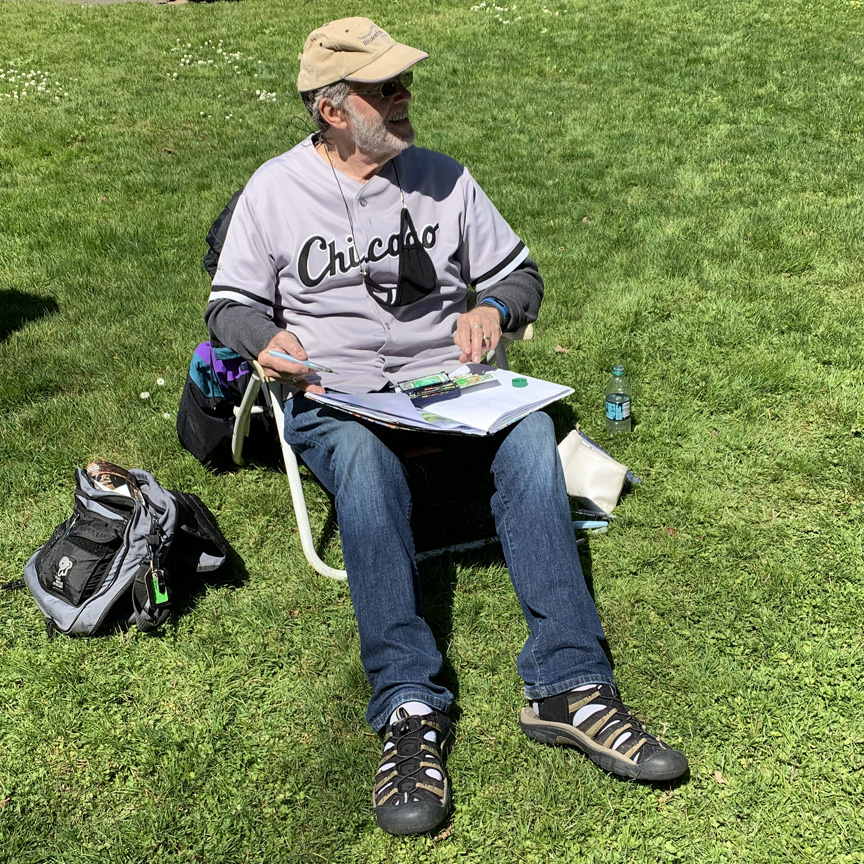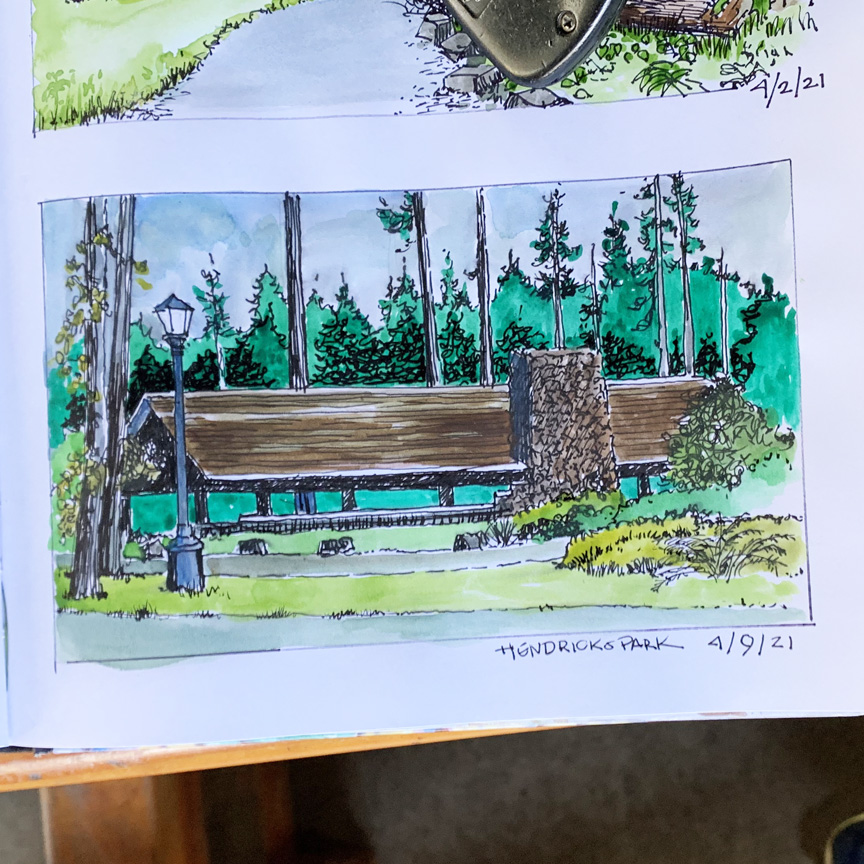 Jim loves drawing architecture & did a terrific job on the shelter.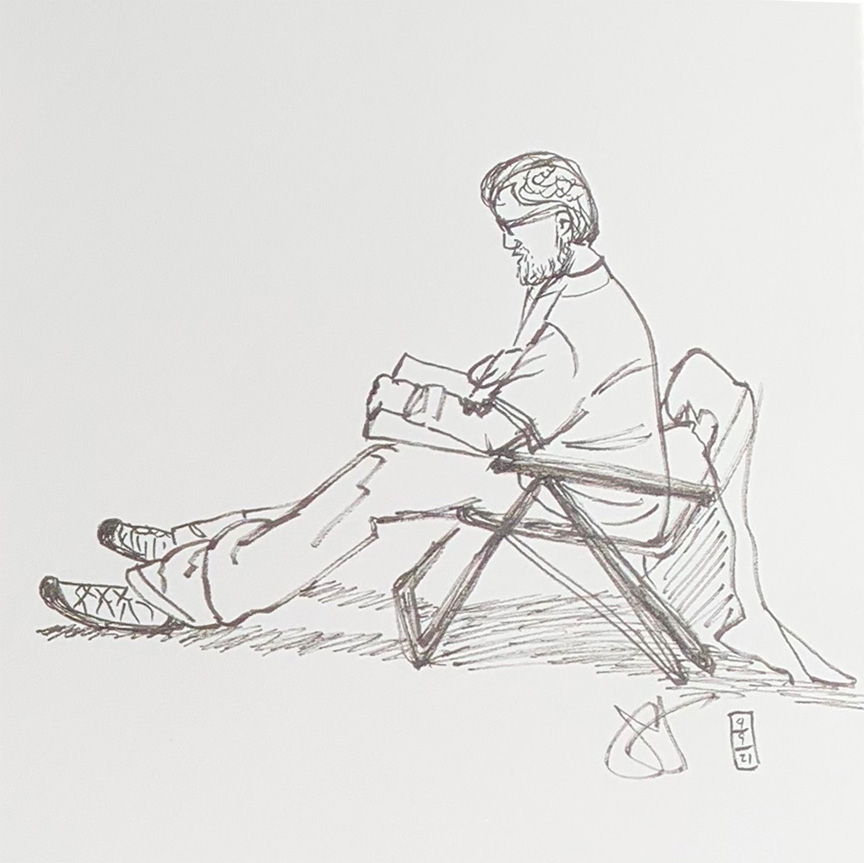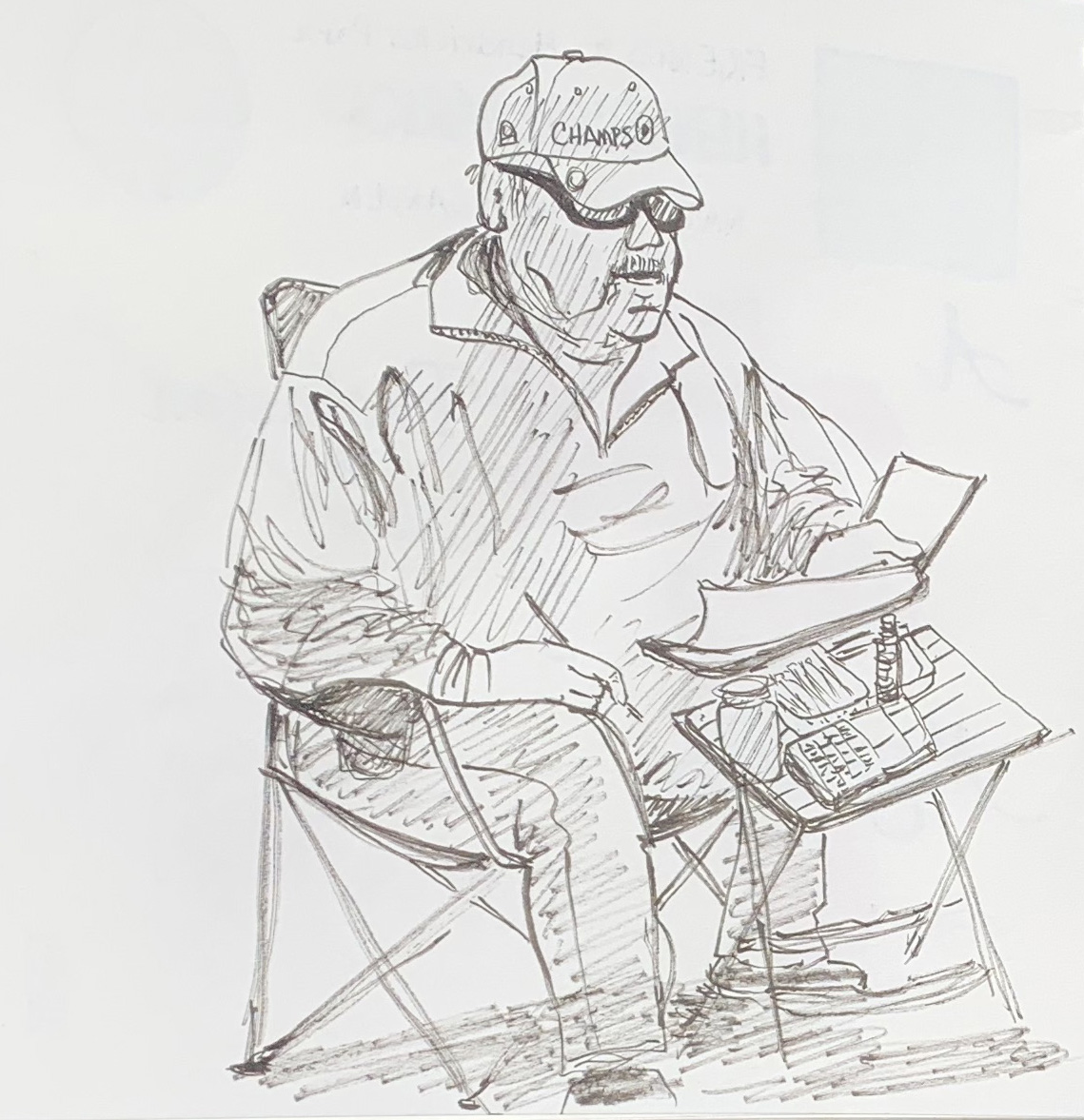 Jane who never draws people drew Jim (as skinny) & Bill (as hefty).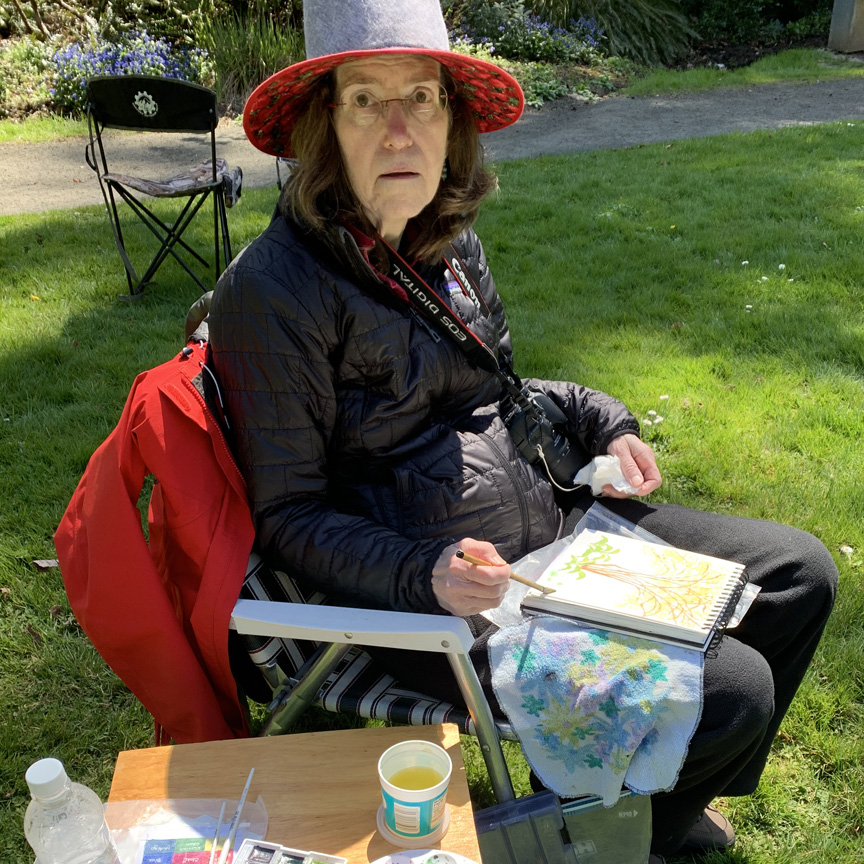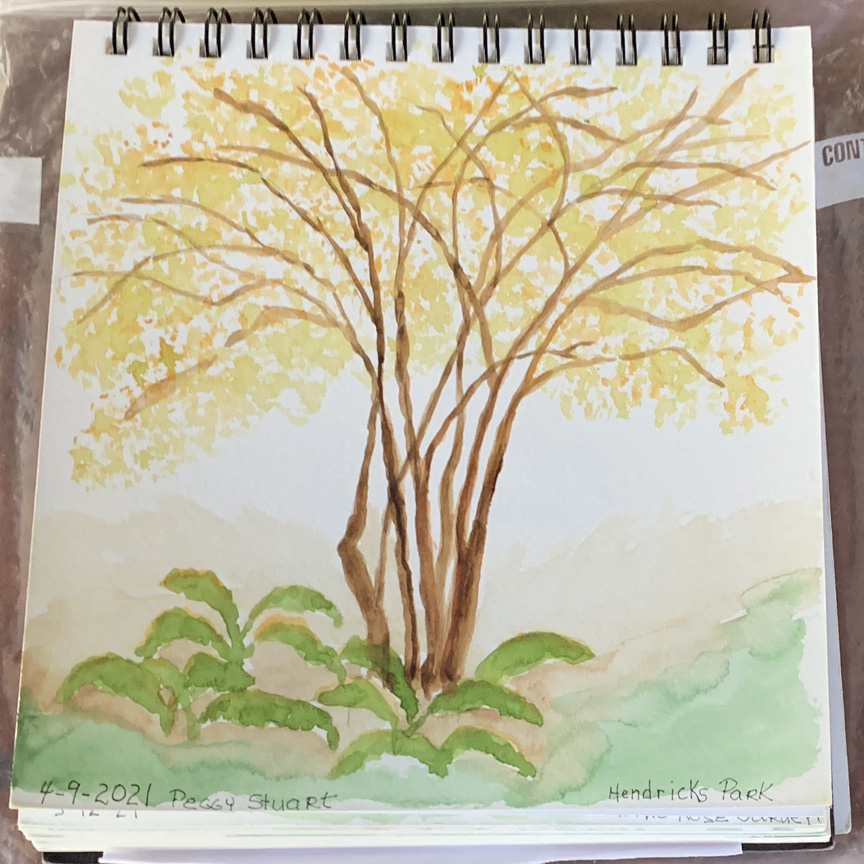 Peggy's eye caught a tree nearby – the park is always changing.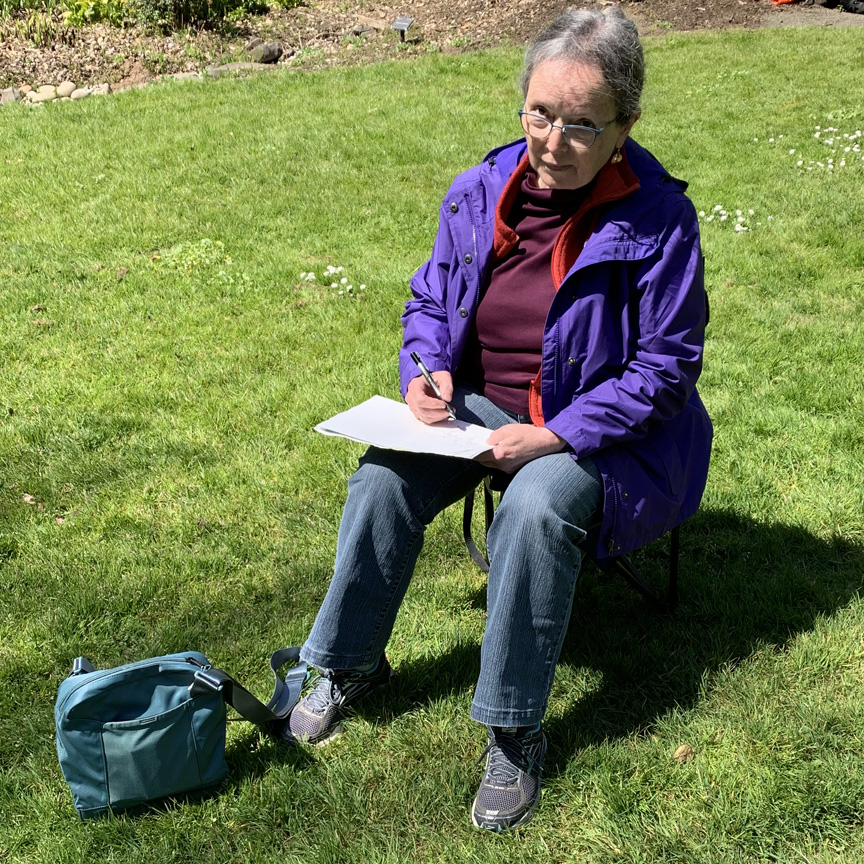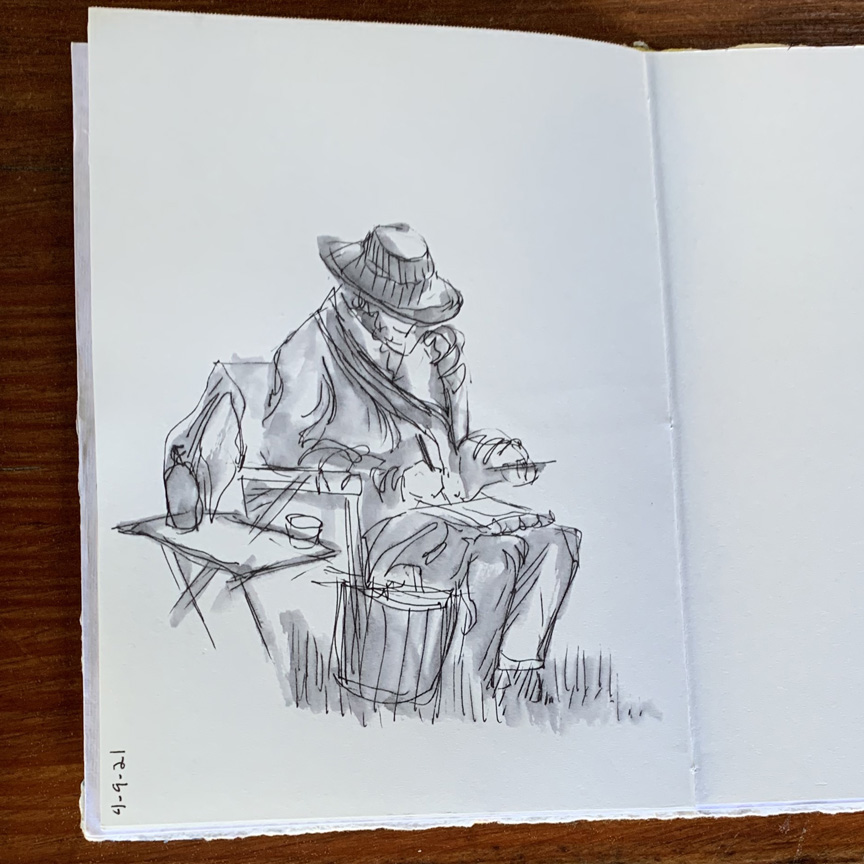 Meanwhile, Marsha was sketching Peggy!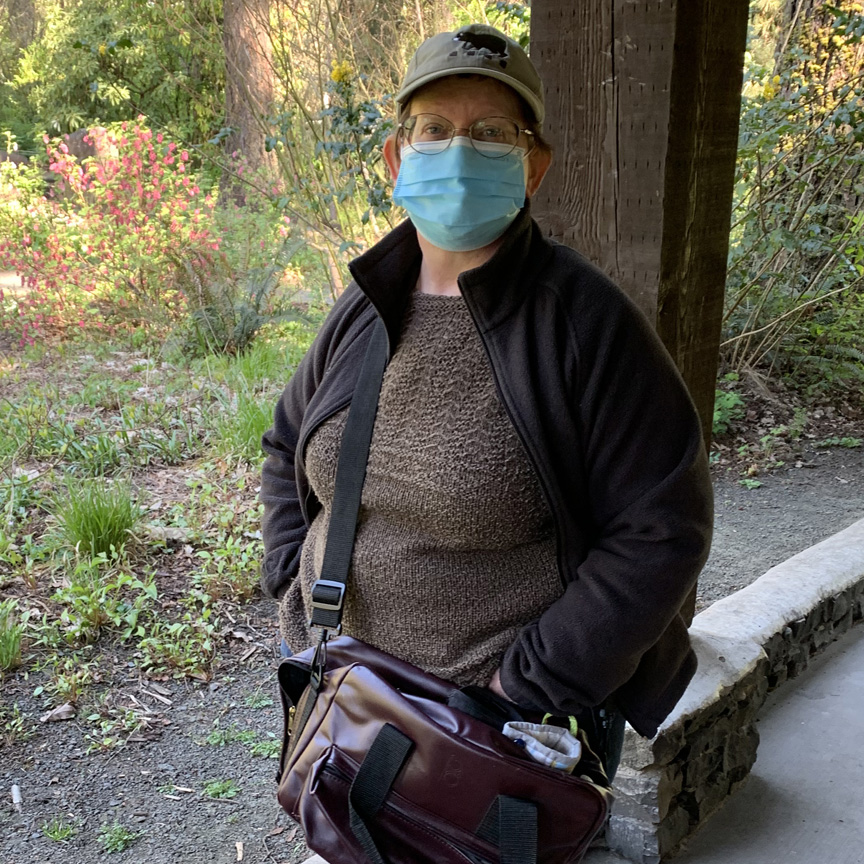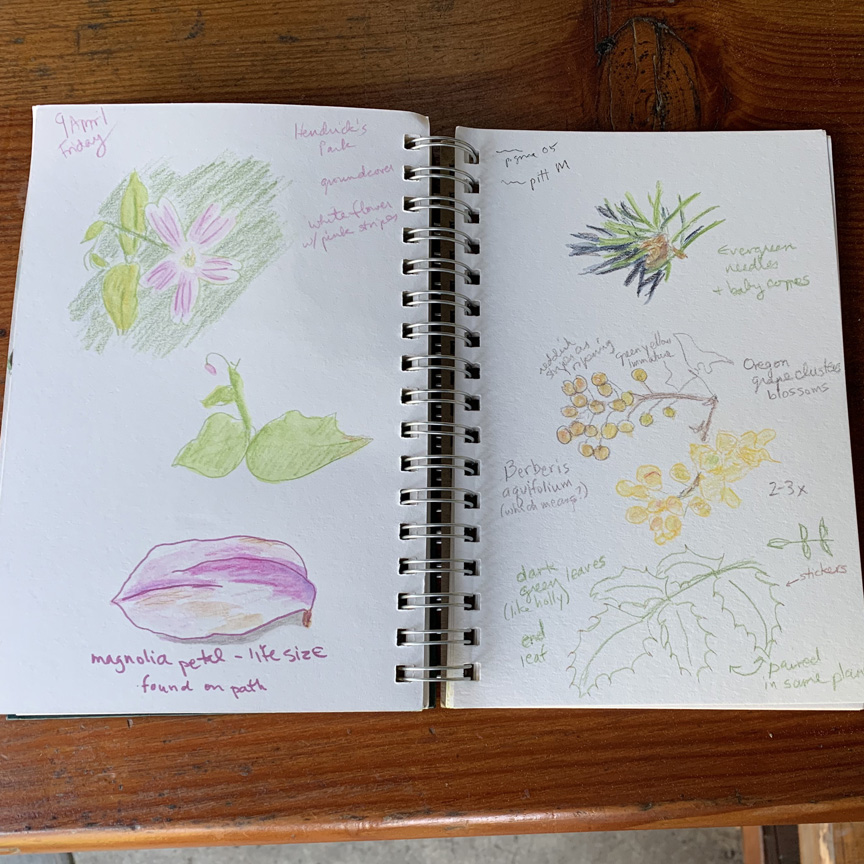 And Daisy was wandering the park doing botanical studies.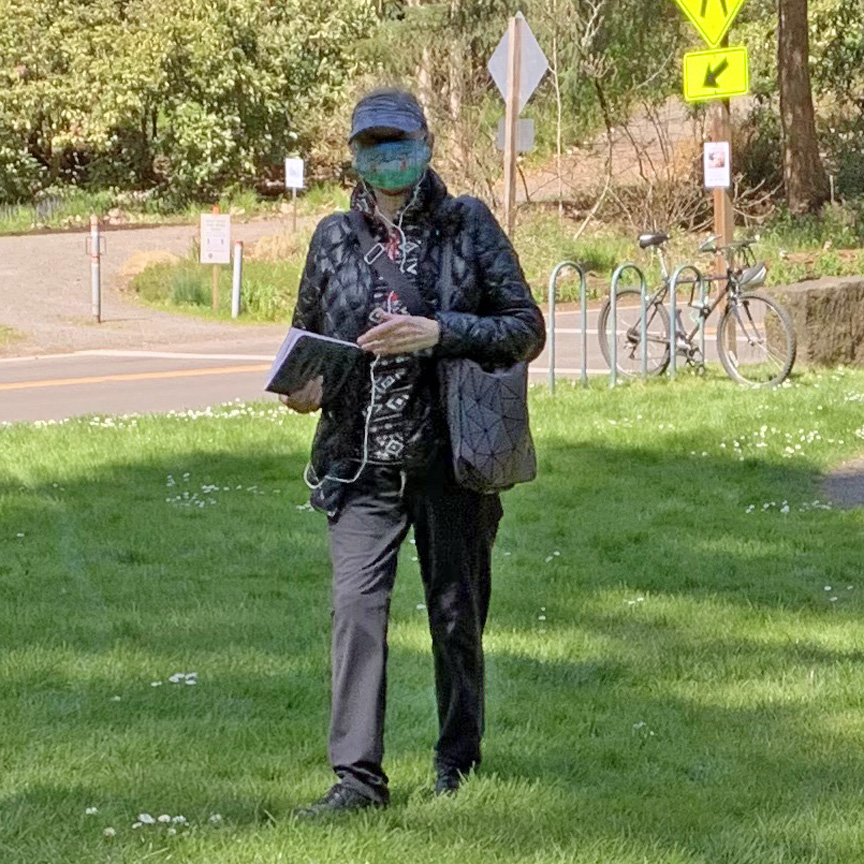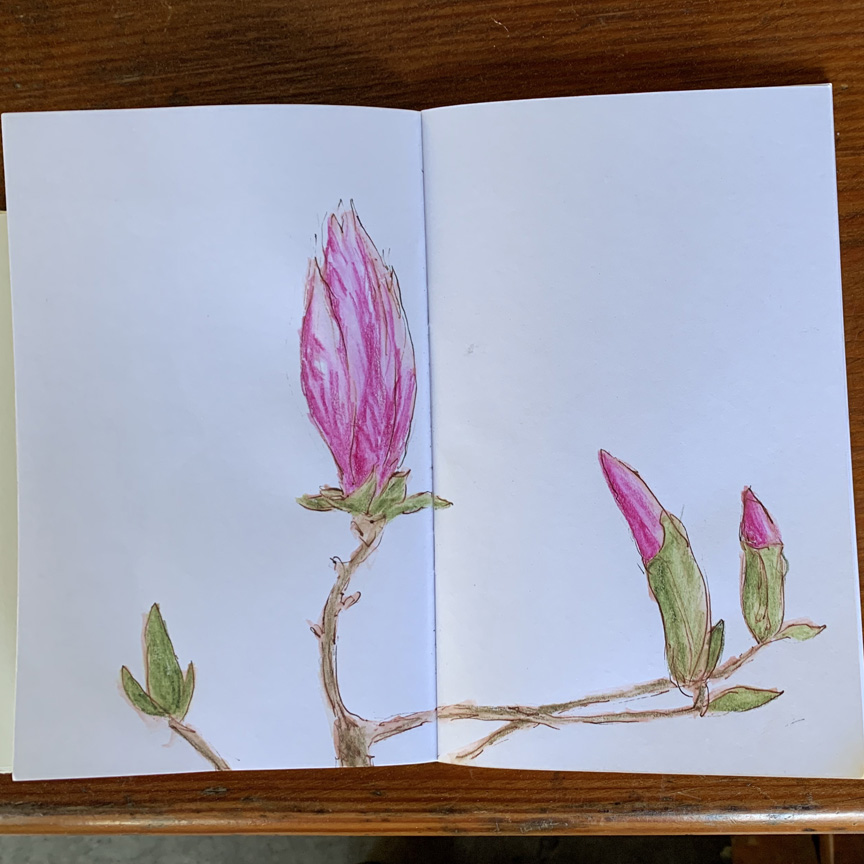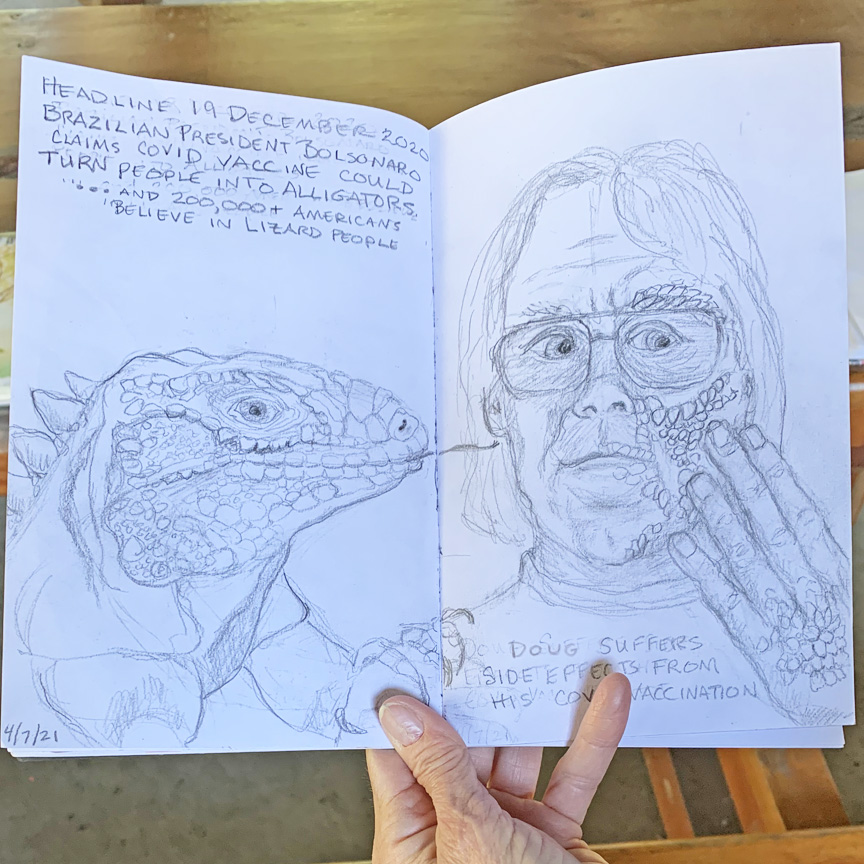 Barb Sh had a closeup of magnolia buds, and a recent sketch (& commentary) of her brother-in-law who just had his Covid shot.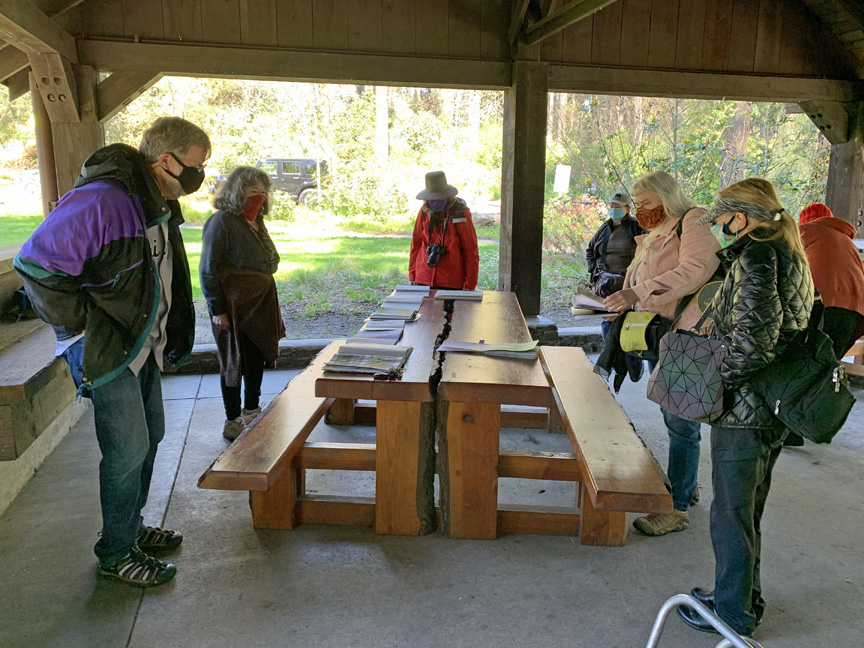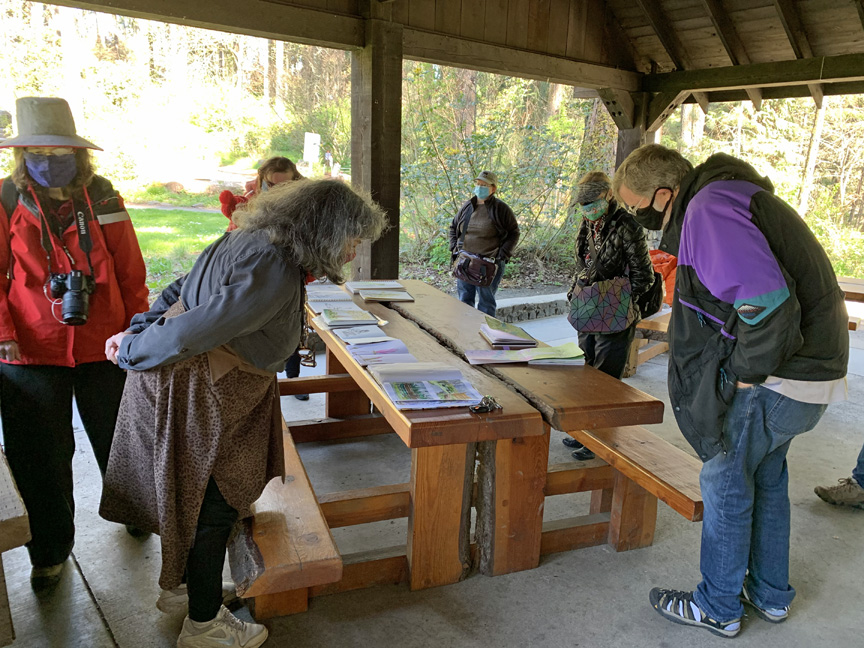 Good thing we have the habit of gathering to review sketches. Fun.
Our third time meeting since the Covid shut down. We could get used to this!
✒ Apr. 2, 2021, Hendricks Park, Eugene, OR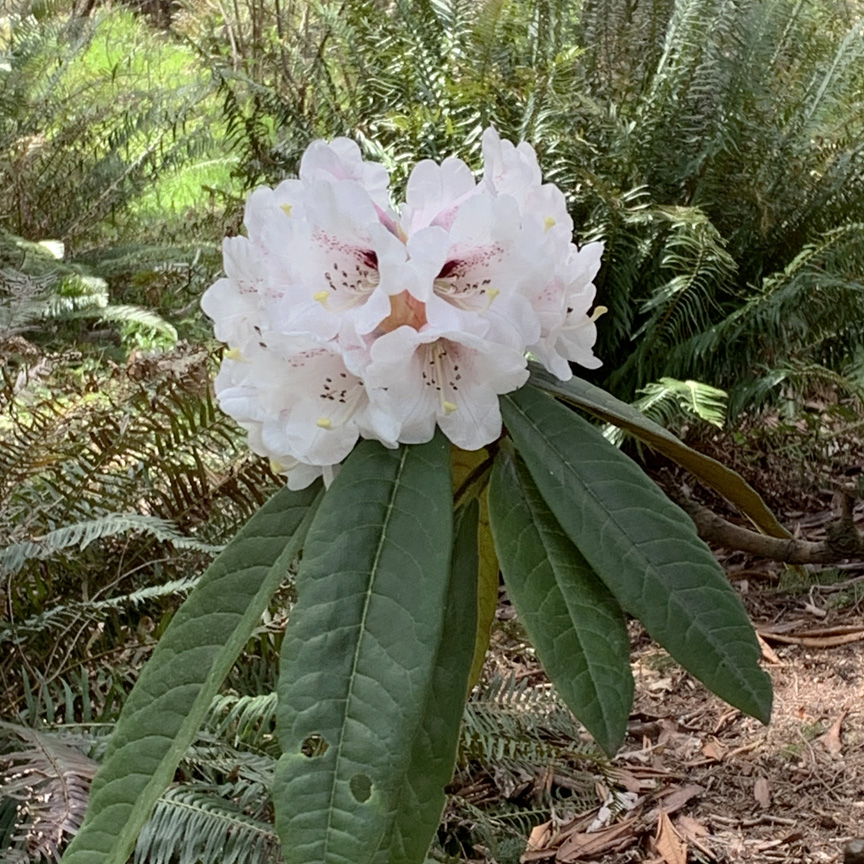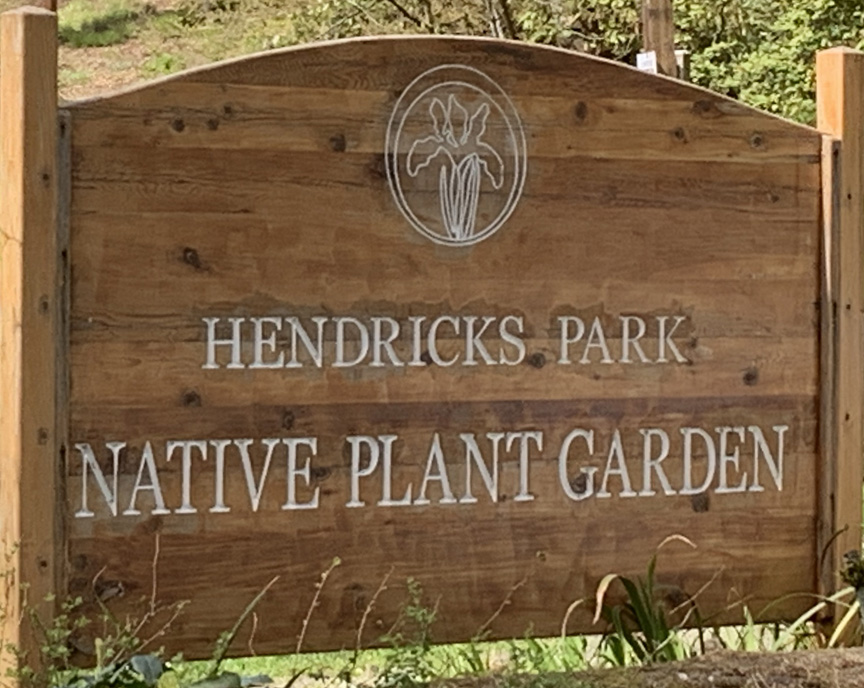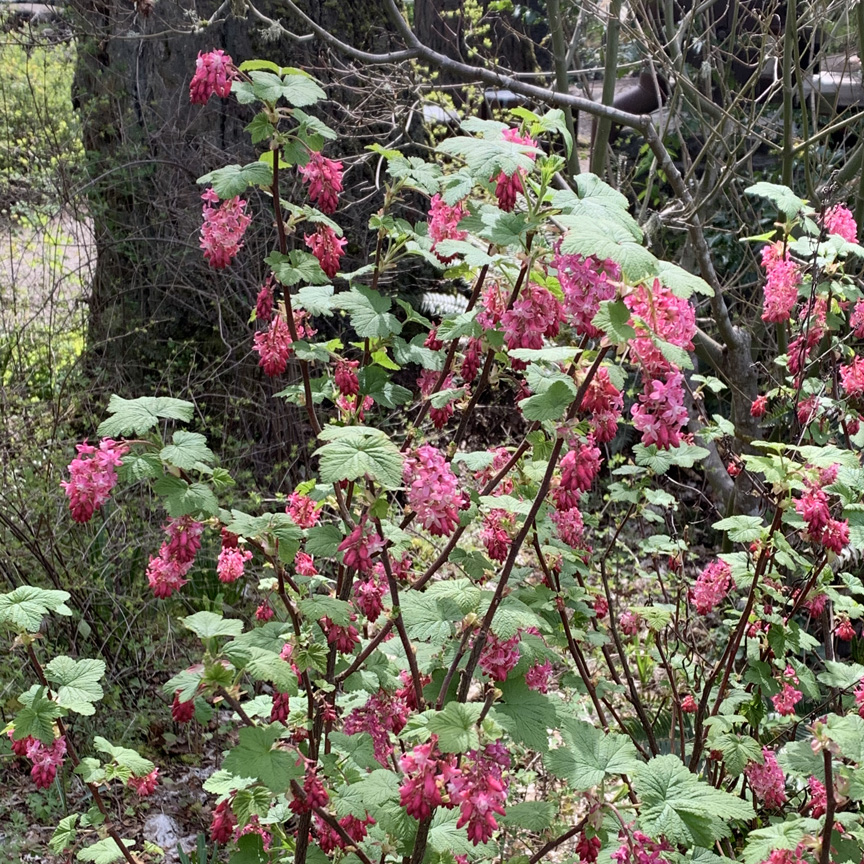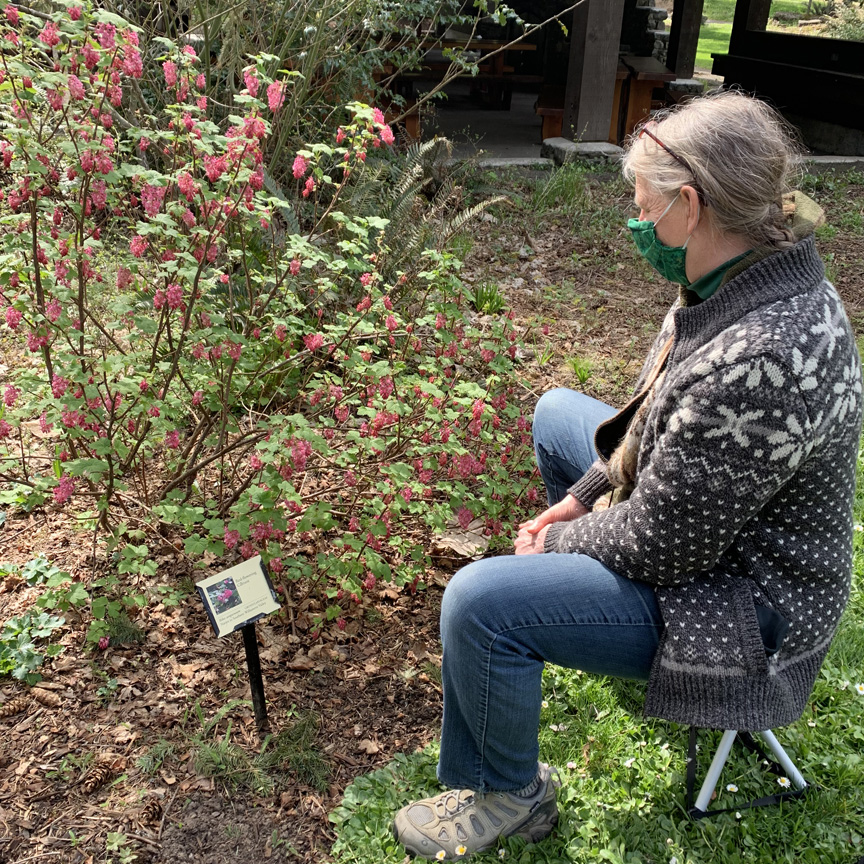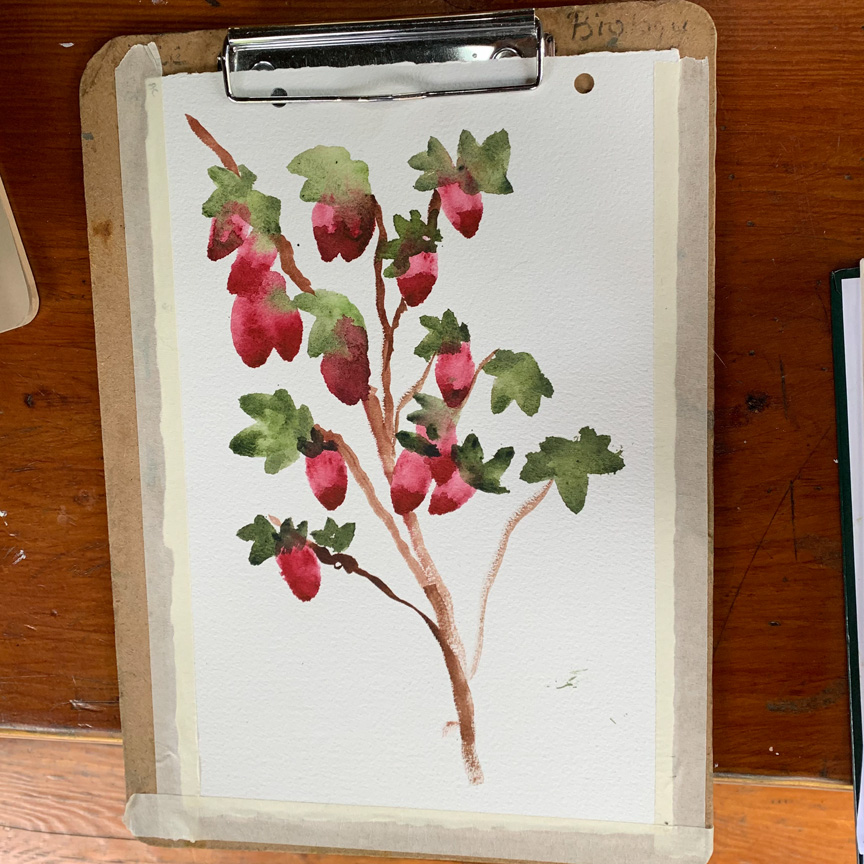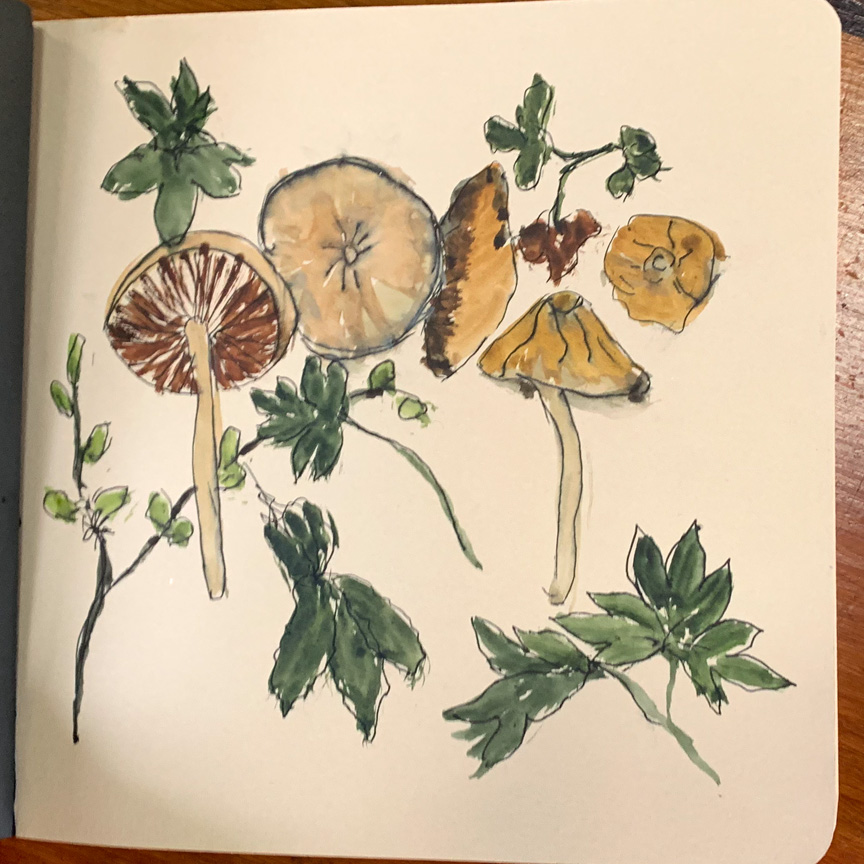 Bitty was the first to get there & found more than flowers!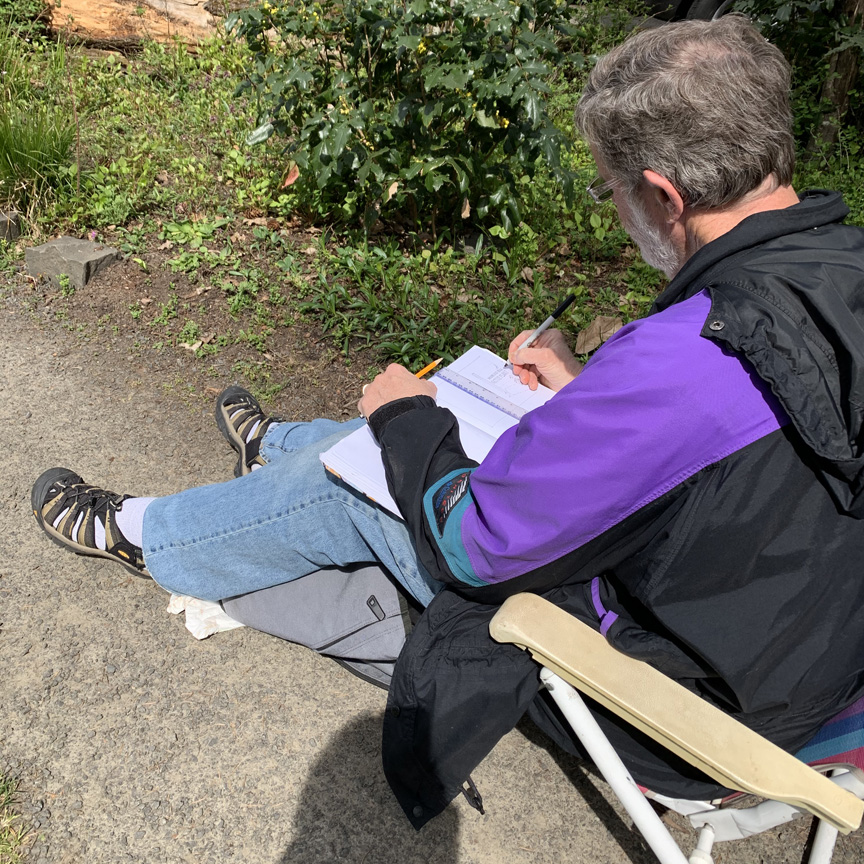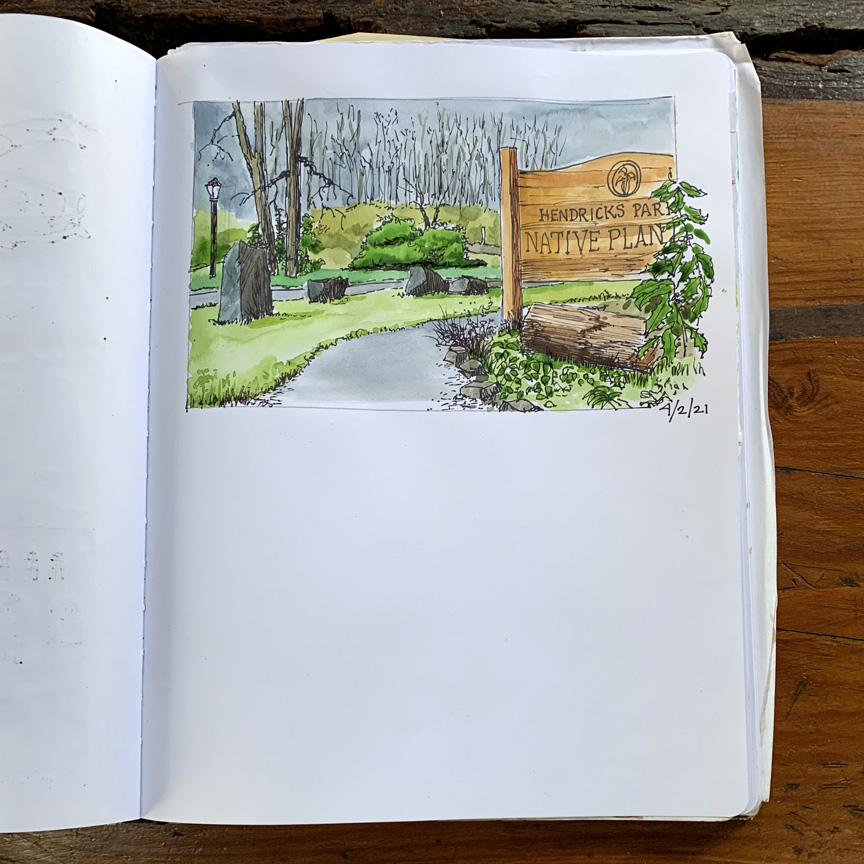 Jim was next, & right down to sketching.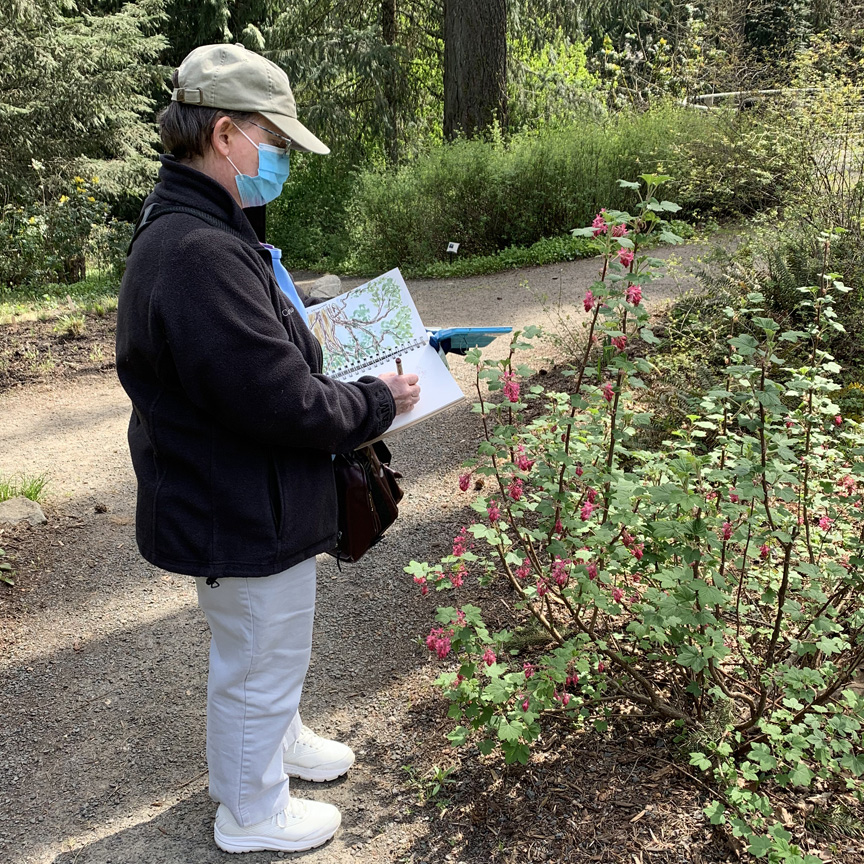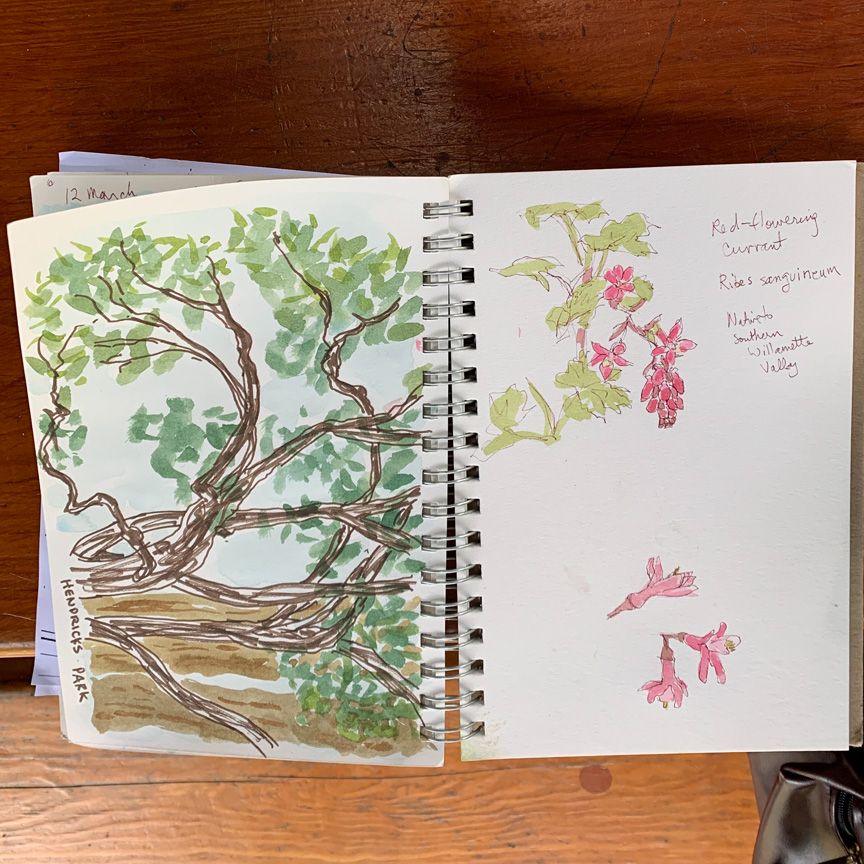 Daisy tried a brush pen approach to the trees – fun!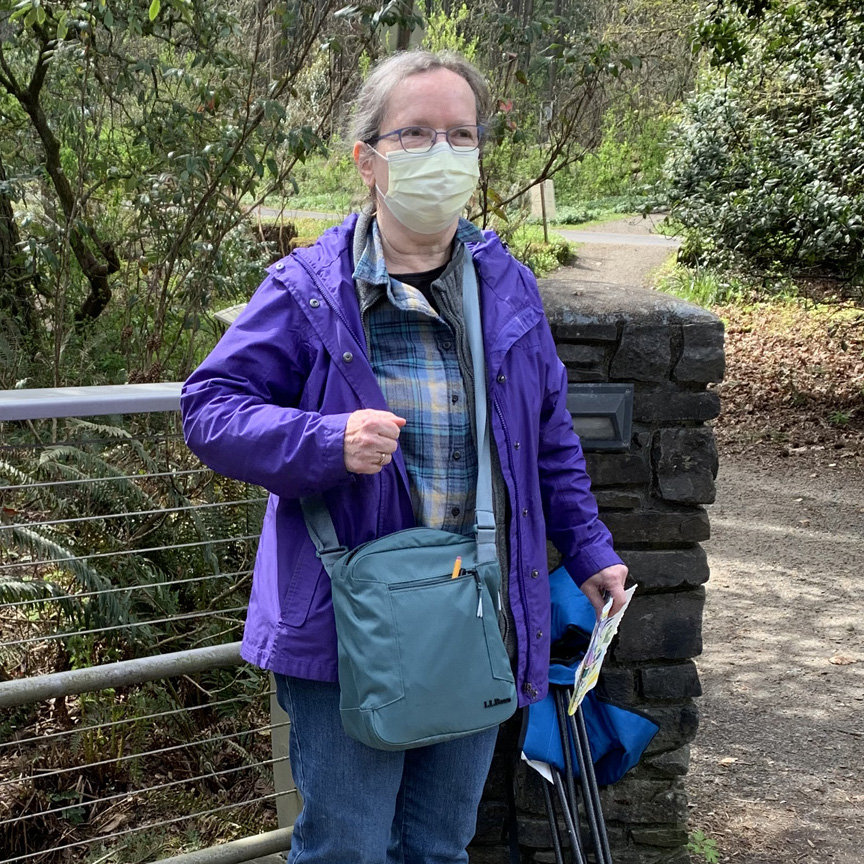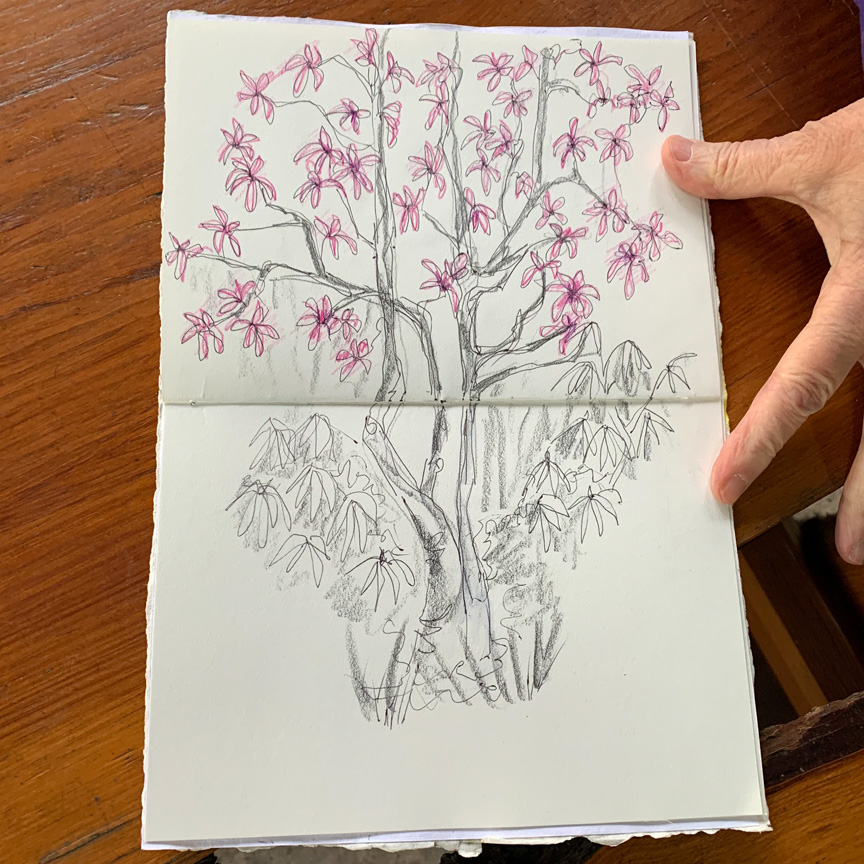 Marsha brought her self made sketchbook to the event.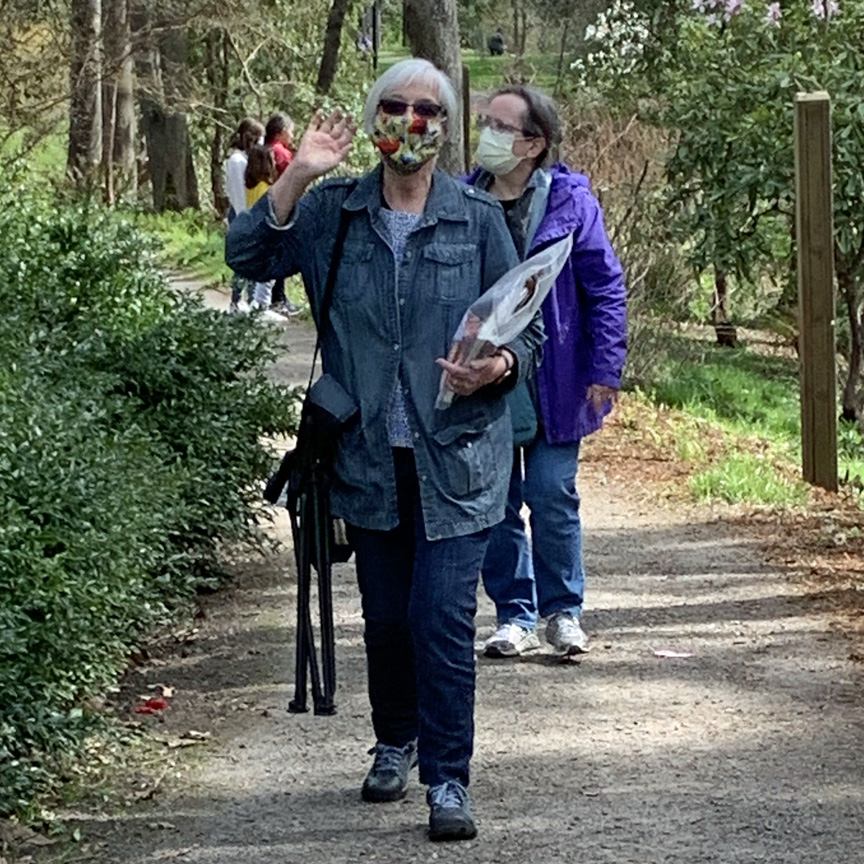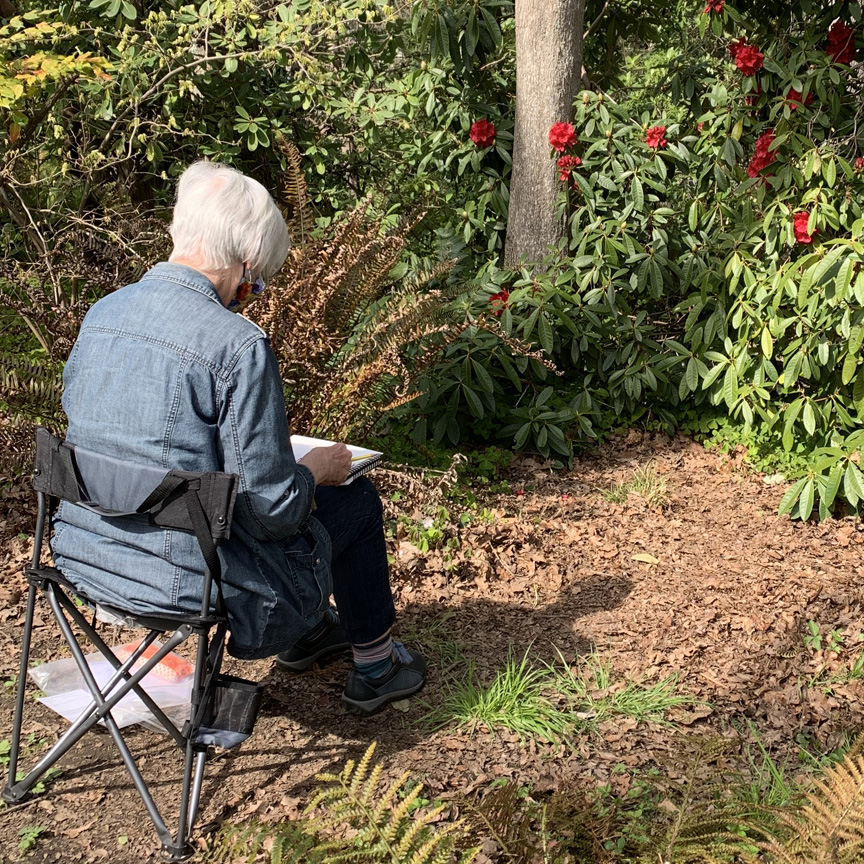 Katie's here! So nice to have her back with us.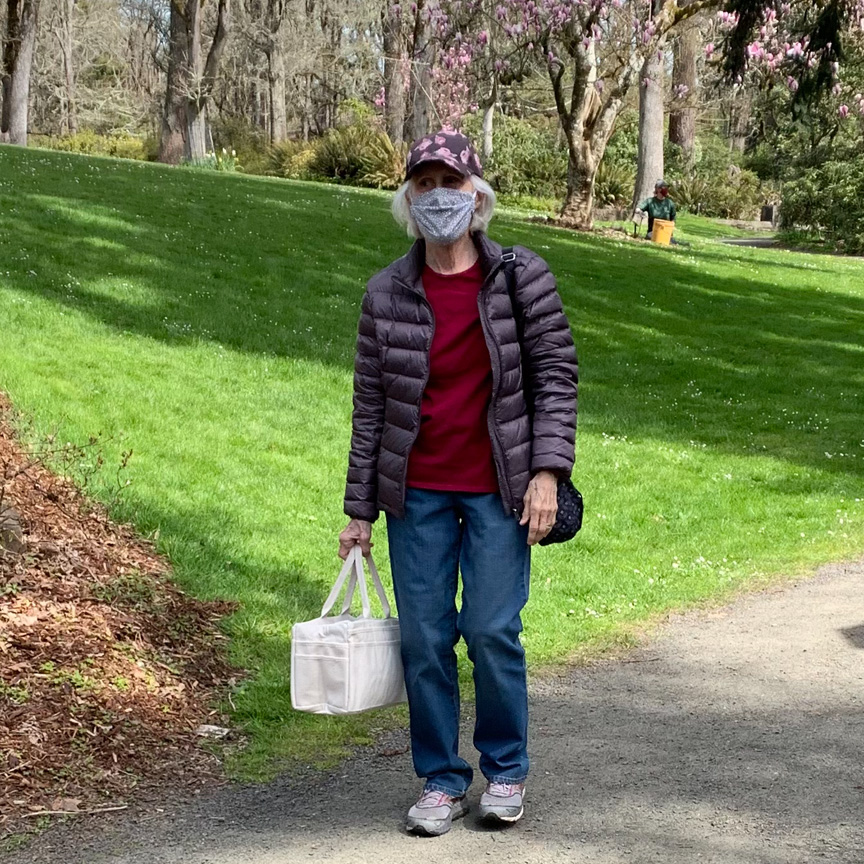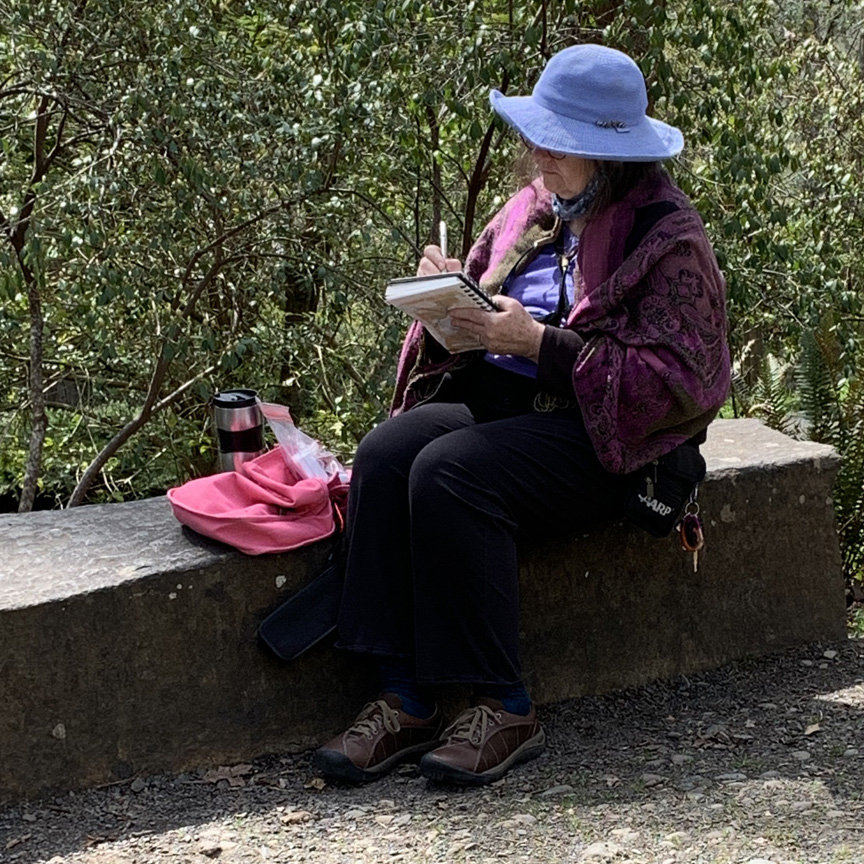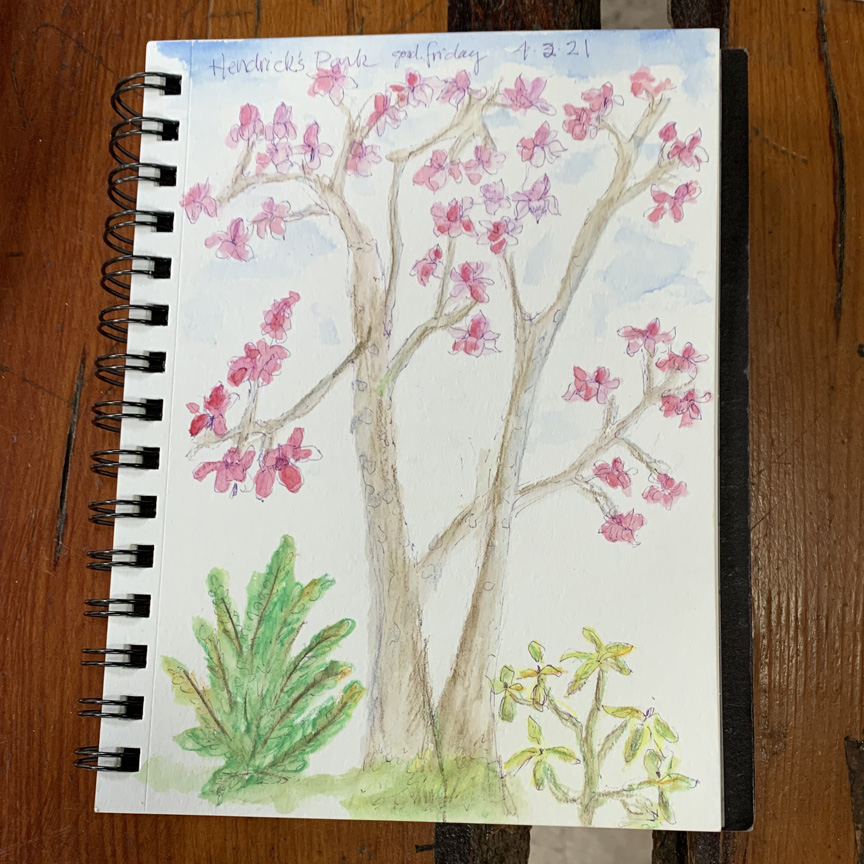 Barb So came by & Laura found a perch on a rock bench.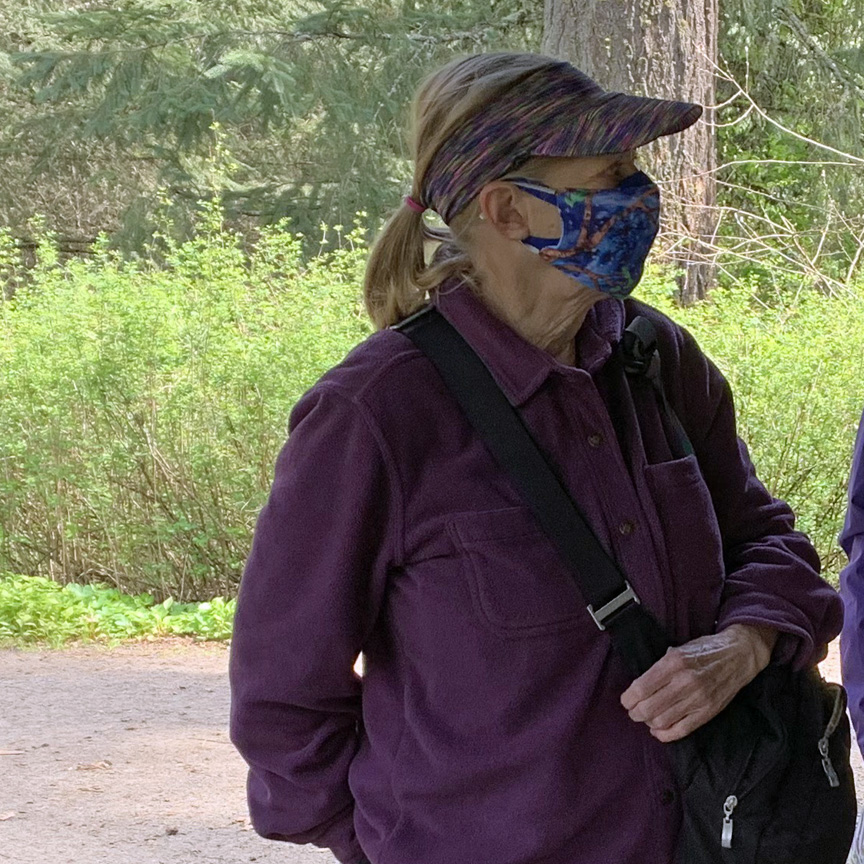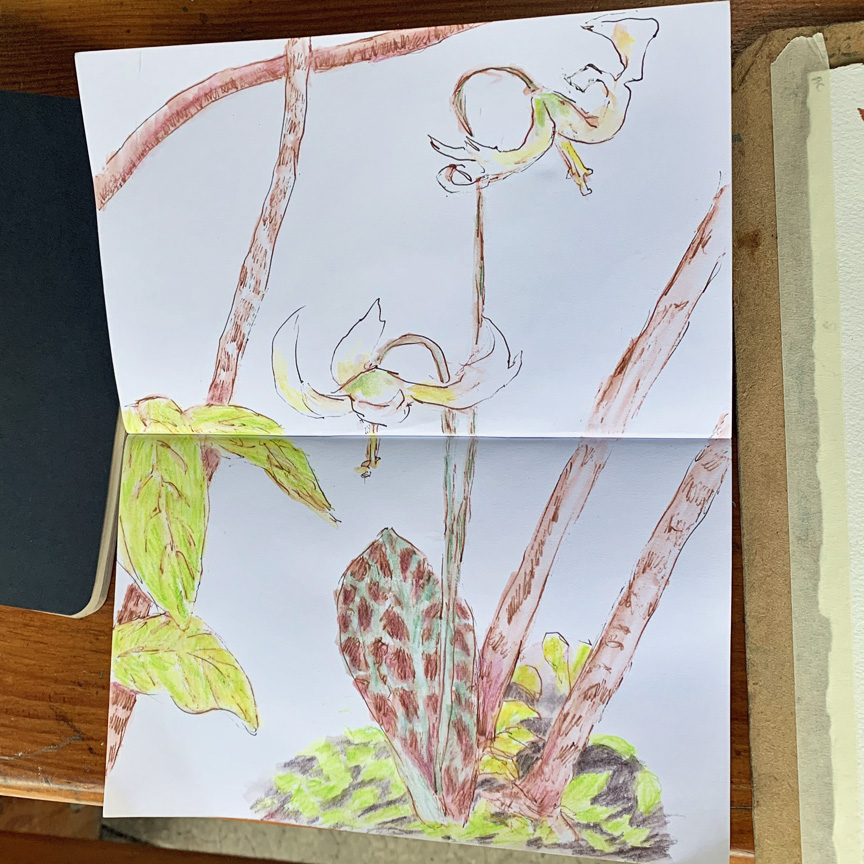 Barb Sh is here! And into the Native Plant Garden.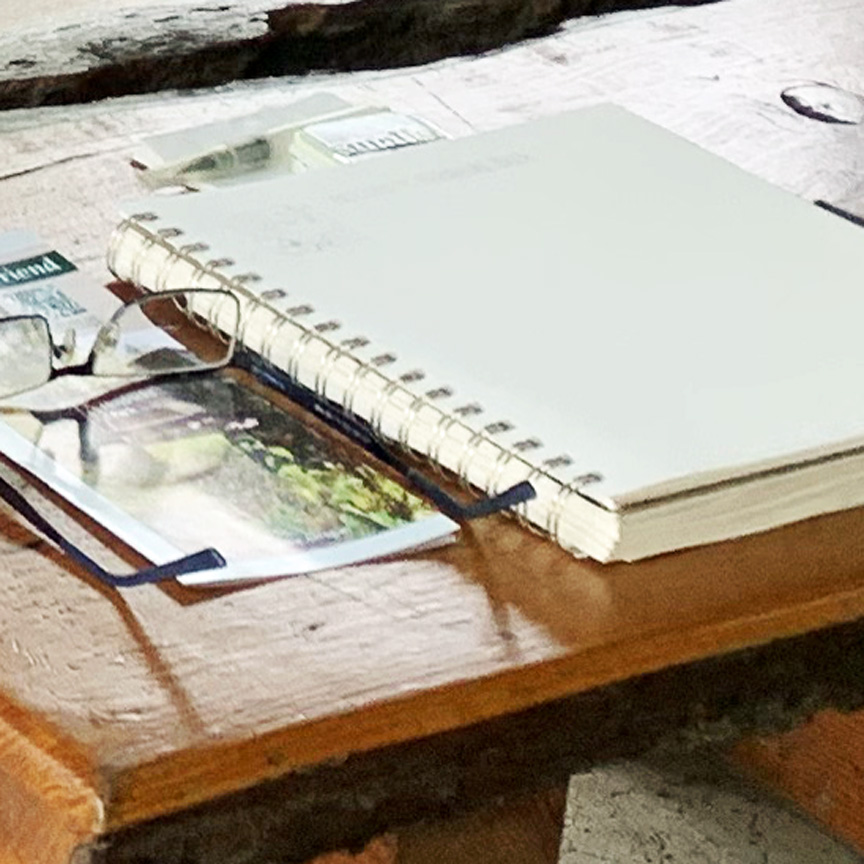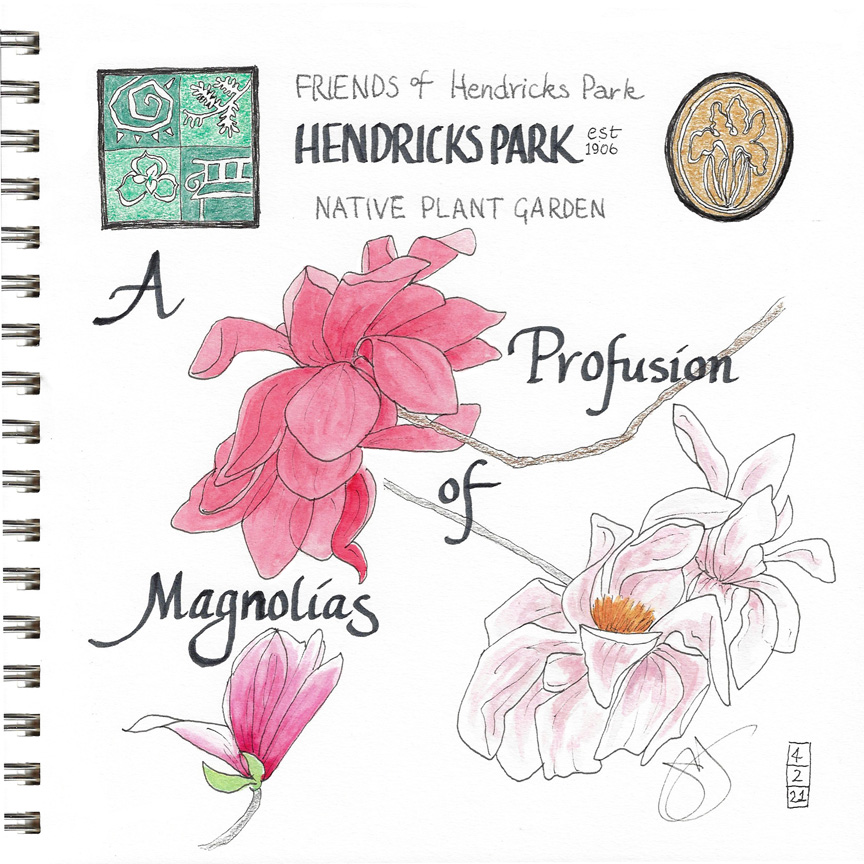 Jane took photos, planned, & finished at home.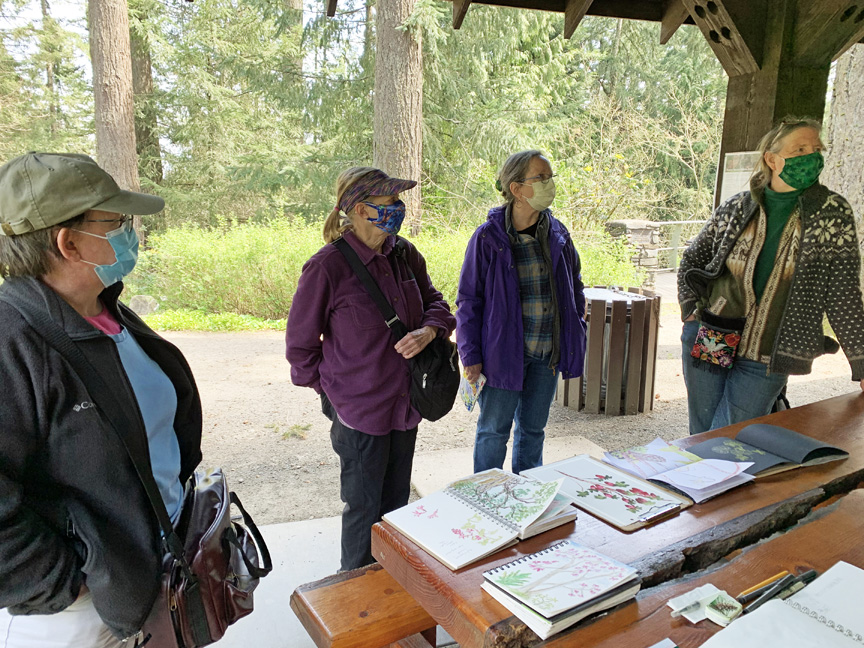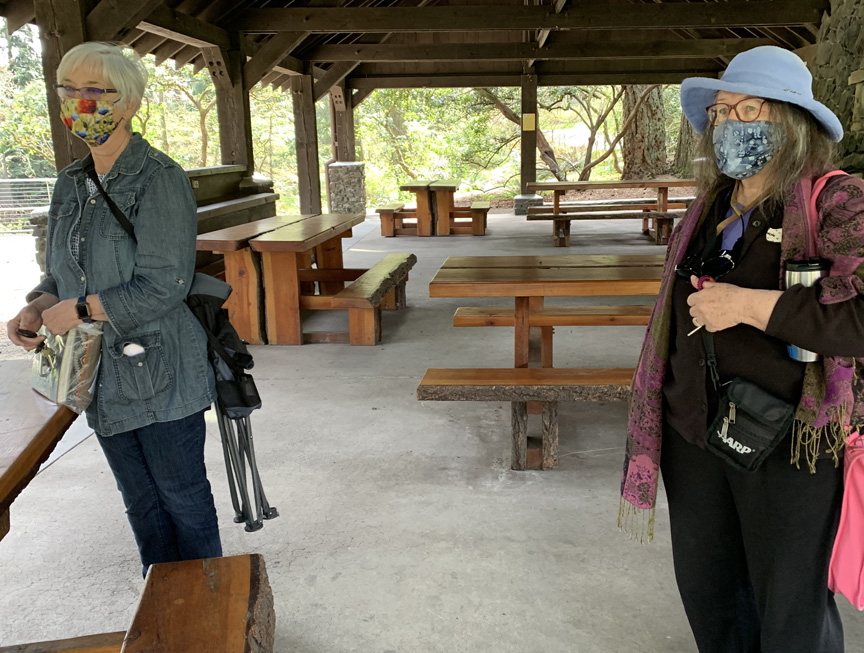 Nice place to gather for our review of everyone's sketches.
✒ Mar. 26, 2021 – Norma Pfeiffer Park, Coburg, OR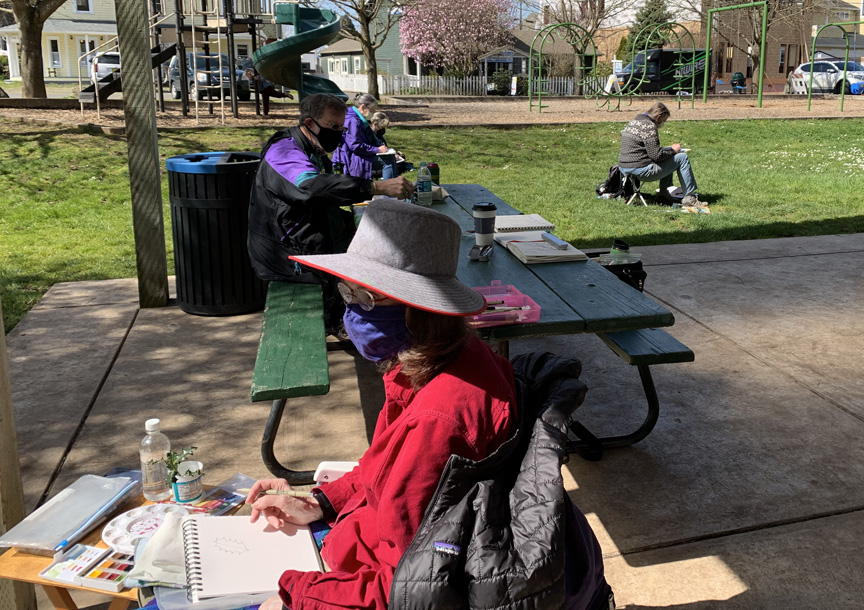 Most of us – Peggy, Jim, Marsha & daughter Amanda, Bitty.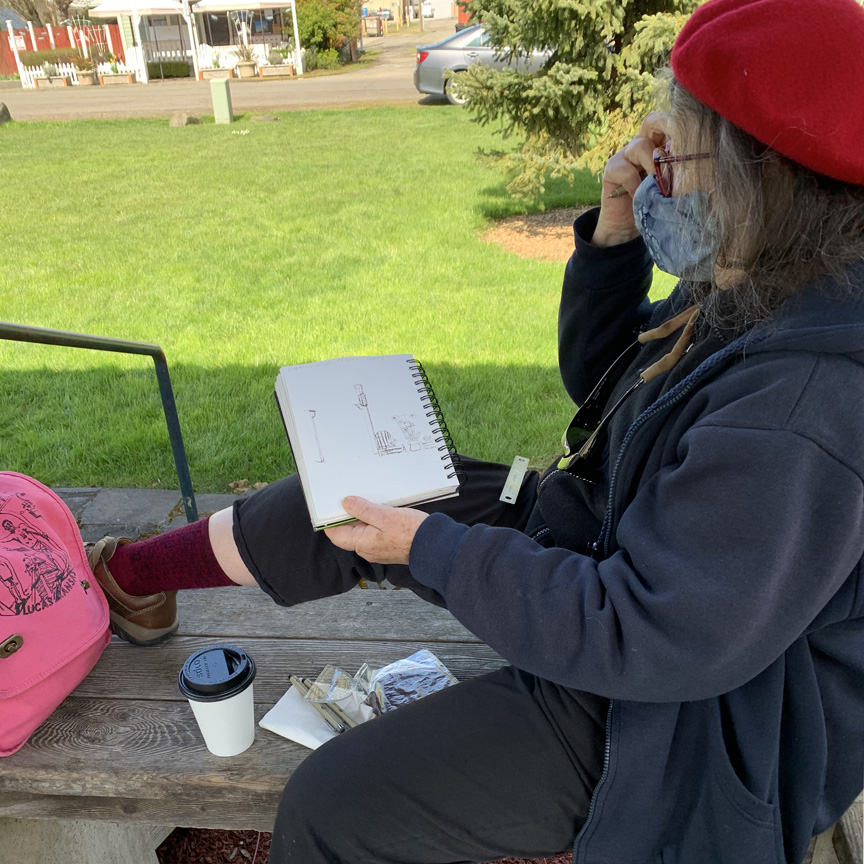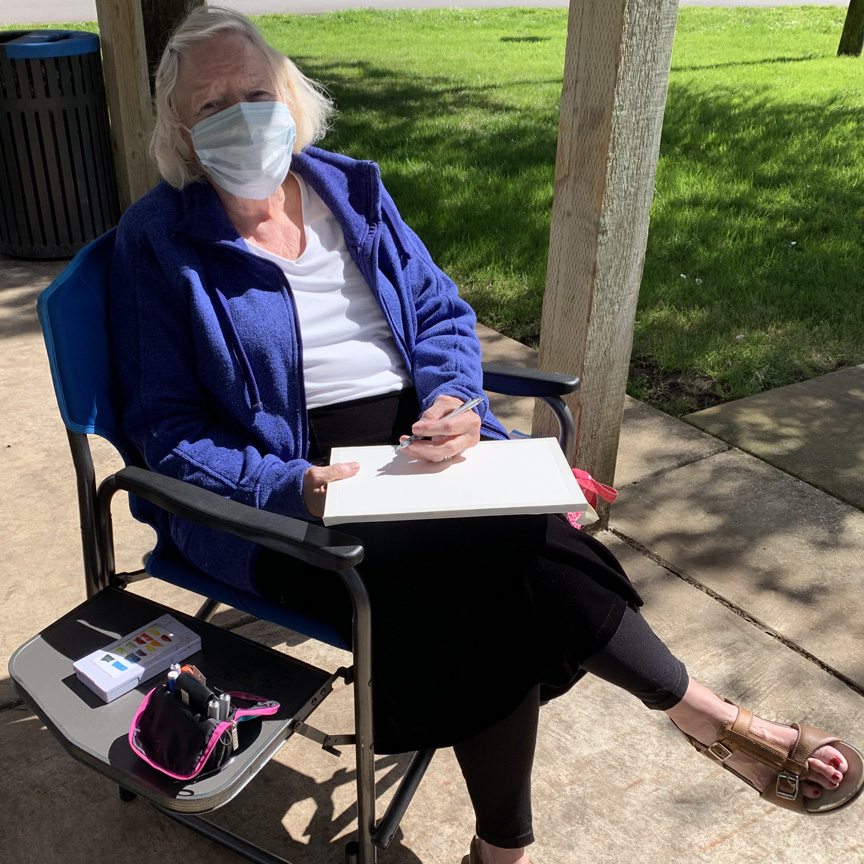 Laura went over to the pavilion for a different view, and Lona was able to join us (first time since her Mexico trip!).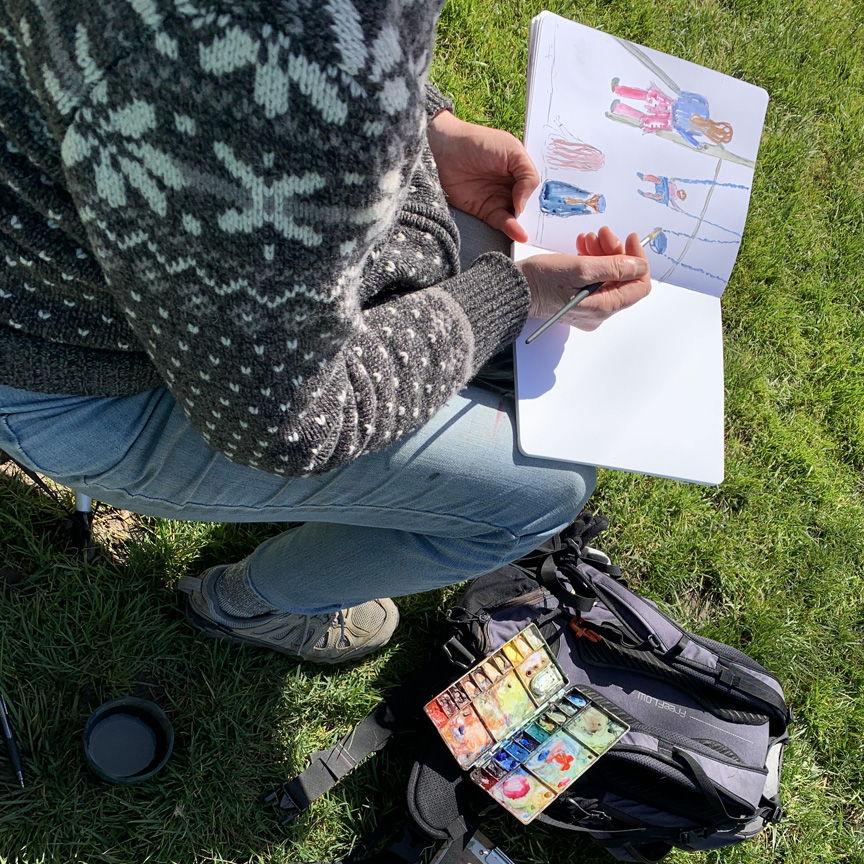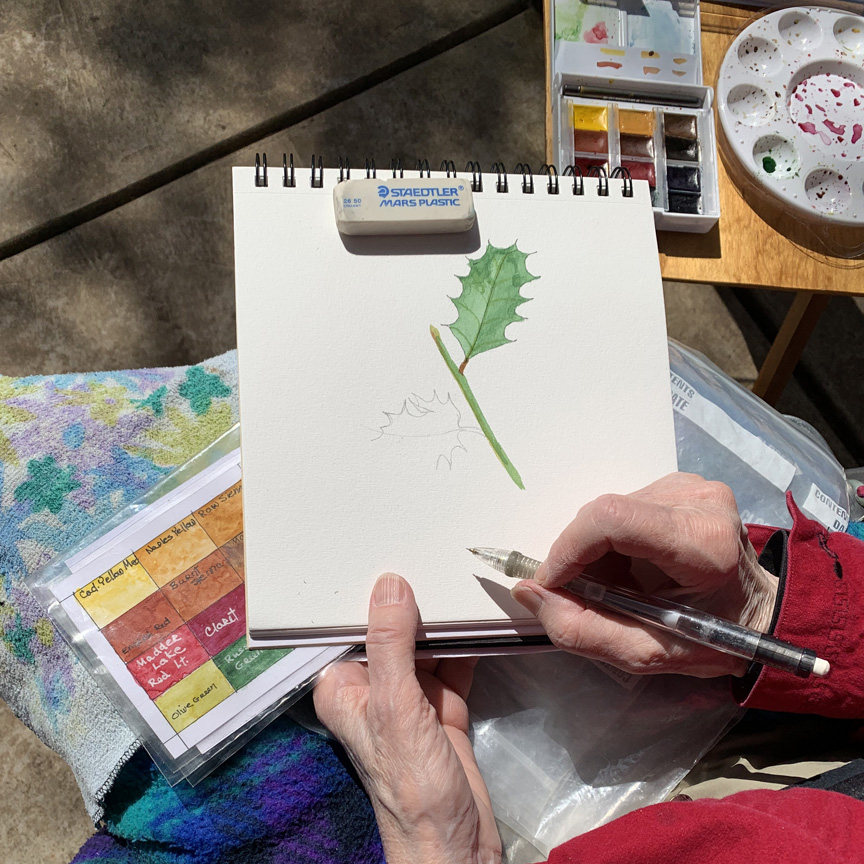 Bitty and Peggy are lap painters (they brought their own chairs).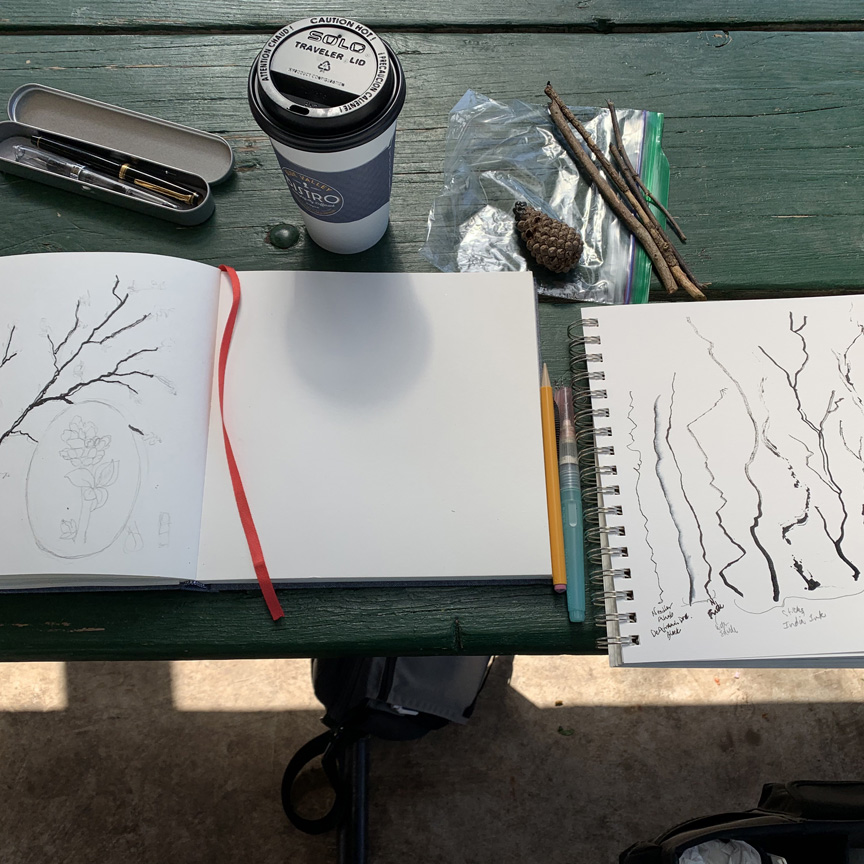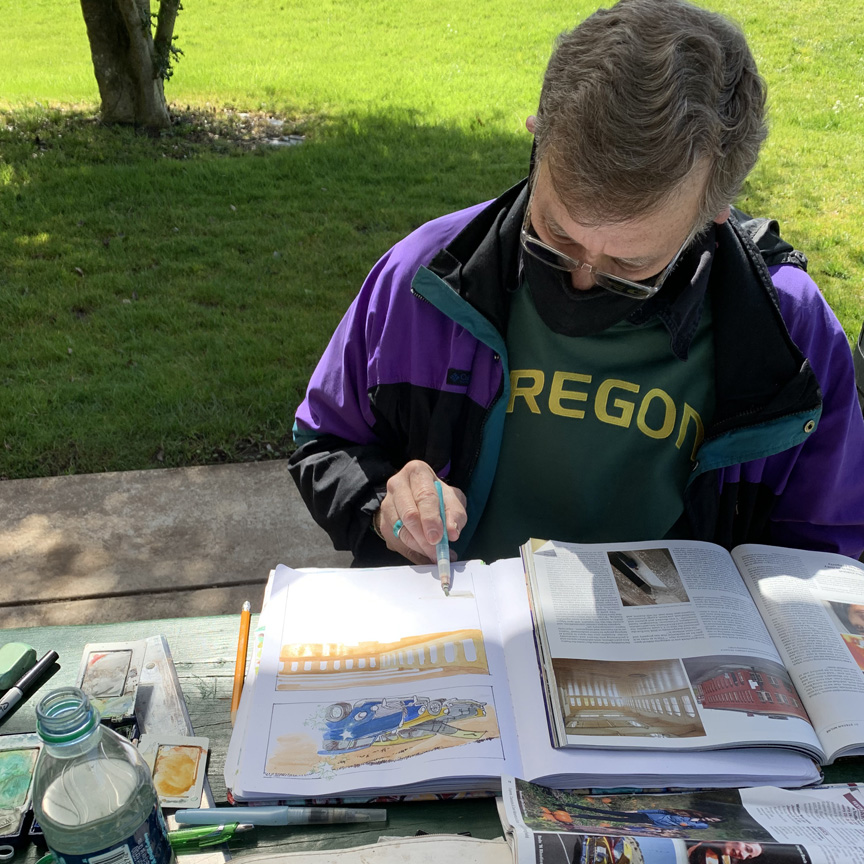 Jane & Jim were happy the park still had one table with benches.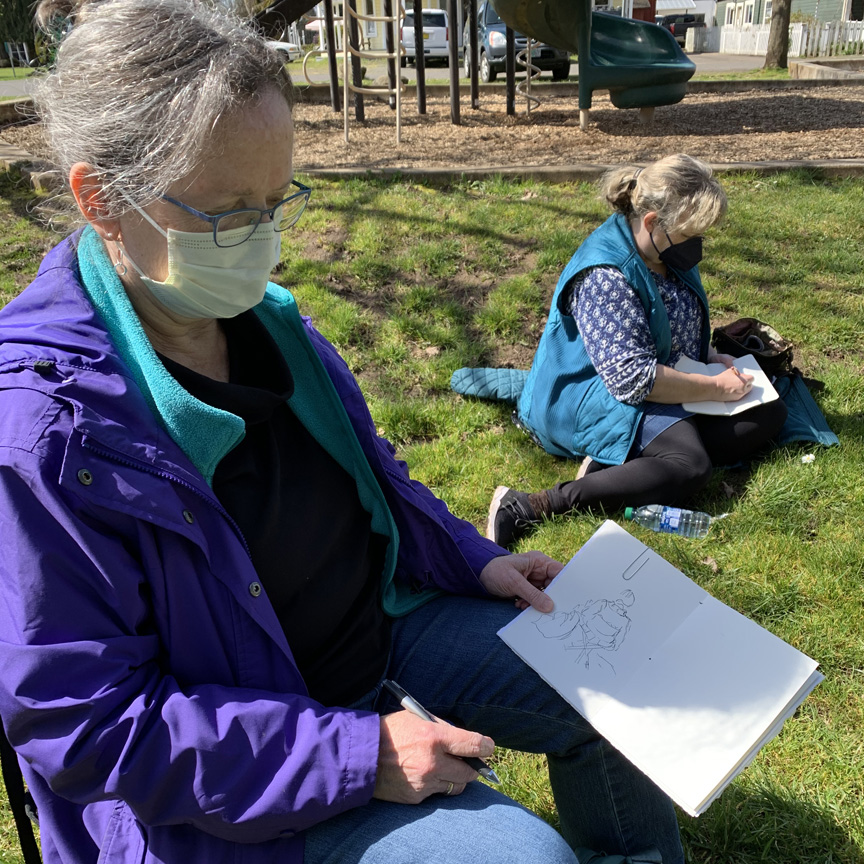 Marsha brought a chair, & Amanda had a plastic sack for the ground.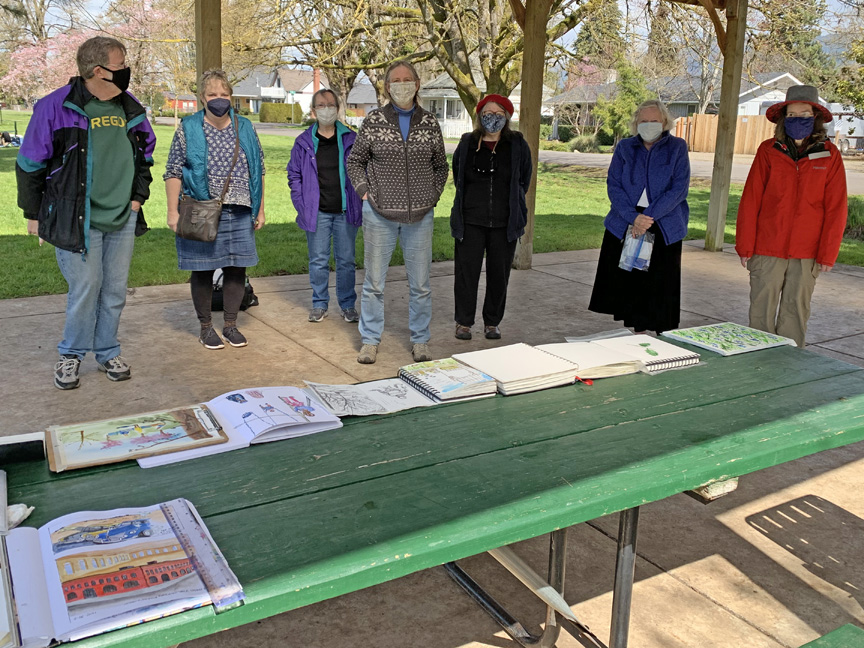 Time for the review – can you tell who's who behind those masks?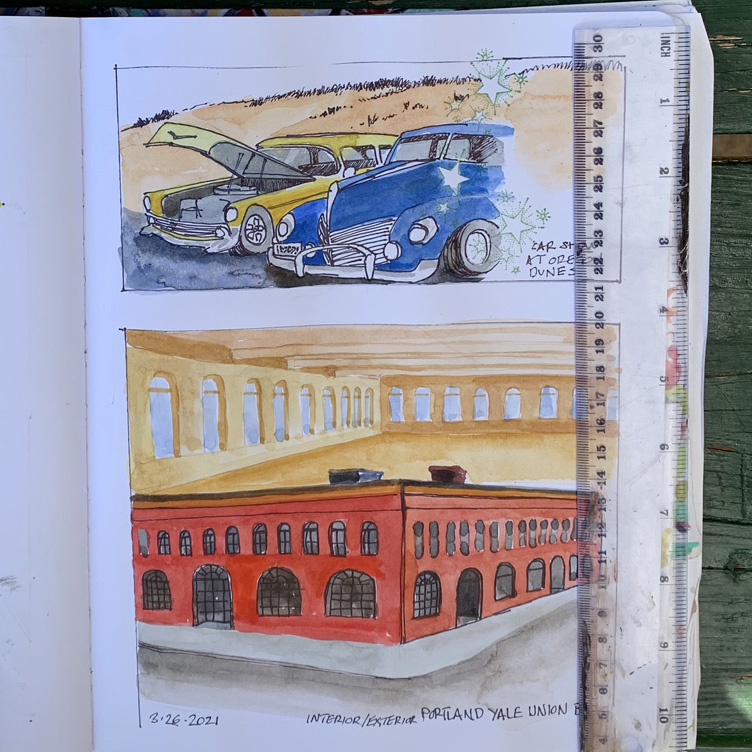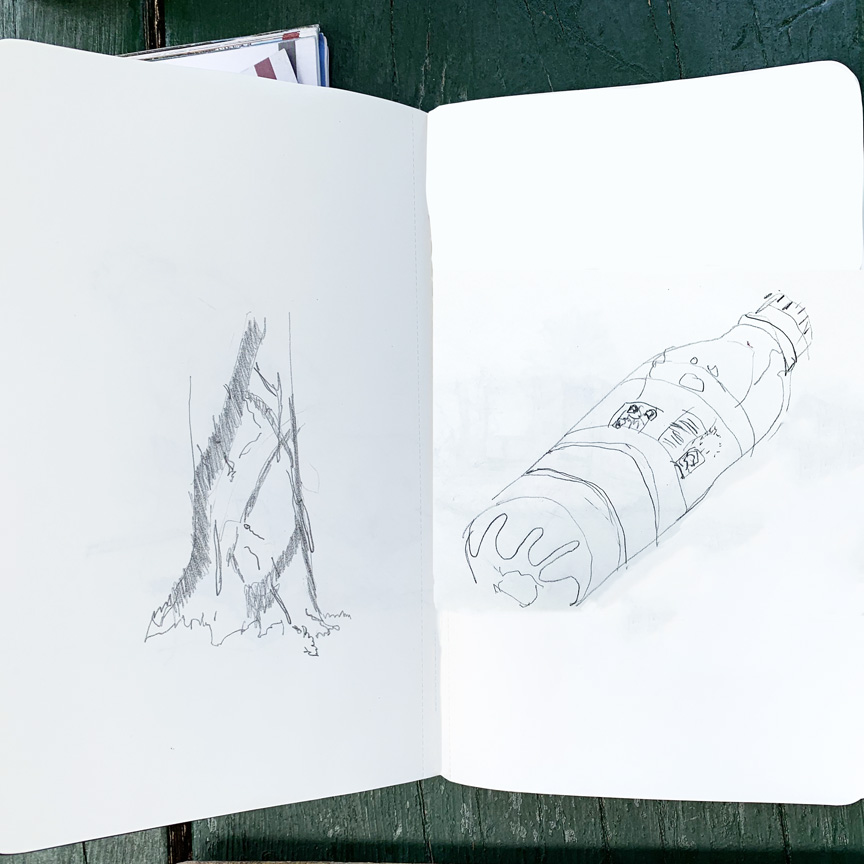 Jim's exquisite sketches, and Amanda's novice (she says) sketches.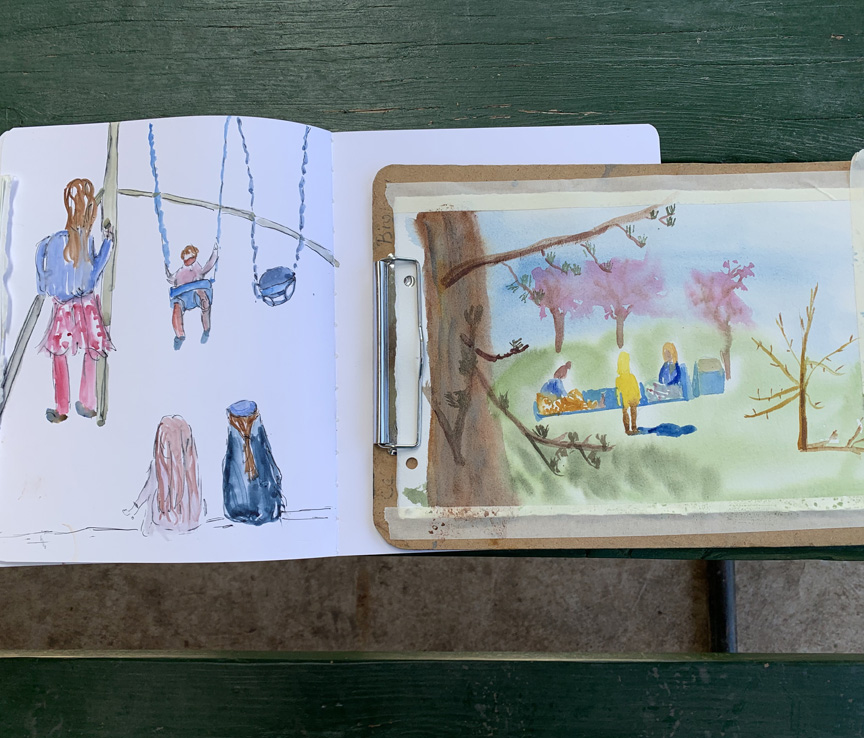 Marsha & Bitty have such different styles, yet so expressive.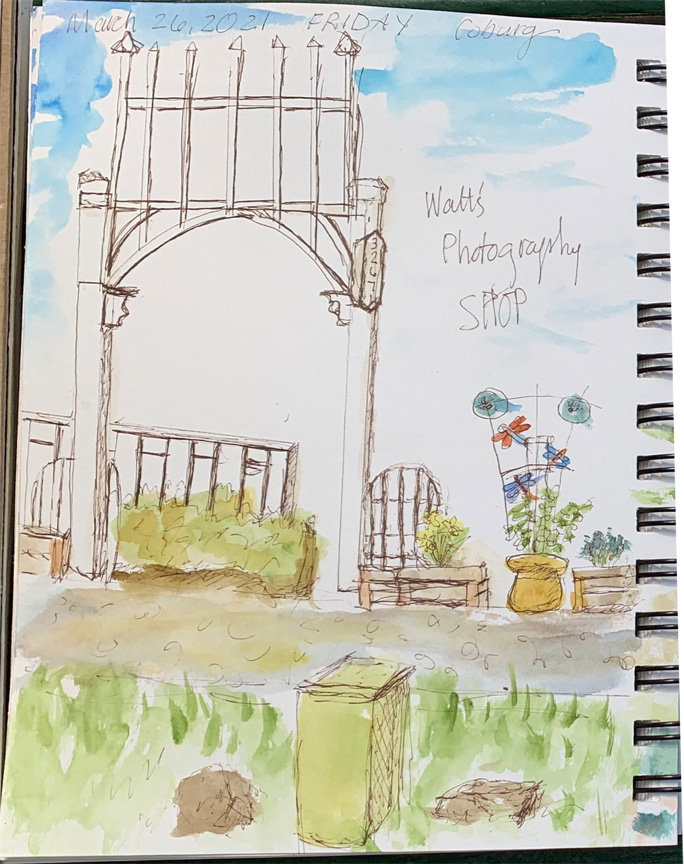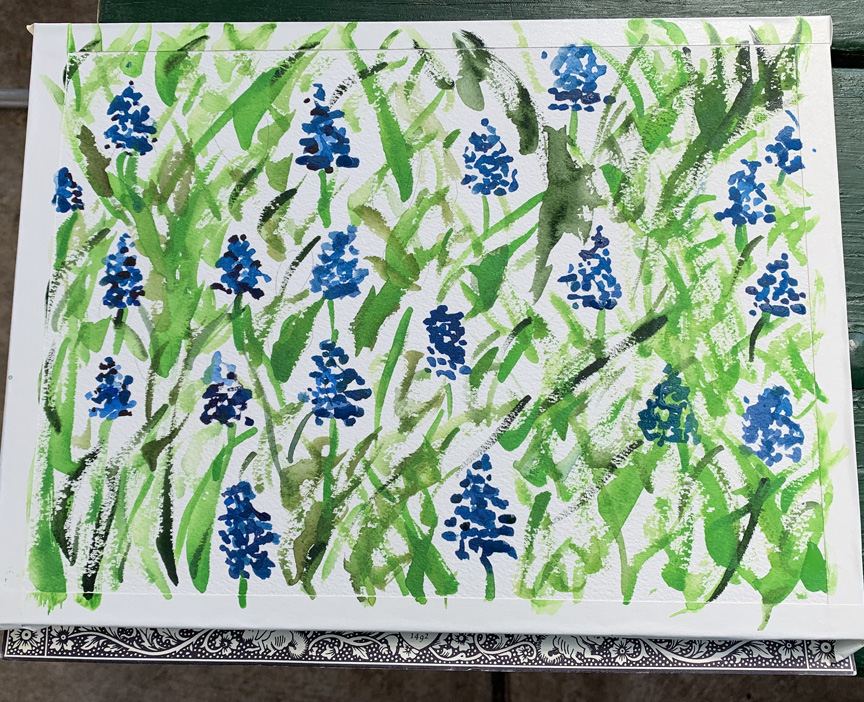 Laura sketched what she saw across the street, Lona sketched what she has at home in her garden (& probably not done yet).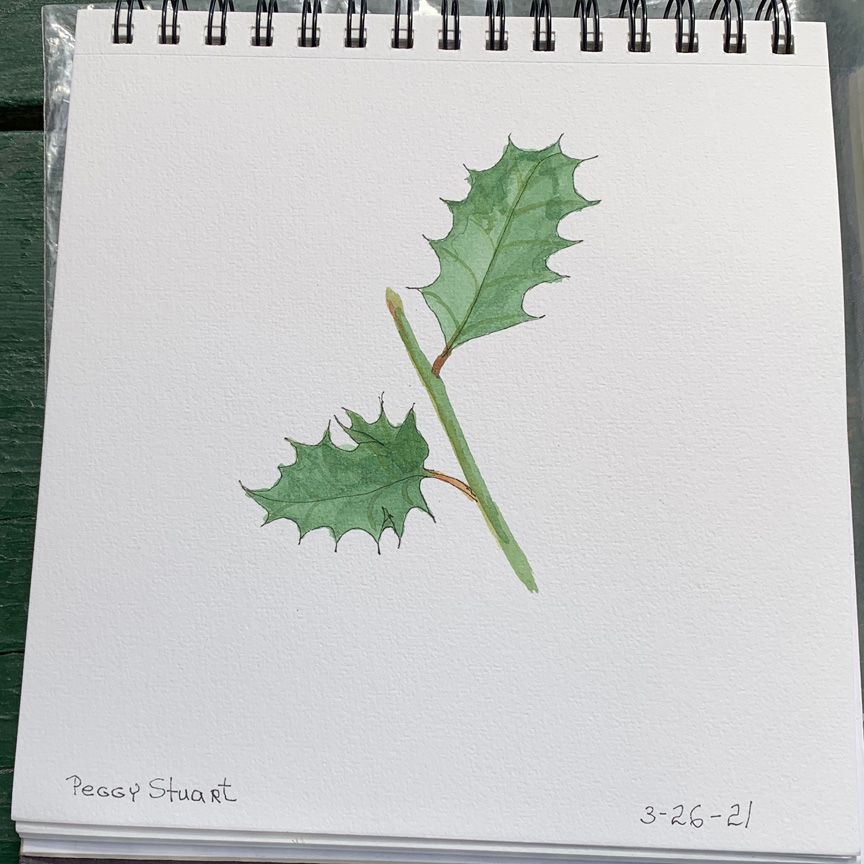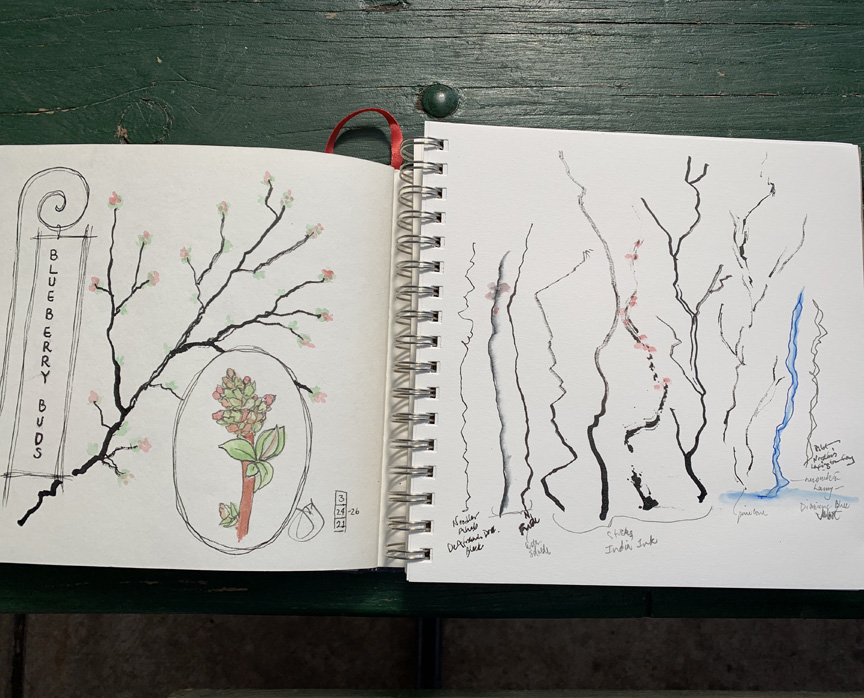 Peggy's precise elegance, and Jane's twig sketching of a branch!
The Friday Sketch Group met for the first time since February of 2020 & the Covid shut down. It was fabulous being back together!
✒ Mar. 12, 2021 – Owen Rose Garden, Eugene, OR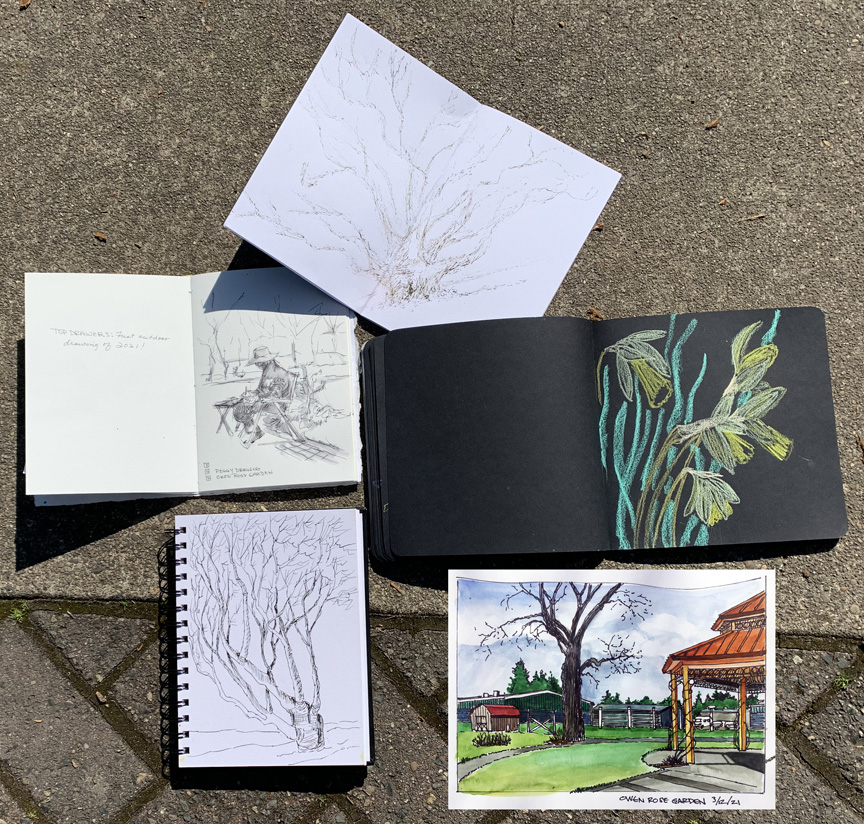 Even though the roses are done blooming, there are lots of other things to sketch at the garden! Sketches from the top by: Barb Sh, Marsha, Bitty, Danita, Jim H. (who assumed we were meeting at the usual time of 10, but we changed it to noon to be warmer – missed him, but here's the sketch he did).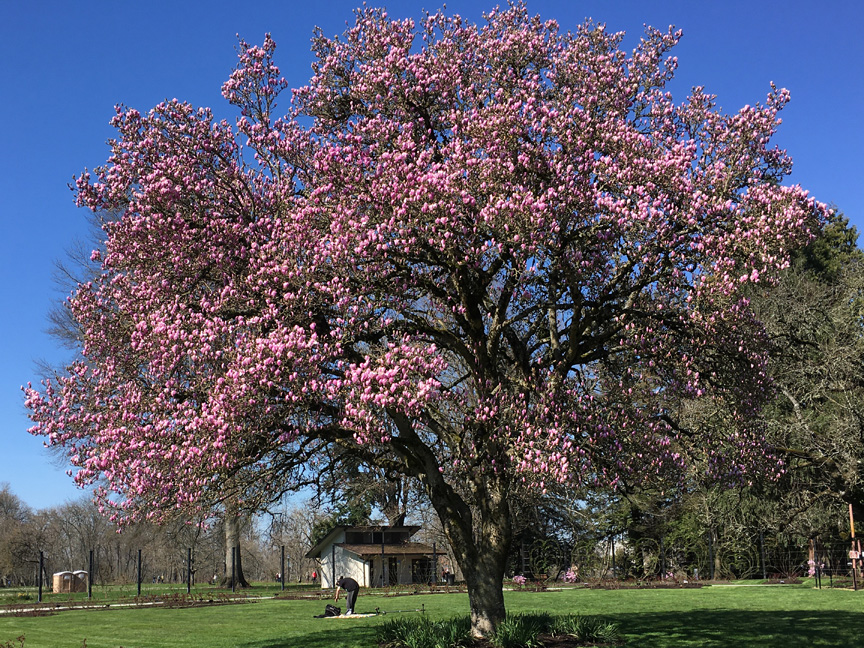 Then there was the magnificent blooming tulip magnolia tree!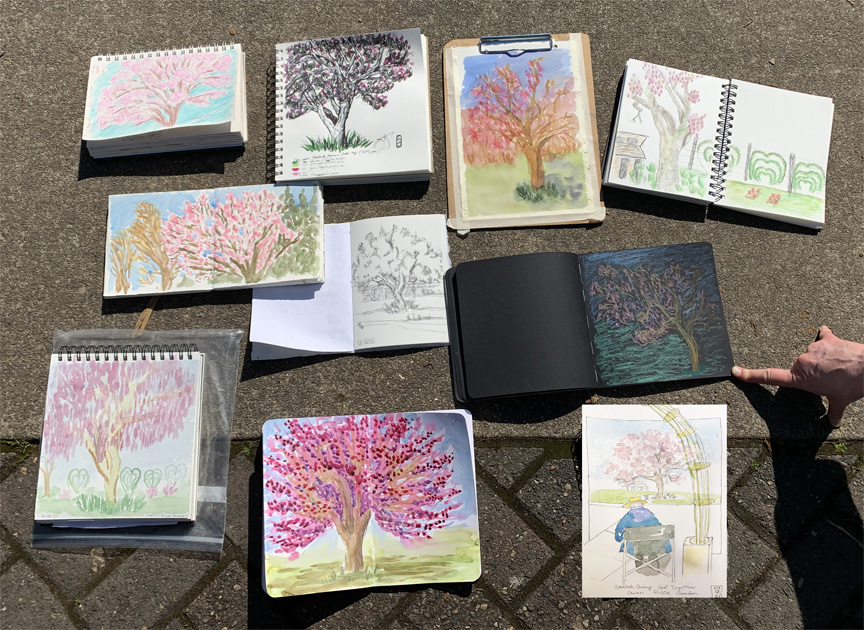 Many of us tried capturing that tree image, with lots of different styles and tools. I need help in identifying artists, so from the top: ??, Jane, Bitty, Laura; ??, Marsha, Bitty; Peggy, Danita, Barb So.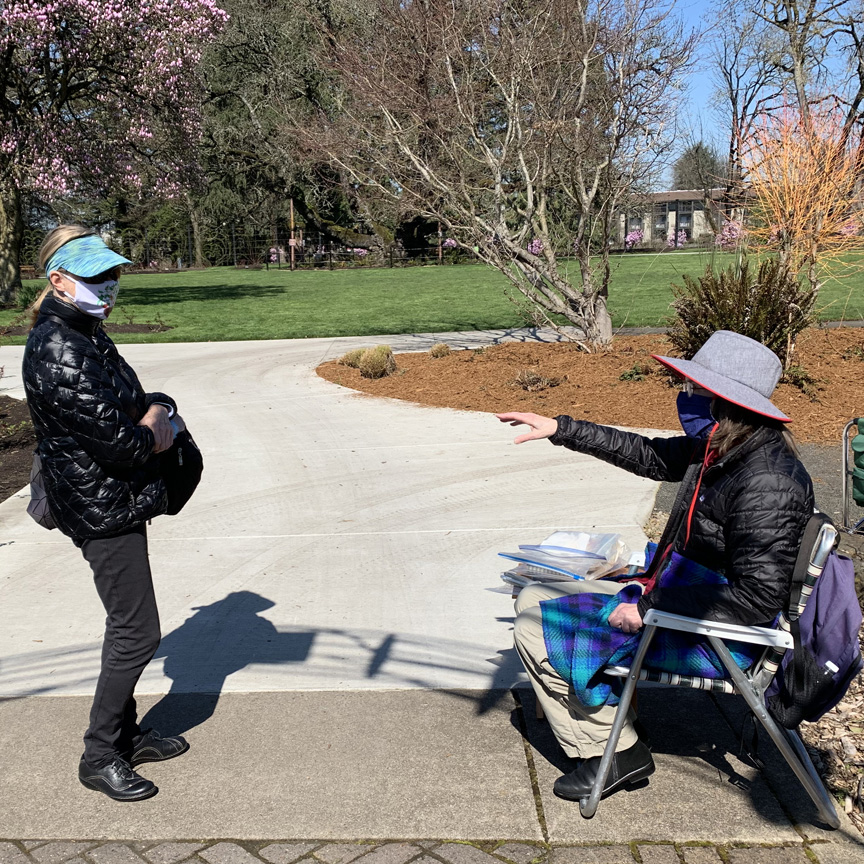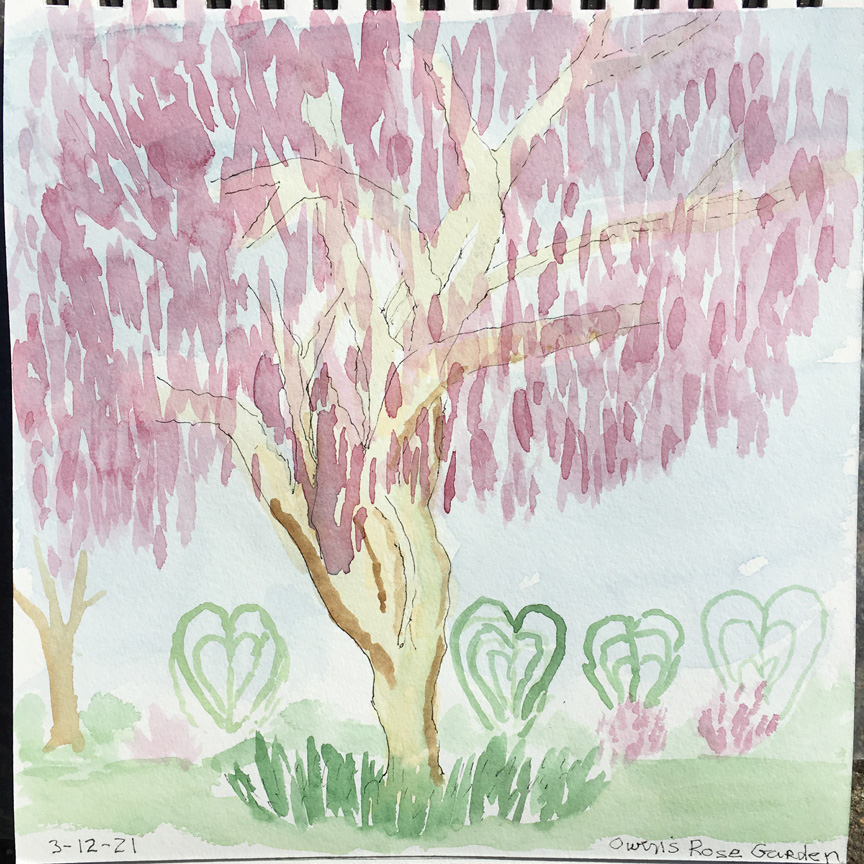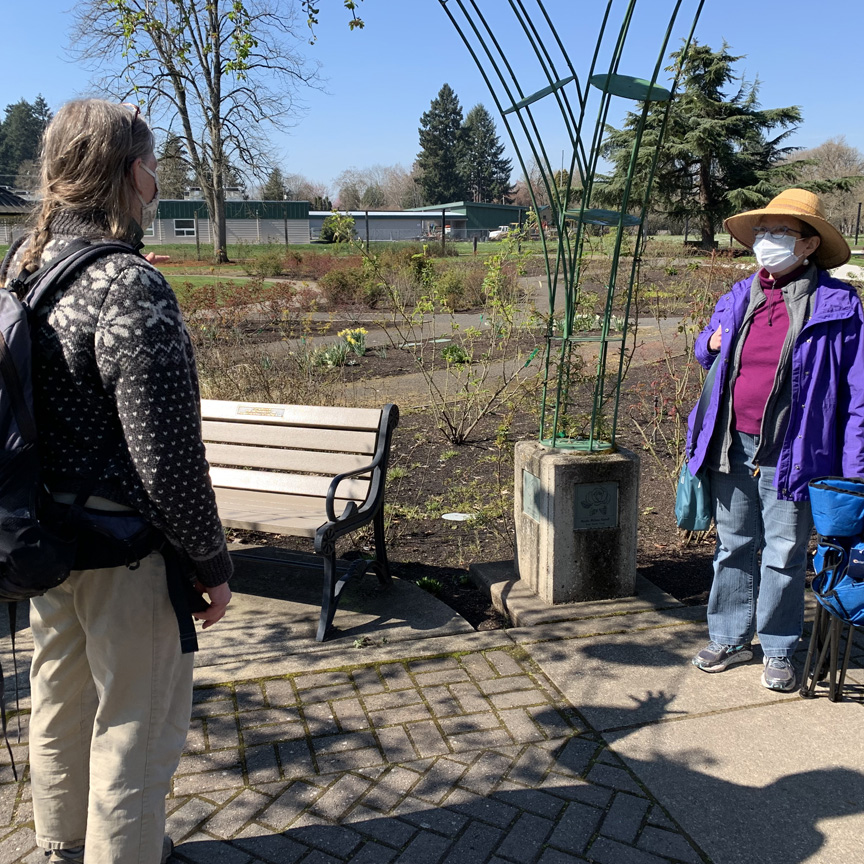 Barb So & Peggy; Peggy's magnolia sketch; Bitty & Marsha.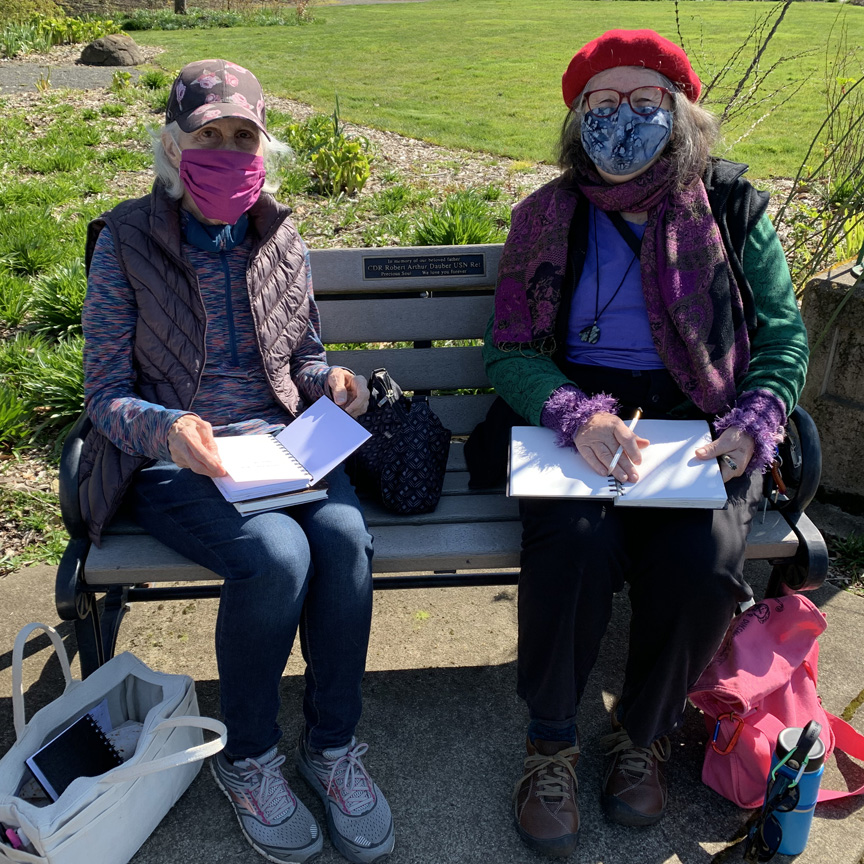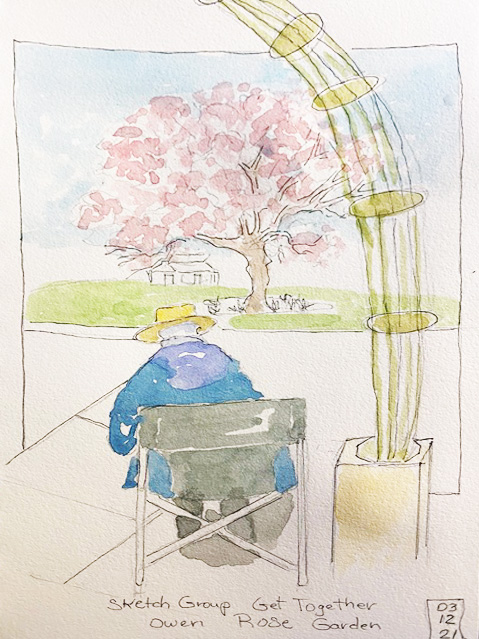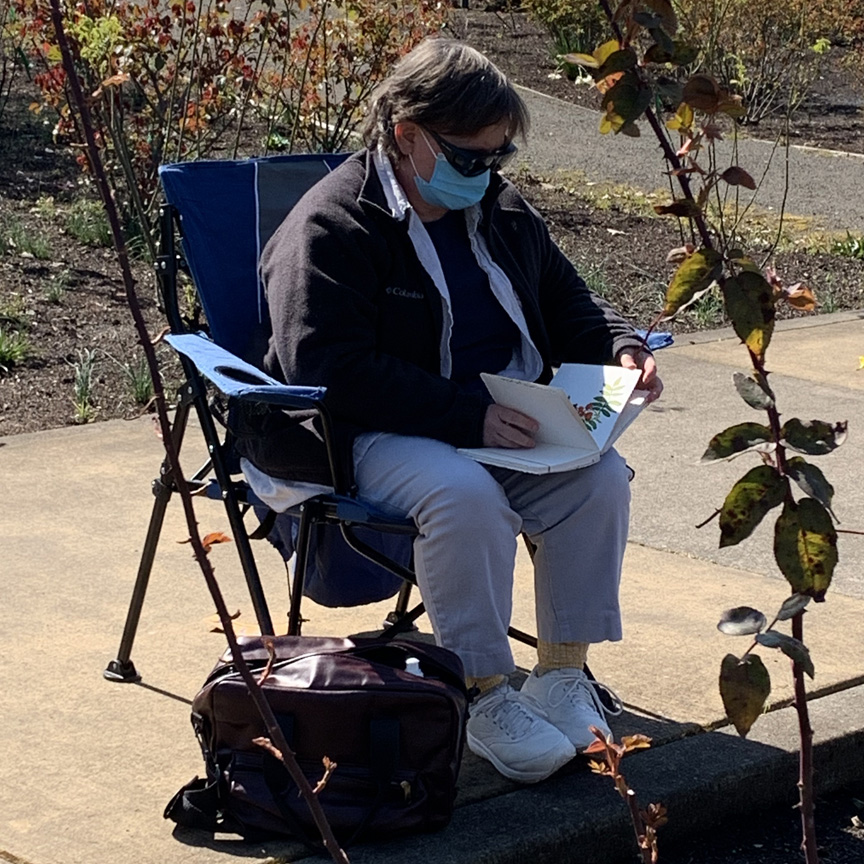 Barb So & Laura; Barb So's sketch; Daisy.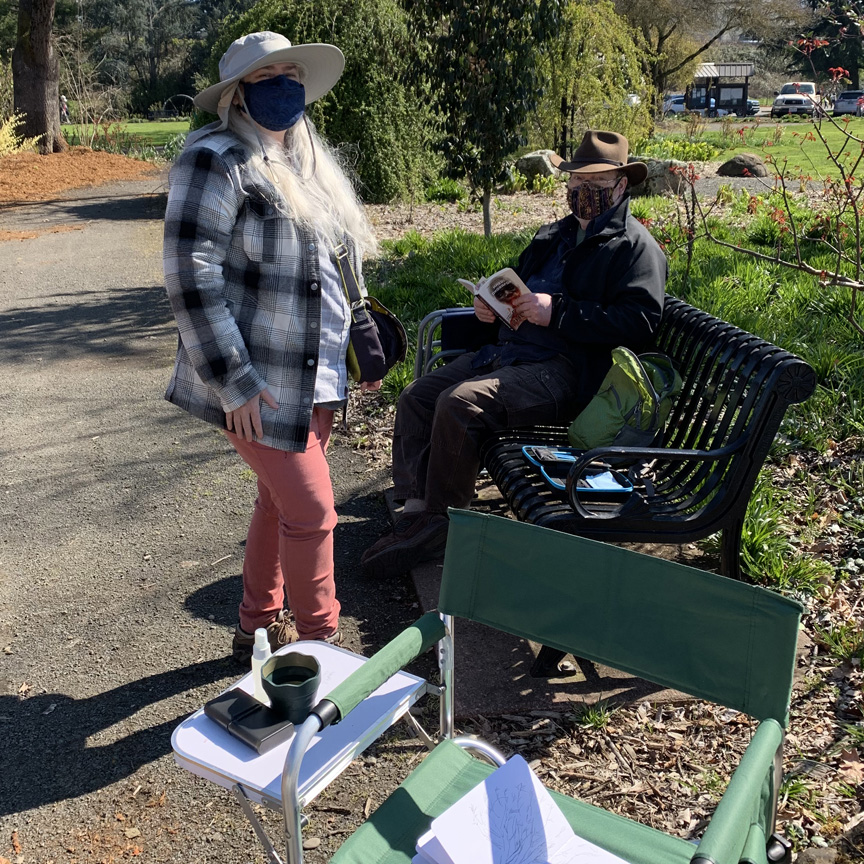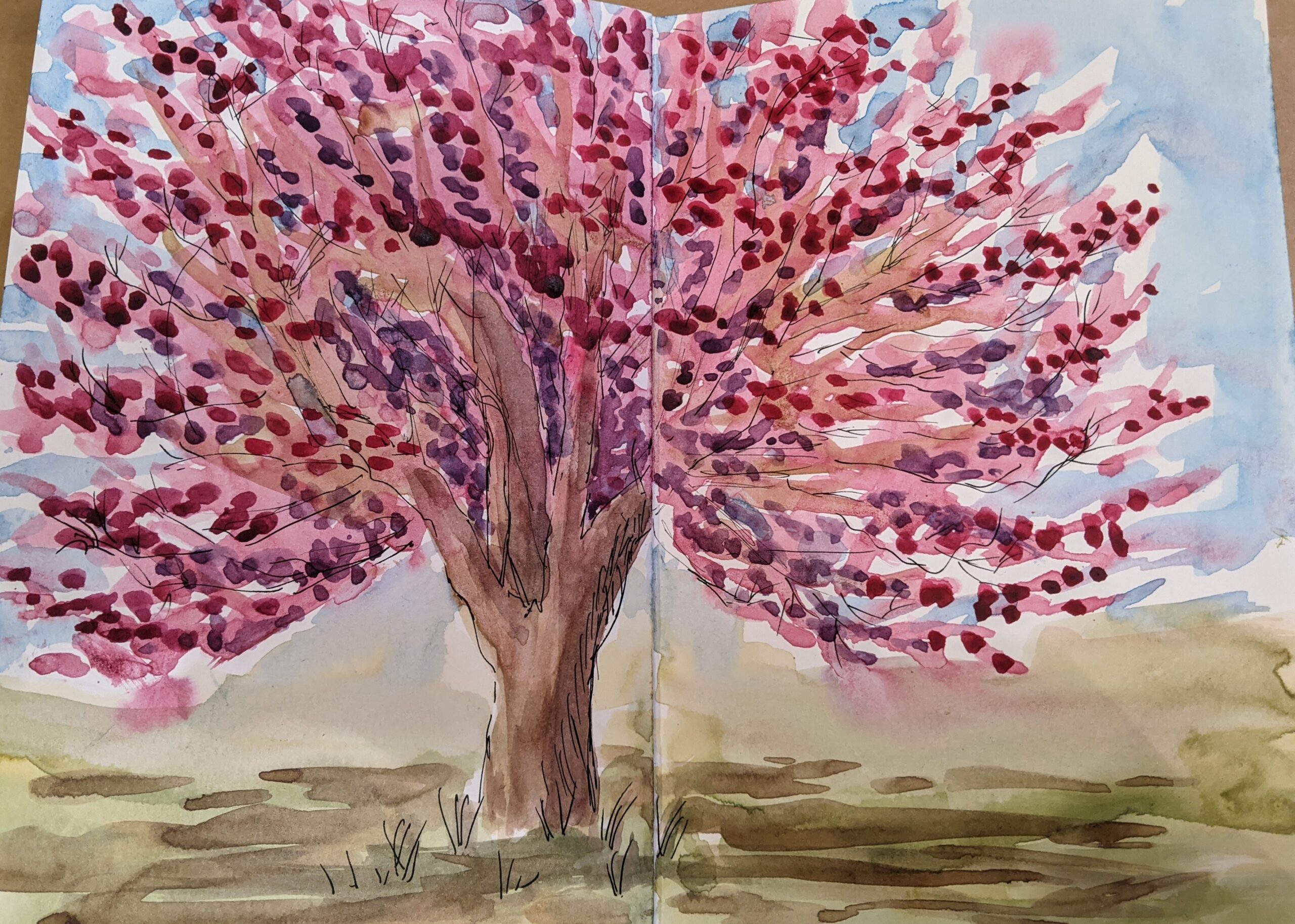 Danita & husband Michael; Danita's sketch.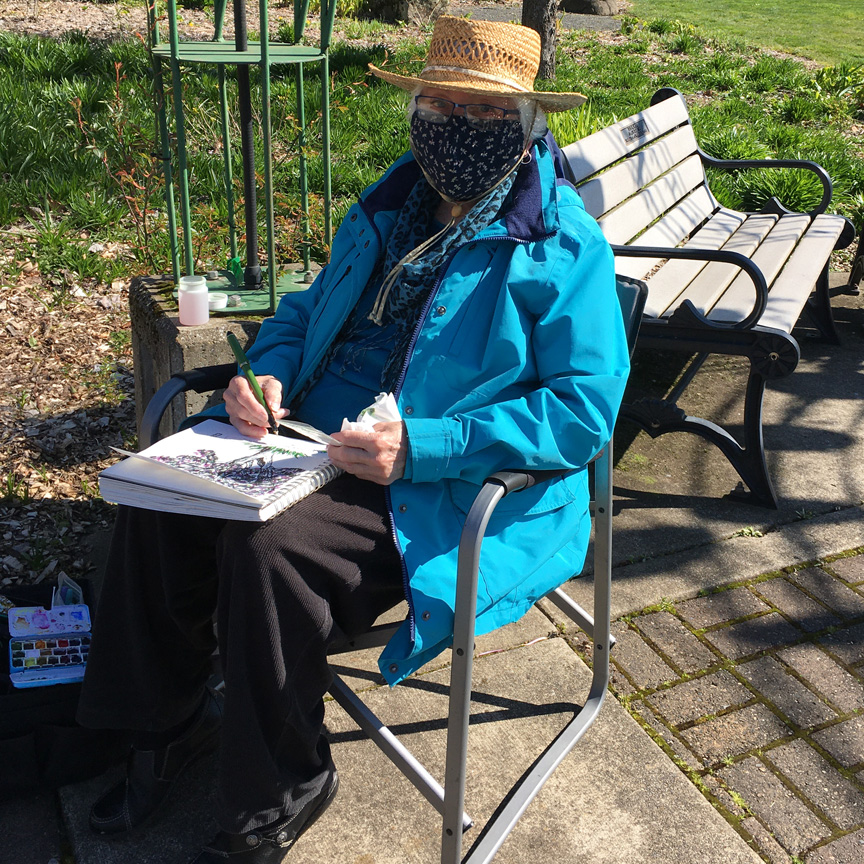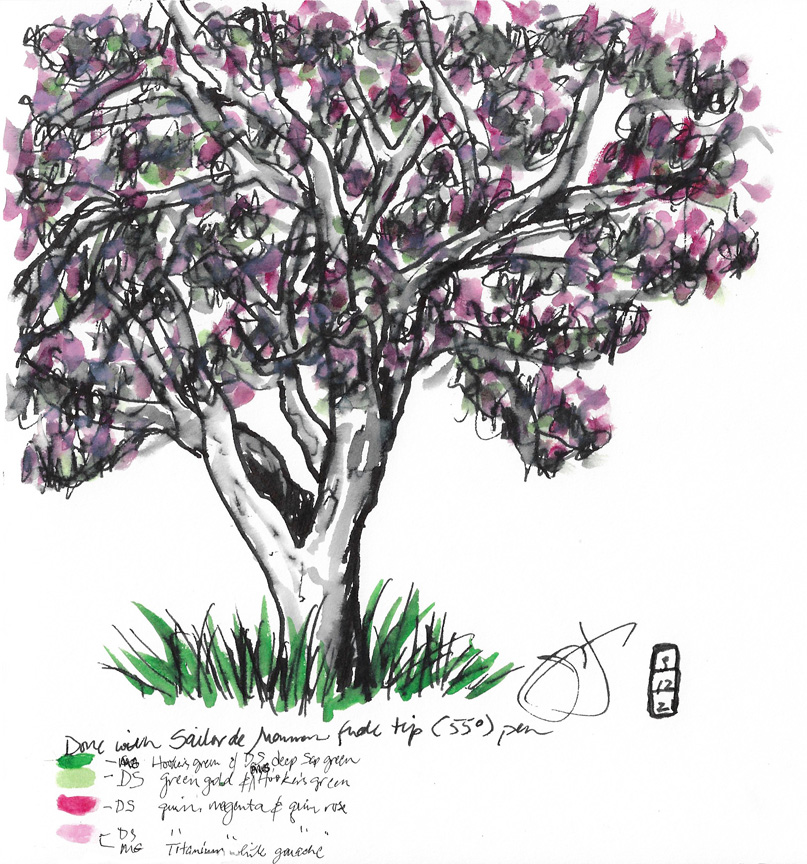 Jane (staying warm, cutting the sun glare); Jane's sketch.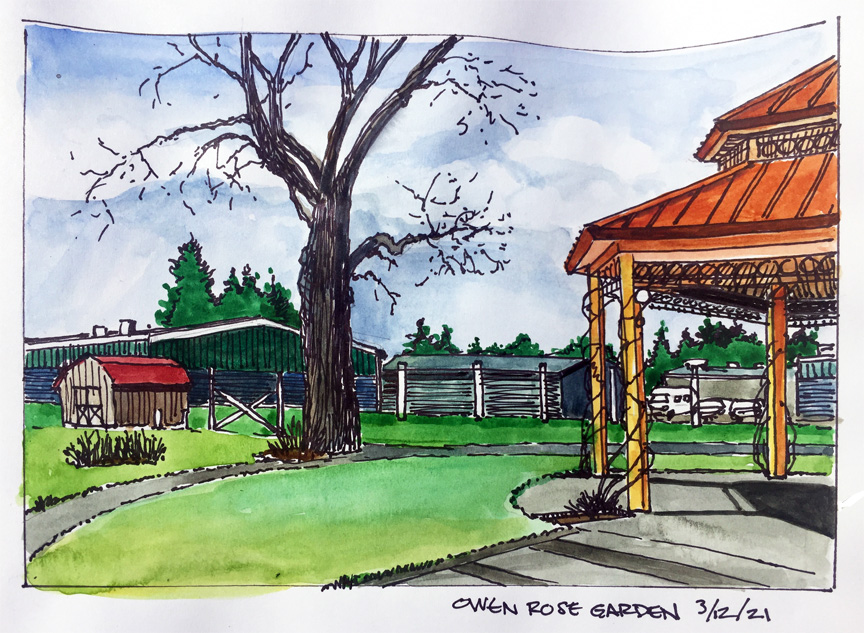 Jim's sketch – he even got in some of the challenging gazebo!
✒ 🖥 Feb. 2020 – Mar. 2021, Zoom meetings had to suffice ✒ 🖥

The Friday Sketch Group usually meets the 2nd and 4th Fridays of every month. Some of the same suspects show up, too. It's fun!
✒ Feb. 28, 2020 – Serendipity Cafe & Tea, Lebanon, OR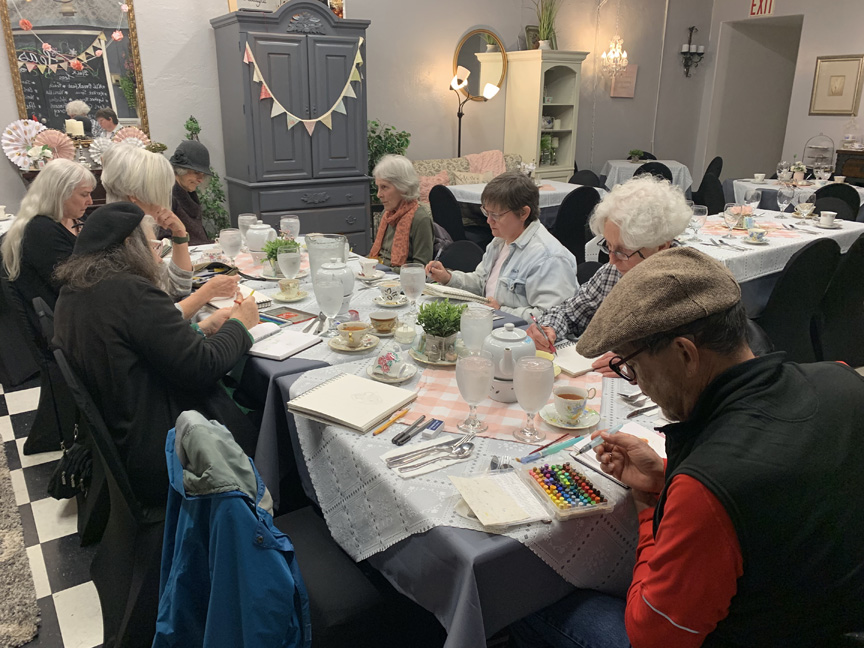 Great road trip! Laura, Katie, Danita, Sandy, Barb So, Daisy, Lynda, Hugh (& Jane behind the camera). "Sketching first!" we said.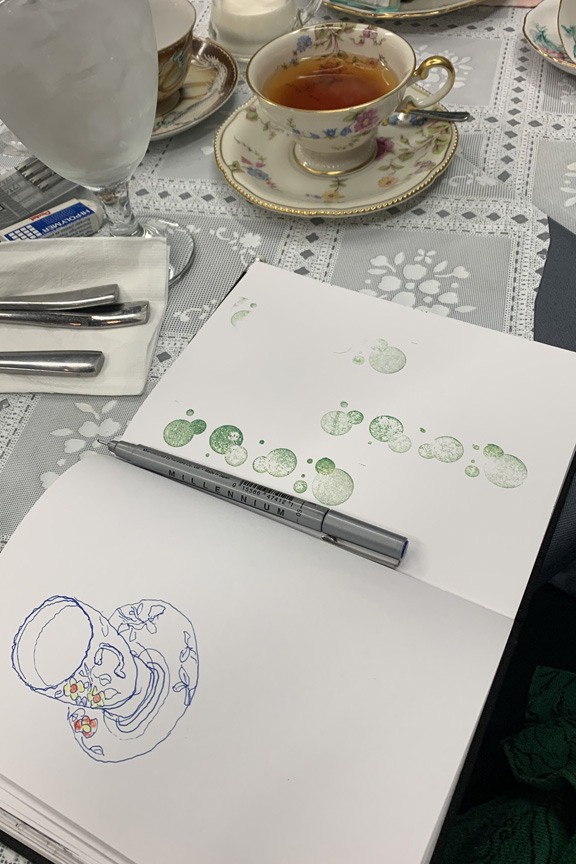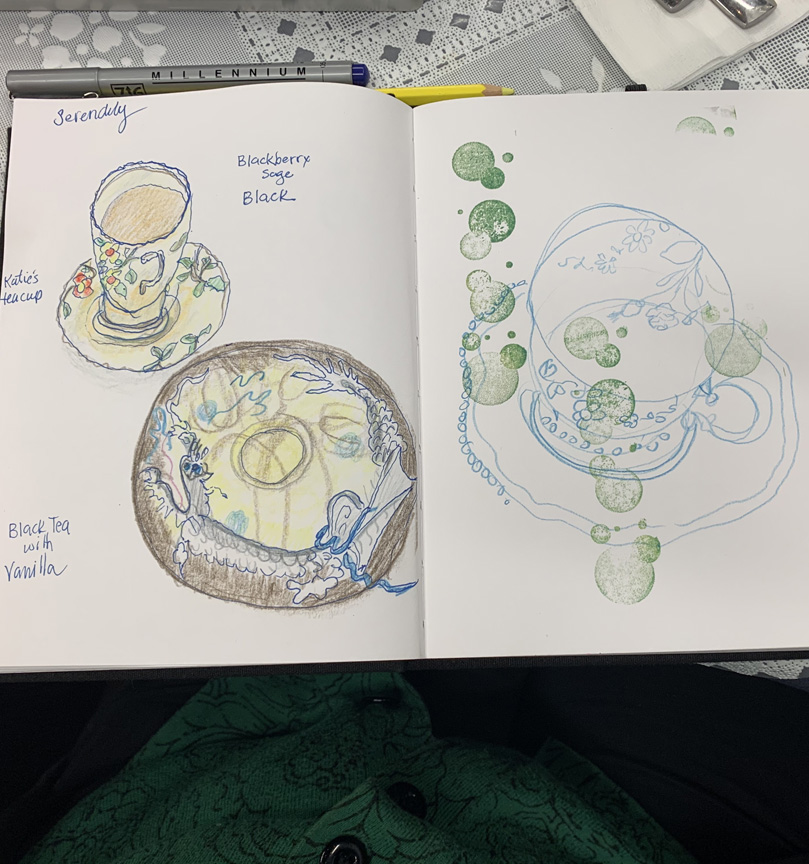 Here's how Laura's sketches turned out.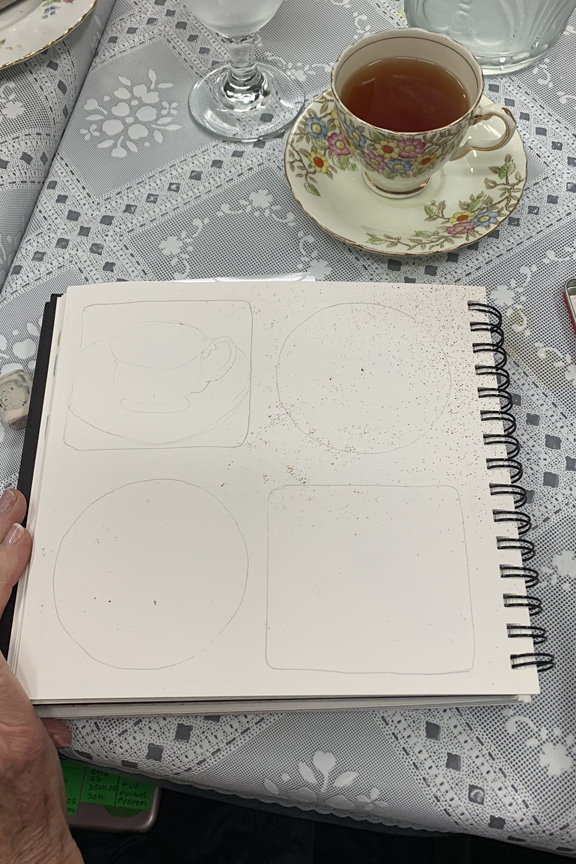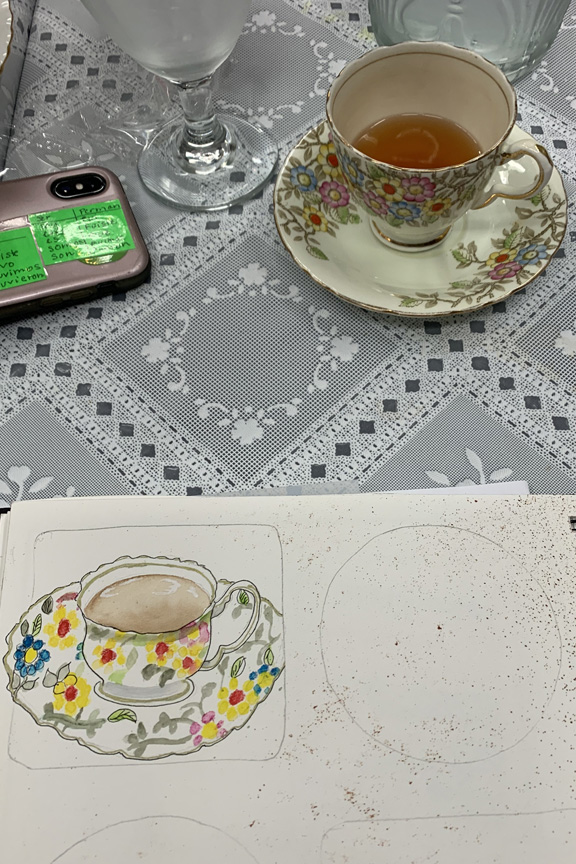 Katie had fun with the colorful flowers on her cup & saucer.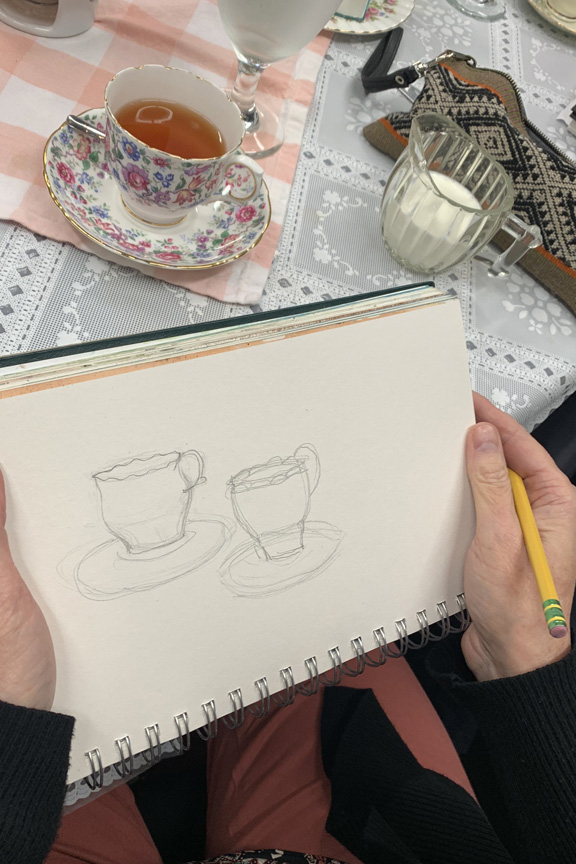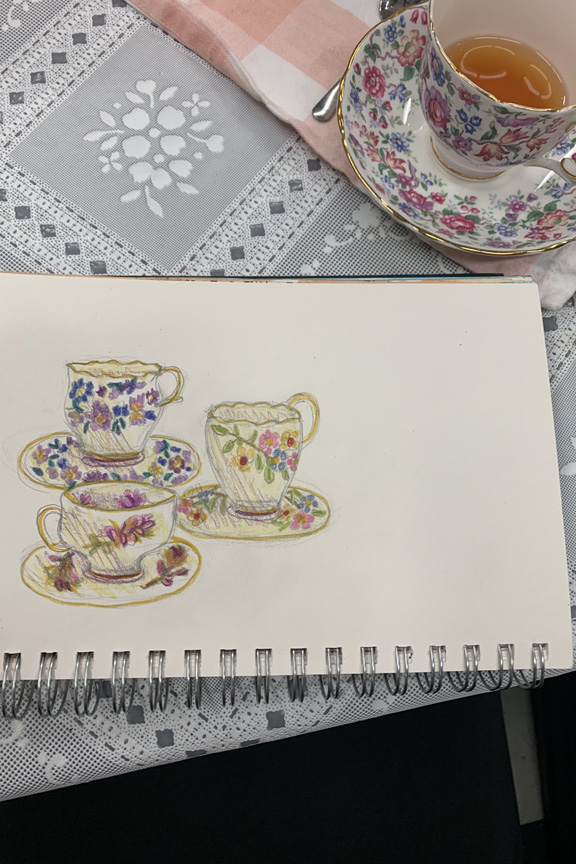 Danita was ambitious in sketching three of them! Wow. Cute, too.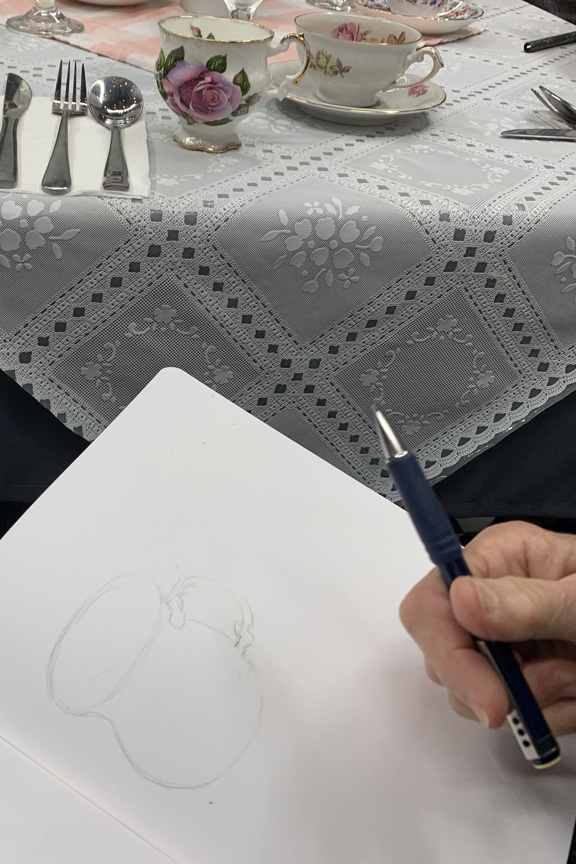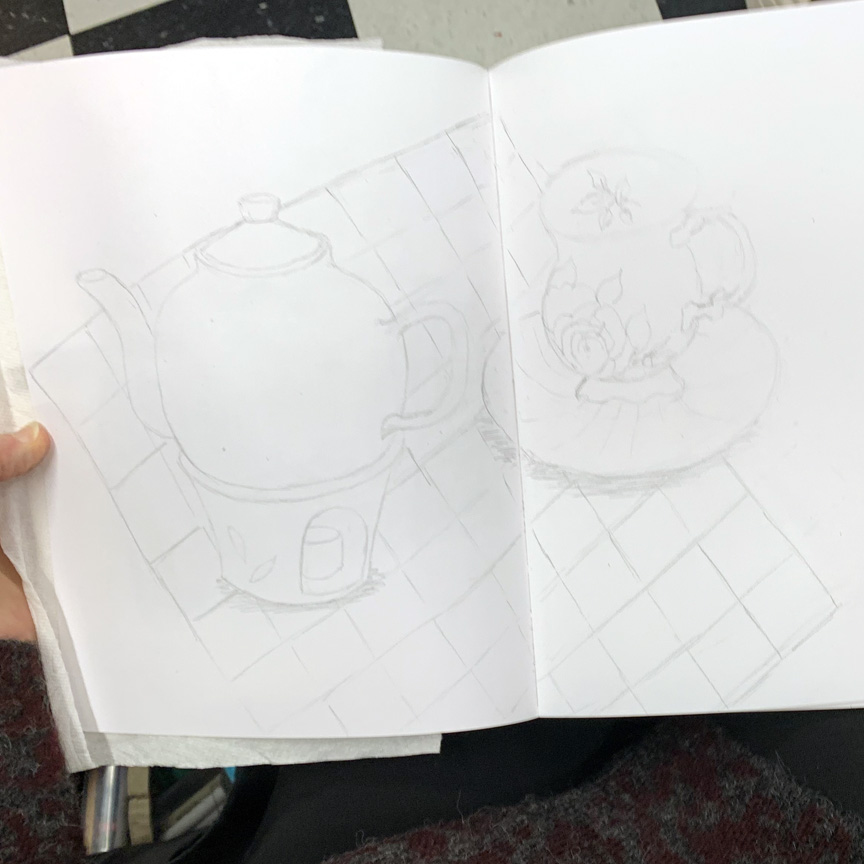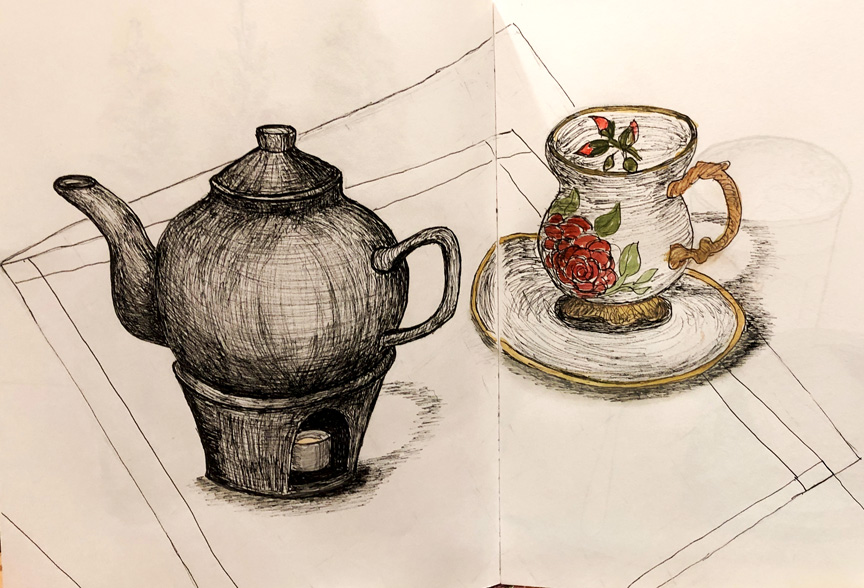 Sandy included the teapot on the warmer along with the curvy cup.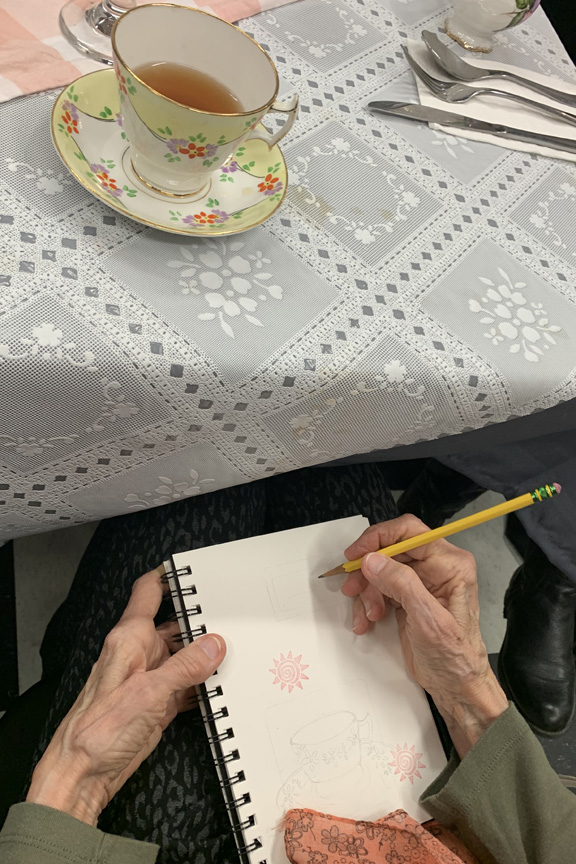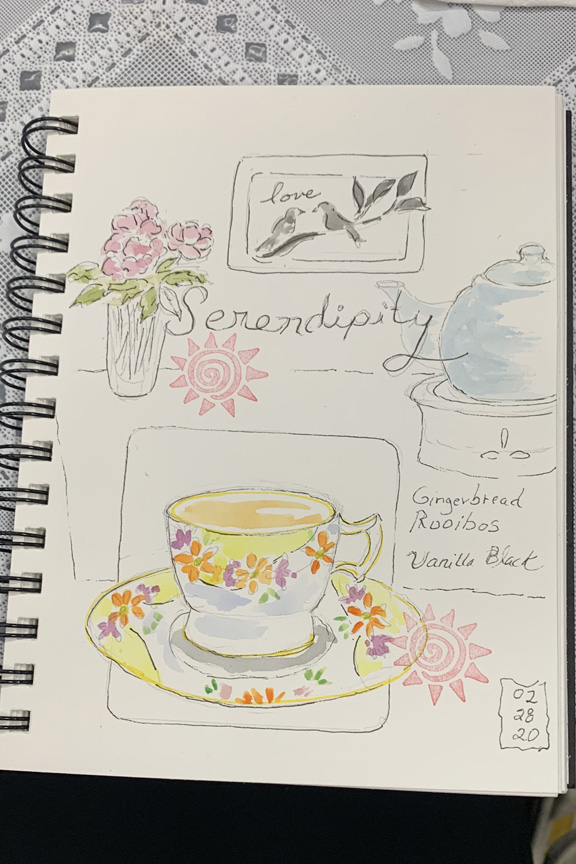 Barb So's light hand with watercolor was ideal for her sketch.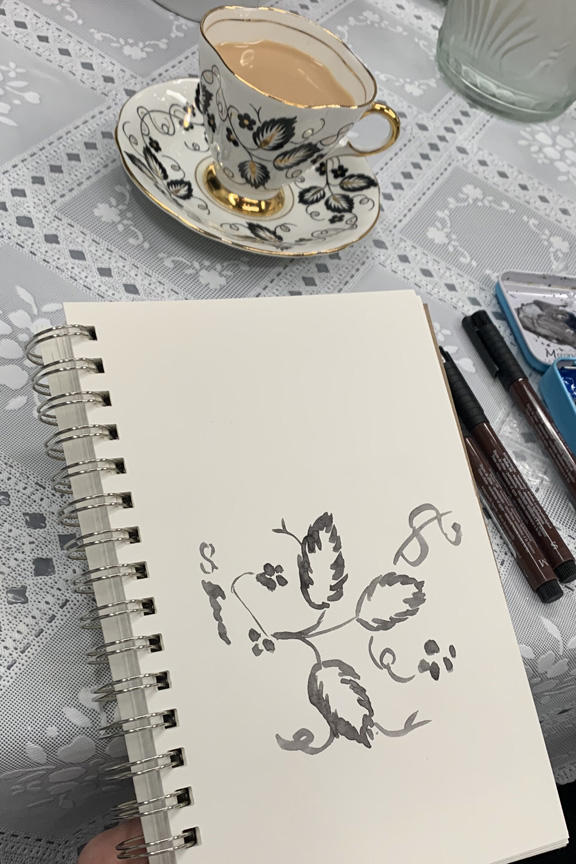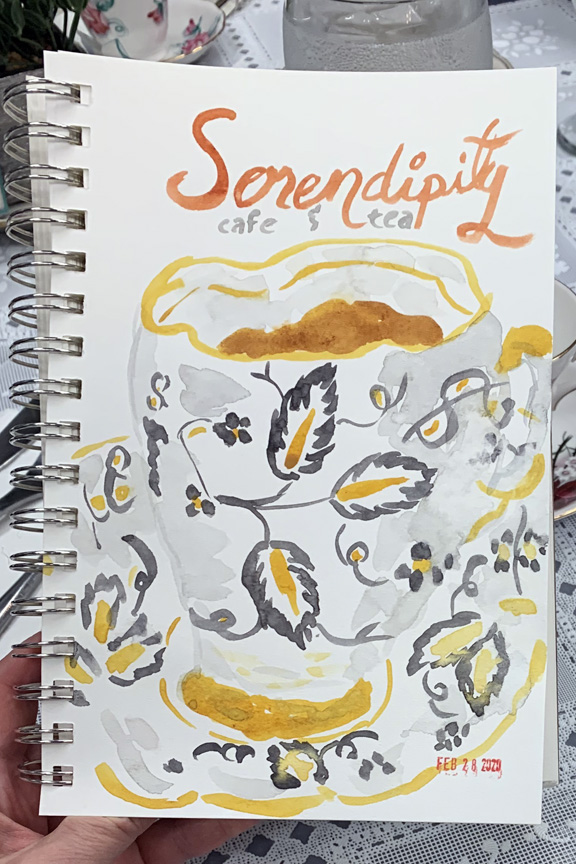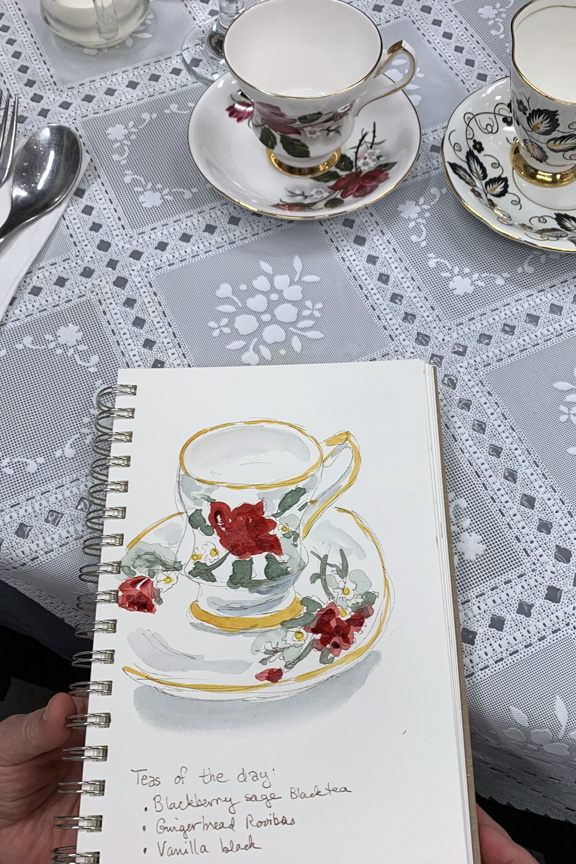 Daisy said, "These designs are harder than you think!" Well done.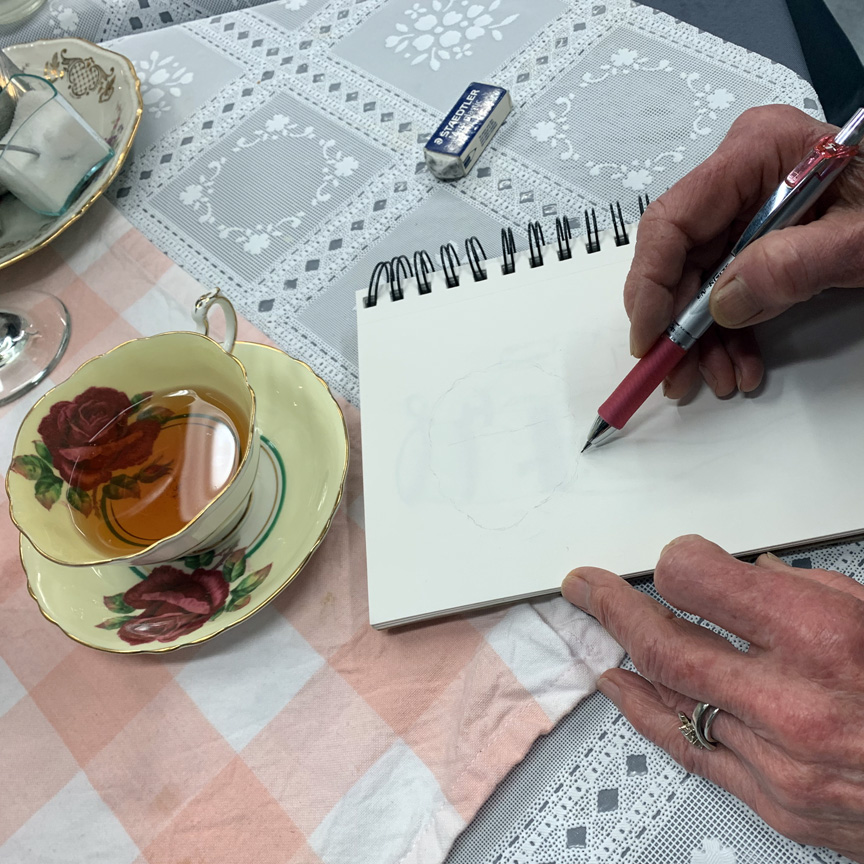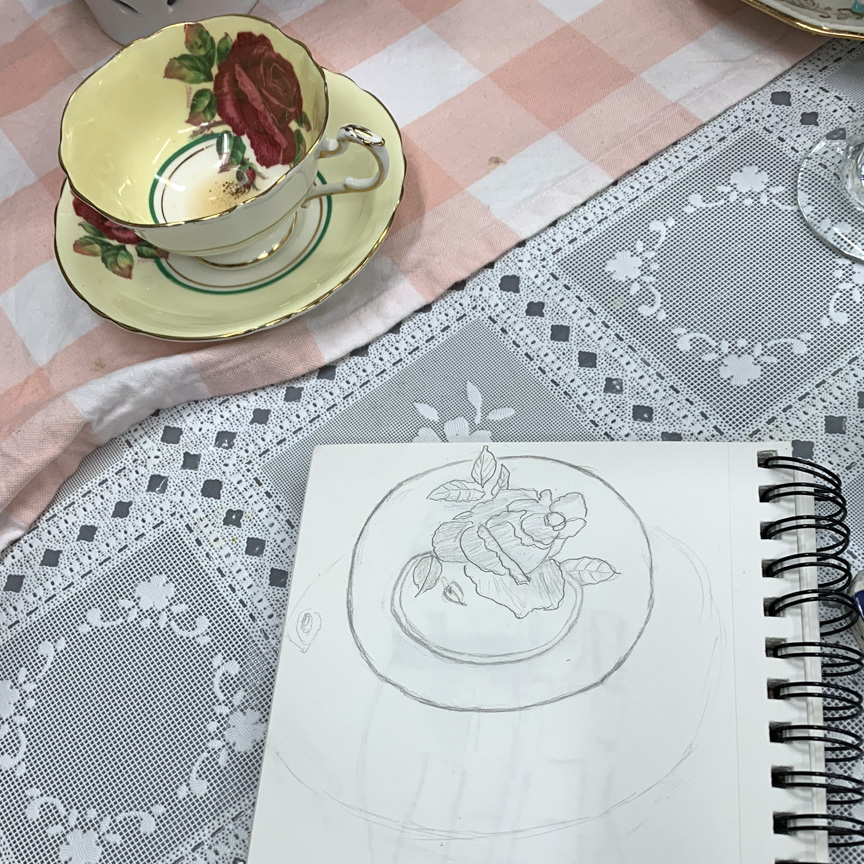 Lynda fell in love with the rose in her cup, can you tell?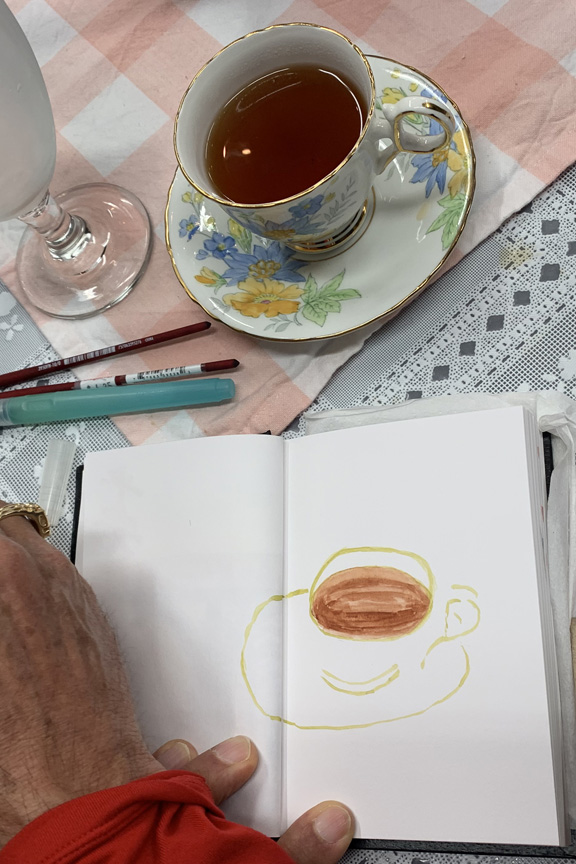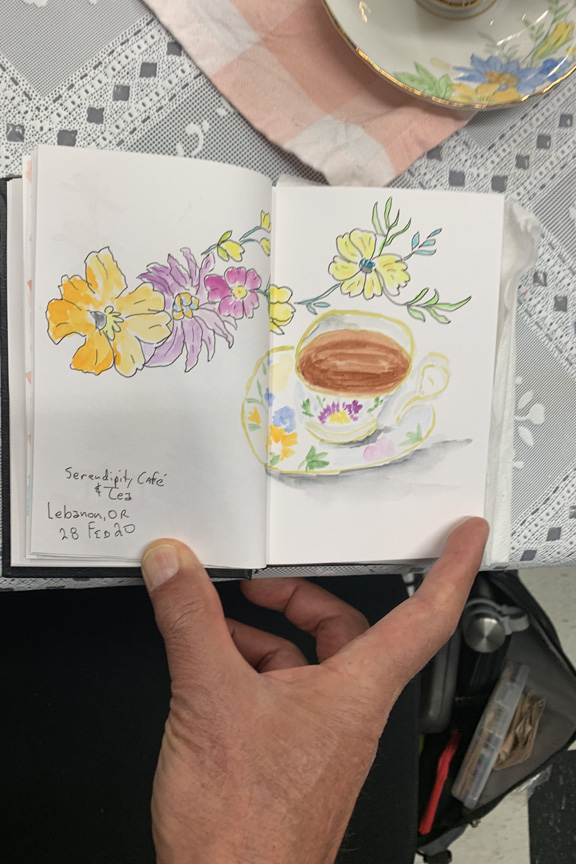 Hugh conquered the tea itself before turning to the designs.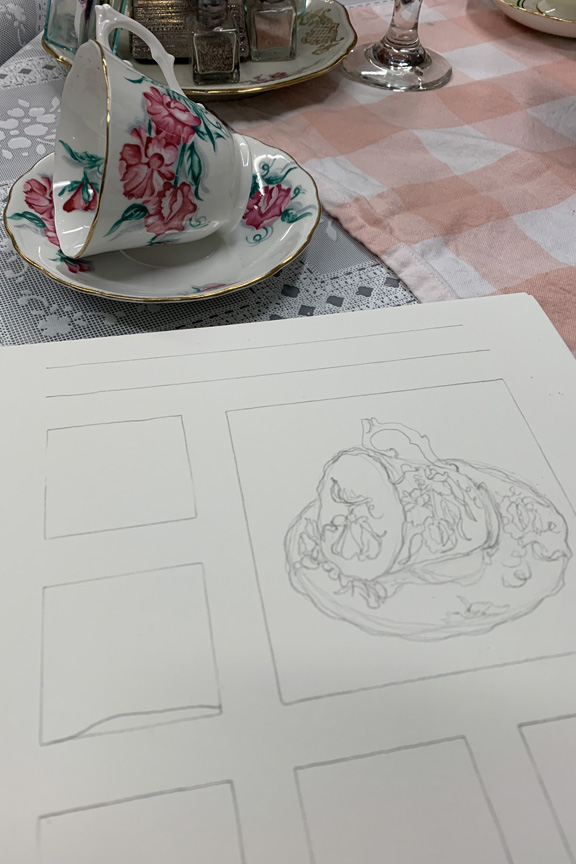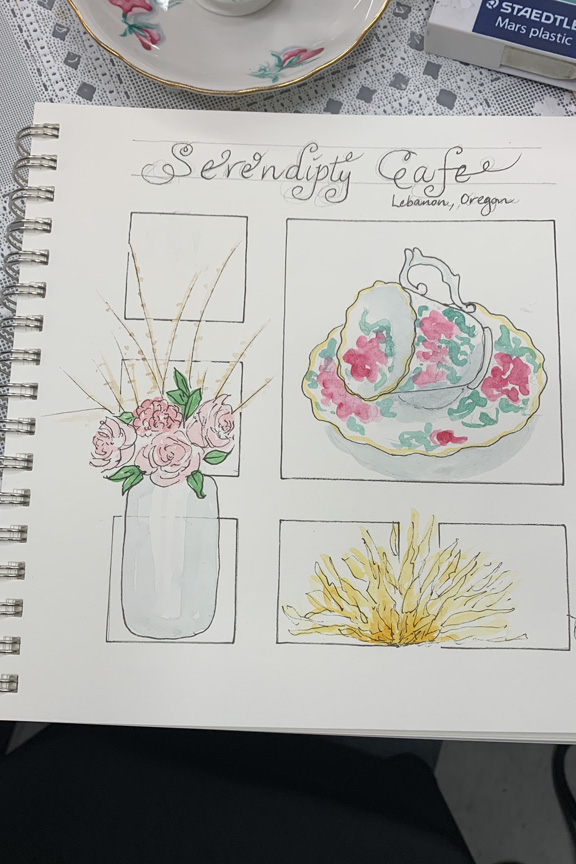 Jane turned her cup on its side, but it wasn't any easier that way!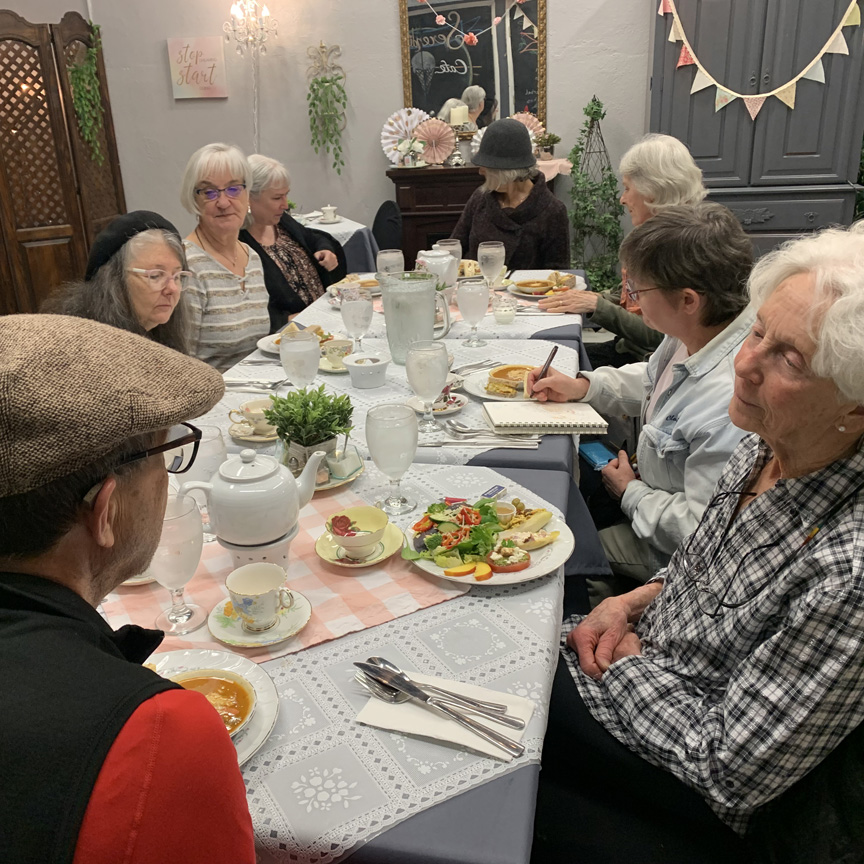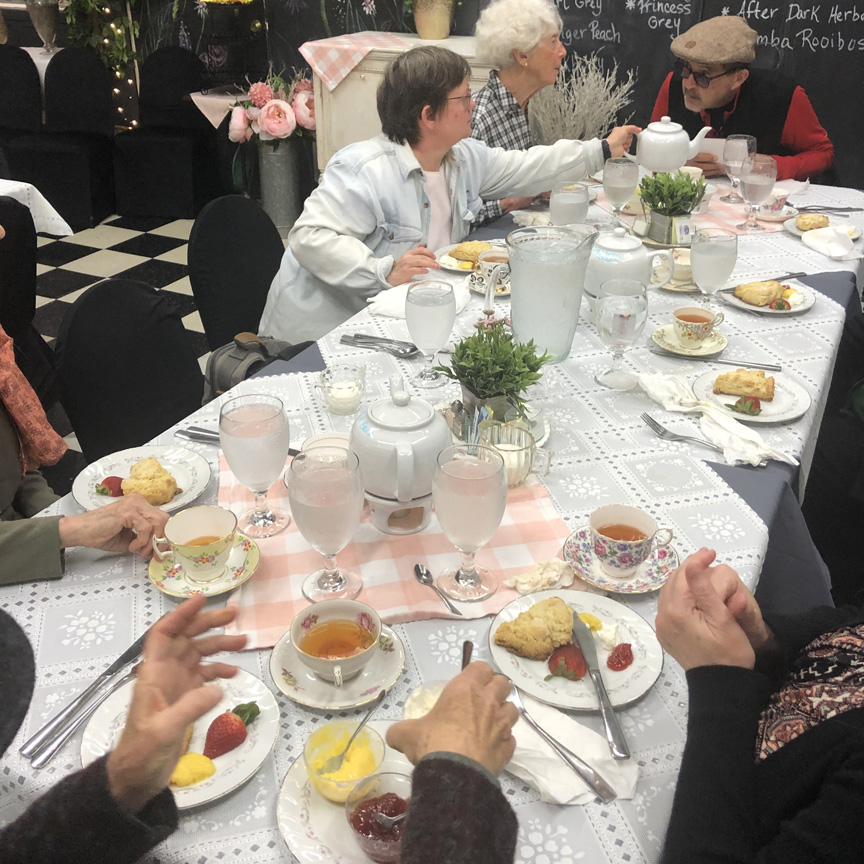 Then it was time for tea, followed by scones warm from the oven.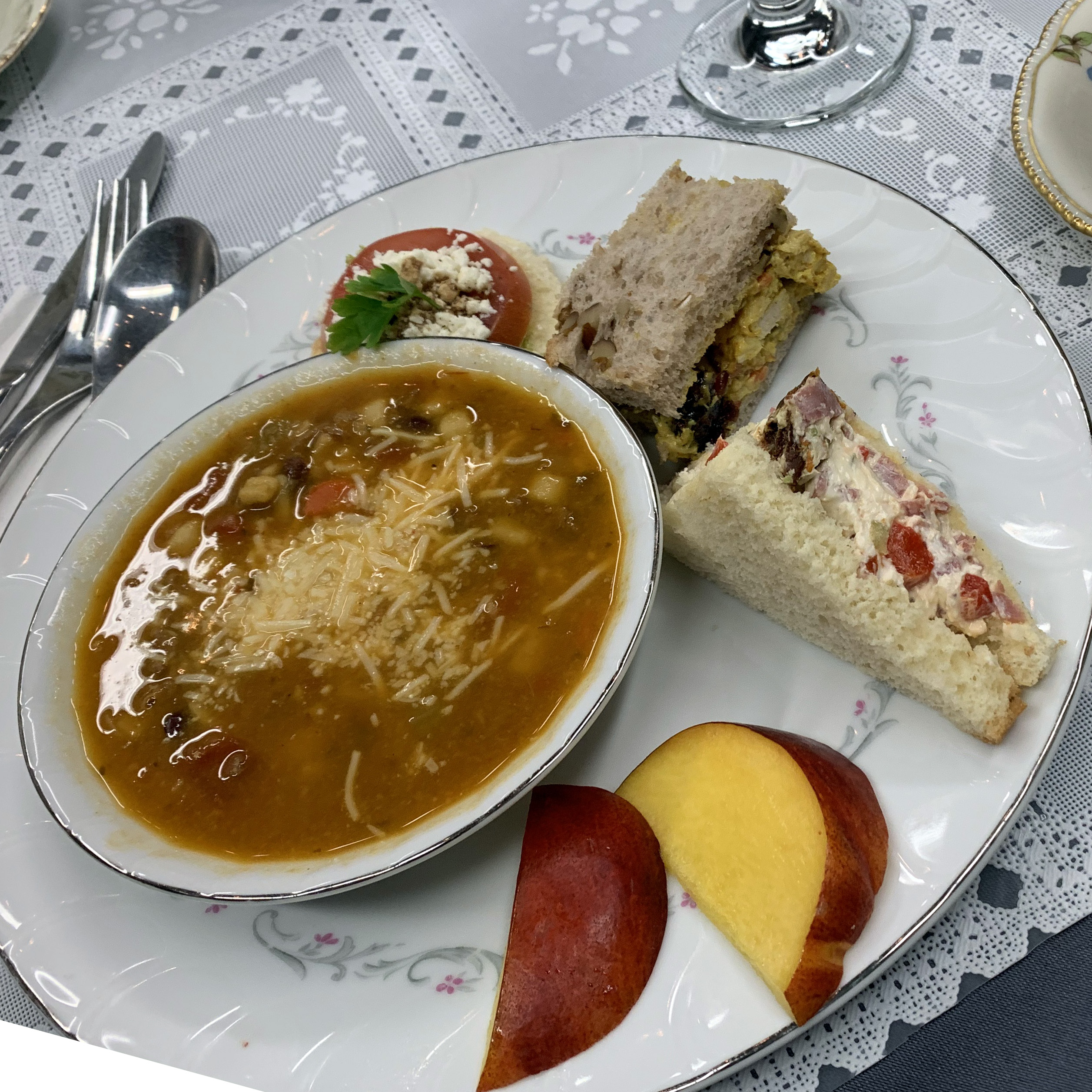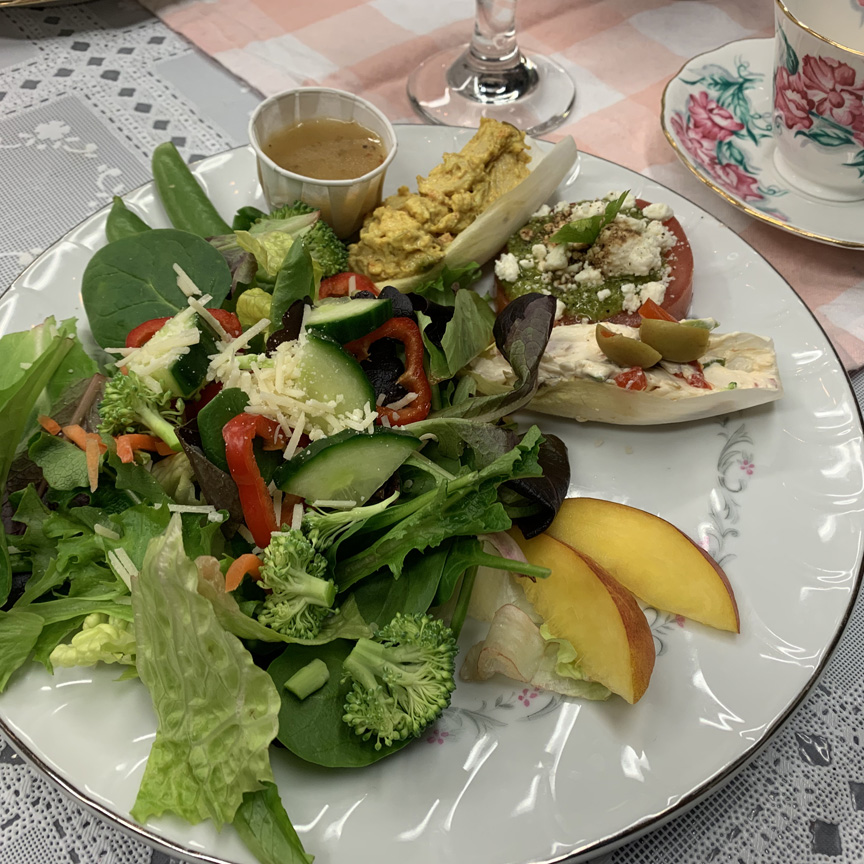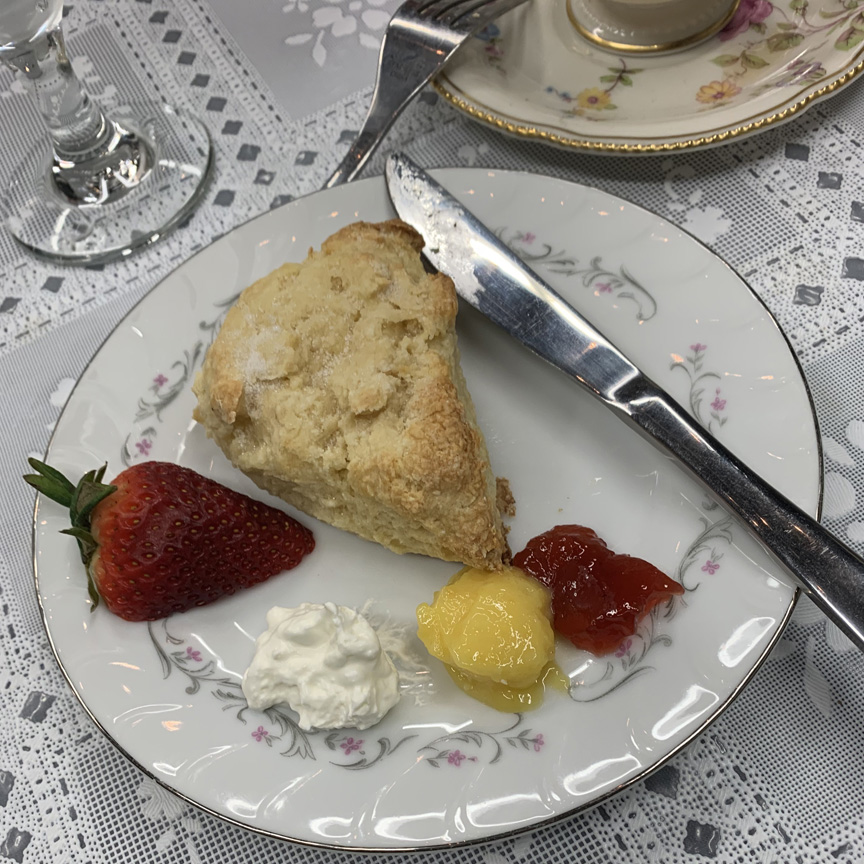 Soup & sandwiches or salad & lettuce rolls; scones with lemon curd, and whipped cream (strawberry jam also available. Great place!
✒ Feb. 14, 2020 – Nana's Caffé/Coburg Pizza Co., Coburg, OR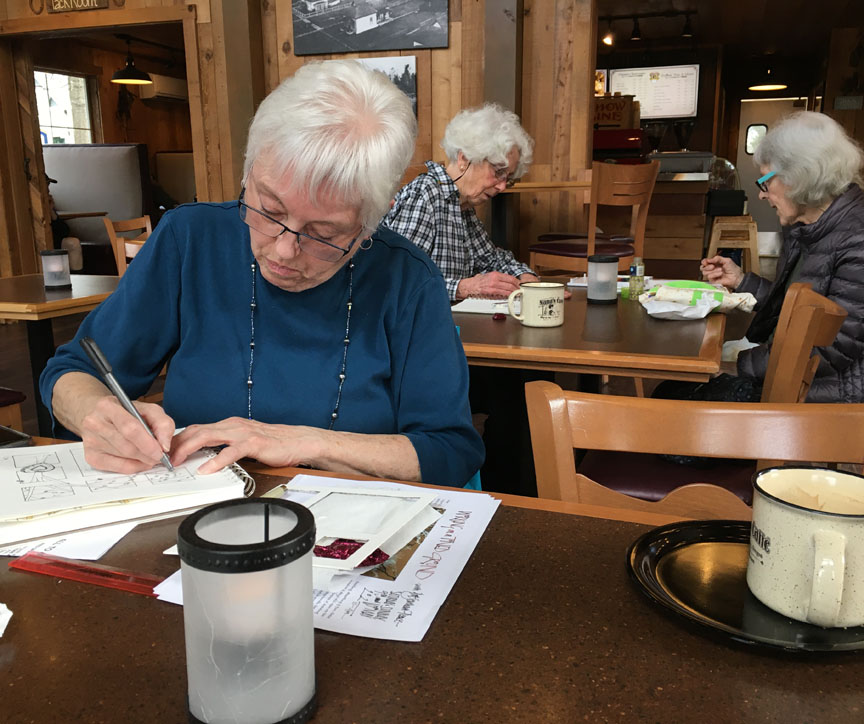 It was a chilly overcast day, and if it weren't for Peggy, there would be no photos of sketchers! Here are Jane, Lynda, Barb So at work.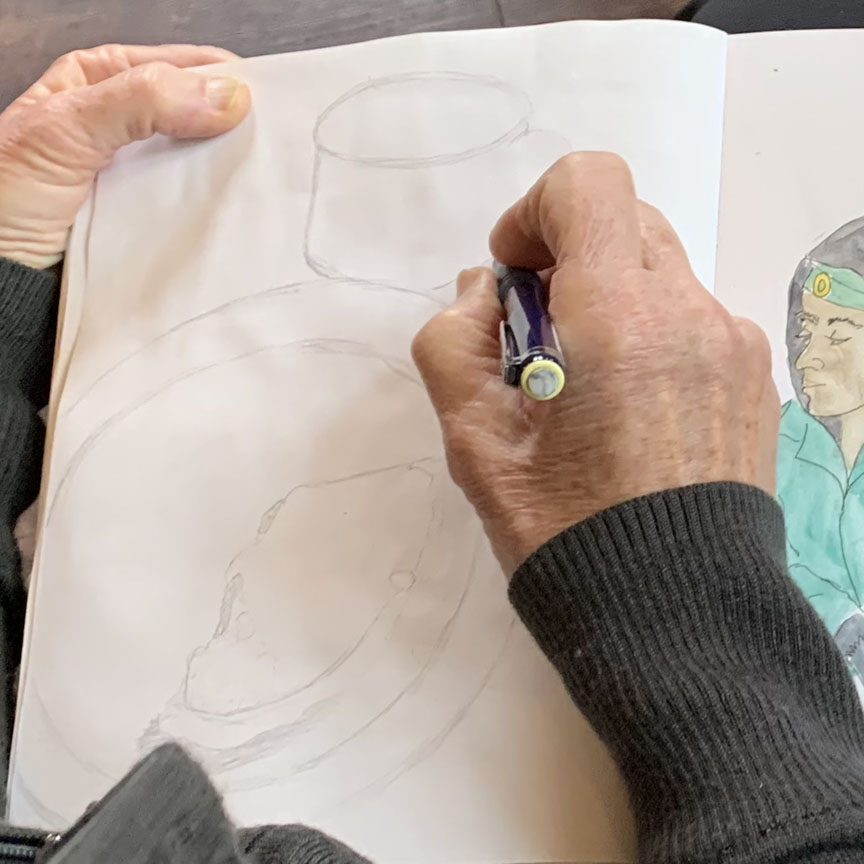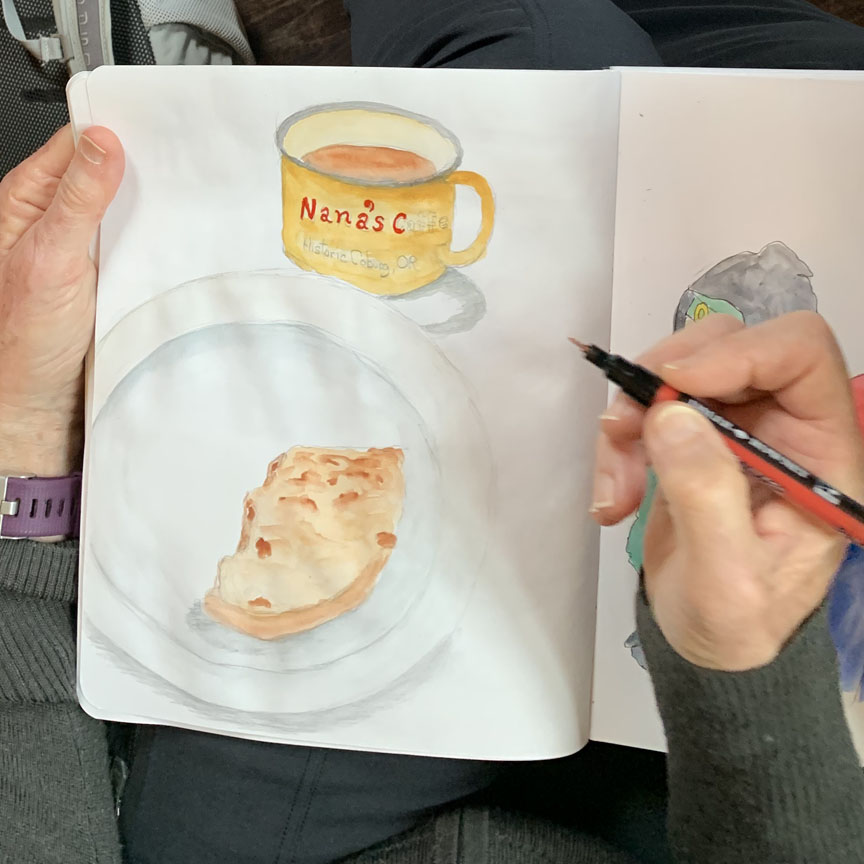 Sandy sketched what was in front of her – coffee & scone! Yum!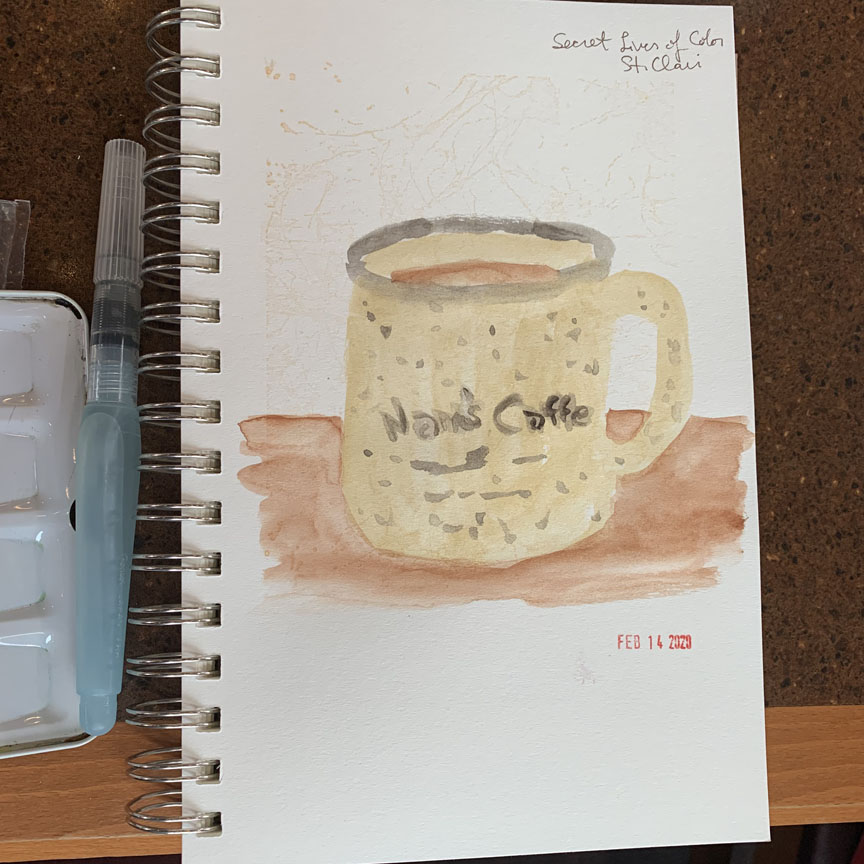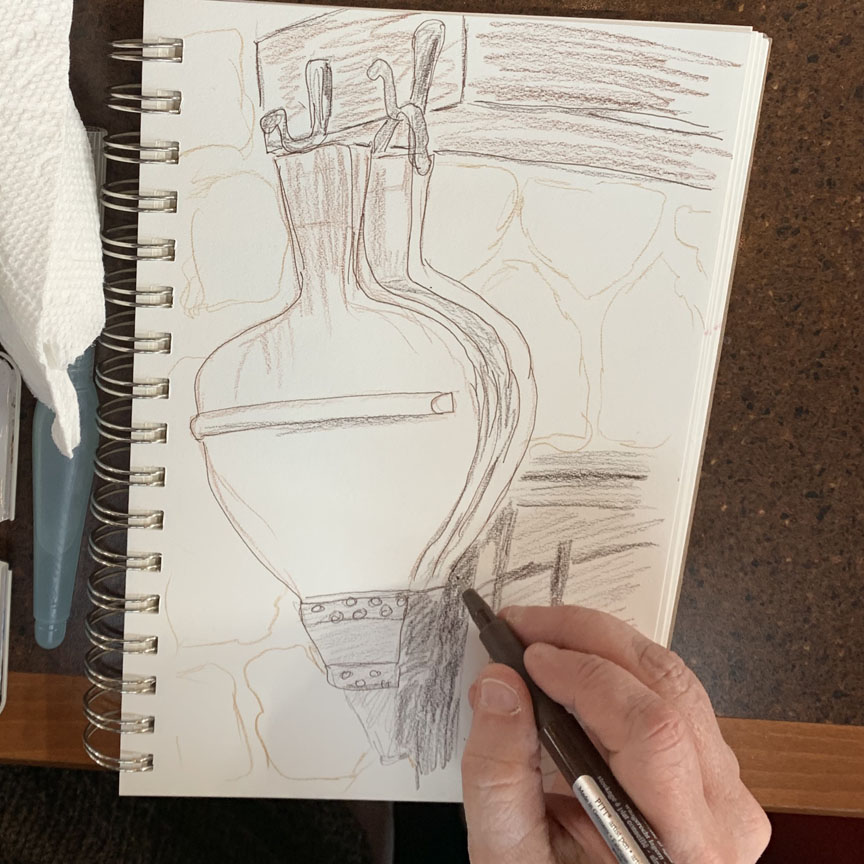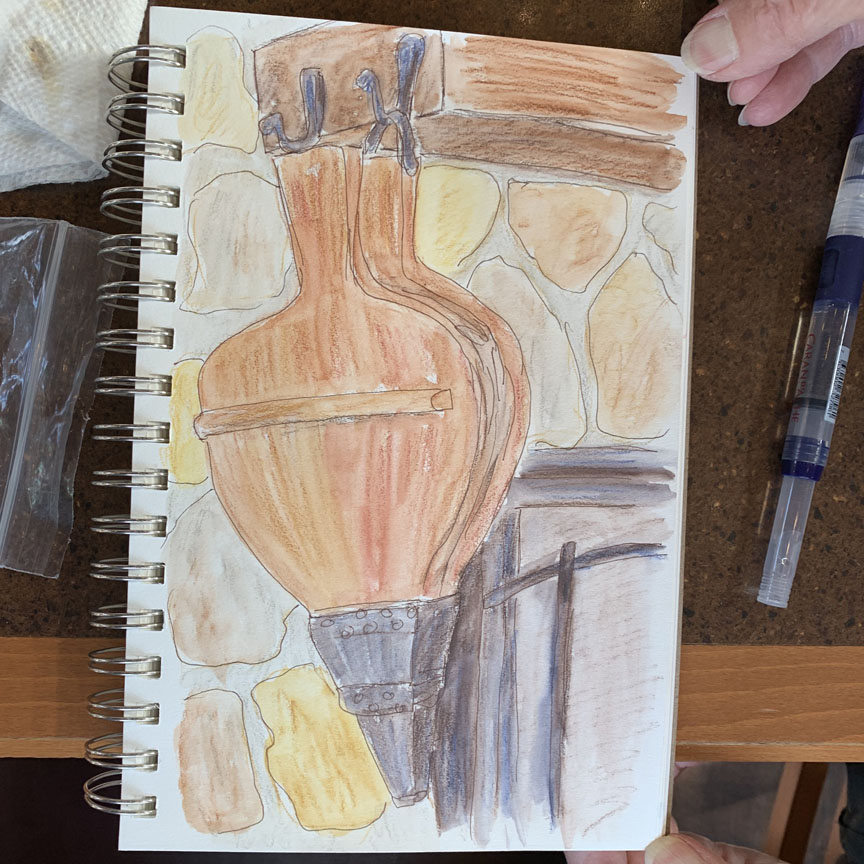 Daisy did her coffee, but then drew the fireplace bellows. Nice!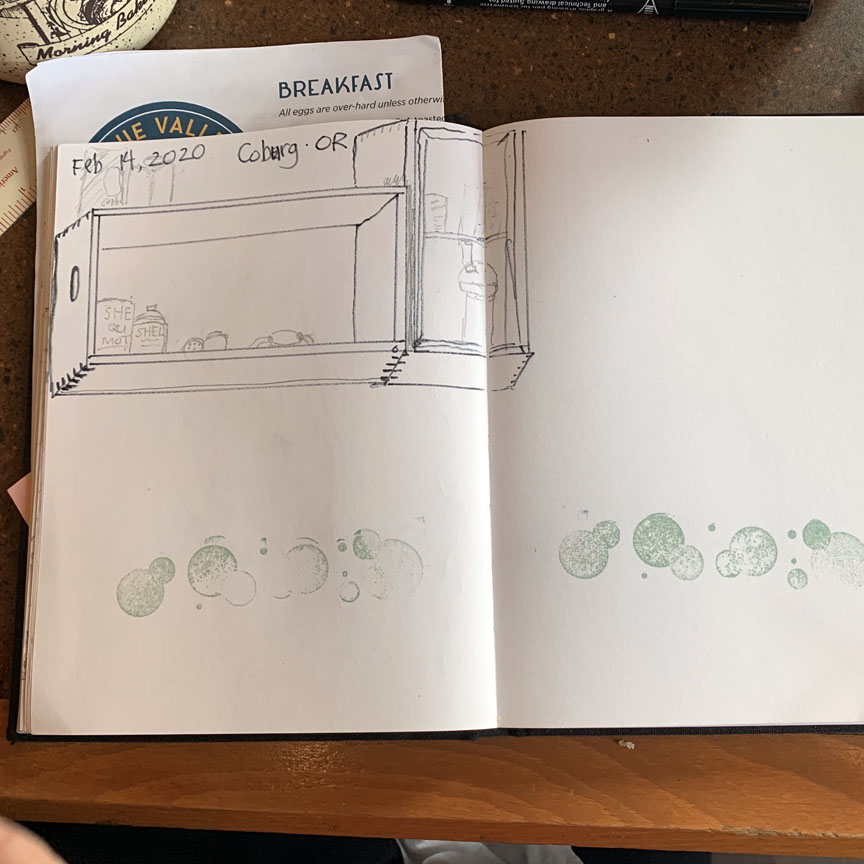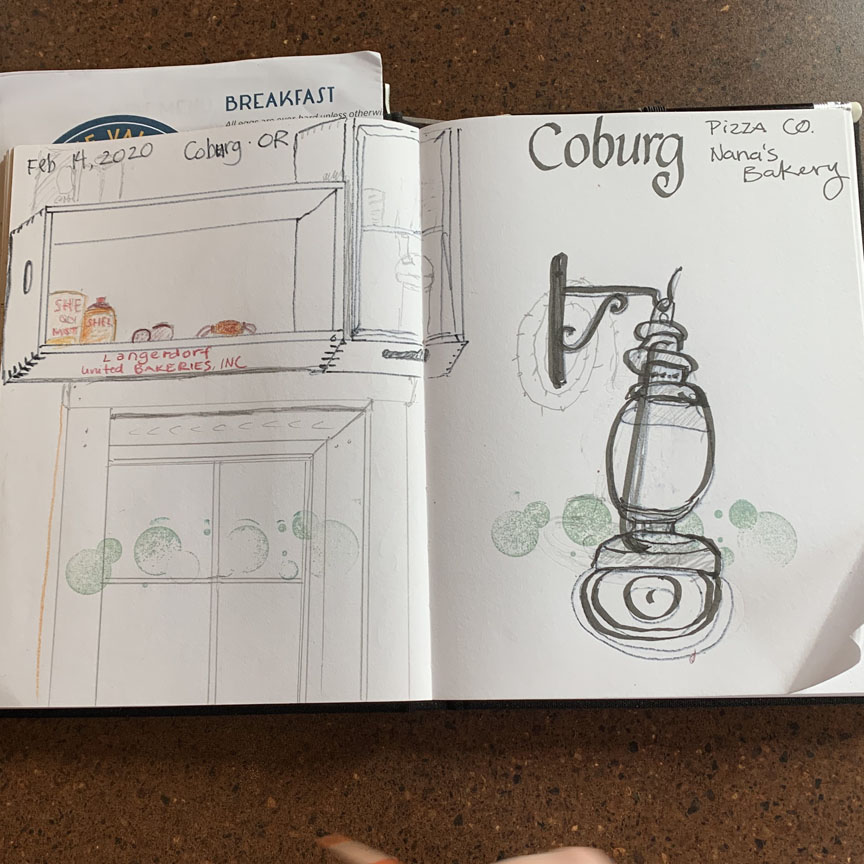 Laura sketched the display above her as well as the hanging lantern.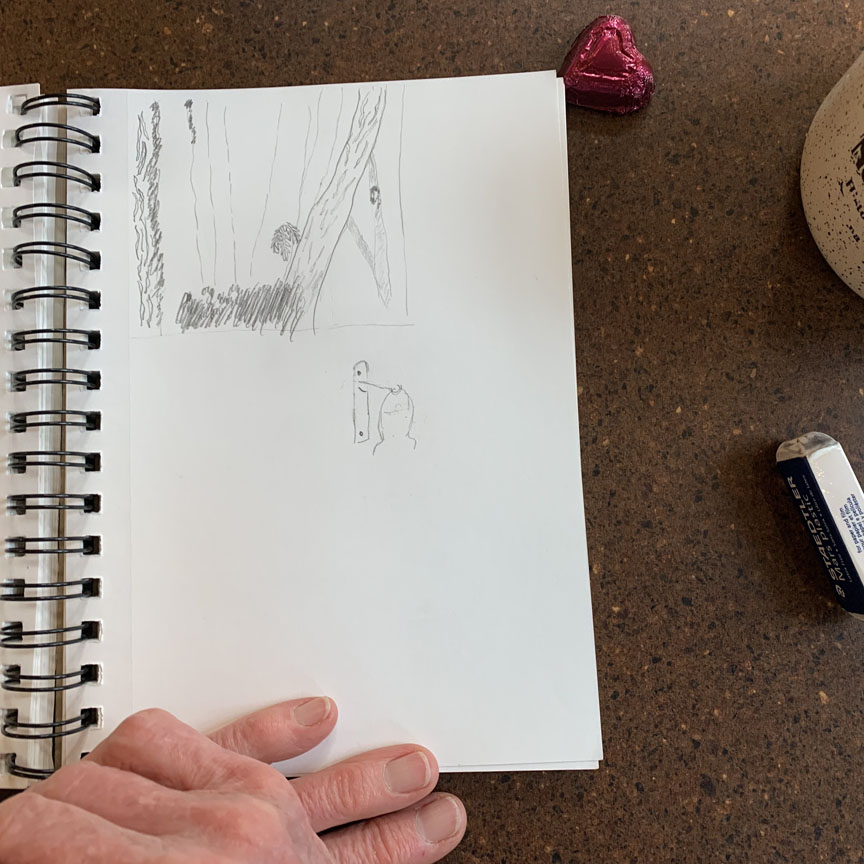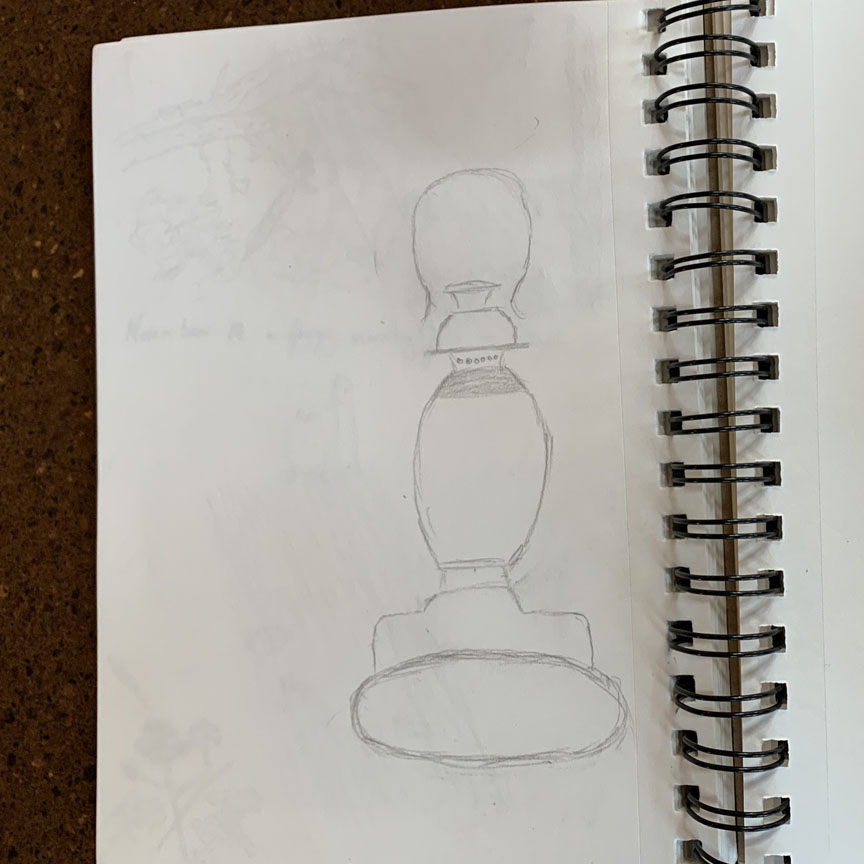 Lynda started with the wall hanger, then went on to the lantern, too.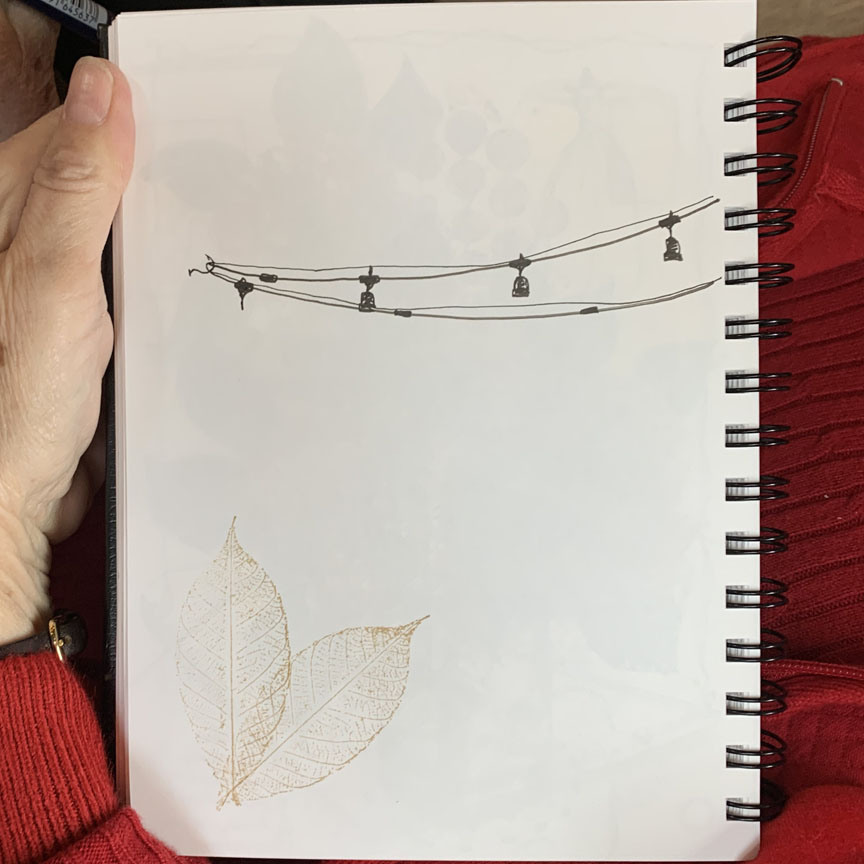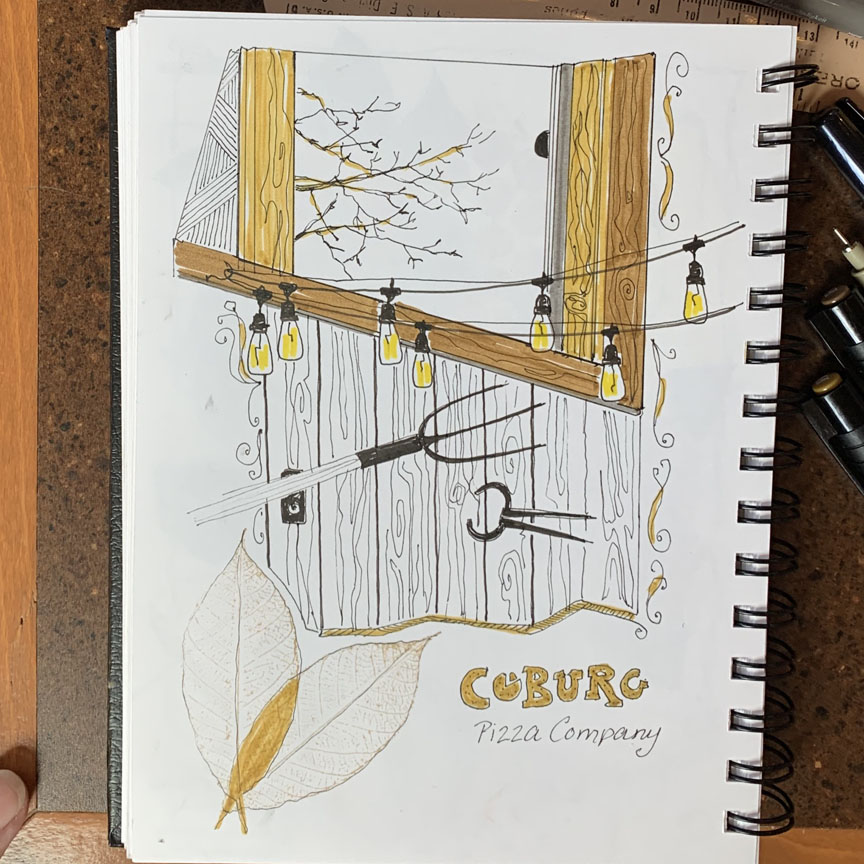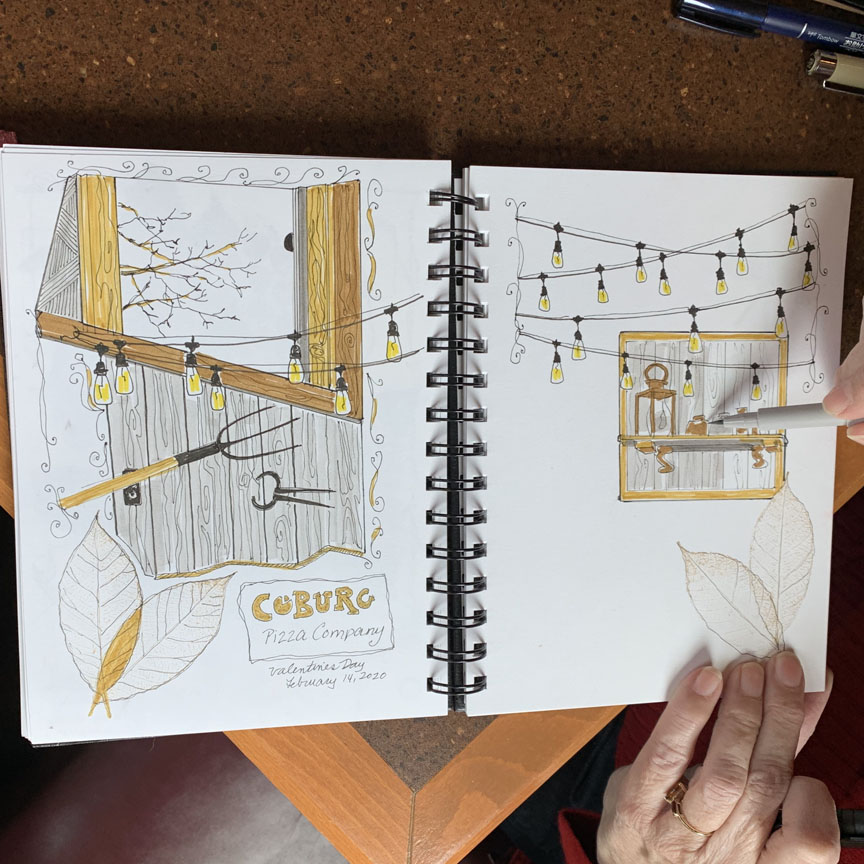 Bev had fun with the hanging lights and the wall artifacts.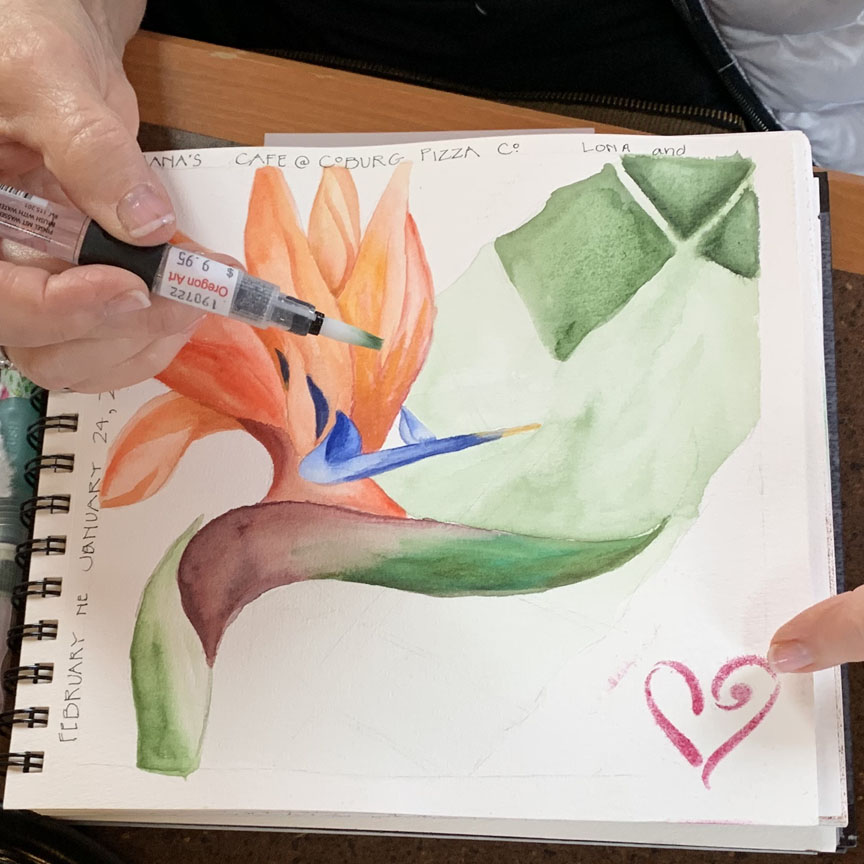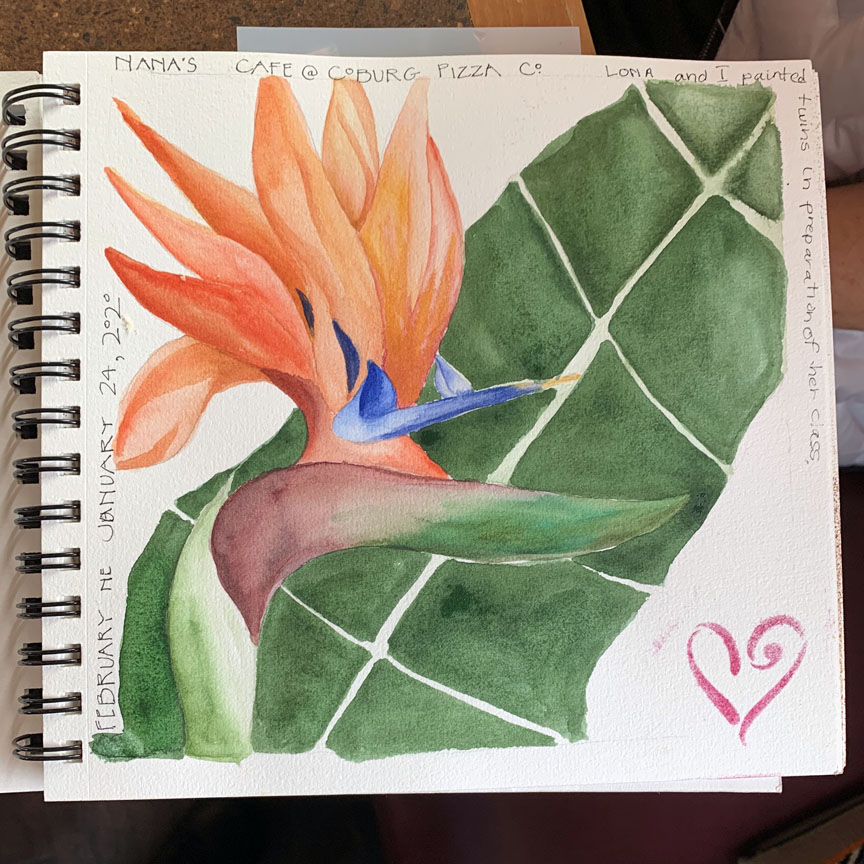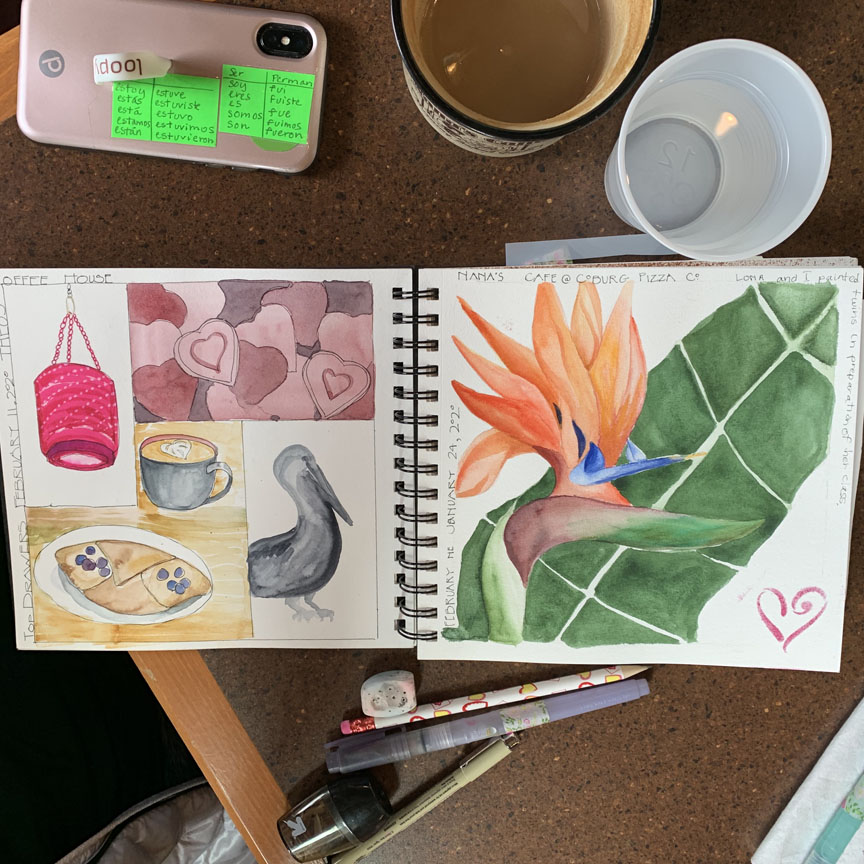 Katie finished her bird-of-paradise, & a tribute to Laura's chocolates.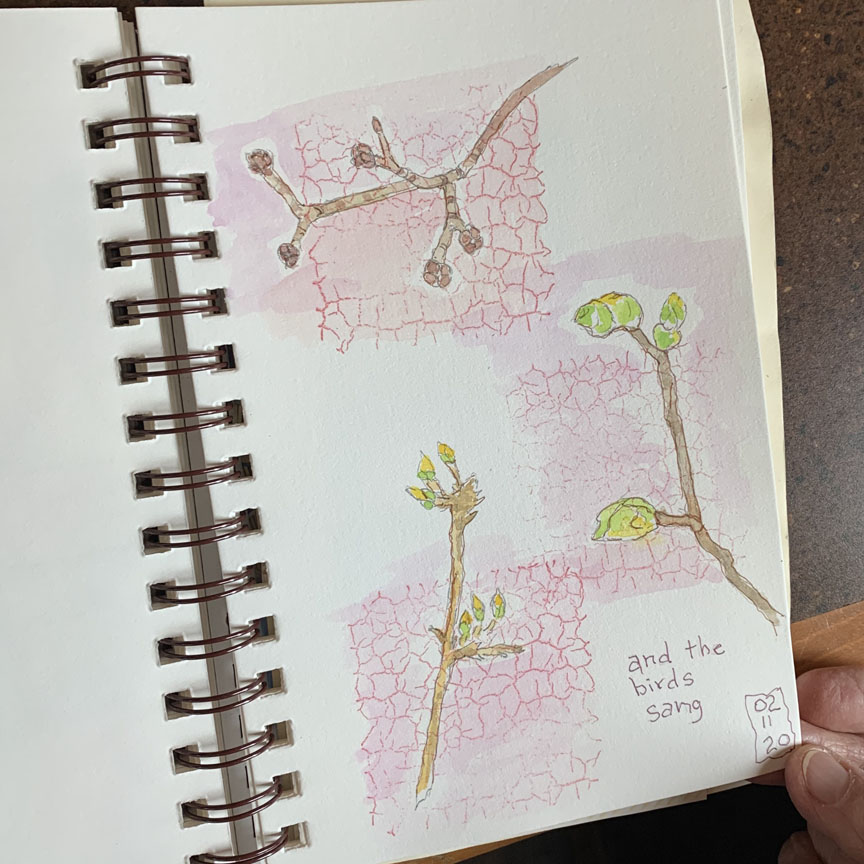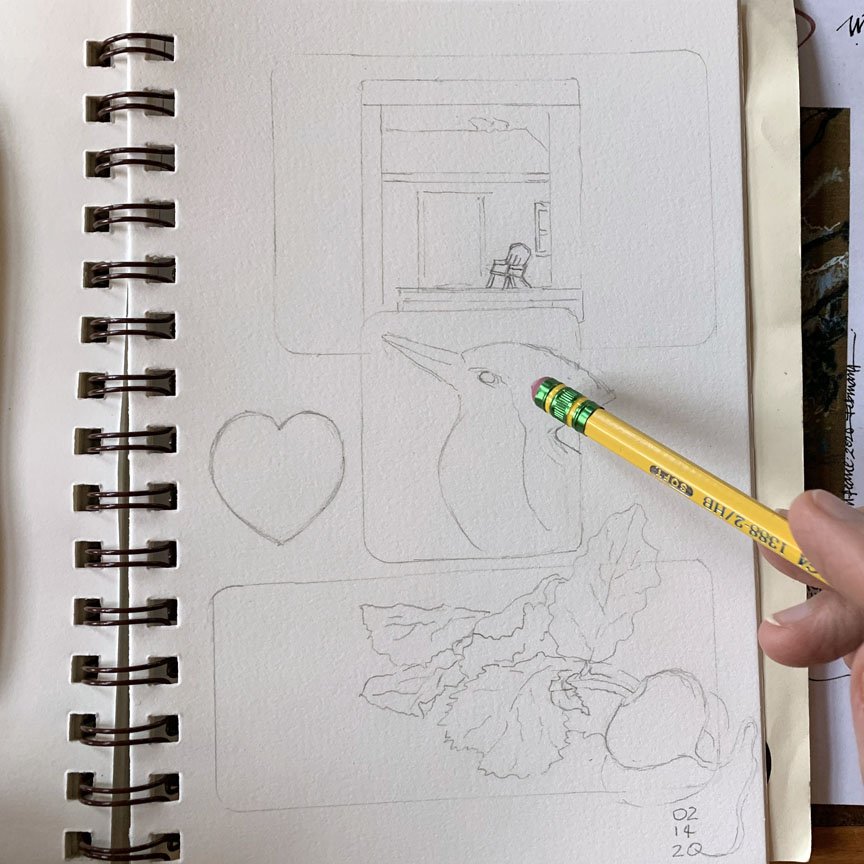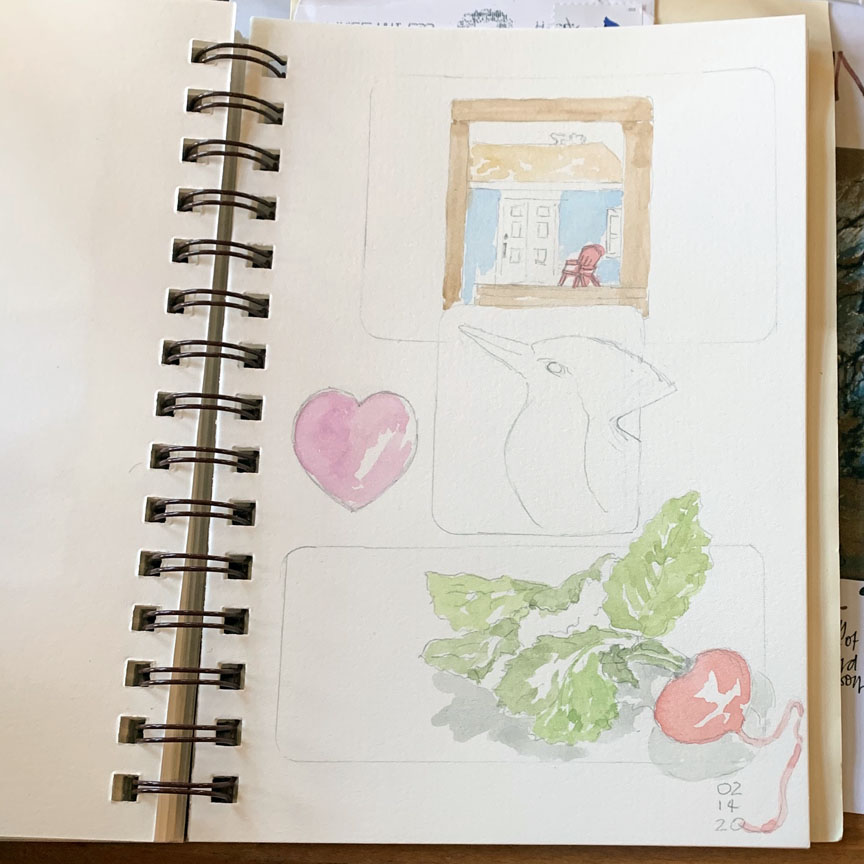 Barb So was trying to think of red things to sketch for Valentine's.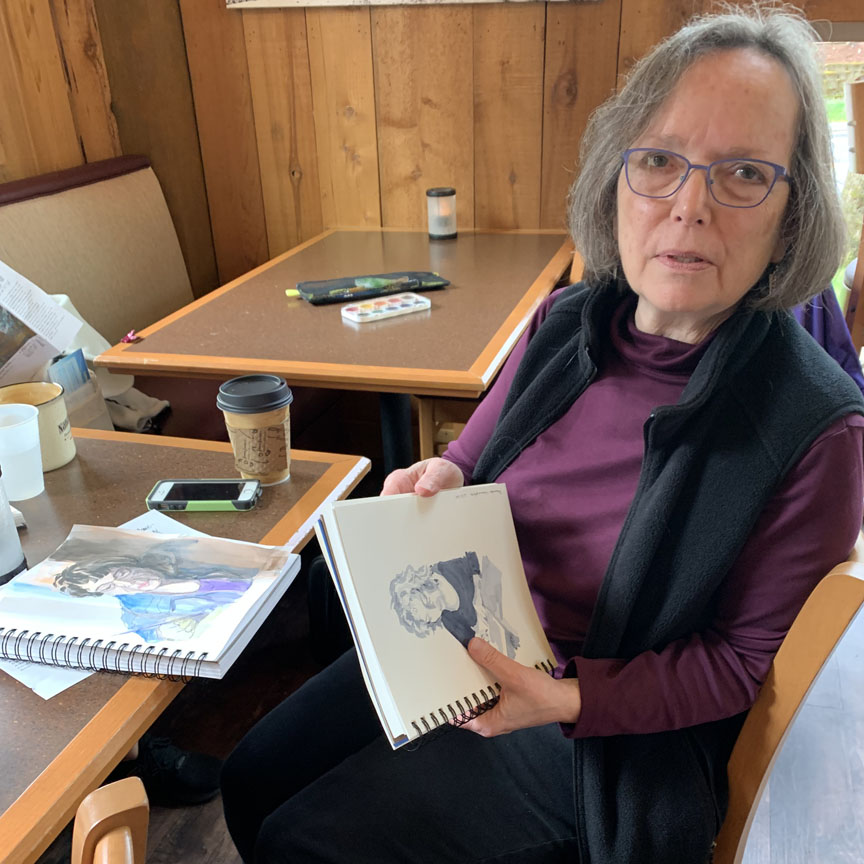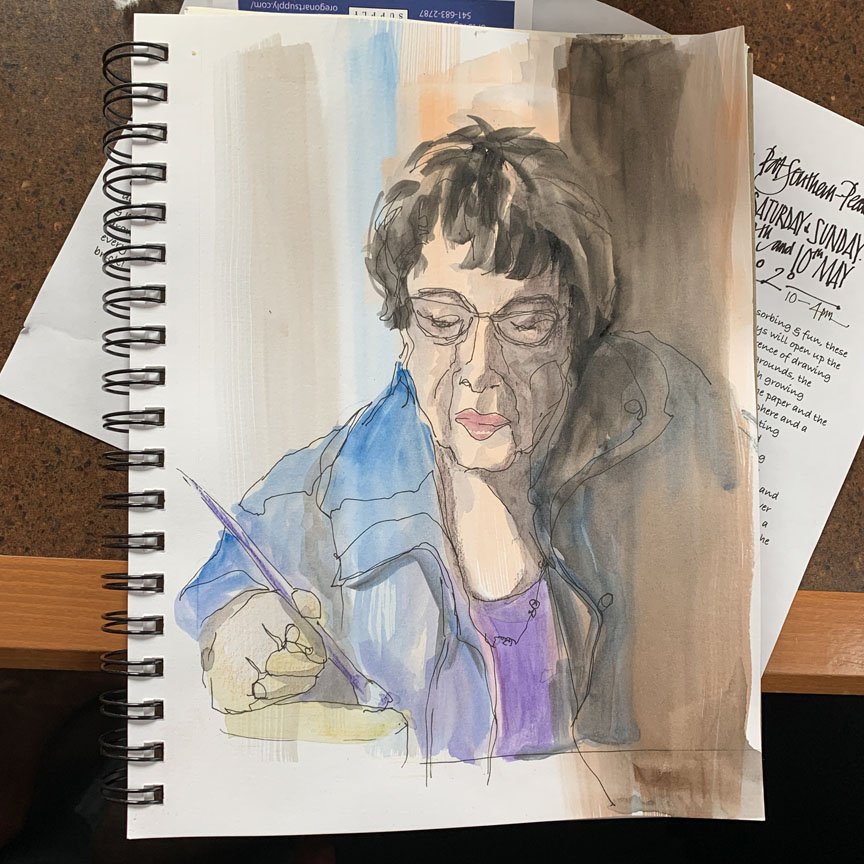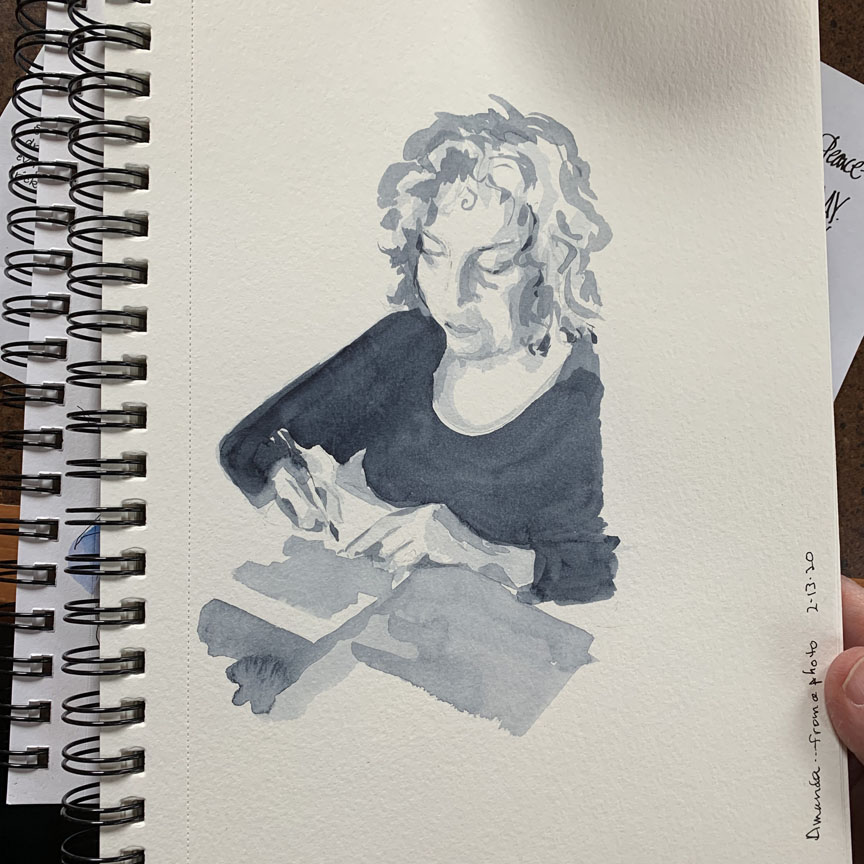 Marsha brought work done in a class she's taking – WOW!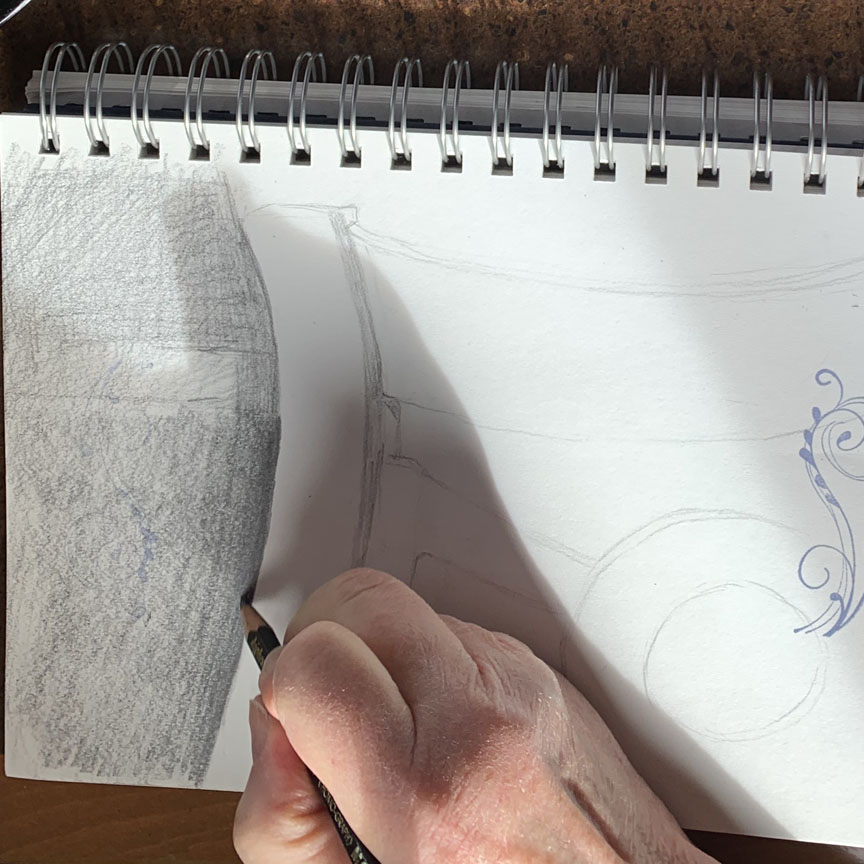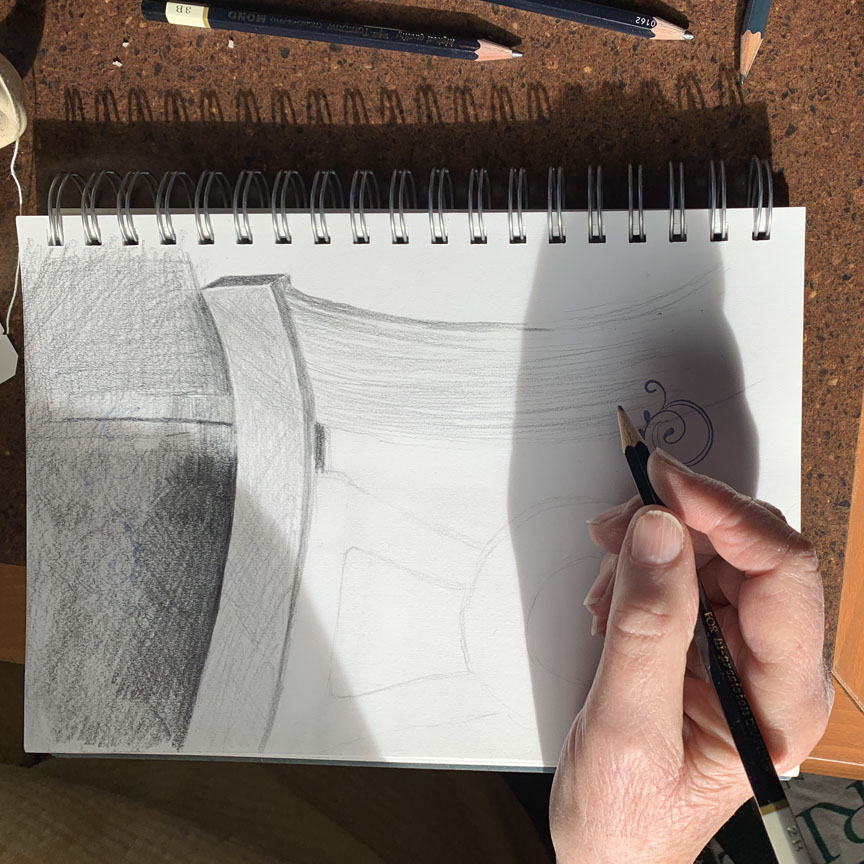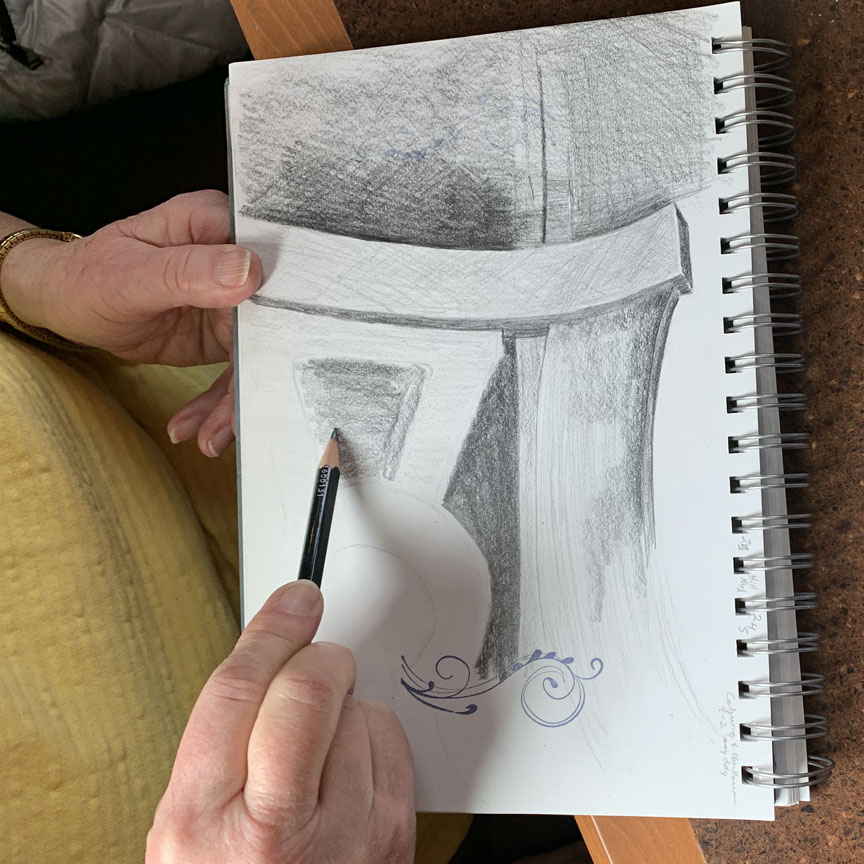 Carol's taking a class, too; here practicing shading & contour.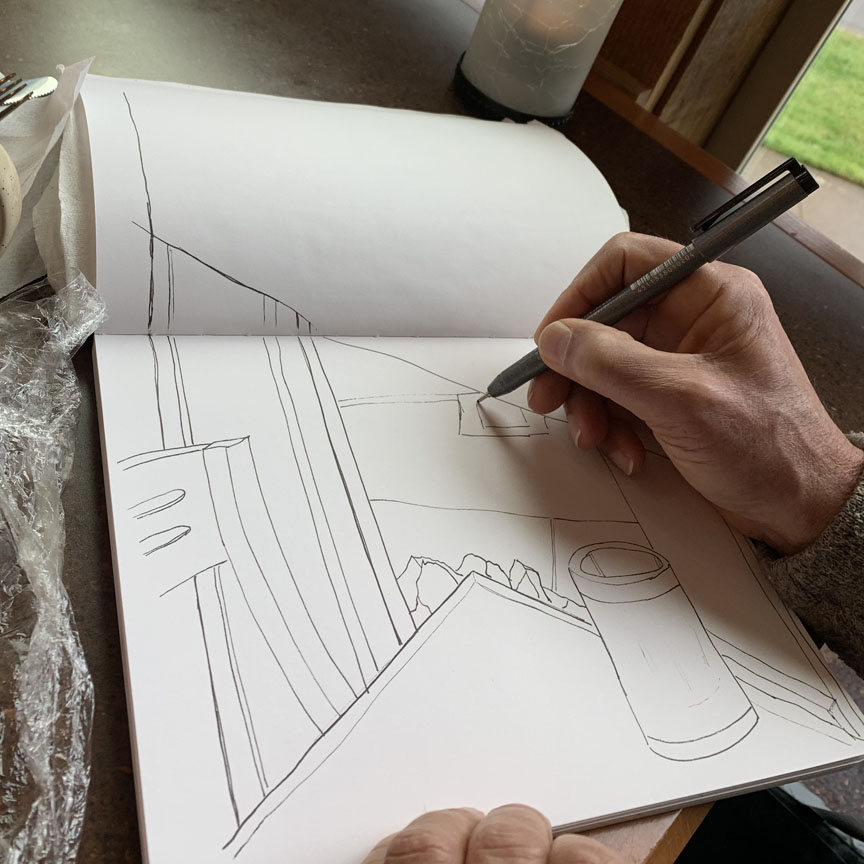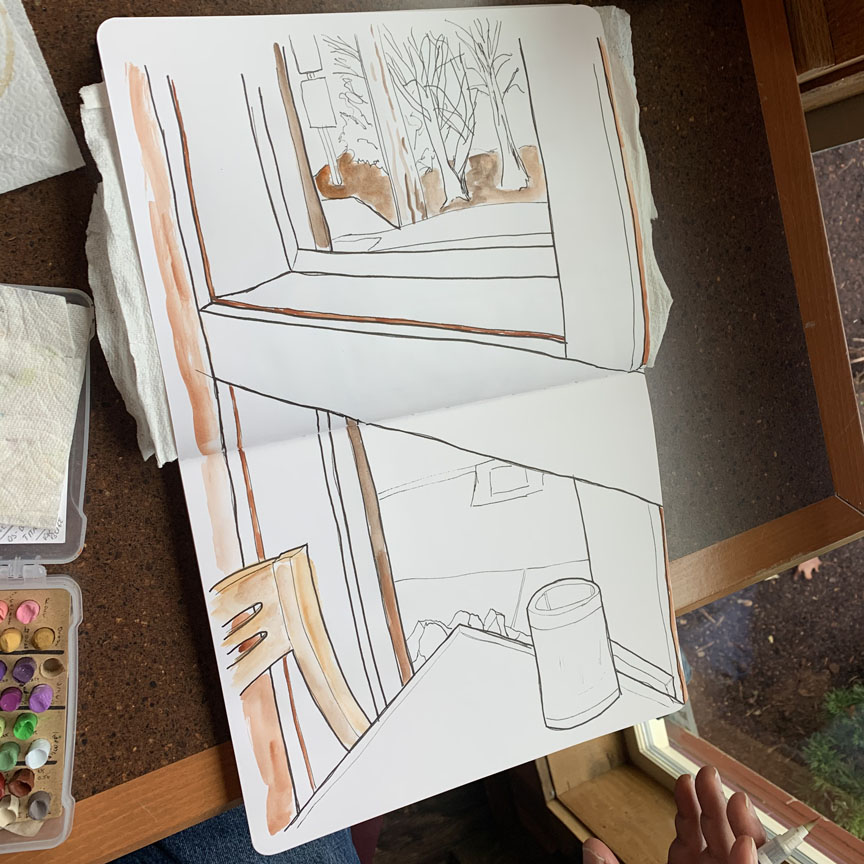 Hugh went from inside to out – clever angle there, buddy!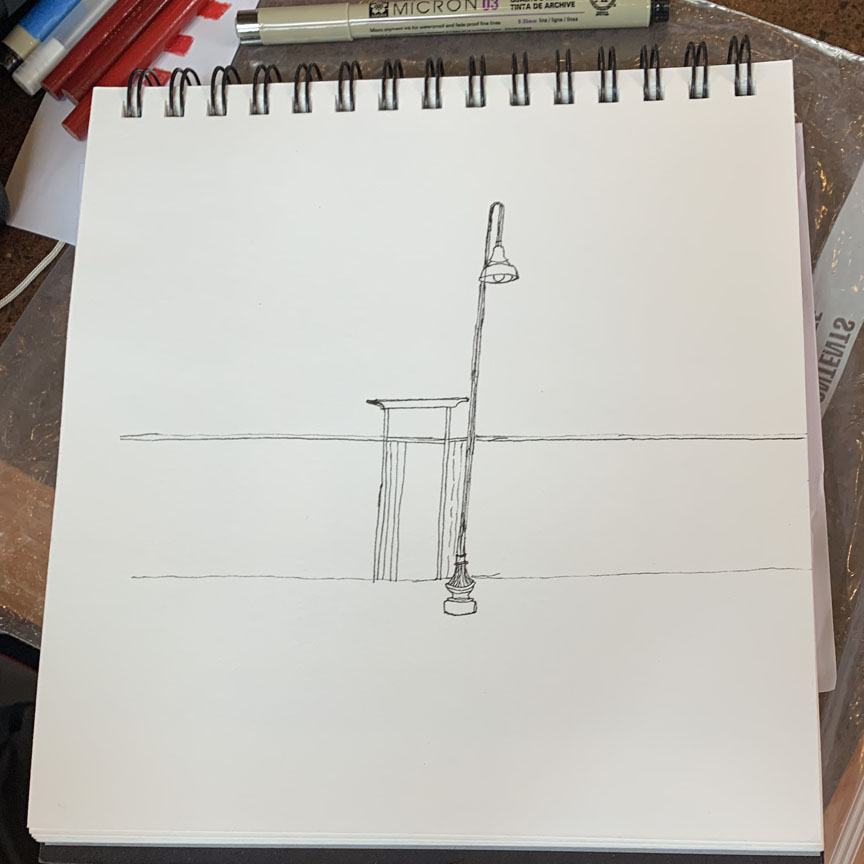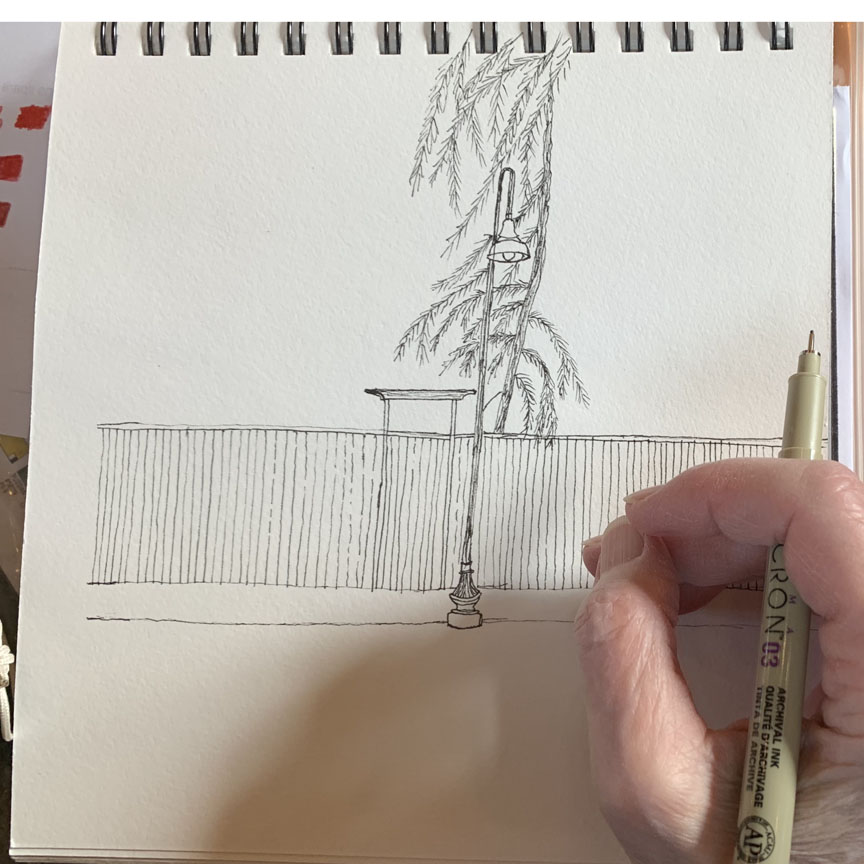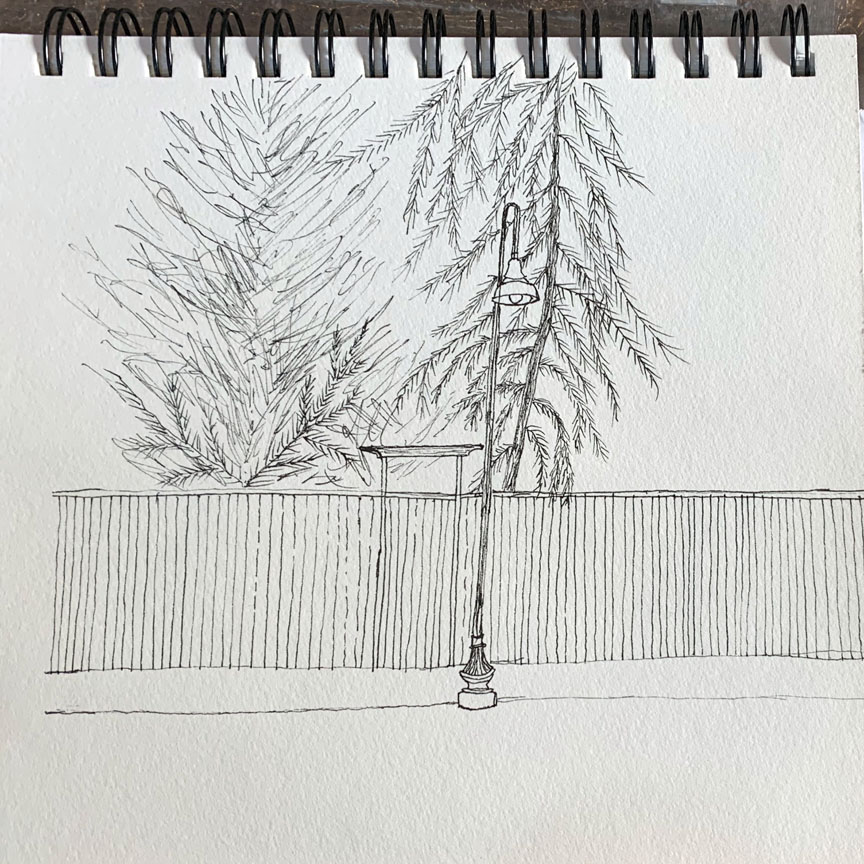 Peggy focused outside all together – love the sway of those trees.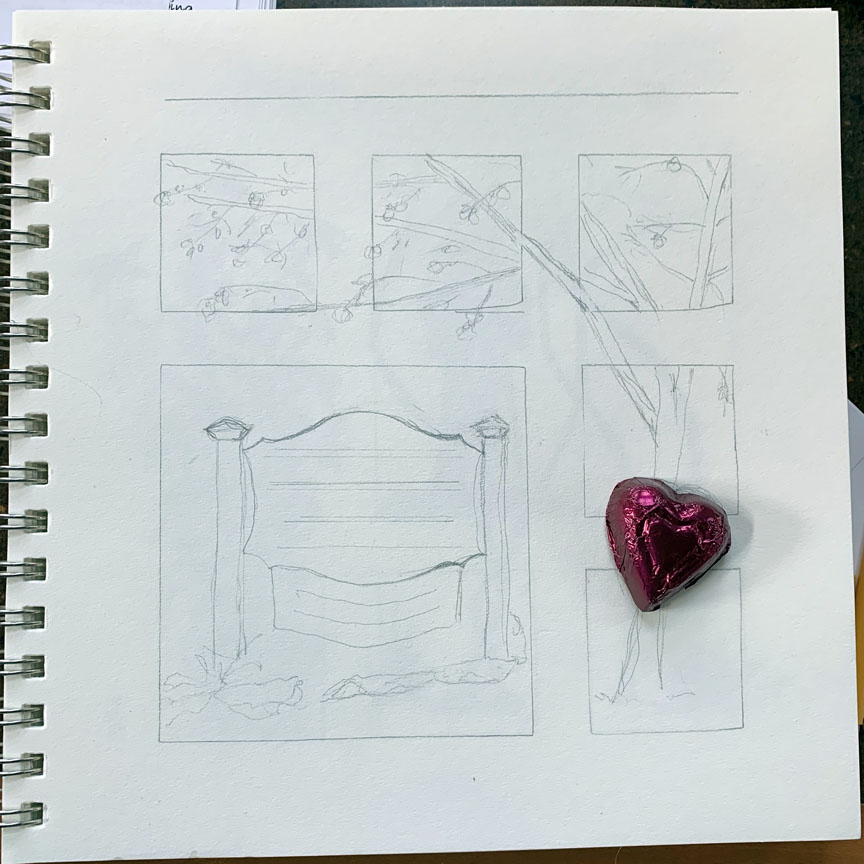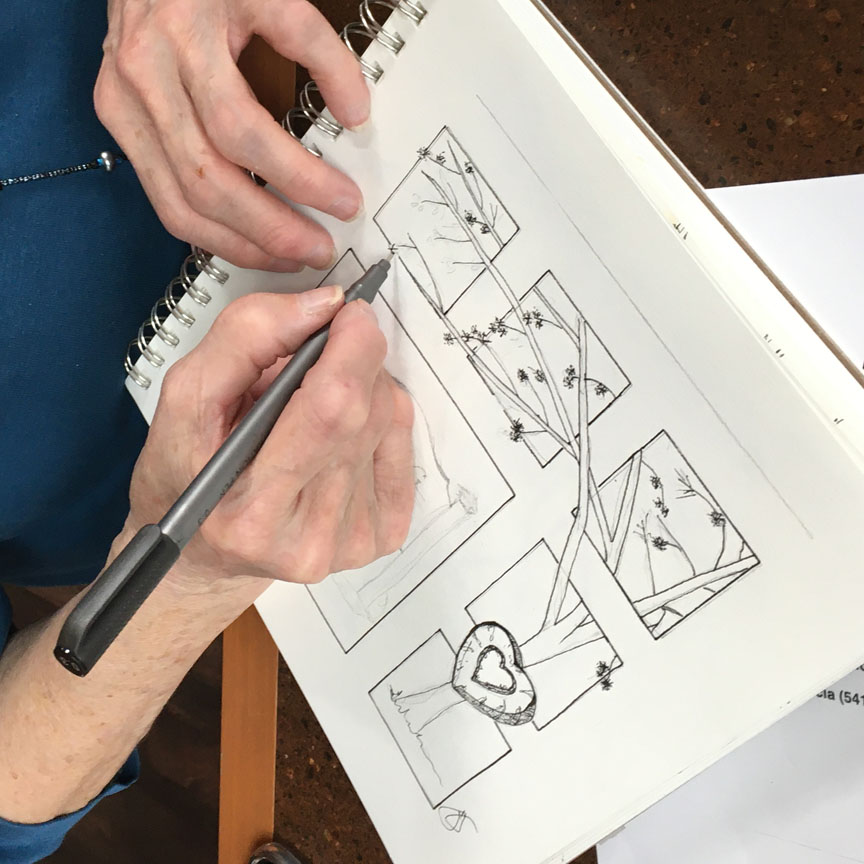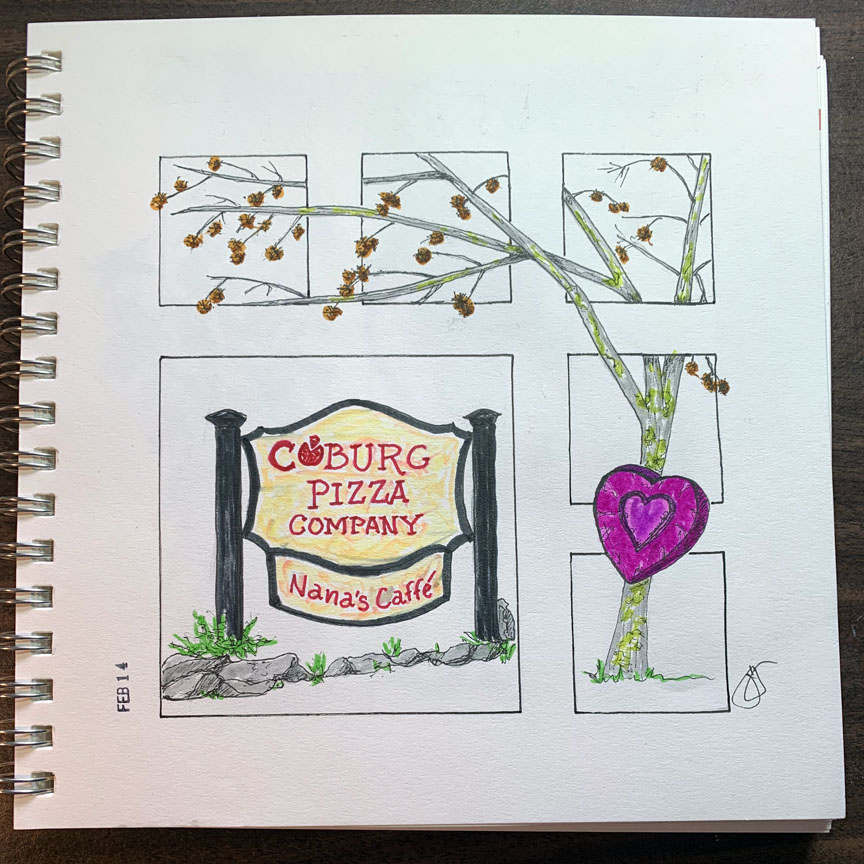 Jane figured out a way to incorporate one of Laura's chocolates!
✒ Jan. 24, 2020 – Nana's Caffé/Coburg Pizza Co., Coburg, OR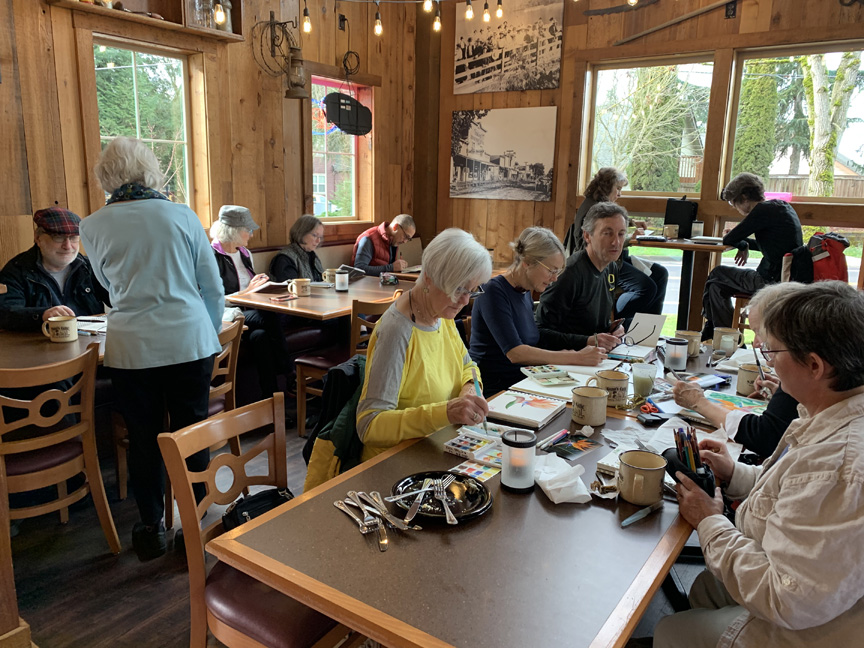 Here we are, surrounded by rustic reminders: Serge, Barb So., Sandy, Marsha, Hugh, Katie, Michelle, Jim S., Bev, Peggy, Lona, & Daisy.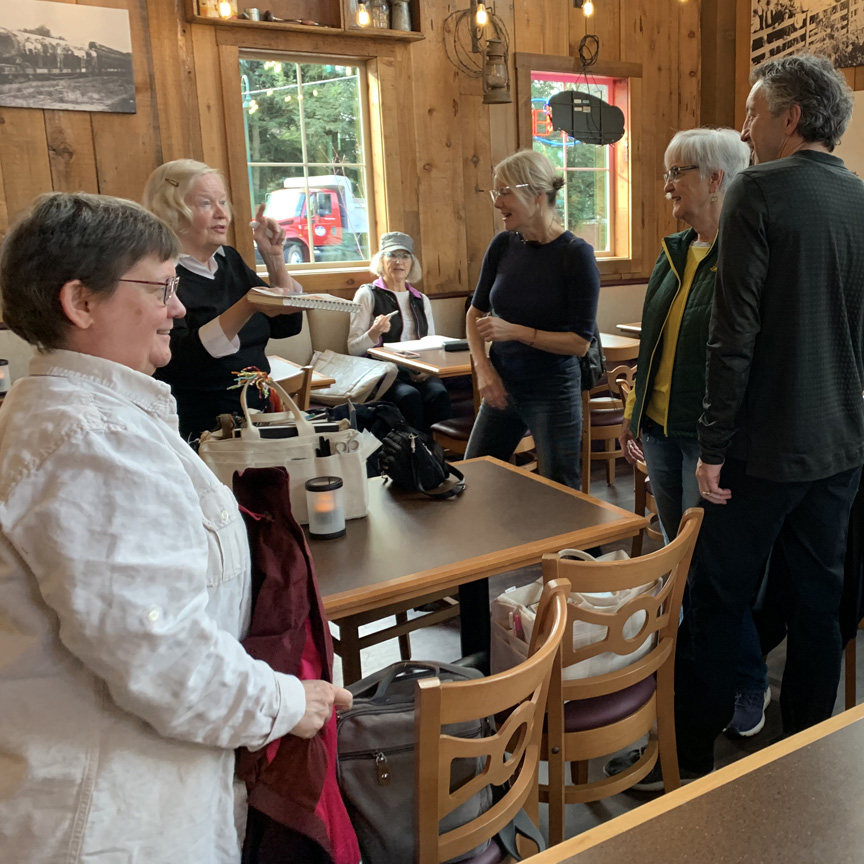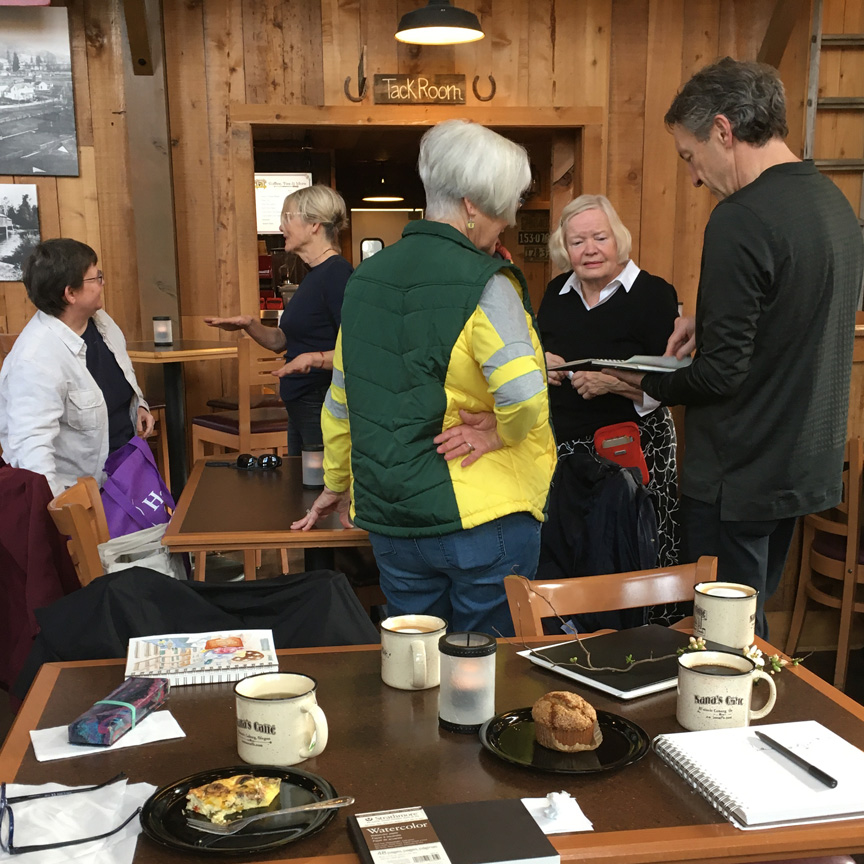 Then those from the most recent sketch trip to Italy greeted each other with excitement, reminiscing, & sketch sharing.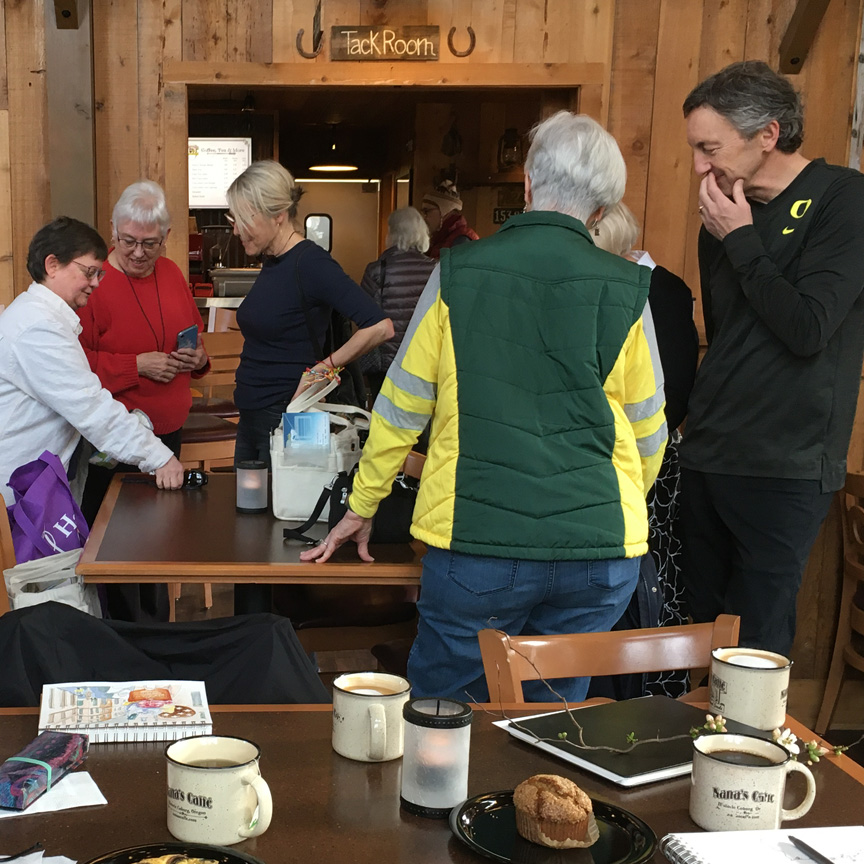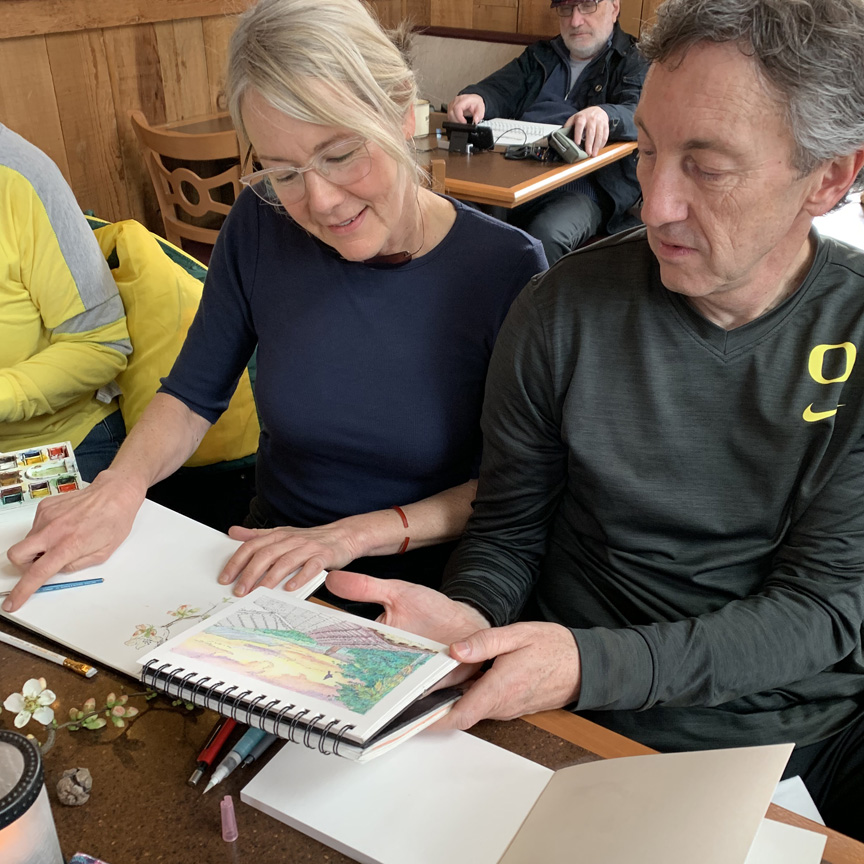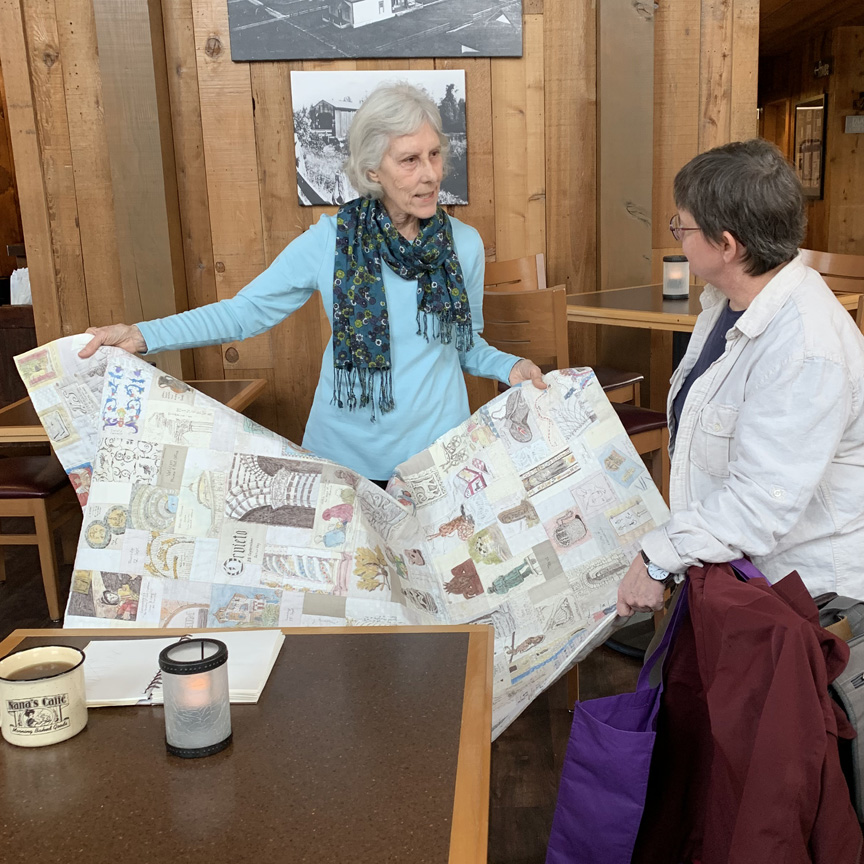 Remember this? & Daisy brought her quilt of Italy sketches to show.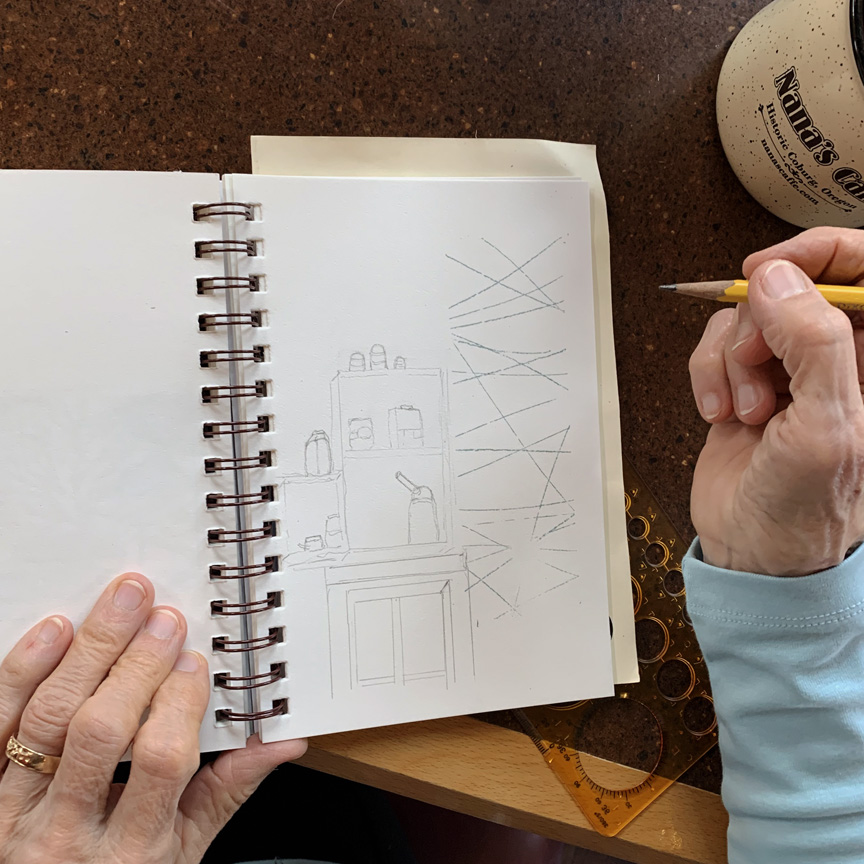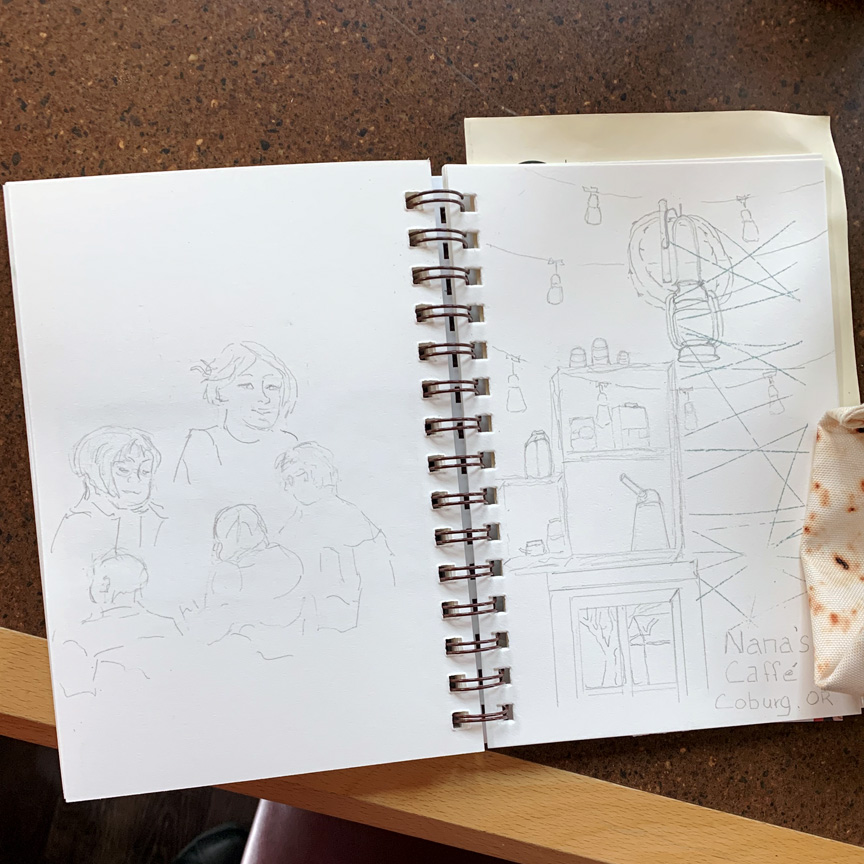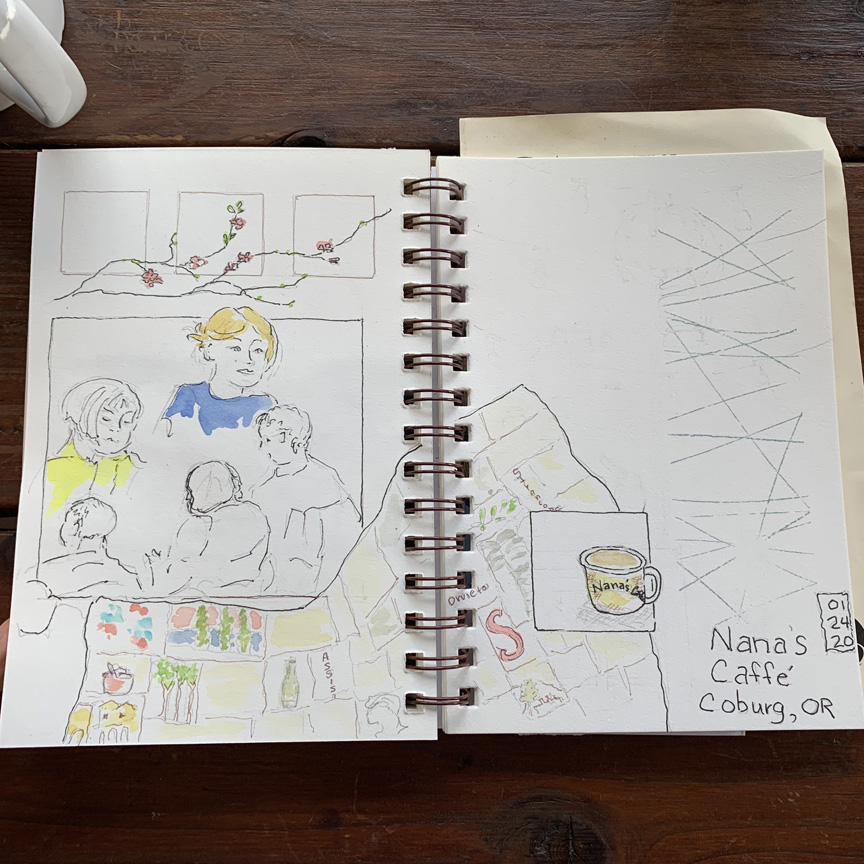 Barb So got a lot in her sketch – the quince branch, the sketchers at the next table, Daisy's quilt, and her cup of coffee! Nice combo.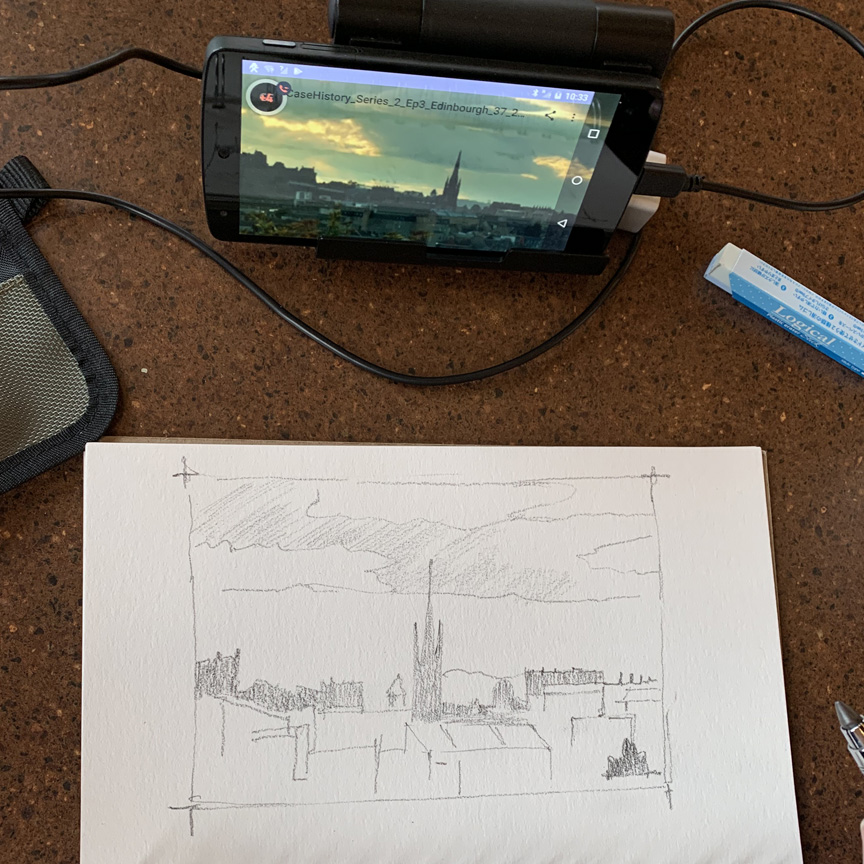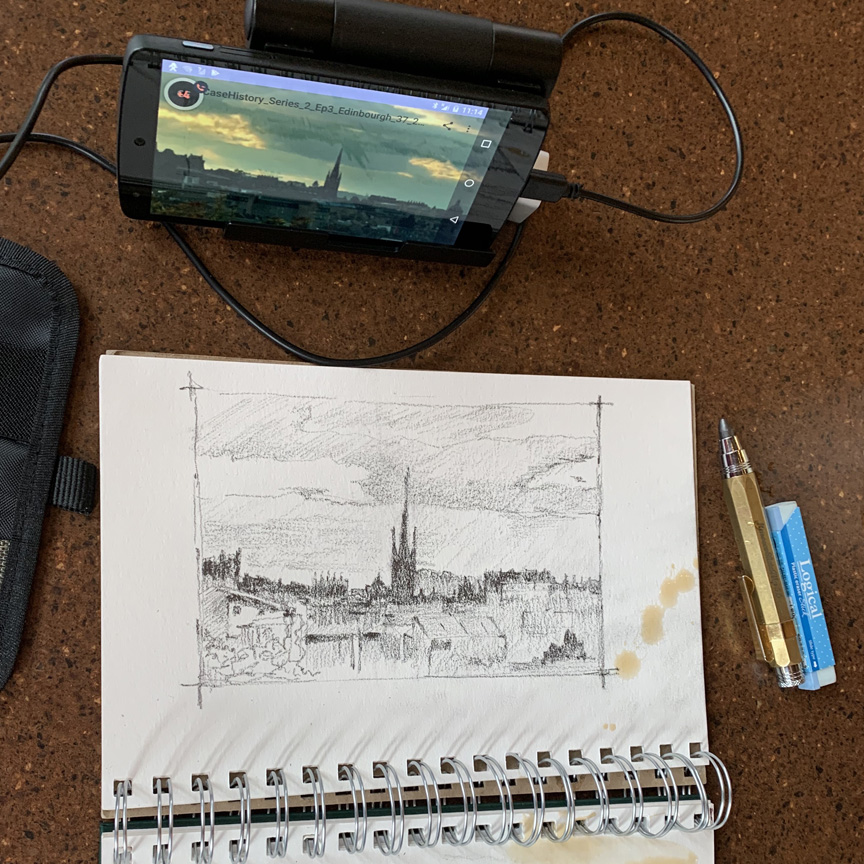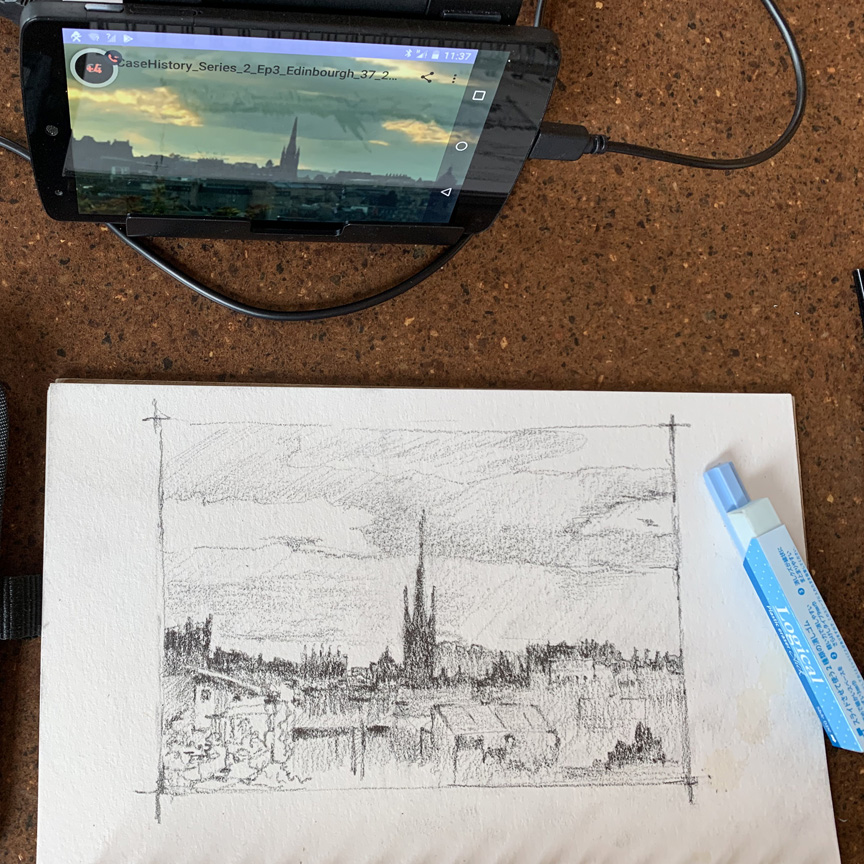 Not all of us were focused on the room (or Italy, for that matter) – Serge was revisiting Edinborough, Scotland. Wonderful values here.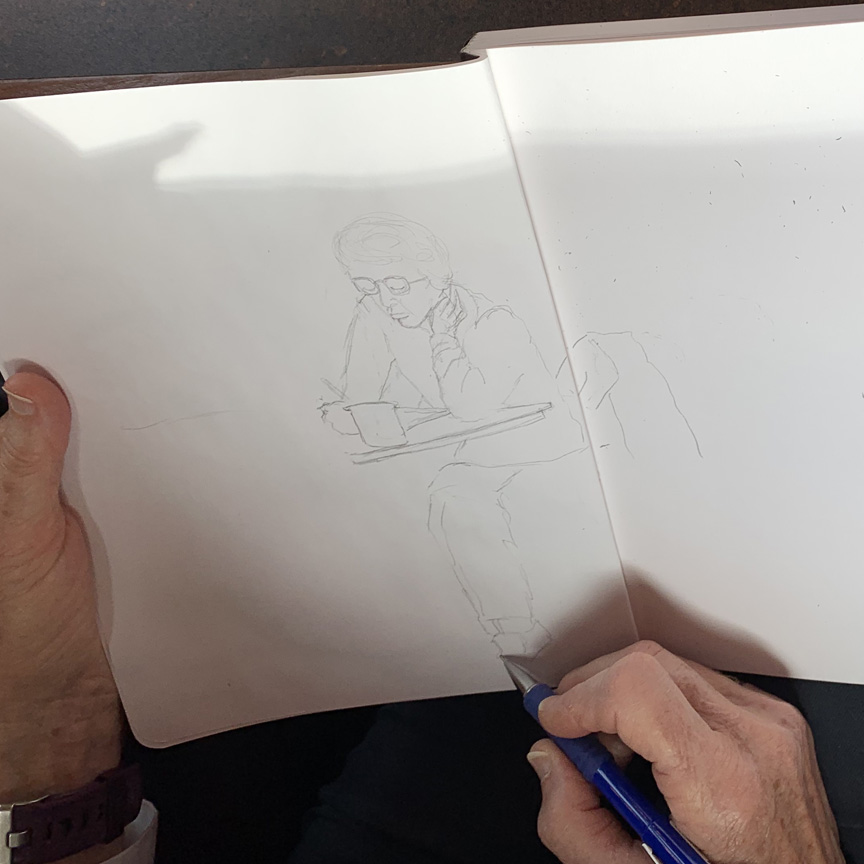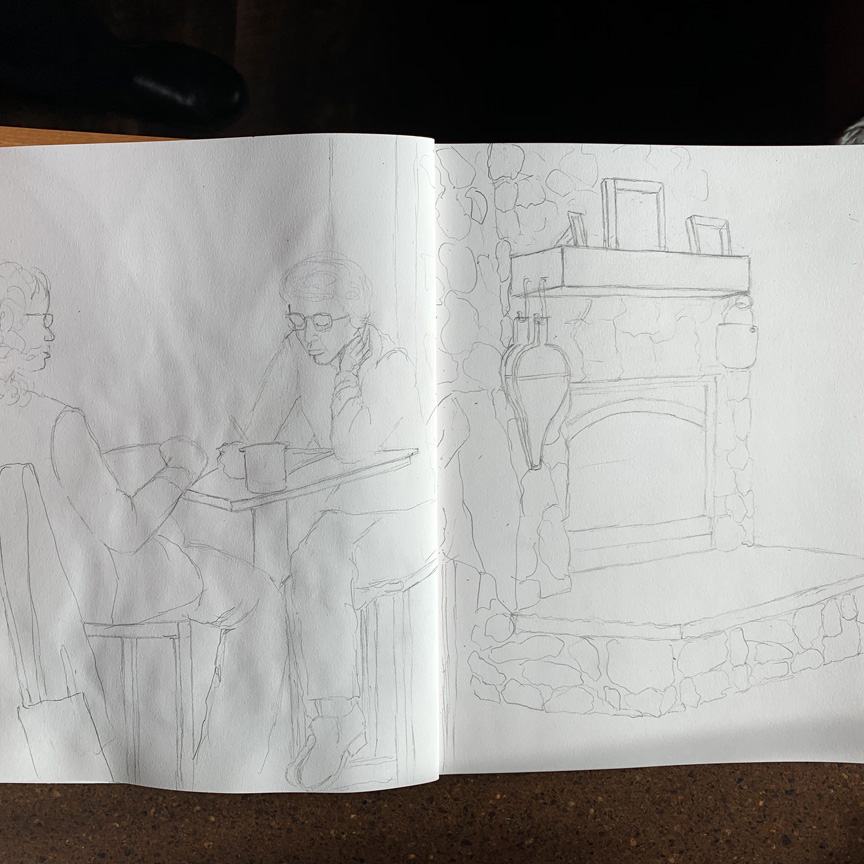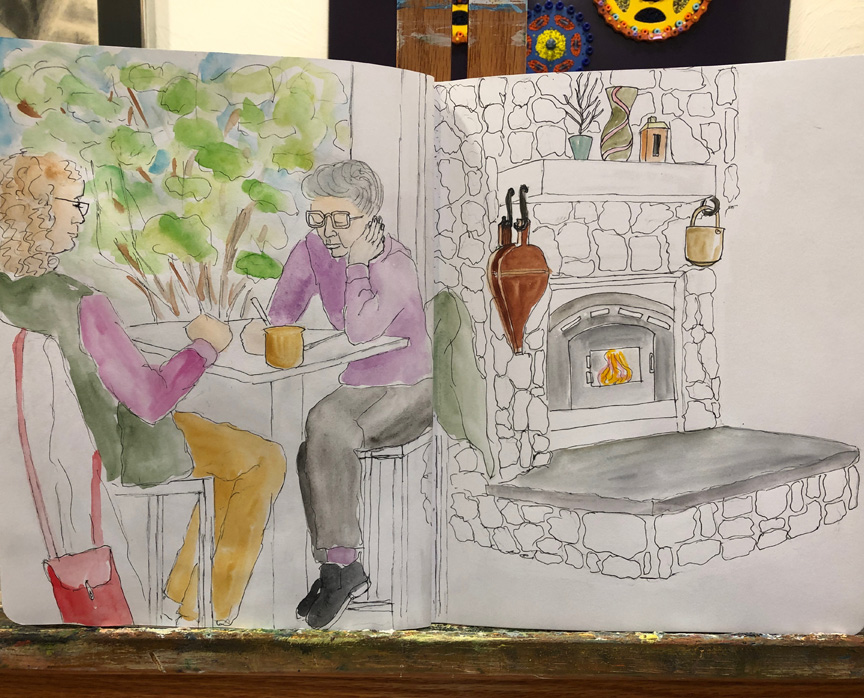 Sandy captured Bev & Peggy sketching in the window, as well as the wonderful rock fireplace and decor. Lovely having the fire, too.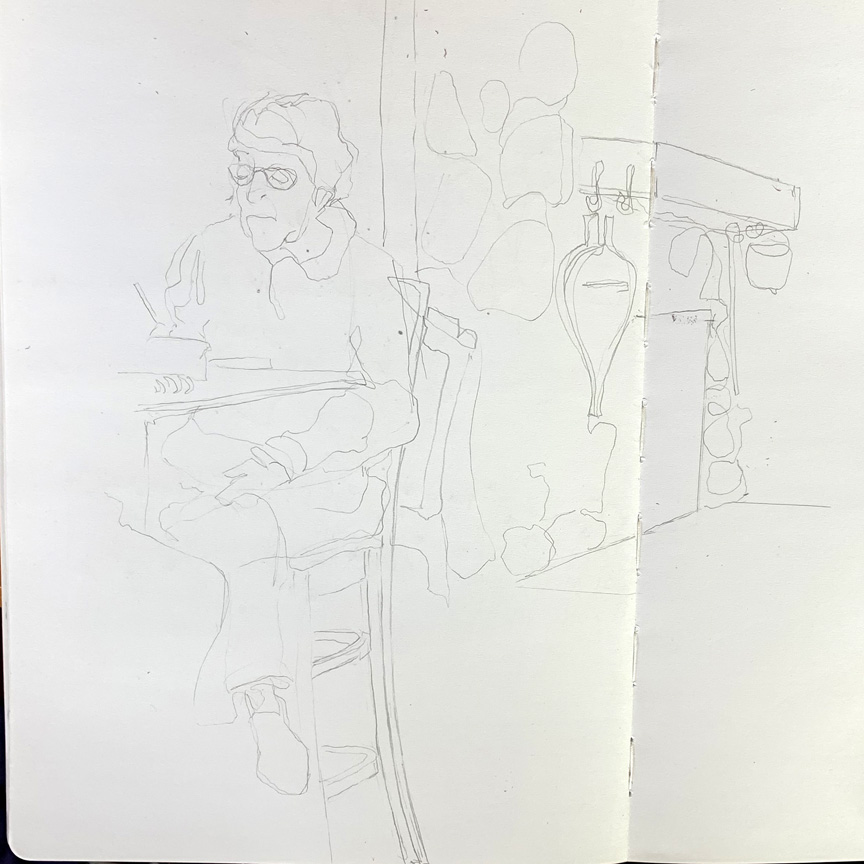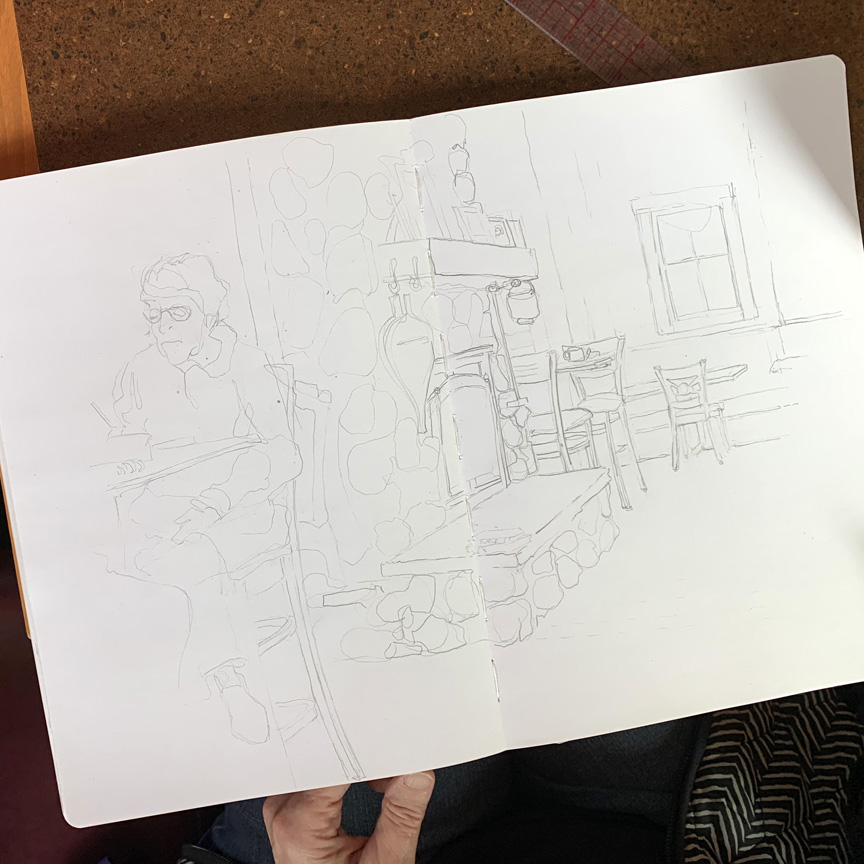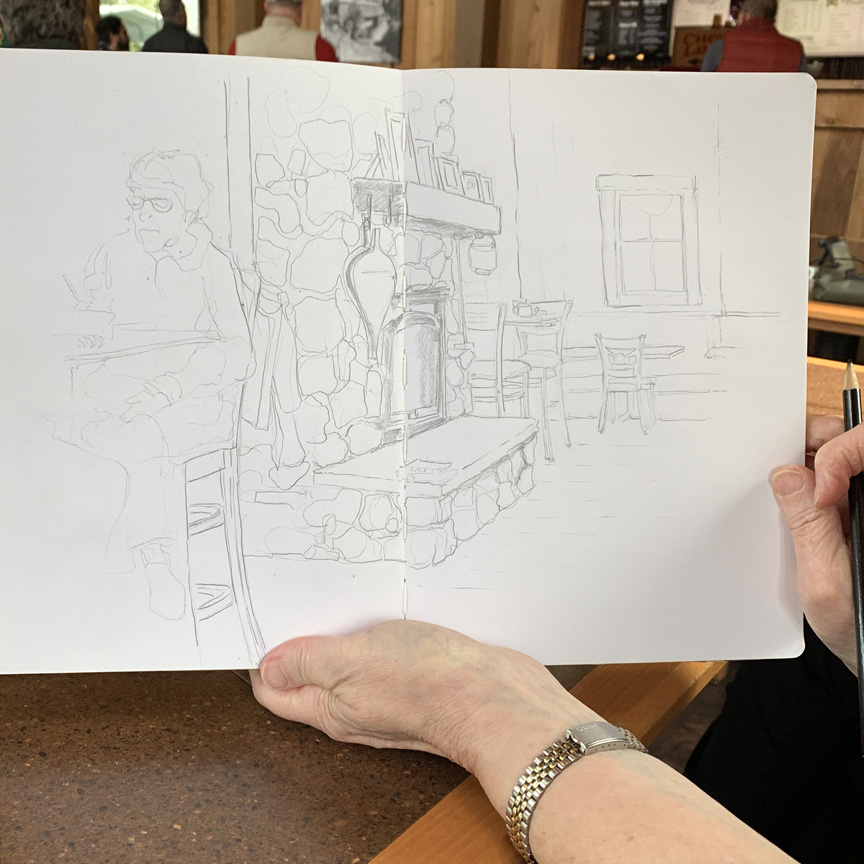 Marsha had a similar view from a slightly different angle. Nice handling of perspective! Will there be color added? Check back.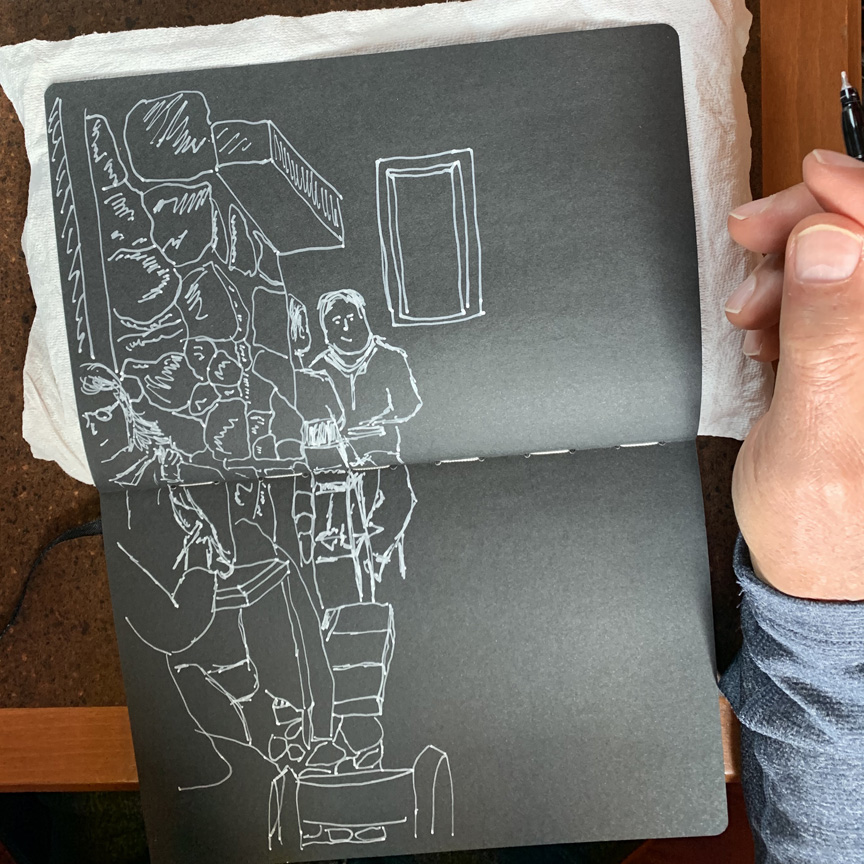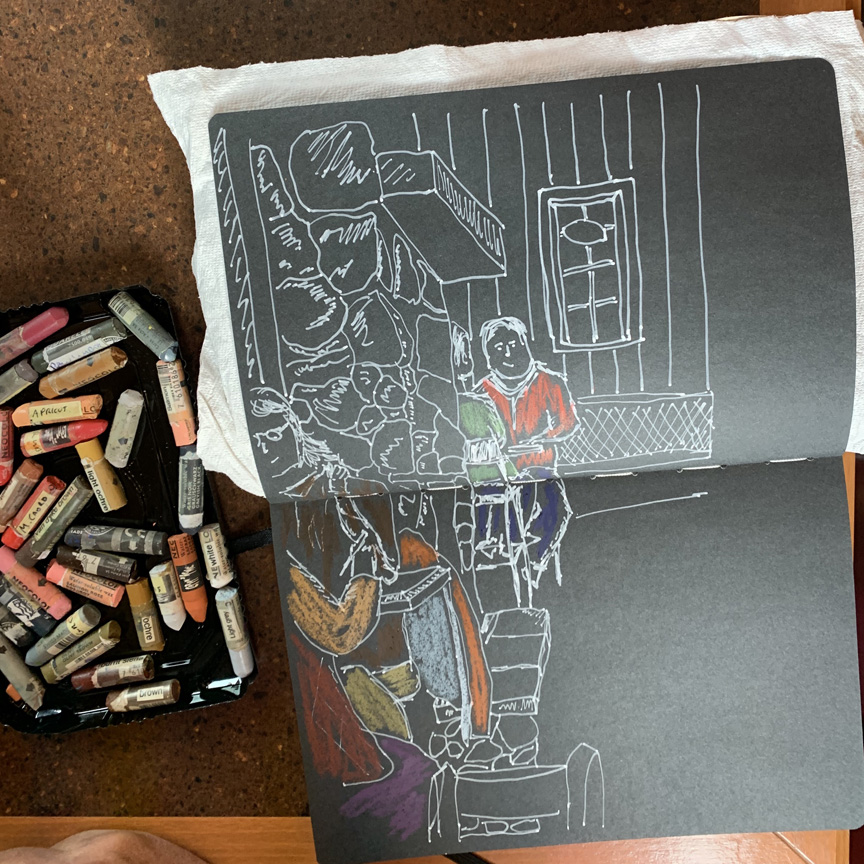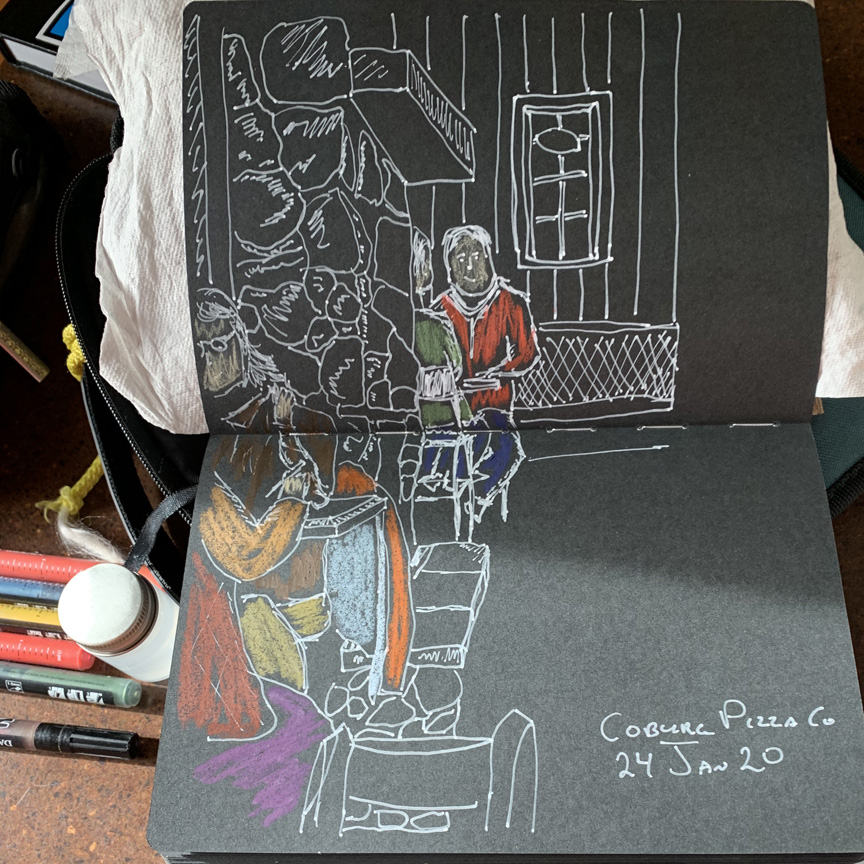 There's no question of whether there will be color when Hugh's the sketcher! Here he uses white pen, then wax crayons direct to paper.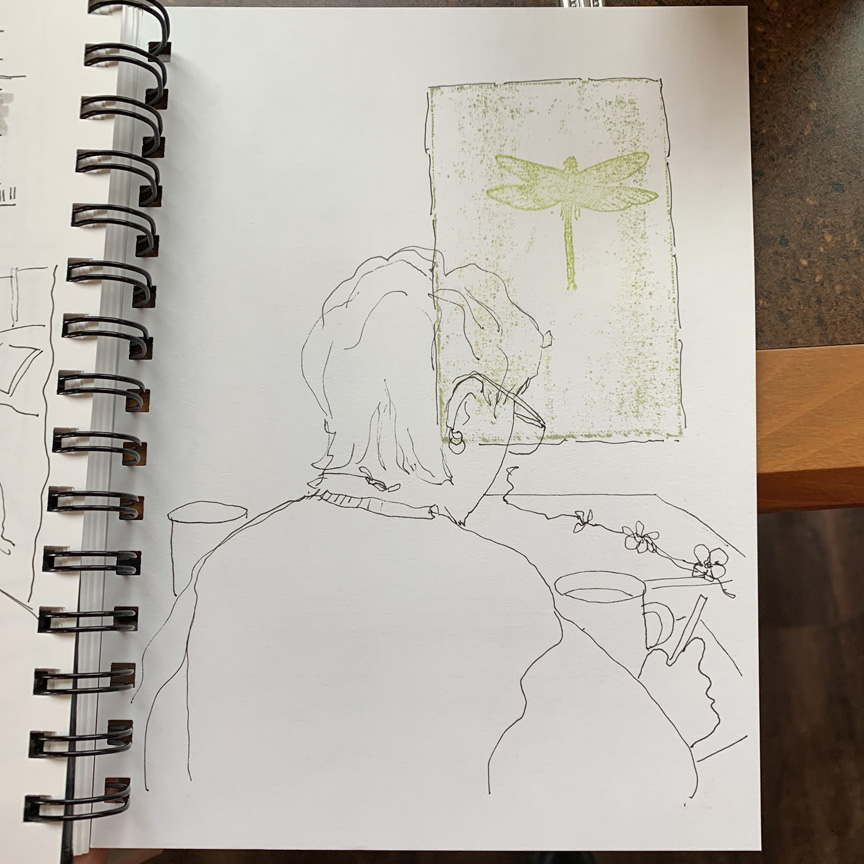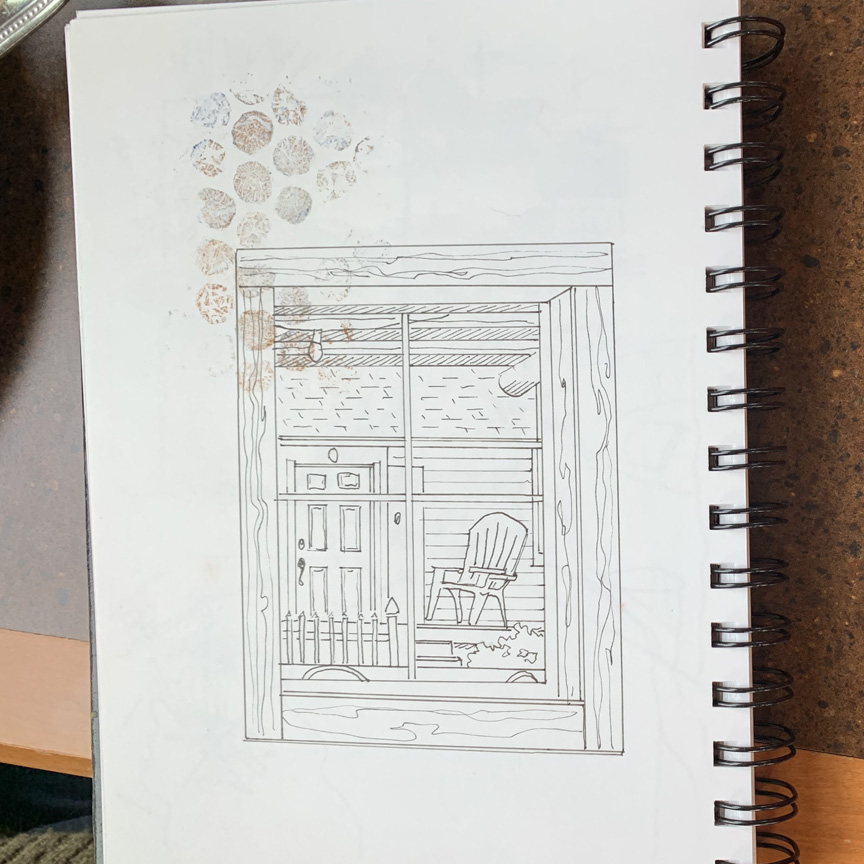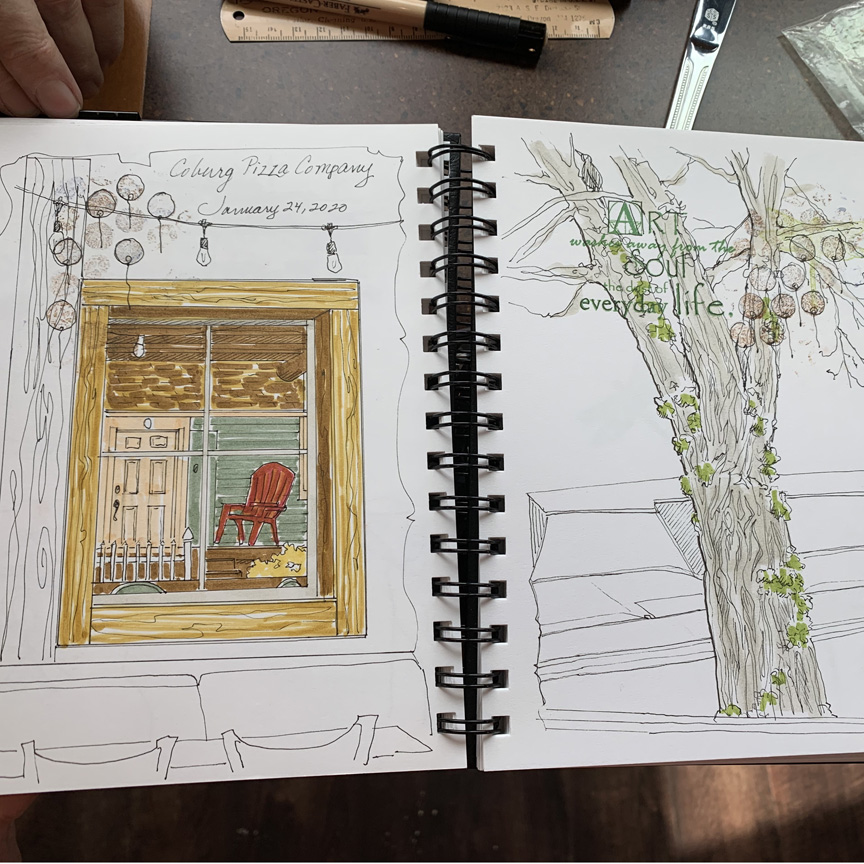 Bev was a model in many respects – the subject of sketching, and accomplishing three sketches herself: Jane, window & tree!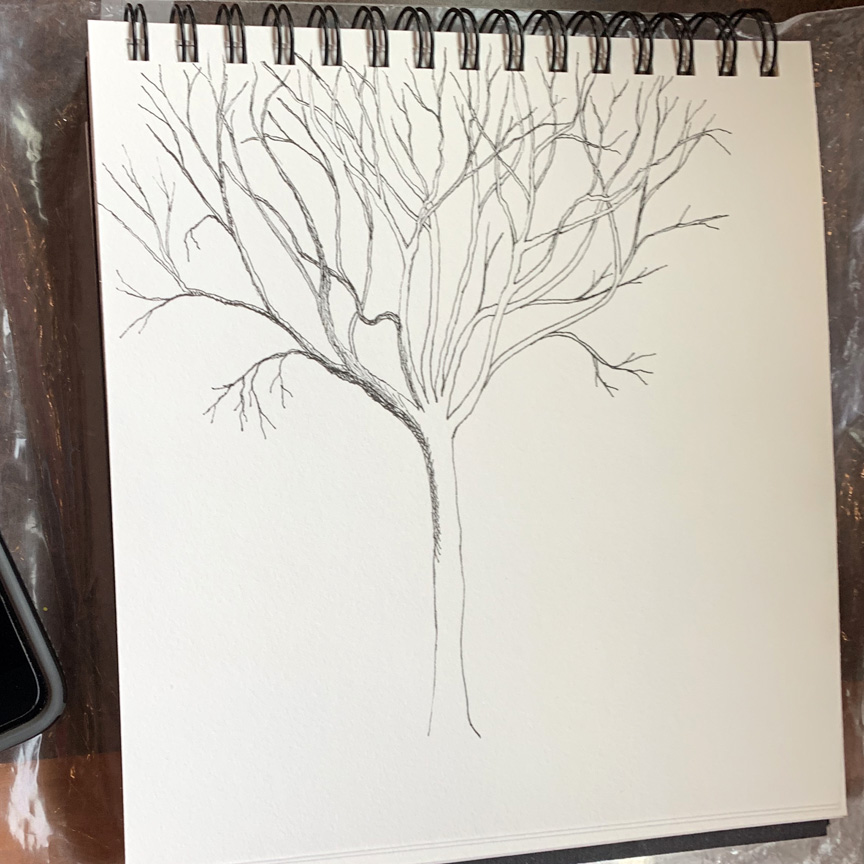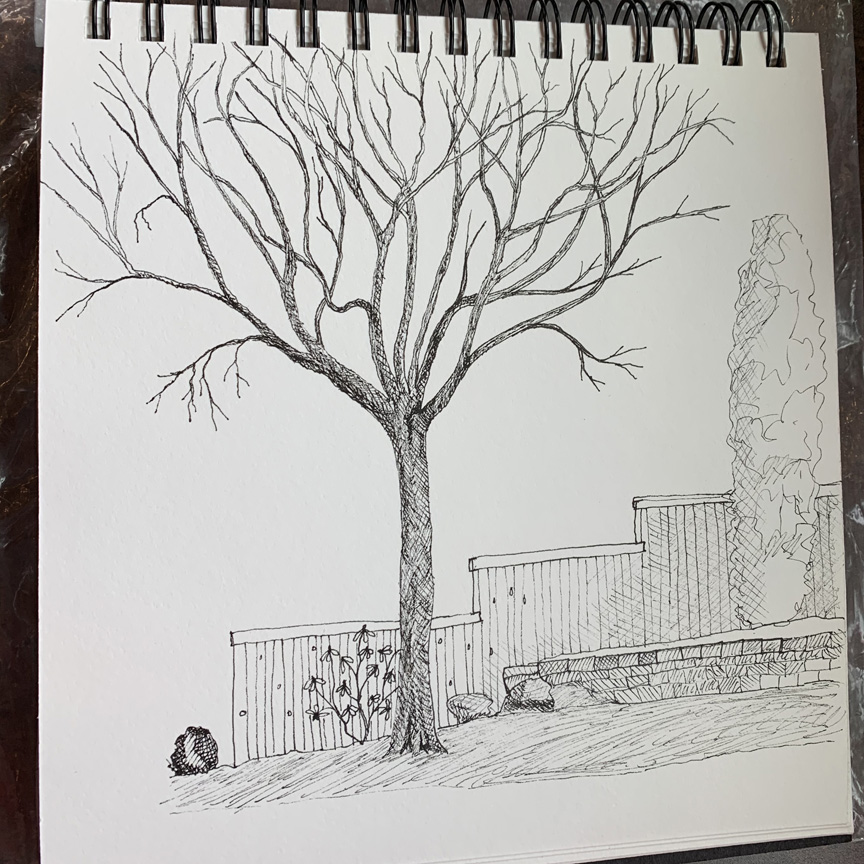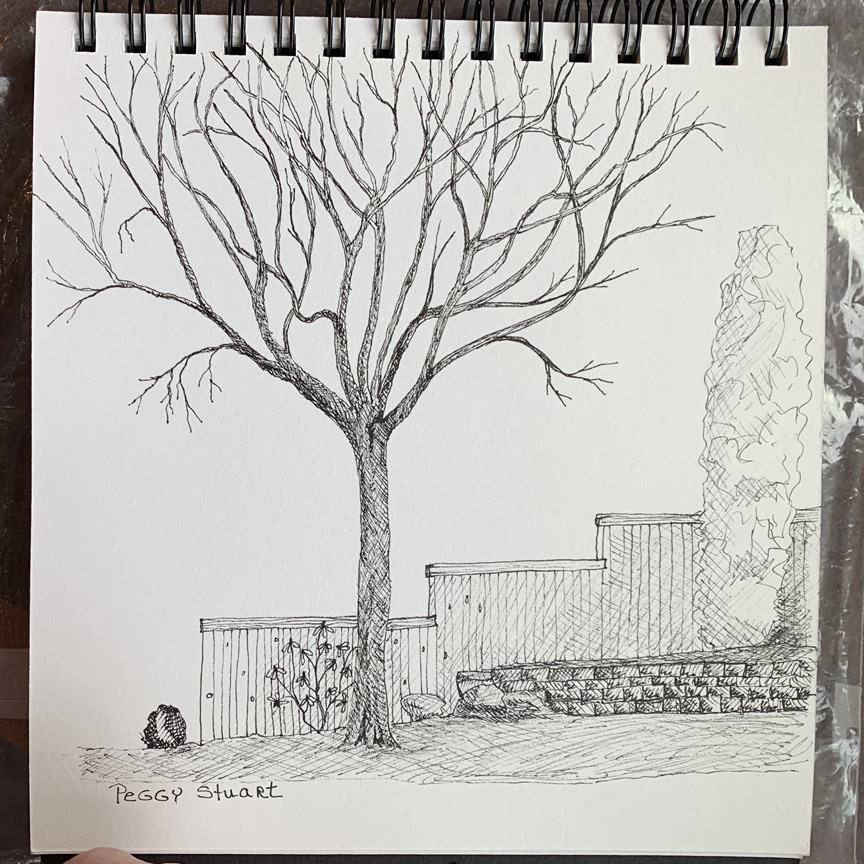 Of course it was a tree that caught Peggy's eye. Nice pencil treatment, and so much depth with cross-hatching shadows.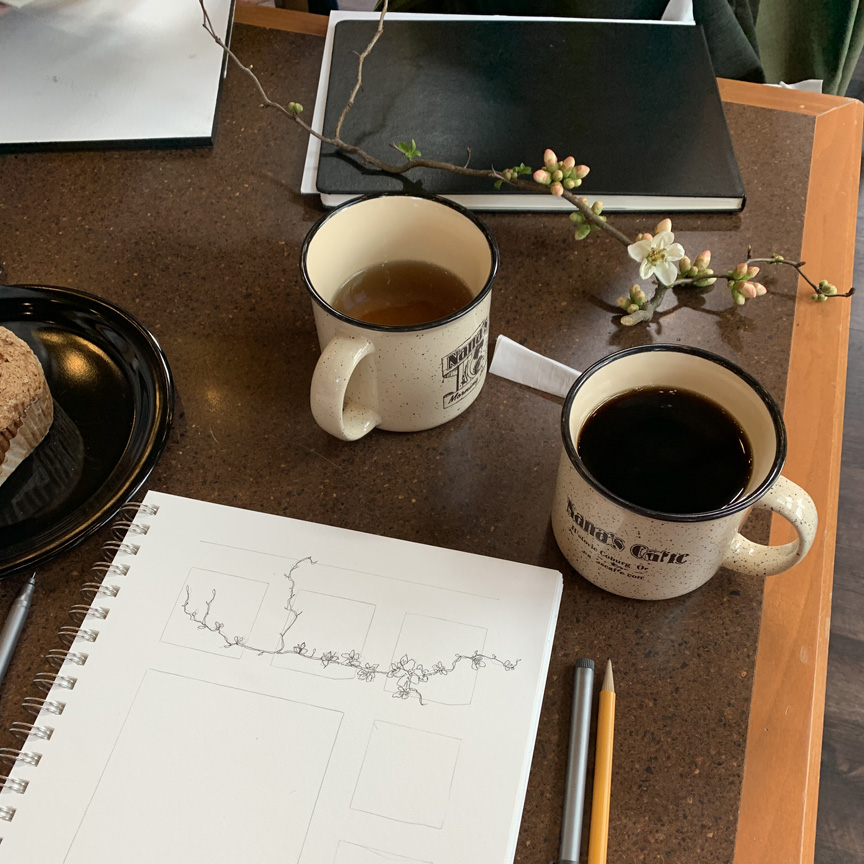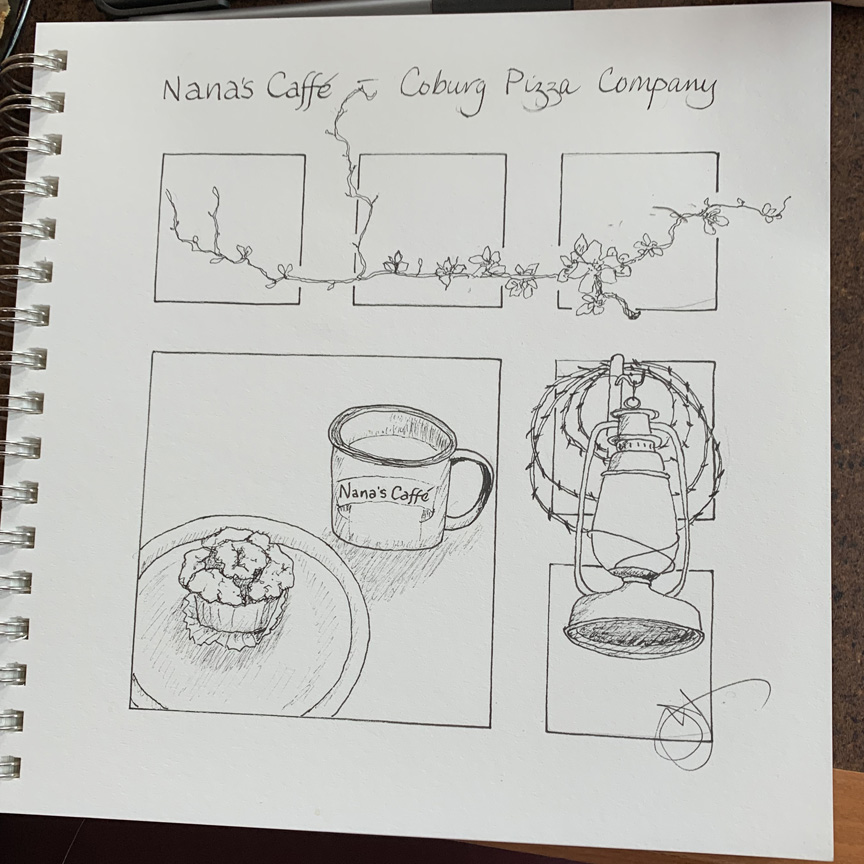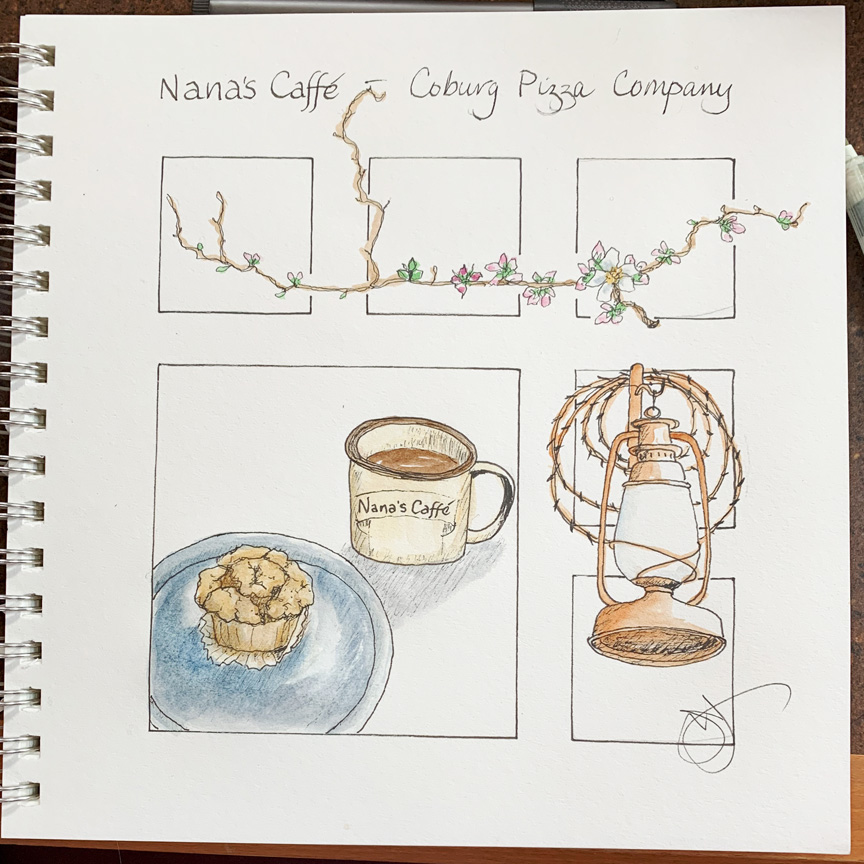 Jane immediately took advantage of the quince branch Michelle brought, then added framed vignettes. Nice lantern & barbed wire!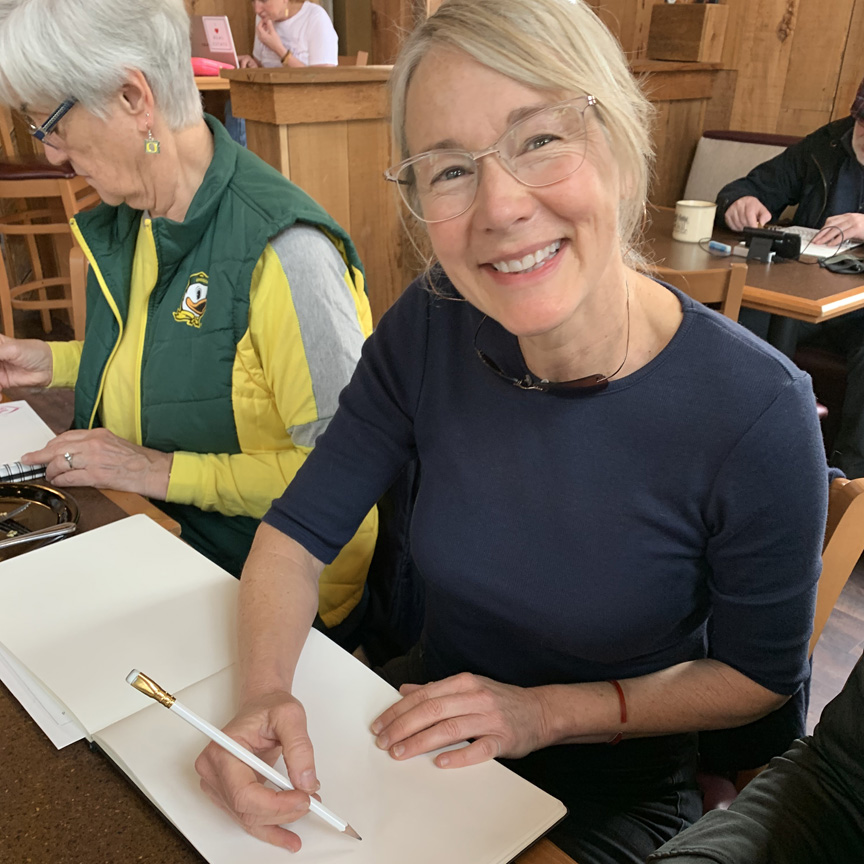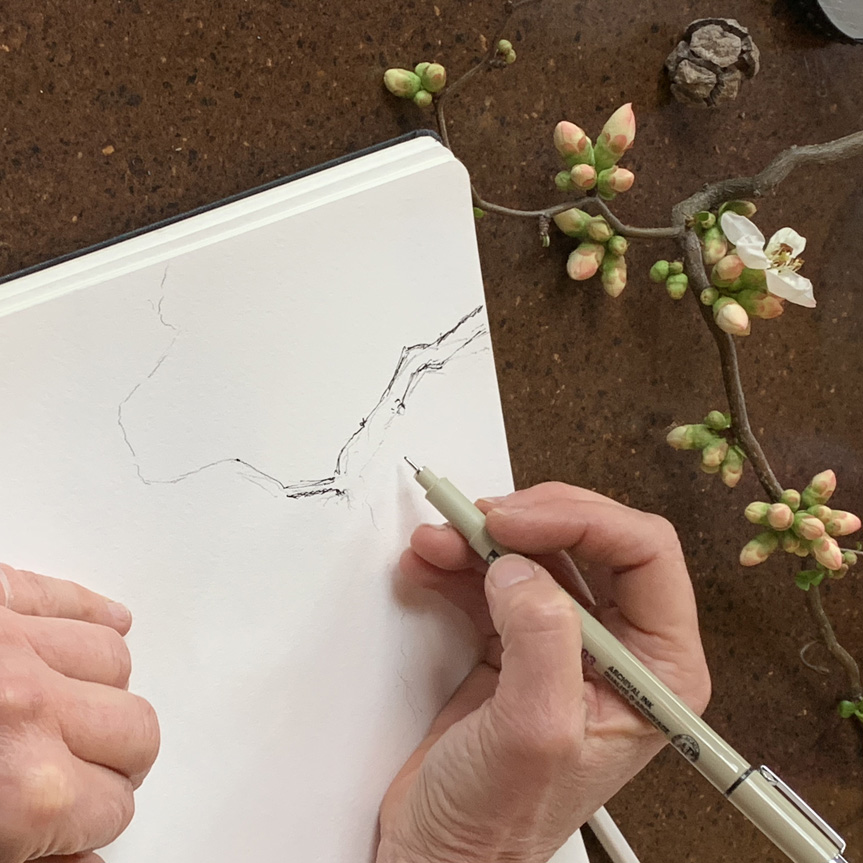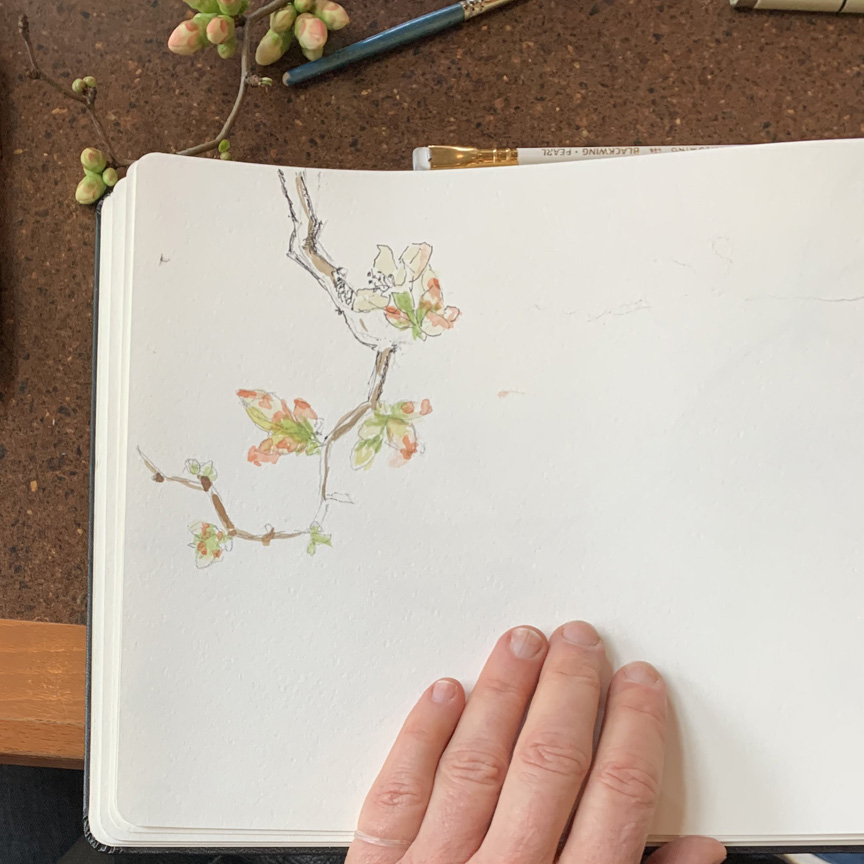 It's always such a treat when Michelle can join us, and she had such fun sketching the quince branch…now what, she said…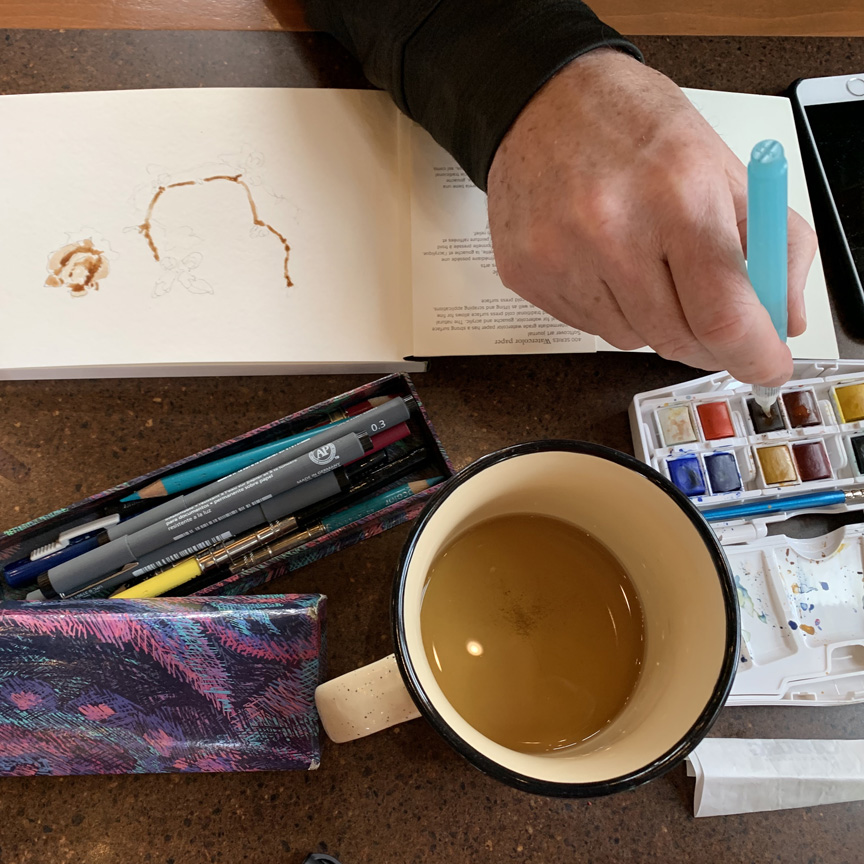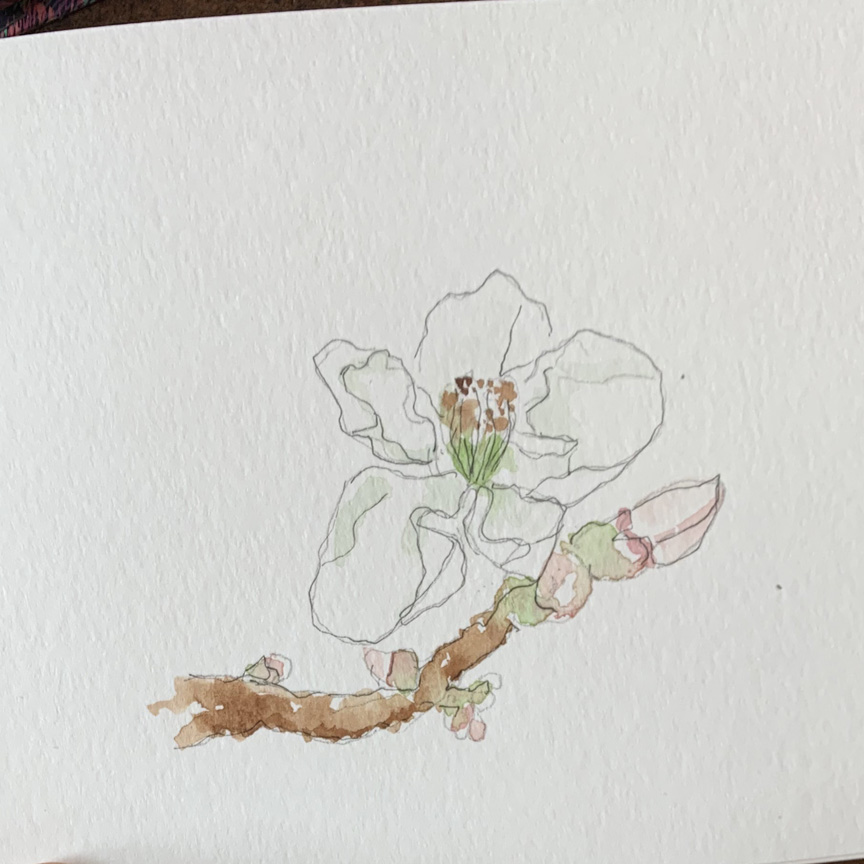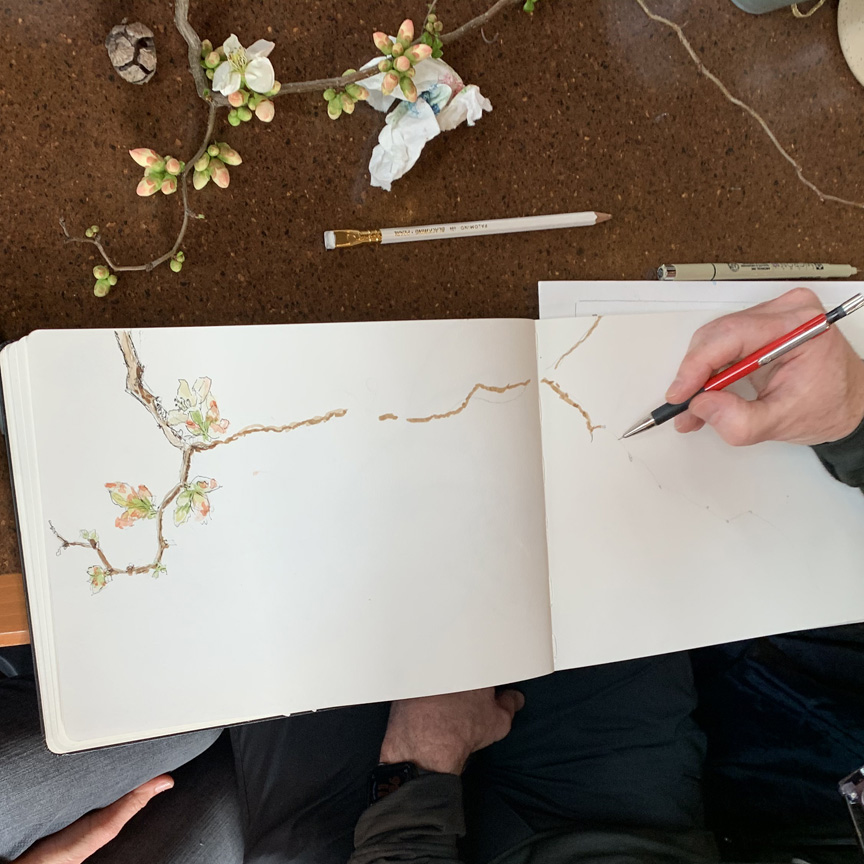 Jim S. bravely ventured using his watercolors, to great effect. Then he took on Michelle's question to help her add twists of the branch.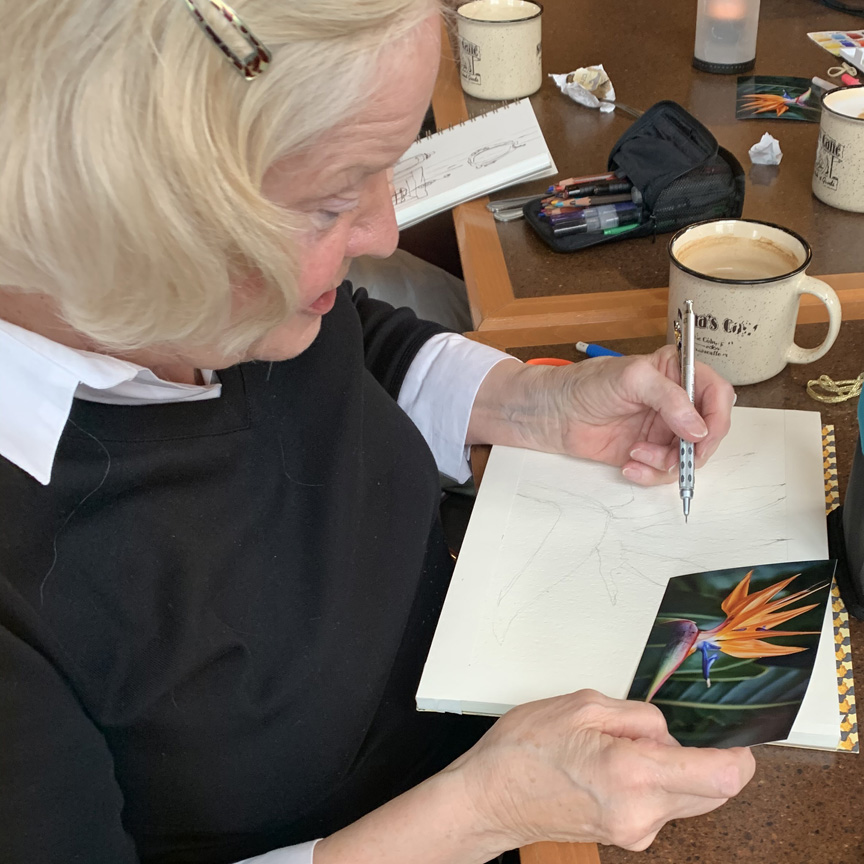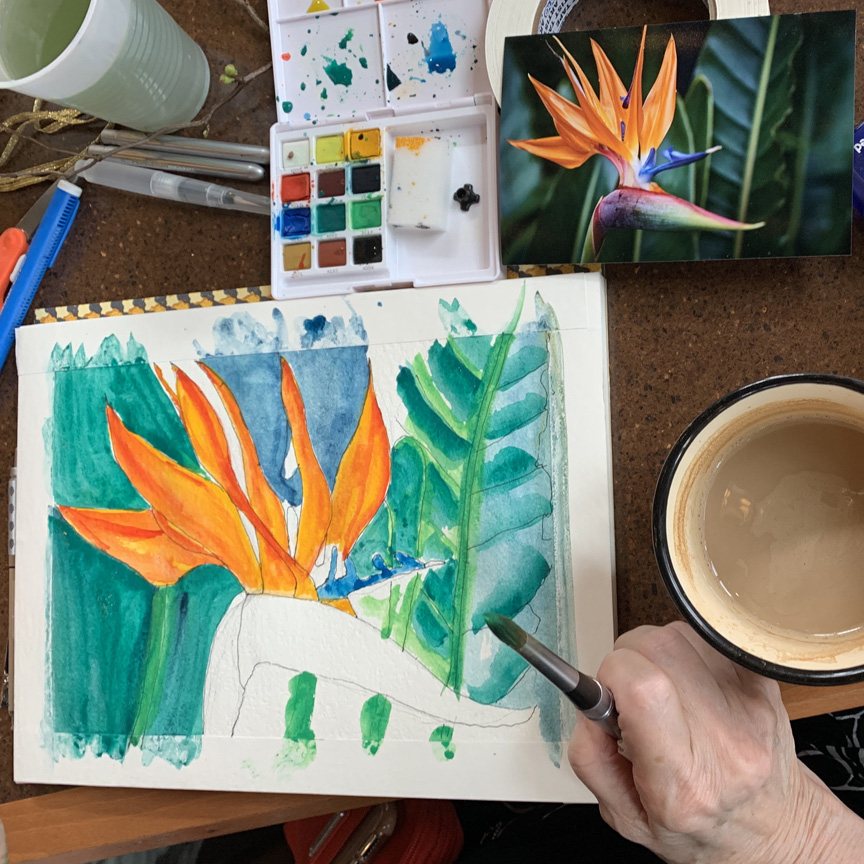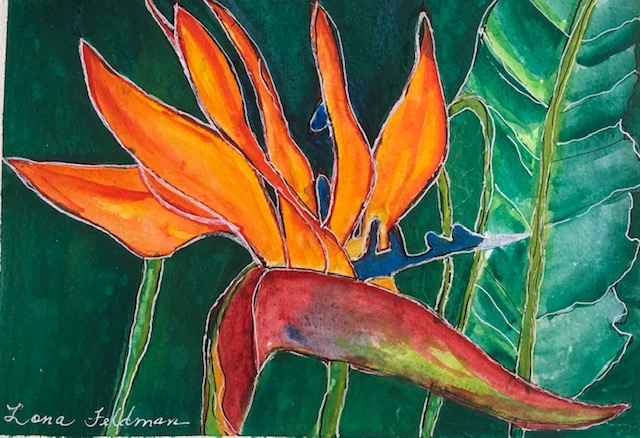 Lona's preparing to teach a watercolor lesson in Mexico on her vacation, and here she gets a head start on the subject – wow!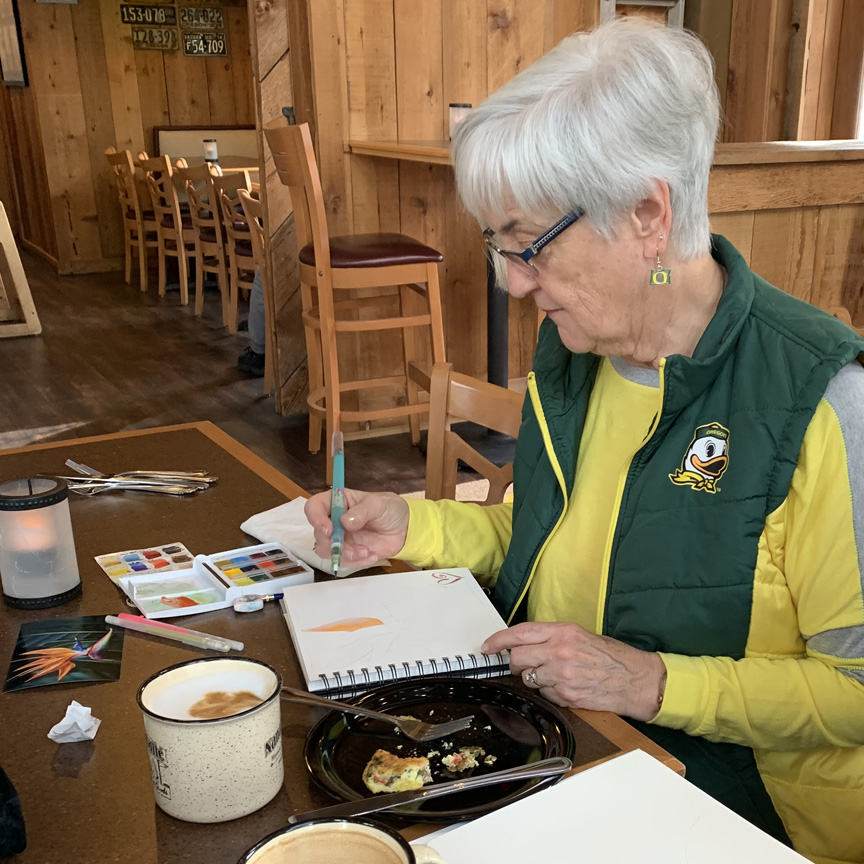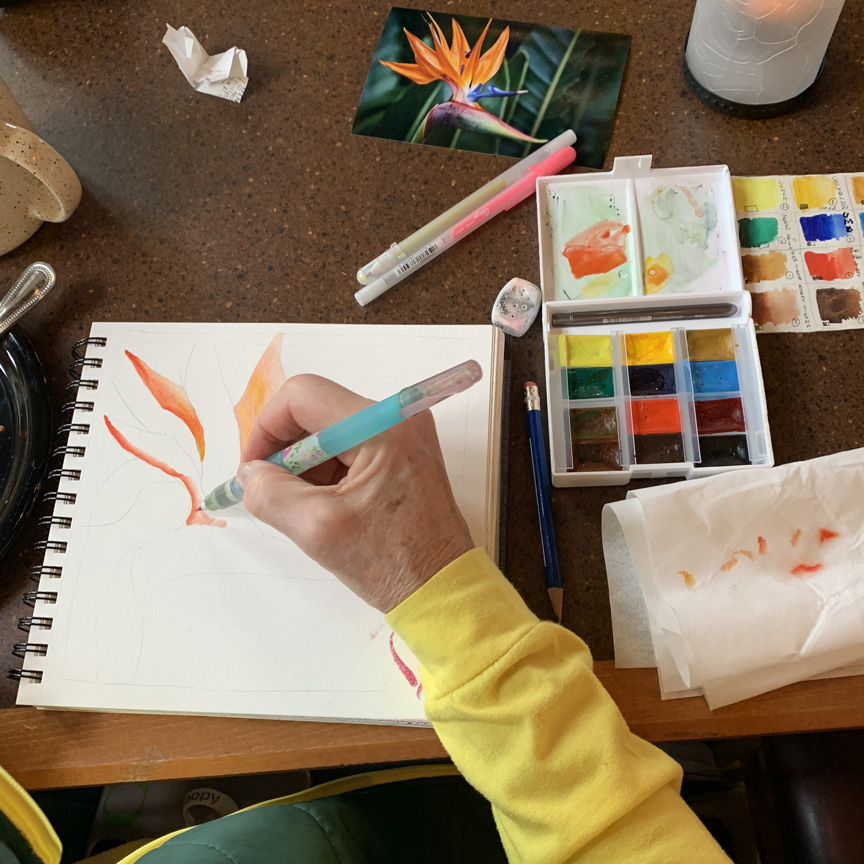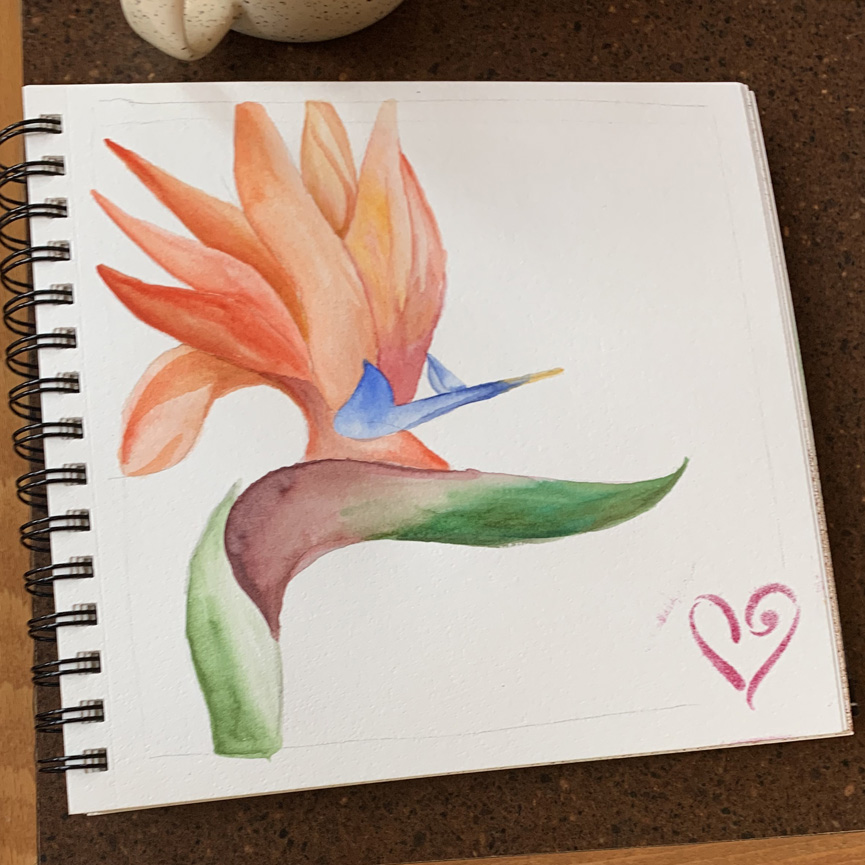 Katie was intrigued with the bird-of-paradise task, and tried her hand at it, too. Interesting to see the differing style approaches.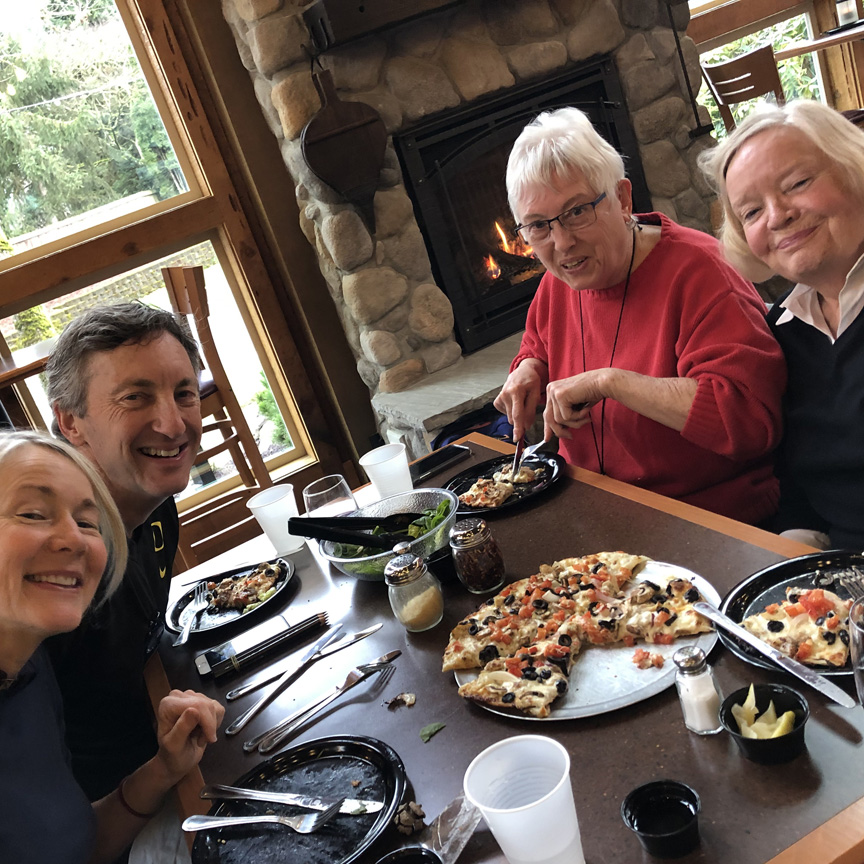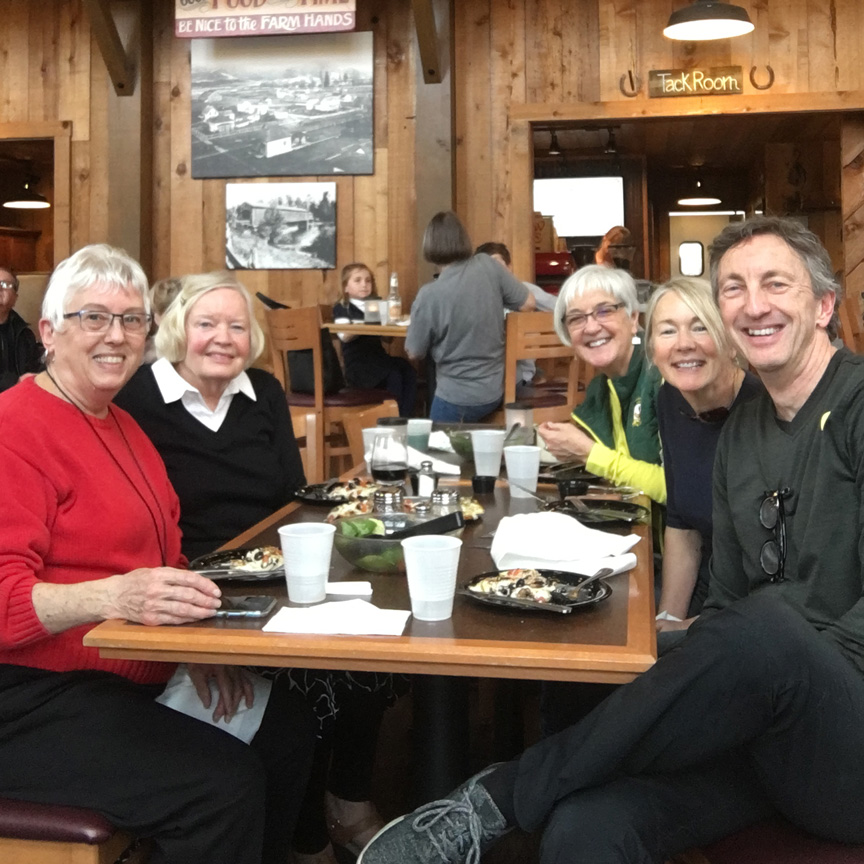 But it's not over for the Italy trippers – we just had to stay and have pizza! It was so much fun remembering our experiences in Italy.
✒ Jan. 10, 2020, Blue Valley Bistro, Coburg, OR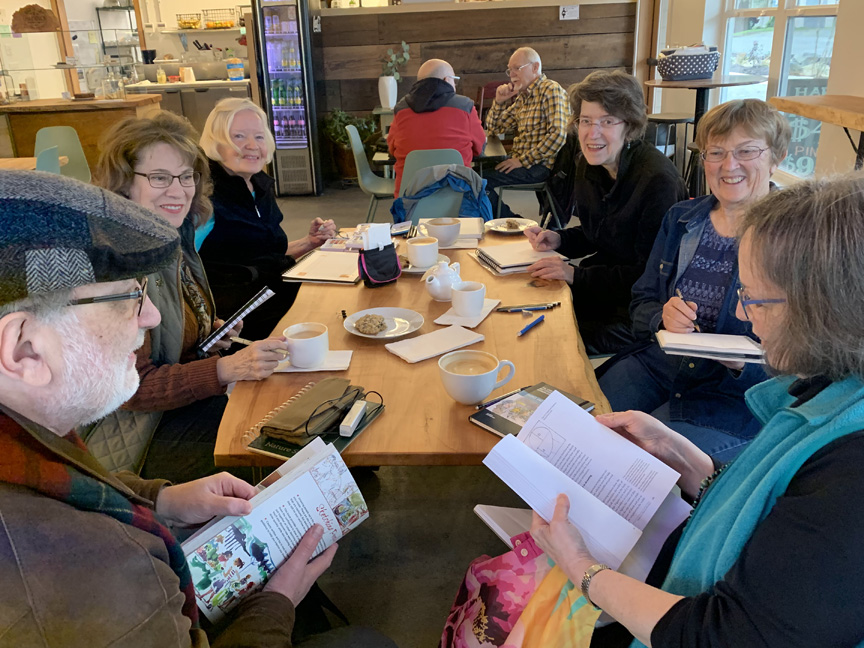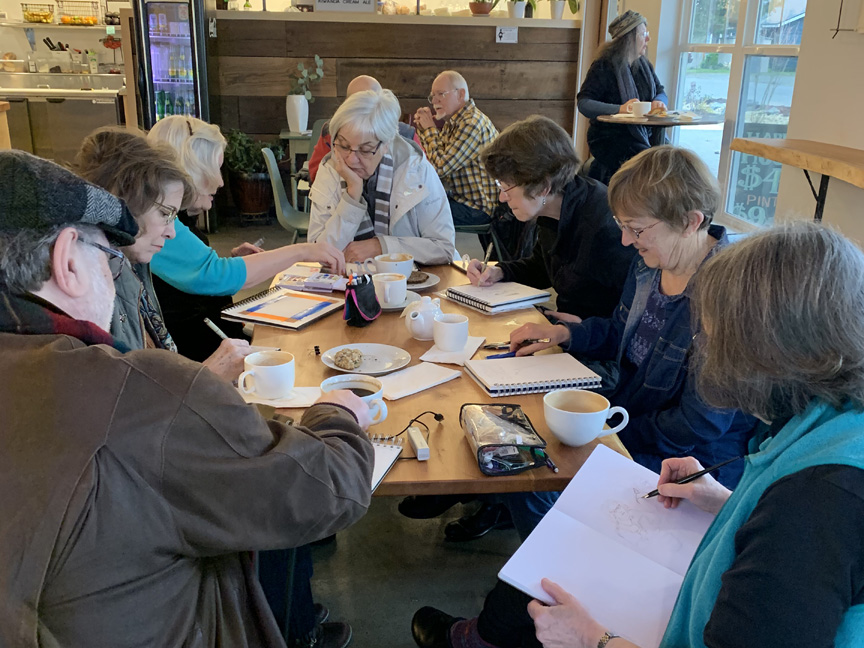 Serge, Bev, Lona, Peggy, Carol, & Marsha chatting and sharing. They were all busy sketching by the time Katie & Laura joined us.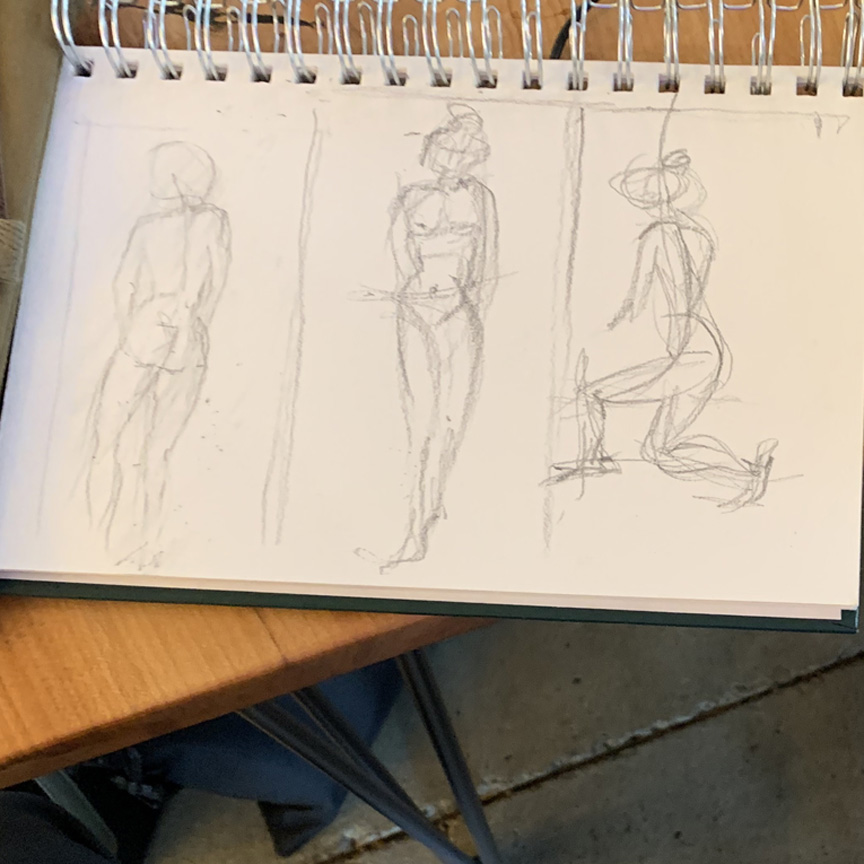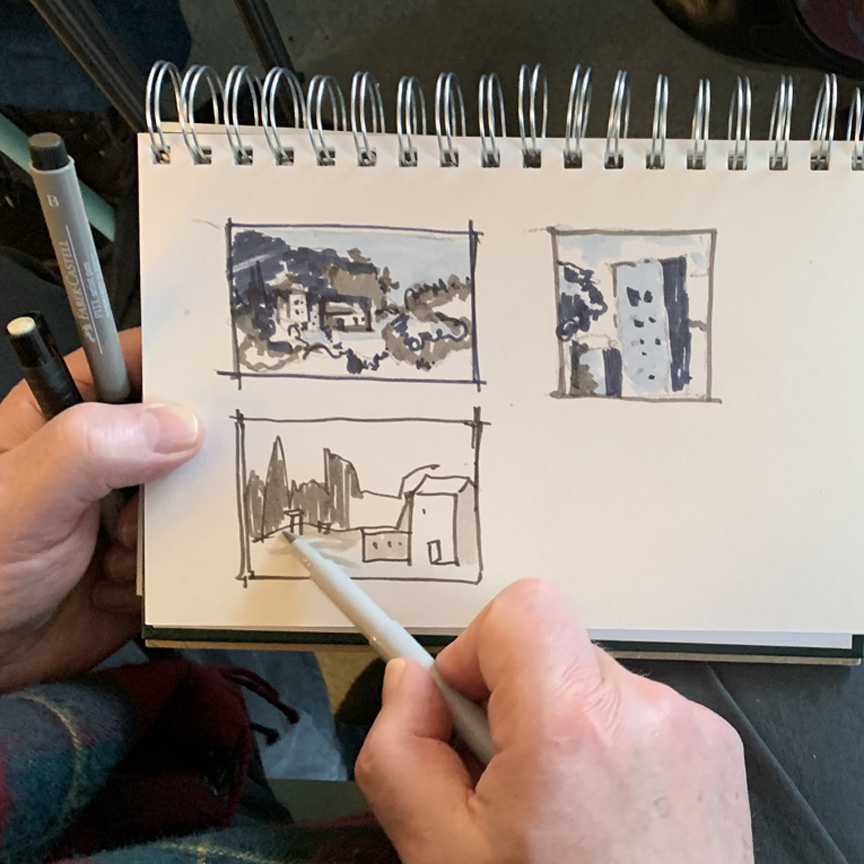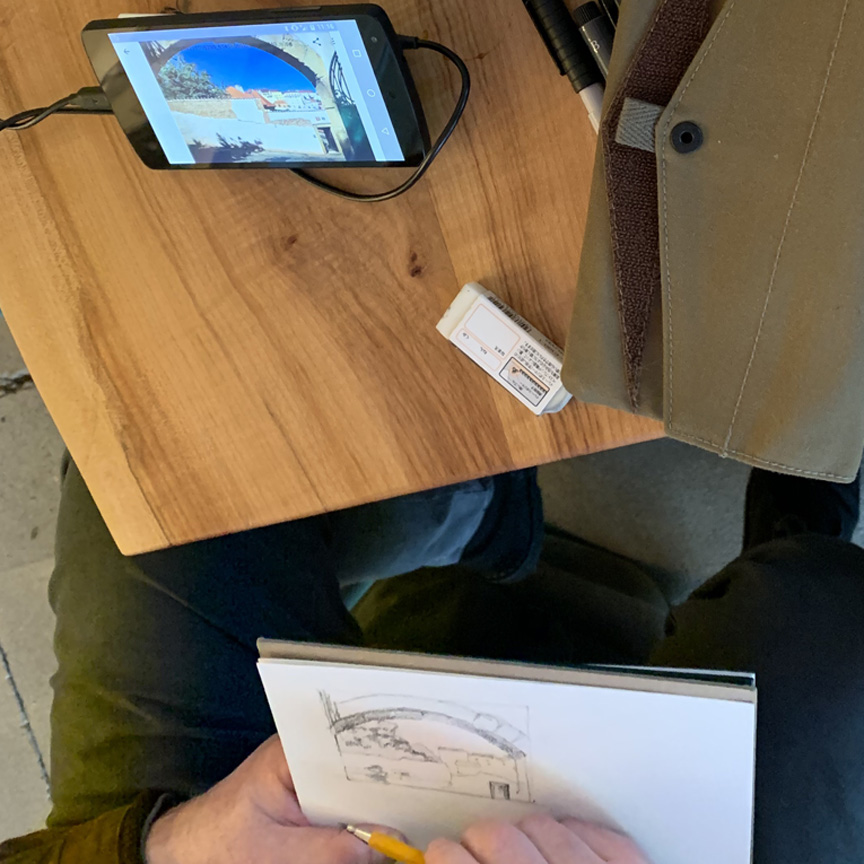 Serge is dedicated to improving his sketching and painting skills. We enjoy having him be part of the group, because we learn, too.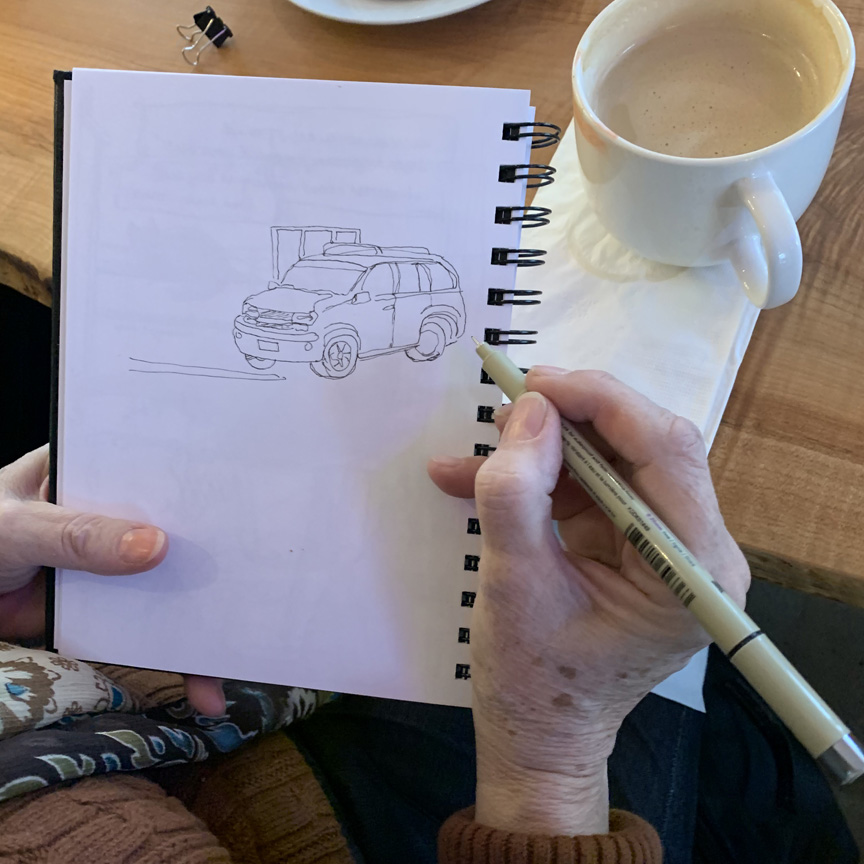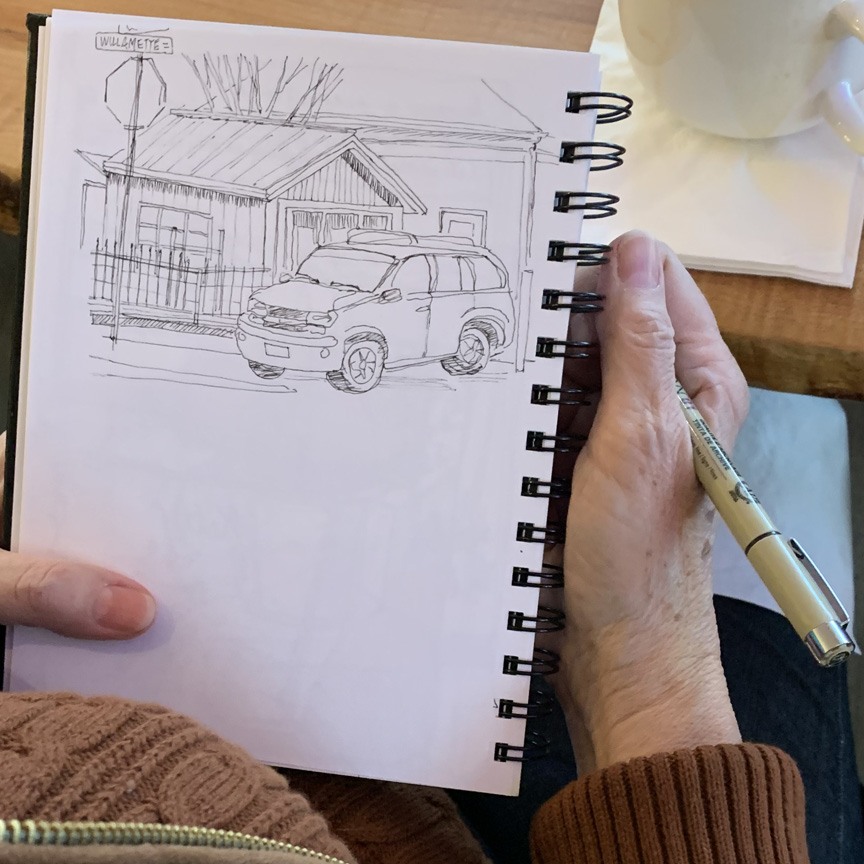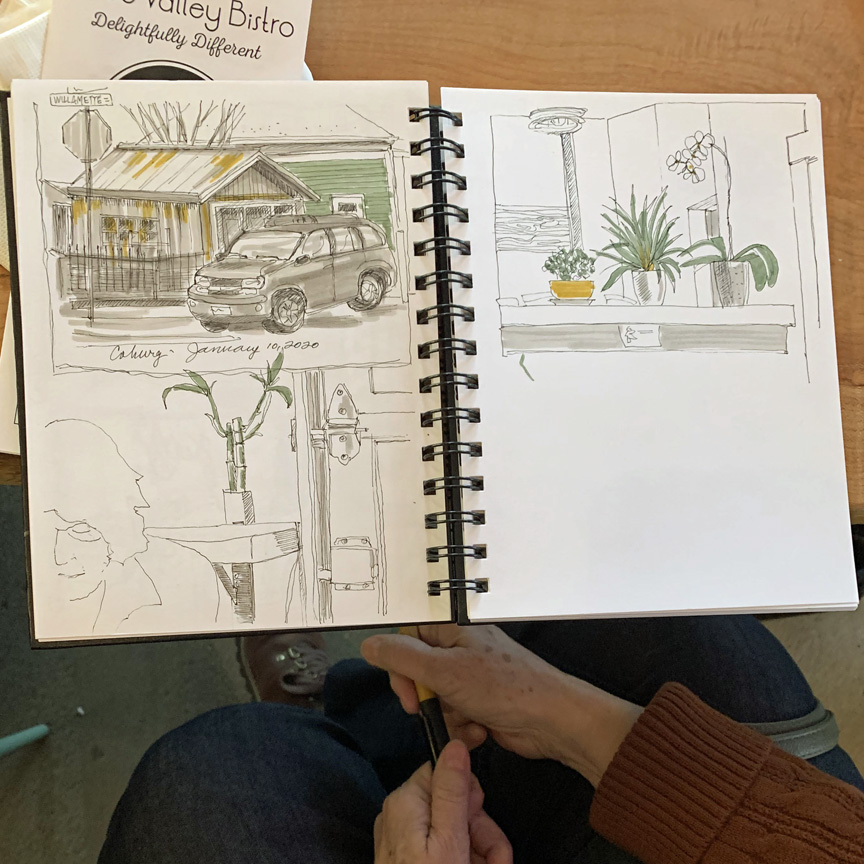 Bev always draws what she sees, so it's fun to discover what she selects to sketch from her surroundings. And she's FAST!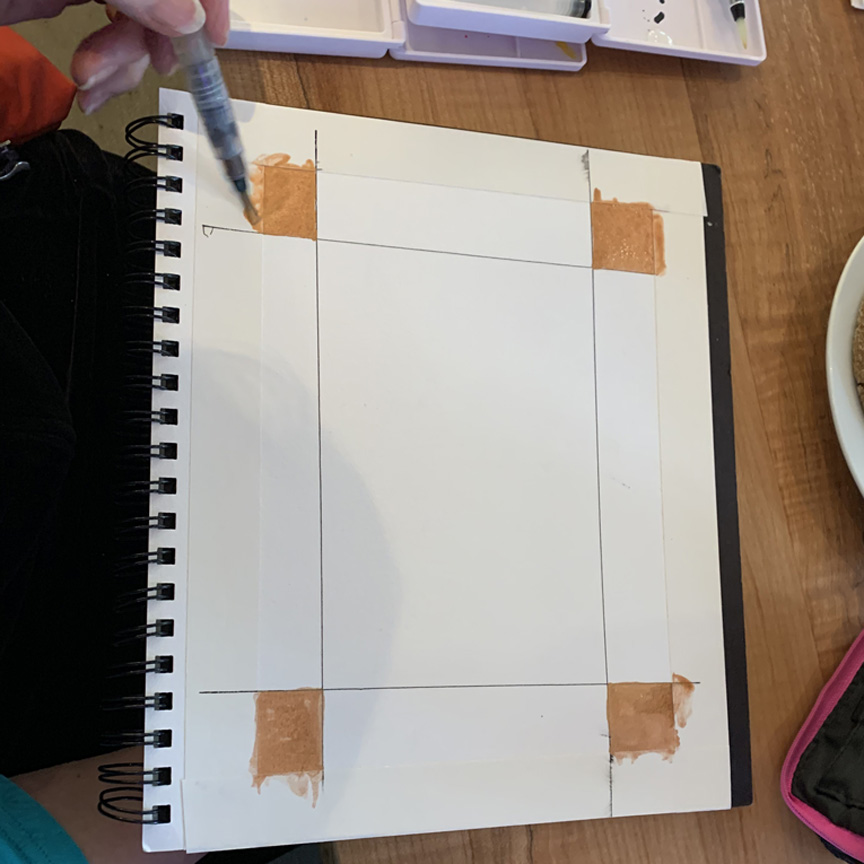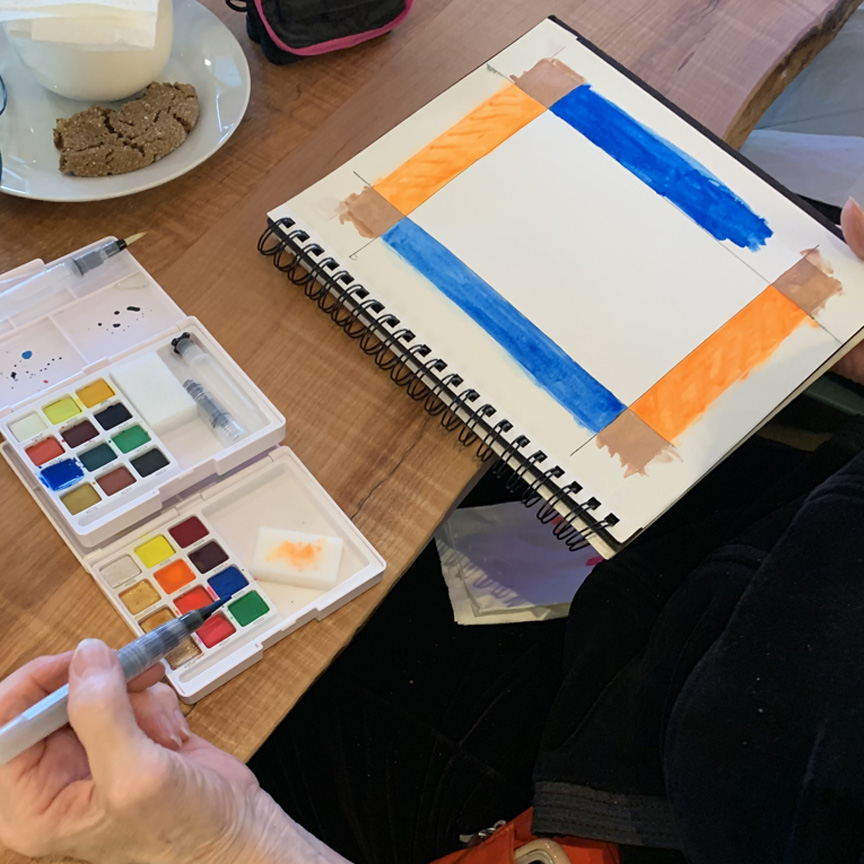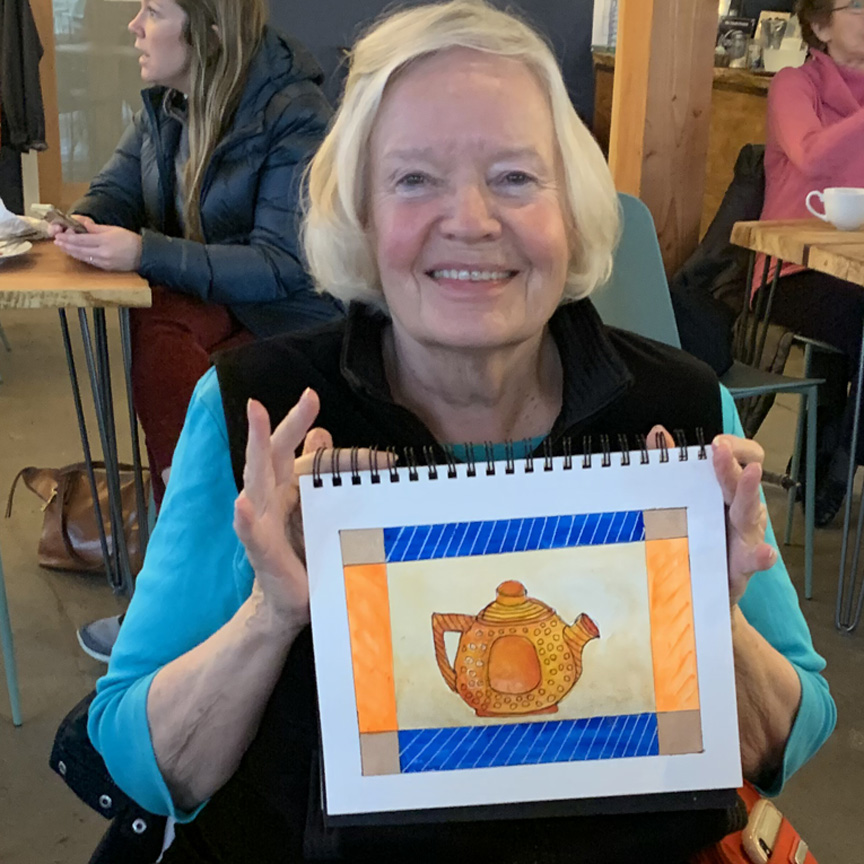 Lona was exploring new Koi watercolor palettes – oh! they're almost fluorescent! But she loves heavily pigmented color & made it work!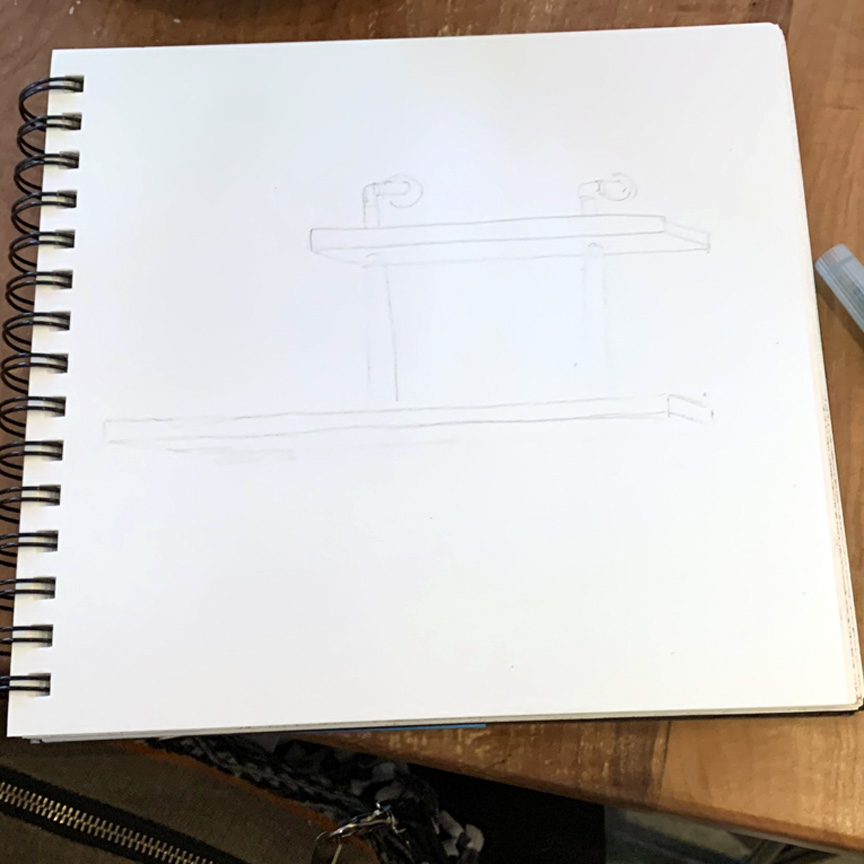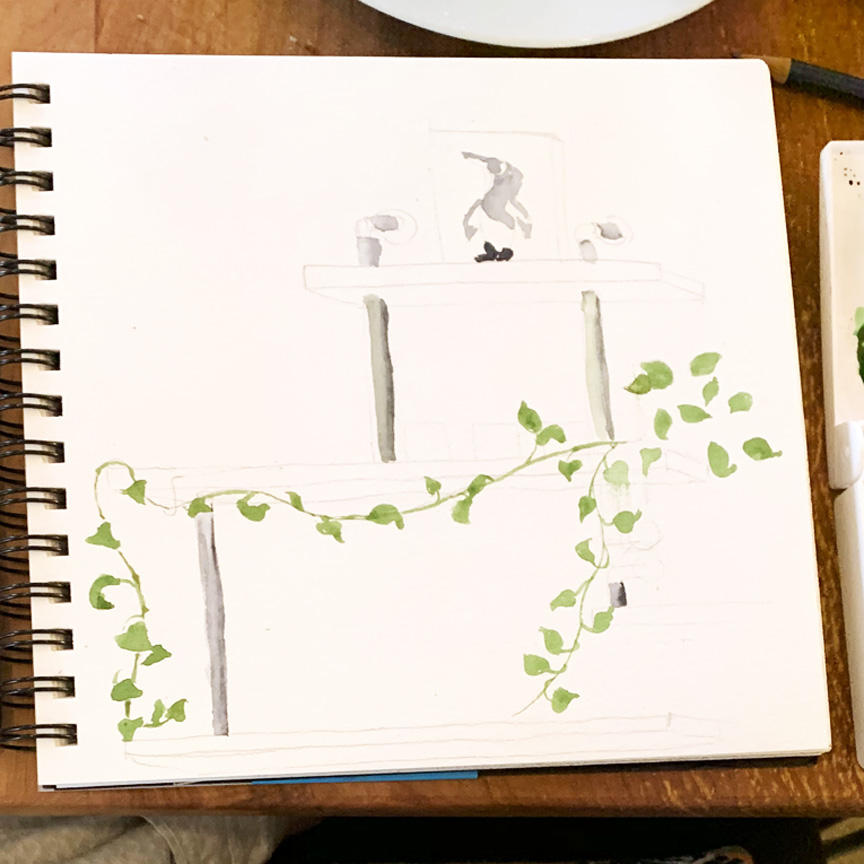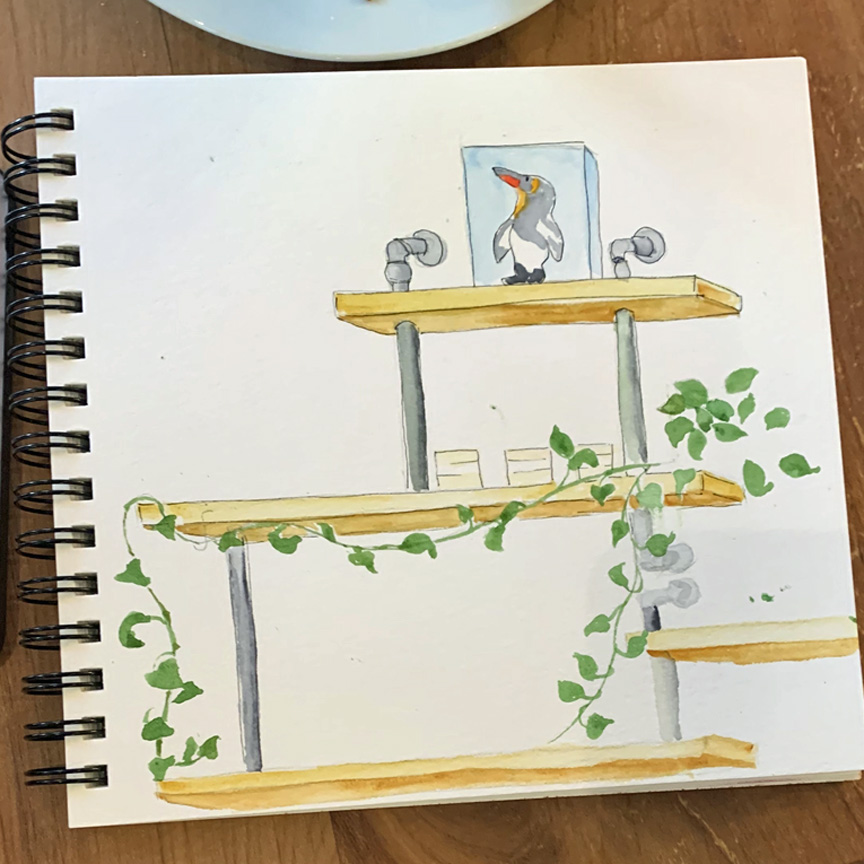 Katie did a pencil sketch of the display shelves, then started adding the objects. She can take a photo, and finish this at home, too.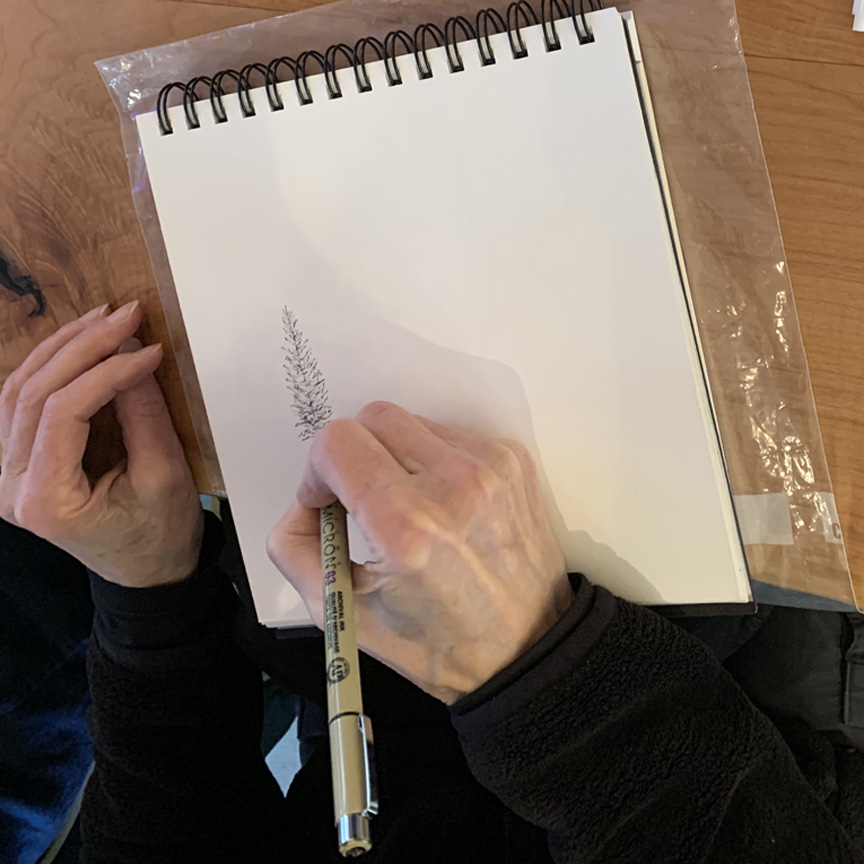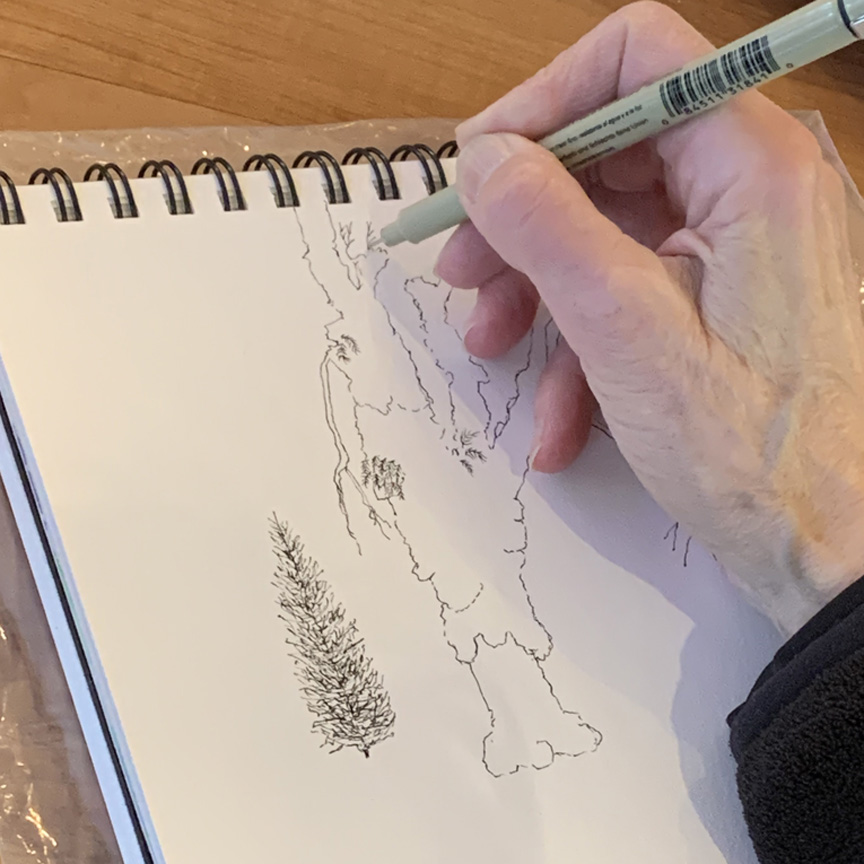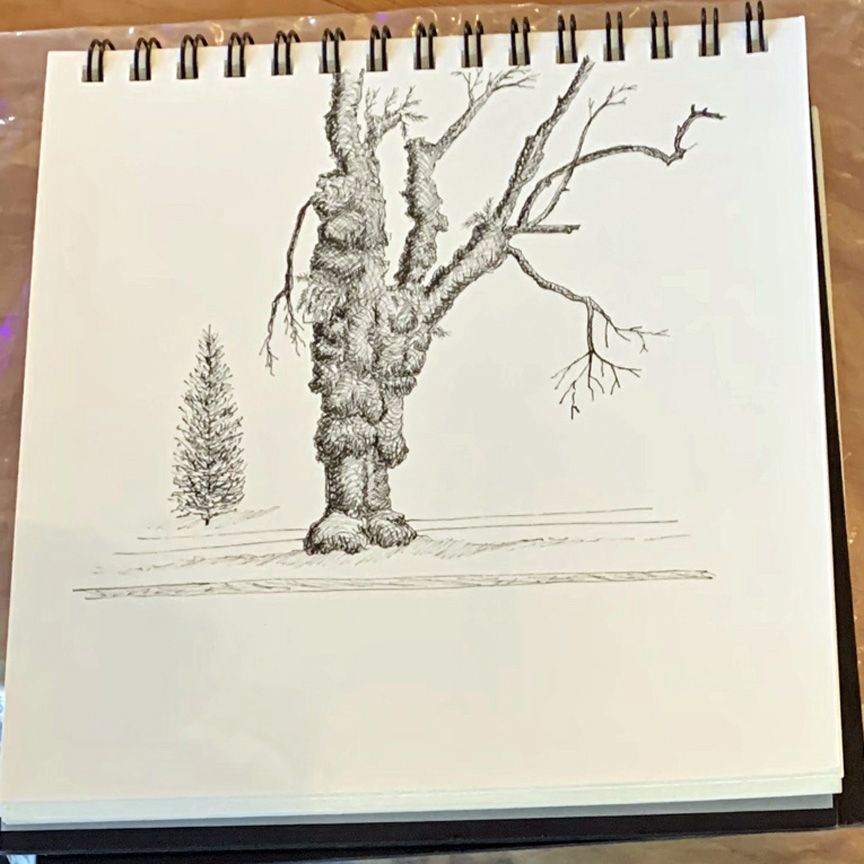 Such a simple little tree sketch, and then – wow! Look at that old massive mossy tree beside it! Great job on the texture, Peggy.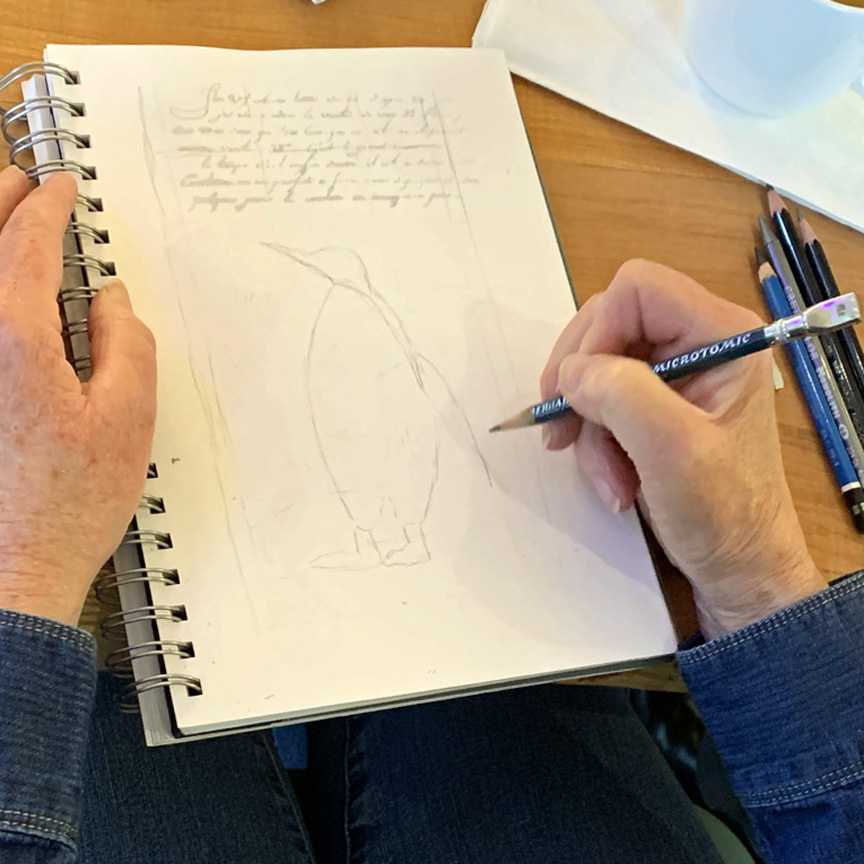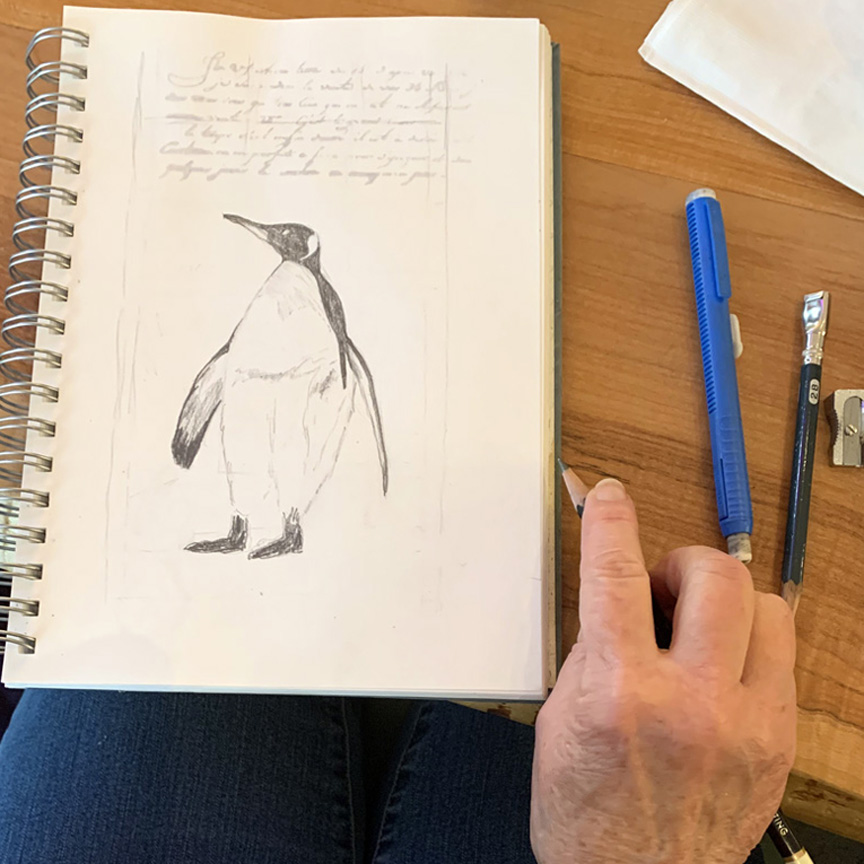 Carol's attention was focused on the painting of the penguin on the display shelf. It's almost walking off the page! What a swagger.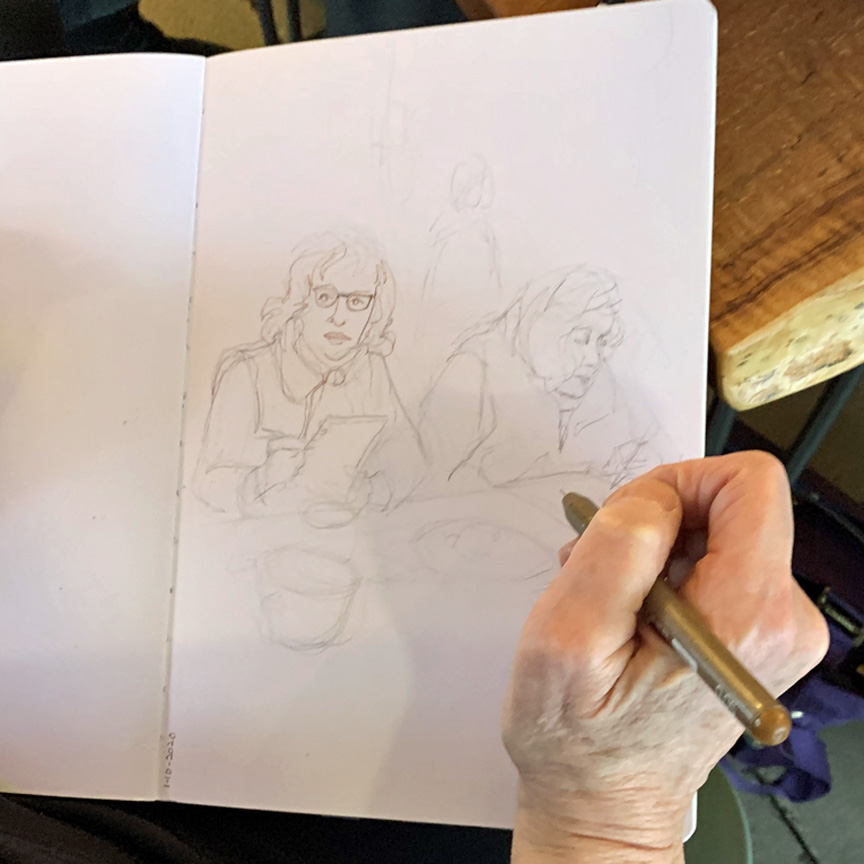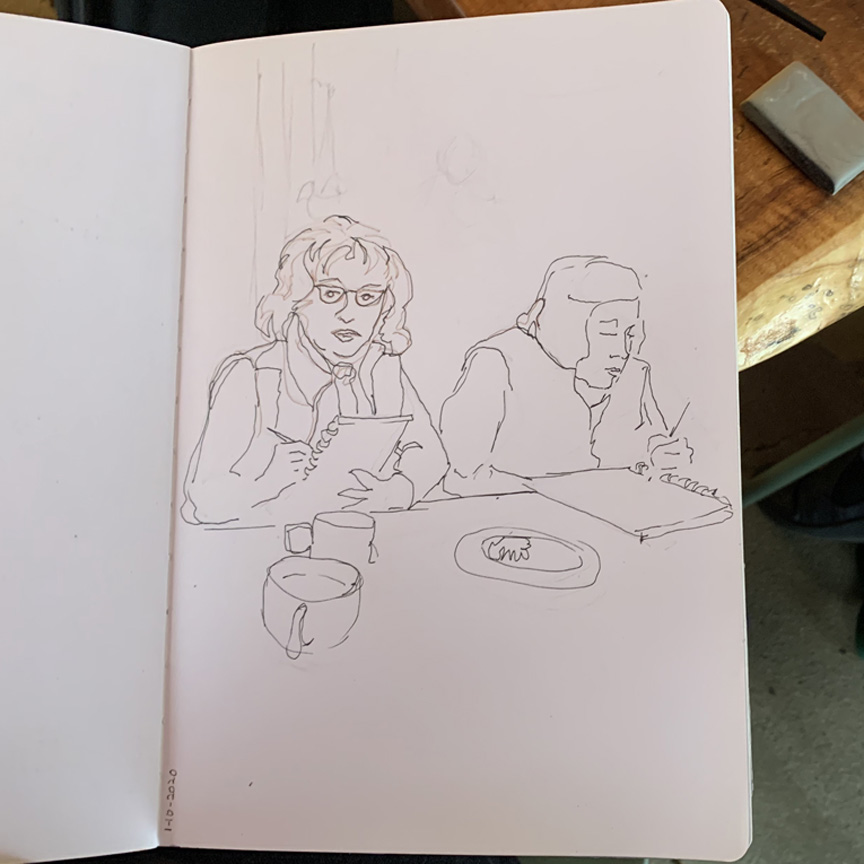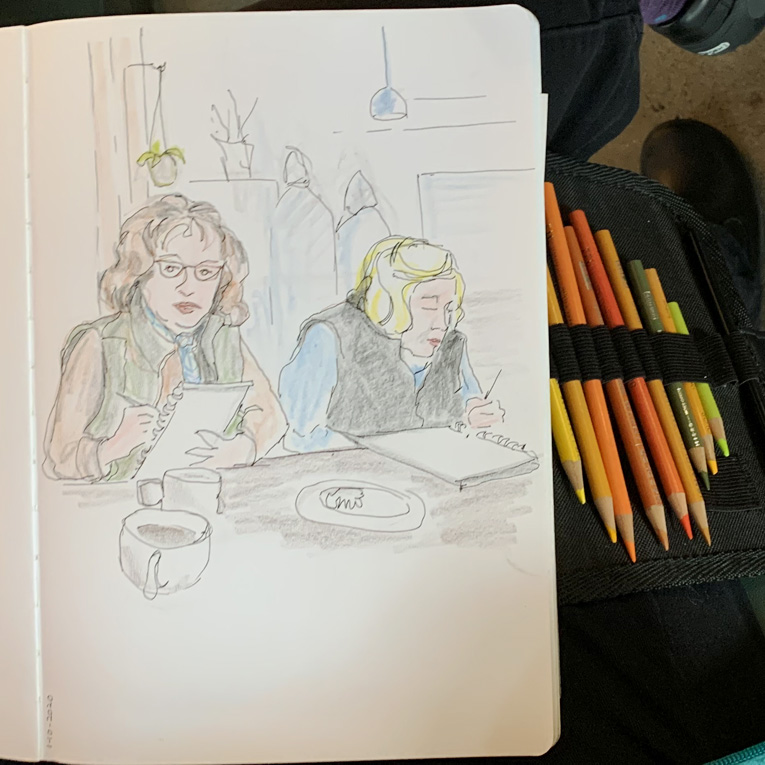 Marsha was at a perfect spot to sketch her colleagues – Bev and Lona. They both look so sweet, I said. Because they are, she replied!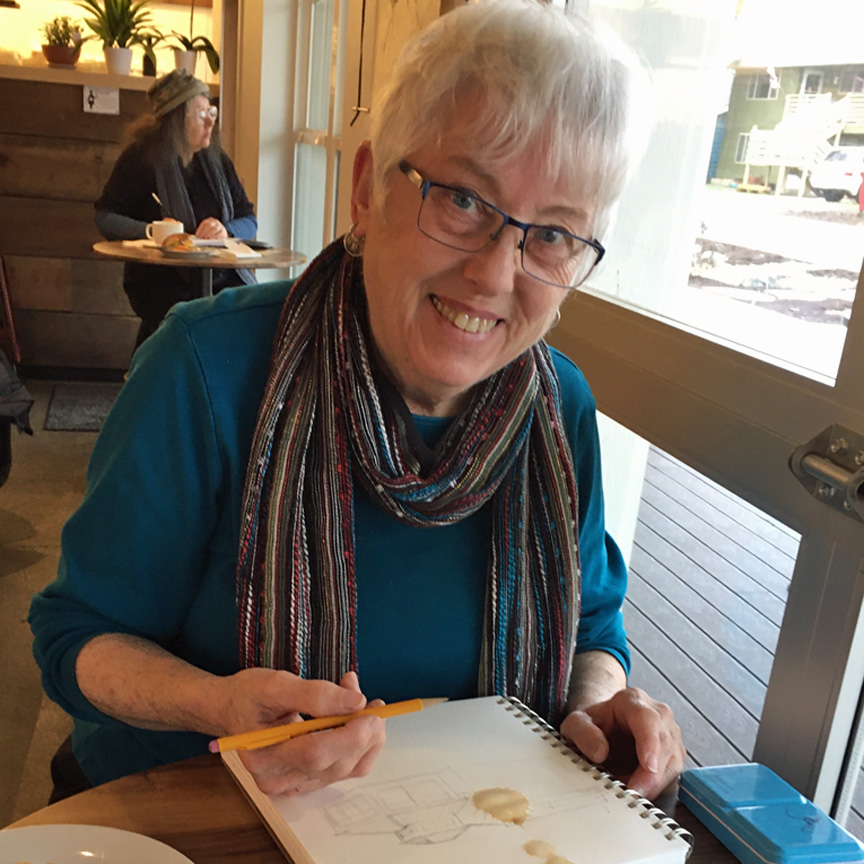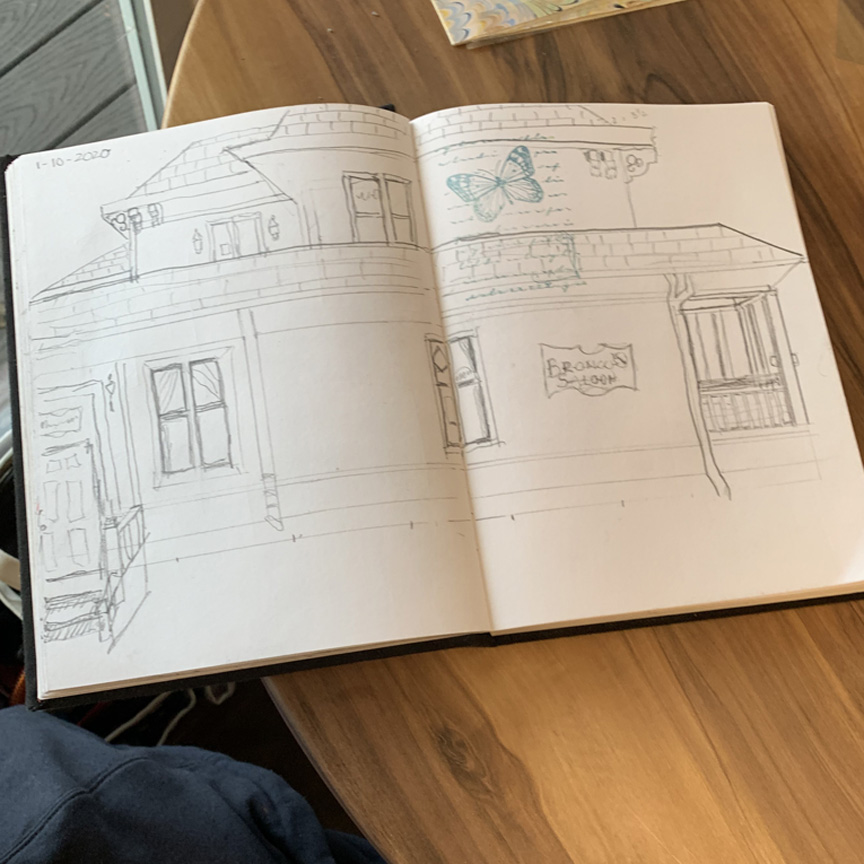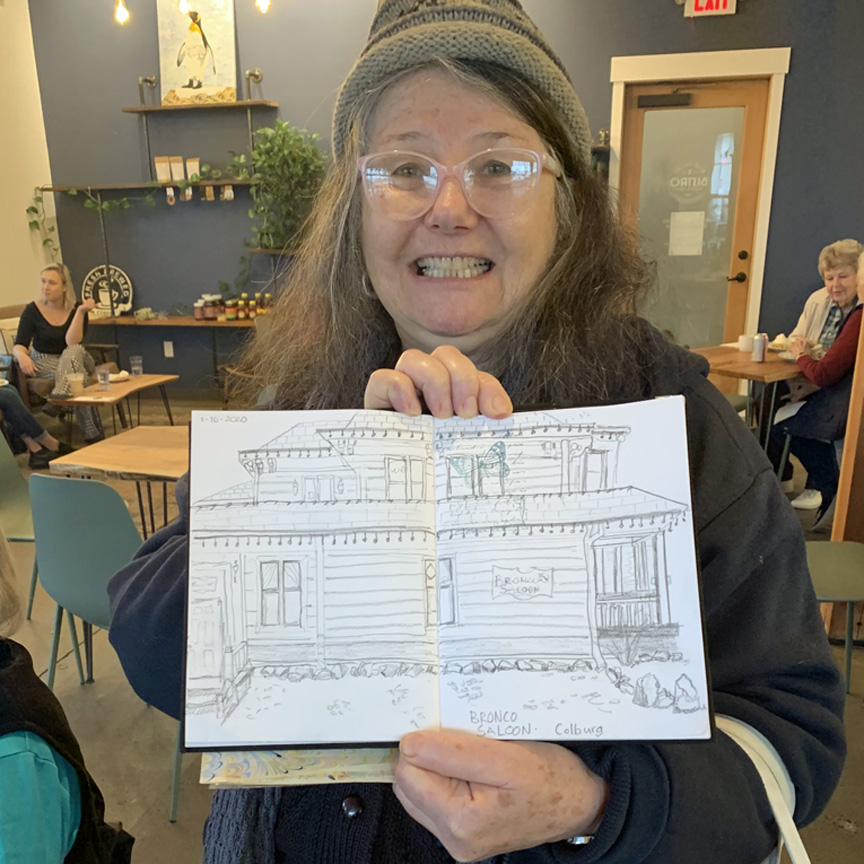 Laura and Jane were both perched on stools so they could look out the windows. Here's the building Laura saw – nice sketch!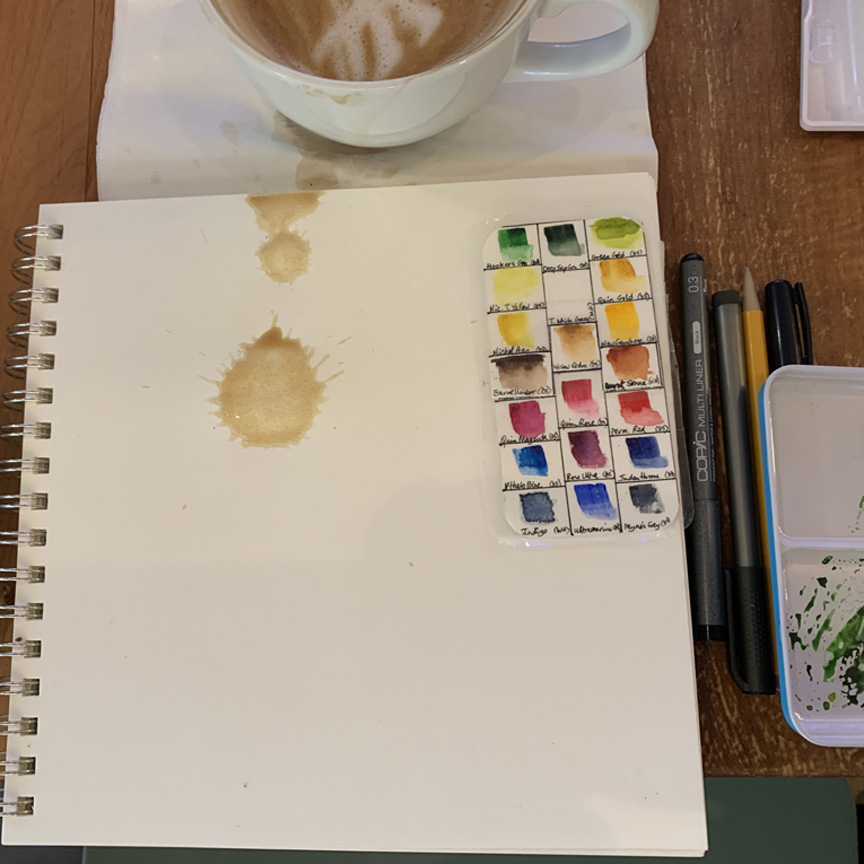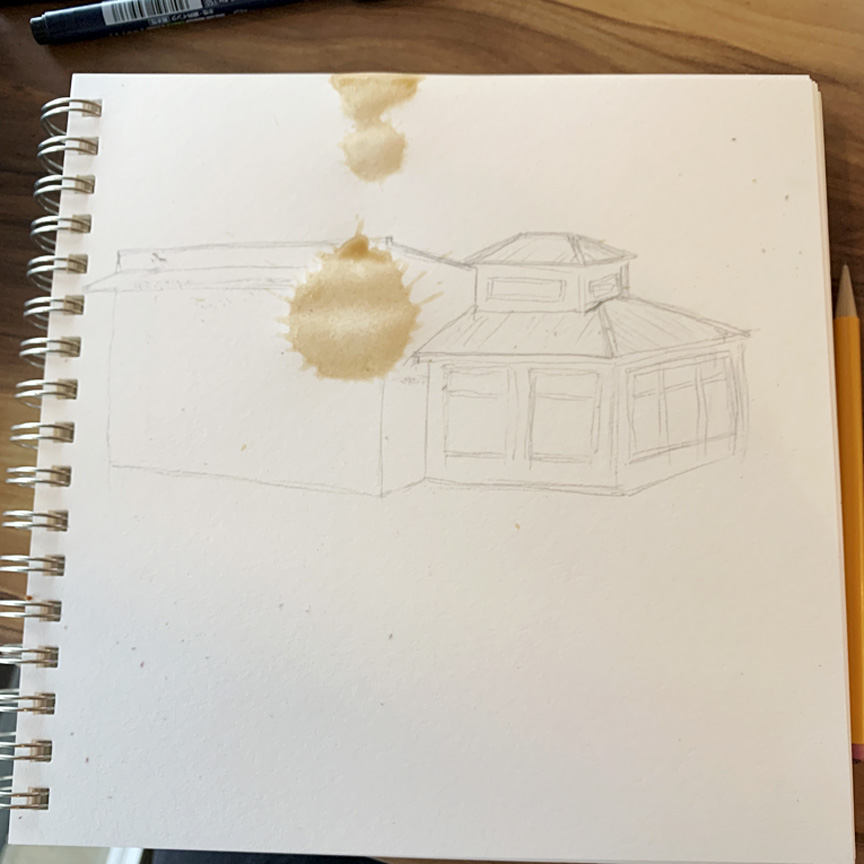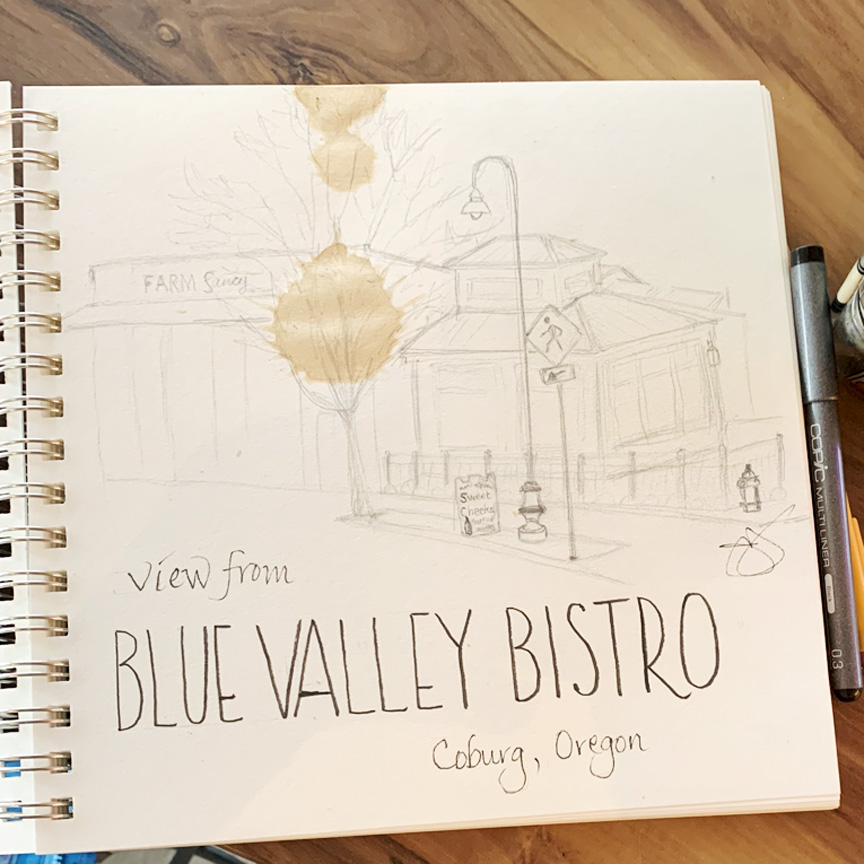 Oops, a little latte drool across the page! No problem, Jane just turned it into the tree in front of the buildings across the street!
✒ Dec. 27, 2019, Blue Valley Bistro, Coburg, OR
There are two Blue Valley Bistros, one in Creswell & this newer one in Coburg. We had a great time spending time here.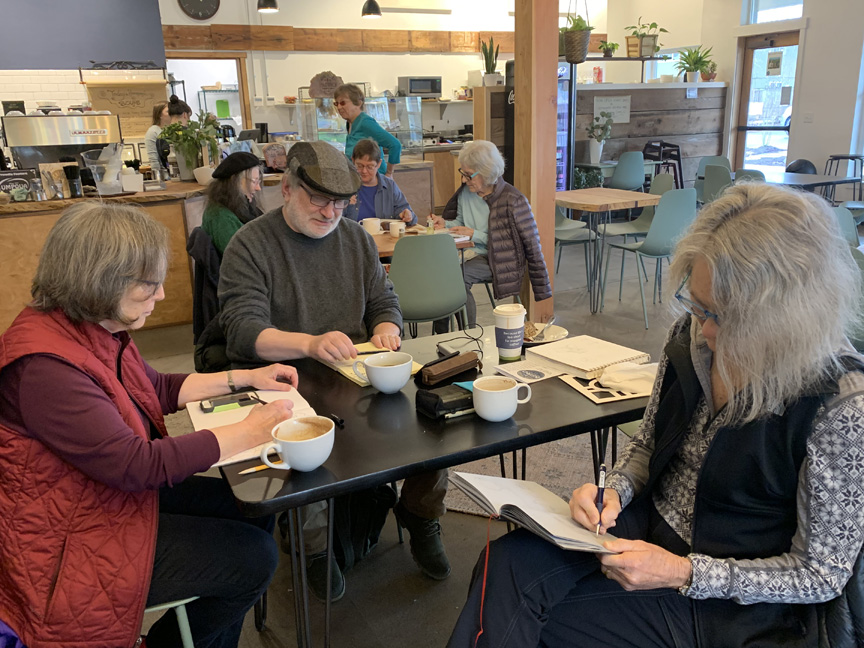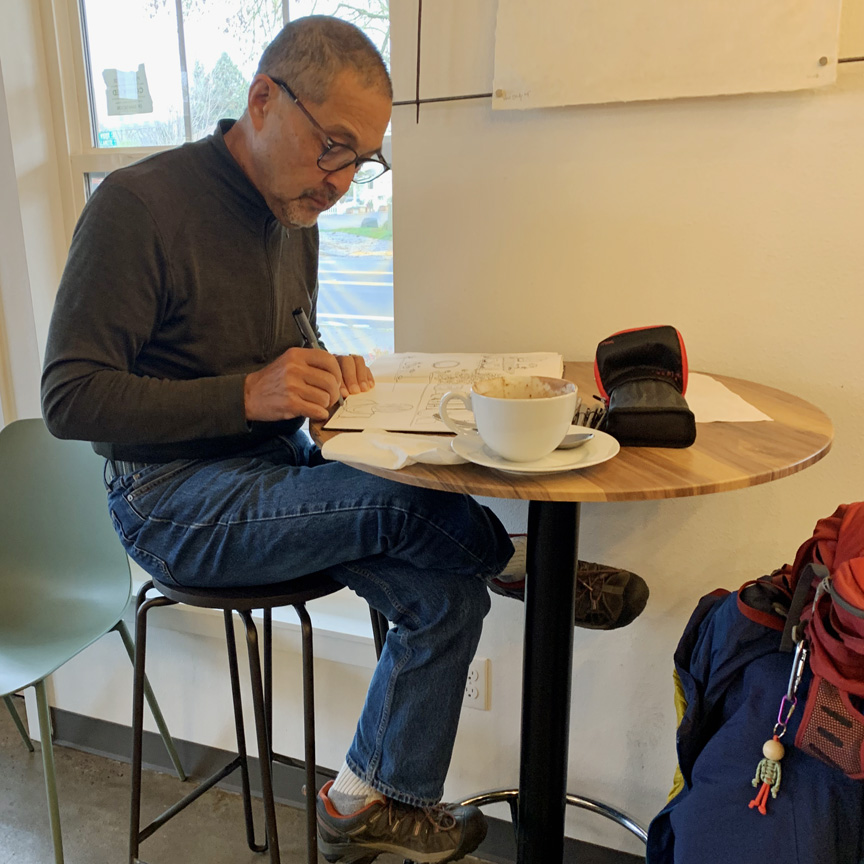 Marsha, Serge, Sandy; at the table beyond are Laura, Daisy, Barb So.; at the counter is Carol, and at a high table on his own is Hugh!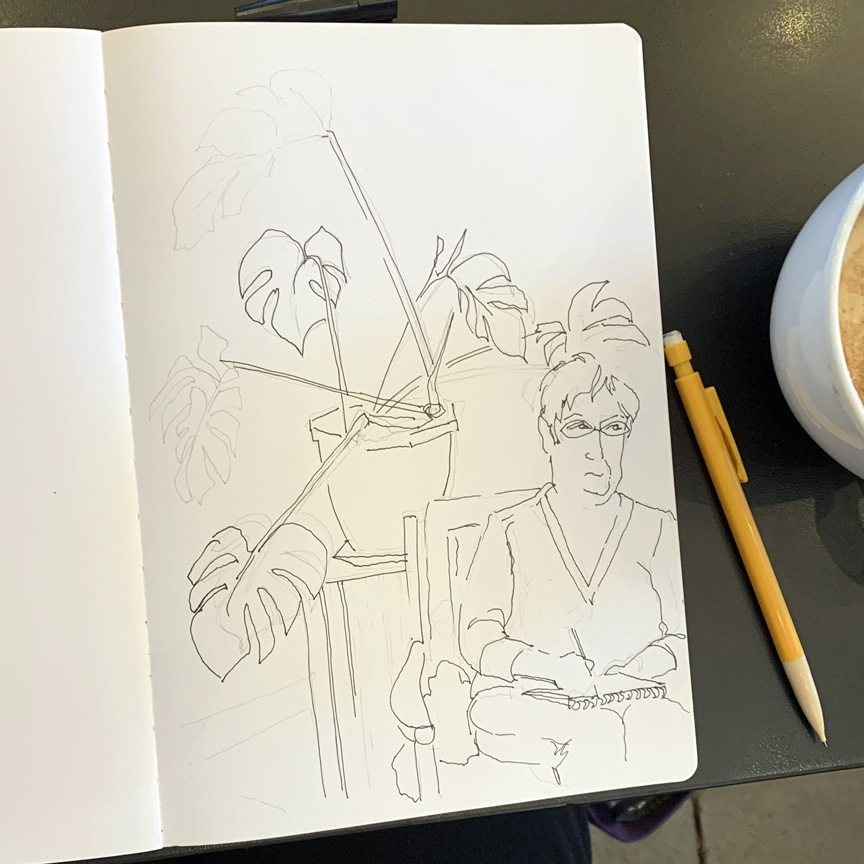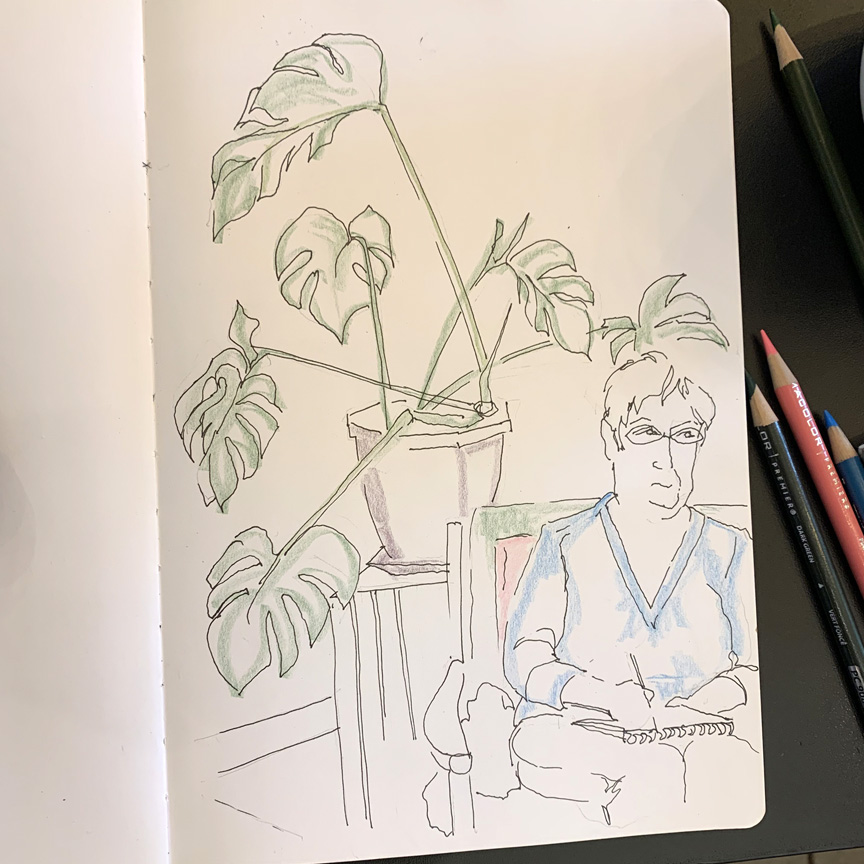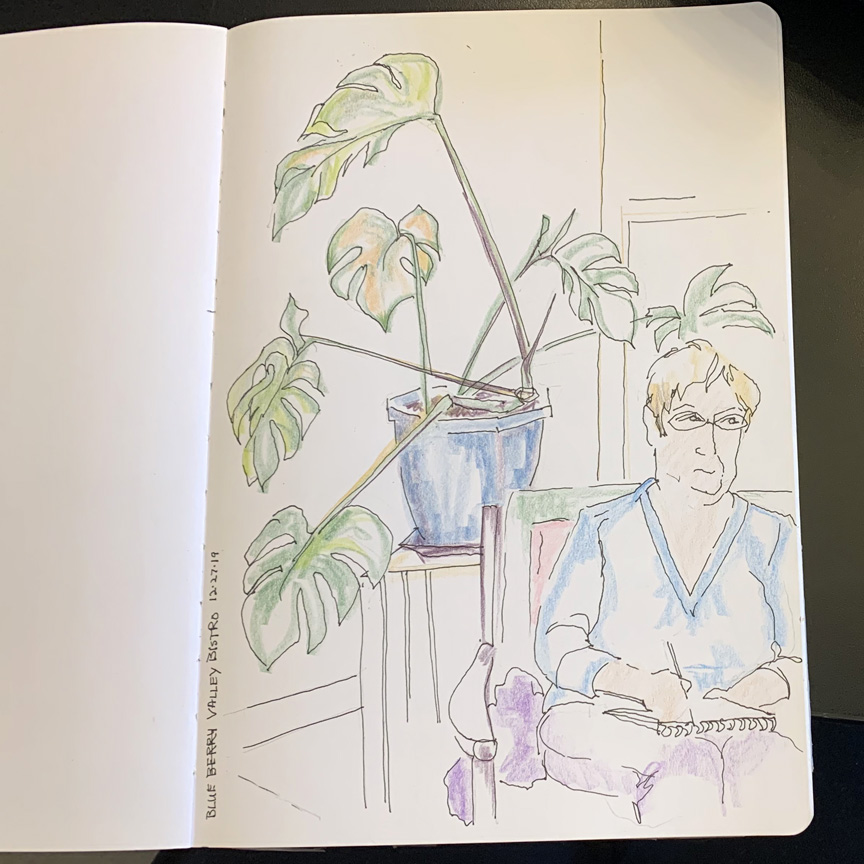 Marsha started out with that fabulous philodendron, then included Carol sketching below it – yummy effect with colored pencils!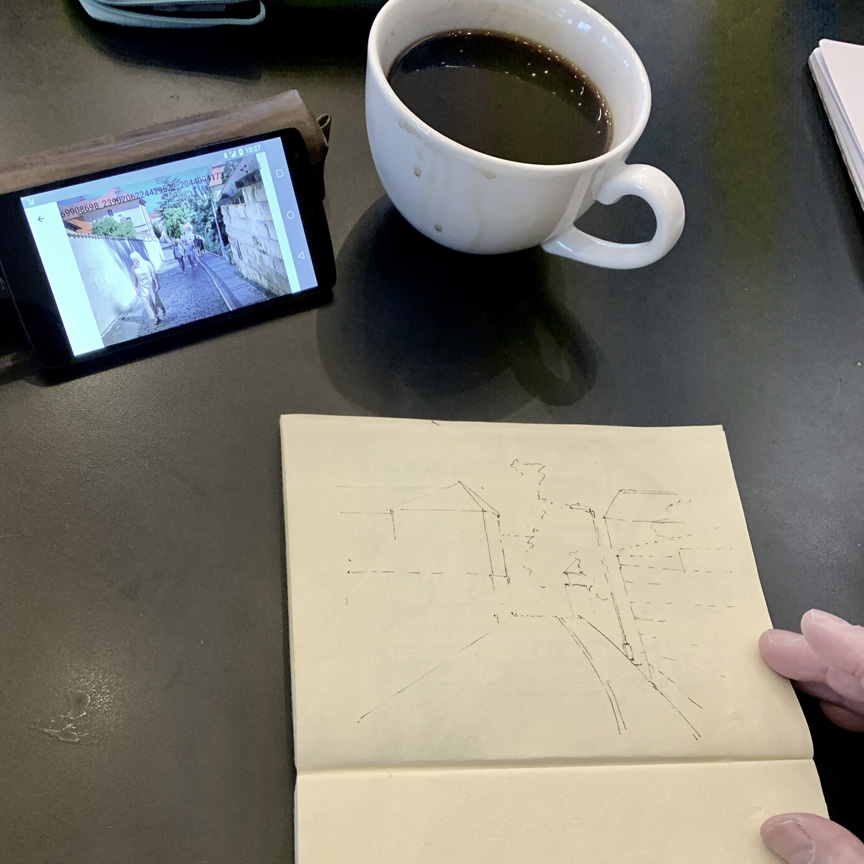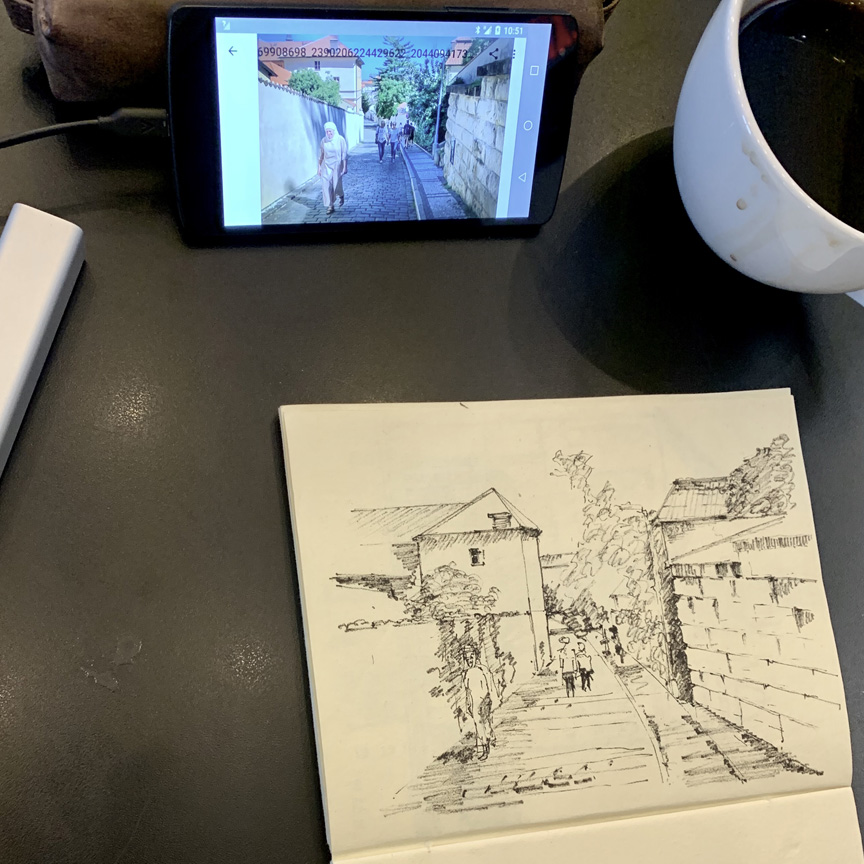 Serge had a different sketchbook with him, which made the ink behave differently – or is that pencil? Much softer on soft paper.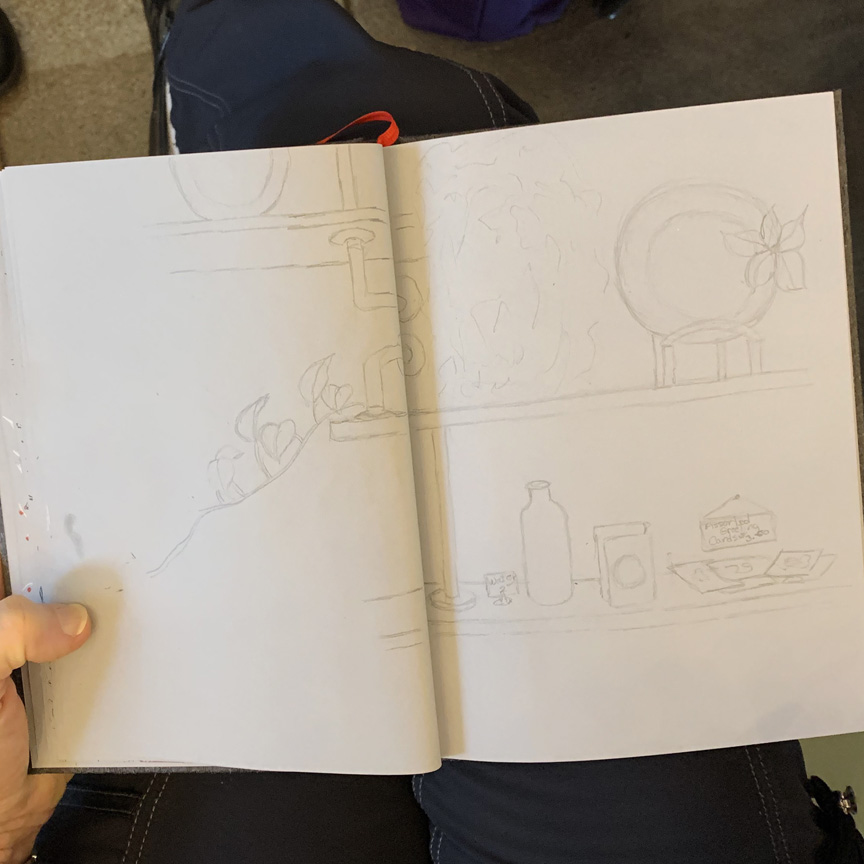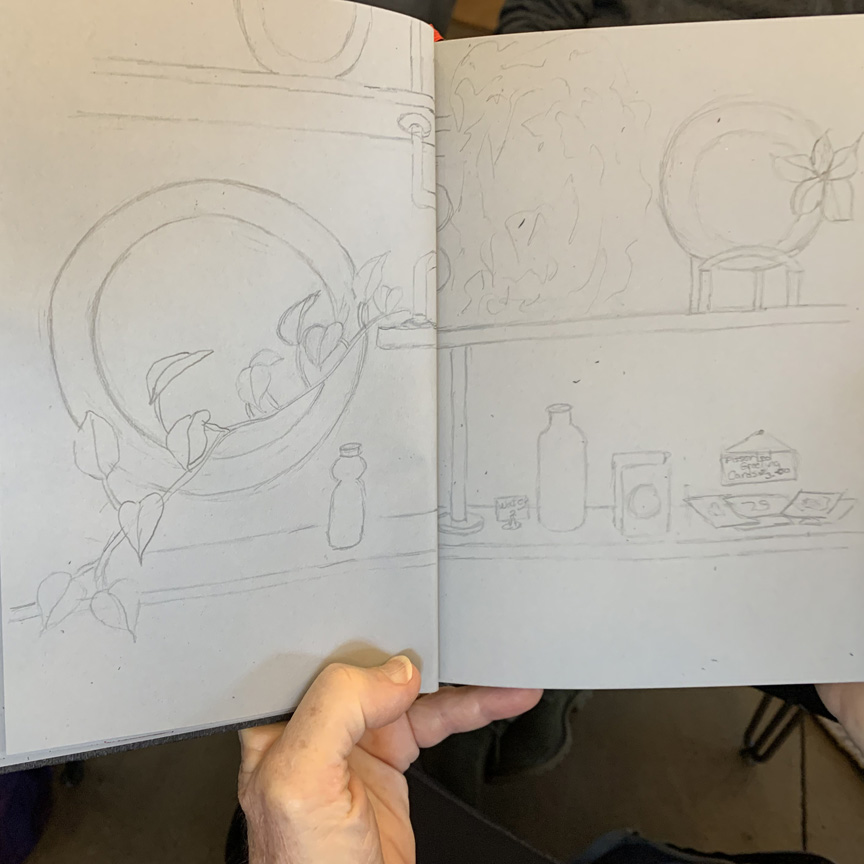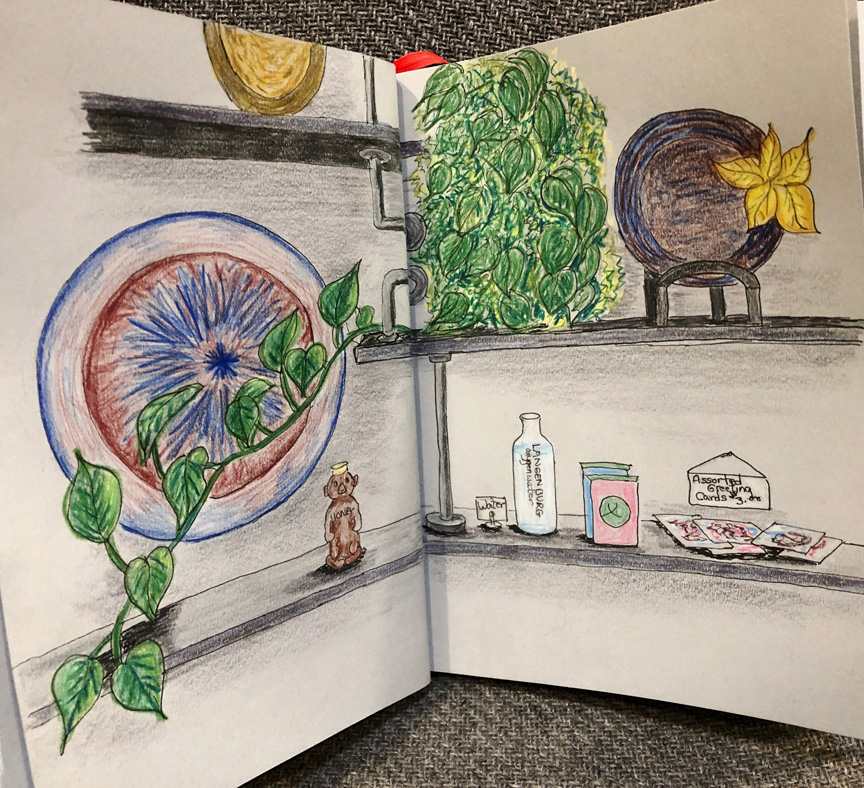 Sandy's determined to make the gray paper work – and she did! It's not so dark that colored pencil won't stand out. Super!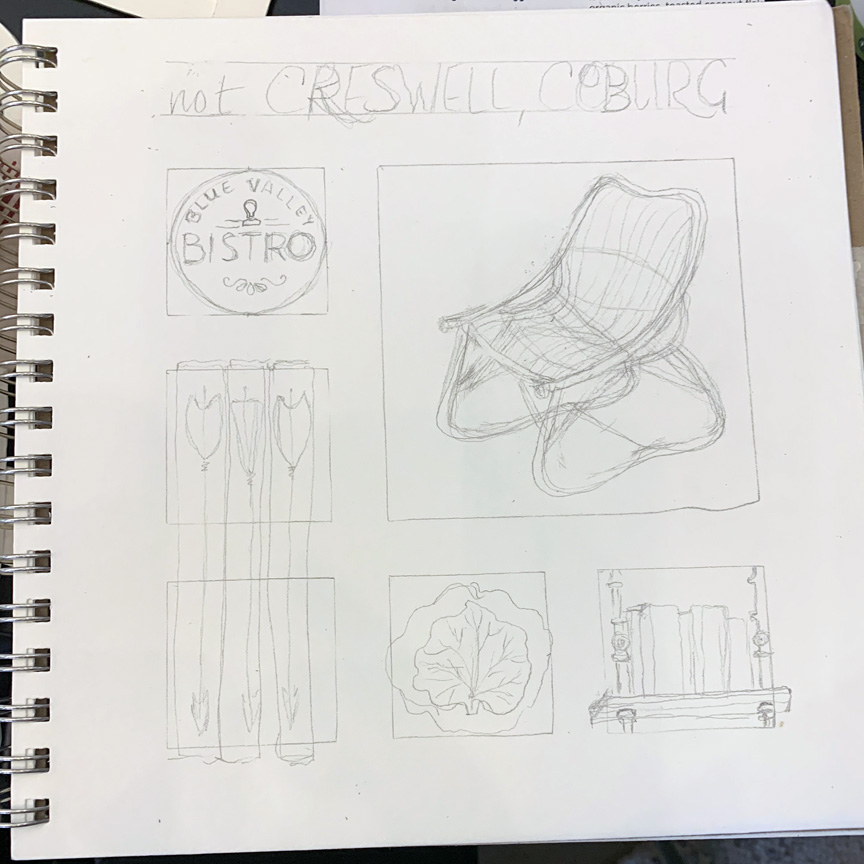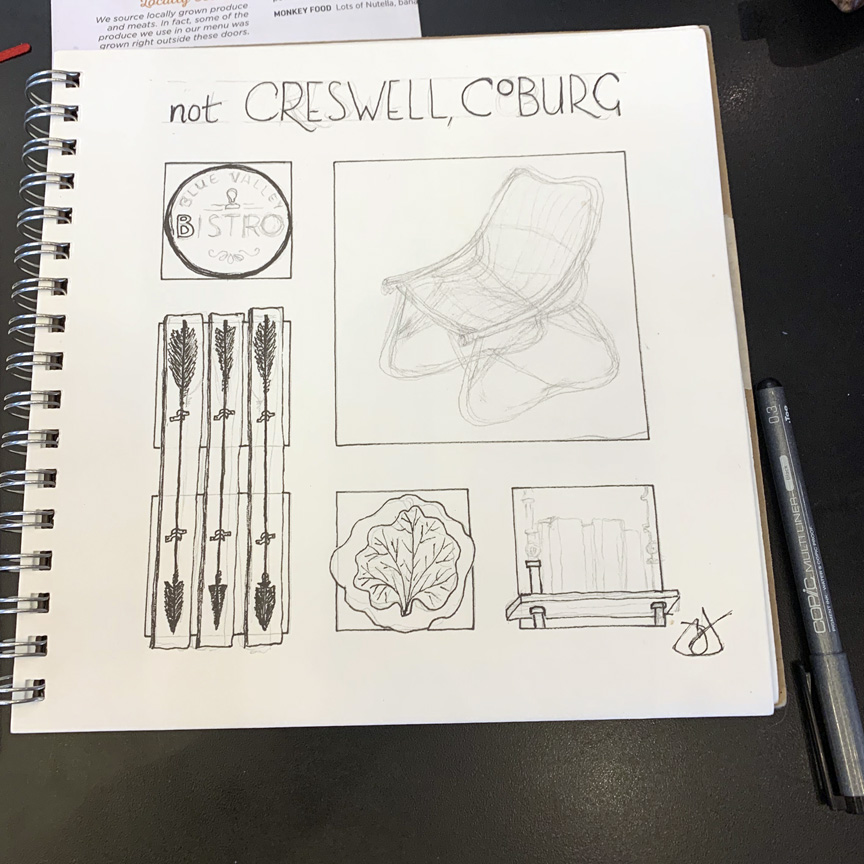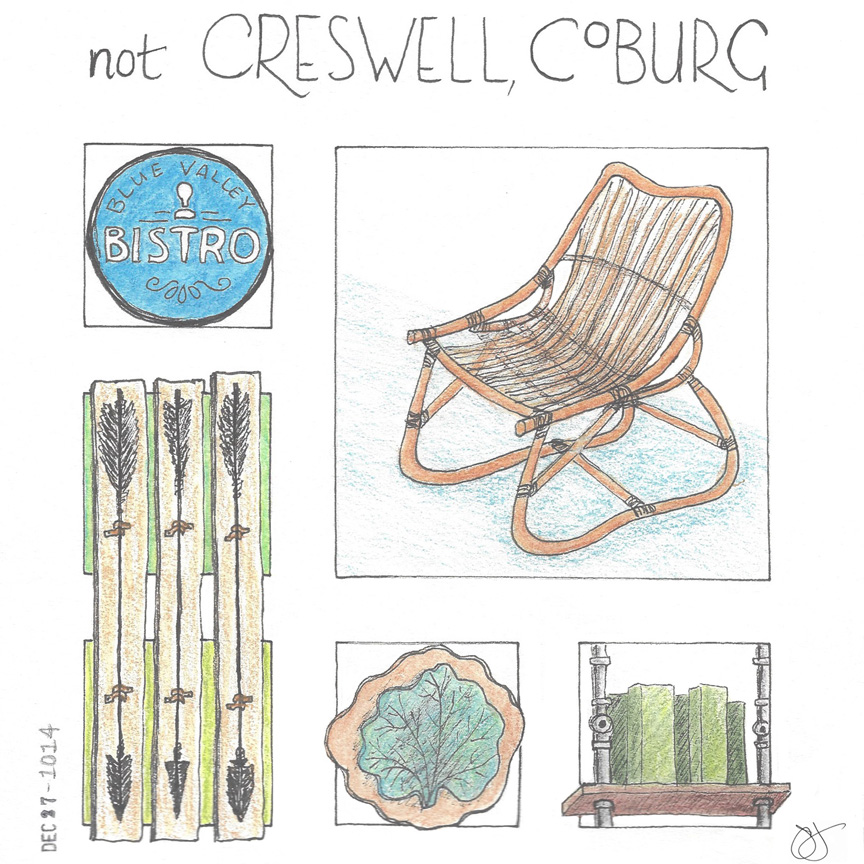 Jane was baffled about doing the bamboo rocker, but in the end it turned out ok. Good for you taking on the challenge, Jane.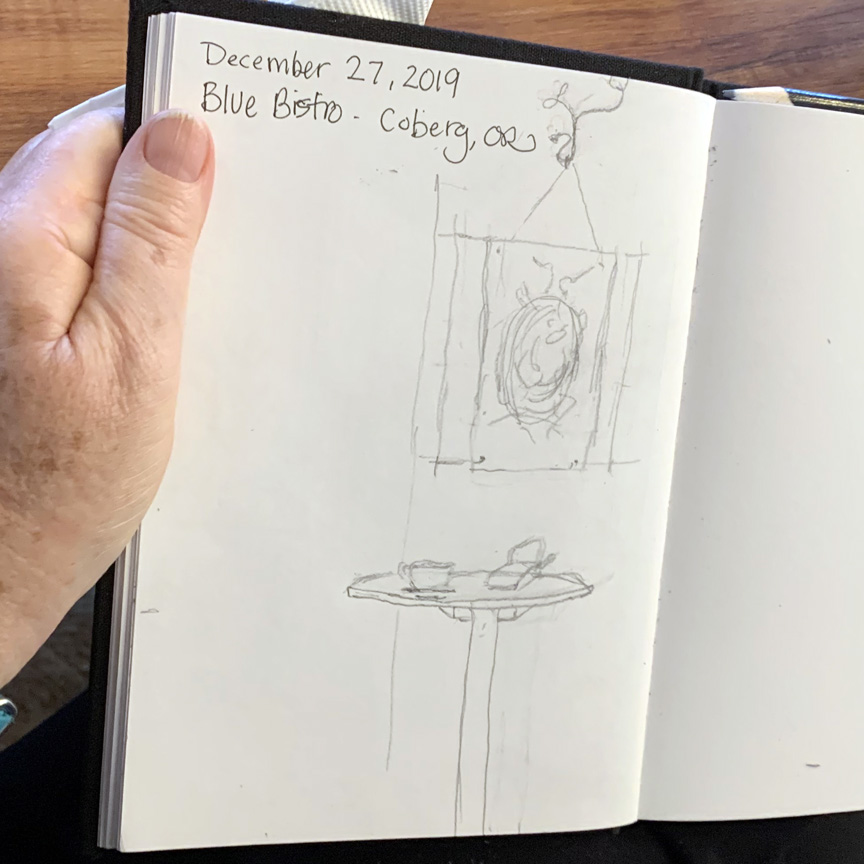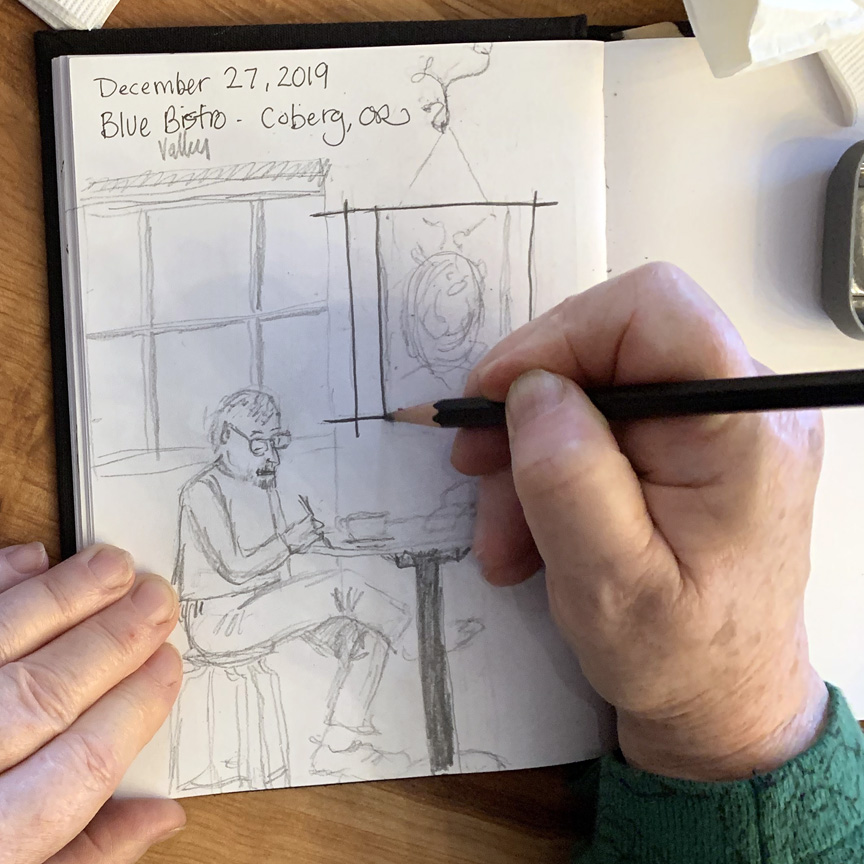 Laura was looking across the room in a different direction, and there's Hugh working away! What a fun sketch capture.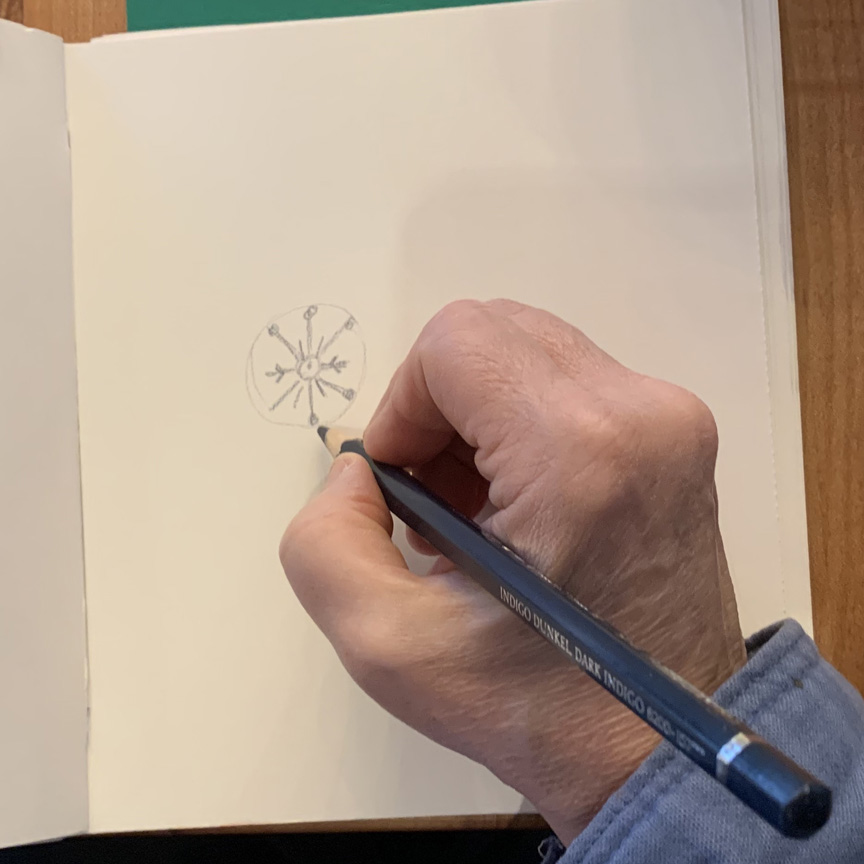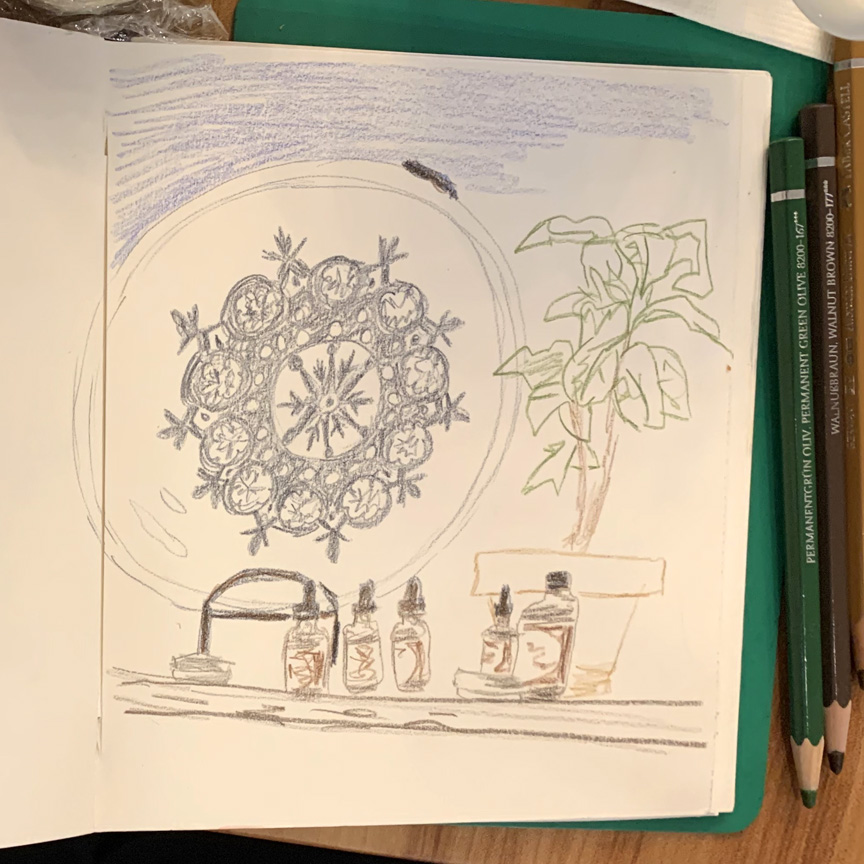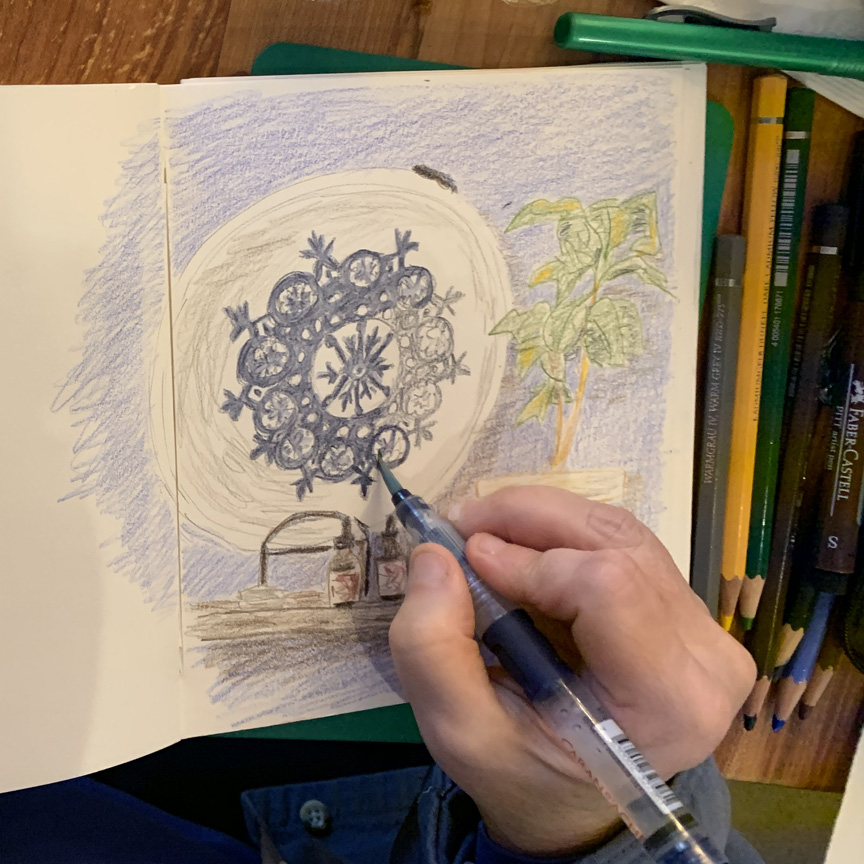 It's easy to see why Daisy likes using Derwent Intense colored pencils – look what happens when she so carefully applies water!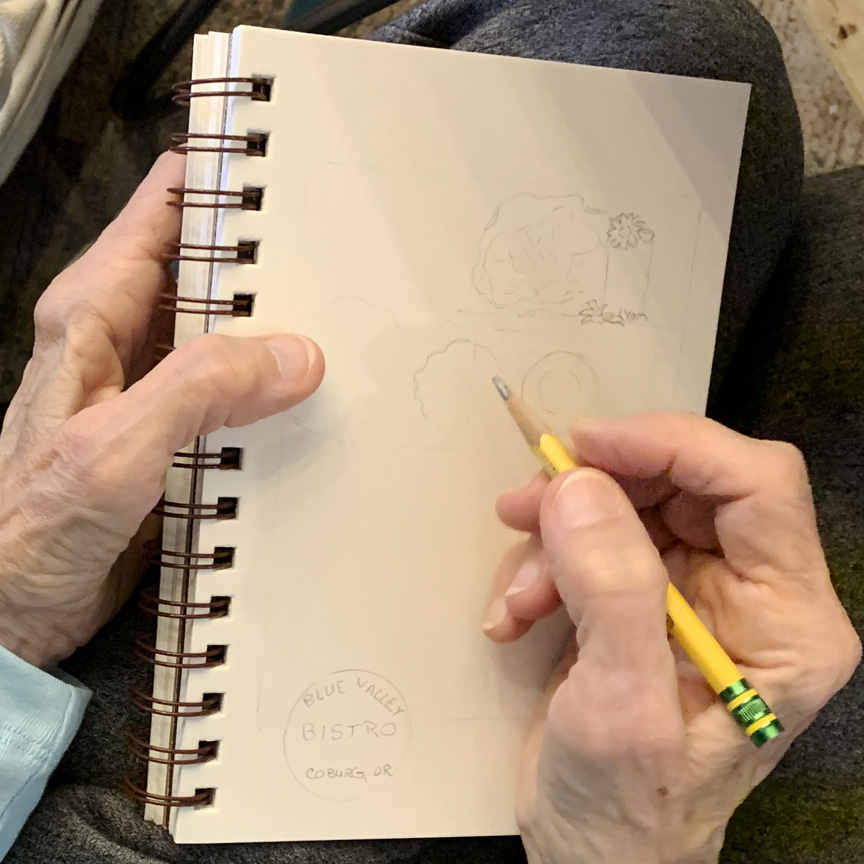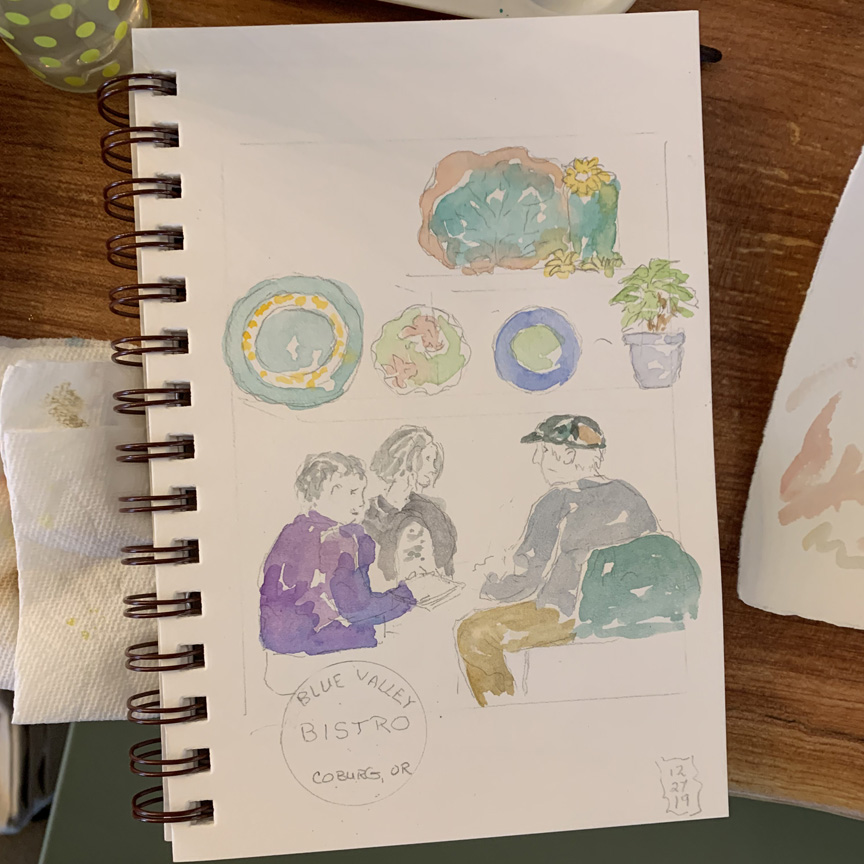 Barb So not only sketched the wall display, she also caught the sketchers at the table in front of her! Nicely done!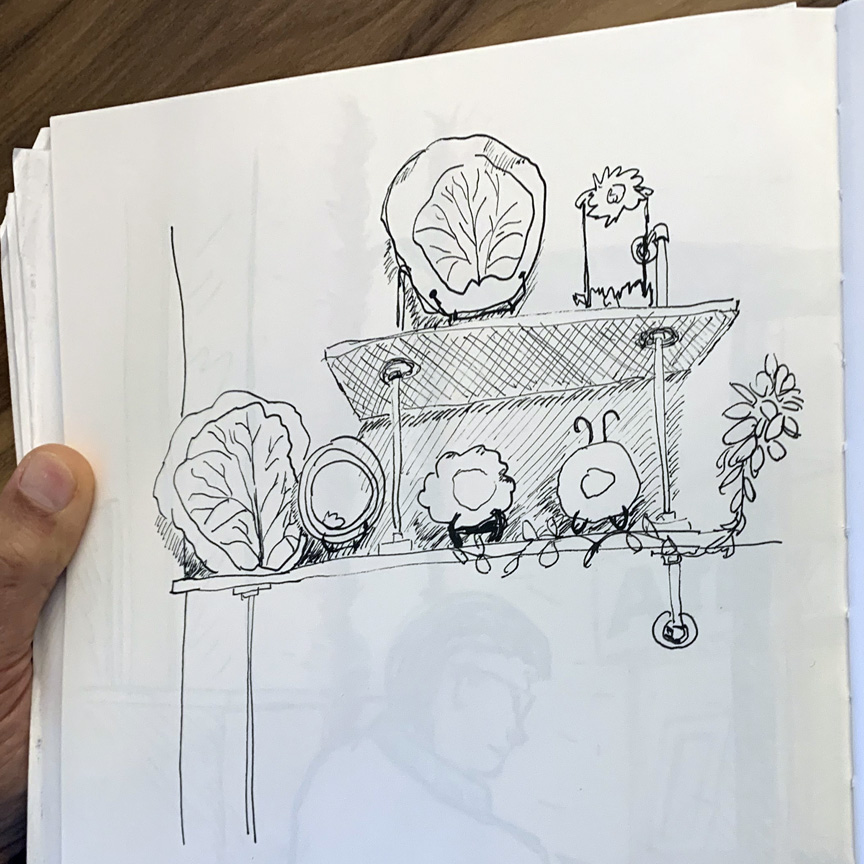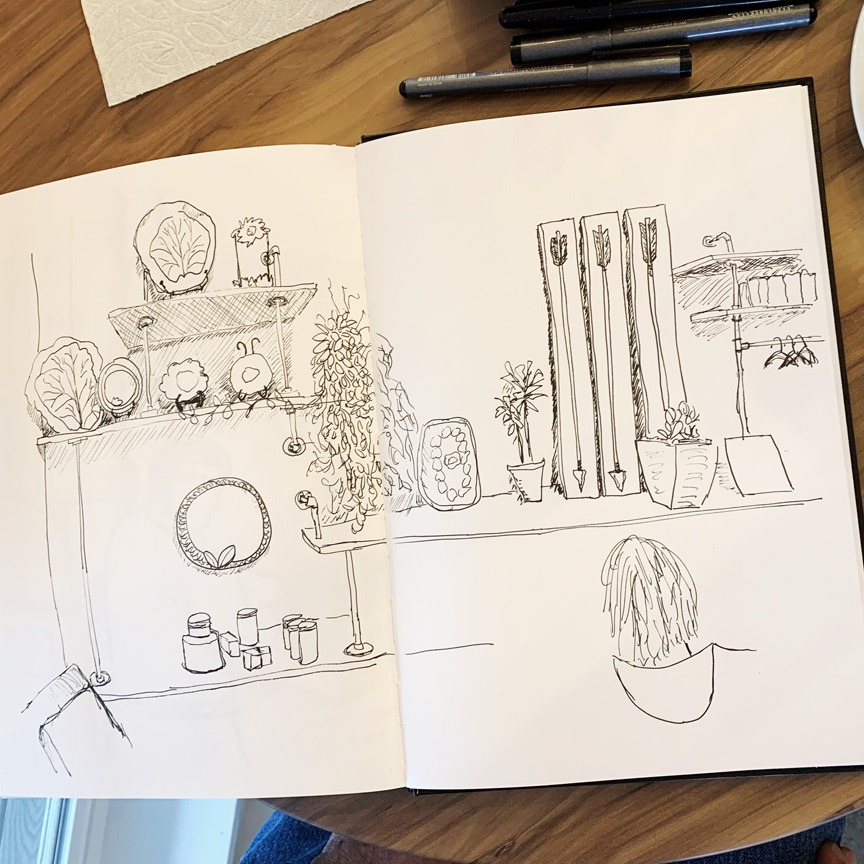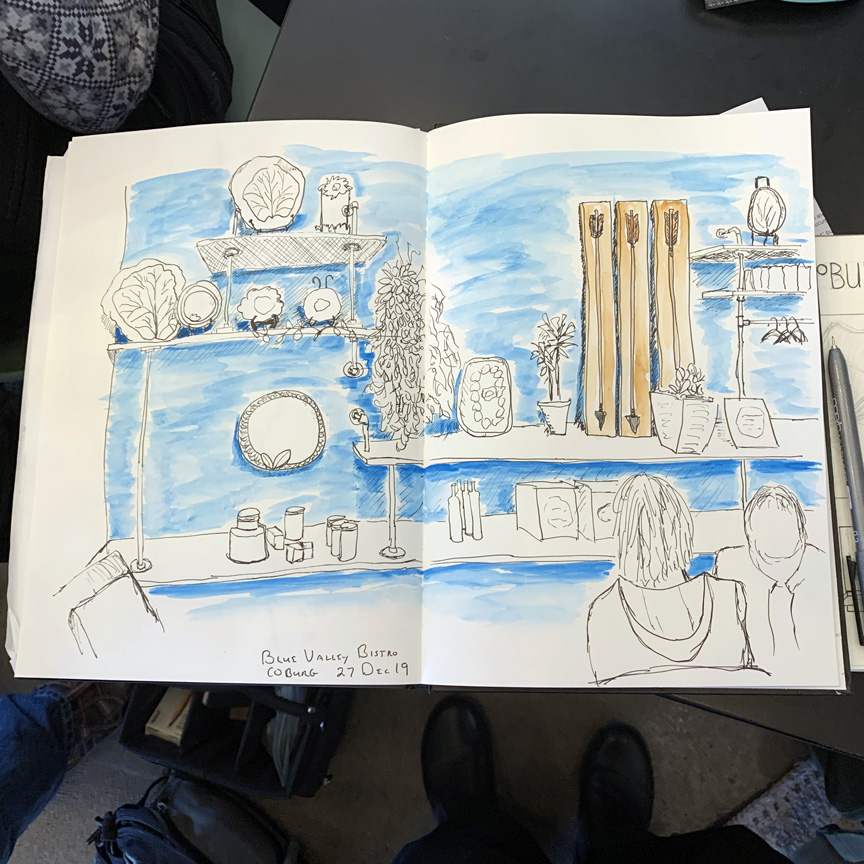 Hugh quickly sketched in the whole wall display in ink, then added the blue wall, and a warm brown for the arrow art boards. I like it.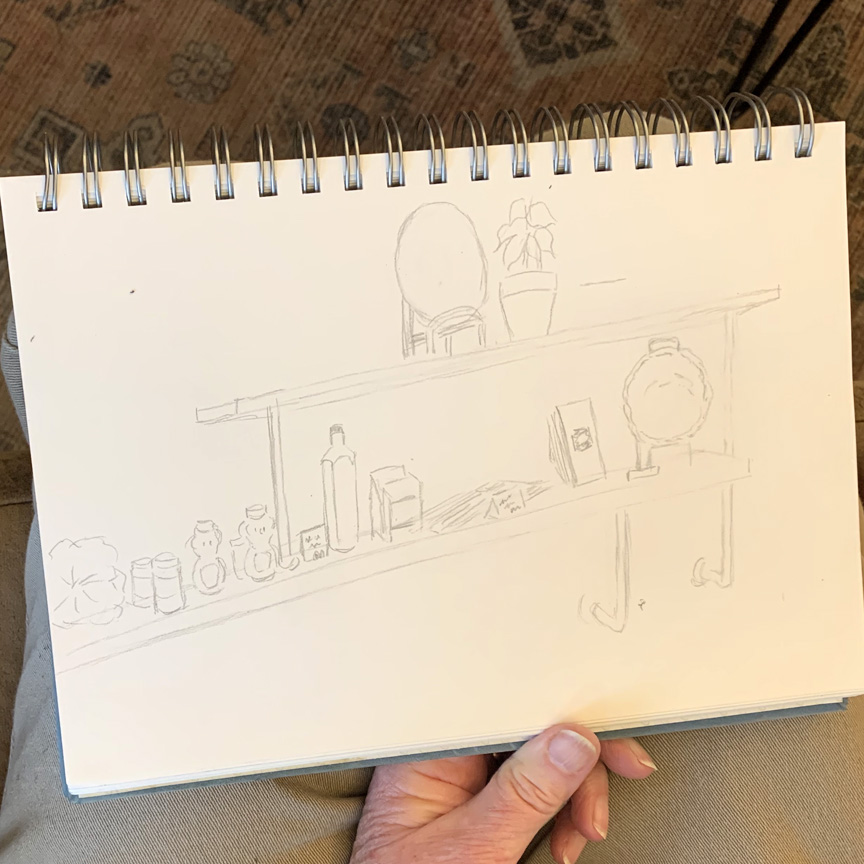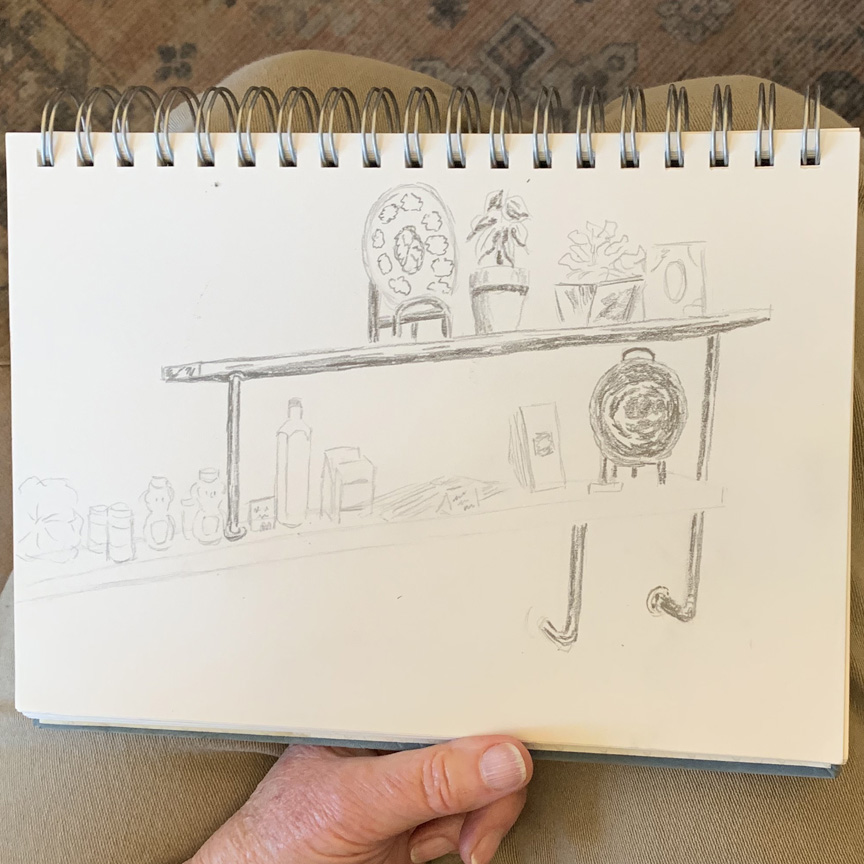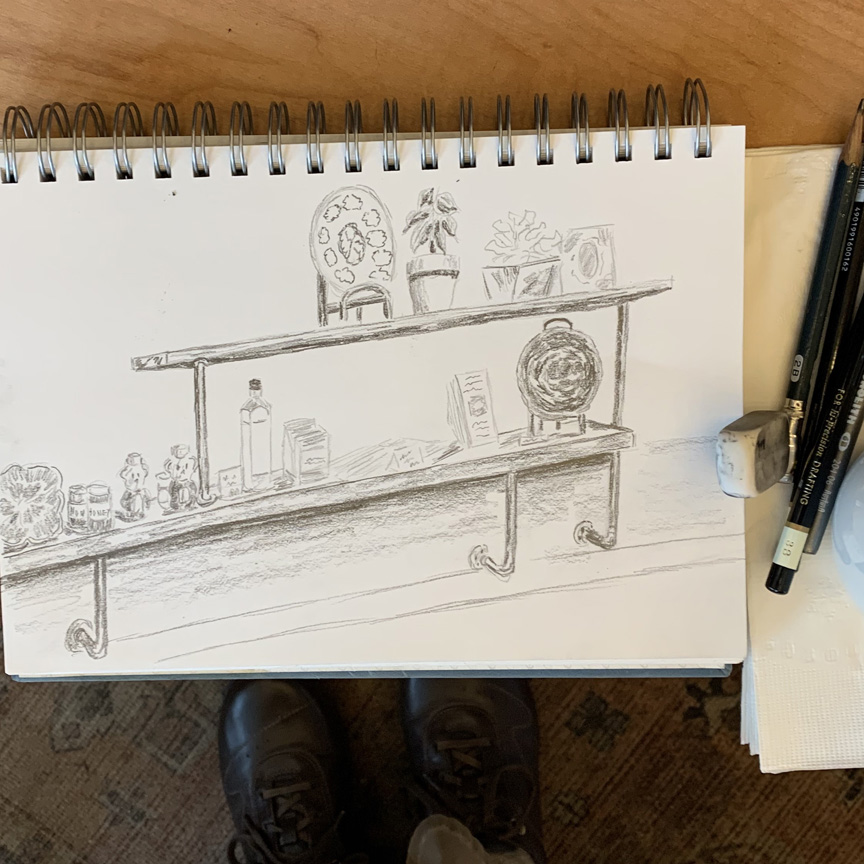 Meanwhile, Carol was doing the wall display in simple graphite – she got such lovely shading that way. Interesting effect.
✒ Dec. 13, 2019, Creswell Bakery, Creswell, OR.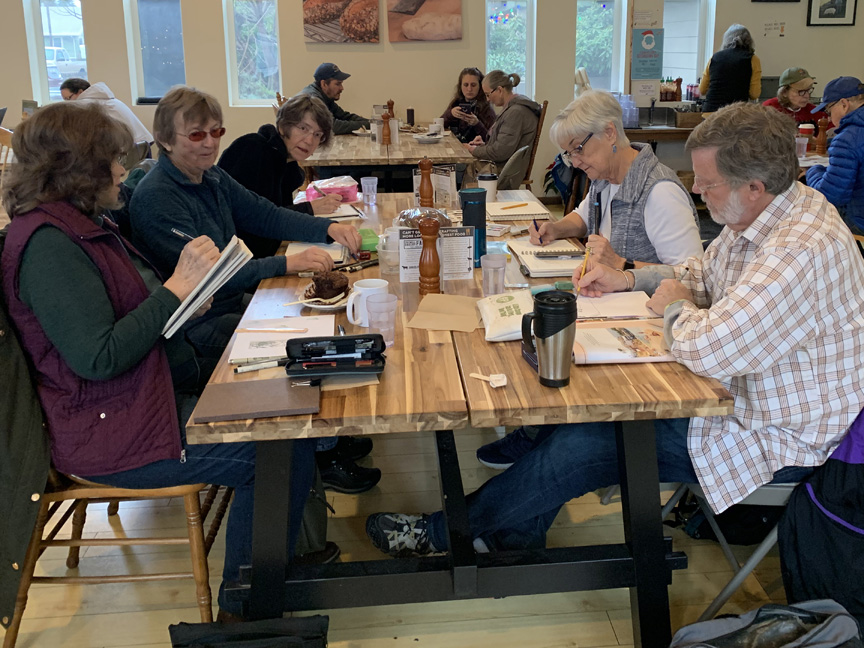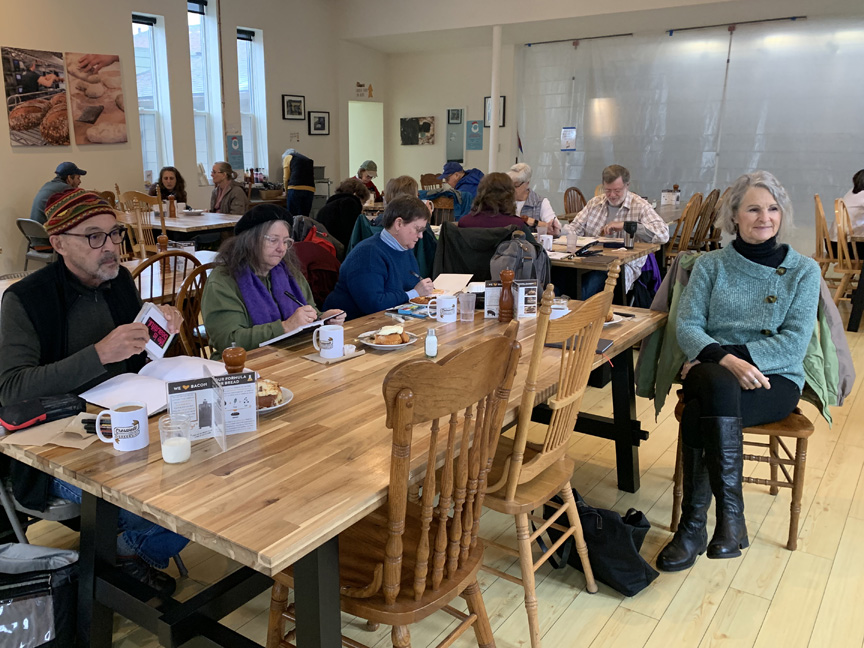 What a nice morning at the Creswell Bakery – Bev, Carol, Peggy, Katie, Jim H.; Hugh, Laura, Daisy, Sandy. Jane behind camera.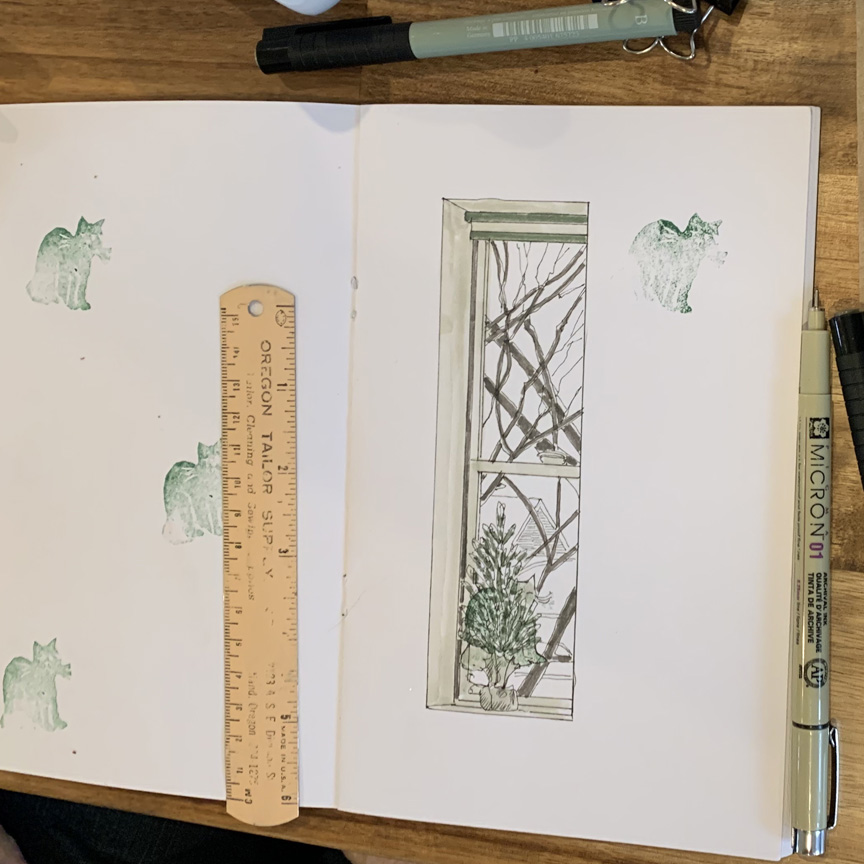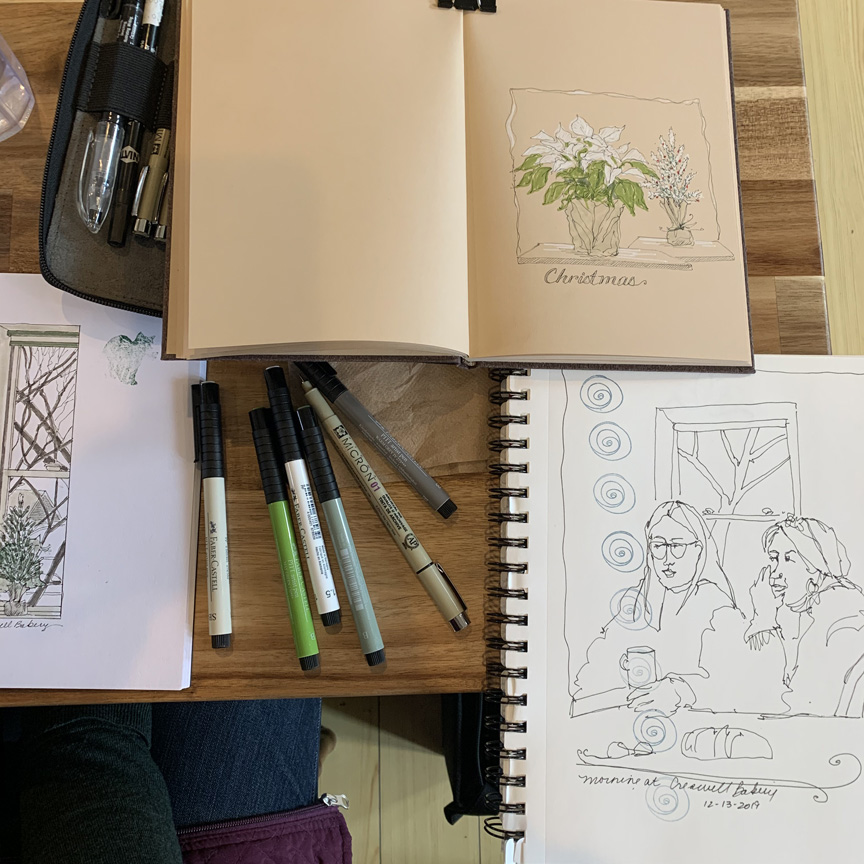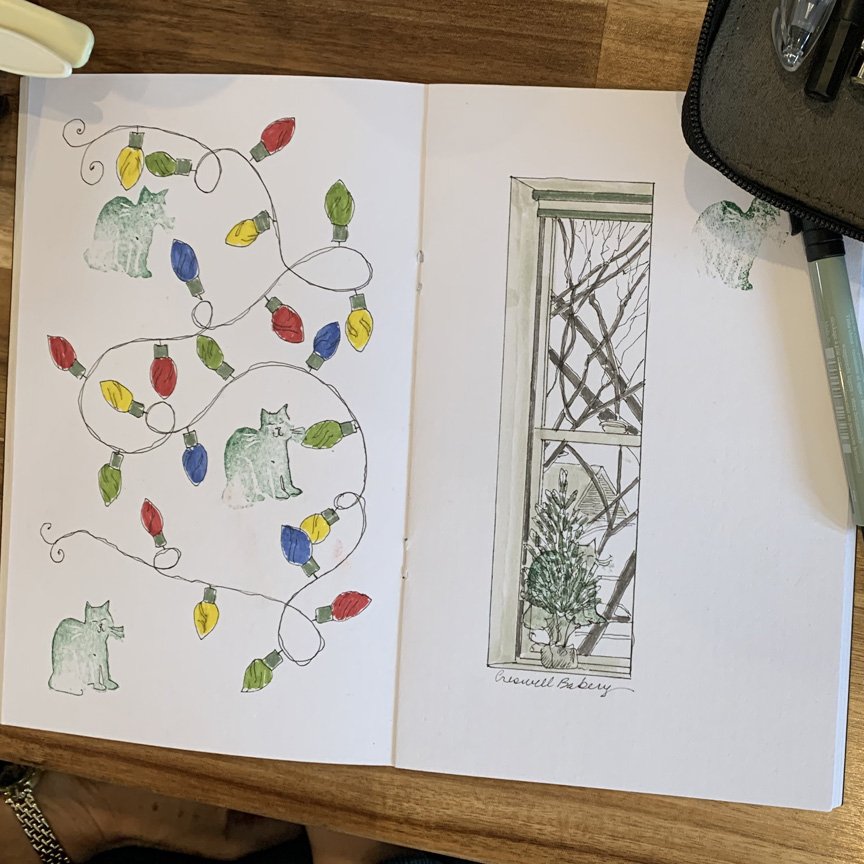 Bev is one of our quickest sketchers – experience has made her confident, and what fun to see the variety of what catches her eye!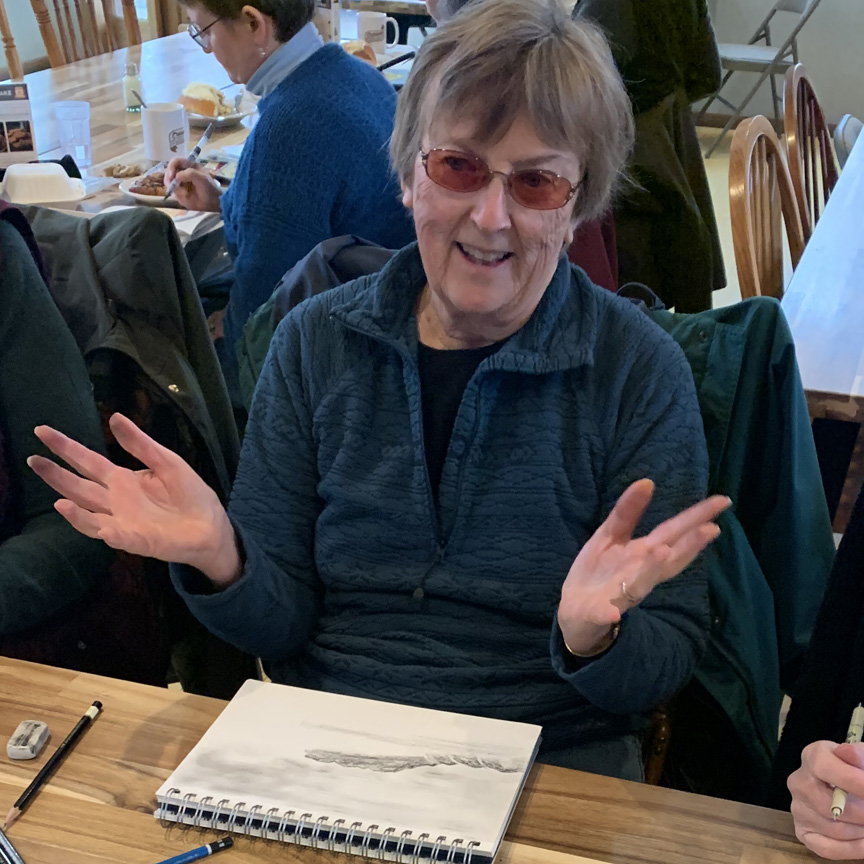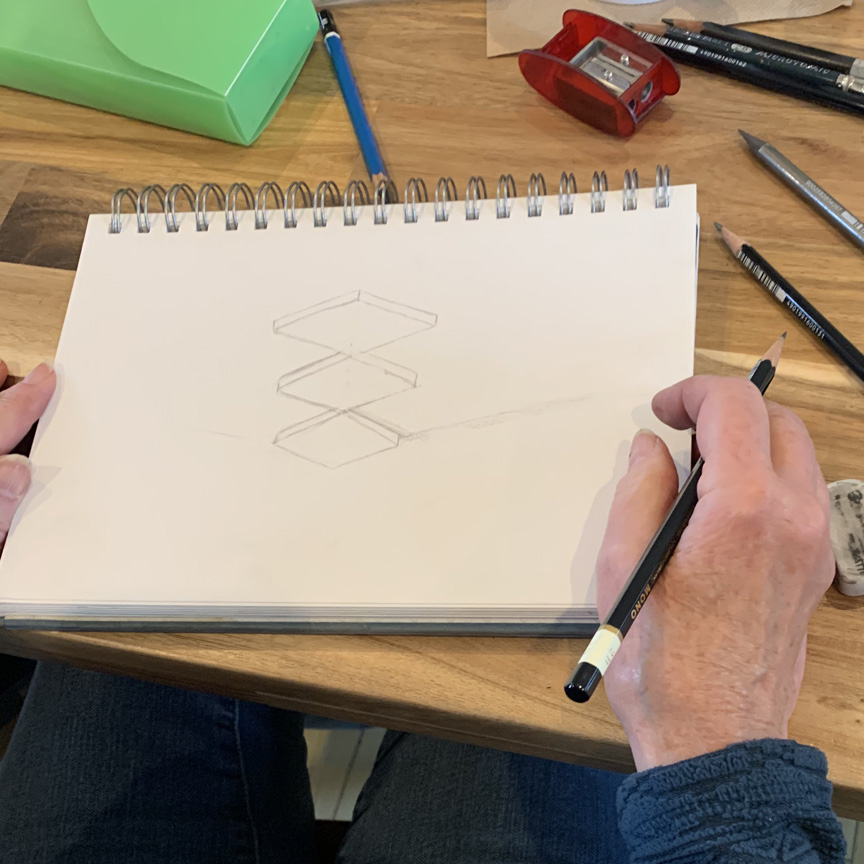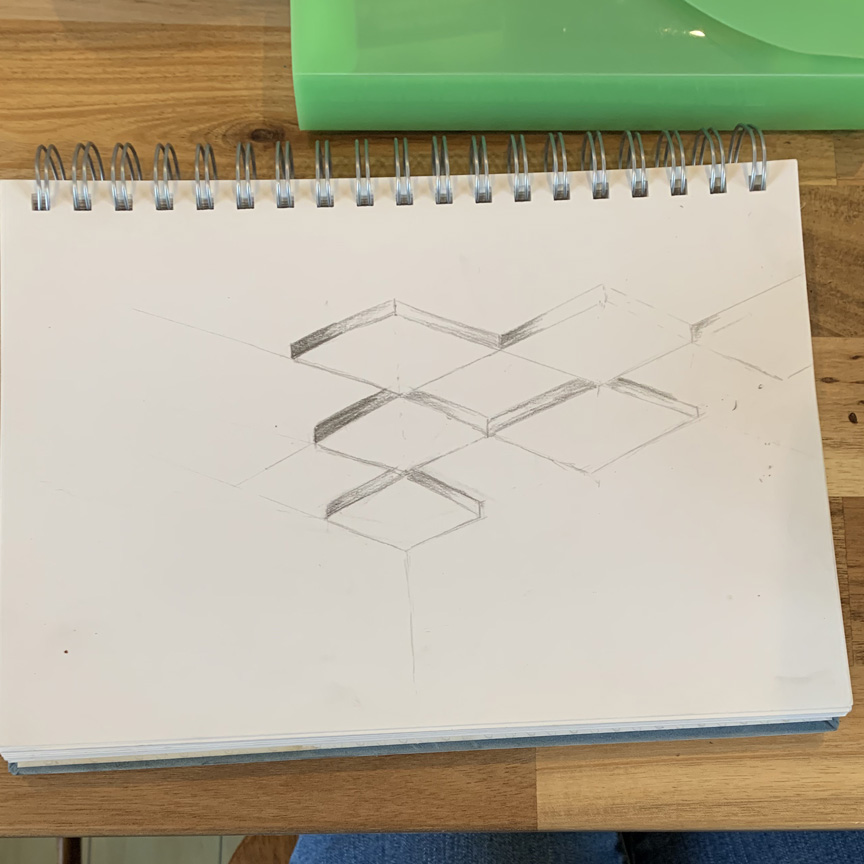 Speaking of what catches your eye, Carol was explaining what intrigued her from various places, ending with ceiling tiles here!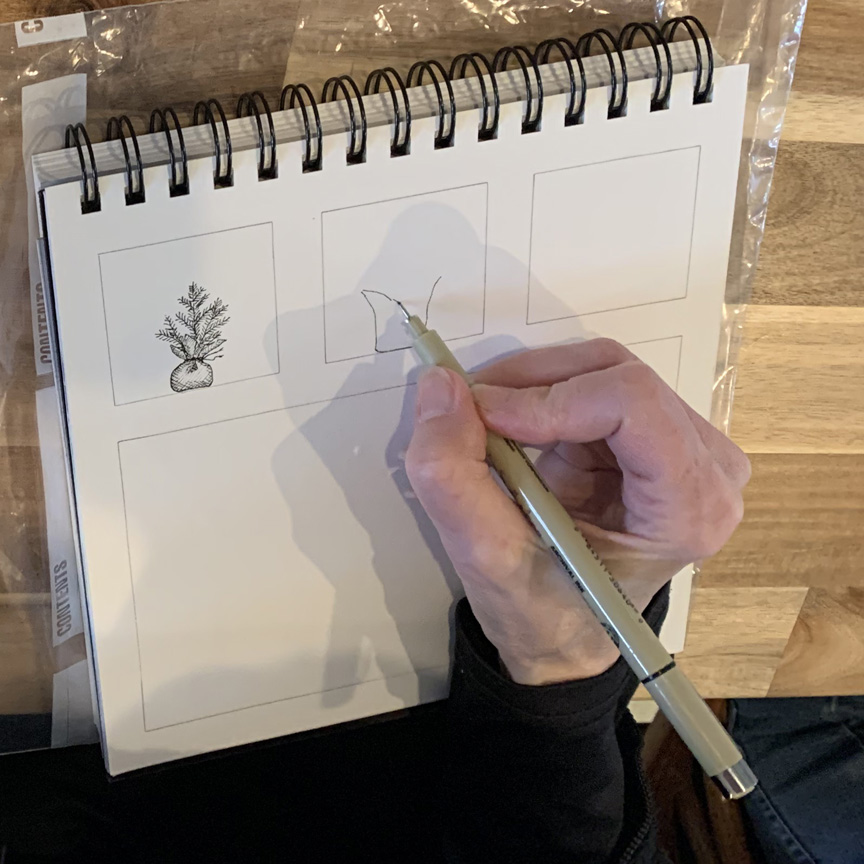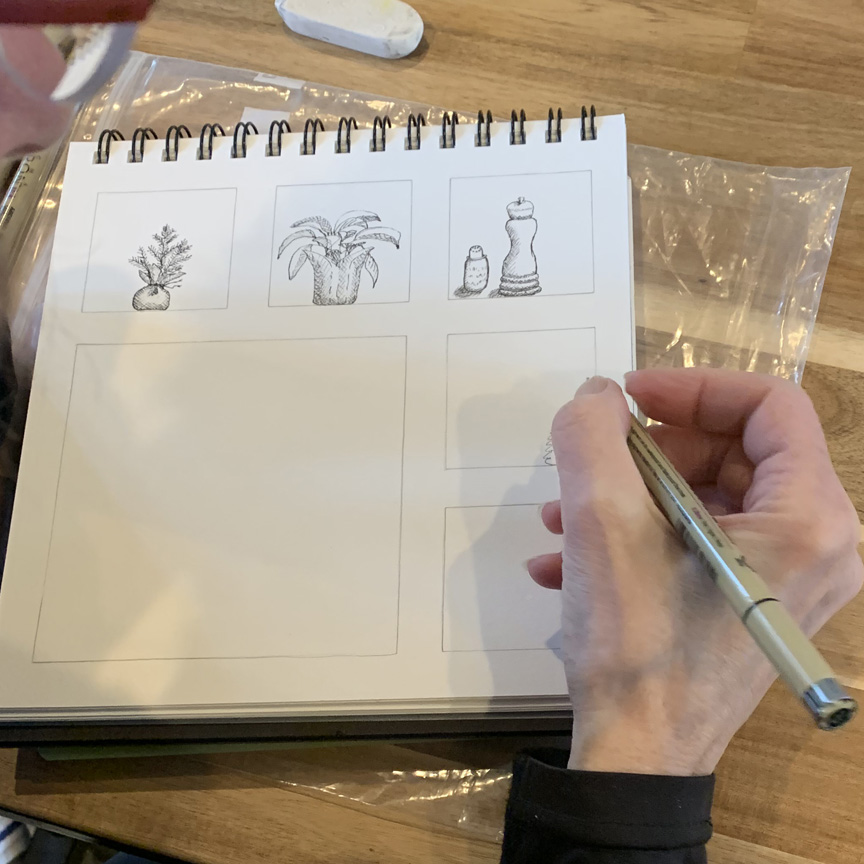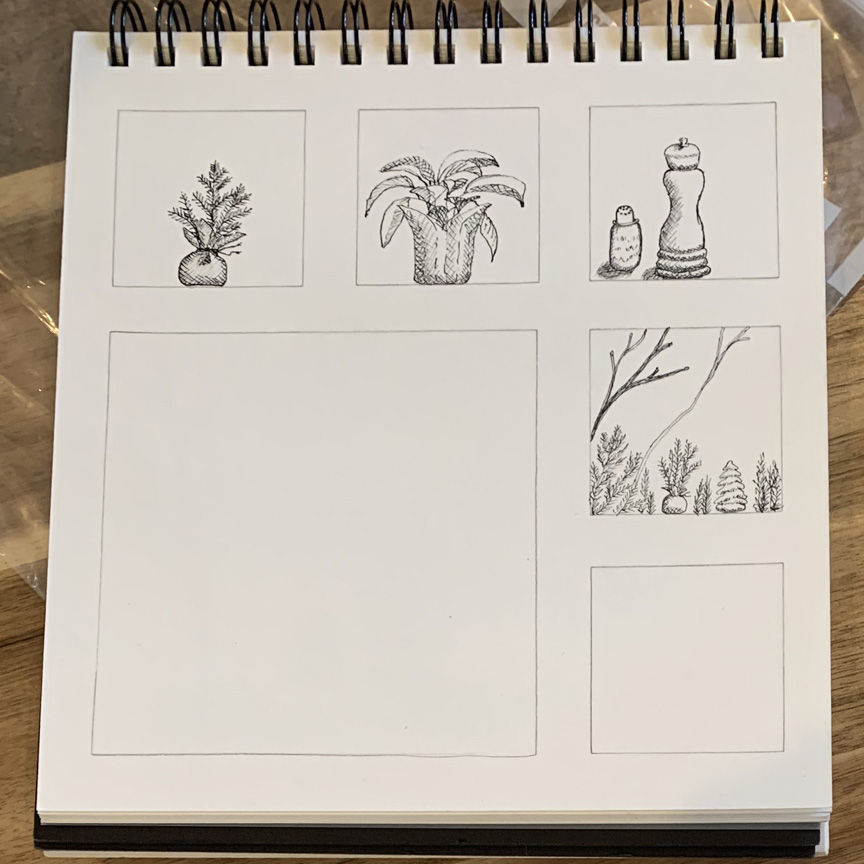 Peggy, who is a plein air painter, is getting a kick out of doing little studies within frames in her sketchbook – quite a different approach.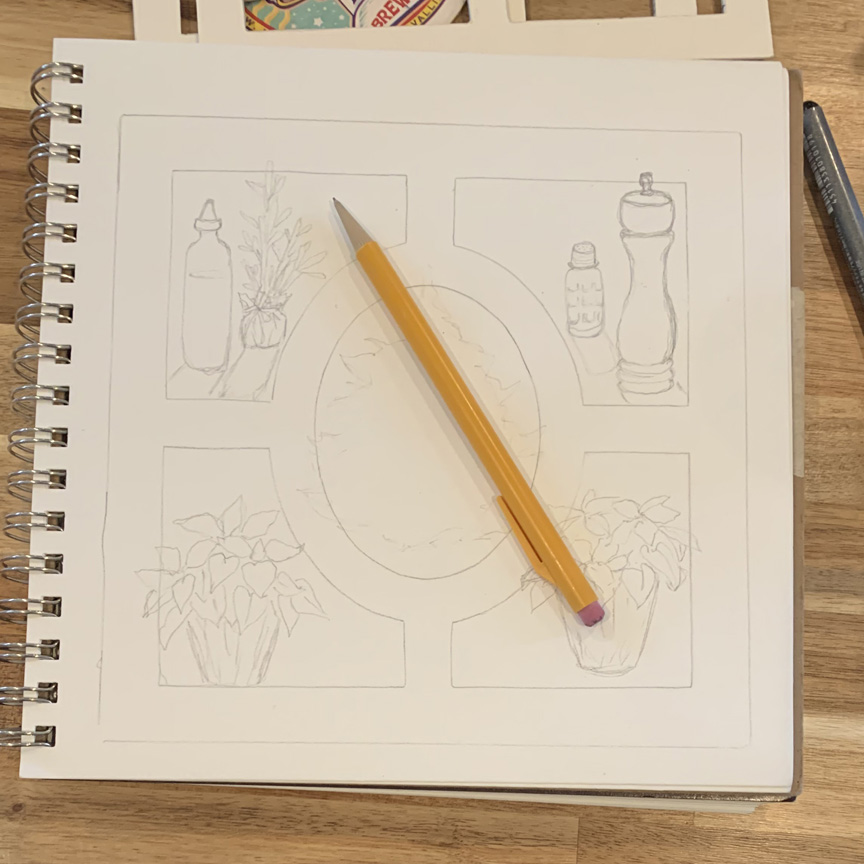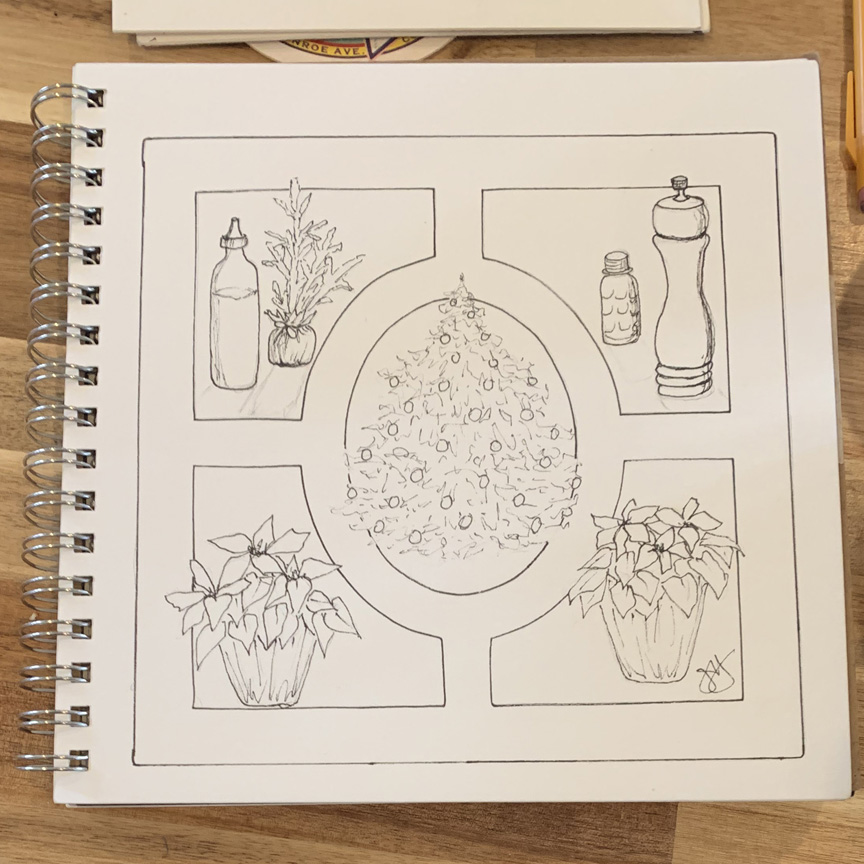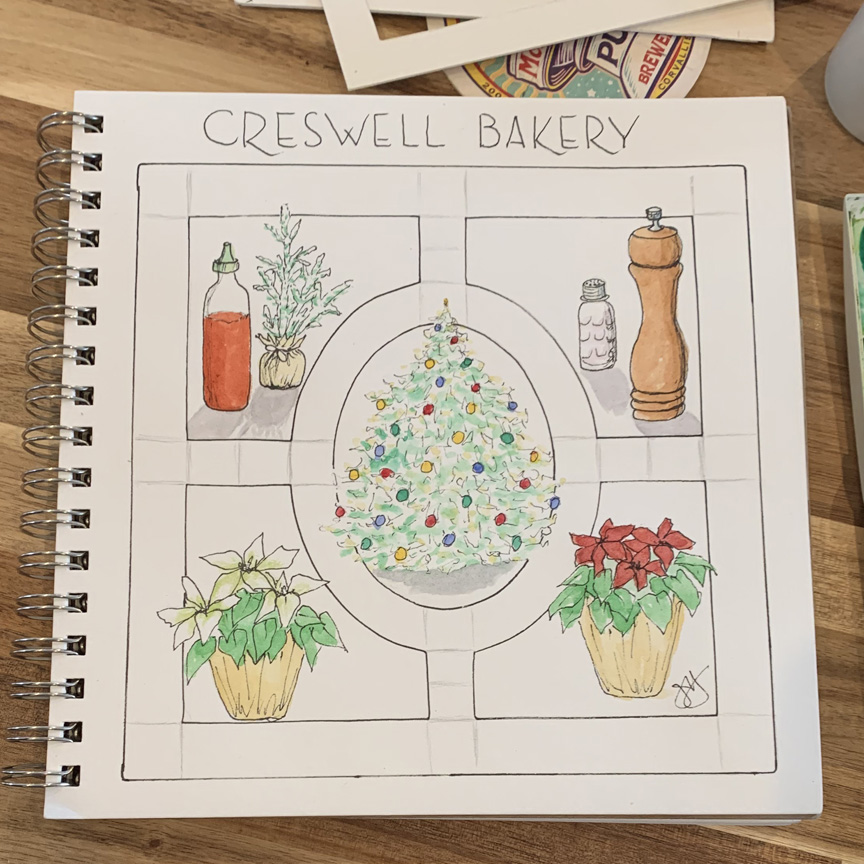 Jane's using a frame format based on a centered oval – her sketches typically find a way out of their frame, too – gotta breathe!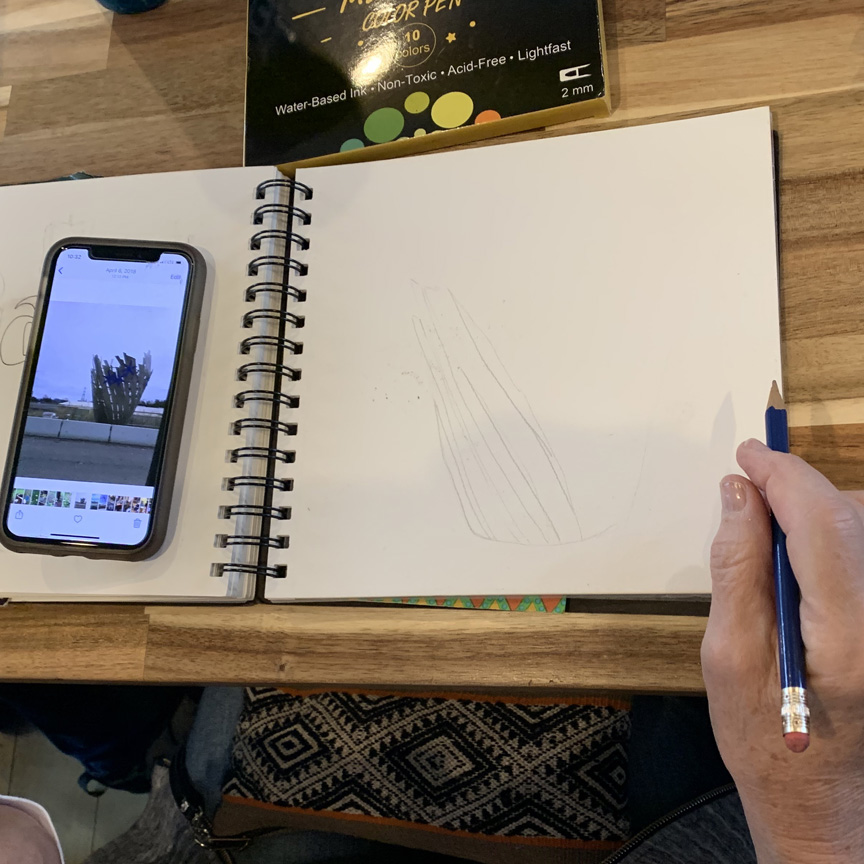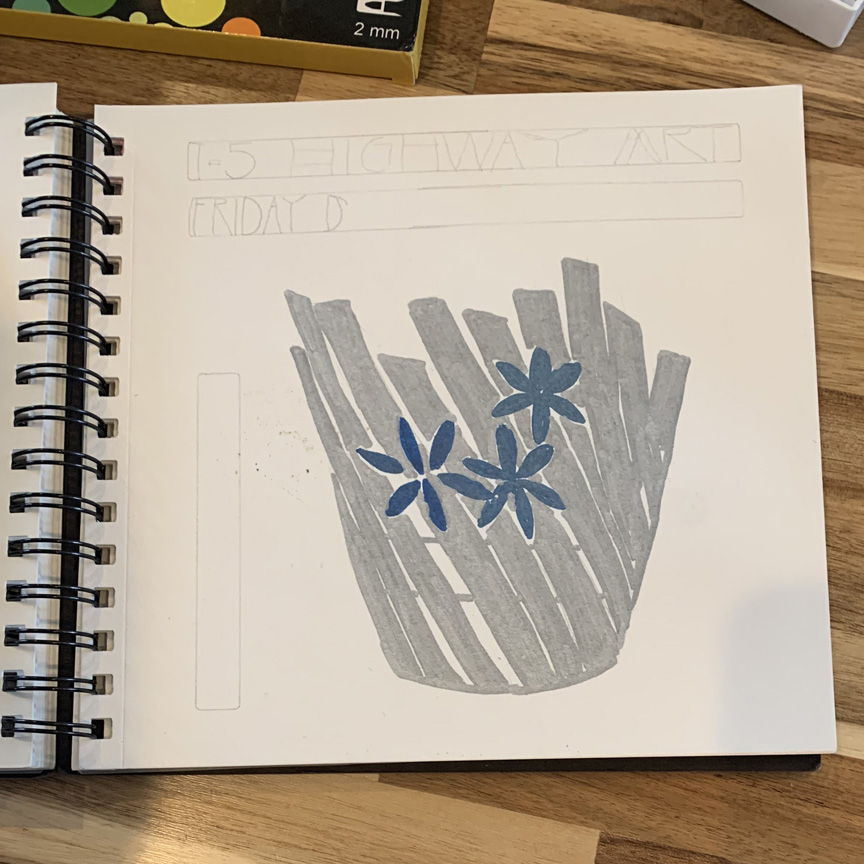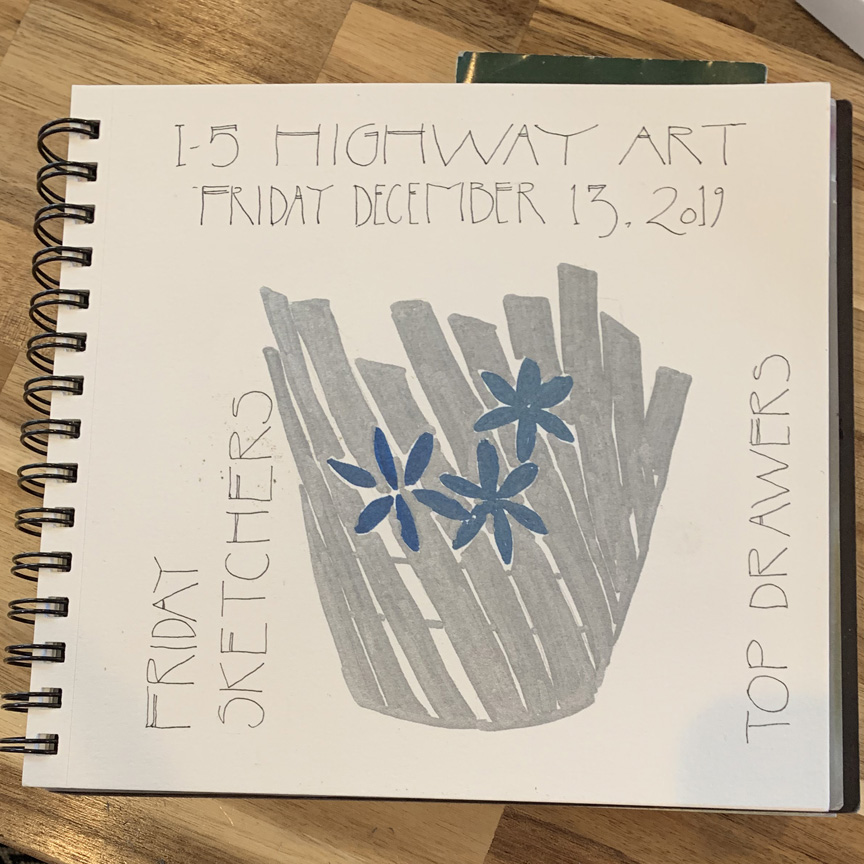 Katie's found the perfect reason to try out her new metallic markers, the highway art on I-5! They're perfect for that metal camas basket.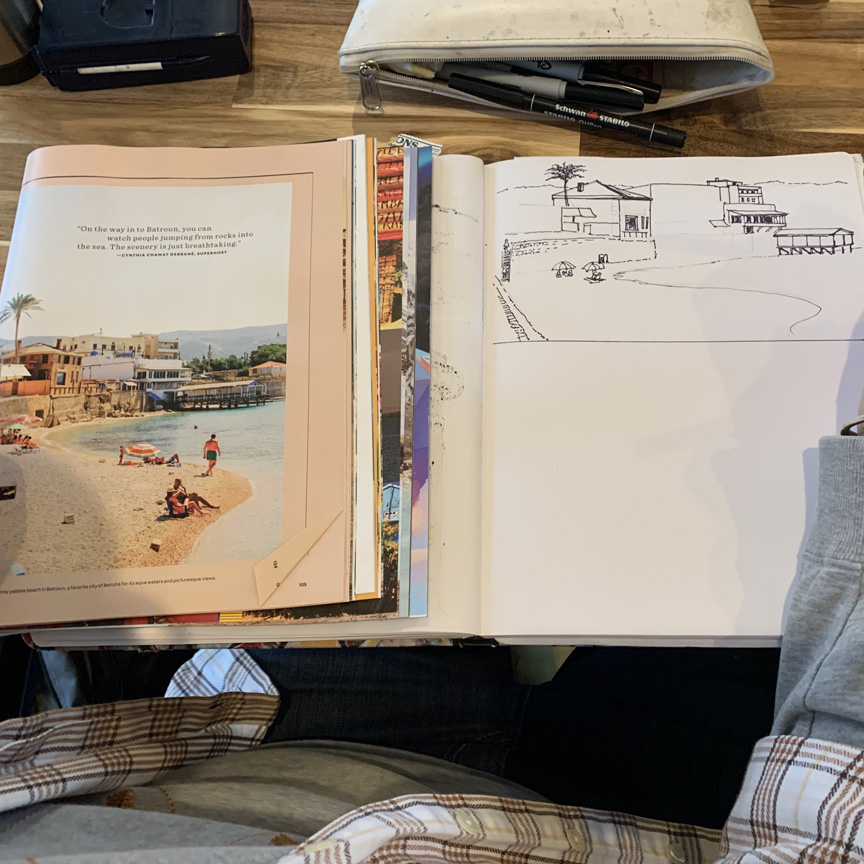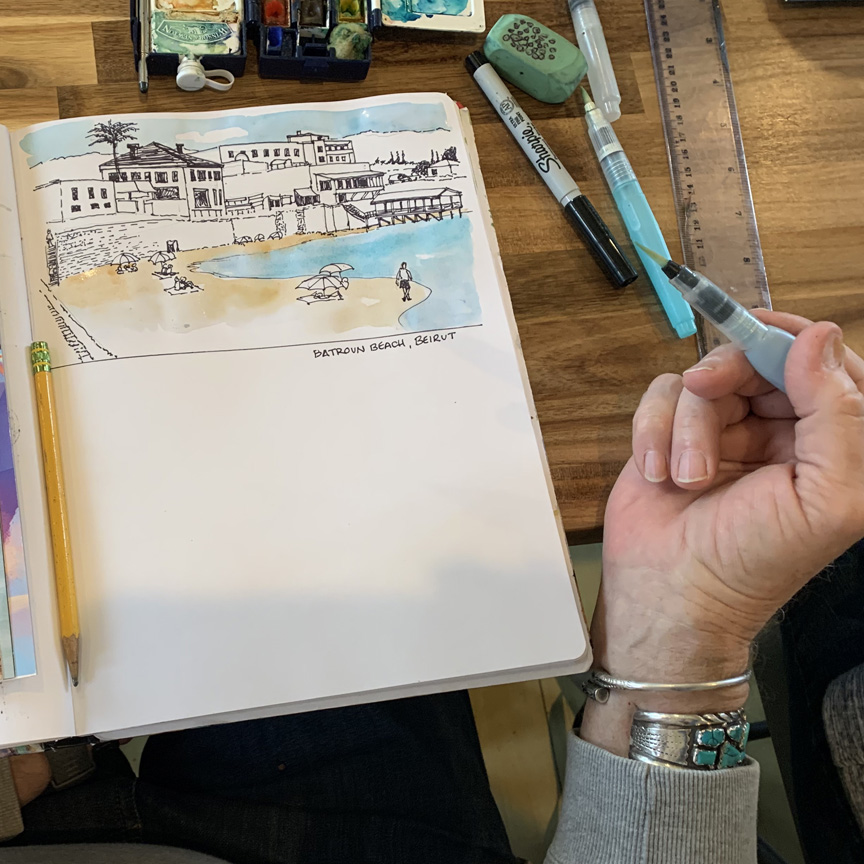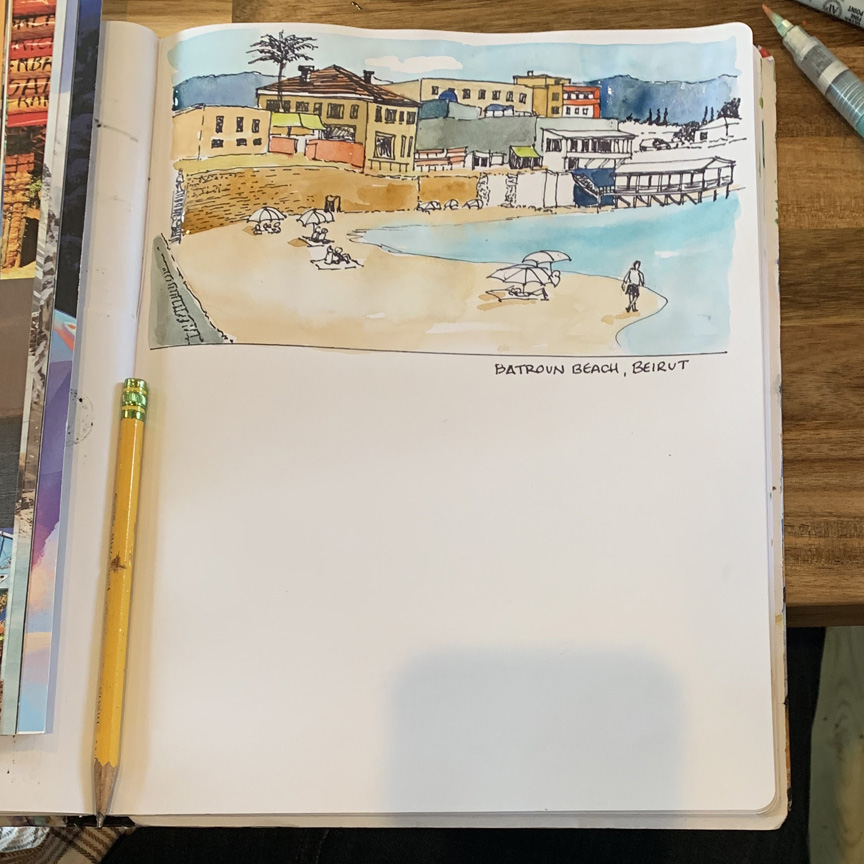 Jim's having a great time doing virtual travel – he does a great trip to the sunny beaches of Beirut, much more appealing than the photo!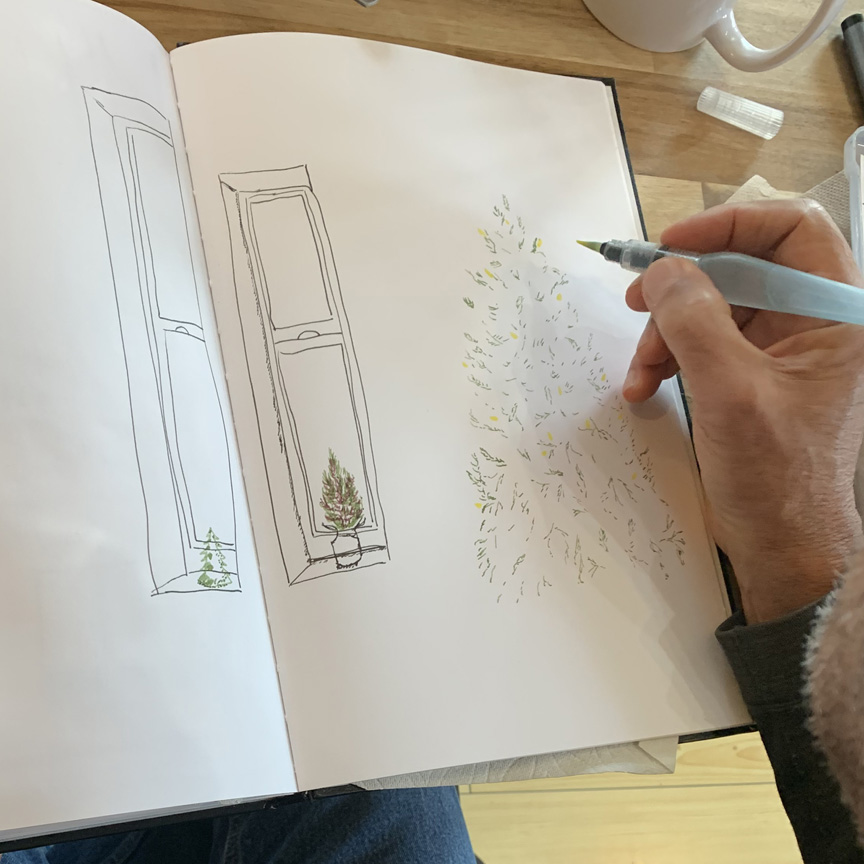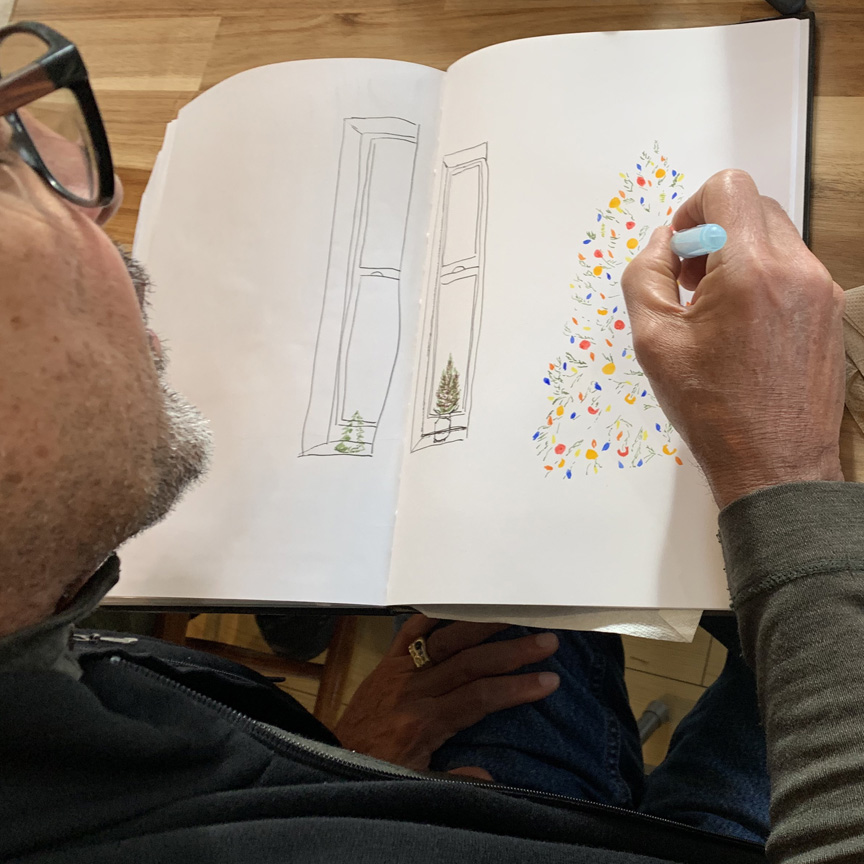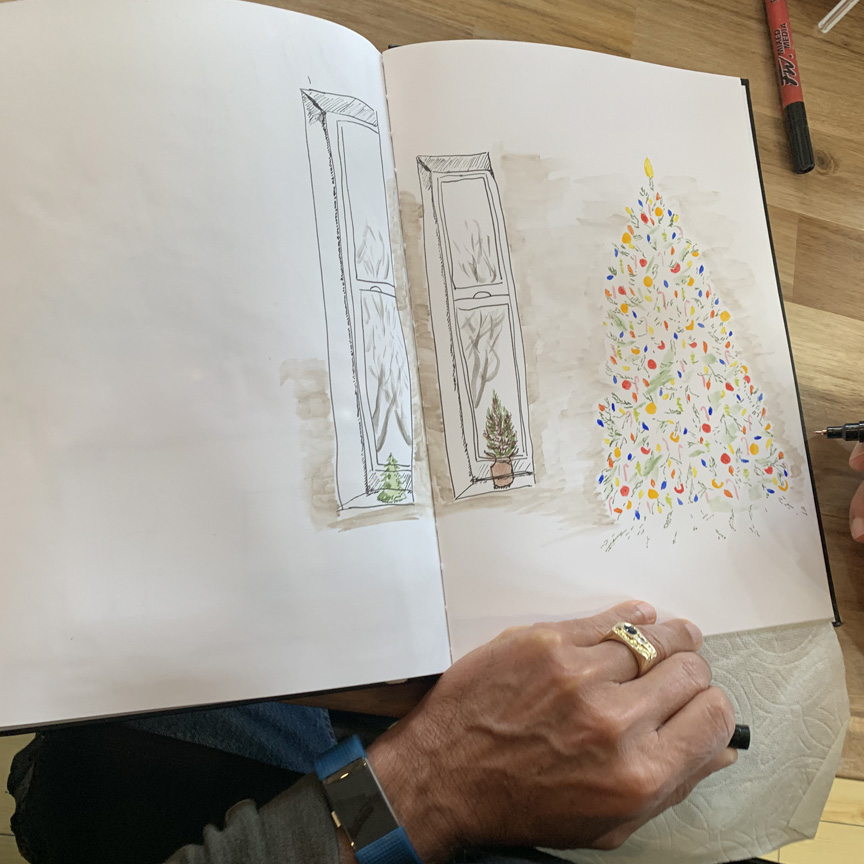 The folks at Hugh's table got an up close view of the decorated Christmas tree. Here he does a double page layout with windows.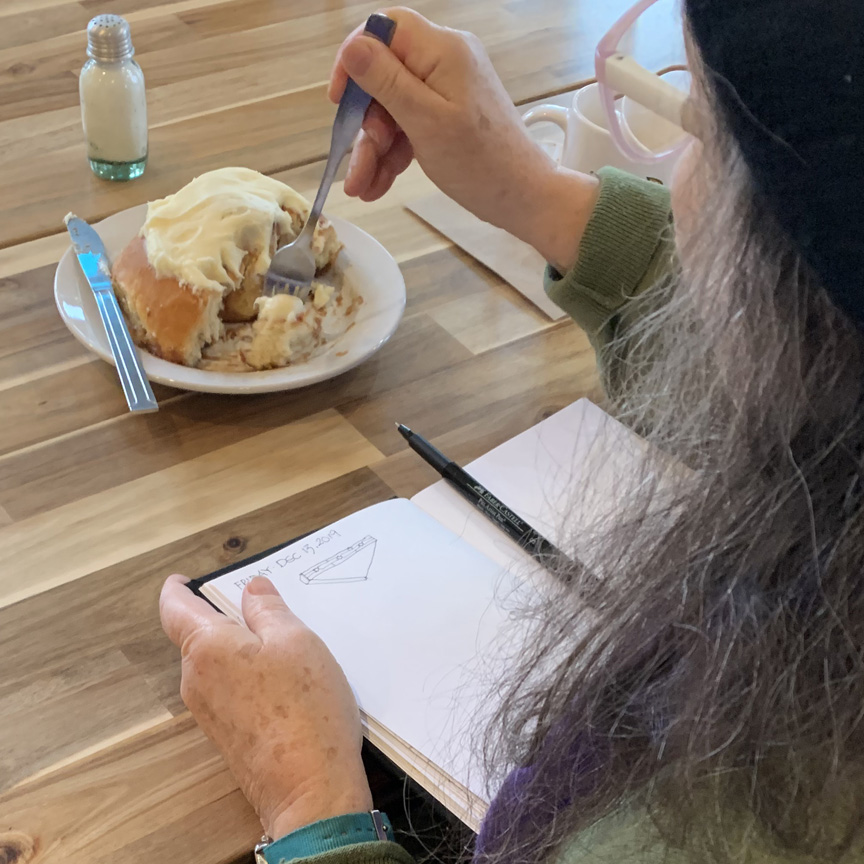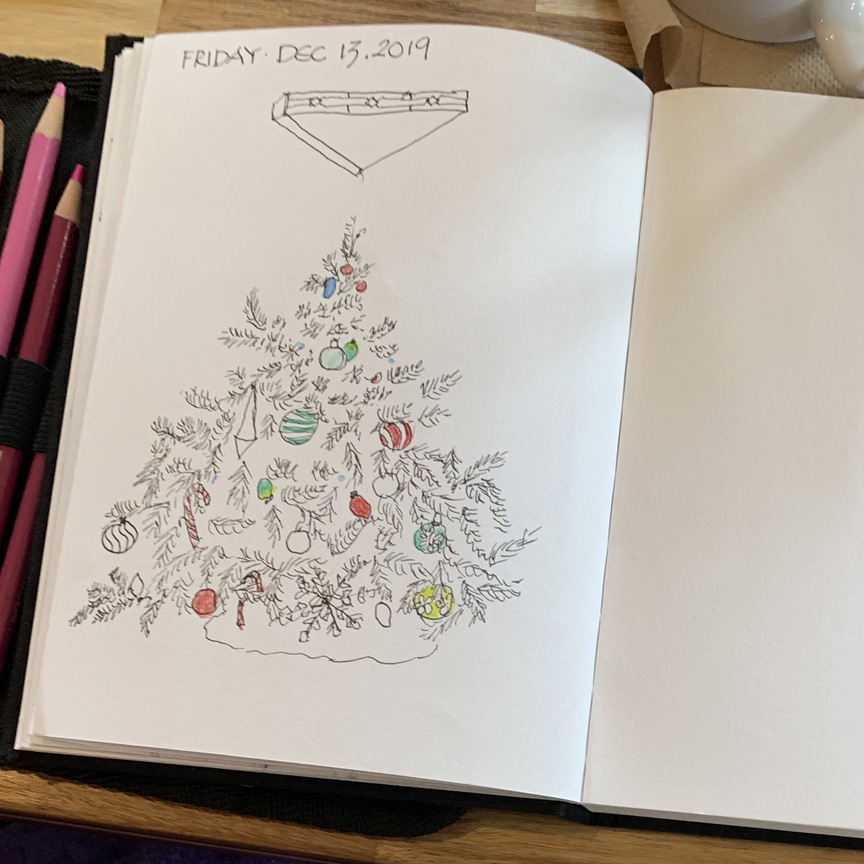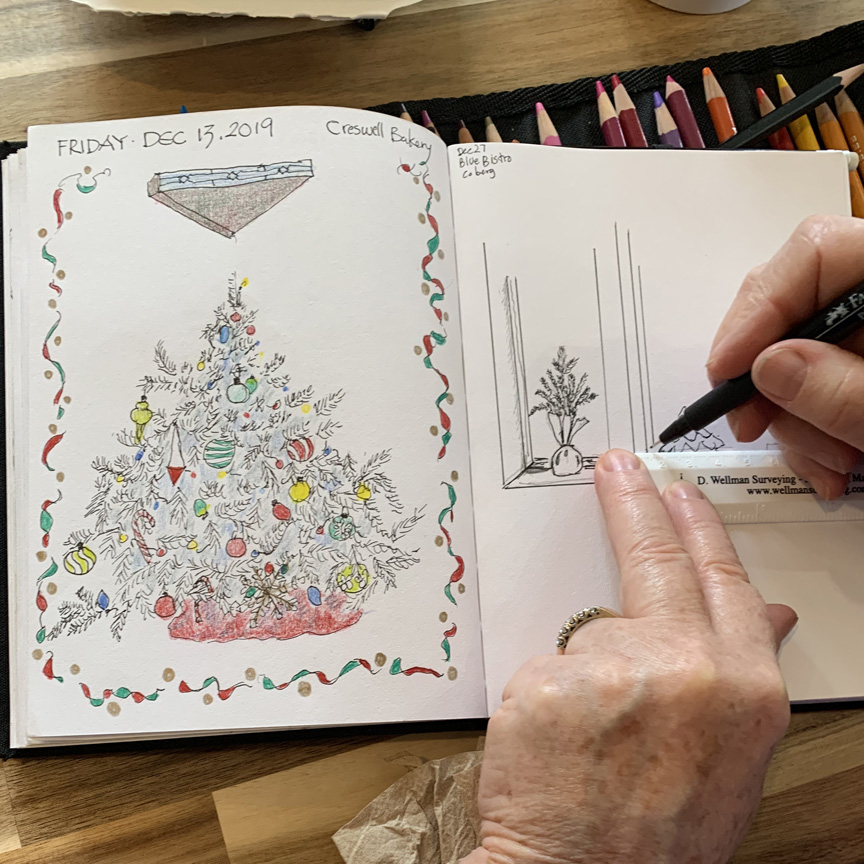 Laura was intrigued with the stained glass light above the tree, so included that in her sketch of the tree, along with the windows.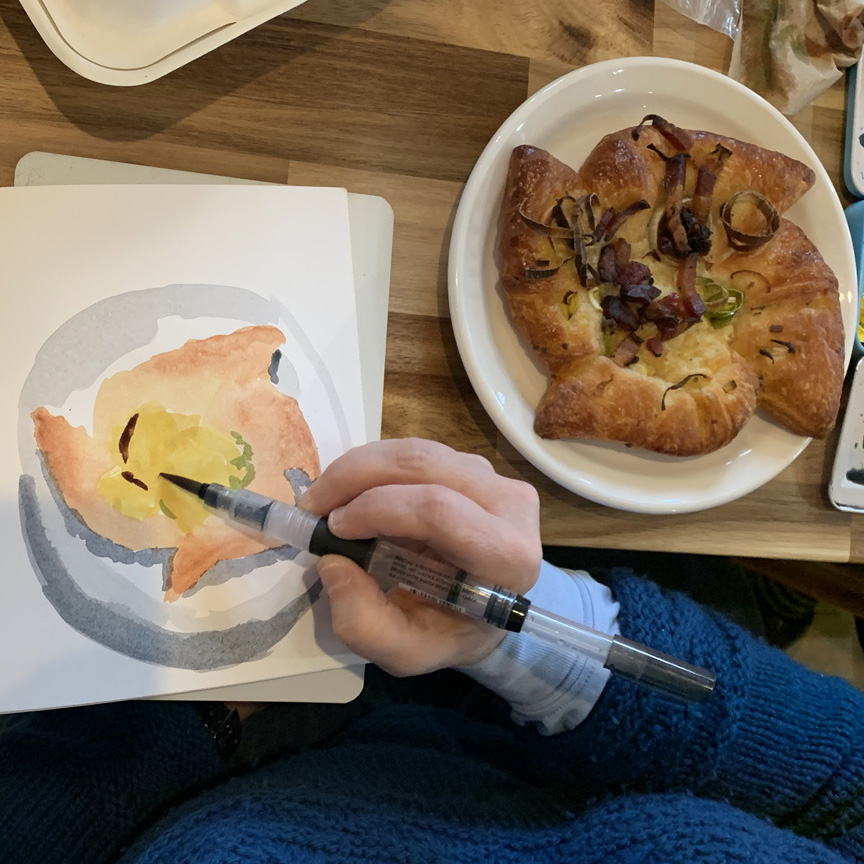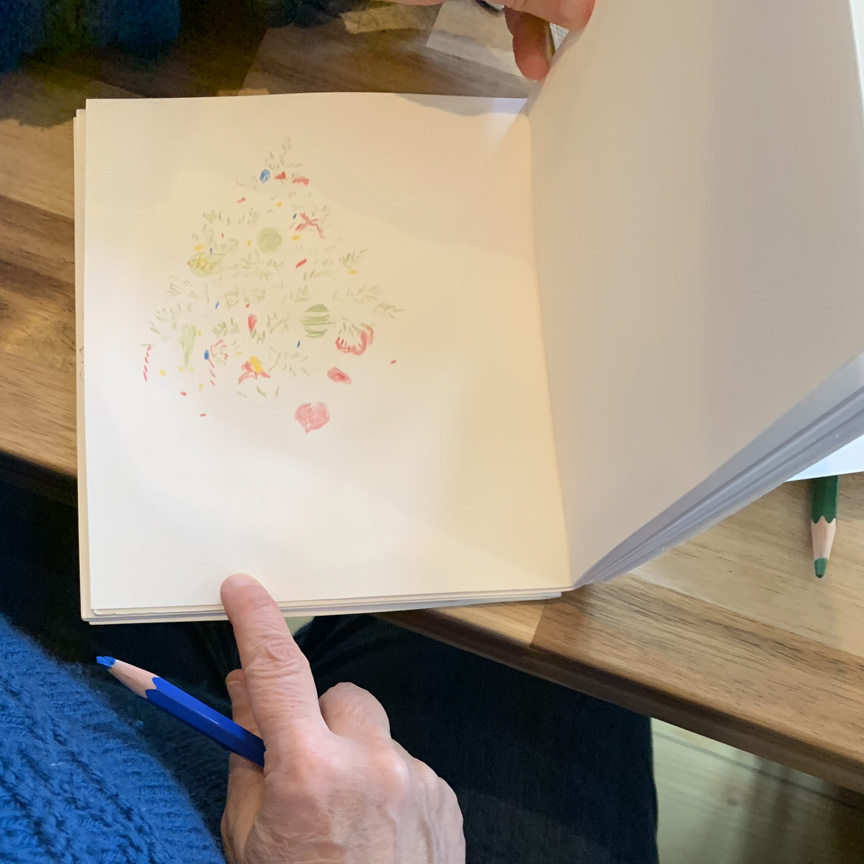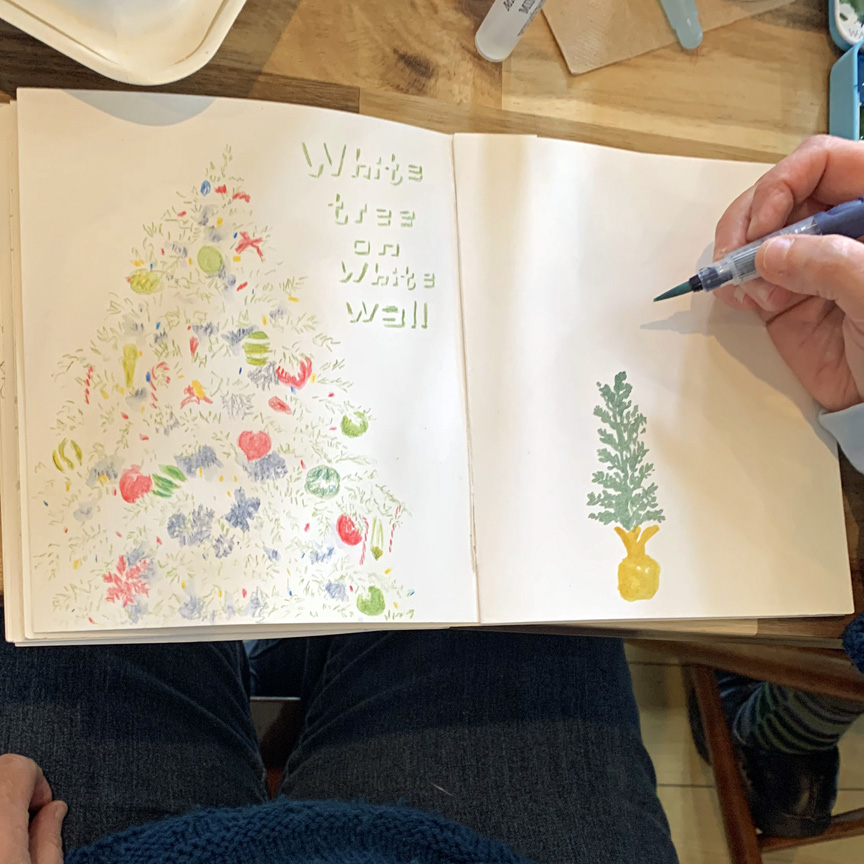 Daisy may have to do a book featuring her sketches of pastry in Lane County! Then on to the challenge of sketching white on white. Wow.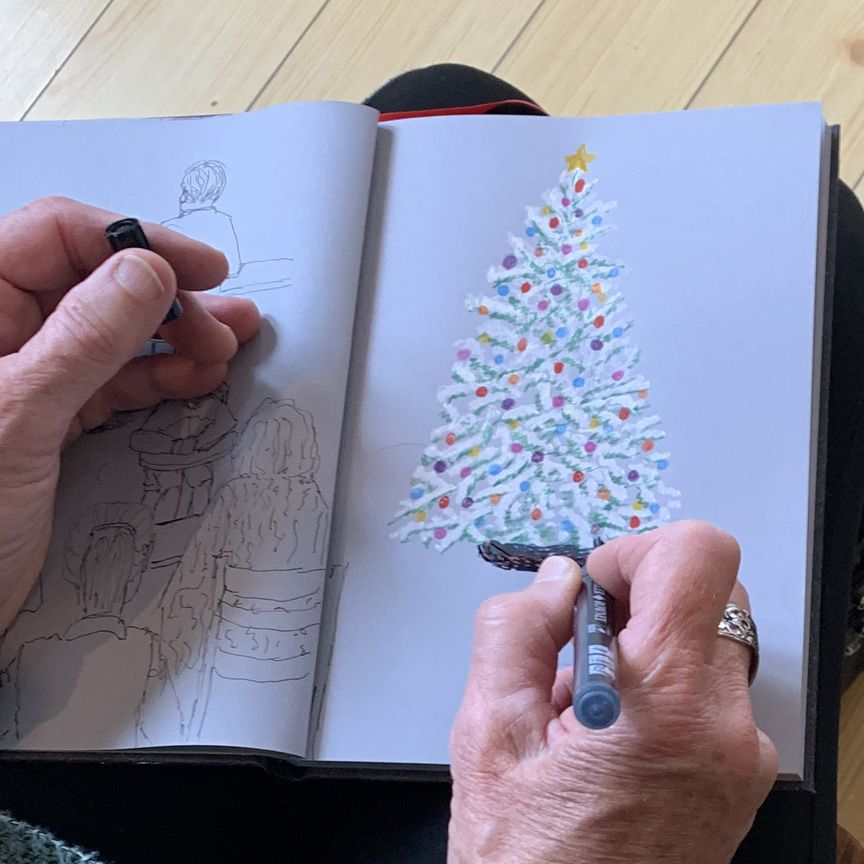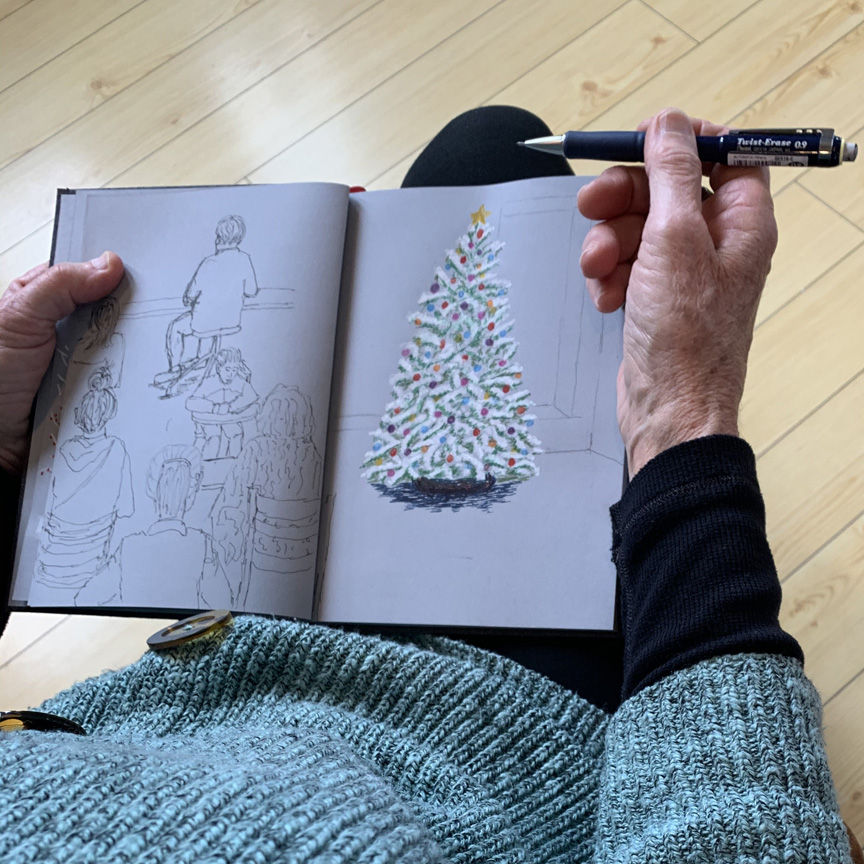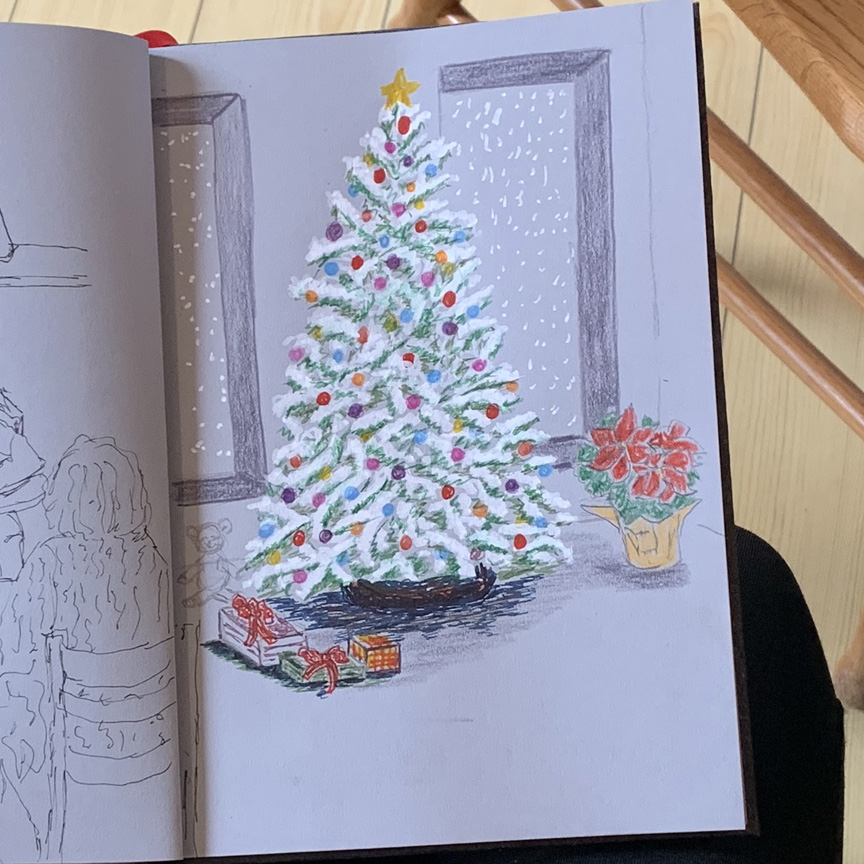 Sandy had an advantage of toned paper, perfect for sketching that frosted branches Christmas tree (& the temptation of snow, too!).
✒ Nov. 22, 2019, Creswell Bakery, Creswell, OR.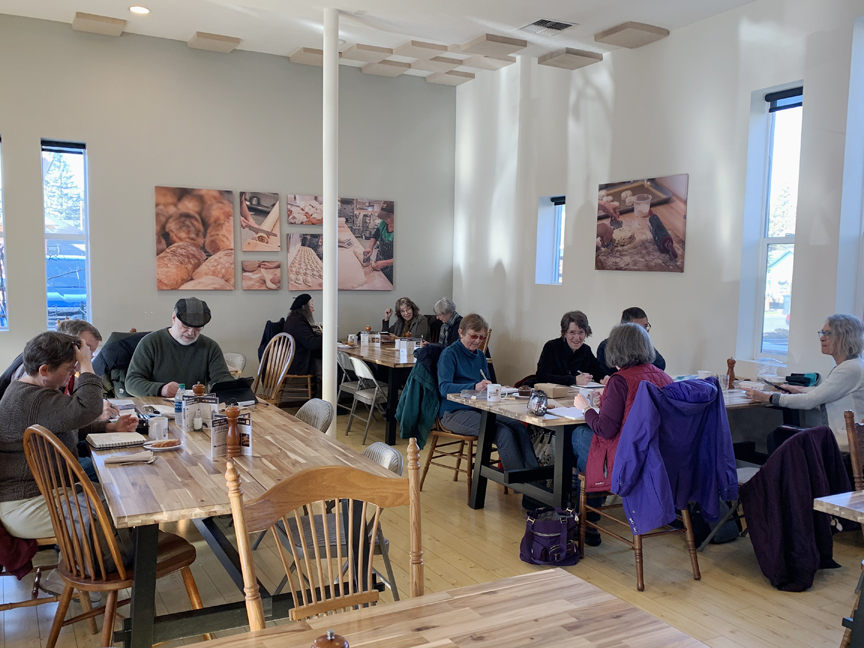 We love the light and space here! Daisy, Jim, Serge, Laura, Bev, Helga, Carol, Peggy, Marsha, Hugh, Sandy (& Jane).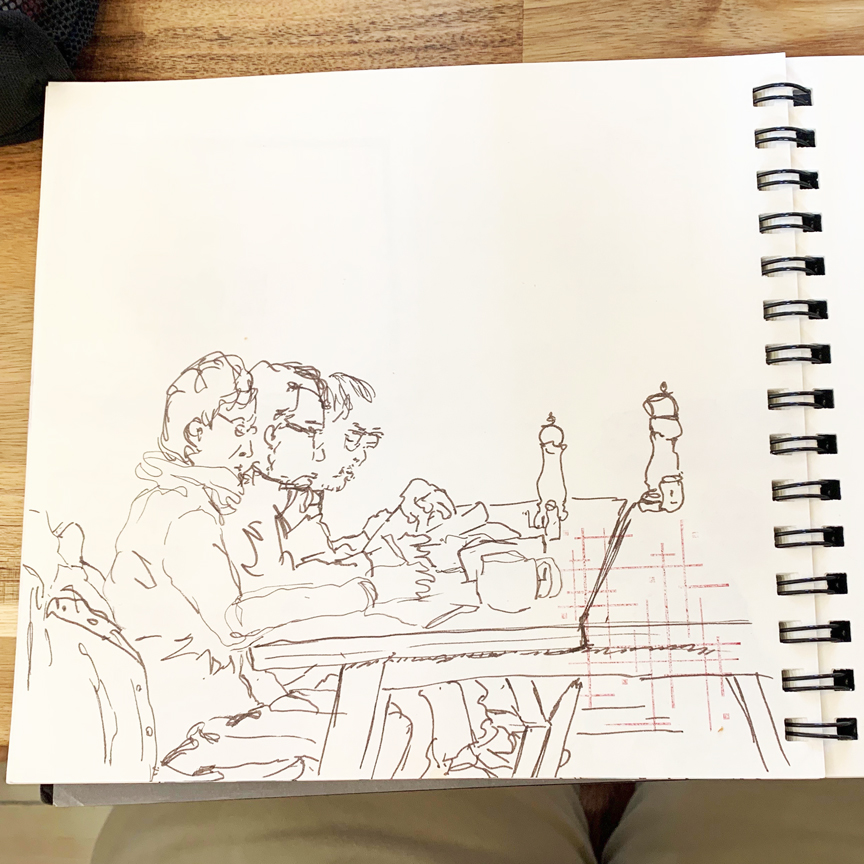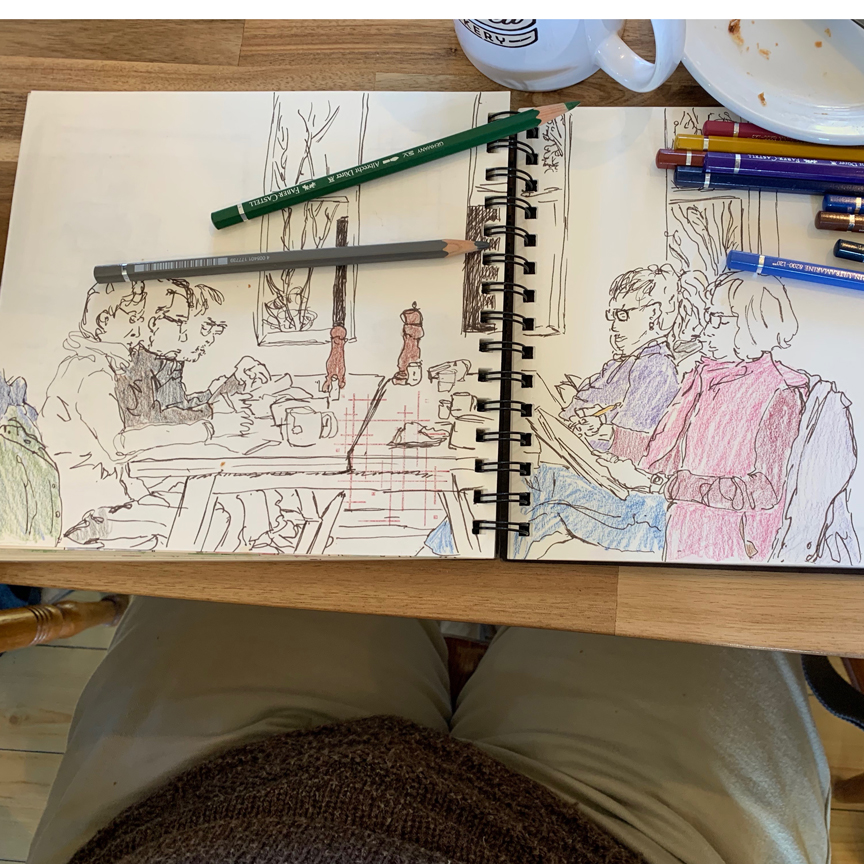 Daisy dove right into people sketching – can you recognize us? Yes!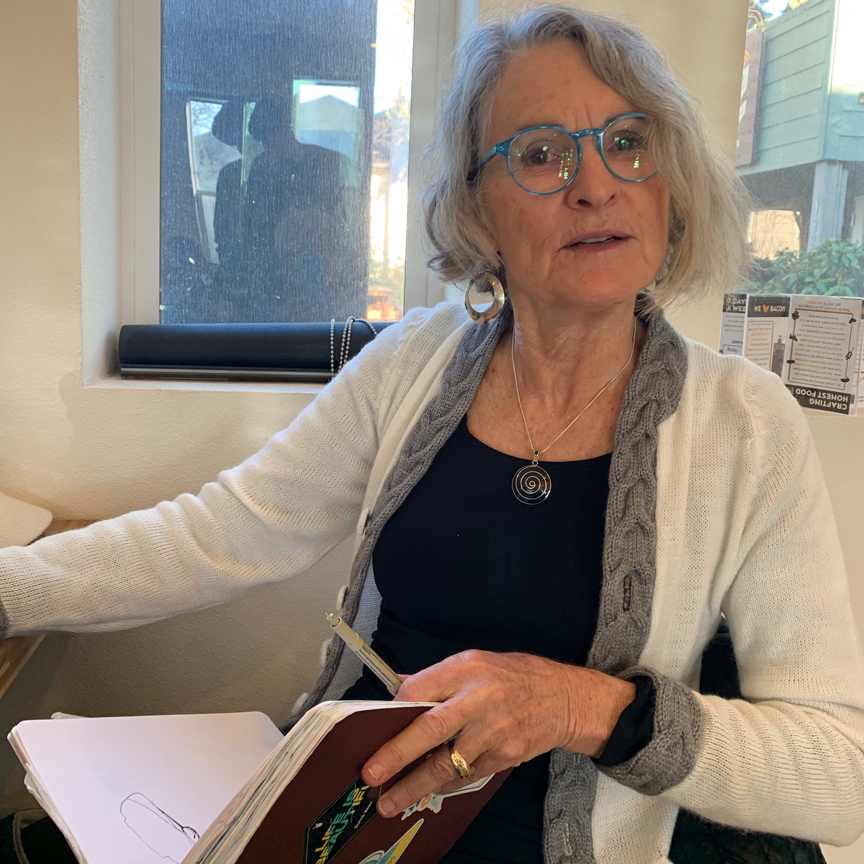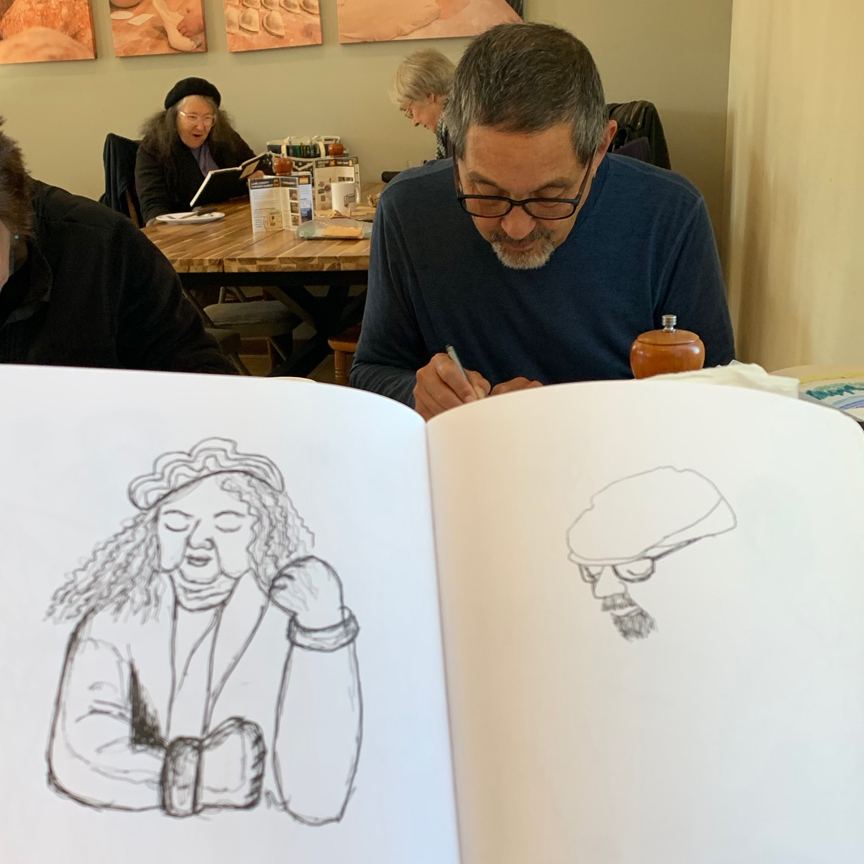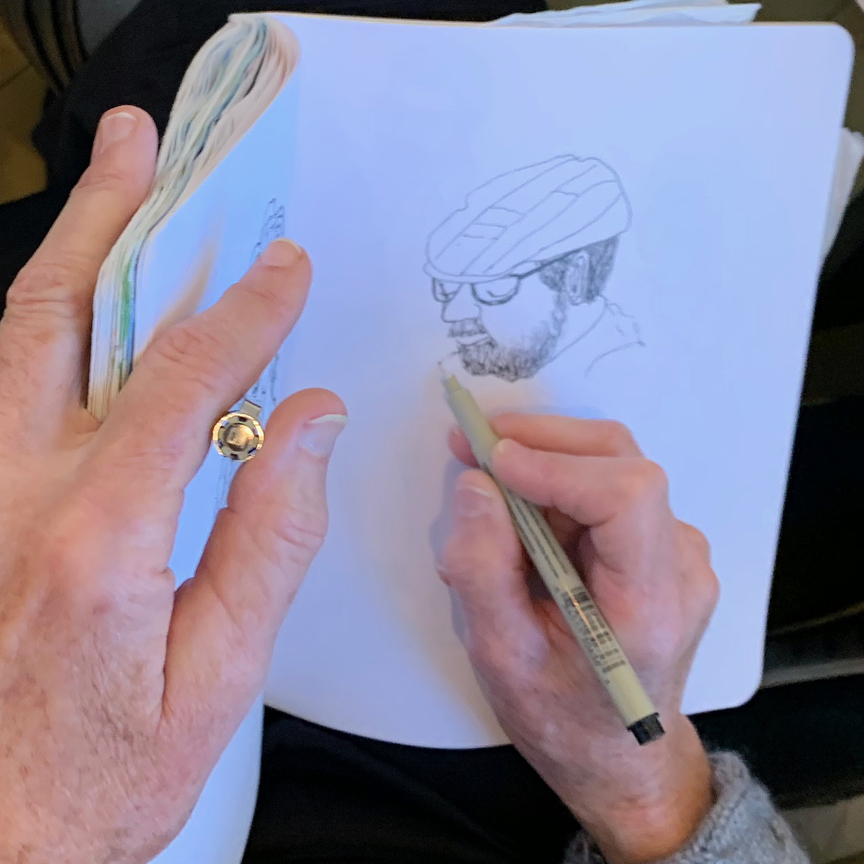 What's Sandy up to? Gestural studies, & Hugh, her favorite model.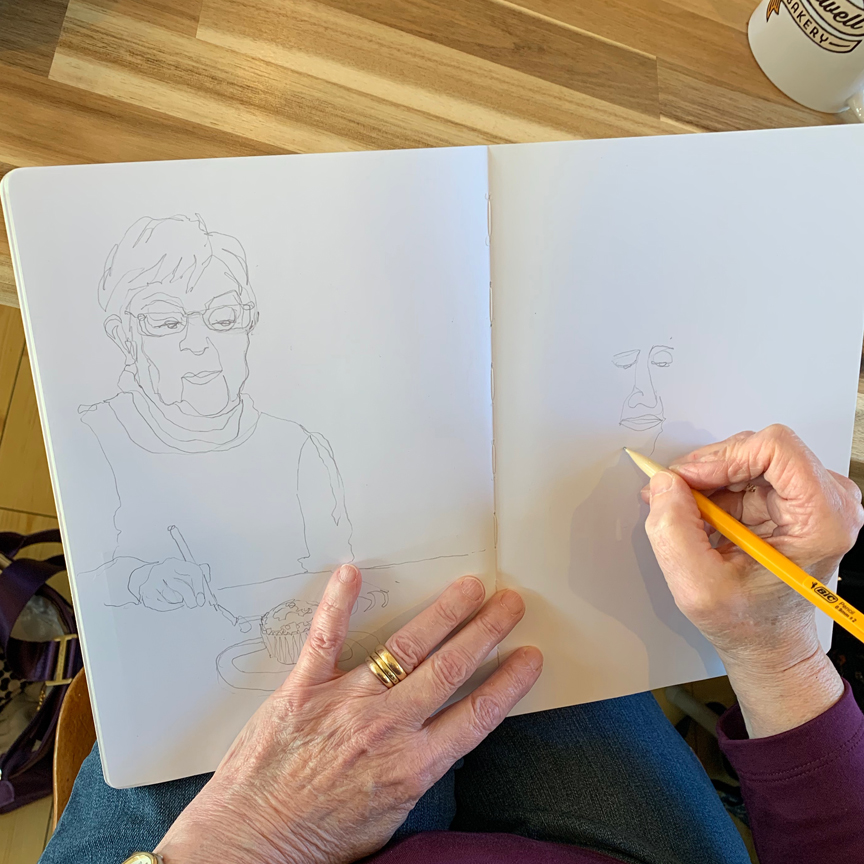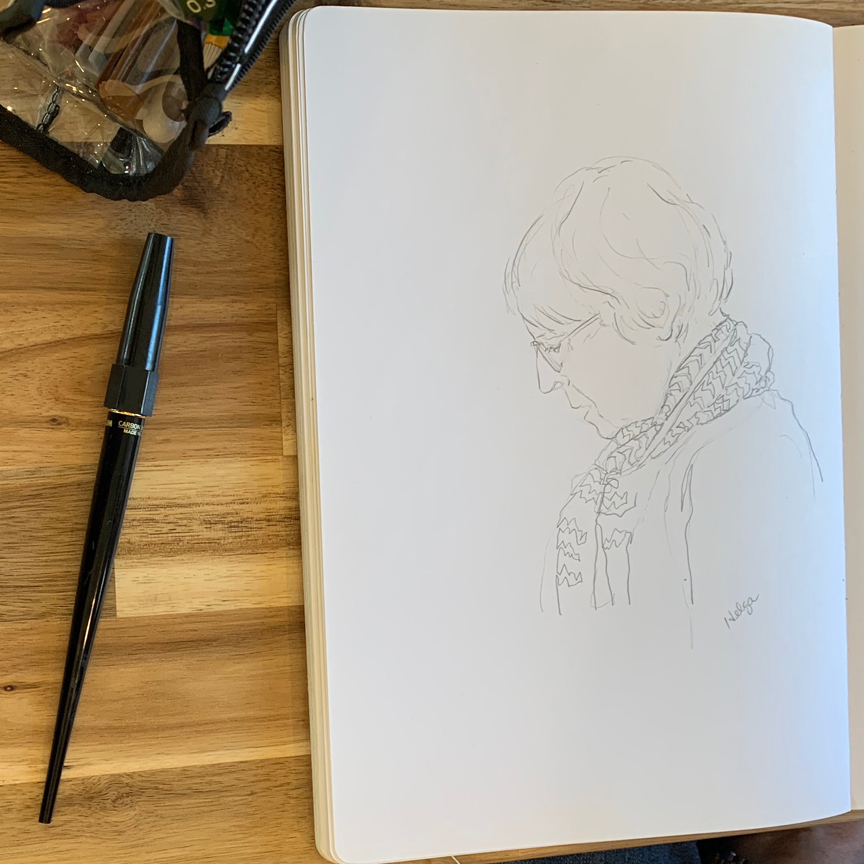 Marsha did lovely loose sketches – now what, she said! Go darker.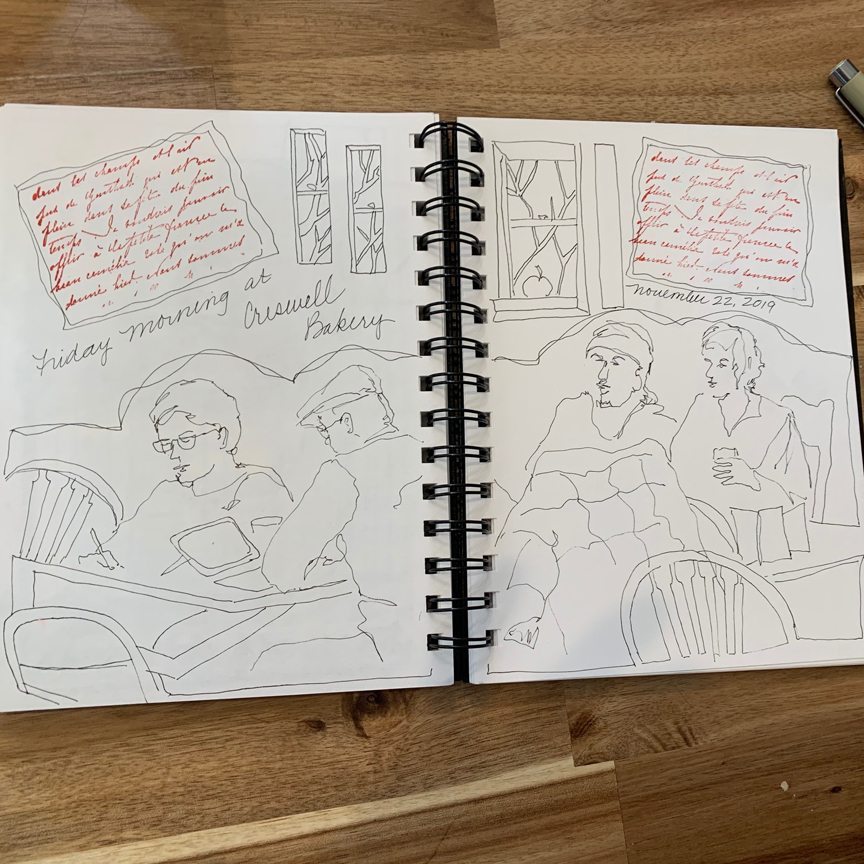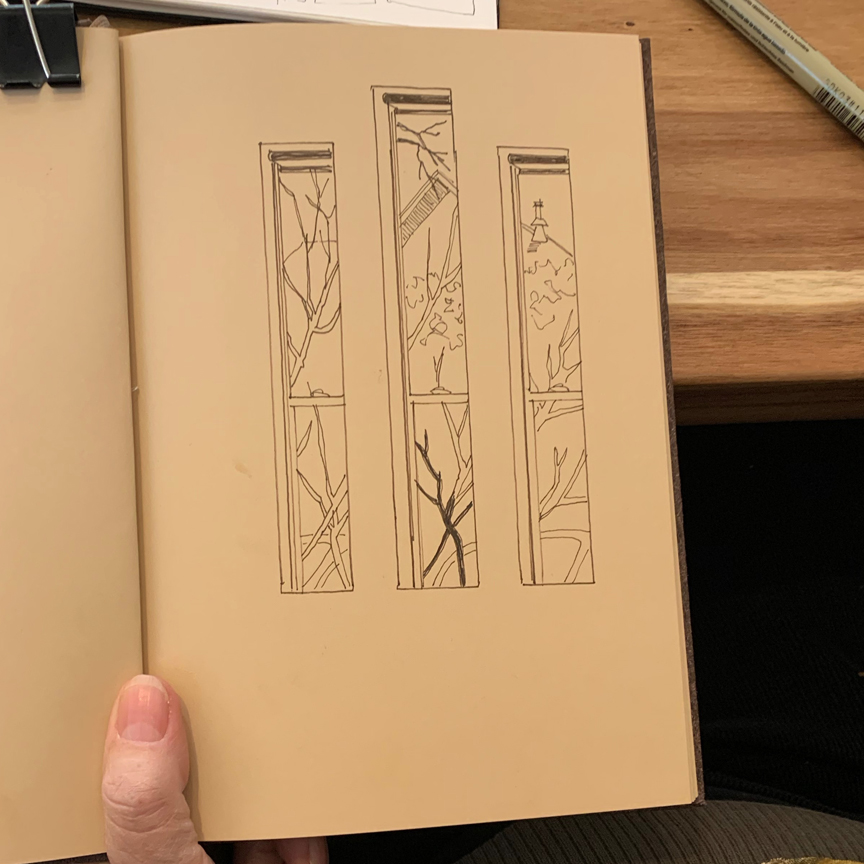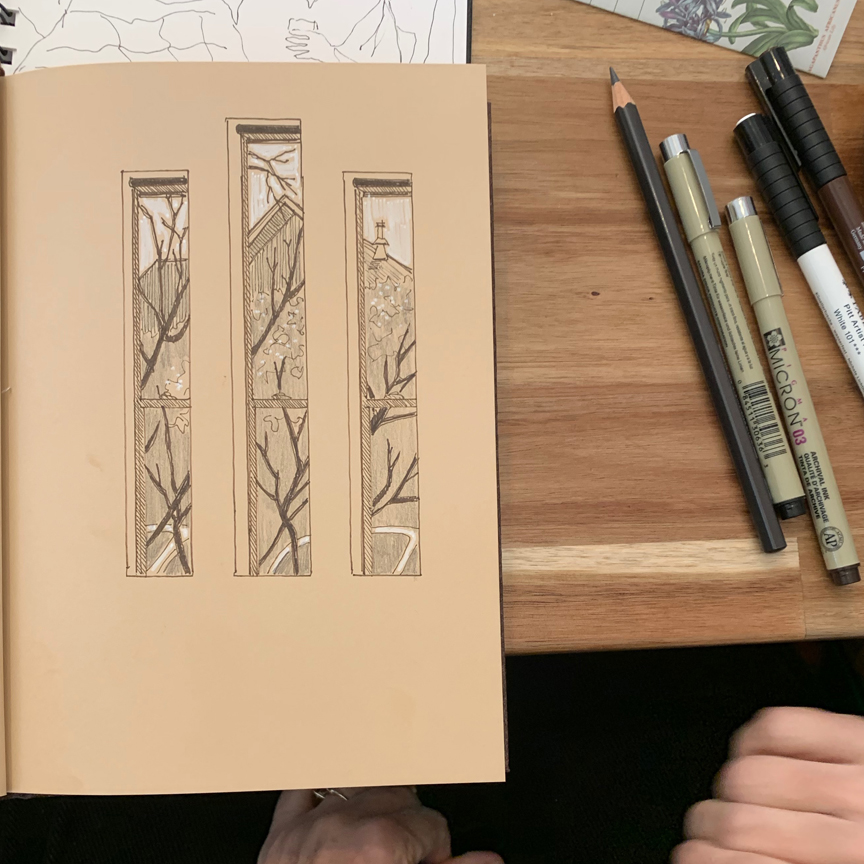 Bev did some quick people sketches, then did the trio windows.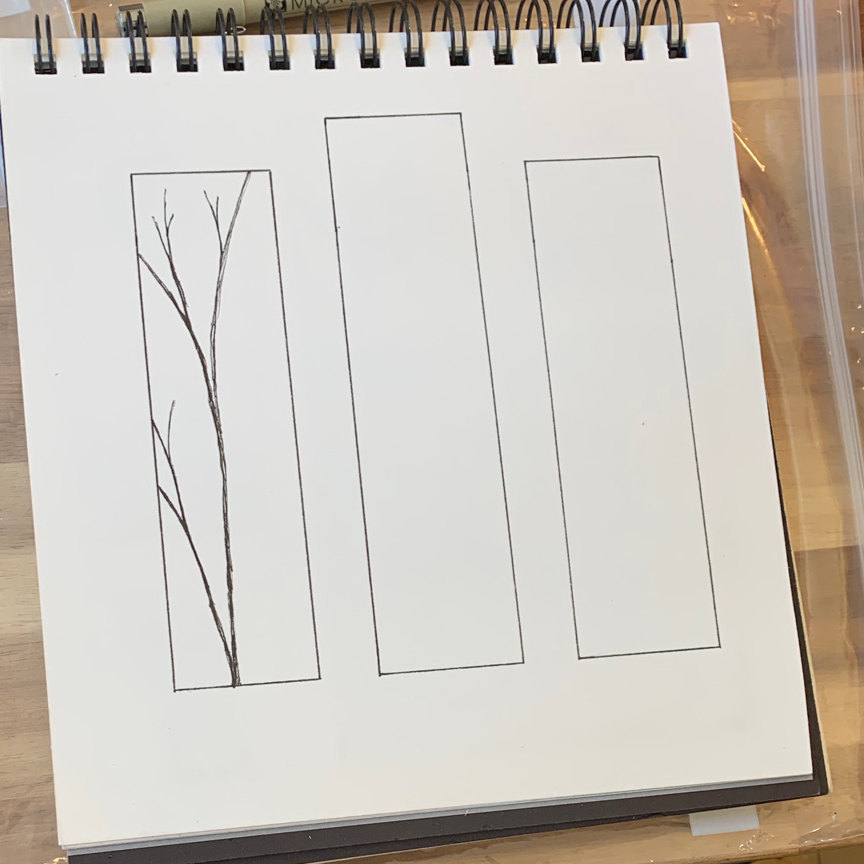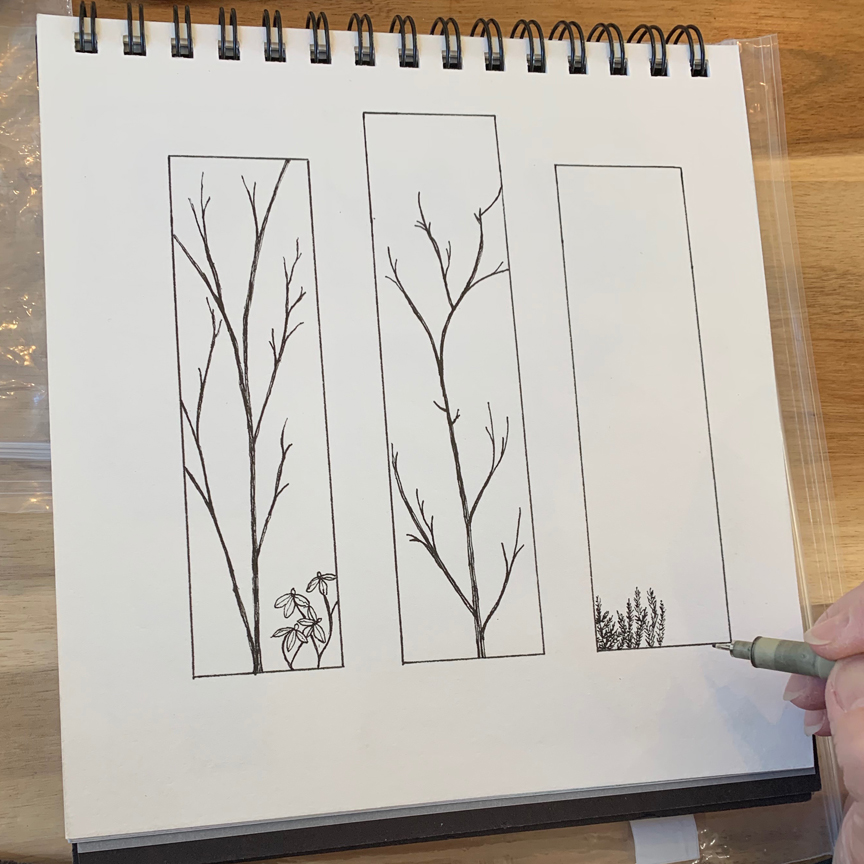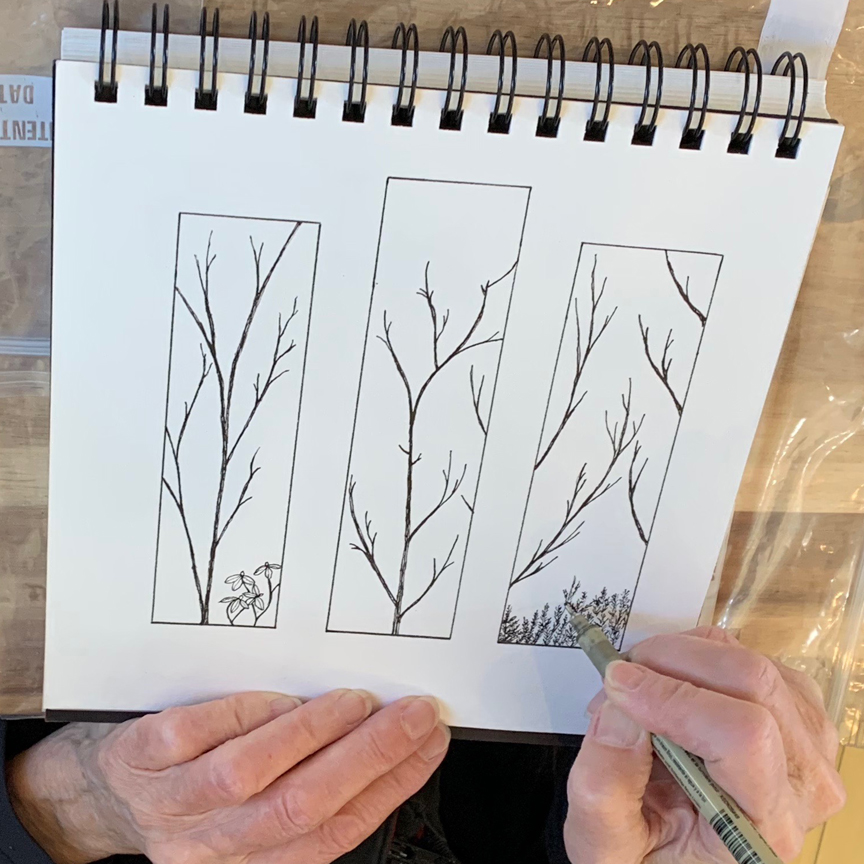 Peggy just took the windows as sketch boxes for lacy trees.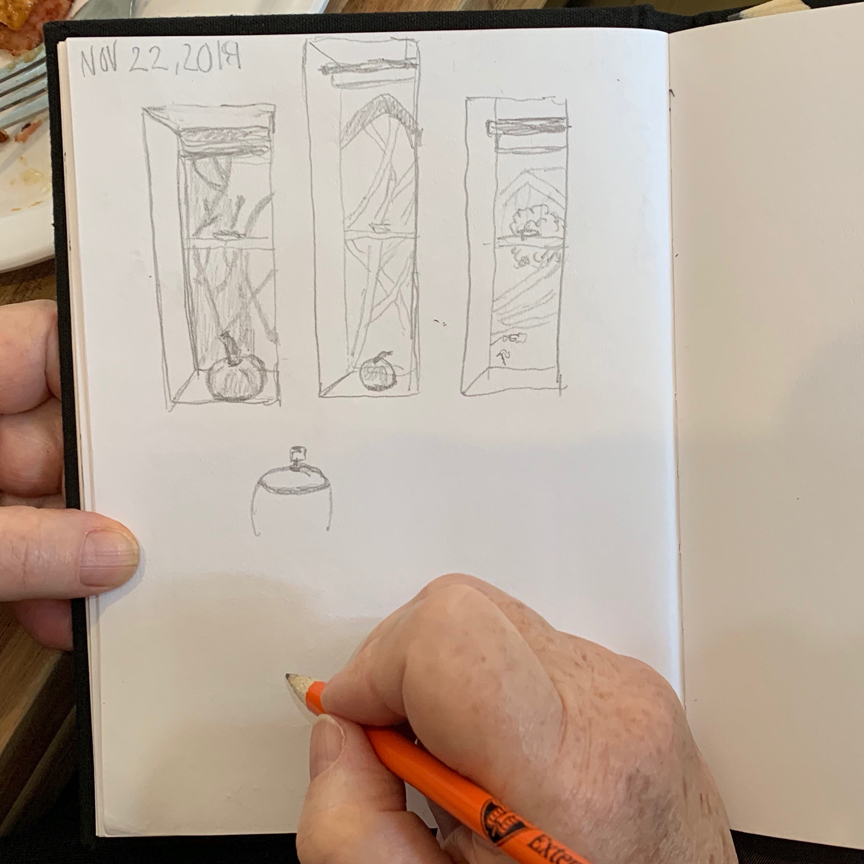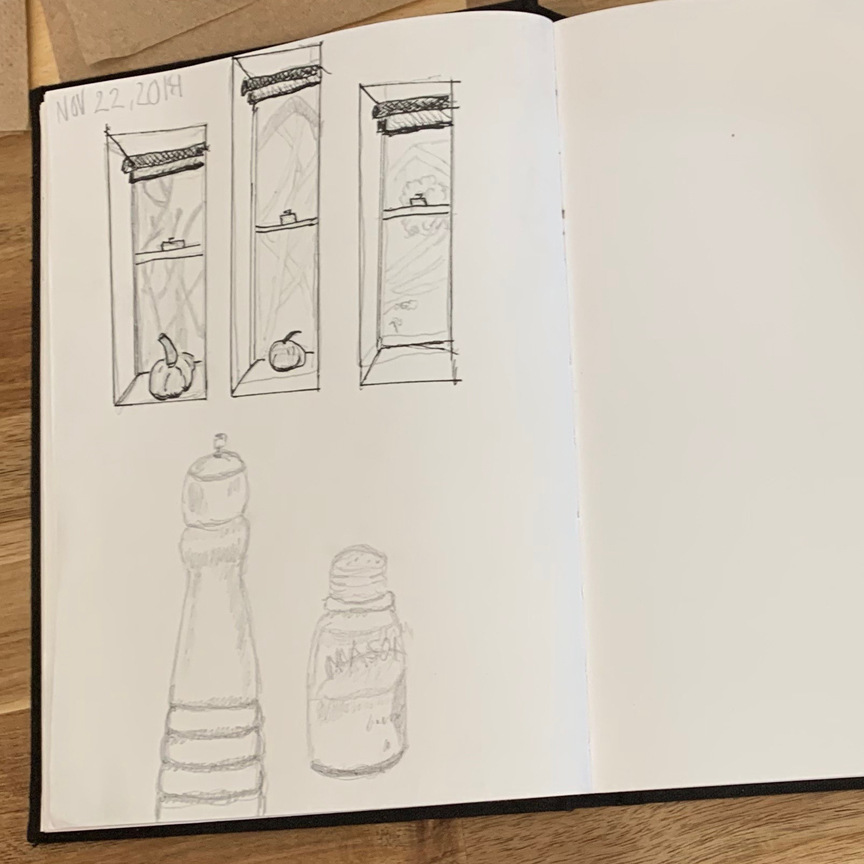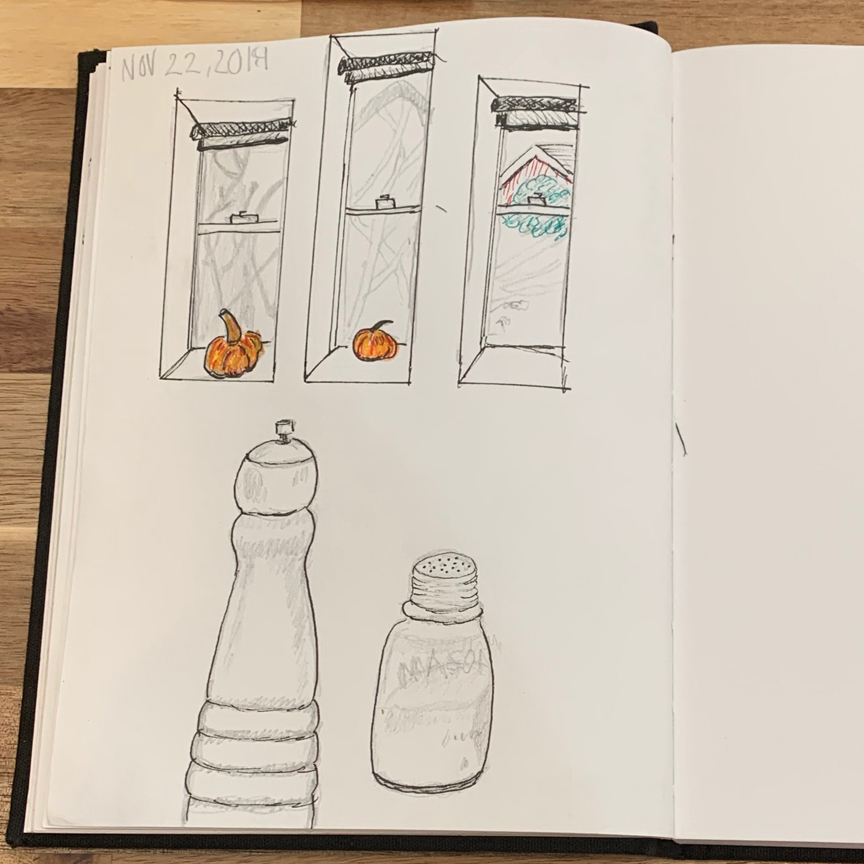 Laura loved doing the windows, too – such a fun design.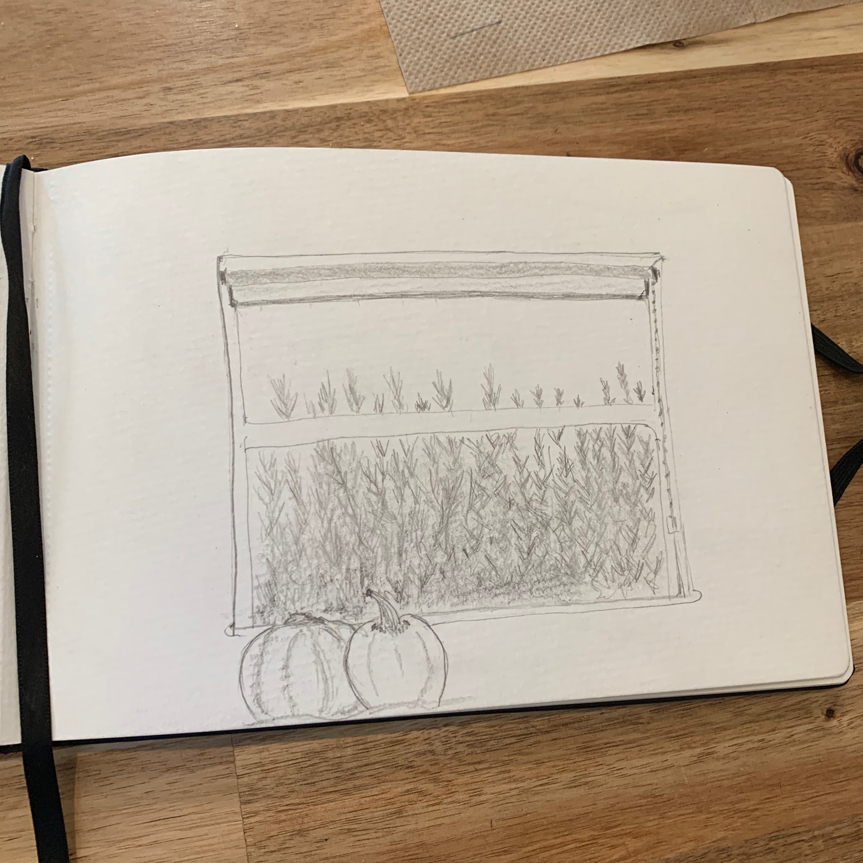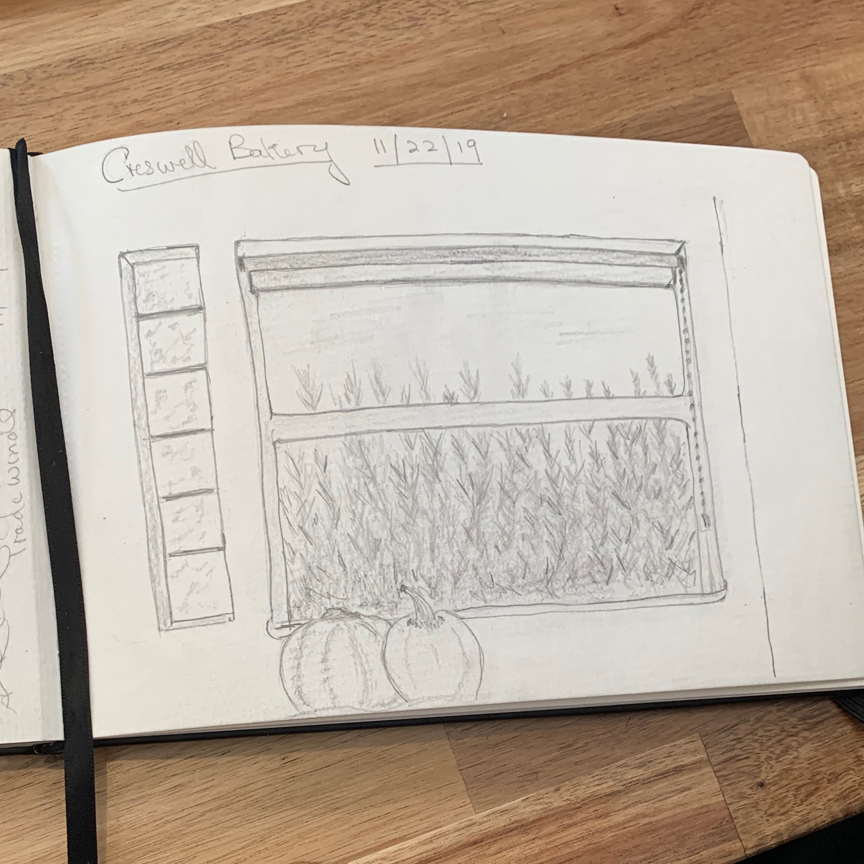 Helga sketched one of the larger windows – full of rosemary!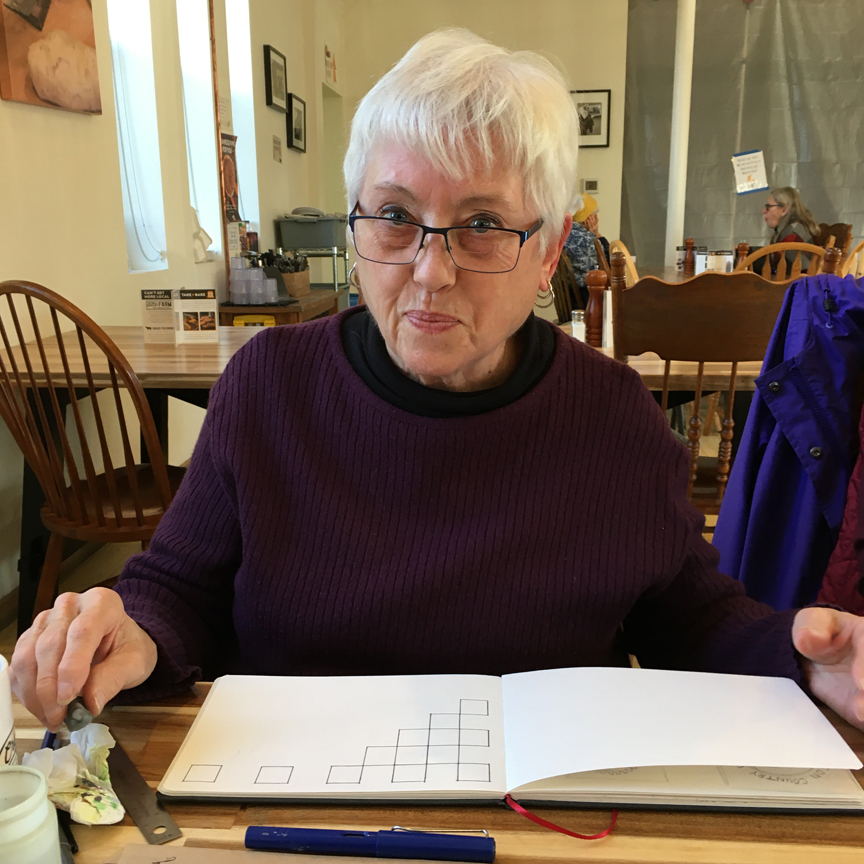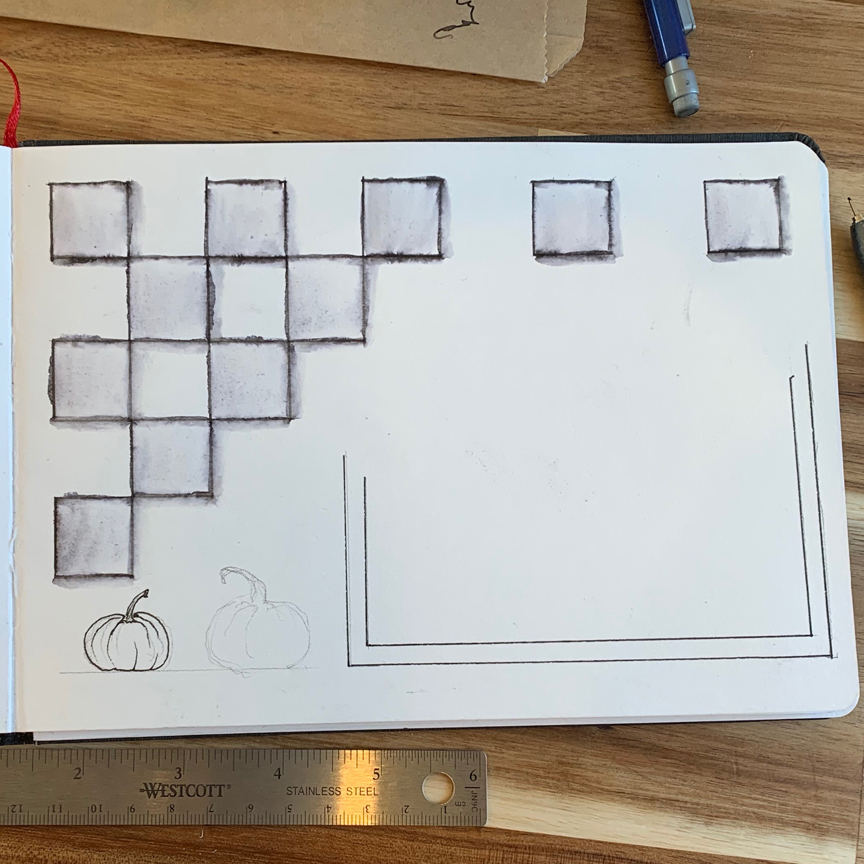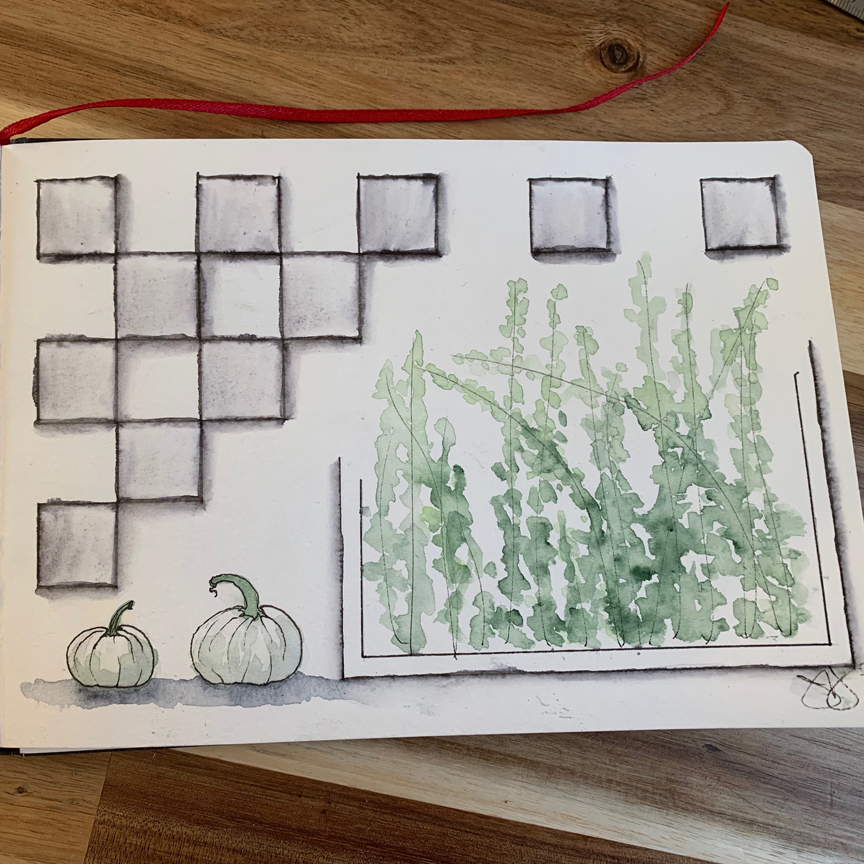 Jane focused on the ceiling tile pattern – now what! Little vignettes.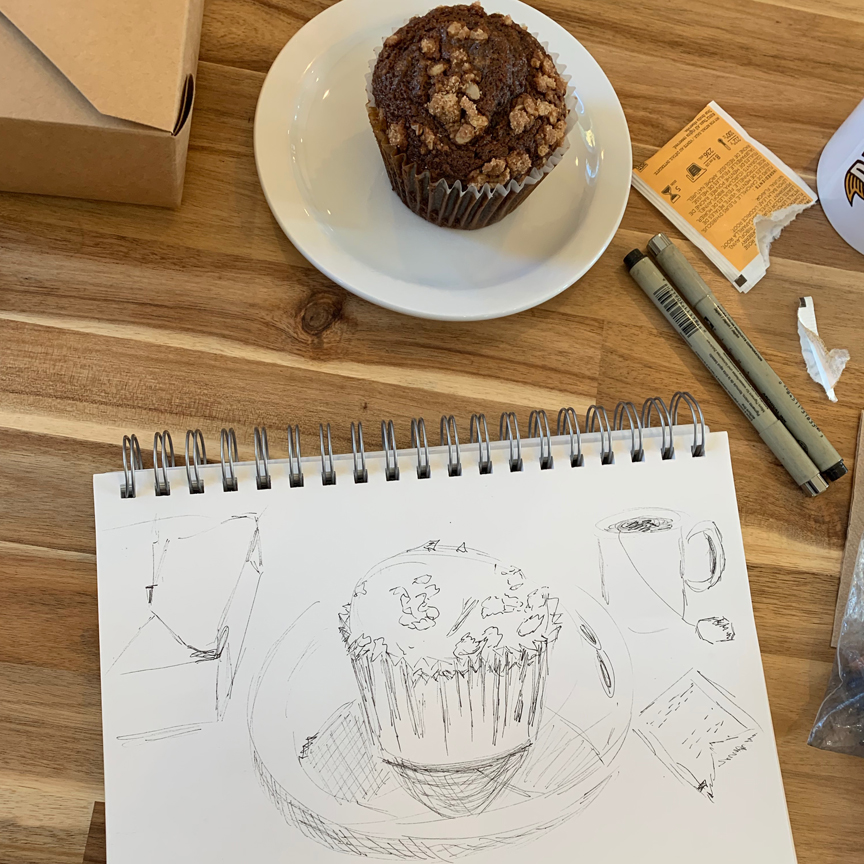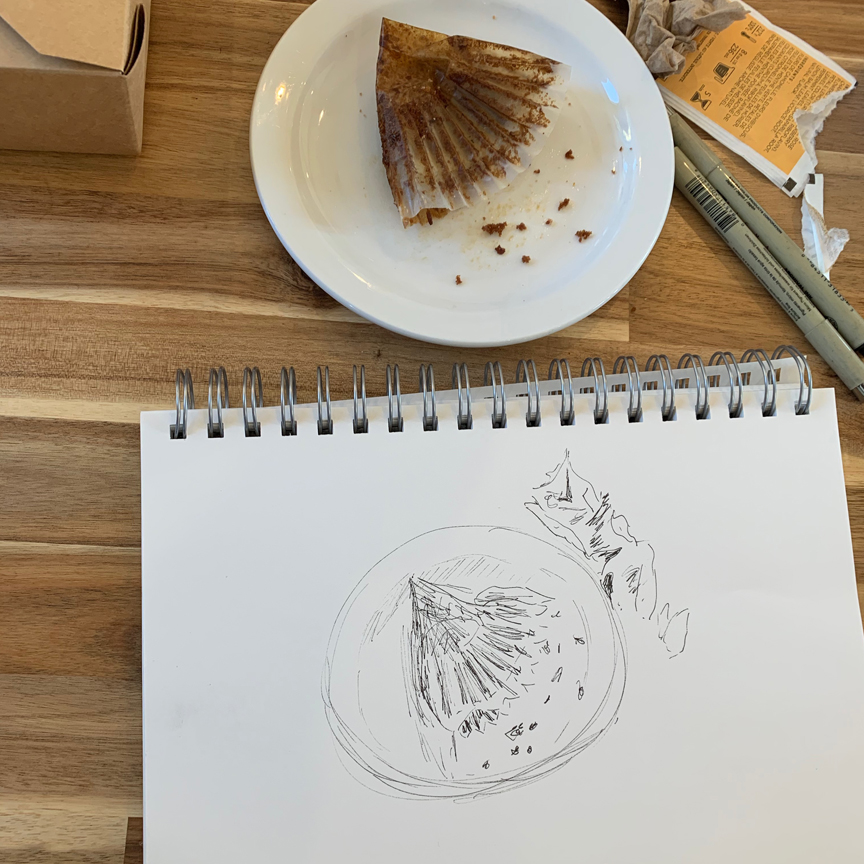 Carol was practical and sketched the before and after table scene!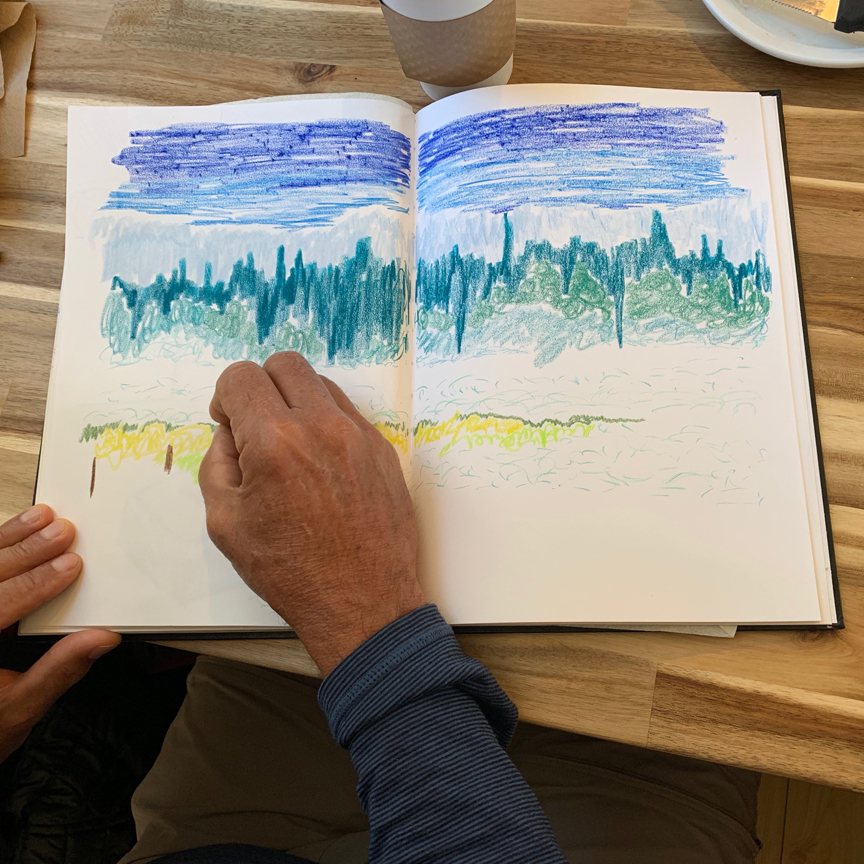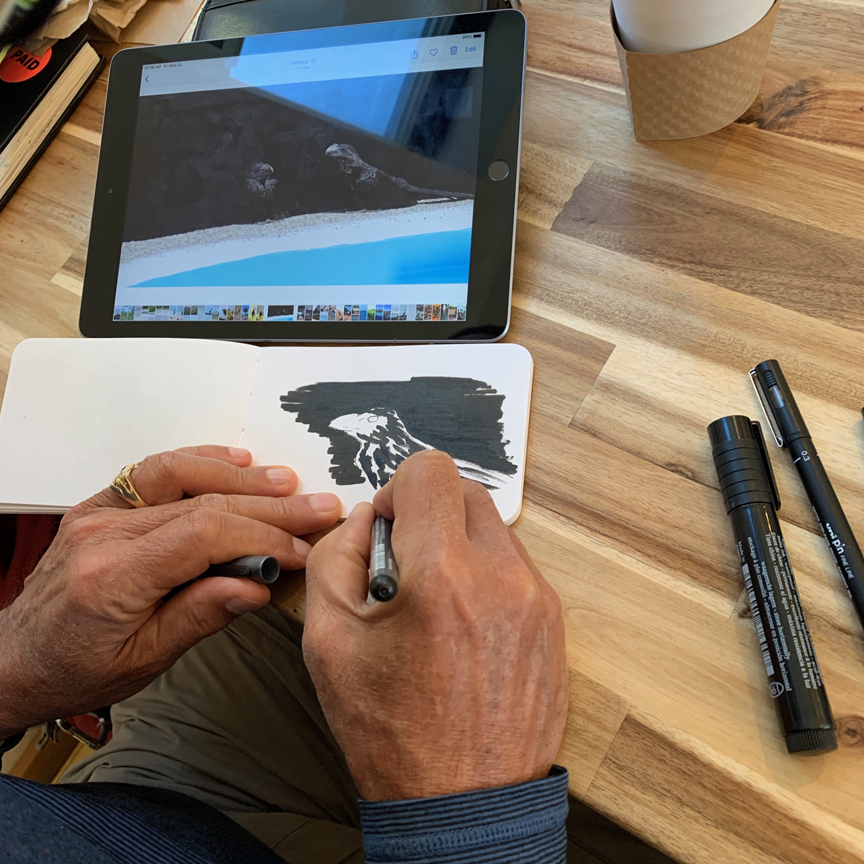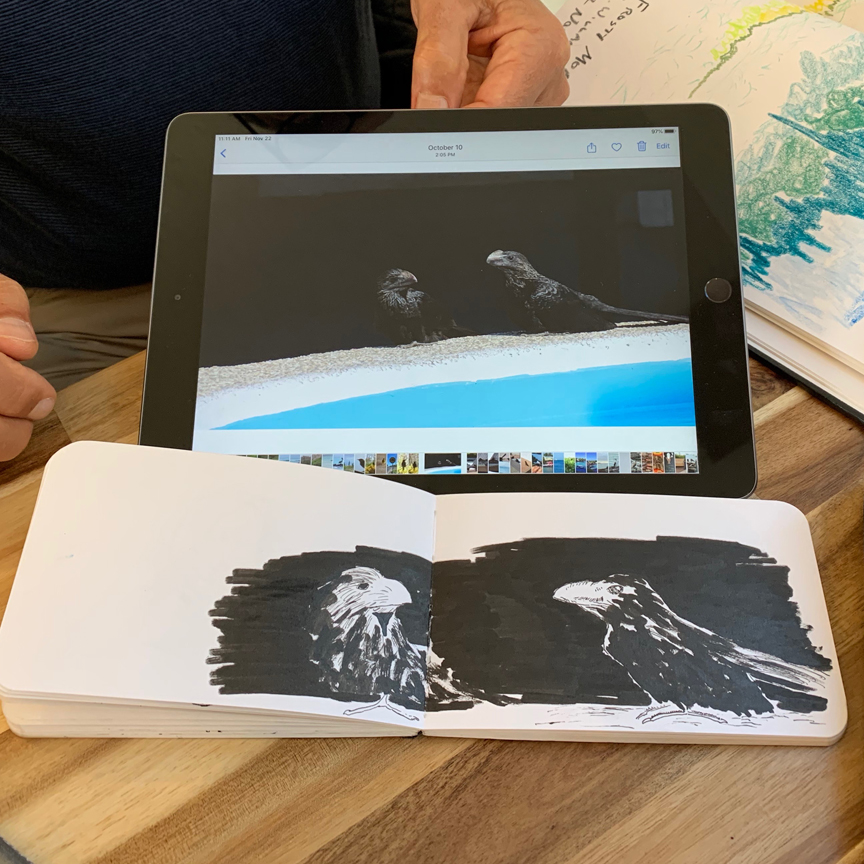 Hugh did a scene from memory, then a bird photo with brush pens.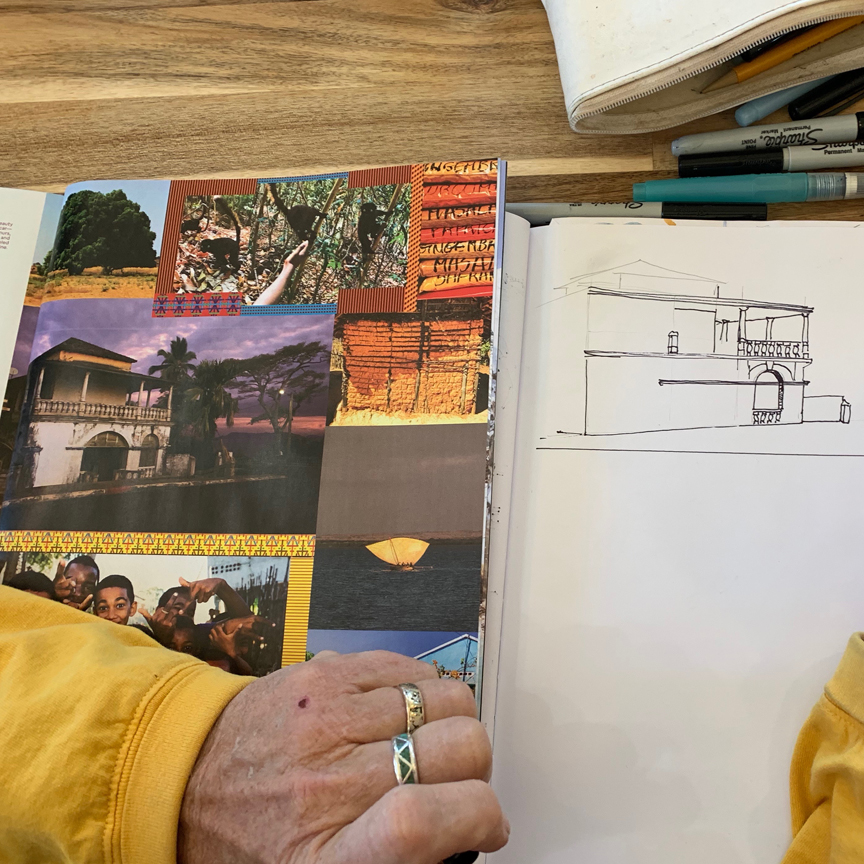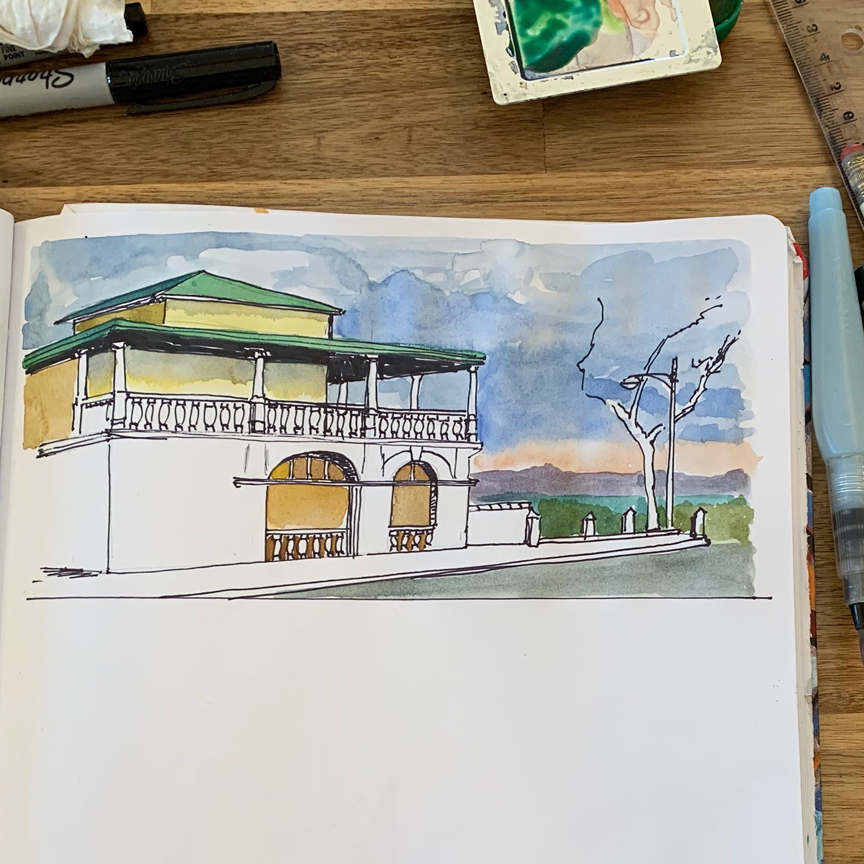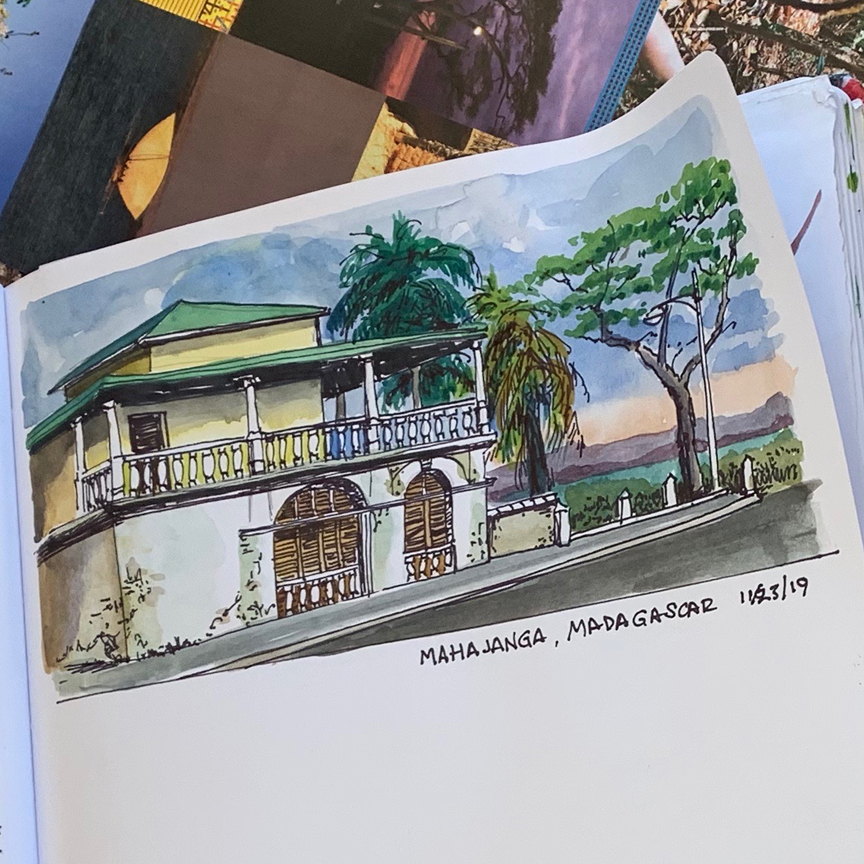 Jim likes a perspective challenge, and he chose a great one – terrific!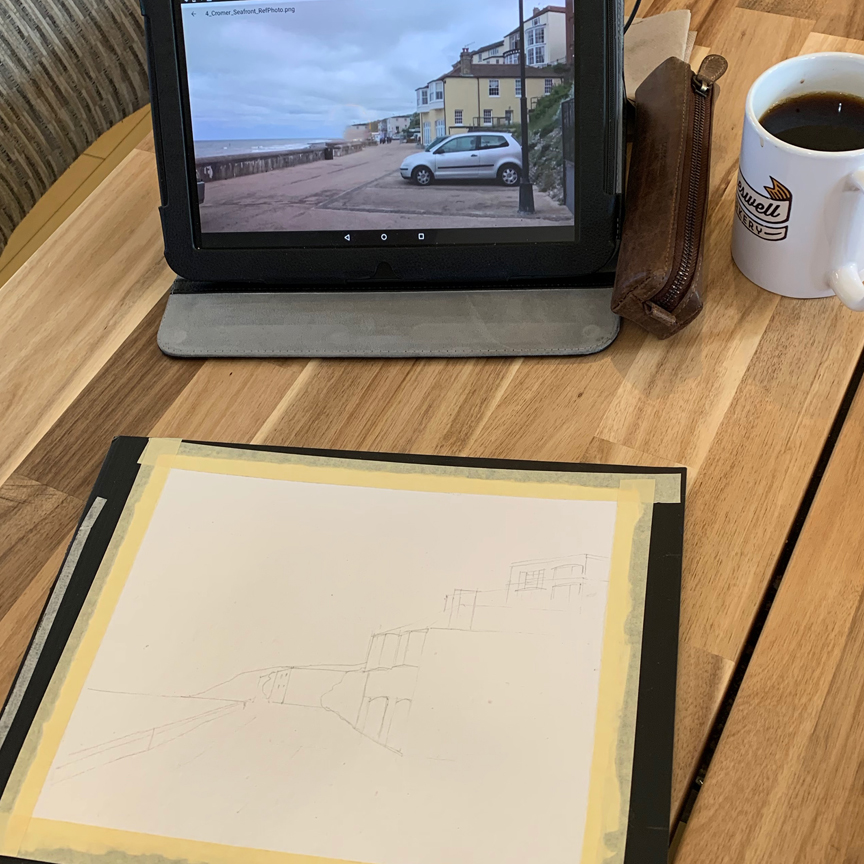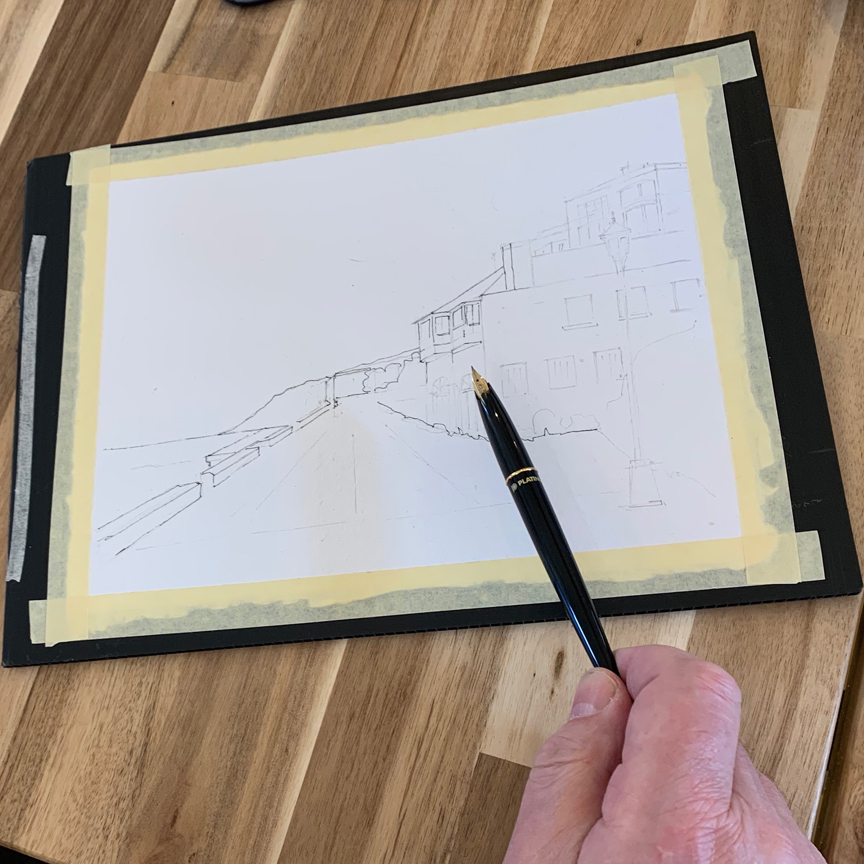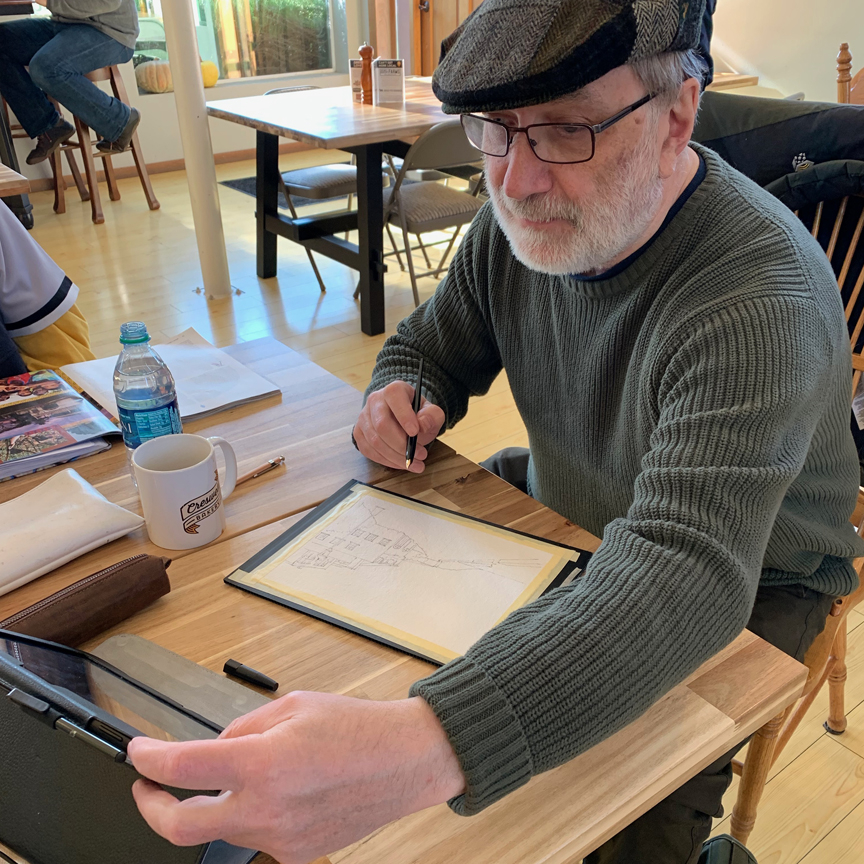 Serge brings his architecture challenges with him, too. Way to go.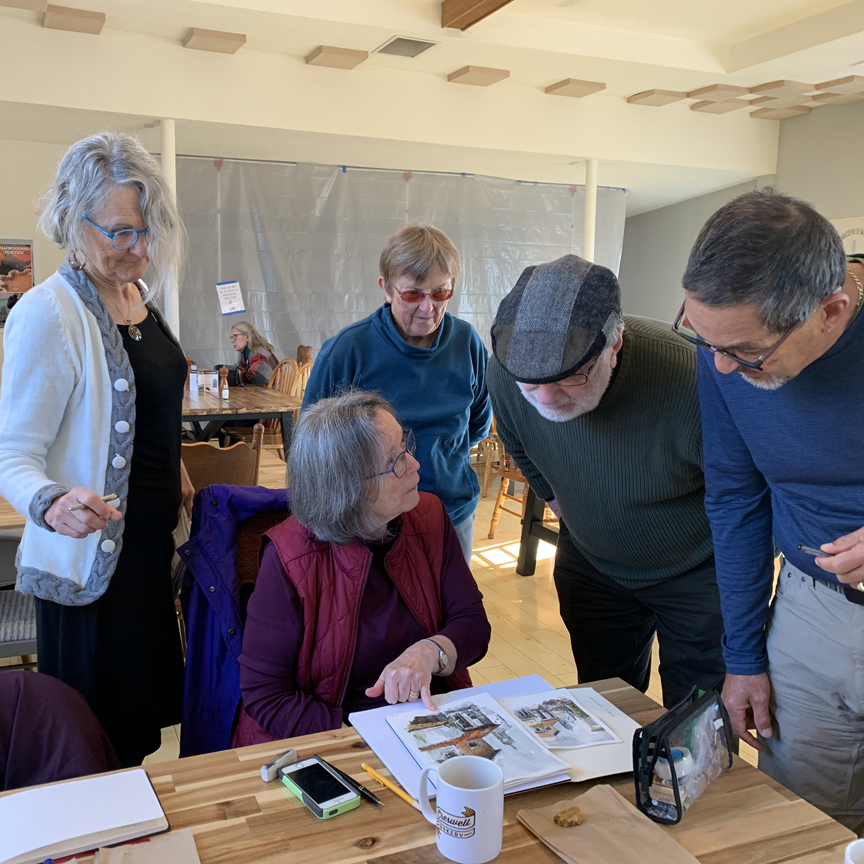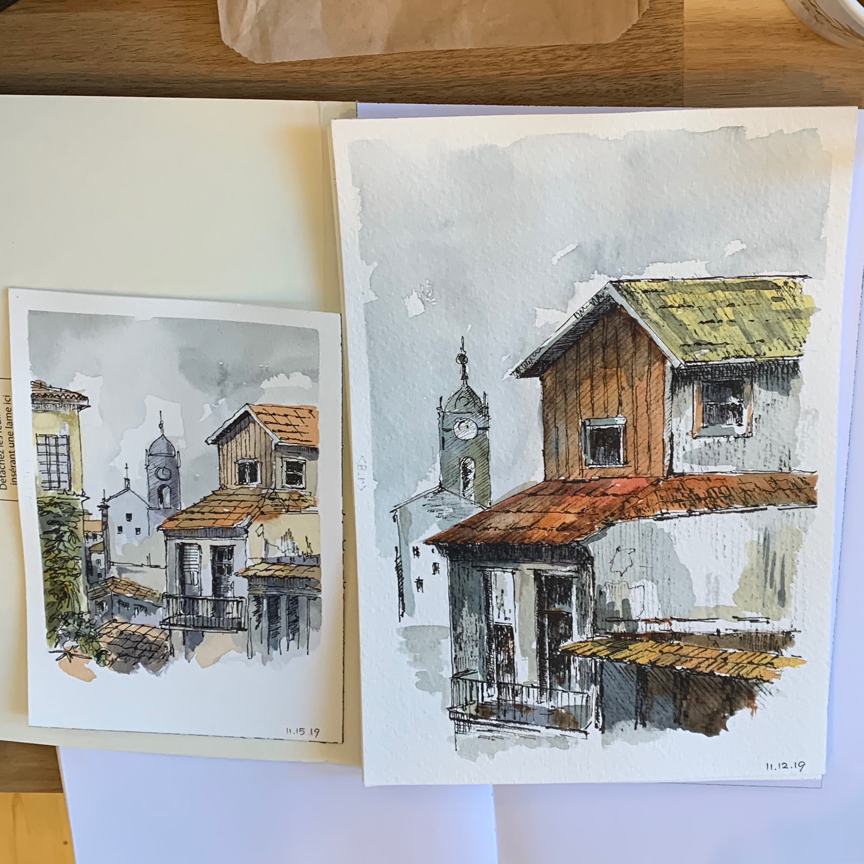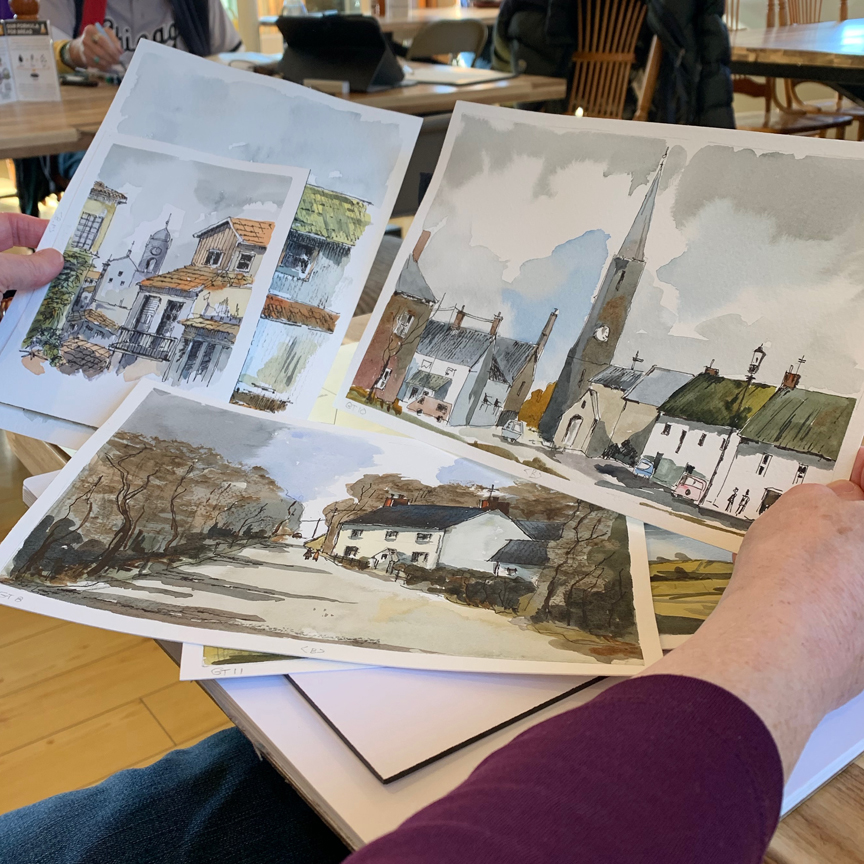 Marsha said, "Let me see!" So Serge shared his watercolors with us. "Do you give lessons?" inquiring minds definitely want to know!
😯 Nov. 15, 2019, Creswell Bakery, Creswell, OR.
This was a spontaneous 3rd Friday unscheduled meeting!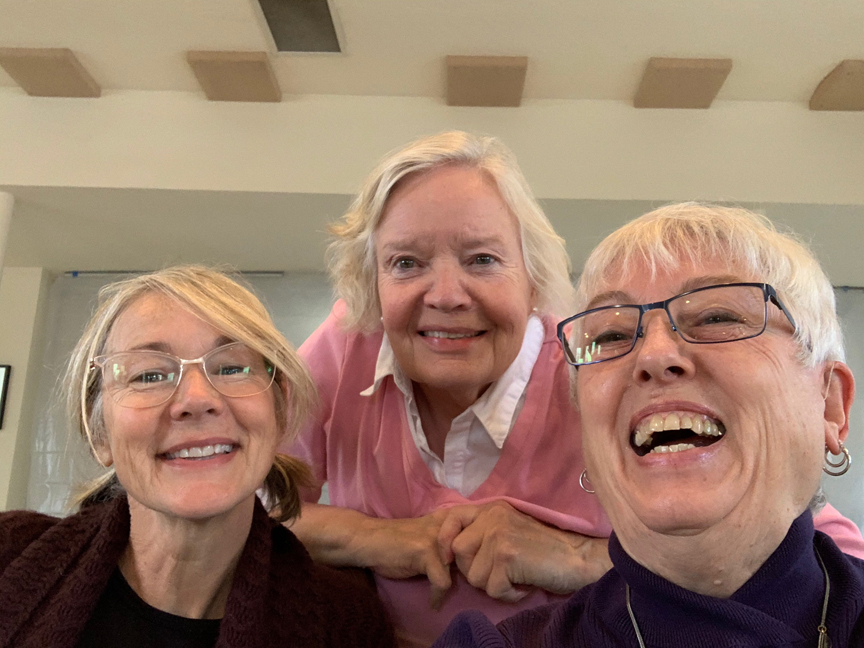 The three of us just needed the company and the sketching, I guess. Michelle, Lona, & Jane. Super good time anyway.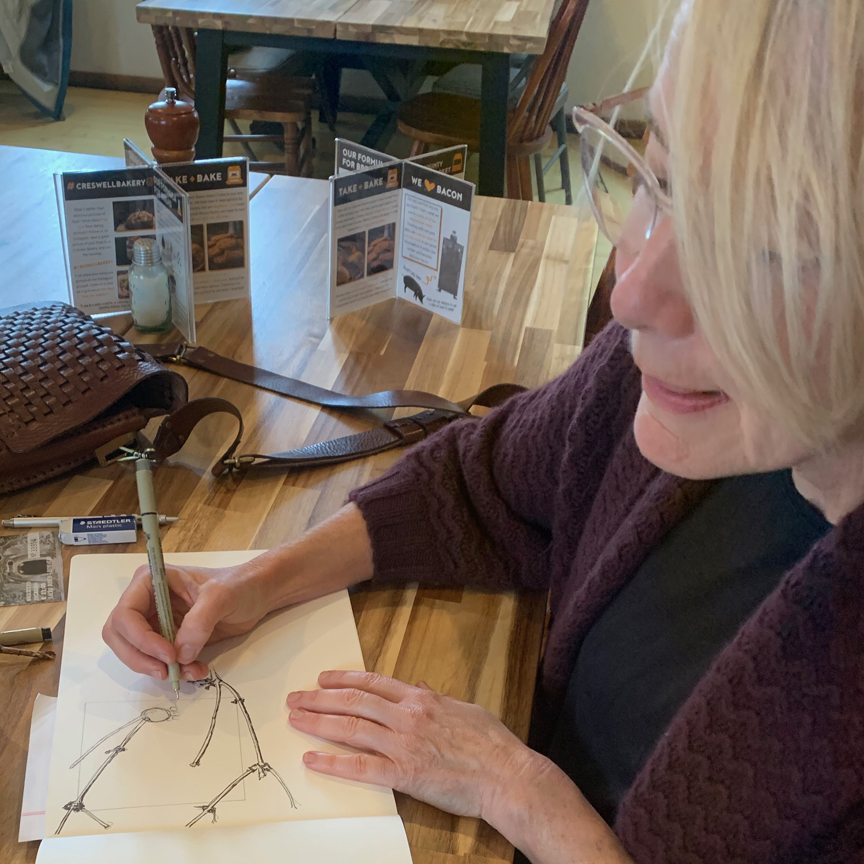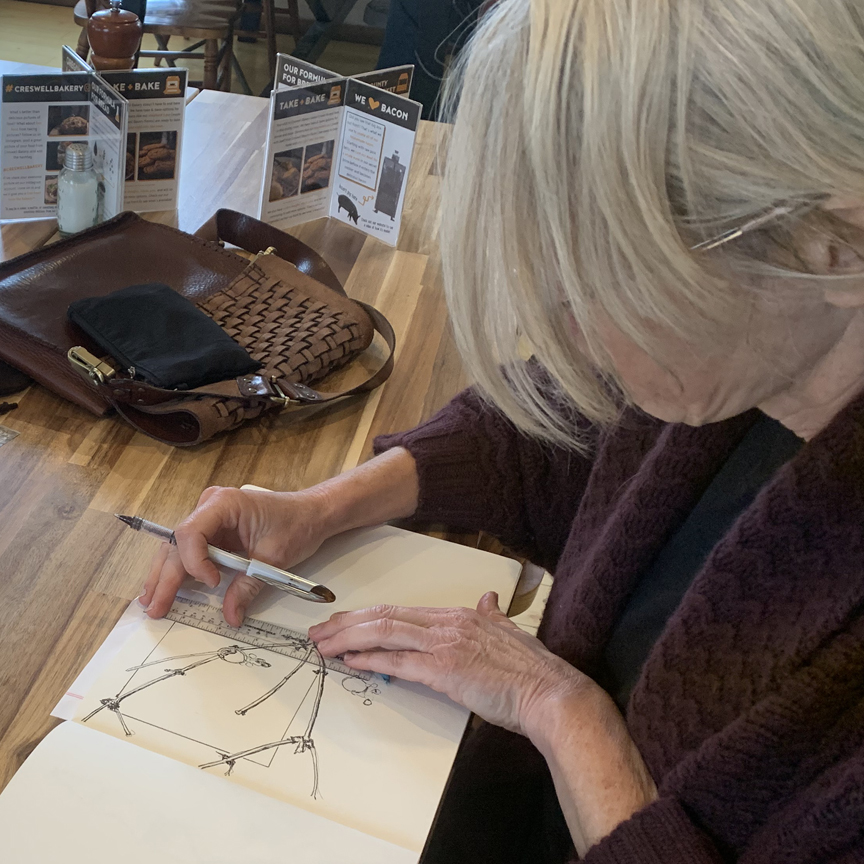 Michelle wanted to sketch her new earrings, but admitted that sketching the branch she hung them on was way more interesting!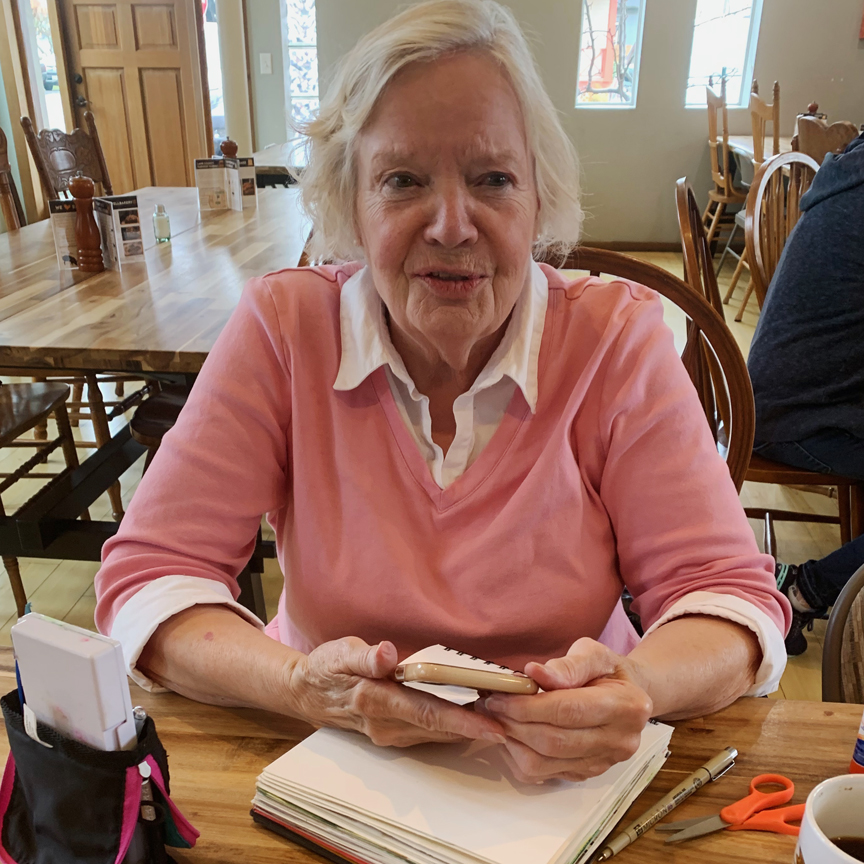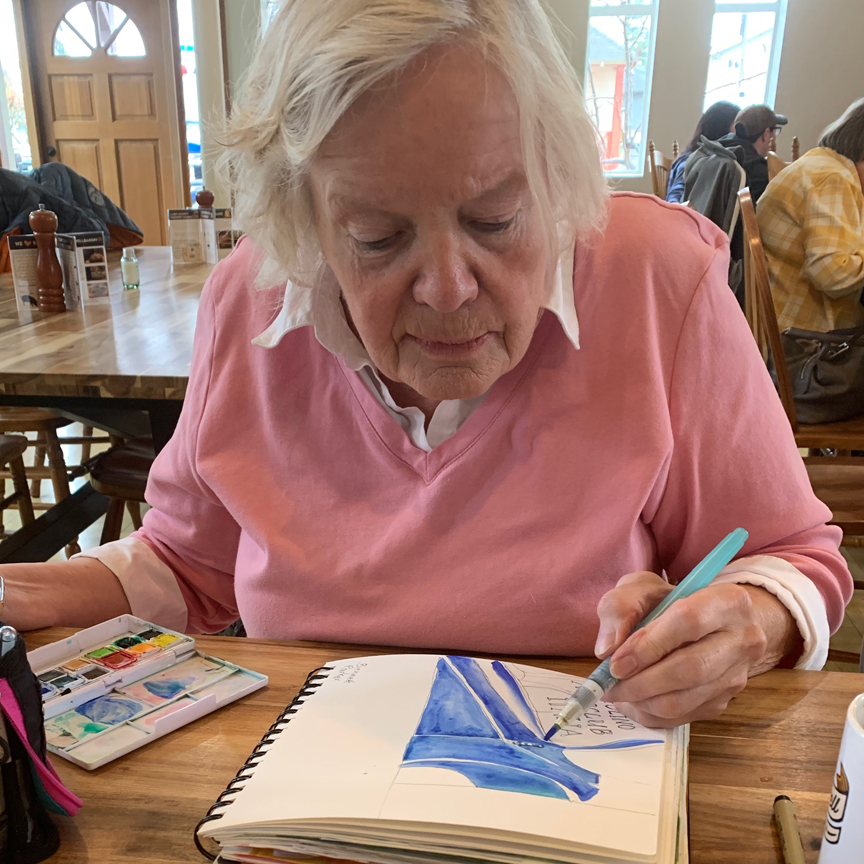 Lona "grew" this sketch, starting with the words then as much of the car as would fit! As Ken would say, the power of the fragment!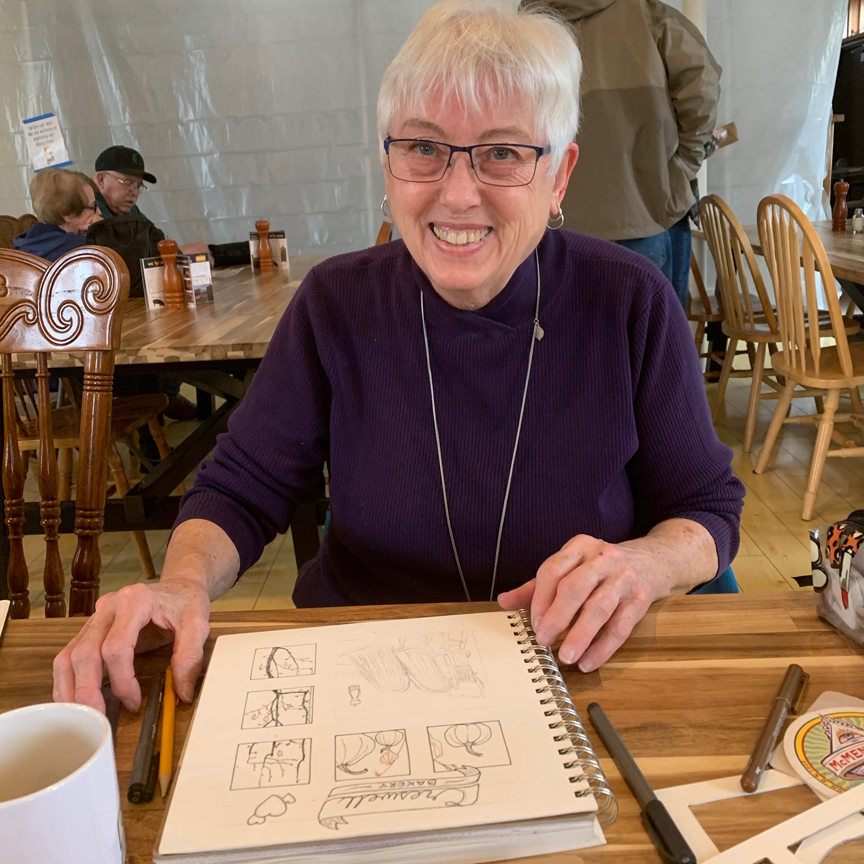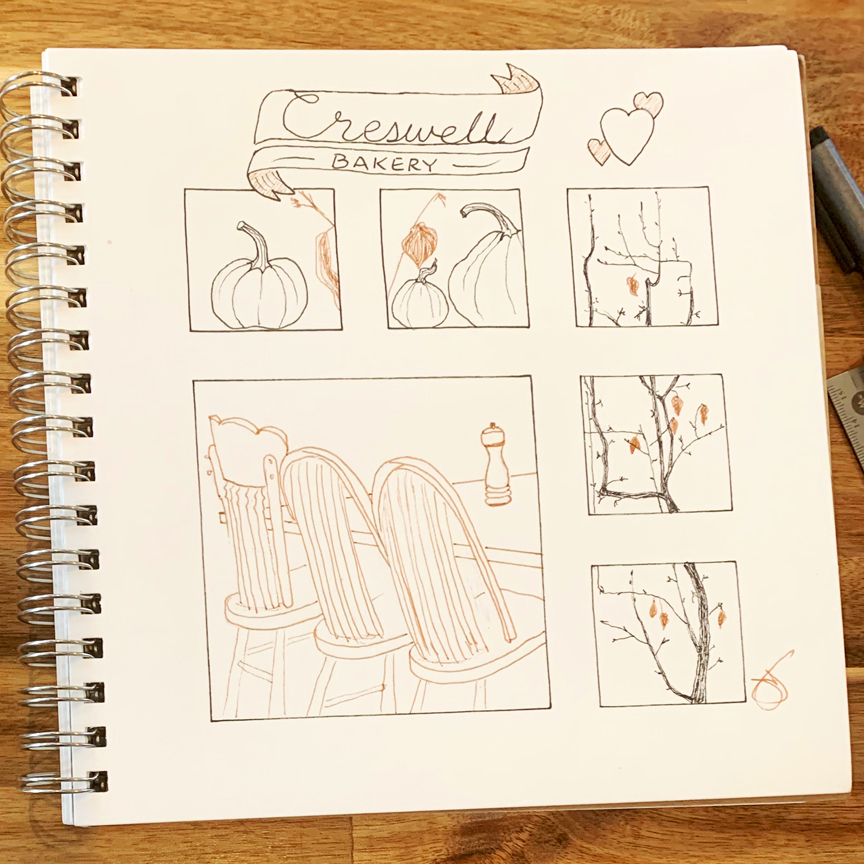 Jane did a two-toned sketch, very different from her usual thing.
✒ Nov. 8, 2019, Washburne Cafe, Springfield, OR.
Crazy scramble of a morning trying to find a place amenable to our group! Glad to end up in the warm environment at Washburne.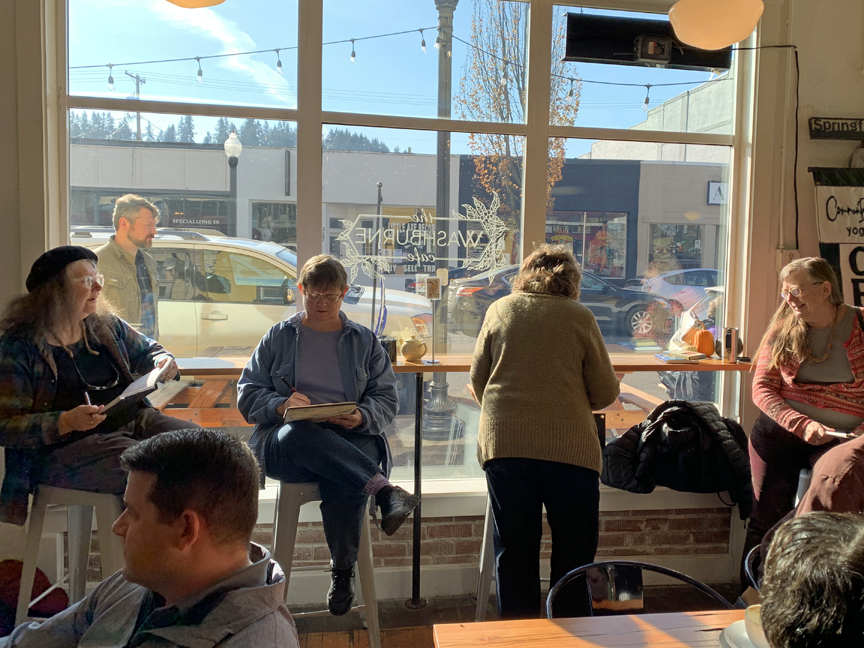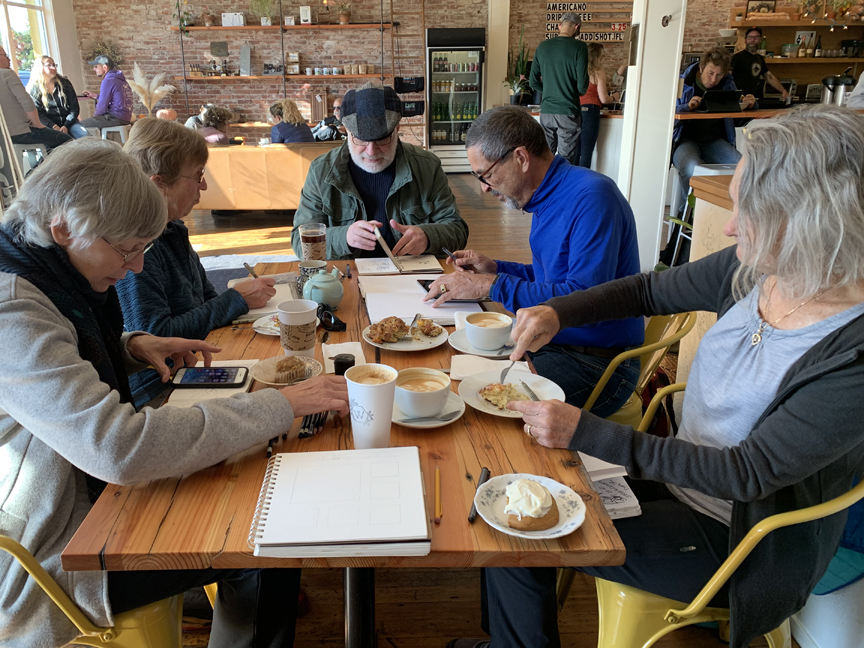 Laura, Daisy, Bev, Jude; Helga, Carol, Serge, Hugh, Sandy.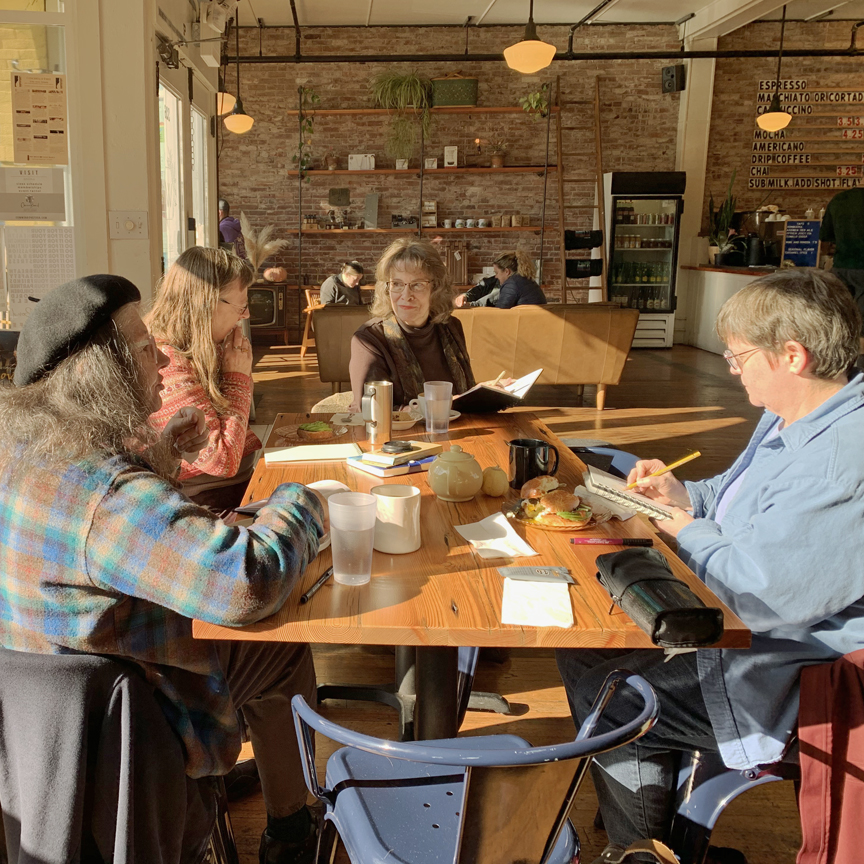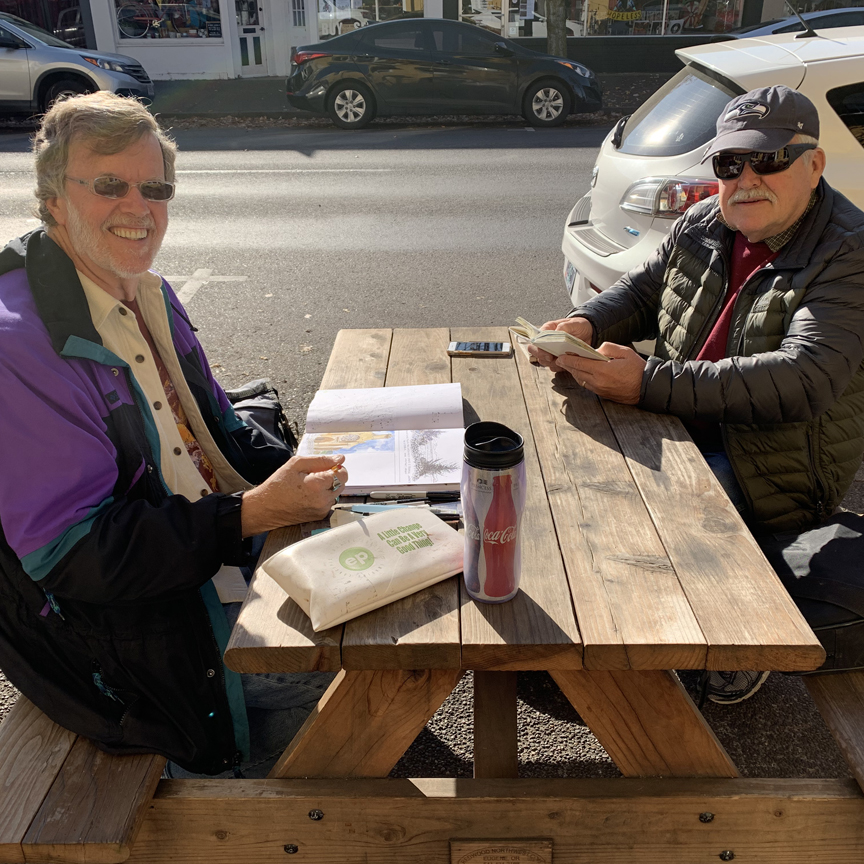 Laura, Jude, Bev, Daisy; Jim & Bill in the sun outside.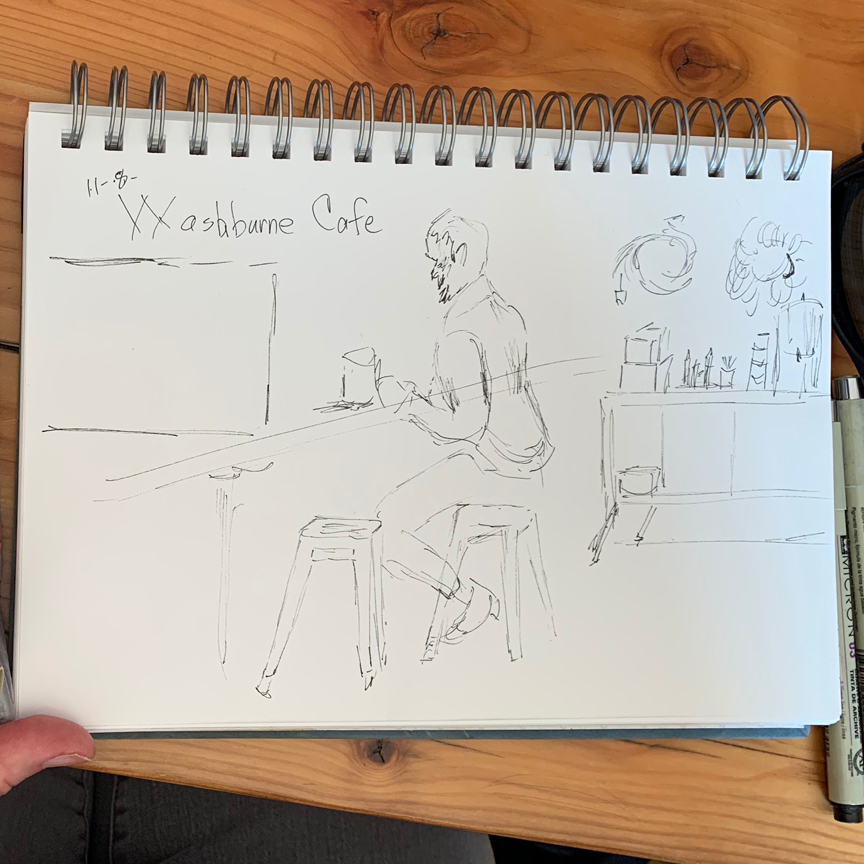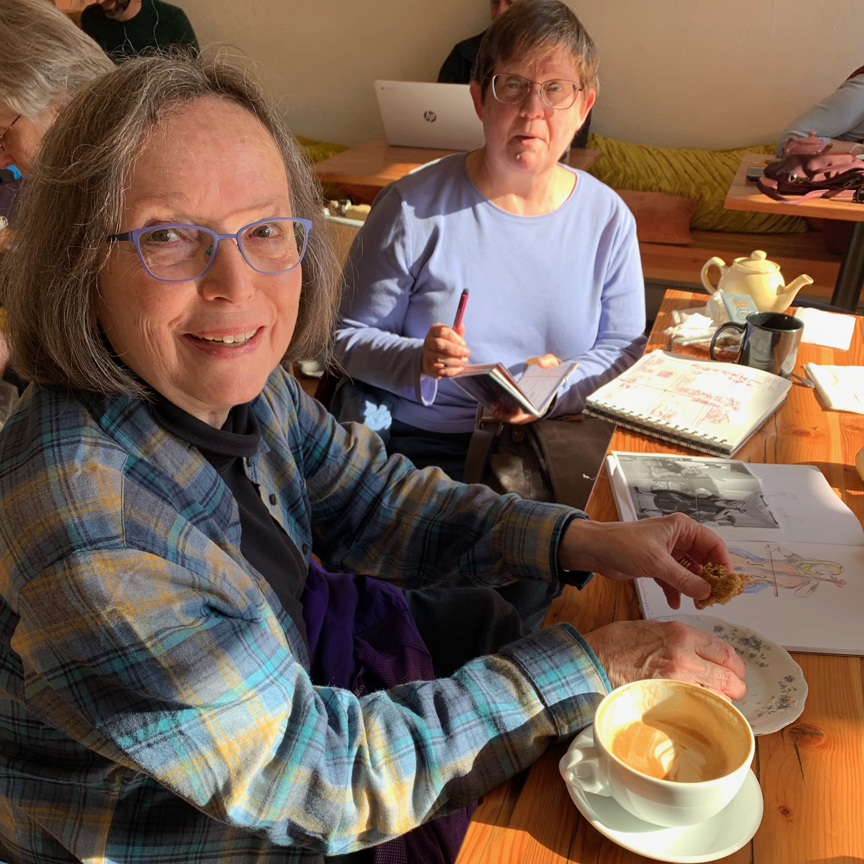 Carol's sketch; with friend Marsha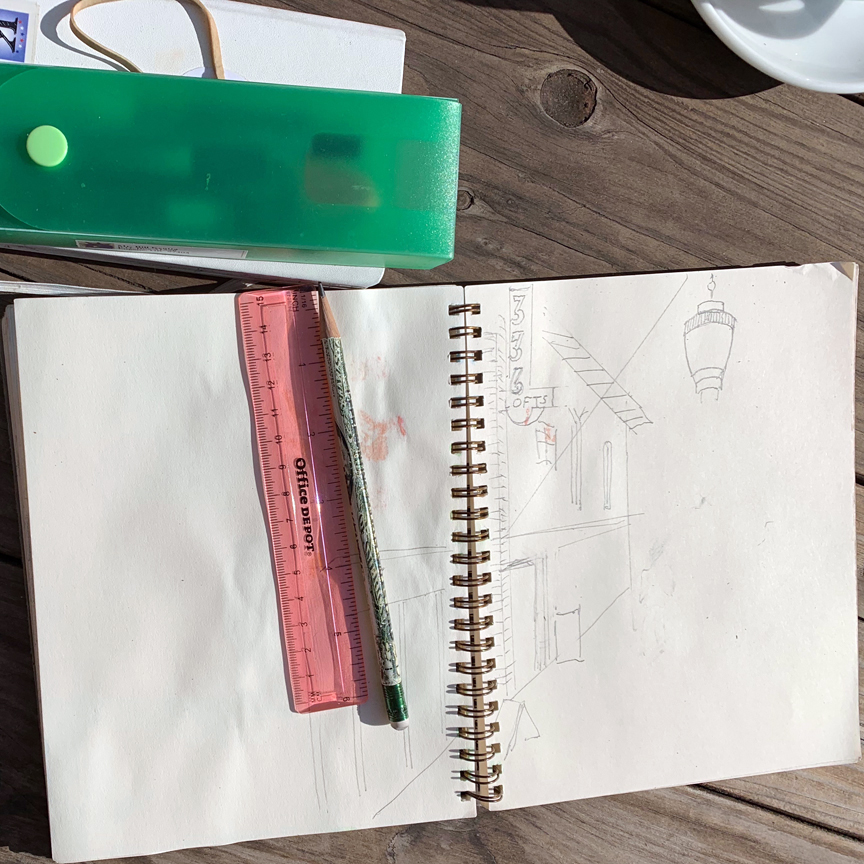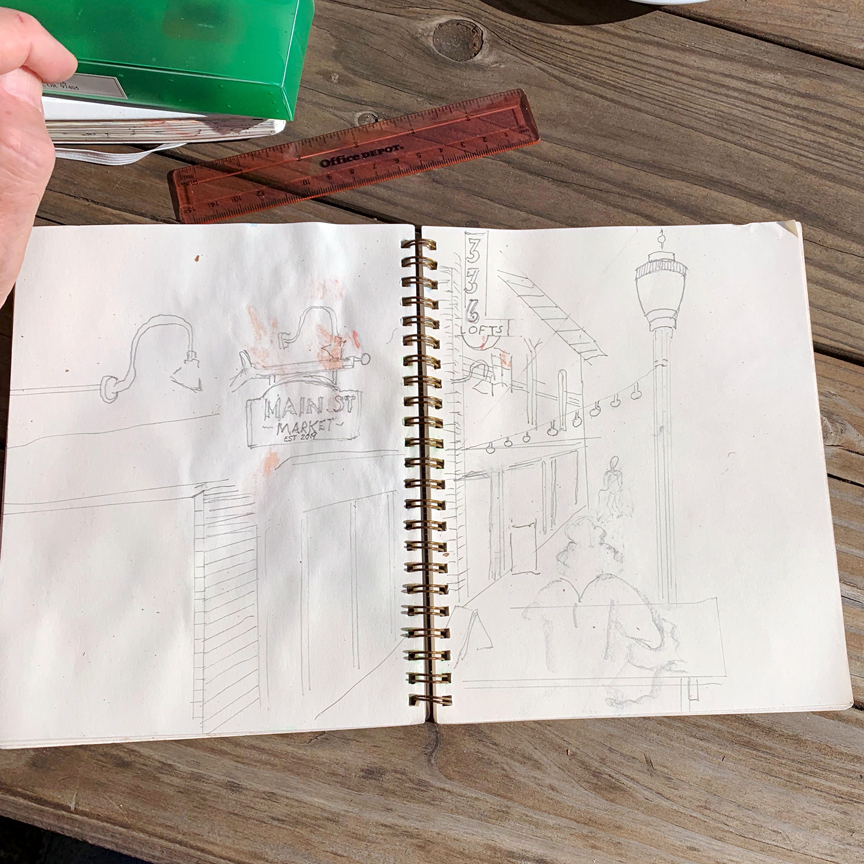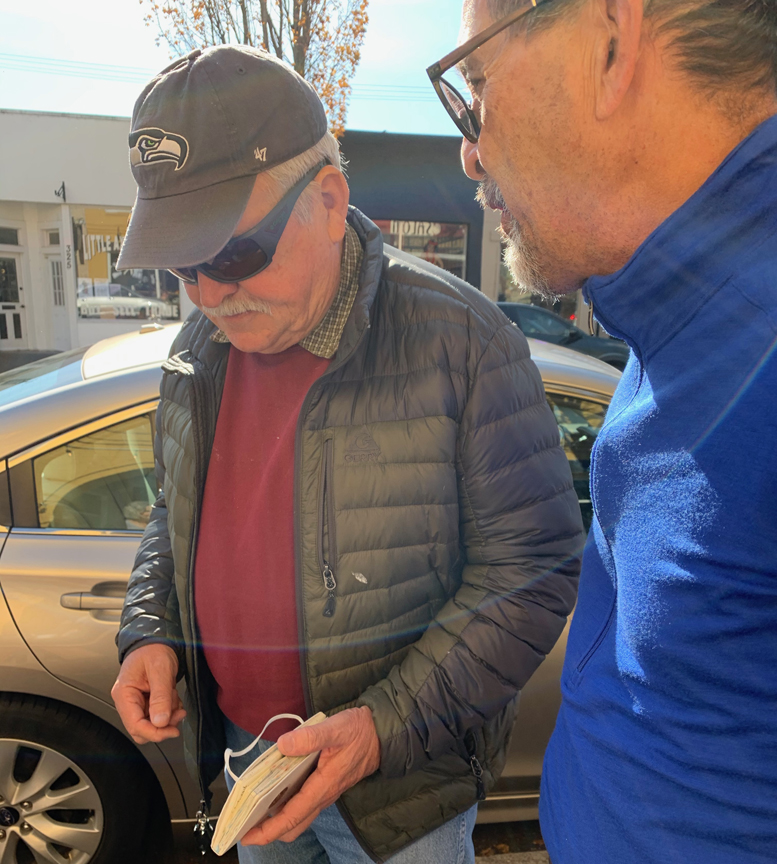 Bill; Hugh checking out Bill's ever present travel journal.
✒ Oct. 25, 2019 – Barnes & Noble bookstore, Eugene, OR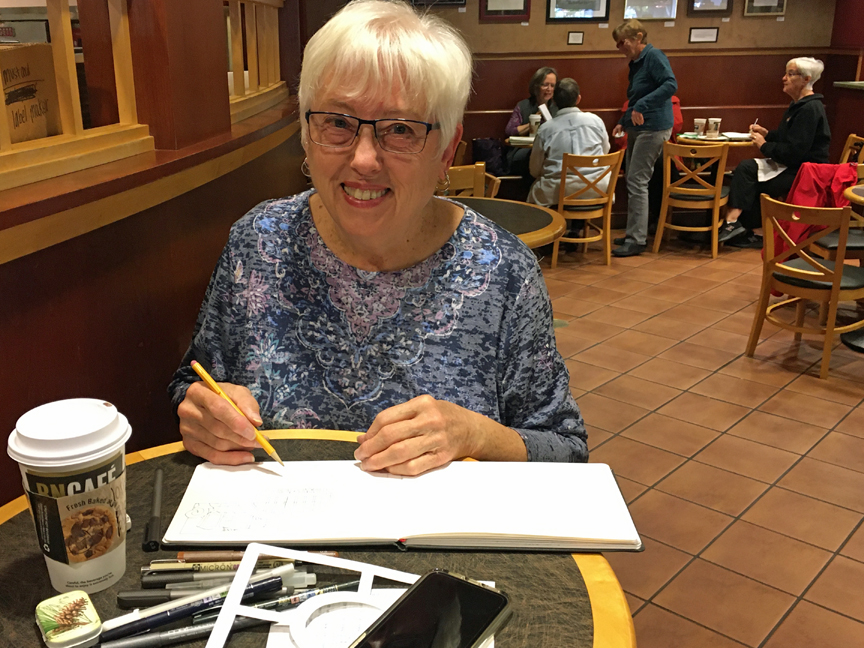 We came for the calligraphy show & stayed to sketch: Serge, Daisy, Marsha, Bev, Katie, Peggy, Carol, and then there's Jane.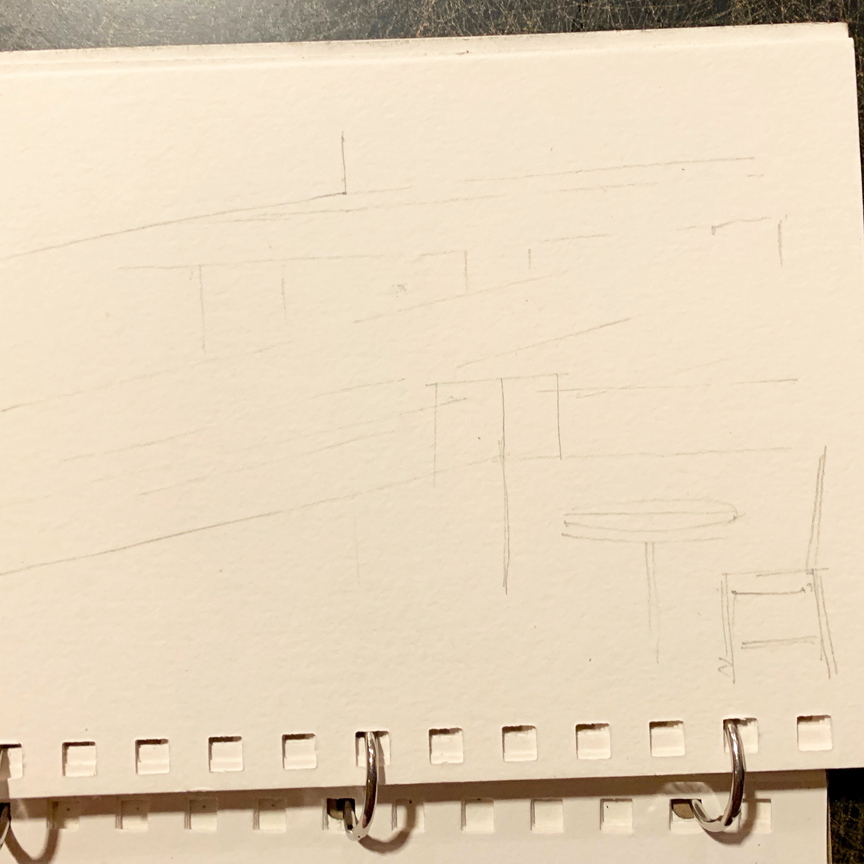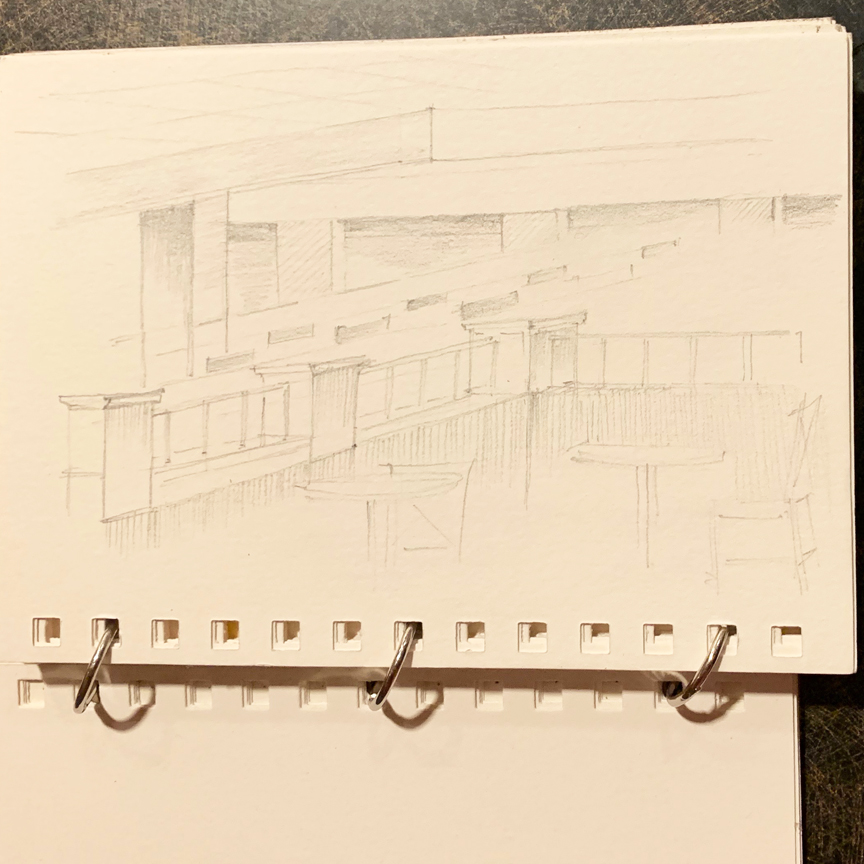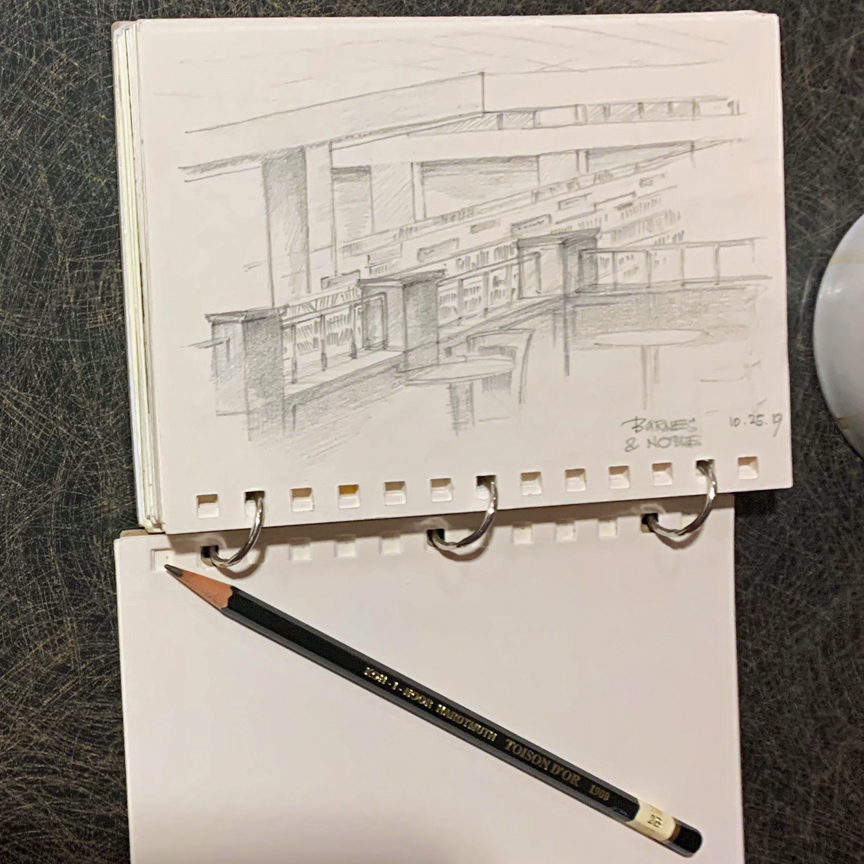 We all admired Serge's ability to do complicated perspective, as well as the effect he gets with pencil for depth and texture.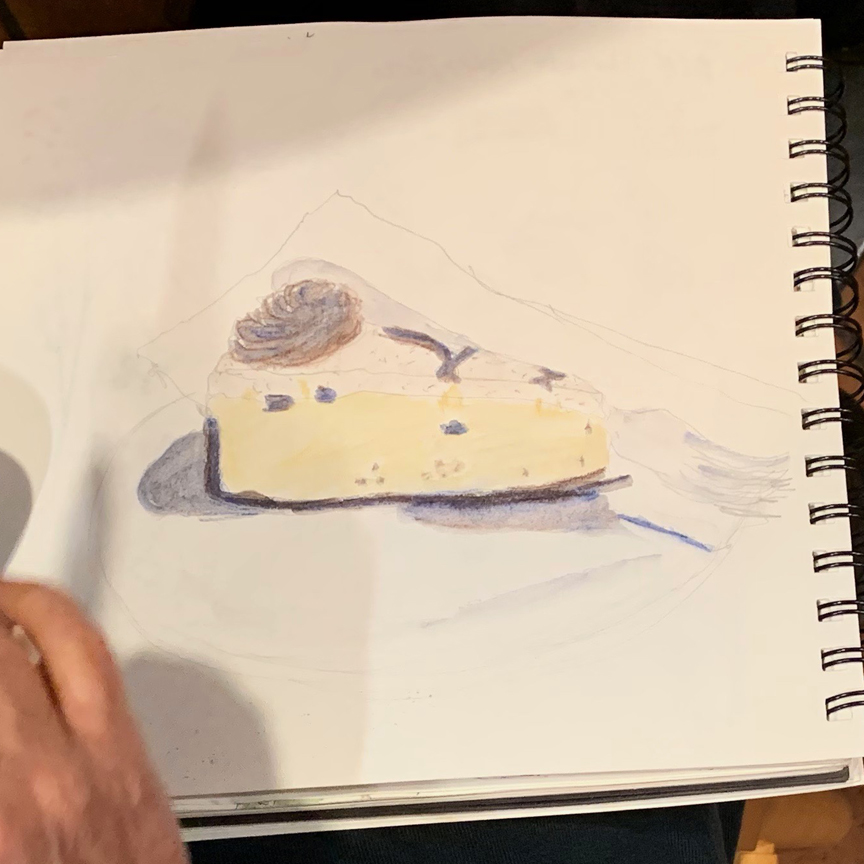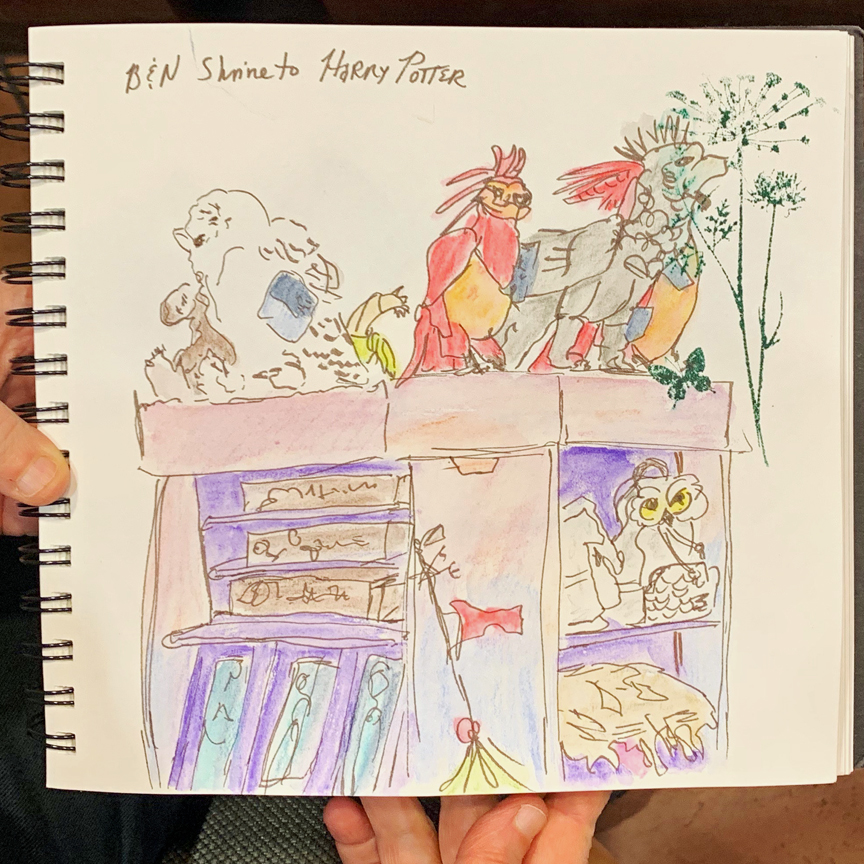 Daisy recorded her cheesecake (before she ate it!), then moved on to a fun display on top of a nearby bookshelf.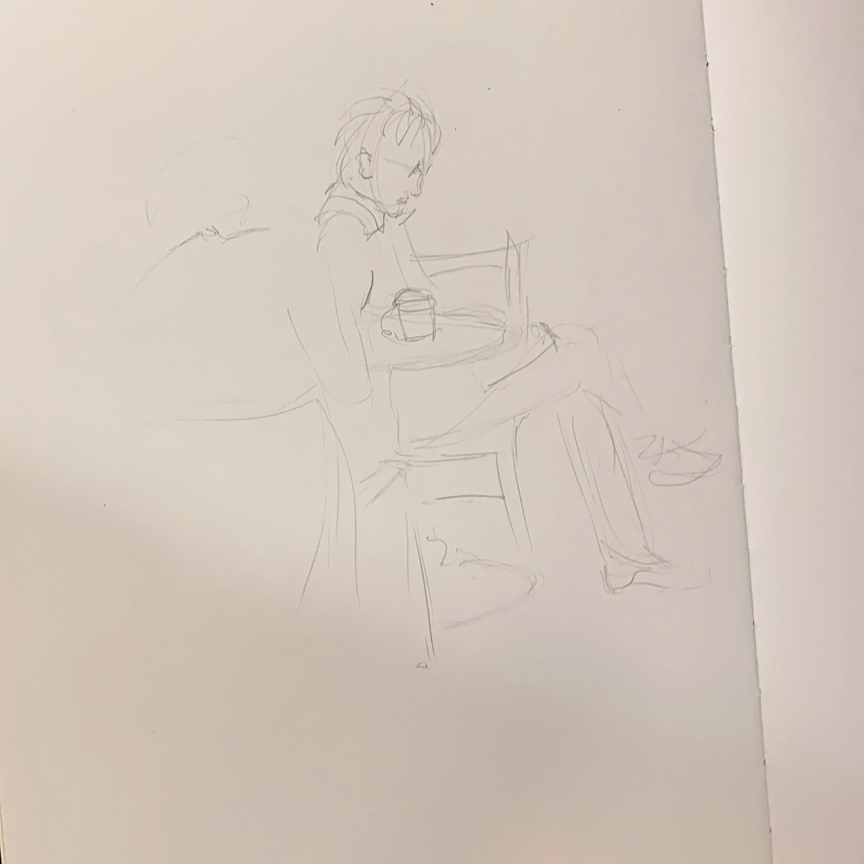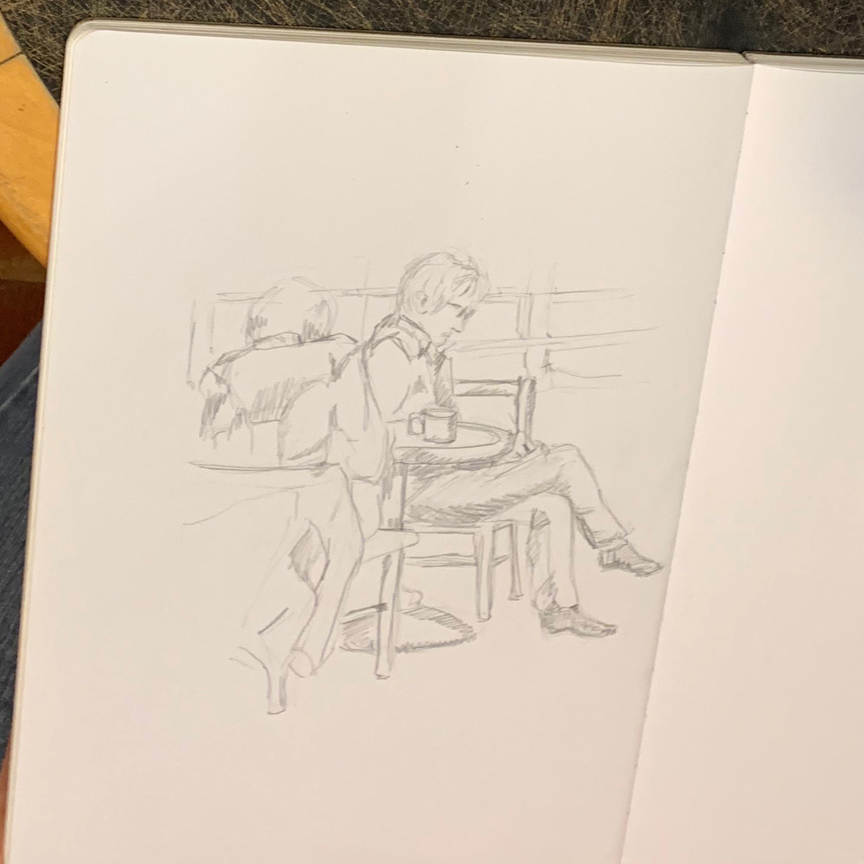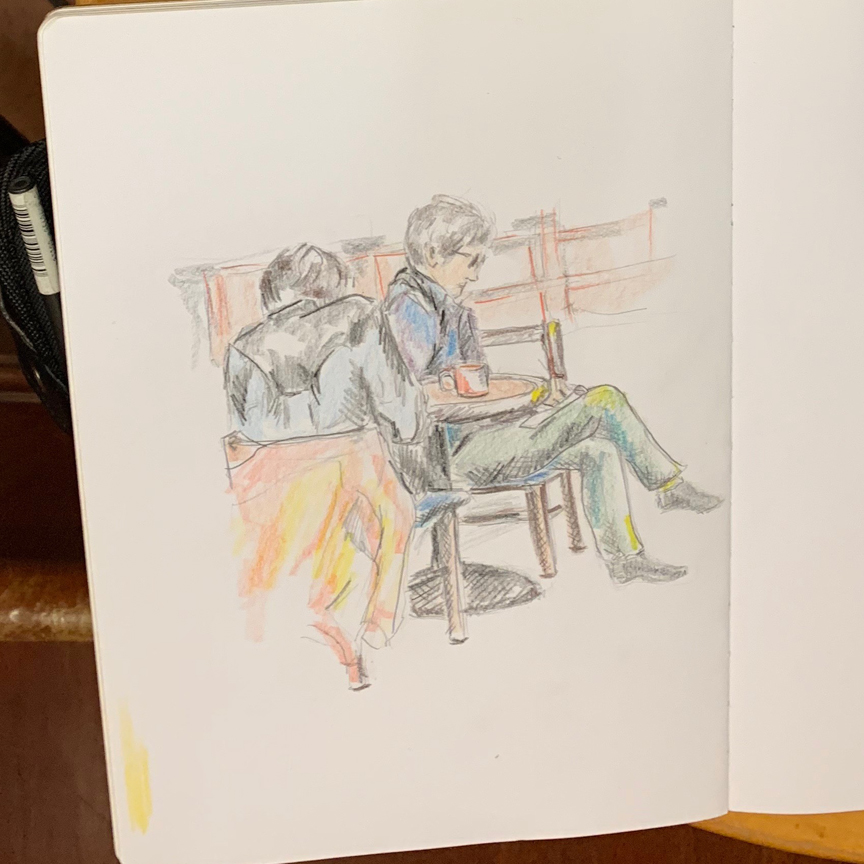 Marsha says she's figured out how to get around having models that move mid-sketch – she chose some sketchers! Peggy & Carol.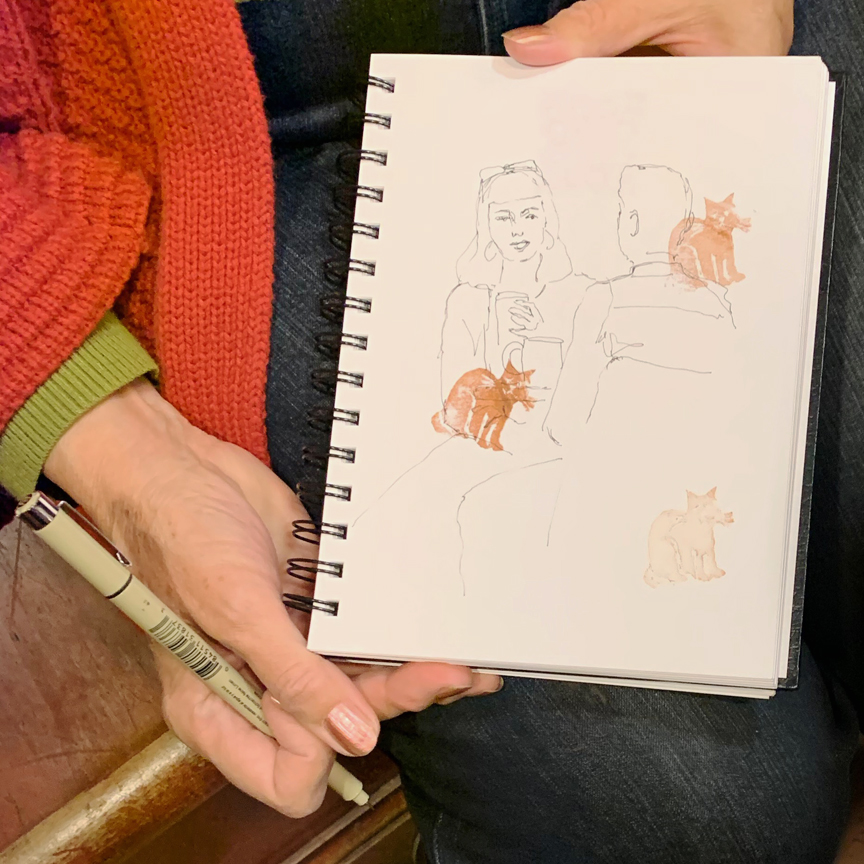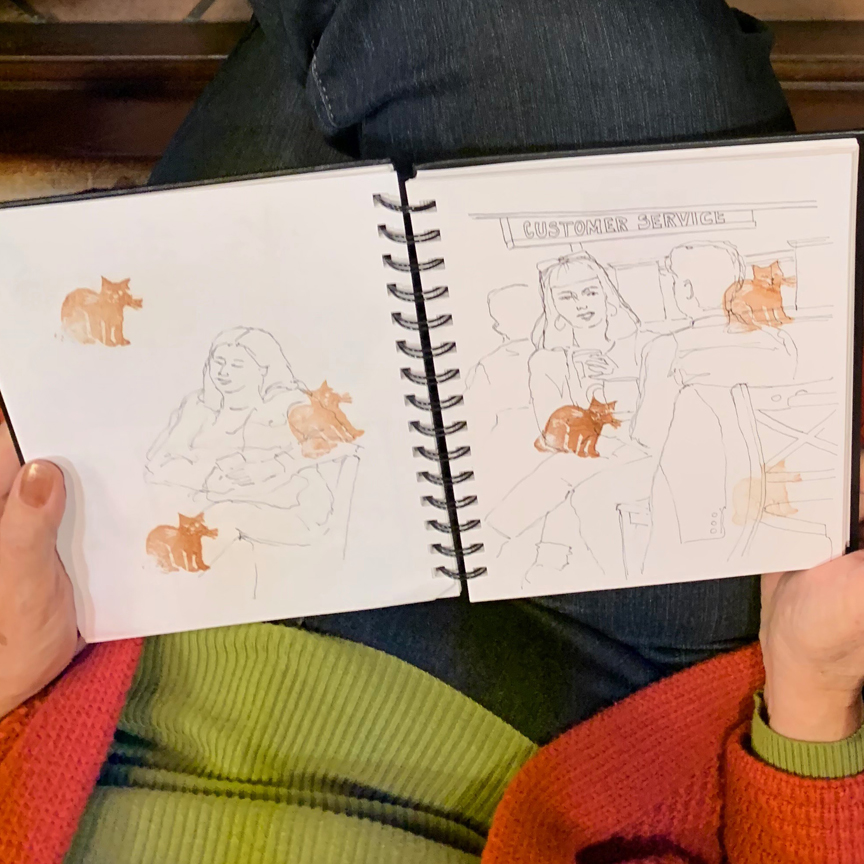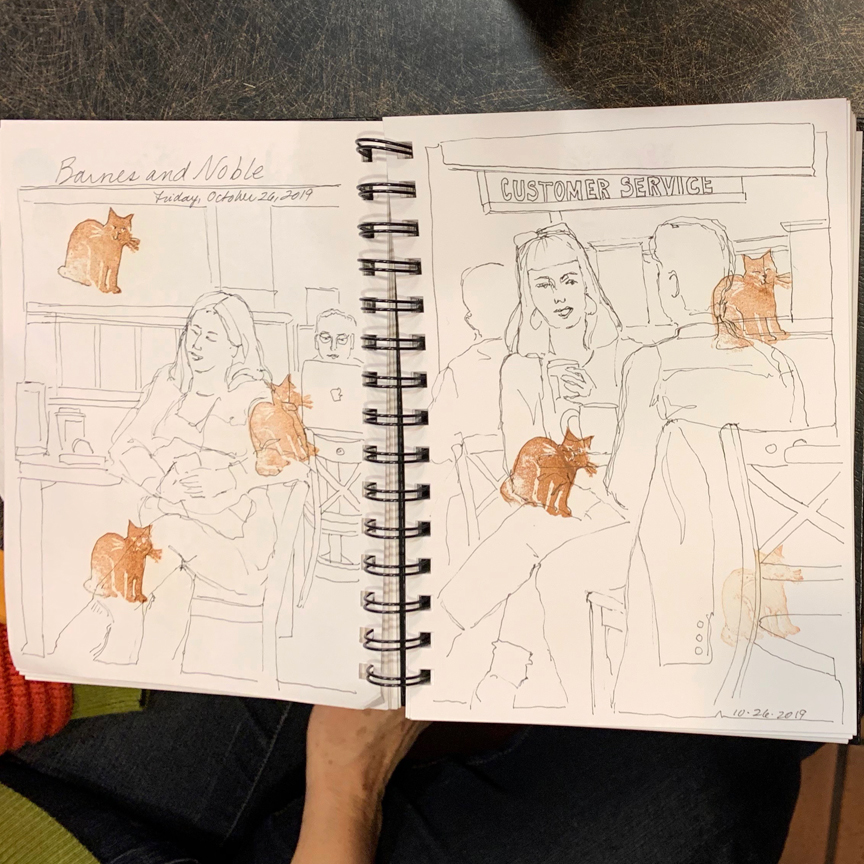 Bev manages models by sketching quickly – very lively sketches of people as they sat near to chat, have treats, or even work.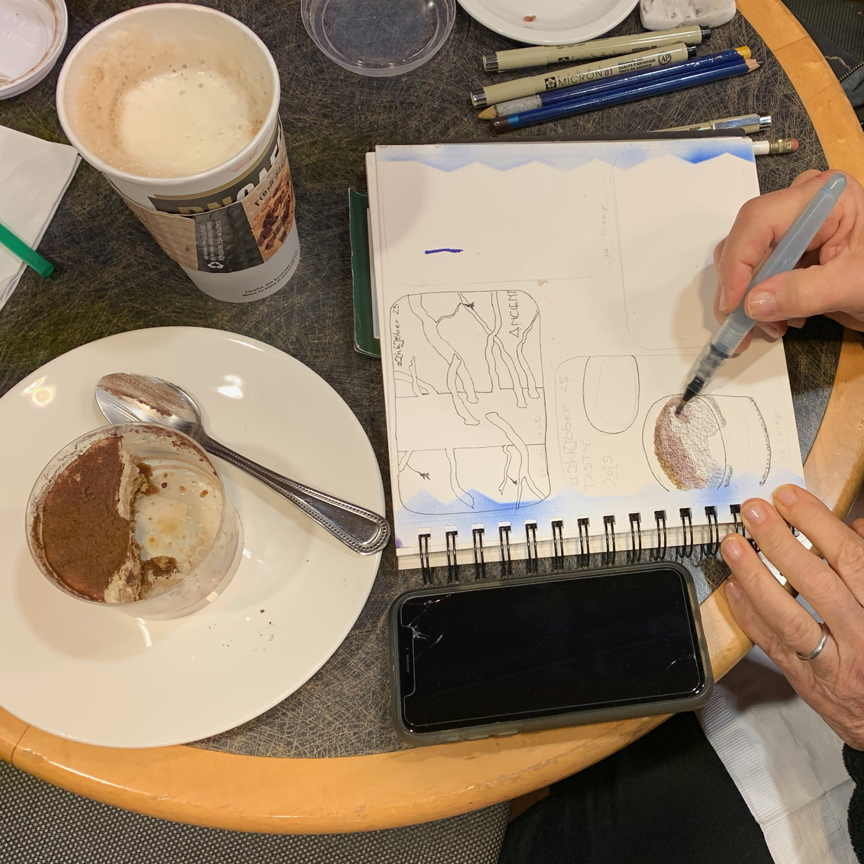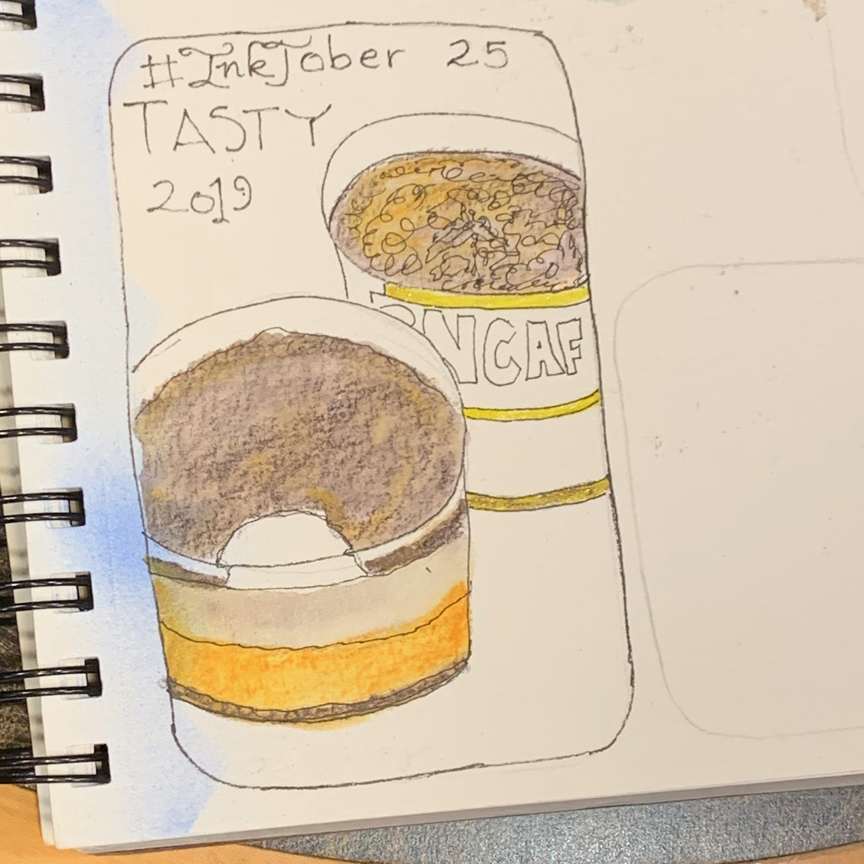 Katie sketched her treats mid-consumption. She's maintaining her "Inktober" sketch challenge, with today's topic: Tasty.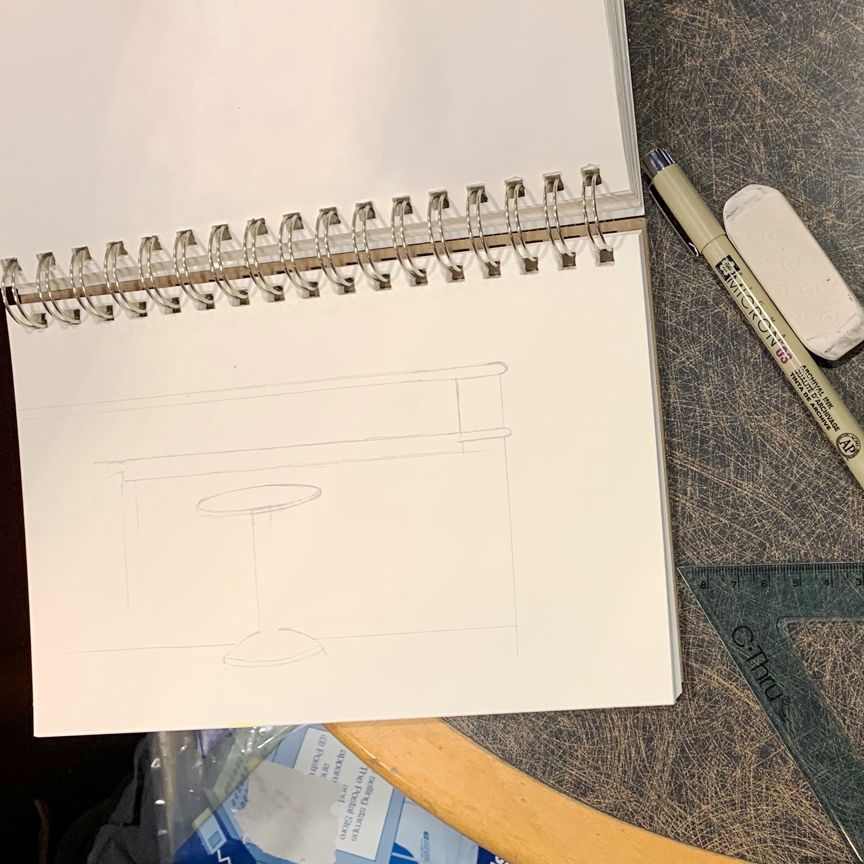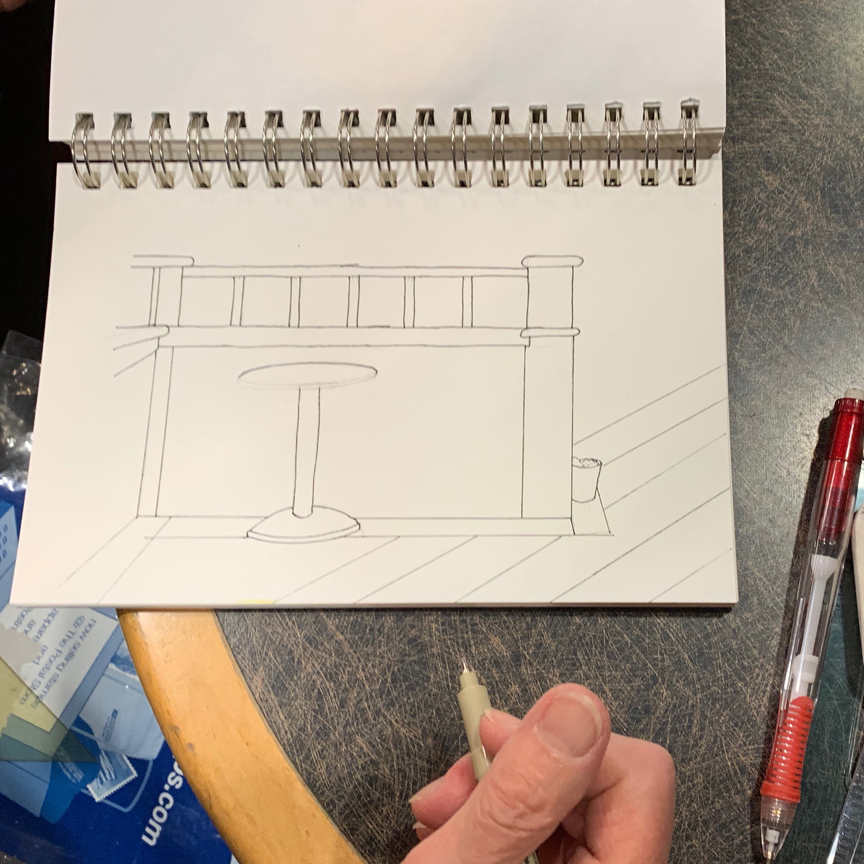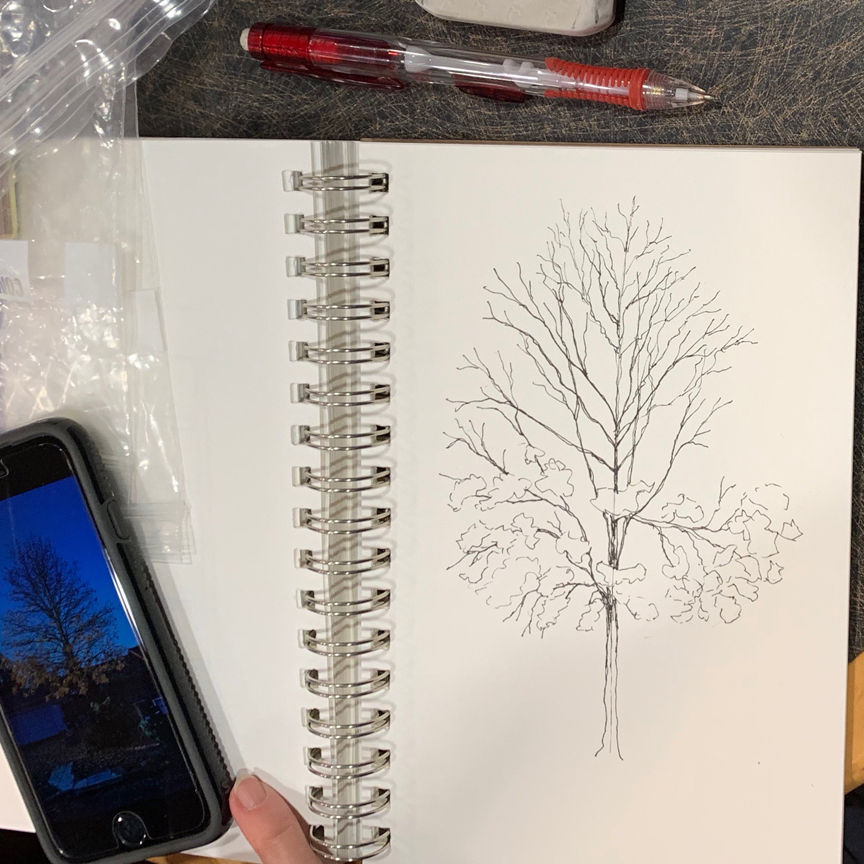 I think the linearity of Peggy's first sketch was what impelled her to break out and sketch the tree with diminishing autumn leaves.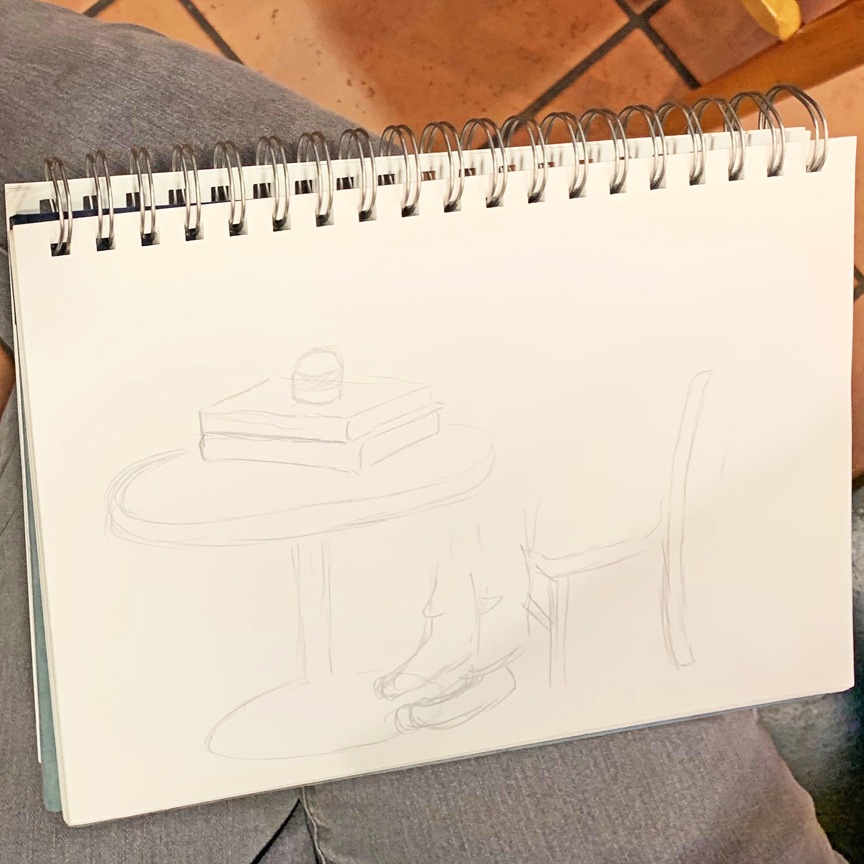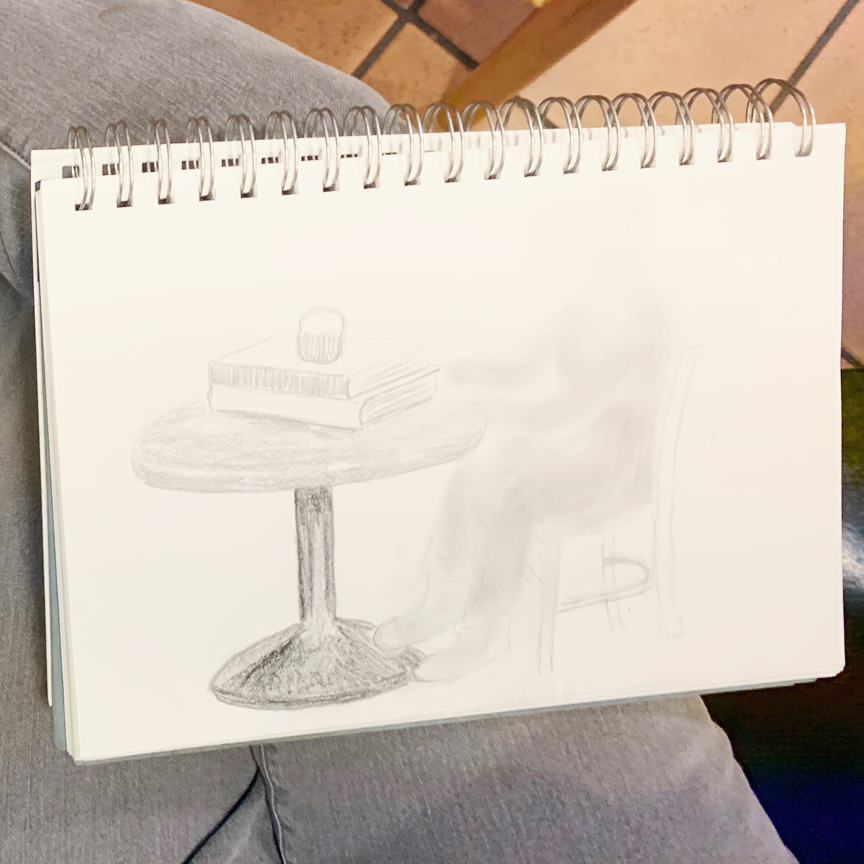 Nice to have Carol back with us, and to see her sneaking technique for blurring troublesome details by smudging her pencil marks!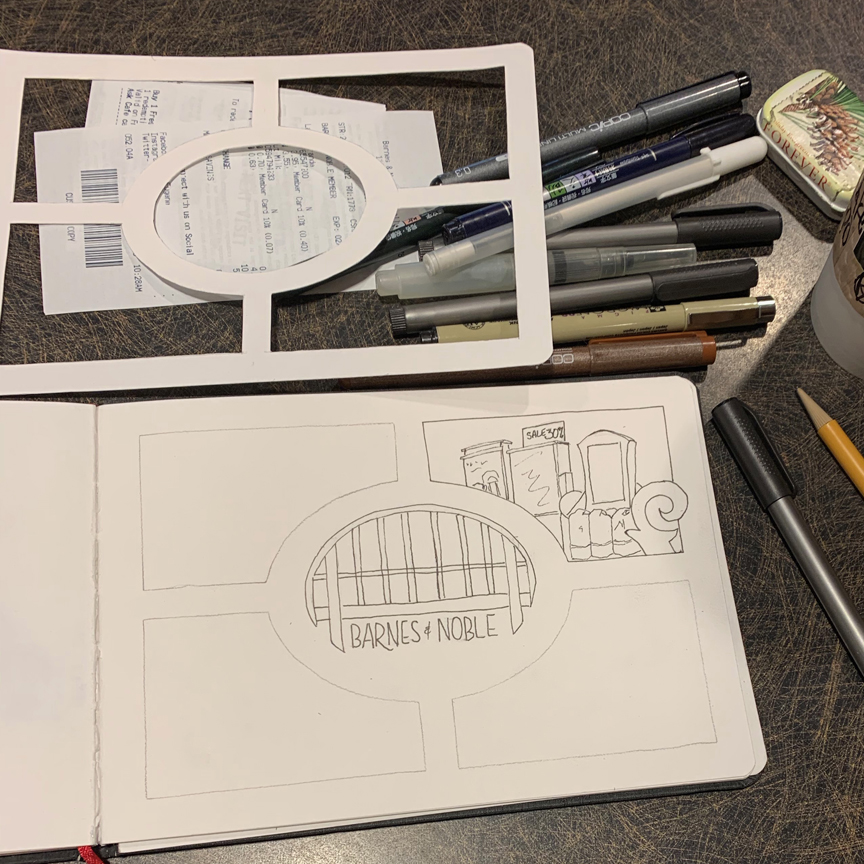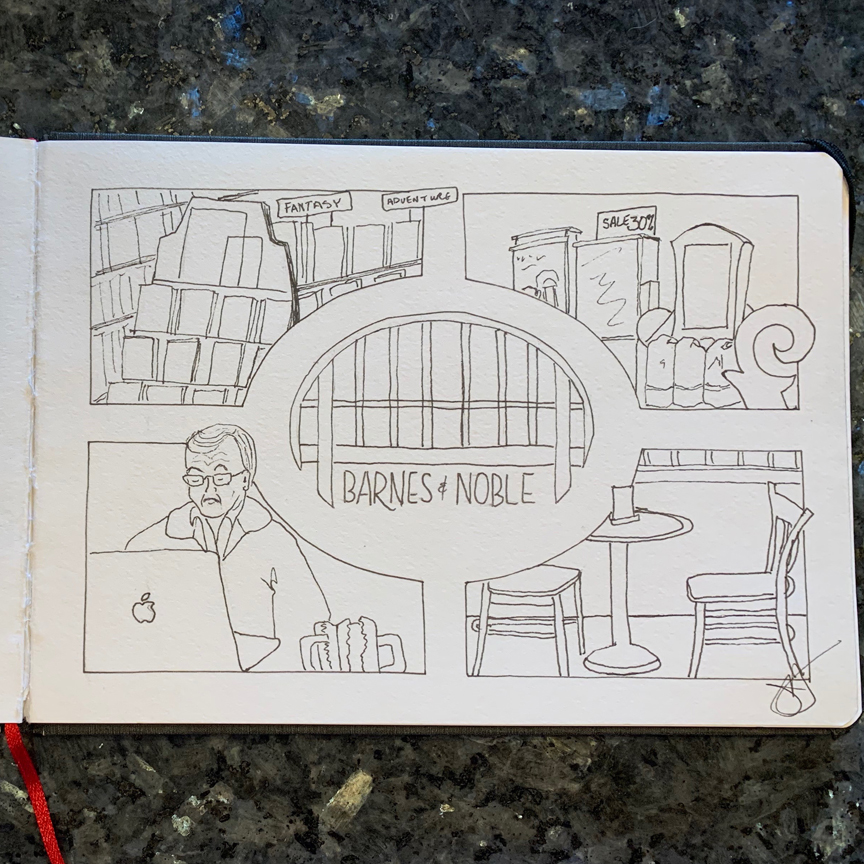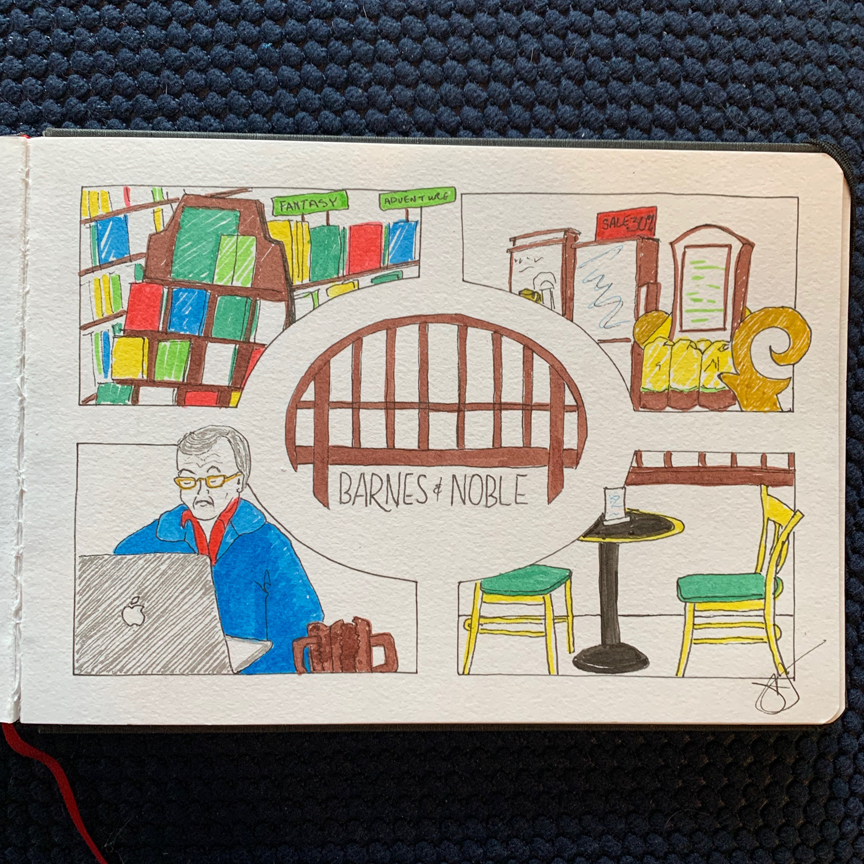 And Jane always struggles with too much detail, although this was a lot of fun to do – its probably better as a plain ink study, however!
✒ Oct. 11. 2019 – Thistledown Farm – chilly but sunny!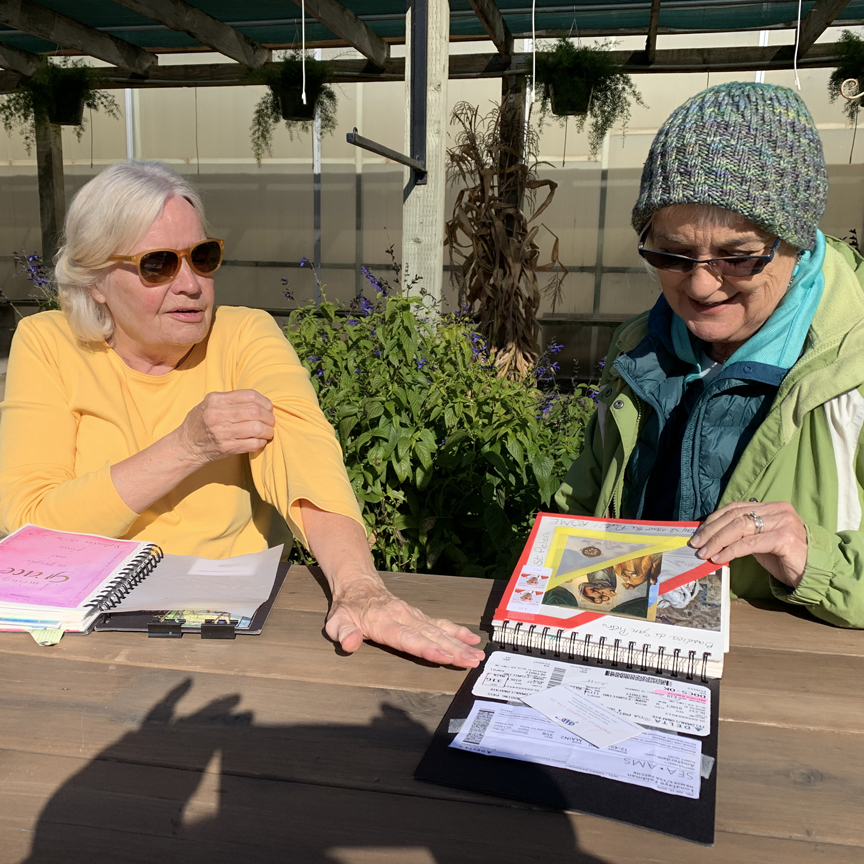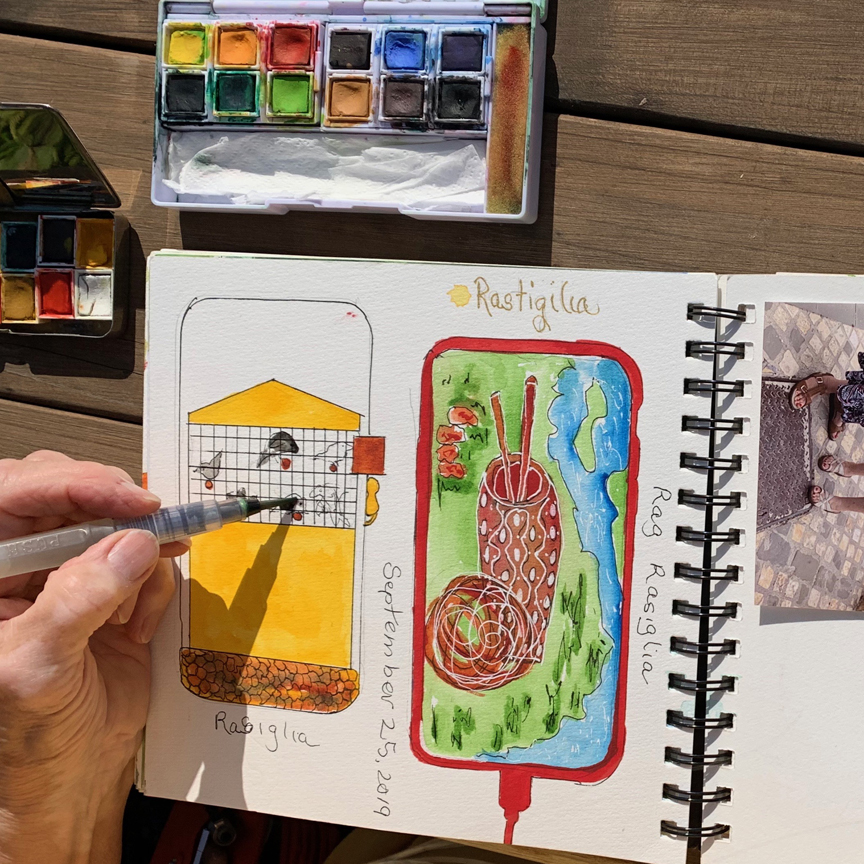 Lona & Katie were still "in" Italy – looking over Lona's sketchbook from her trip, then Lona continued her sketch from Rasiglia, Italy.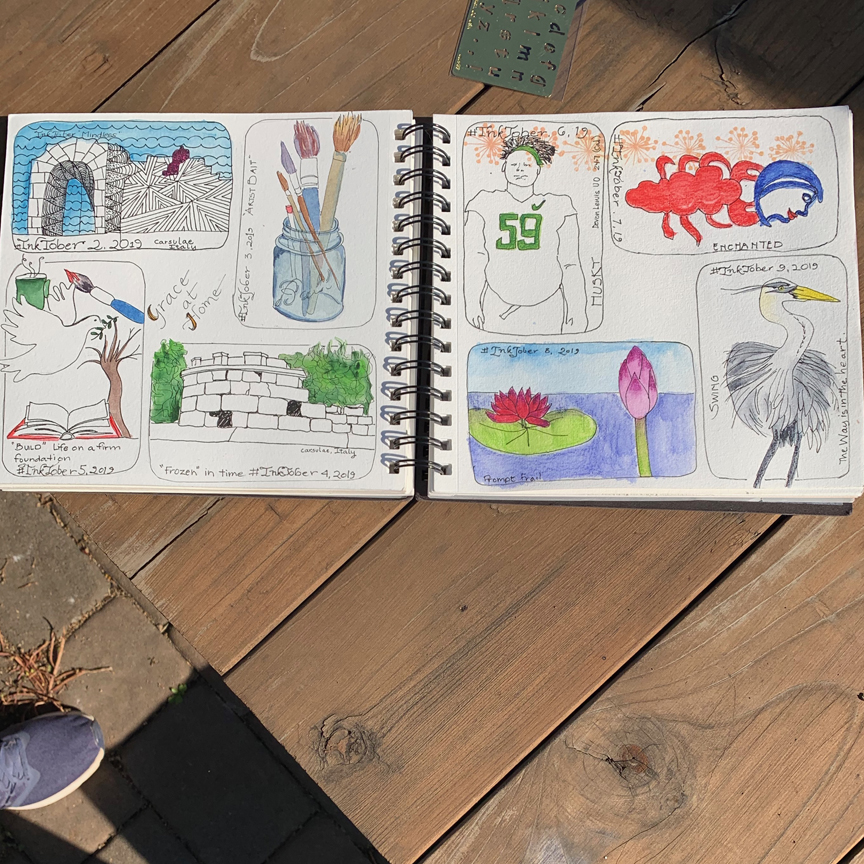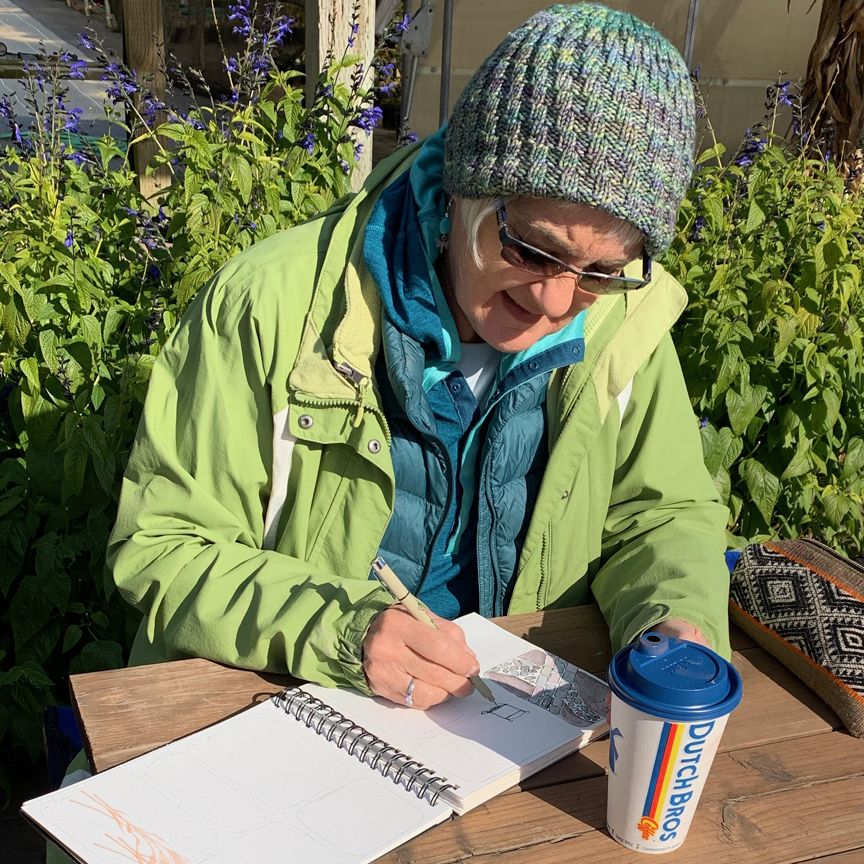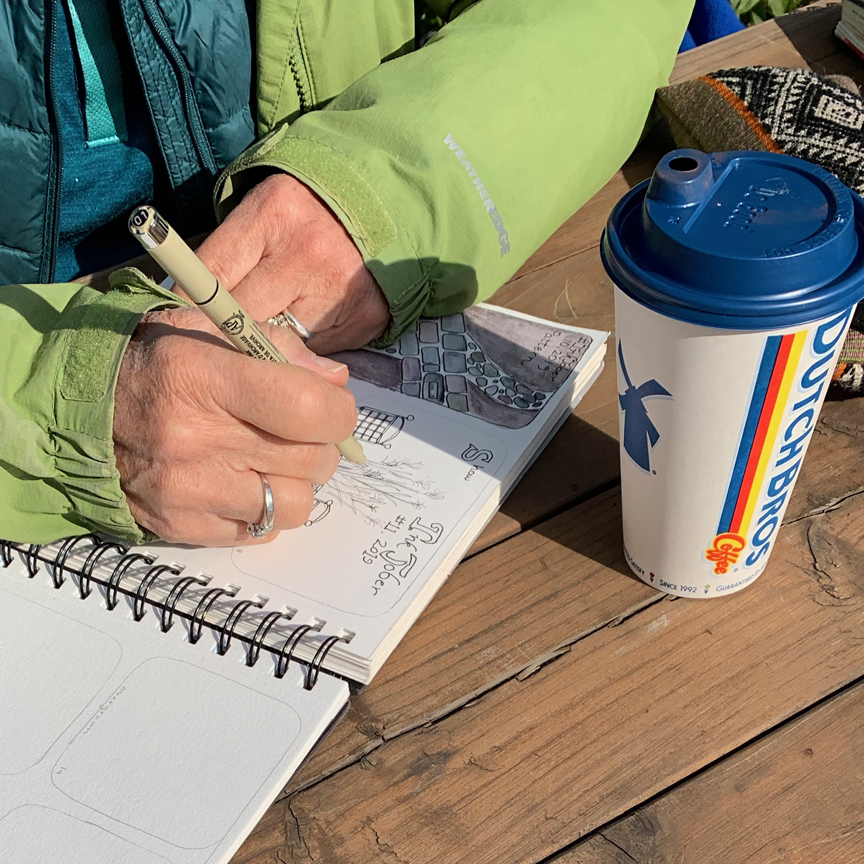 Here's where Katie left off in her Italy sketches, and then she was on to sketching the blooming grasses here, waving in the wind.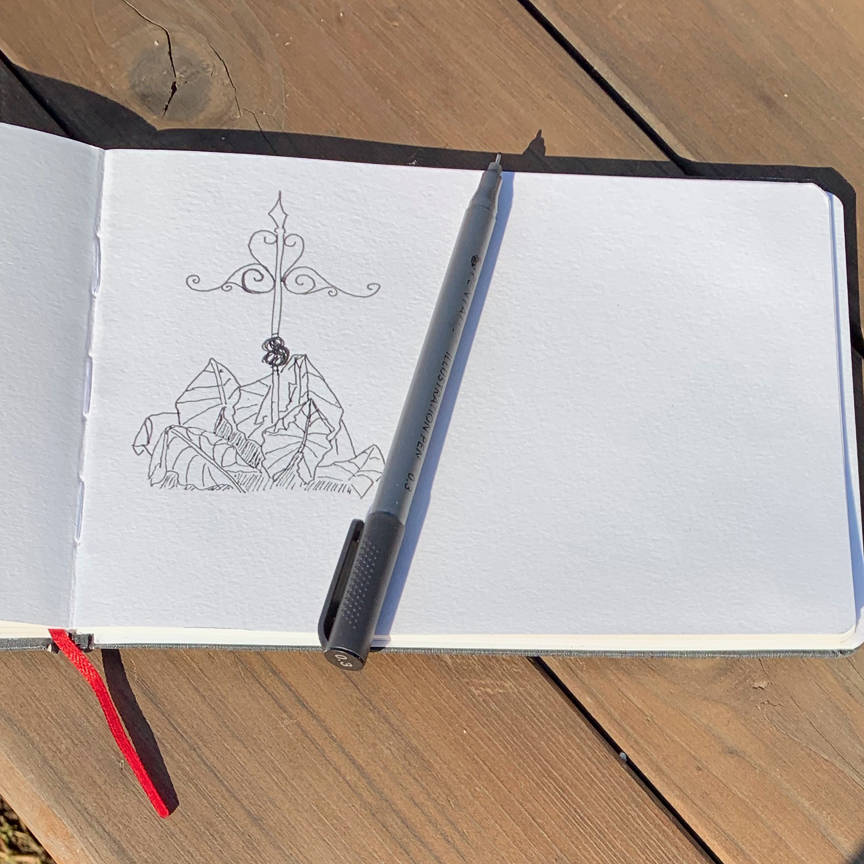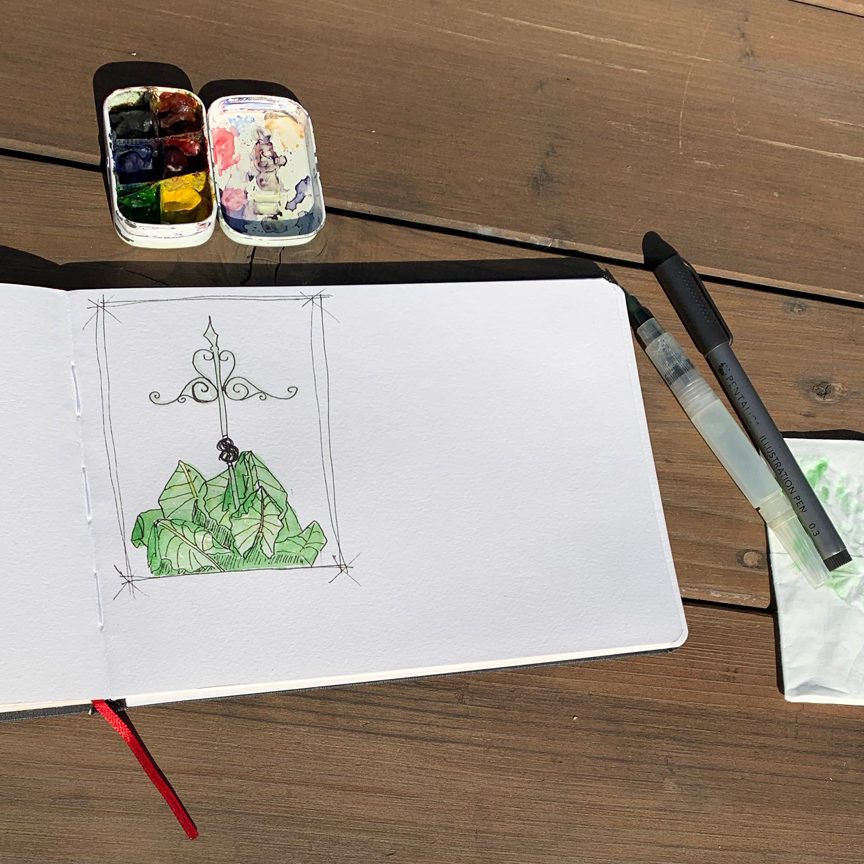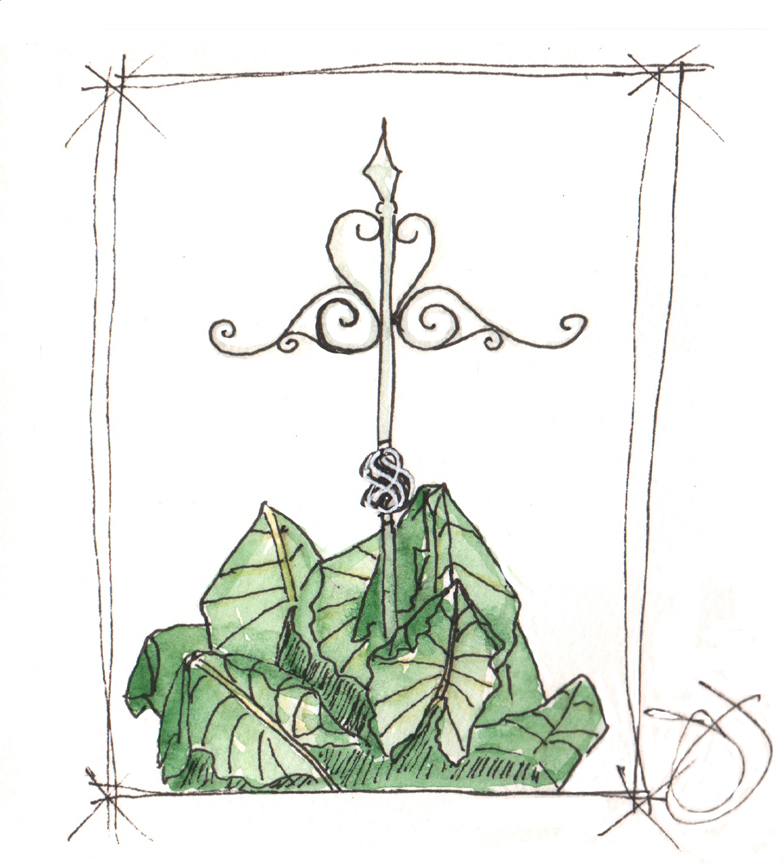 Jane was fascinated with the "wilted" elephant ear leaves, as well as the ornamental metal do-dad – ohmygosh! how to do that twist!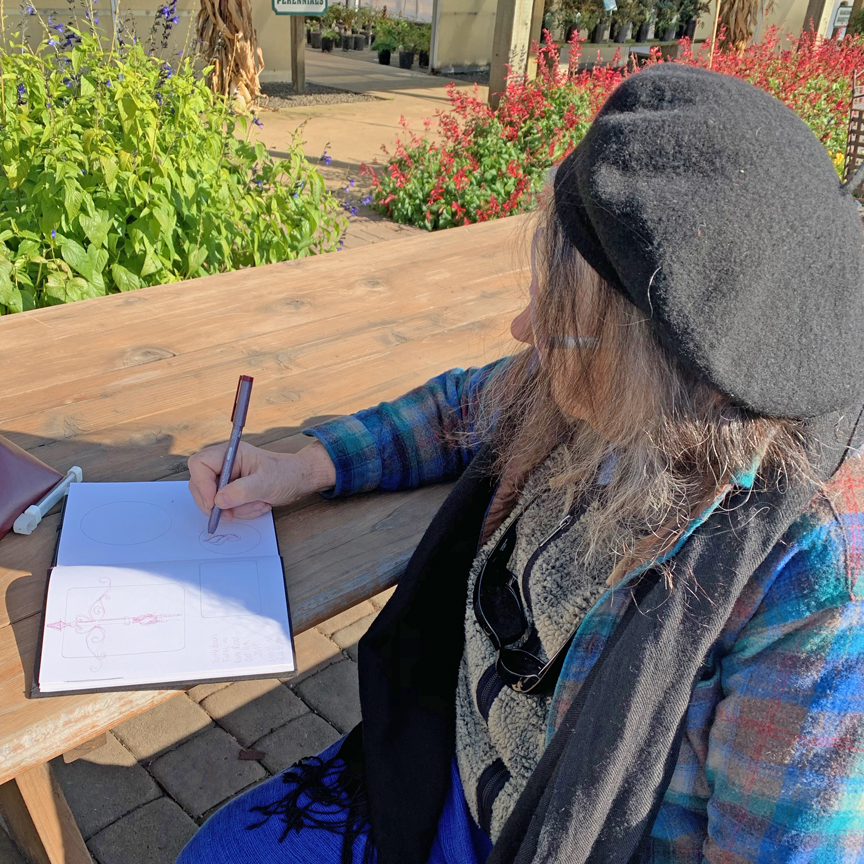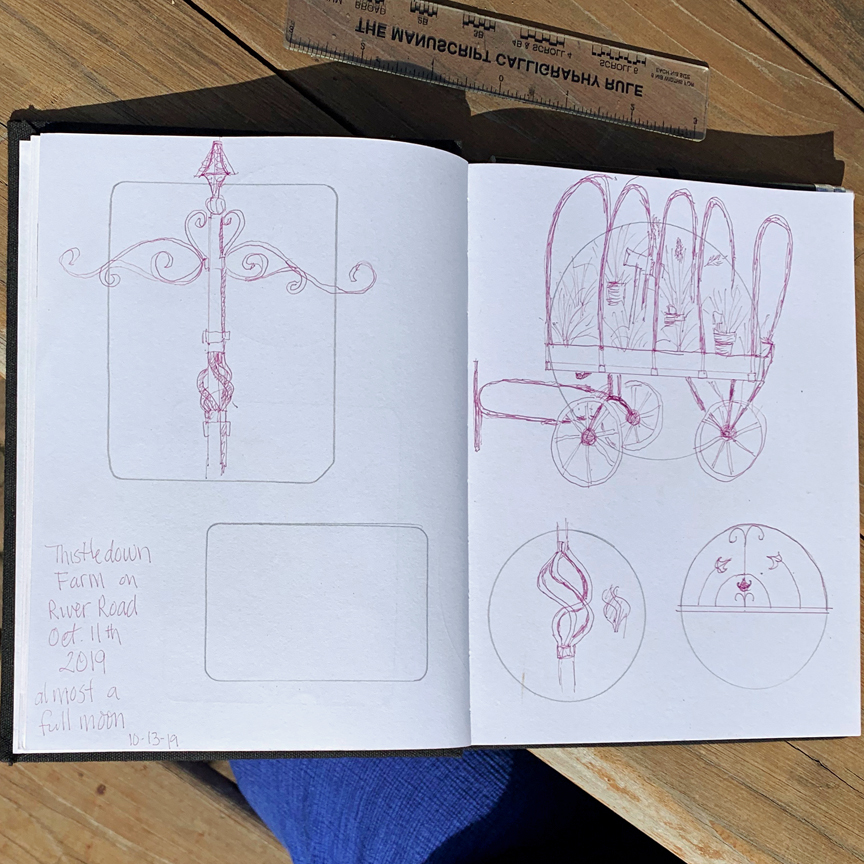 Laura launched right in with her wine colored ink pen, and did a great job on the ornamental do-dad. Nice balance to the twist!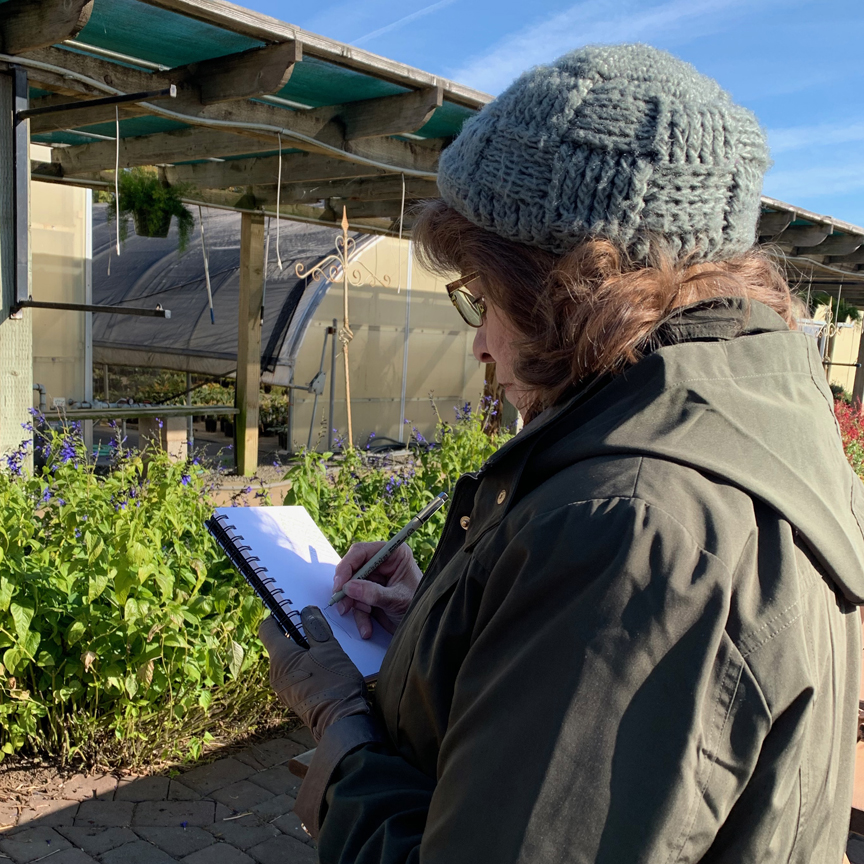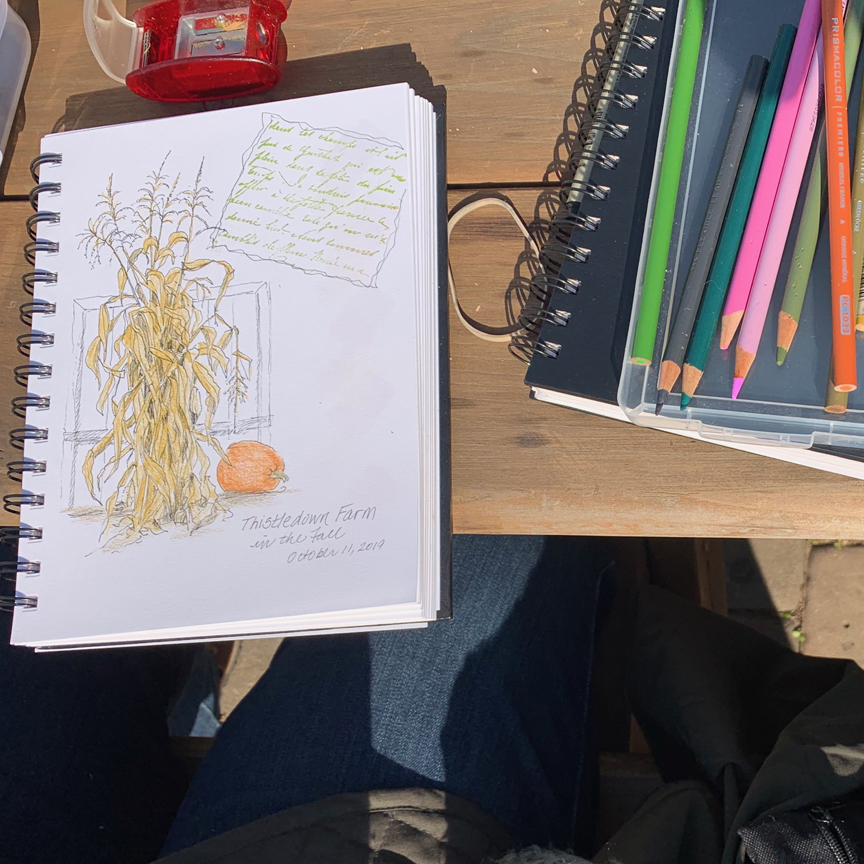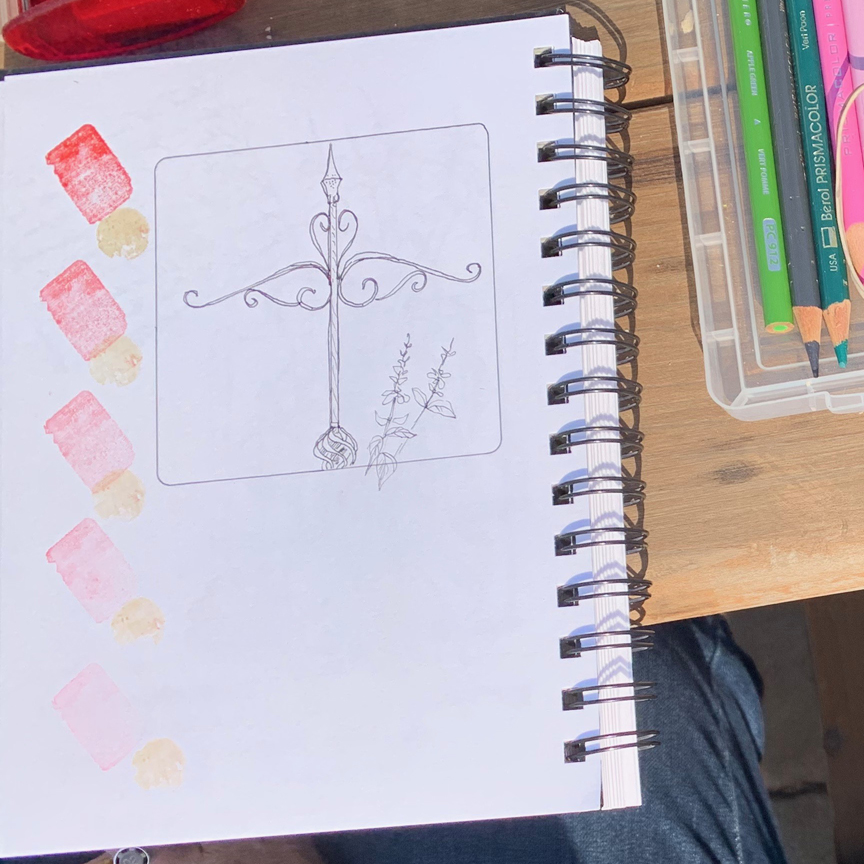 Bev caught the charming corn tassels & pumpkin display, and then tried her hand doing the metal twist, too – nice job!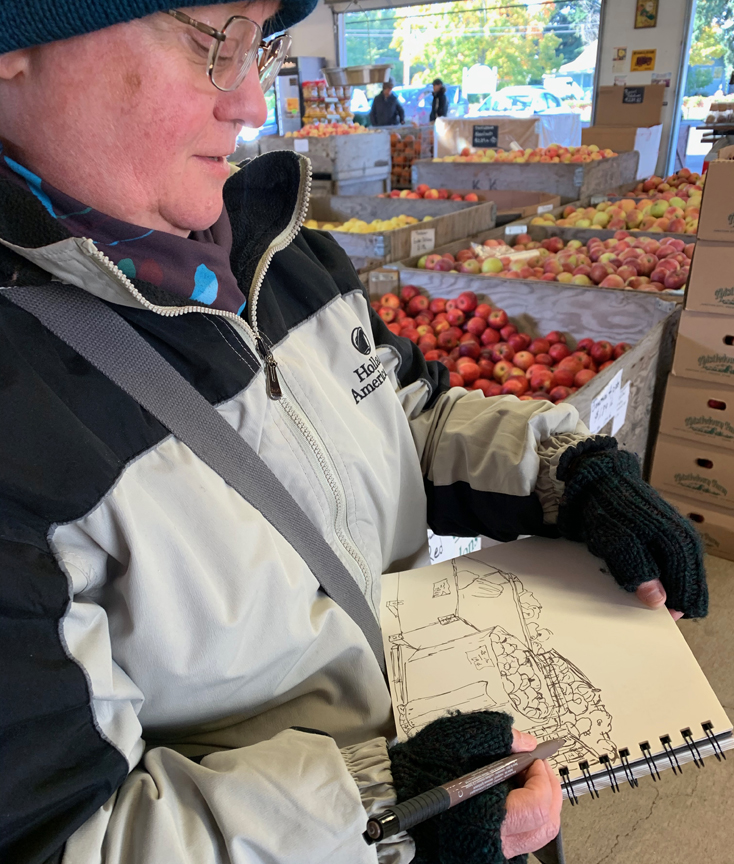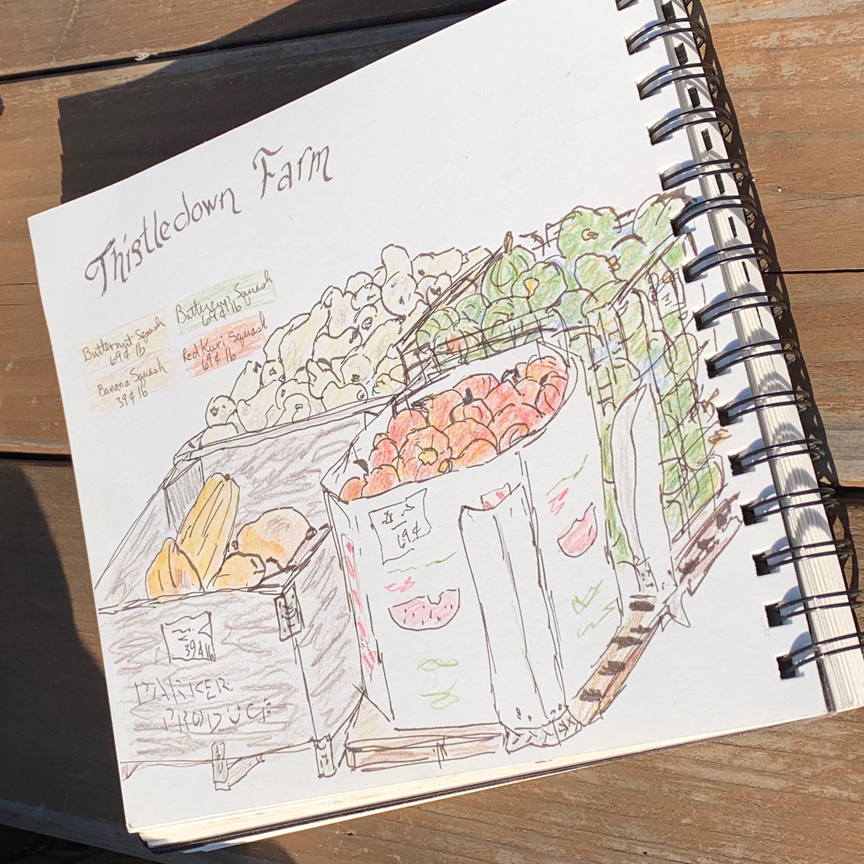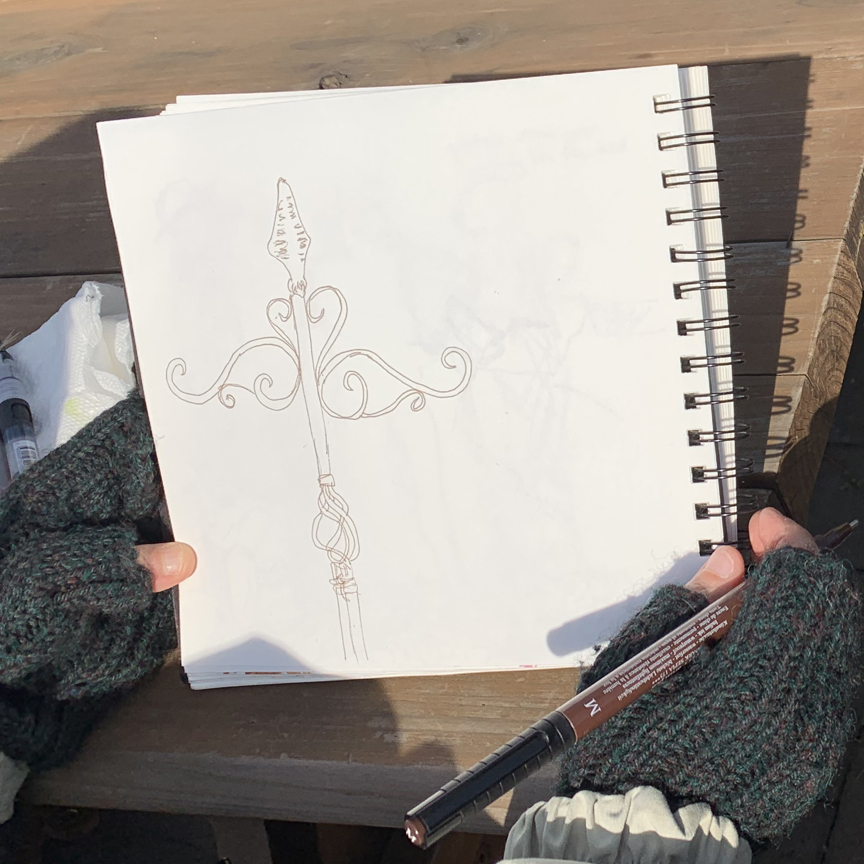 Daisy started out inside, then had to come out in the sun with us to warm up! And the twist got her, too, with nice results!
✒ Aug. 23, 2019, Public House, Springfield, OR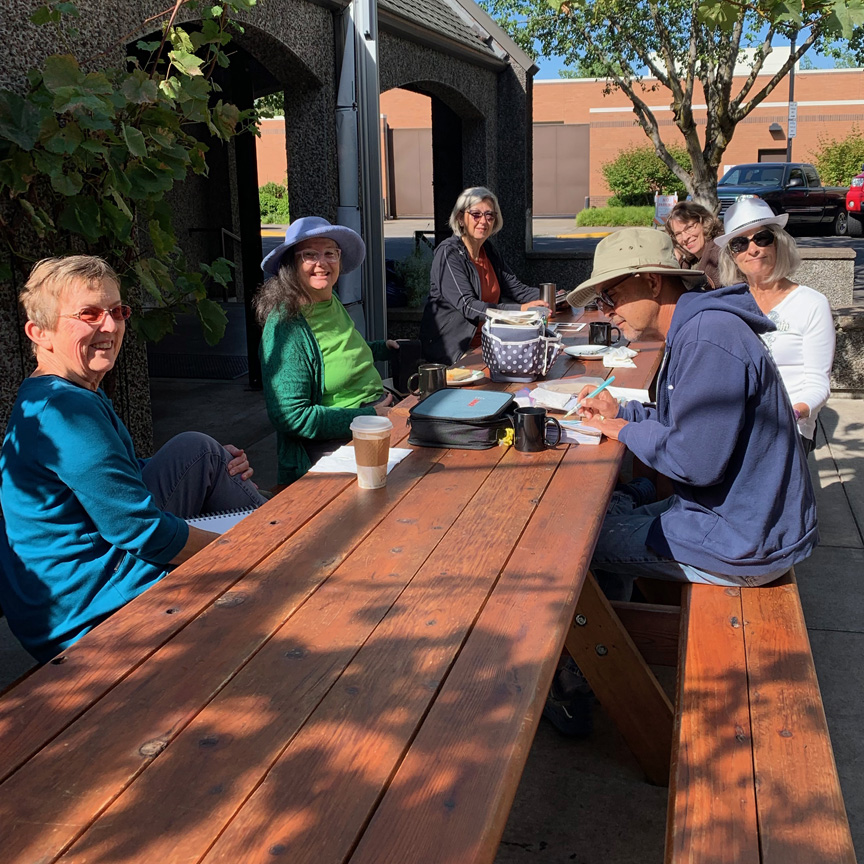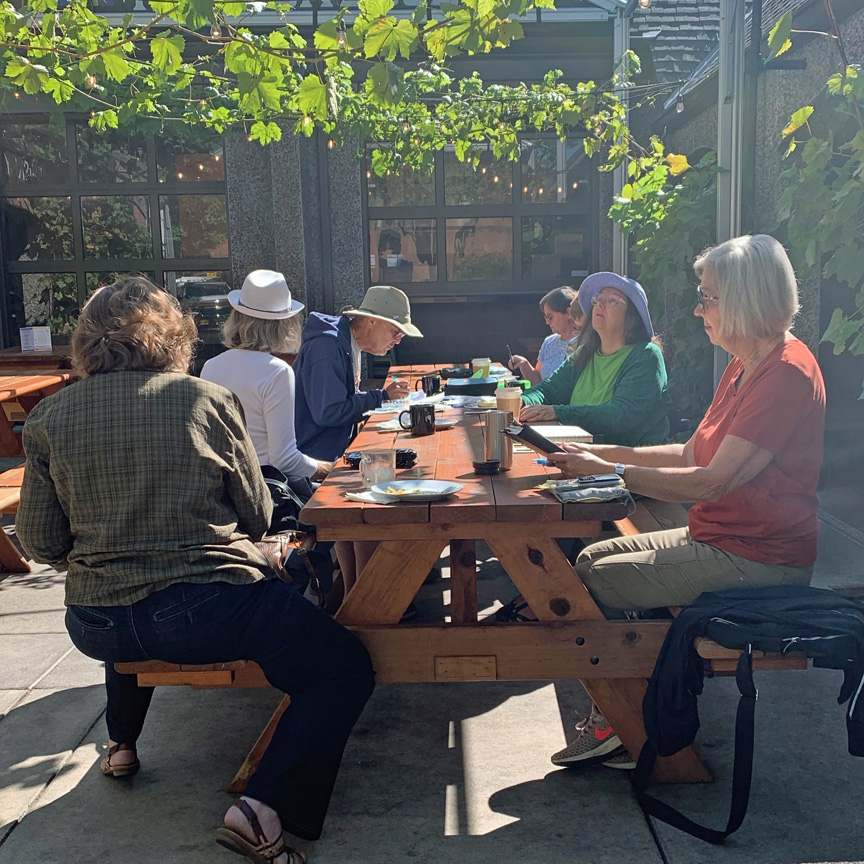 Carol, Laura, Kathy, Bev, Sandy, & Hugh; Bev, Sandy, Hugh, Daisy, Laura, Kathy. Carol & Kathy were new to us, but not to drawing!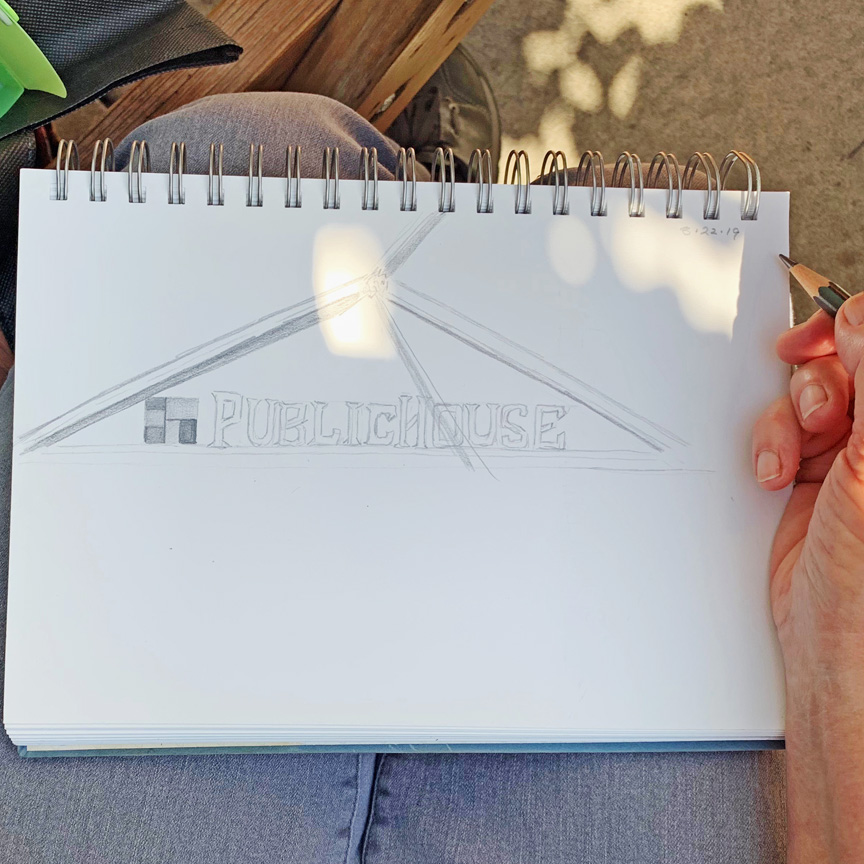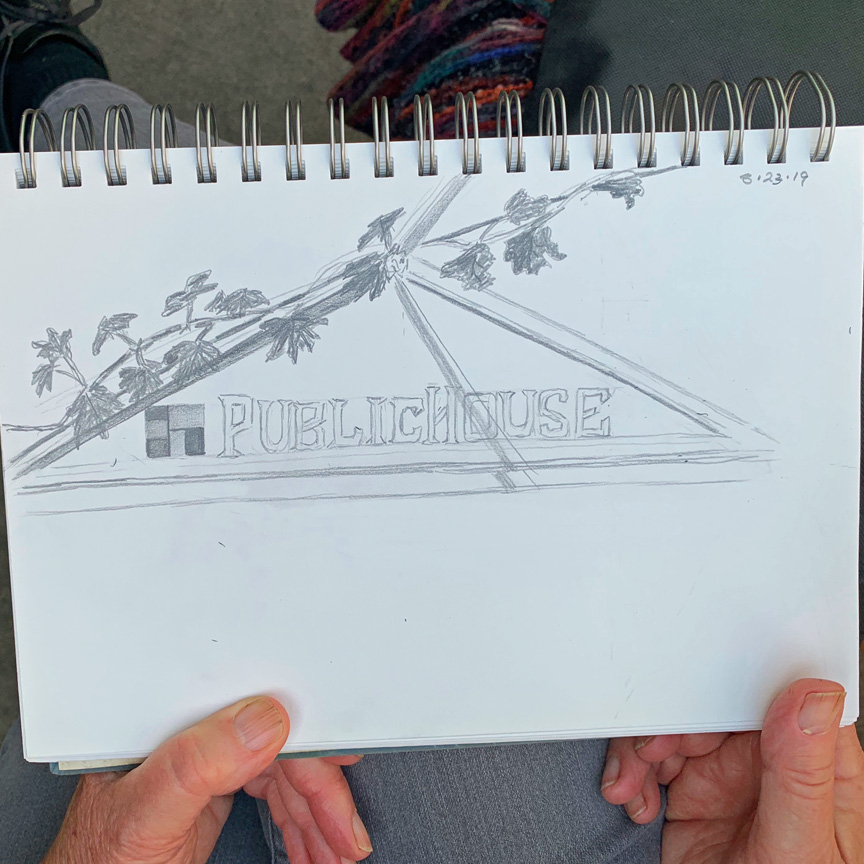 The Public House logo and leafy vines were popular – this by Carol.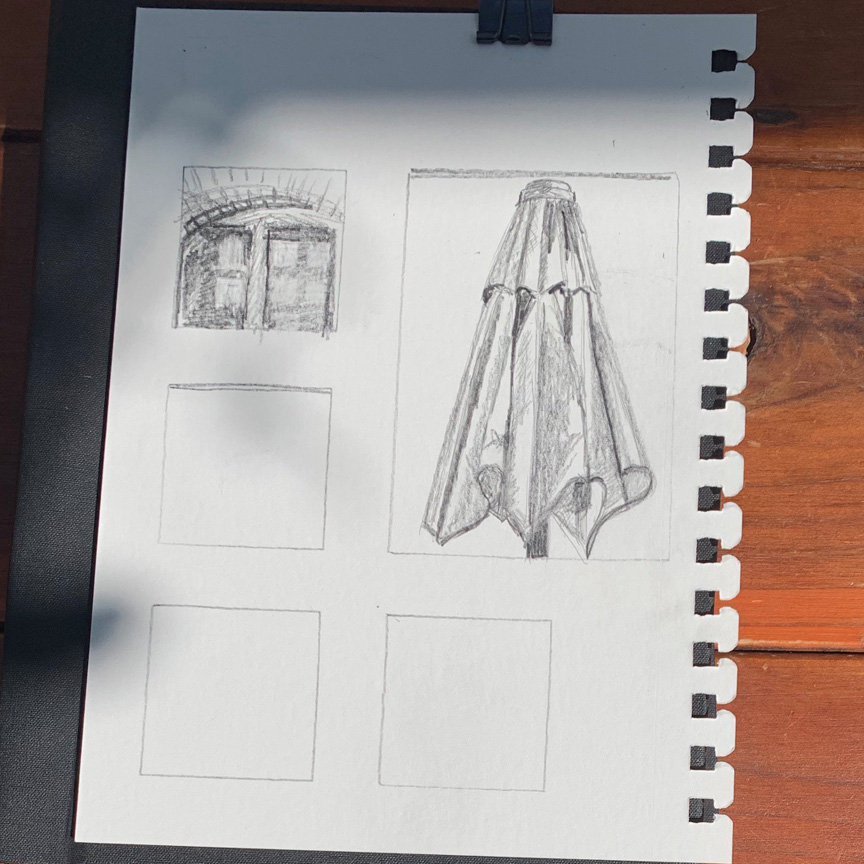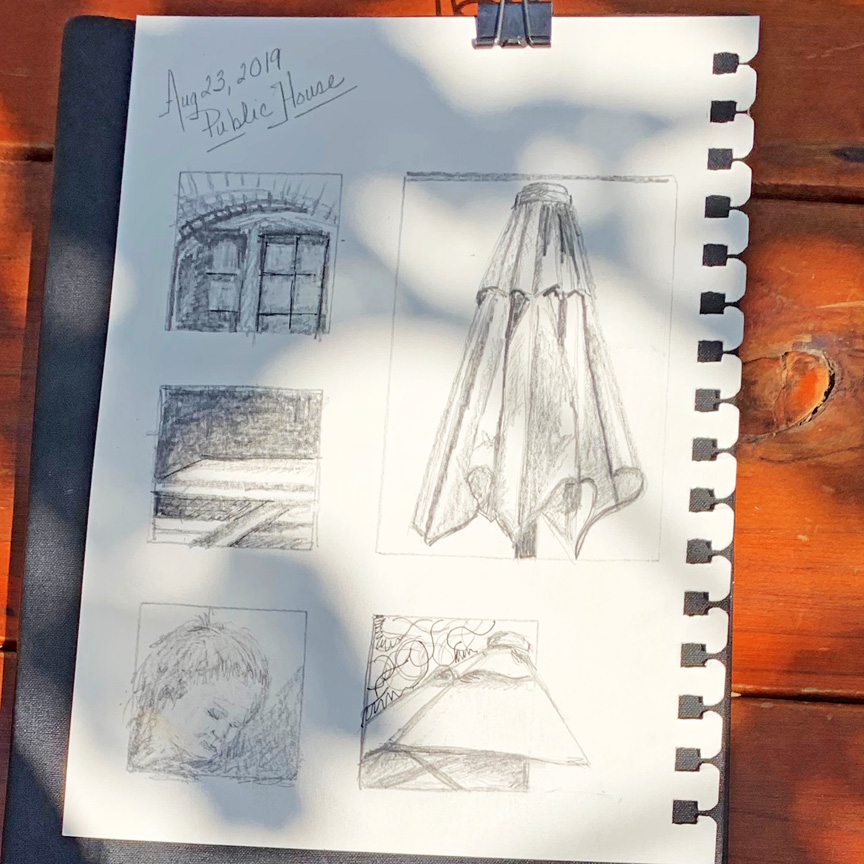 Kathy found another popular item – the umbrellas!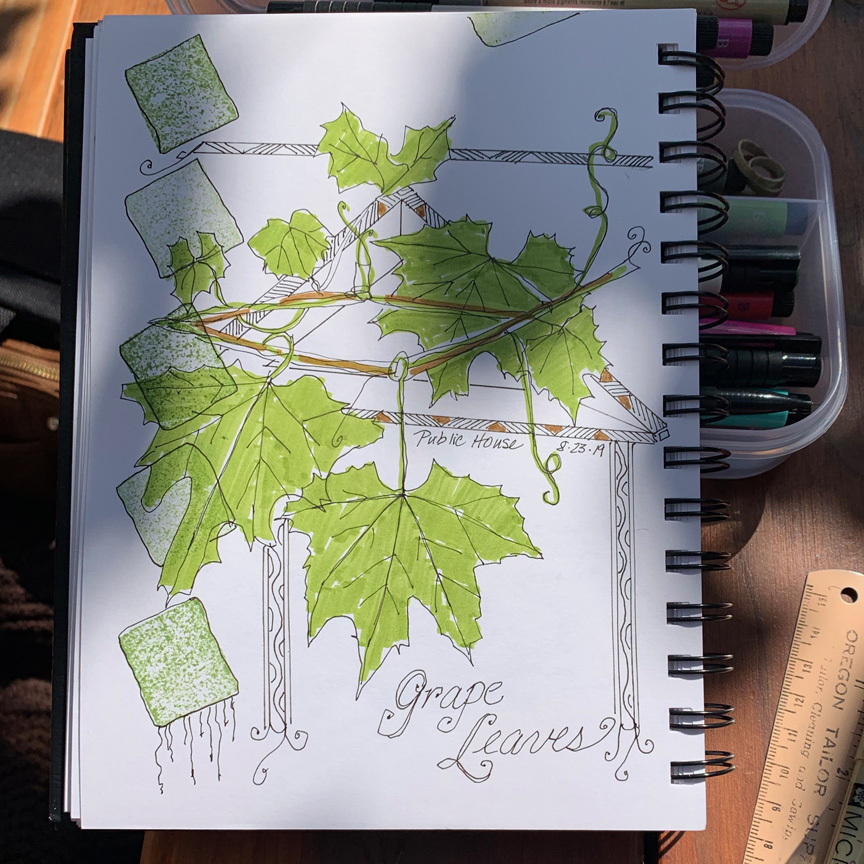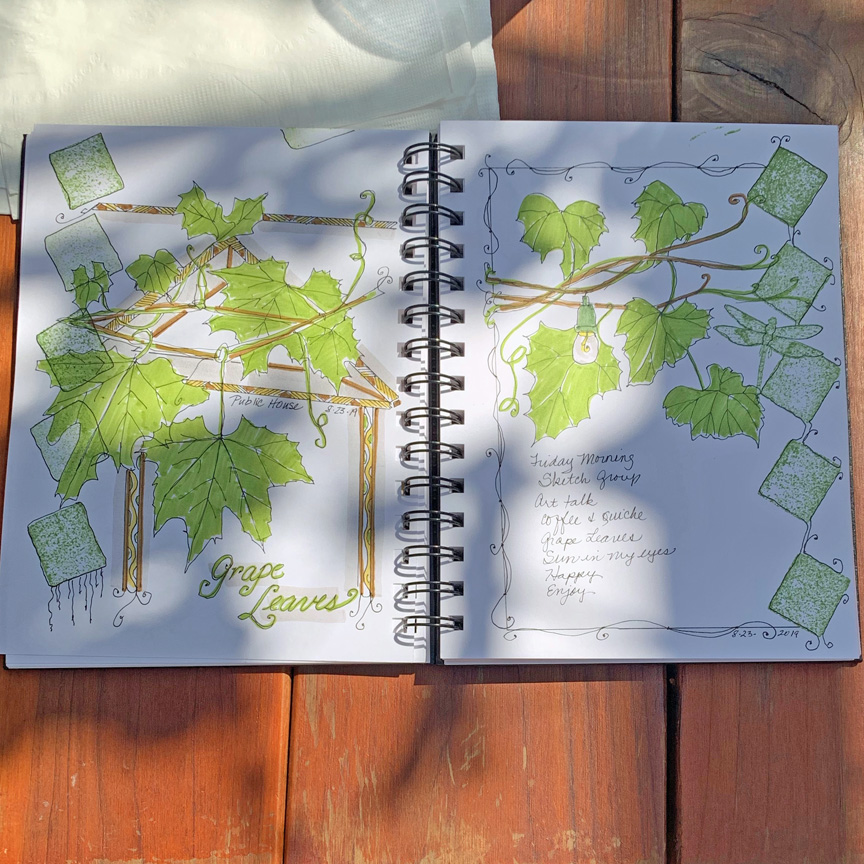 Bev thought they were grape leaves, and did a great job no matter what kind of leaves they were! (Are they hop leaves? grape?)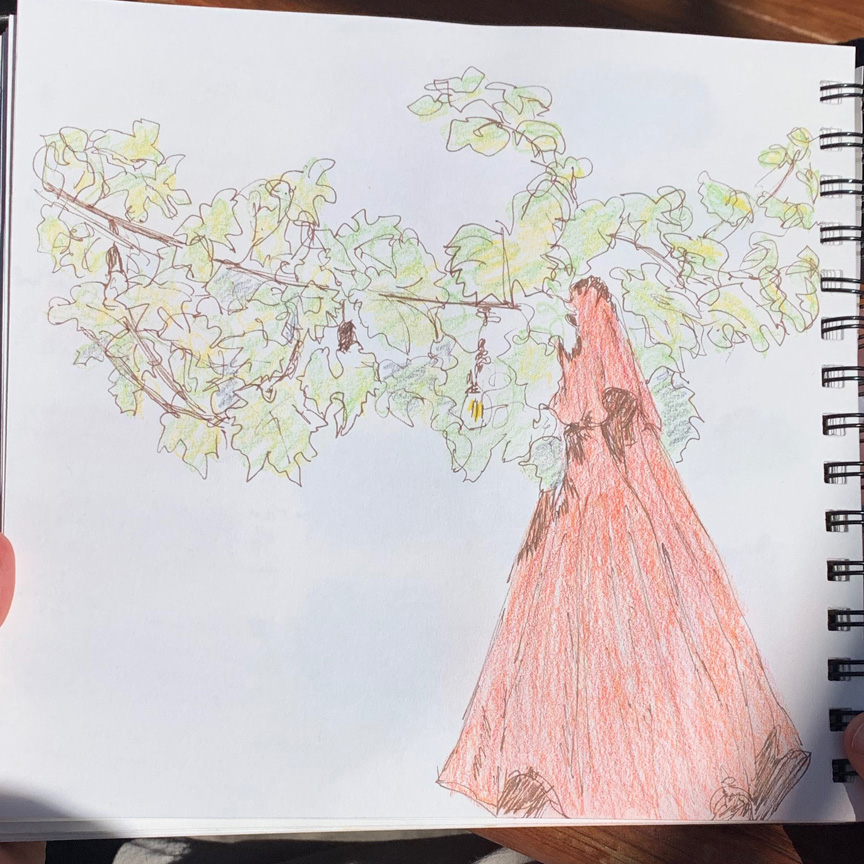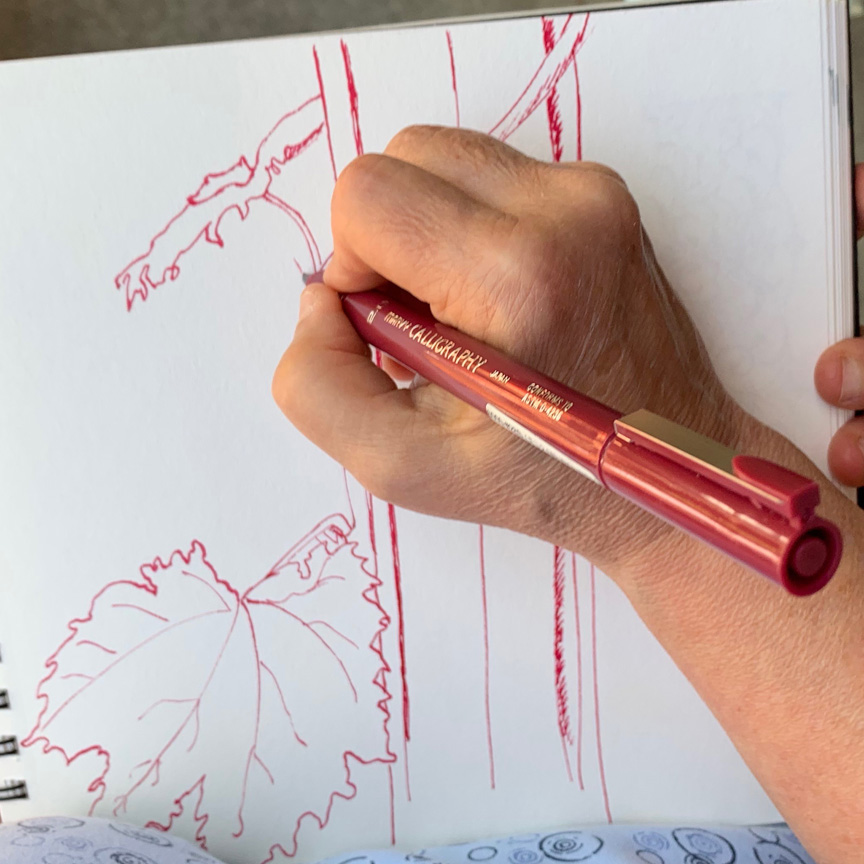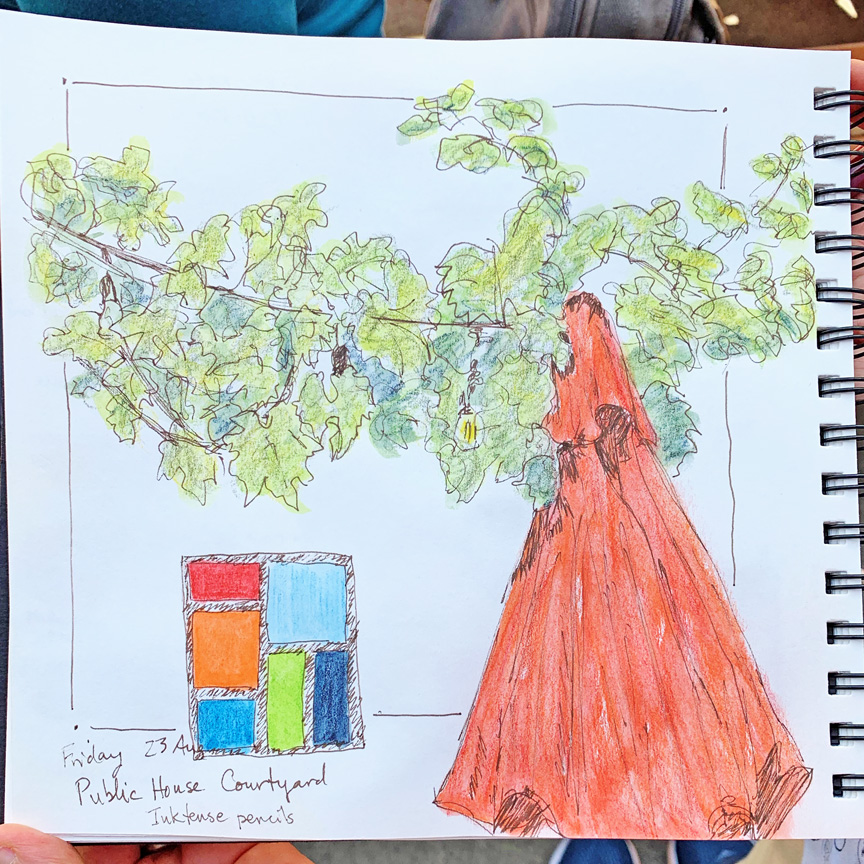 Daisy started with the umbrella touching the vines, got distracted by the vines & leaves, then back to add more intense color. Good job.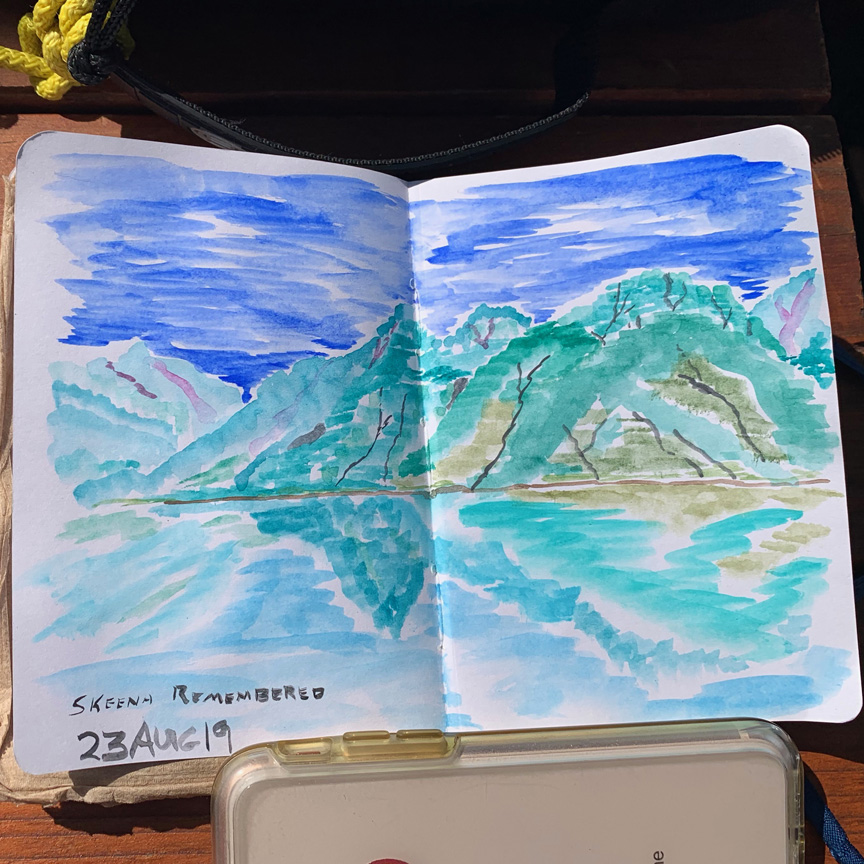 Hugh finished up a sketch from recent travels to BC, then sketched the leaves, too – nice shadowy background for them.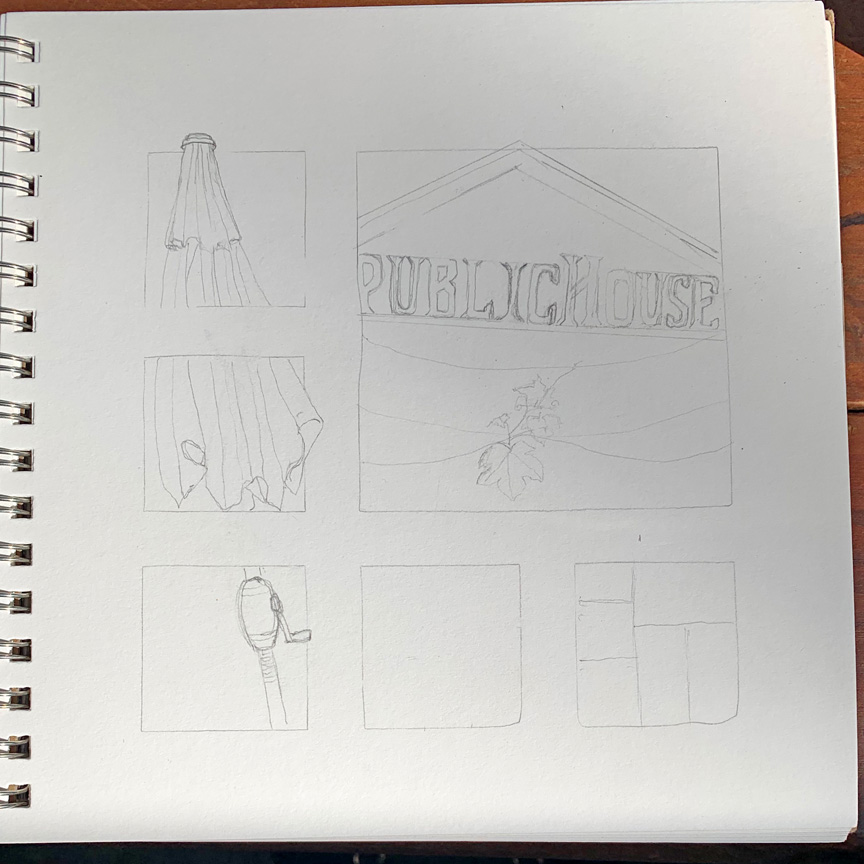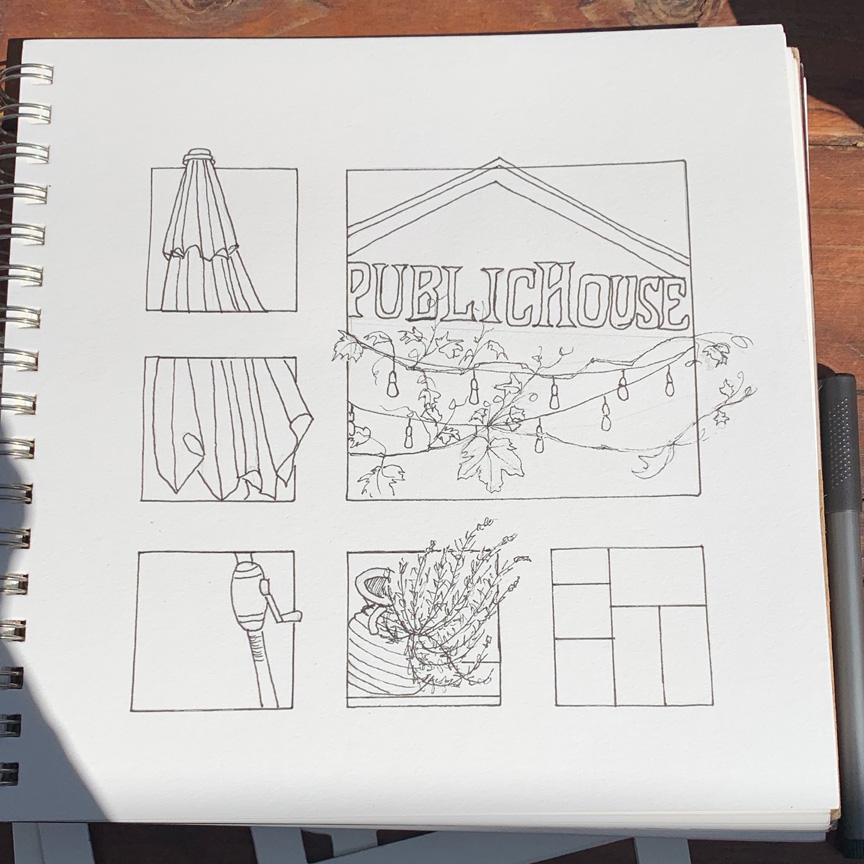 Jane had fun capturing the umbrella in three frames before she added other mini-sketches to her page.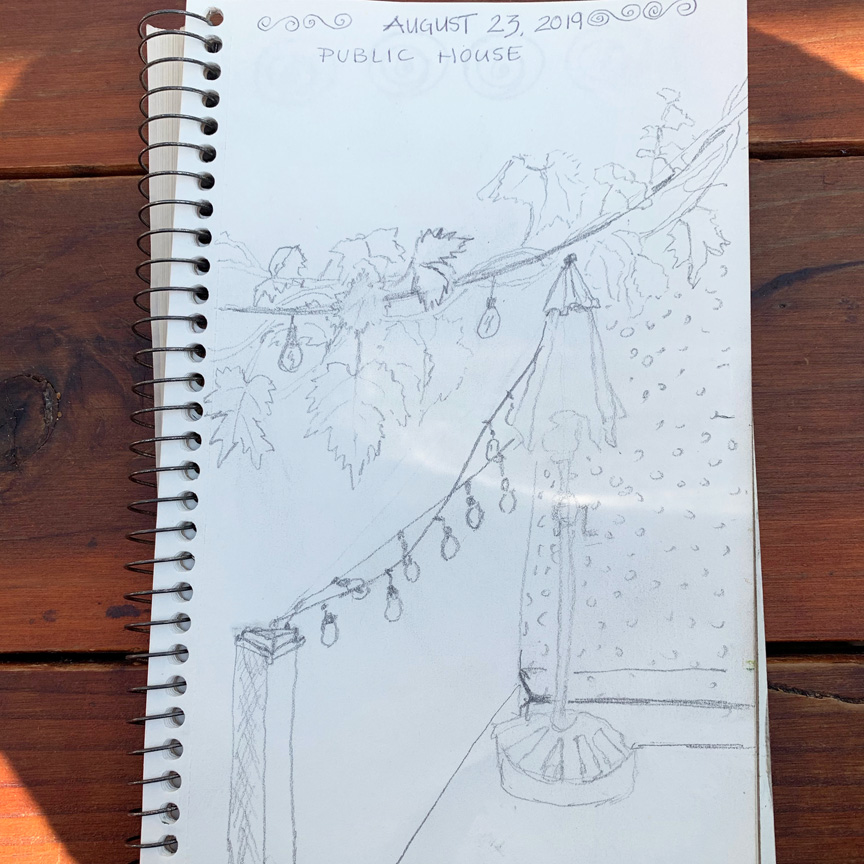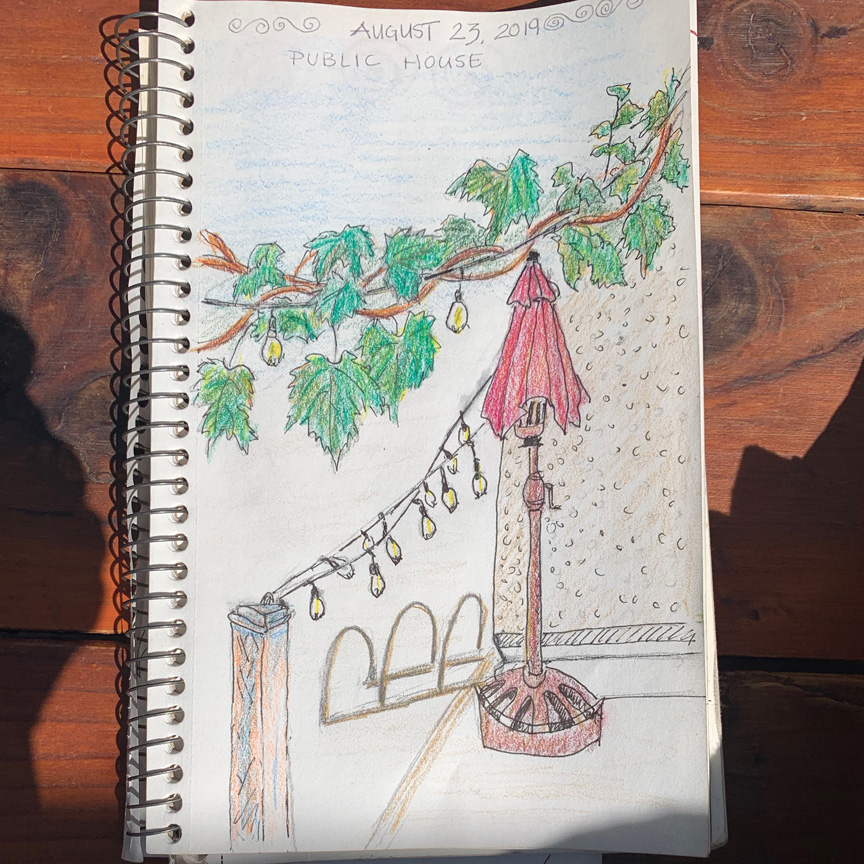 Laura got it all – umbrella, lights, and leafy vines. And bike rack!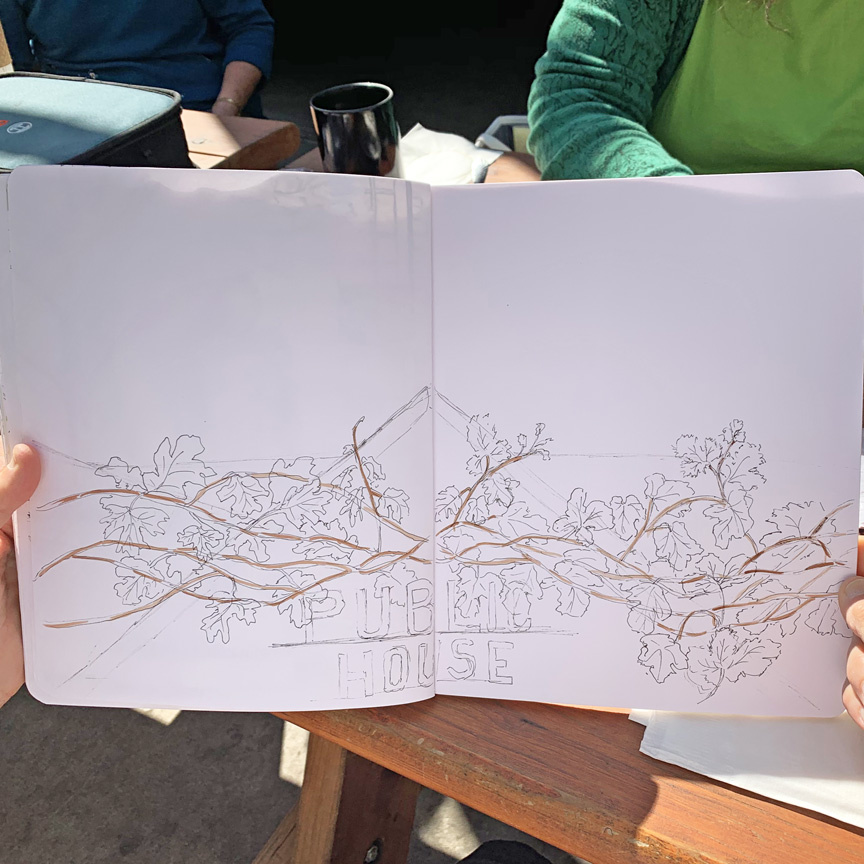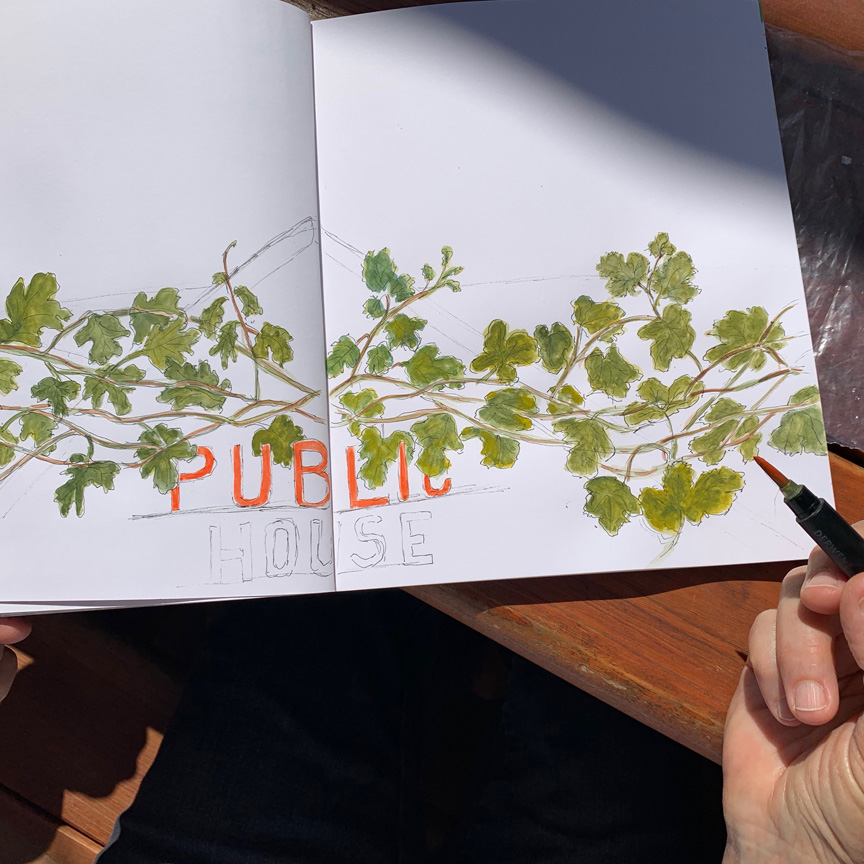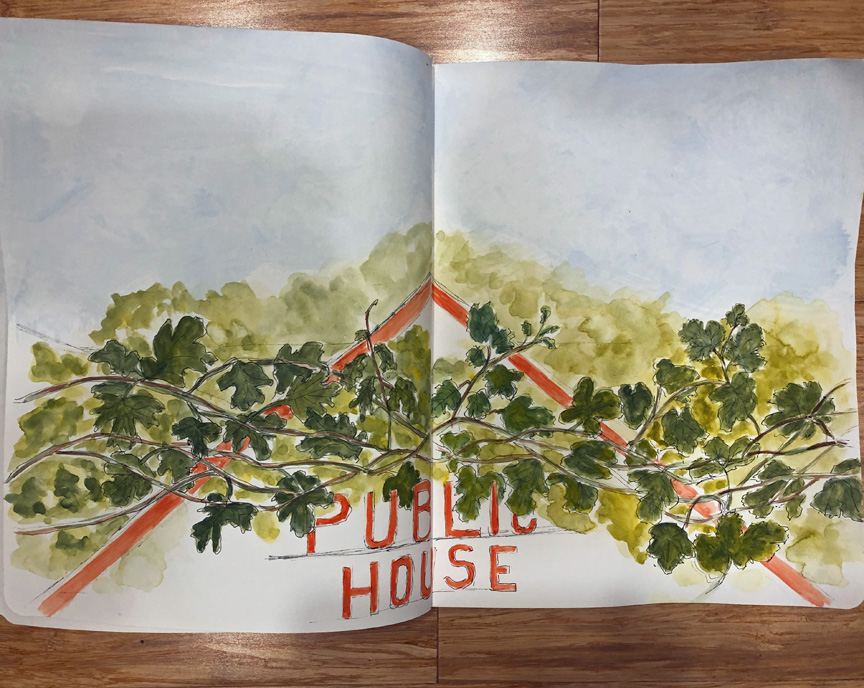 Sandy nearly got lost in the tangle of the vines – wonderful sketch!
✒ Aug. 9, 2019, 100 Mile Bakery @ Public House, Springfield, OR
Daisy, Serge, Bev; Lona (in red in the back); Barb So, Sandy & Hugh.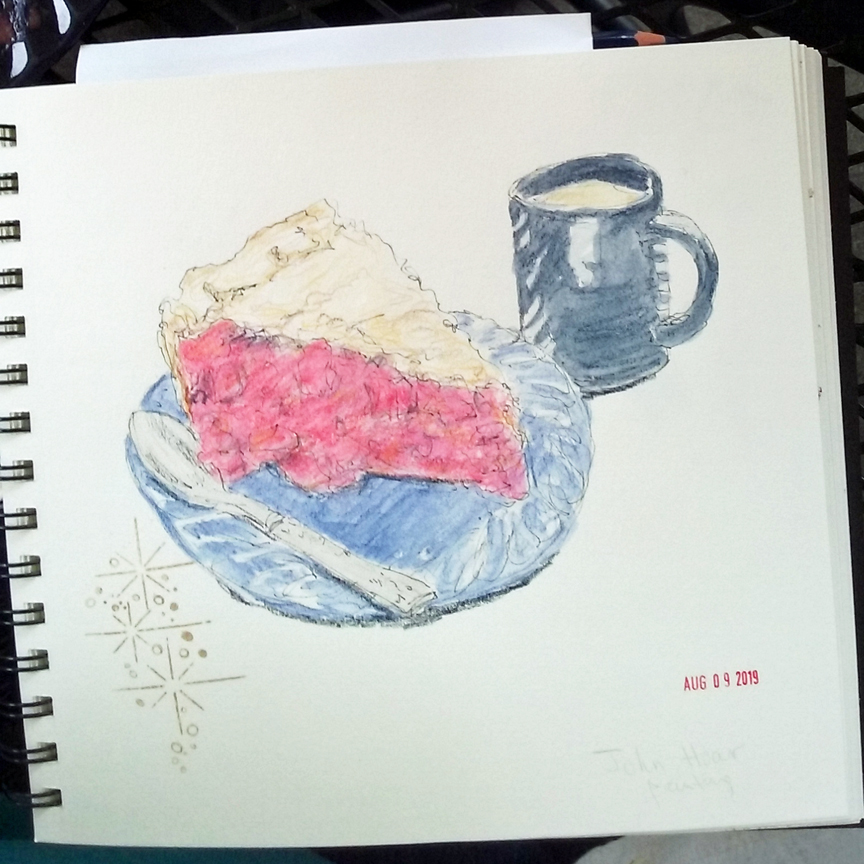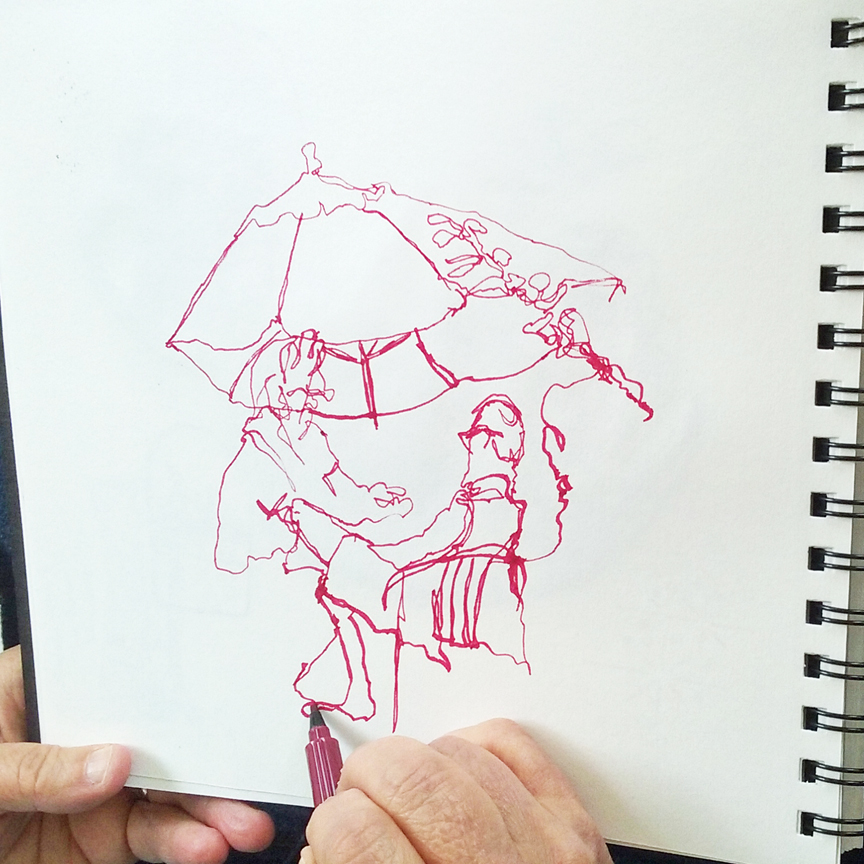 Daisy's treat first. OH NO! the guy's head is in the umbrella! "Just keep going, right?" she said. Right. Turned out to be a fun sketch!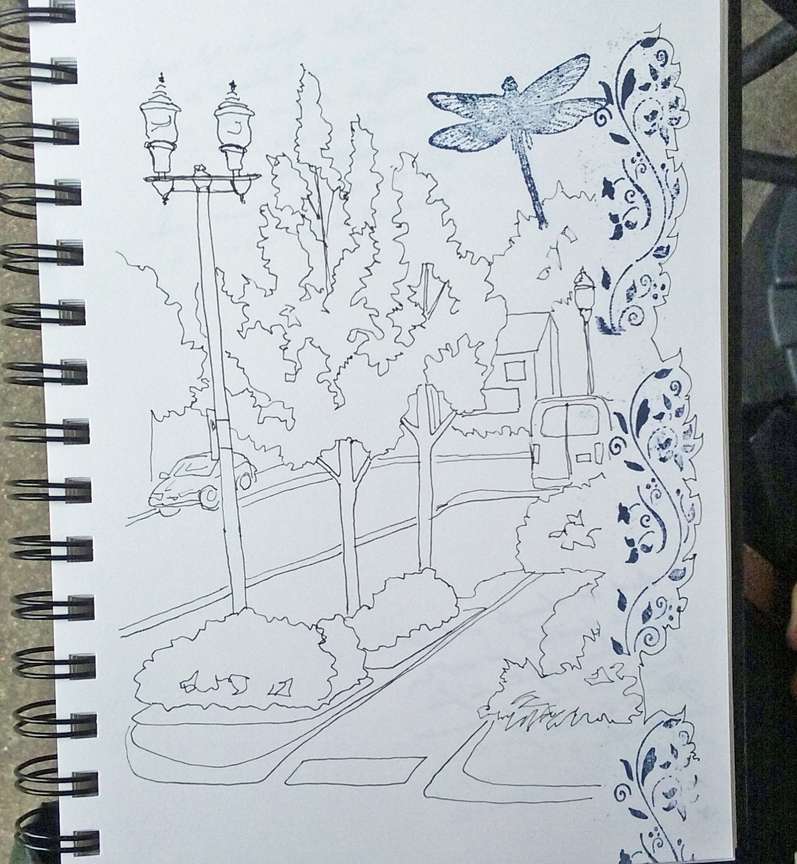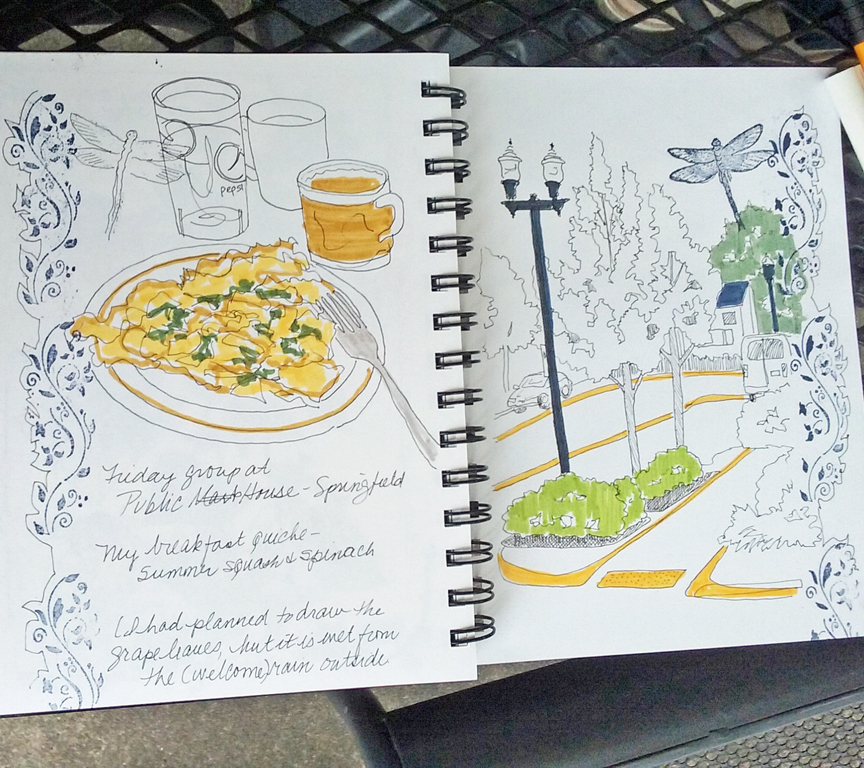 Bev did the street scene first, and then her quiche arrived! Yum!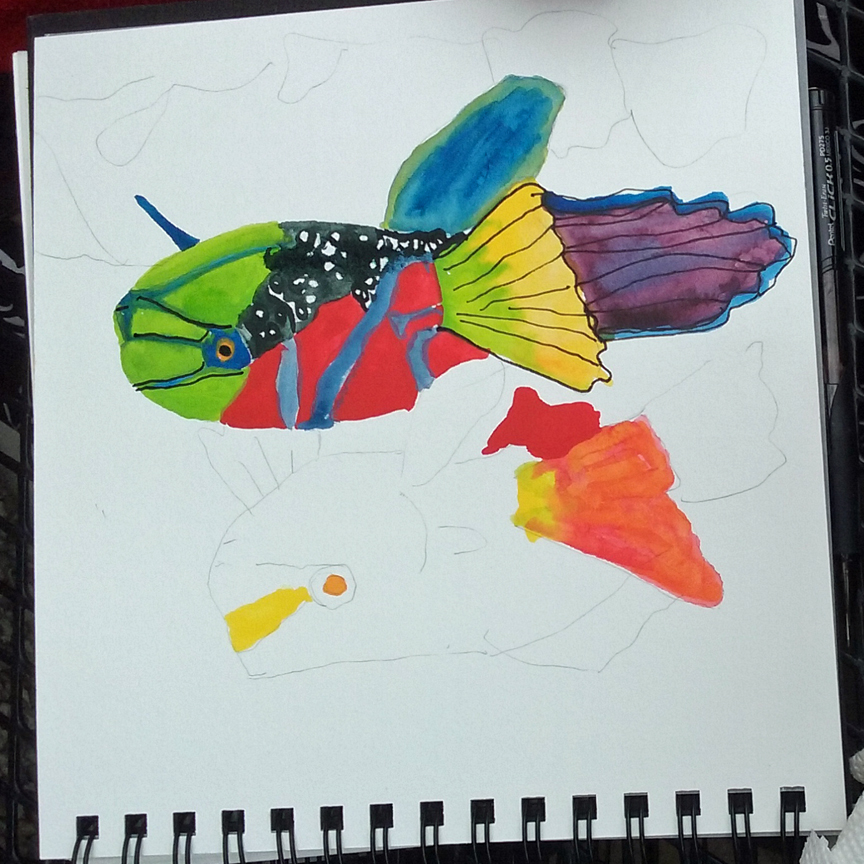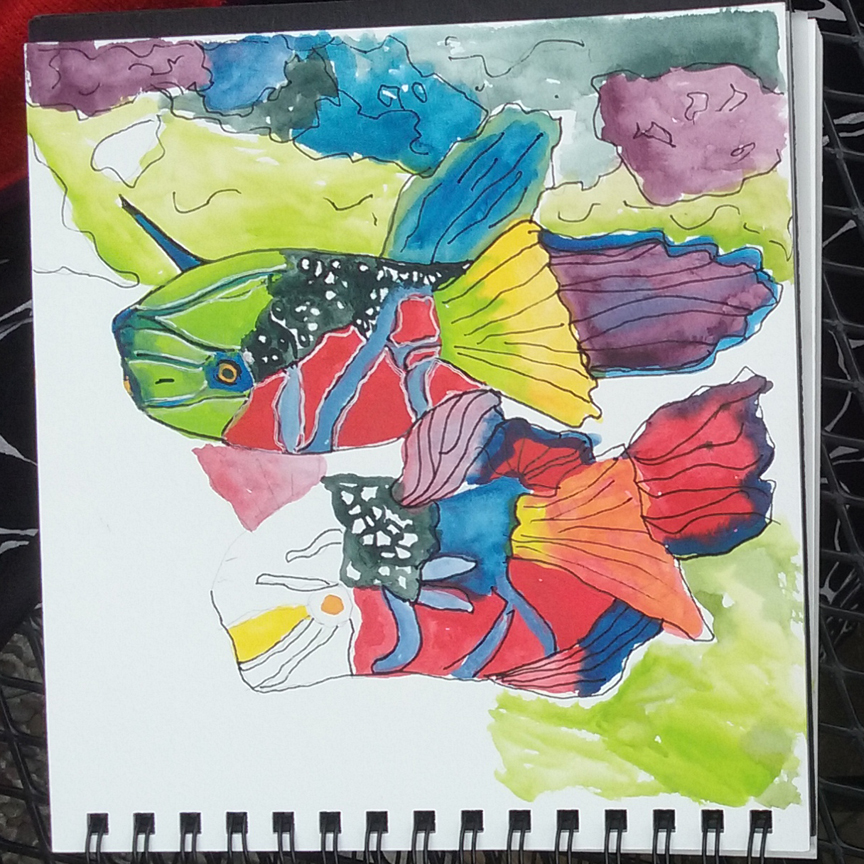 Lona's back into fish – is there another book in the works? Hmmm.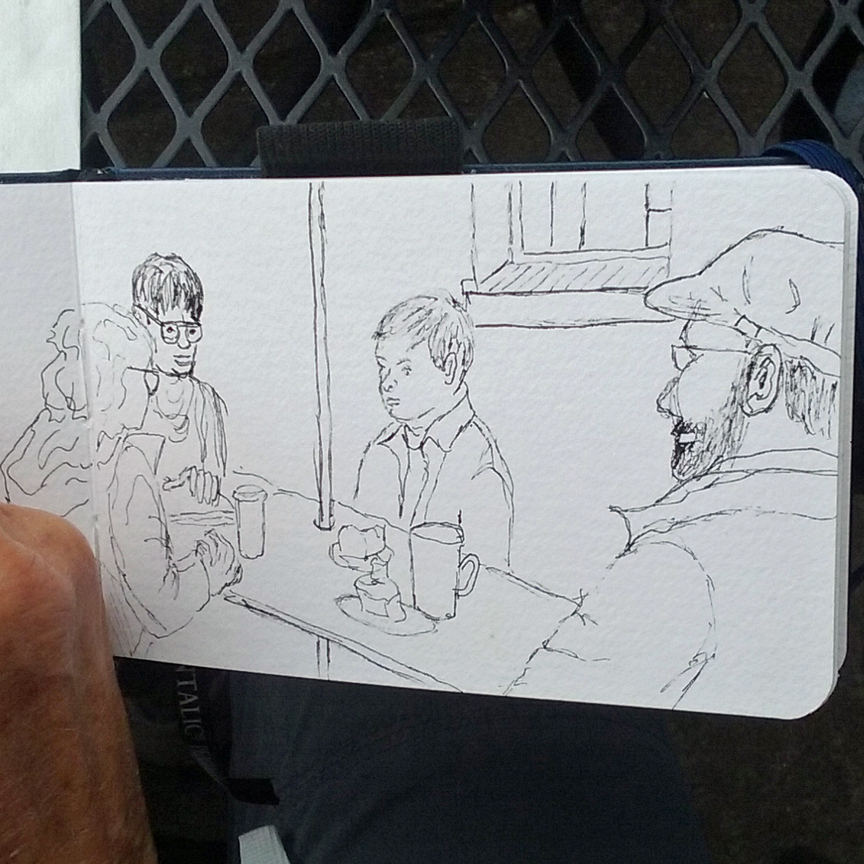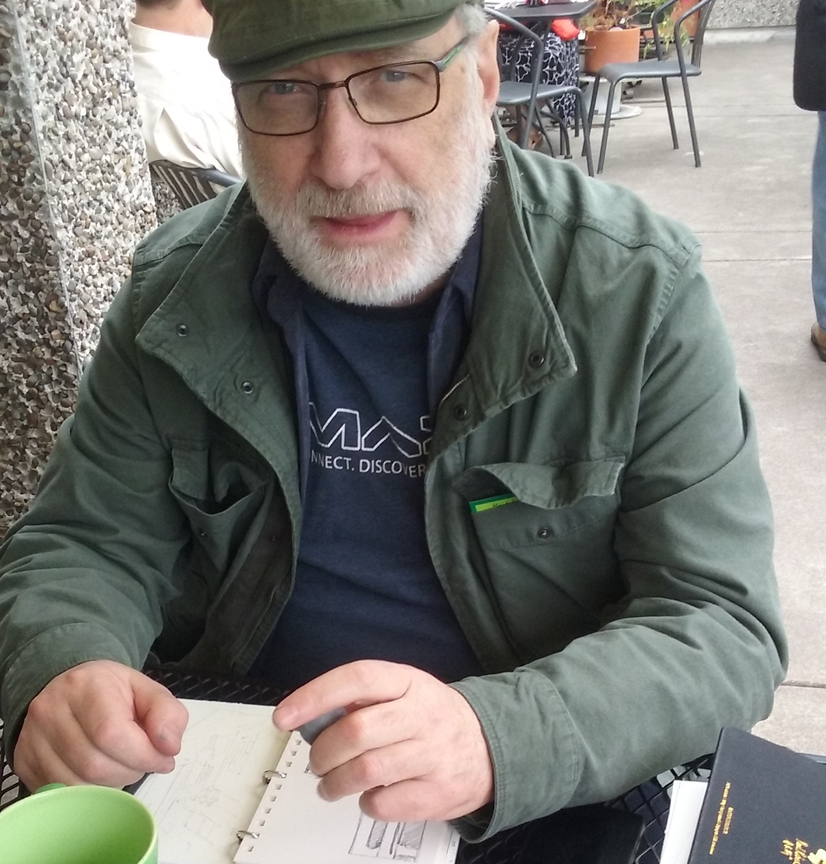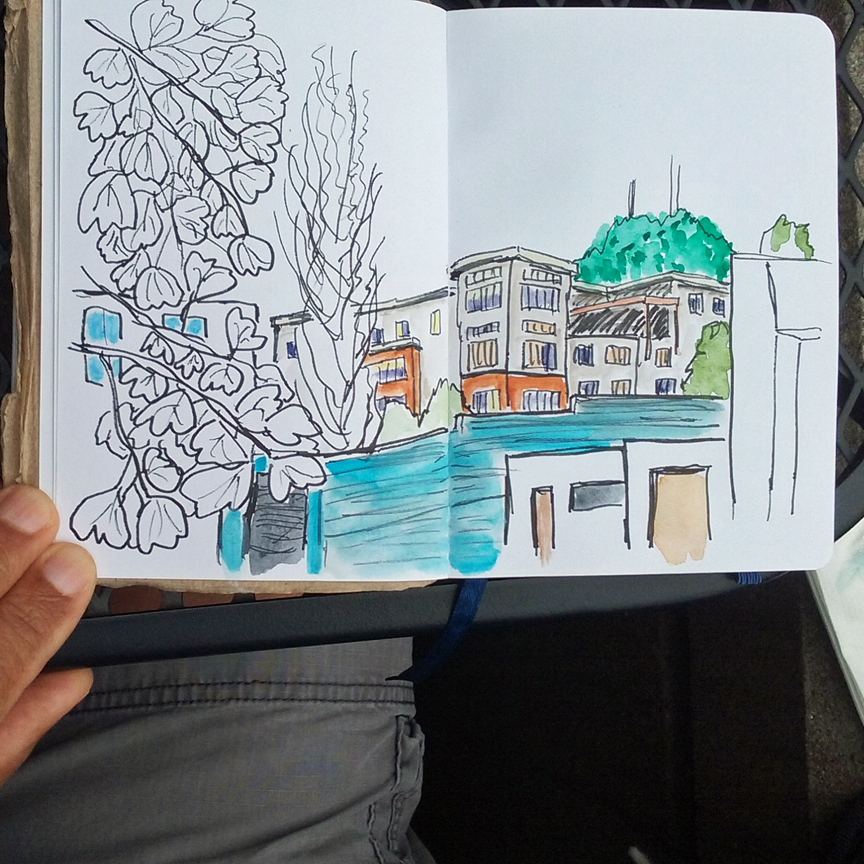 Sandy's sketch of Serge, Serge resisting sketch photo, and Hugh's view of the skyline from the bakery patio. Everyone was busy.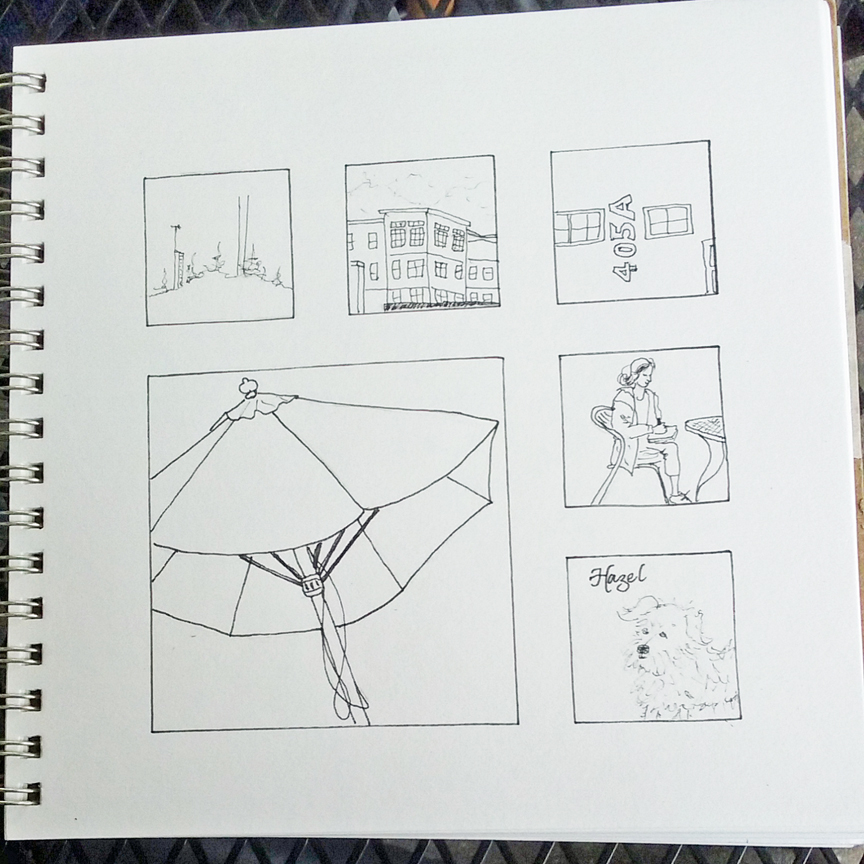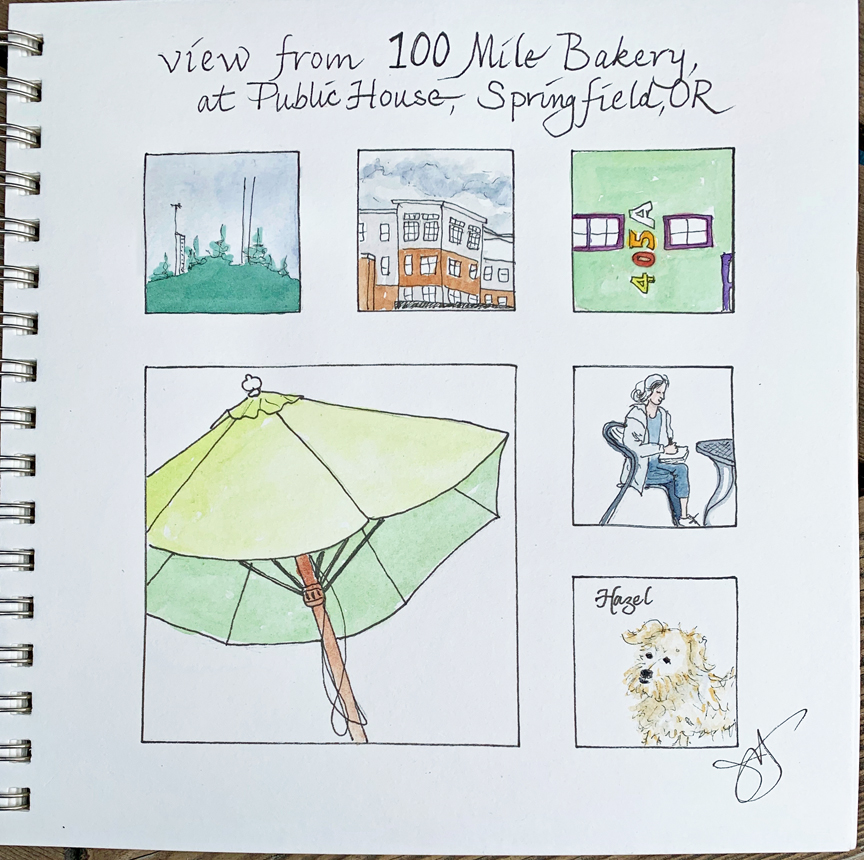 Jane chopped her view up into little boxes, and they even stayed there. Not a bit of it escaped. Huh. Still was fun to do.
✒ July 26, 2019, Lane County Fair, Eugene, OR
It seemed like a good idea to sketch at the fair, but then lives got complicated, and only Bev & Jane were able to show up!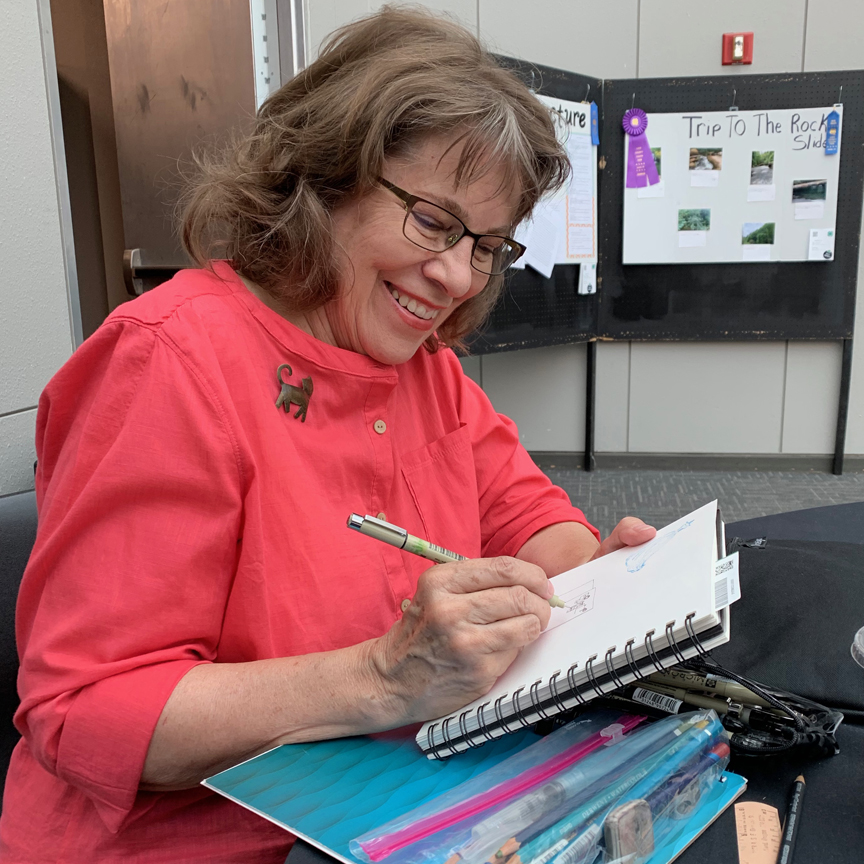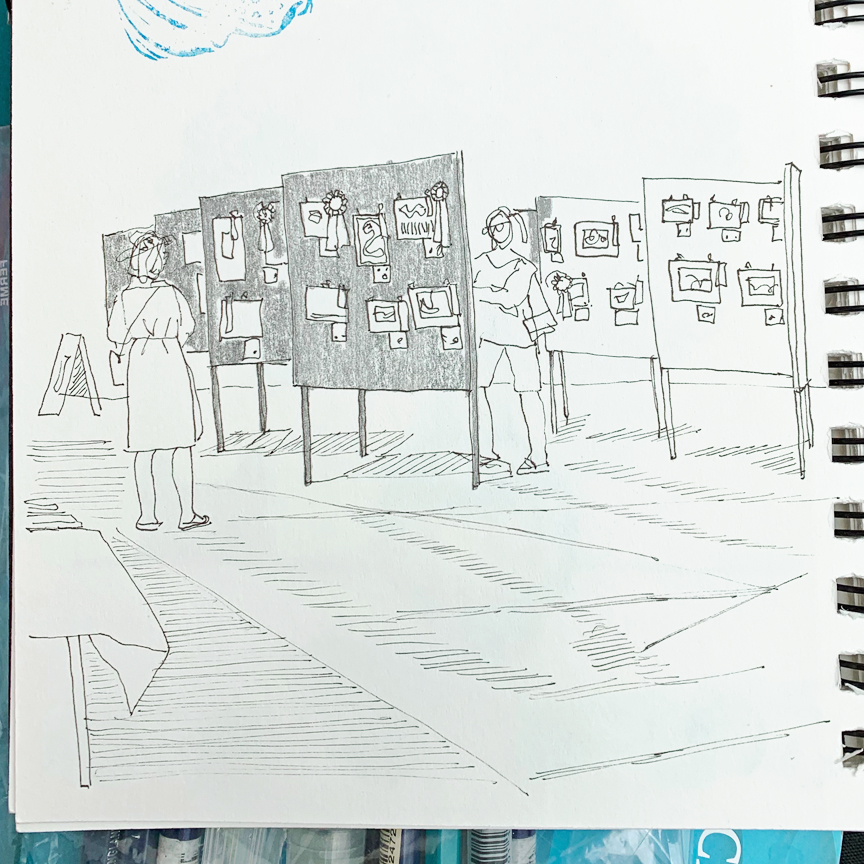 Not much gets Bev down. She got right into sketching the people who came to the fair to see the art exhibits. Delightful sketch!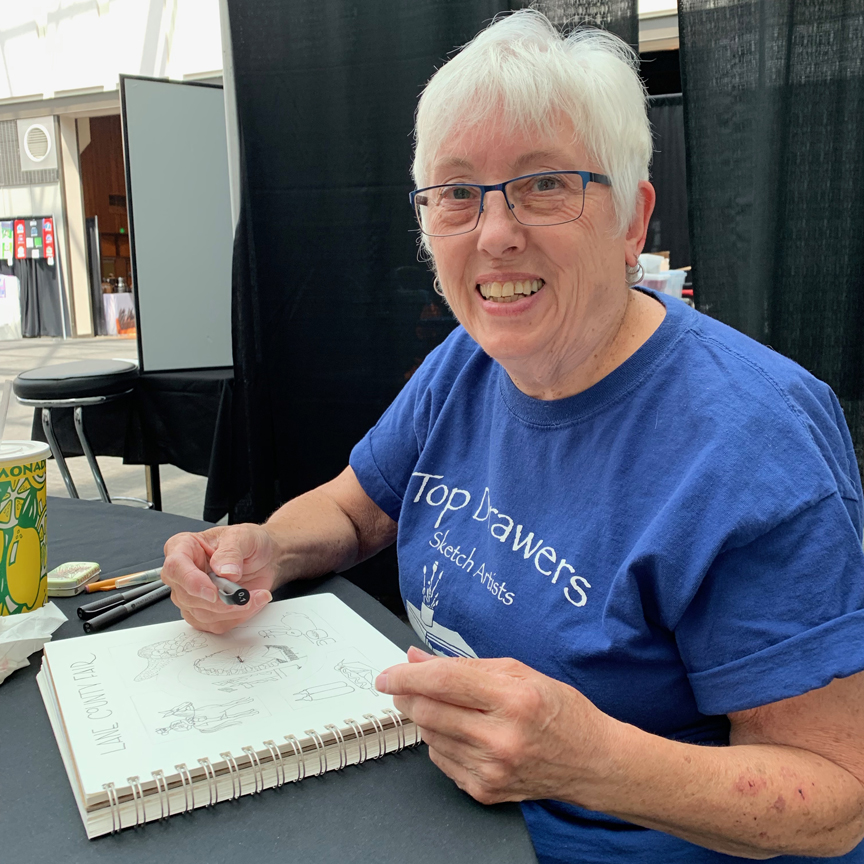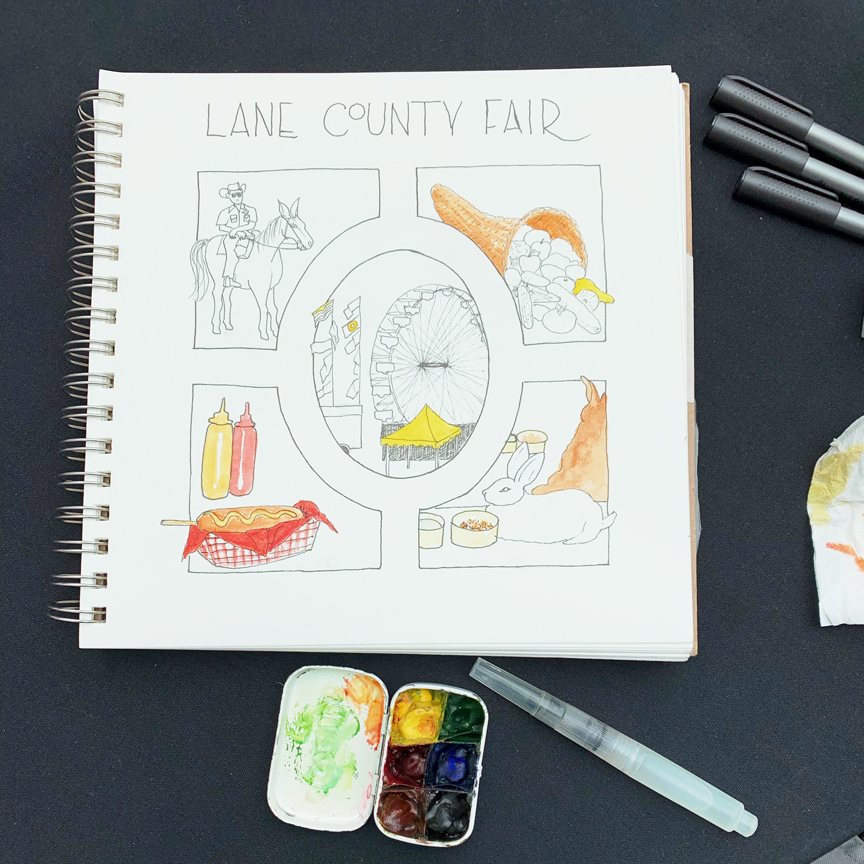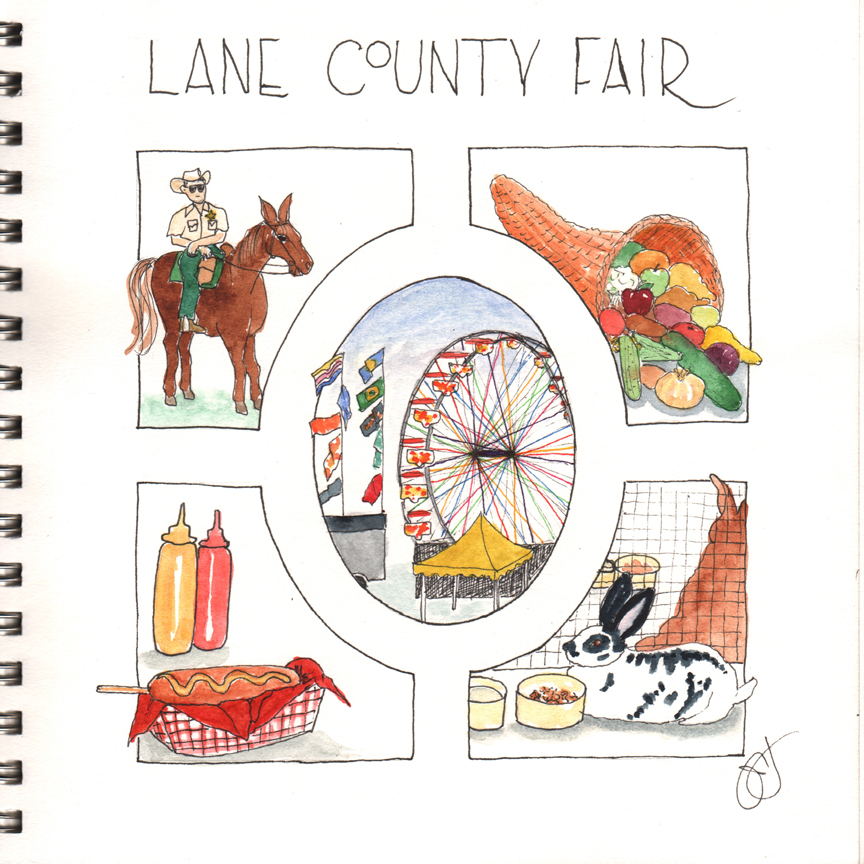 Jane started her sketch from the outside in, revisiting things she's always found dear at county fairs, even this one!
✒ July 12, 2019, Lane Country History Museum, Eugene, OR.
We heard that there was a special 50th anniversary display for the Oregon Country Fair at the museum, so we were off to see it!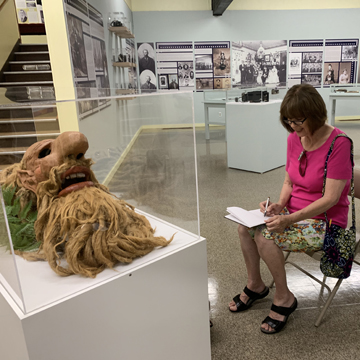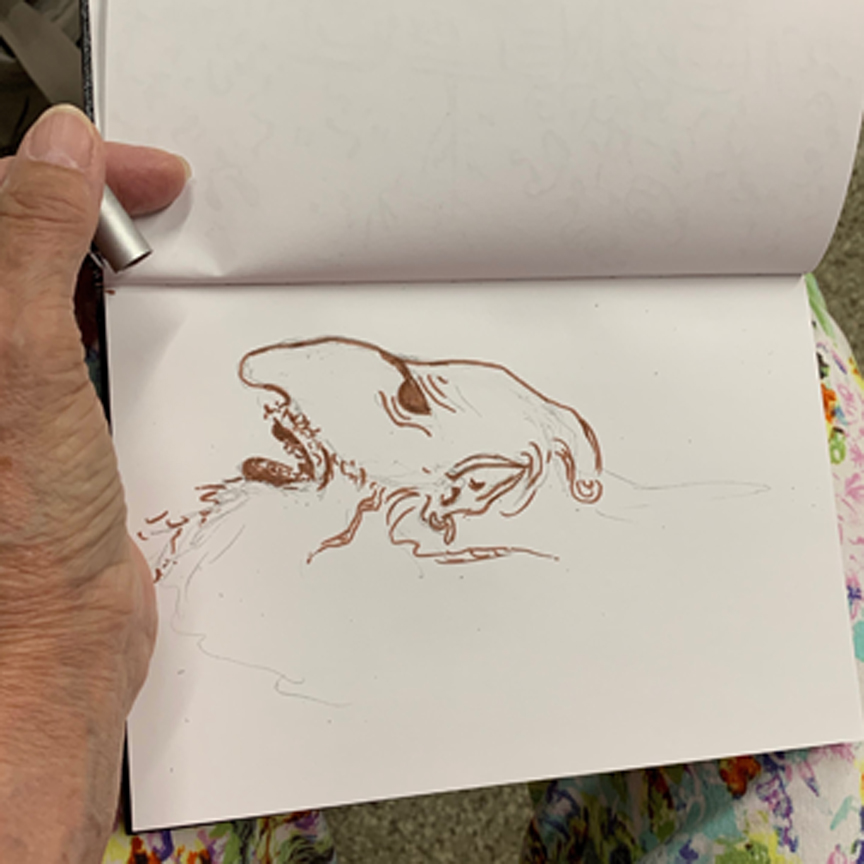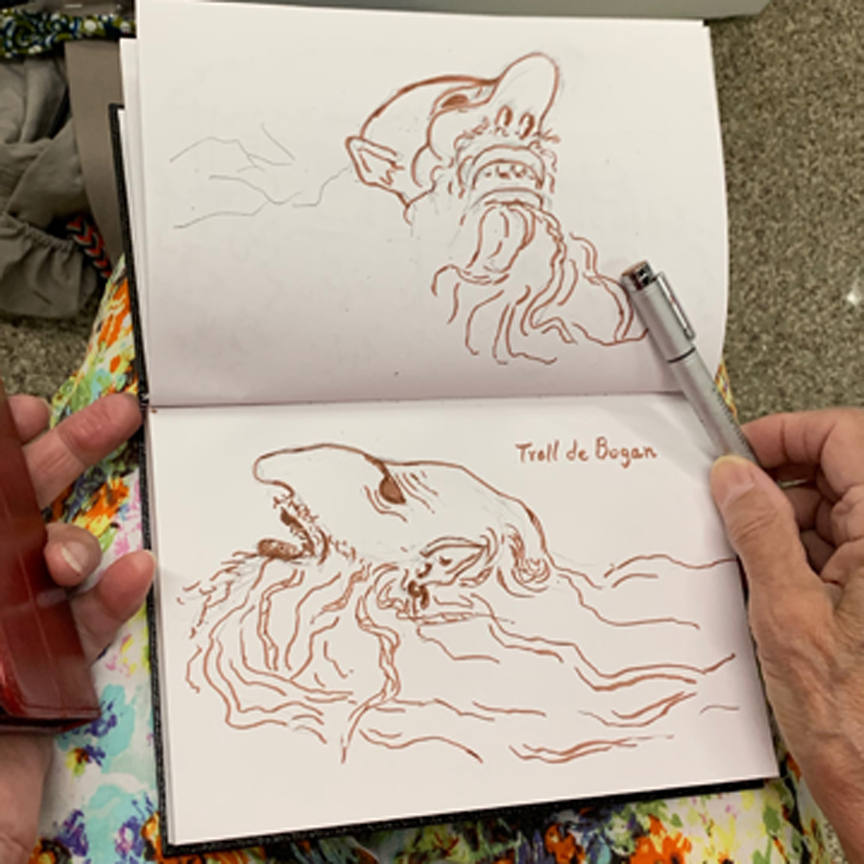 Sharon was immediately attracted to the Troll de Bogan, one of the clan of trolls created by Dave McKay as a performer at the Fair.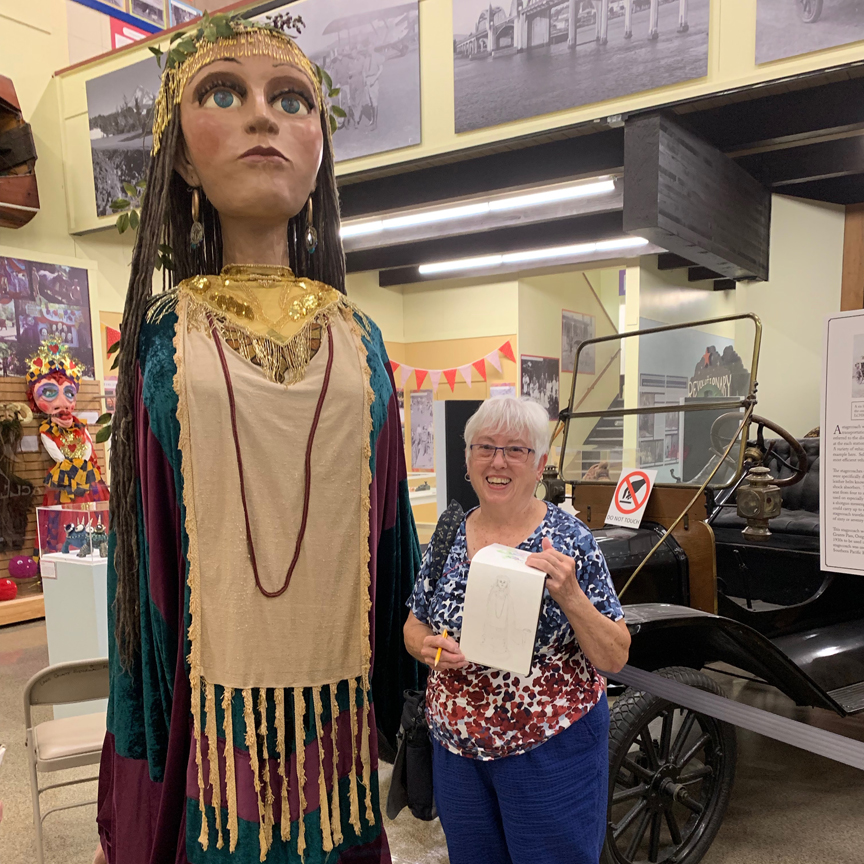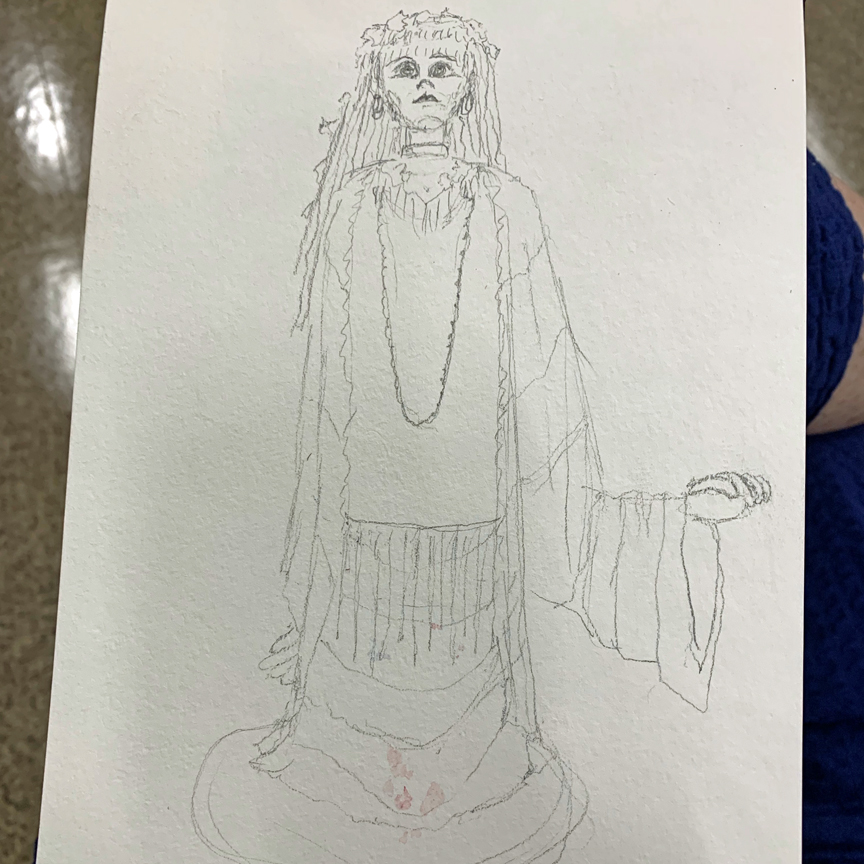 Jane was enchanted with Alya, by Jill Talise, an earth goddess.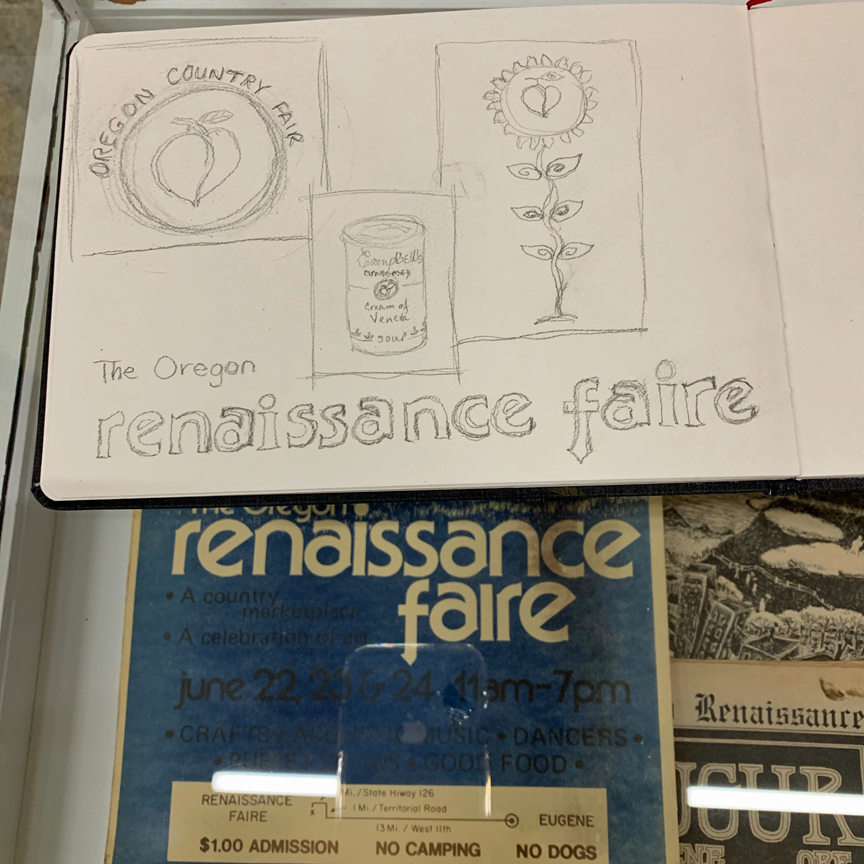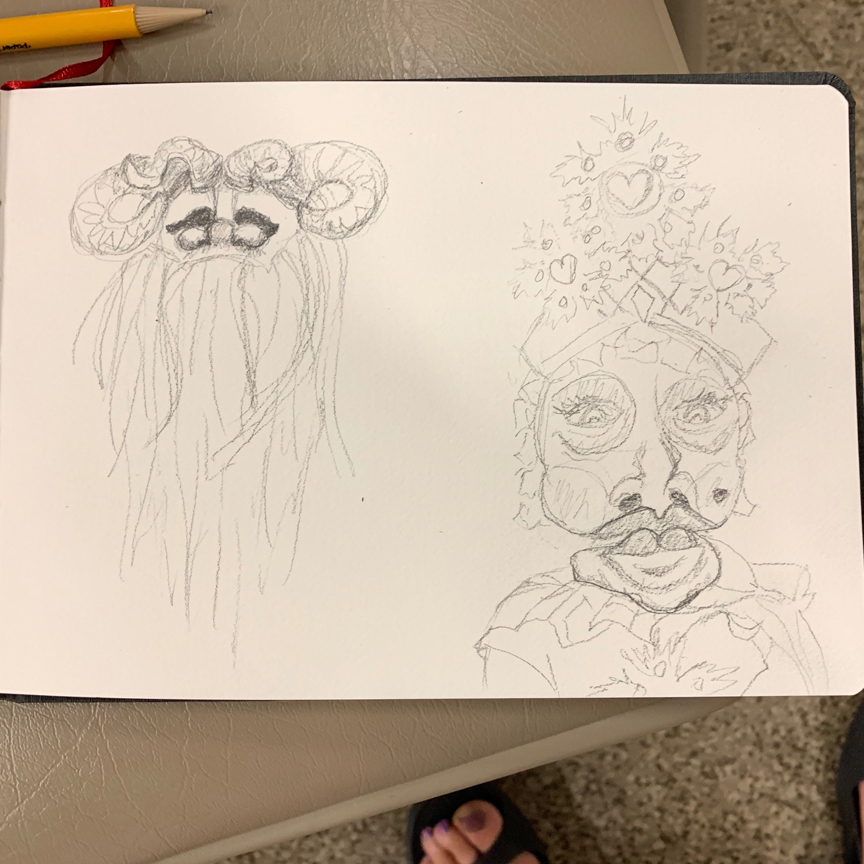 She also loved the old posters (with peach), & more huge puppets.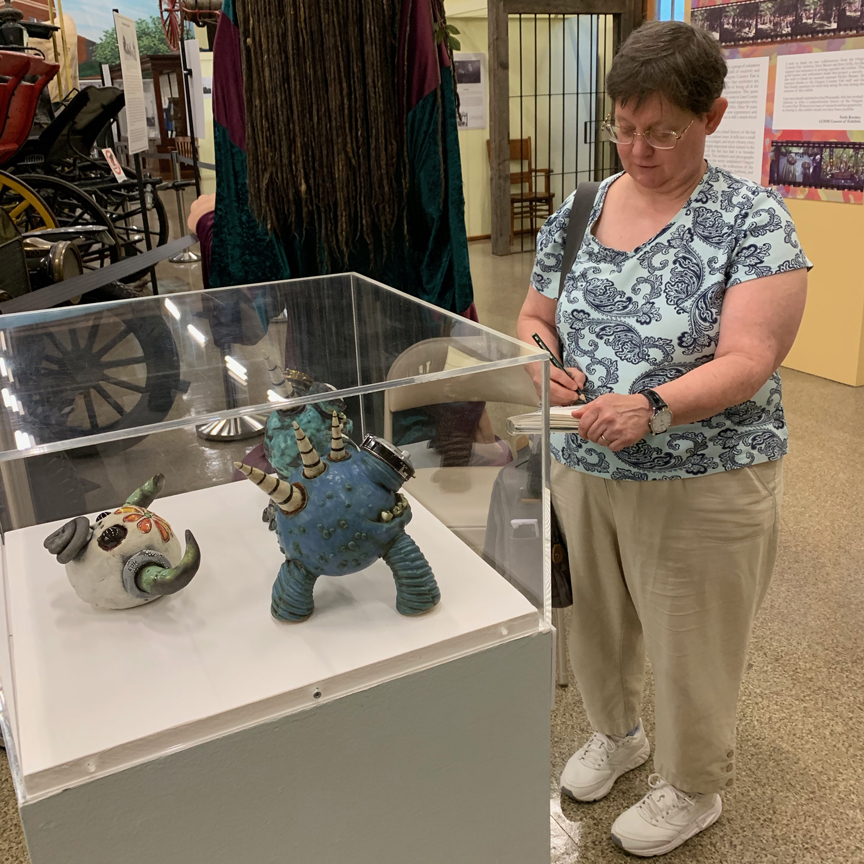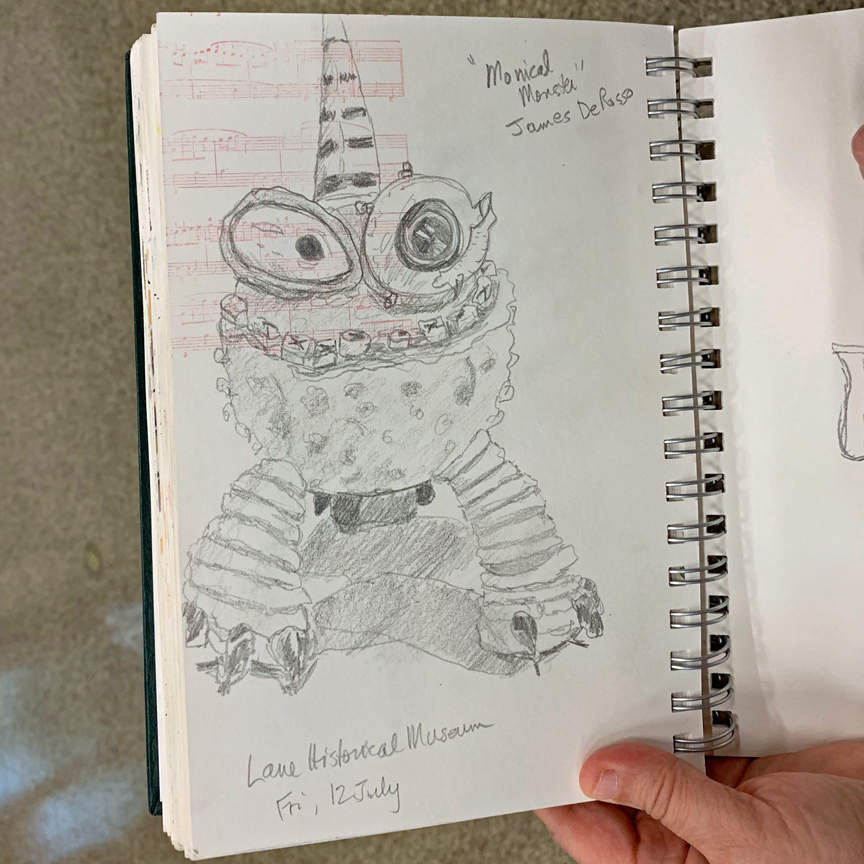 The ceramic monsters (or "creatures of disgust") by James de Russo caught Daisy's eye. They were pretty hilarious.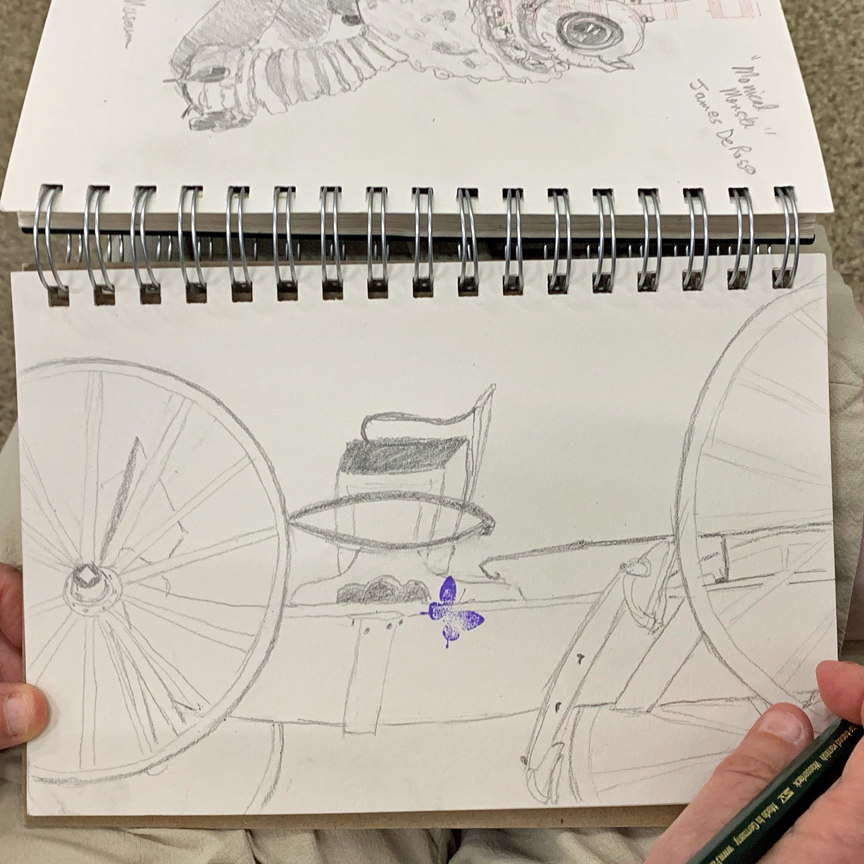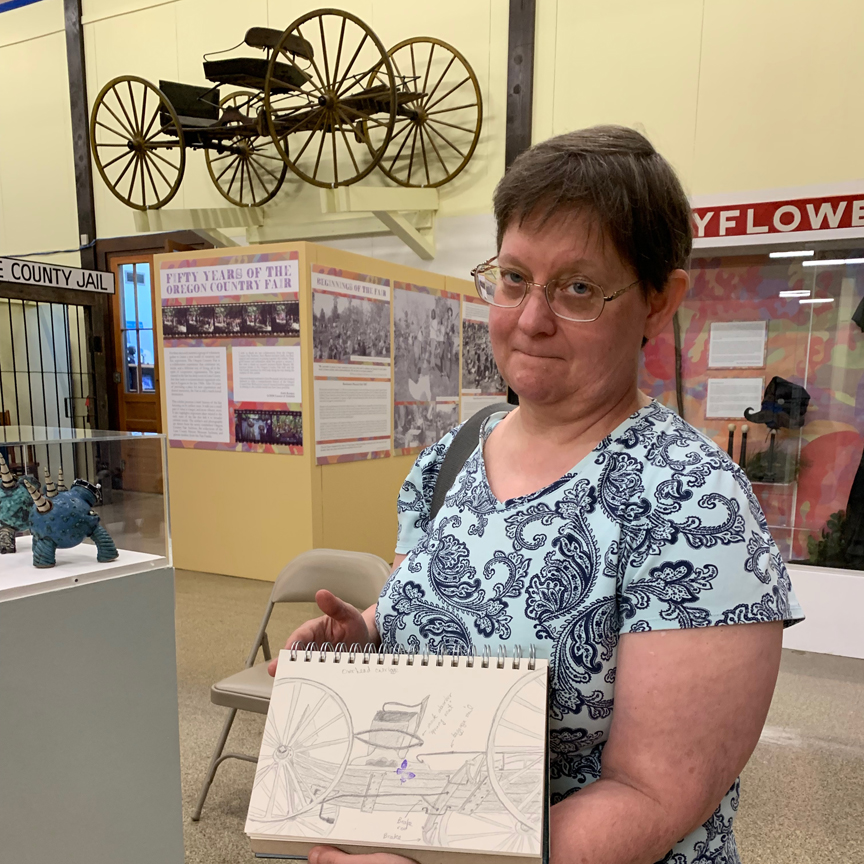 Then she turned around a dared to draw an old spring-seat wagon.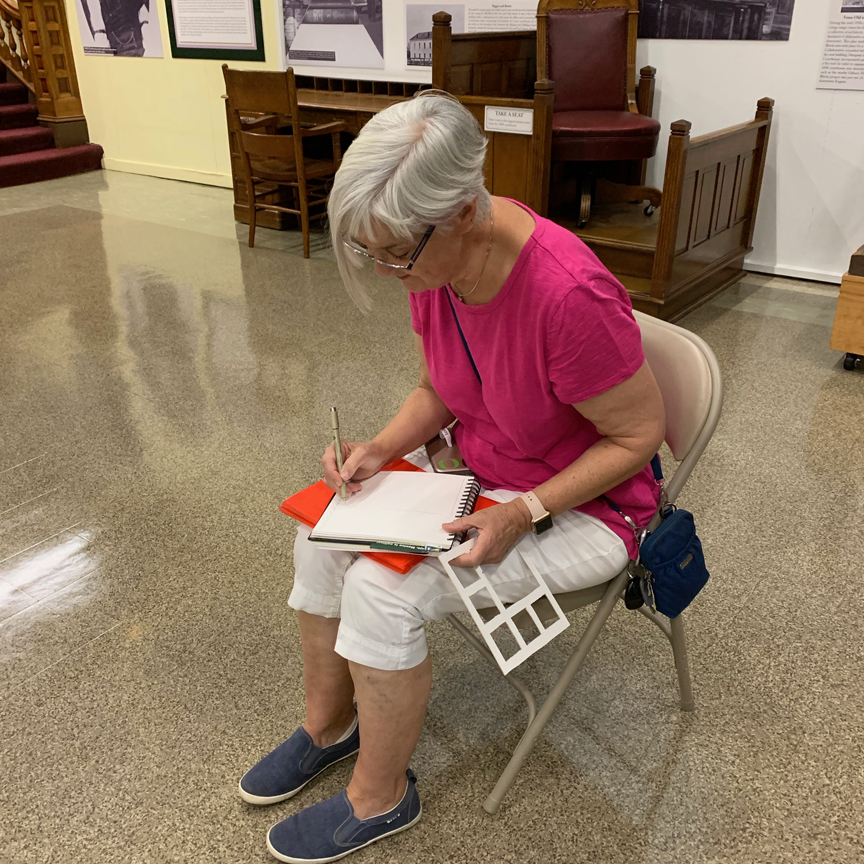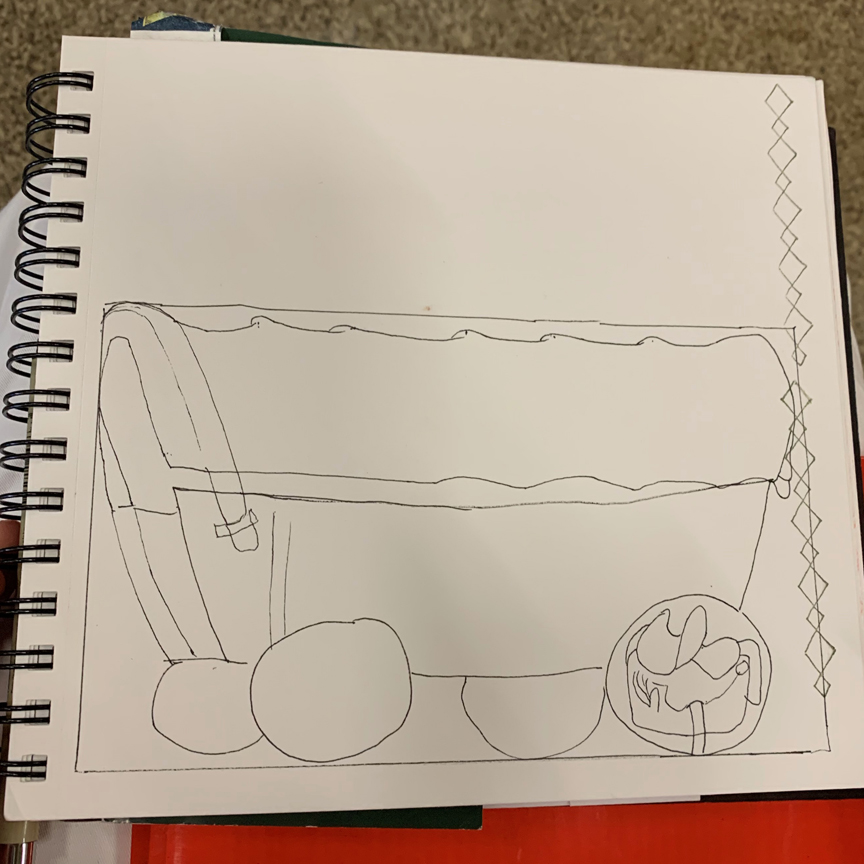 Katie immediately fell in love with the Oregon Trail covered wagon.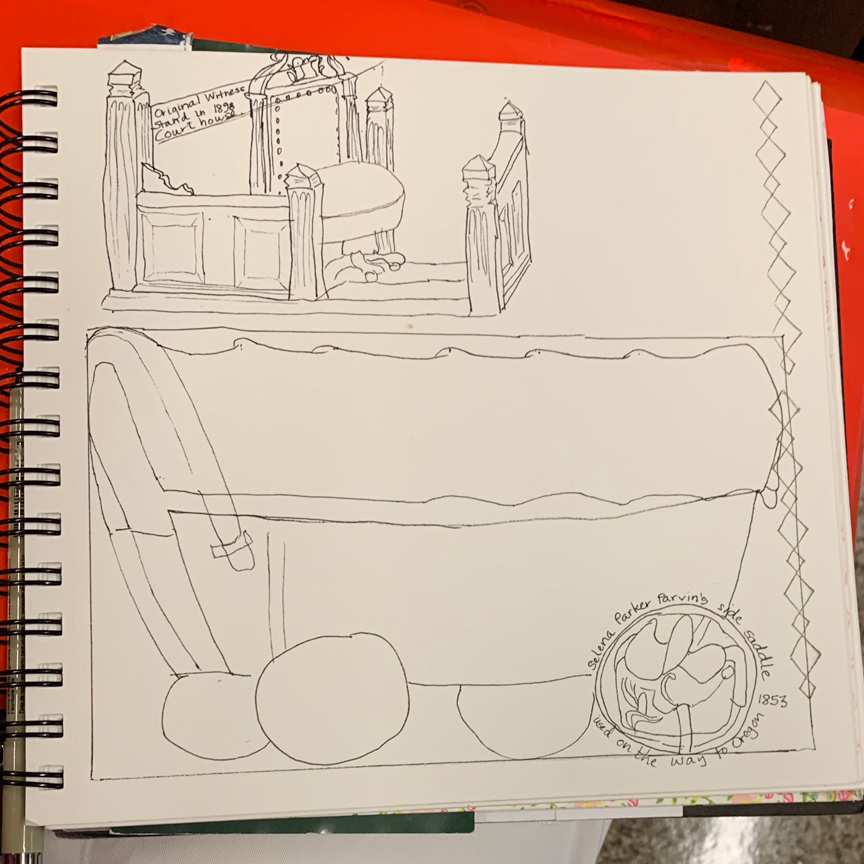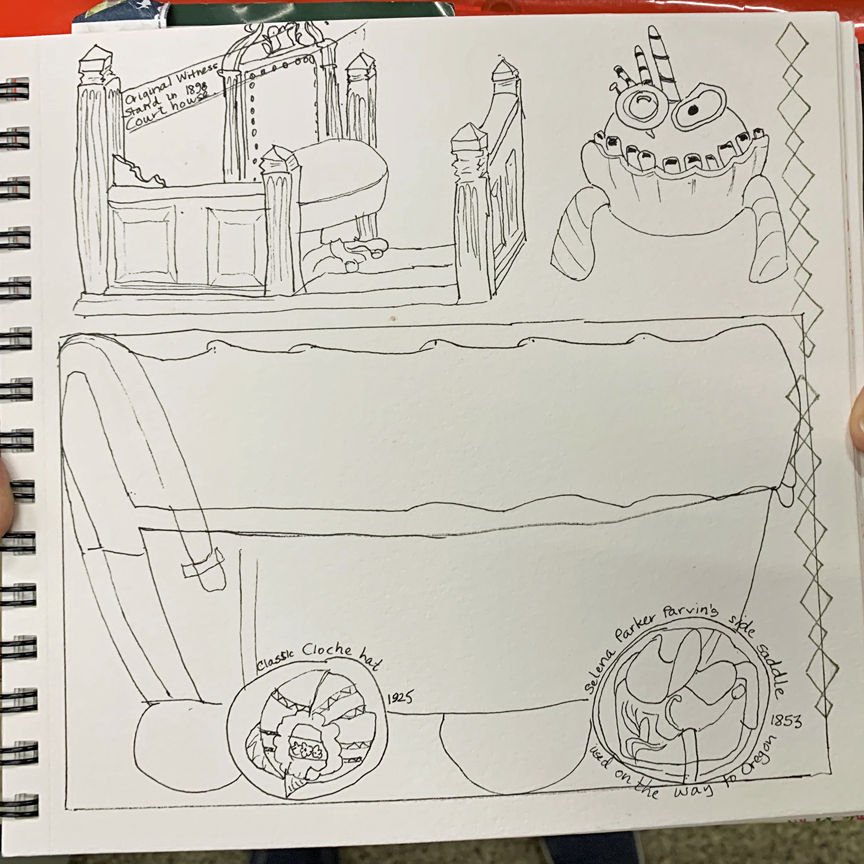 Then her wagon became the framework for other historic items, including the ceramic creature from the Oregon Country Fair.
✒ June 28, 2019, Oakland, Oregon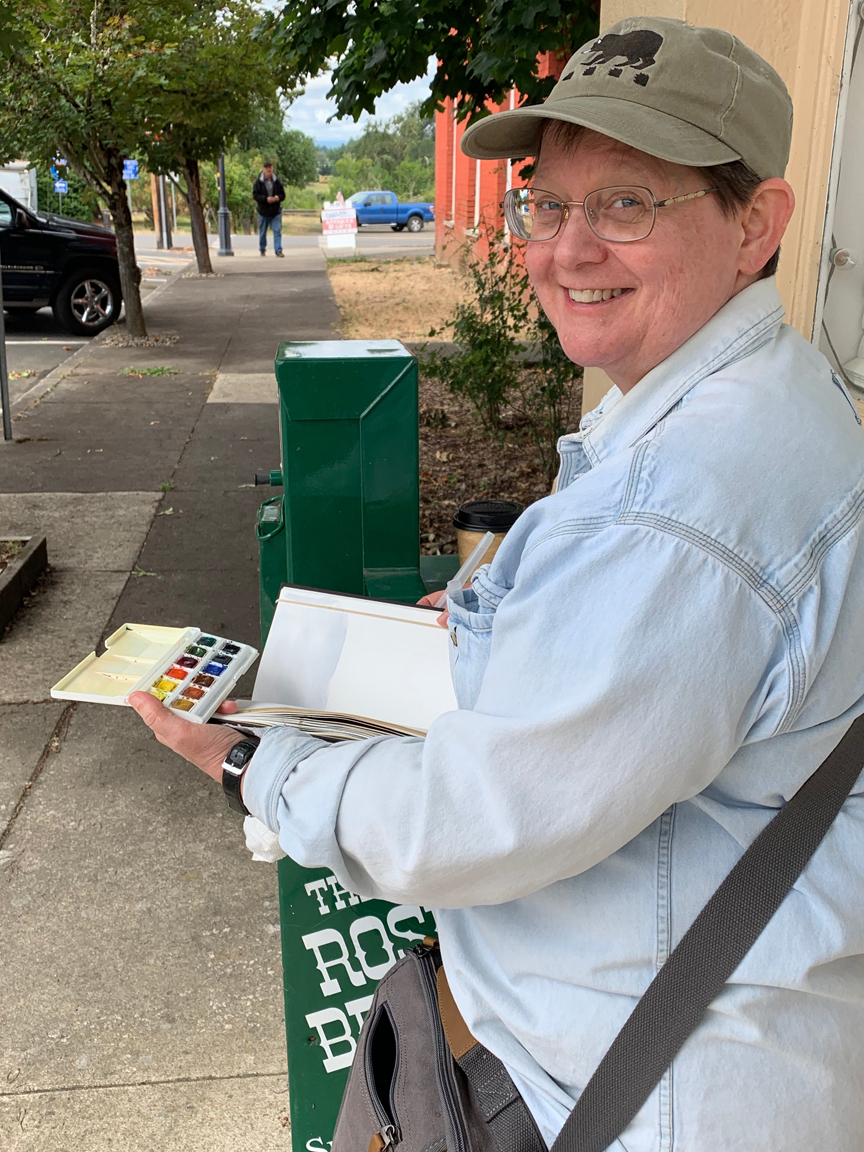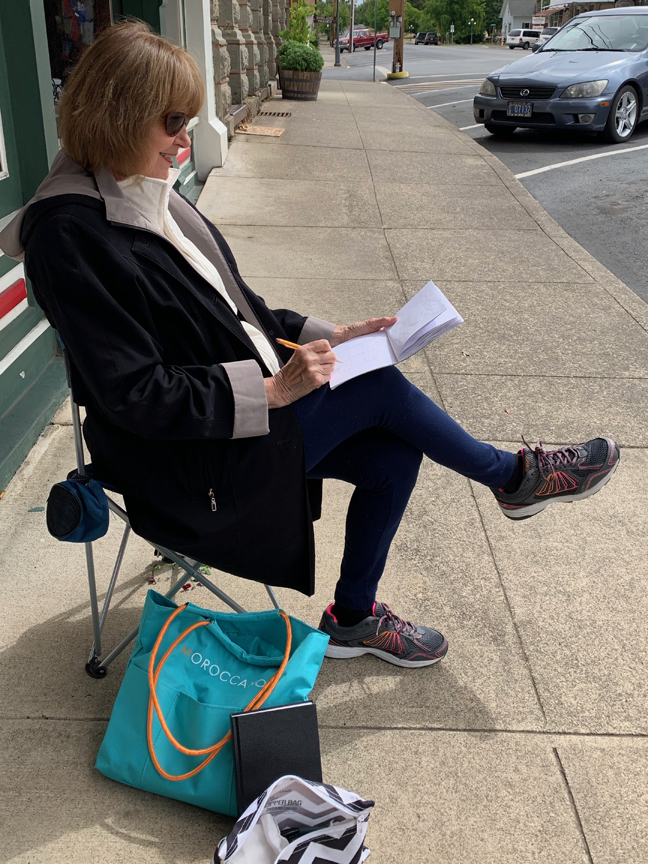 Daisy instigated this trip (she has a friend who lives here), and Sharon was glad to come, too (her daughter lives near).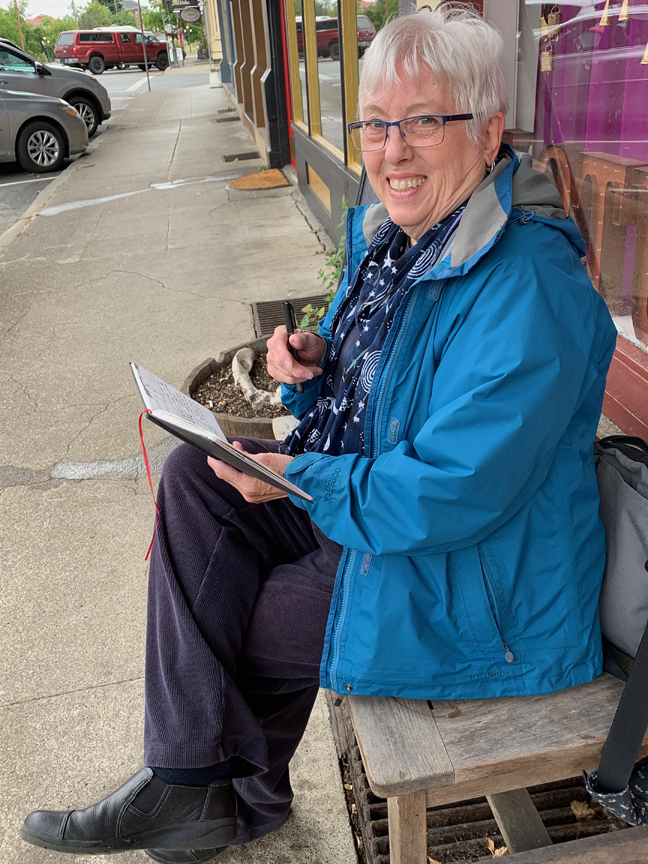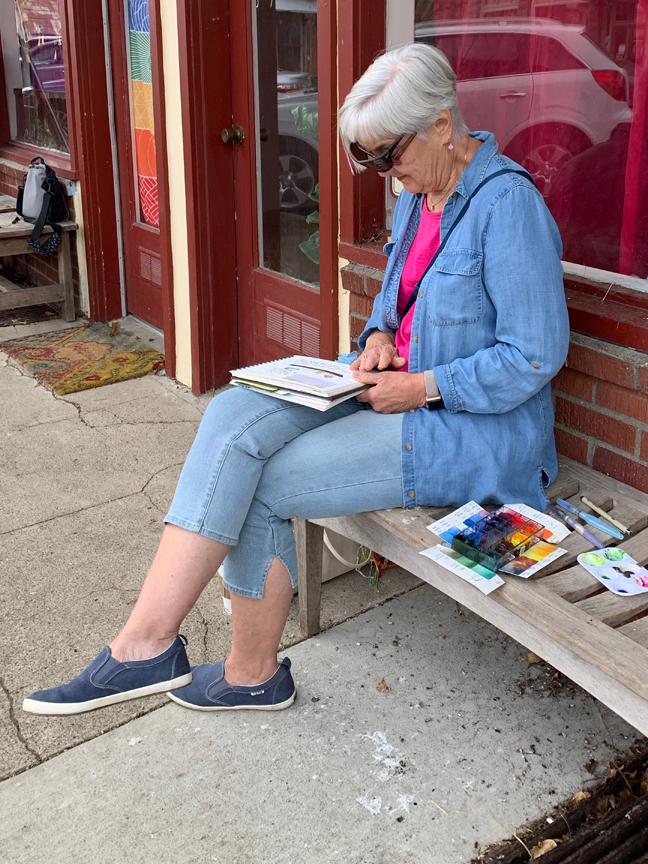 Jane and Katie were delighted to come along and sketch here, too.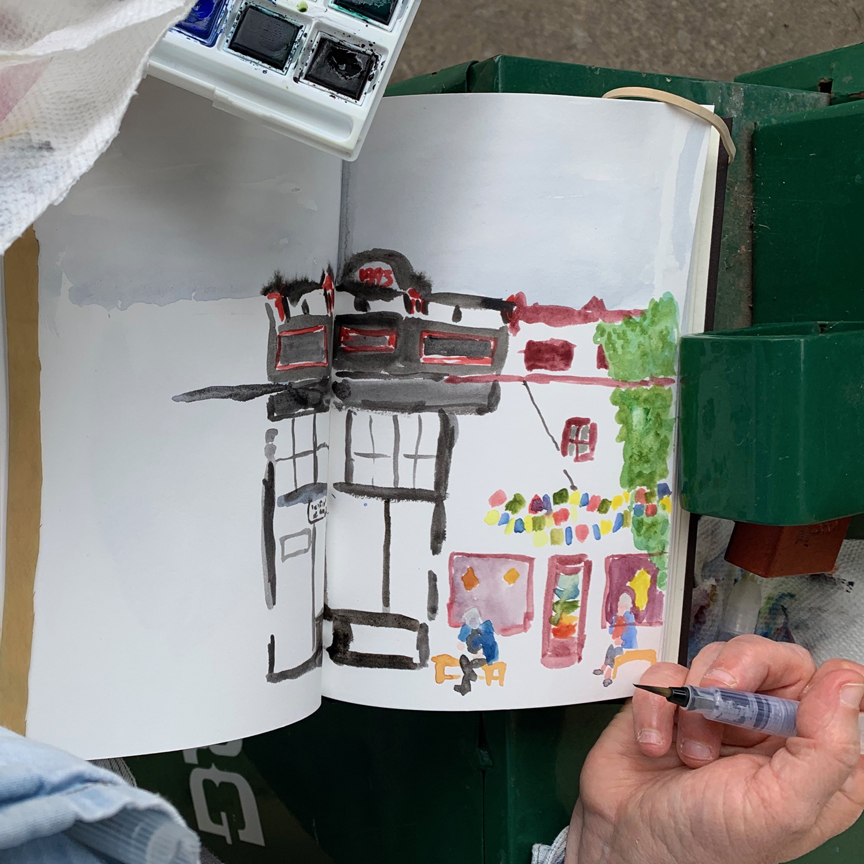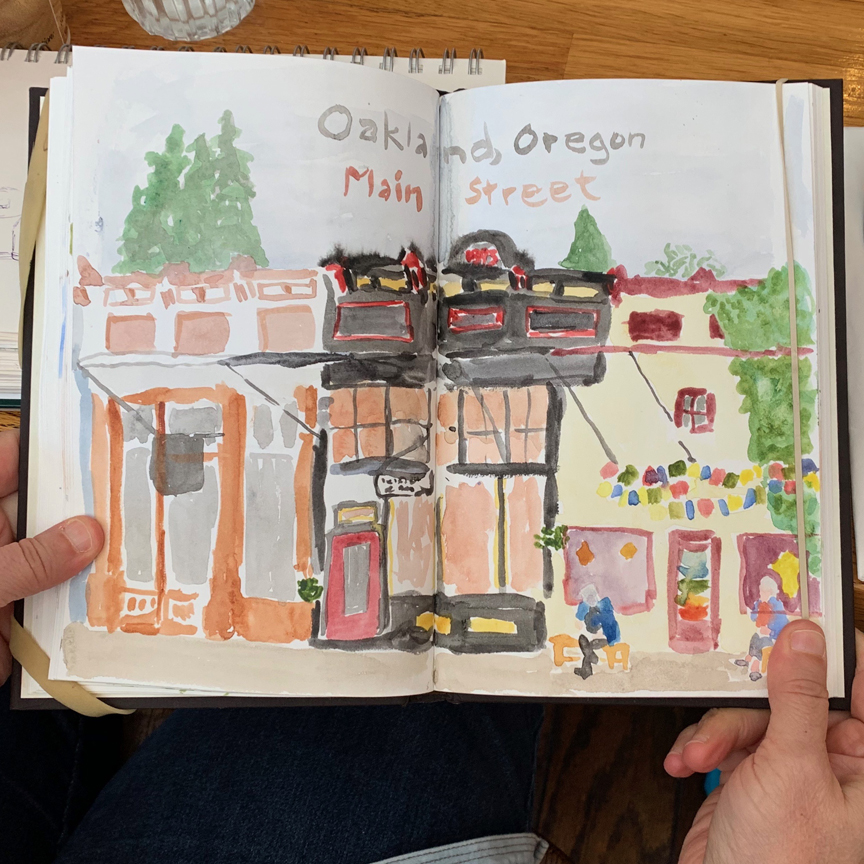 Daisy launched right into a watercolor sketch – look, Ma, no pencil or ink lines! What a delightful spirited sketch, with Katie in it, too!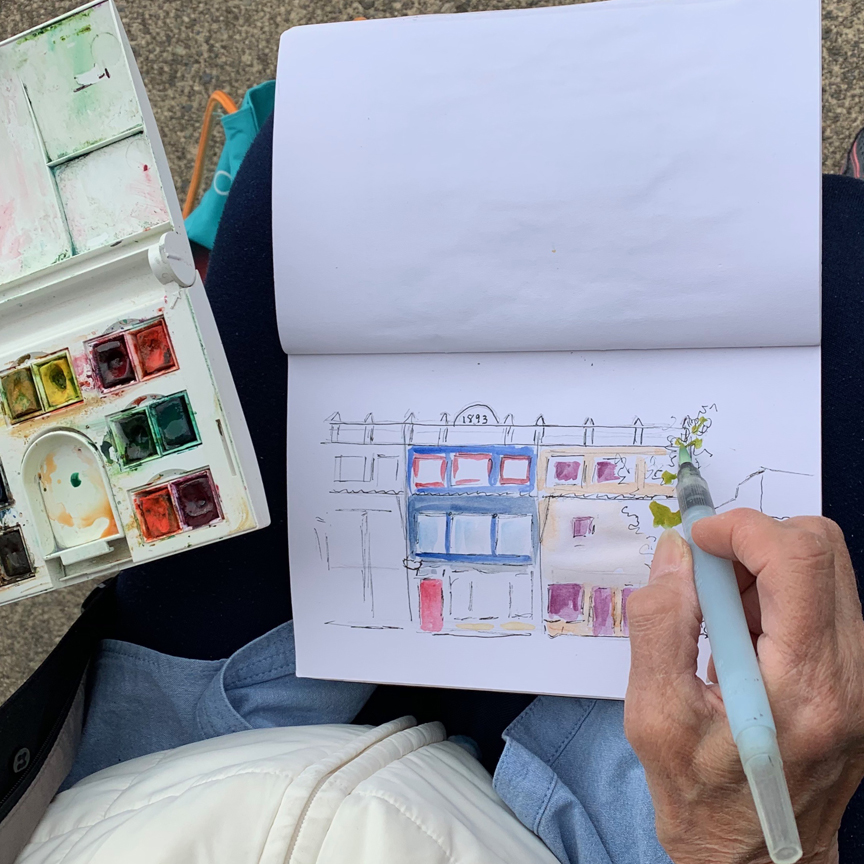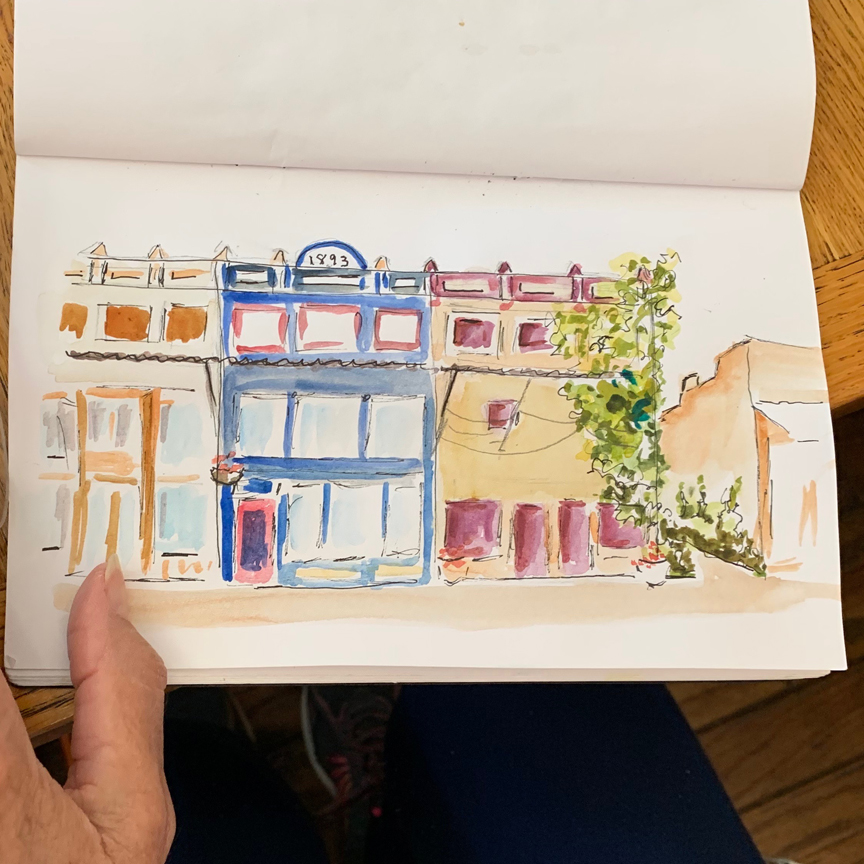 Sharon used a few light pencil guidelines before going to watercolor – didn't she do a nice job of capturing these historic building fronts?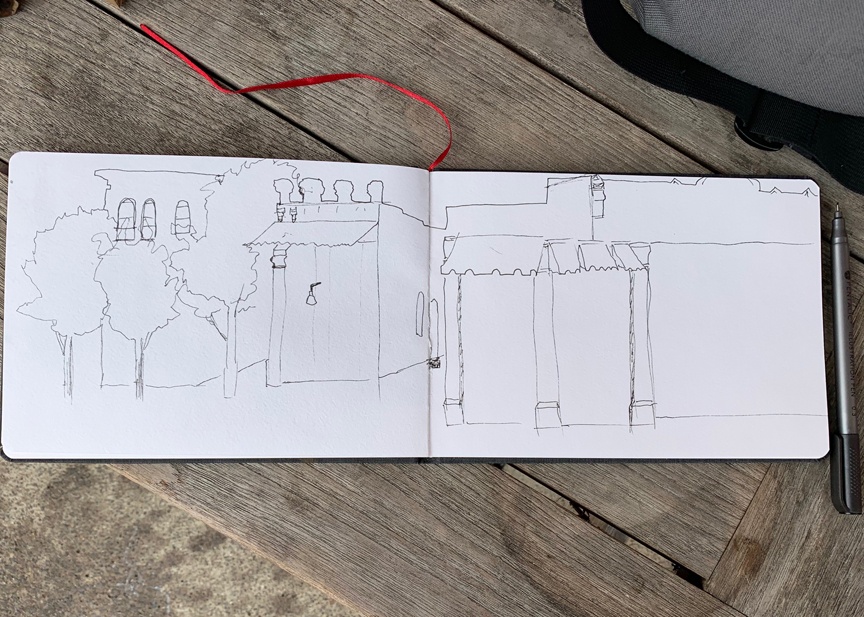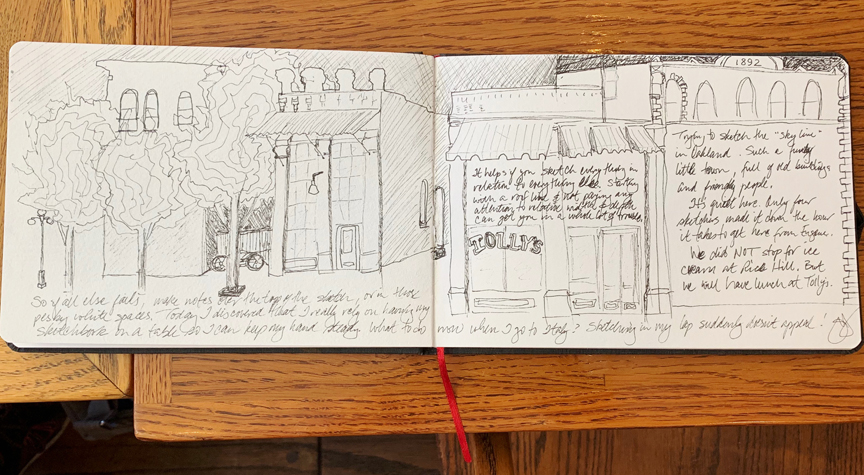 Jane started to do just a skyline approach to the store fronts, then began adding details and commentary. It's a learning experience!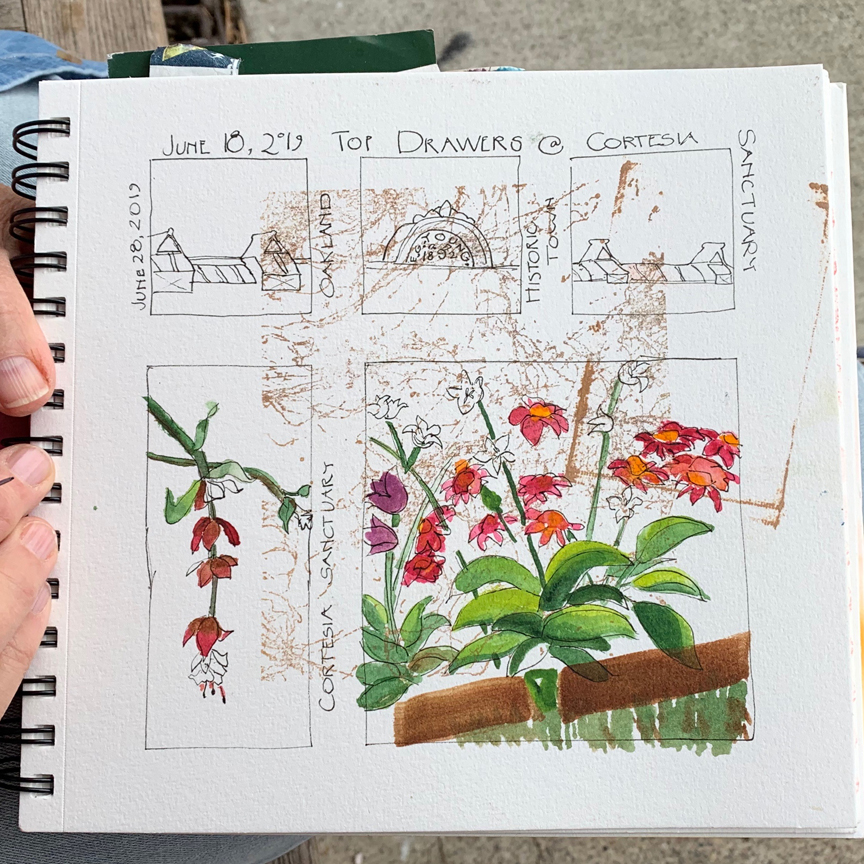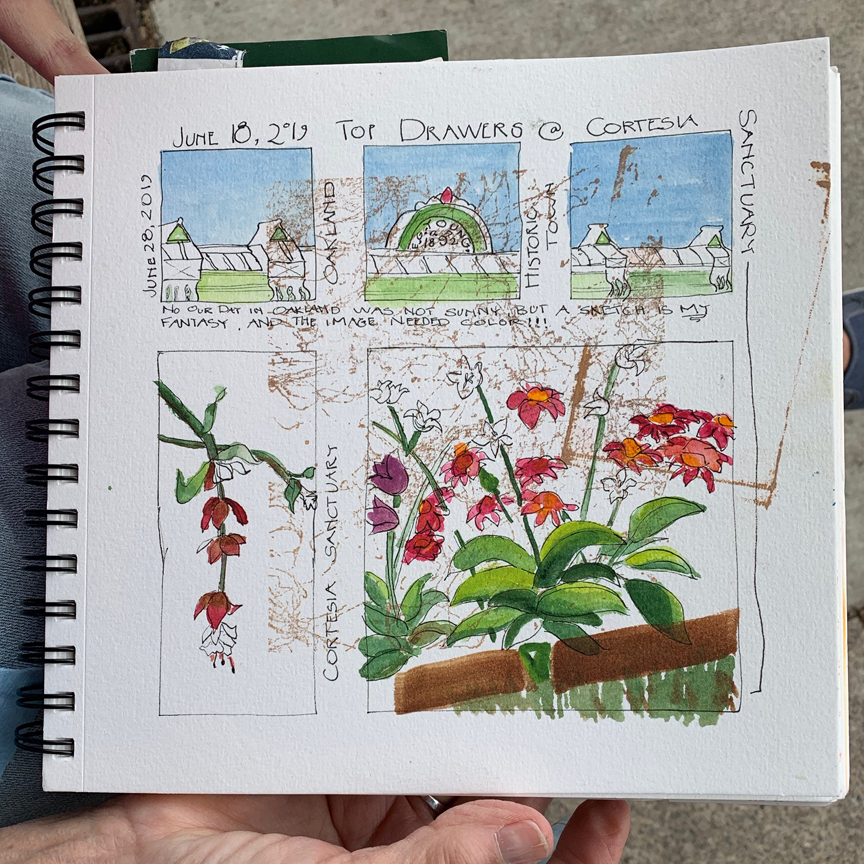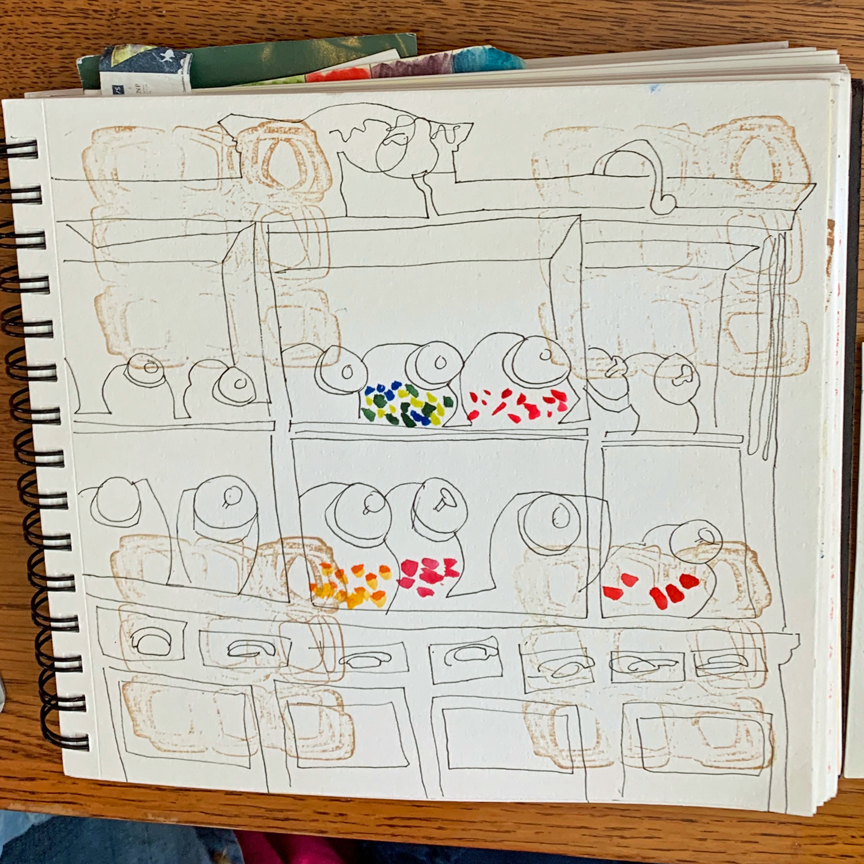 Katie added vignette sketches of the store fronts to her page, and when we went inside just could not resist the glass jars of candy.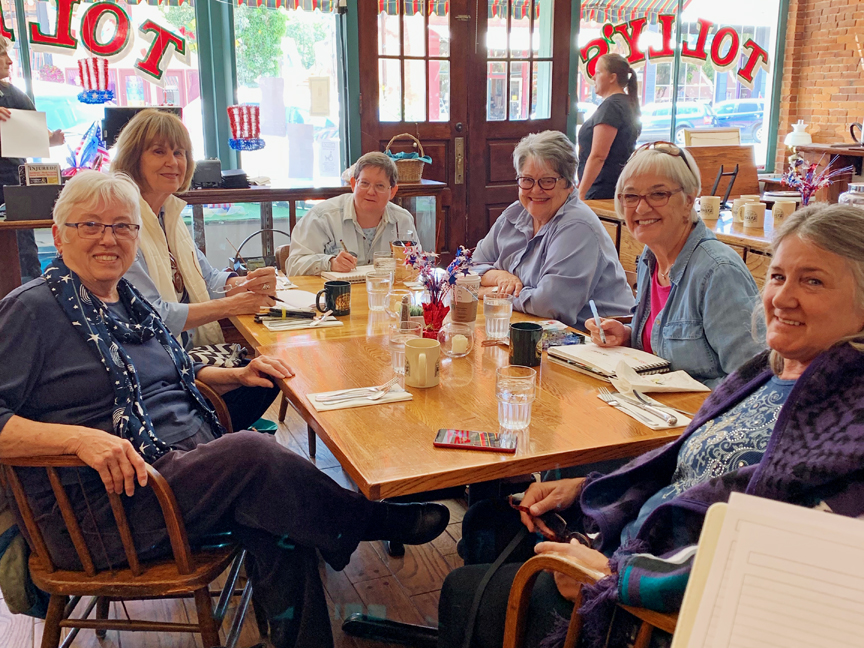 Inside for lunch: Jane, Sharon, Daisy & her fiber artist friend Jana, Katie, and Sharon's fiber artist daughter Ronette. Great time!
✒ June 14, 2010 – Oakway Mall Courtyard
✒ May 24, 2019 – Café Yumm @ Oakway Mall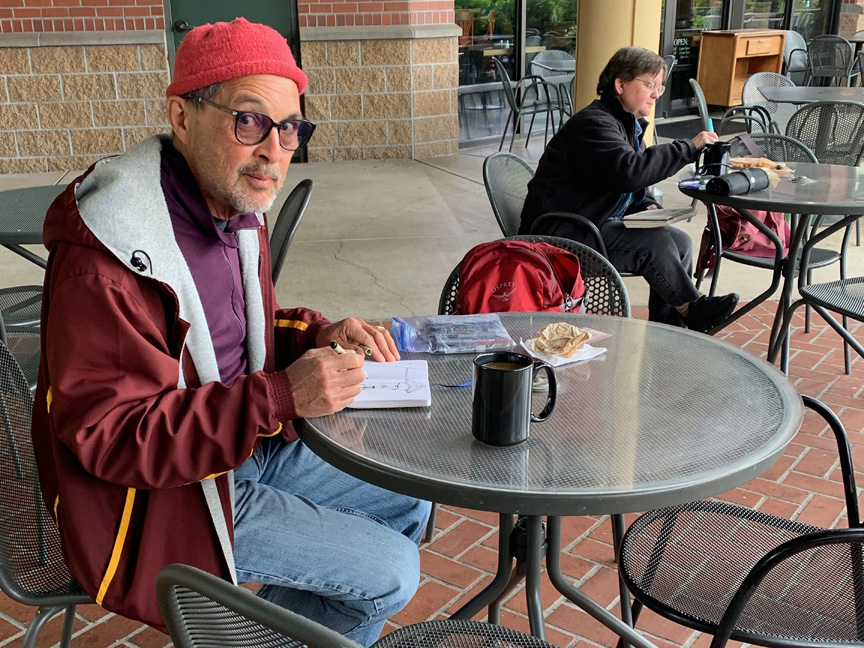 Inside: Serge, Bev, Katie, Lona, Sandy (& Jane); outside: Hugh and Daisy braved the nippy weather for an hour or so.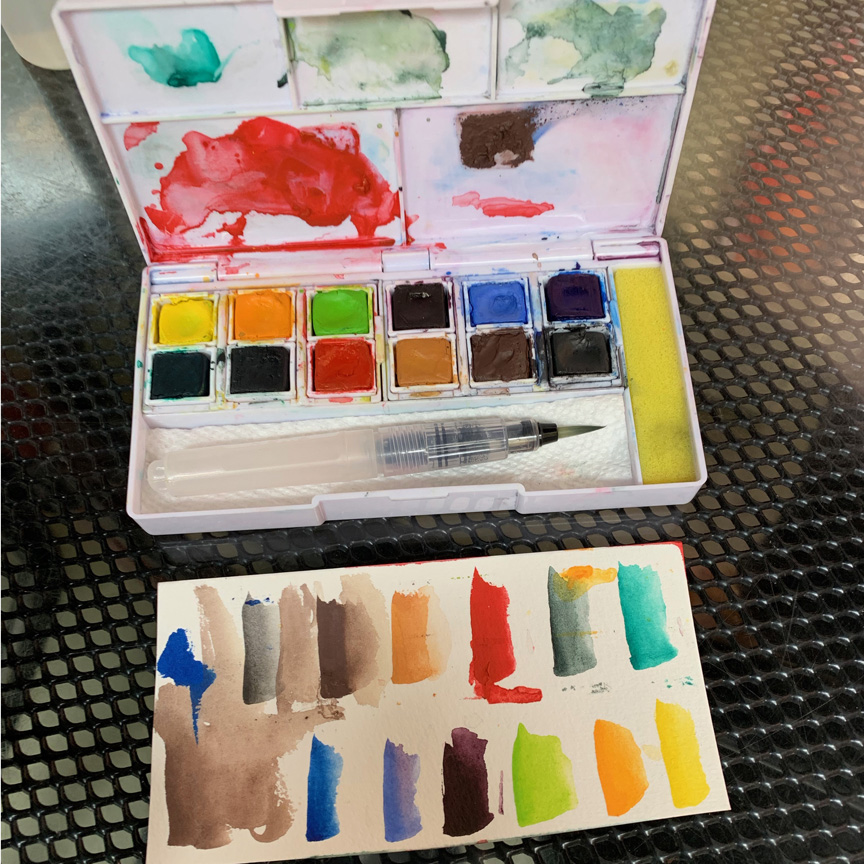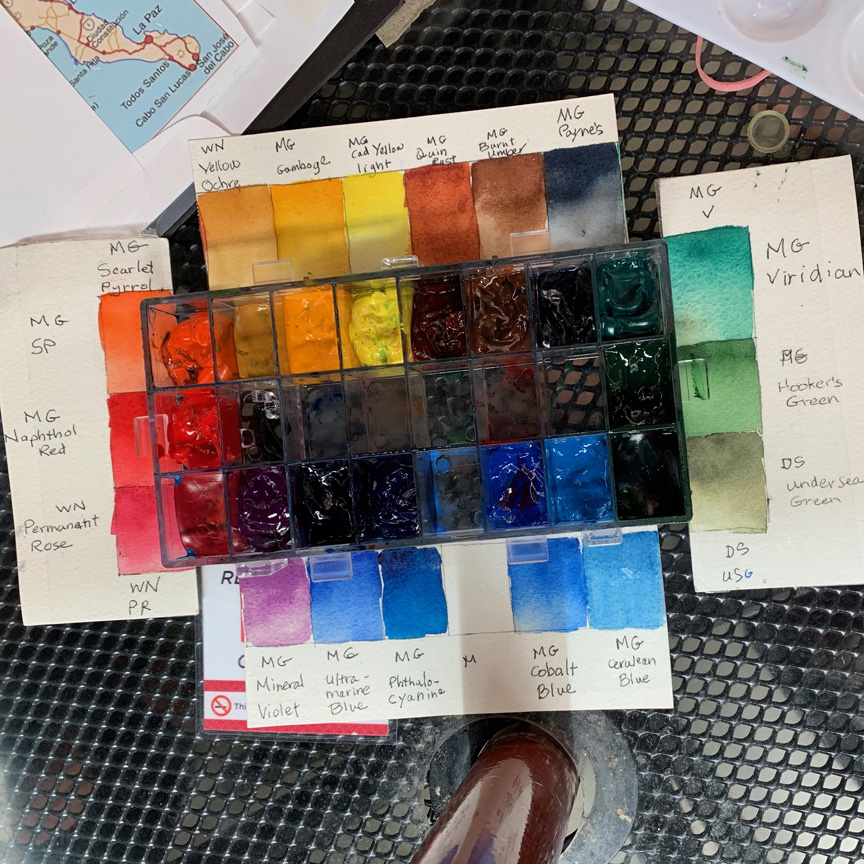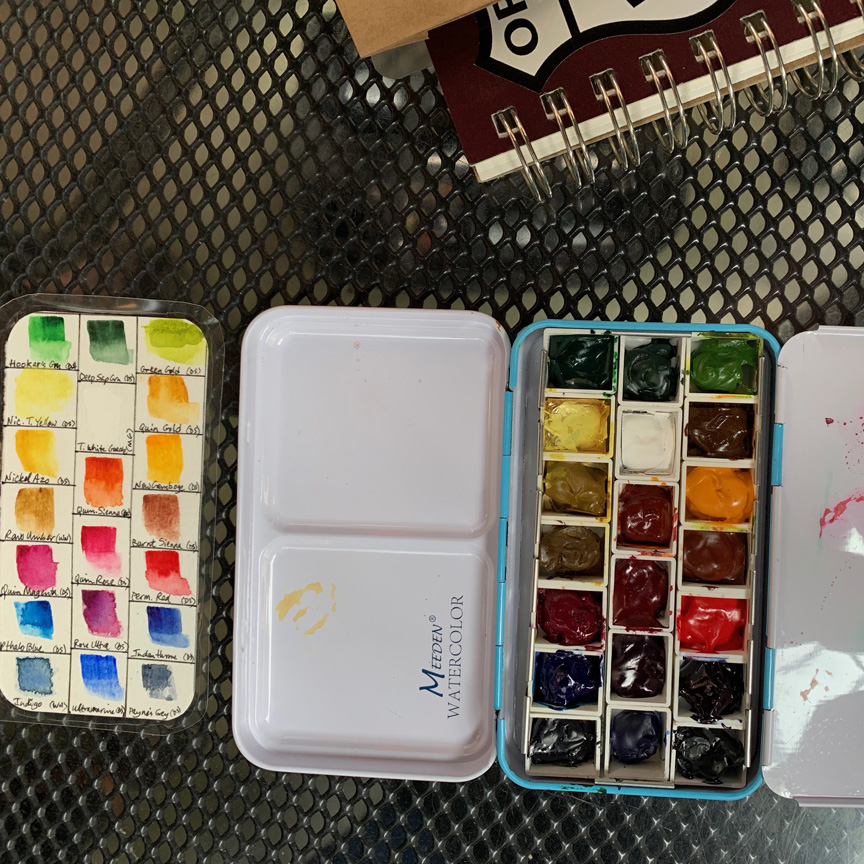 Comparing palettes for the upcoming sketch trip to Italy: Lona made her first "color map," Katie found a seal-tight container to hold her M. Graham honey based watercolors, Jane added white gouache!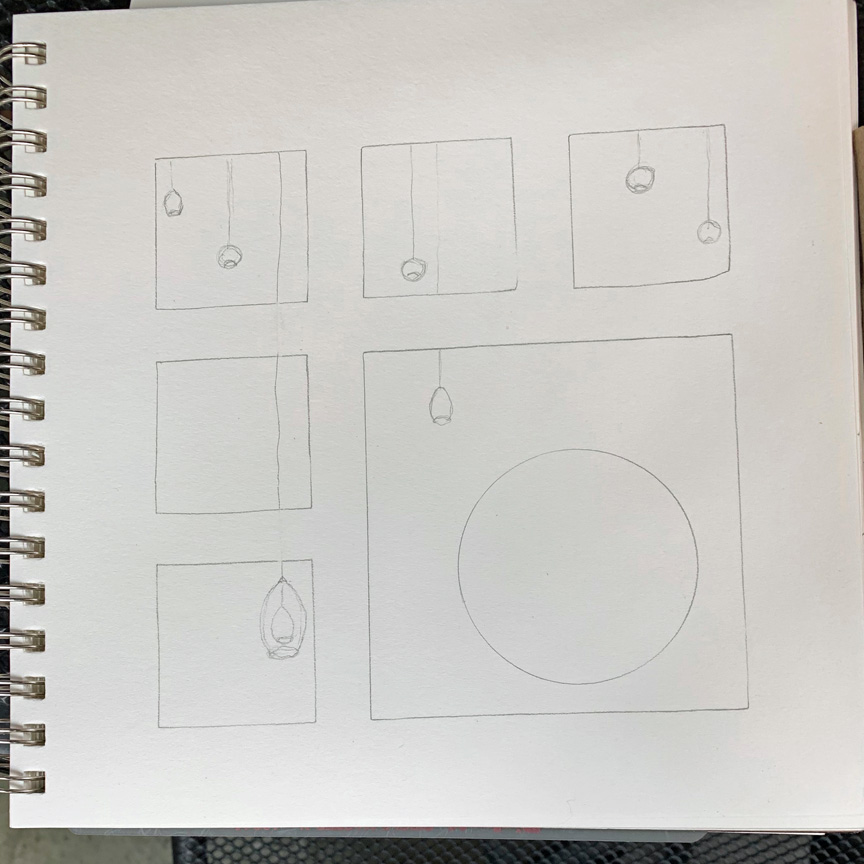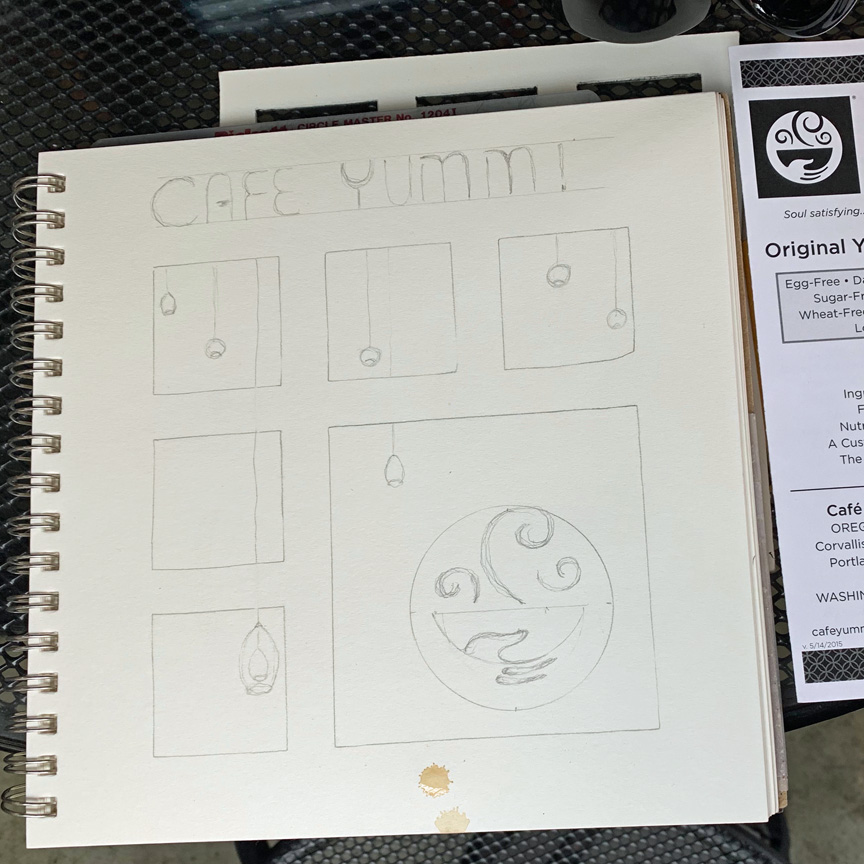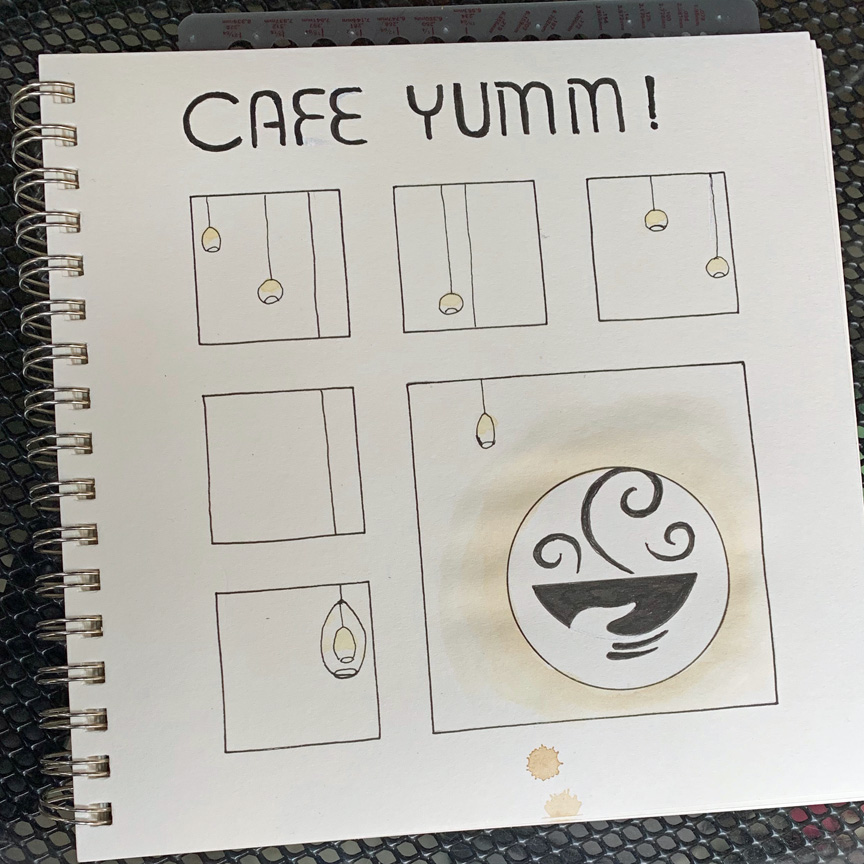 Jane focused on the lamps in the cafe window – can you tell which colors are from yellow mixed with gouache, & which are…coffee?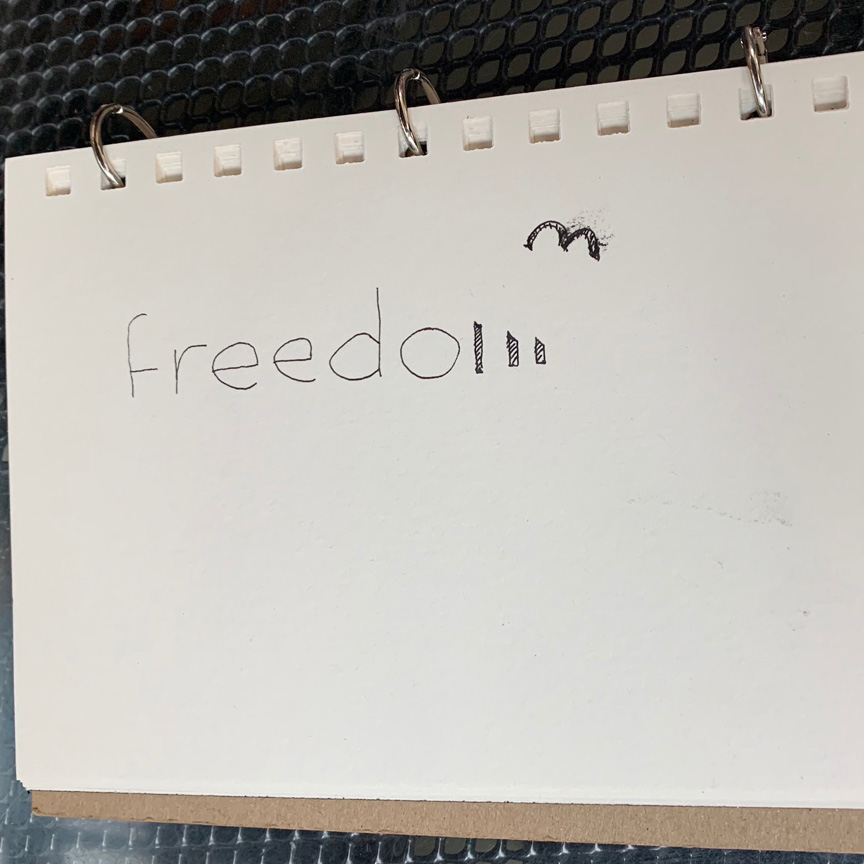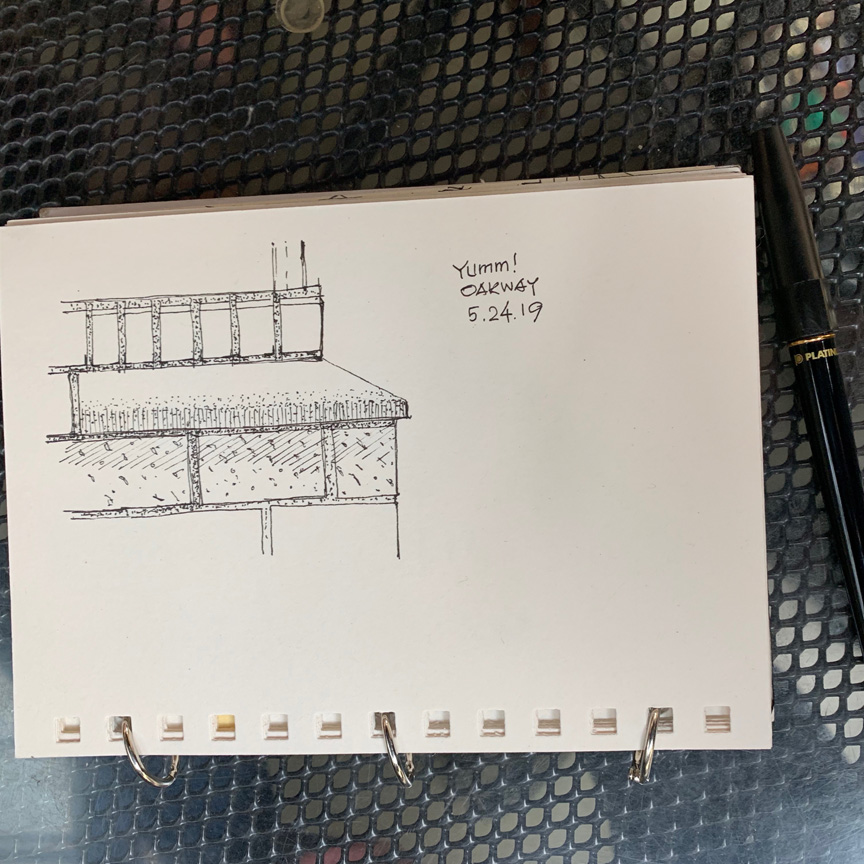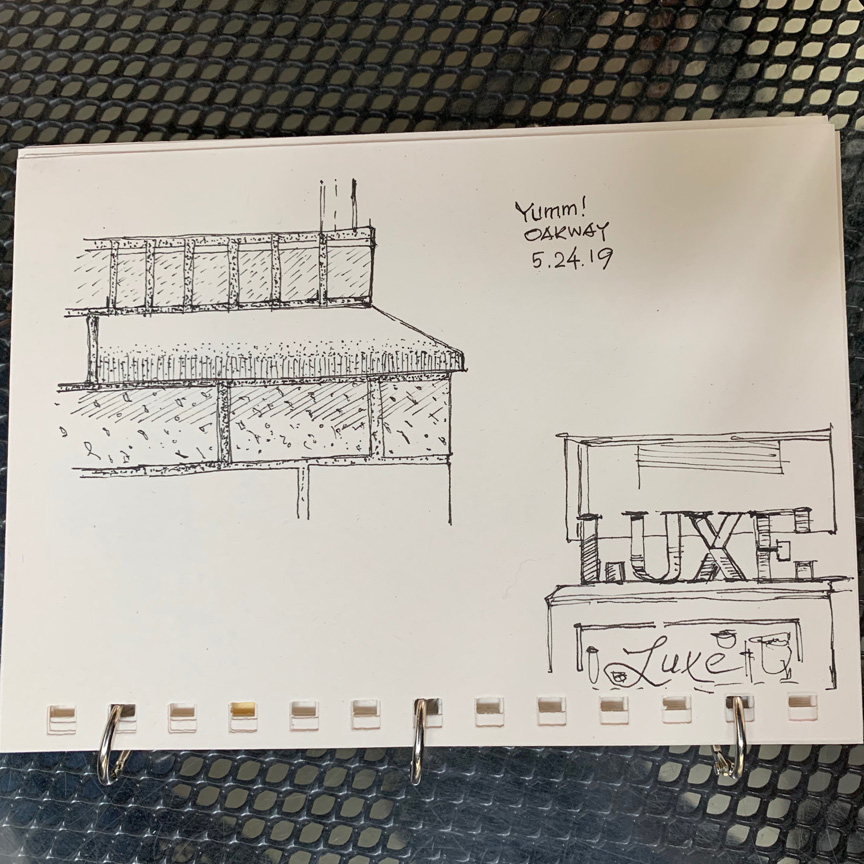 Serge shared a word design that carried the meaning, then on to dynamic fragments of the Oakway building (Ken would be proud).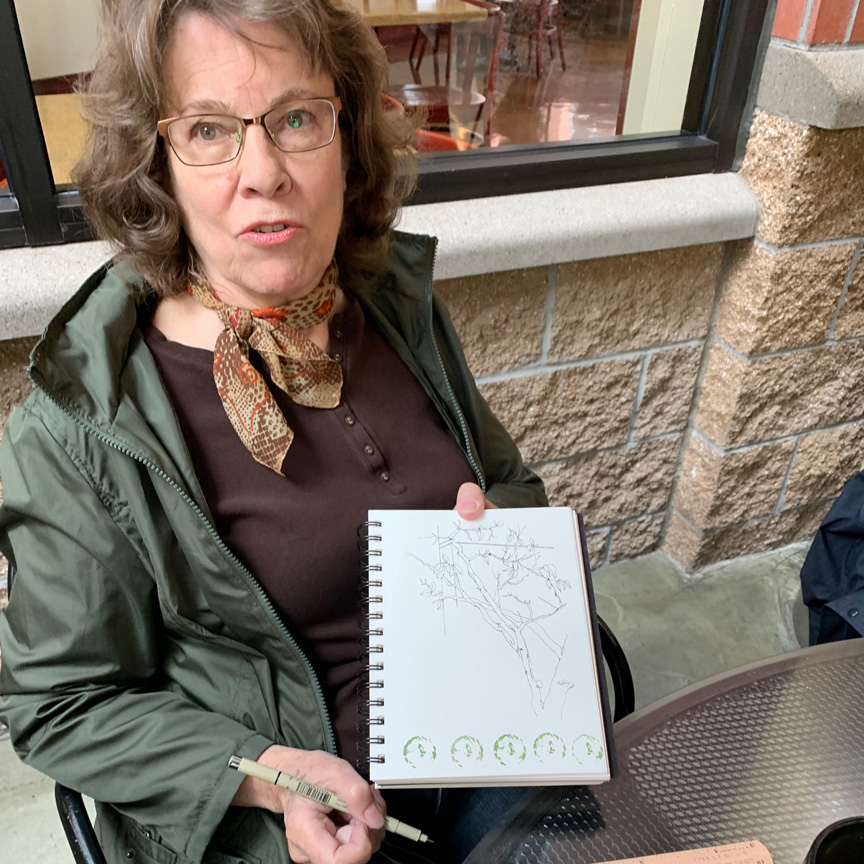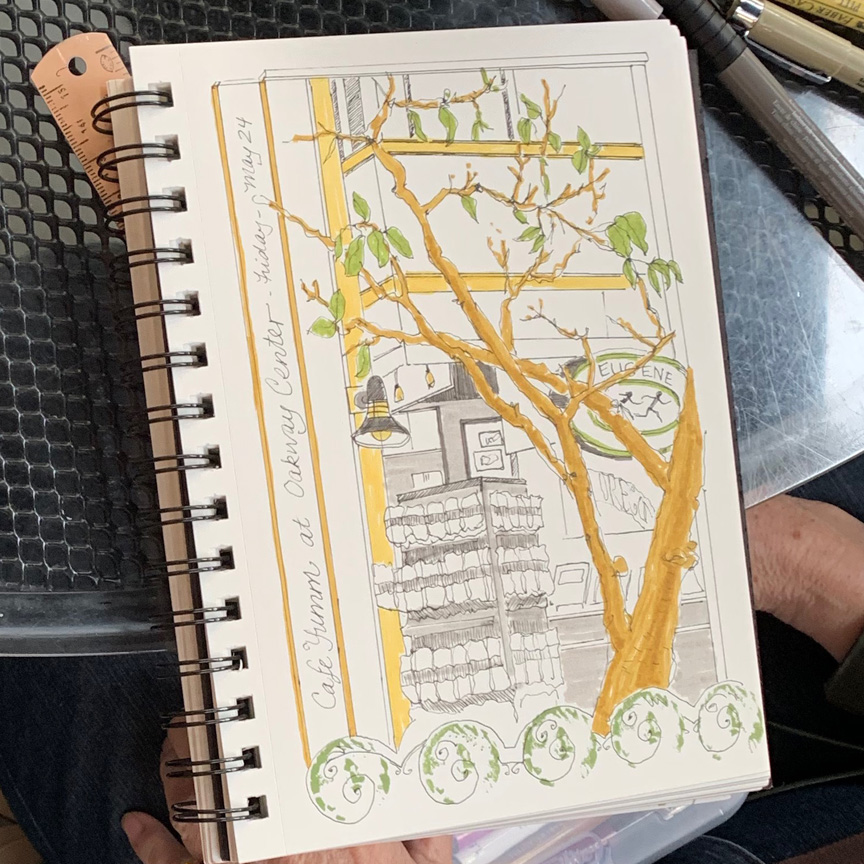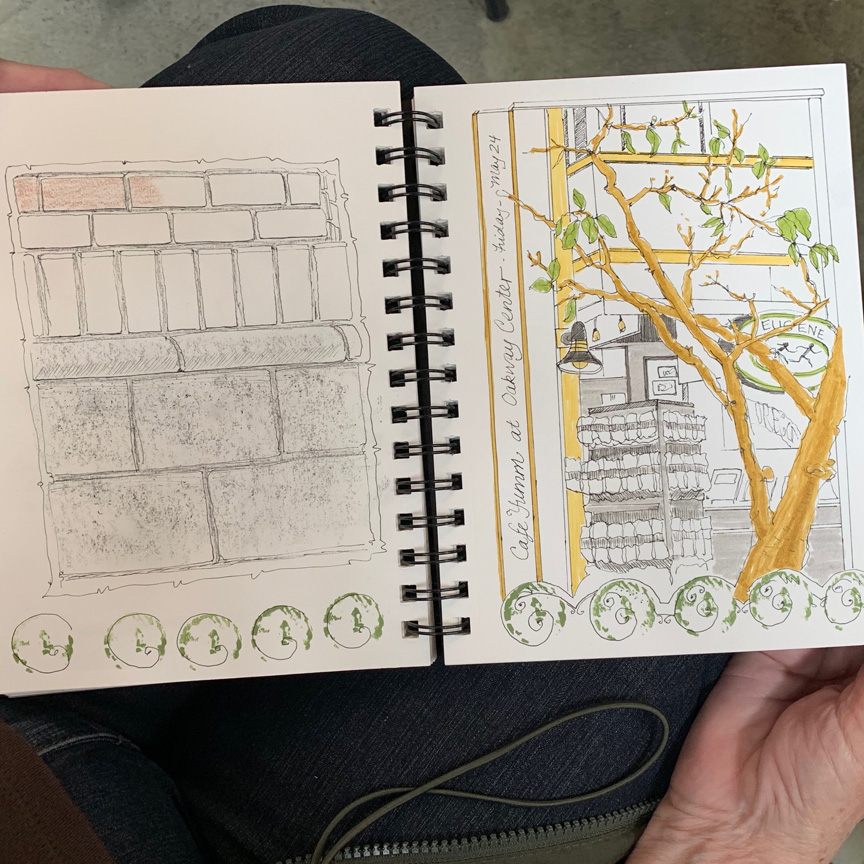 Bev is continuing to play with selective coloring and the interaction with complex backgrounds. But what about those concrete blocks!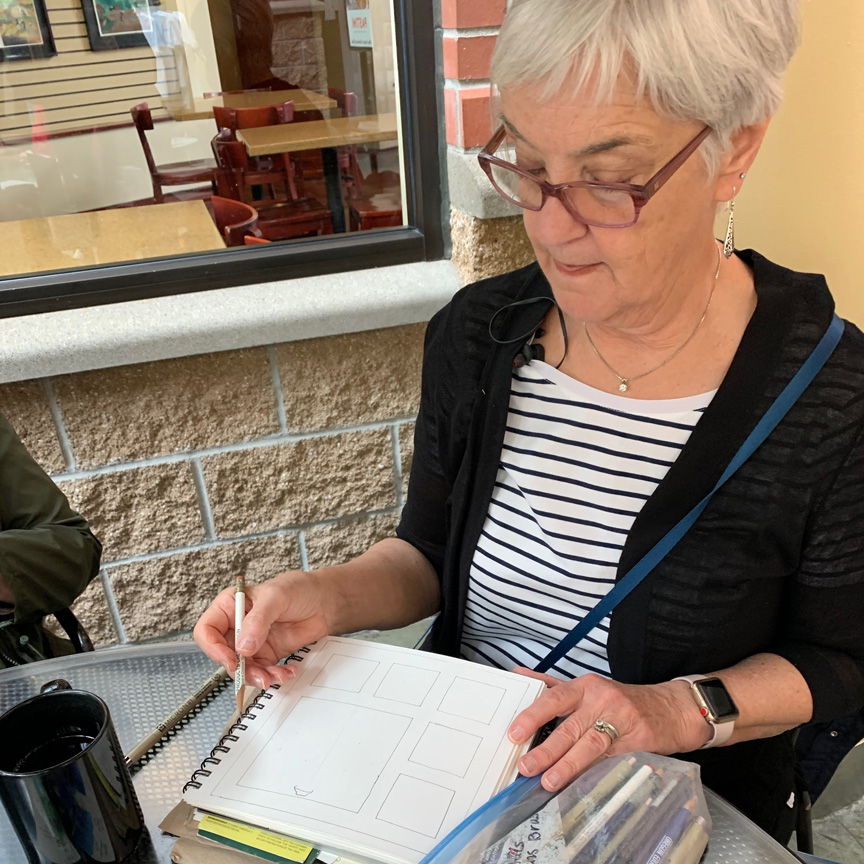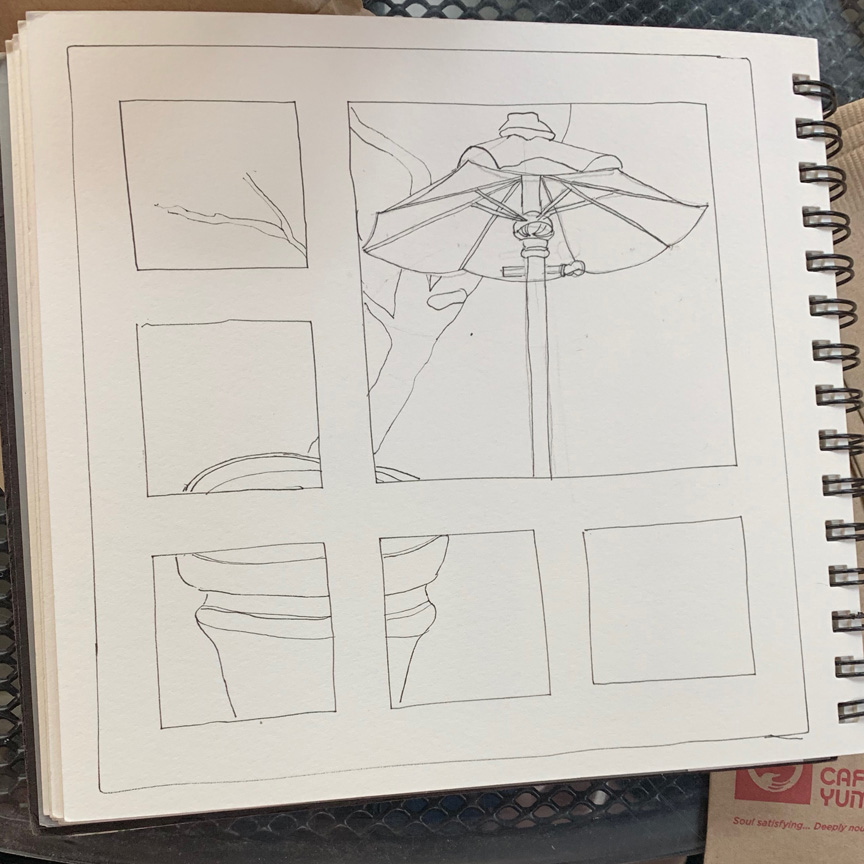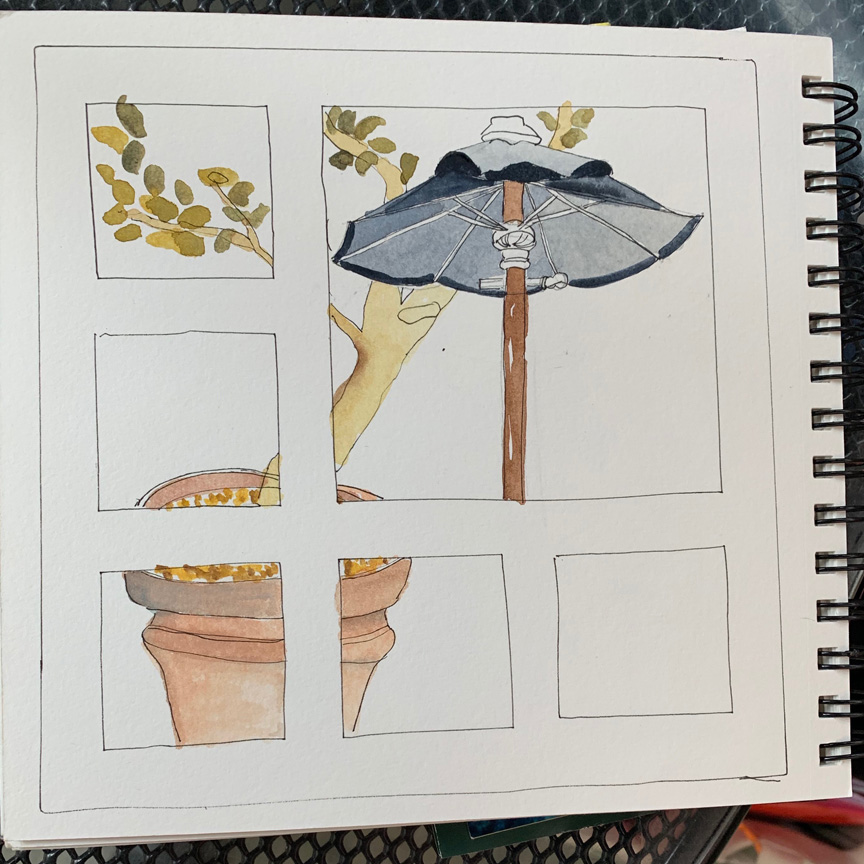 Katie concentrated on using her frame template to showcase images around her – and look at that umbrella shape! It's so hard to do.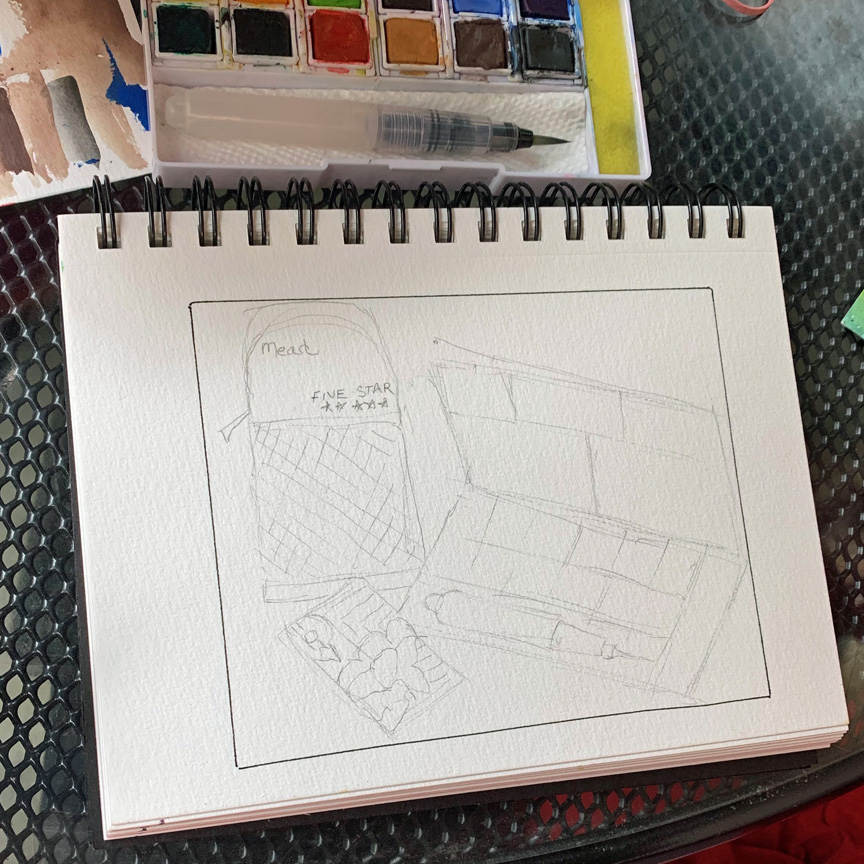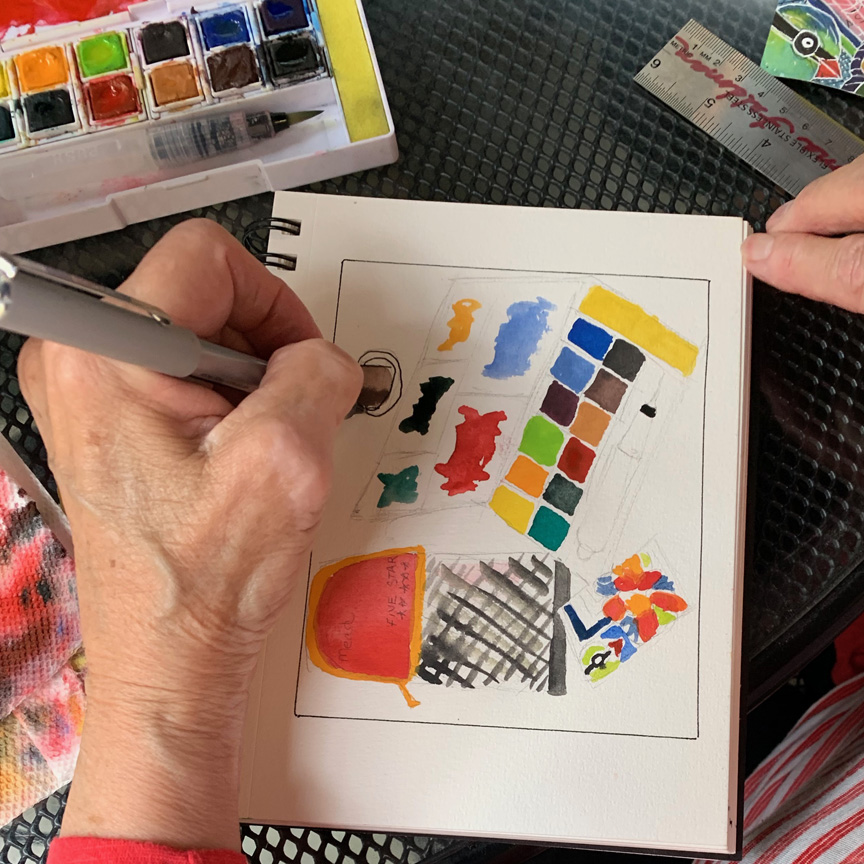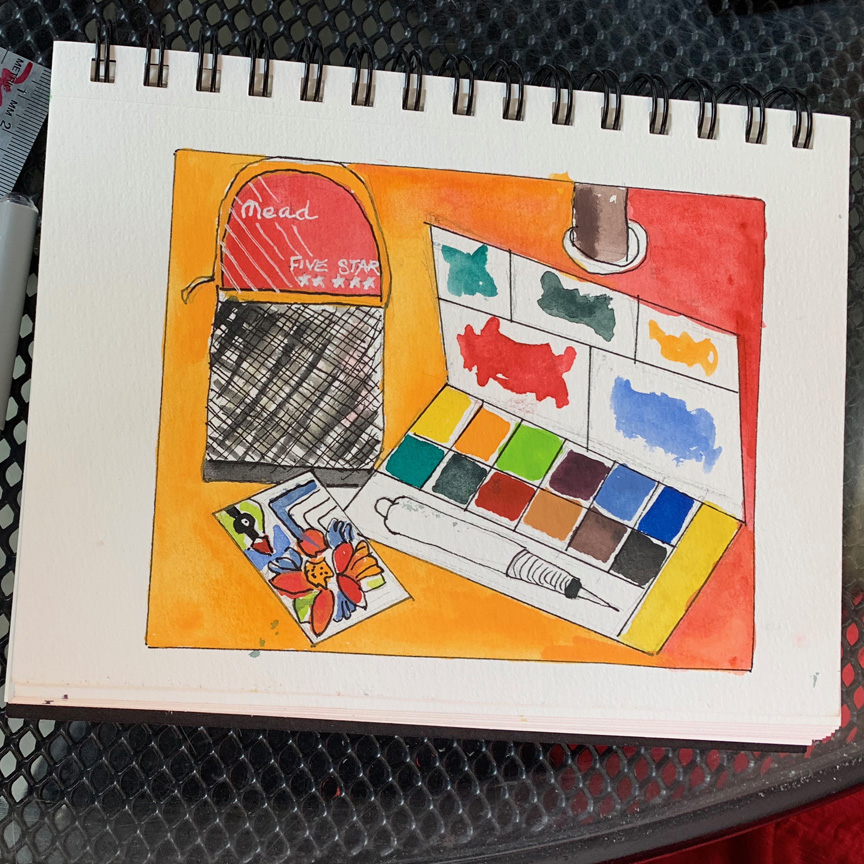 Lona loves deep pigment. Can she manage with just a small travel palette? Well, surprise, surprise! Of course she can! Well done!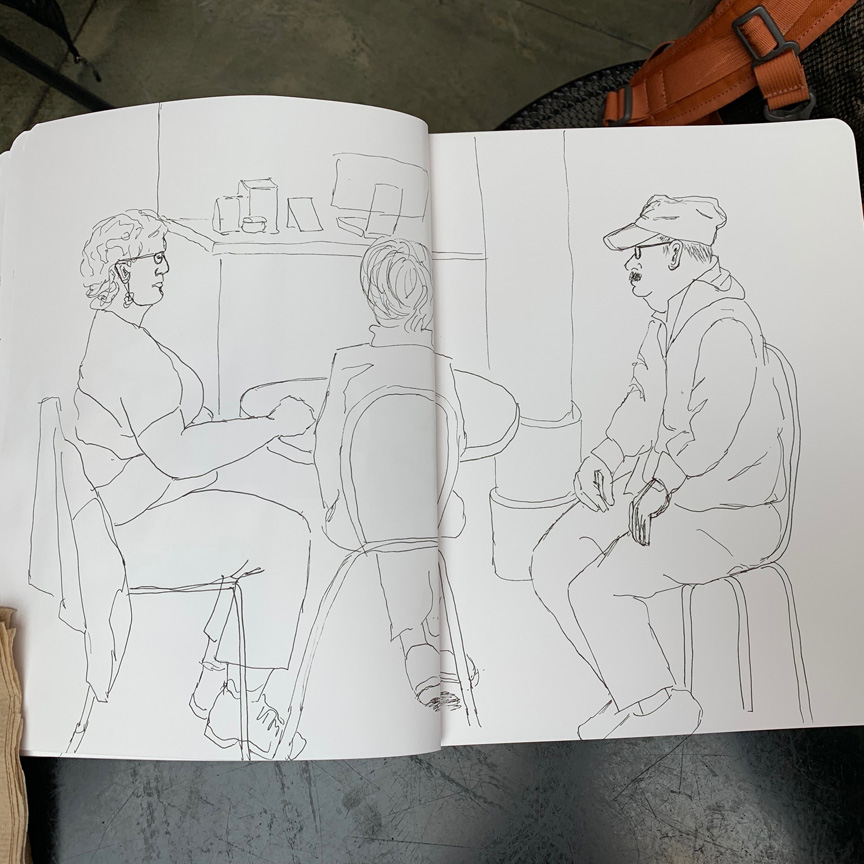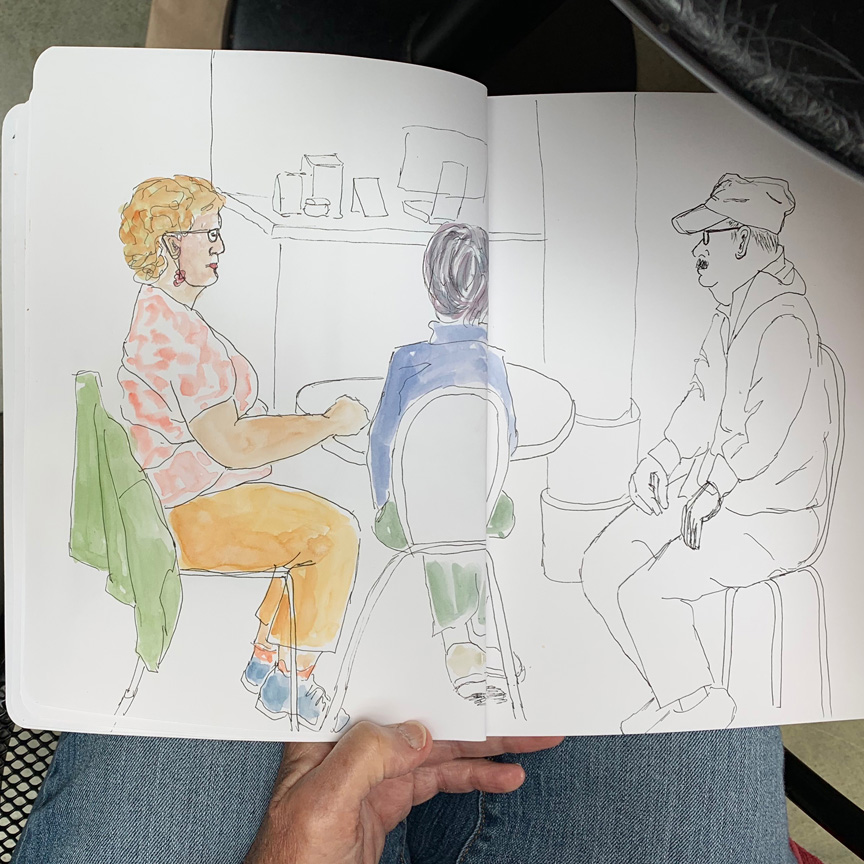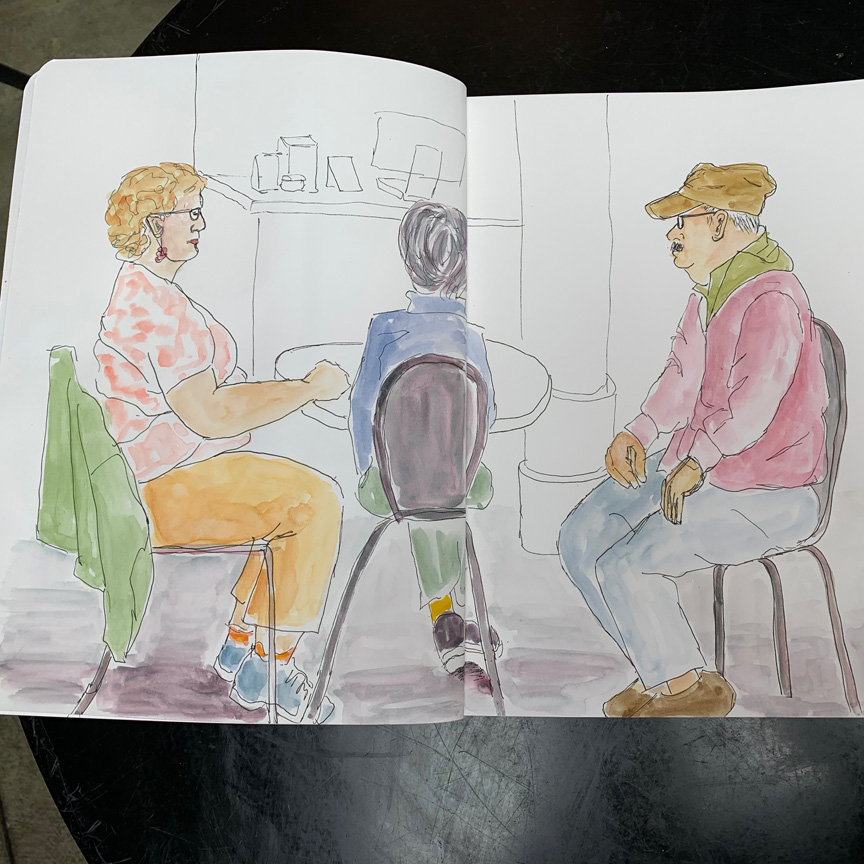 Sandy didn't let the frivolity at our table keep her from concentrating on the folks at the next table – nice gestural study.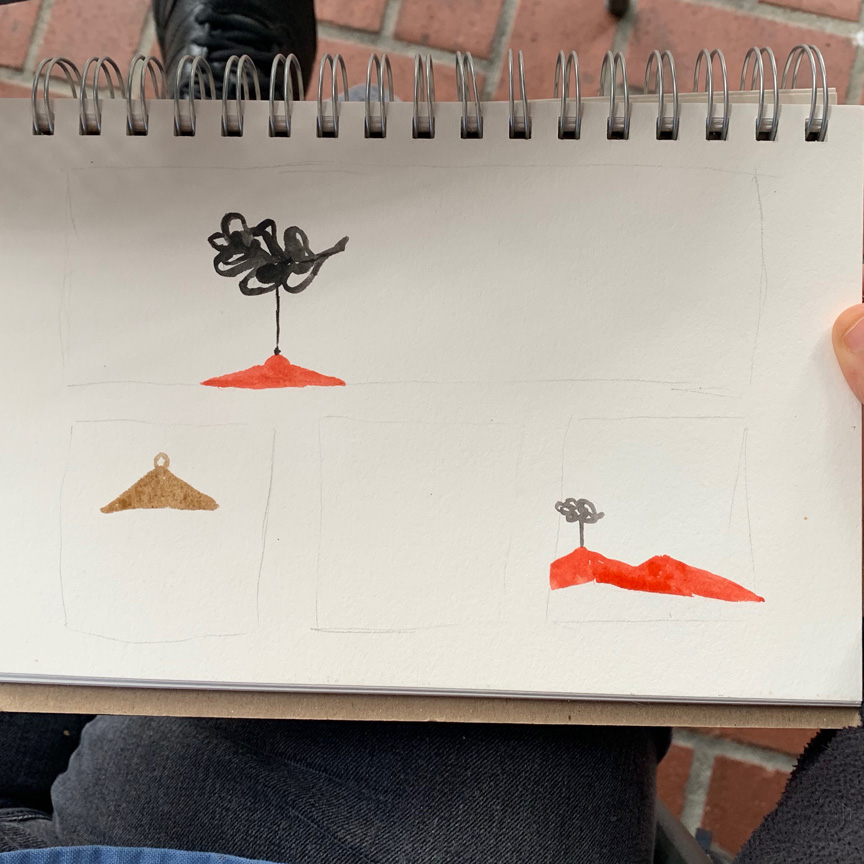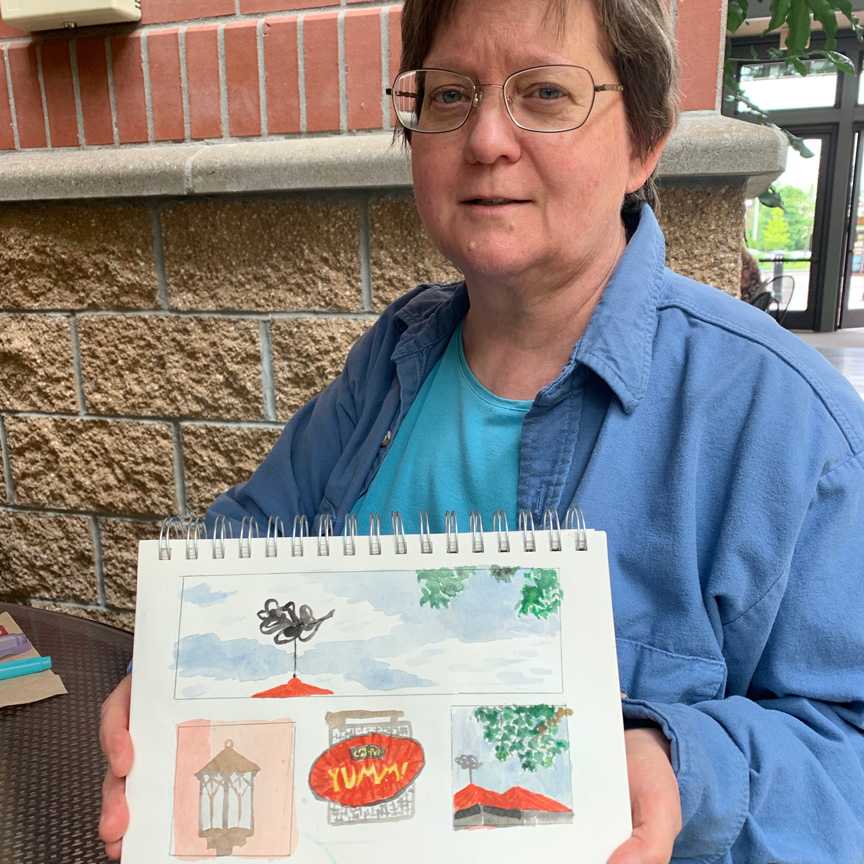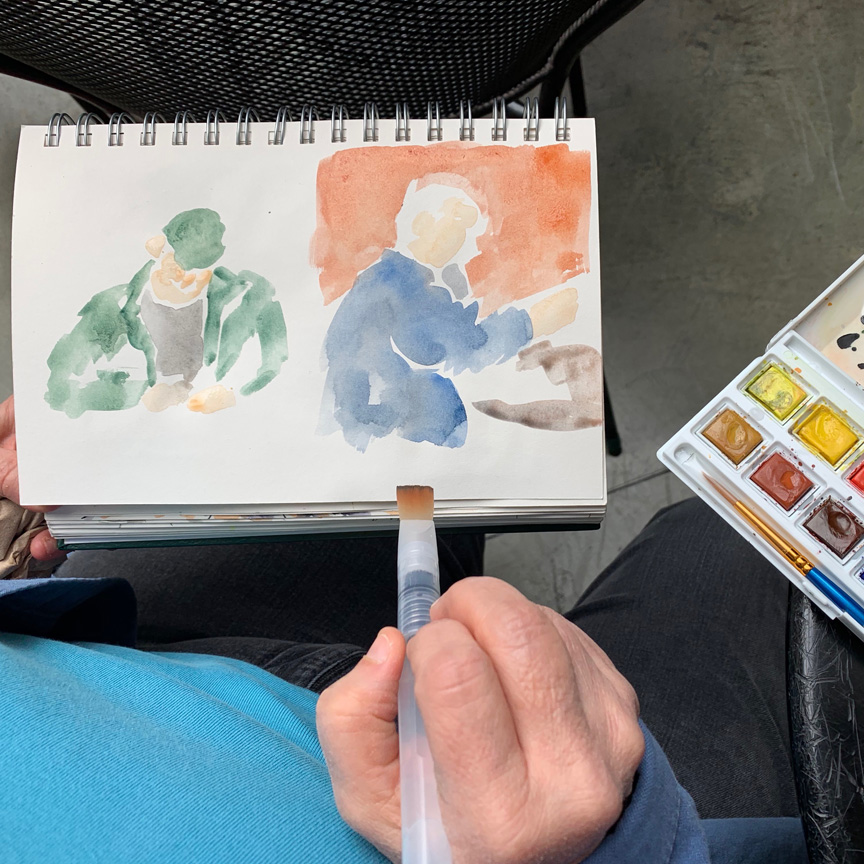 Daisy finished her outdoor sketch, then came in to do a loose watercolor sketch of Serge & Jane – look at the size of that brush!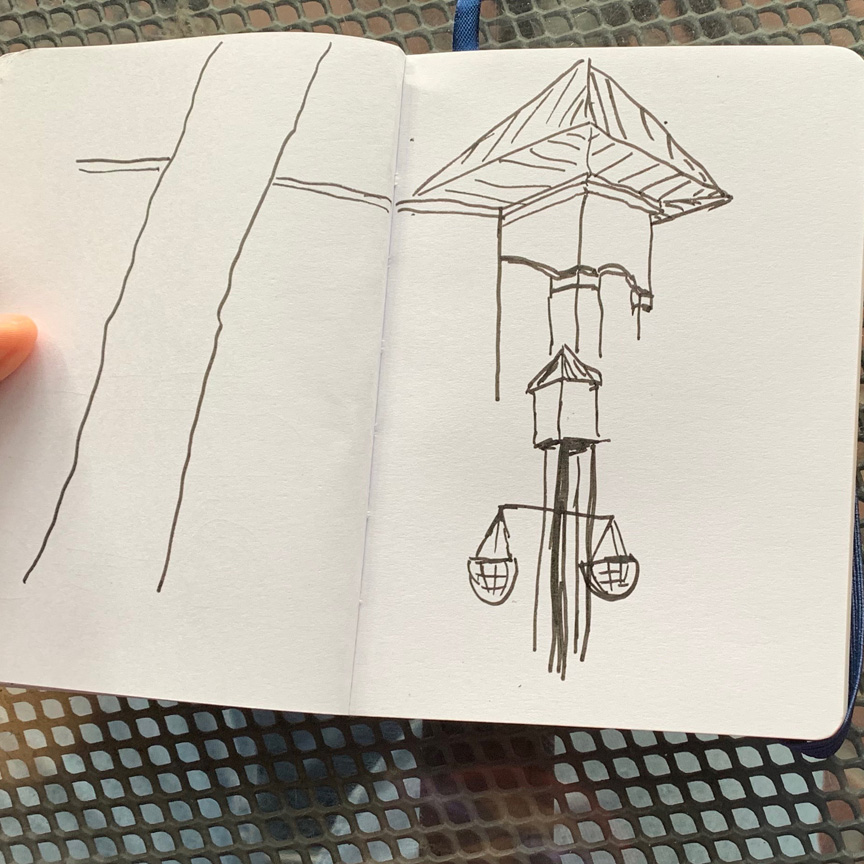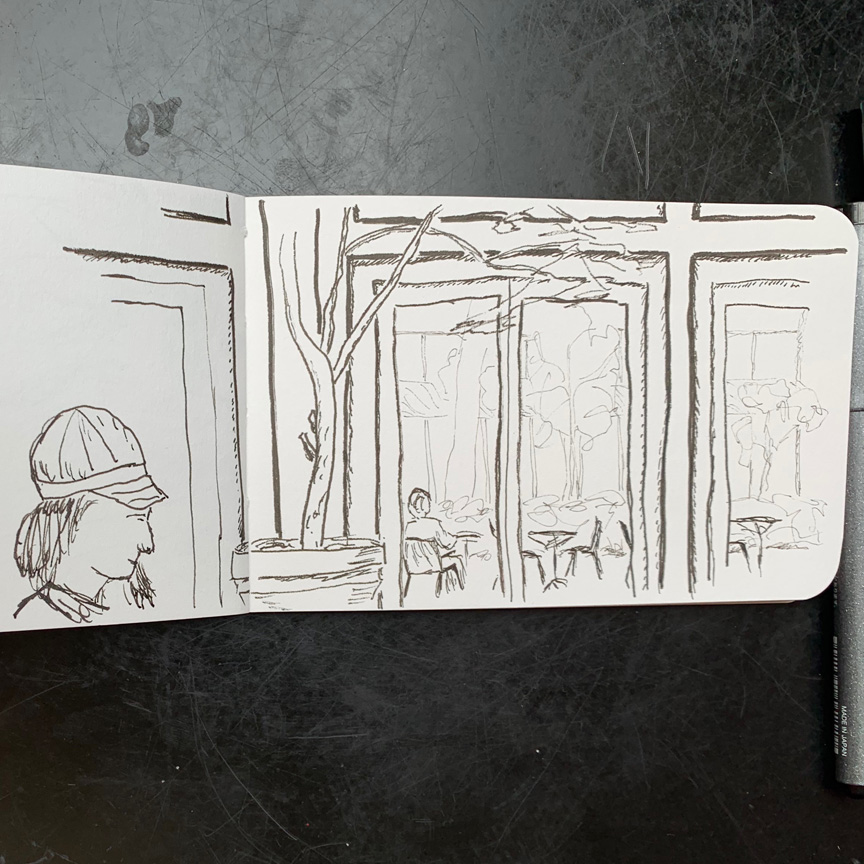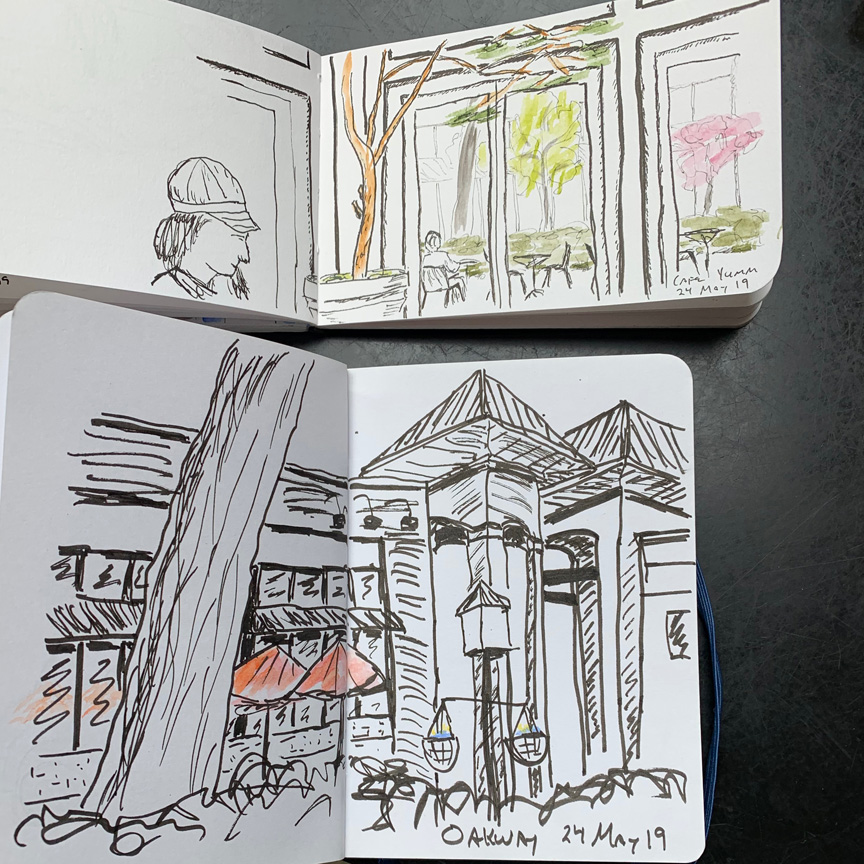 Hugh started outside with a building sketch, then came inside to catch a glimpse of Sandy and the outdoors through the windows.
✒ May 10, 2019 – Farmers Union Coffee Roasters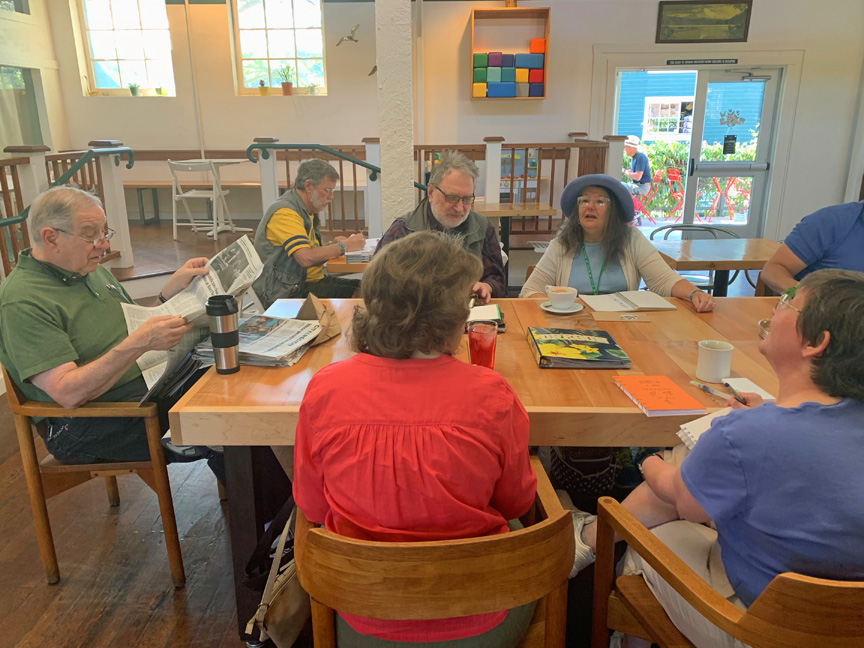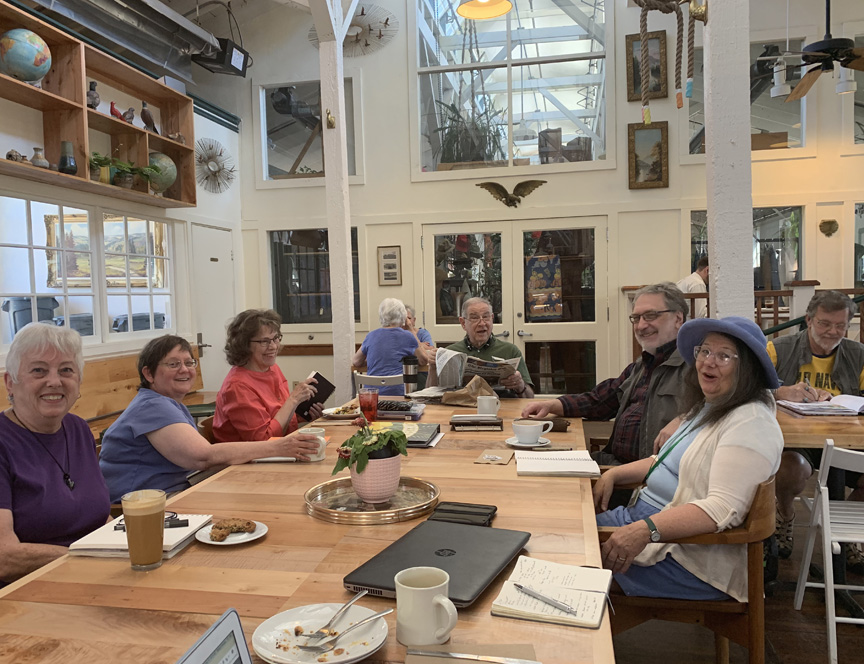 Hugh is outside in the first pic. 2nd: Jane, Daisy,Bev, Ray (Daisy's husband), Serge, Laura, Jim. Sandy has yet to come in the door.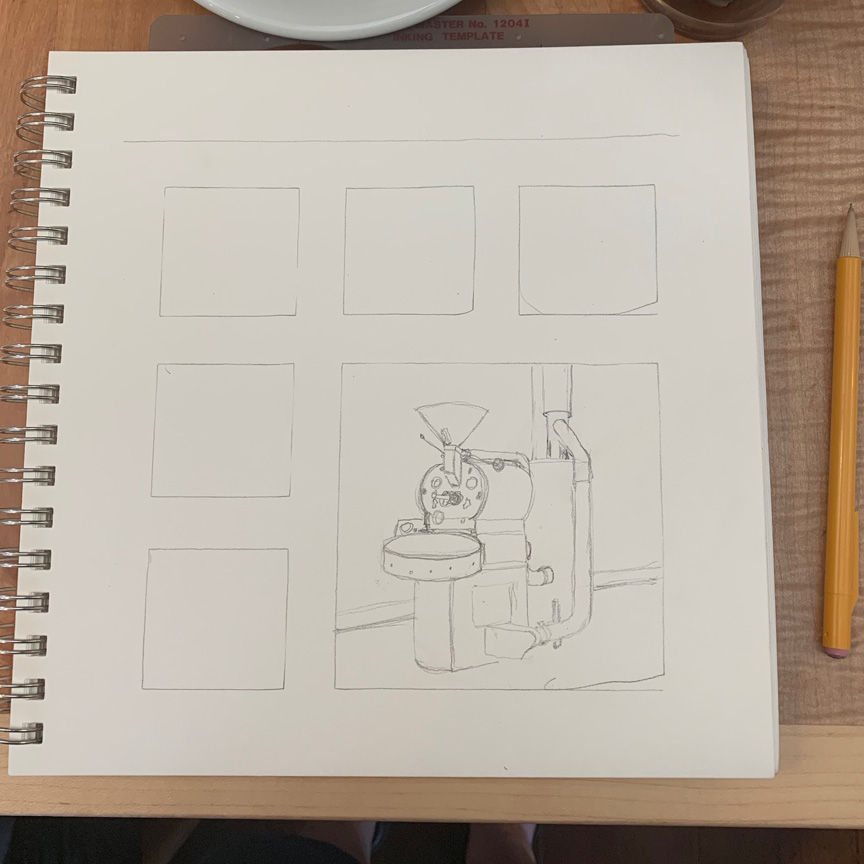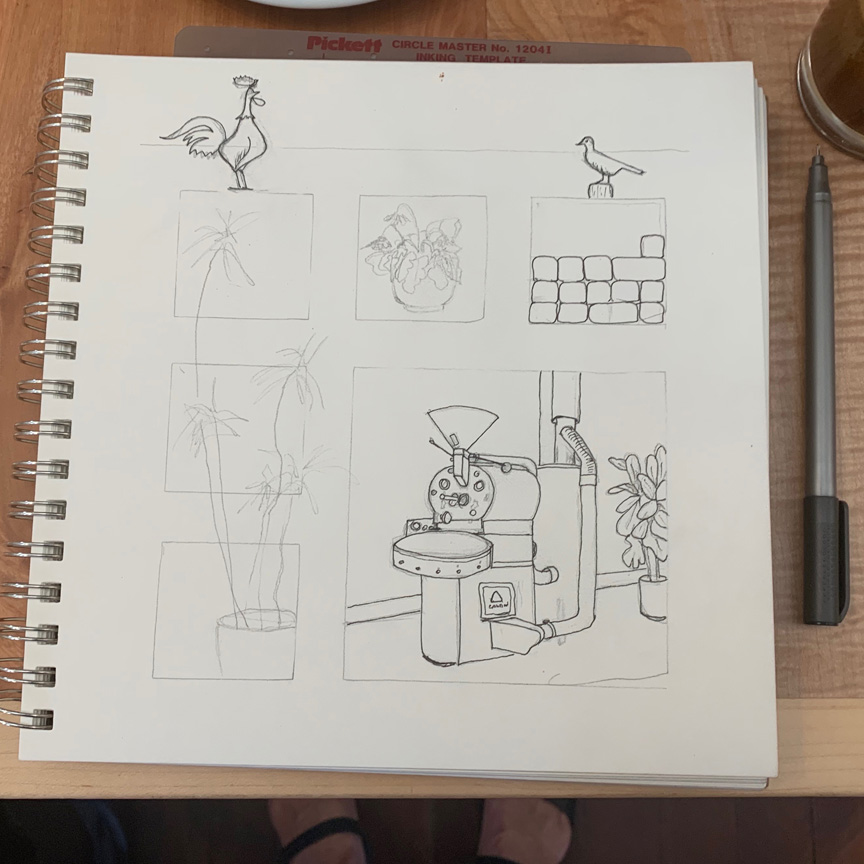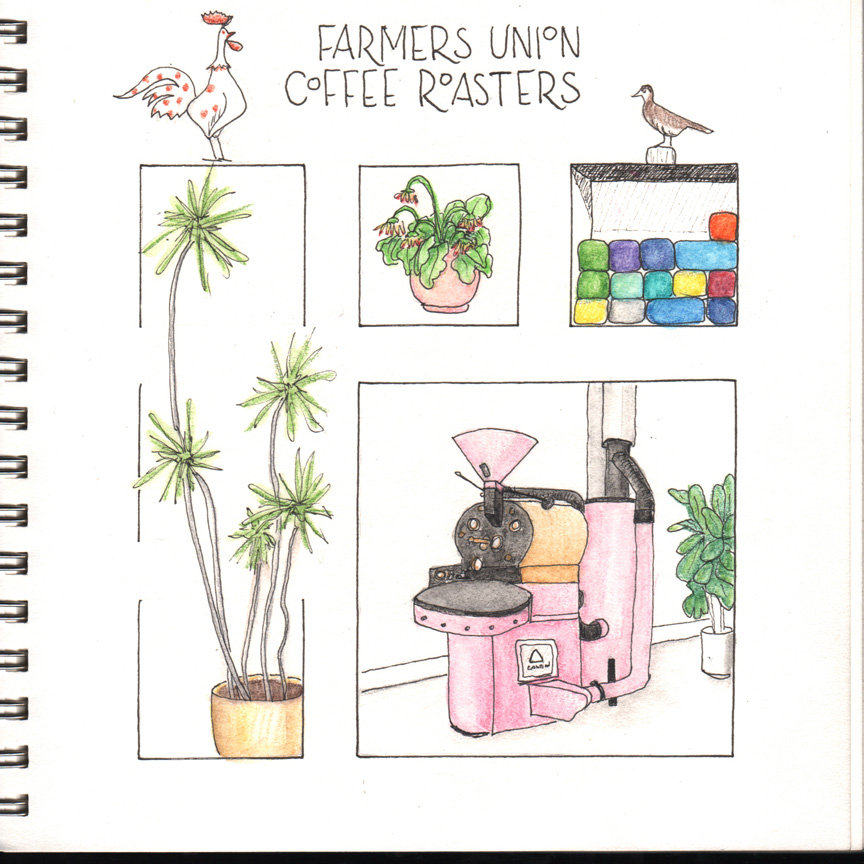 Jane's still framing it up, but things keep escaping. And then there were the birds… It was fun to do such a light hearted sketch.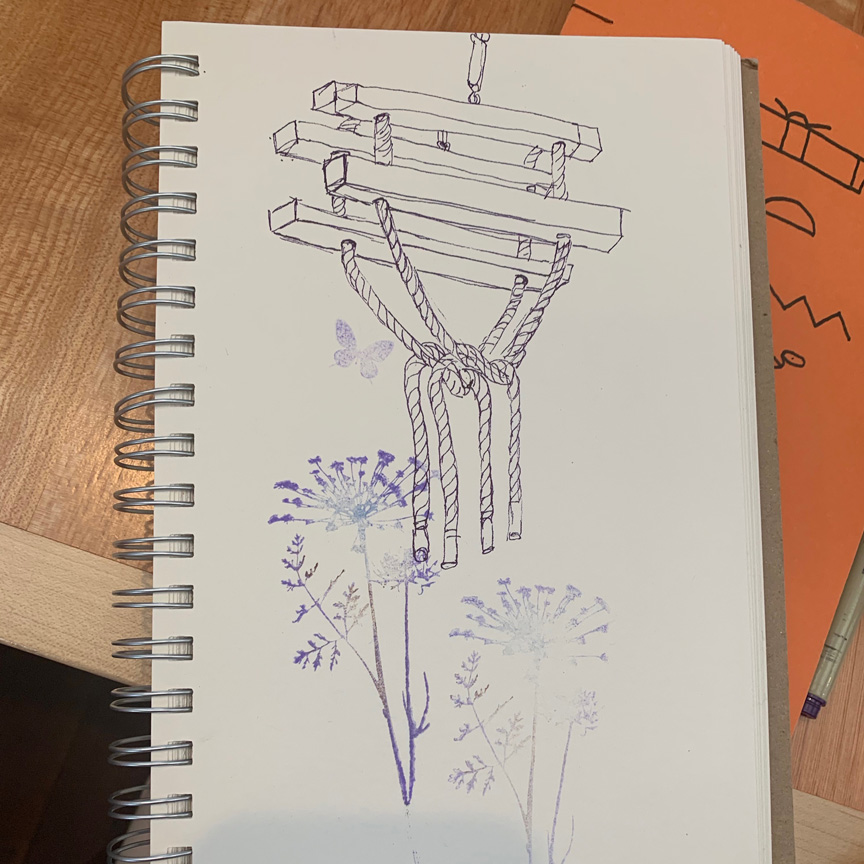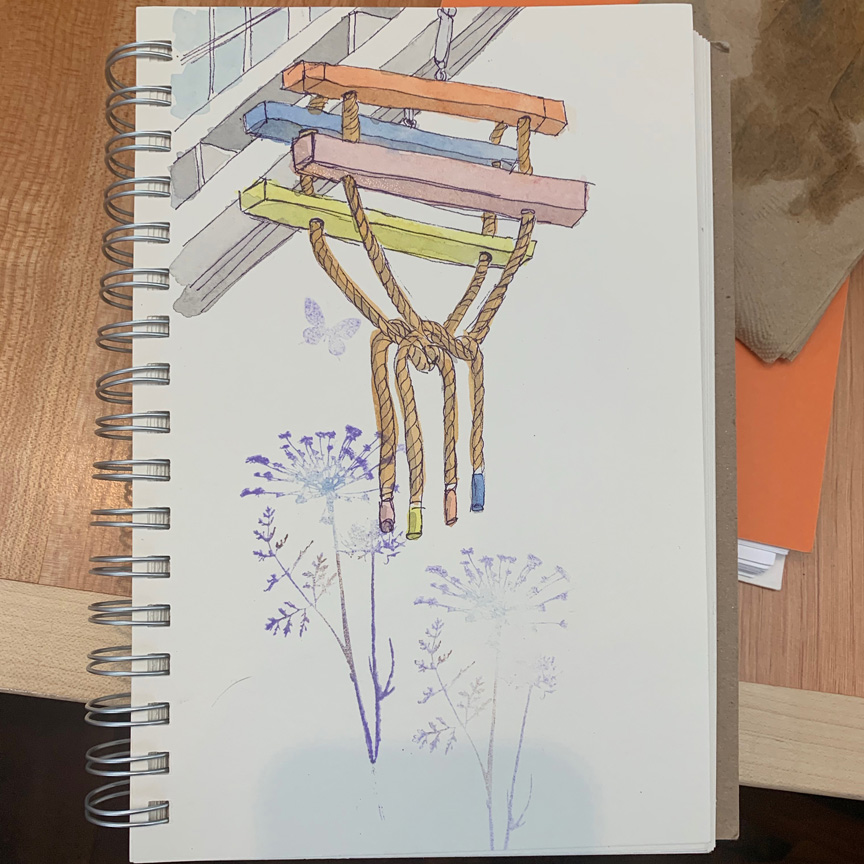 Daisy just couldn't resist the hanging art – ohmygosh! Didn't she do a great job on those twisted ropes?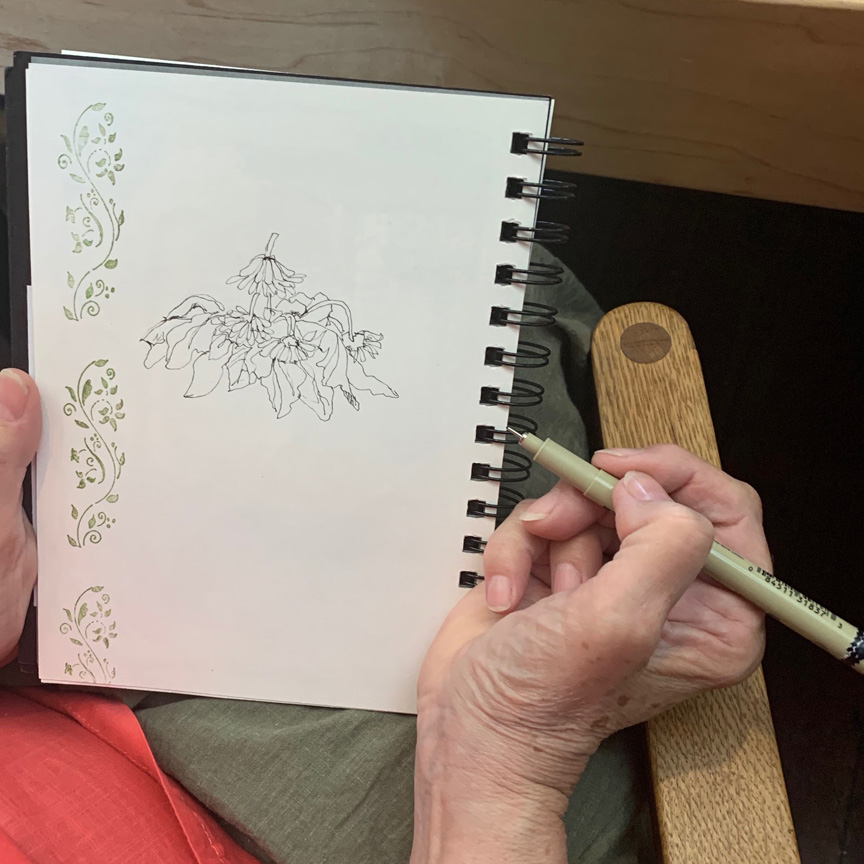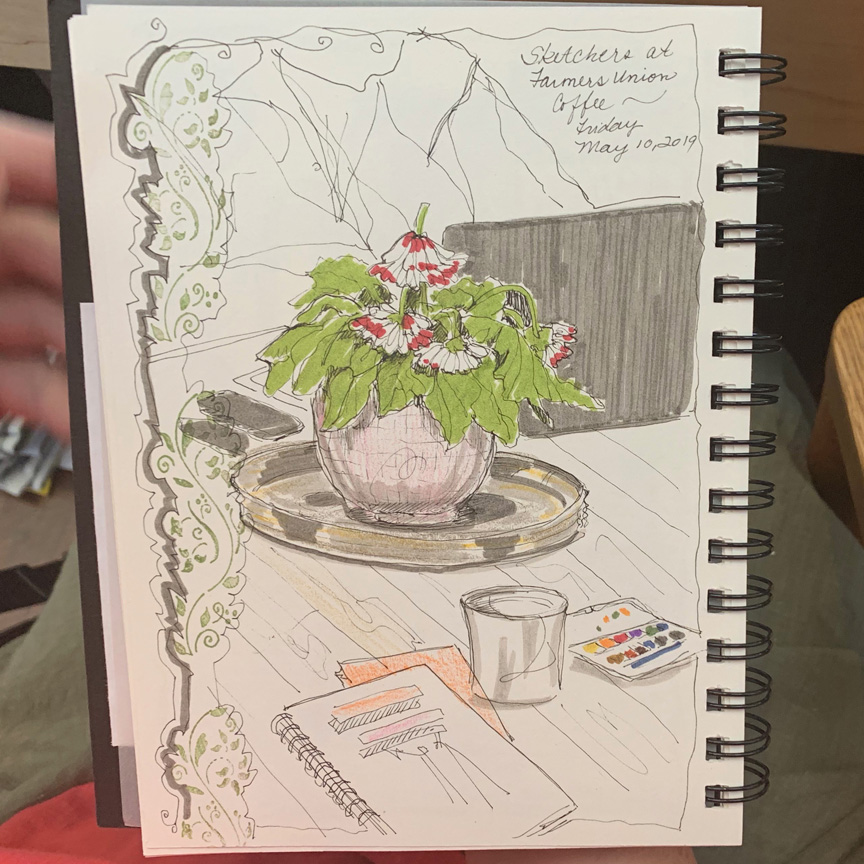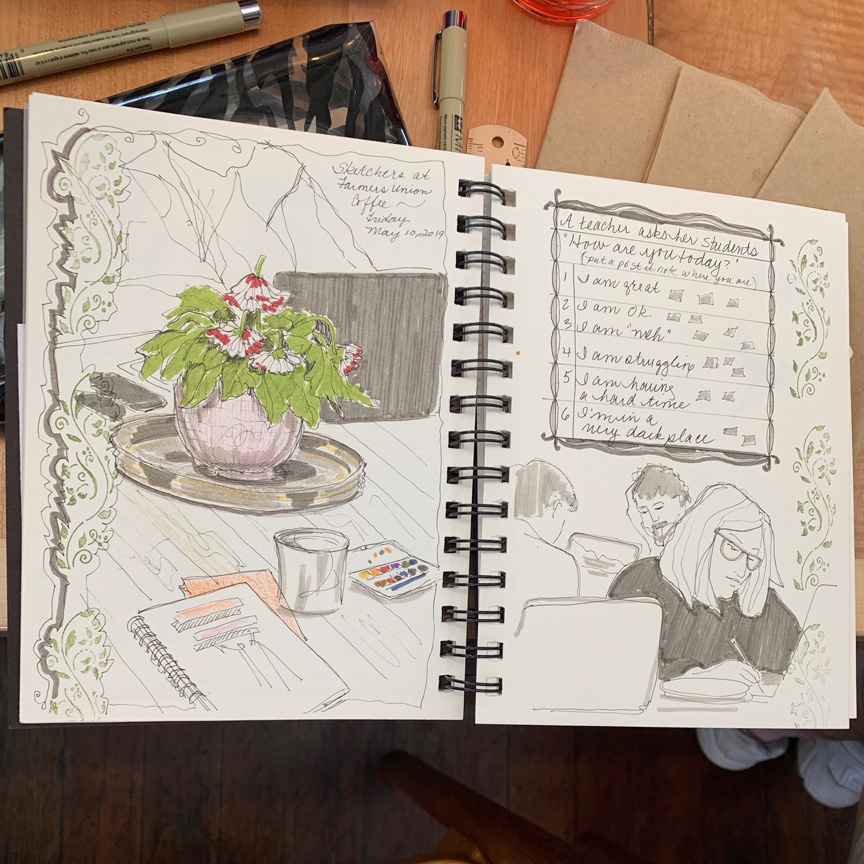 Bev couldn't resist the wilting flowers on the table, then captured some folks sitting a nearby tables, too. Nicely done!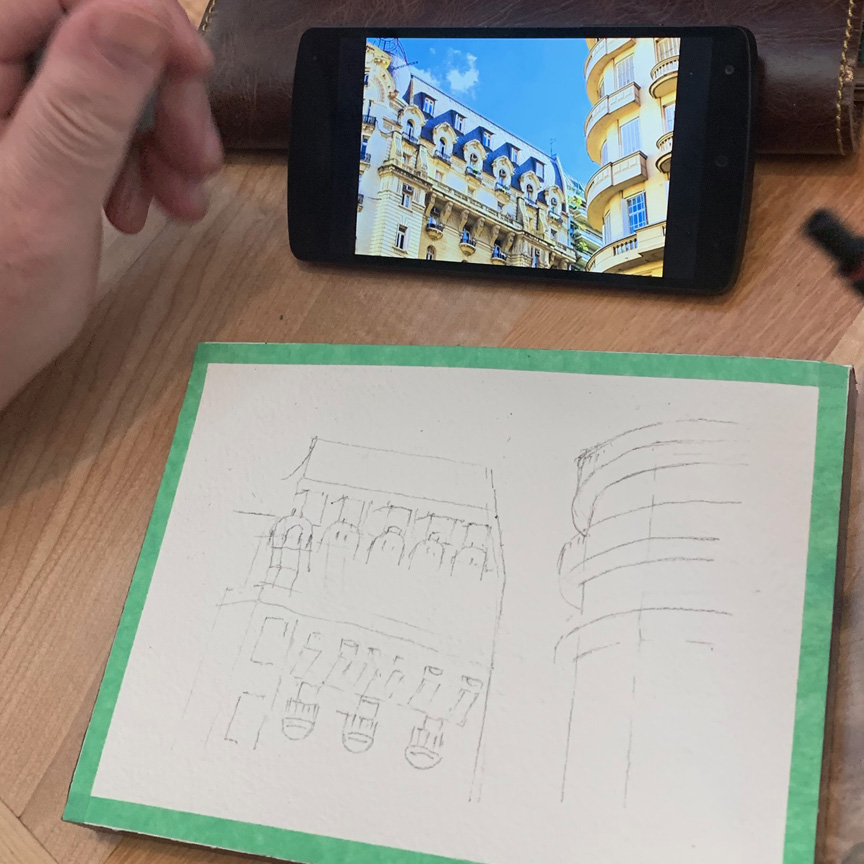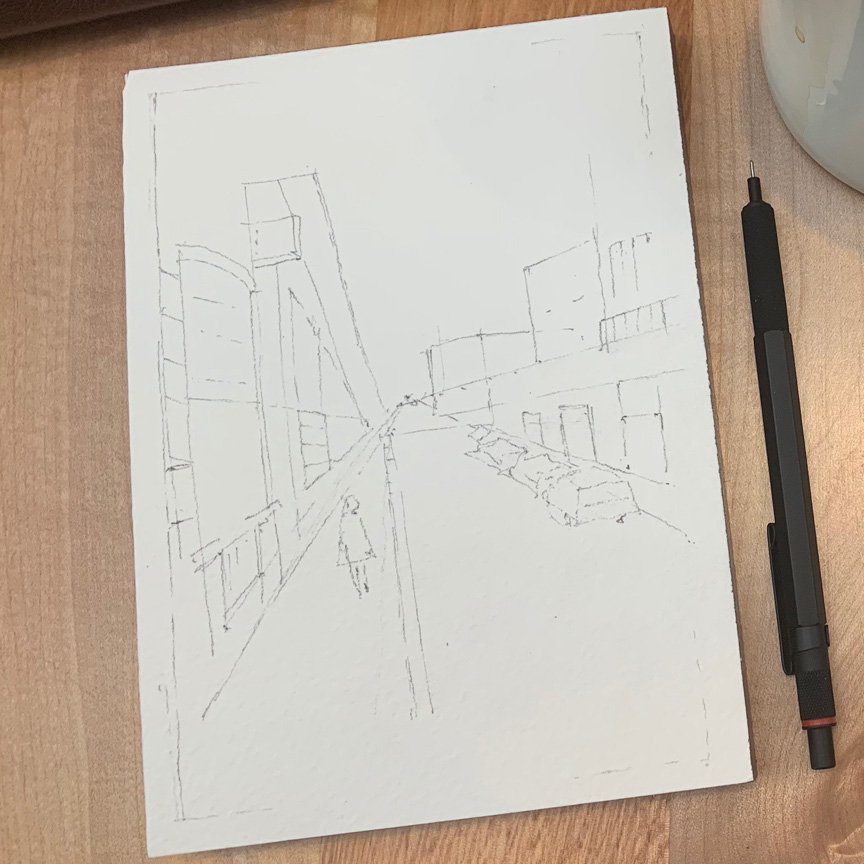 Serge is revisiting Buenos Aires with his first sketch. He's such a master at perspective, it's a pleasure to see.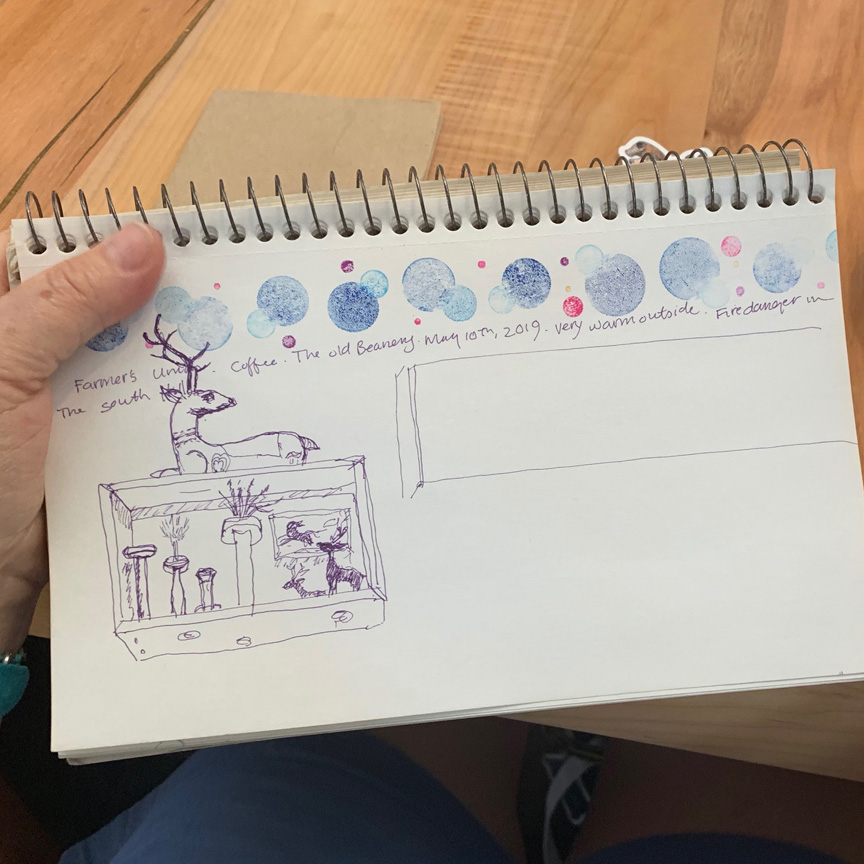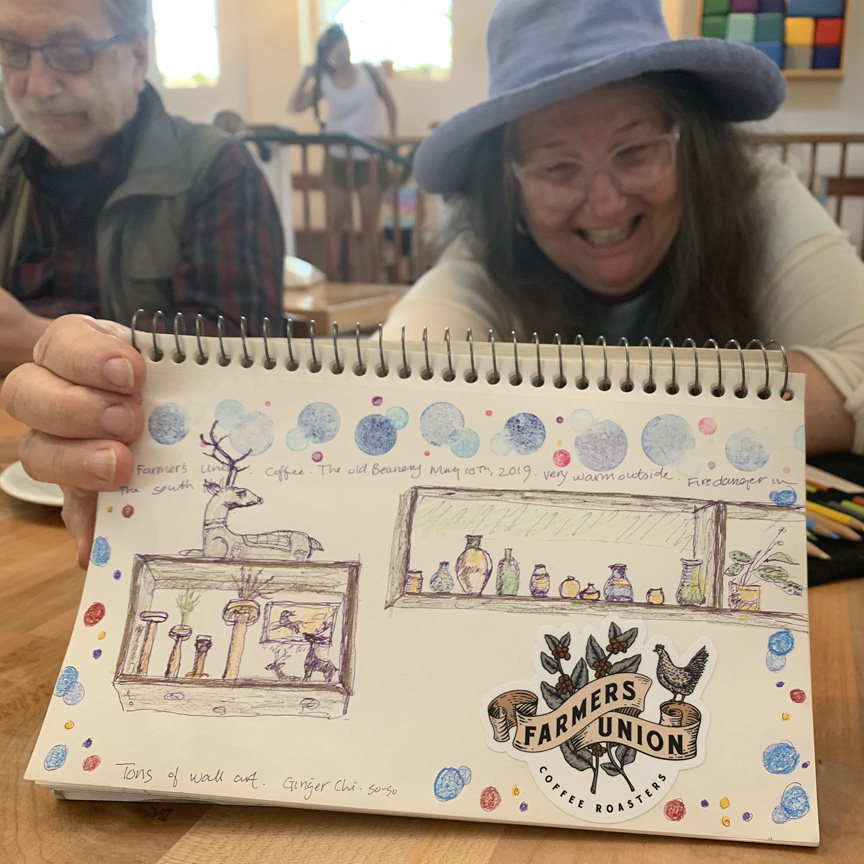 Laura seems to think her sketch is hilarious, but I really like the charm of it. Fun things to sketch in this place!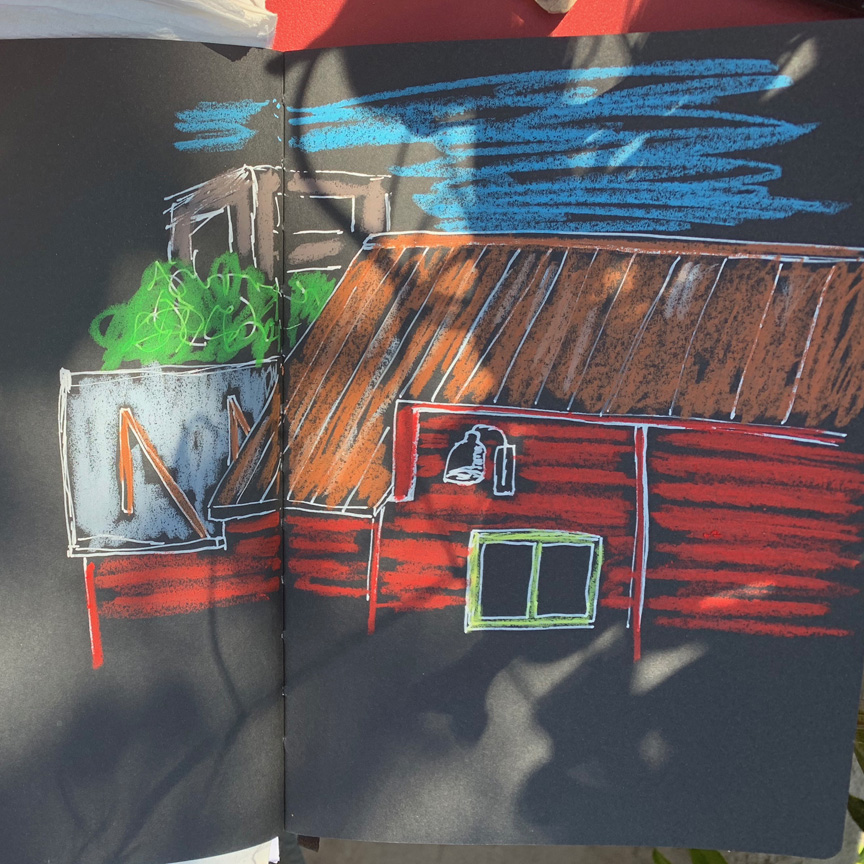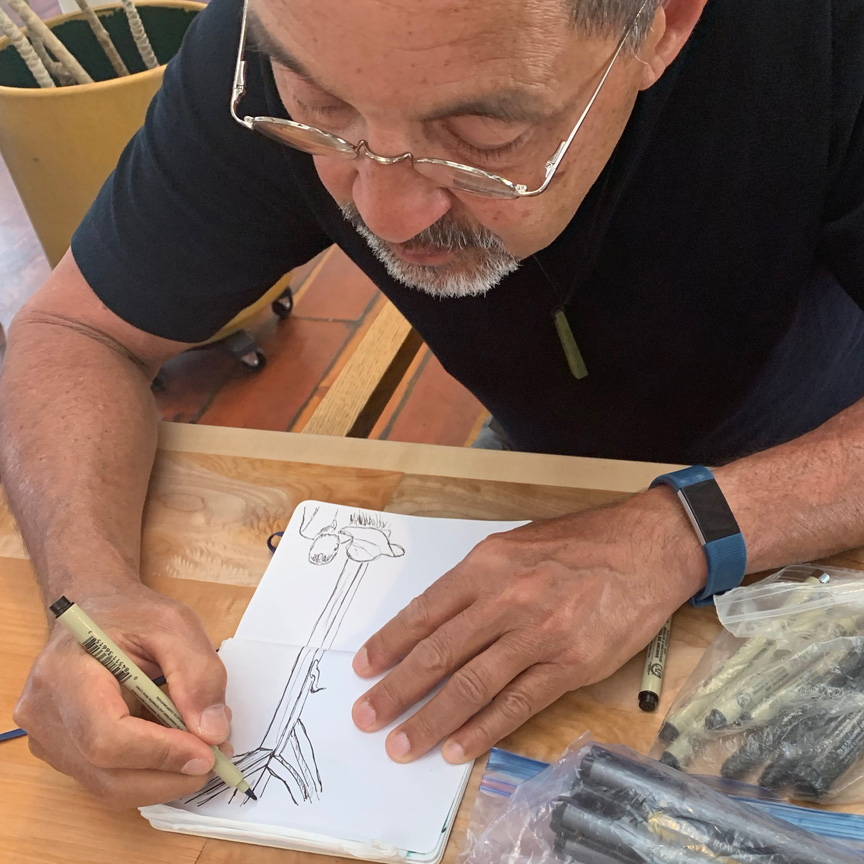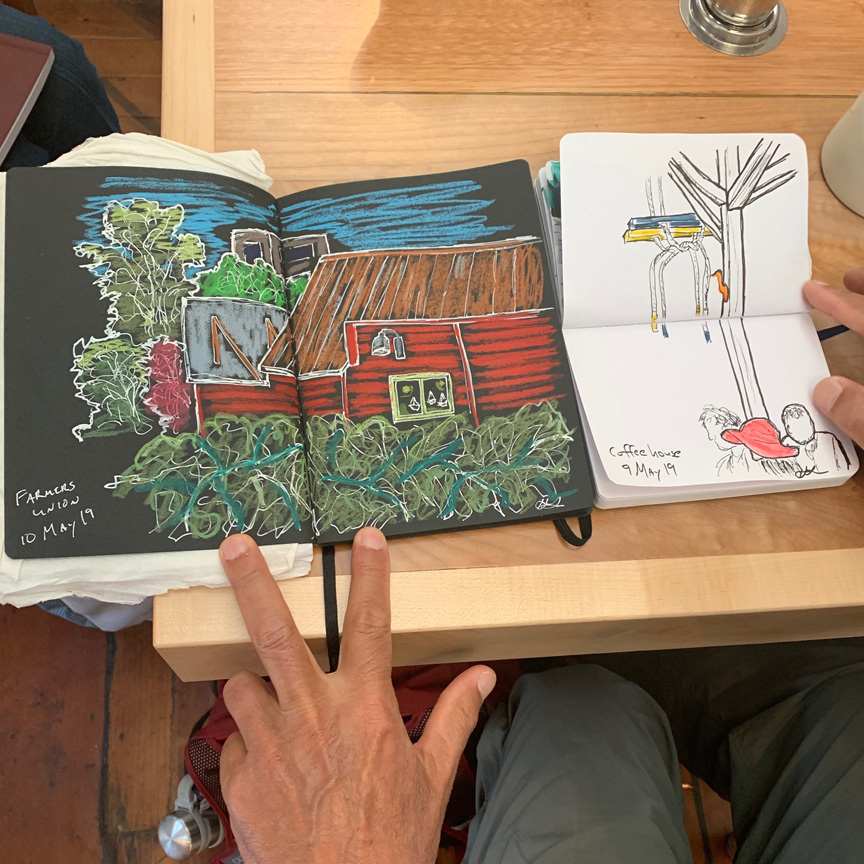 Hugh started outside , then came in to bravely tackle the amazing cross beam ceiling – way to go, Hugh!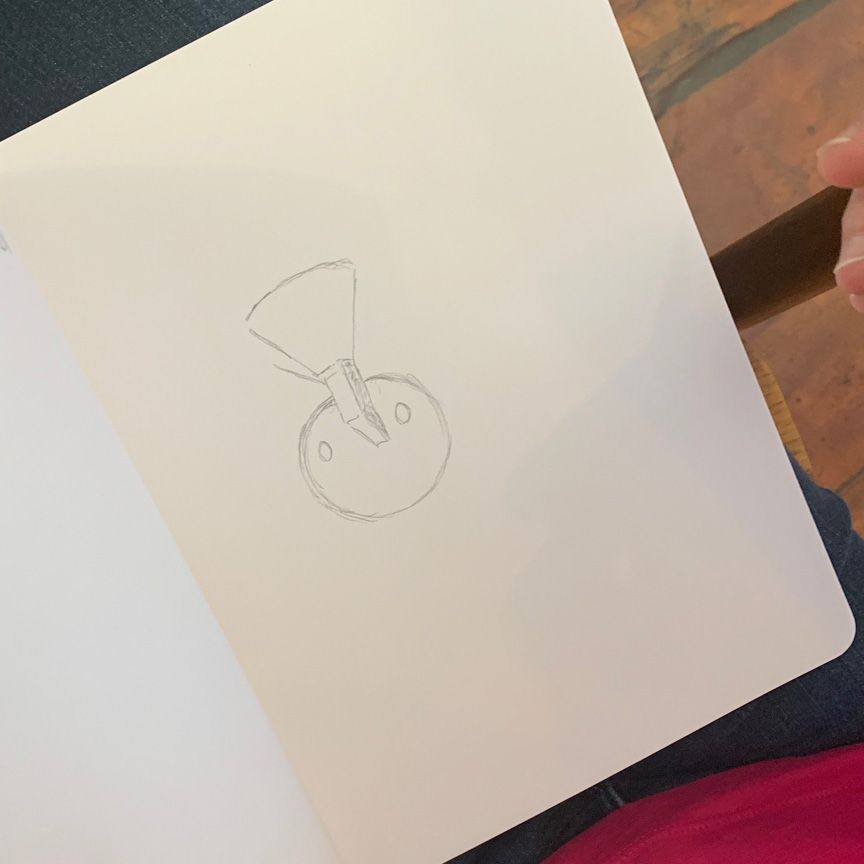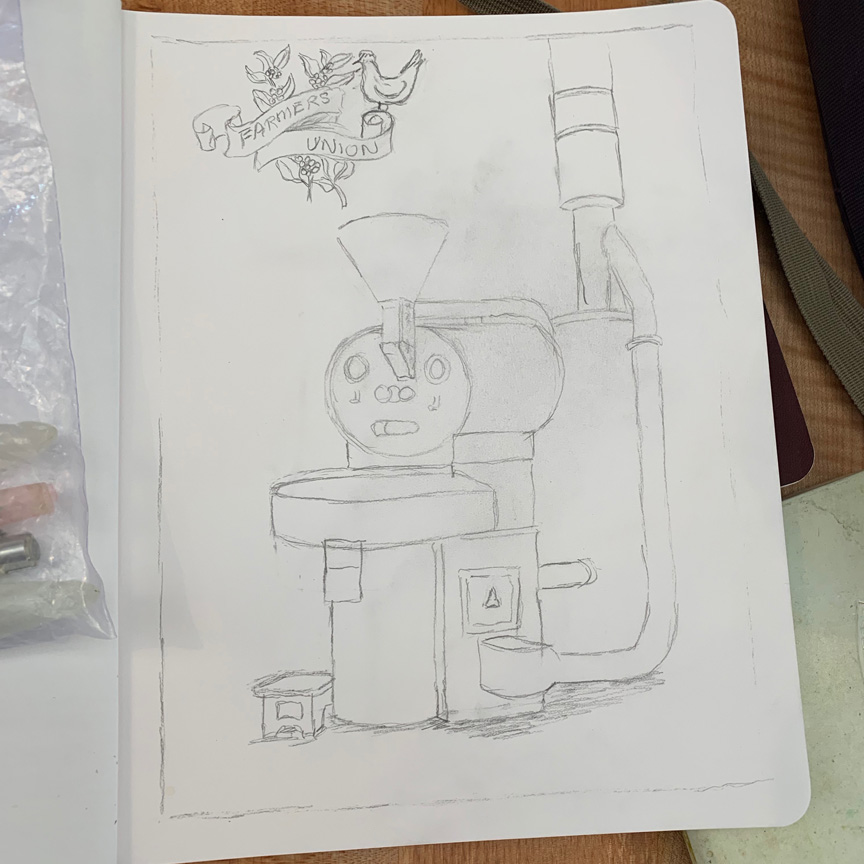 What on earth is Sandy sketching? Aha! the pink coffee roaster! There's color yet to come with this one, she says.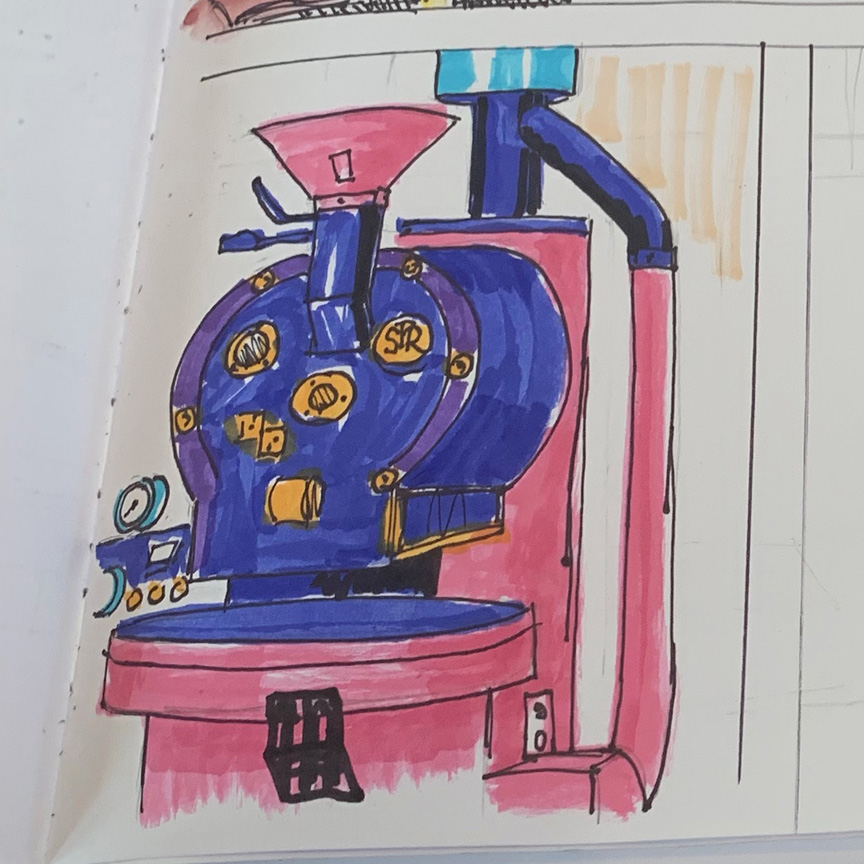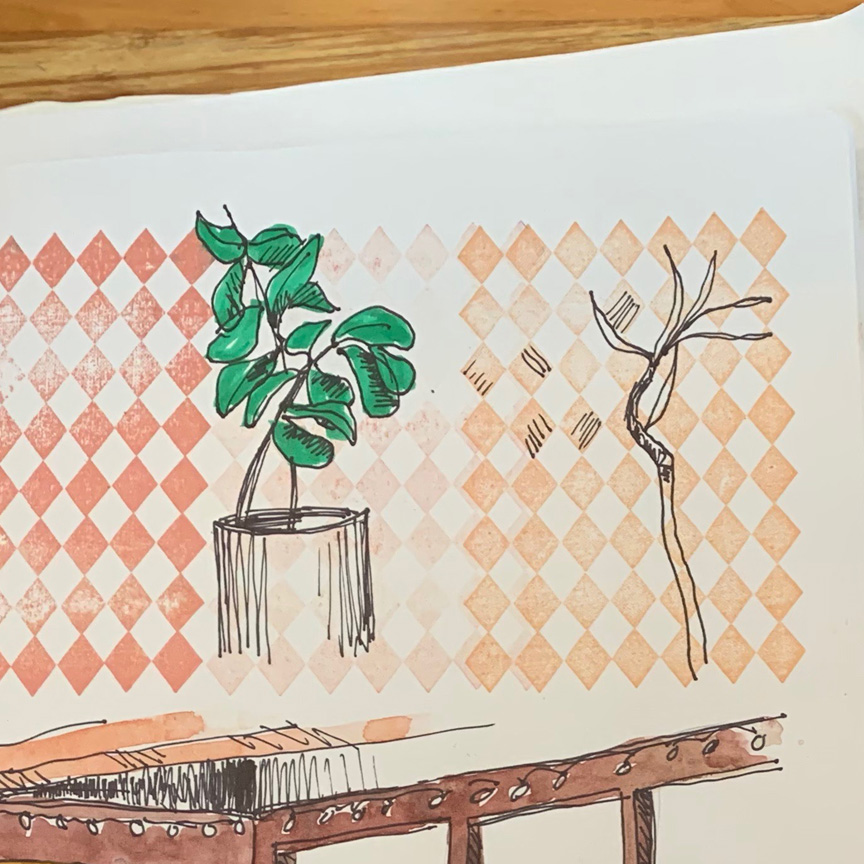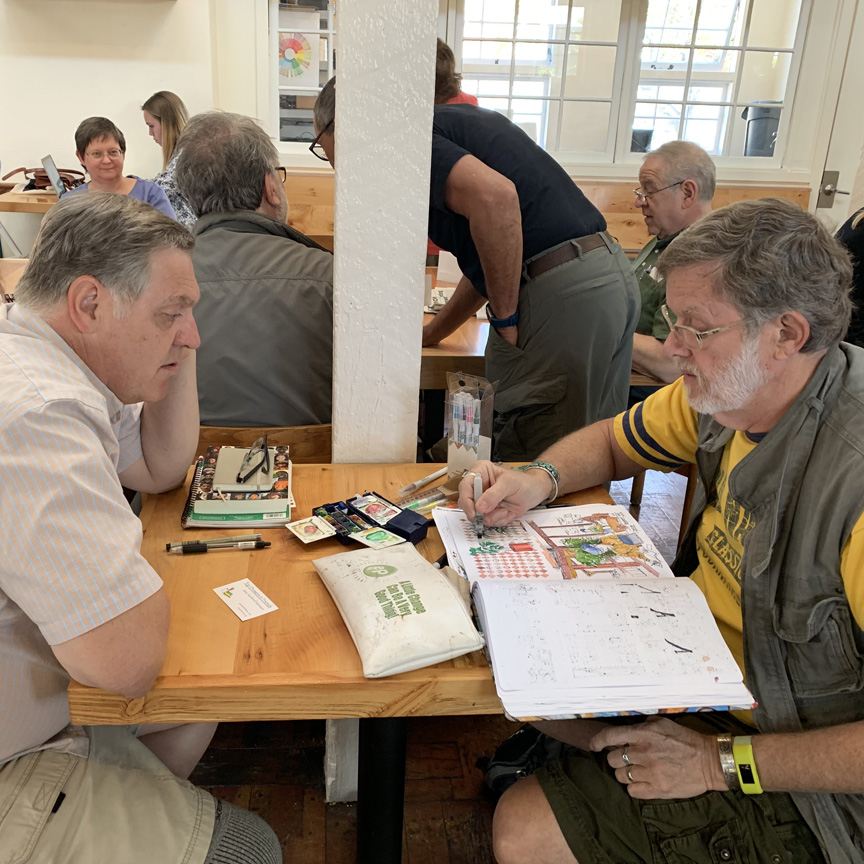 Jim was unhappy with his markers until he started adding water – nice! It attracted Al, who is a sketcher, to the group, too.
✒ Apr. 26, 2019 – Farmers Union Coffee Roasters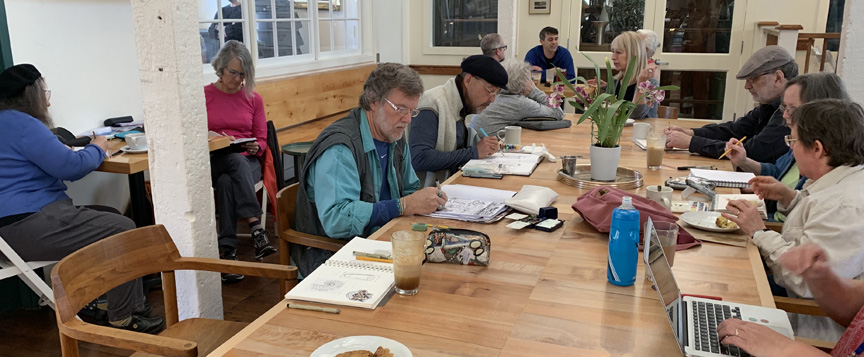 Laura, Sandy, Jim, Hugh; across the table were Serge, Marsha & Daisy. (Jane & Katie are yet to be revealed.)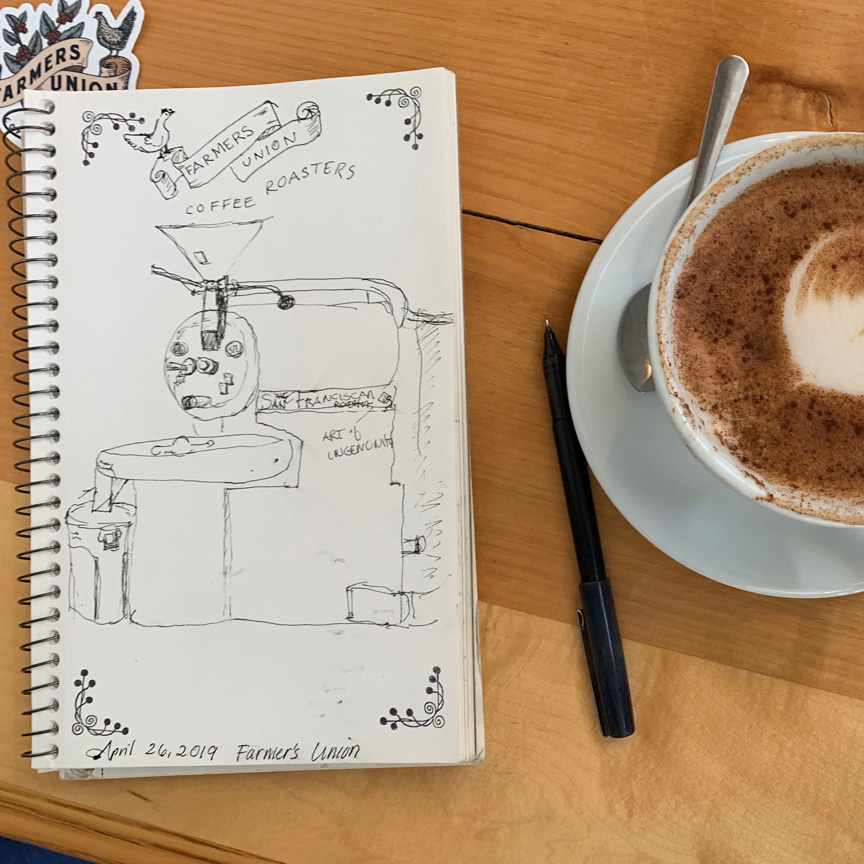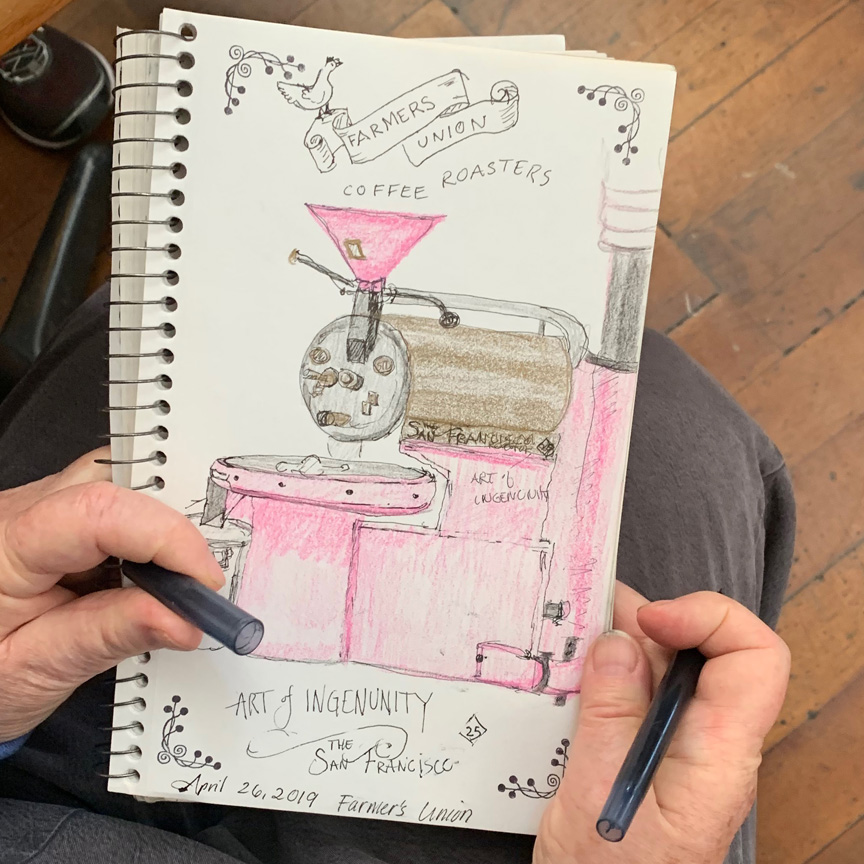 Laura launched into sketching the coffee roaster, in (PINK) detail!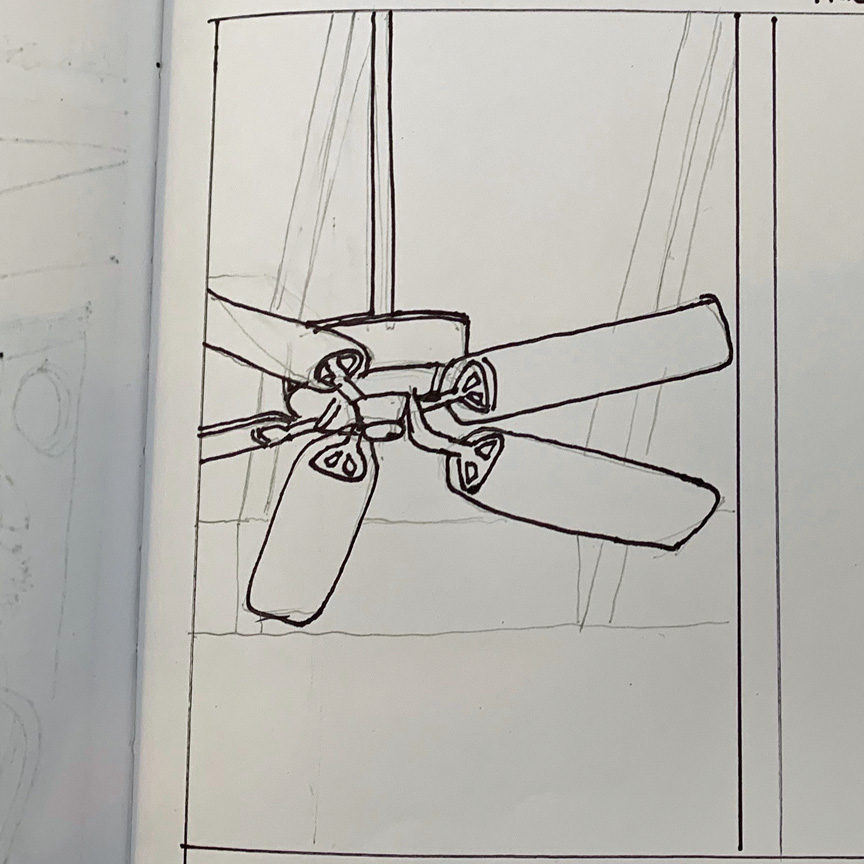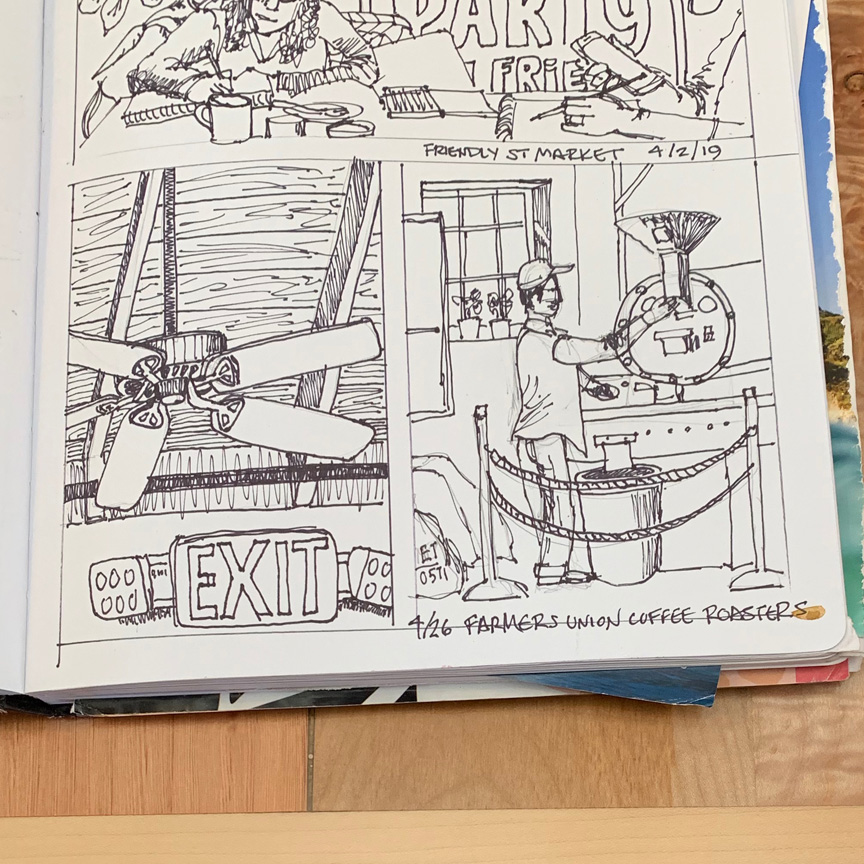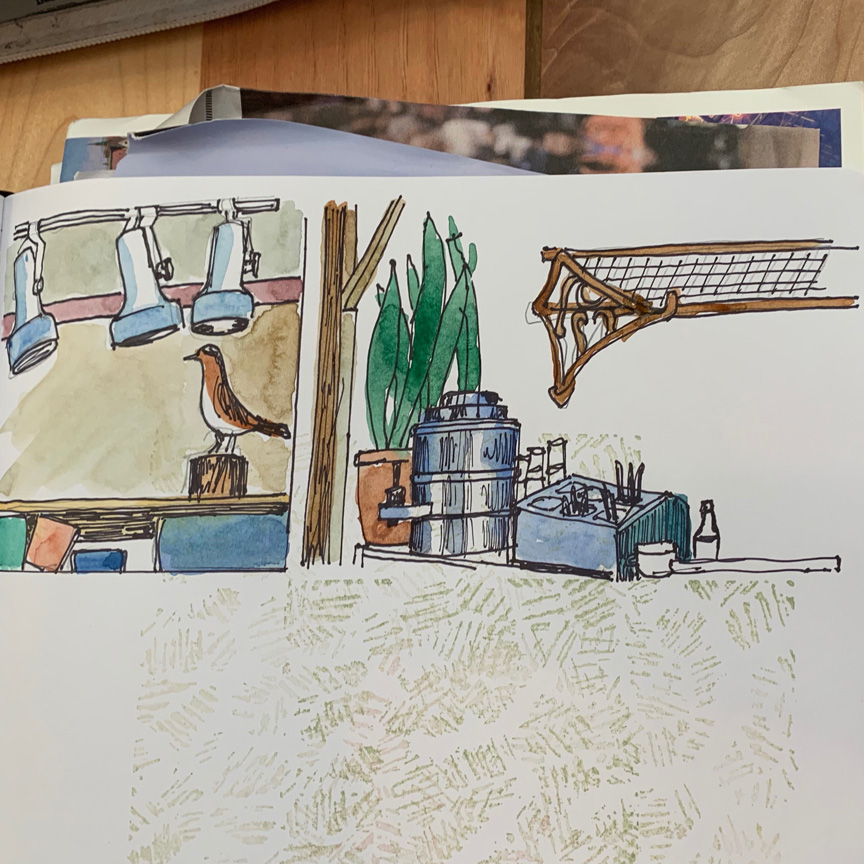 Jim tried sketching the overhead fan (yikes! what angles!), then kept adding more and more parts of the scene here, & some in color.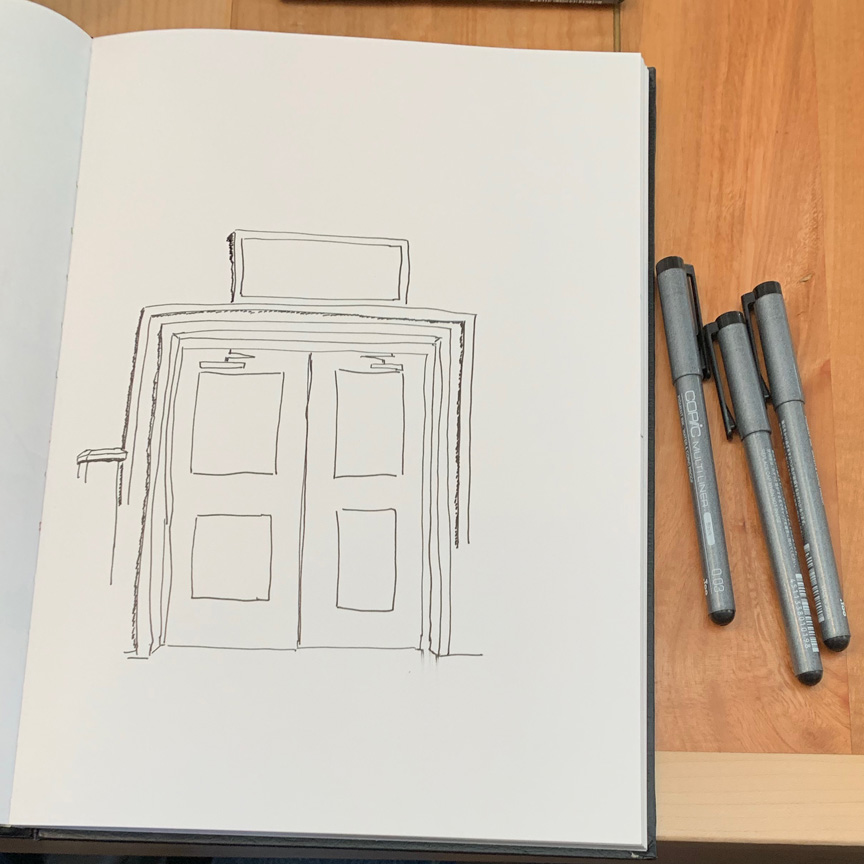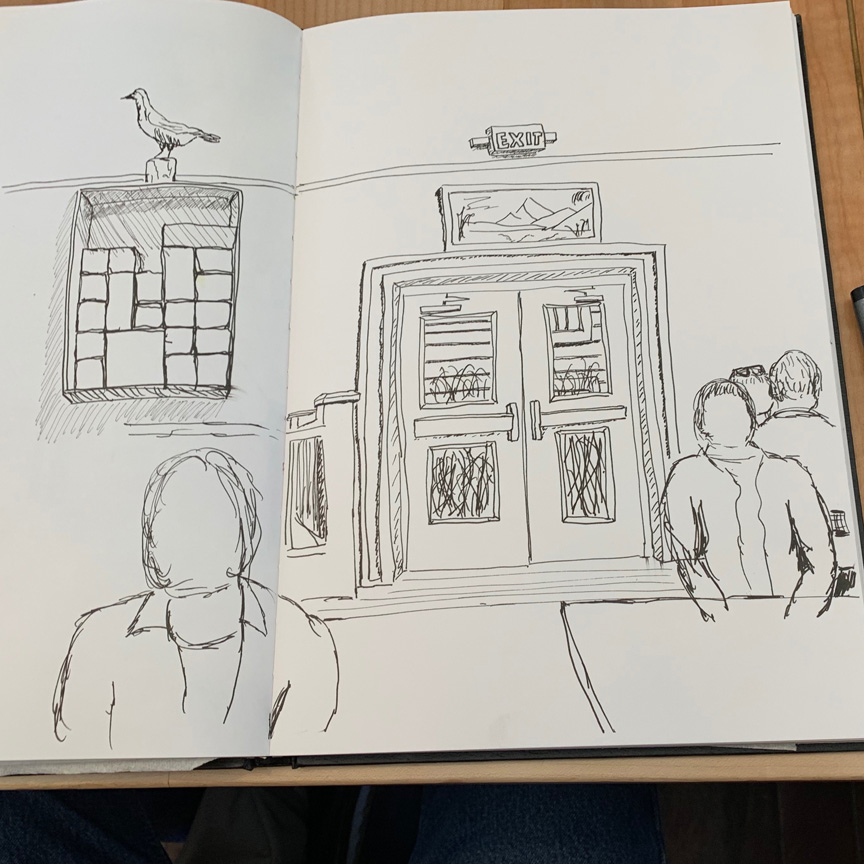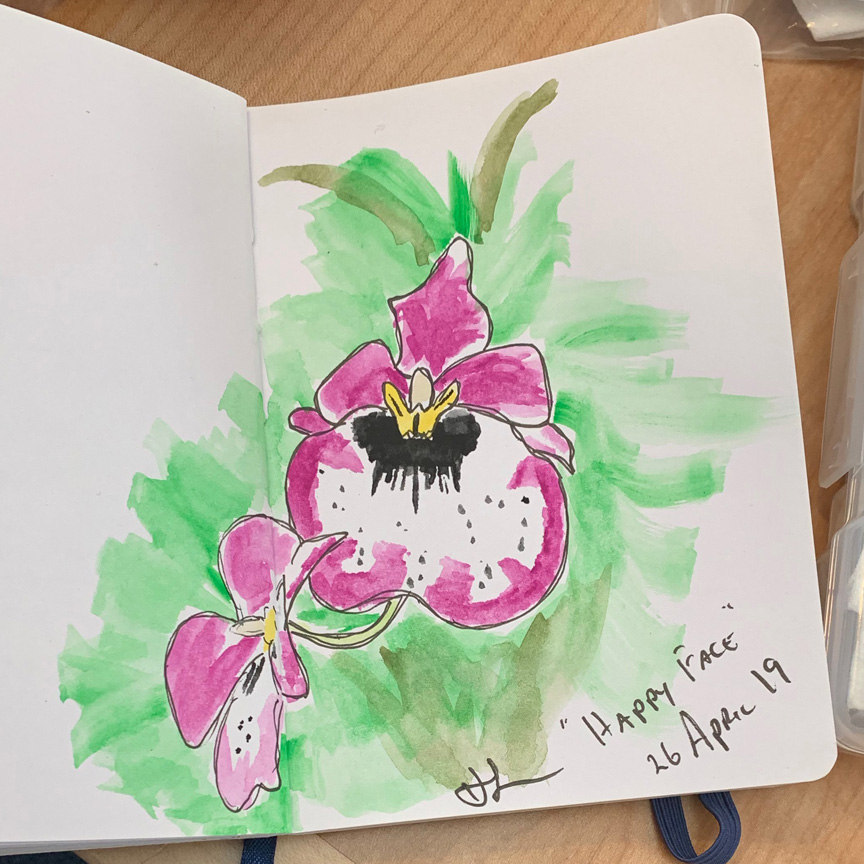 Hugh started simple, then got more complex, ending with a lovely sketch of the orchids on the table.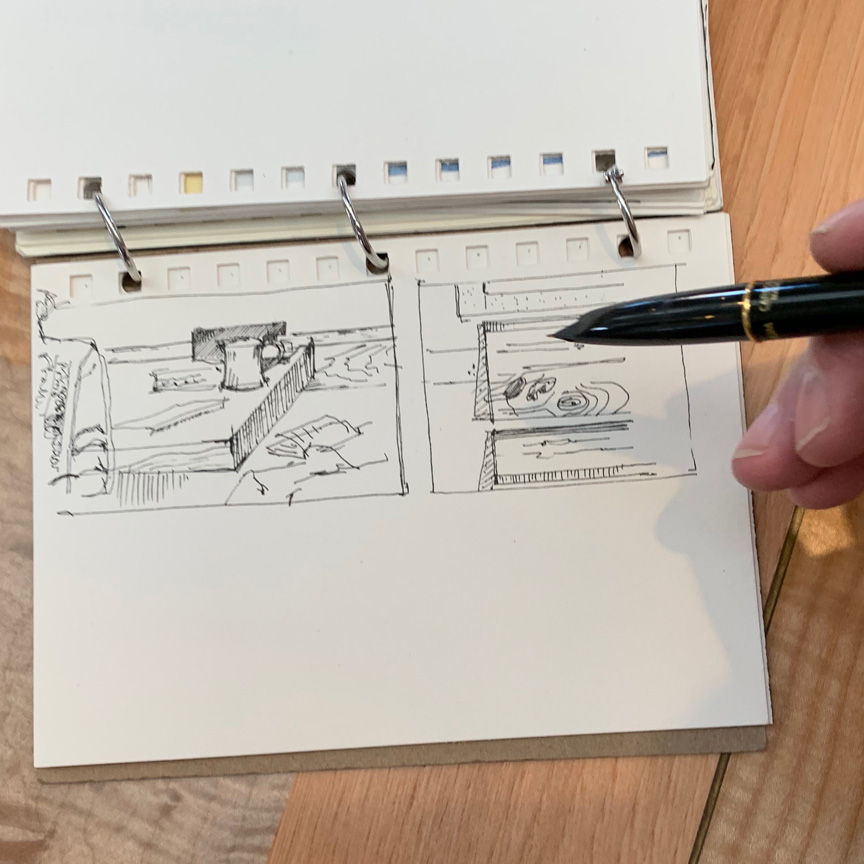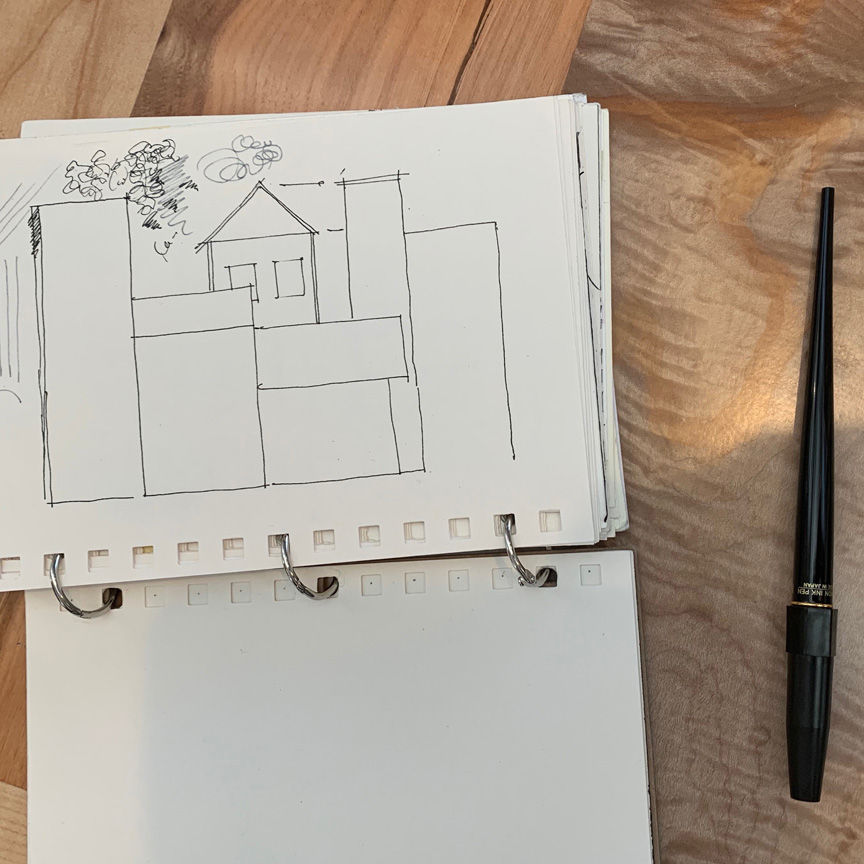 Serge was using a fountain pen recommended by Shari Blaukopf, catching glimpses of what was around. The pen? "Smooth," he says.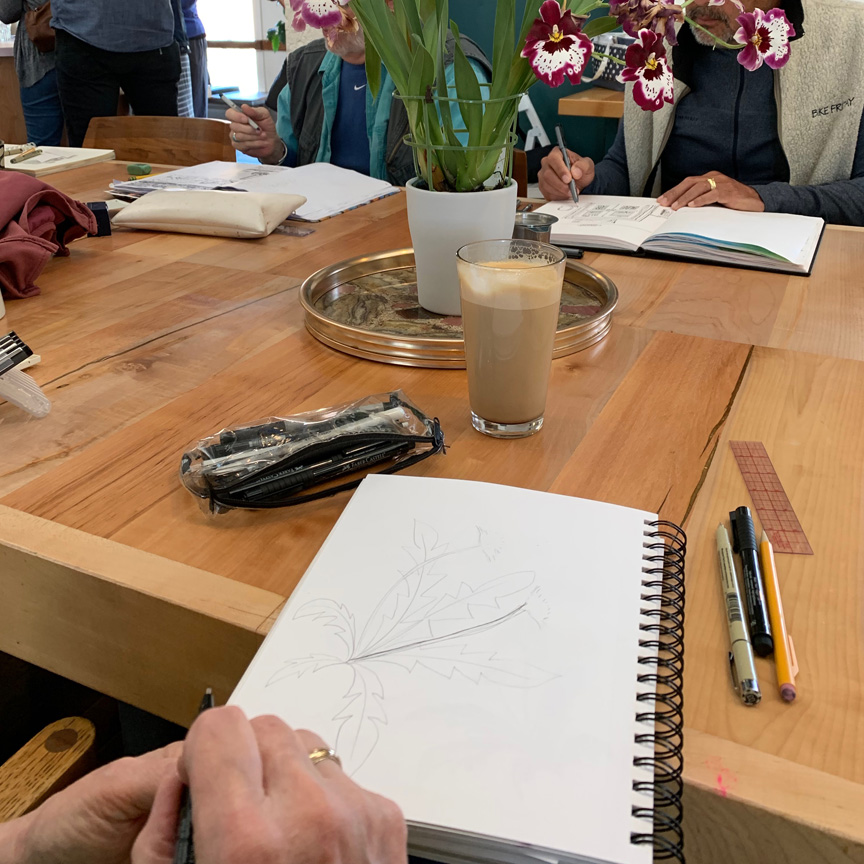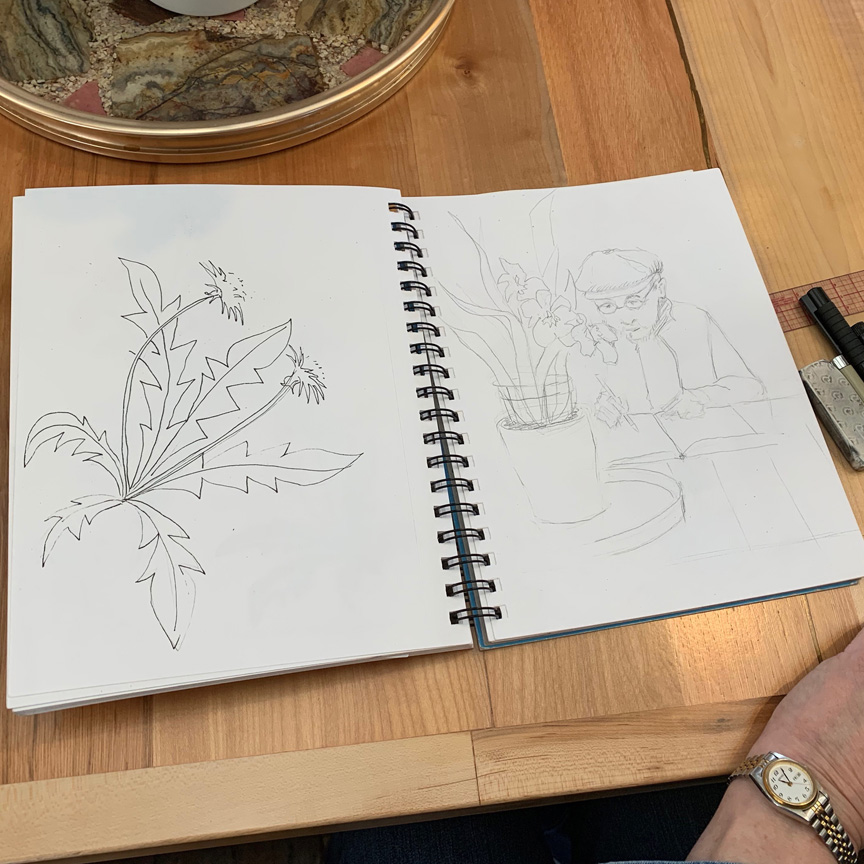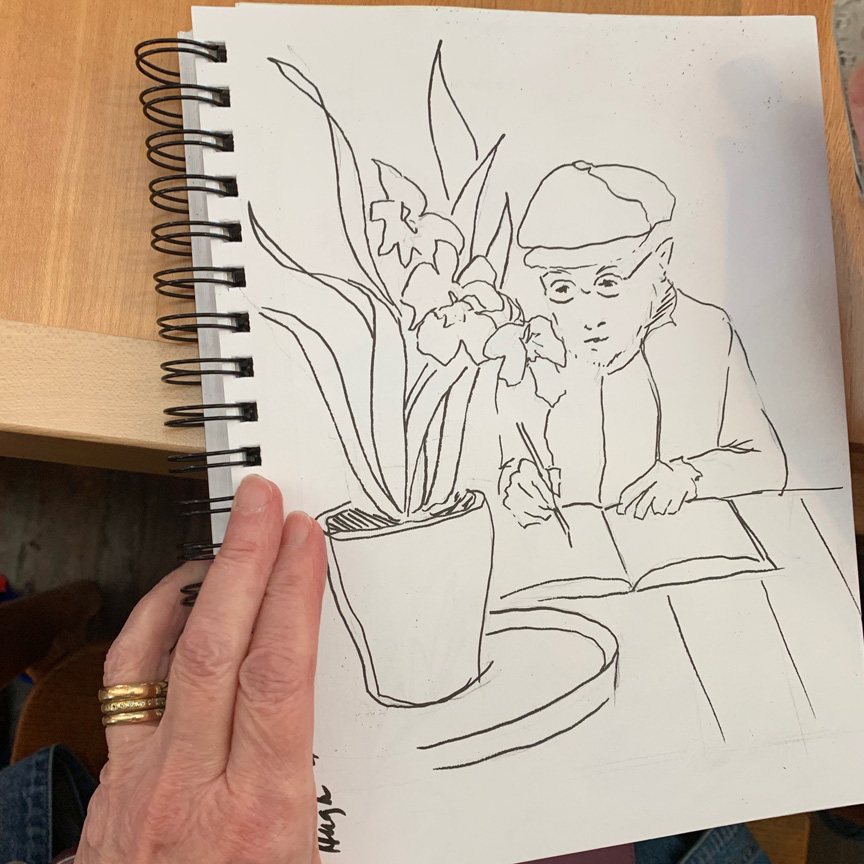 Orchids? Nope, Marsha continues to be fascinated with dandelions! Then on to Hugh, seen through the orchids on the table. Nice.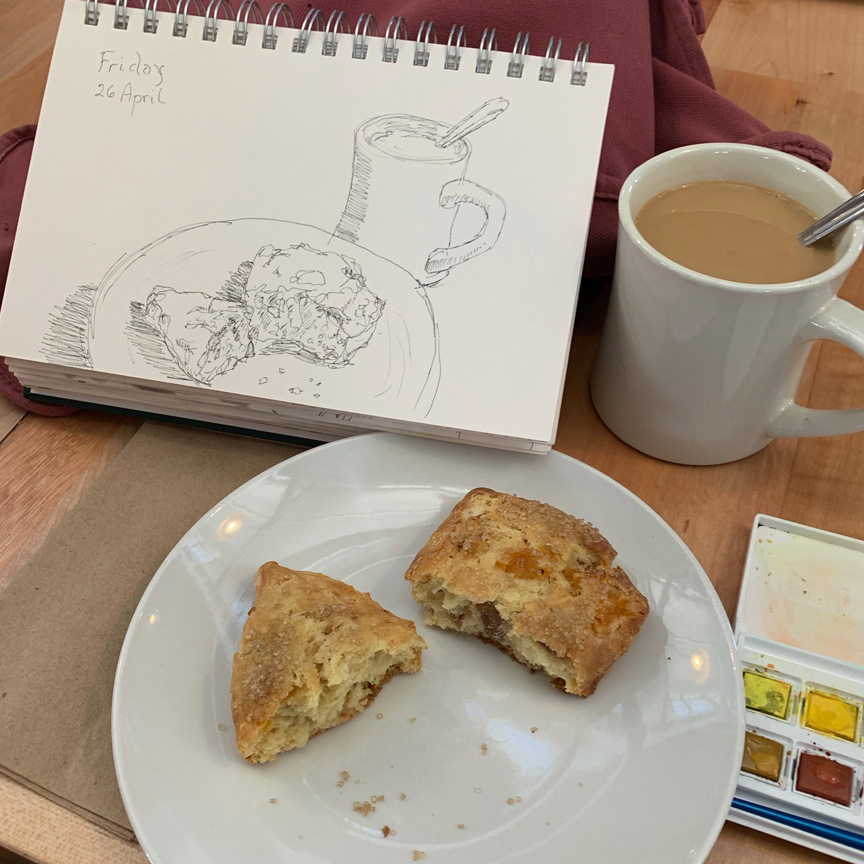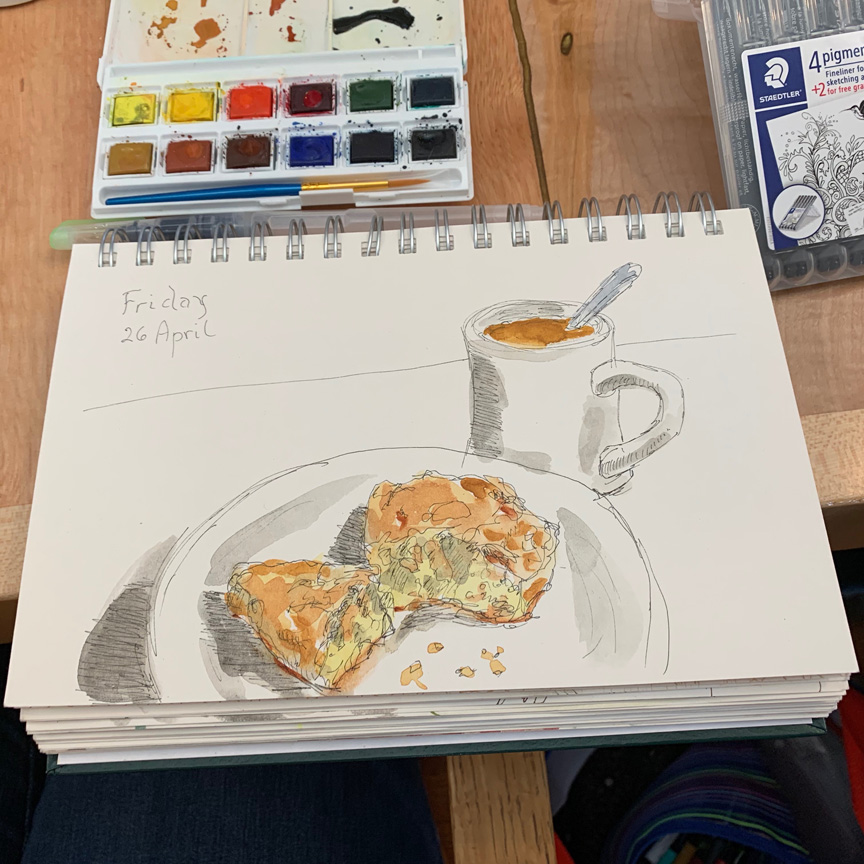 Daisy did a terrific job sketching her scone and coffee – way to go!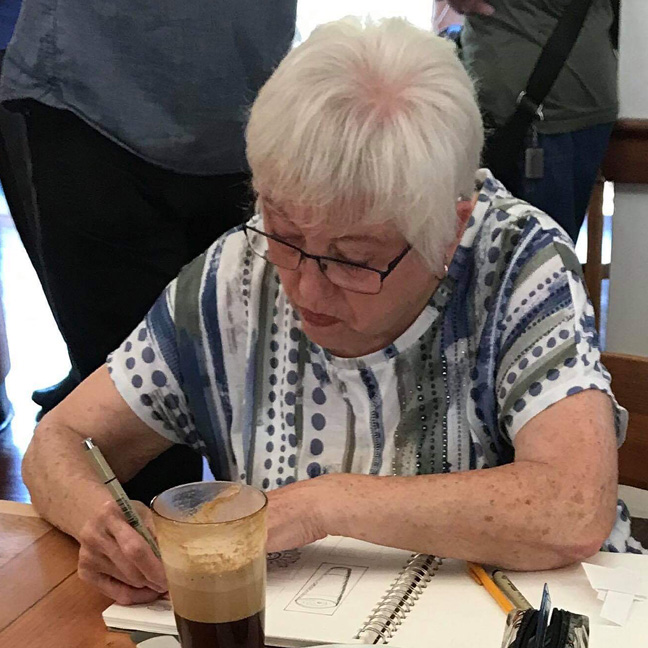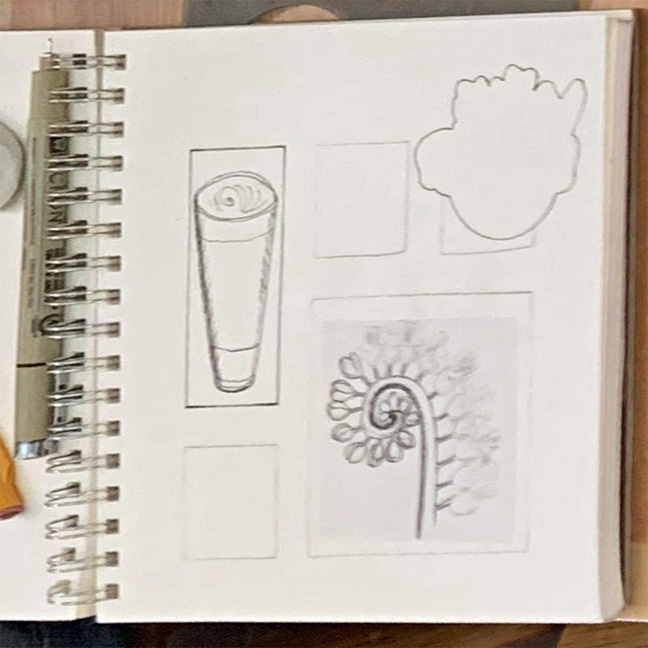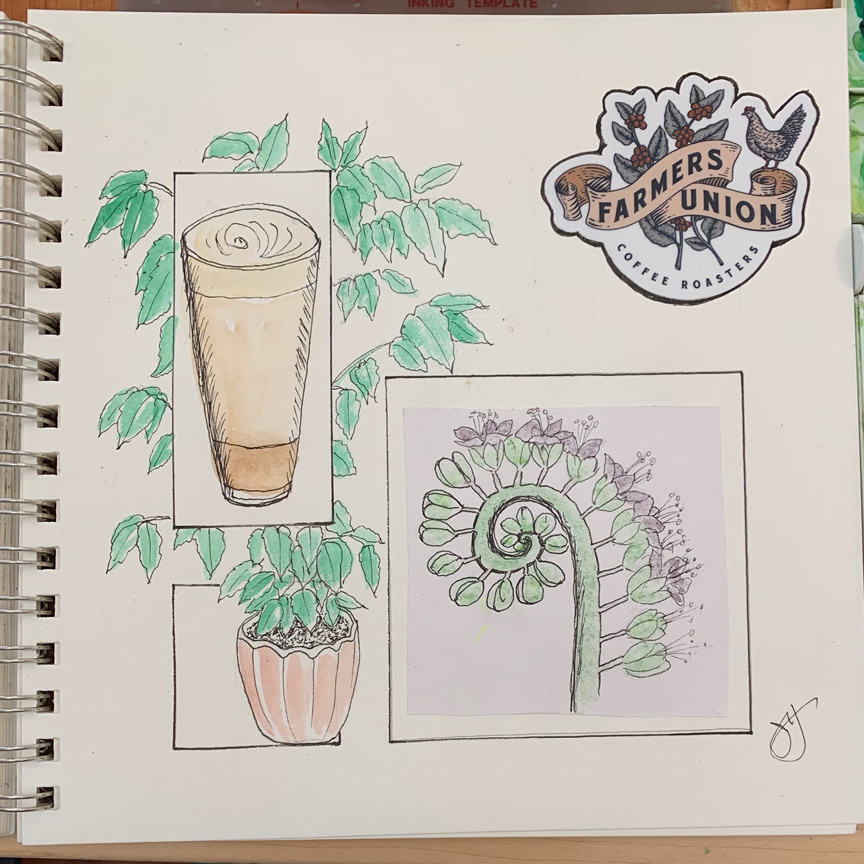 Yes, Jane is still having fun with frames. She brought a little sketch from home of a plant on Facebook, then the rest was from the cafe.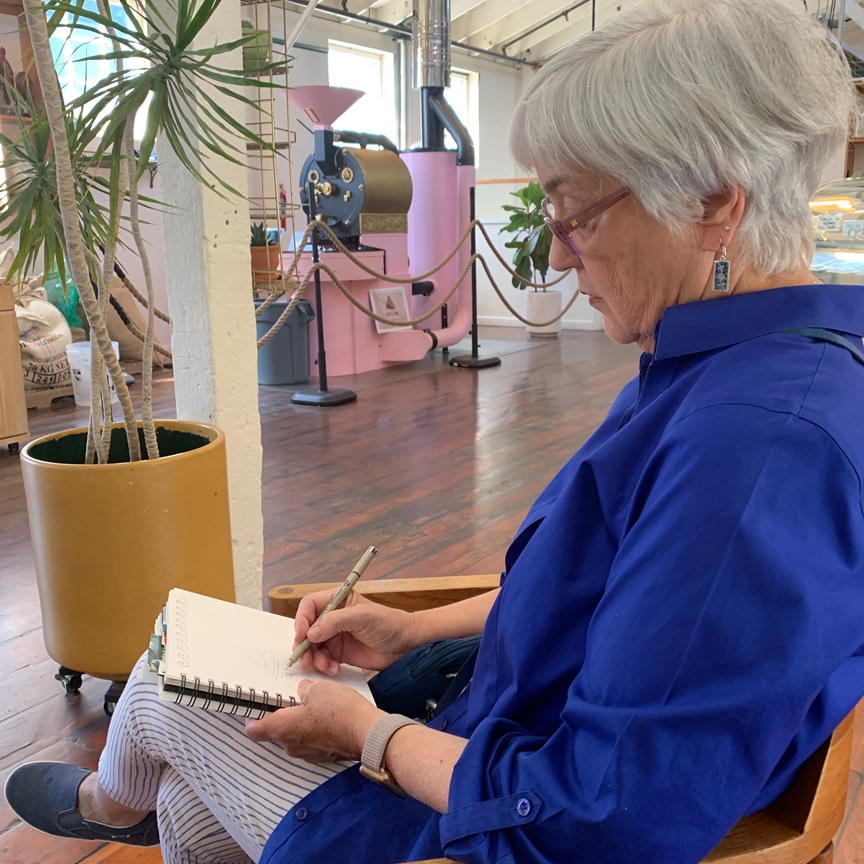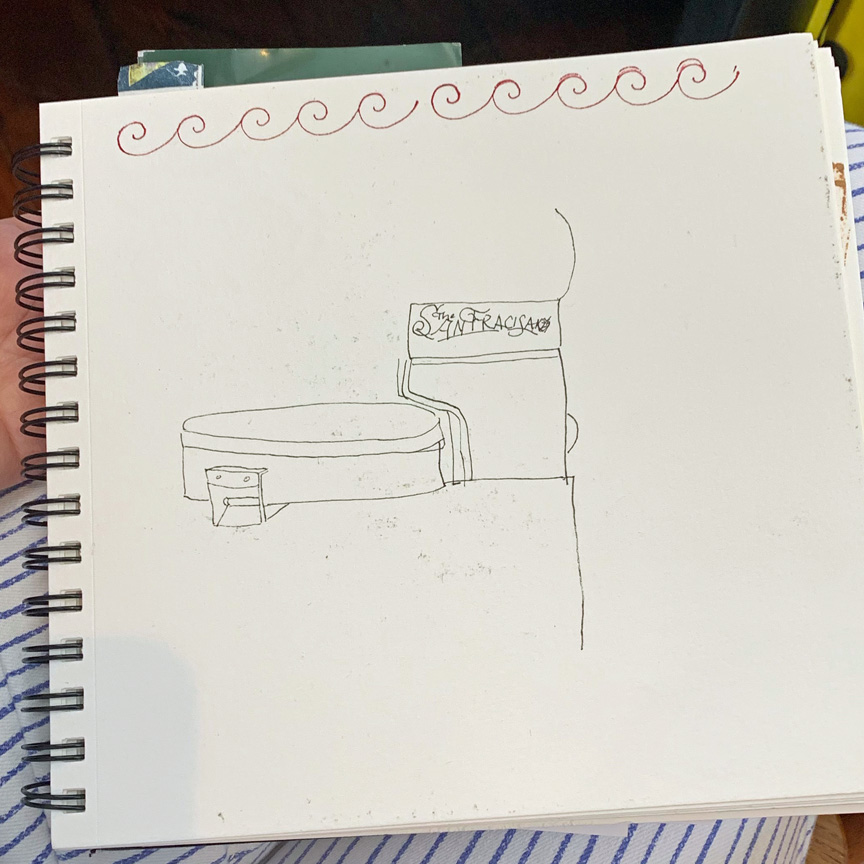 Katie stopped by for a few minutes before going off on a trip – here's what she got of the coffee roaster (beyond her) in just minutes!
✒ Apr. 12, 2019 – Perugino, Eugene, OR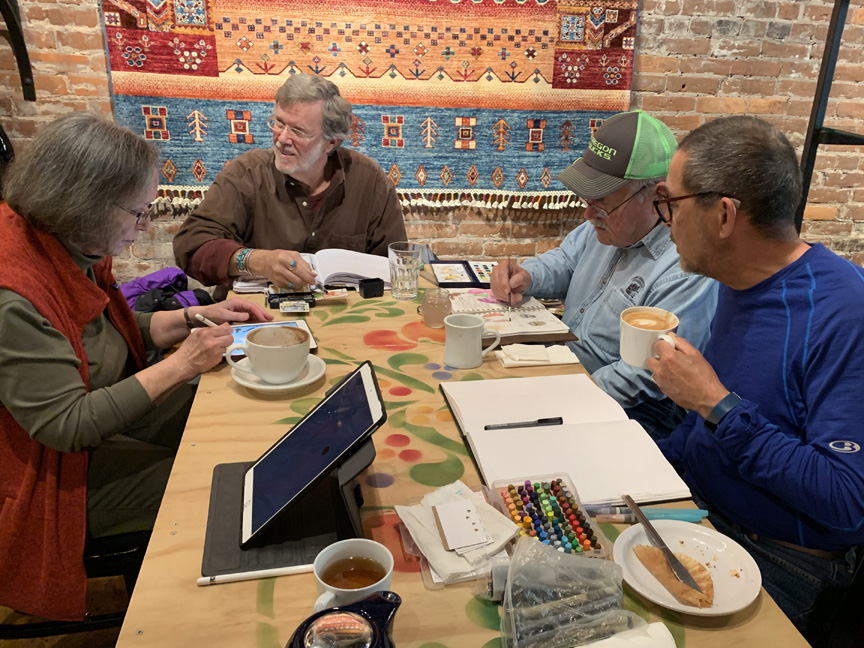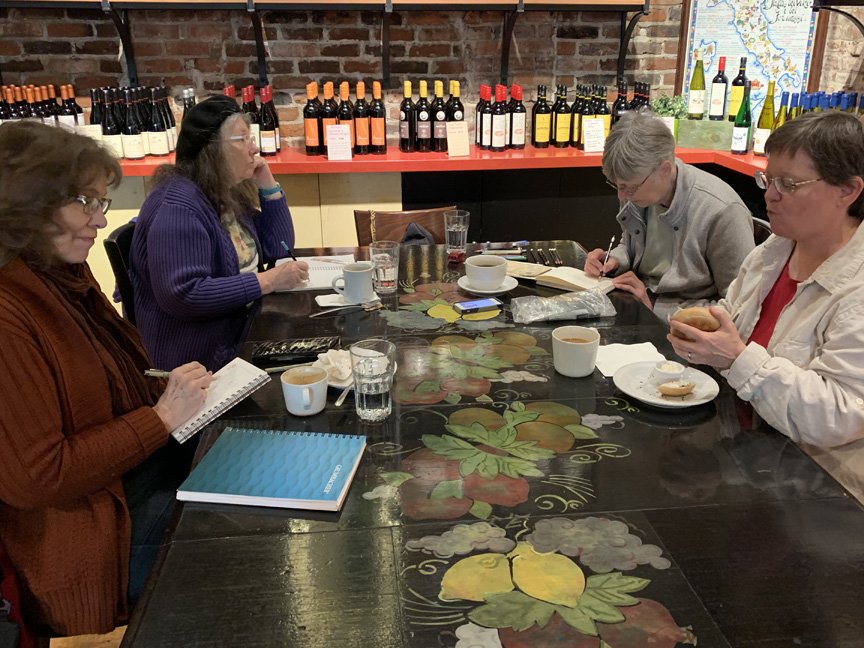 Marsha, Jim, Bill, Hugh; Bev, Laura, Helga, Daisy. (Jane & Lona, too)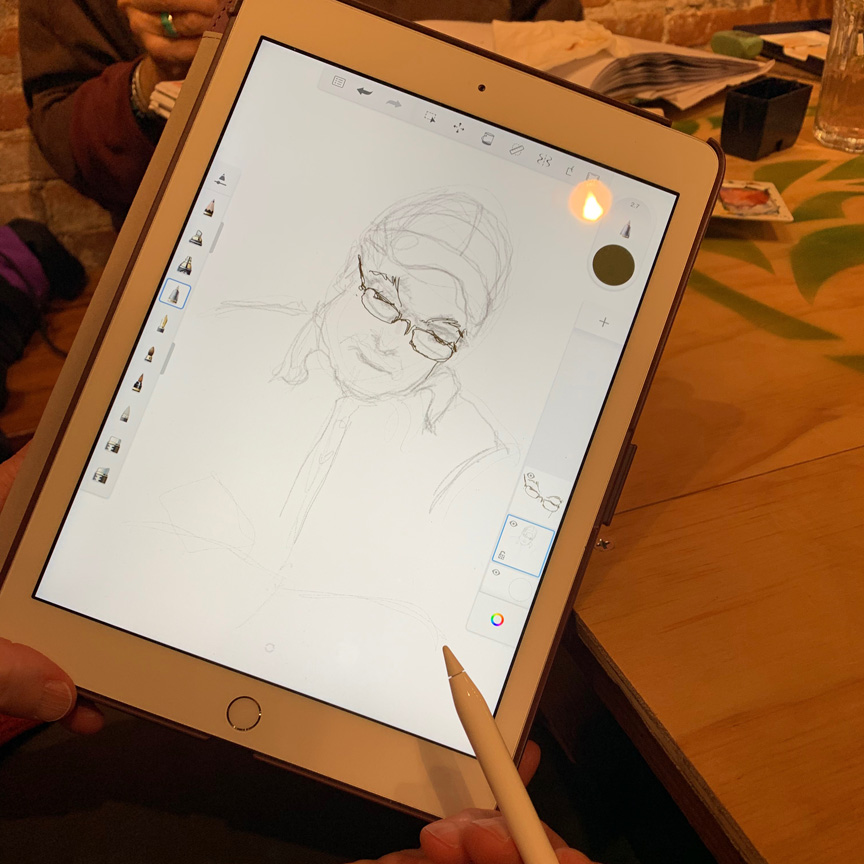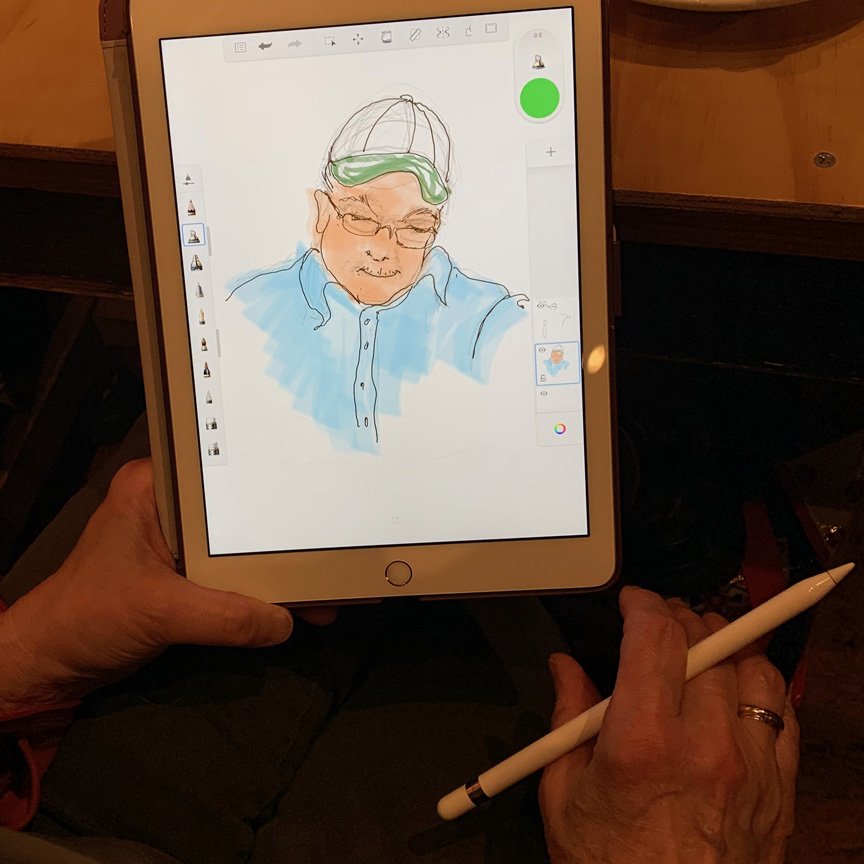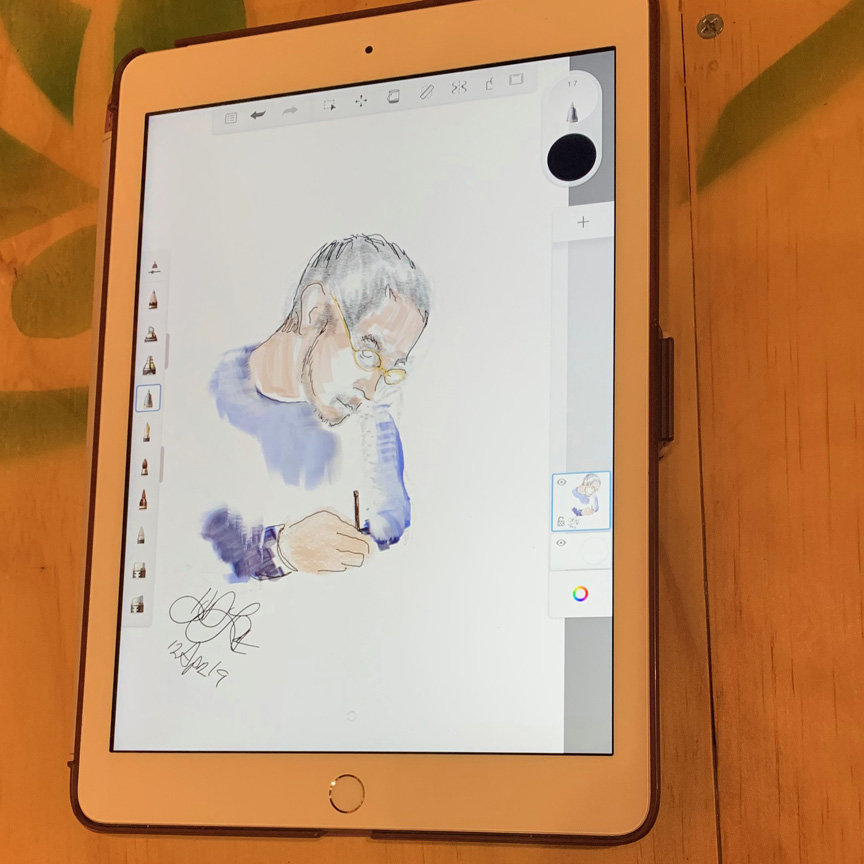 Bill told Marsha about an iPad sketch app (AutoDesk Sketchbook), so she brought her iPad to demo for Jane – she really has it down!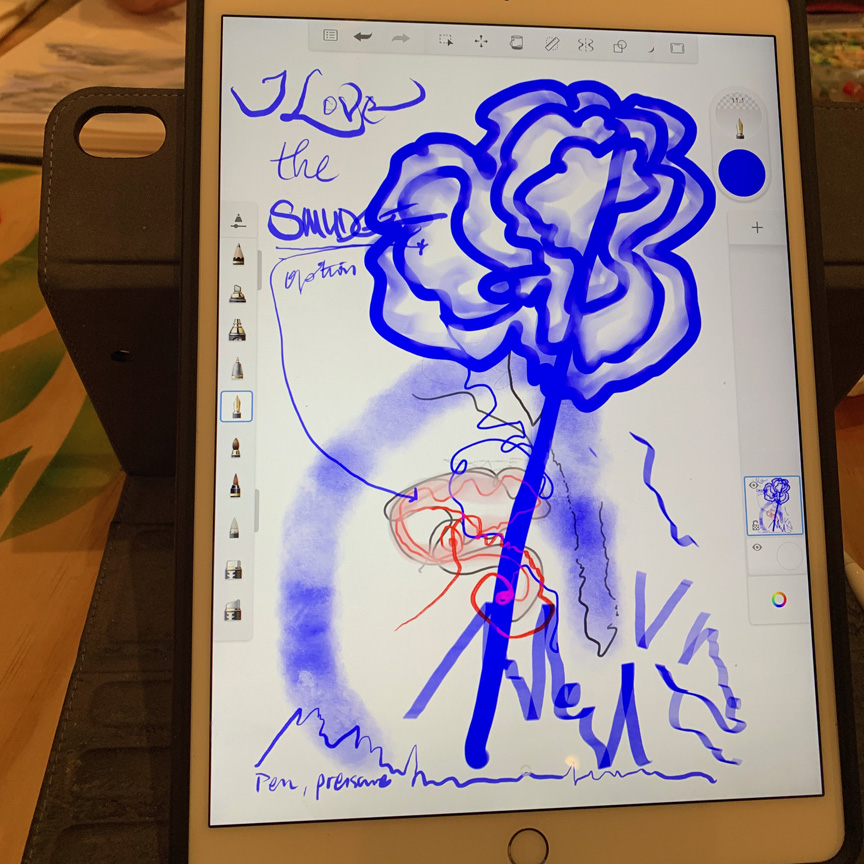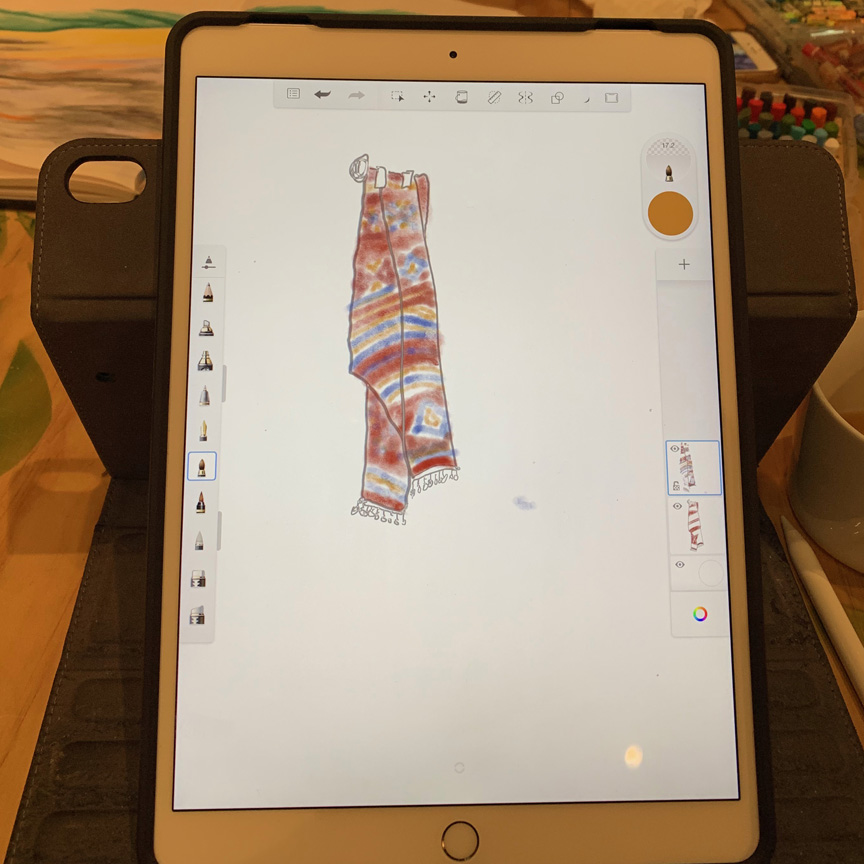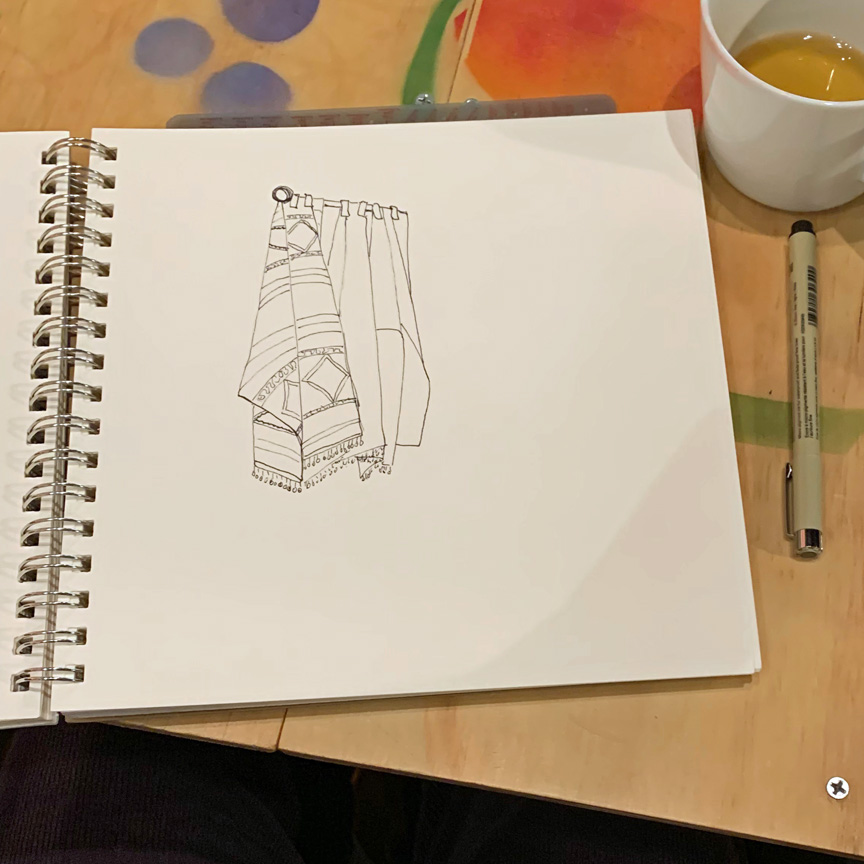 Jane started experimenting, taking notes, tried a digital sketch of the rugs hanging on the walls. She quickly reverted back to paper & ink.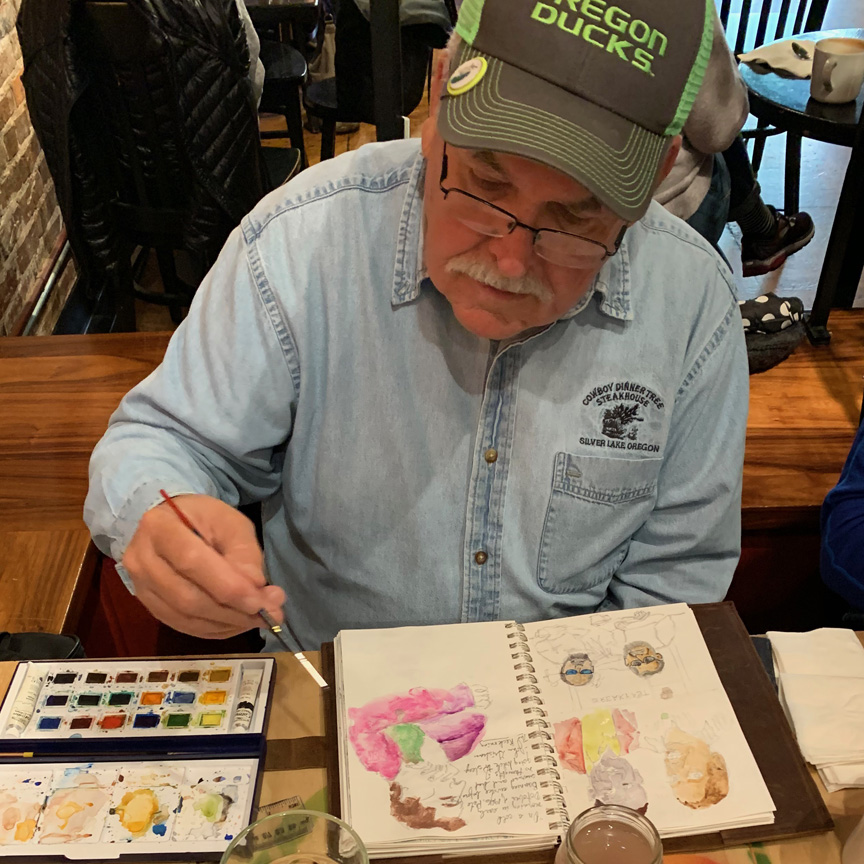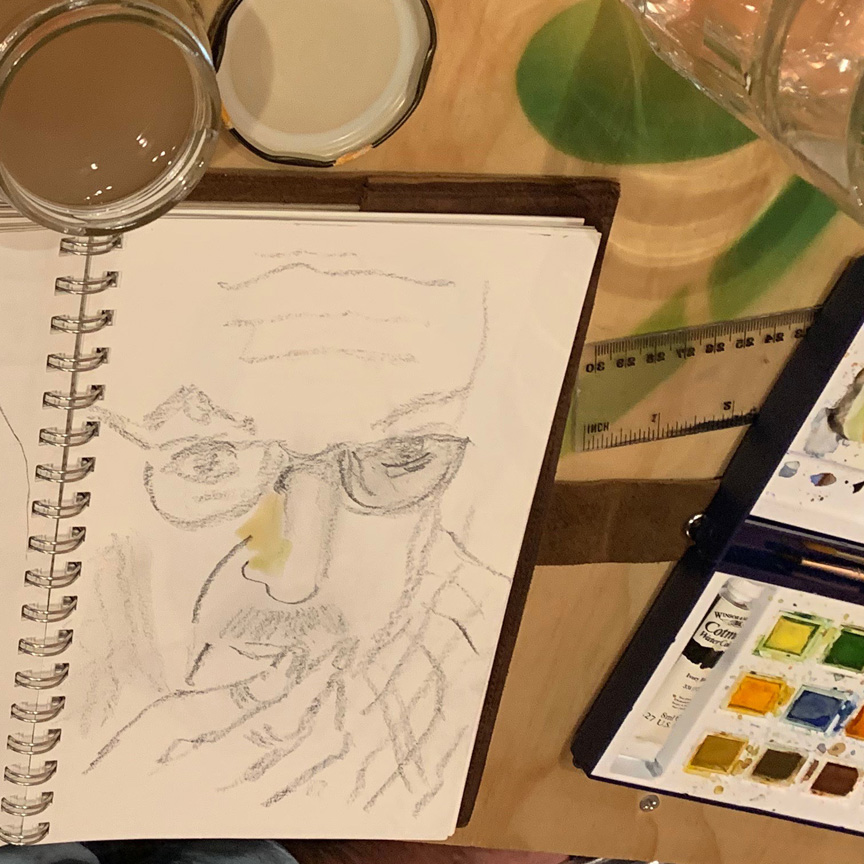 Bill is doing more with watercolor in his people sketches, working on getting their hands into the sketches. That's always a challenge!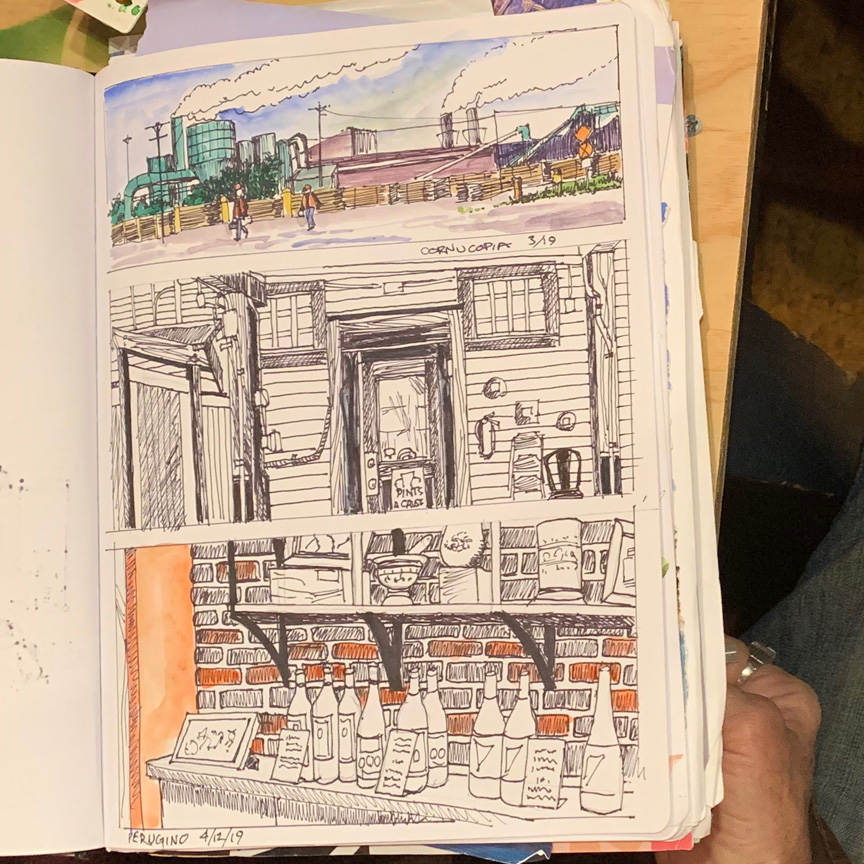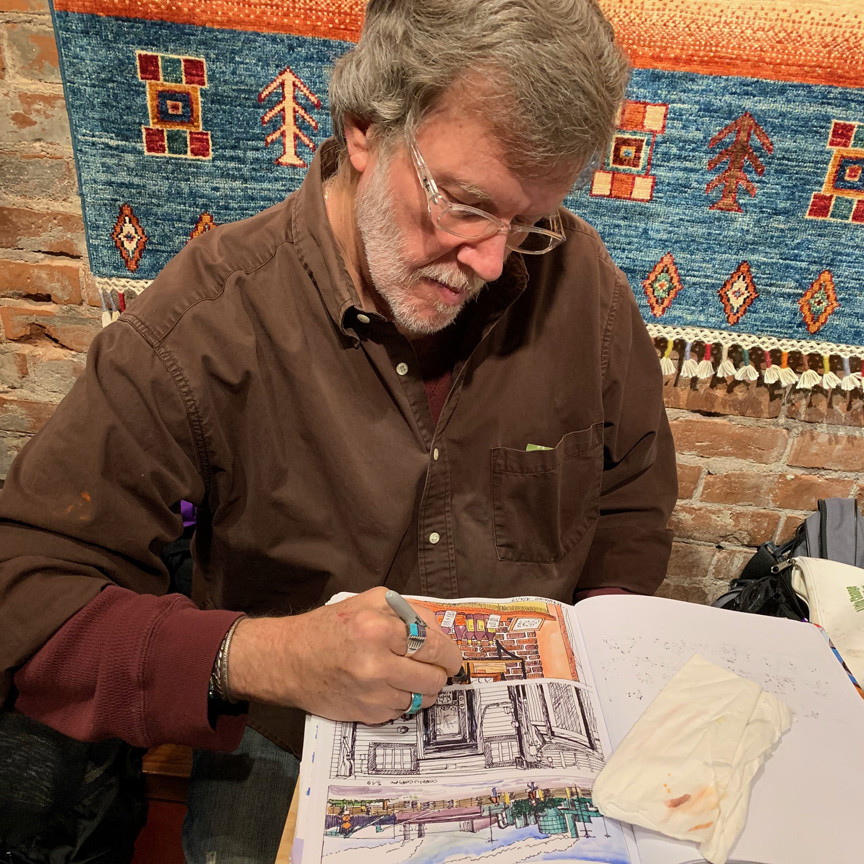 Jim's triptych page panels are interesting – here he finishes work he started at Perugino last time we were here. Nice eye for detail!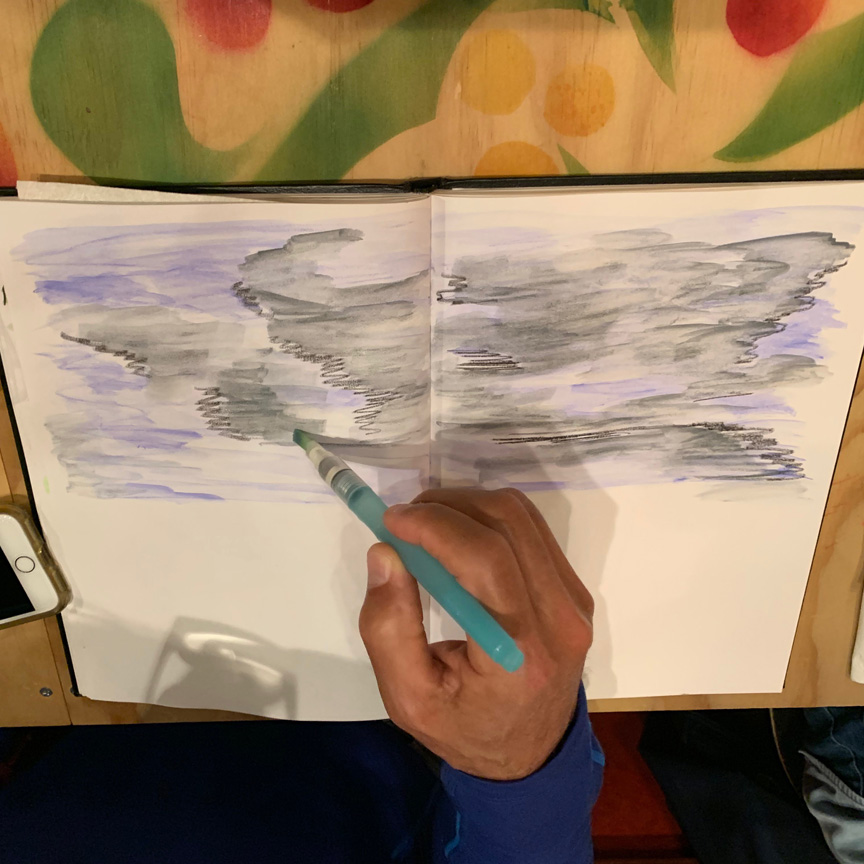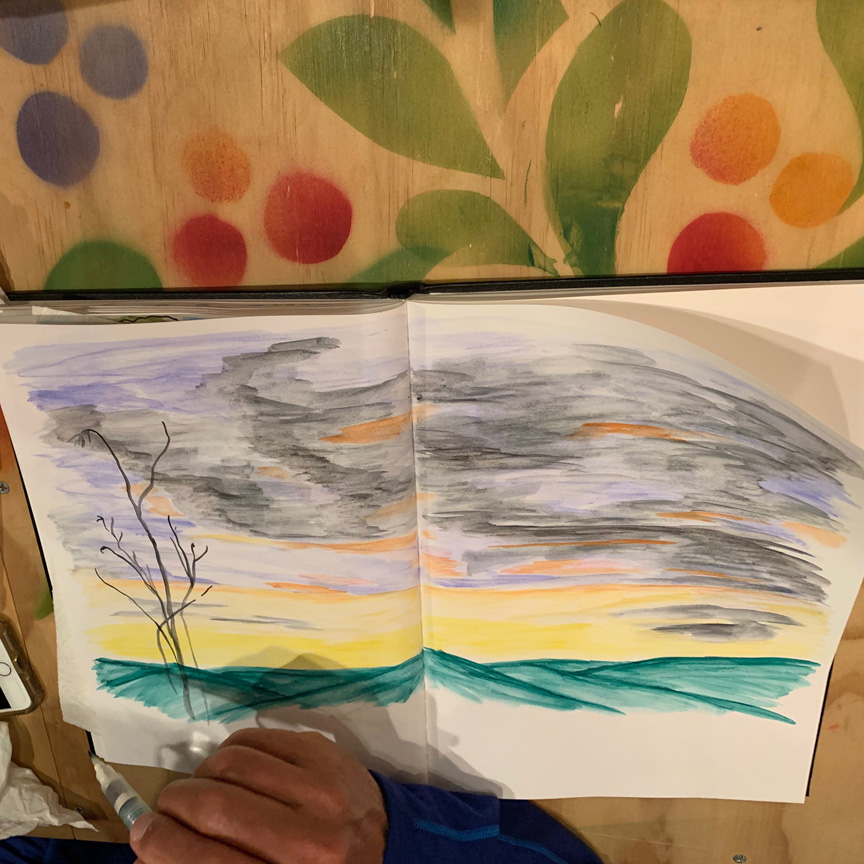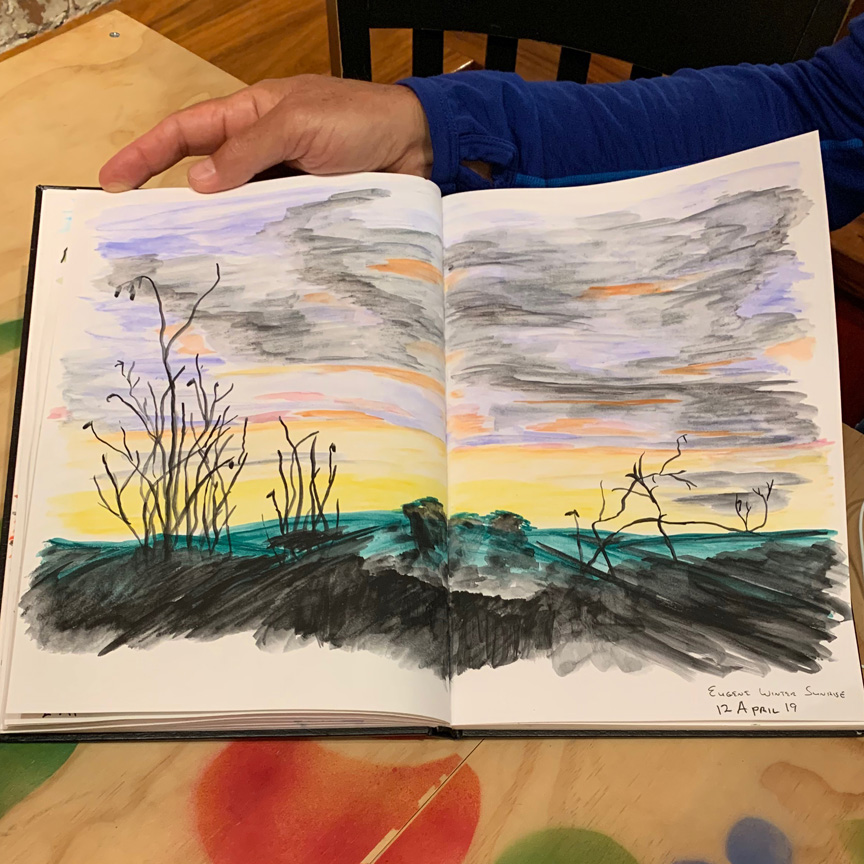 Hugh is doing a double page spread using water soluble wax crayons with a water brush – he's gotten a very moody effect on this scene.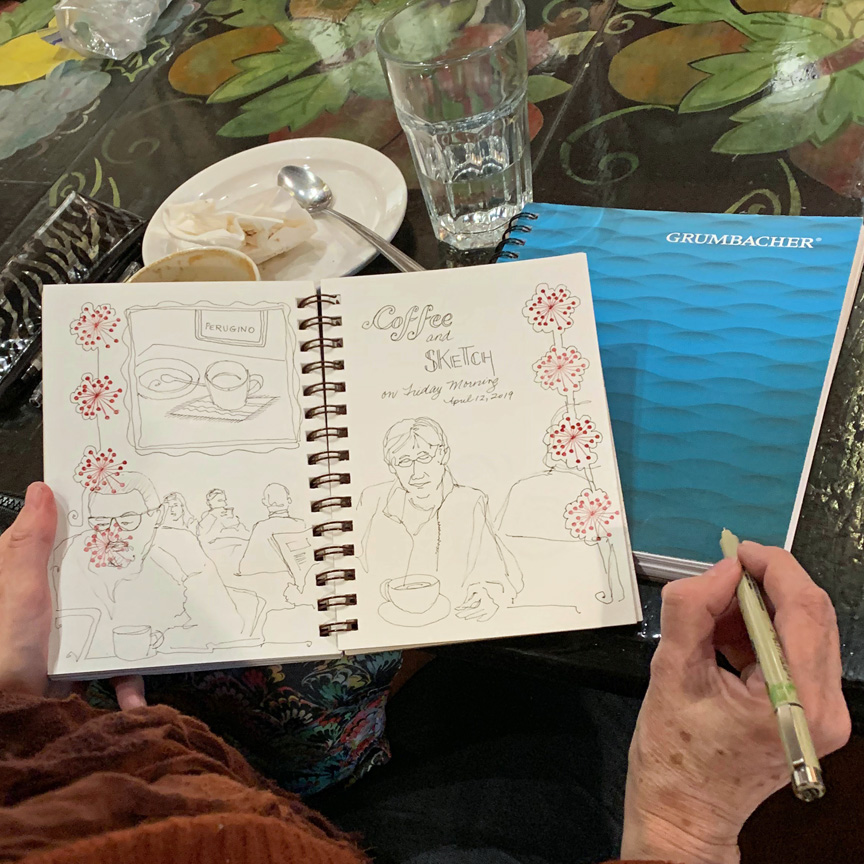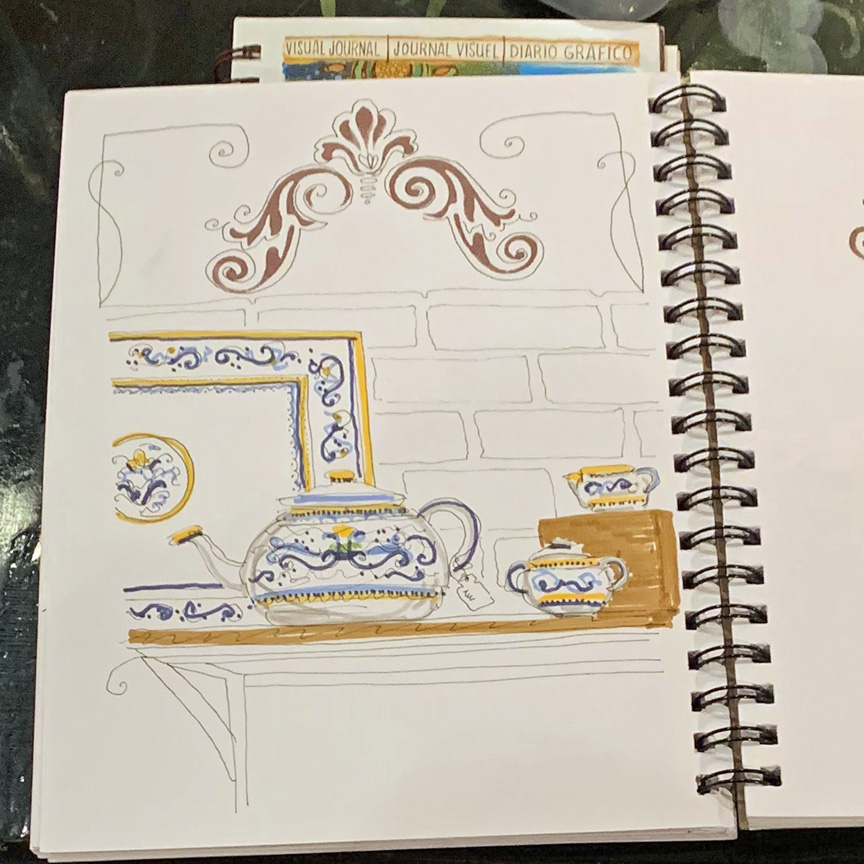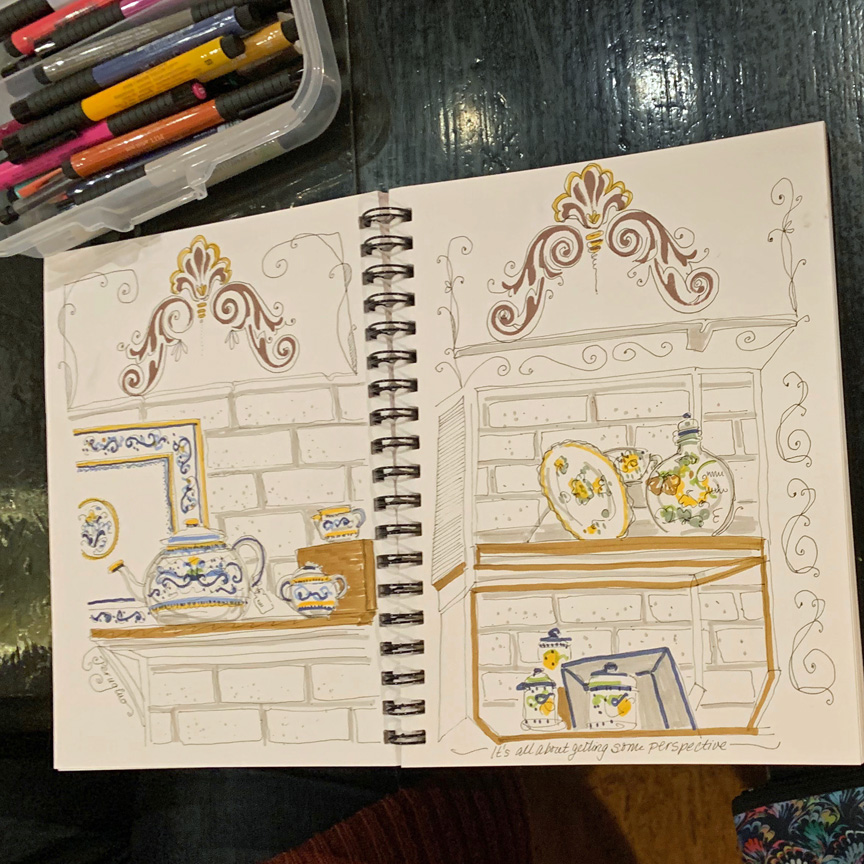 Bev started sketching people then couldn't resist the shelf displays.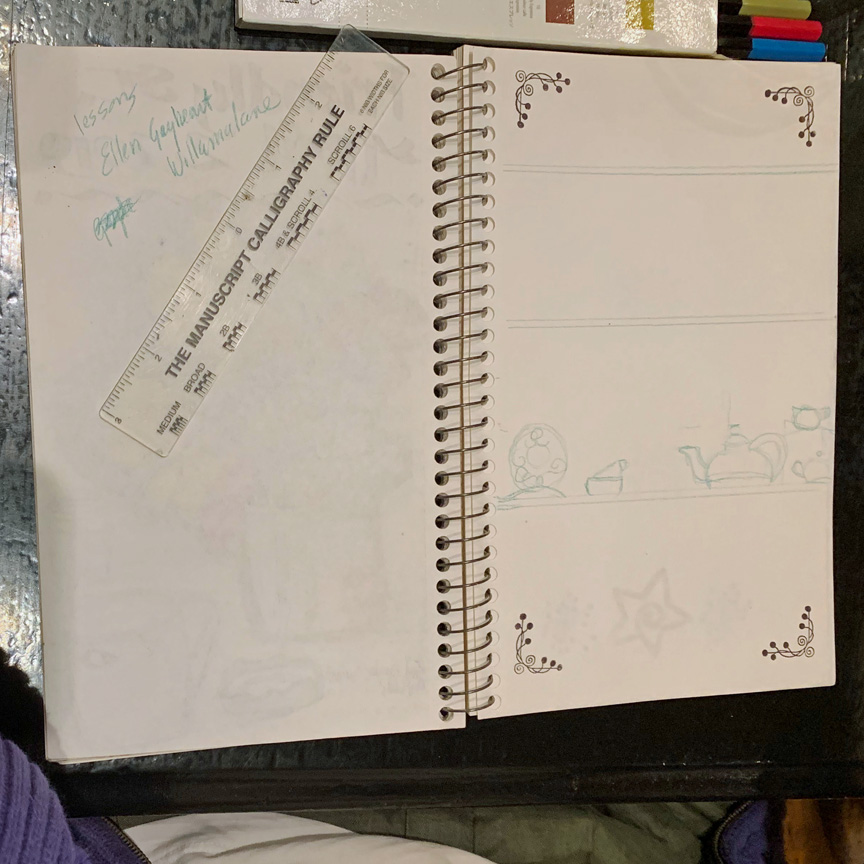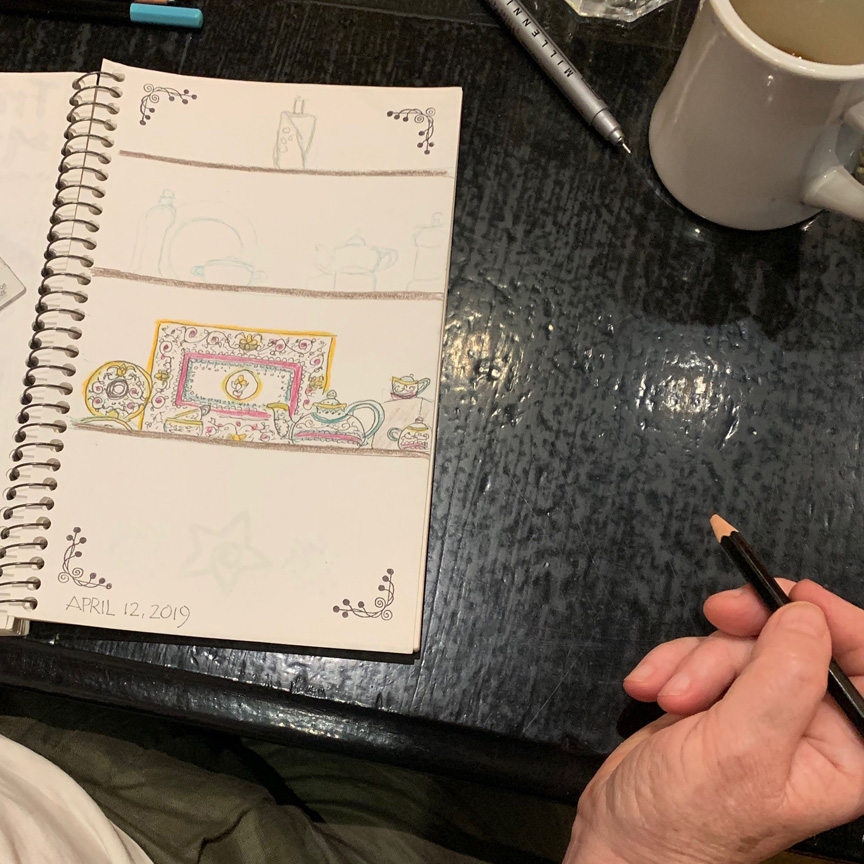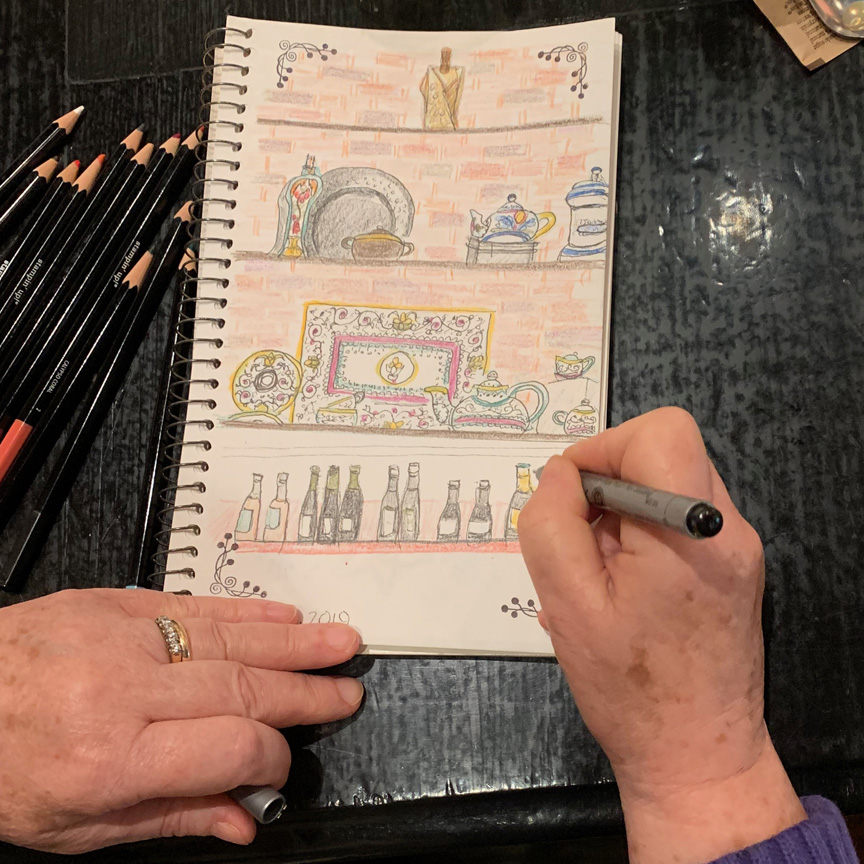 Laura began light sketching in blue pencil, then brought the shelf scene into color – charmingly done, Laura!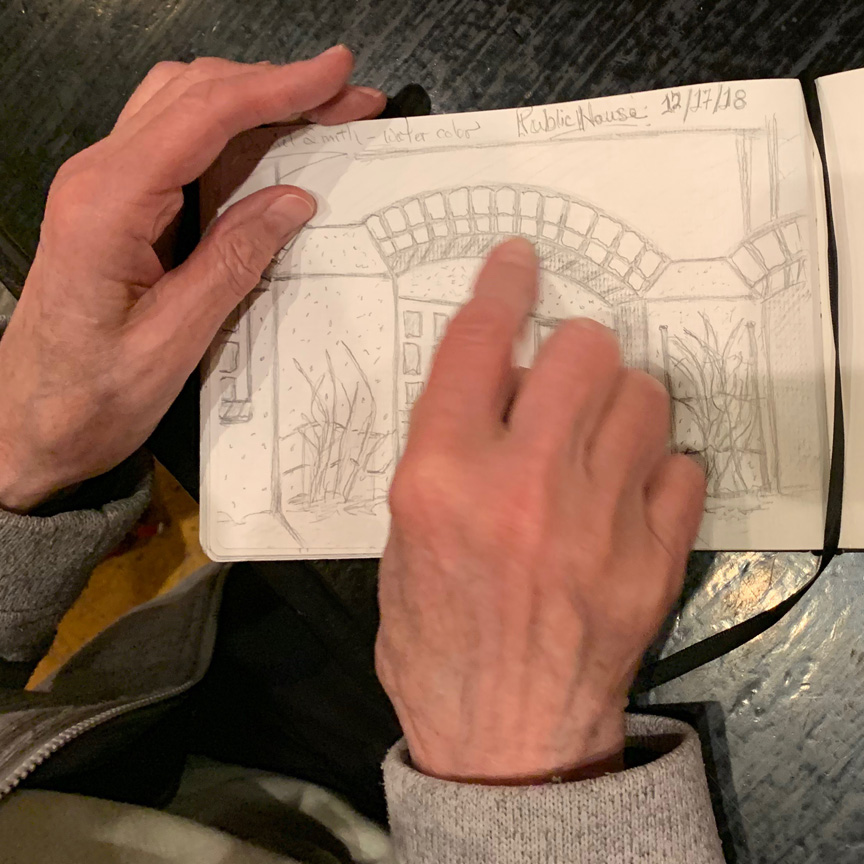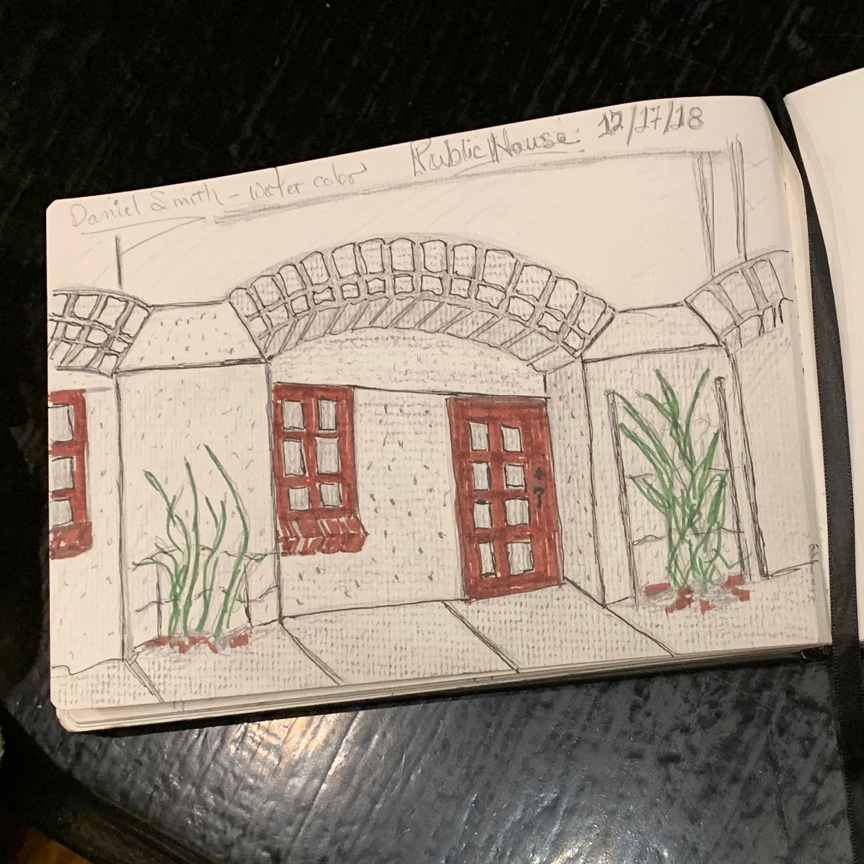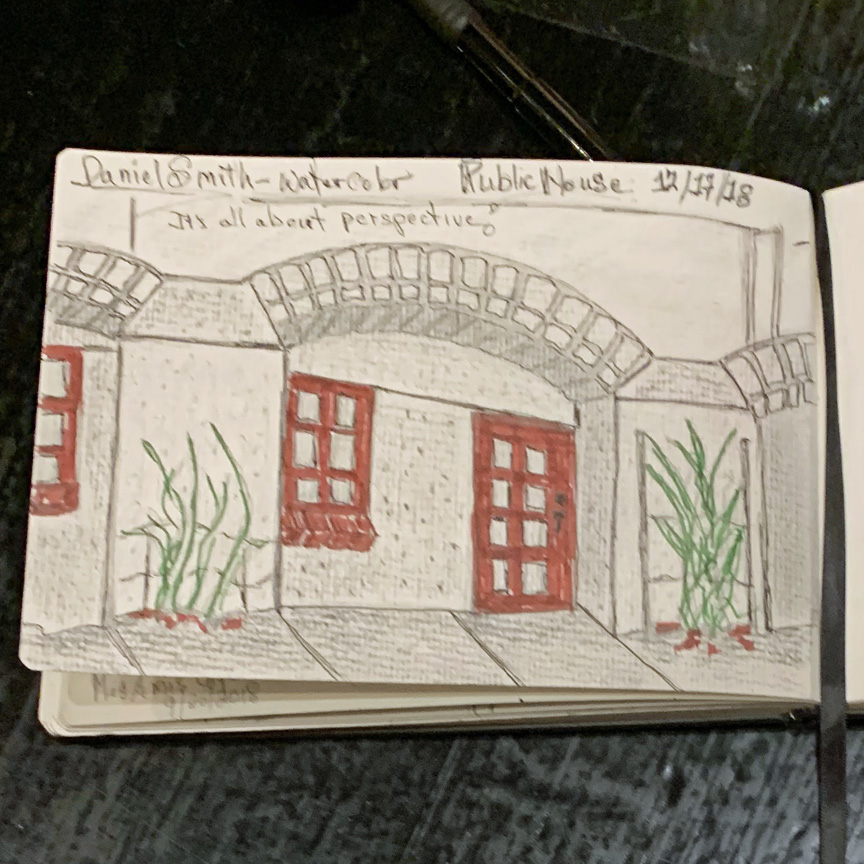 Helga was back after an illness – now let's see, what was I doing…oh, bringing definition to a previous sketch, smudging lines for shadows!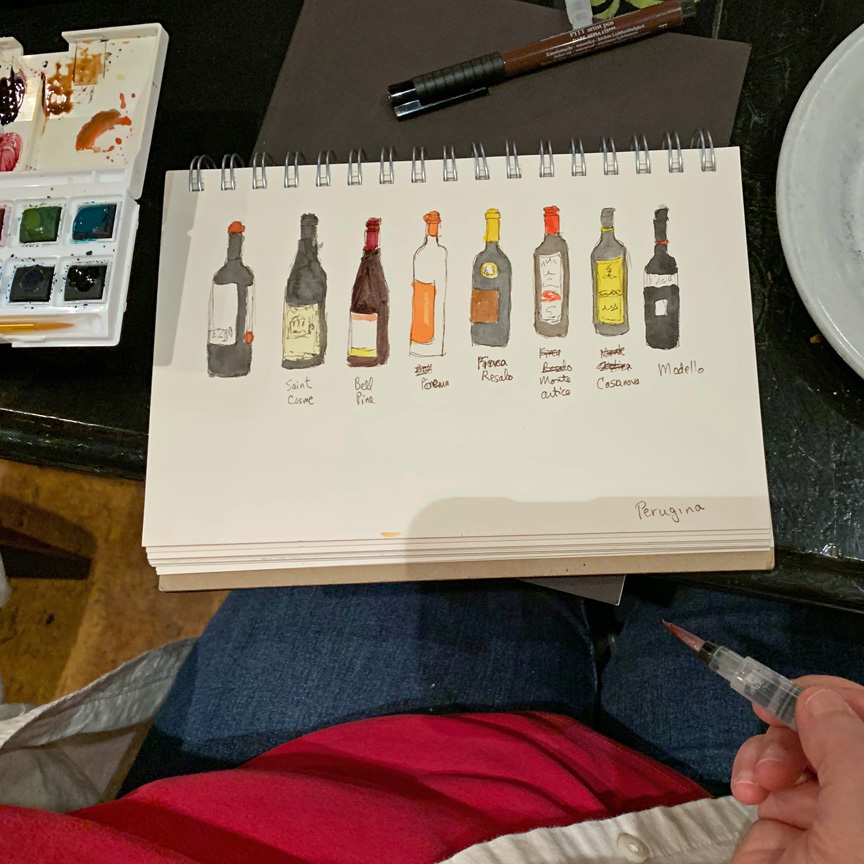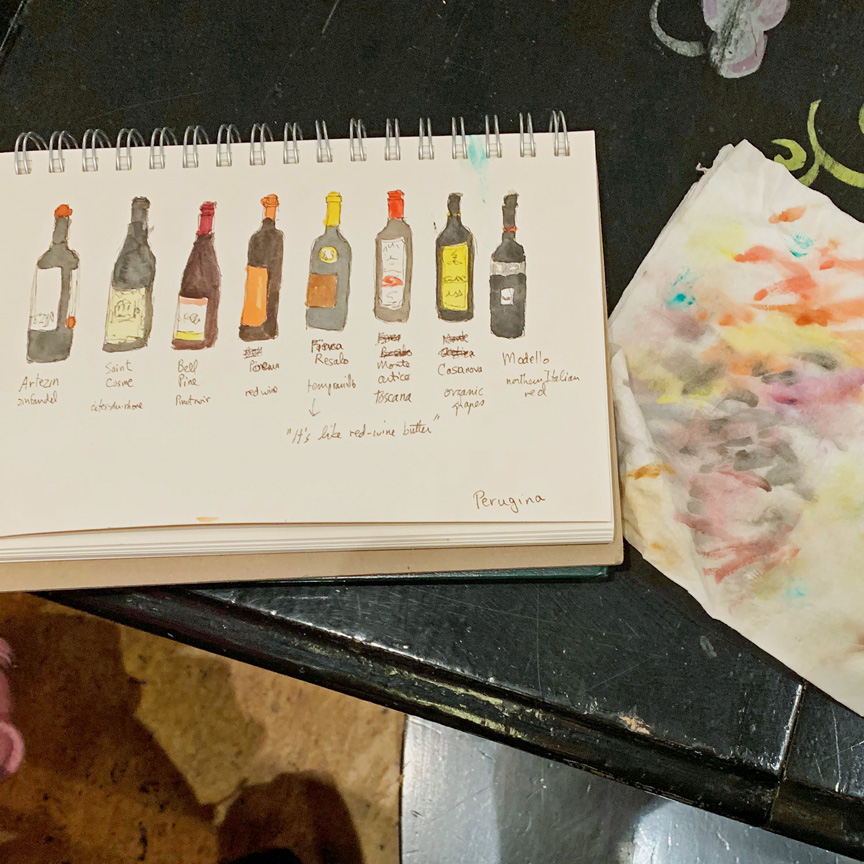 Daisy was having fun sketching the various wine bottle offerings (with names to remember& her colorful palette on her napkin, too!)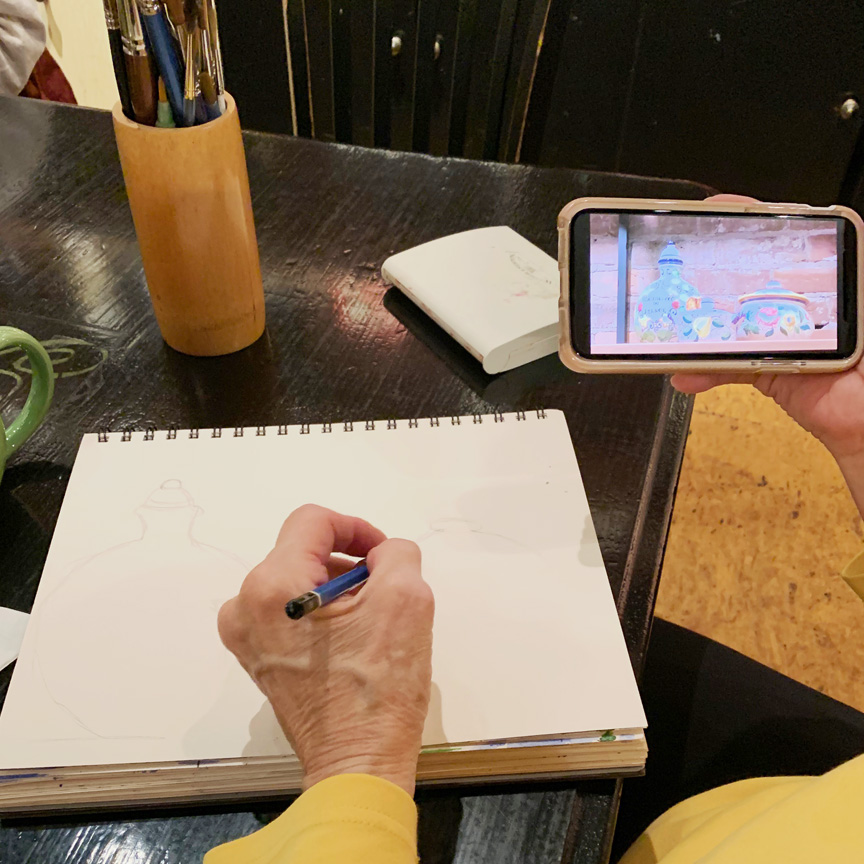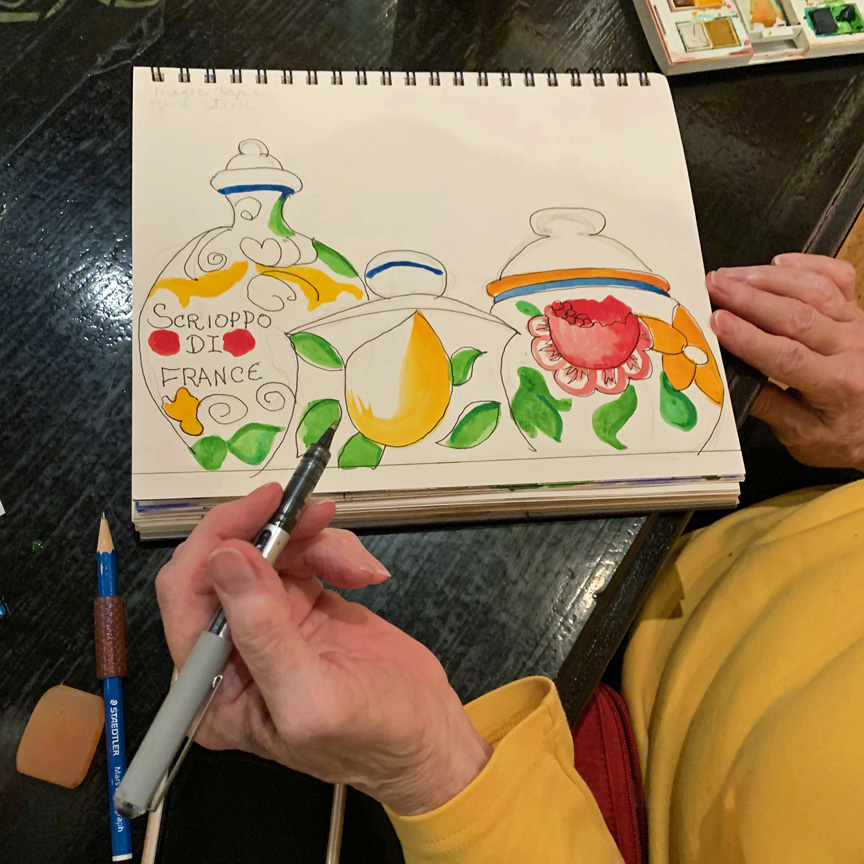 Lona took a photo of some of the shelf pots to help with closeup details – what a clever idea. Nice job on the pottery designs.
✒ Mar. 22, 2019 – Perugino, Eugene, OR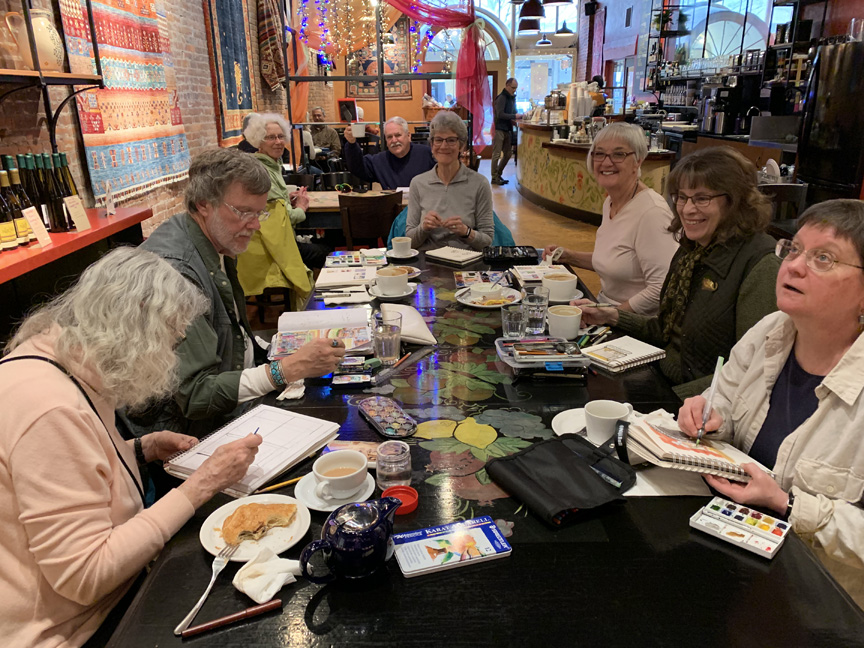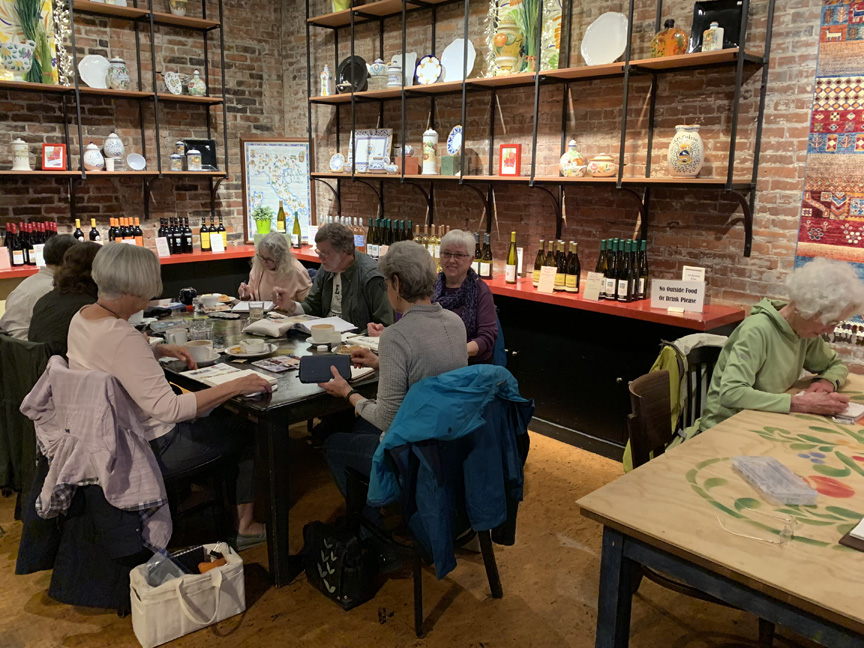 We filled the back tables at Perugino – Ellen, Jim, Lynda, Bill, Penny, Katie, Bev, Daisy, and Jane in the next photo thanks to Bill.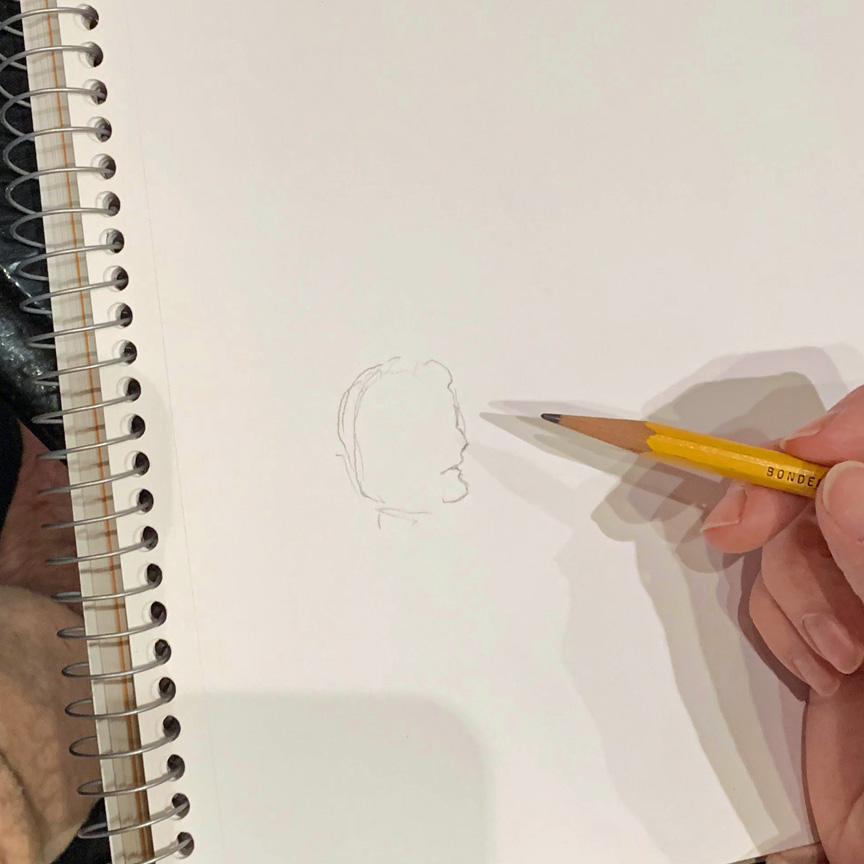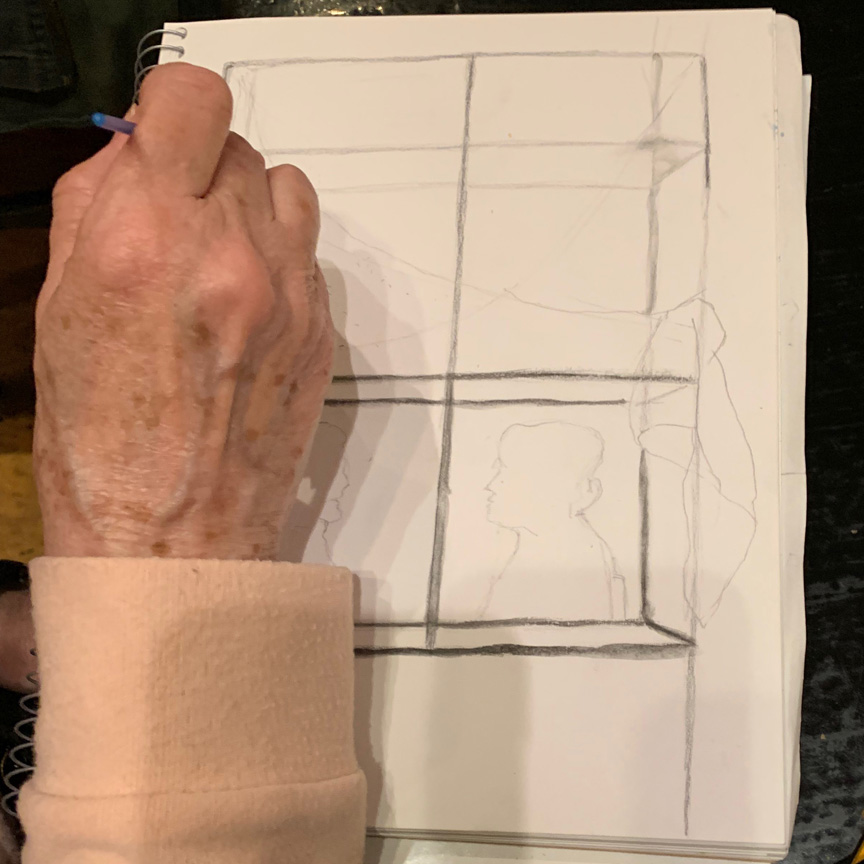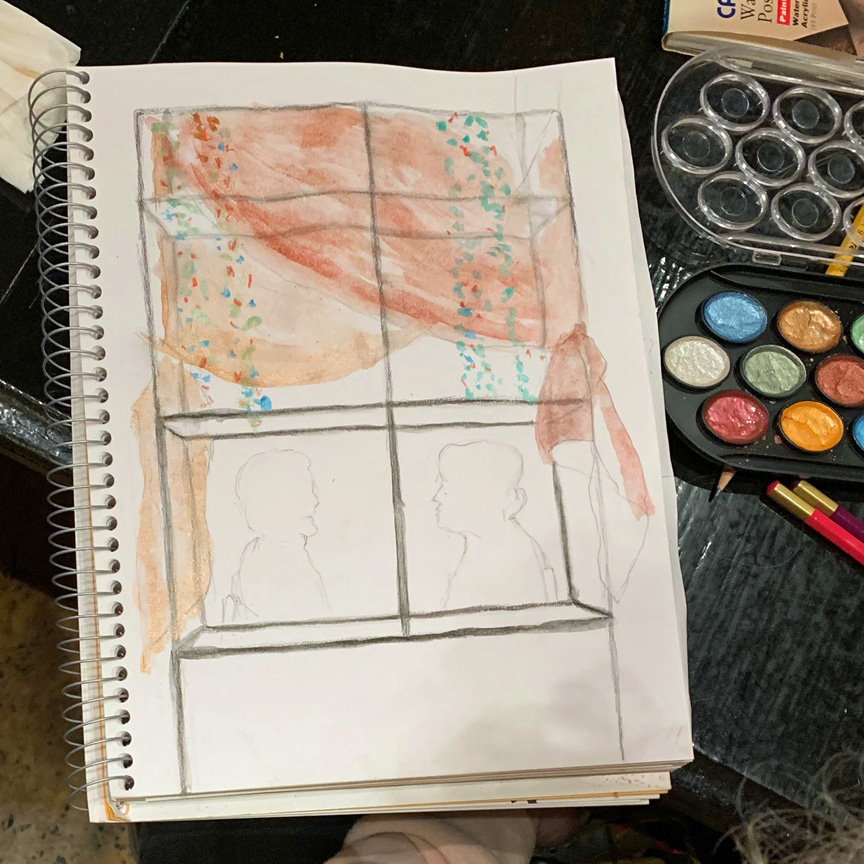 Ellen sketched the people on the other side of the curtained display, first in pencil, then watercolor – nice work on the sheer drapes.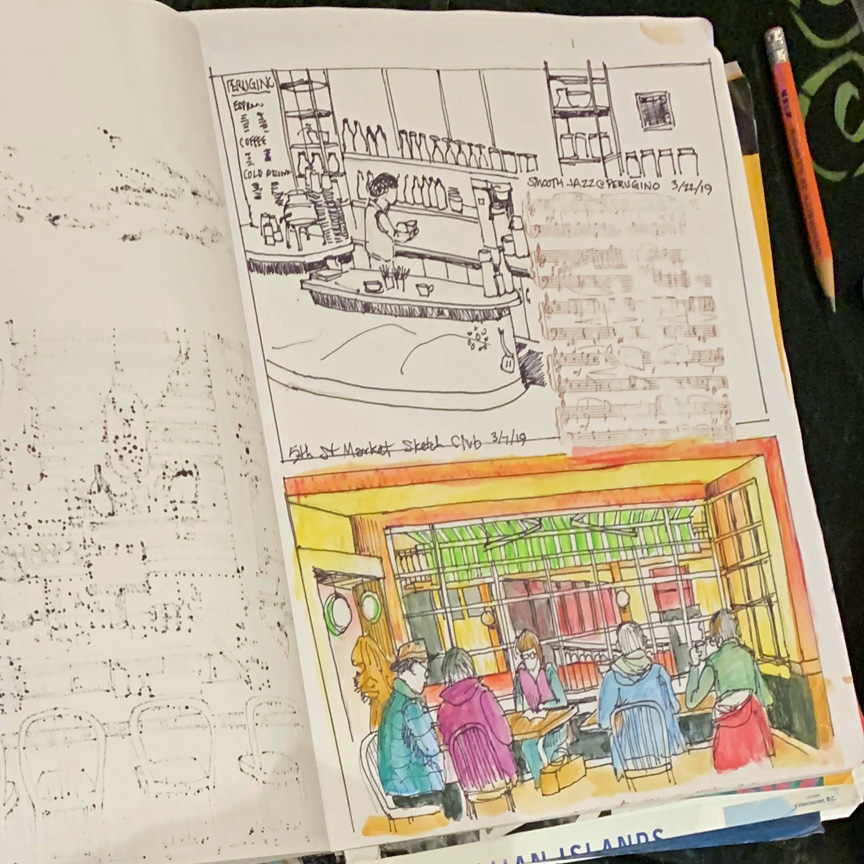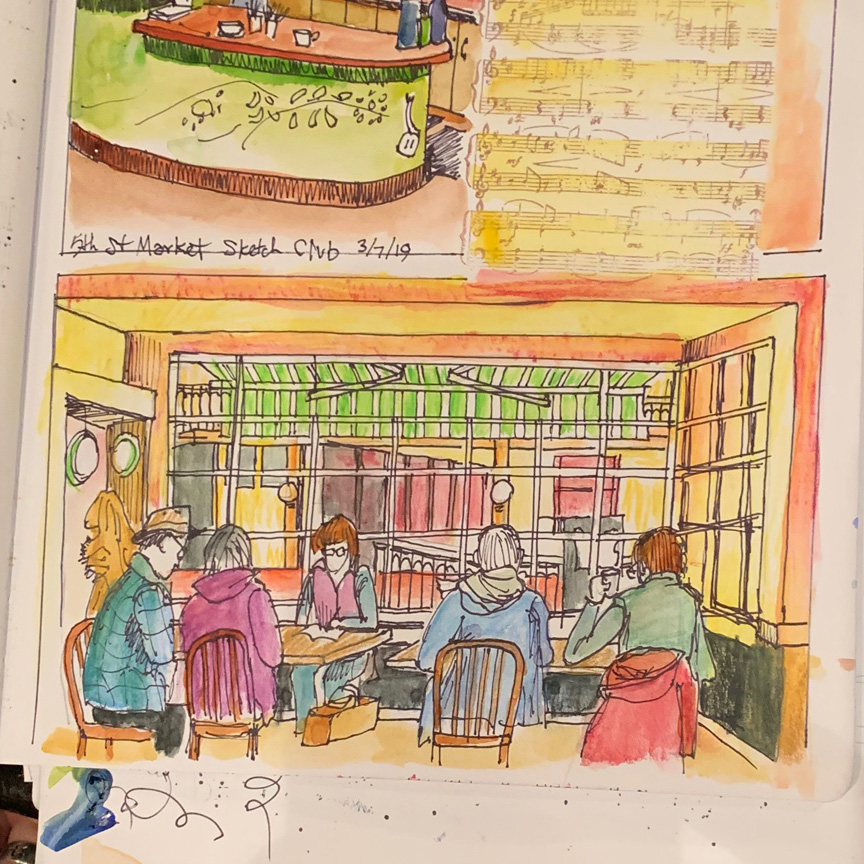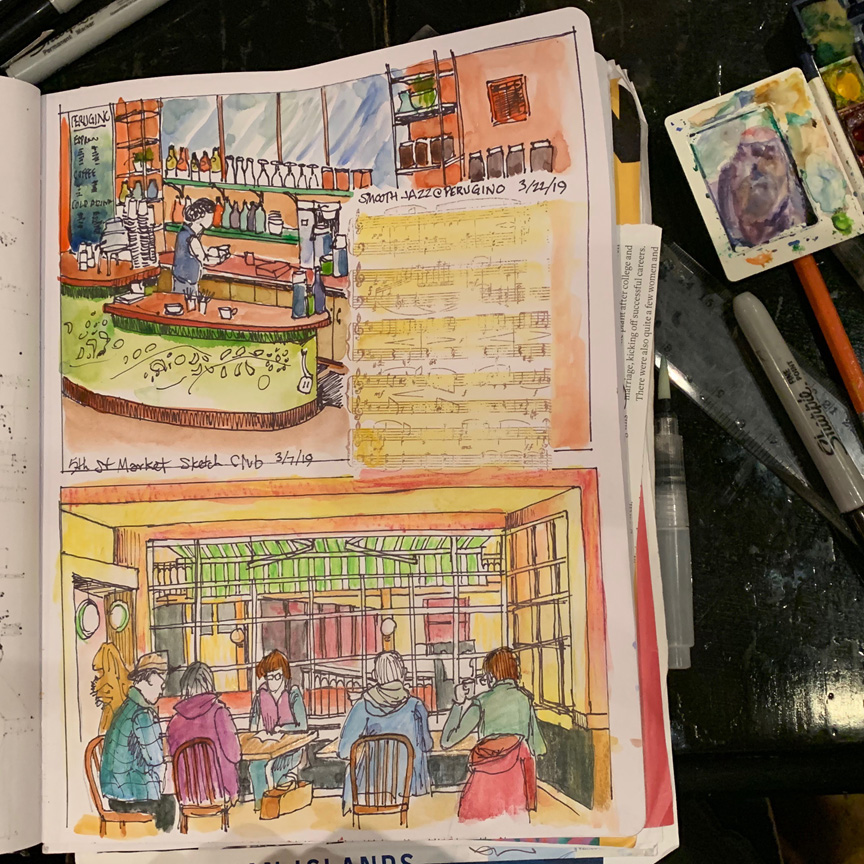 It's so interesting to see how Jim's scenes develop, layers of color.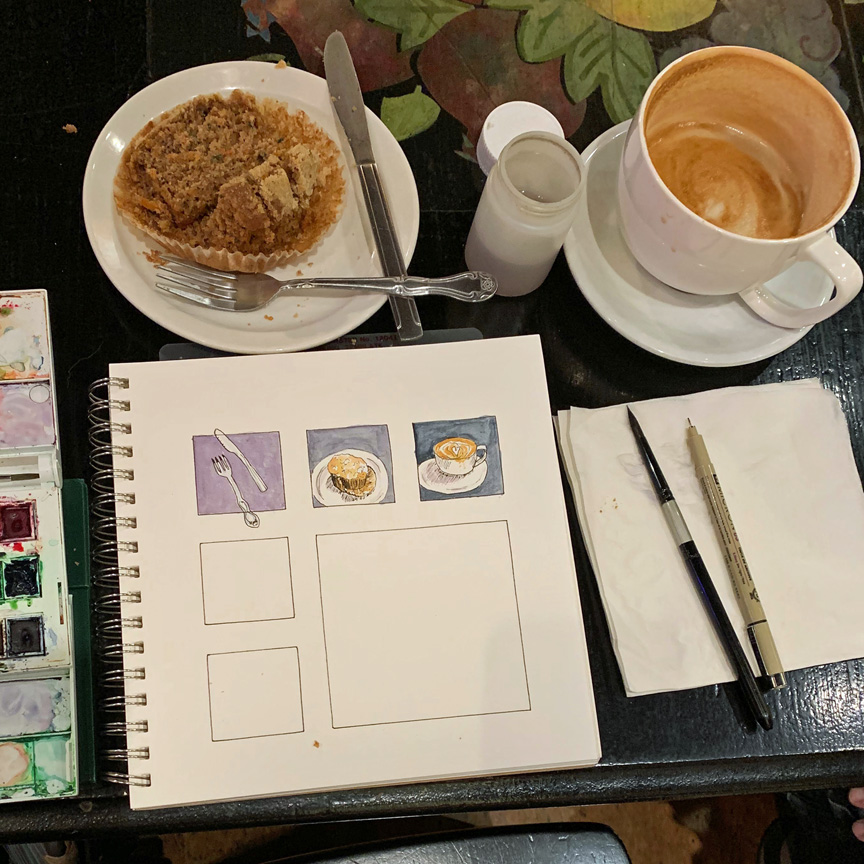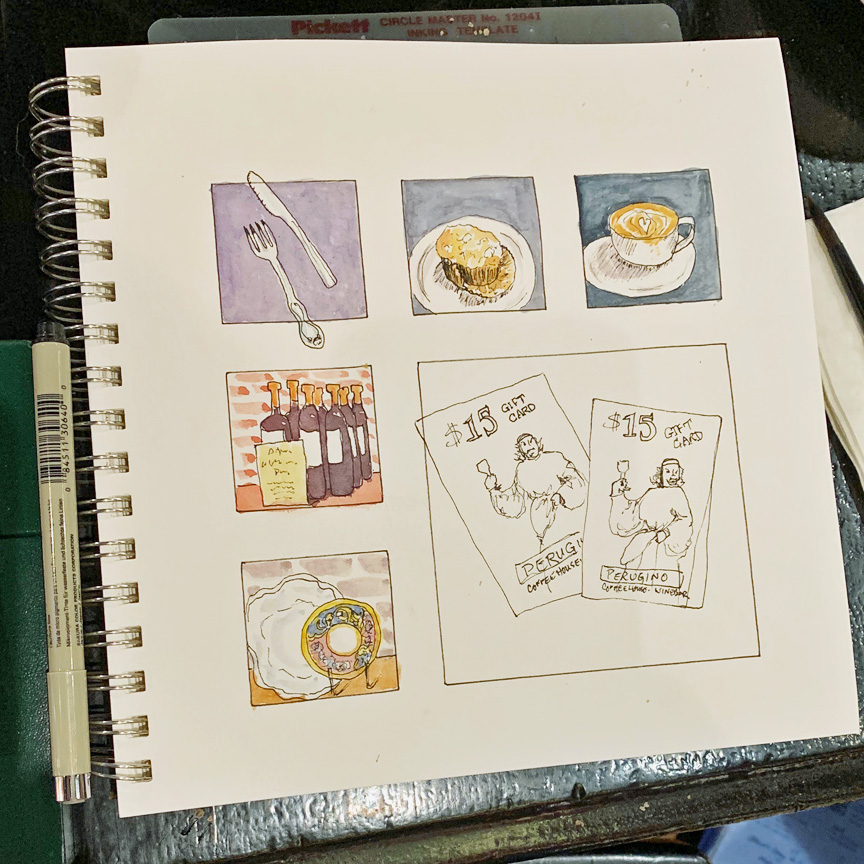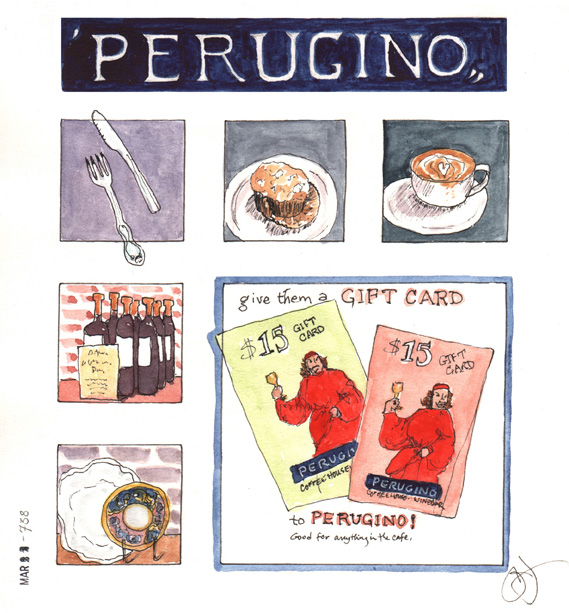 Jane sketched vignettes in the small frames, then added a banner.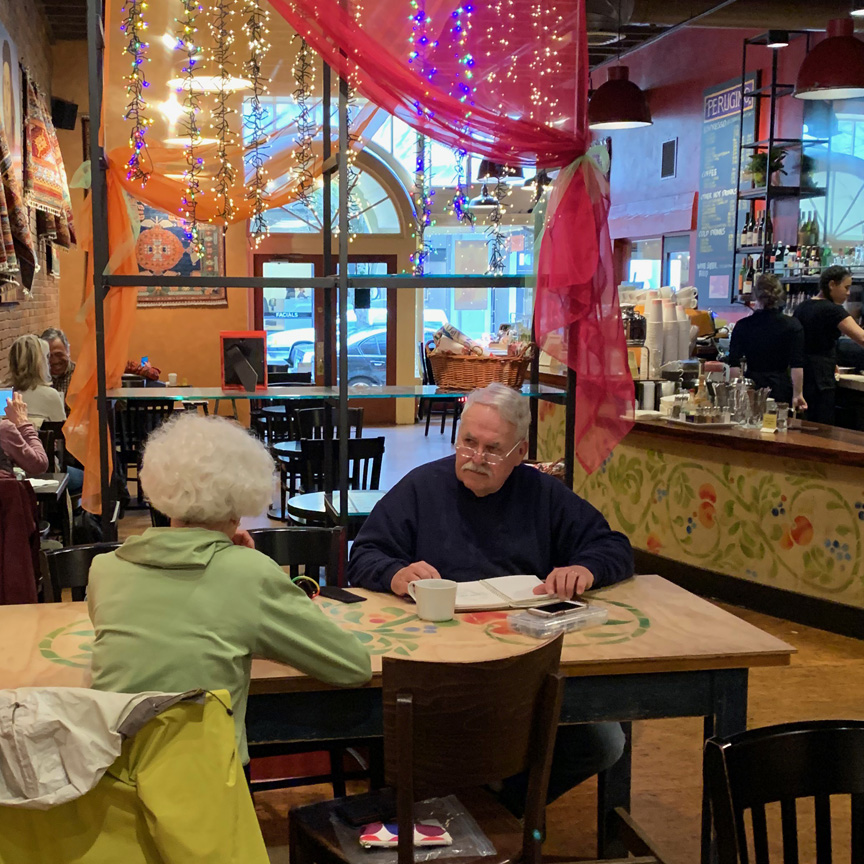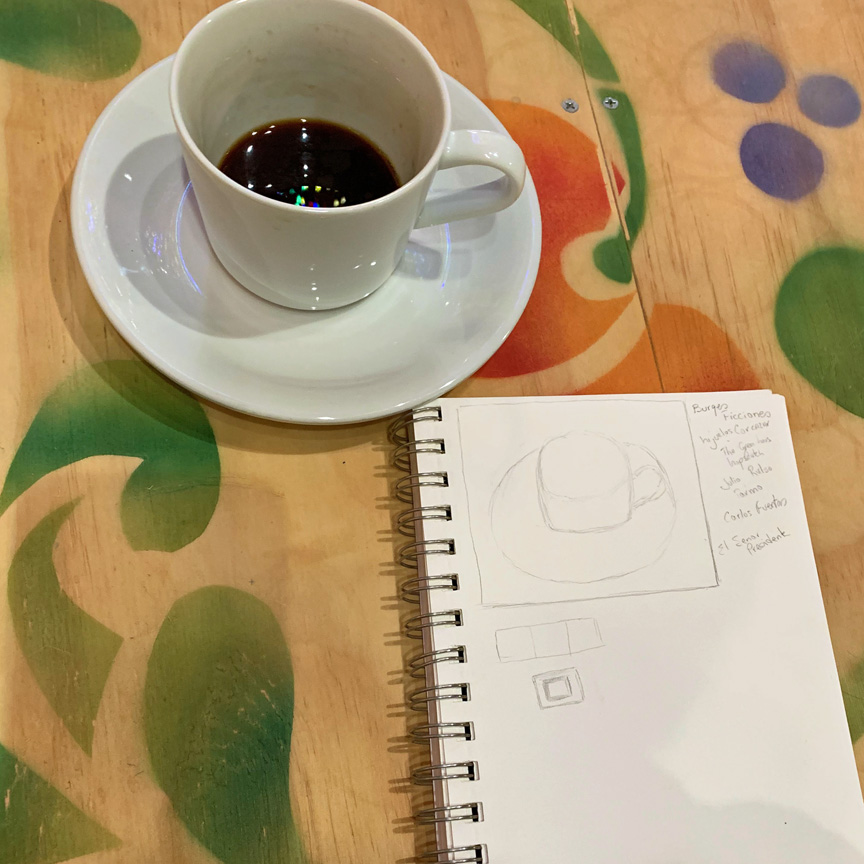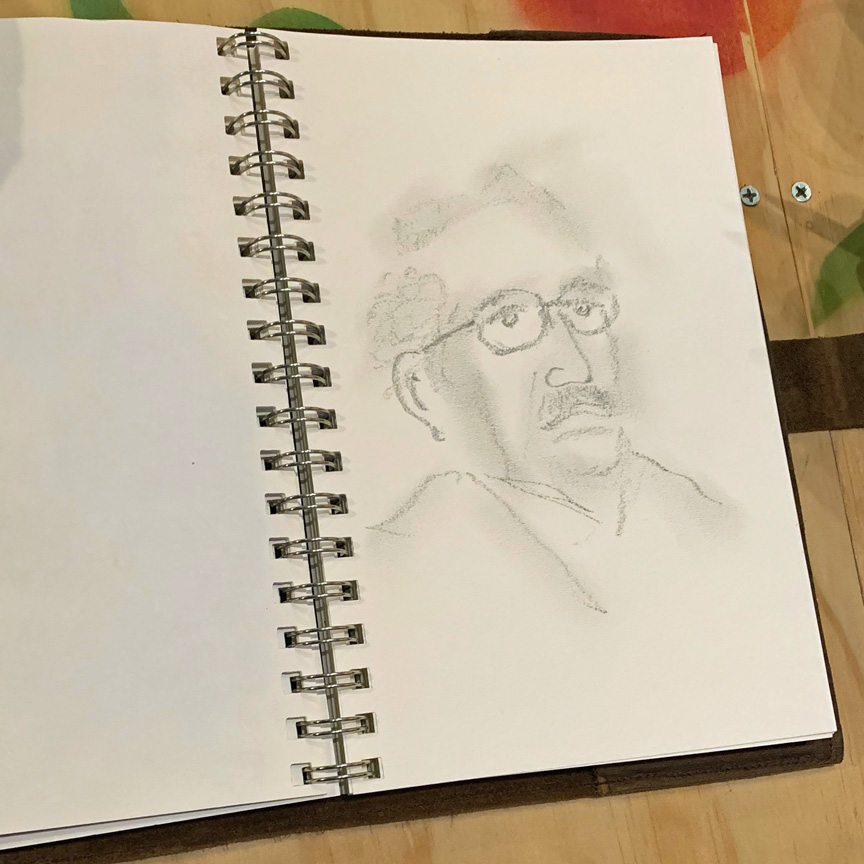 Lynda and Bill at the far table. Lynda did a quick sketch of her coffee cup, and Bill a sketch of a famous writer – do you know who it is?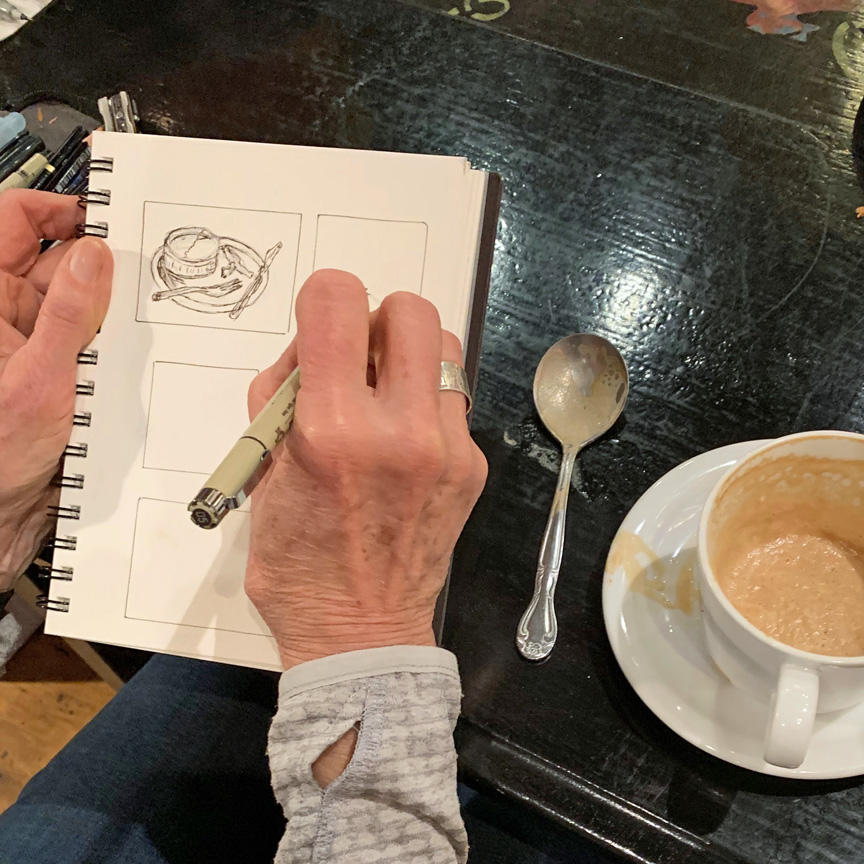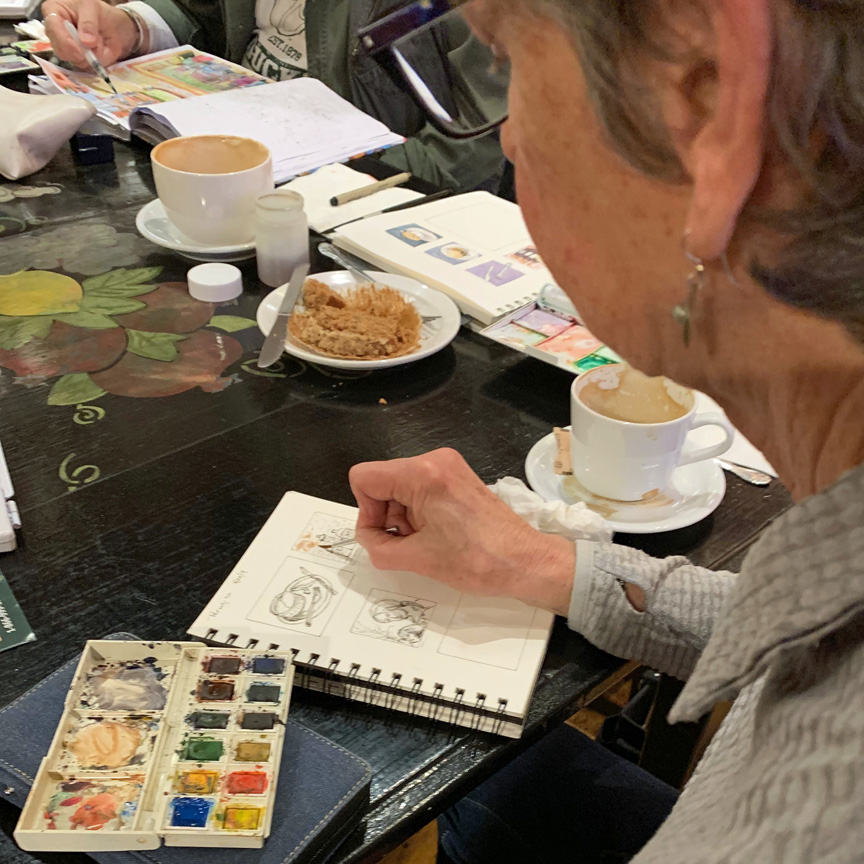 Penny did a small sketch, and like Jim & Jane used a small brush, too!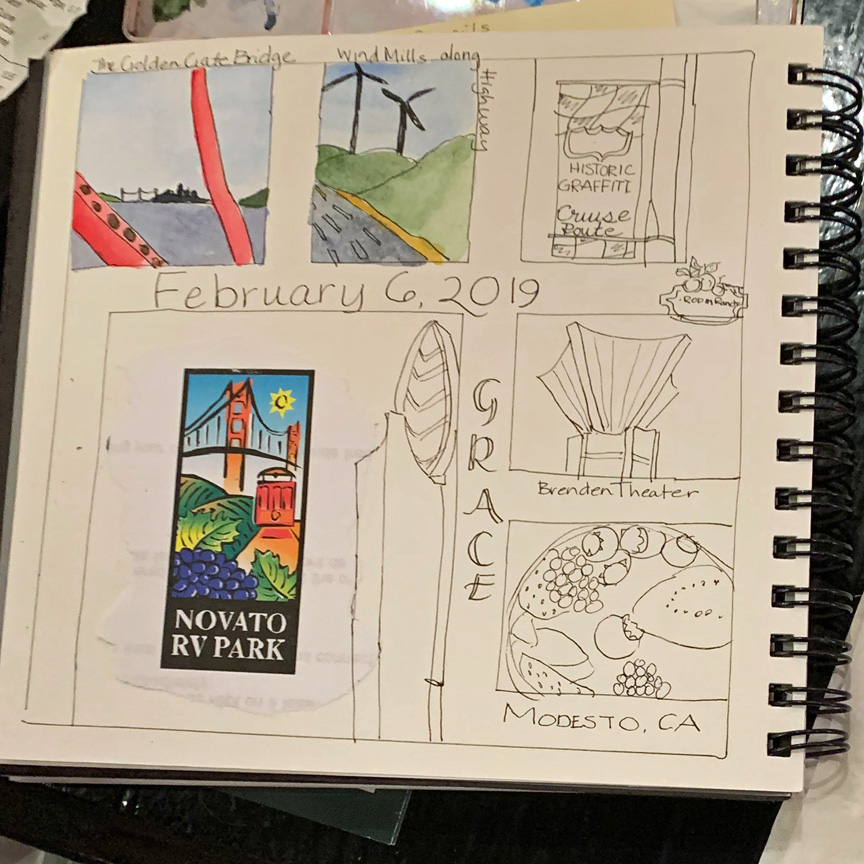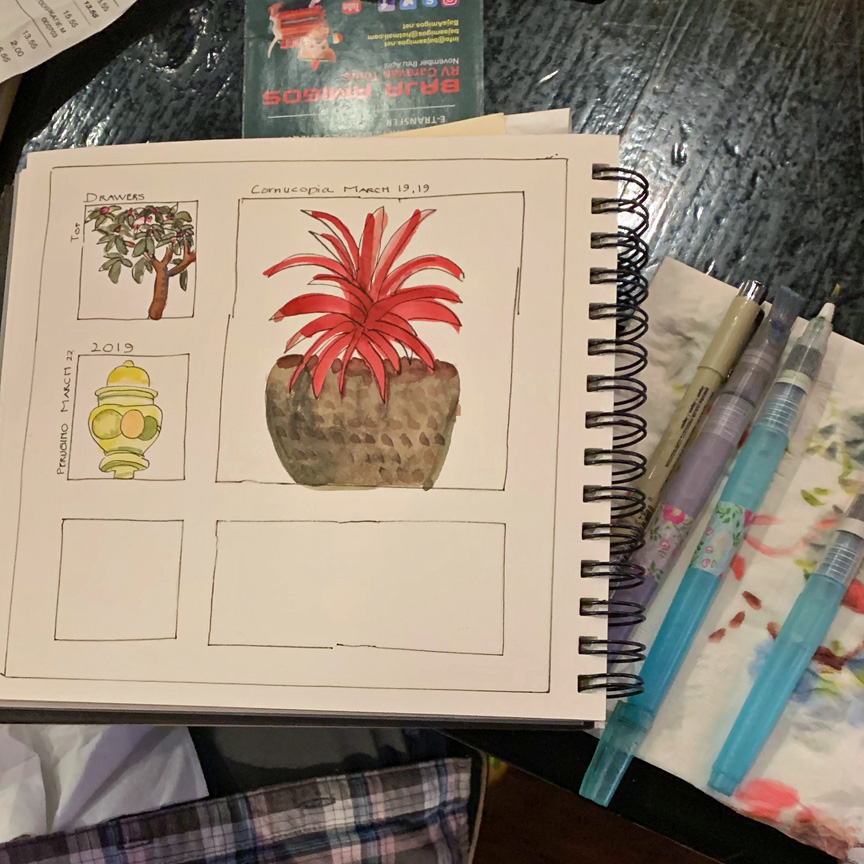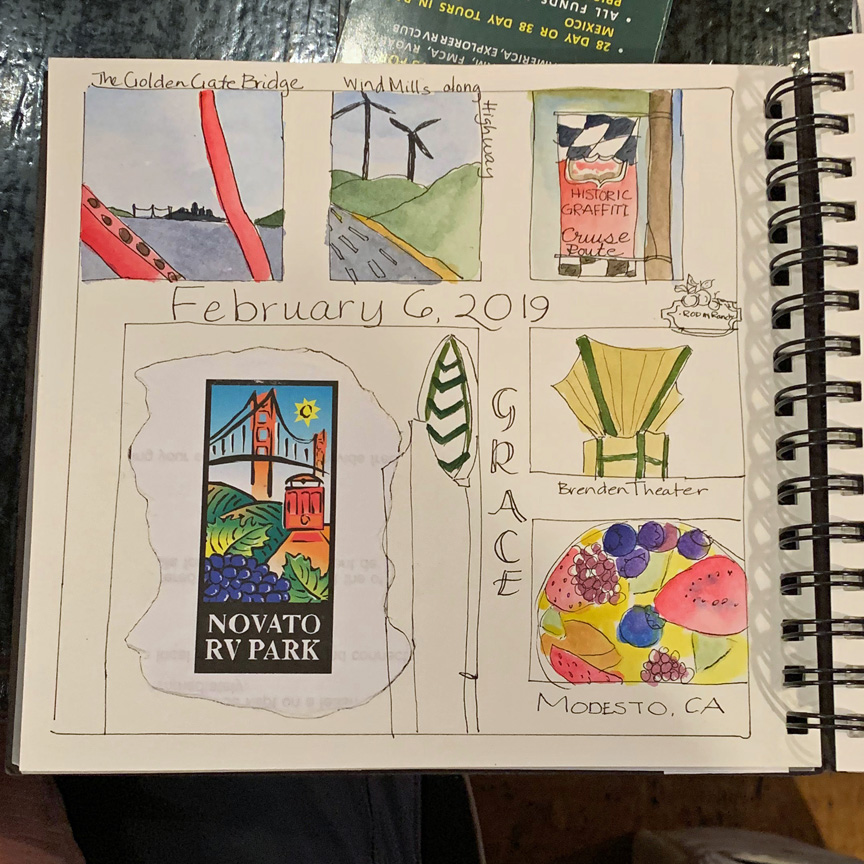 Katie's doing a "Ken," going back to add to & finish pages. It works.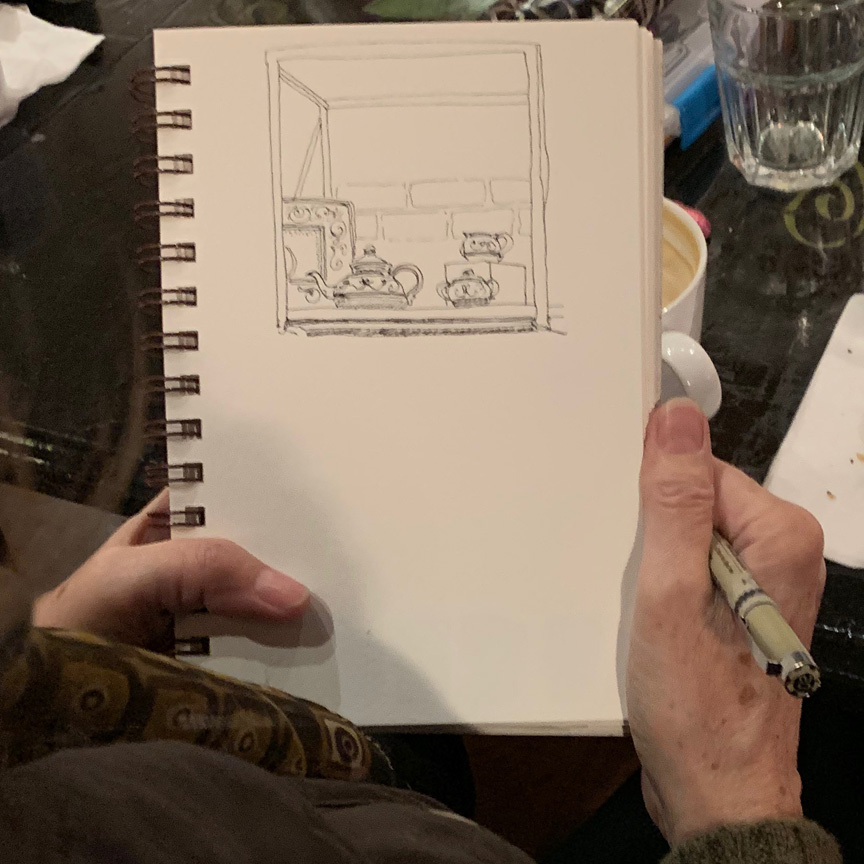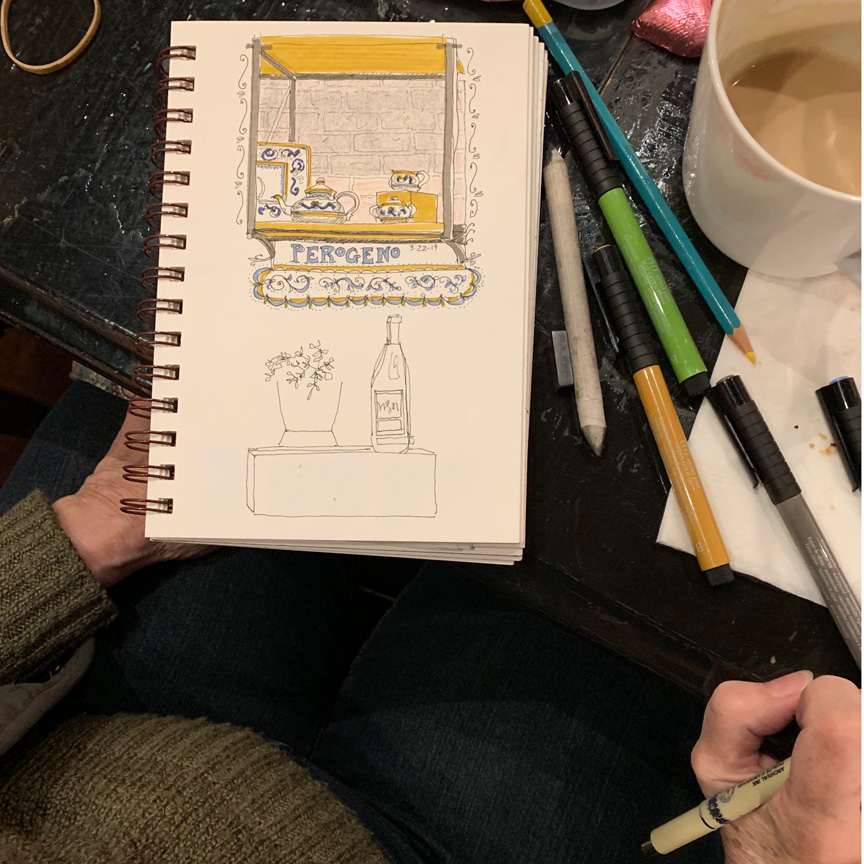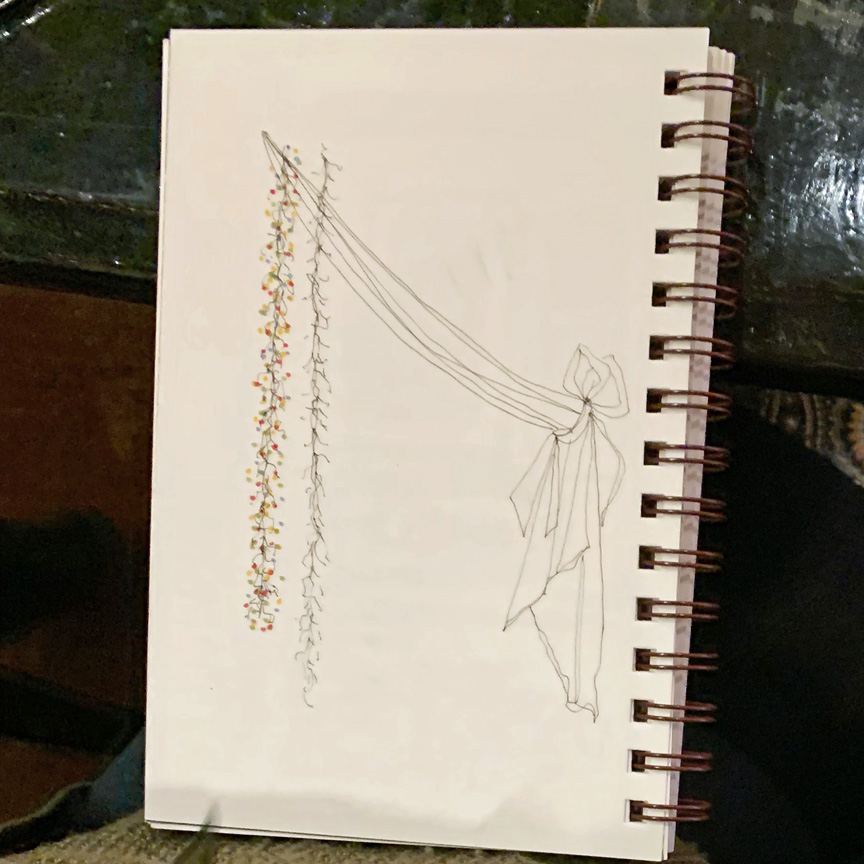 Bev did a sketch of the goods displayed on the shelves, and then took on the sheer drape & decorations. Charming sketches.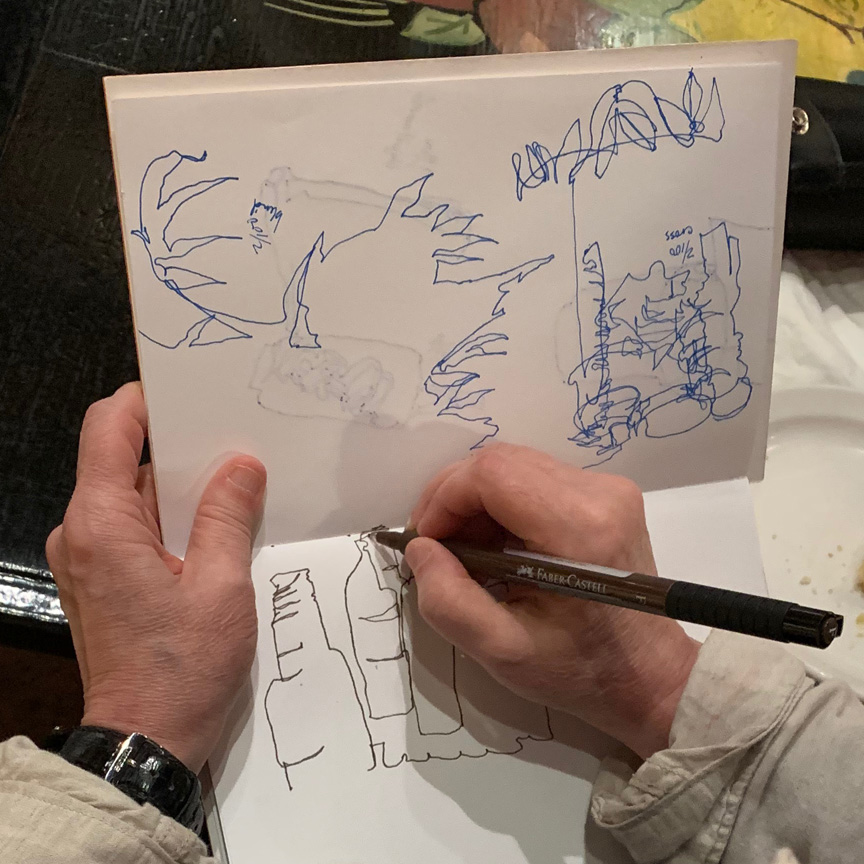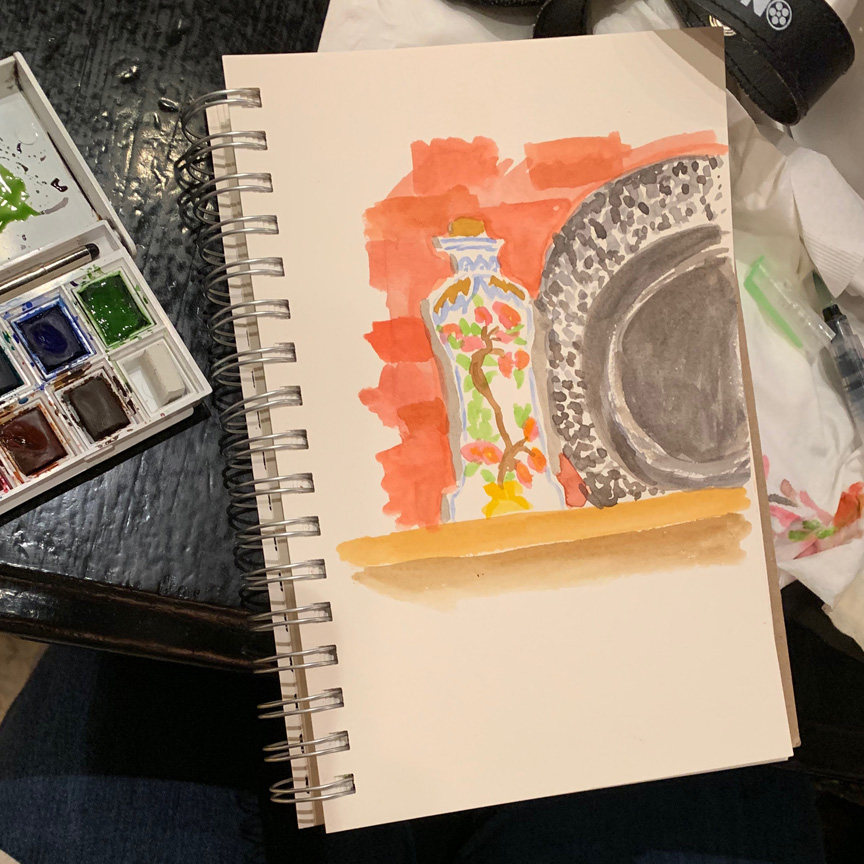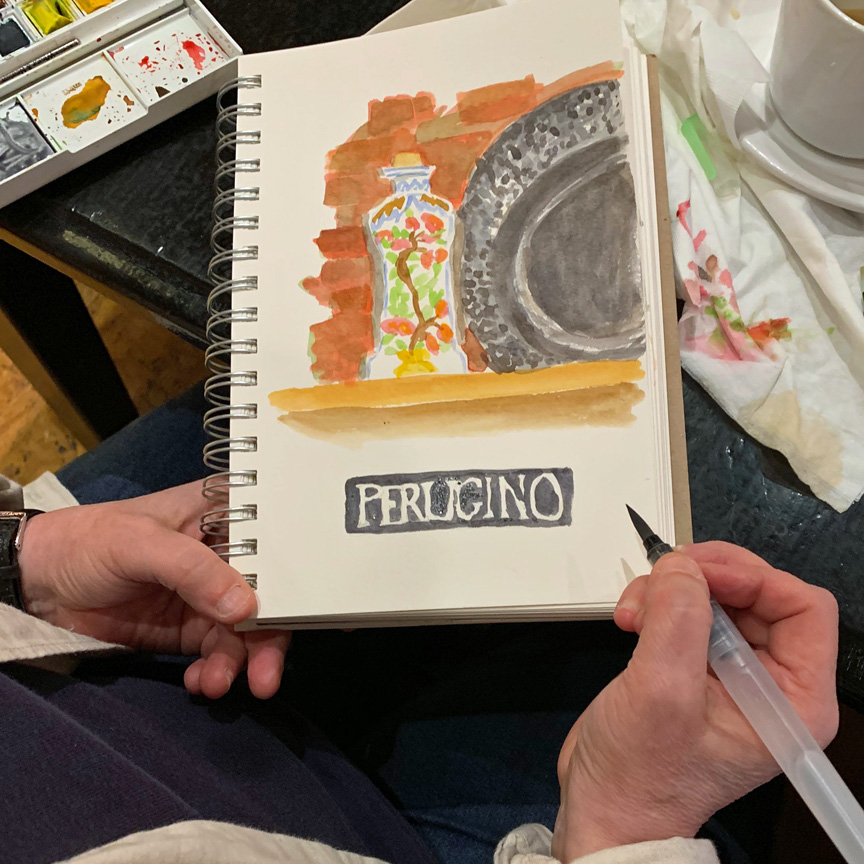 Daisy loosened up with a "blind" continuous line sketch (not looking at the paper), then a shelf display sketch & restaurant logo. Nice!
✒ Mar. 8, 2019 – Creswell Bakery, Creswell, OR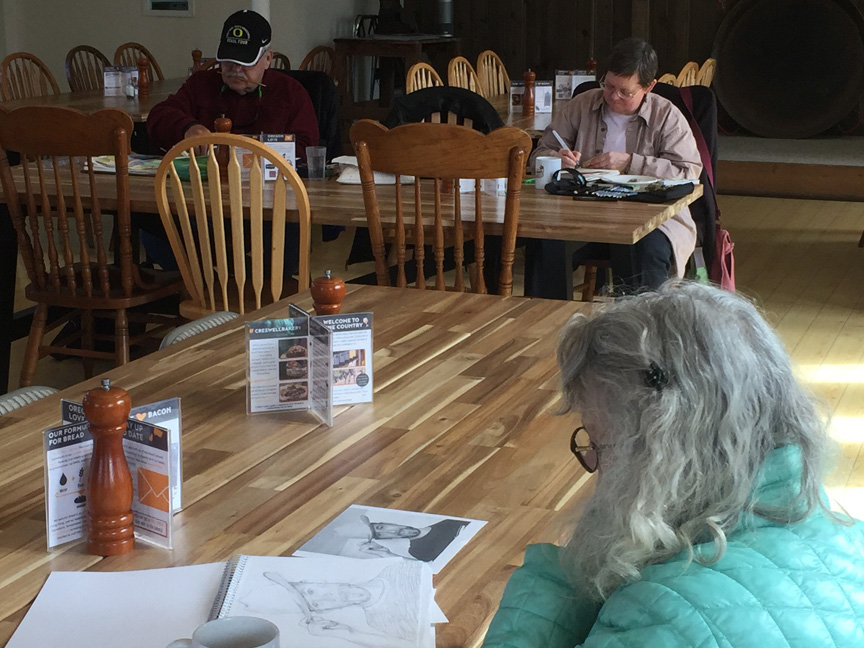 Here we are again: Bill, Daisy, Ellen, & Jim behind the camera.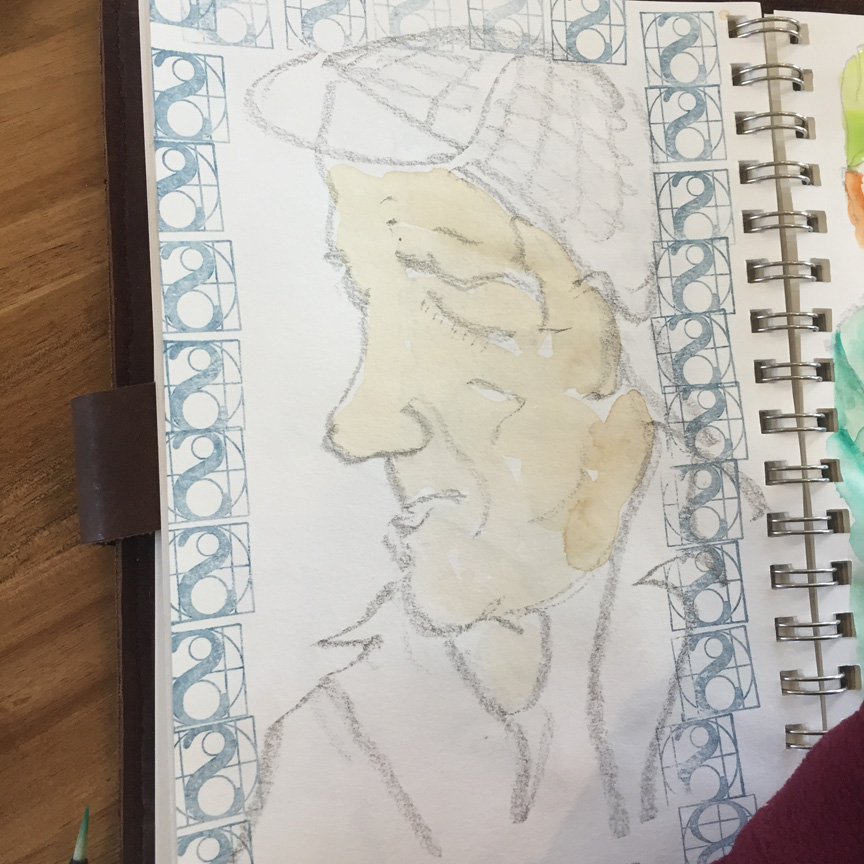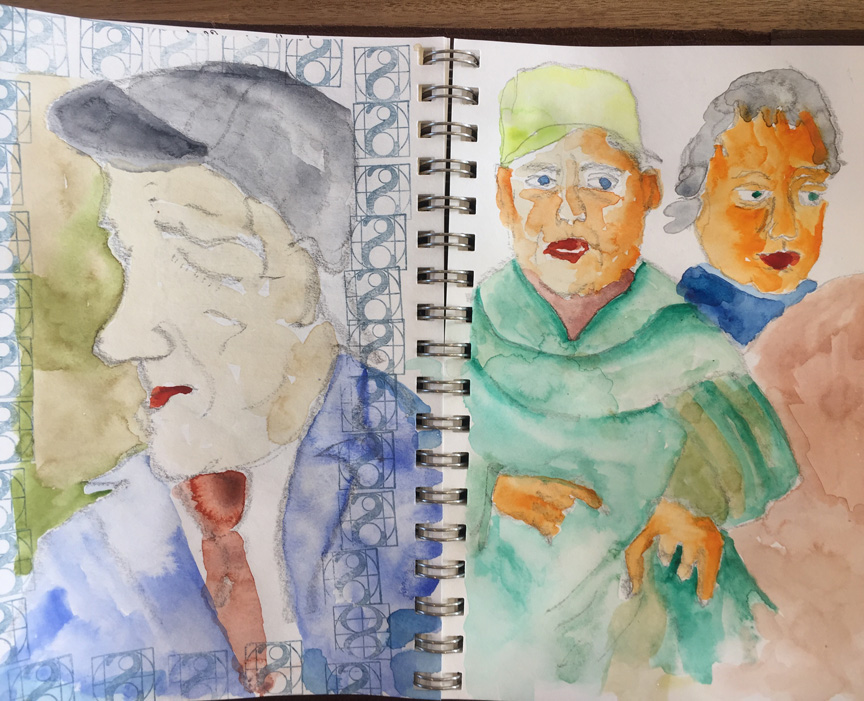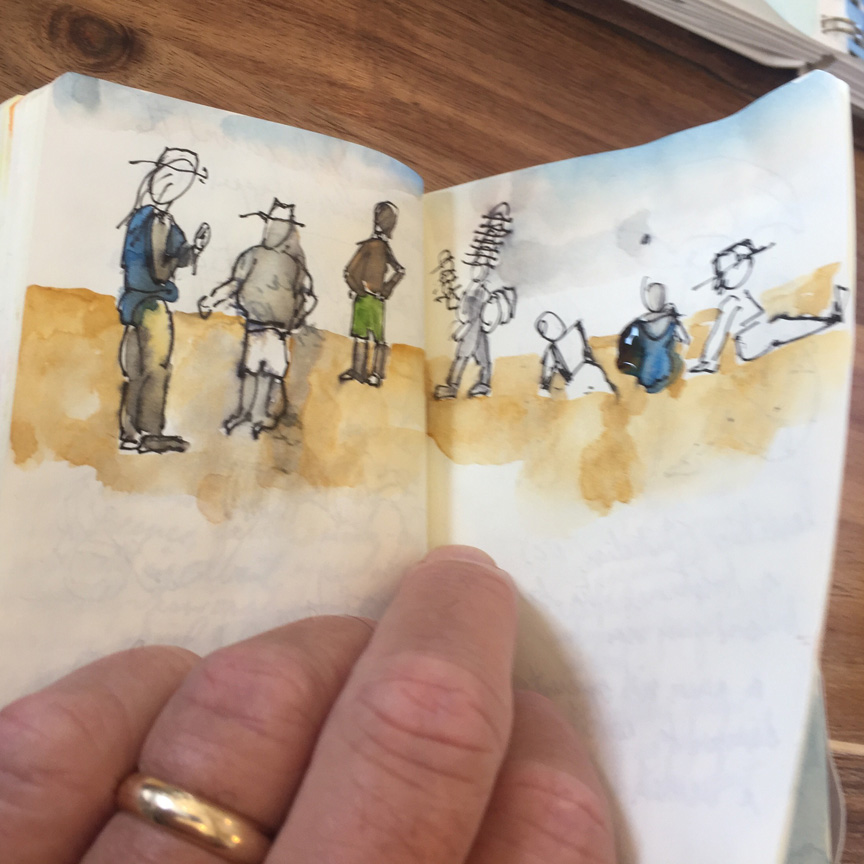 Here's Bill's work – he keeps at it, and gets better and better!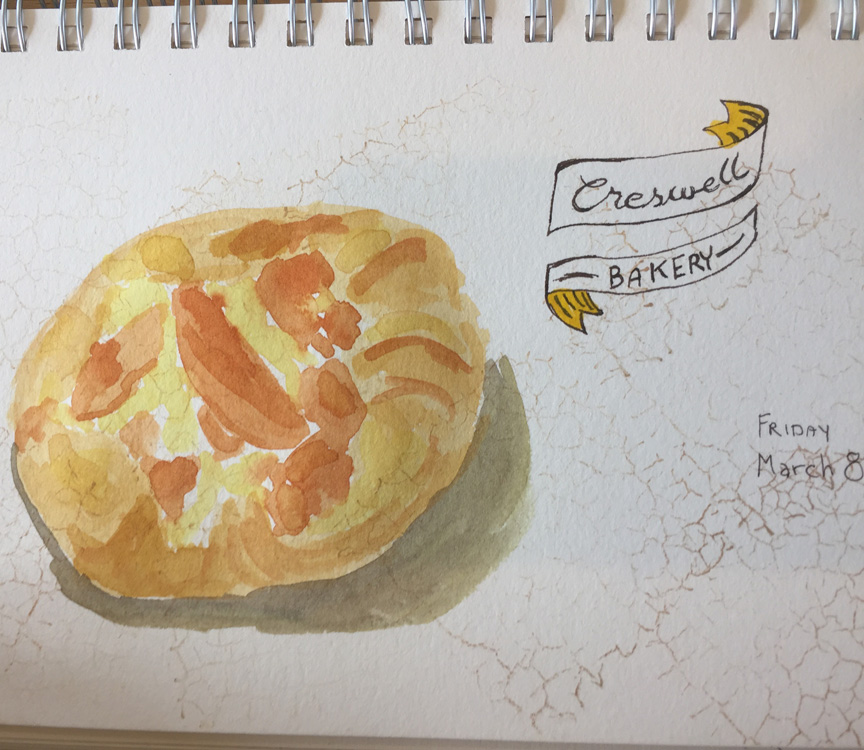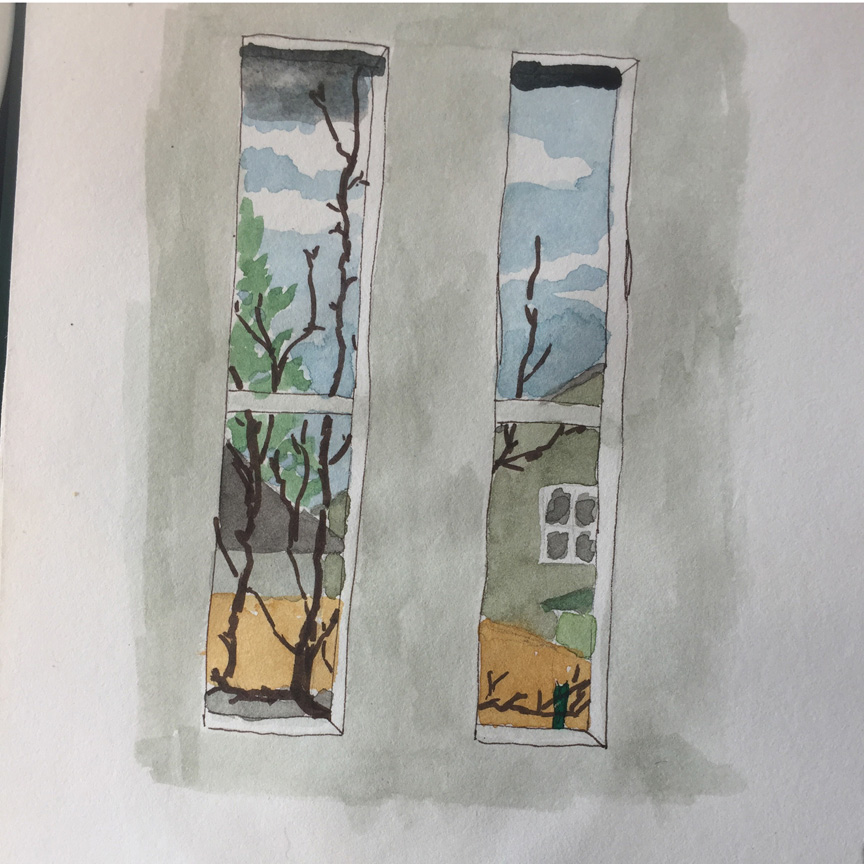 Daisy's getting fast at pastry, and here's the view out the window.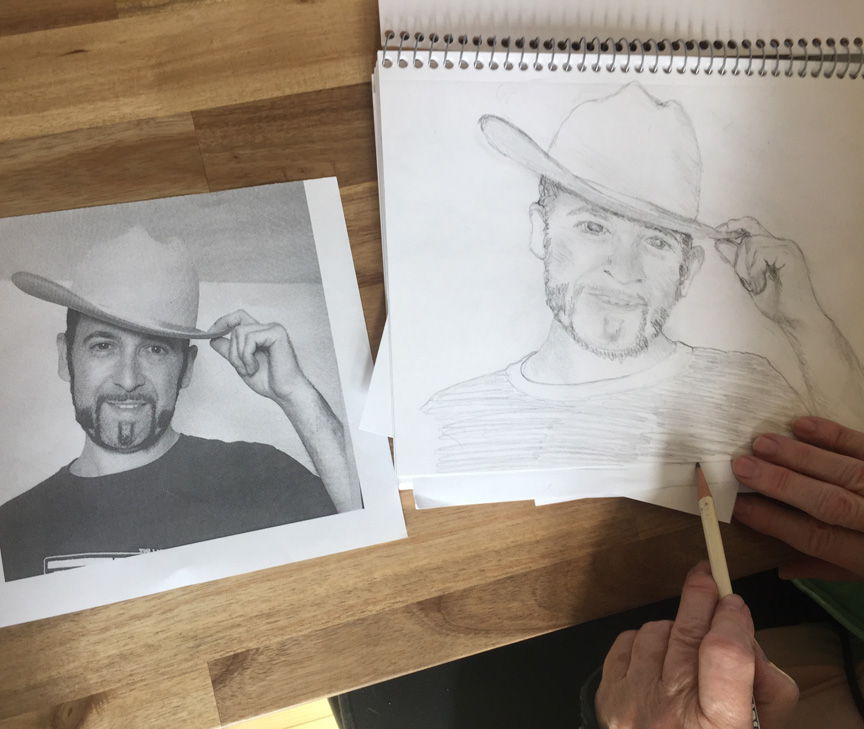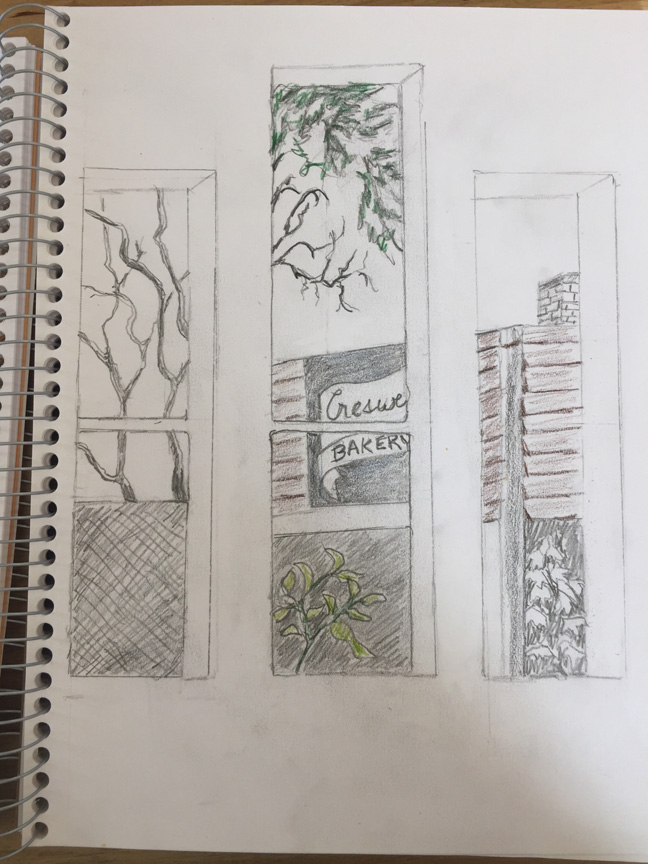 Ellen put some finishing touches on her son's portrait, then captured the view out some of the windows, too. Good work, Ellen!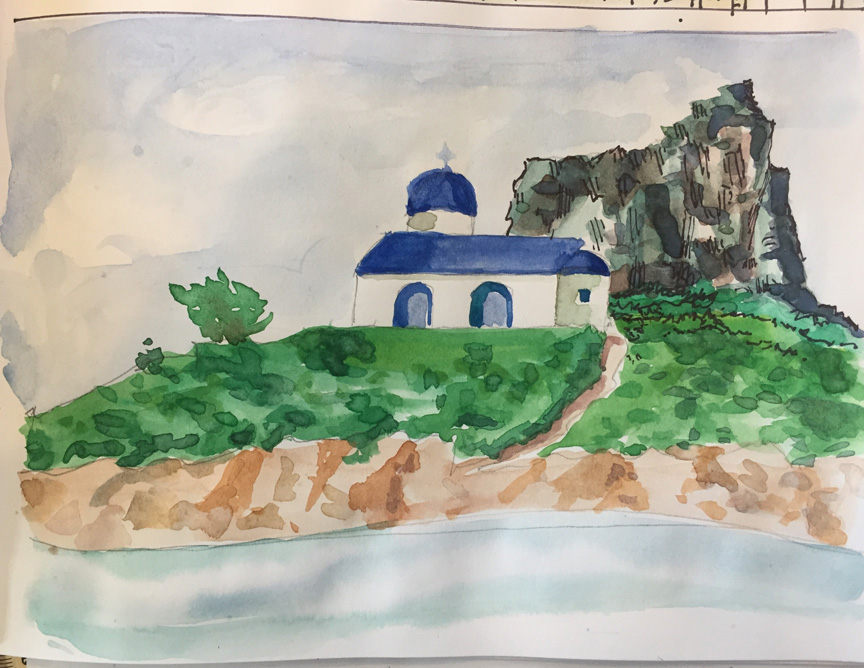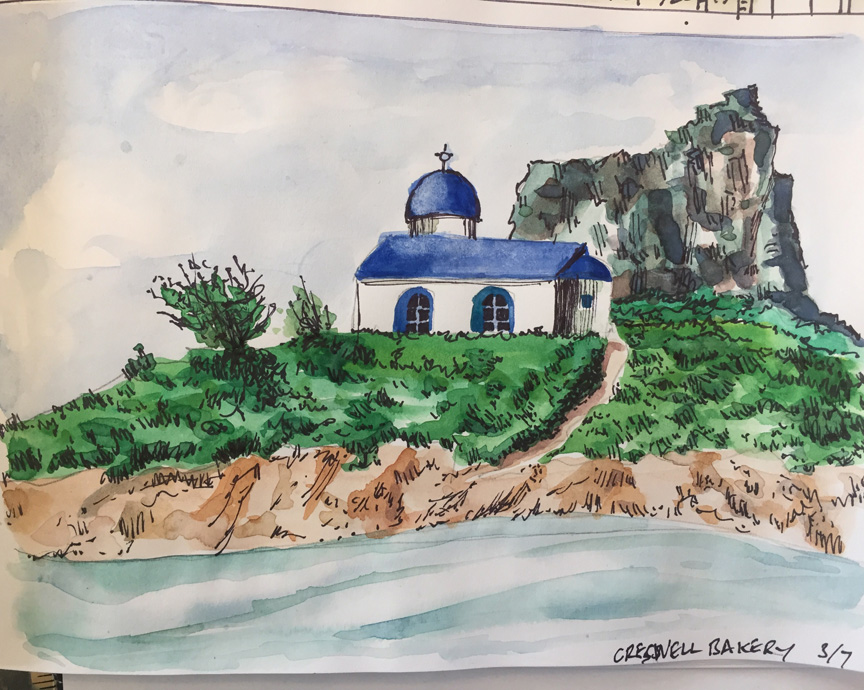 Nice to see how Jim is able to layer and add detail; wish I were there!
✒ Feb. 22, 2019 – Creswell Bakery, Creswell, OR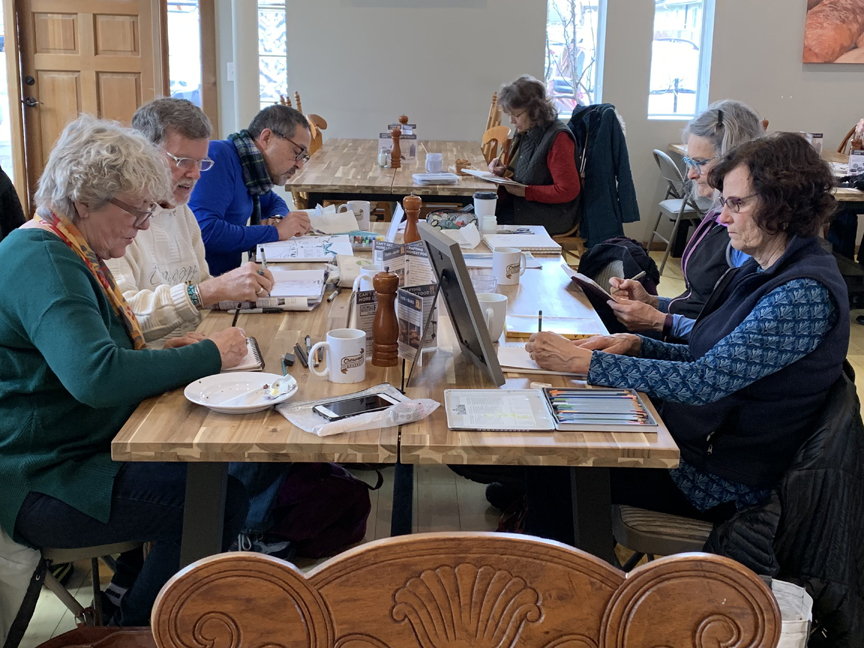 Lynn, Jim, Hugh, Bev, Sandy, Pat…but wait, there's more!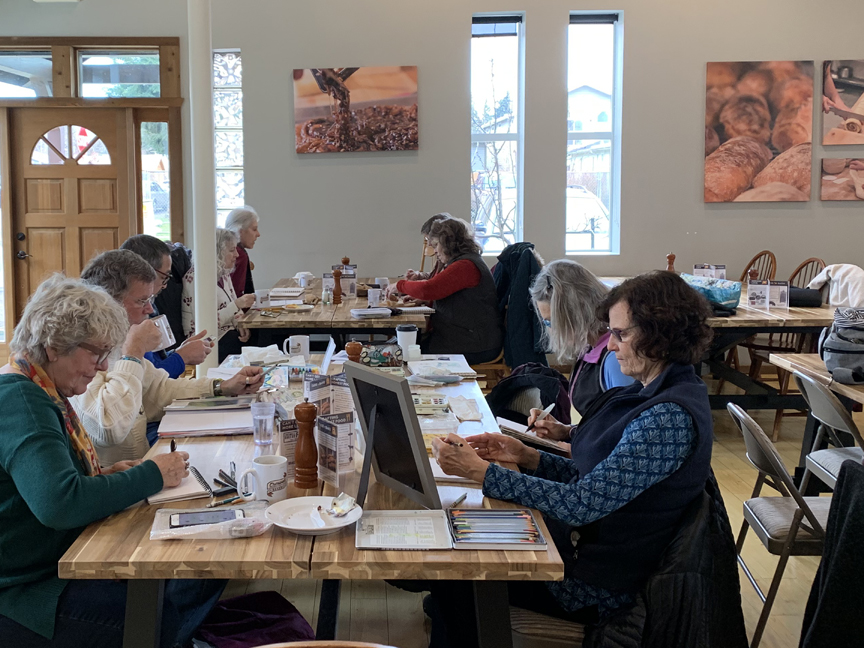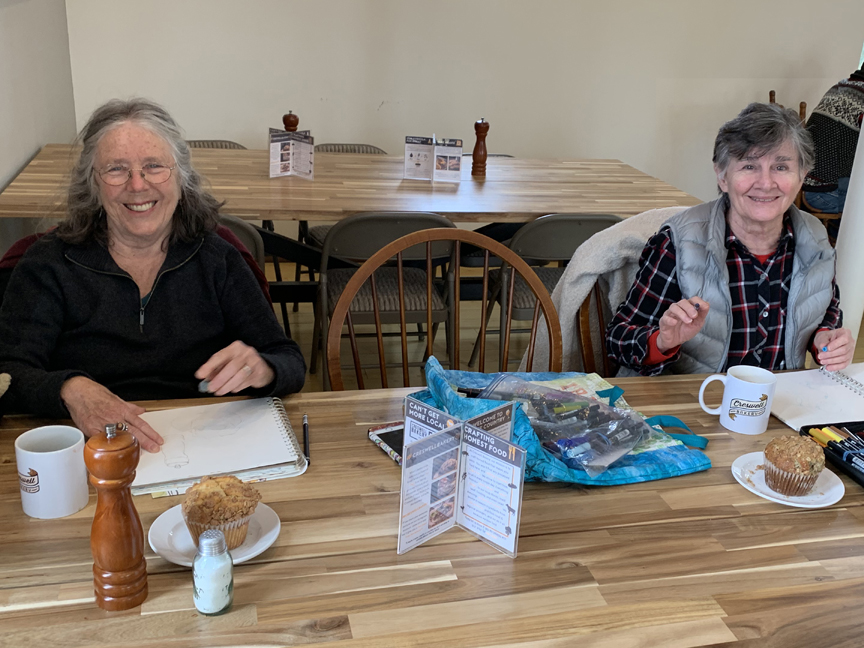 Ellen, Barb So, & Daisy at rear table, & at right are Penny J & Lealan.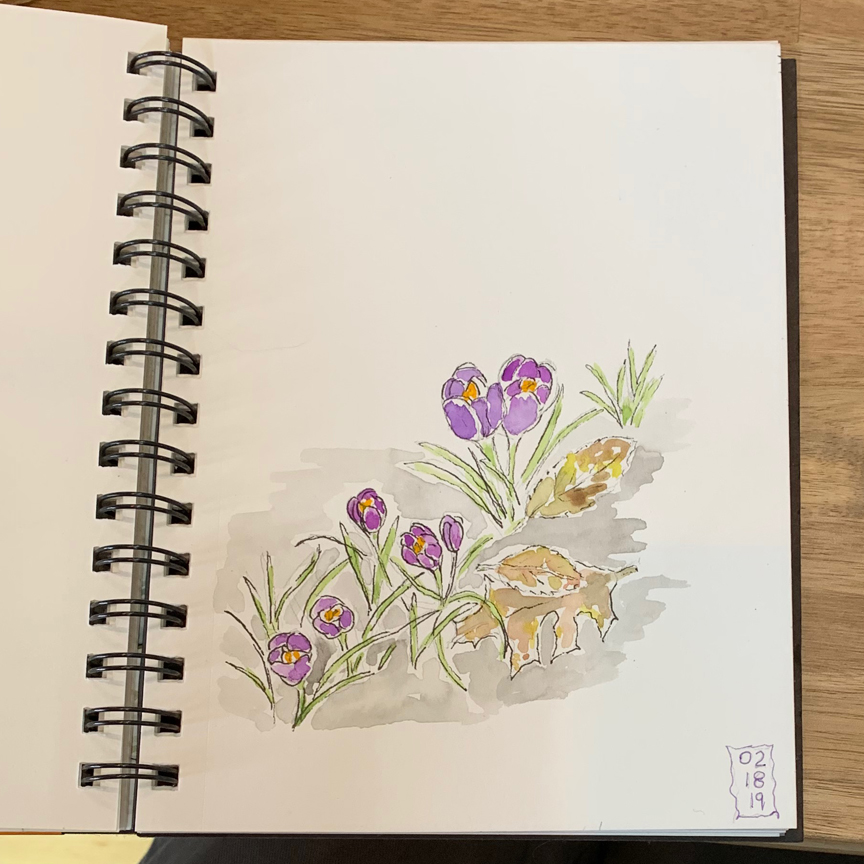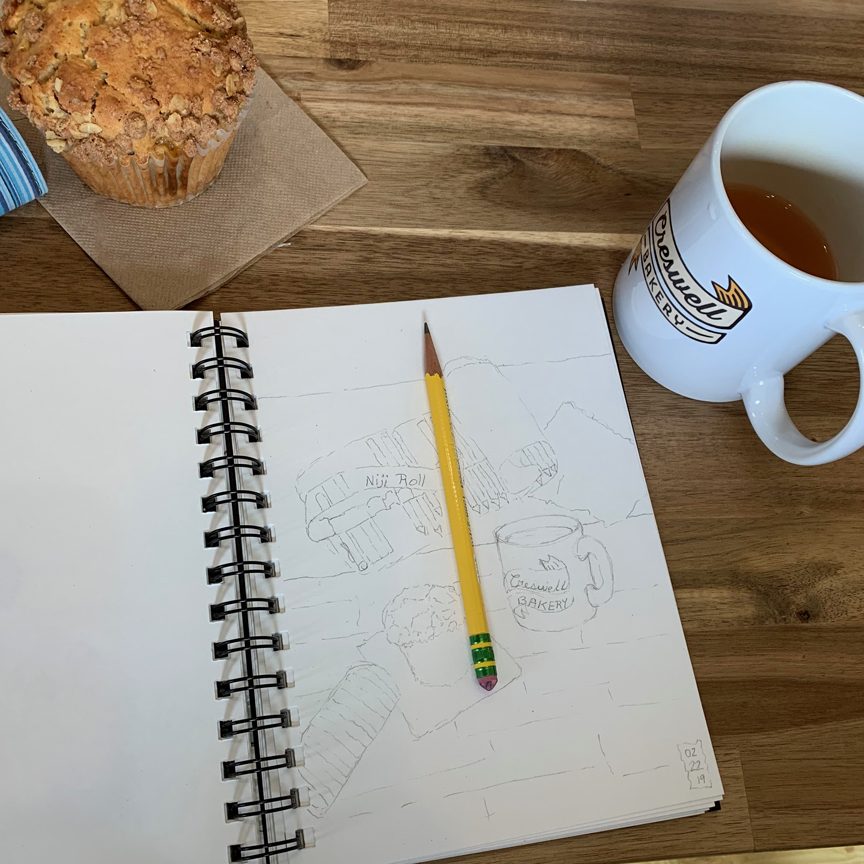 Barb So shared a prior home sketch, started what's in front of her.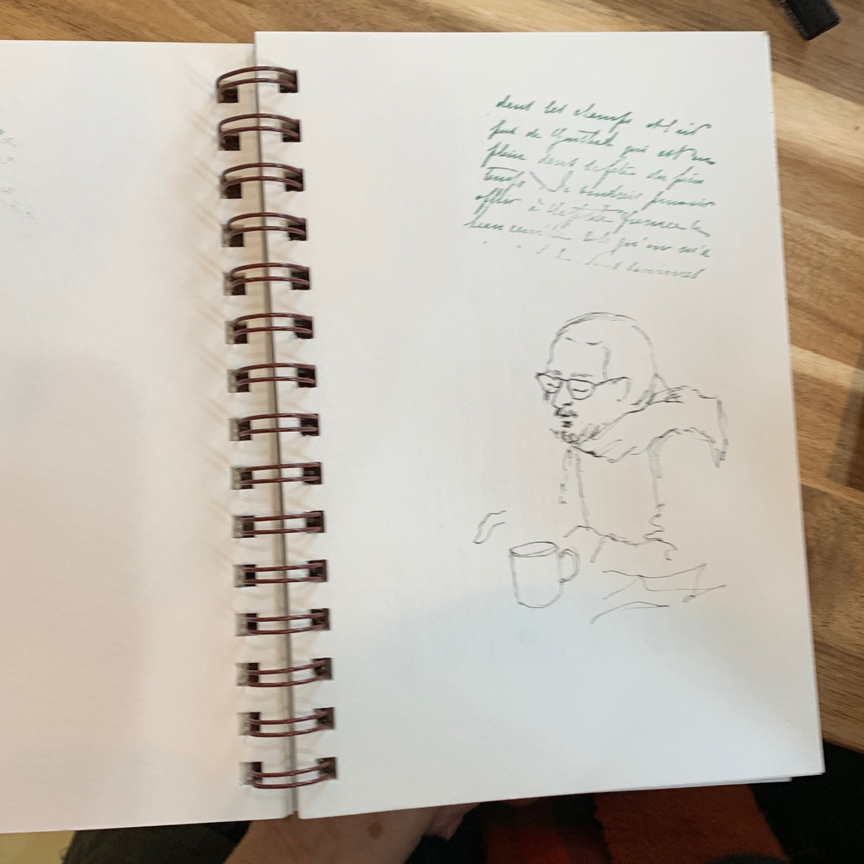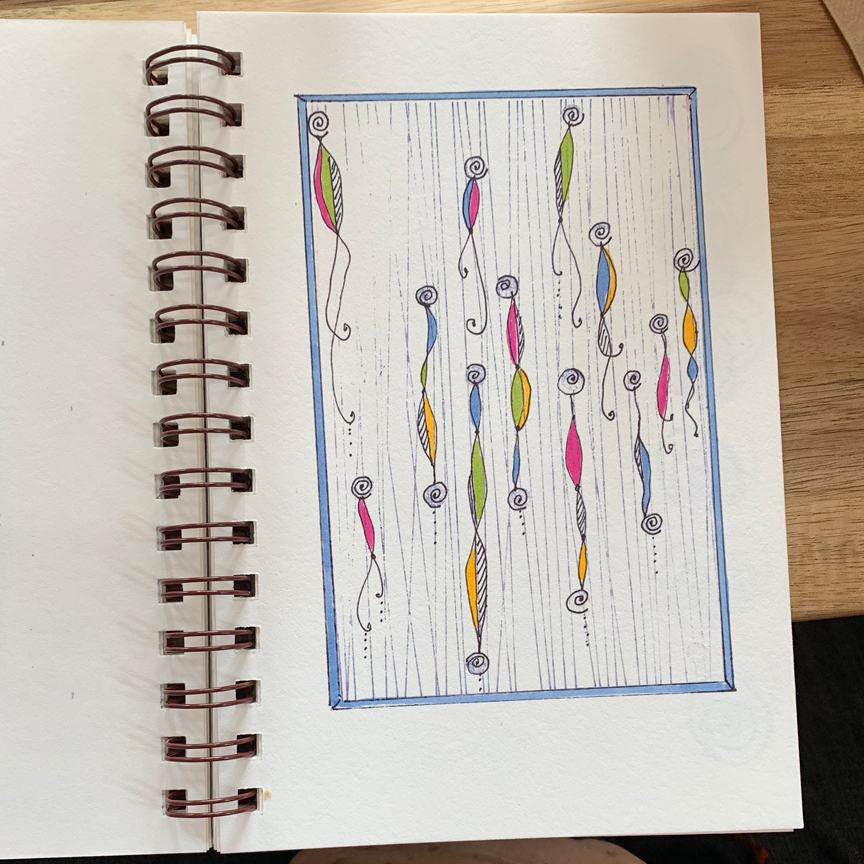 Bev sketched people, ceiling tile patterns, and finally a doodle!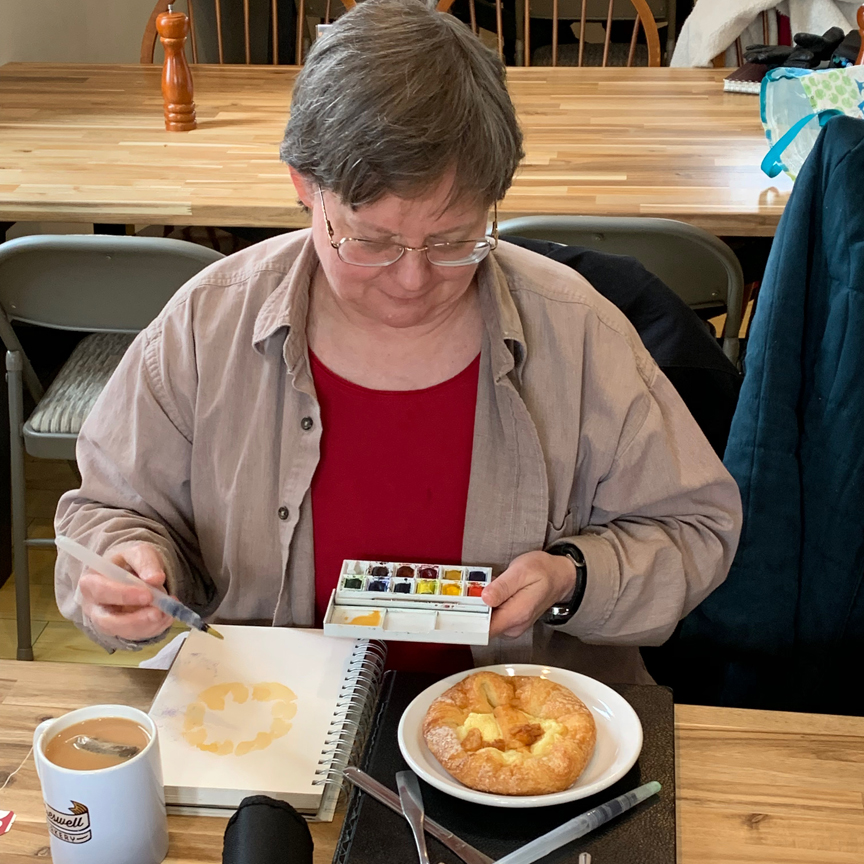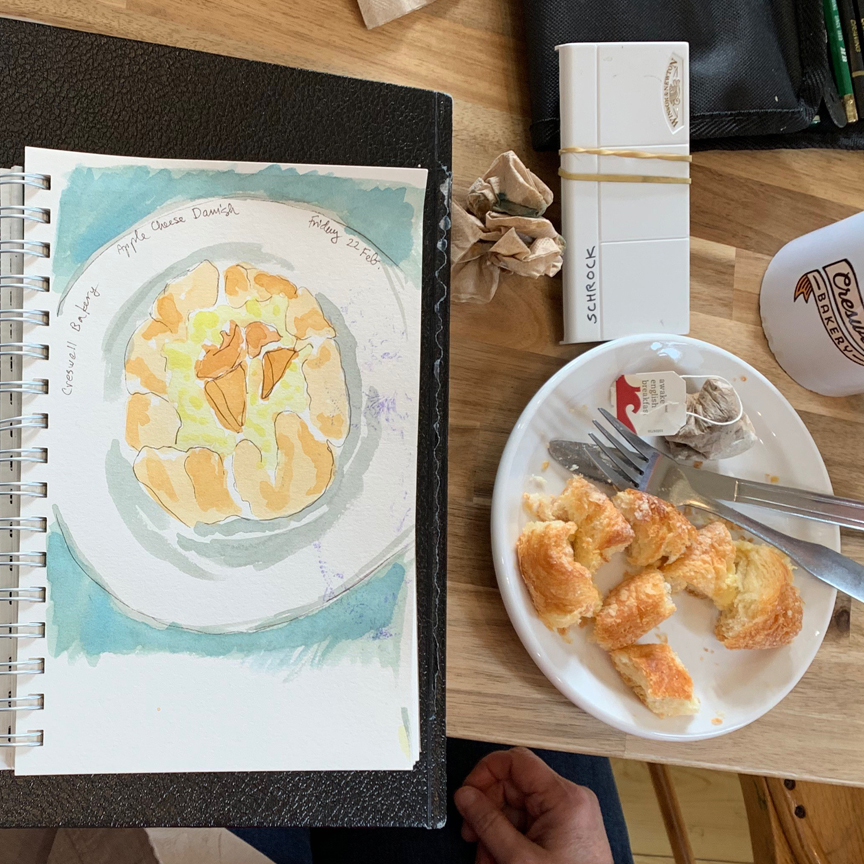 Daisy is disciplined to sketch before she eats (almost) – Nice!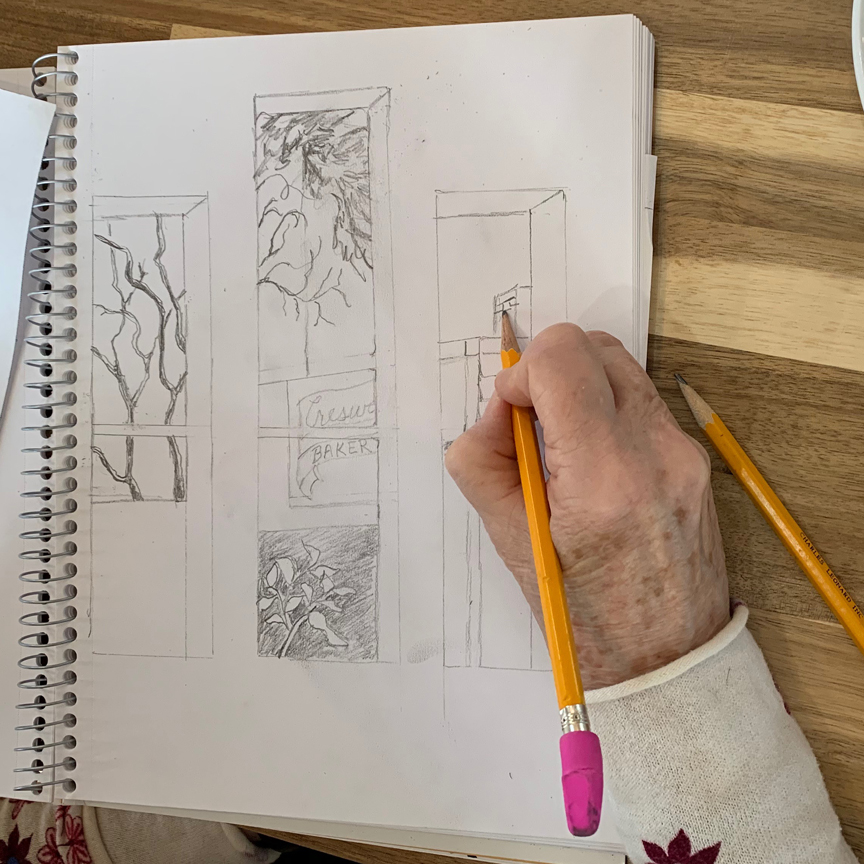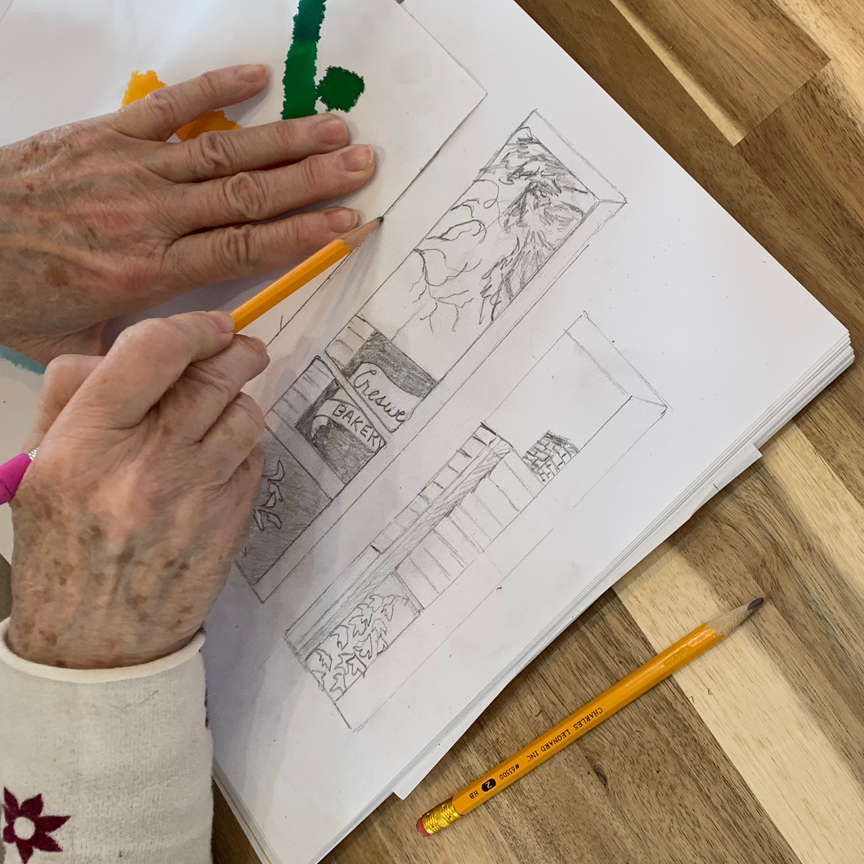 Ellen did the 3 windows at the bakery, and had a handy straight edge.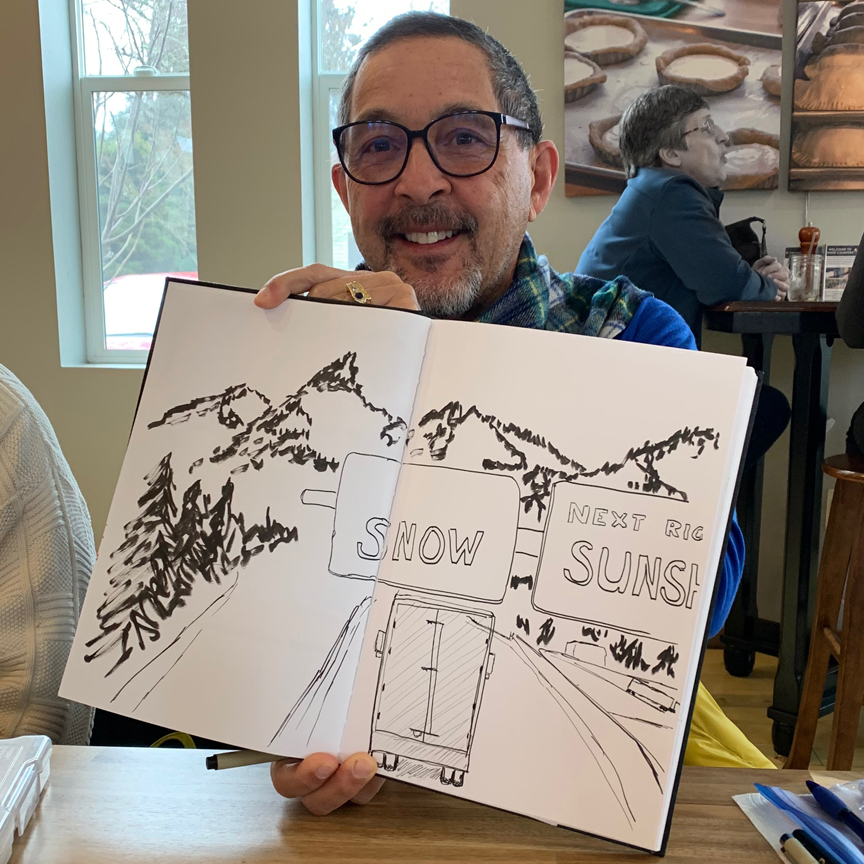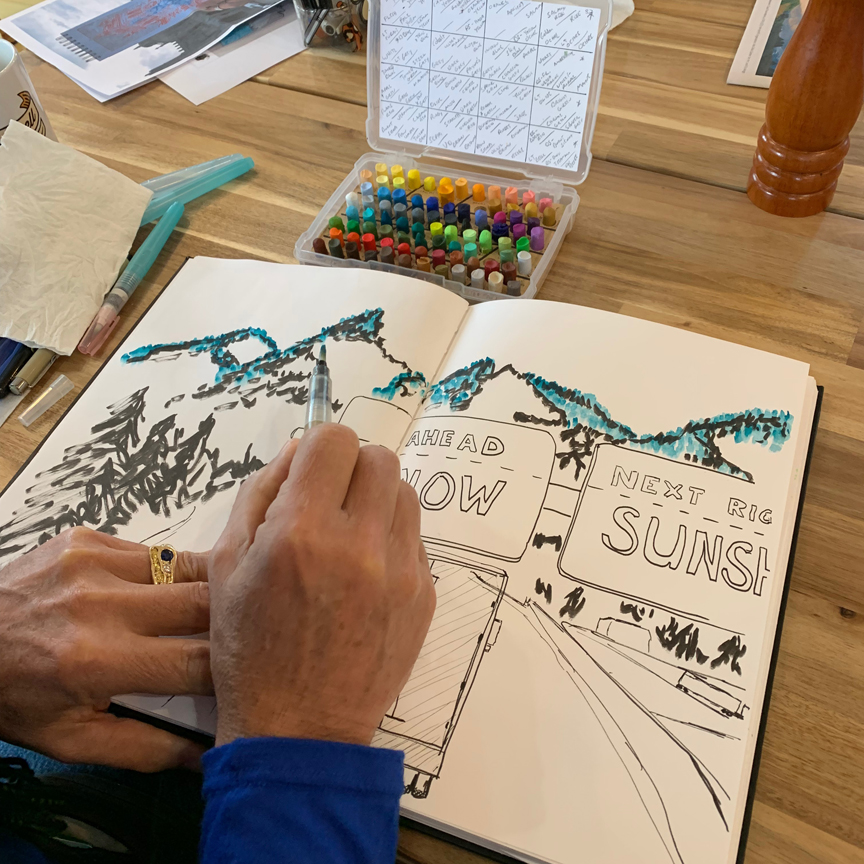 Hugh was anticipating snow – like his water crayon case? He made it.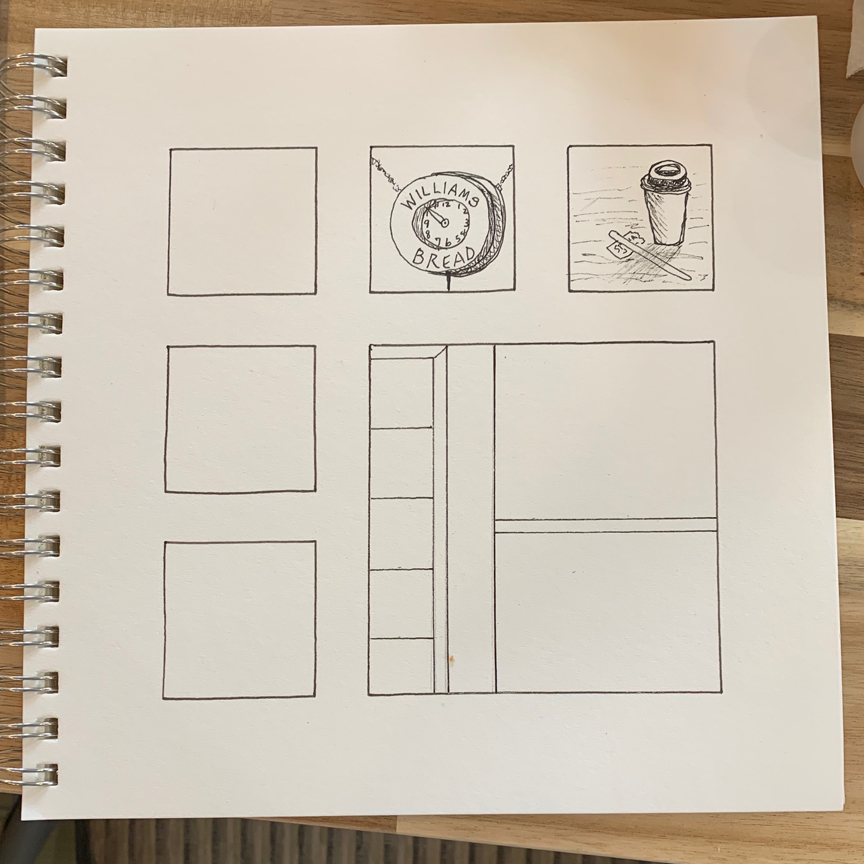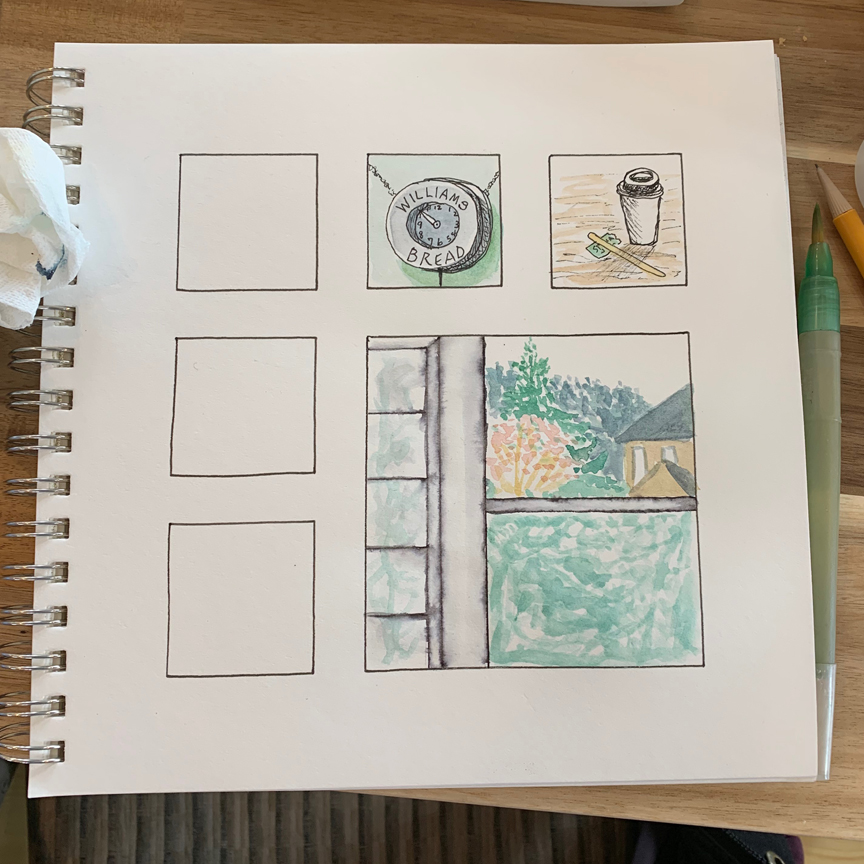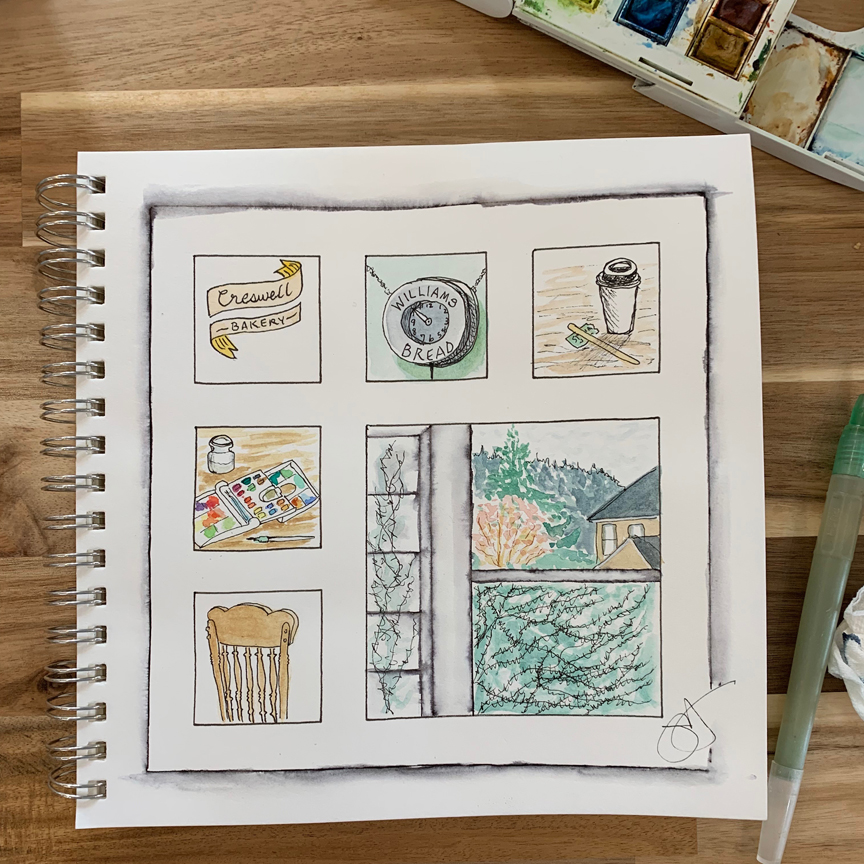 It's always curious to see what Jane will find to fill the page frames.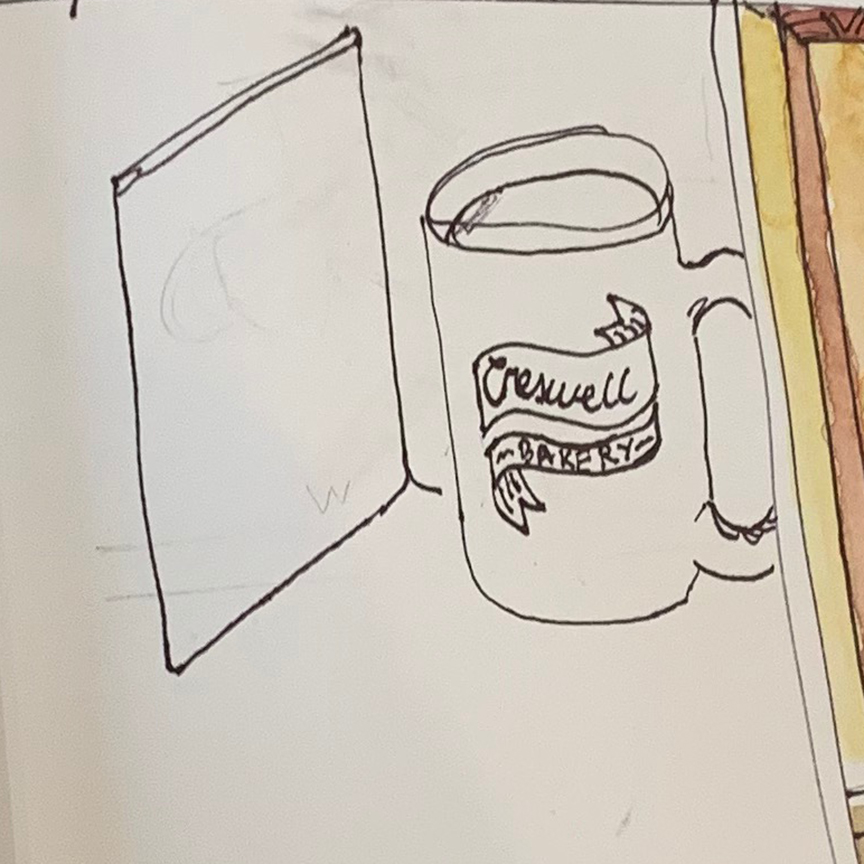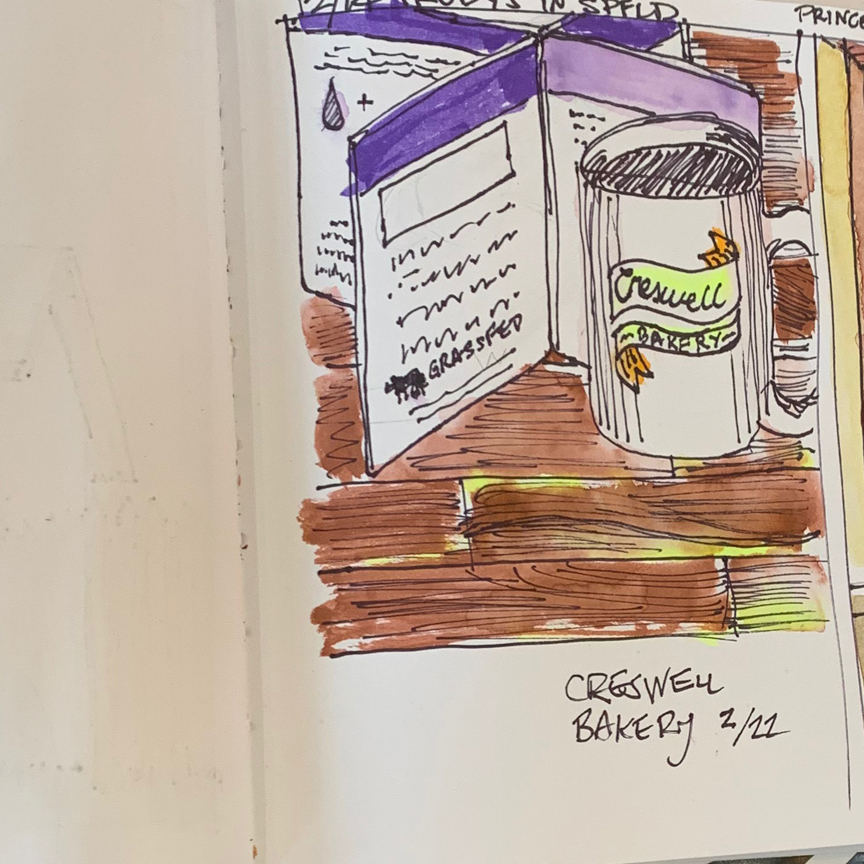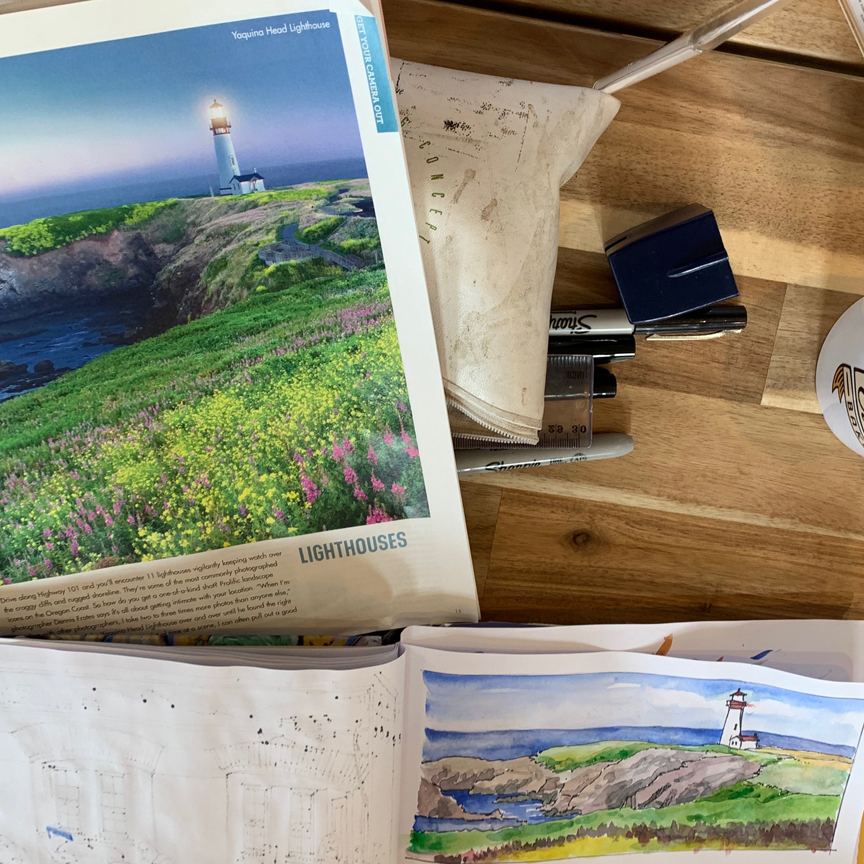 Jim did a table scene before reverting to a favorite landscape.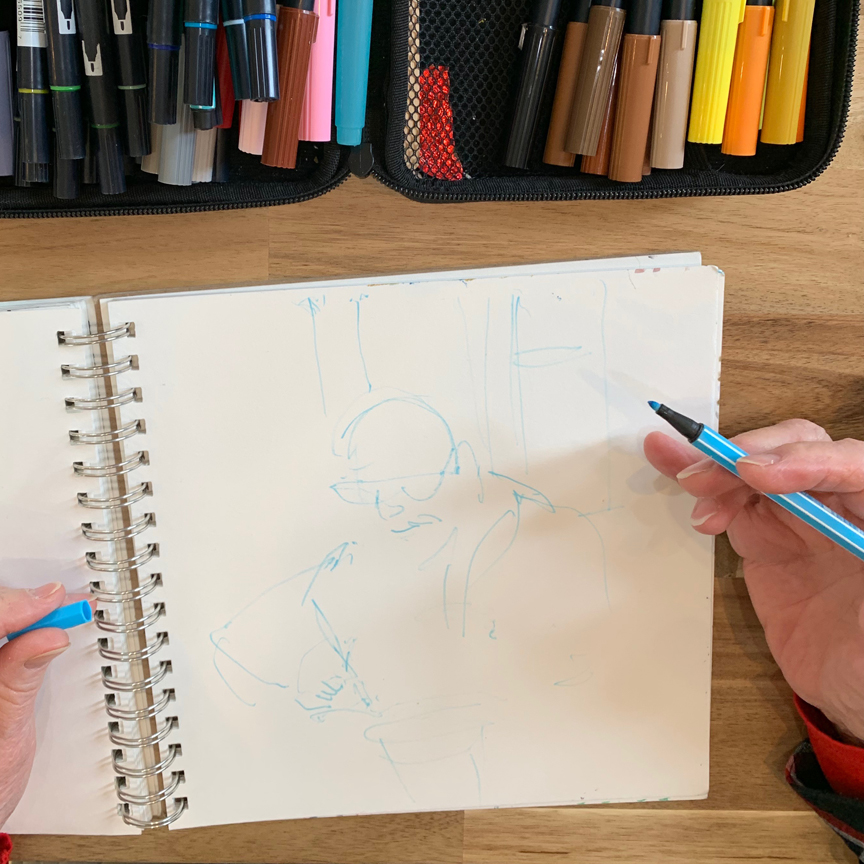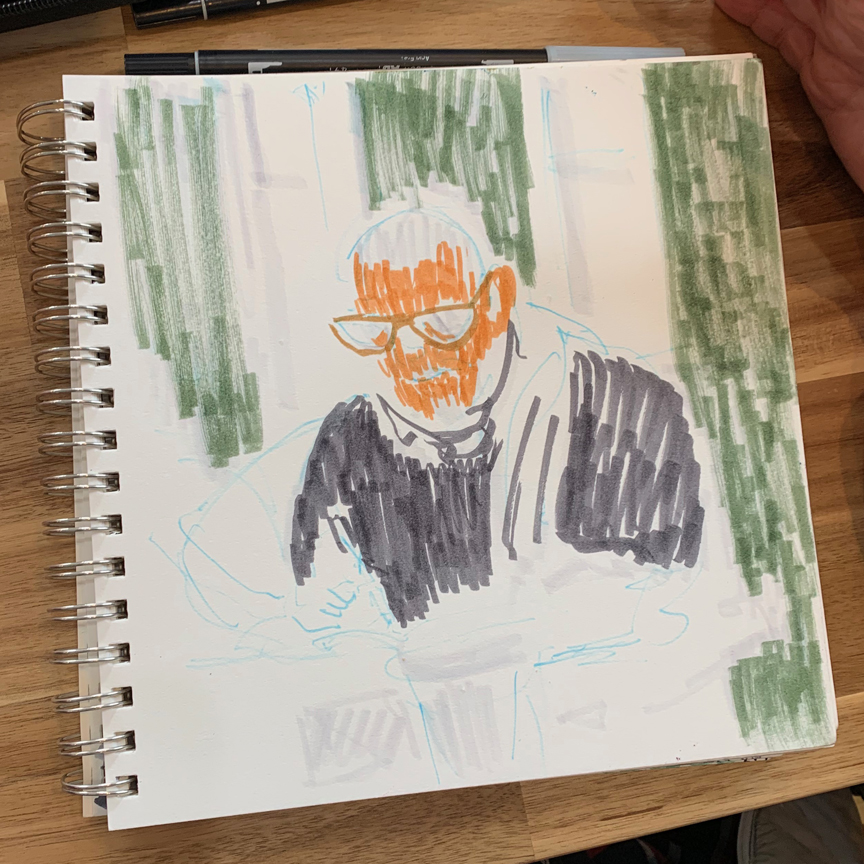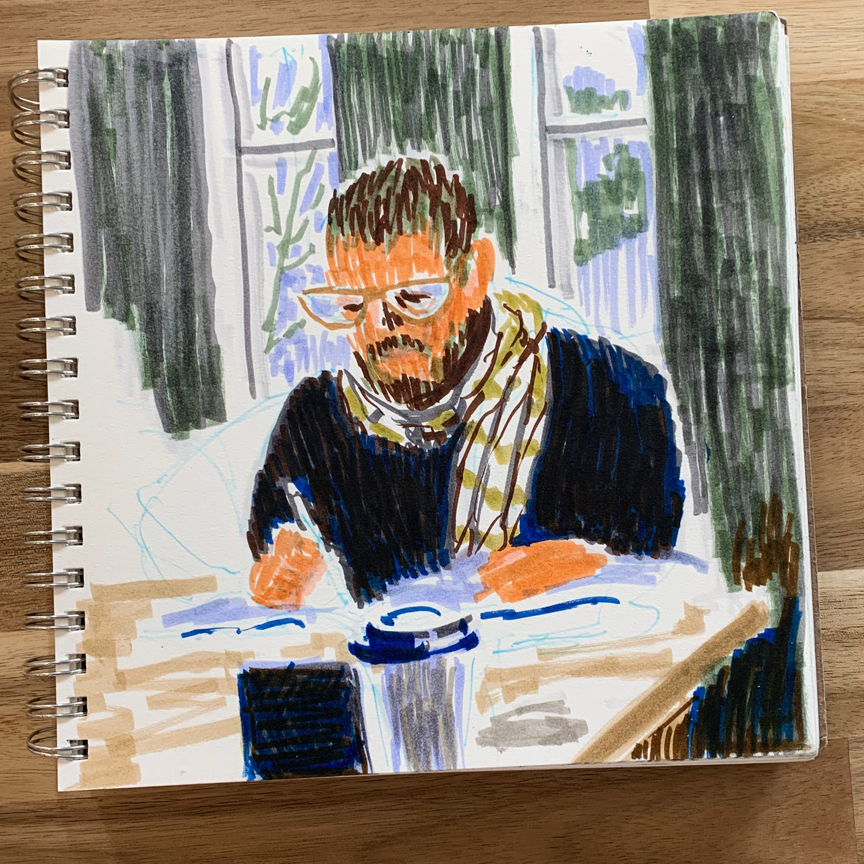 Lealan's quick with those markers – ta dah! and there's Hugh!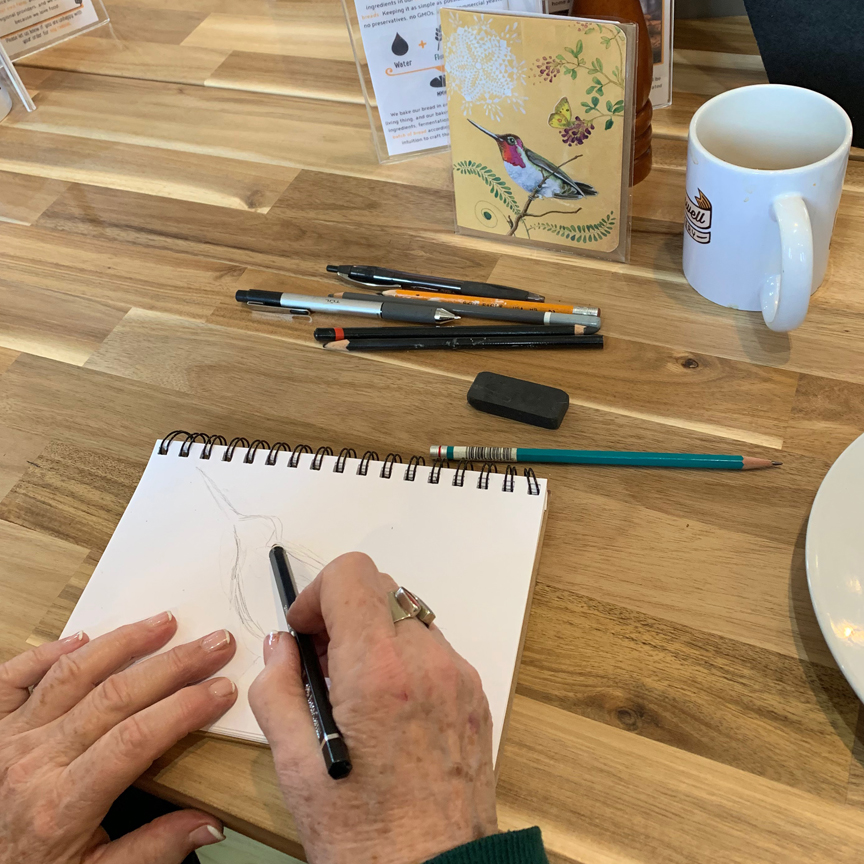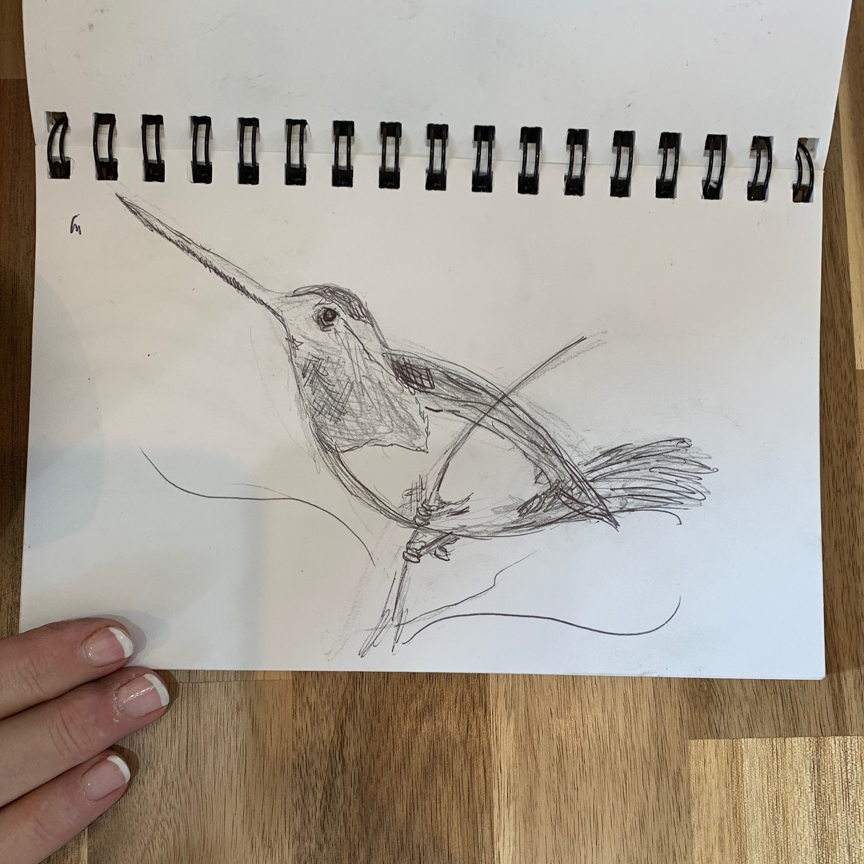 Lynne brought a sweet picture of a bird to sketch for her first visit.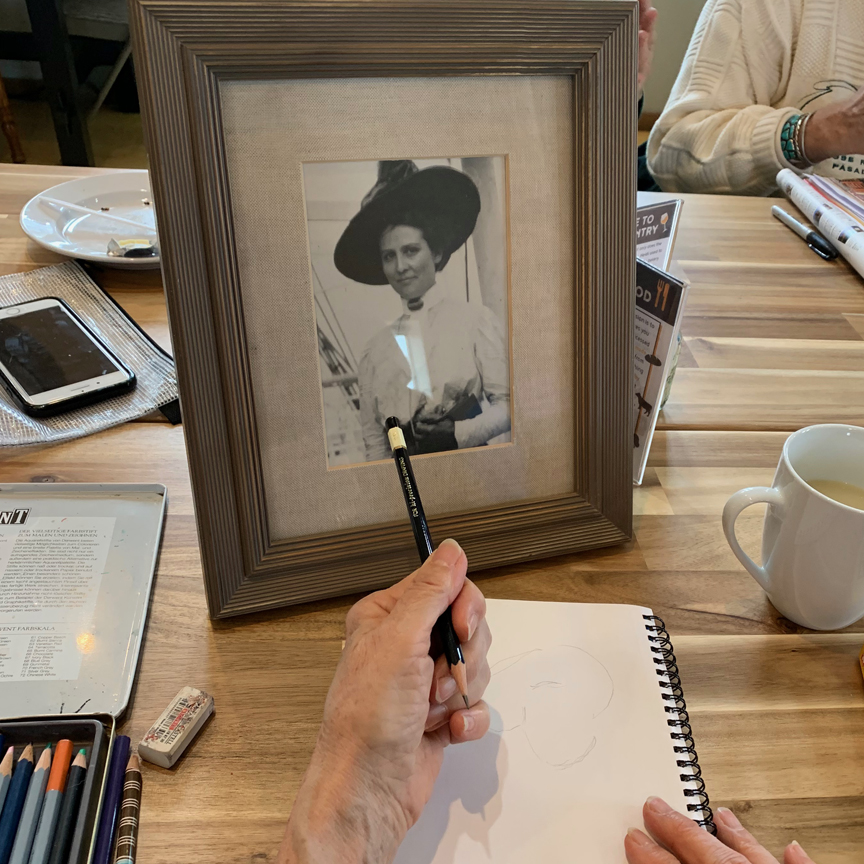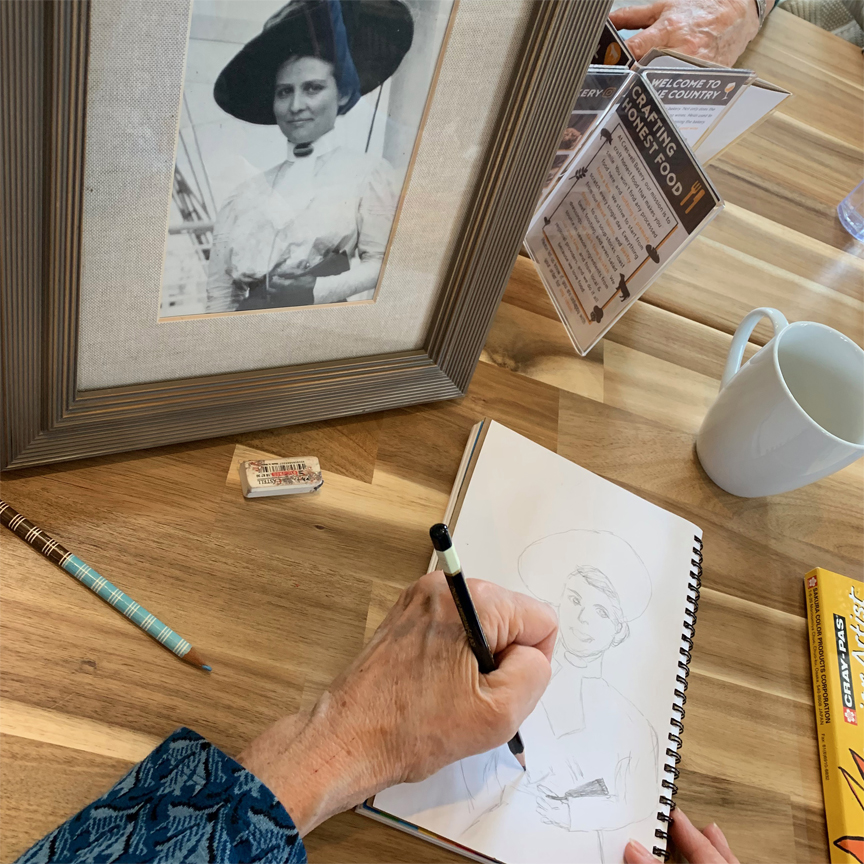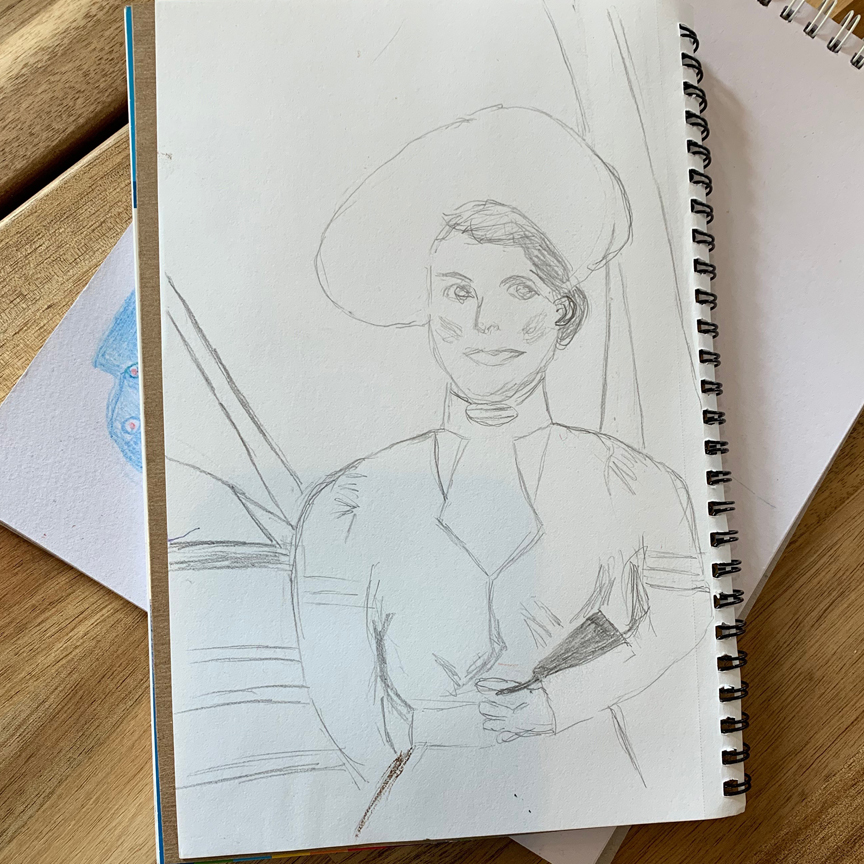 The photo had been around, but in sketching Pat discovered gloves!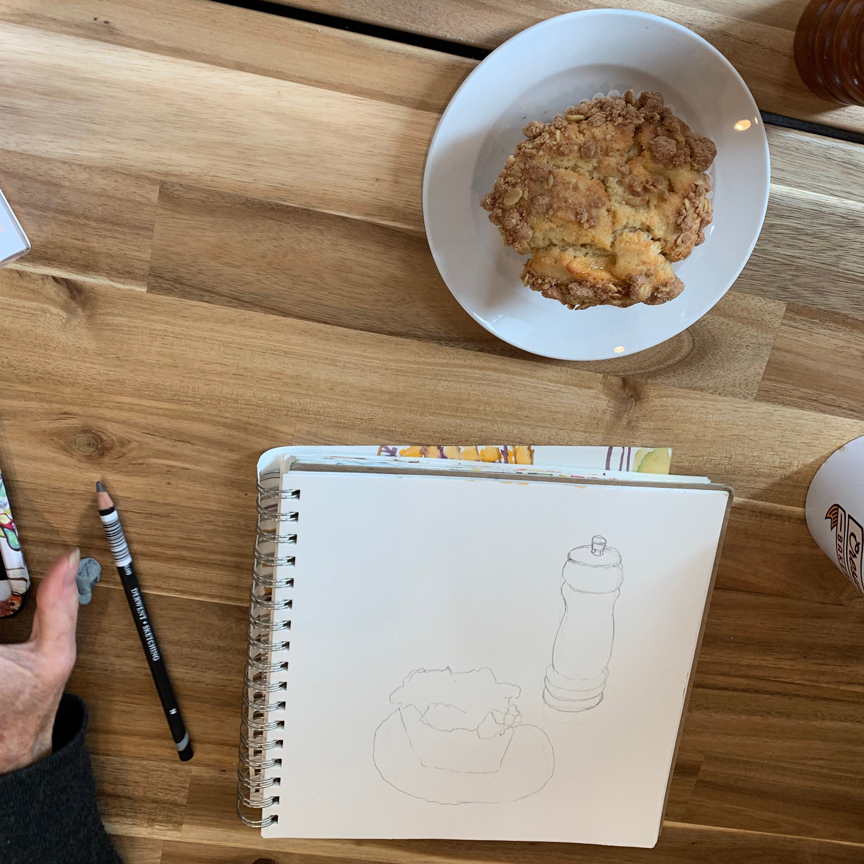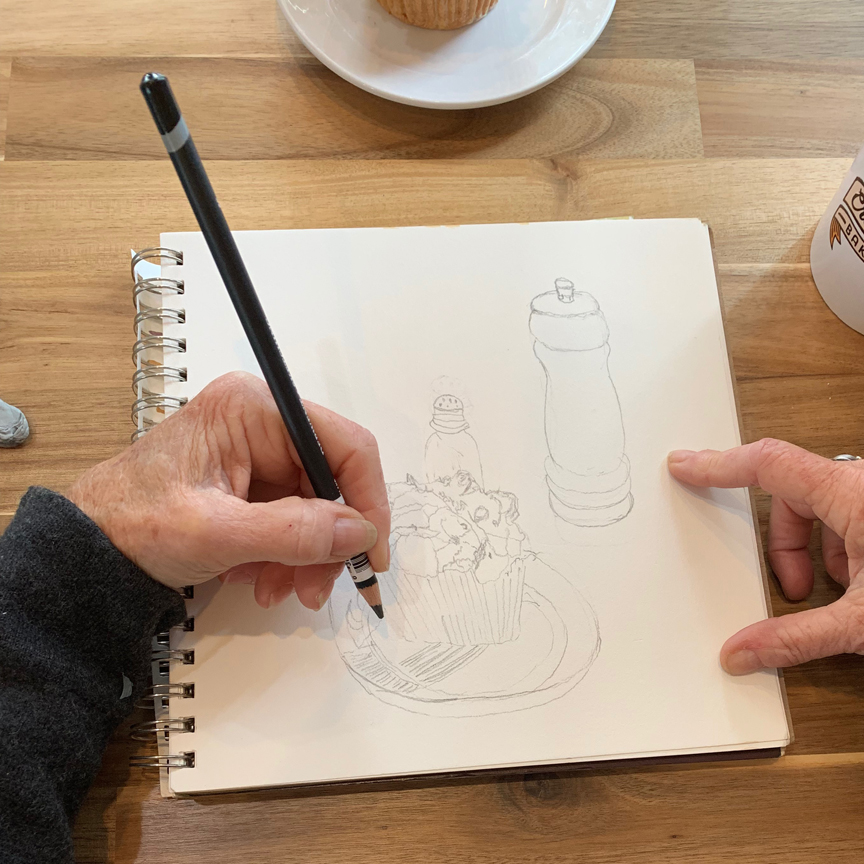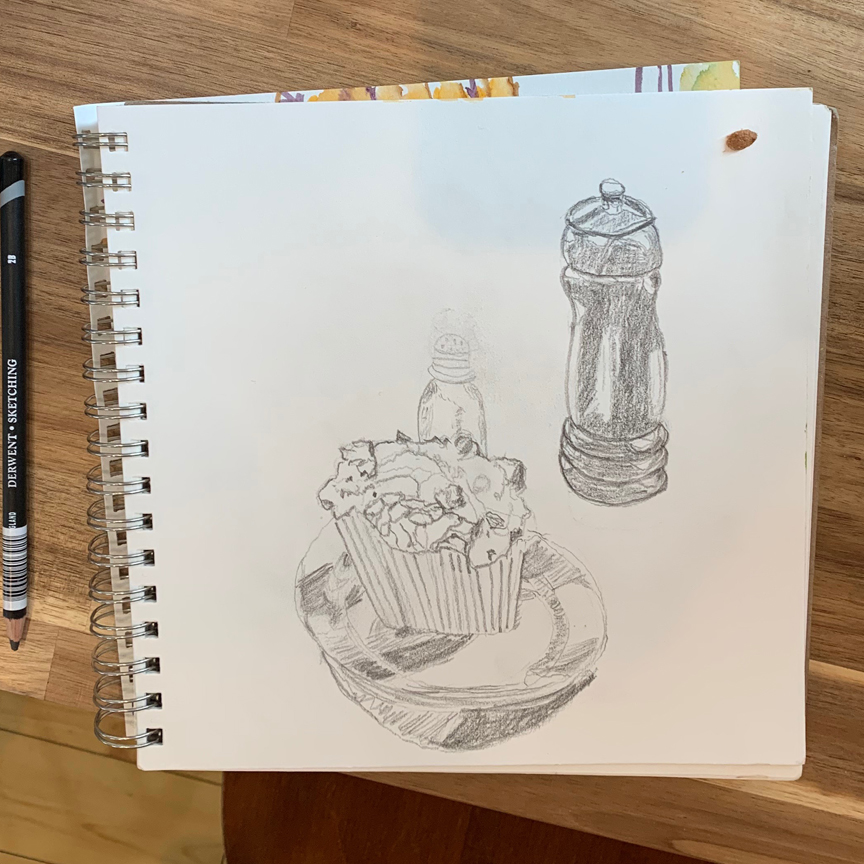 Penny J did a great job on getting darks into her sketch today.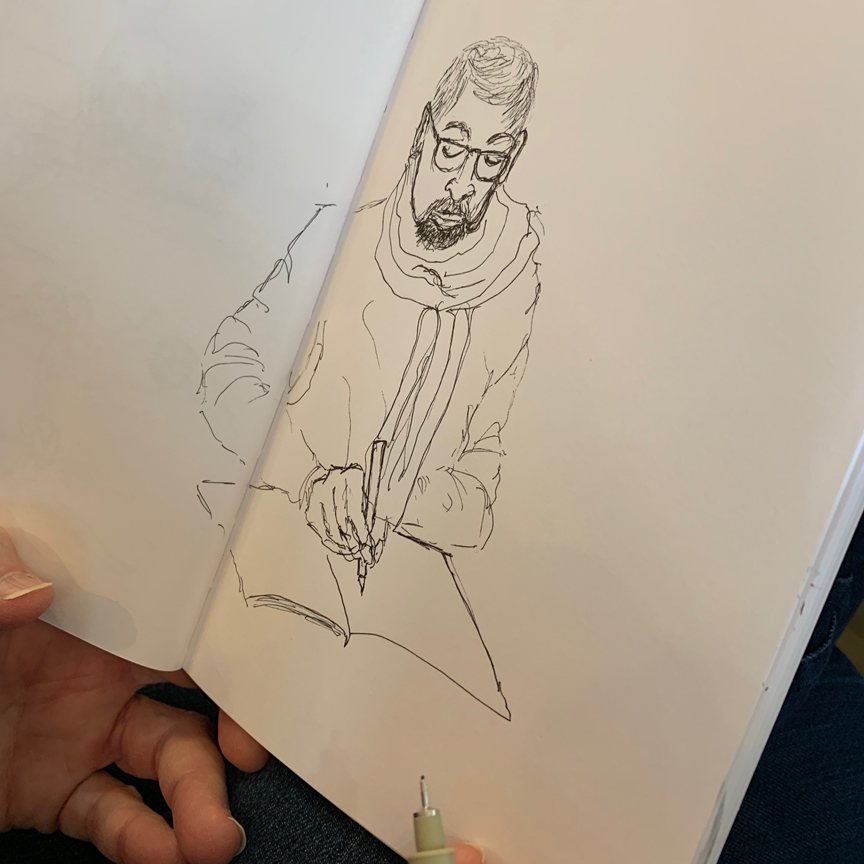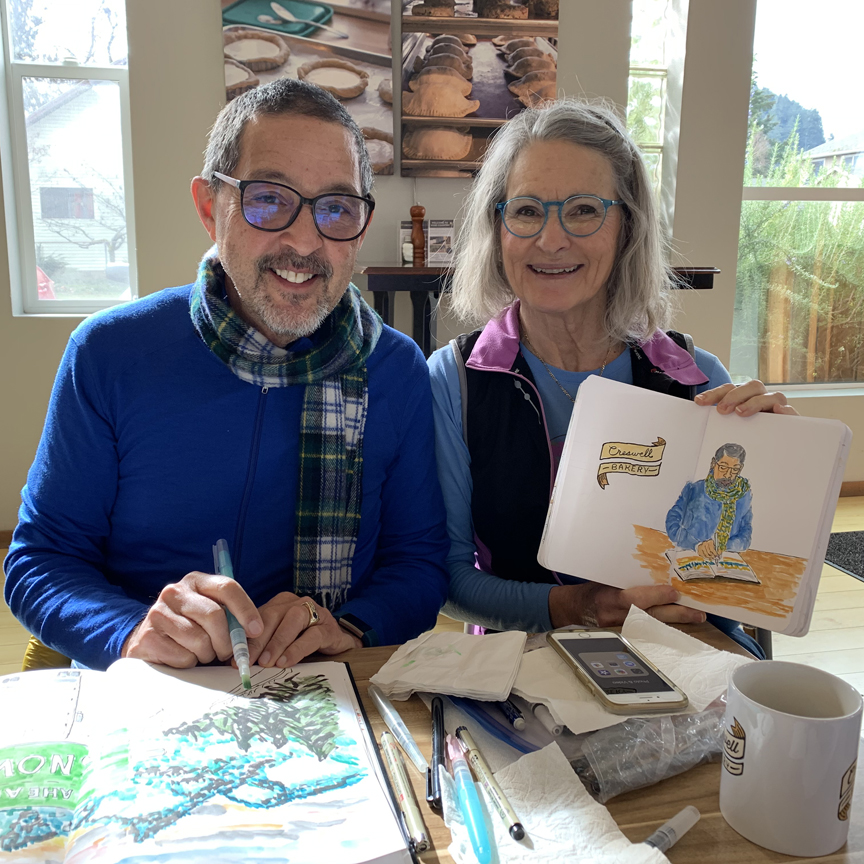 And Sandy did yet another sketch of her husband, Hugh – charming!
✒ Feb. 8, 2019 – back at the Alvadore Schoolhouse @ Camas Country Mill Bakery for the Valley Calligraphy Guild show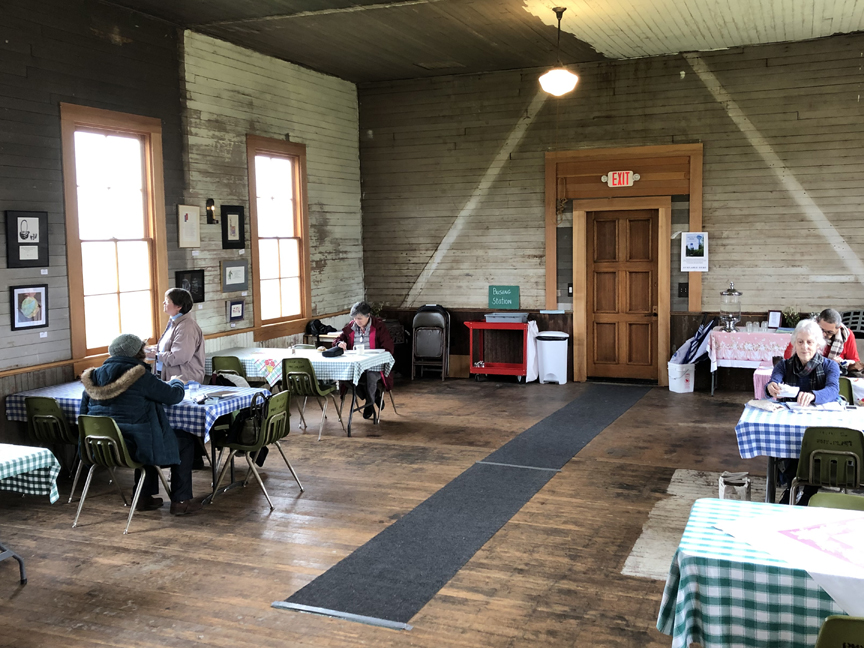 Bev, Daisy, Lealan, Barb So, & Hugh, with Sandy behind the camera!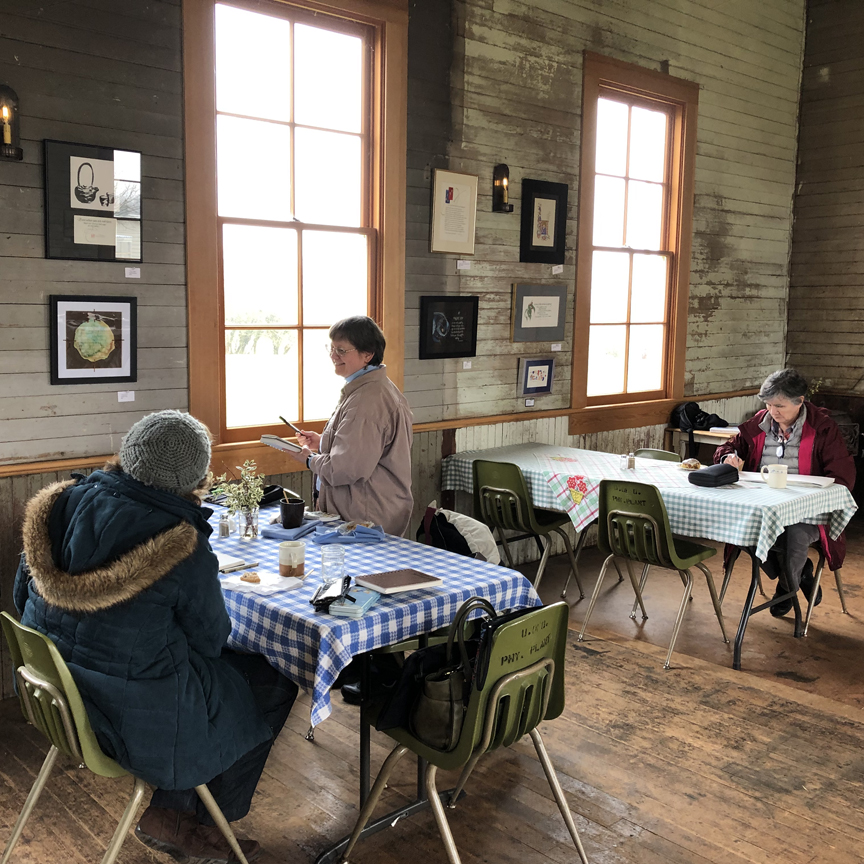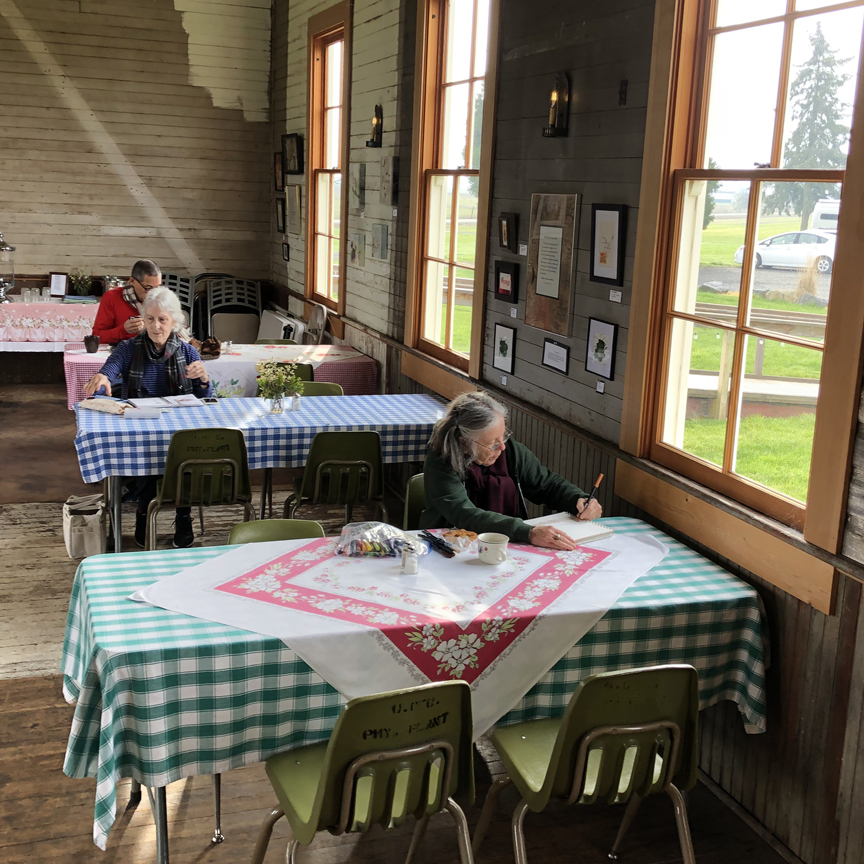 A closer-up, and Penny got into the photo this time, too.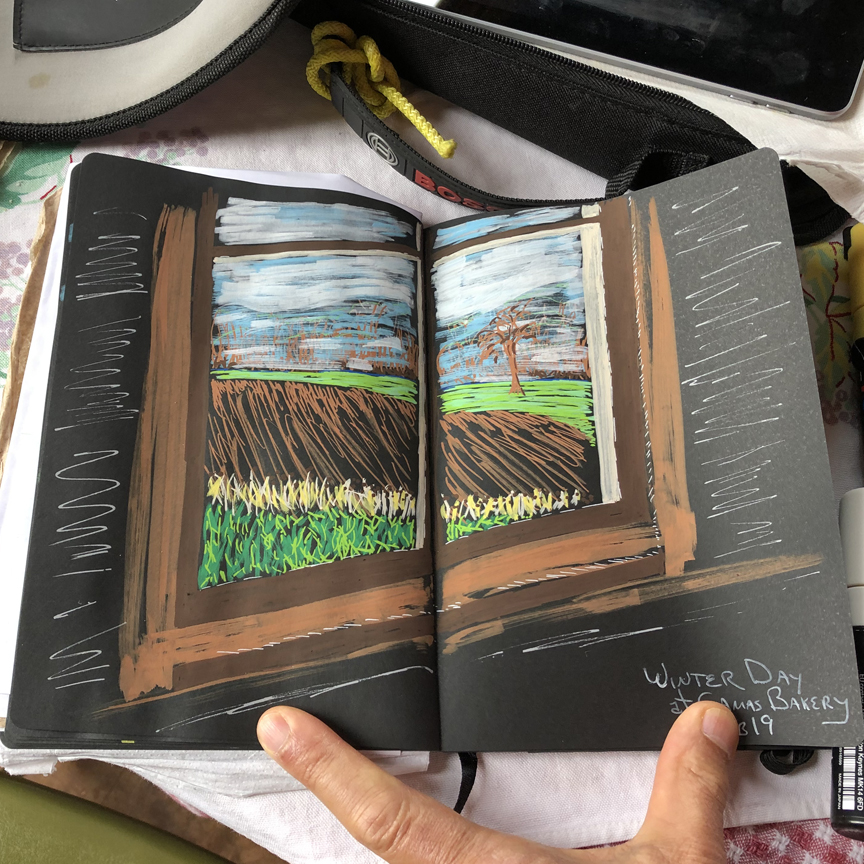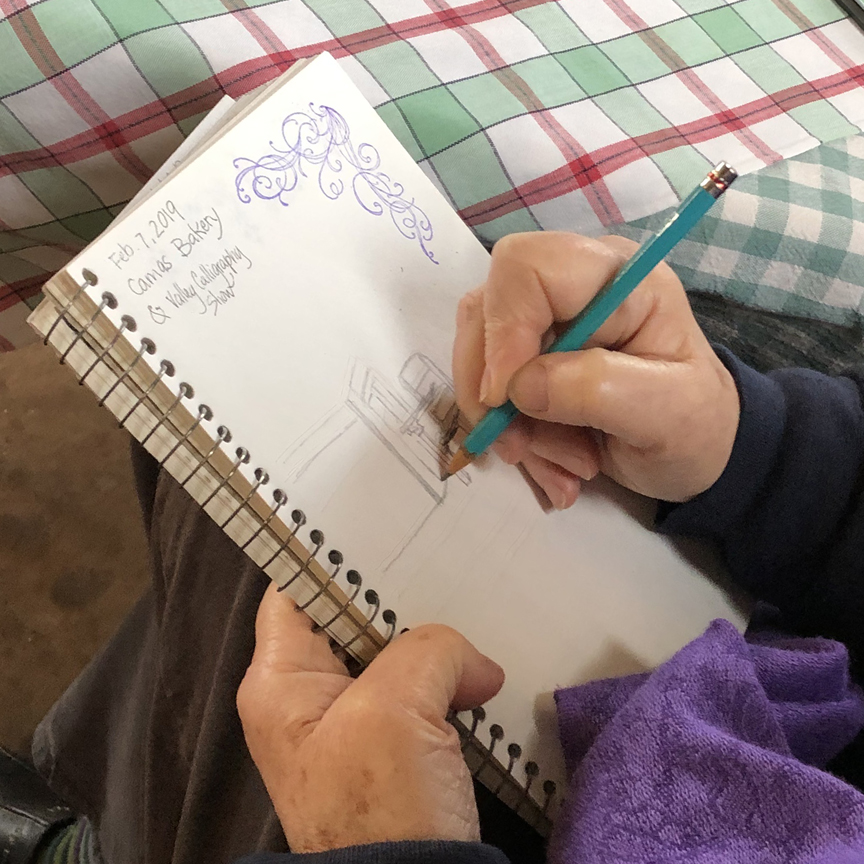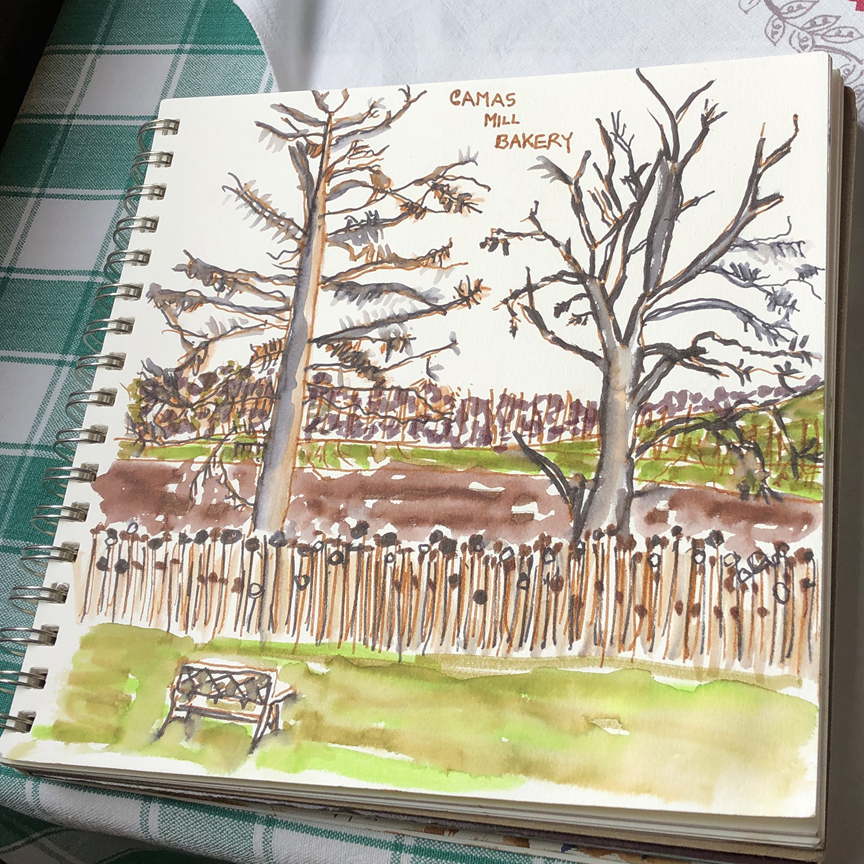 Here's what Hugh, Laura, and Penny were sketching, mostly views out the window. We want to come back here during Spring, too!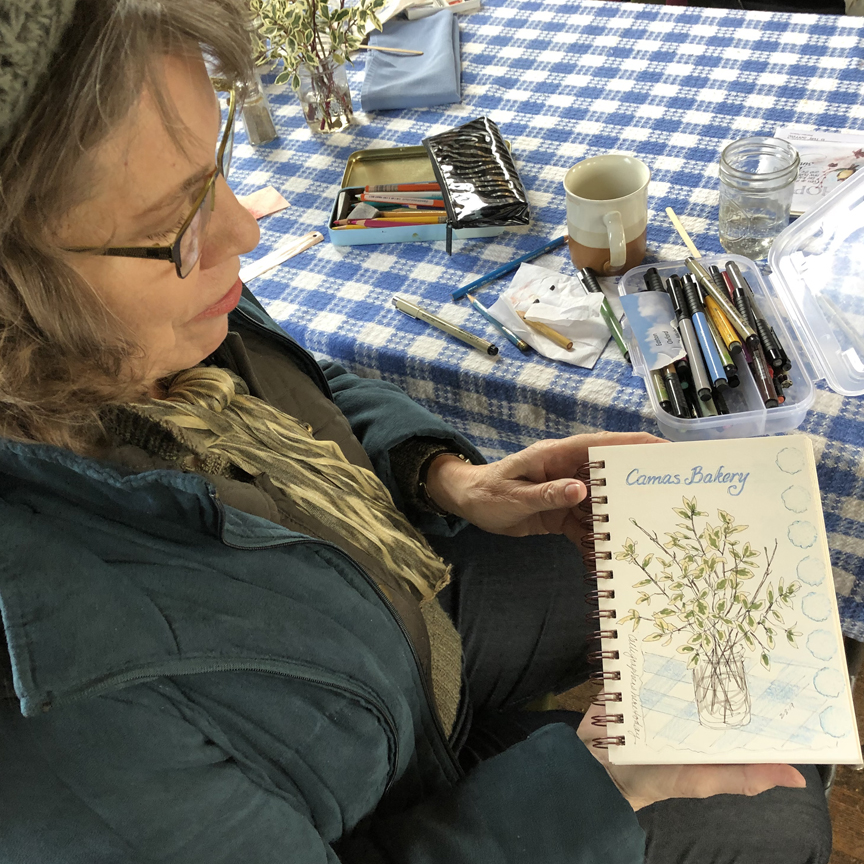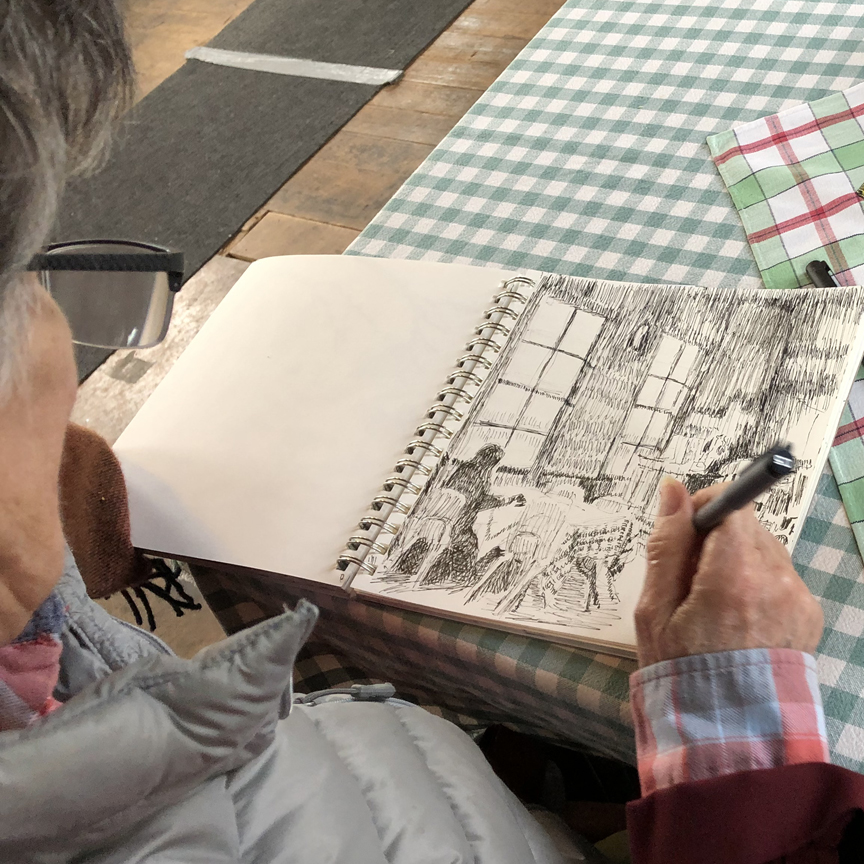 Bev chose the charming flowers on the table to sketch, while Lealan sketched the sketchers! We're never at a loss for what to sketch.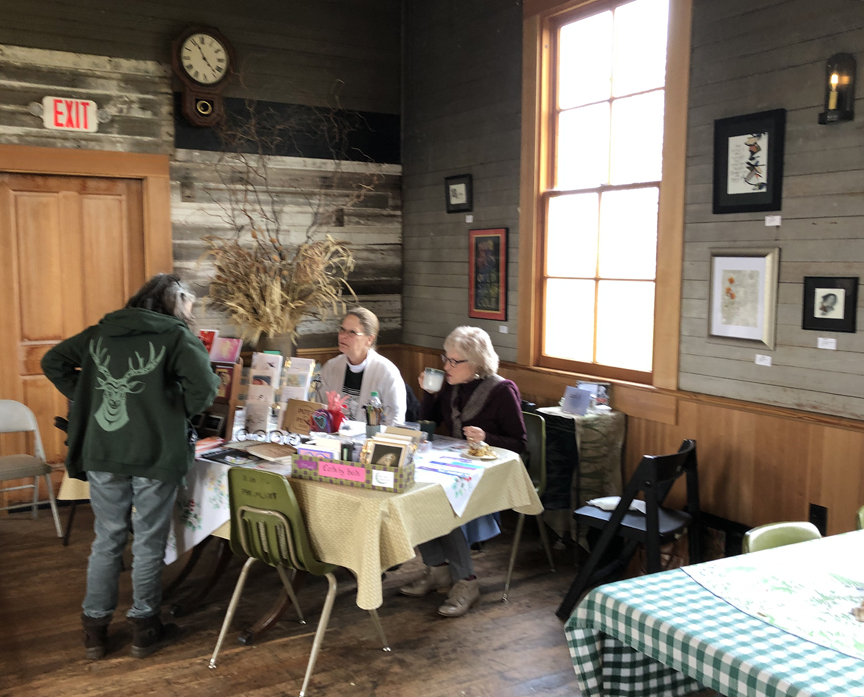 Penny got to talk to the Valley Calligraphy Guild representatives about their show. They're such a great organization.
✒ Jan. 25, 2019 – Alvadore Schoolhouse @ Camas Country Mill Bakery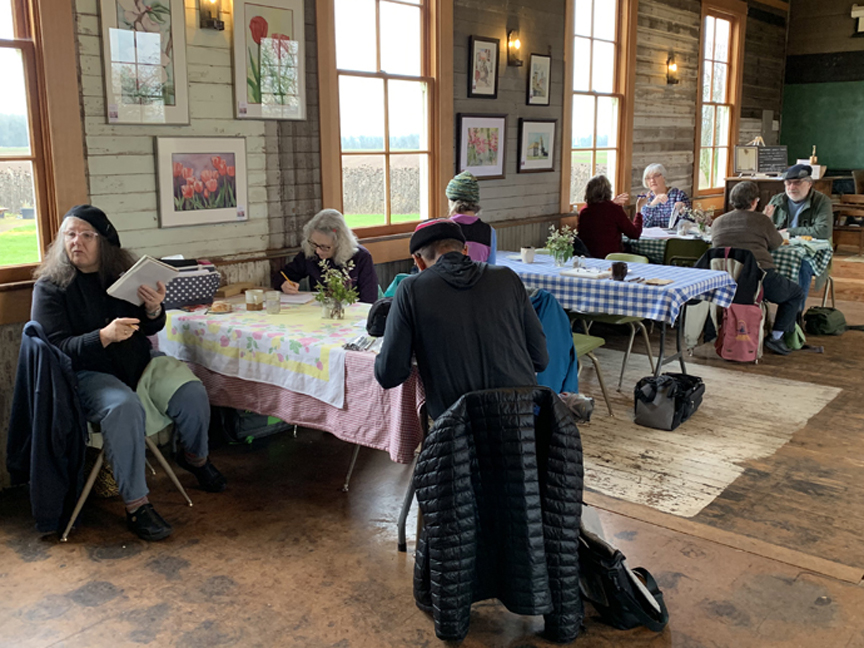 Laura, Ellen, Hugh, Sandy, Penelope, Katie, Daisy, Serge.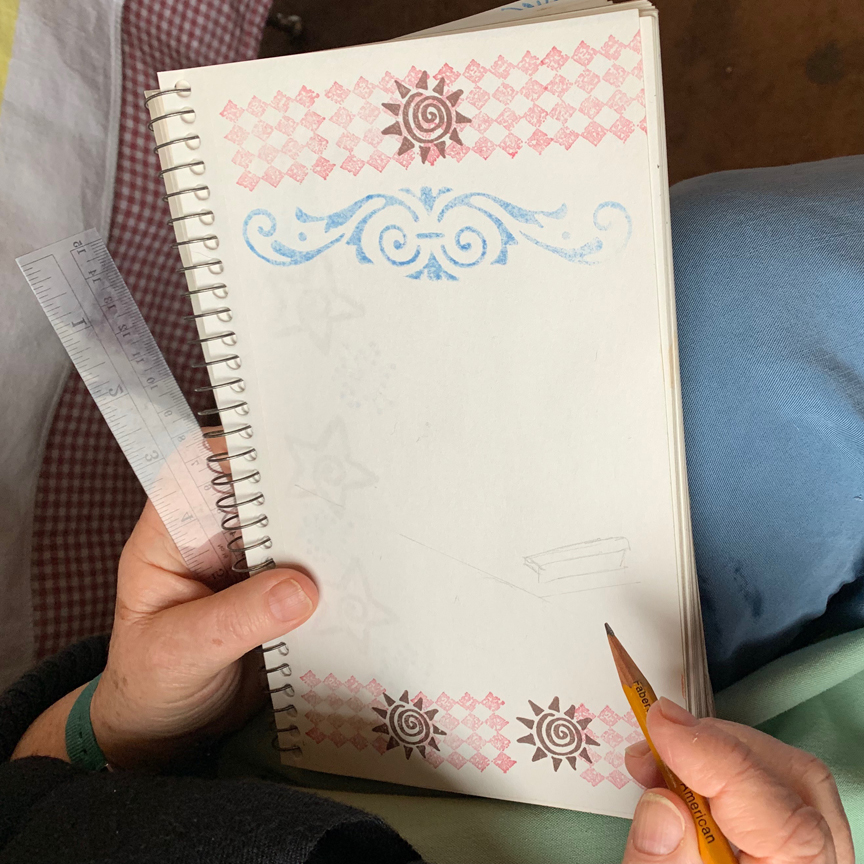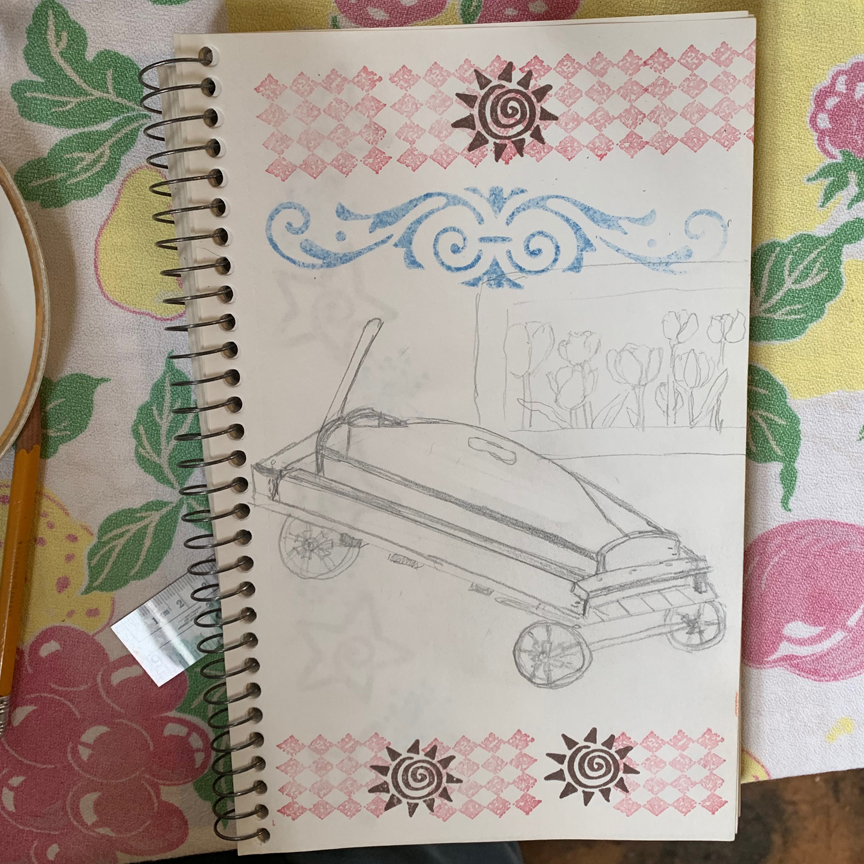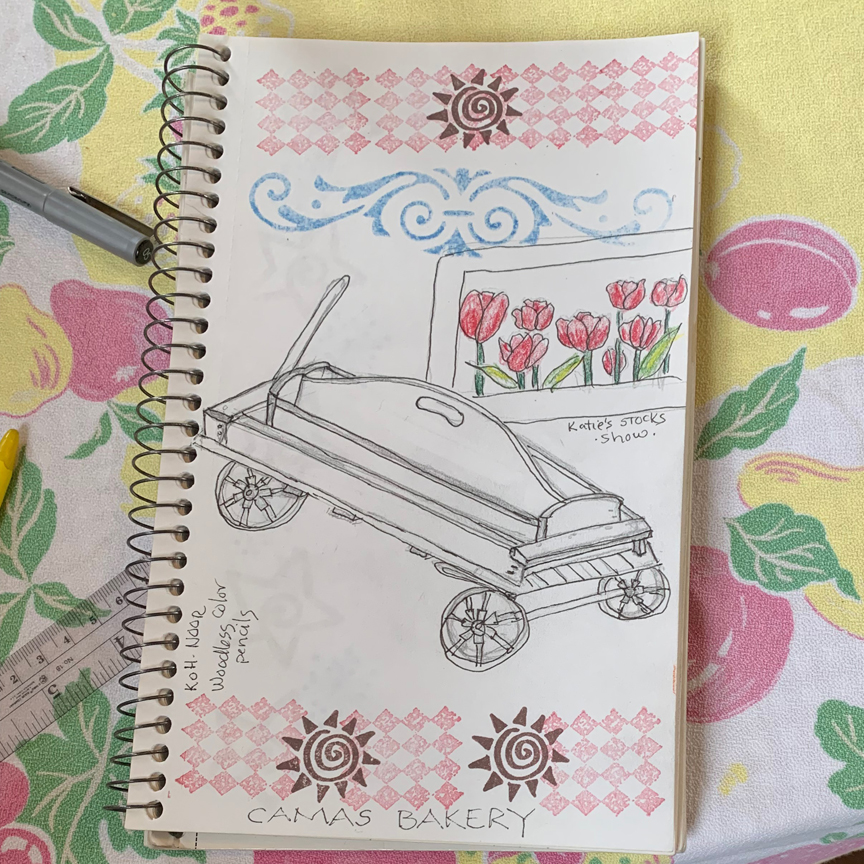 What's Laura looking at? An antique rolling cart, and one of Katie's wonderful watercolors displayed on the wall of the schoolhouse!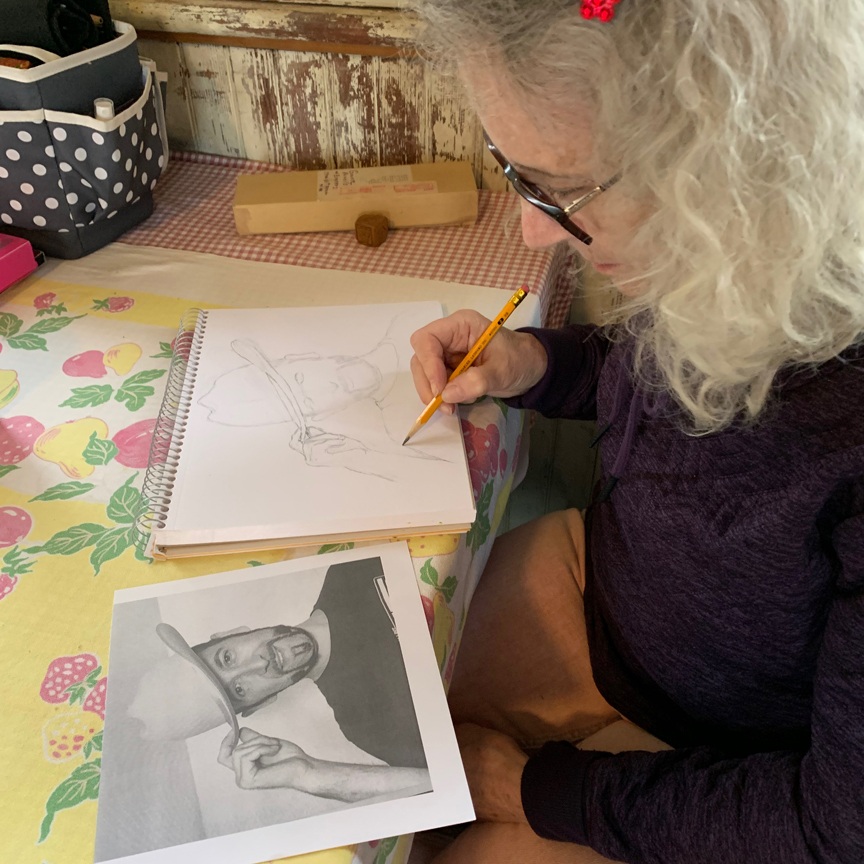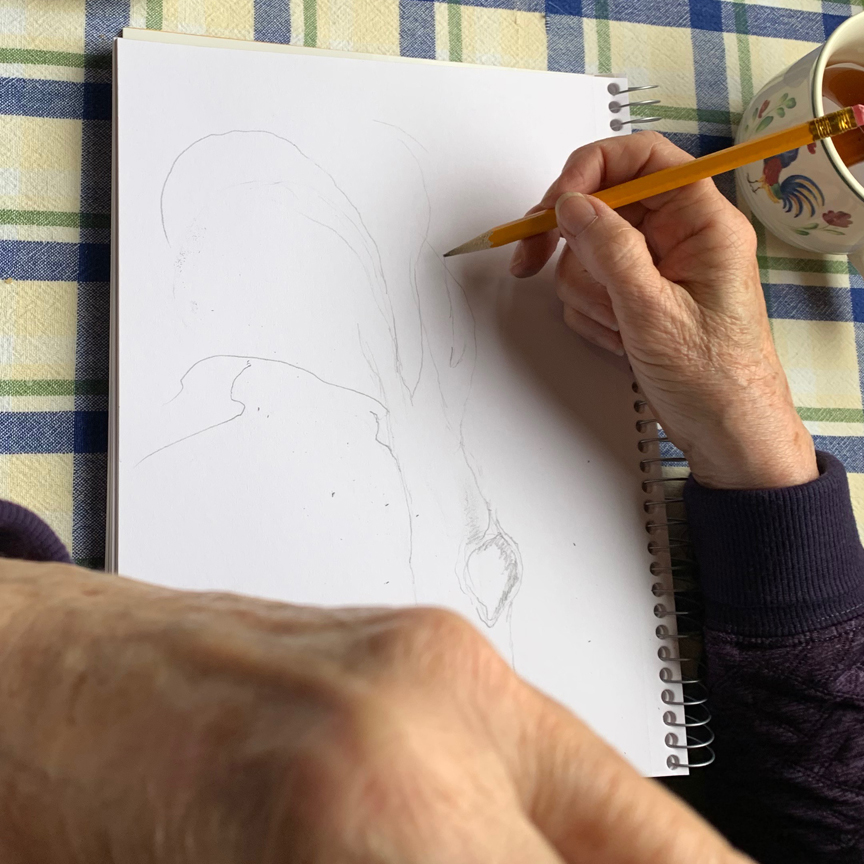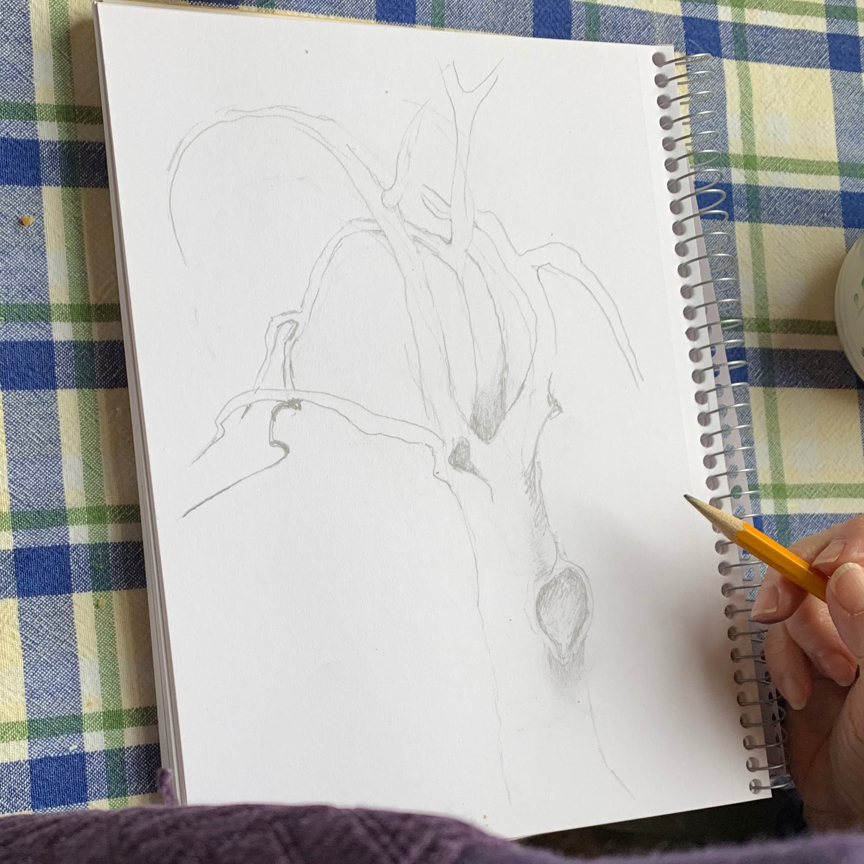 Ellen started with a one dimensional photo to sketch, then took up the challenge to go 3-D, and wow! is that tree coming to life! Great!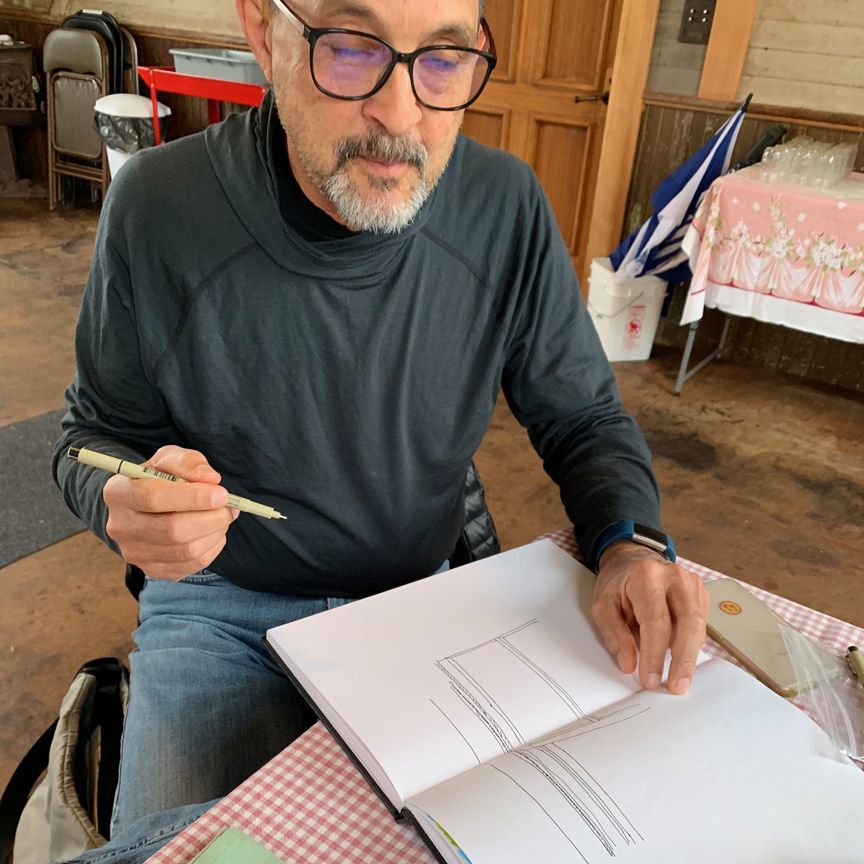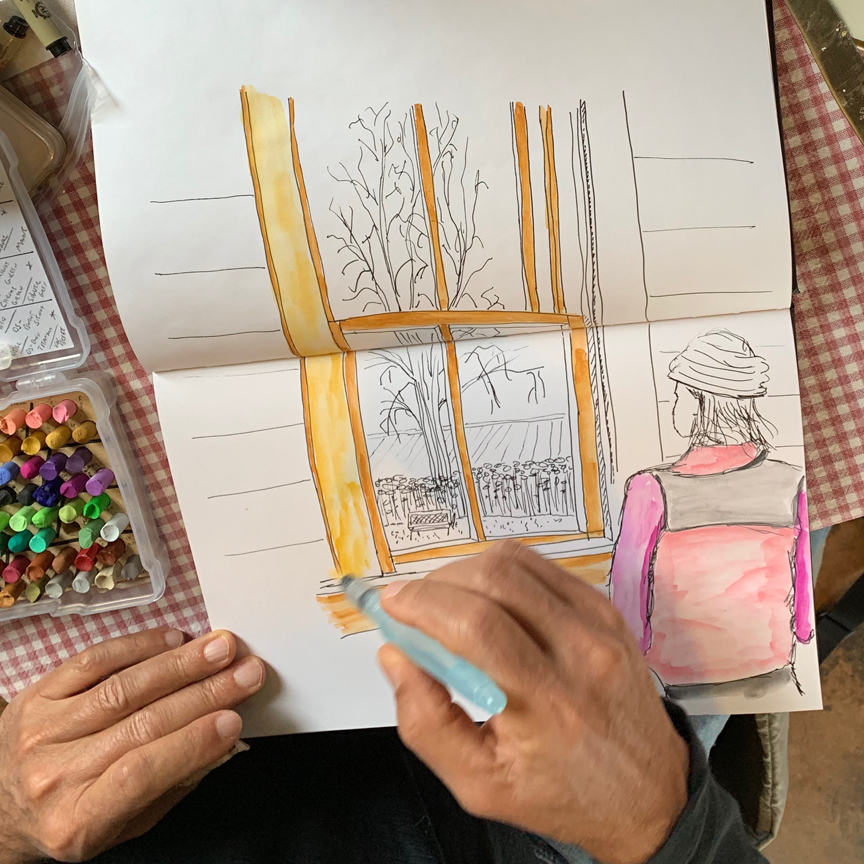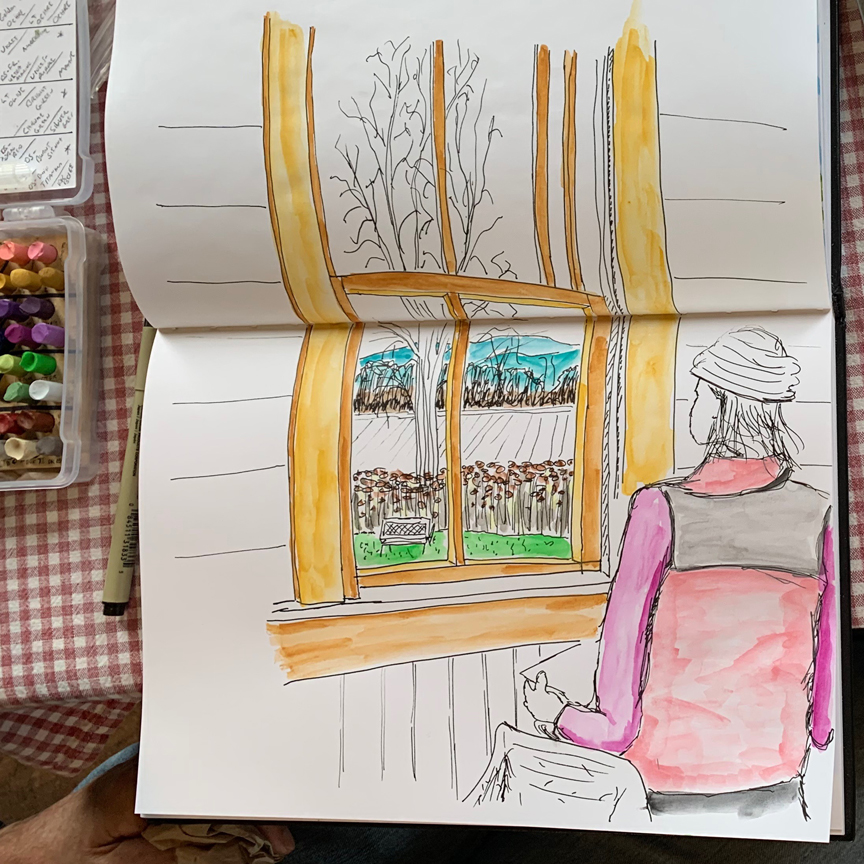 Hugh said he knew just what he wanted to draw the moment he walked in – Sandy looking out the schoolhouse window sketching.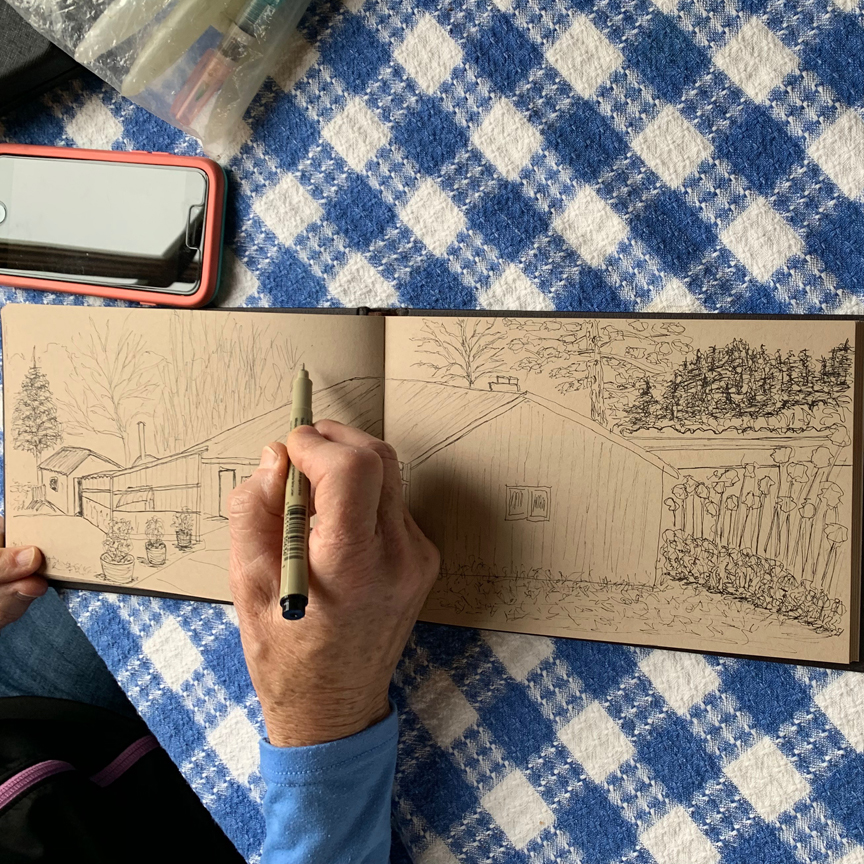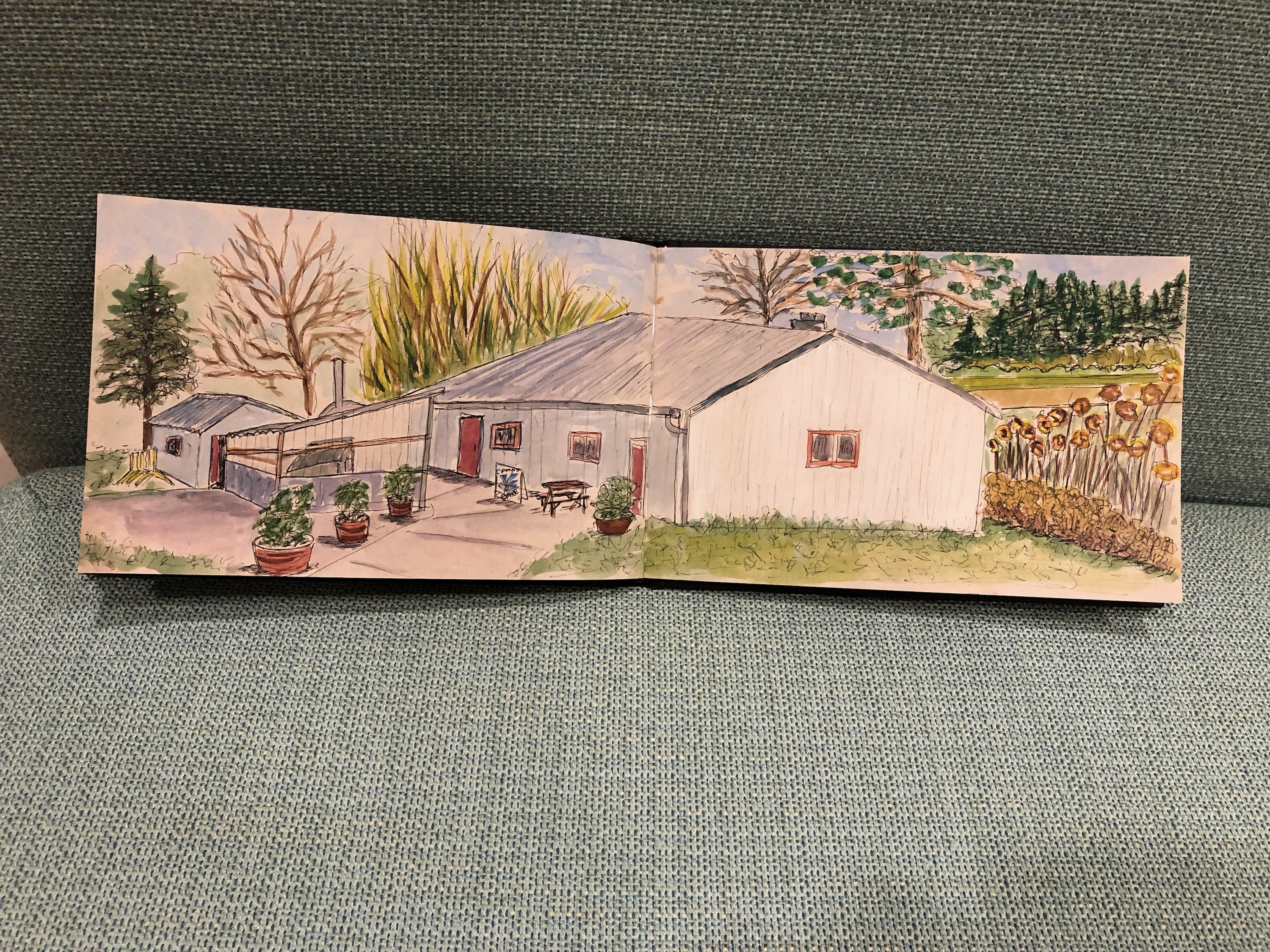 And here's what Sandy was sketching – the Camas Country Mill Bakery in it's winter surroundings about to become spring.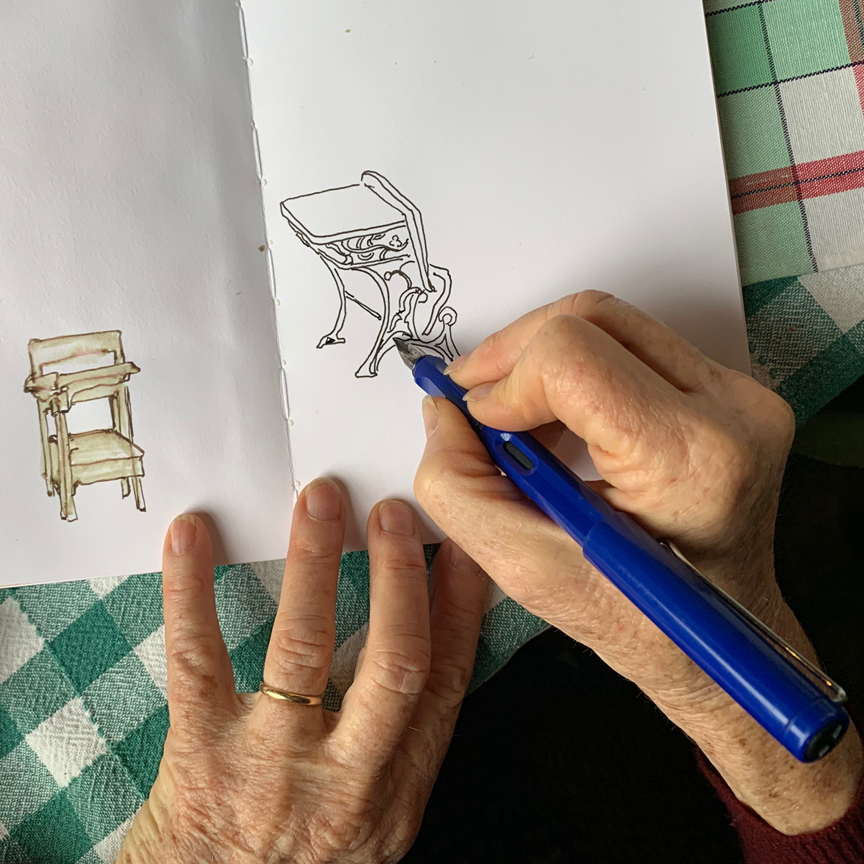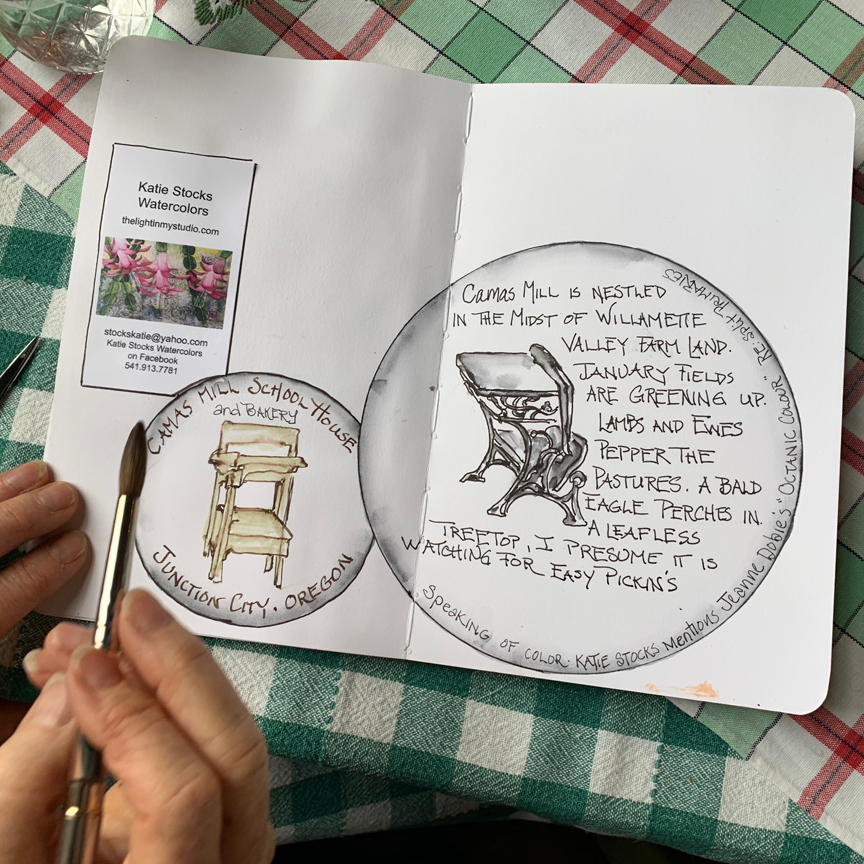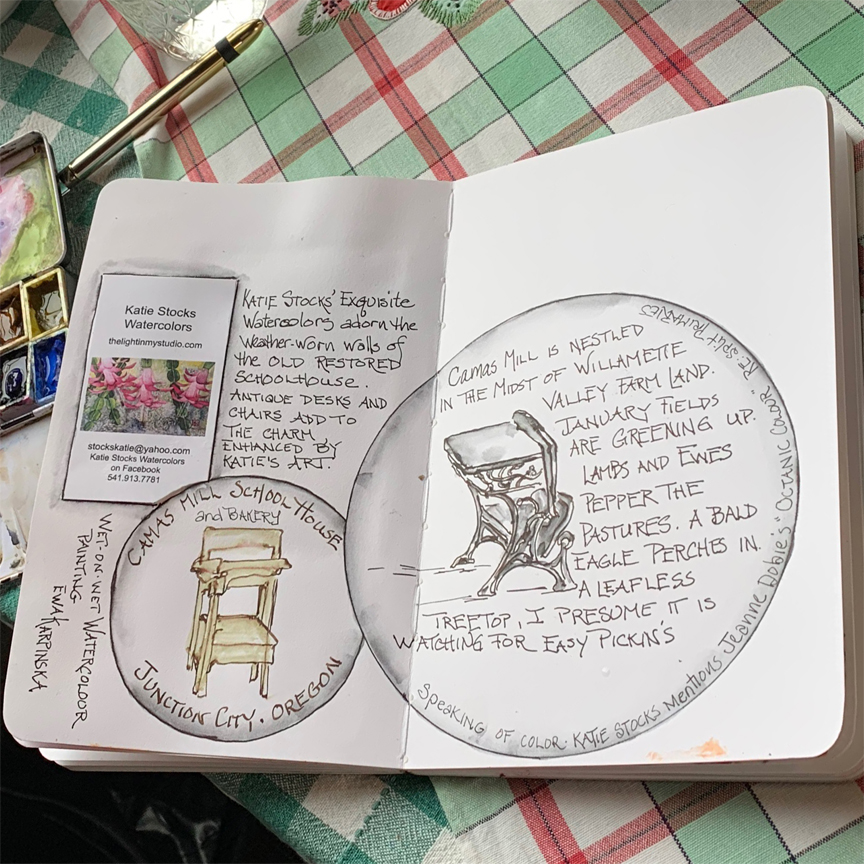 Penelope teaches travel journaling, writing & sketching. Water soluble ink enables pulling shading from the circles with a brush.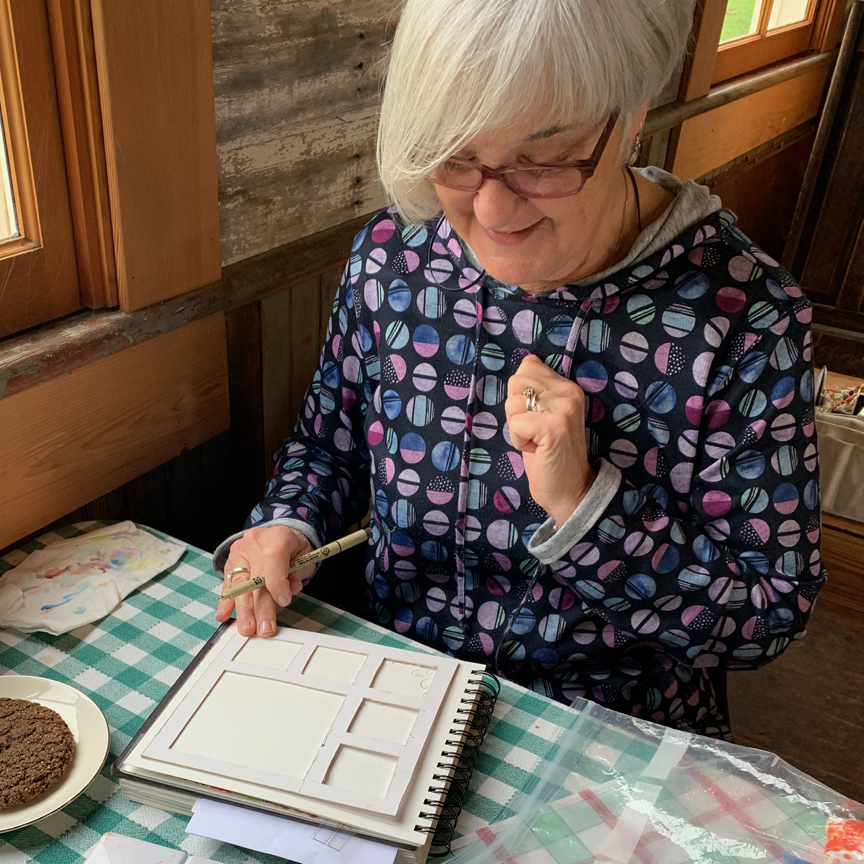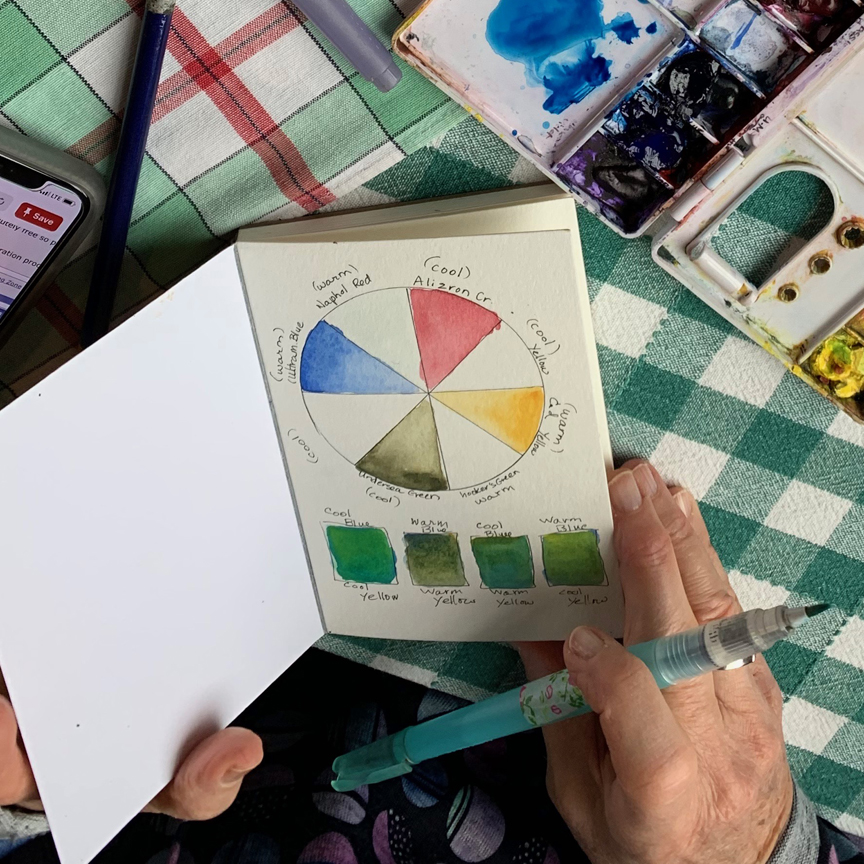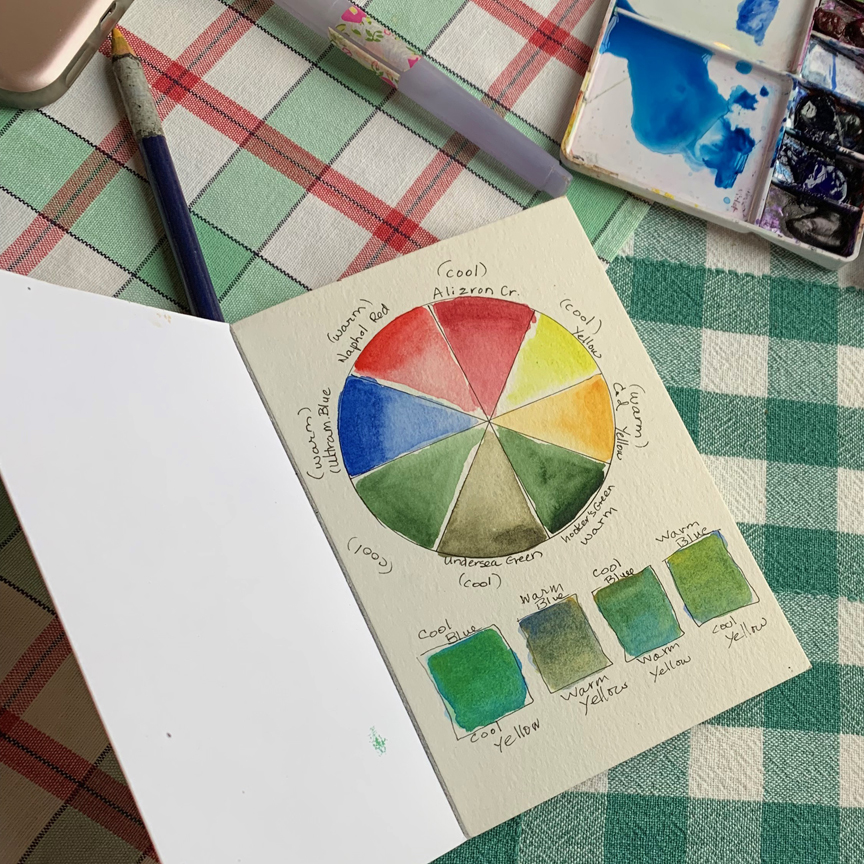 Katie said, "What shall I do?" Putting aside her formatting stencil, she did a demo of what greens she could make with her palette.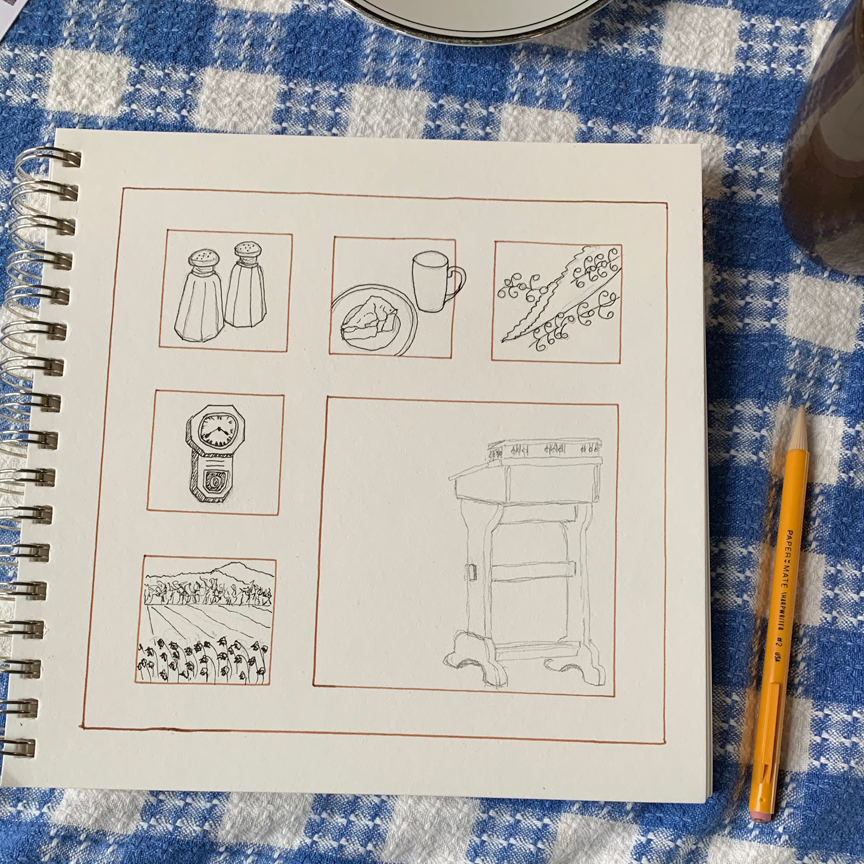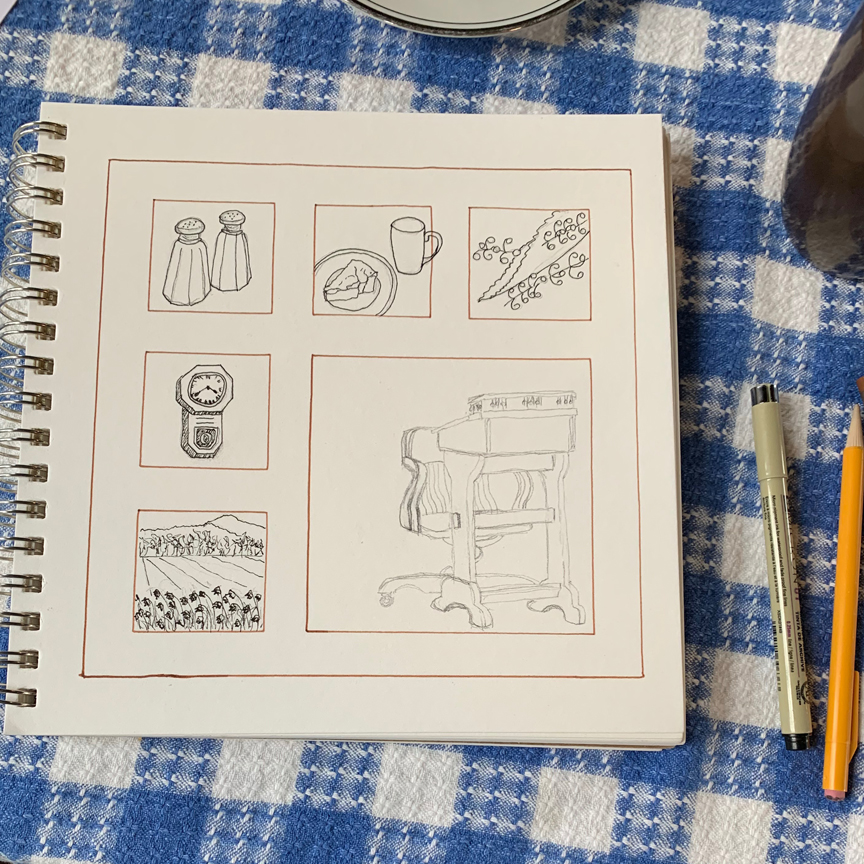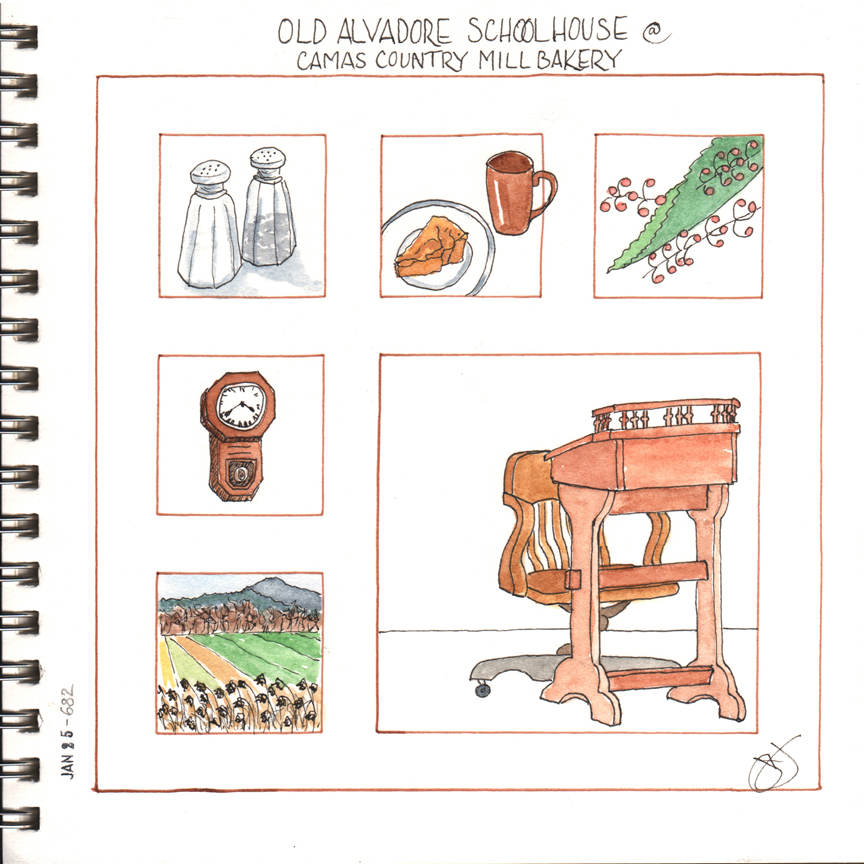 Jane is enamored of Katie's formatting stencil, and enjoyed finding little scenes (inside & outside) to go in each of the squares.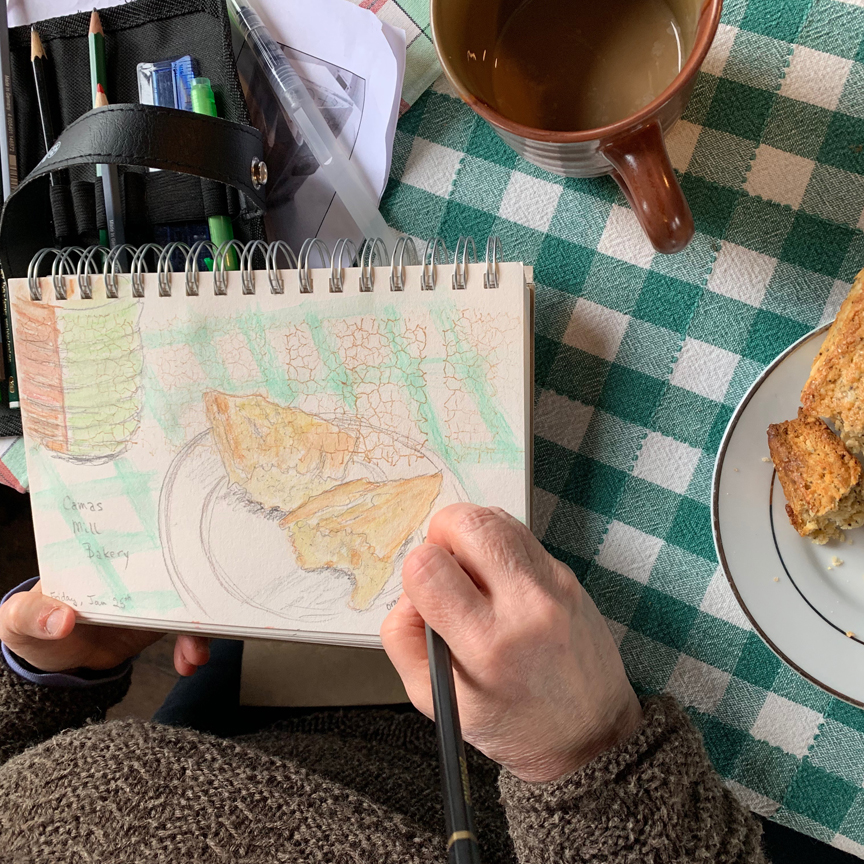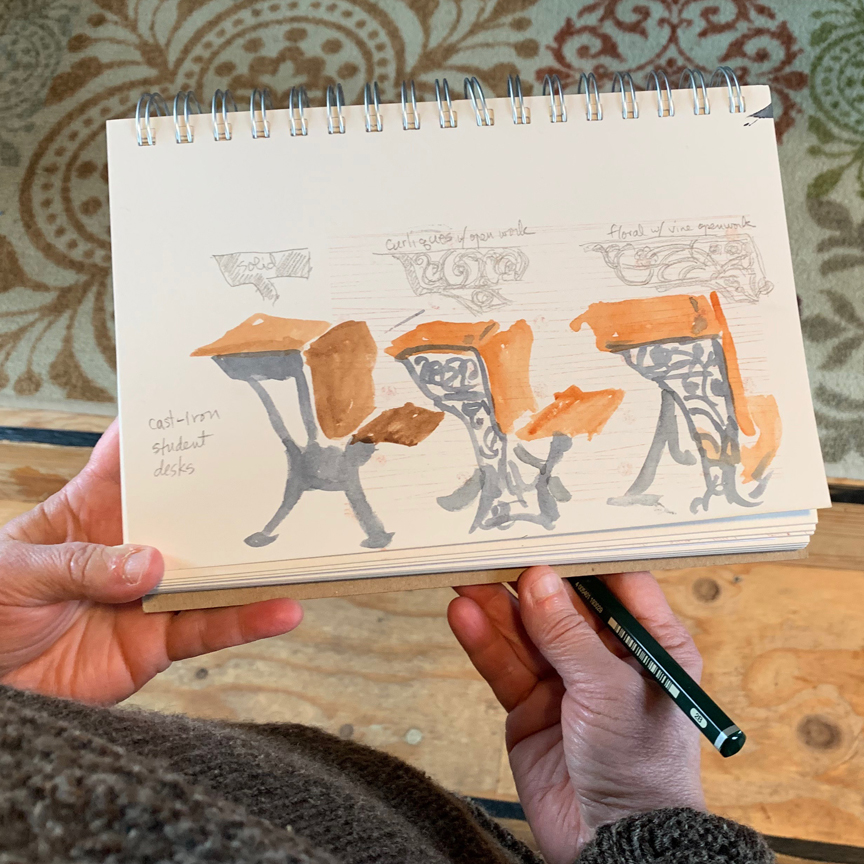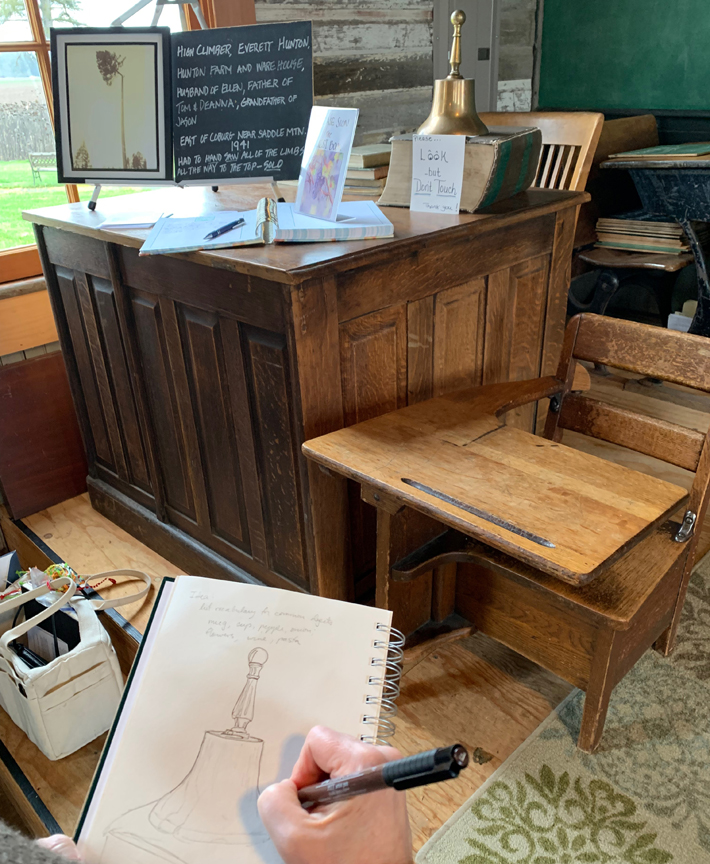 Daisy started with colored pencil, went to watercolor, then back to drawing pencil to sketch special parts of the experience.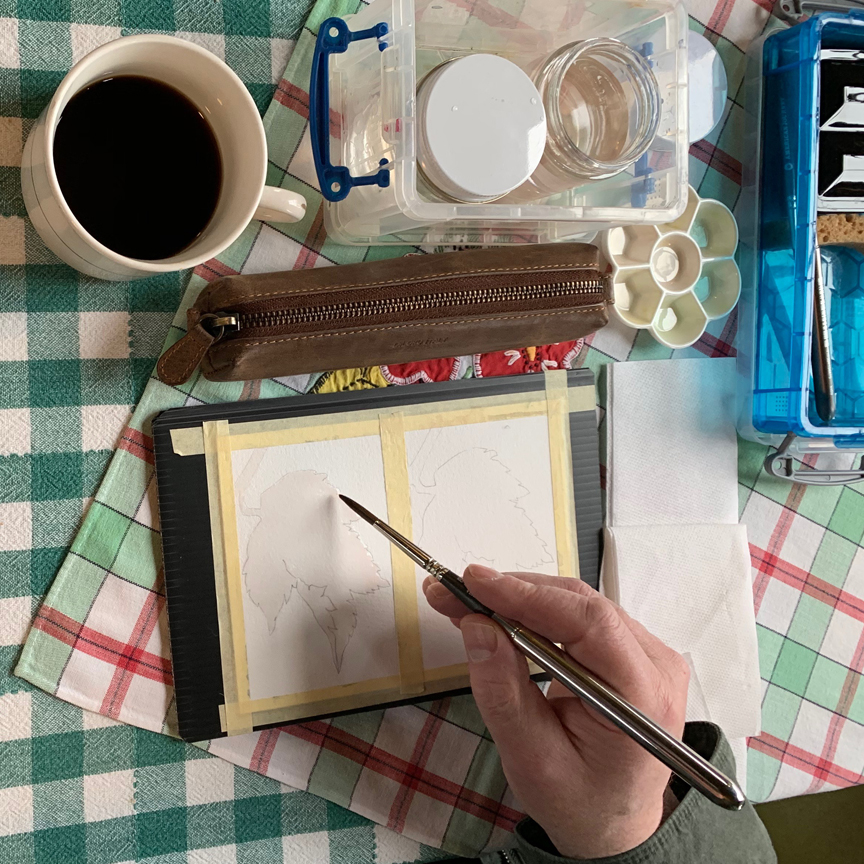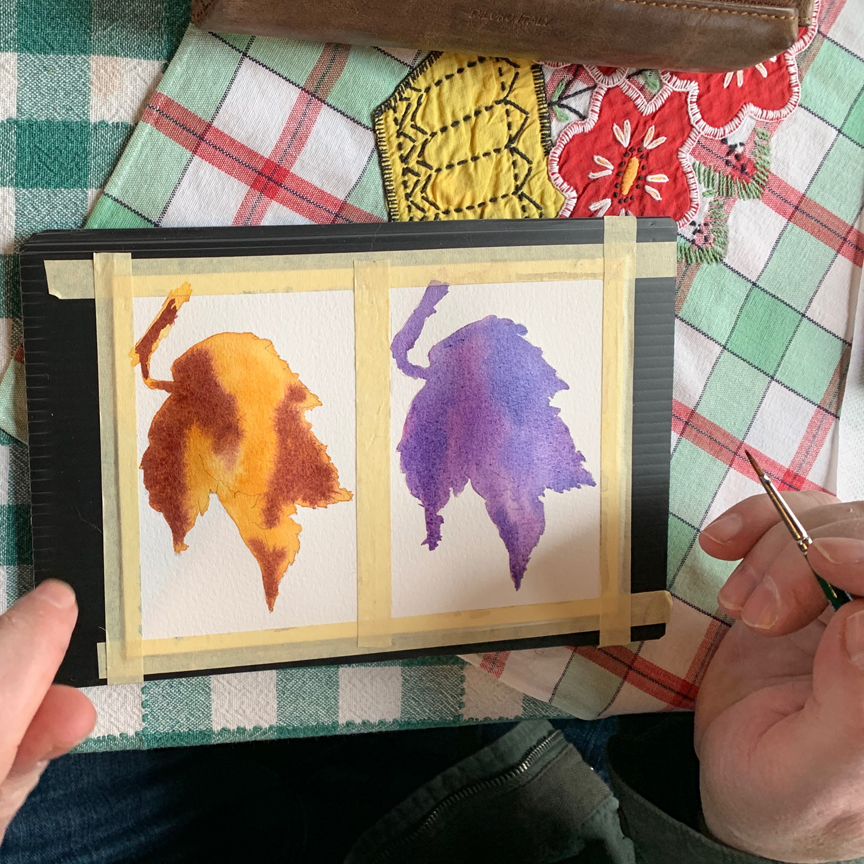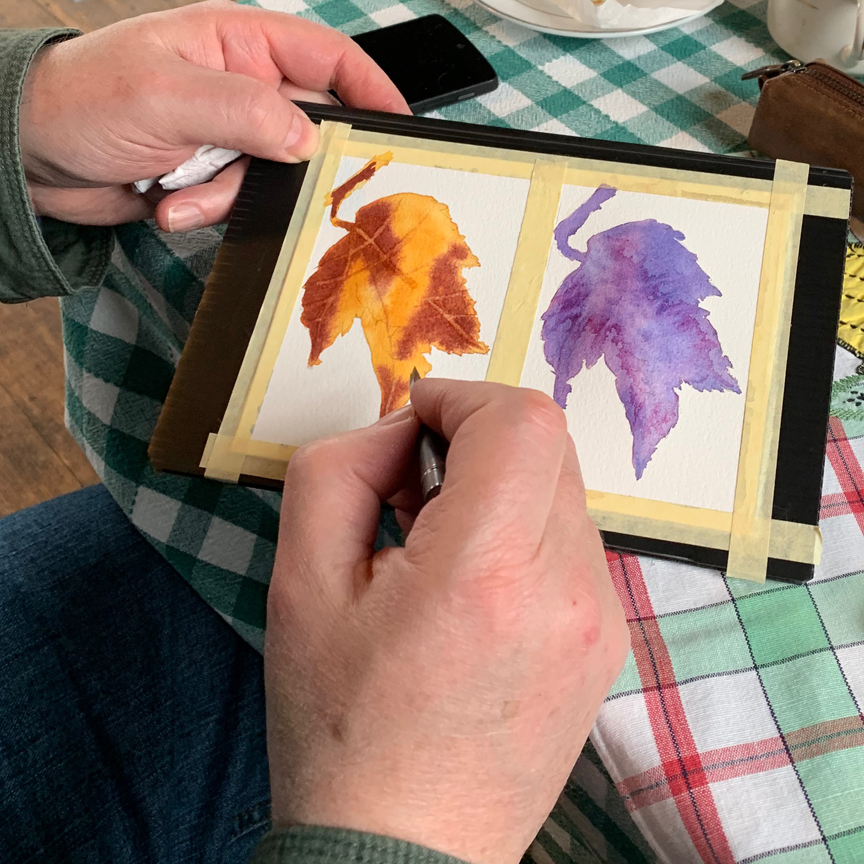 Serge is serious about developing watercolor skills, applying what he read in a watercolor book to determine just when to lift color.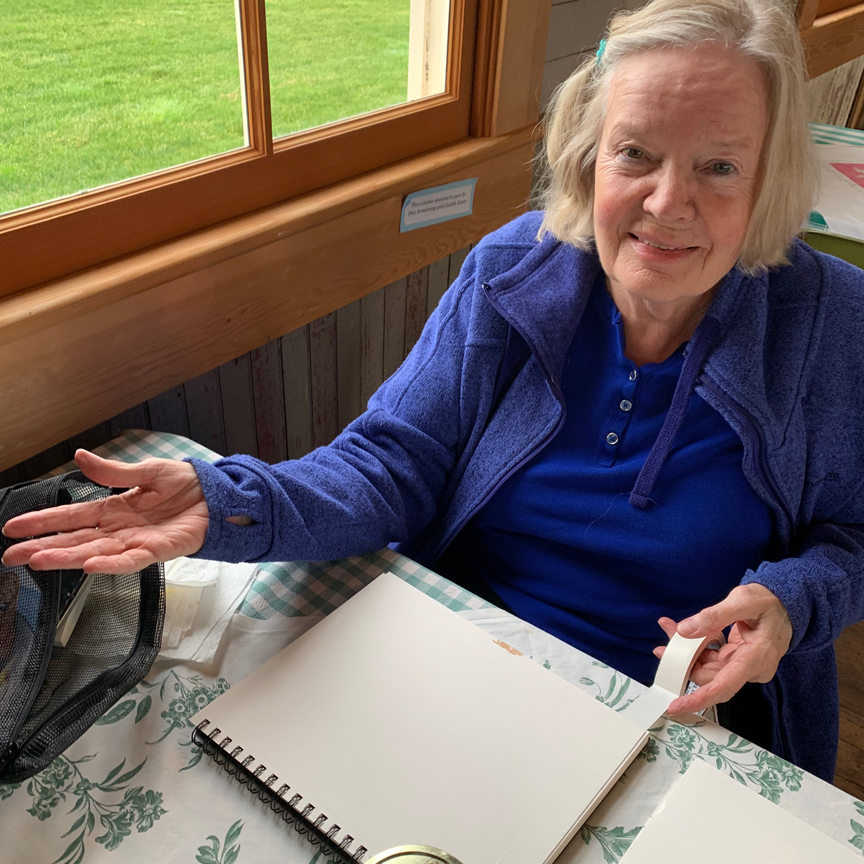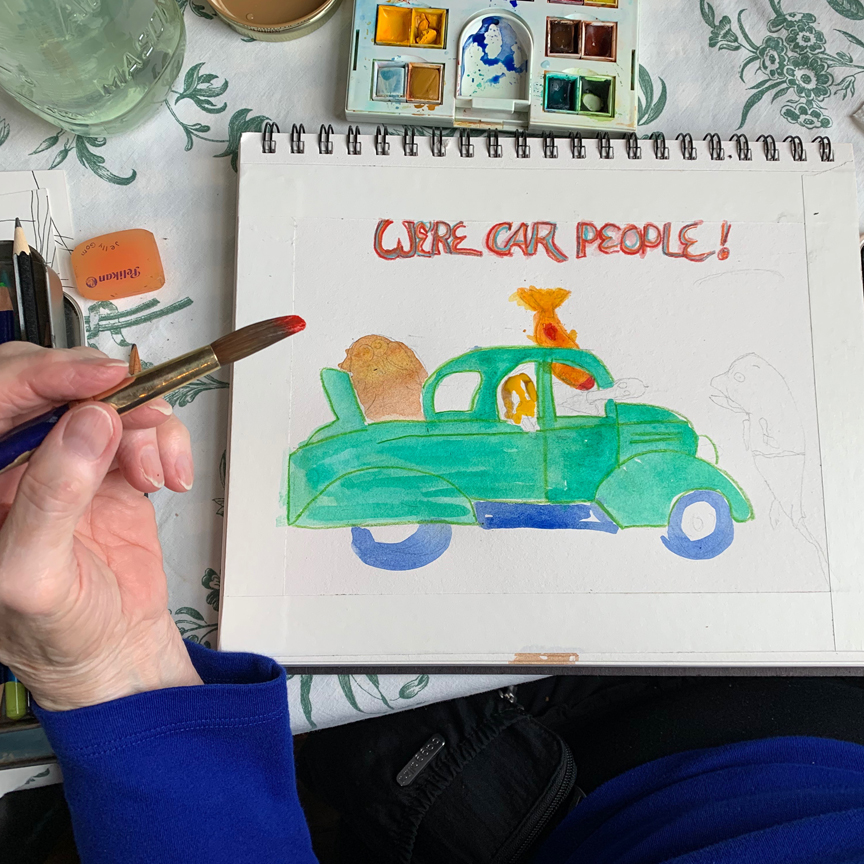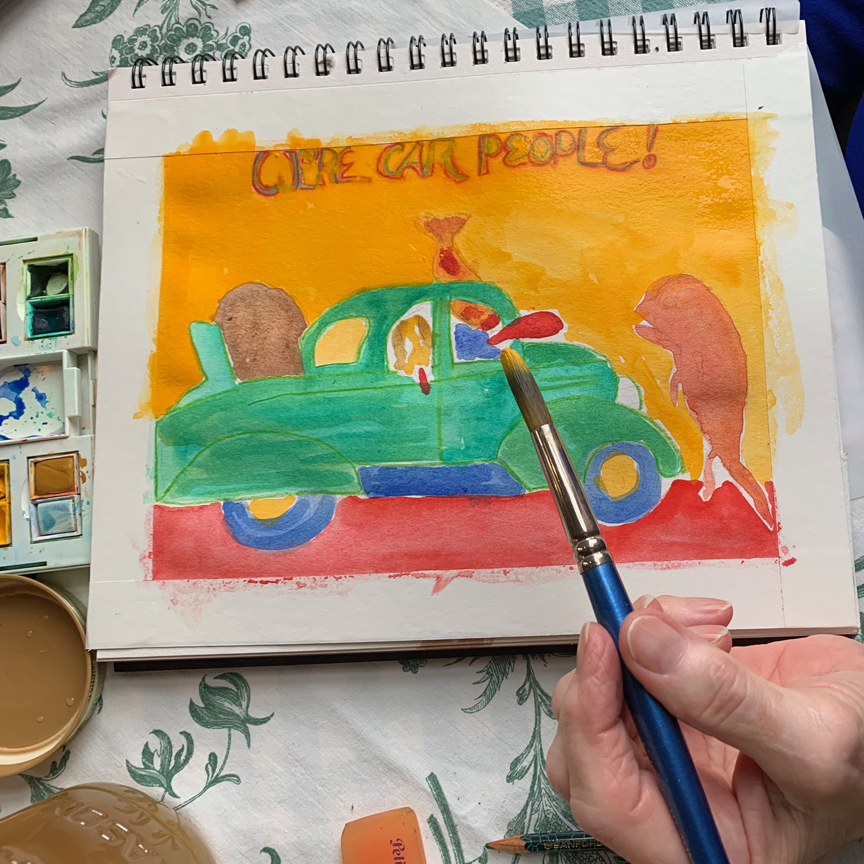 What are you doing, Lona? Starting her next children's book! How does she get such deep color? Less water, more pigment, of course!
✒ Jan. 11, 2019 – Along Came Trudy, Springfield, OR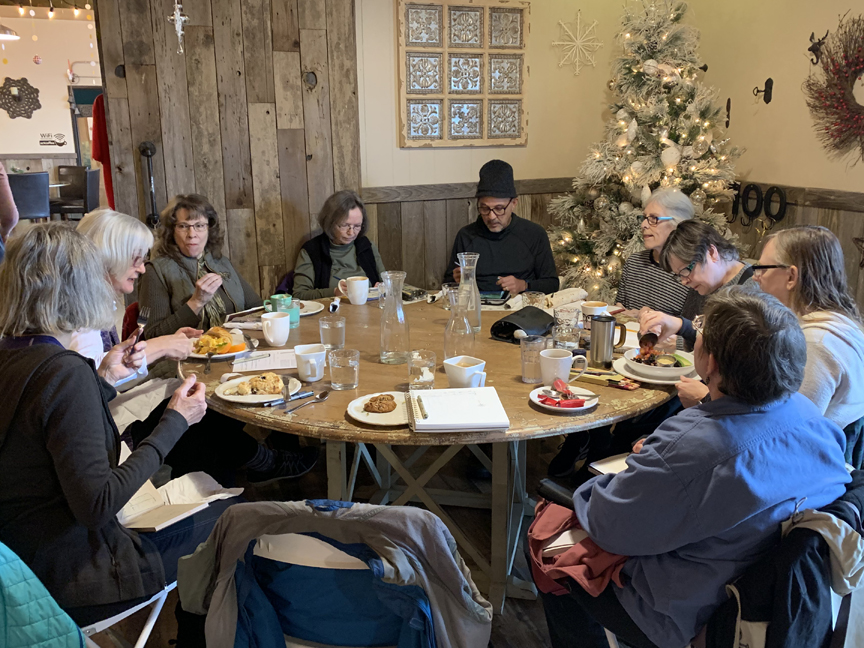 Sandy, Katie, Bev, Marsha, Hugh, Barb So, Wanda, Jude, Daisy. The place was still decorated with a winter theme, all full of sparkles.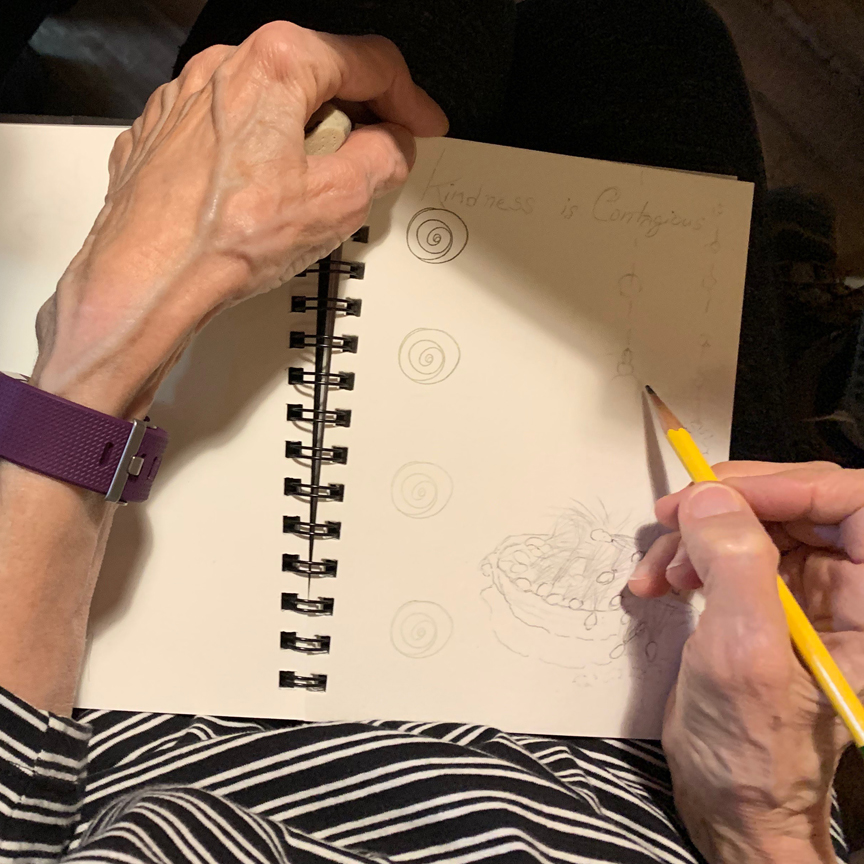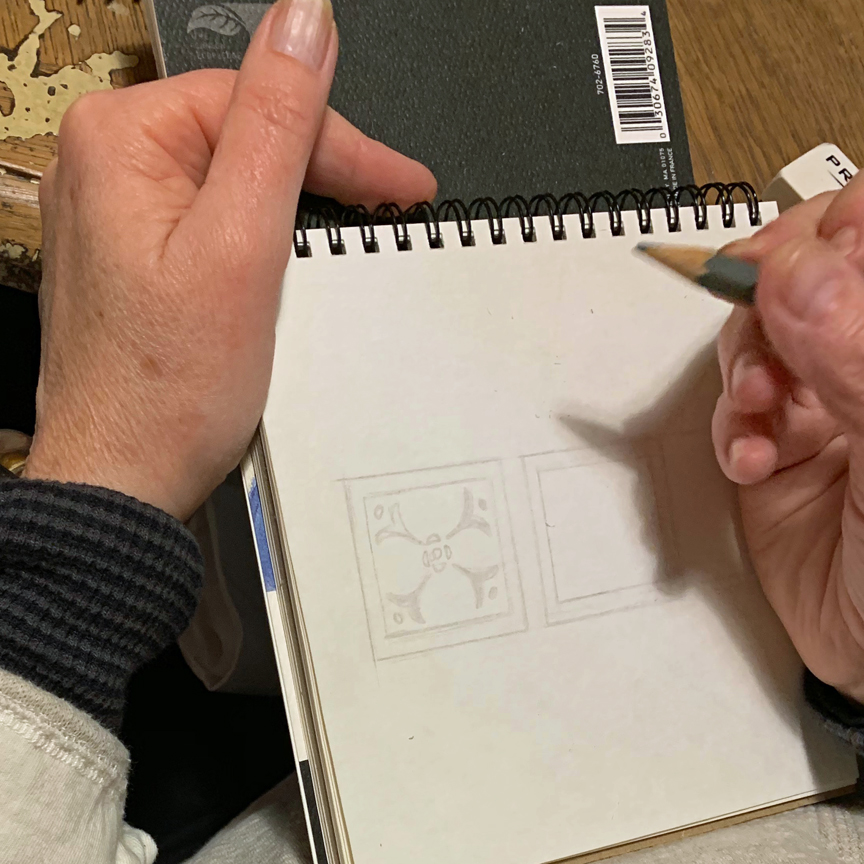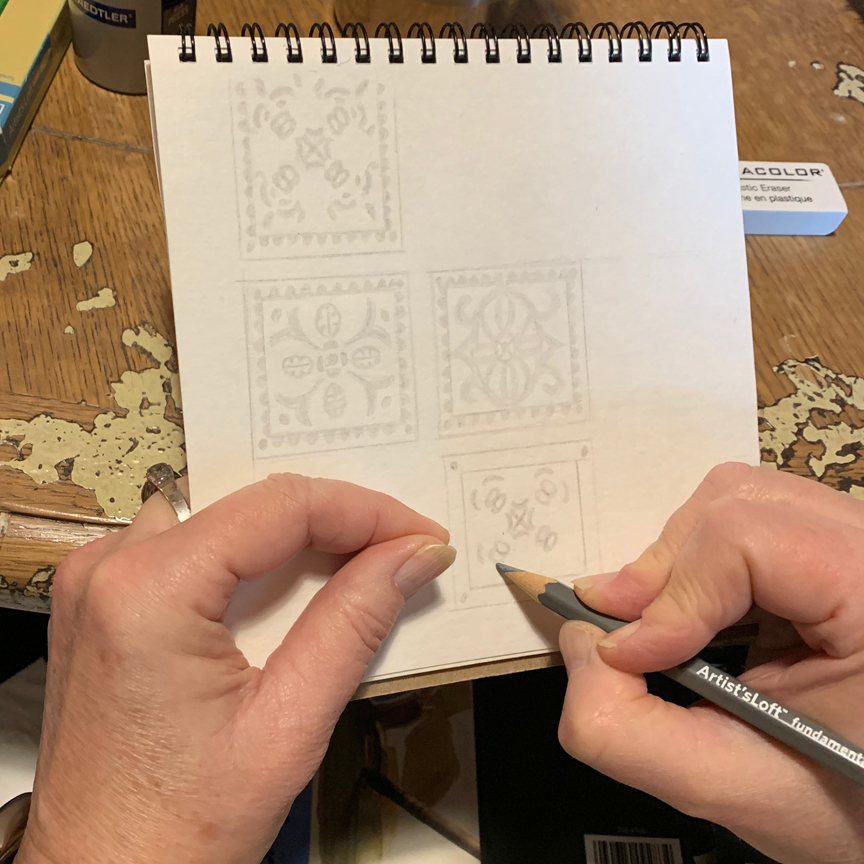 Barb So and Jude chose some of the decor to sketch in pencil first.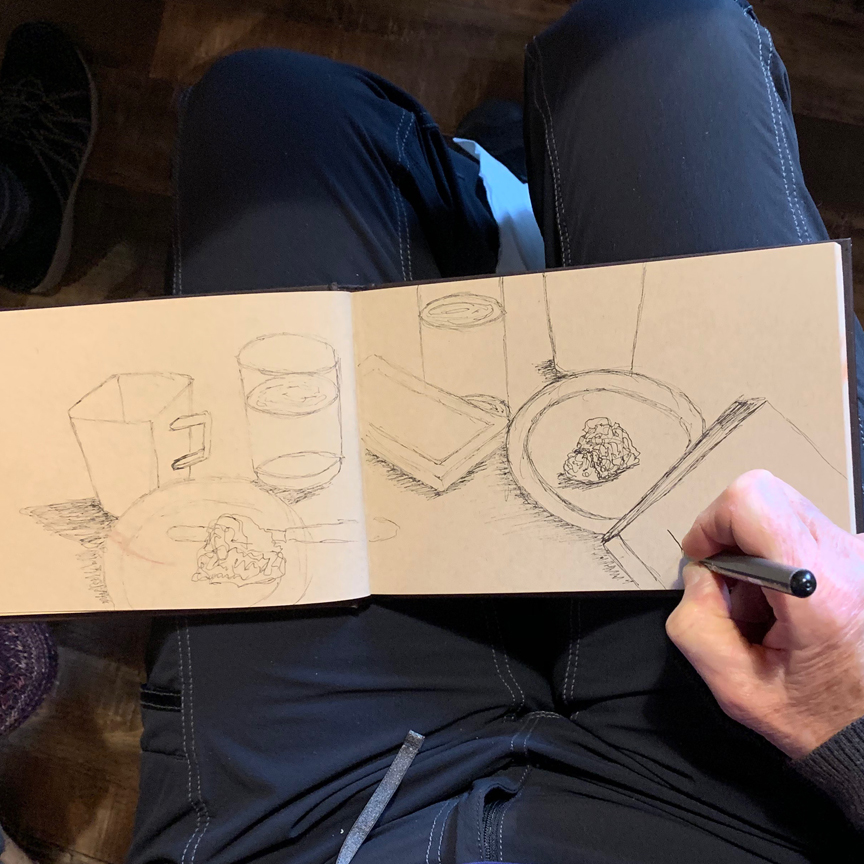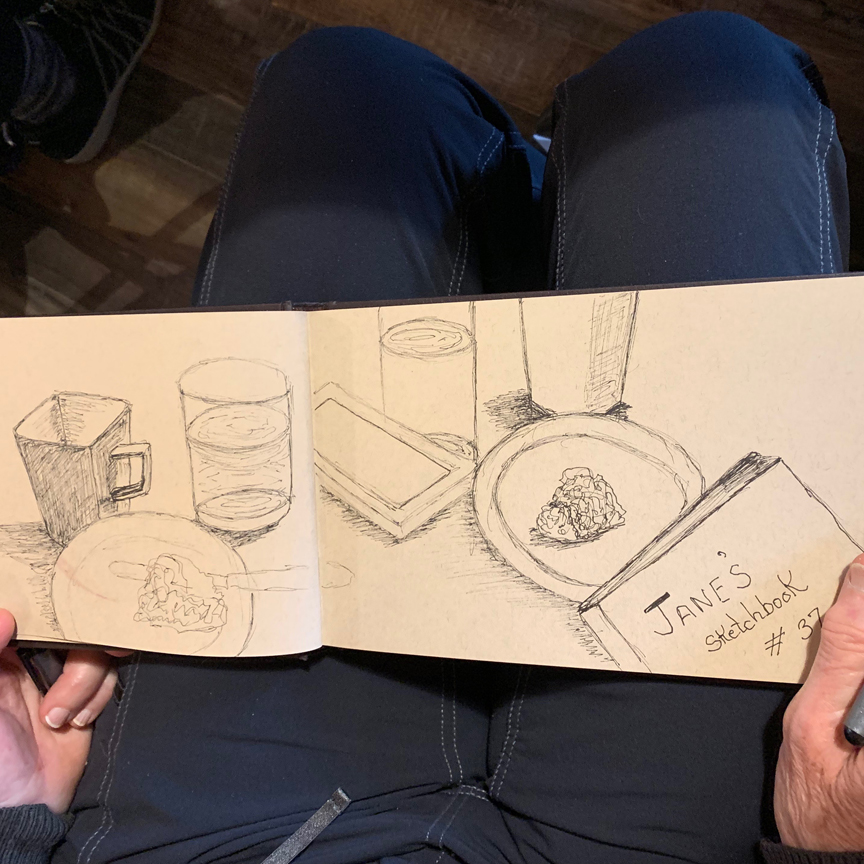 Sandy likes sketching "across the ditch" using both pages in a landscape approach. Here's the view in front of her! Well done.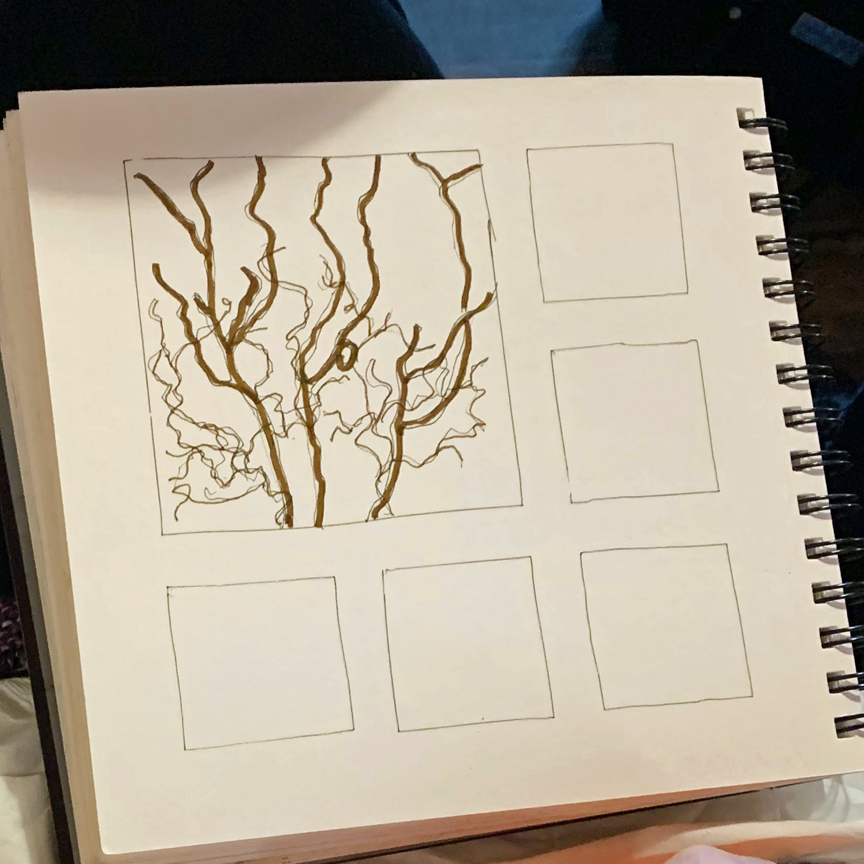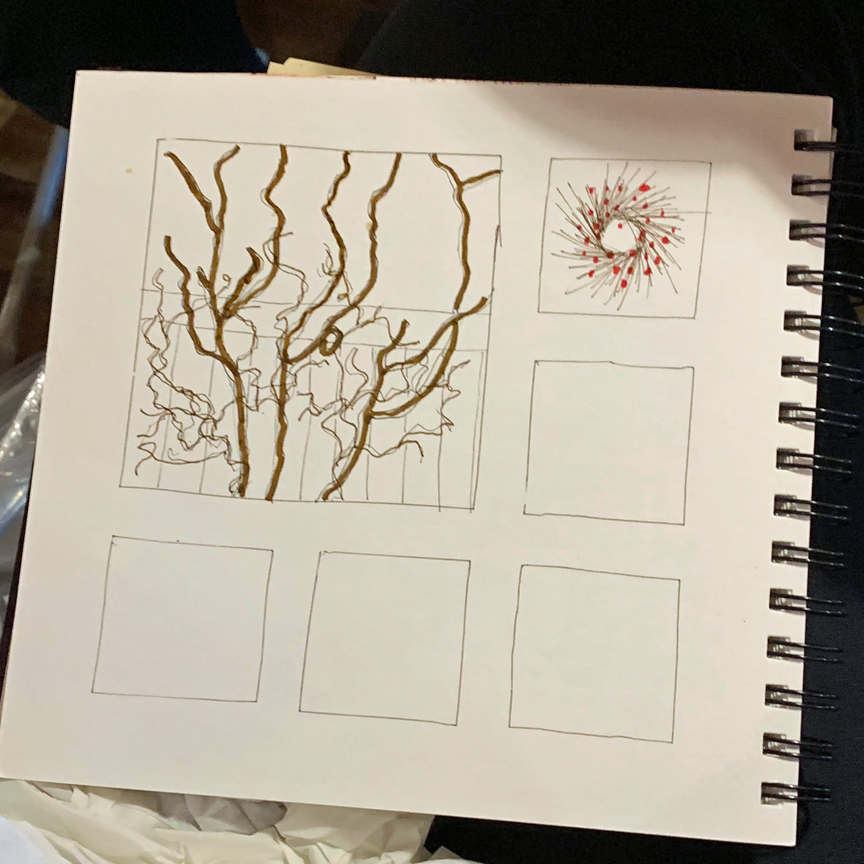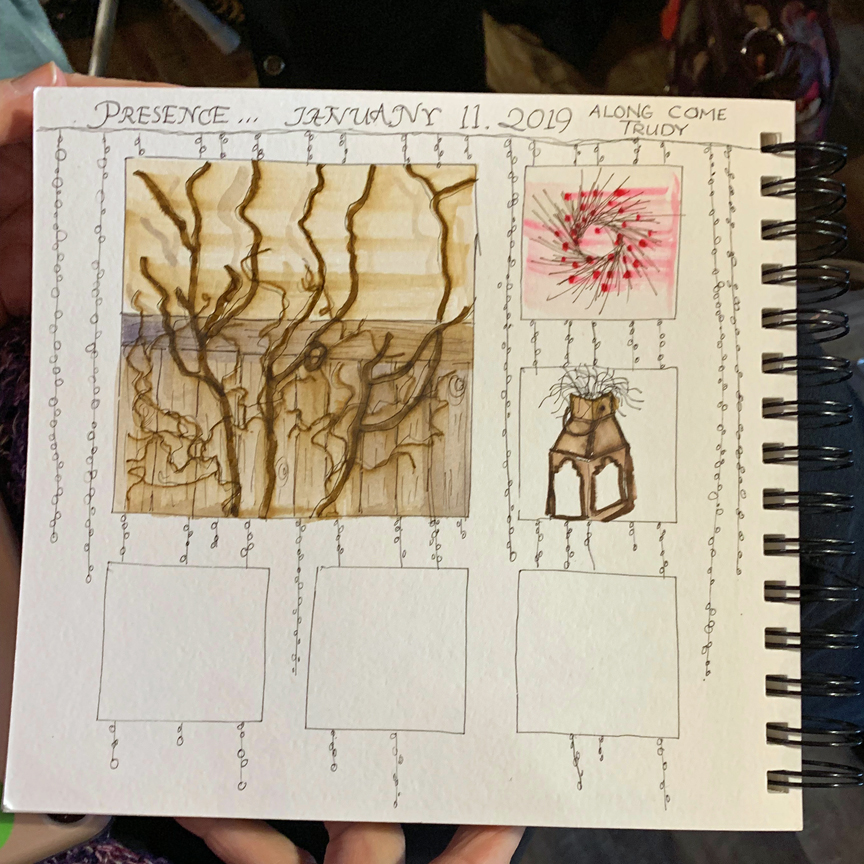 Katie has such great success with her template of squares. She worried about the red bleeding on the wreath, but it's spirited!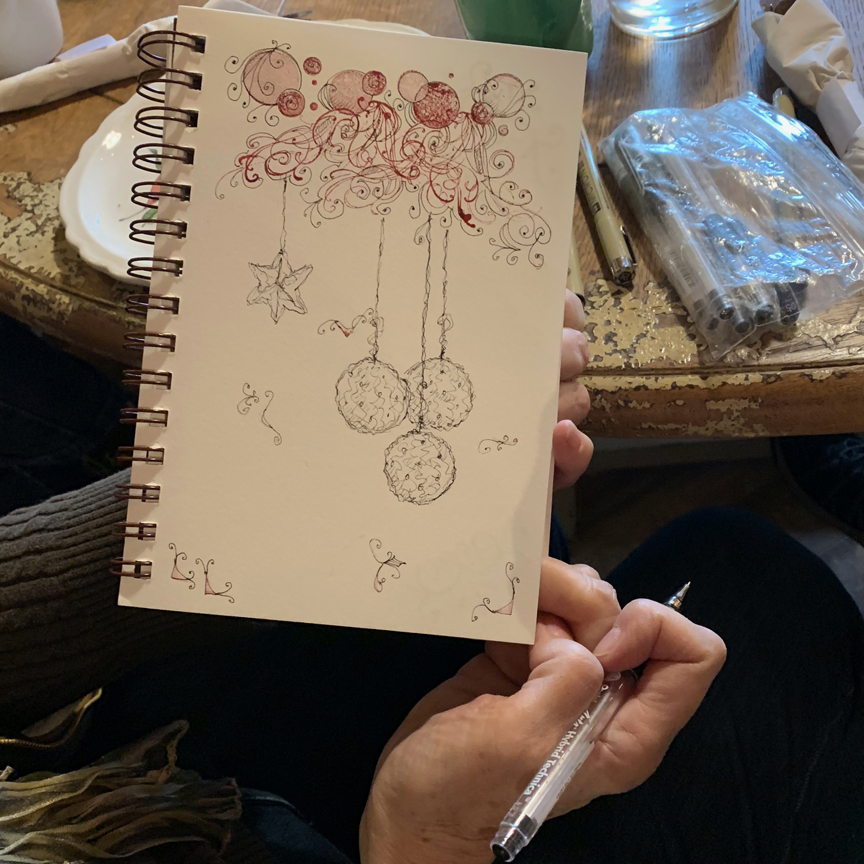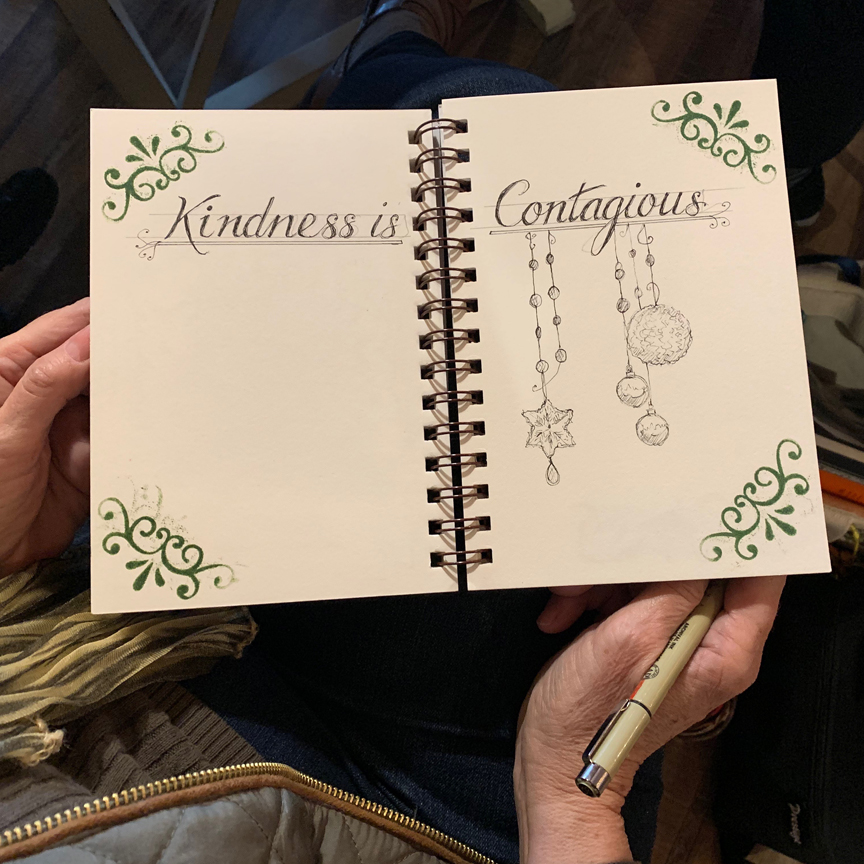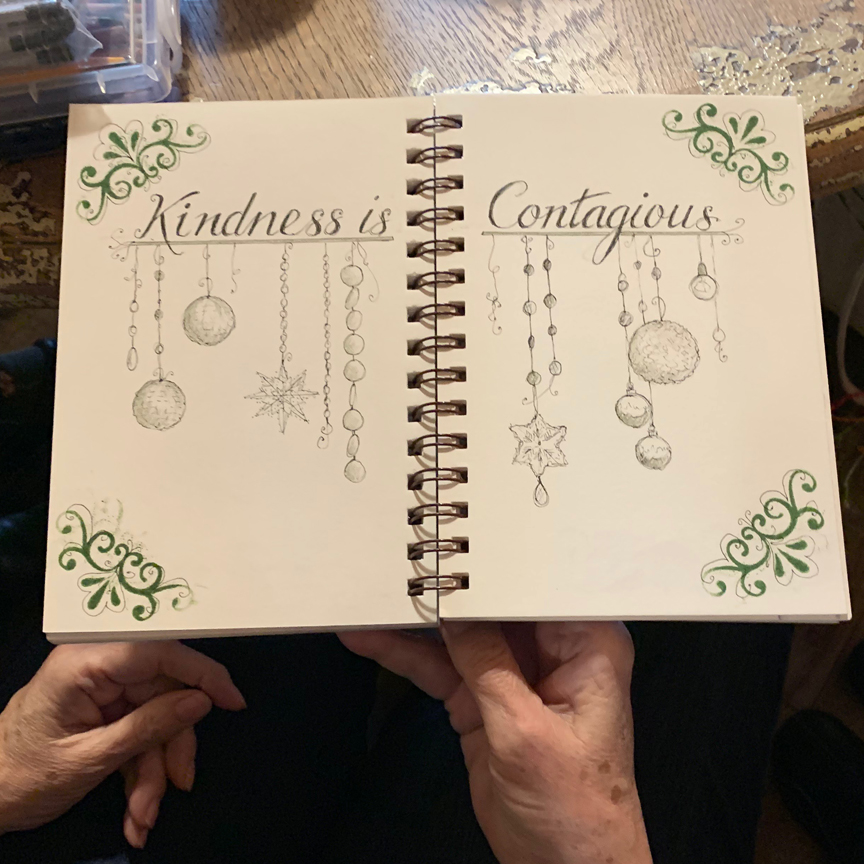 Bev is a whiz at combining pre-stamped pages with what she sees about her, including quotes on the wall – it adds so much zest.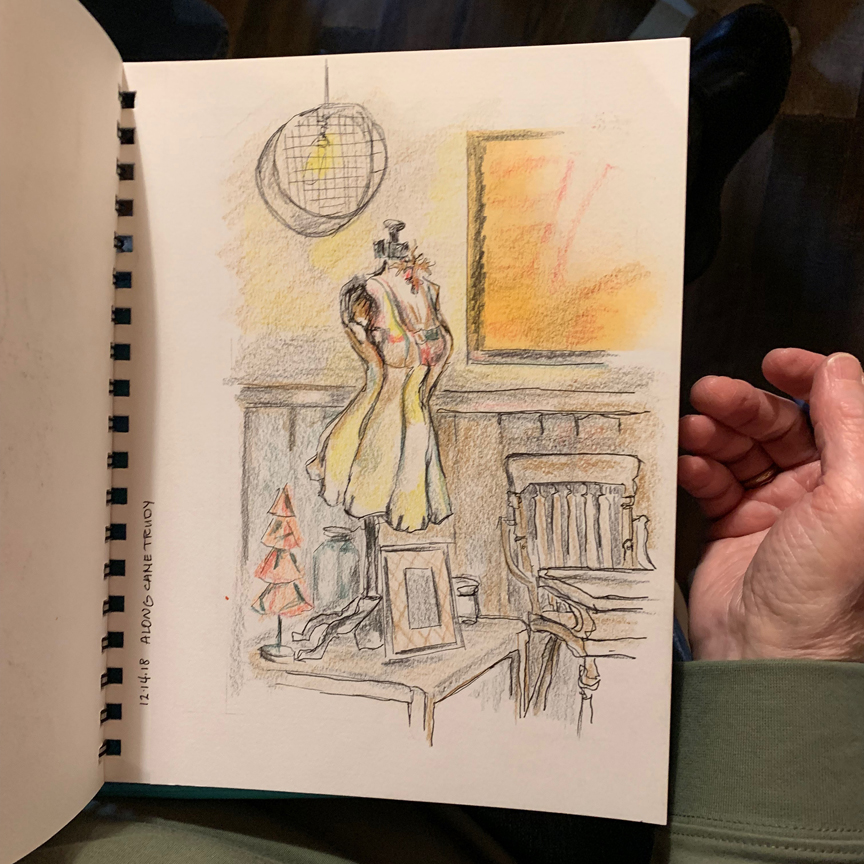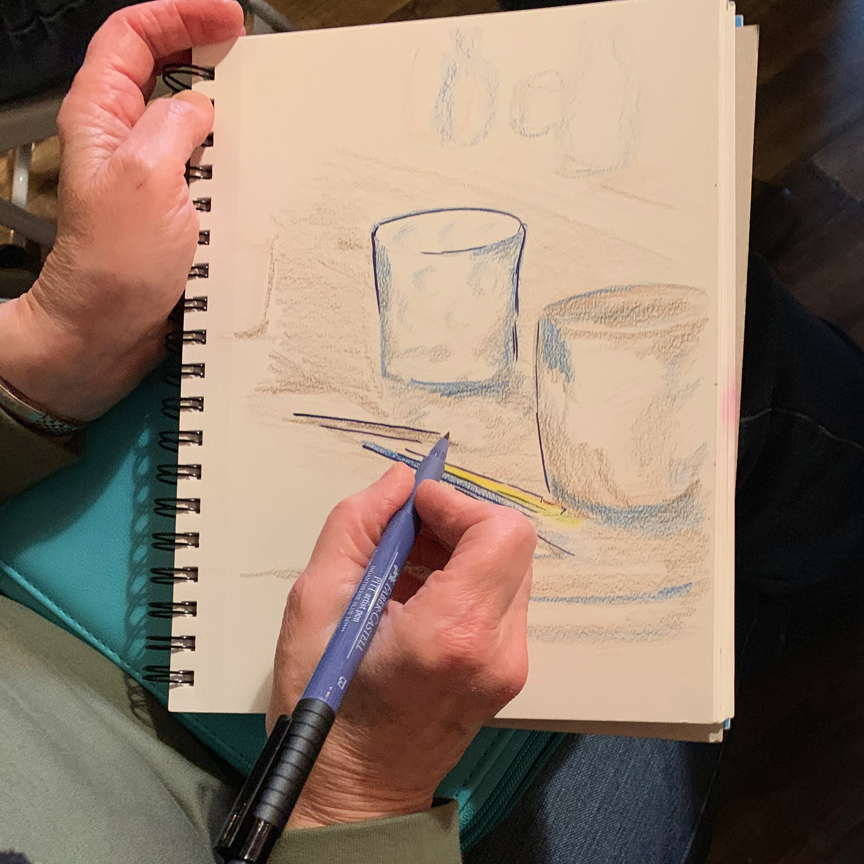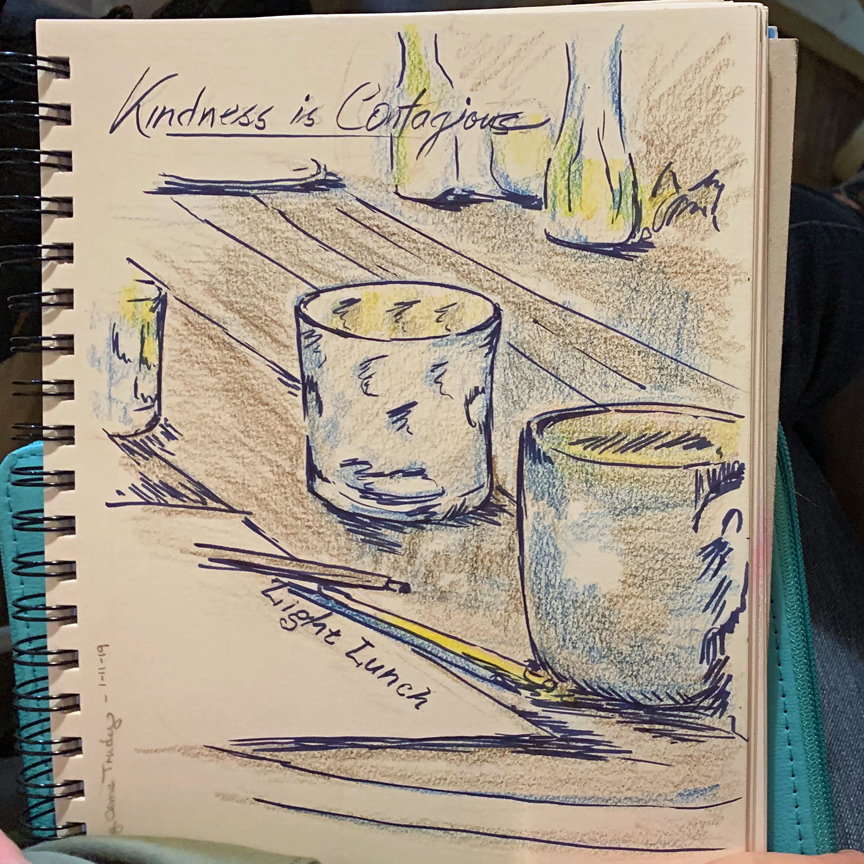 A sketch doesn't have to be complicated, like Marsha's previous one here, in order to be interesting, like her glassware & cup today!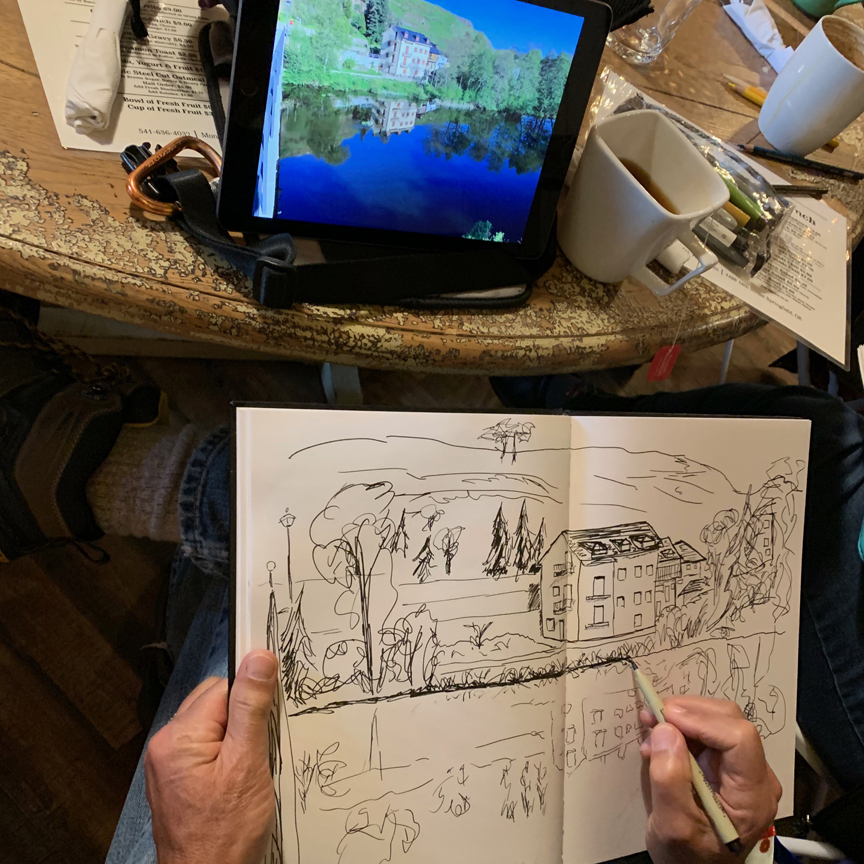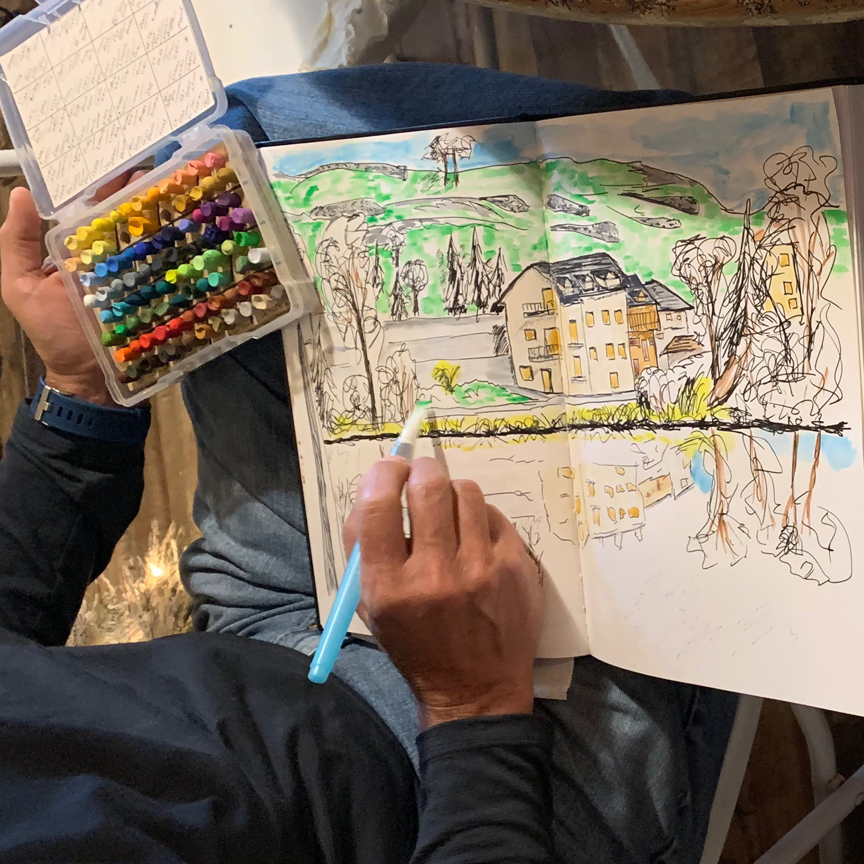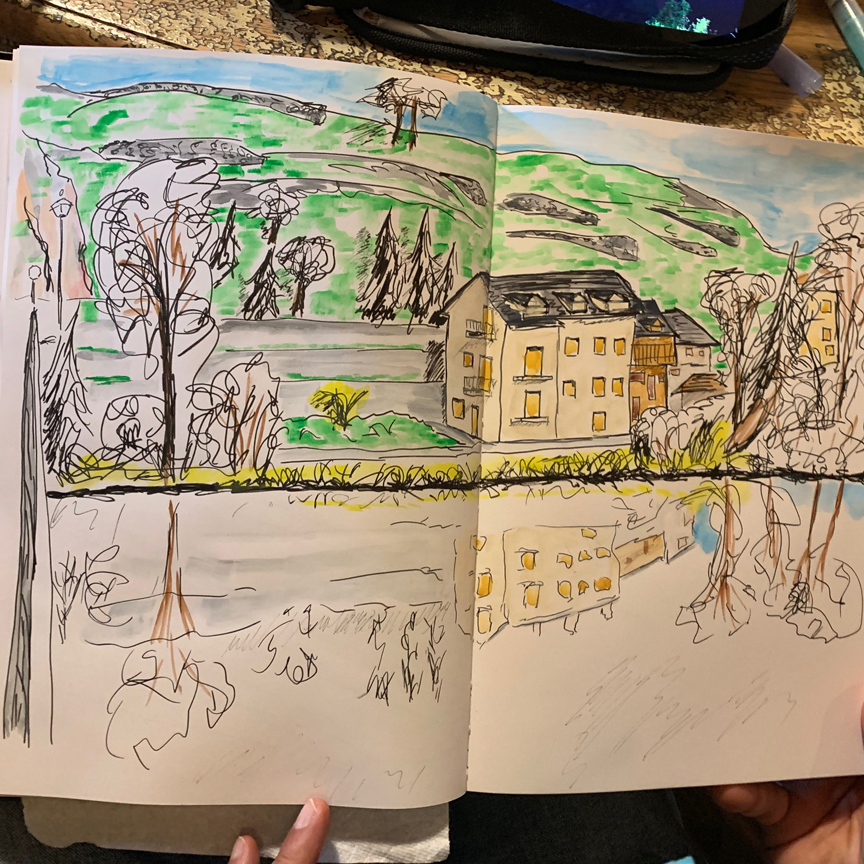 Hugh brought his subject matter with him – a photo taken in Spain. You can see his technique using waterbrush to crayons to page. Nice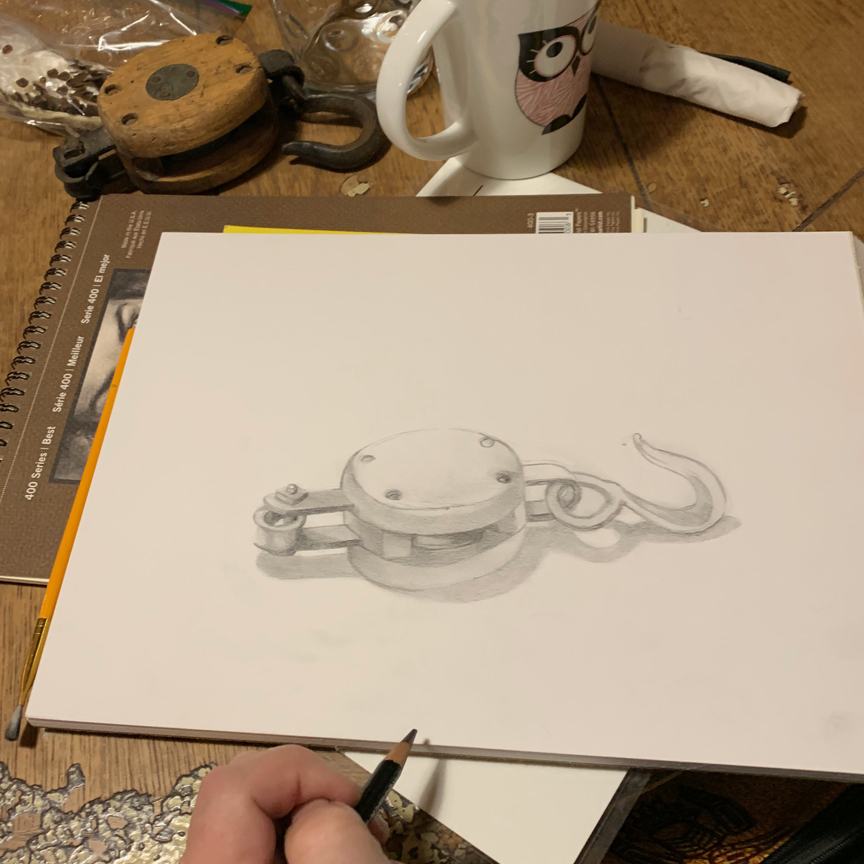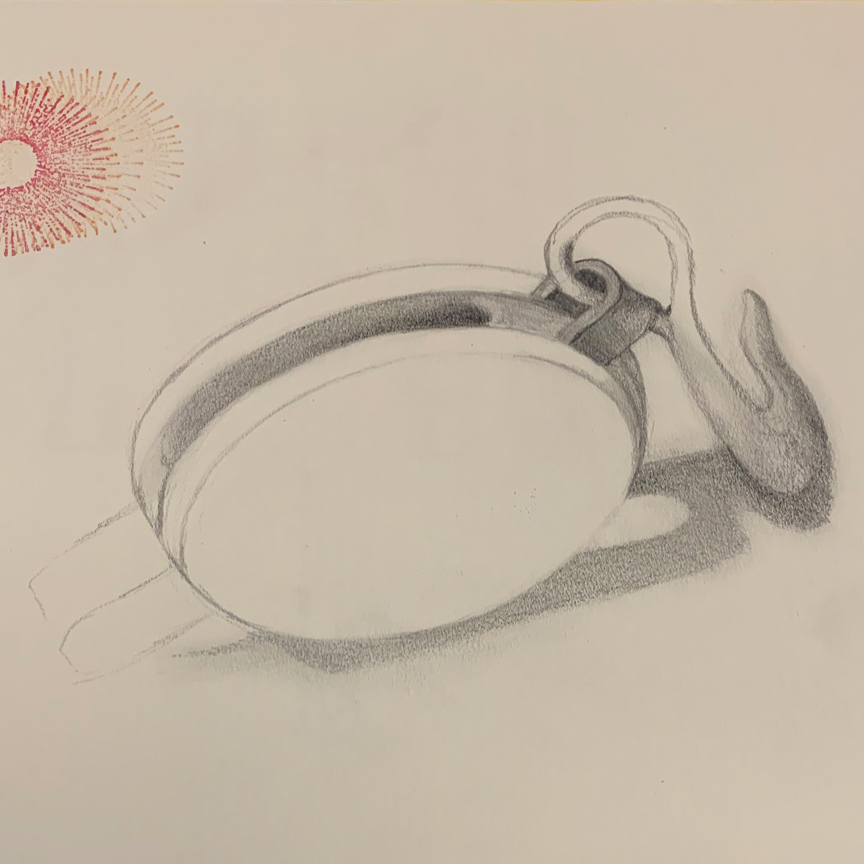 Wanda is still fascinated with her antique store find, trying to sketch it from different angles, using graphite. Beautifully done!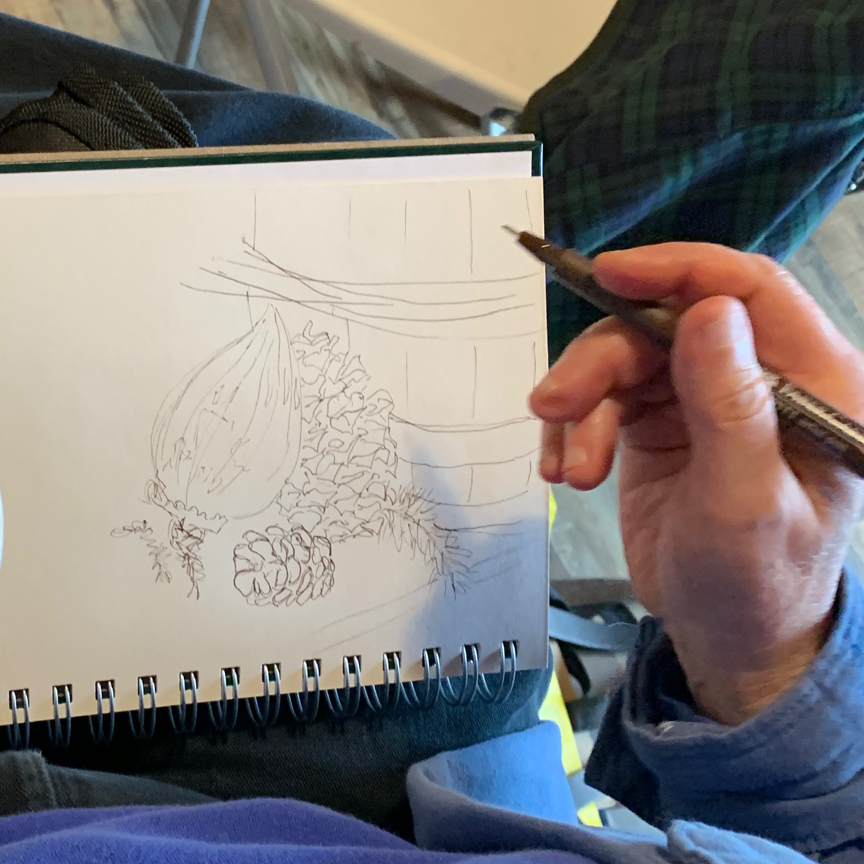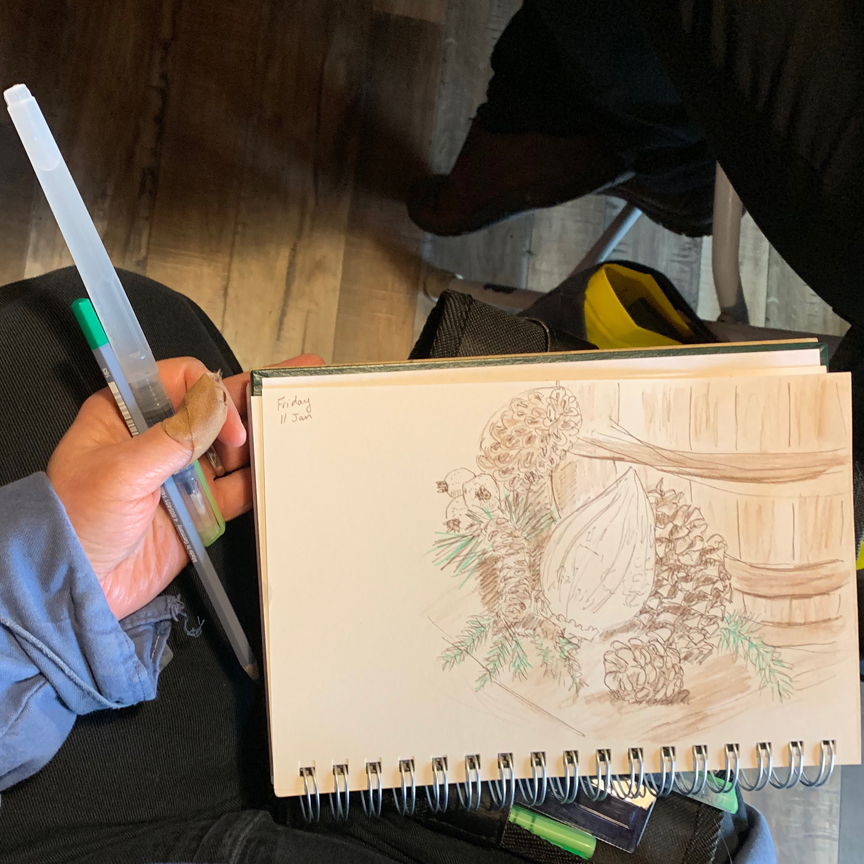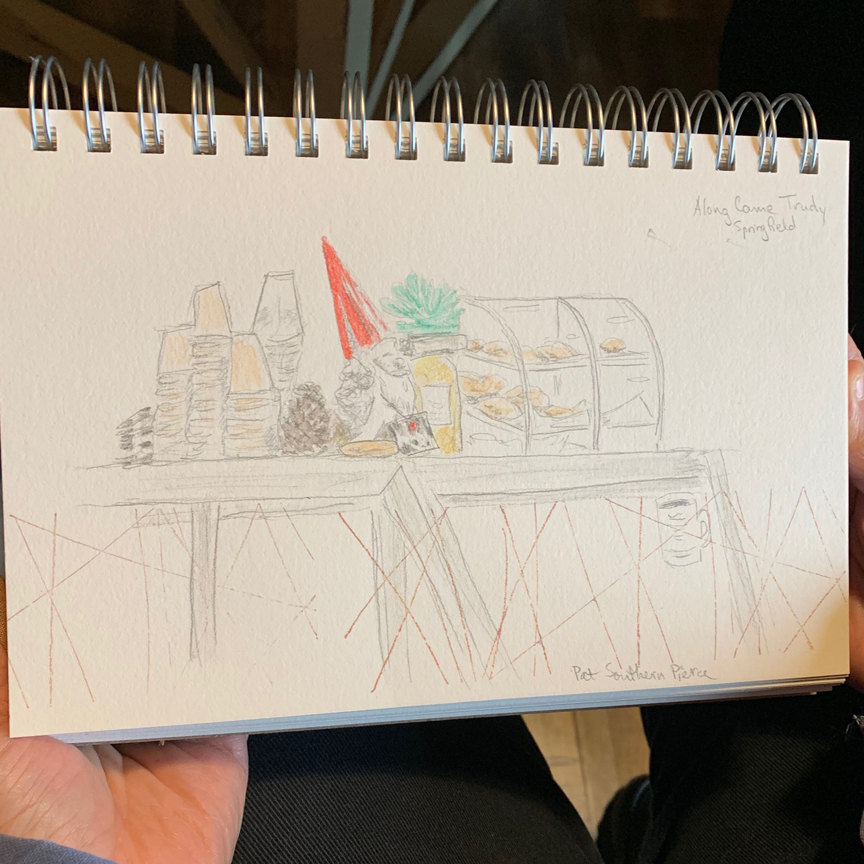 Daisy got caught up with all the decorations placed around the room, but still wants to go darker. Where's Ken when you need him!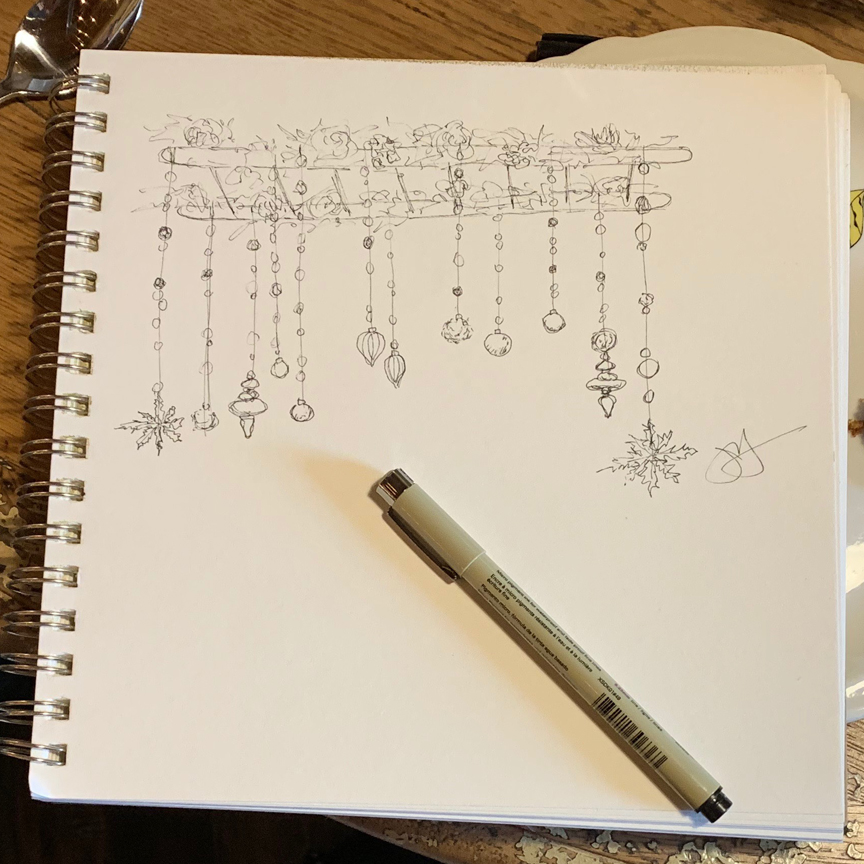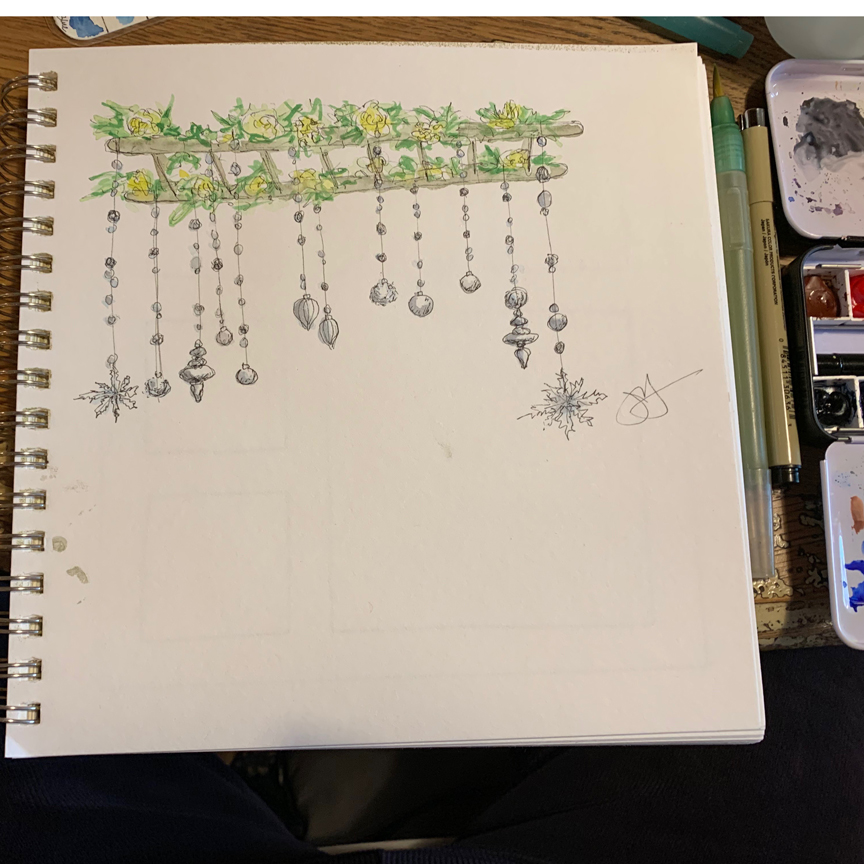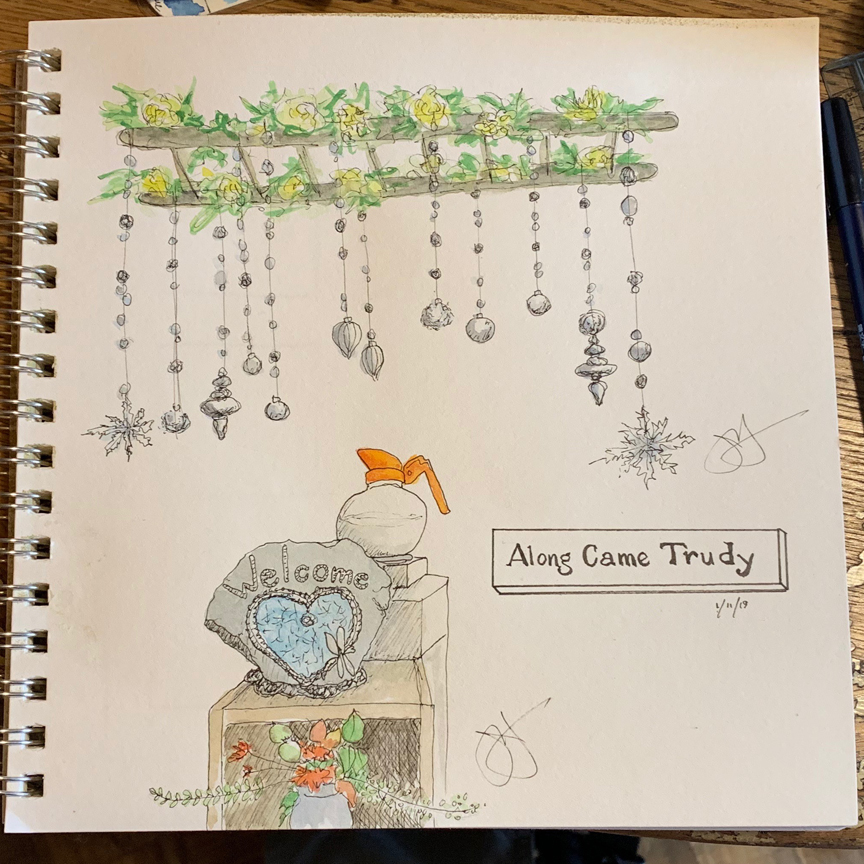 Jane just couldn't quit, and added the welcome sign from the next room to her page, along with the coffee carafe and name sign.
✒ Dec. 28, 2018 – Crema & Bloom, Springfield, OR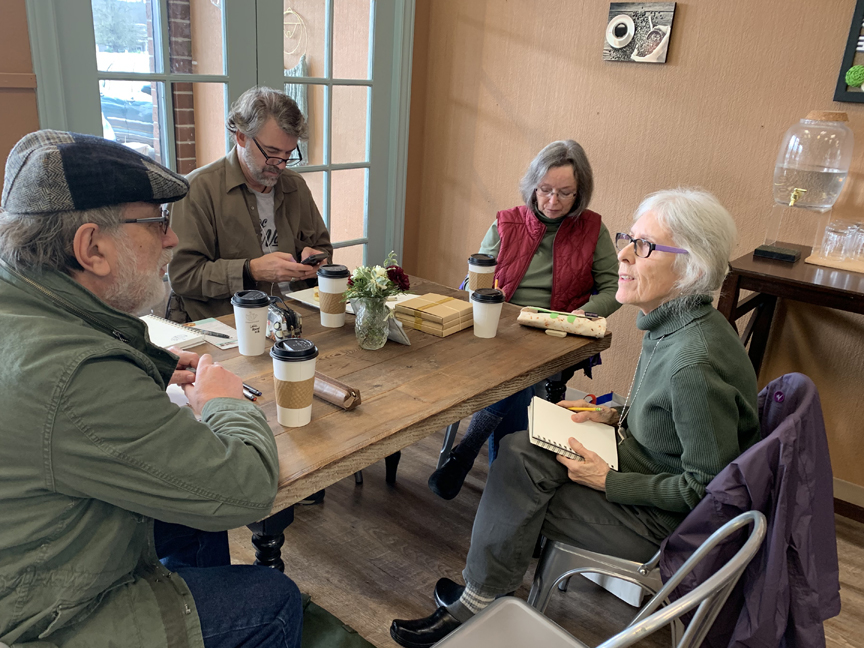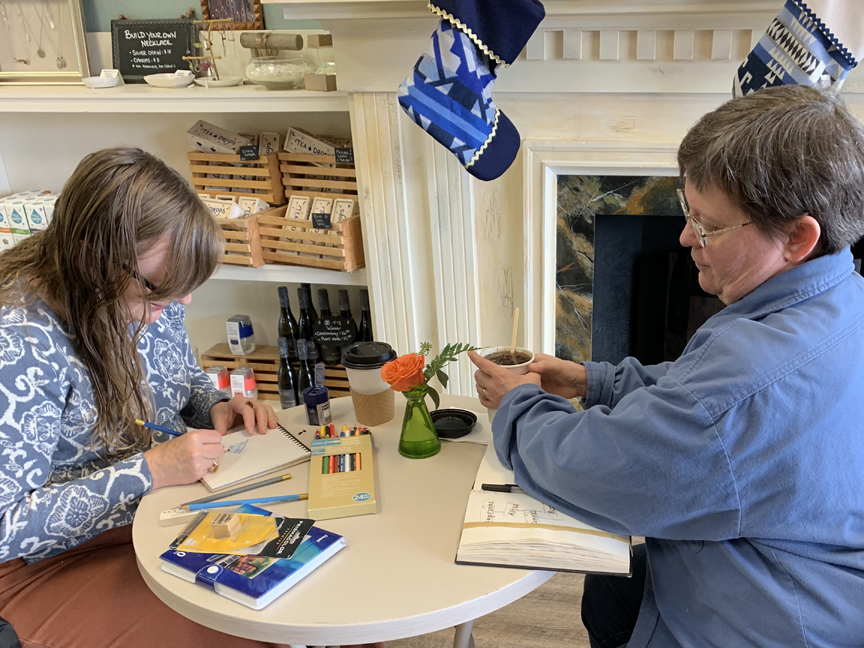 This little place was new to us, and we had a lot of fun being there – Serge, Sean (Jane's son), Marsha, Barb So., Jude, & Daisy are pictured. Also there were Jane and Bev.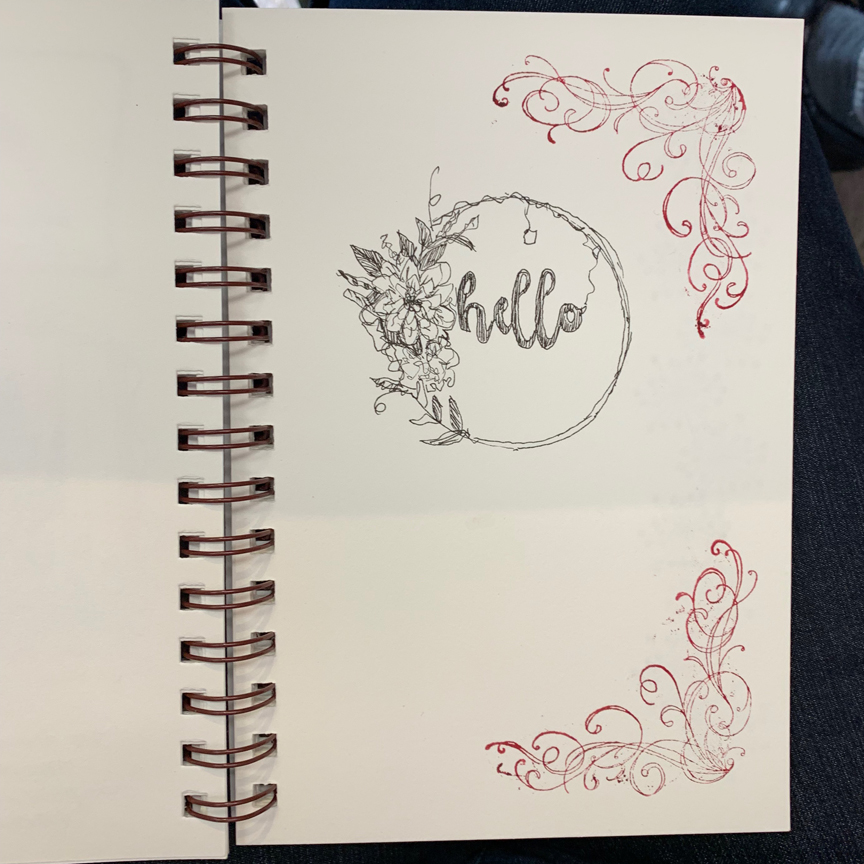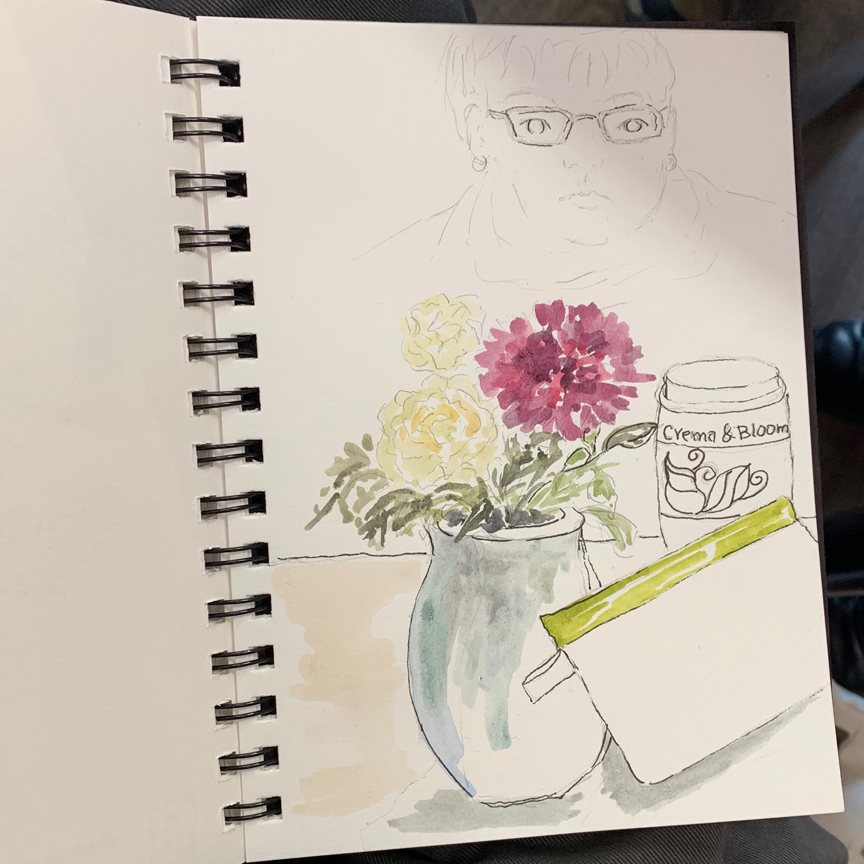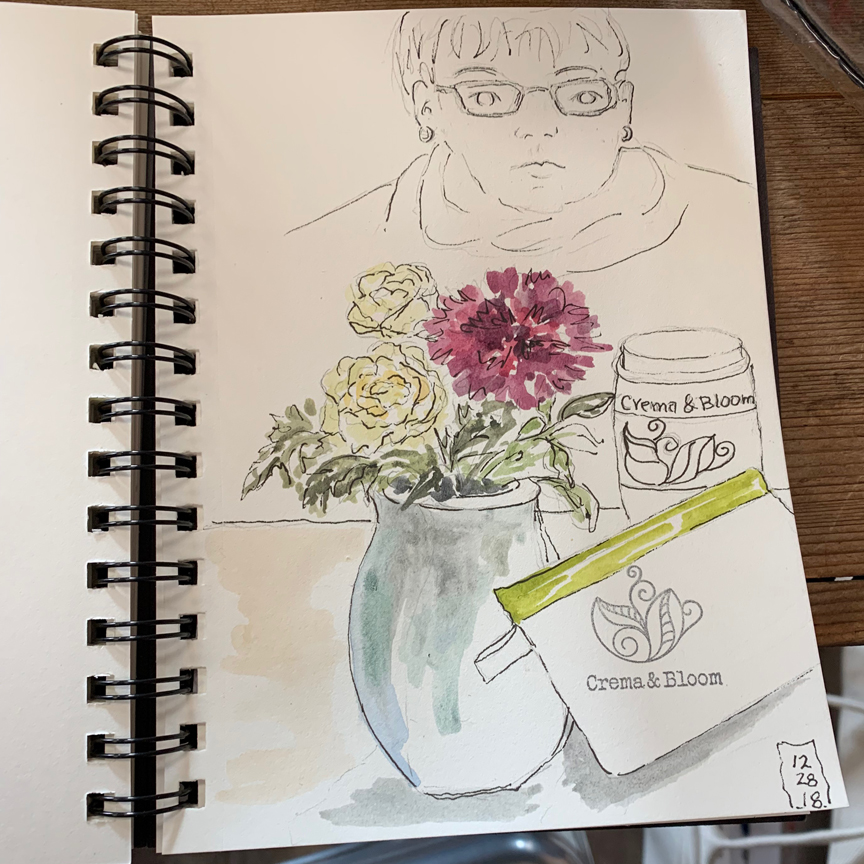 Bev sketched the welcome sign on the door, while Barb So. sketched the table flowers and Jane seated across from her. How clever!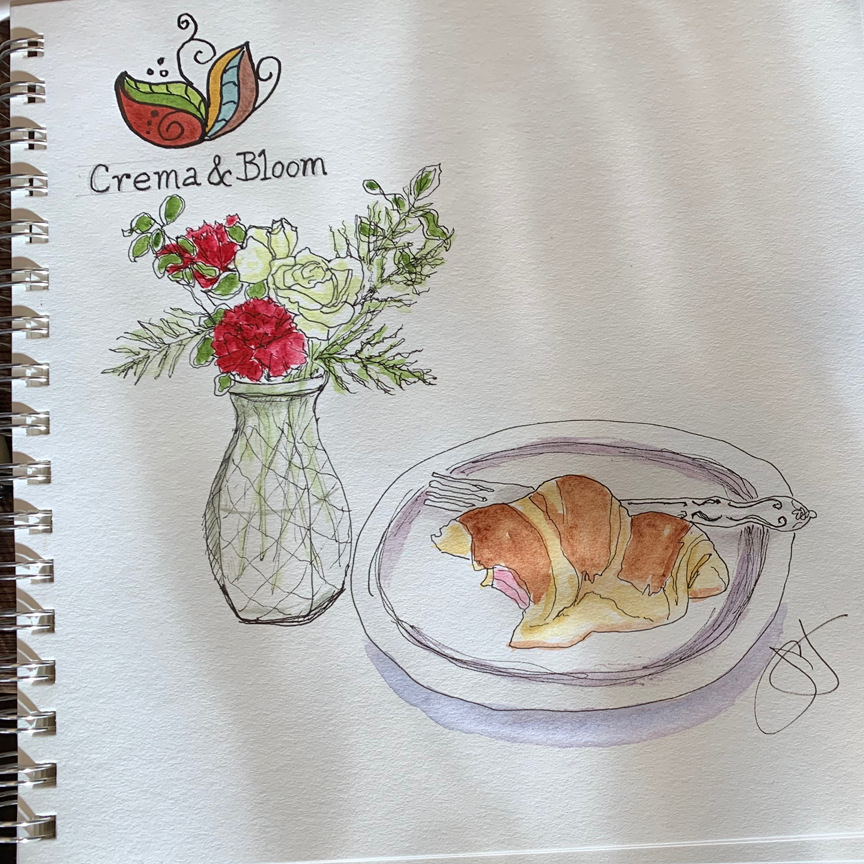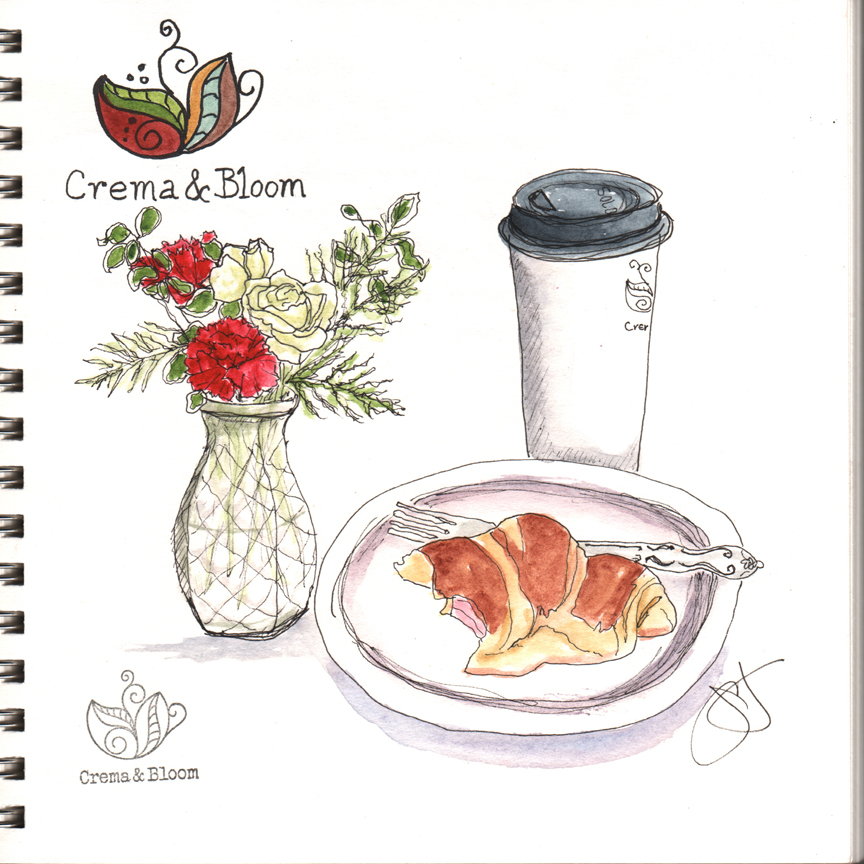 Here's Jane's view from across the table. You can see that Crema and Bloom let us use their stamp! Such a darling logo design.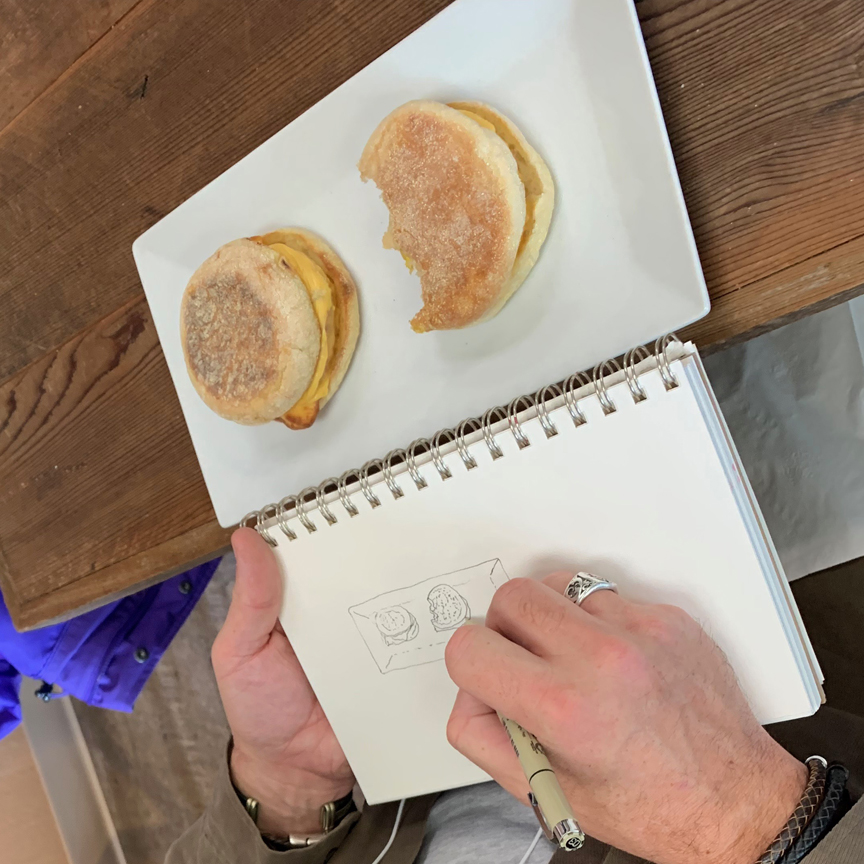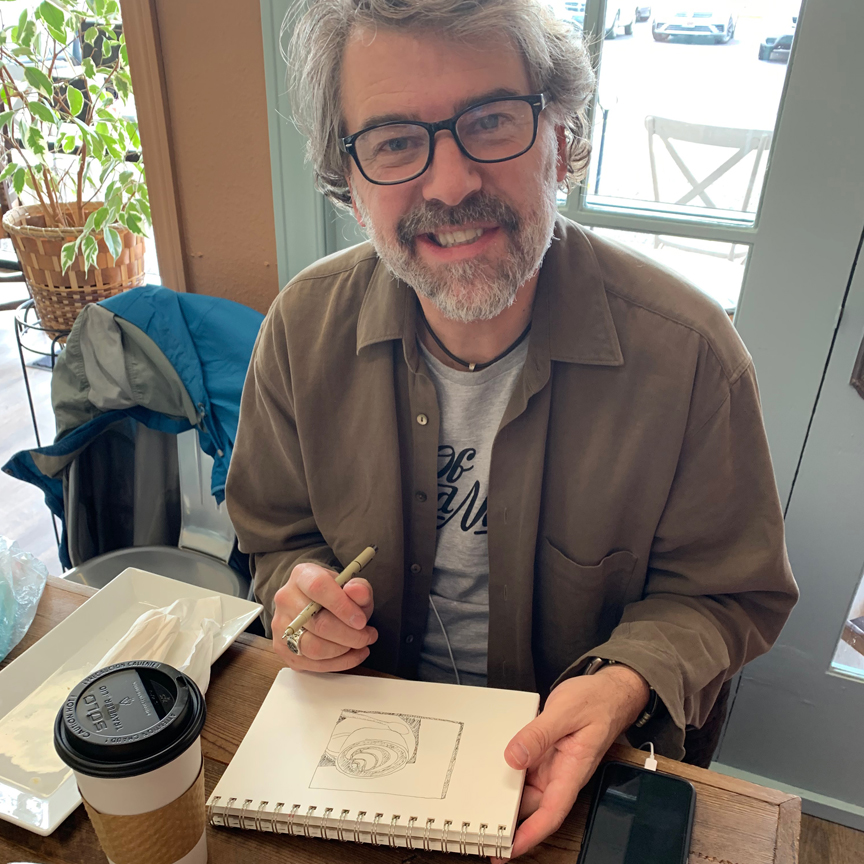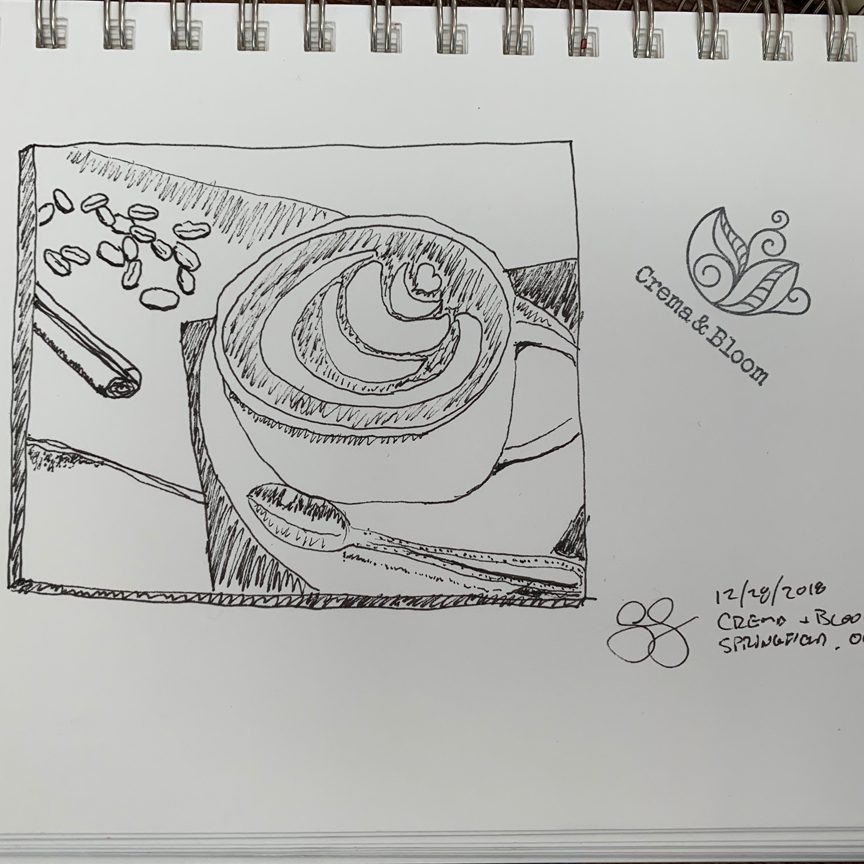 In addition to drinks, they also had pastries, which Sean sketched before and during eating – he also sketched a picture on the wall.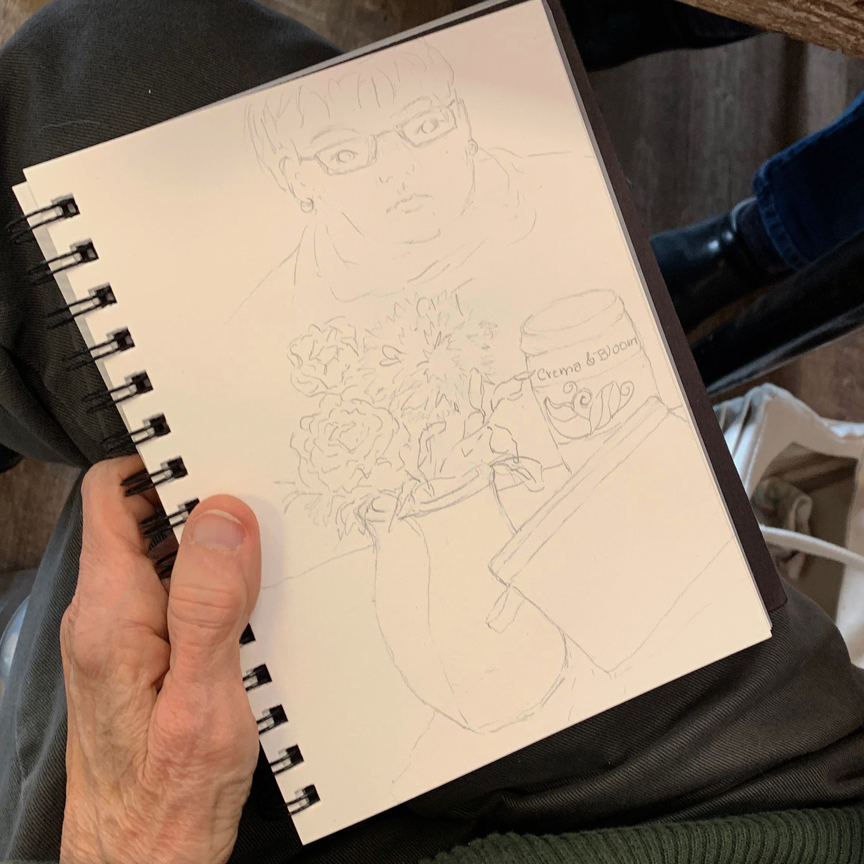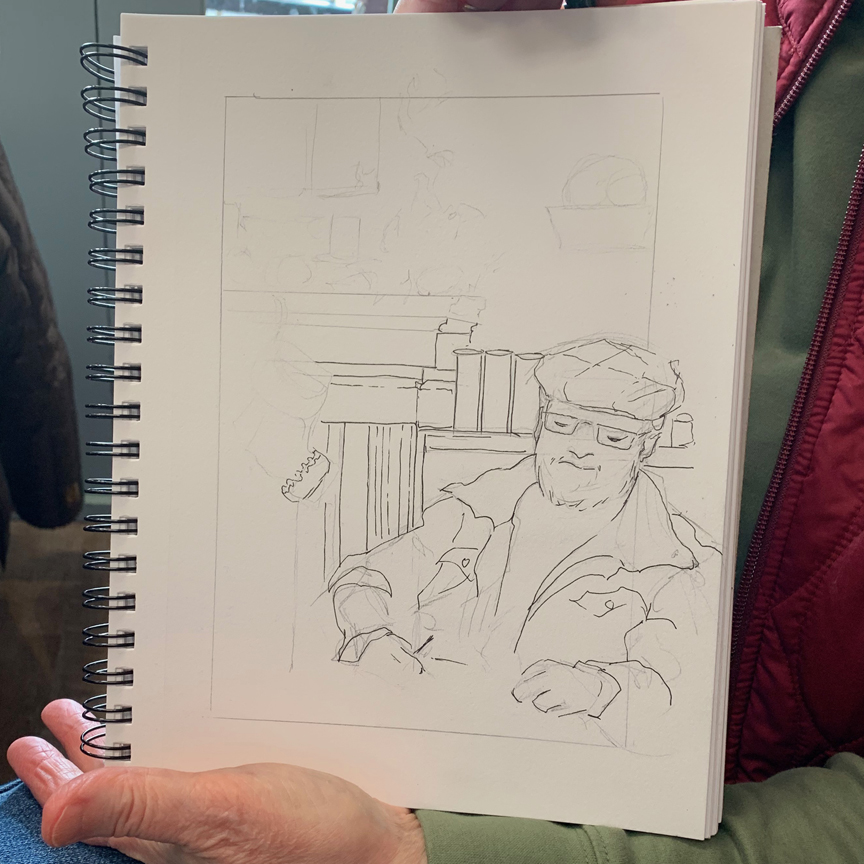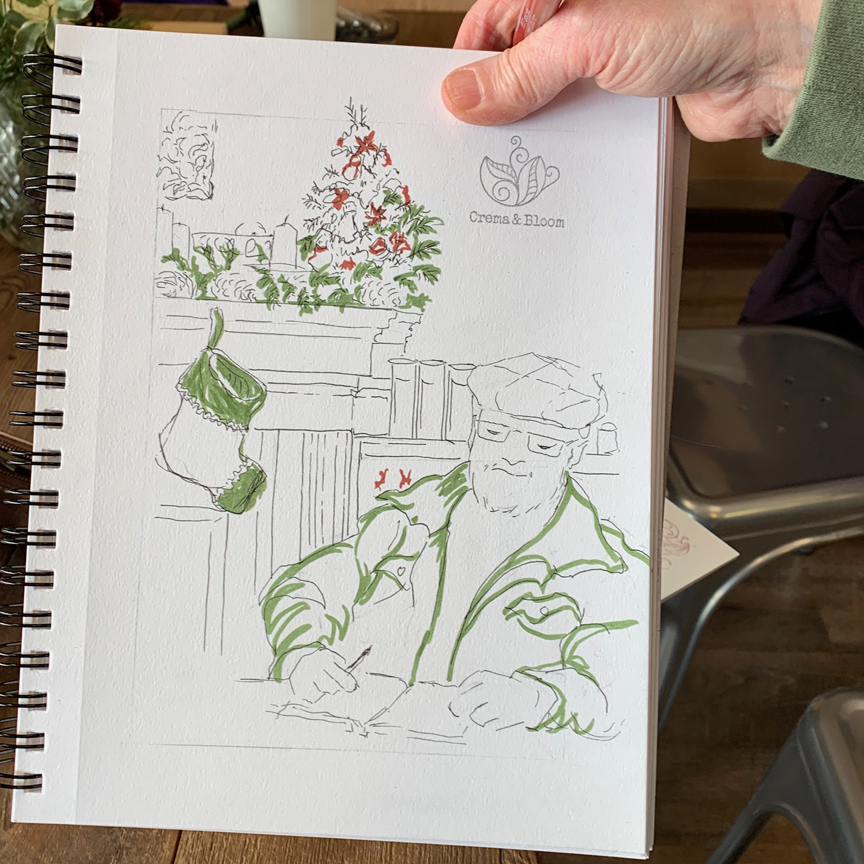 Marsha dove right into doing a sketch of Serge, including the display wall behind him. Doing a portrait & using markers are new for her.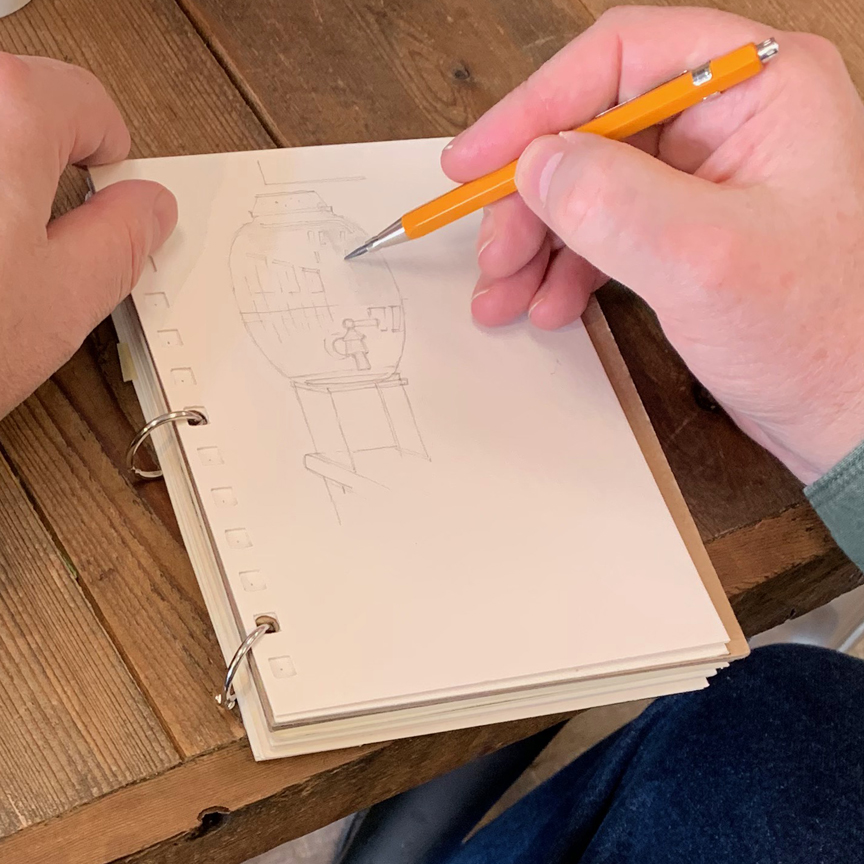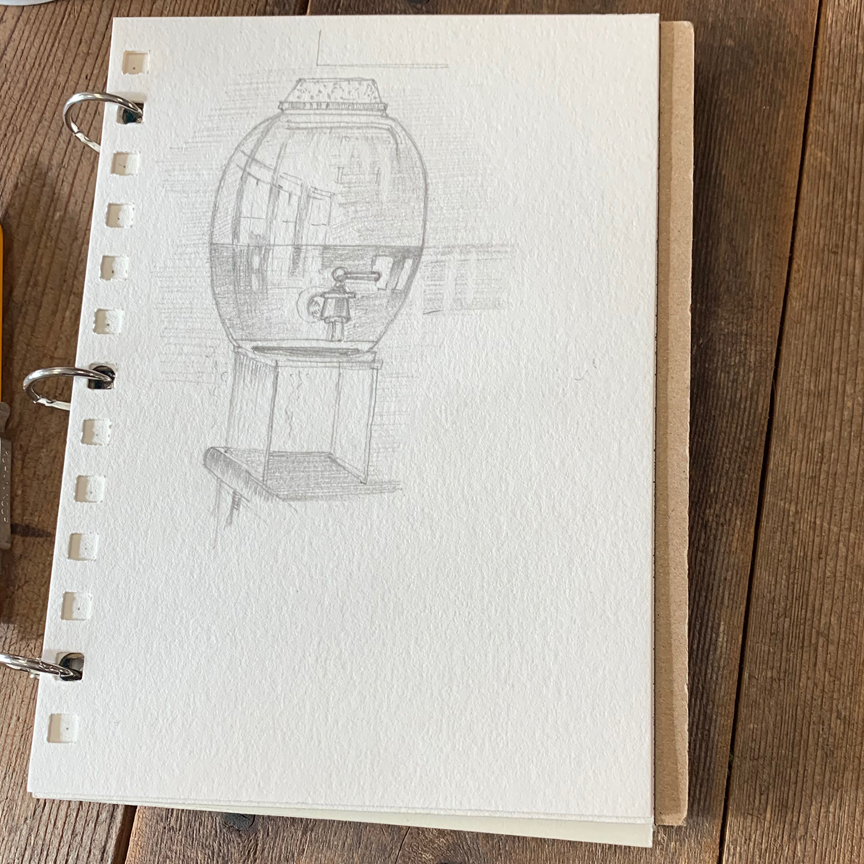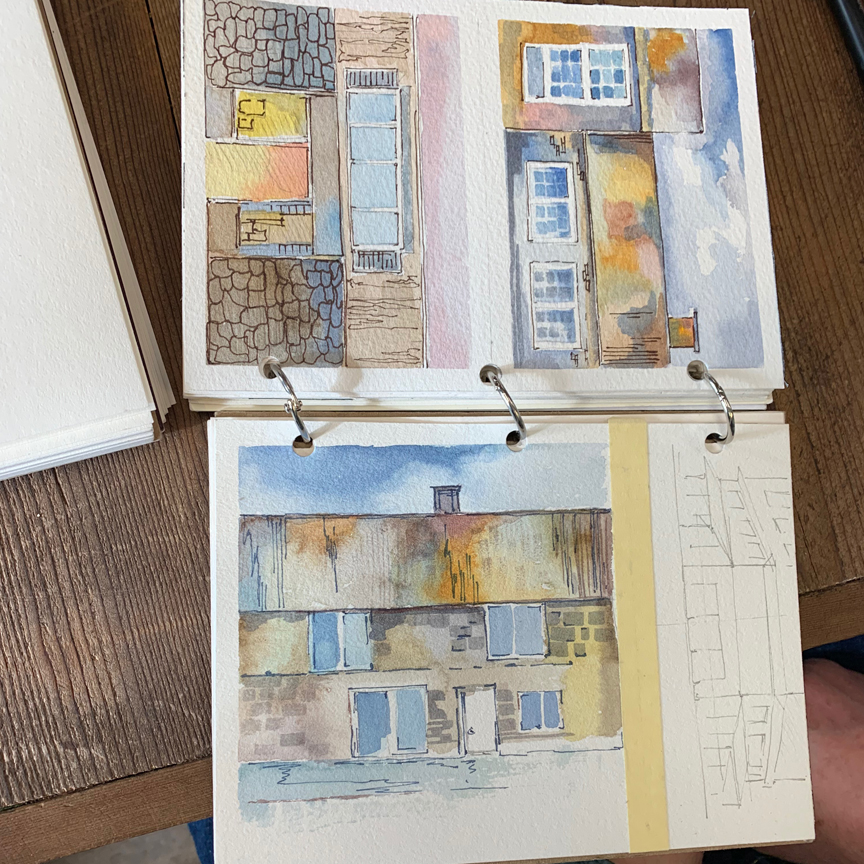 Serge, a master at straight lines, took on the challenge of the water dispenser, and then shared his explorations of wet-on-wet color.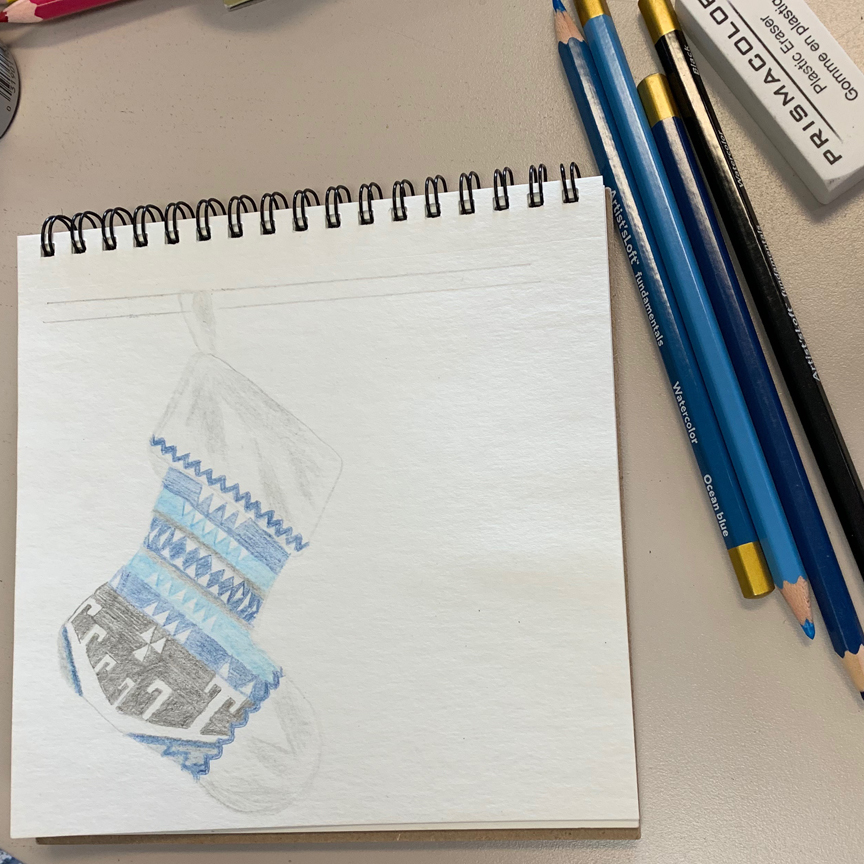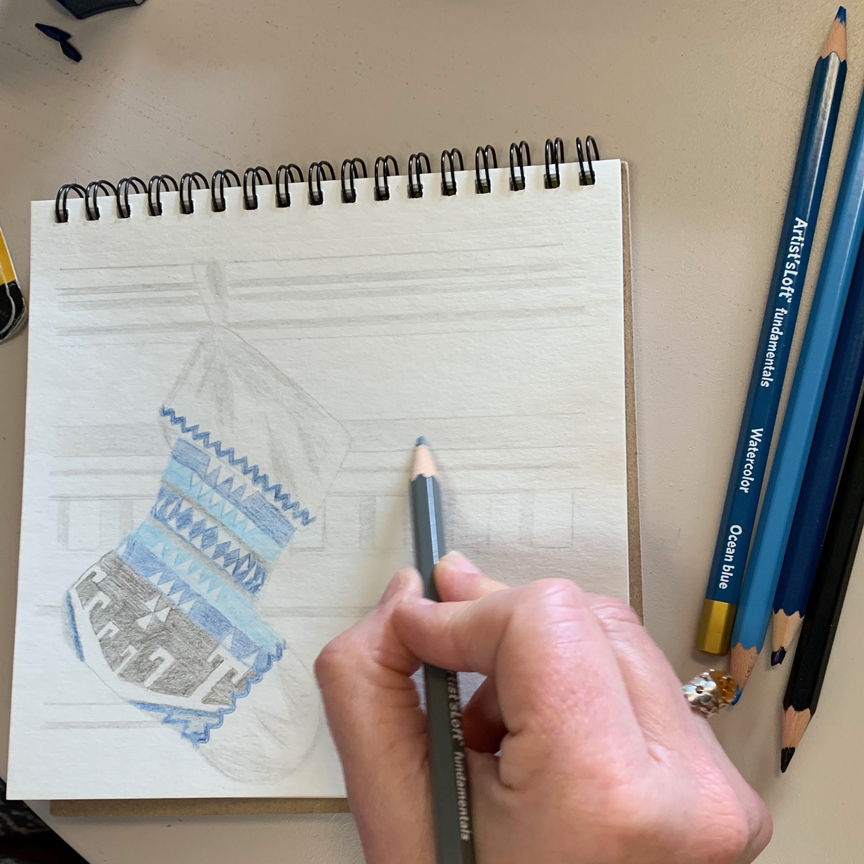 Jude couldn't resist sketching the hand made Christmas stockings handing from the "fireplace" mantel. Nicely done, Jude!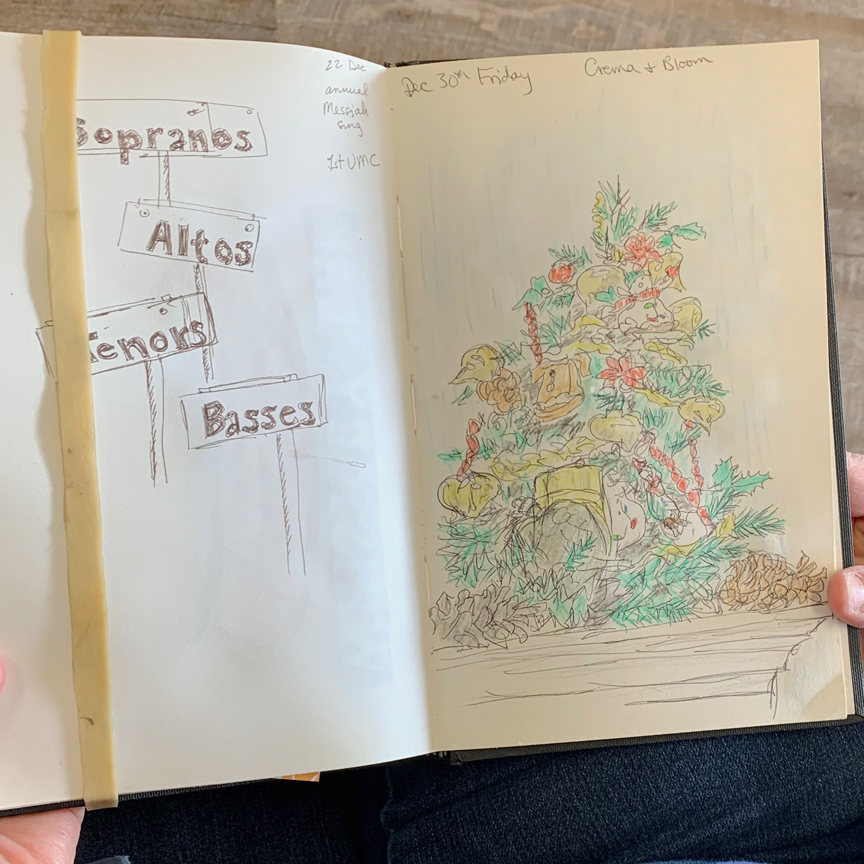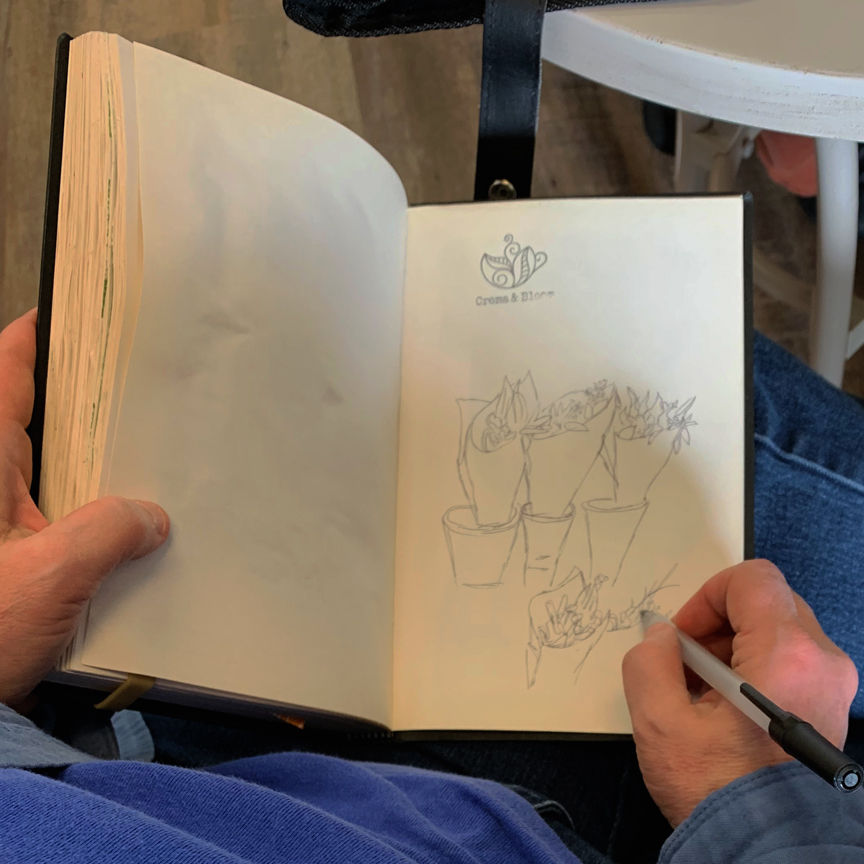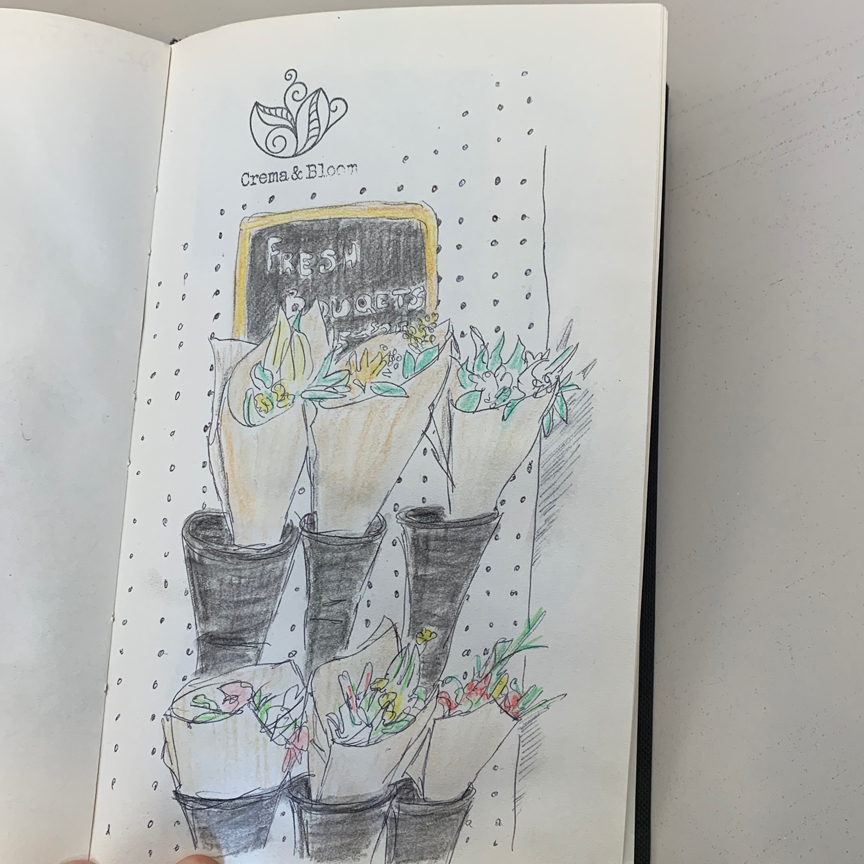 Daisy did a lovely loose sketch of a mantel decoration, then gamely started sketching the floral offering display board – wow!
✒ Dec. 14, 2018 – Along Comes Trudy, Springfield, OR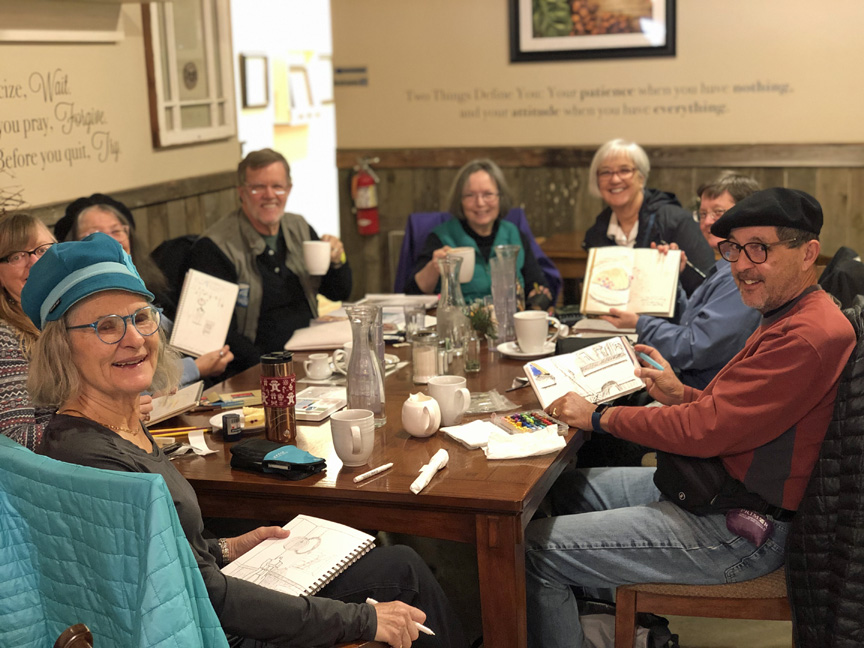 Exploring a new venue! Around the table: Sandy, Jude, Laura, Jim, Marsha, Katie, Daisy, & Hugh. What a fun place to sketch!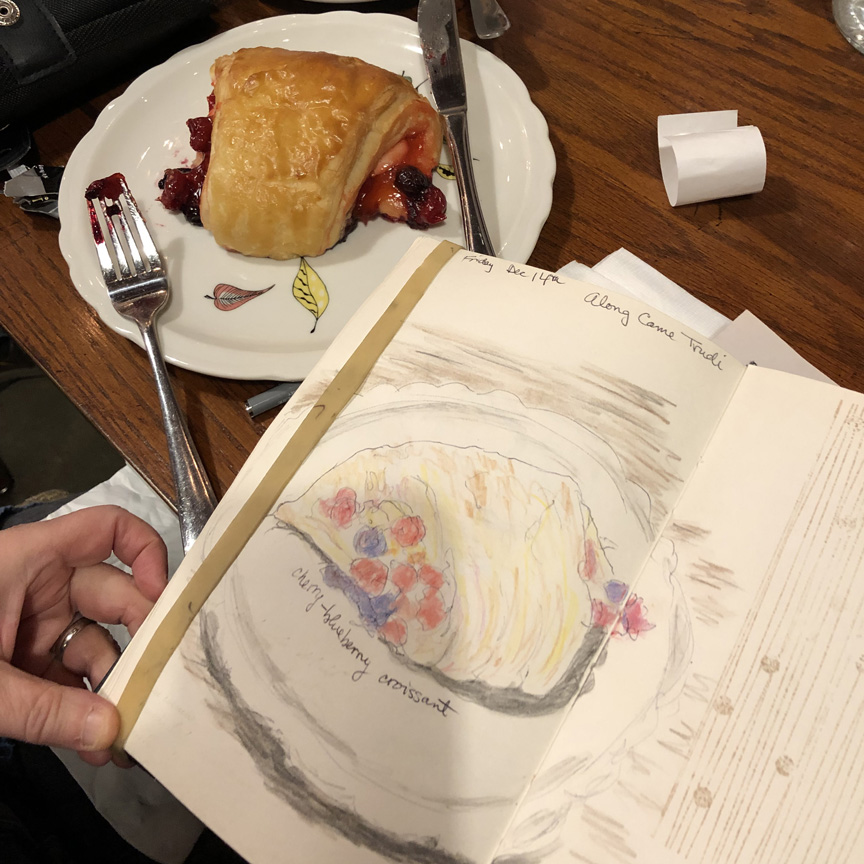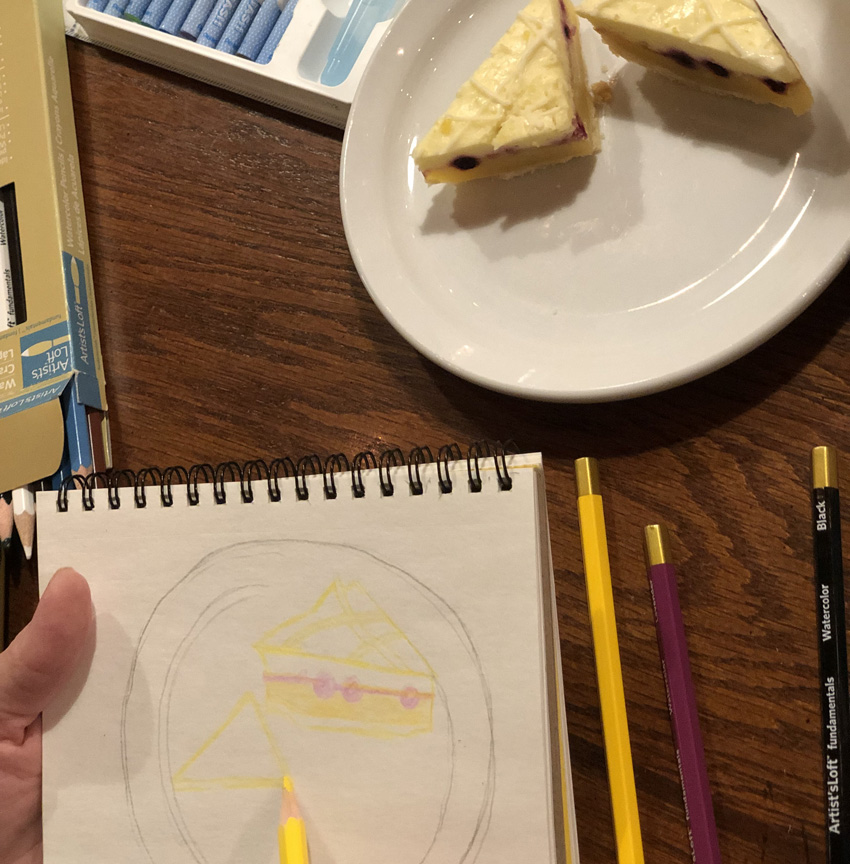 Daisy & Jude sketched the honored "what's in front of you" pastries.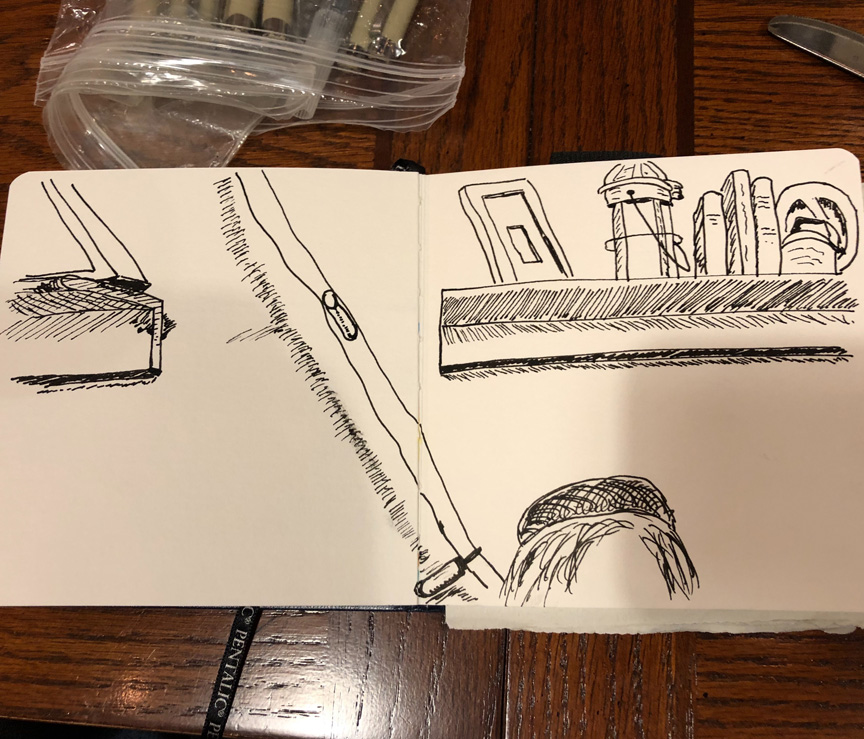 Hugh sketched the overhead view – what an angle he has!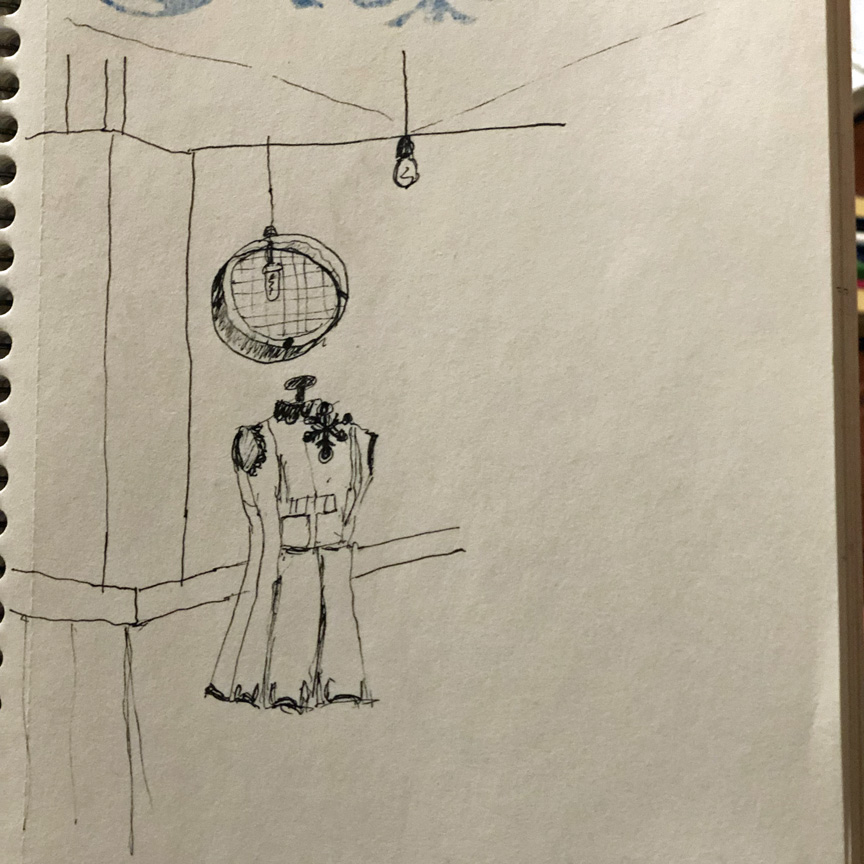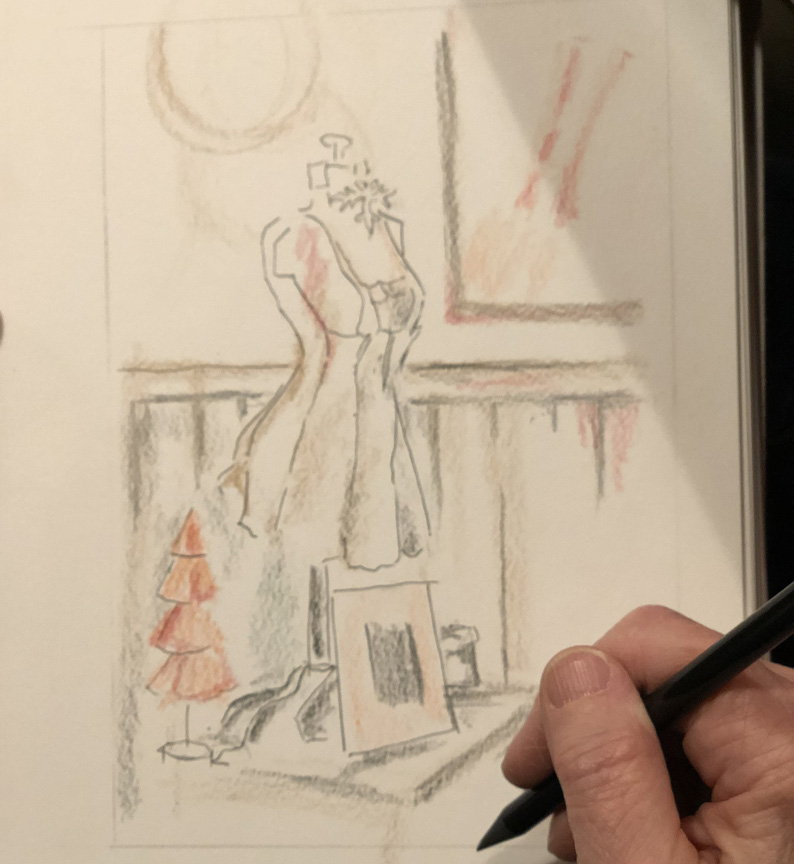 Taking on the tailor's form in the corner was a real challenge. Here are Laura's and Marsha's takes – what do you include? Where's the focus?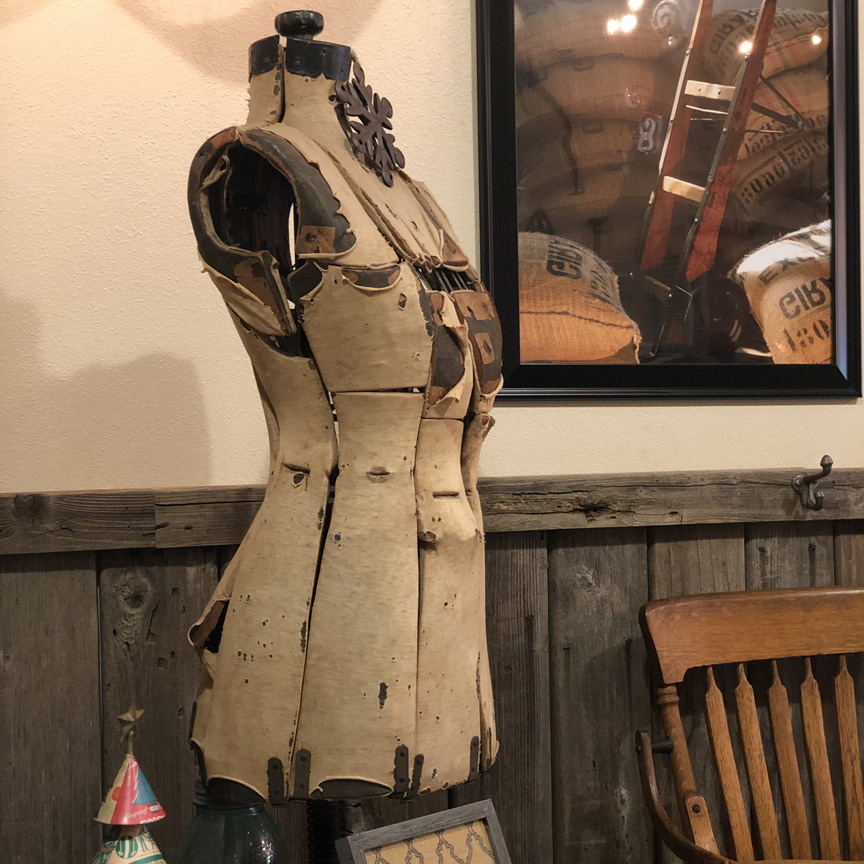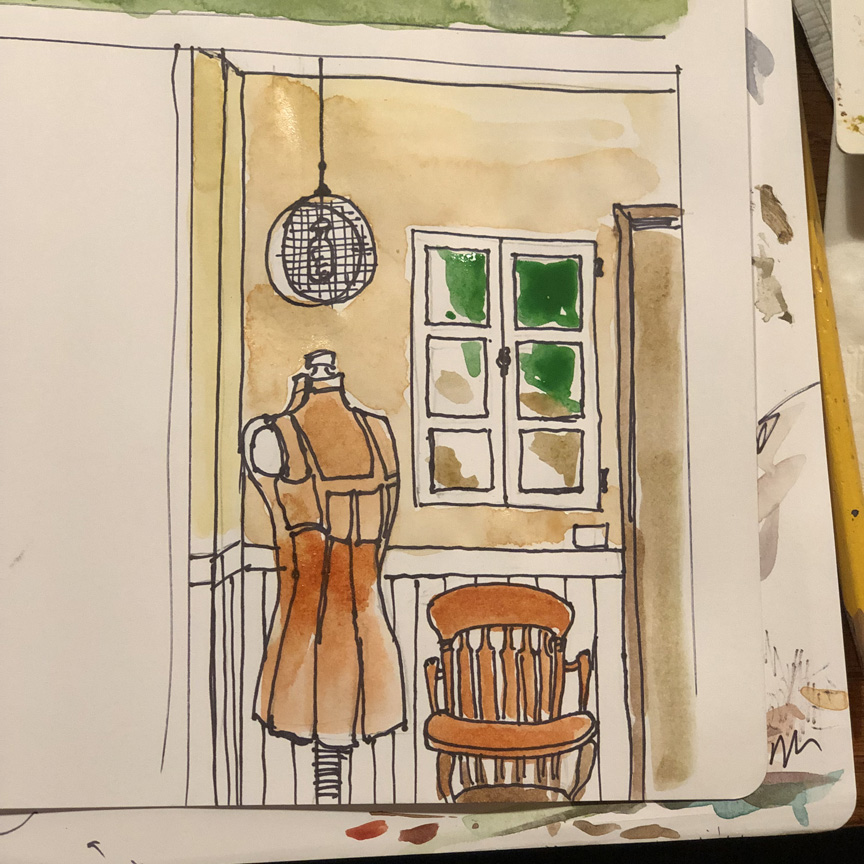 Here's that rascally form, and then Jim's version with surroundings.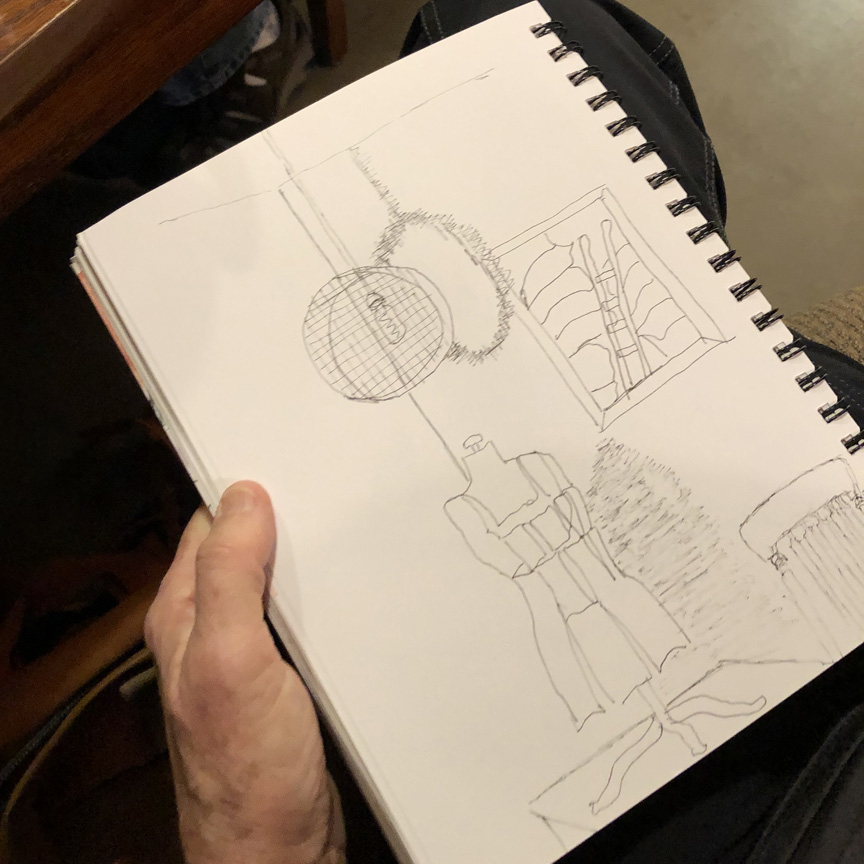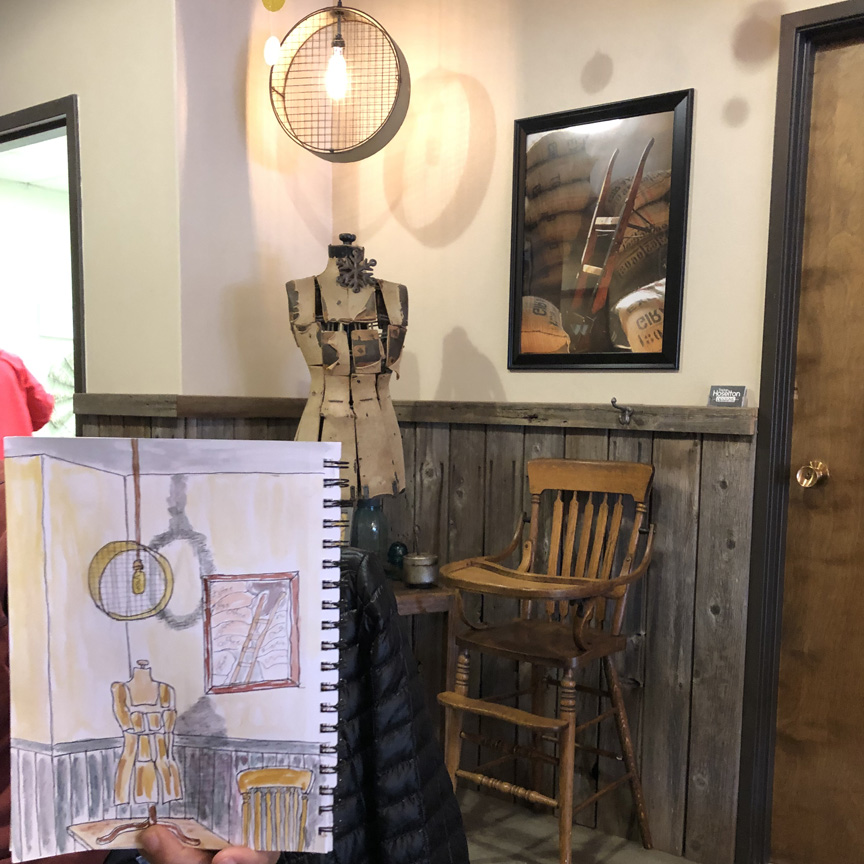 Sandy's beginning sketch, then the colored version with the real deal behind it. This seems like it was an interesting challenge to sketch!
✒ Nov. 30, 2018 – Creswell Bakery, Creswell, OR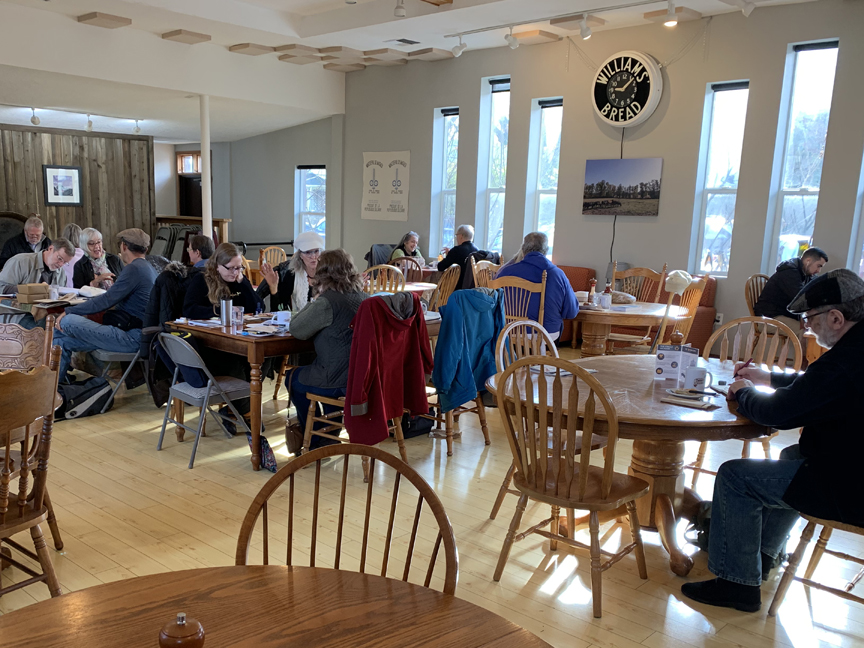 Yes, we like it here! Jim, Katie, Hugh, Daisy, Jude, Sandy, Bev, & Serge.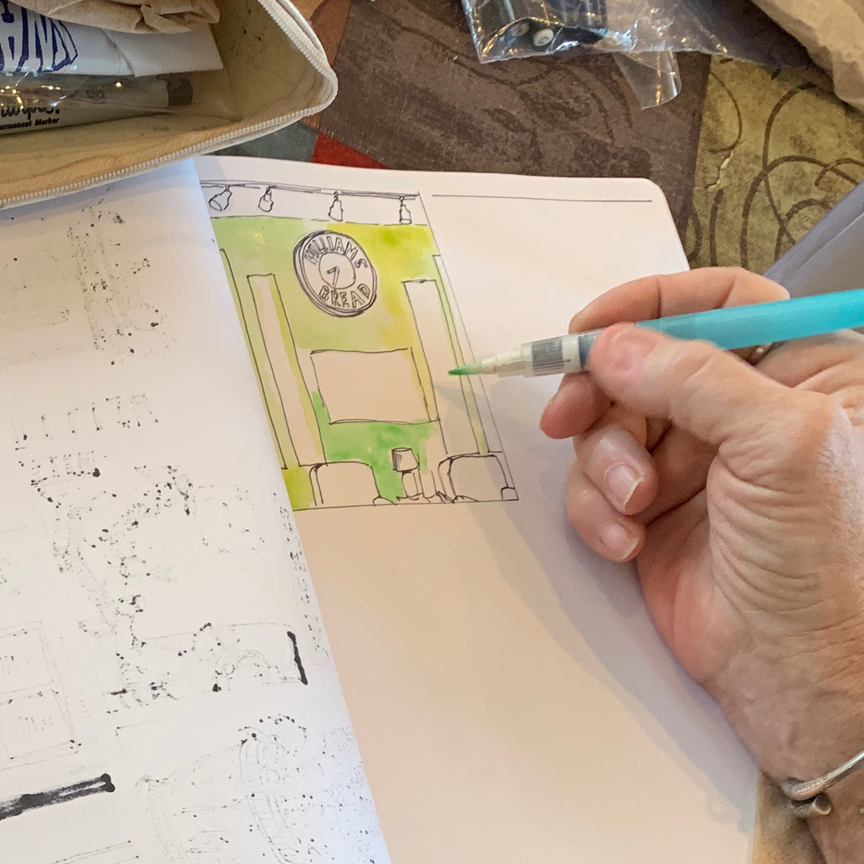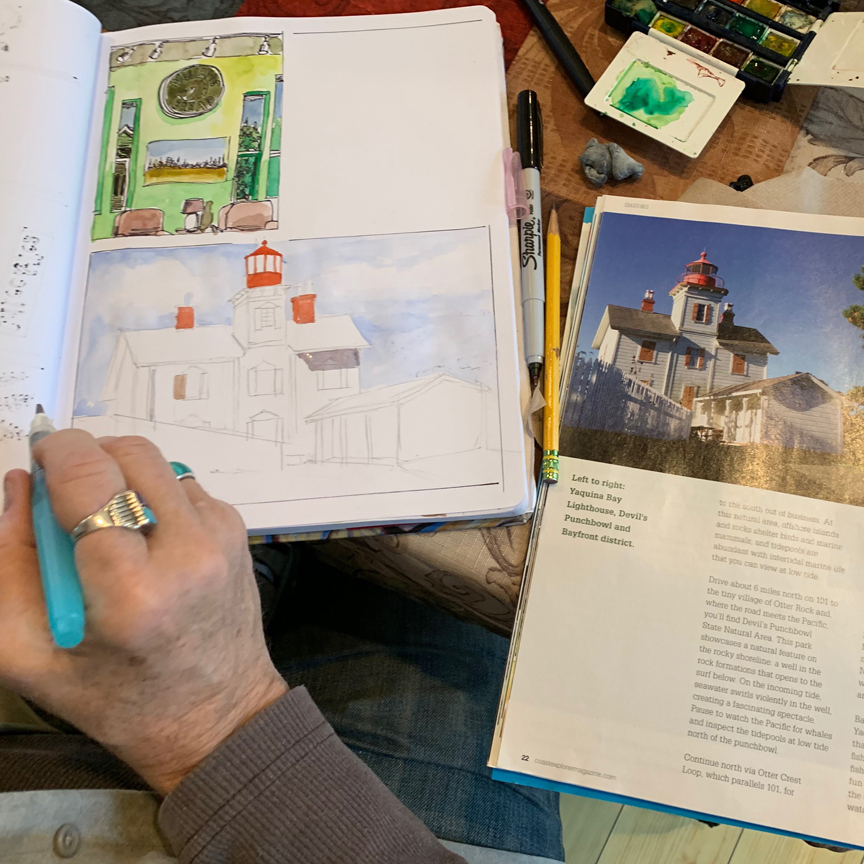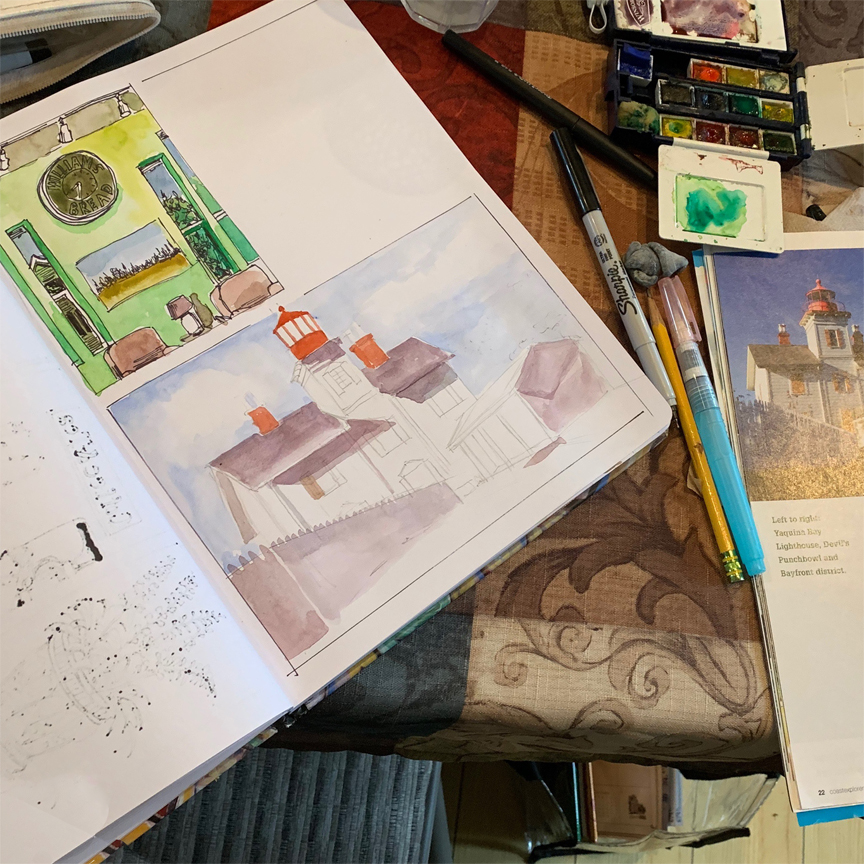 Jim did a quick sketch of the window & walls across the room, then added a sketch of an interesting building from a magazine he brought.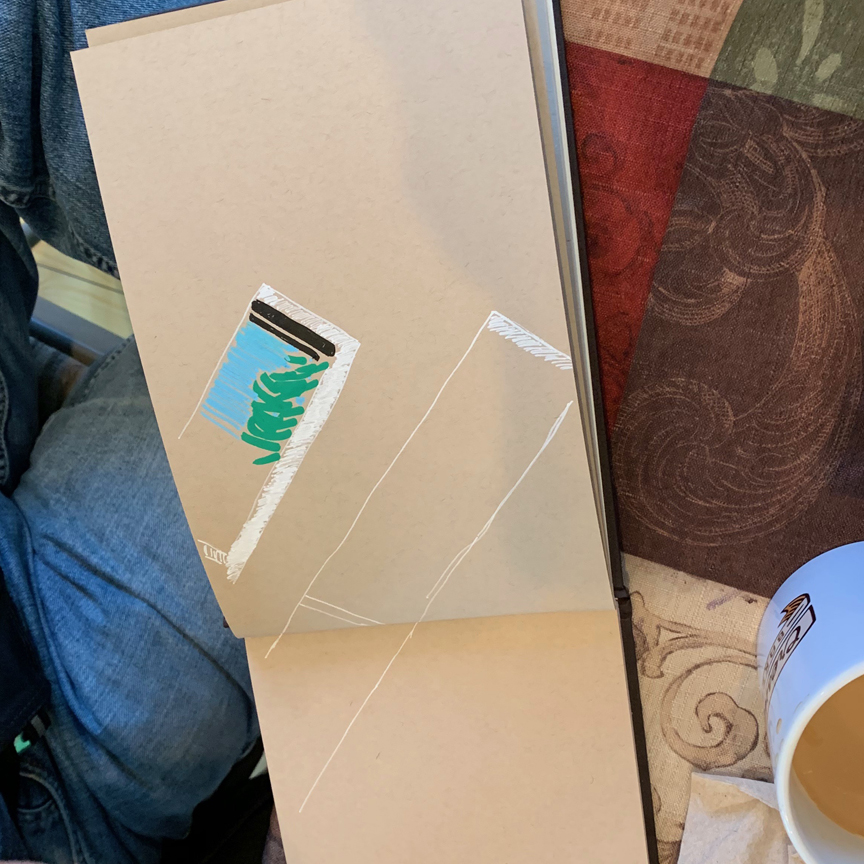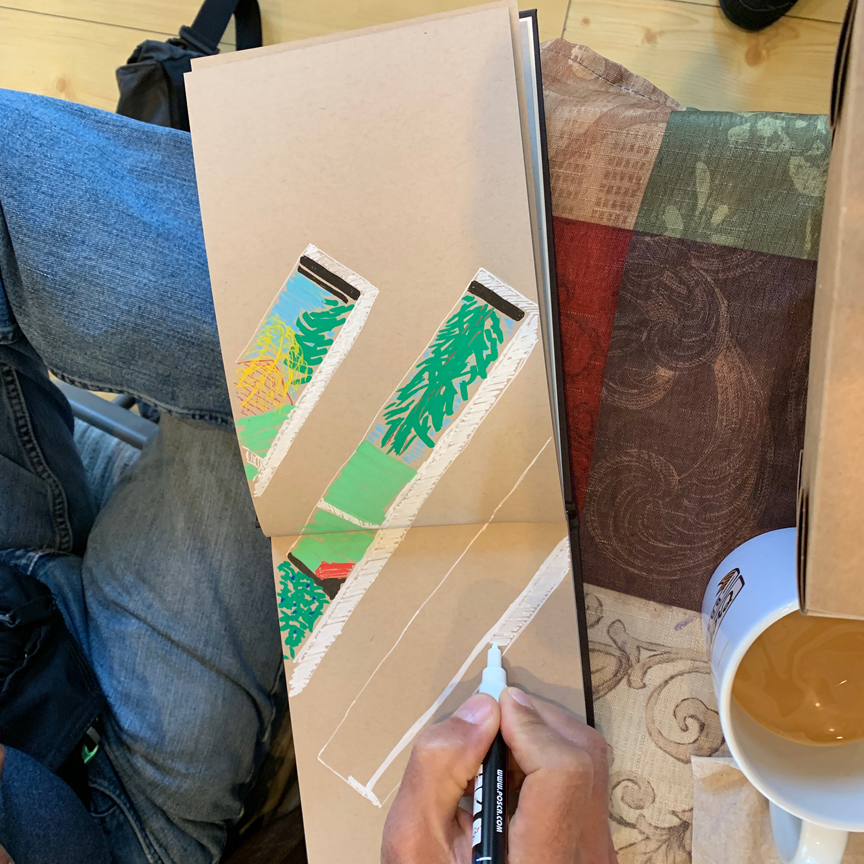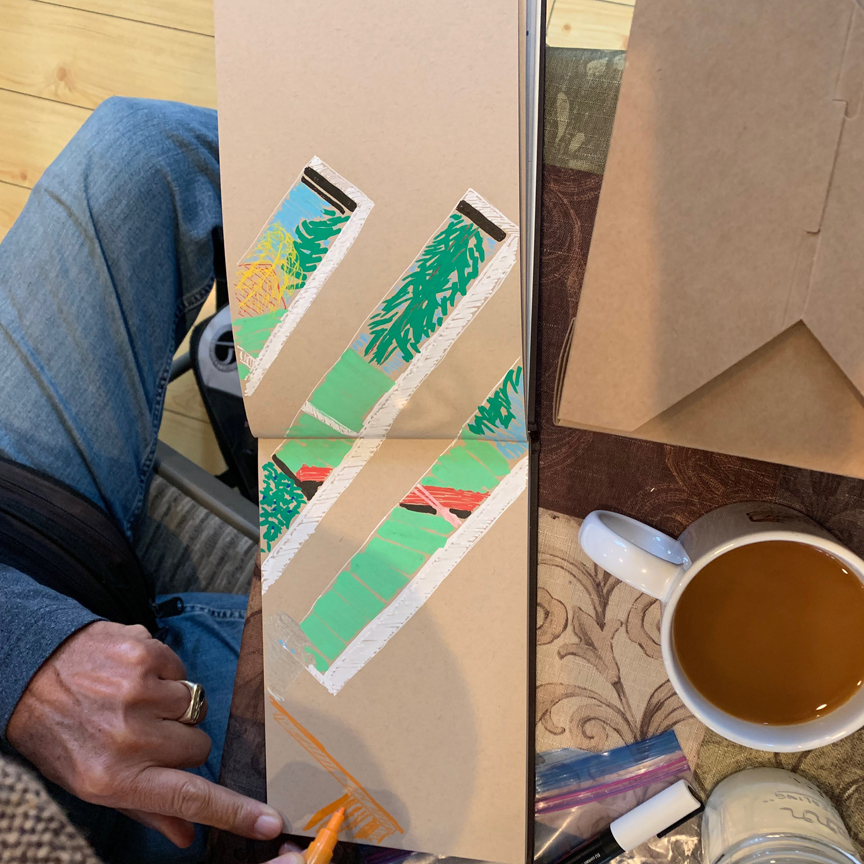 Hugh was experimenting with doing his window sketches at an angle across the page, and using the acrylic ink markers from Sketchkon.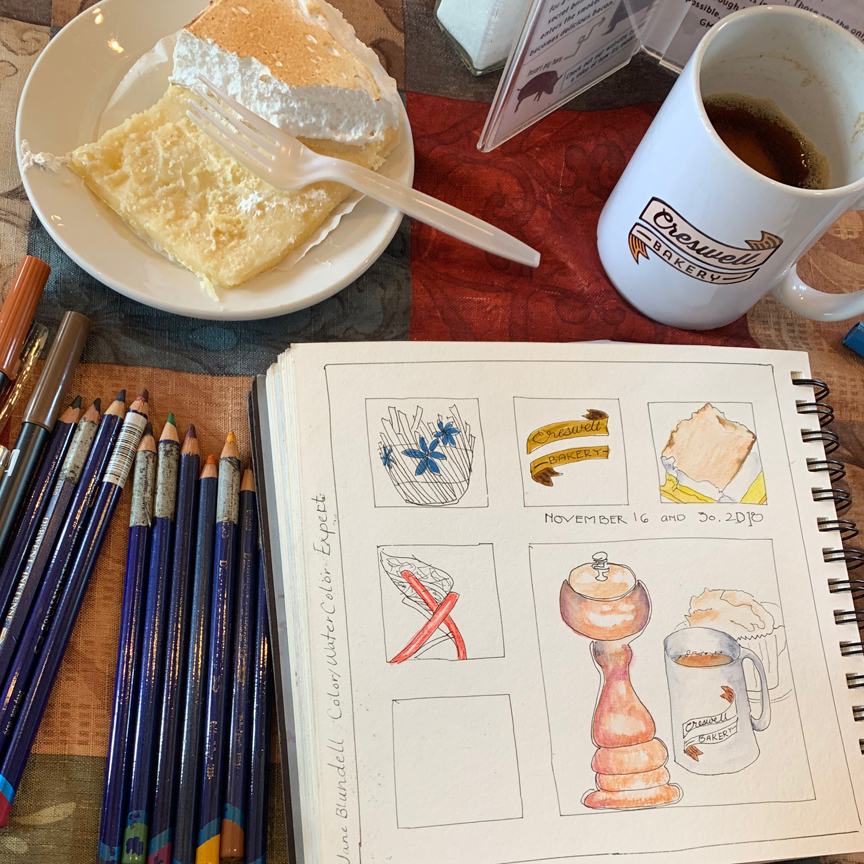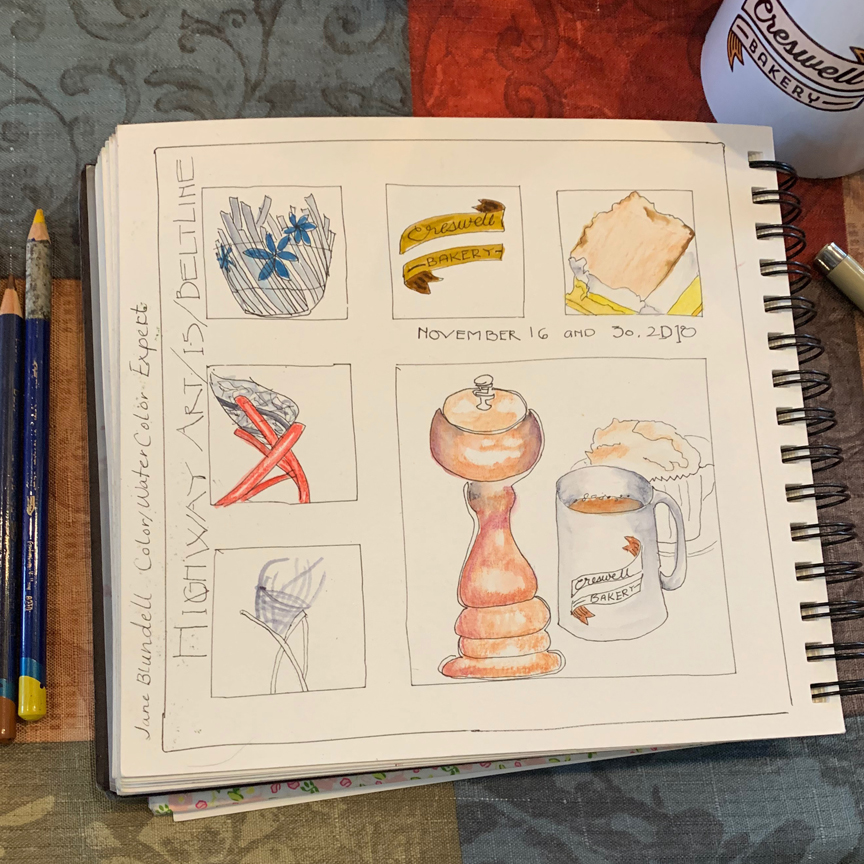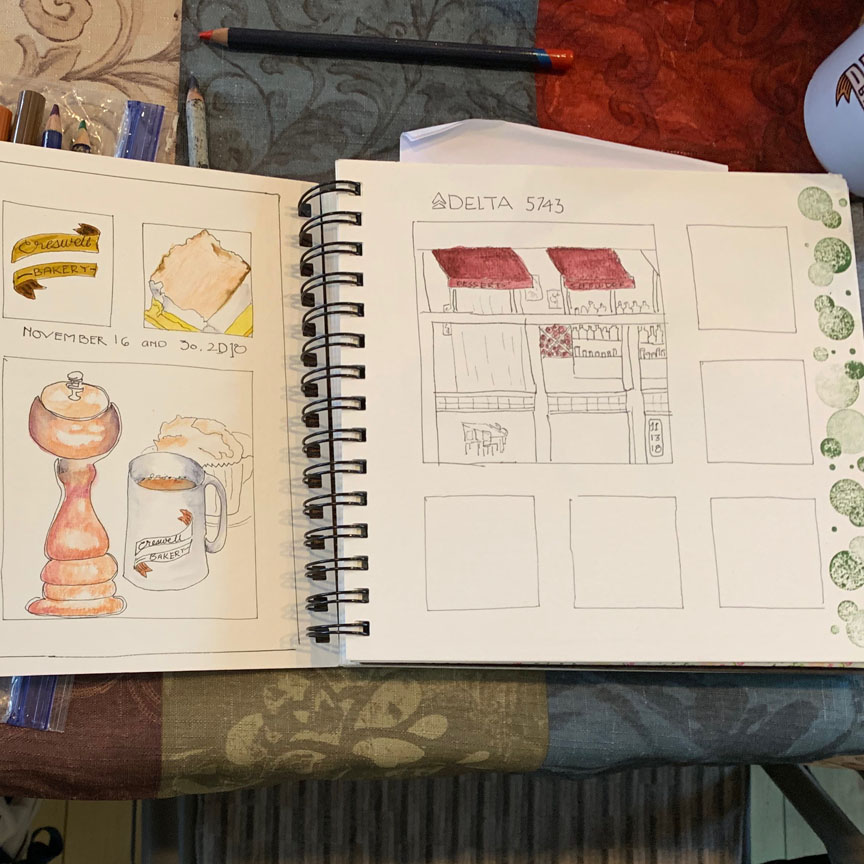 Katie added her lemon meringue bar to her page, and on the next page she started drawing something she observed from her travels.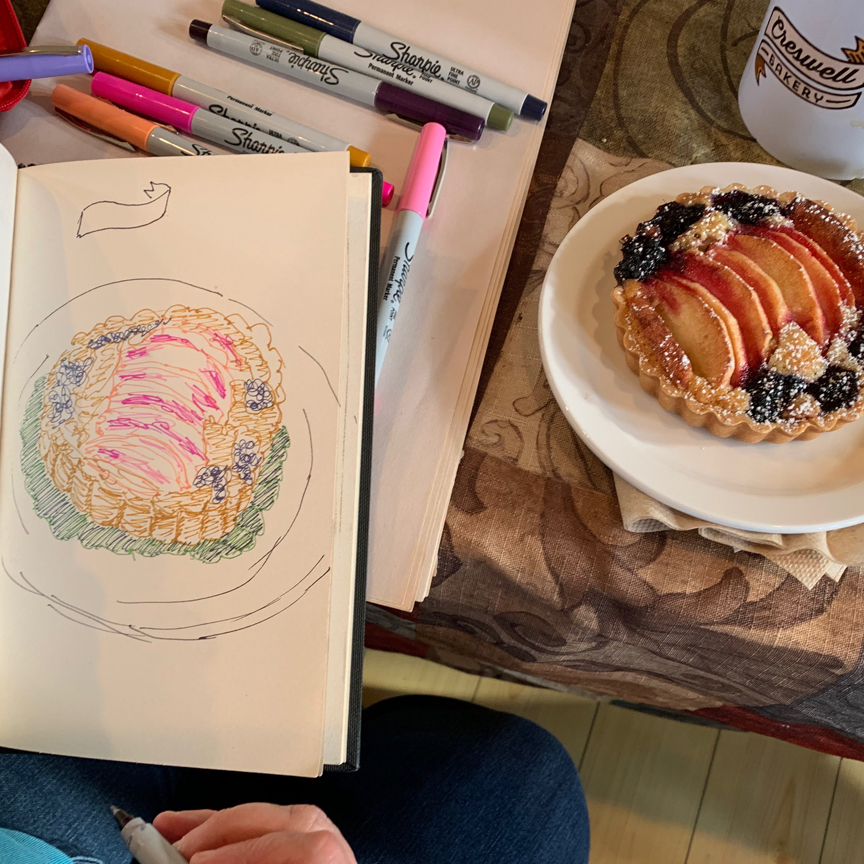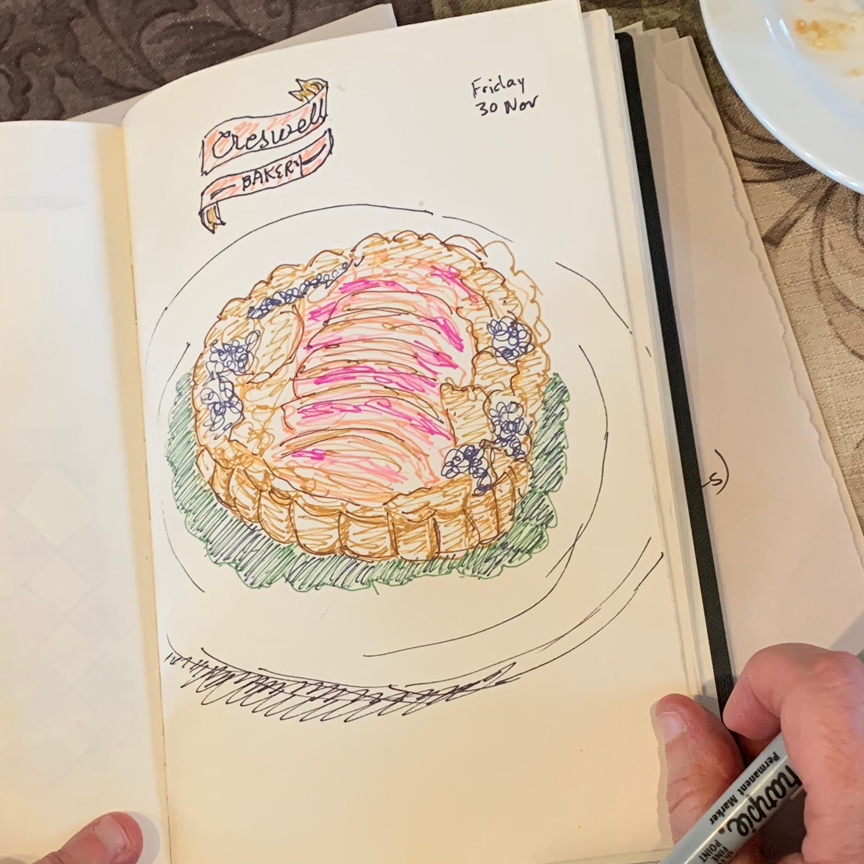 Daisy bought an apple blueberry tart, and tried sketching it with colored markers. Now, how to make the darks dark…hmmm…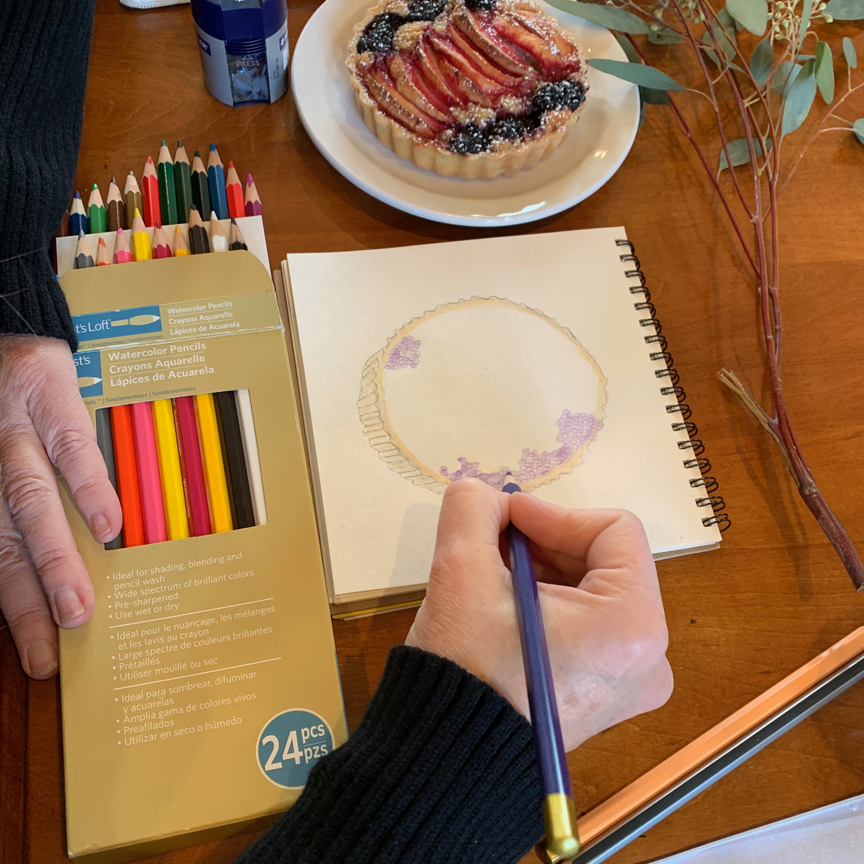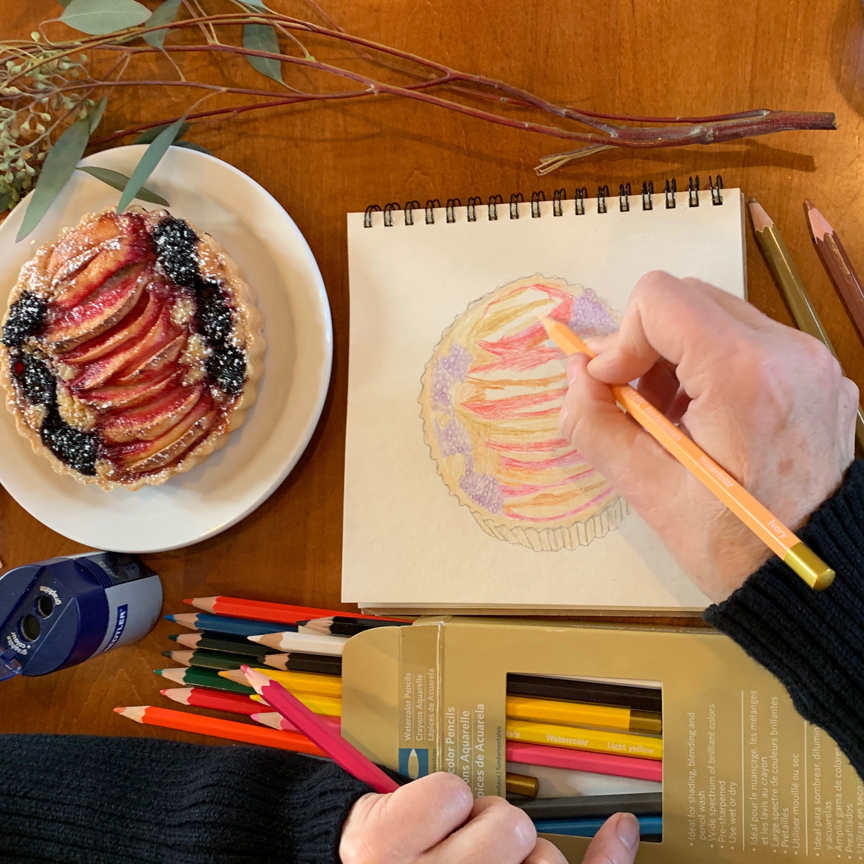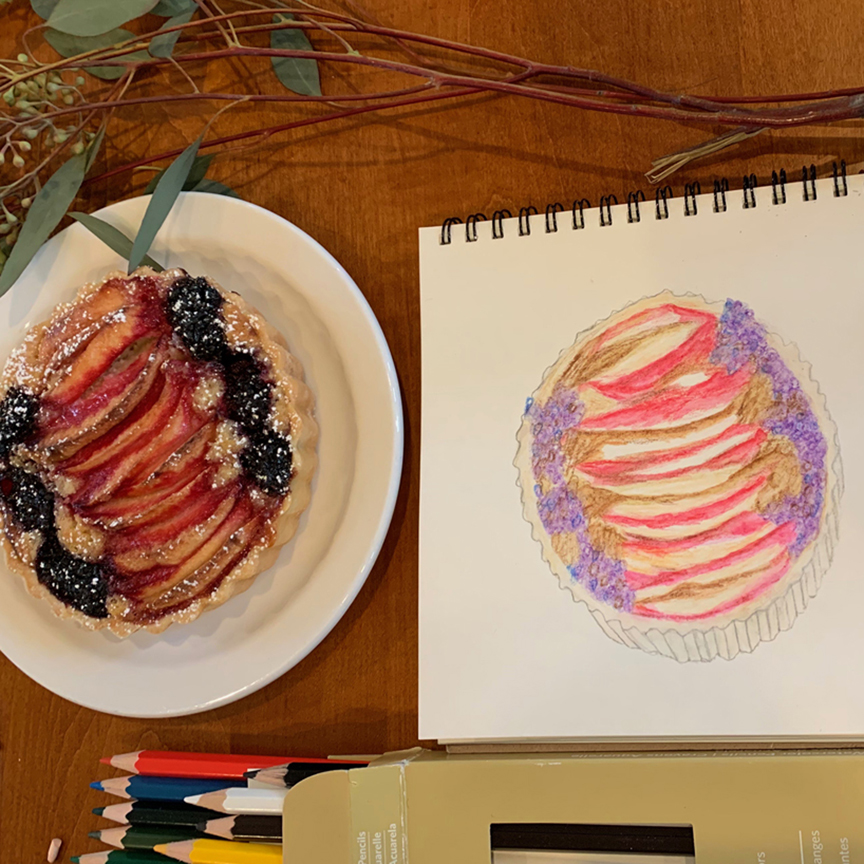 Jude was sketching her tart, too, but using colored pencils. She had the same dilemma – how do you make it darker without darker pencils.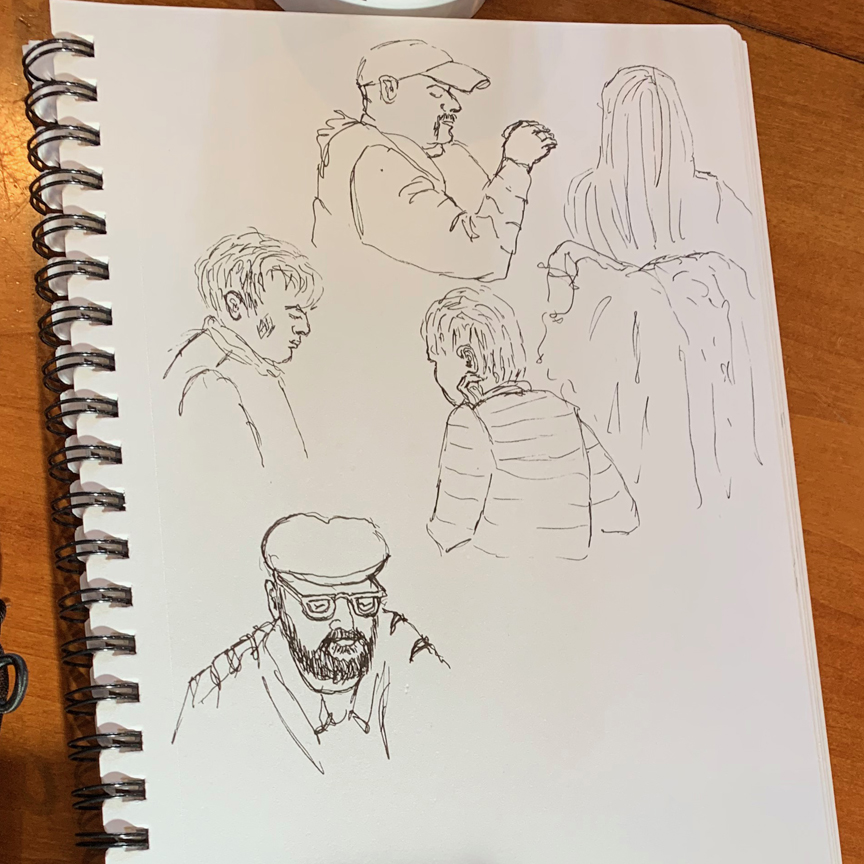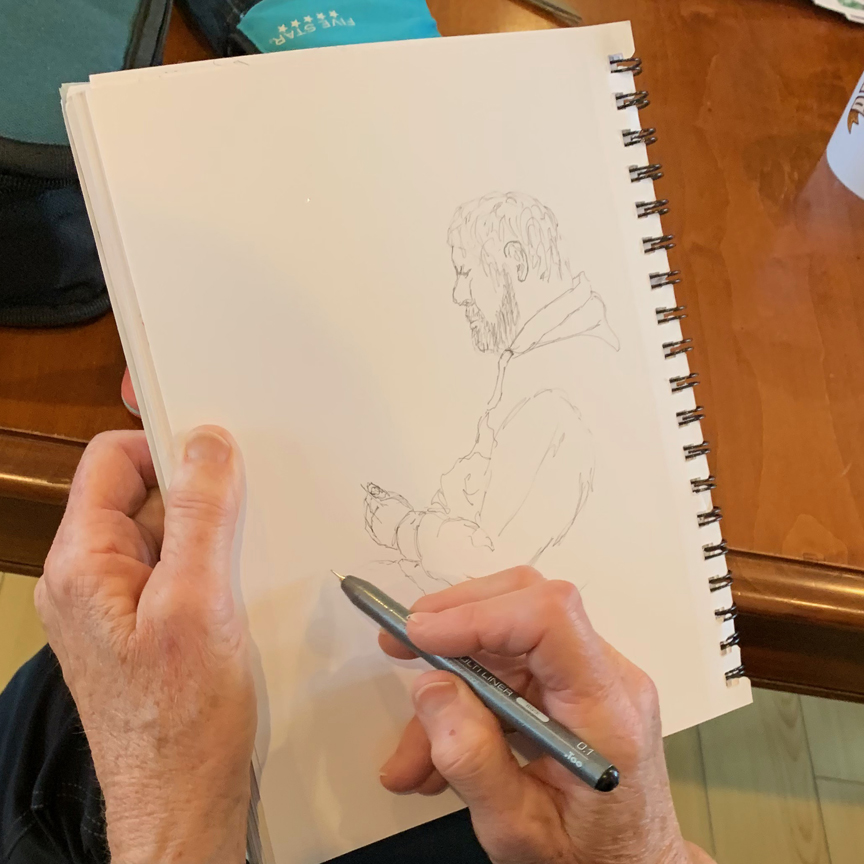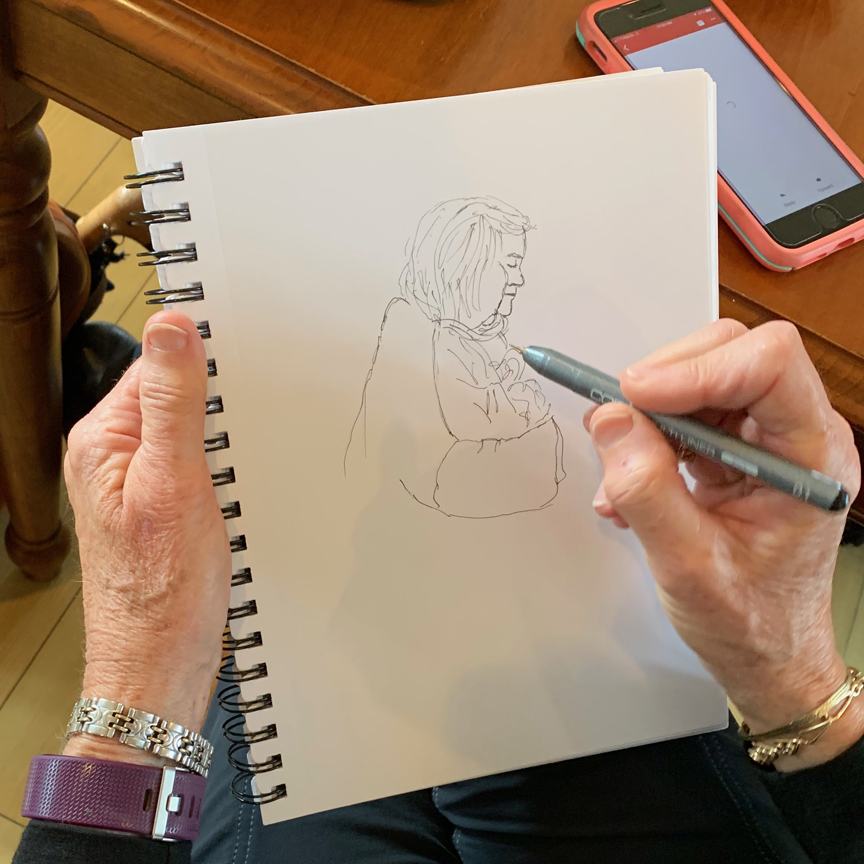 Sandy's on a people roll. She was especially appreciative of the quiet couple across from her, reading while they had breakfast treats.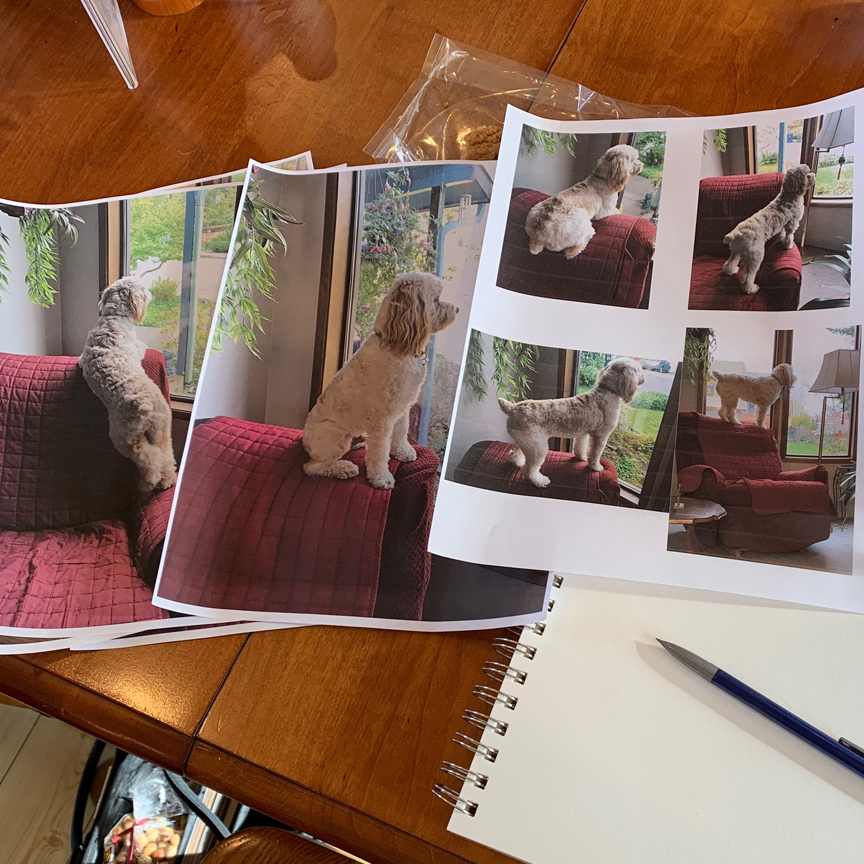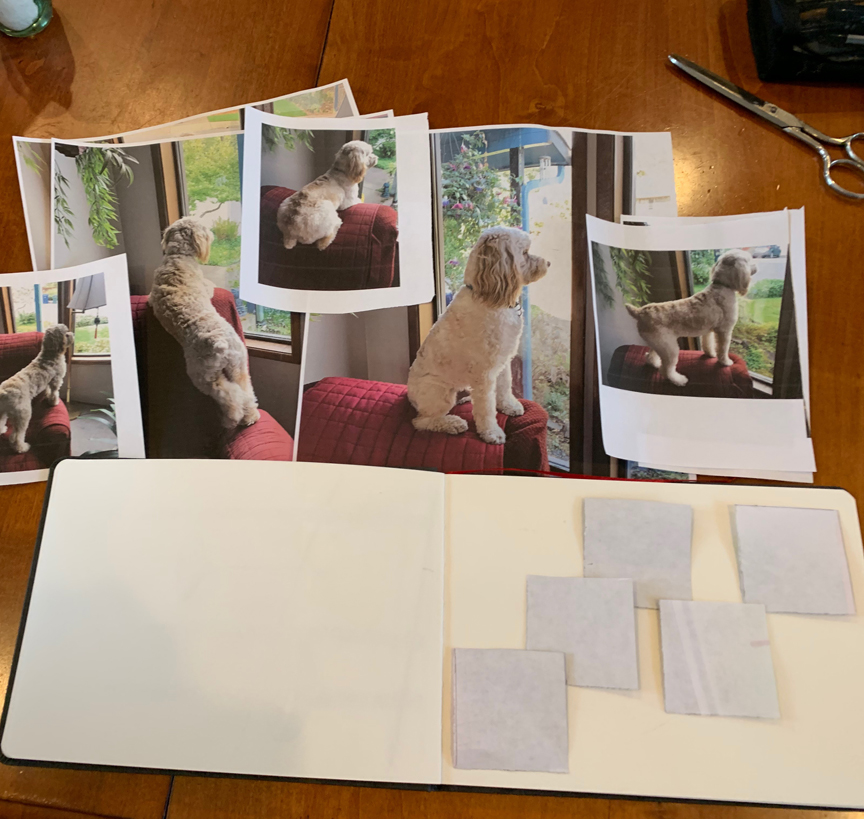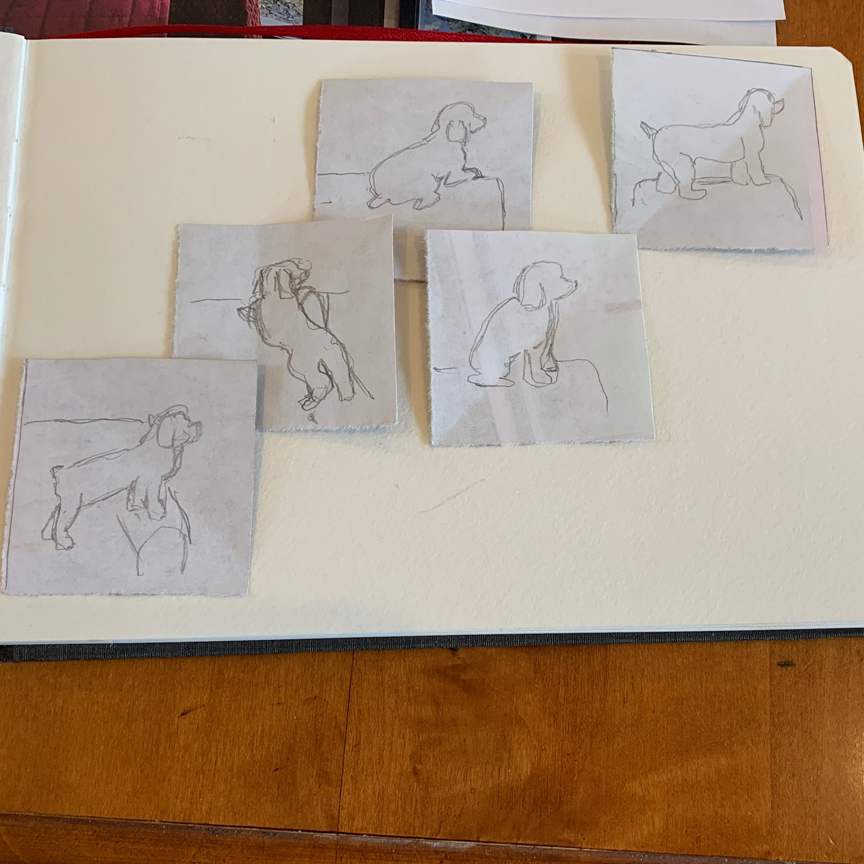 Jane was totally immersed in trying to pick a photo of her dog Tutti for her holiday card, and ended up figuring a way to use five of them!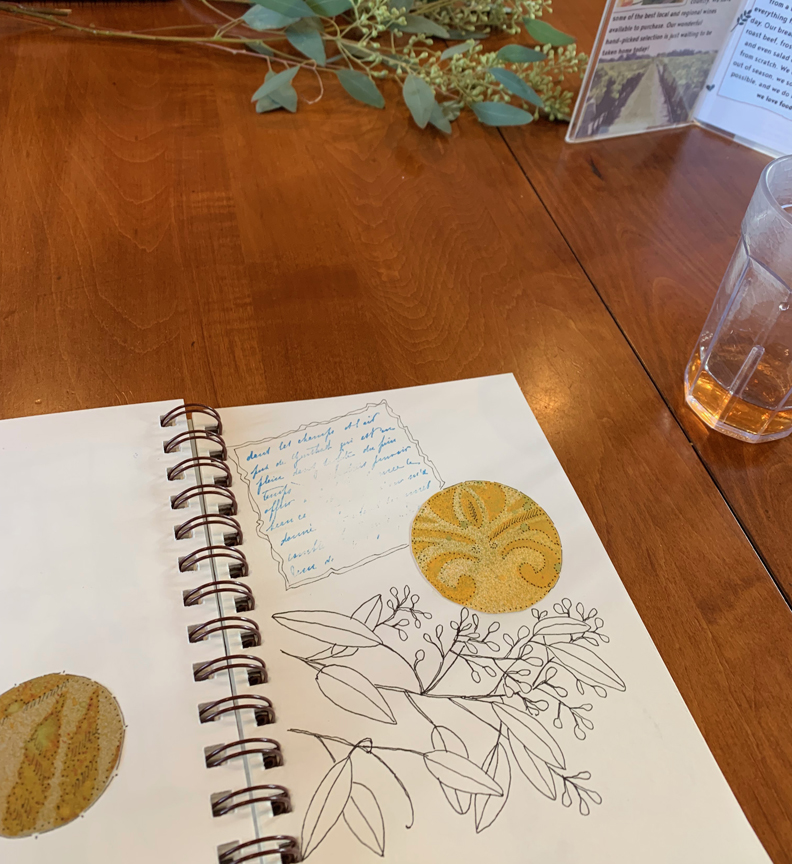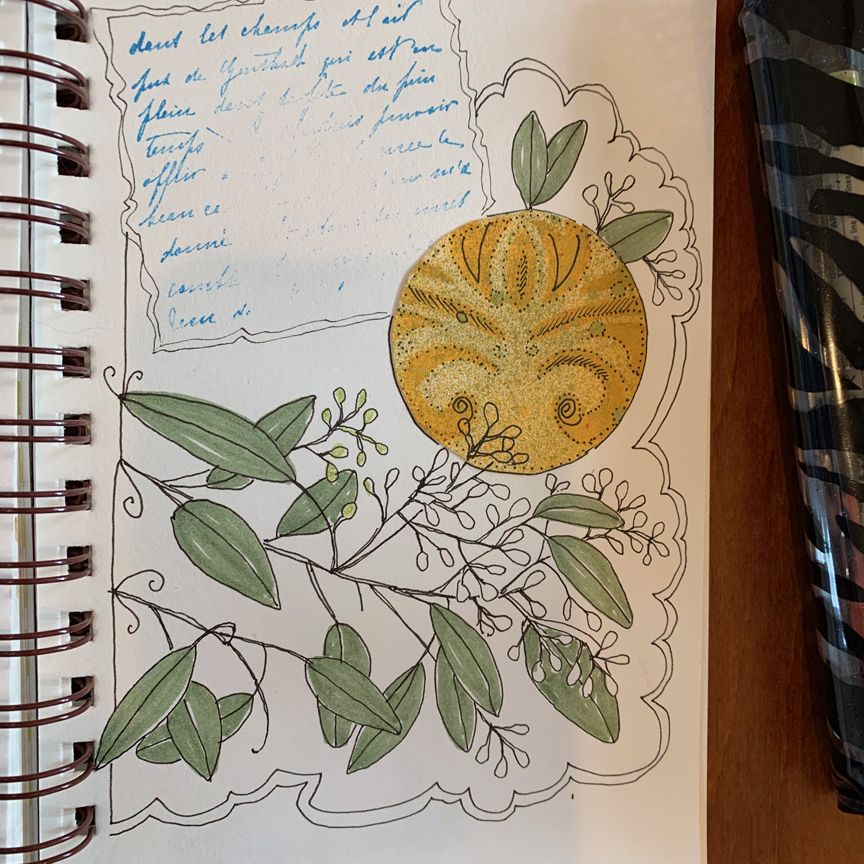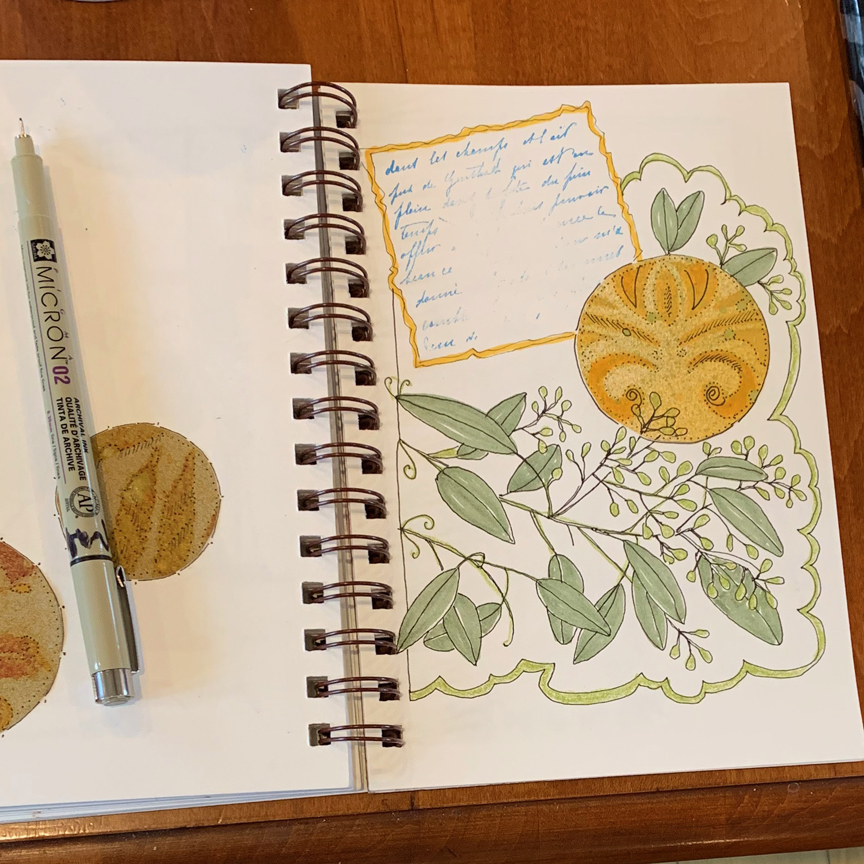 Bev enjoyed sketching the branch Jude brought from her yard, and I enjoyed seeing how she made the page work with stamps & designs.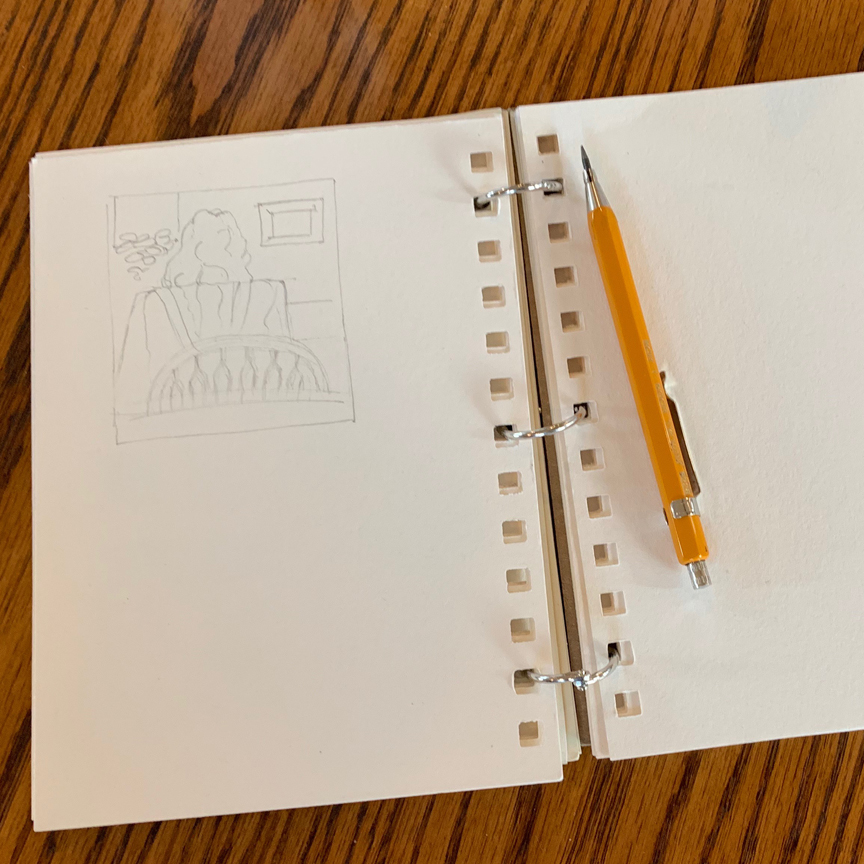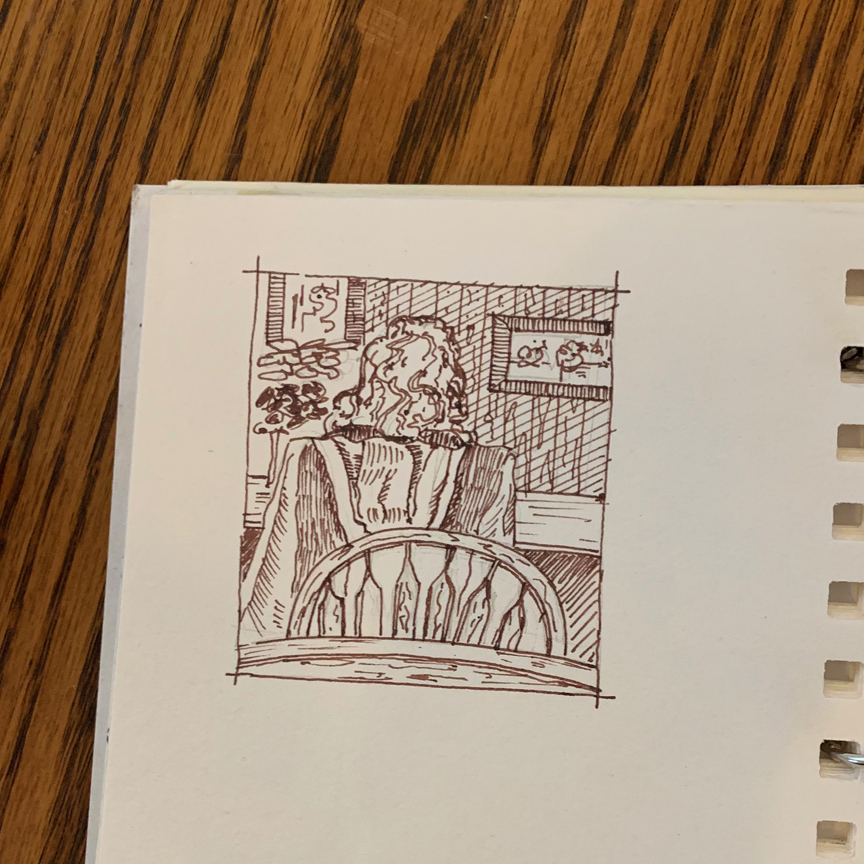 Meanwhile, here's what Serge was up to – sketching Bev beyond her coat on her chair back! No, those aren't her shoulders, she said.
✒ Nov. 9, 2018 – Creswell Bakery, Creswell, OR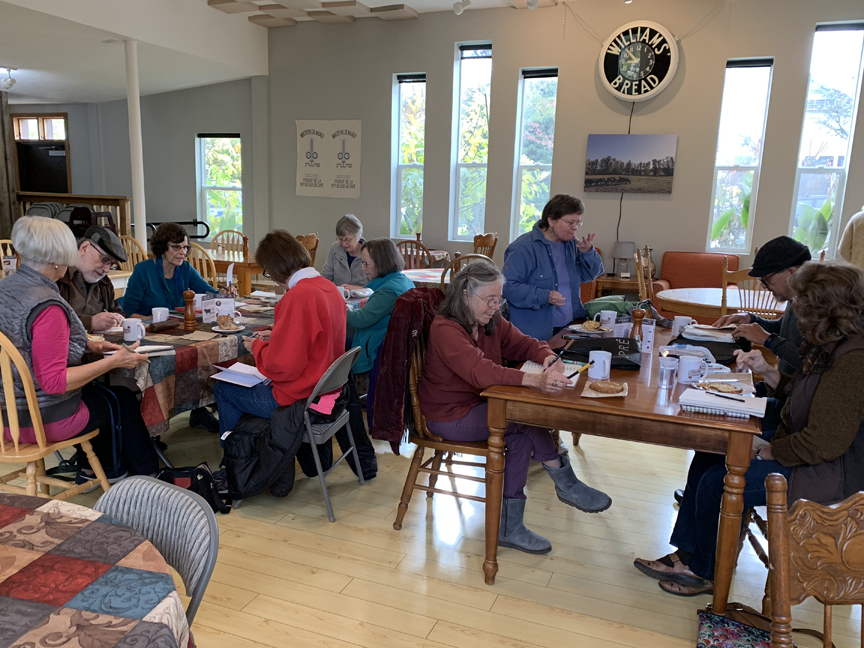 As you can see from Daisy's gesture, this was a delicious decision to come here! Gracious hosts, great coffee, yummy food, good light.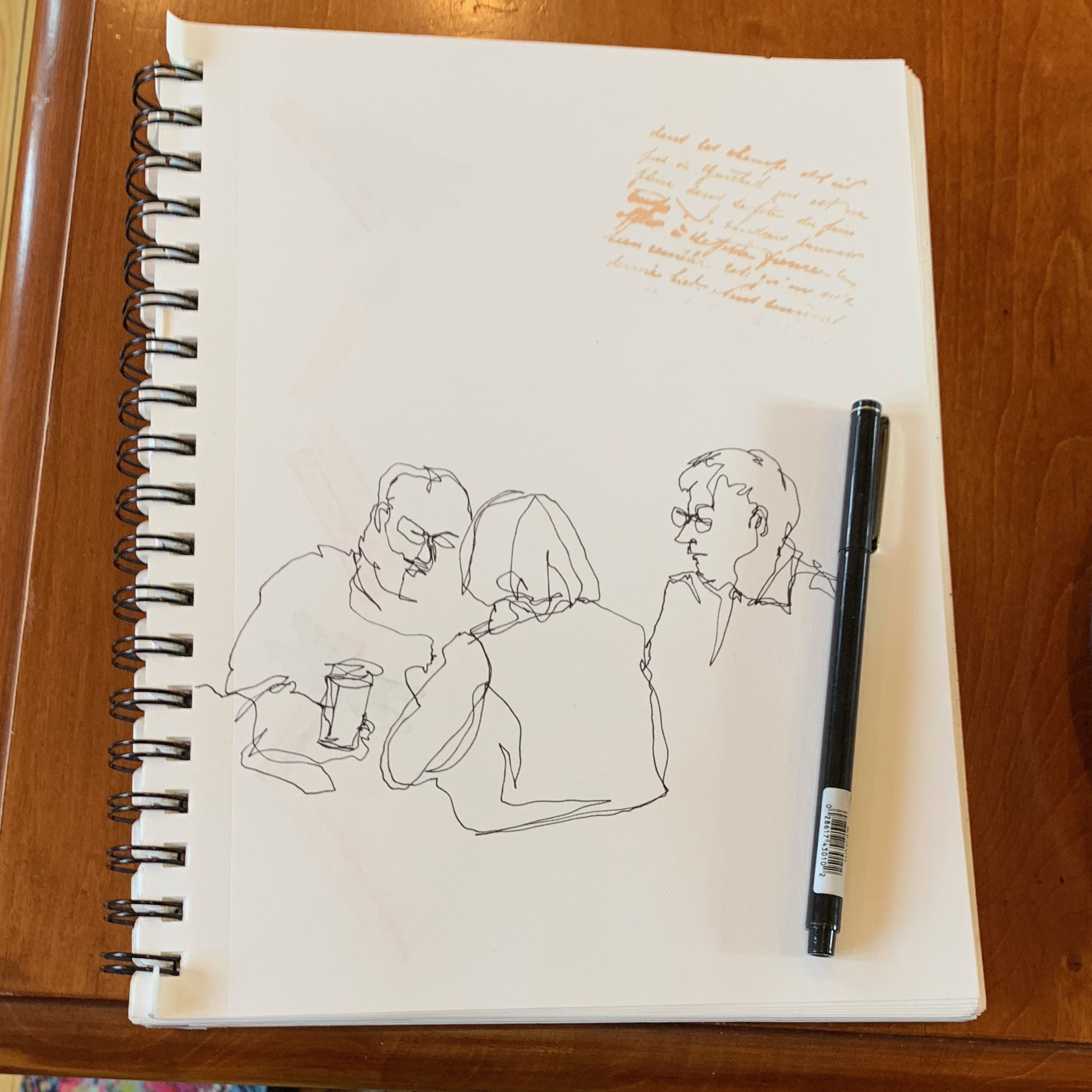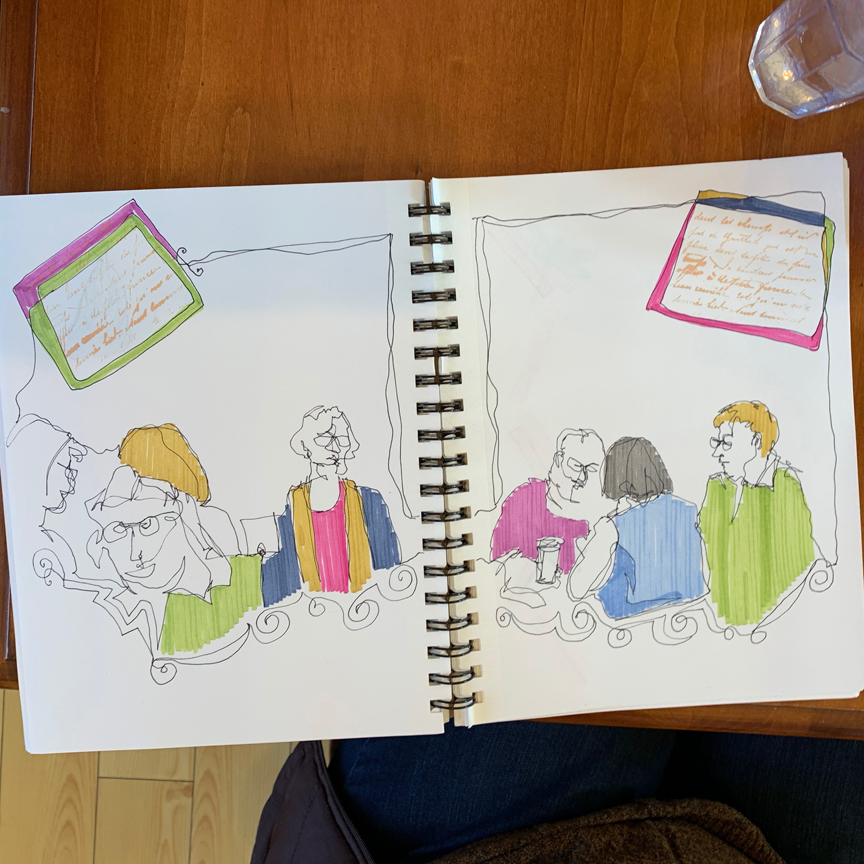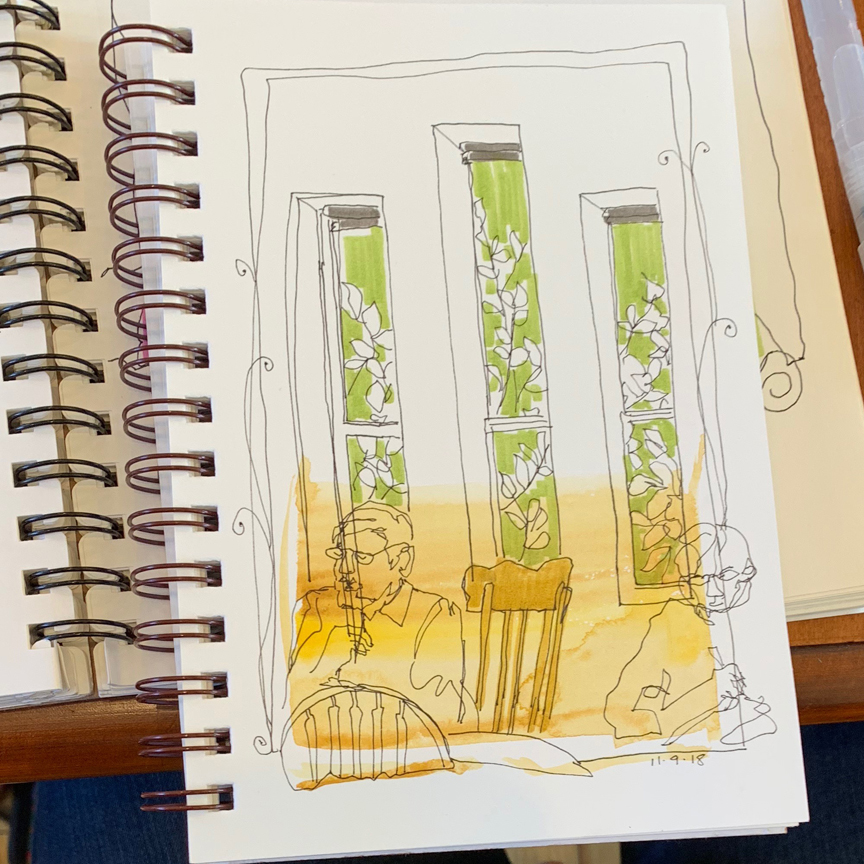 Bev summed up the atmosphere among us – this is just for fun!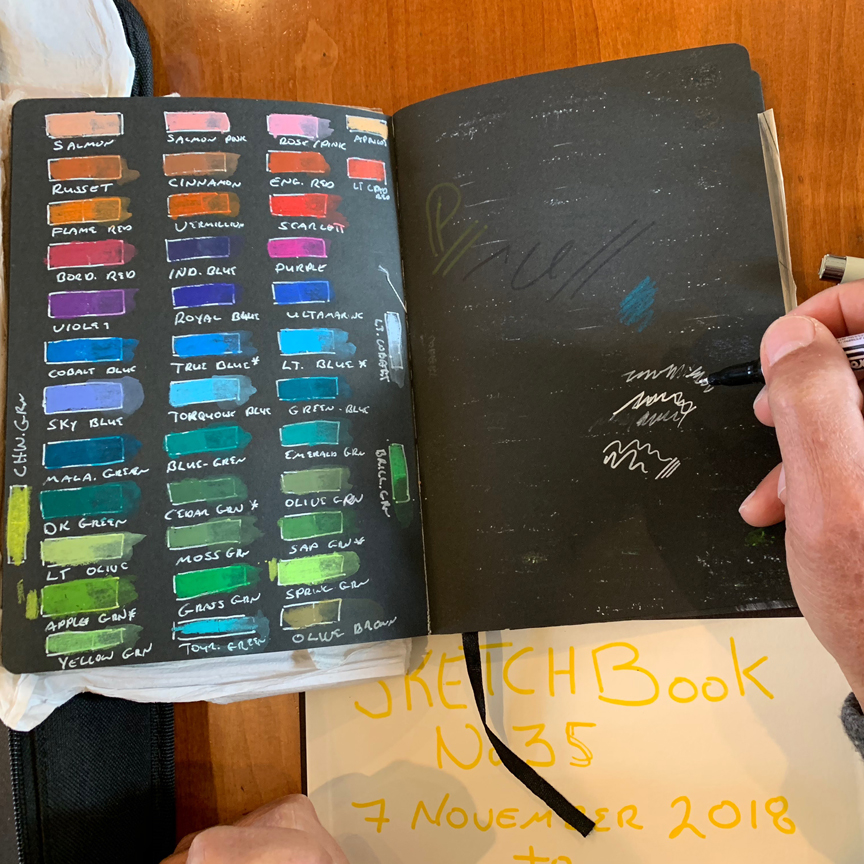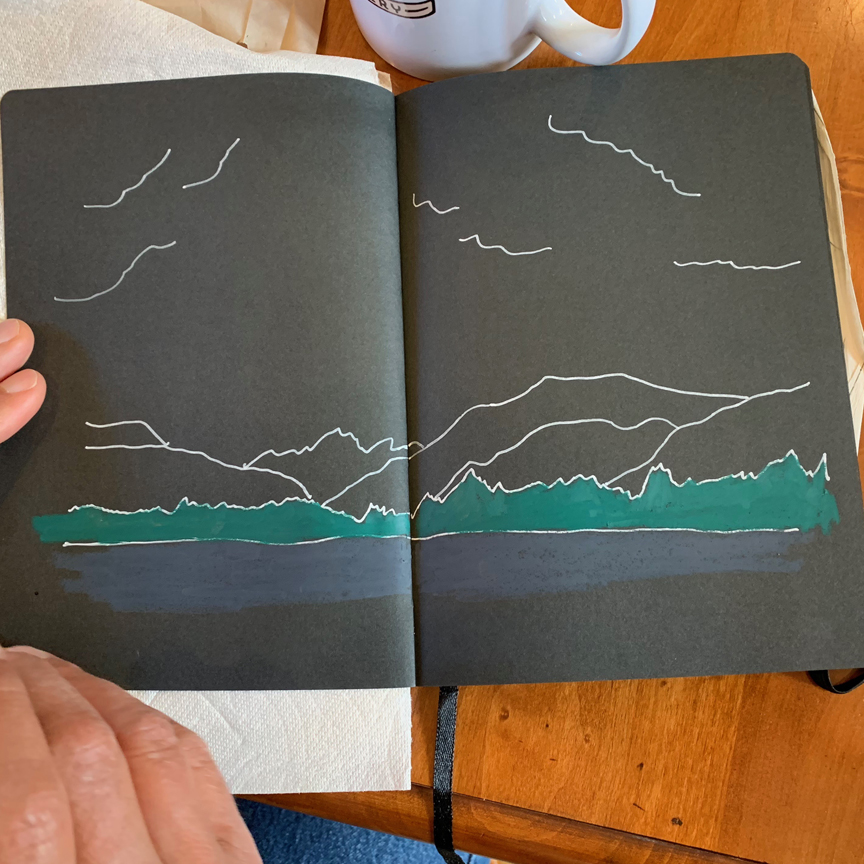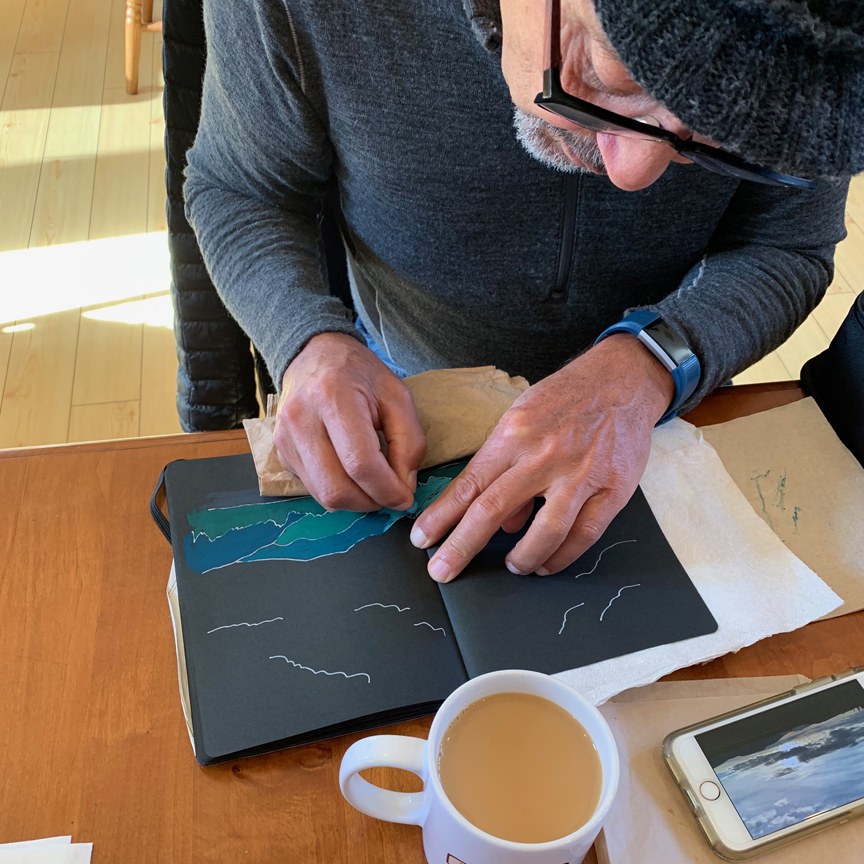 Hugh introduced a second theme – experimentation with tools – here testing various whites on black, then heavy use of crayon ala Erik.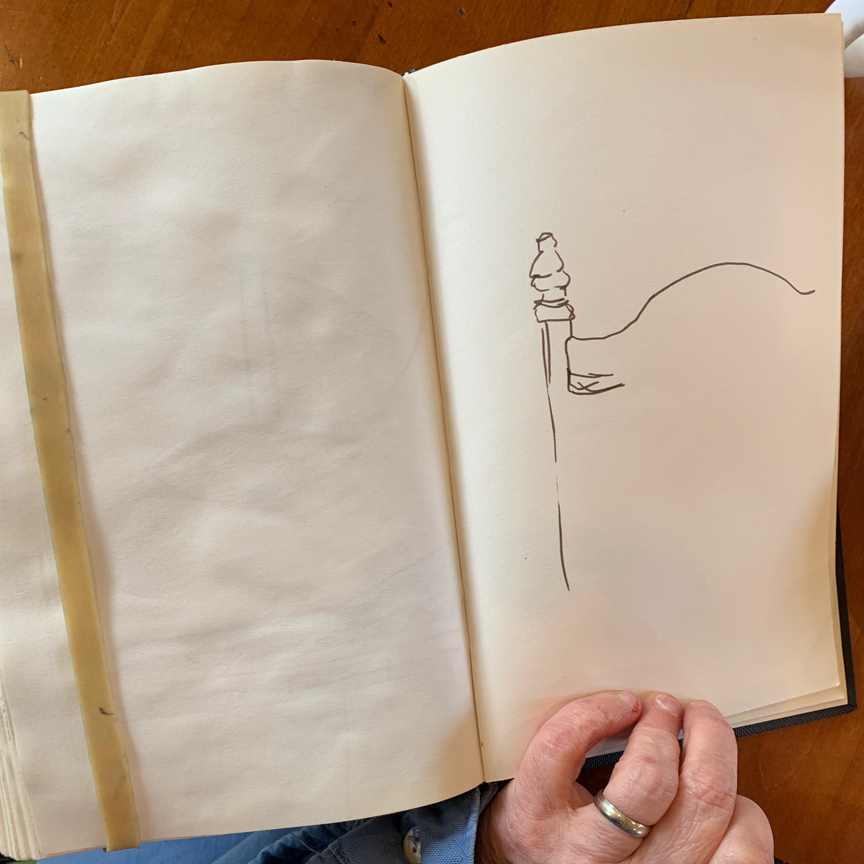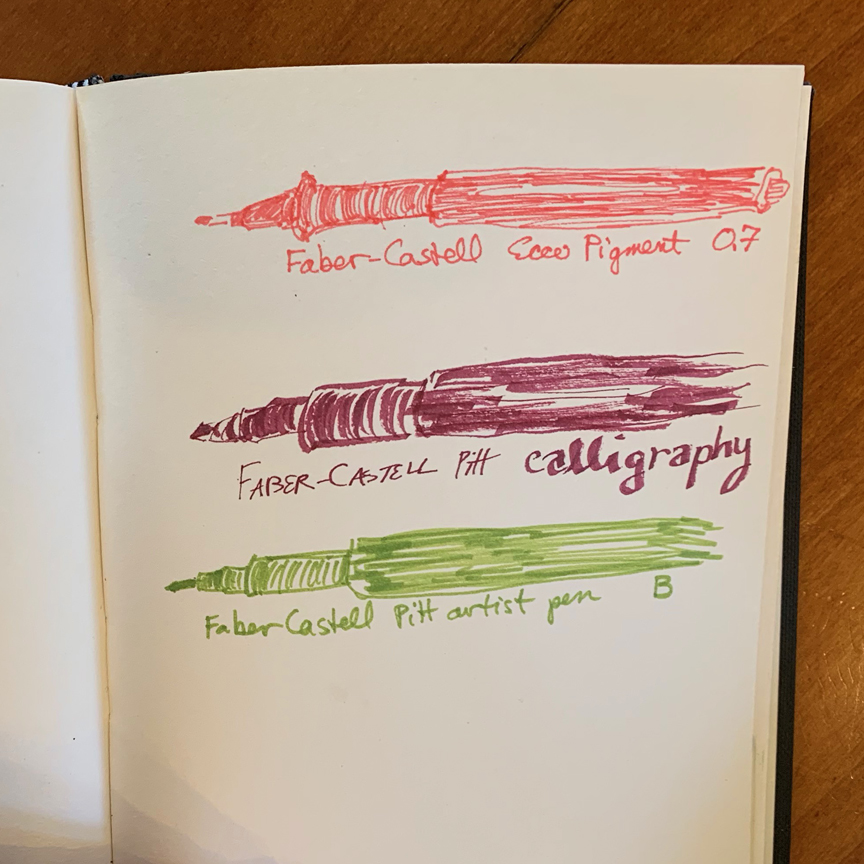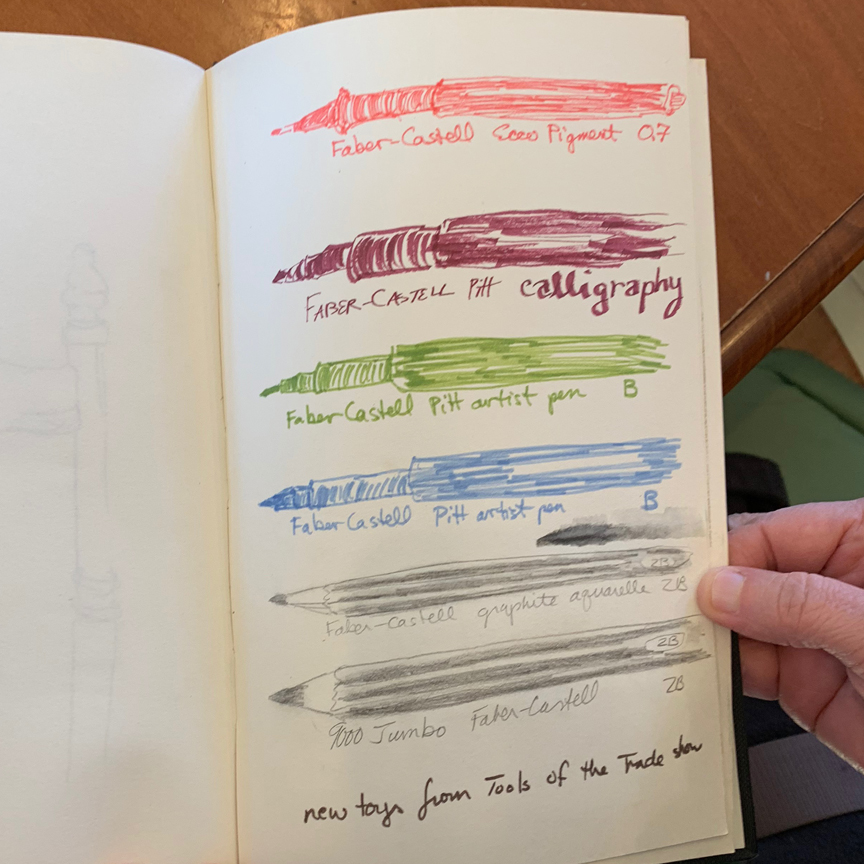 Daisy started sketching a chair, then segued into making a graphic chart of the new tools she bought at the Tools of the Trade show.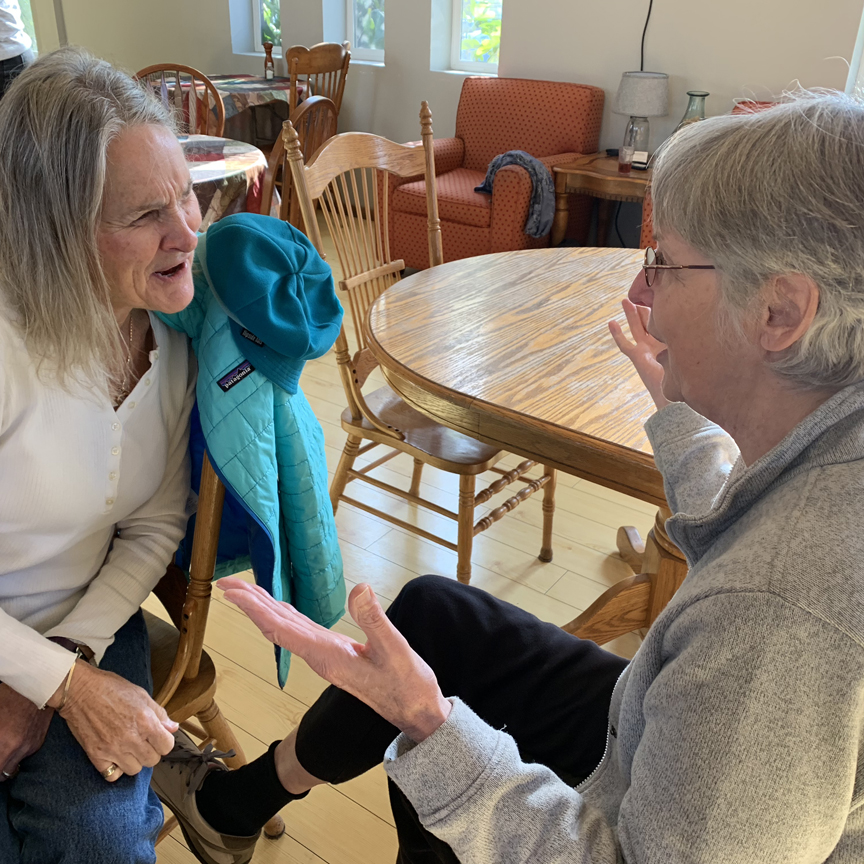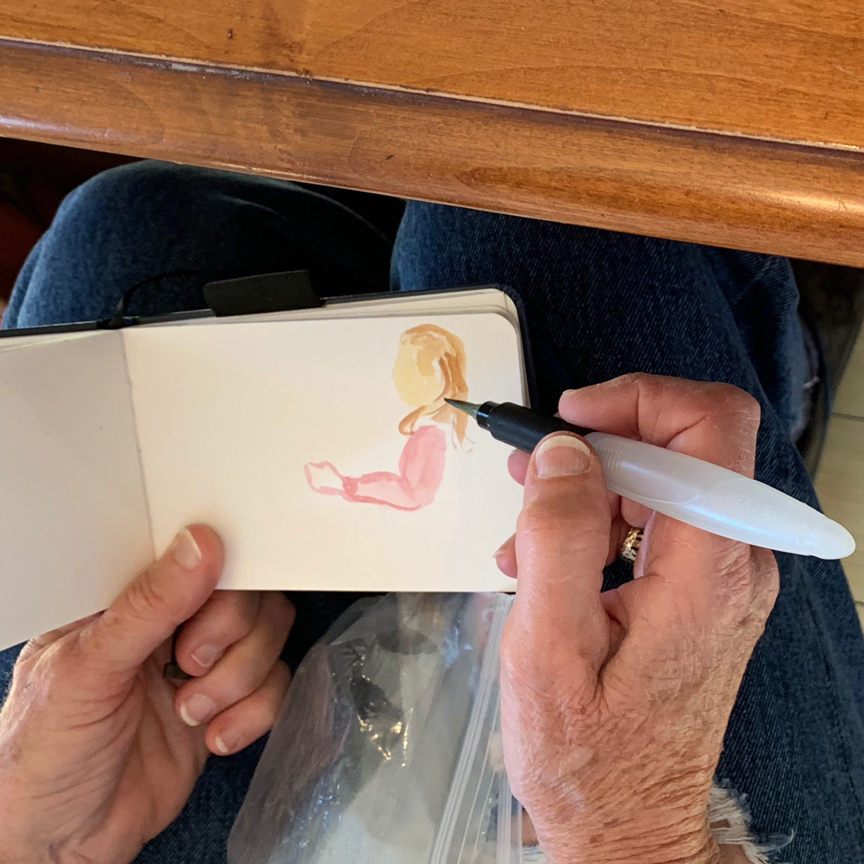 Sandy and Helga enjoyed a chat before sketching. Here's Sandy's quick sketch using only watercolor – charming already!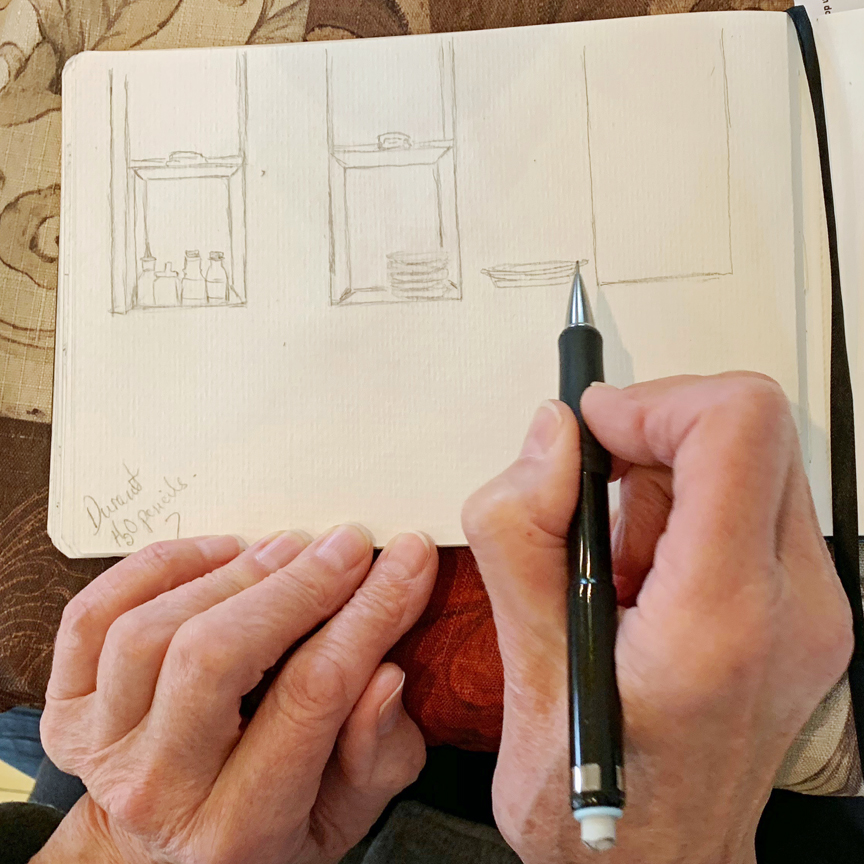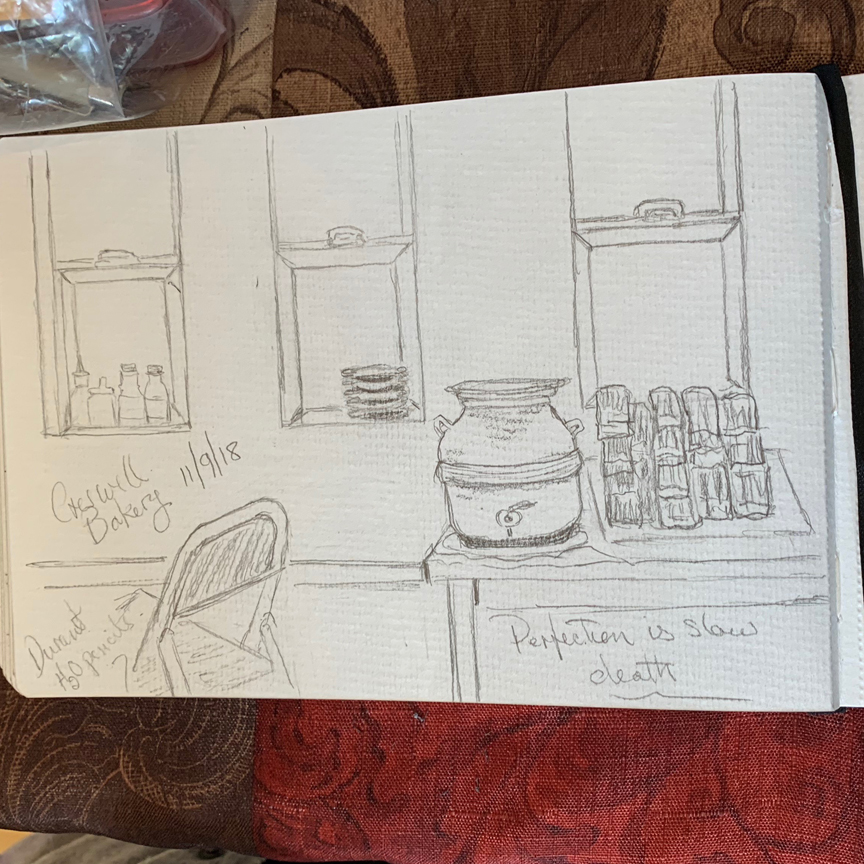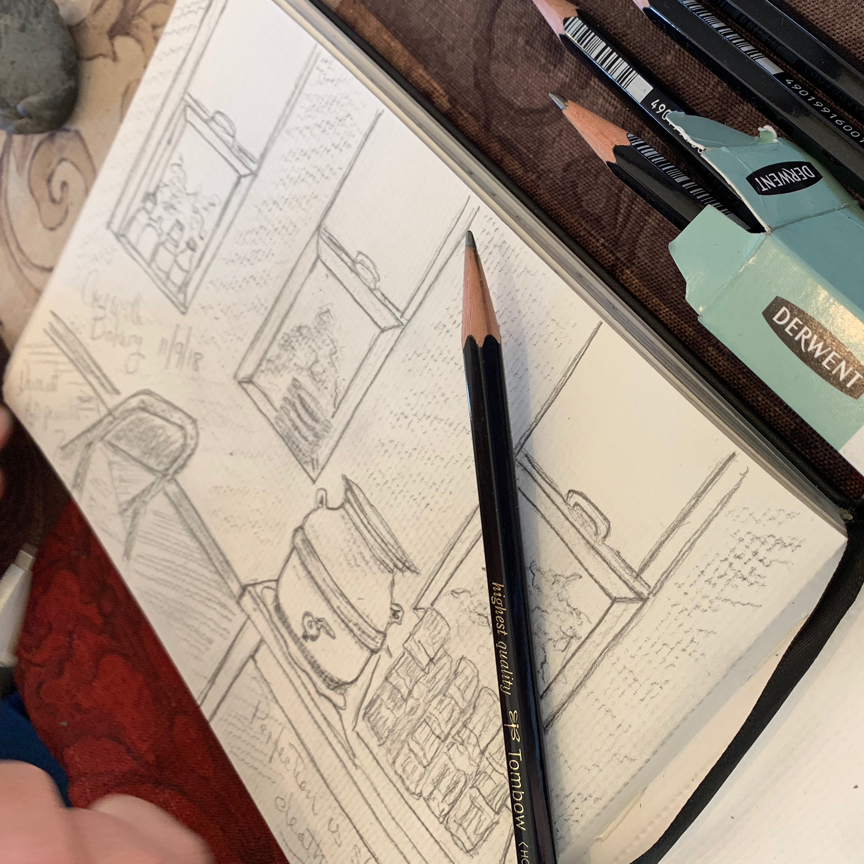 Helga started her sketch with a graphite mechanical pencil, then tried the Tombow drawing pencils to do the shading.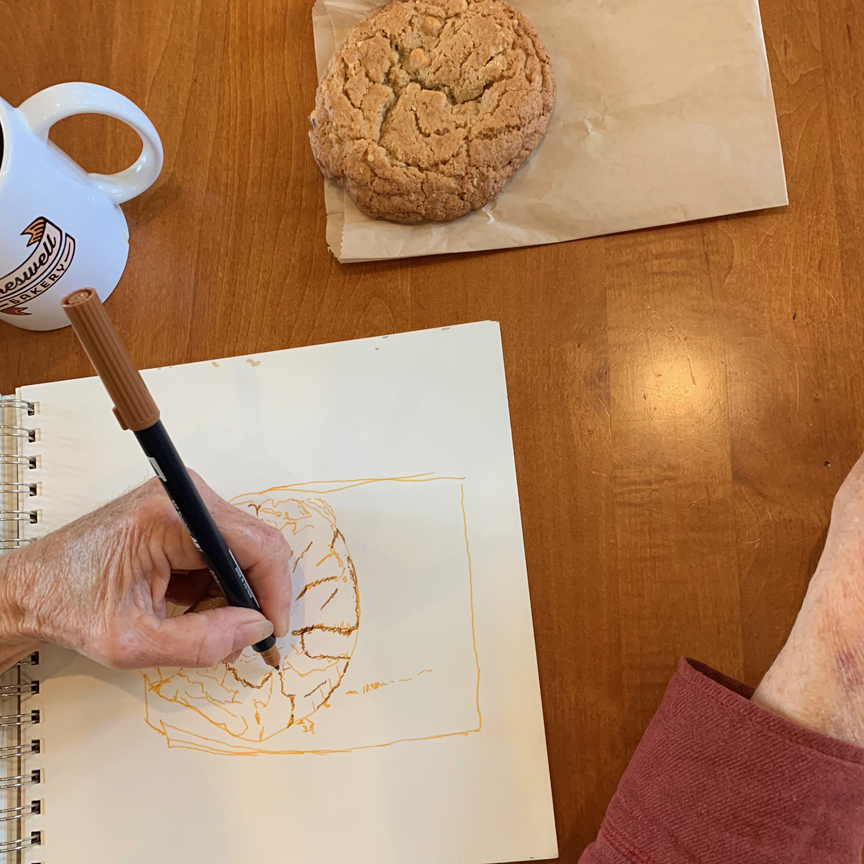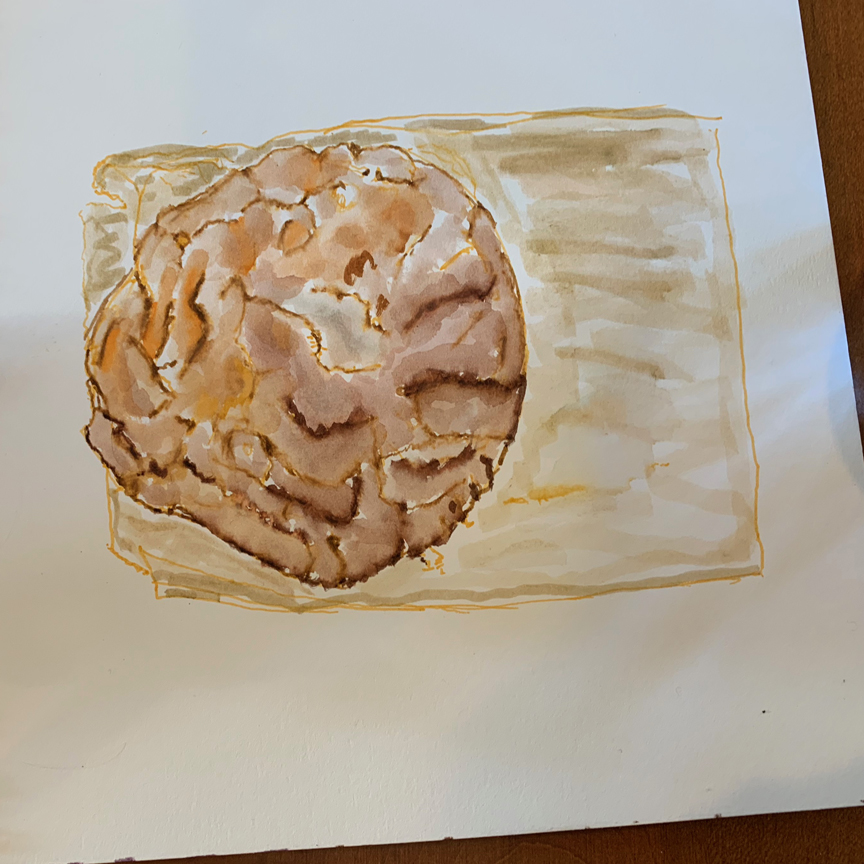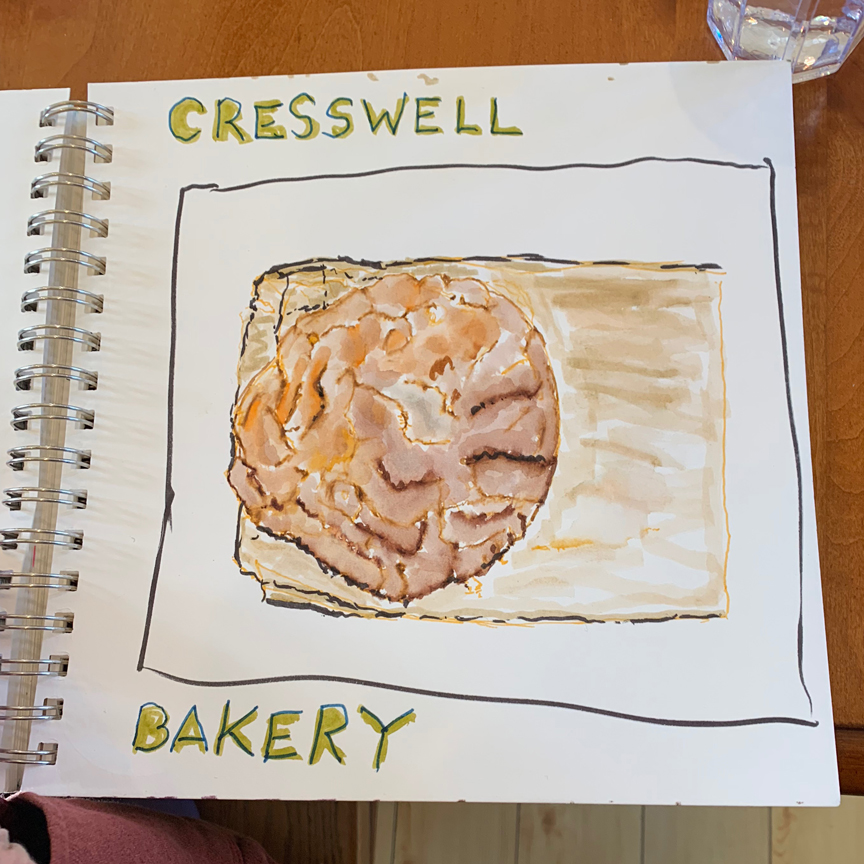 Penny is officially one of us now, sketching her cookie before she eats it. She's using Tombow water soluble markers to great effect!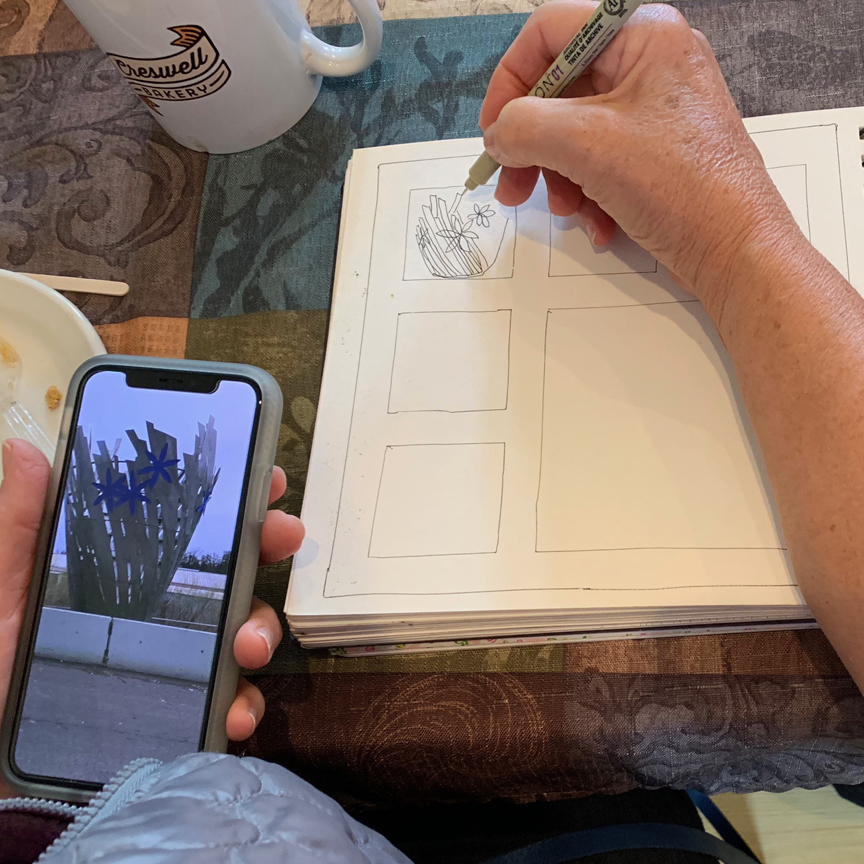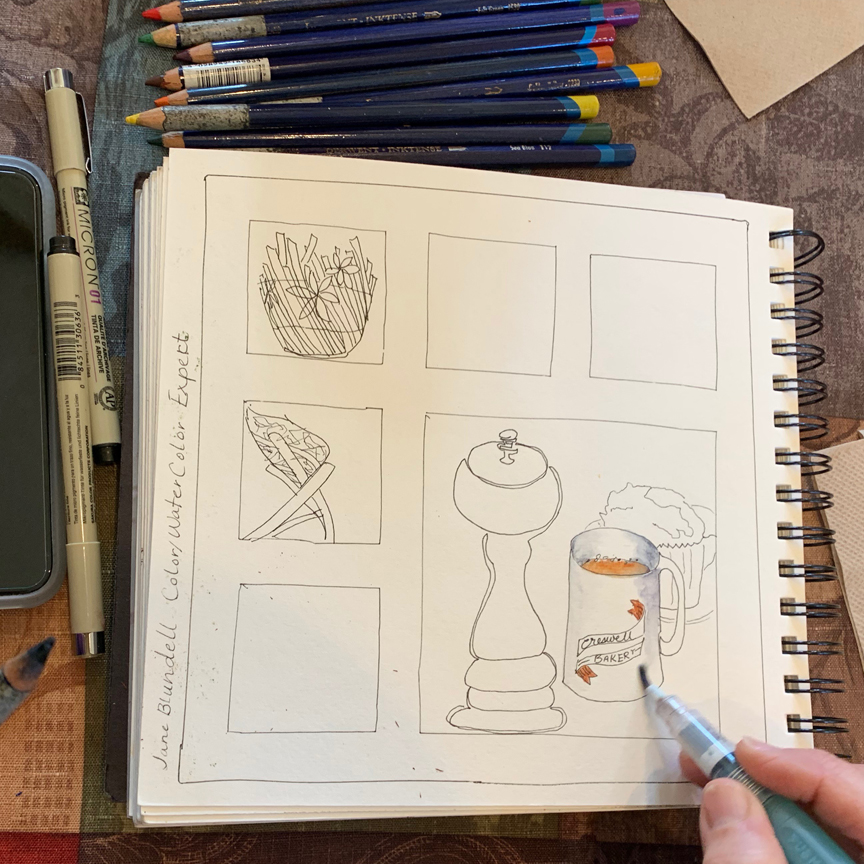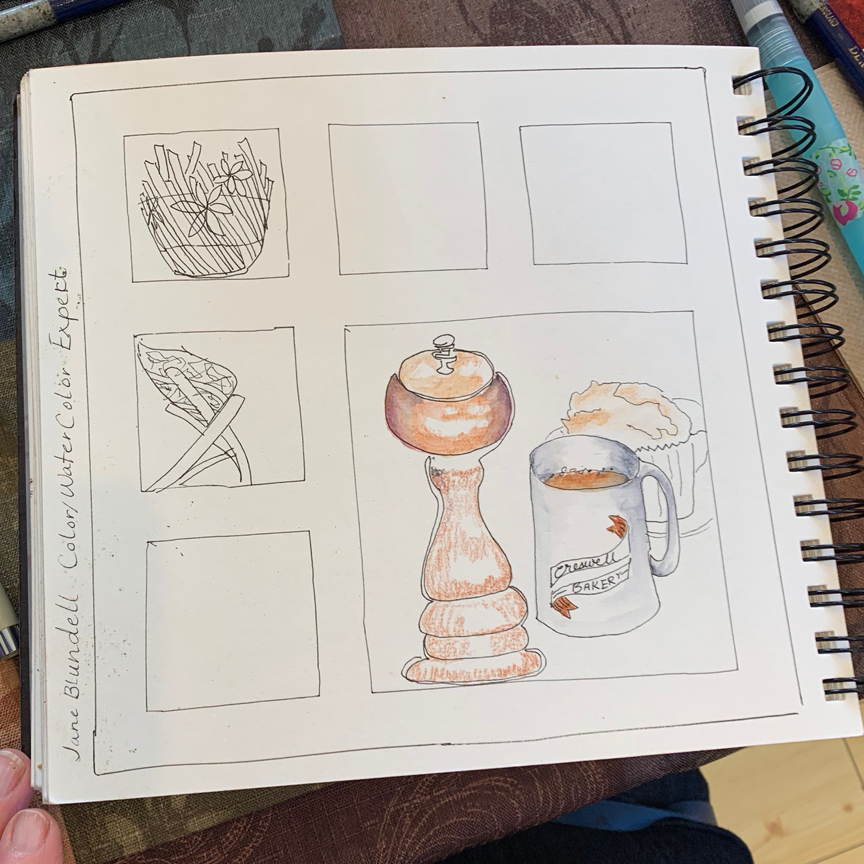 Katie's having fun with her pre-framed pages – first highway art, then images from the table. Nice color, too, using watercolor pencils.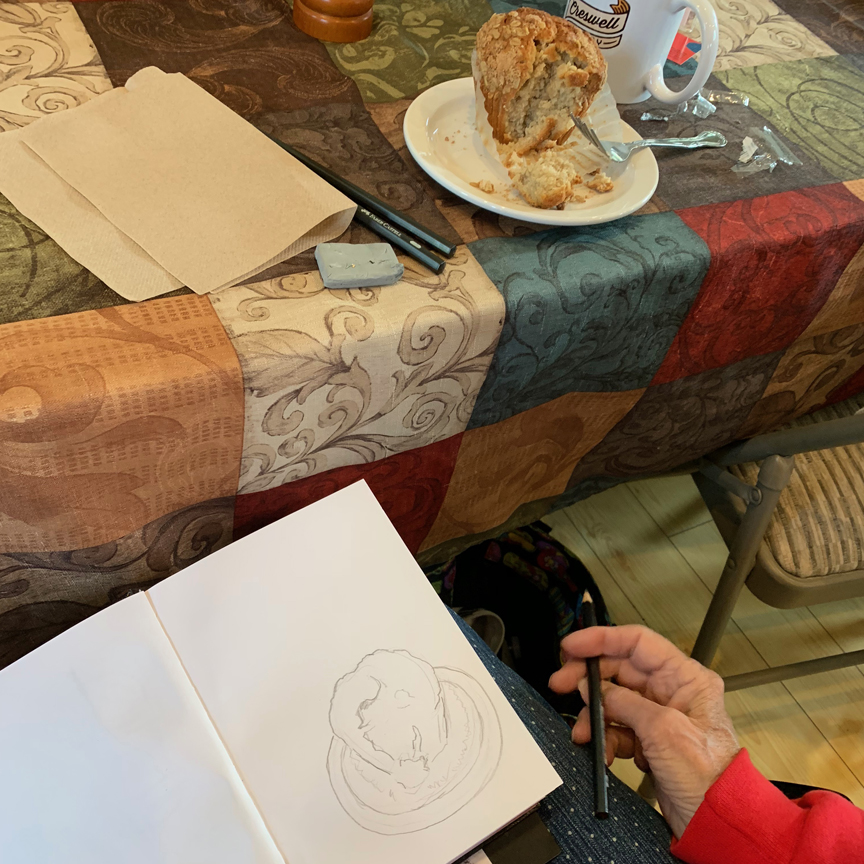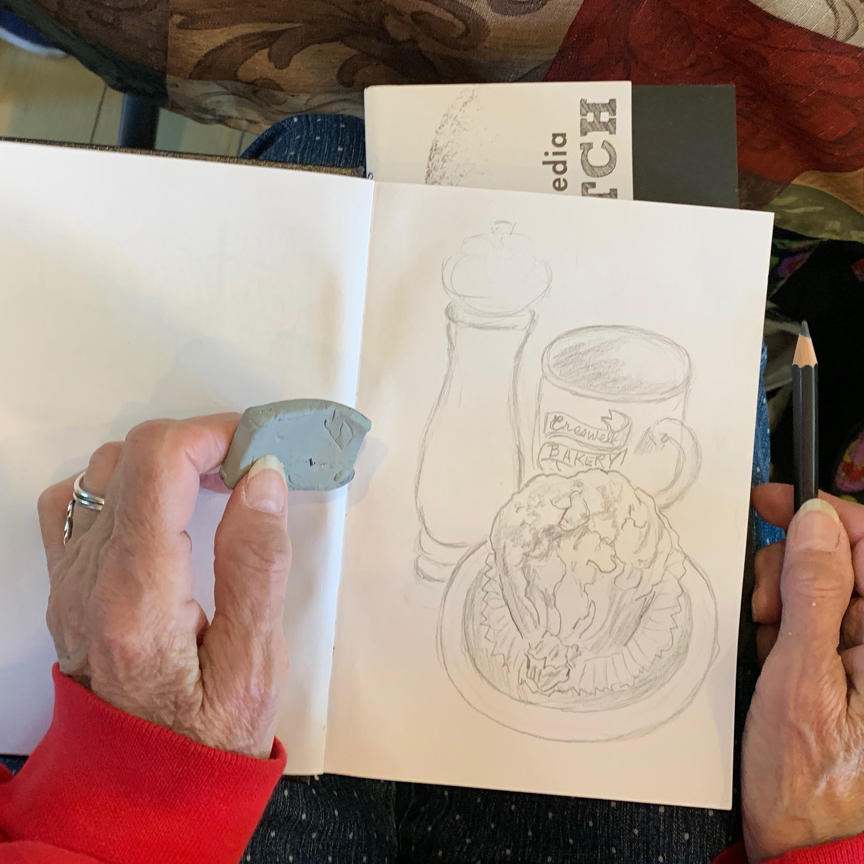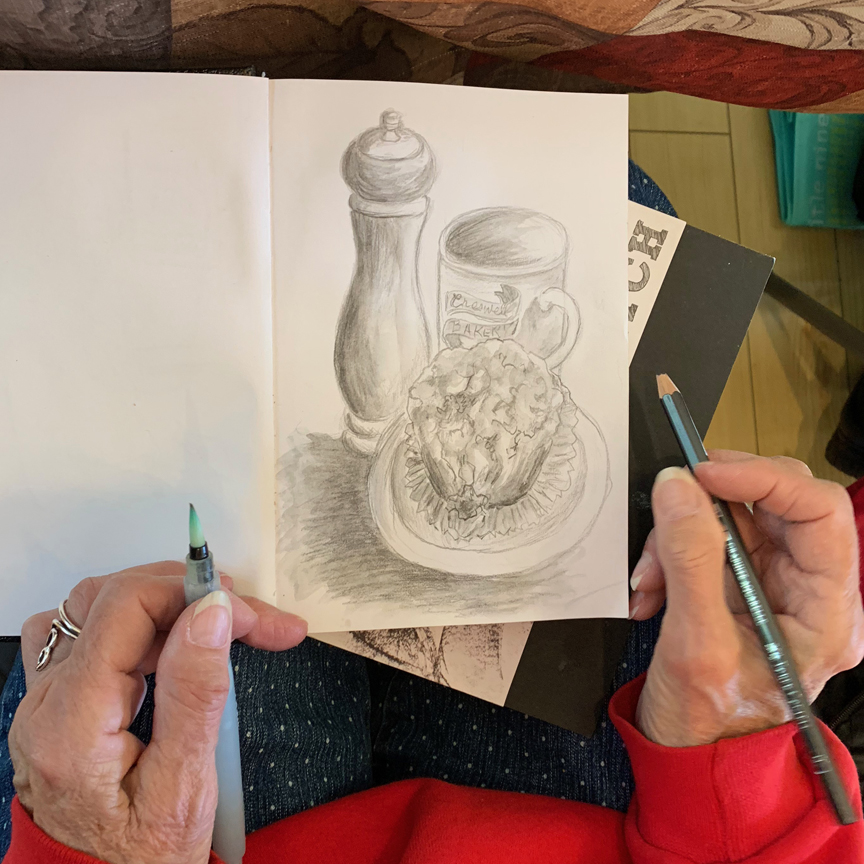 I thought Sharon was sketching with plain old graphite, but surprise! She had water soluble graphite – nice shadows with the brush pen.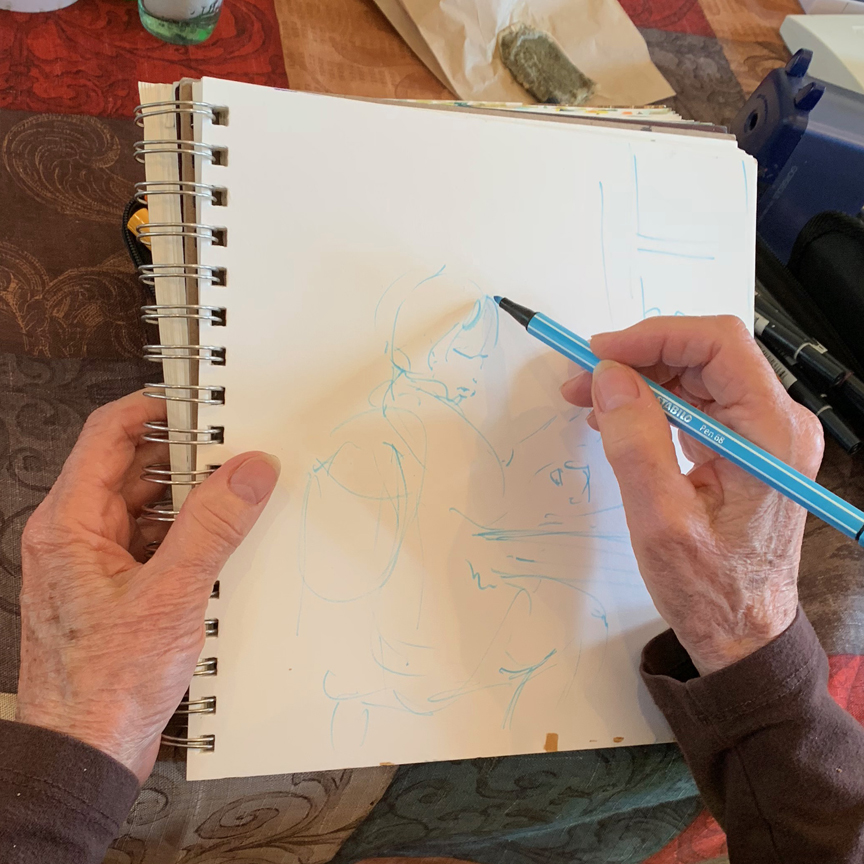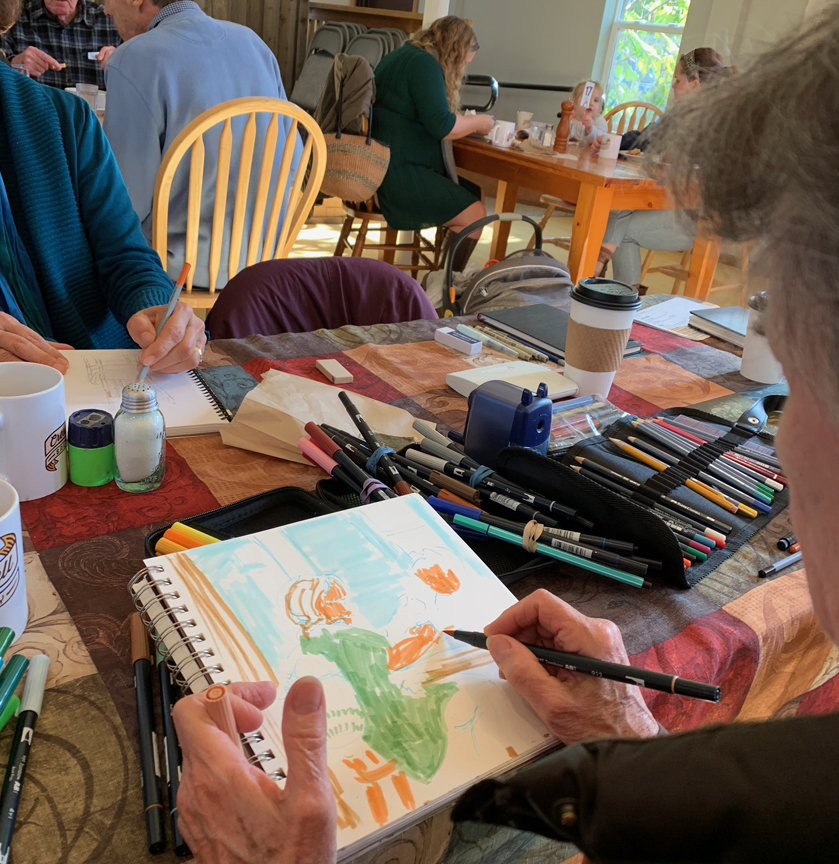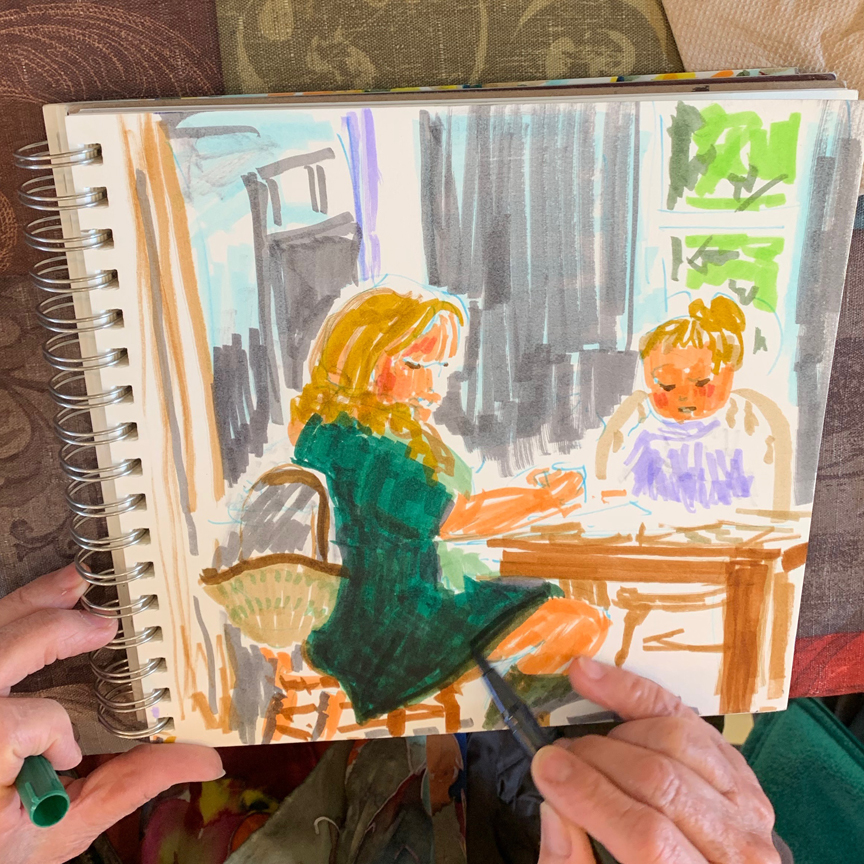 Lealan likes to use a Stabilo marker in light turquoise for an under sketch, then layers the Tombow marker to give the sketch depth.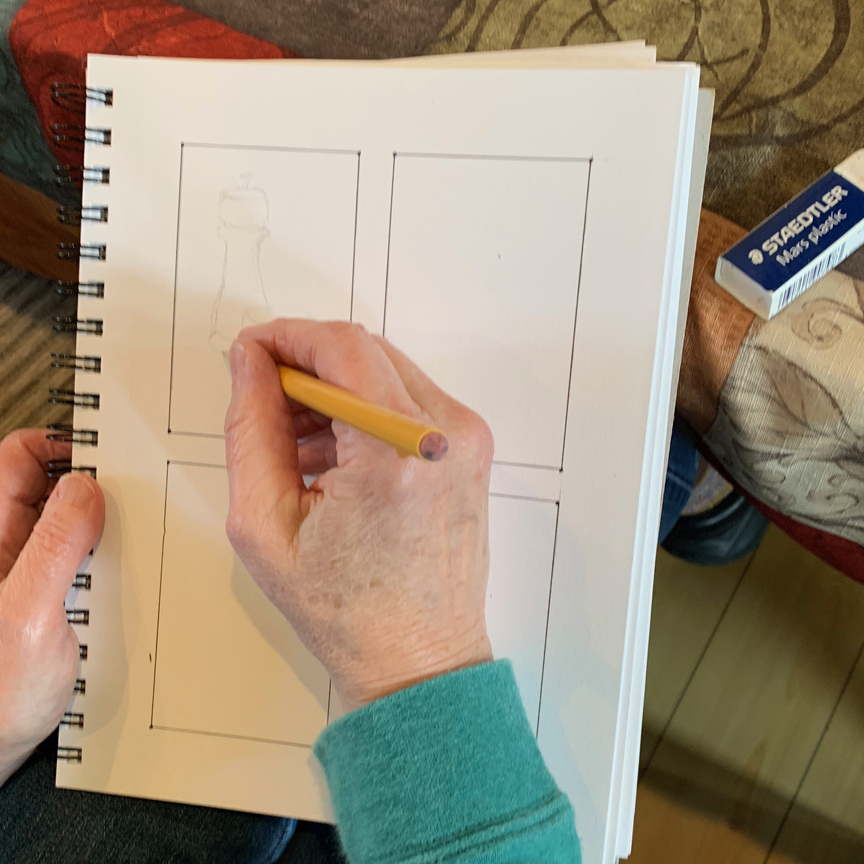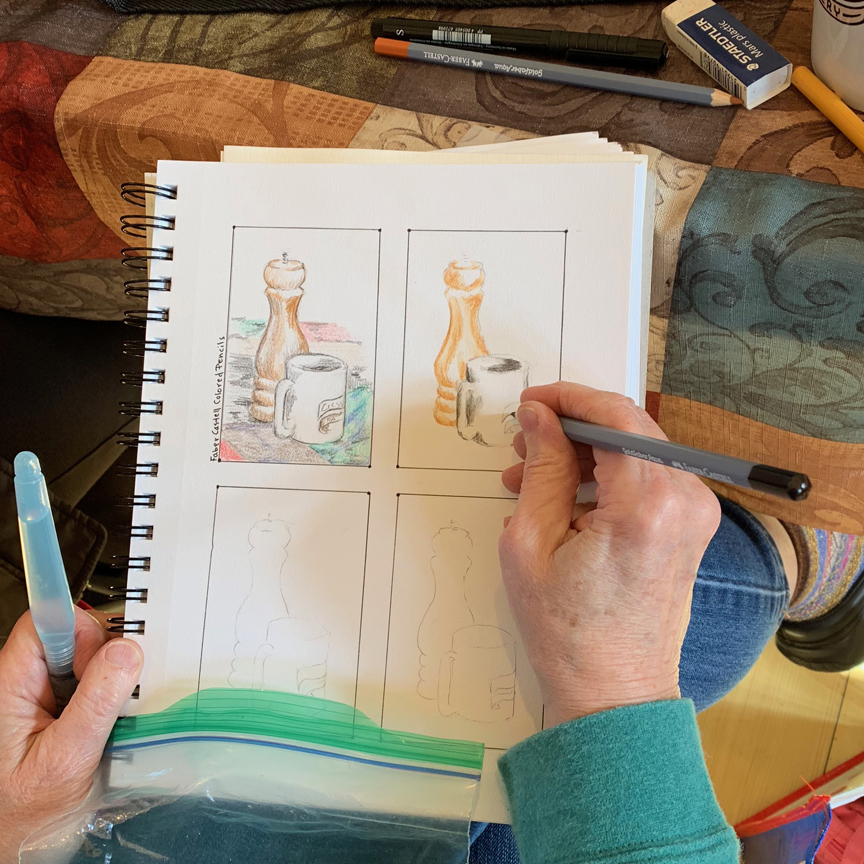 Marsha was curious to compare the effects of different watercolor pencils with the same image – Derwent Intense, then Faber-Castell.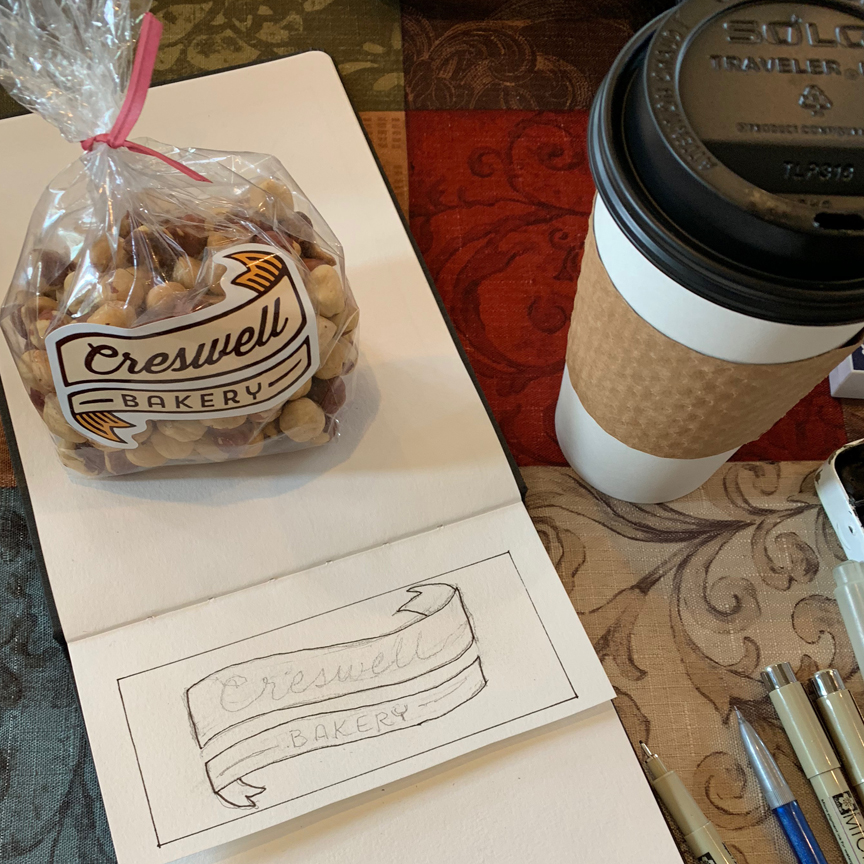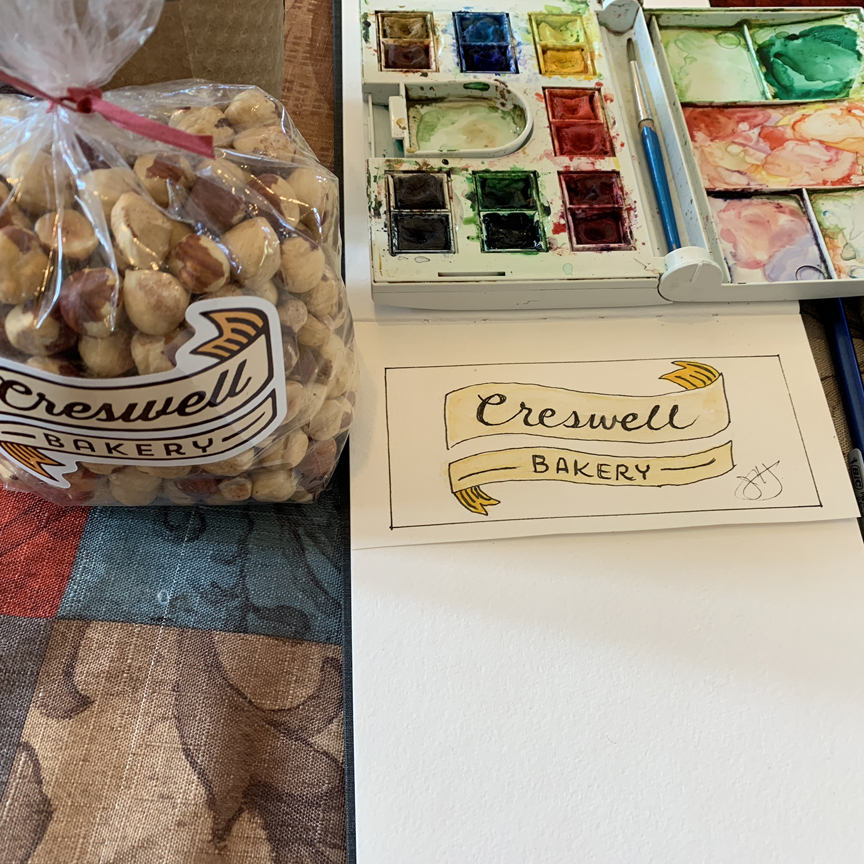 Jane was only curious about the bakery logo and the hazelnuts.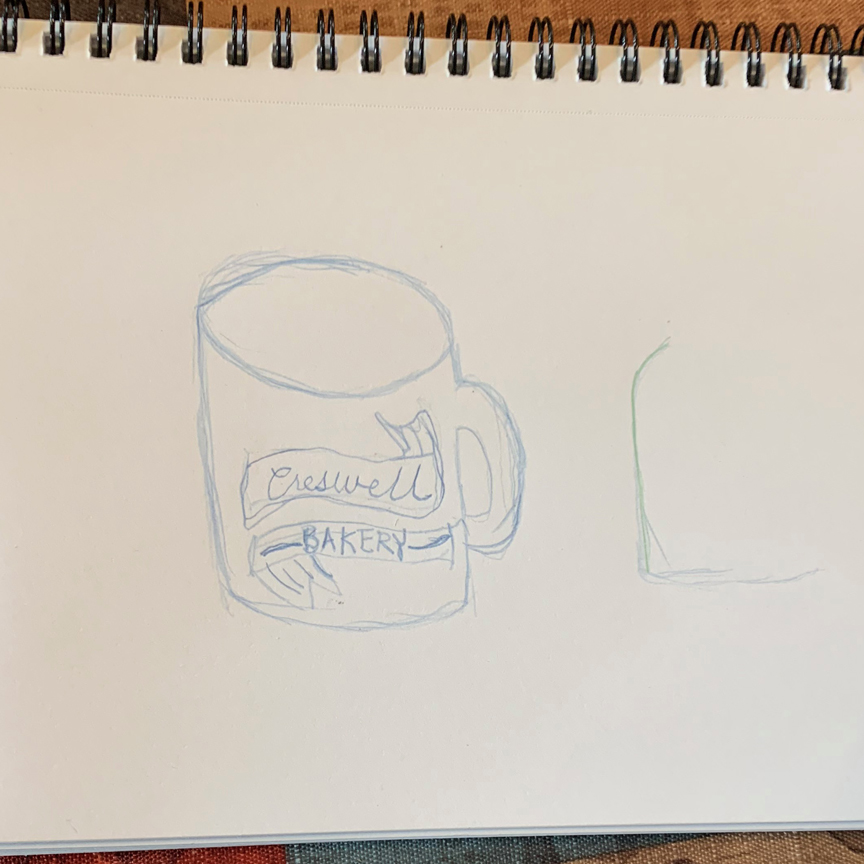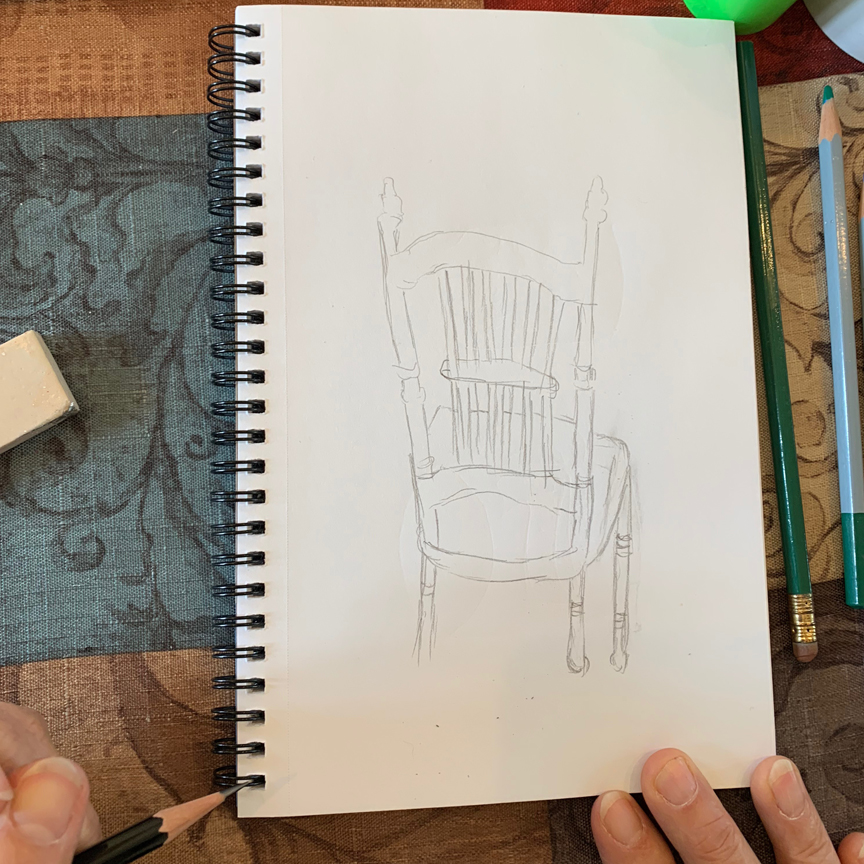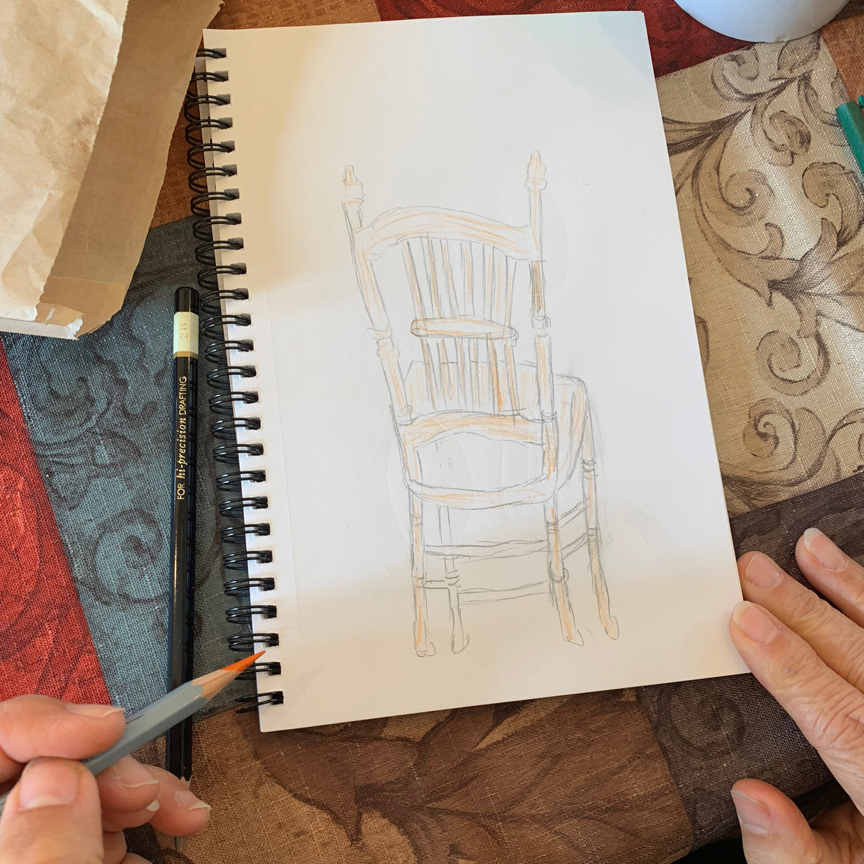 This was Patt's first time with us. "What do you sketch," she said. Whatever is in front of you, we said. And so she did! Tough chair.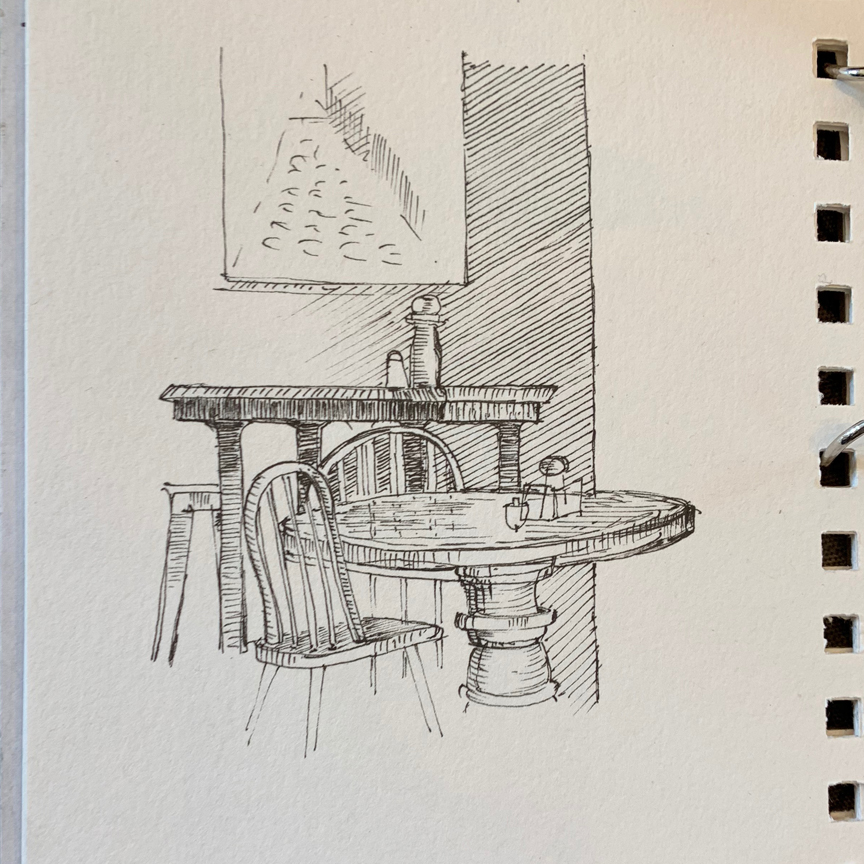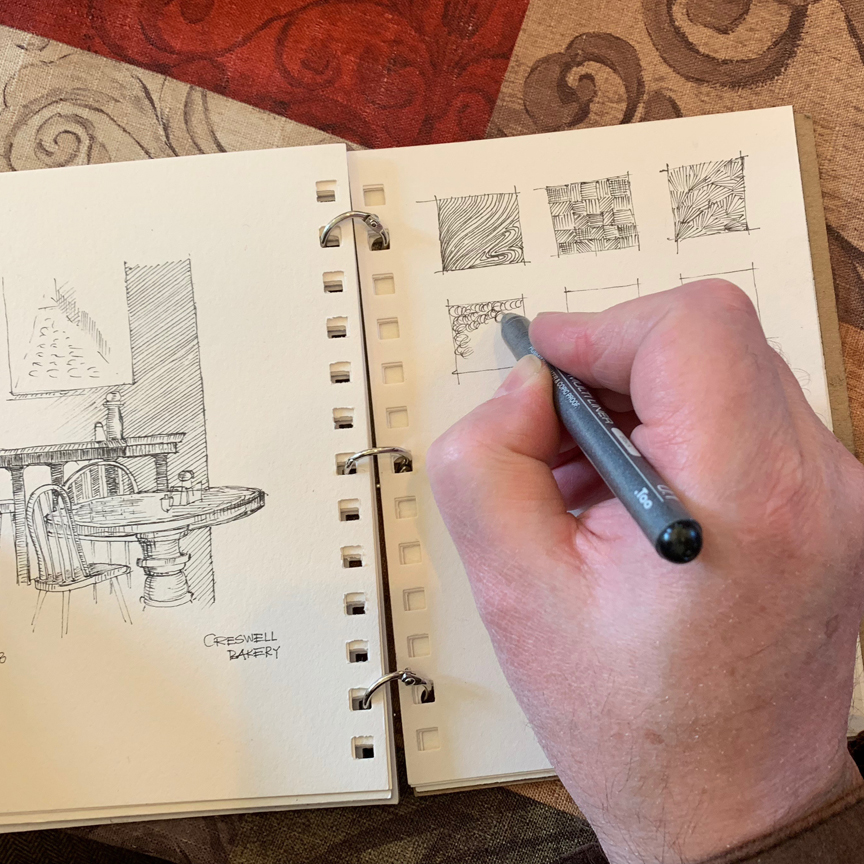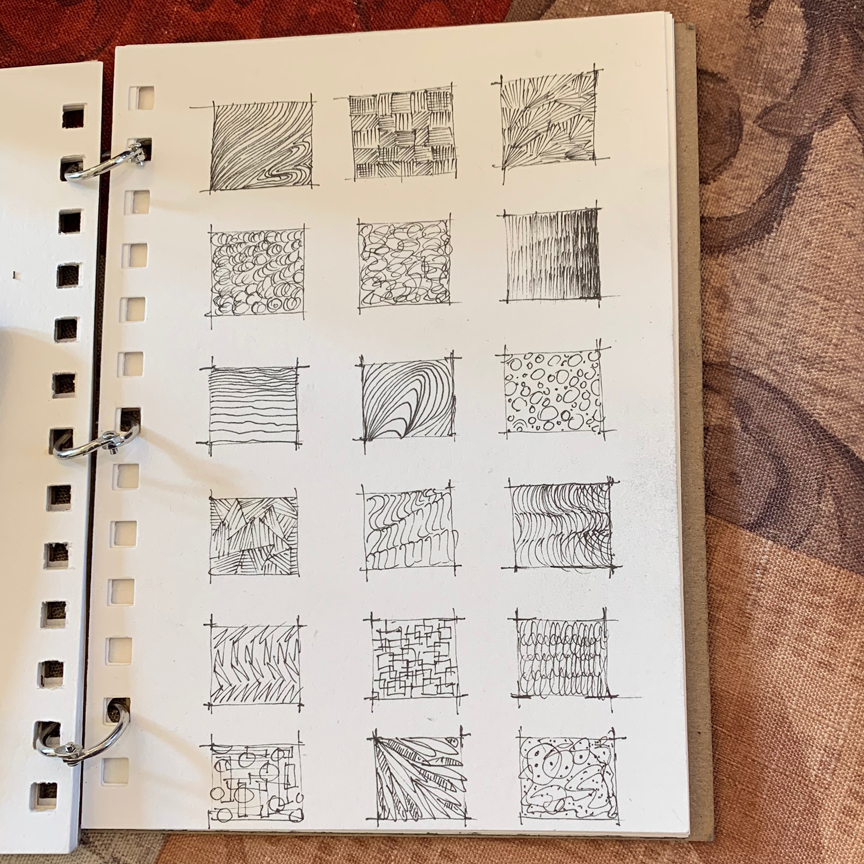 Serge uses cross hatching so well in his ink drawings. Here he also did a sample chart of different kinds of line effect. Just doodling!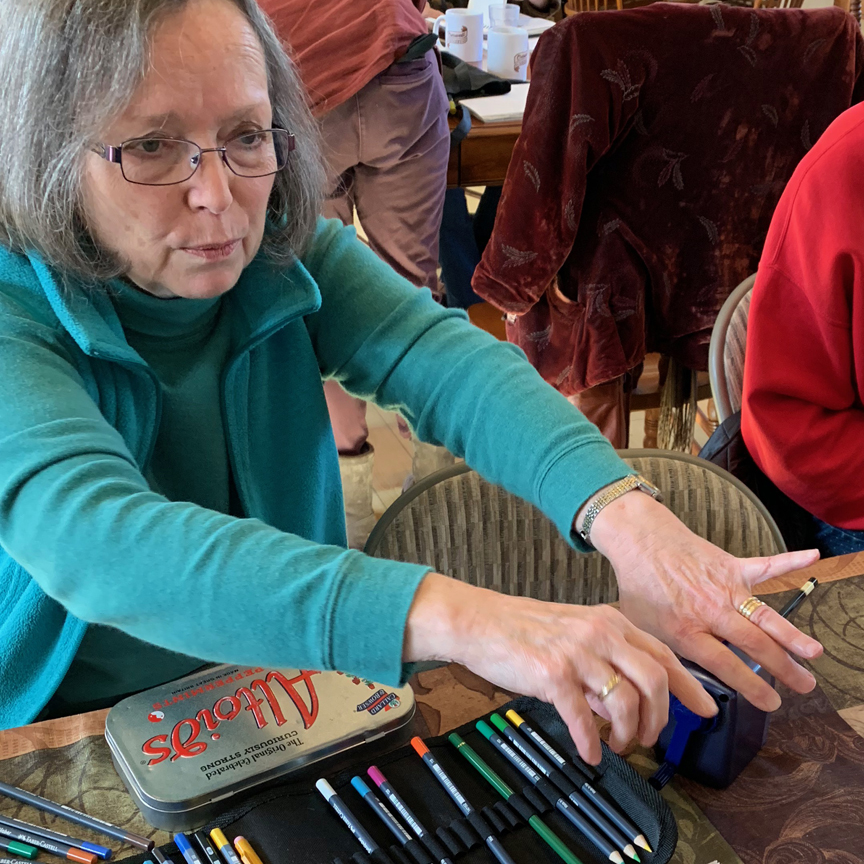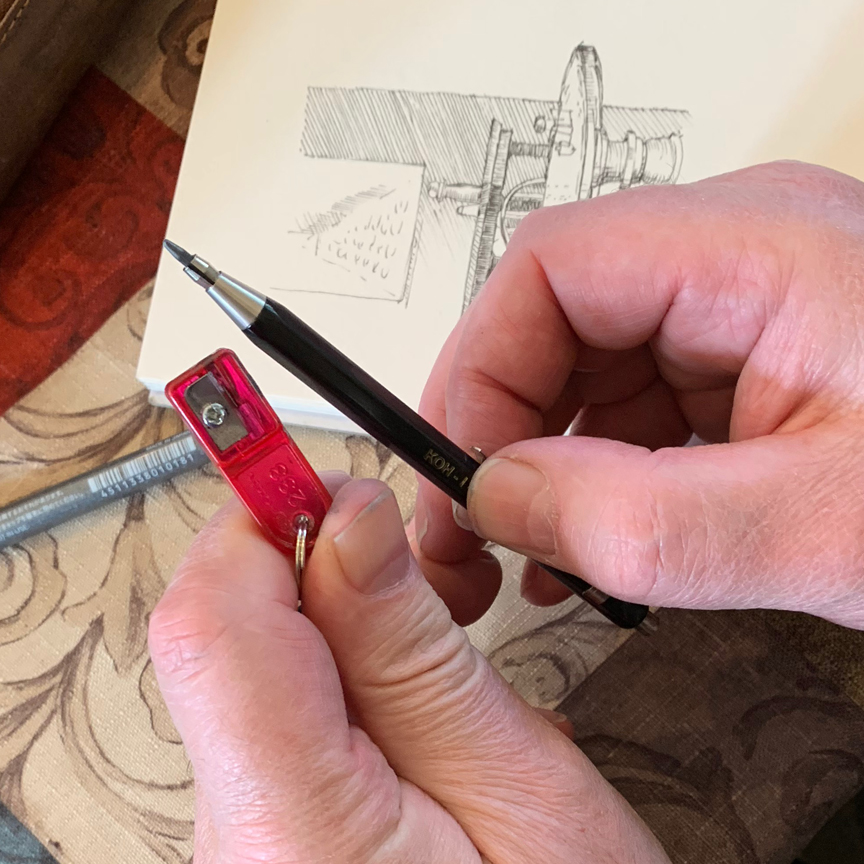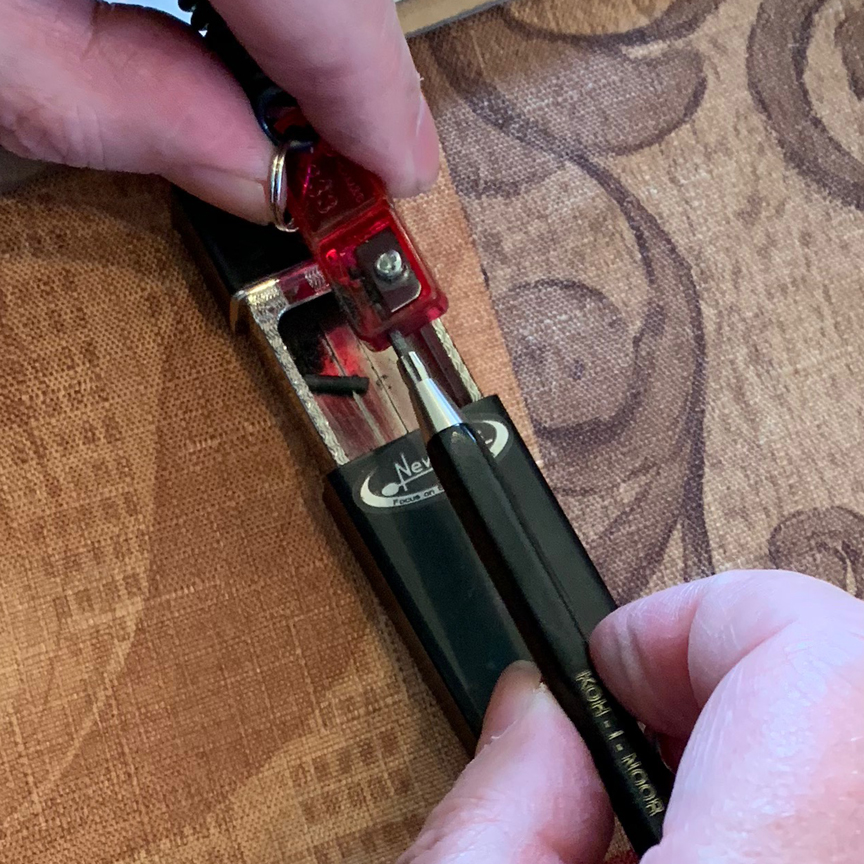 Then we had a demo of unique pencil sharpeners – Marsha with one for colored pencils that holds them straight; Serge with one designed for large lead mechanical pencils, with it's own trash bin!
✒ Oct. 26, 2018 – Camas Mill Bakery, Junction City, OR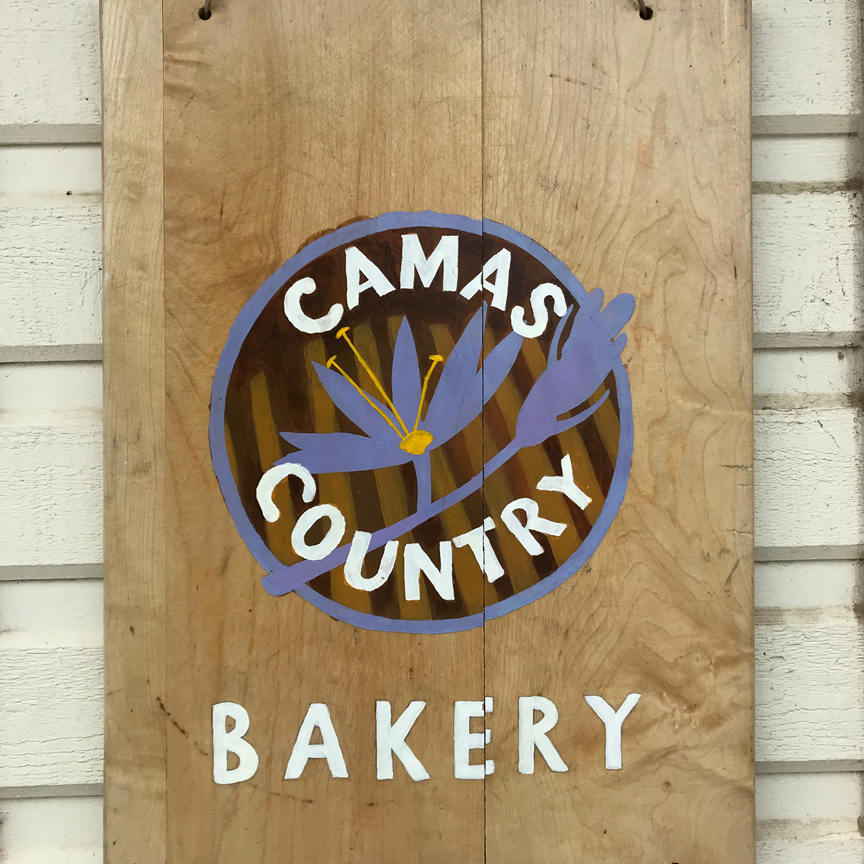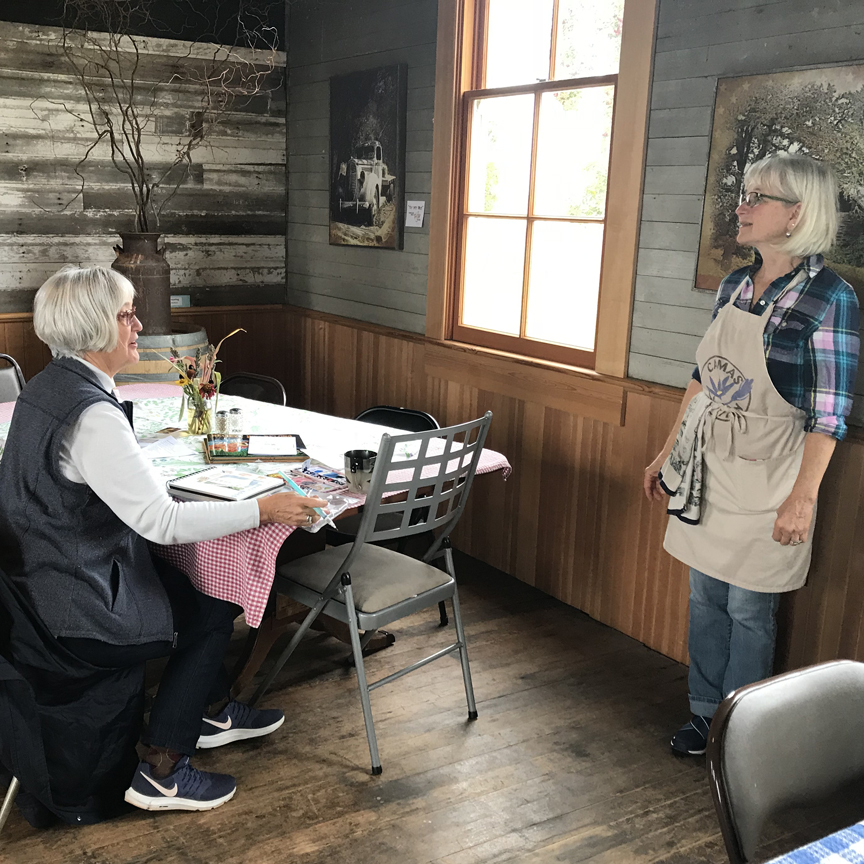 Back again, thanks to Katie knowing her friend Sue, proprietor and historian of the old Alvadore Schoolhouse – wonderful stories!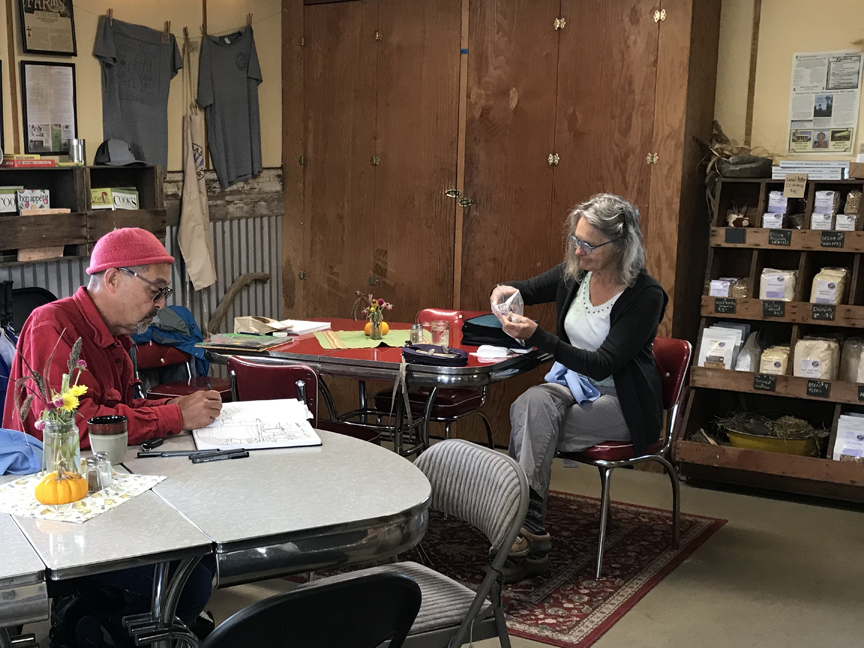 A few of us started out in the bakery/cafe before moving on to explore and sketch in the old school house, moved 2 miles across the fields from Alvadore.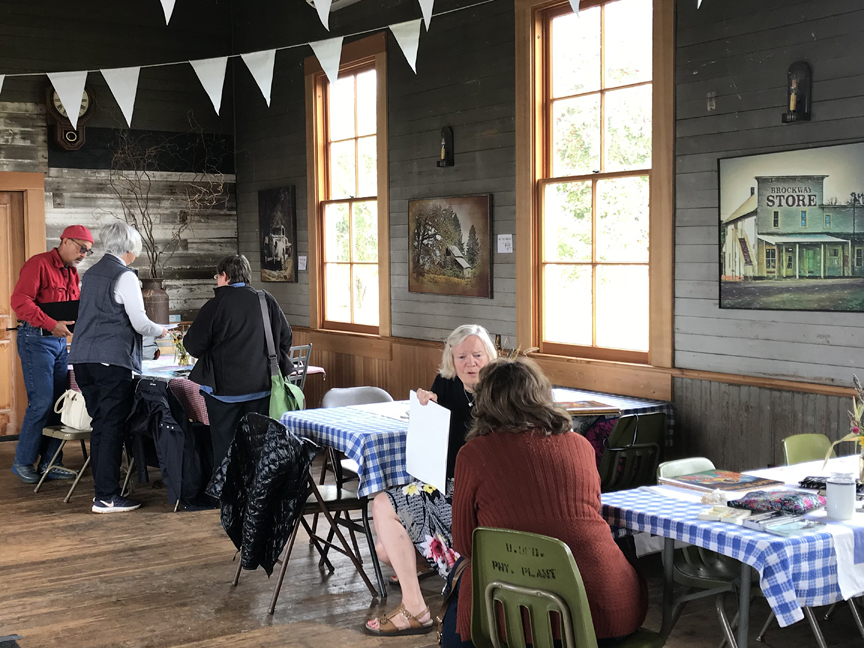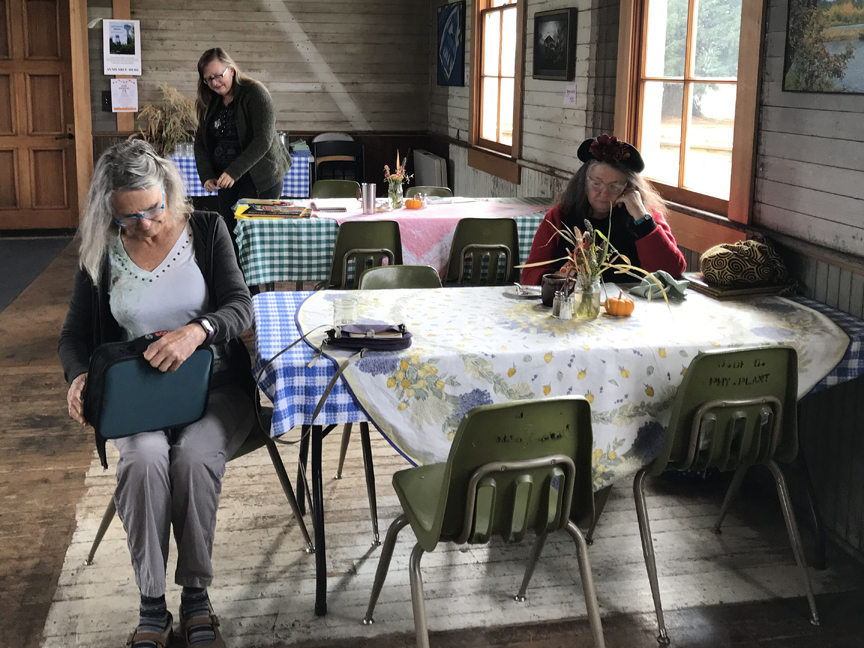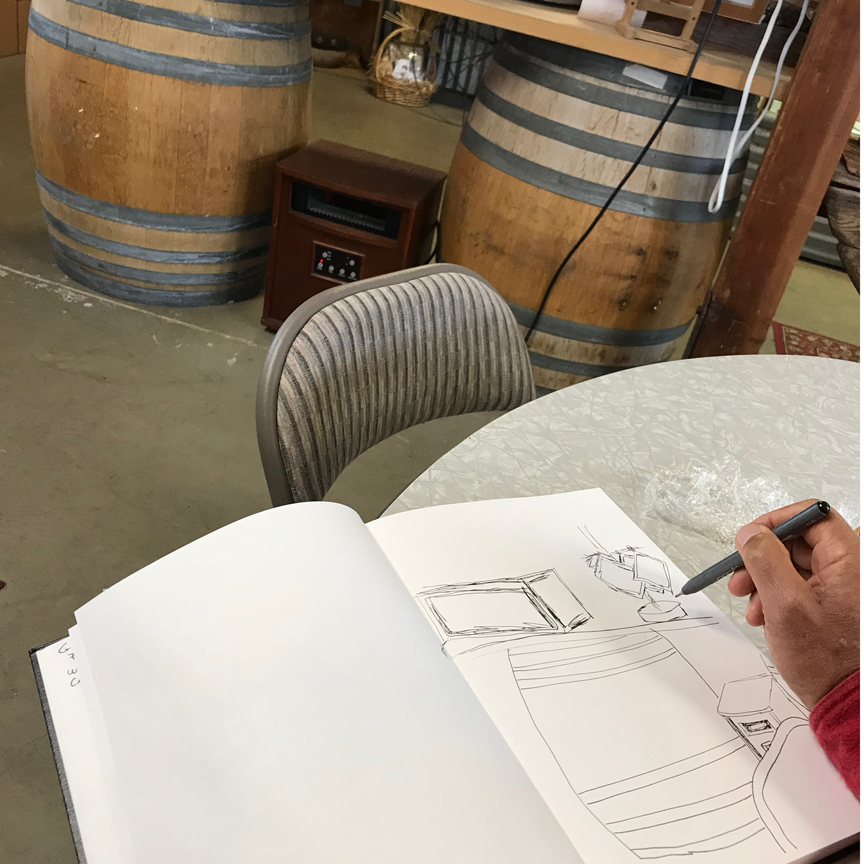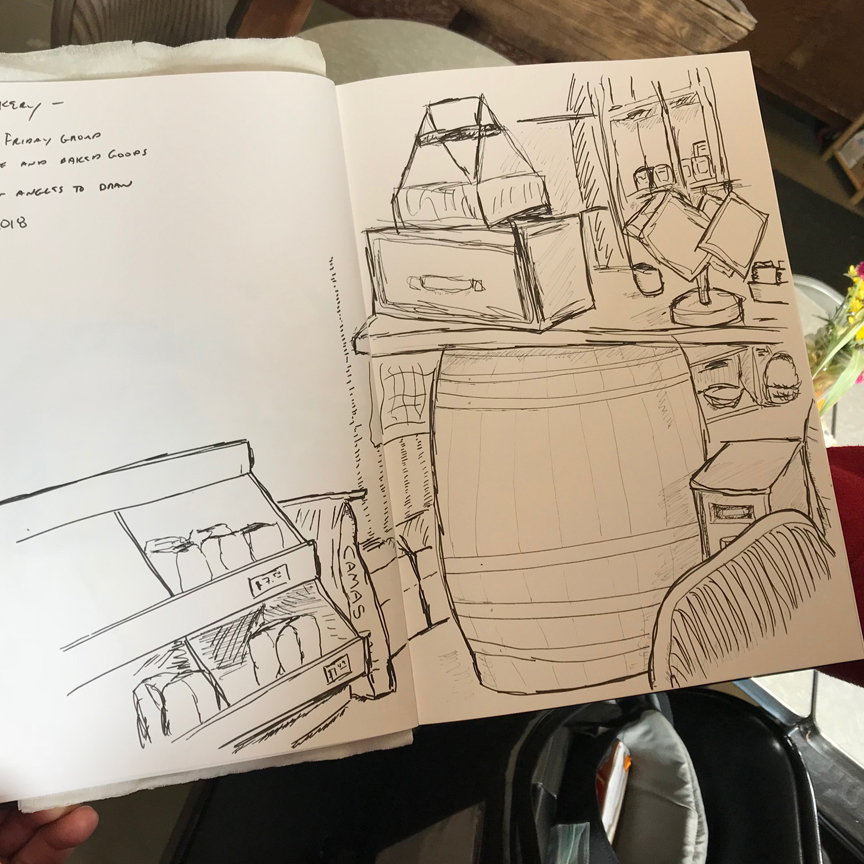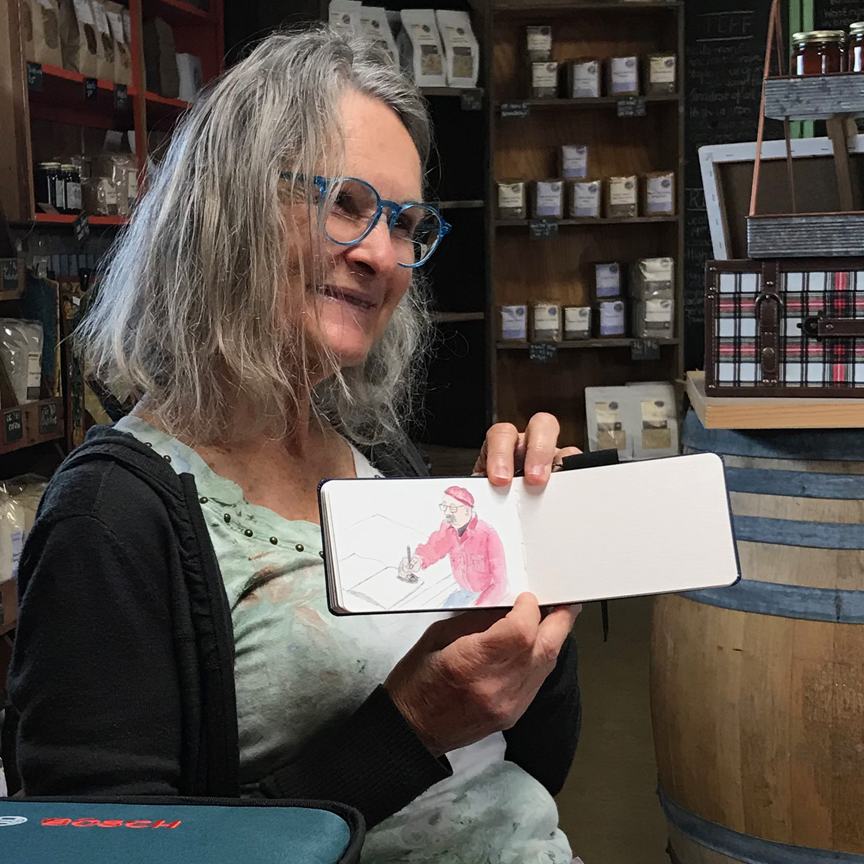 Hugh really got off on sketching the displays in the bakery, and Sandy got off on sketching her husband, Hugh!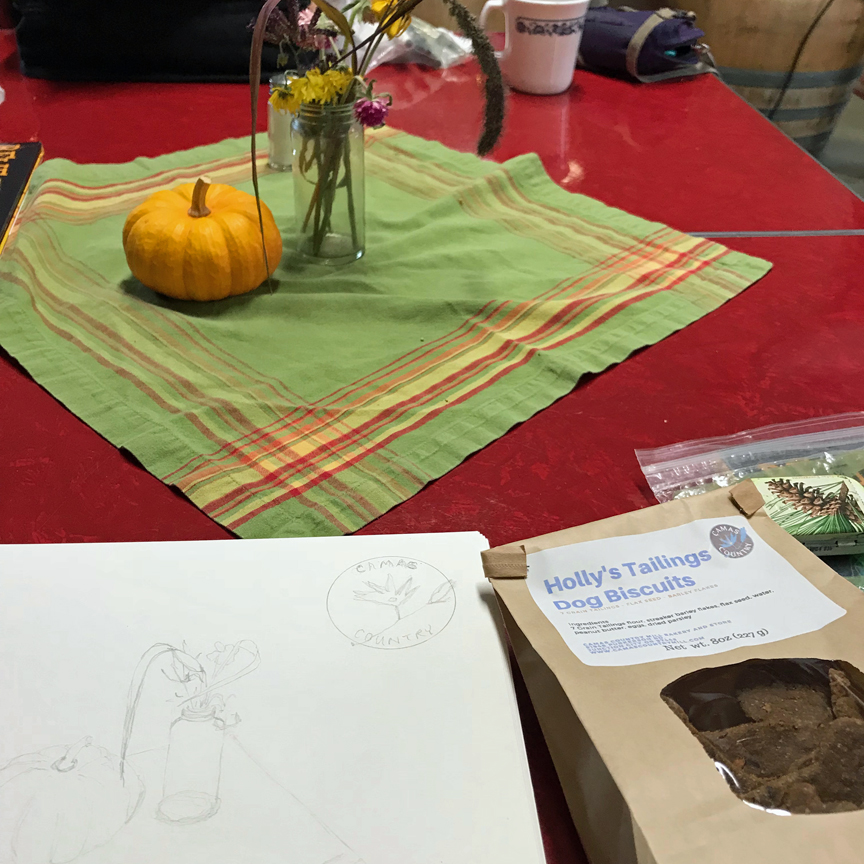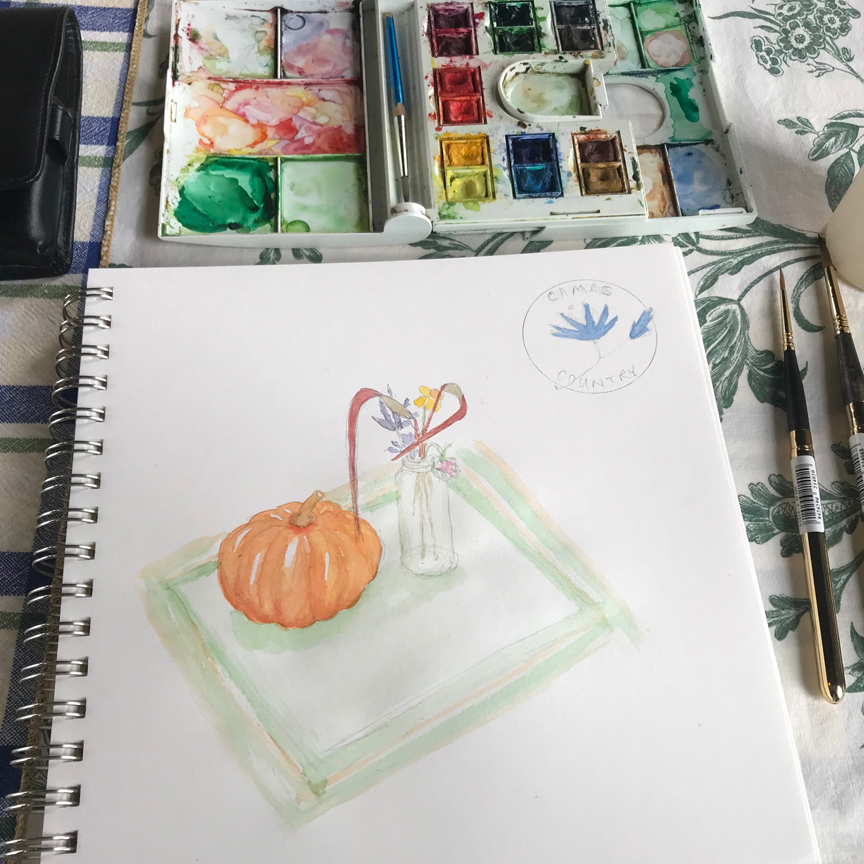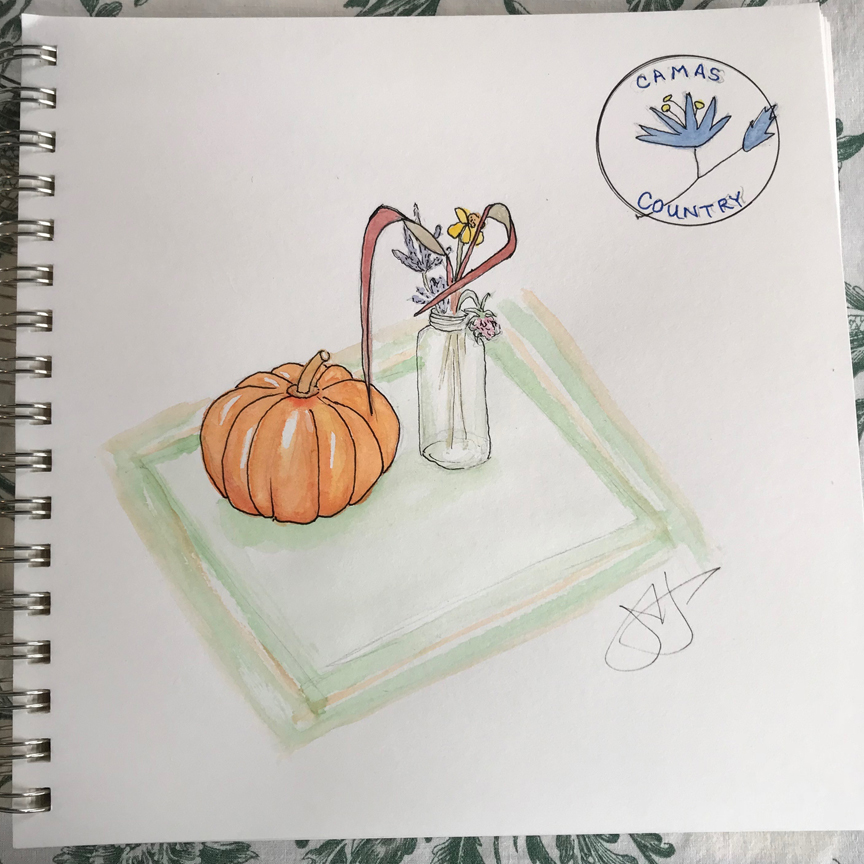 Jane took advantage of the charming table decorations – sweet.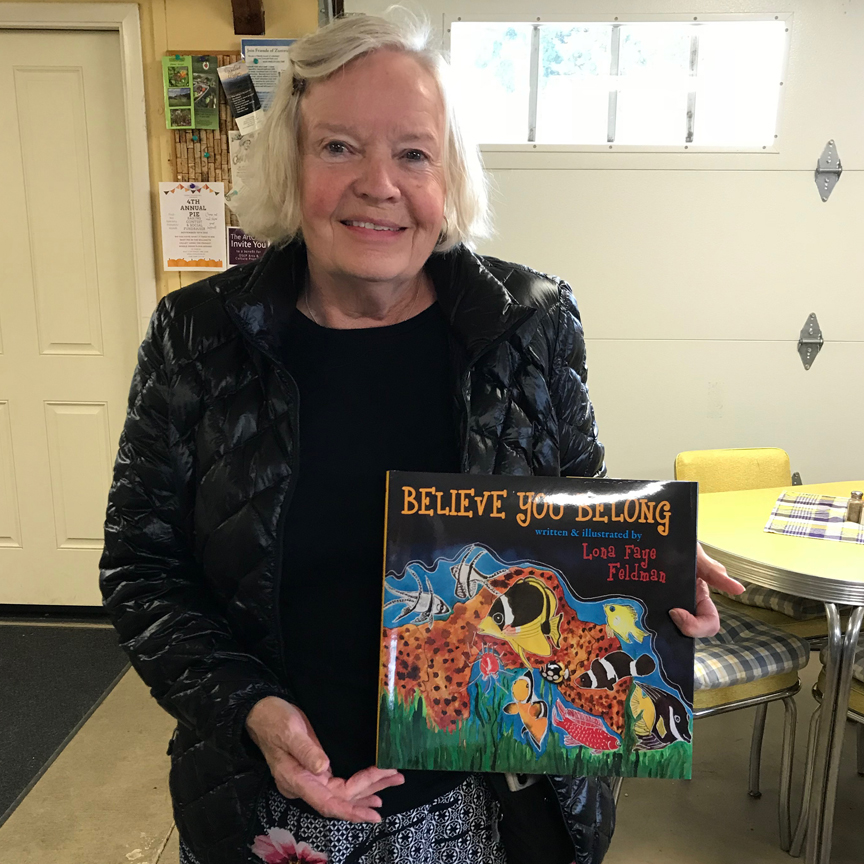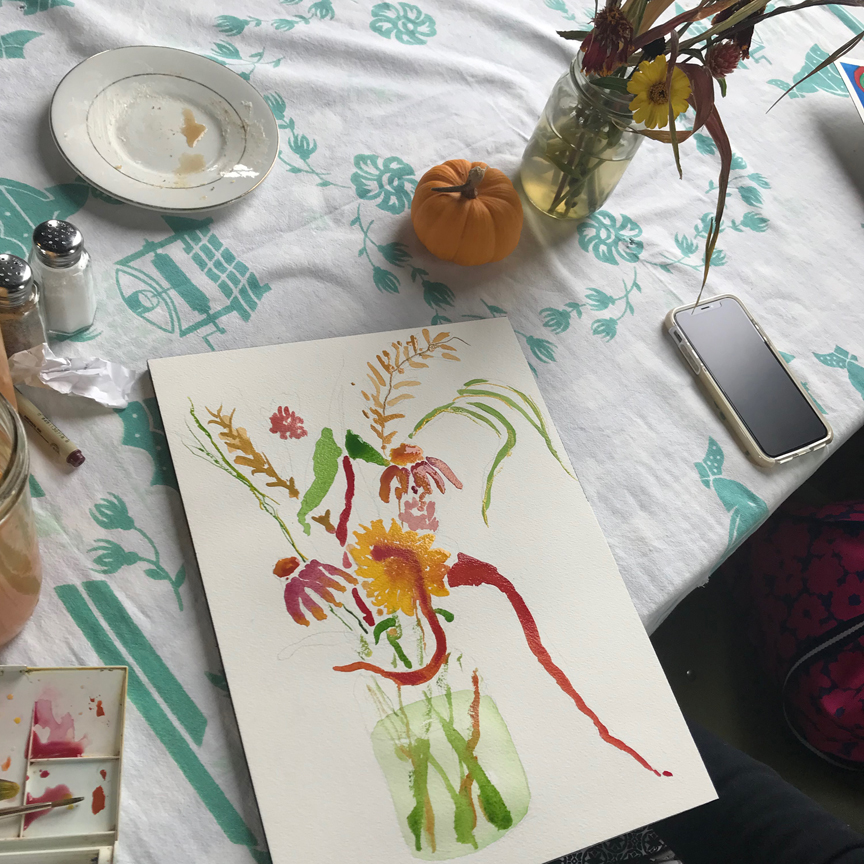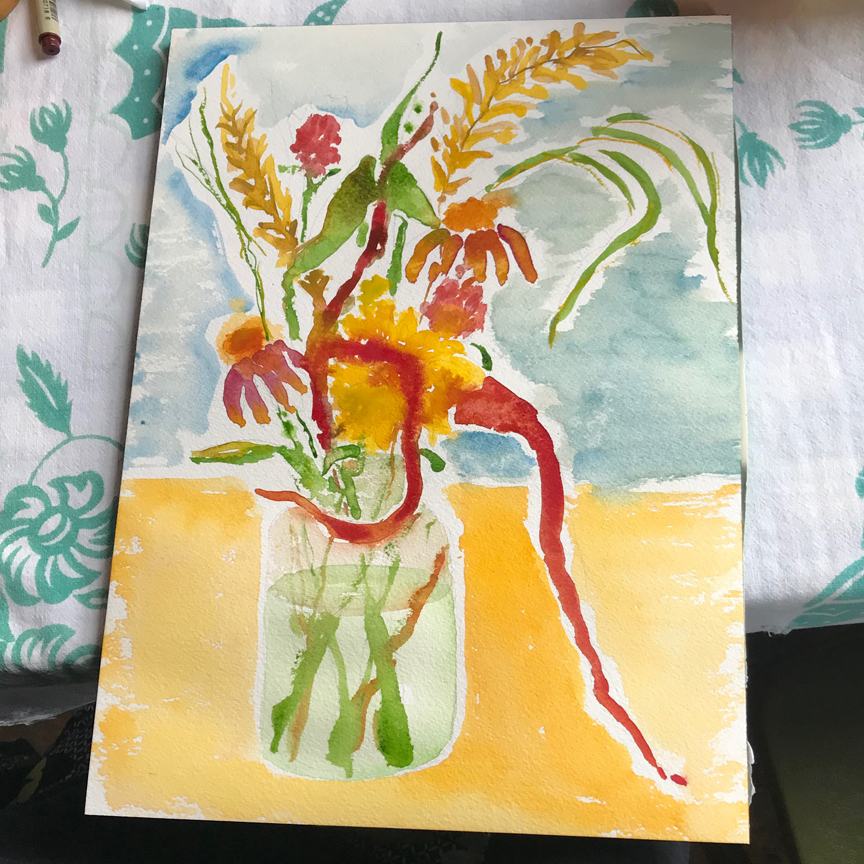 Lona brought us each a copy of her newly published book featuring her vibrant watercolors (!), and sketched a table decoration, too.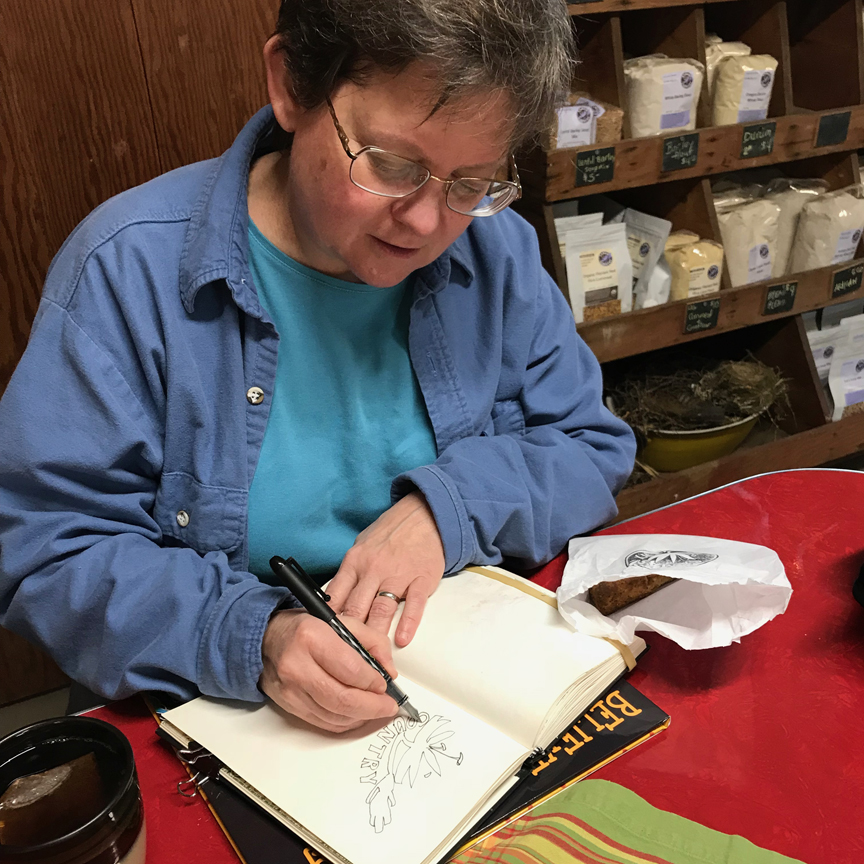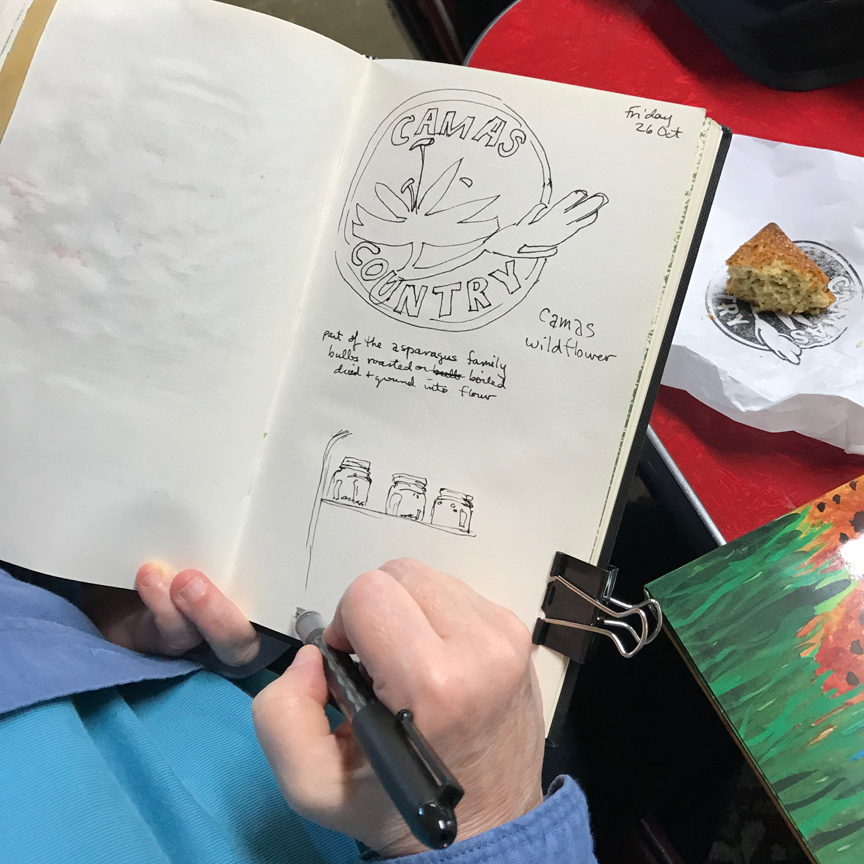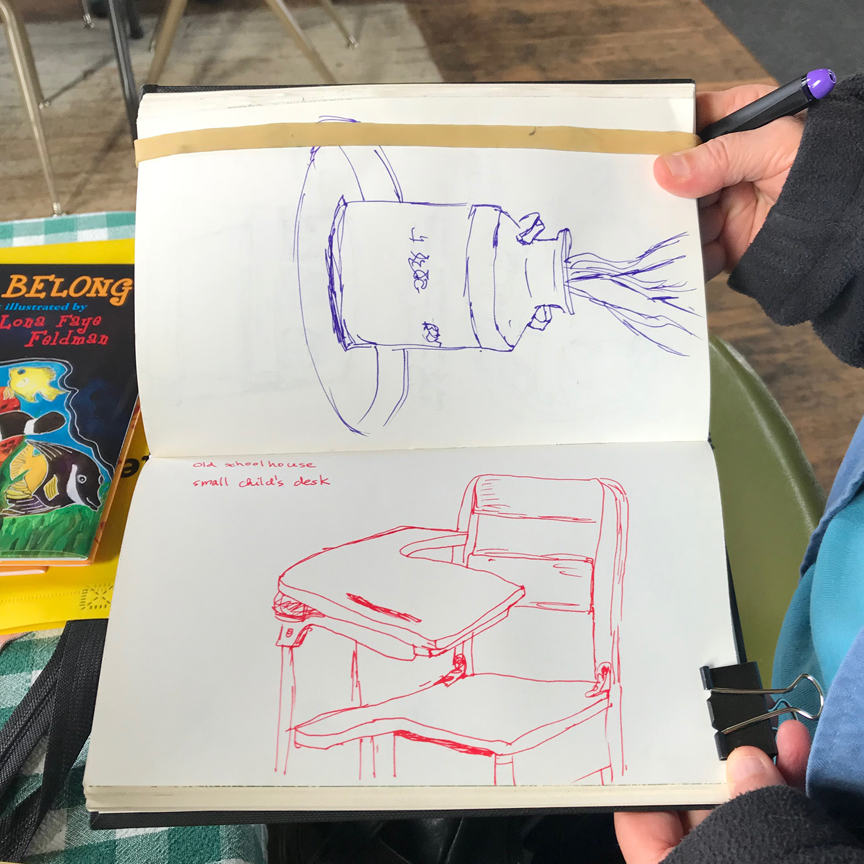 Daisy liked their logo, then tried to get the top of one of the school desks which made it a bit wonky – I've sat in those wonky ones!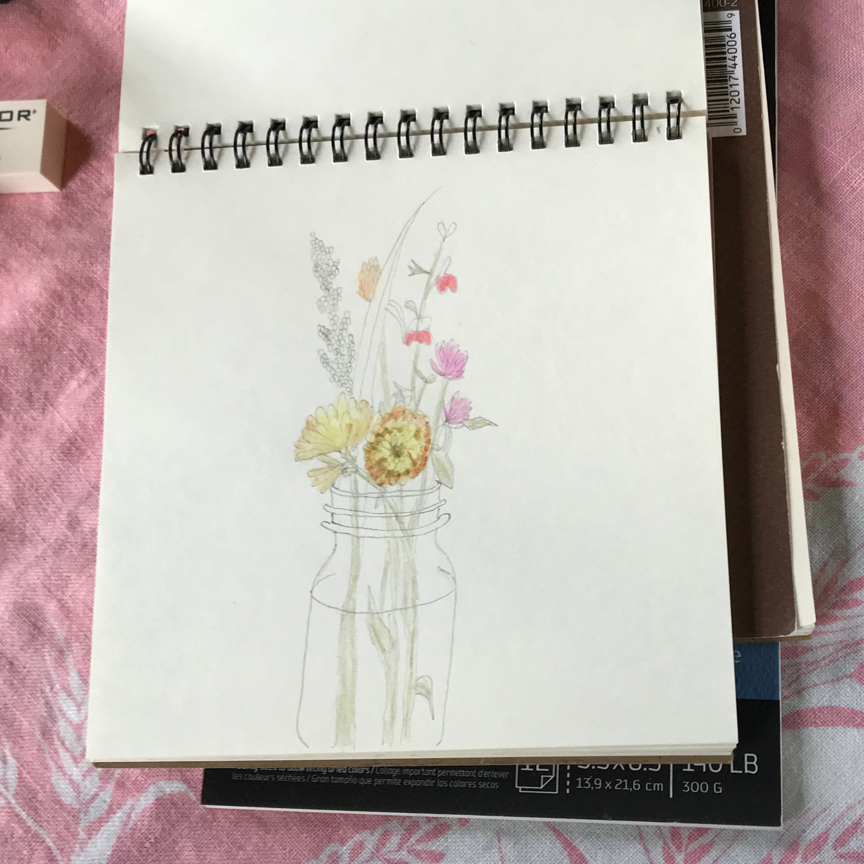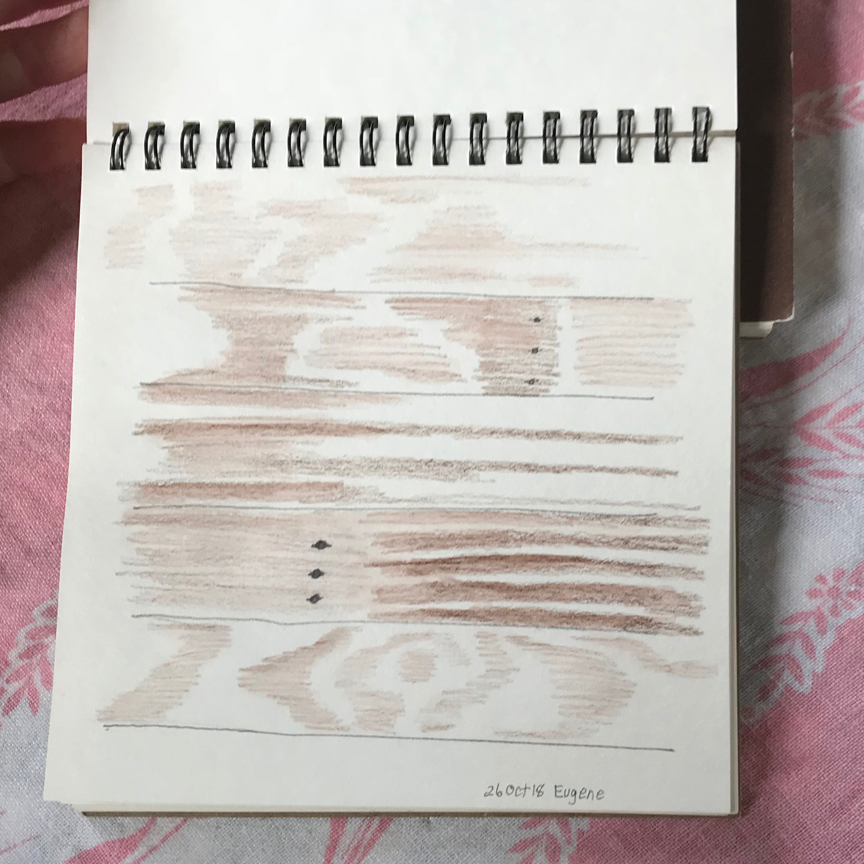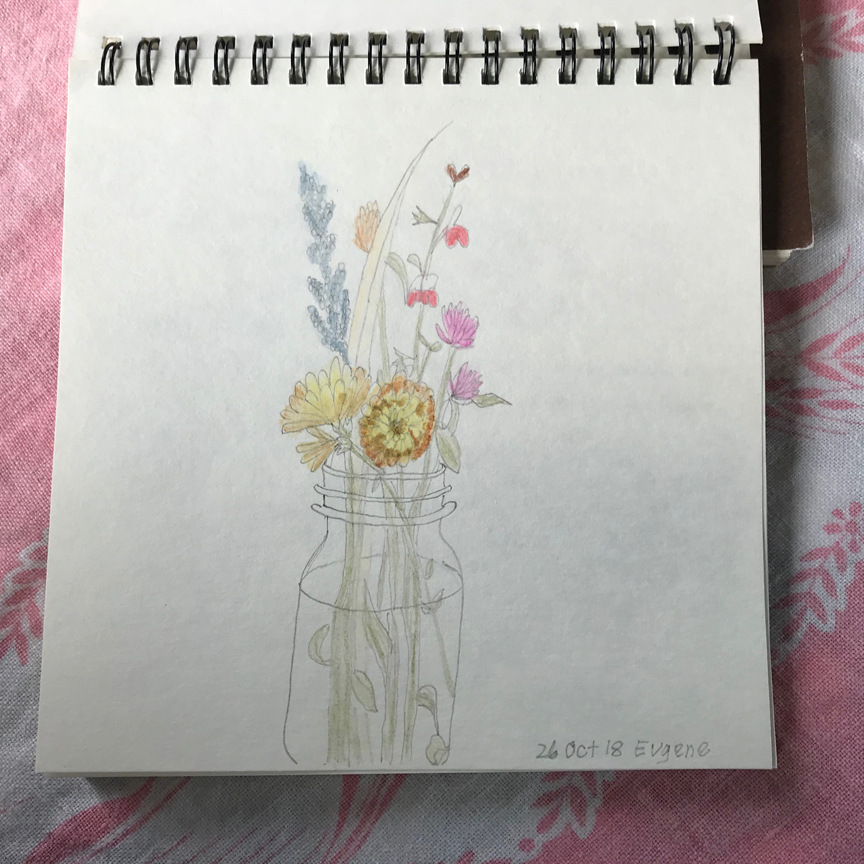 Jude, new to the group, fit right in and even sketched the wonderful texture of the old school house boards – fabulous texture!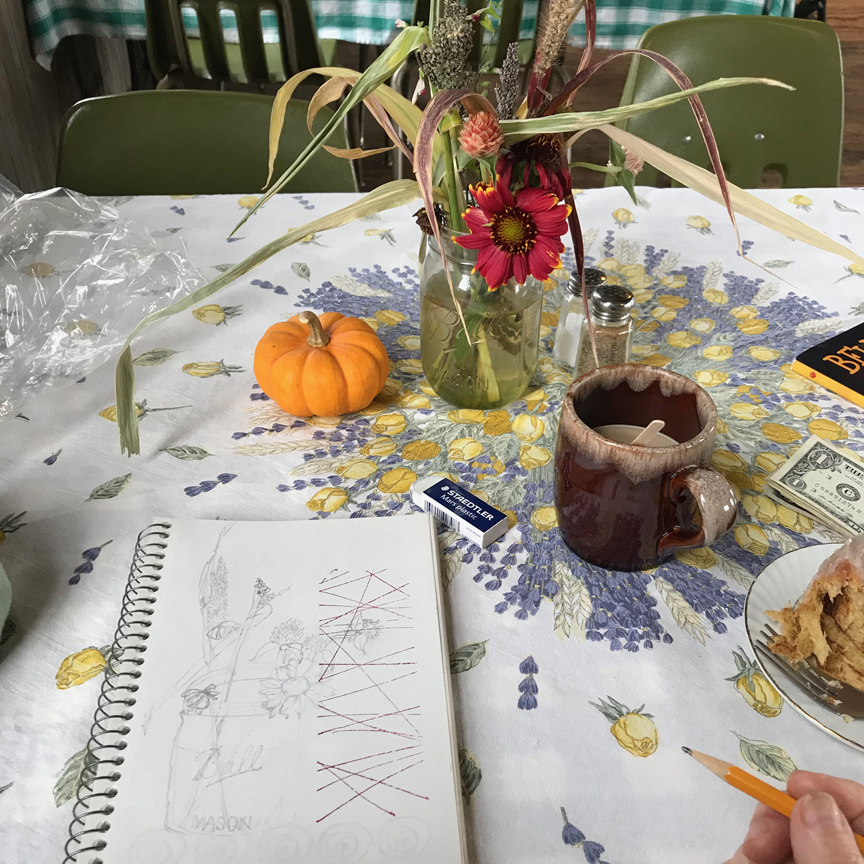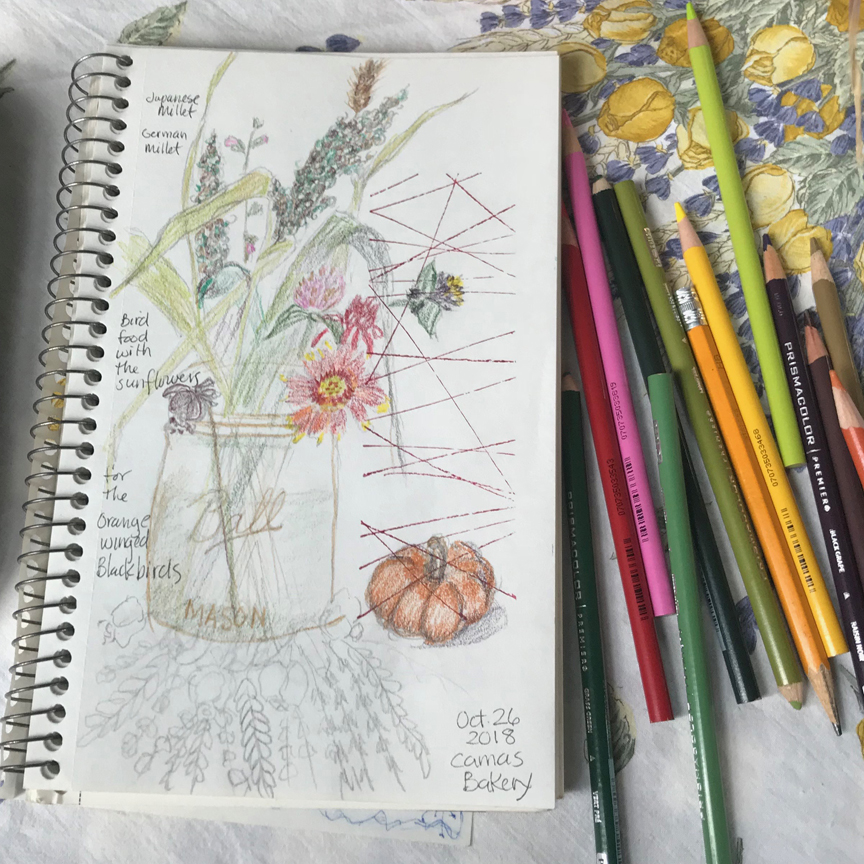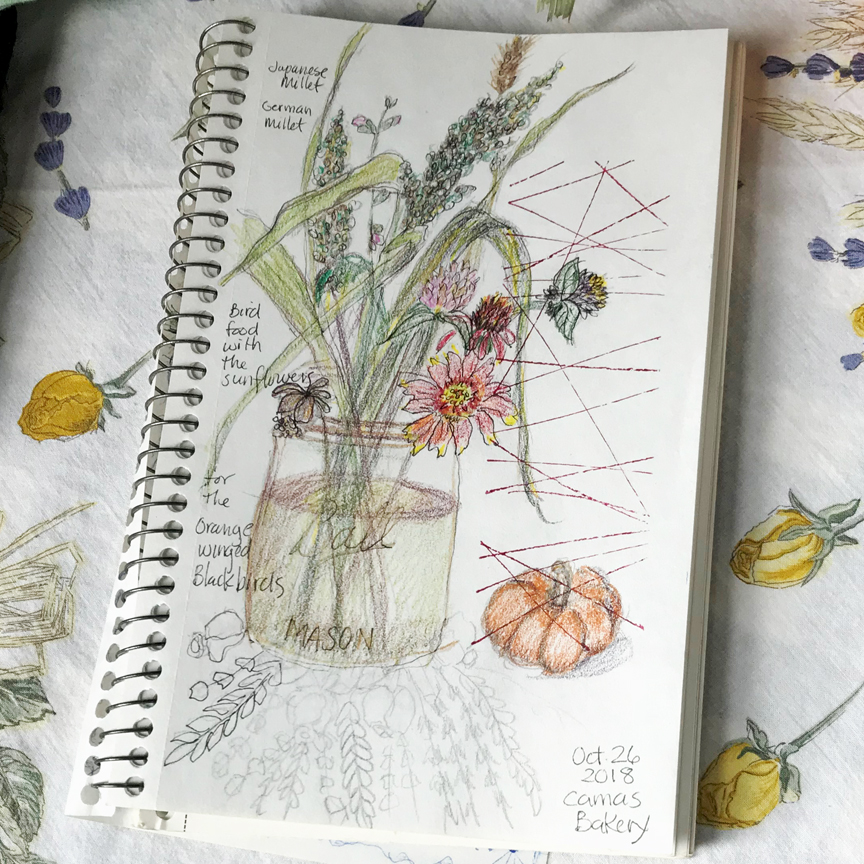 The table decorations were a big hit with Laura, too – nicely done.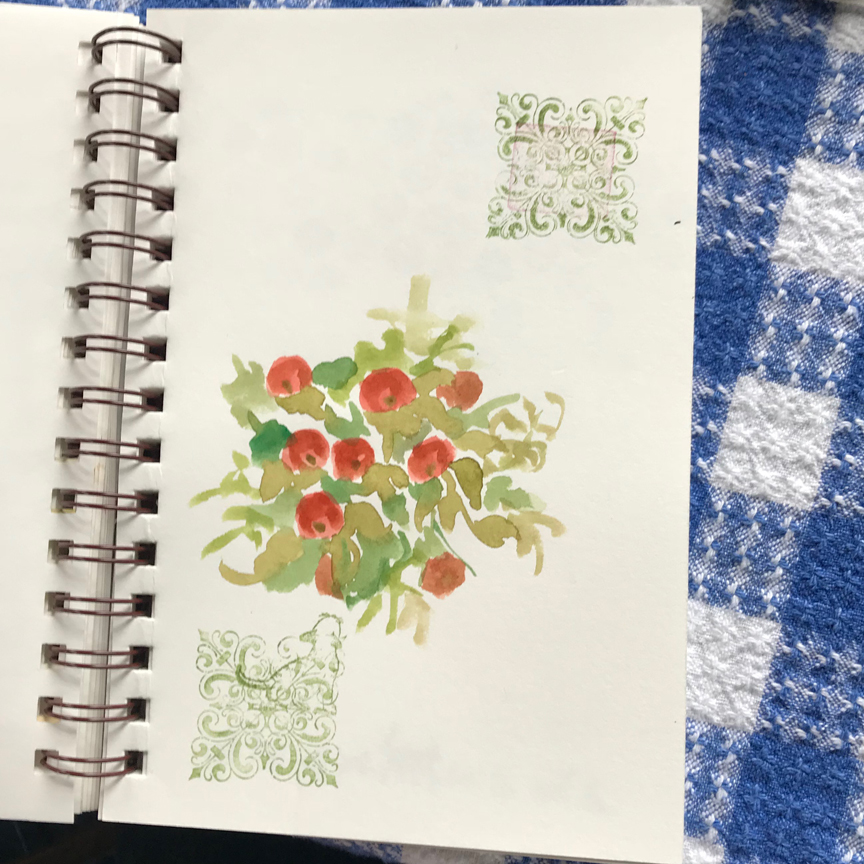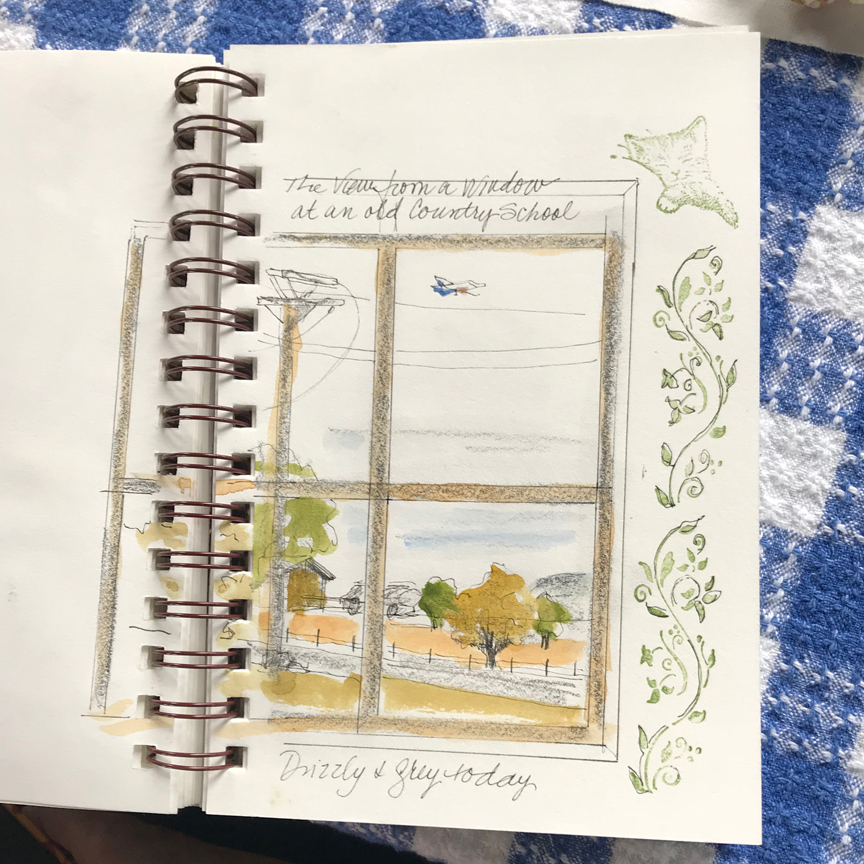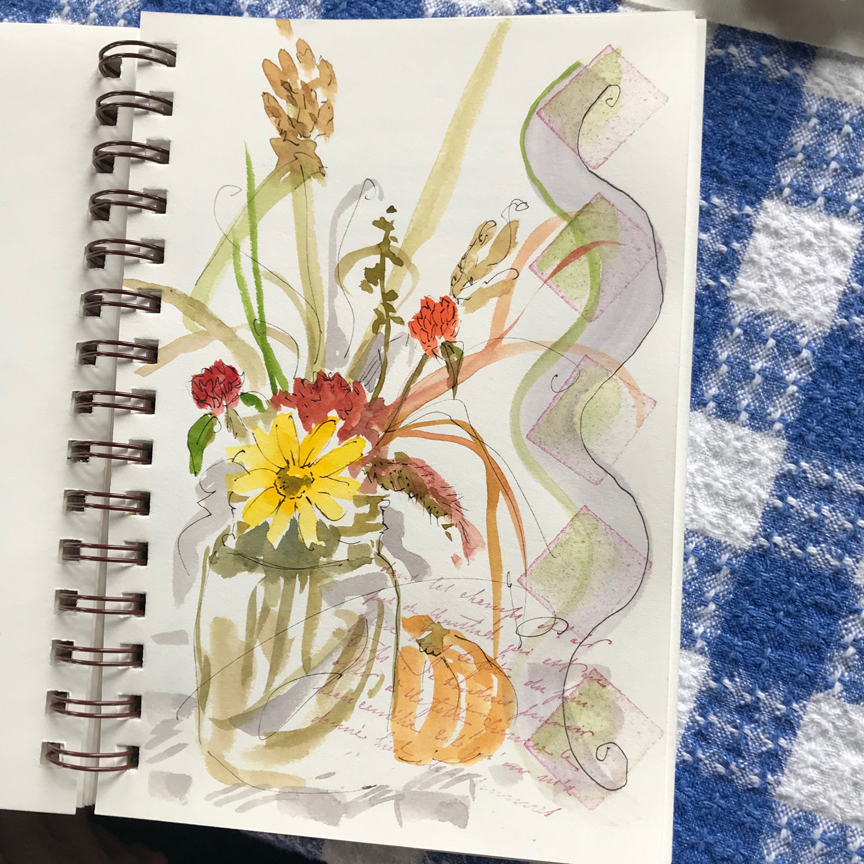 Bev's sketches are so versatile – berry closeups, view out the window (complete with airplane), and lovely table decoration.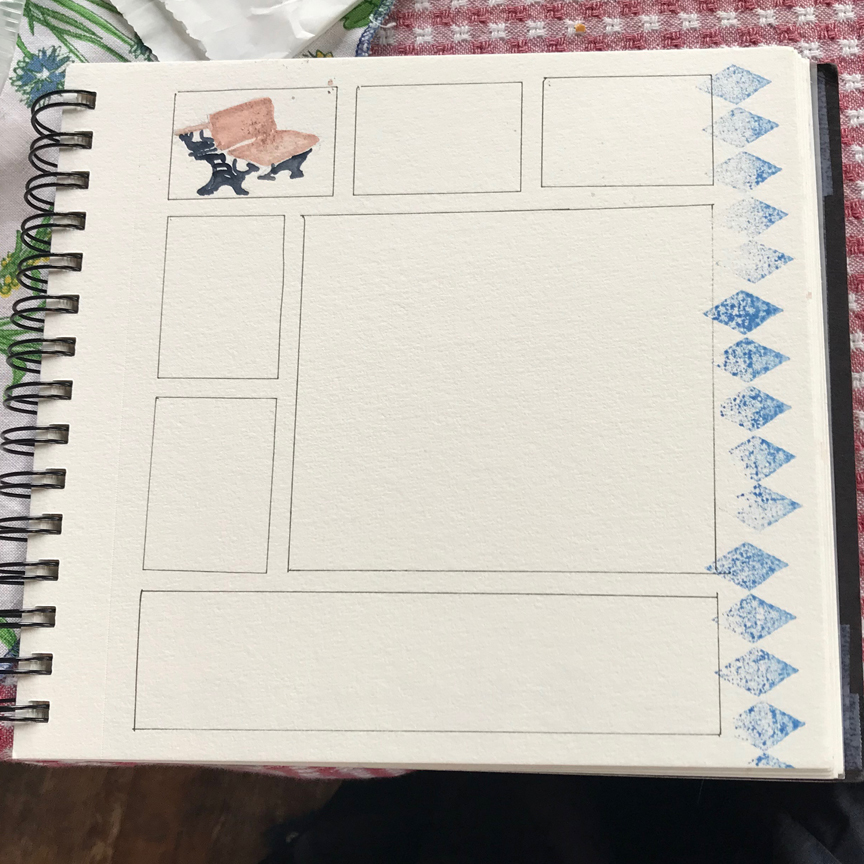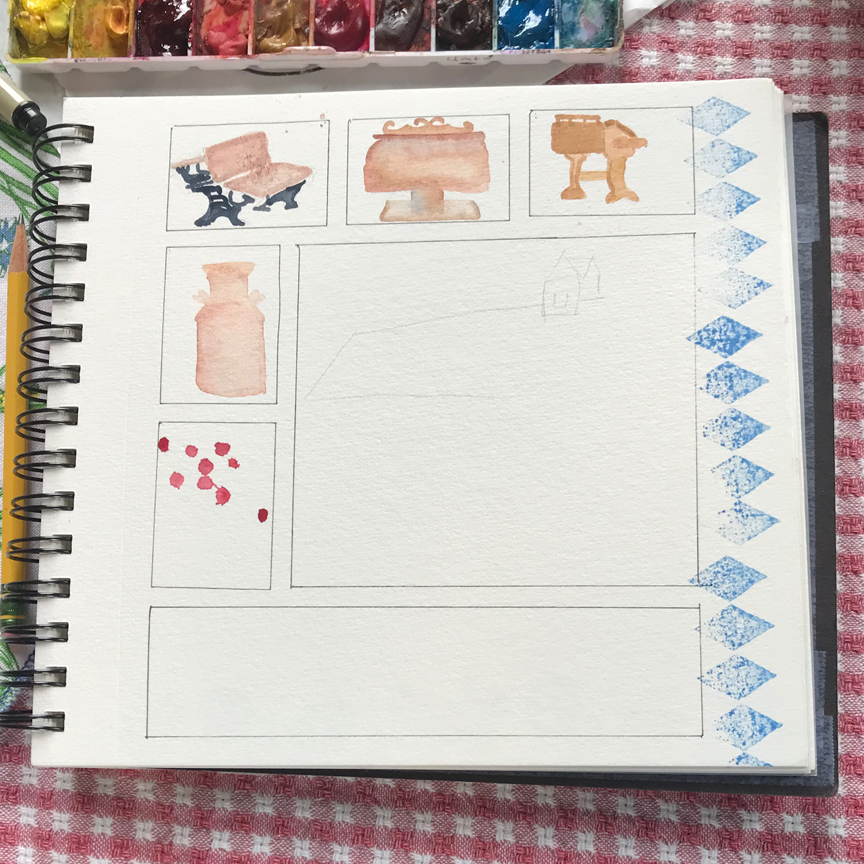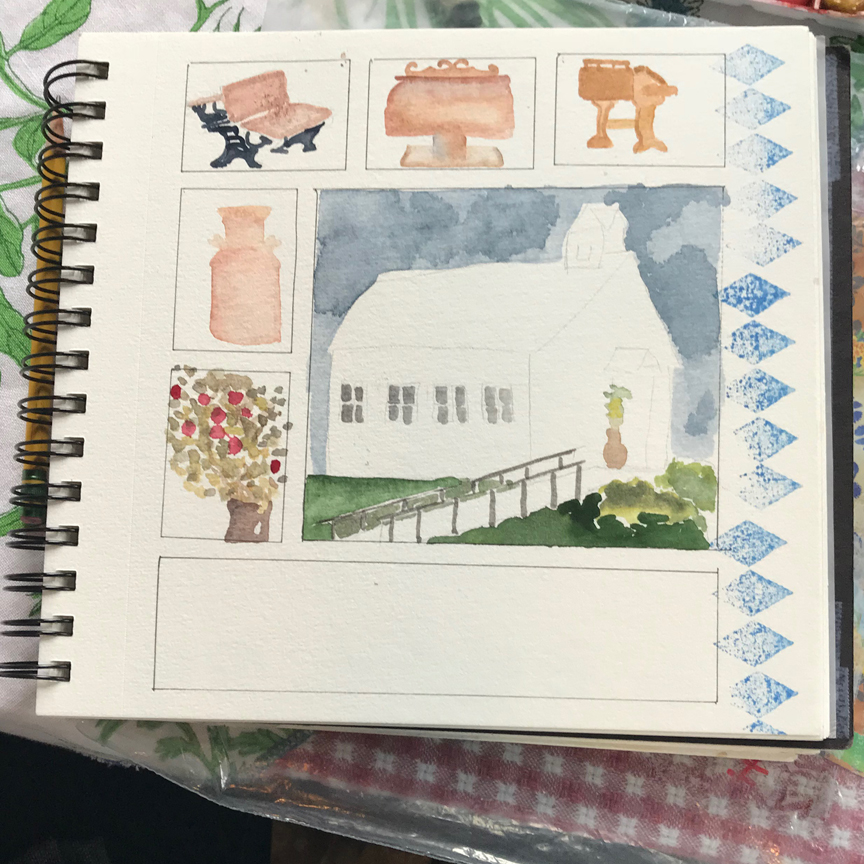 Look how Katie developed her page – little vignettes and then the schoolhouse sketch – wonder what will go in the bottom frame?
✒ Oct. 12, 2018 – Camas Mill Bakery, Junction City, OR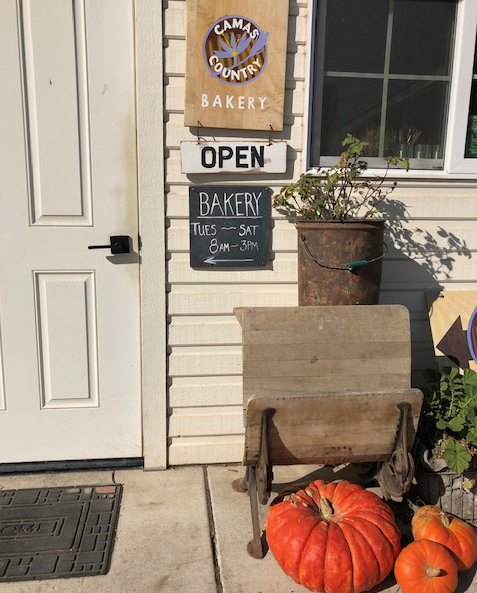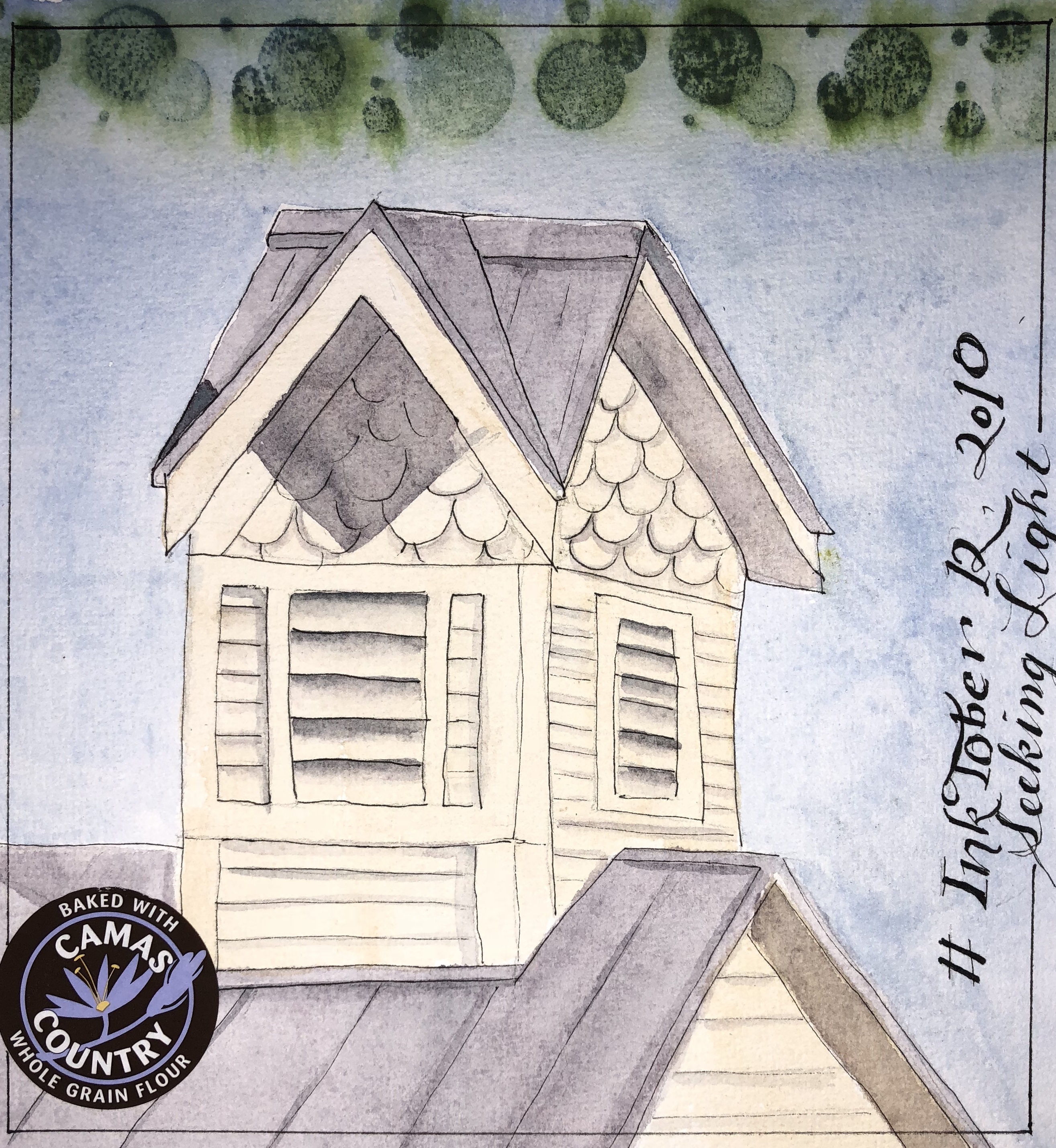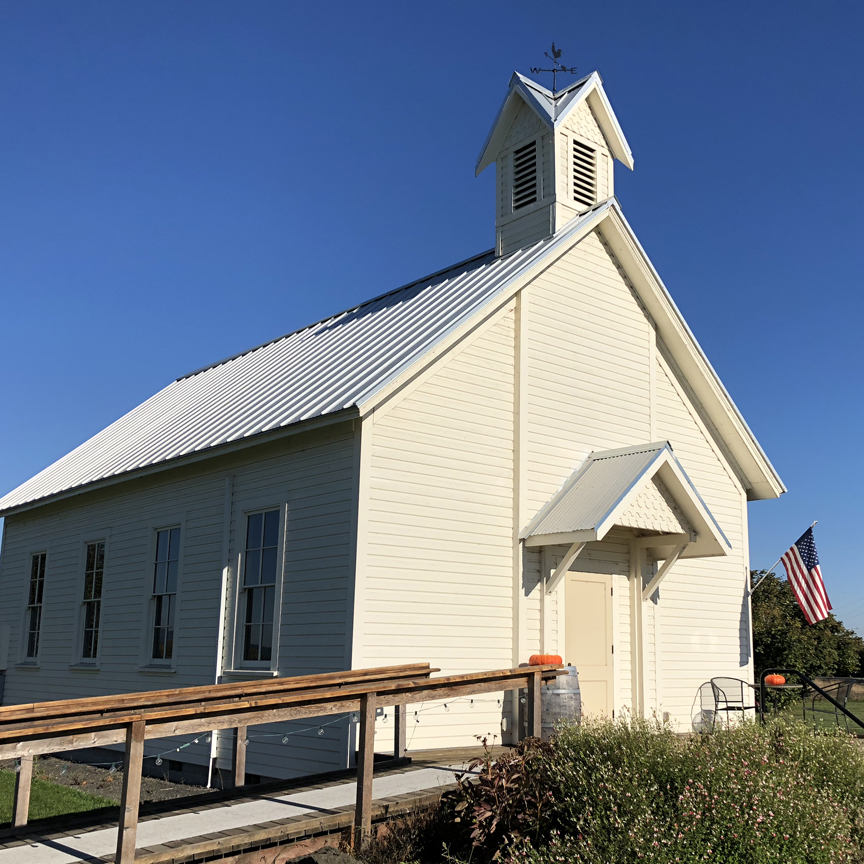 It was Katie's idea to explore this venue, and here's her steeple sketch of the old school at the site. The weather was perfect!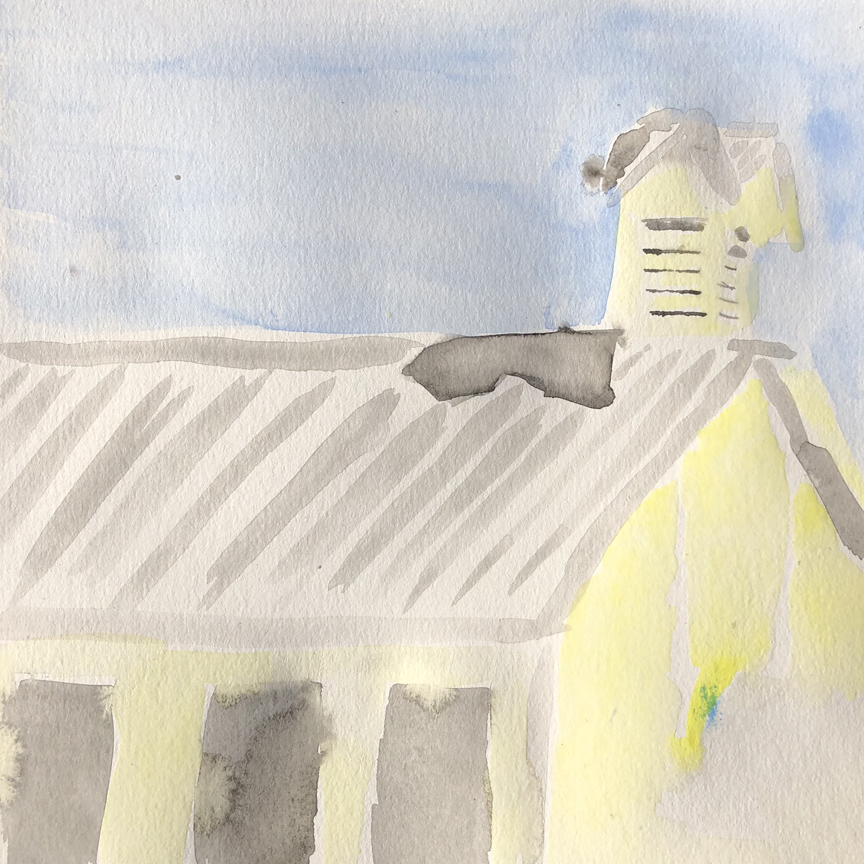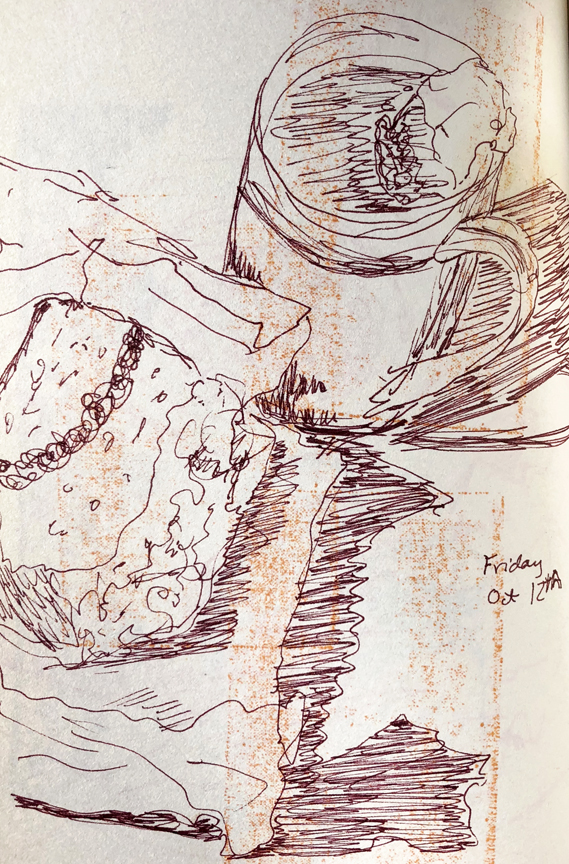 Daisy did a loose watercolor sketch of the old school, then a sketch of her coffee cake and tea from the Camas Bakery.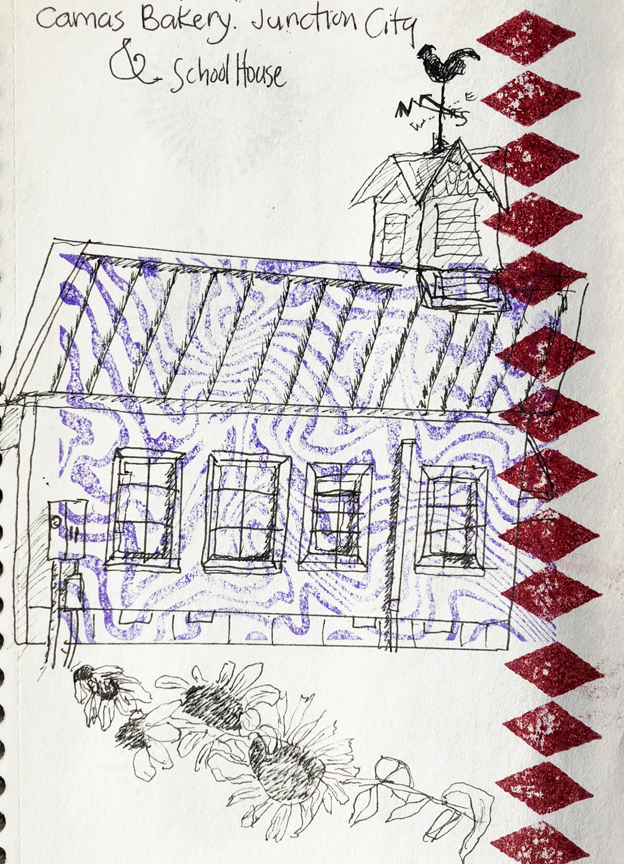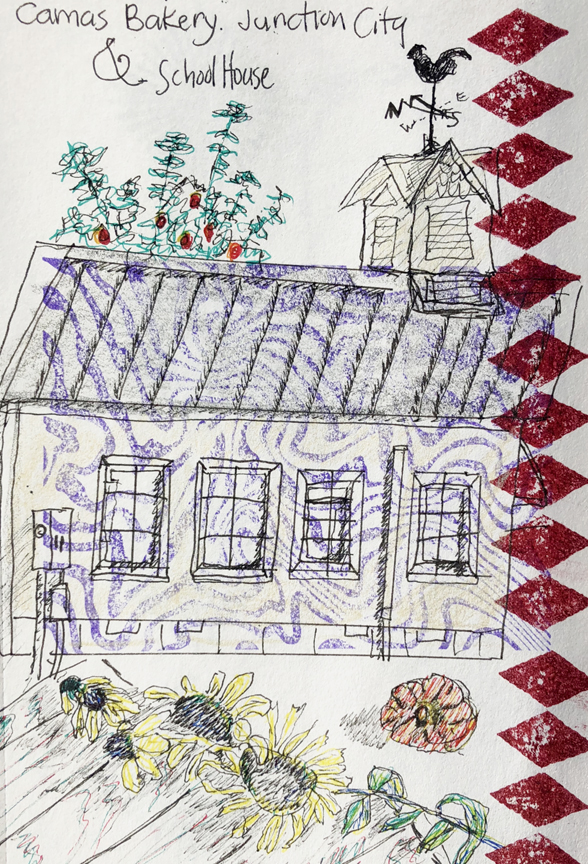 Laura did a sketch of the schoolhouse, too, on top of a pre-stamped page (nice texture for the old wood), and then added color. Nice!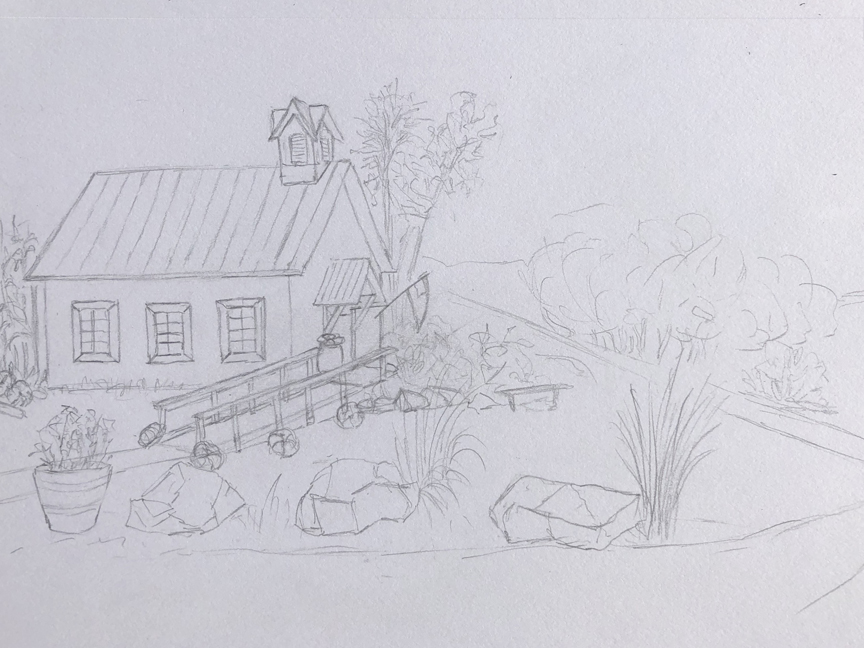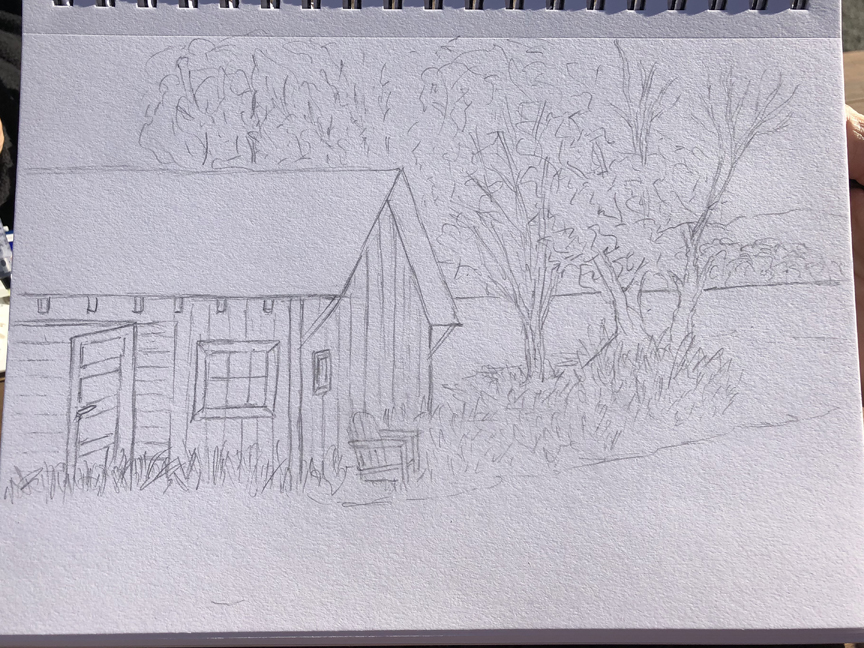 Sandy focused on getting detailed sketches in pencil, planning on adding color later – it will be interesting to see what she does.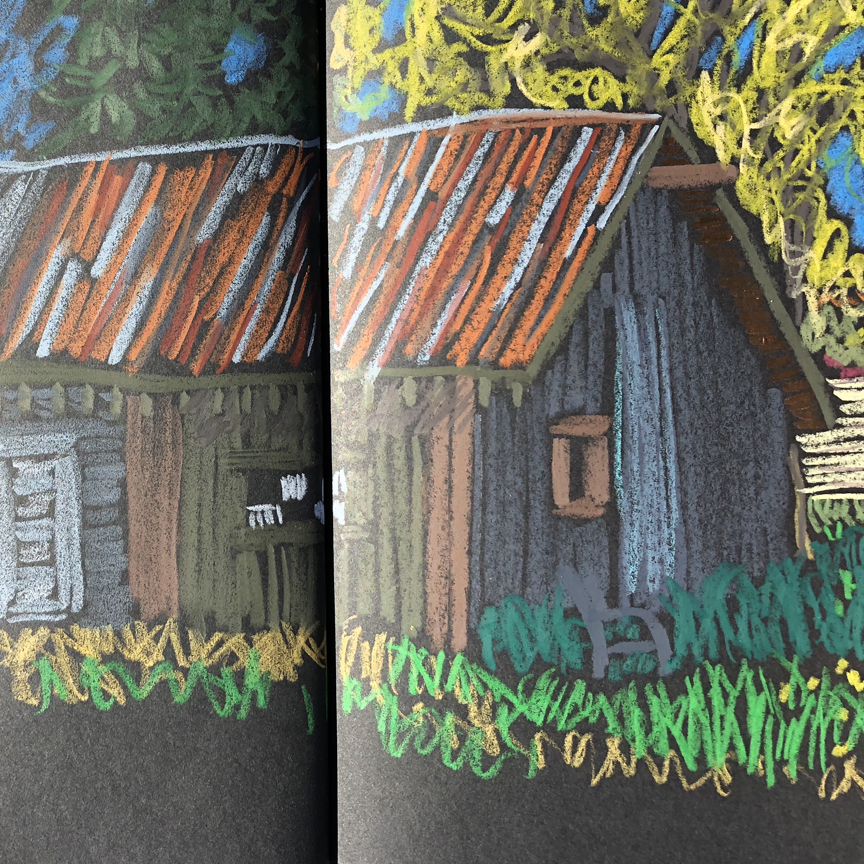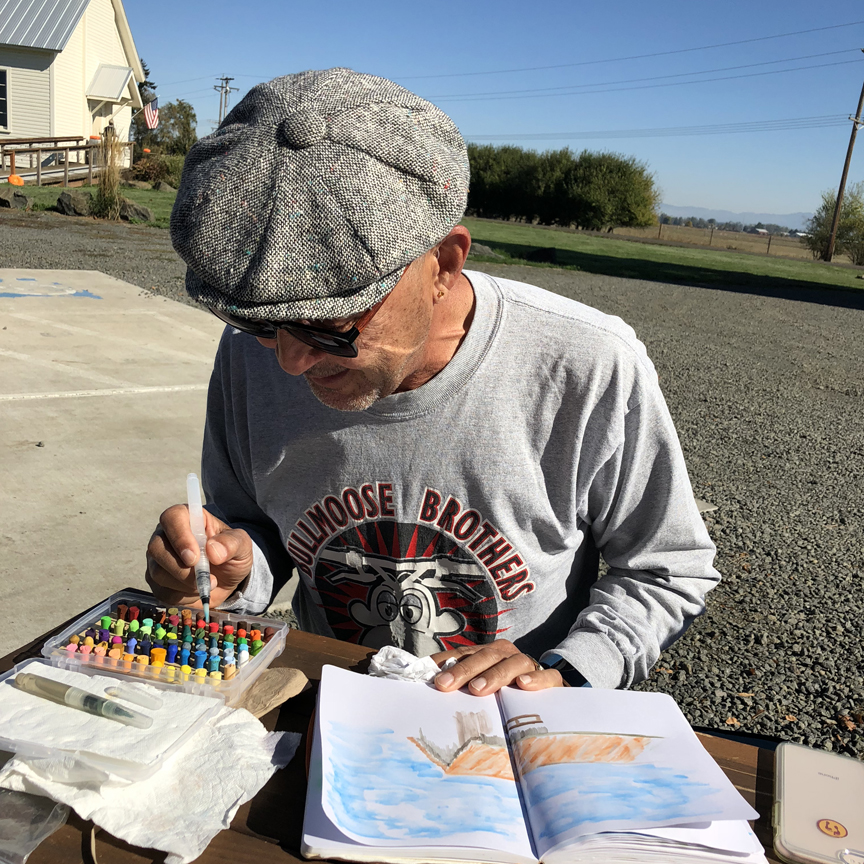 Hugh's work in his black paper sketchbook was bright and vibrant. Then he's on to his 2nd sketch using his clever crayon holder case.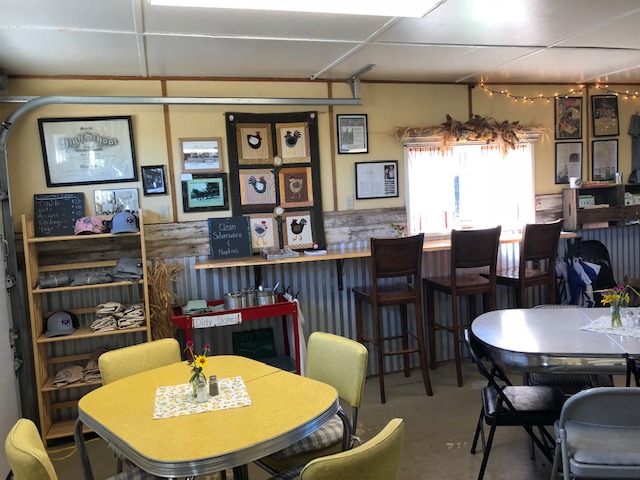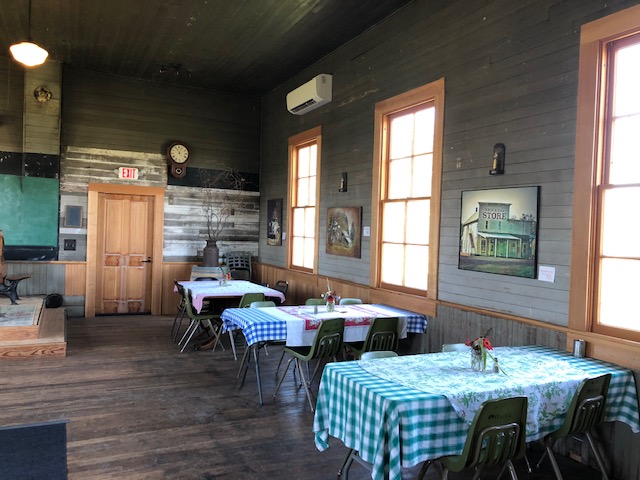 And just to whet your appetite, here are other scenes from Camas Bakery from the inside. Yes! We're definitely coming back!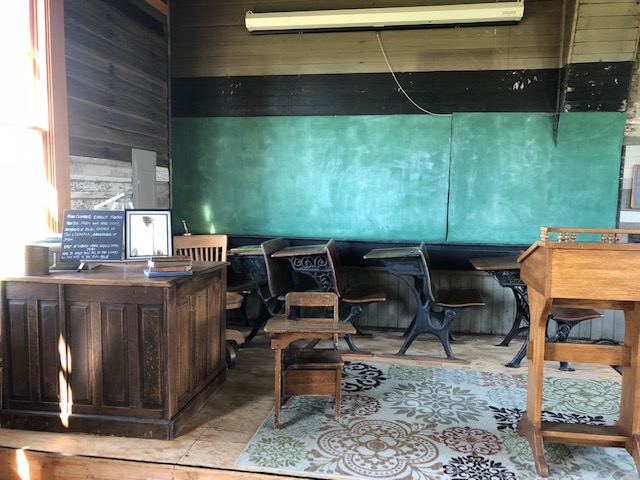 ✒ Sept. 28, 2018 – Washburne Café, Springfield, OR