The Top Drawers & Friends group keeps growing. Many people who connect with us don't live locally, or they travel. But they keep on sketching and sharing with us. That's what this page will celebrate – sketching in absentia!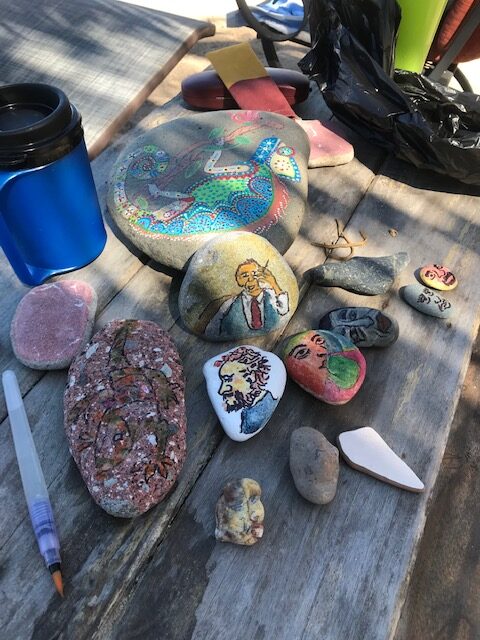 🎨 Laura's in Kansas visiting relatives, but that didn't stop her from arting! She shared a technique she learned at Sketchbook Revival with her sister-in-law using the end of a toilet roll and they painted t-shirts!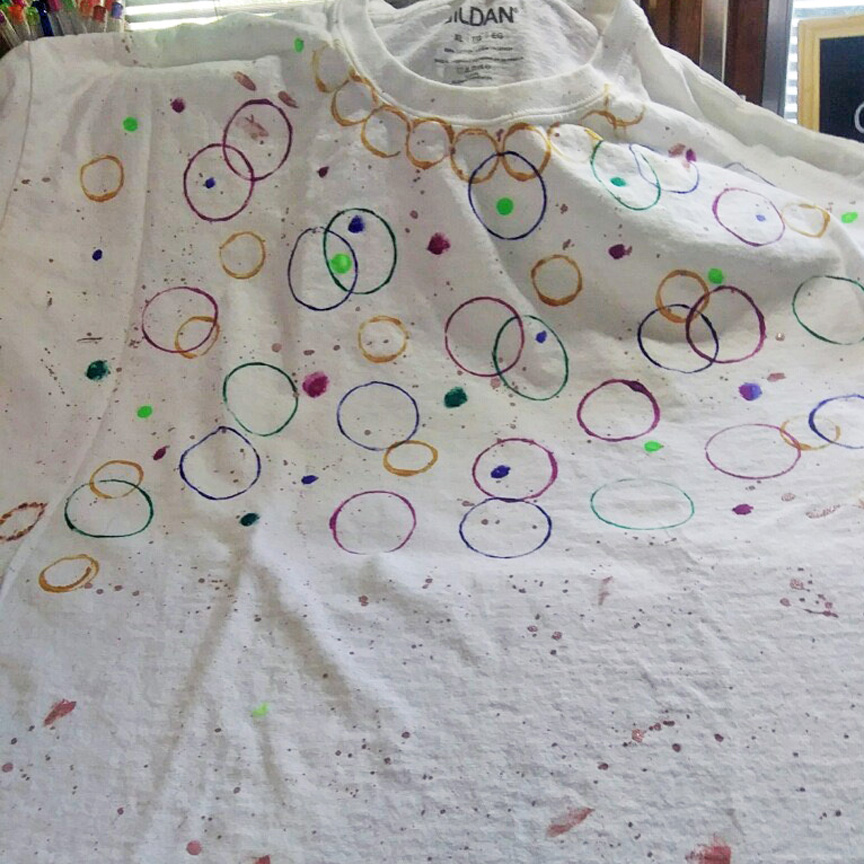 🎨 Bill is at the beach as often as he can get there – here's his art at Waldport: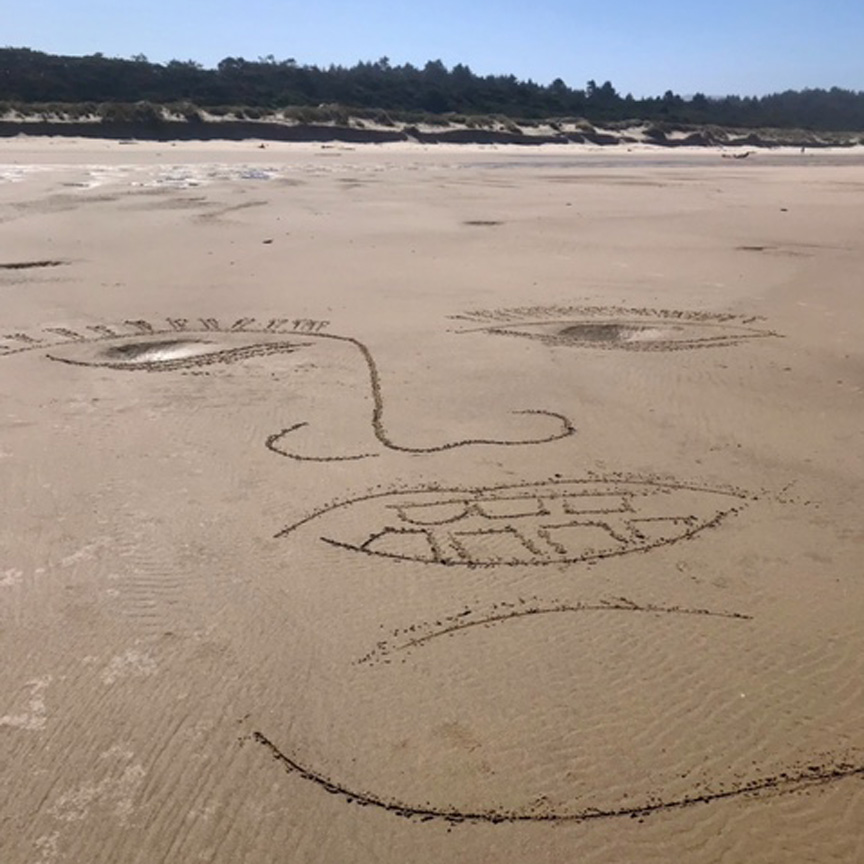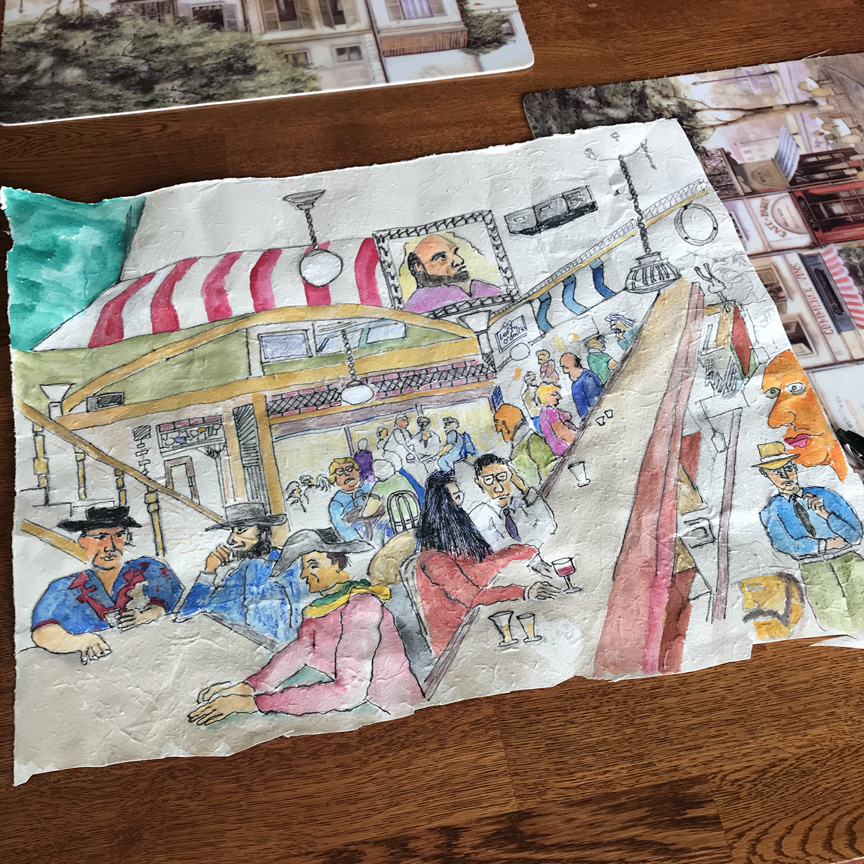 🎨 This just in from Vikki Wetle from Oahu, Hawaii – she calls it "my happy place!" You can see why from the sketches she's done!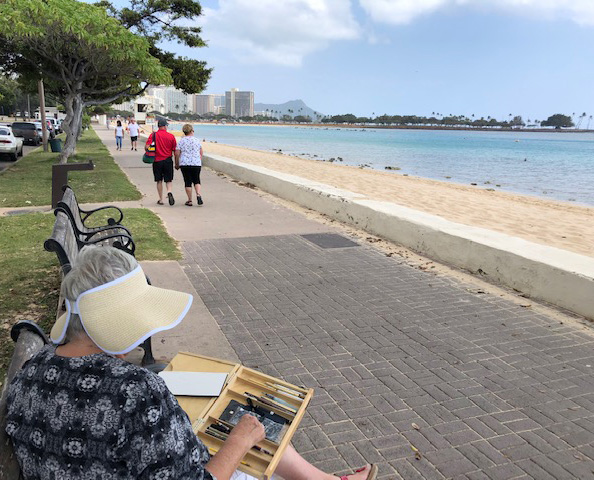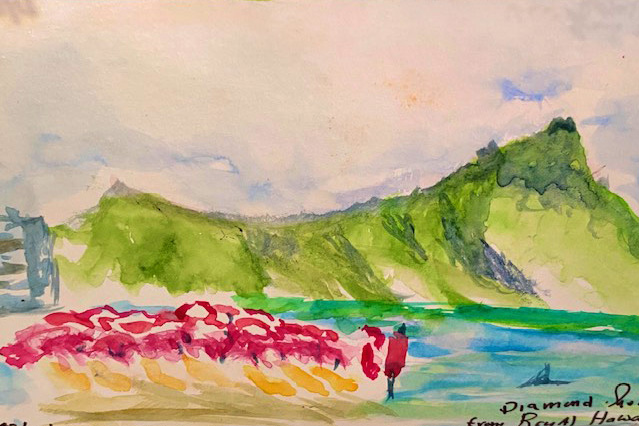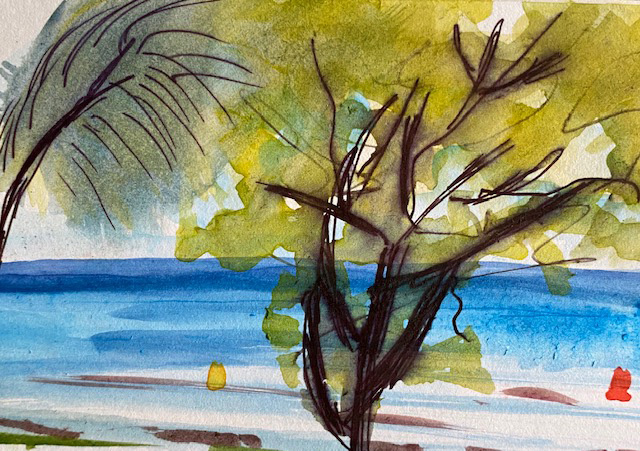 Vikki sketching; Diamond Head; Pocket Beach.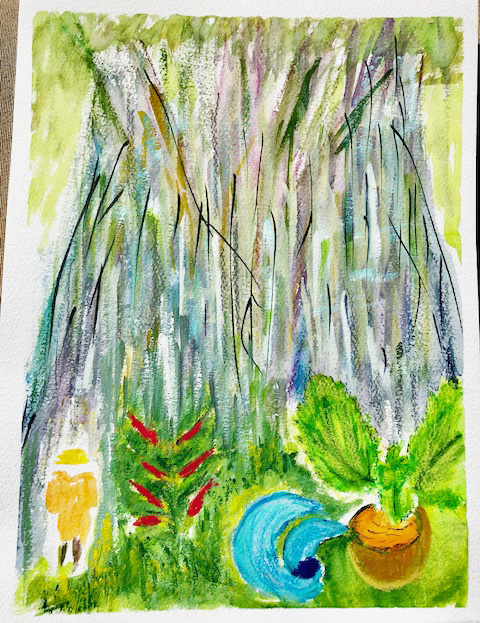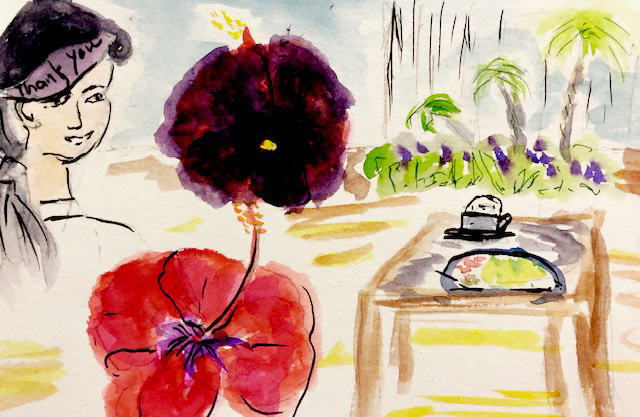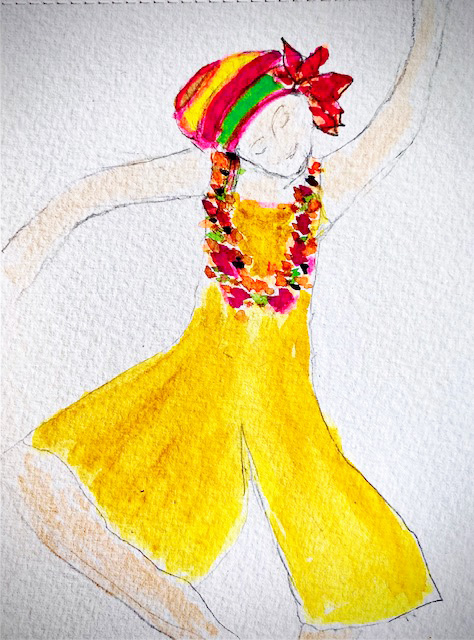 Banyan tree; breakfast at the New Modern; dancer.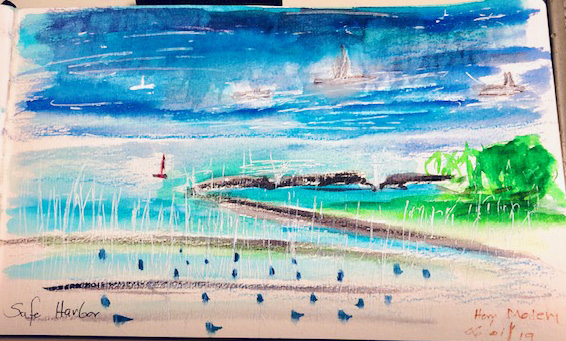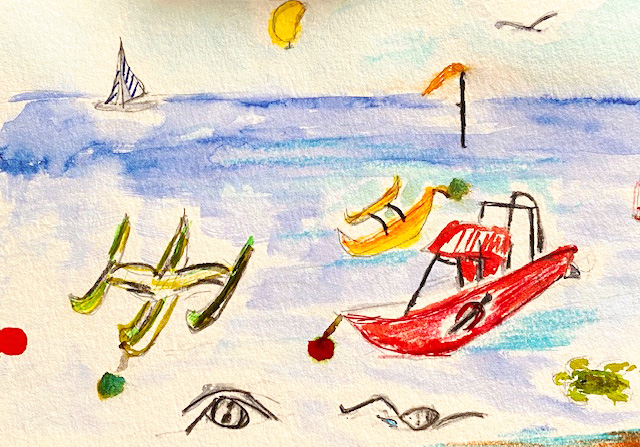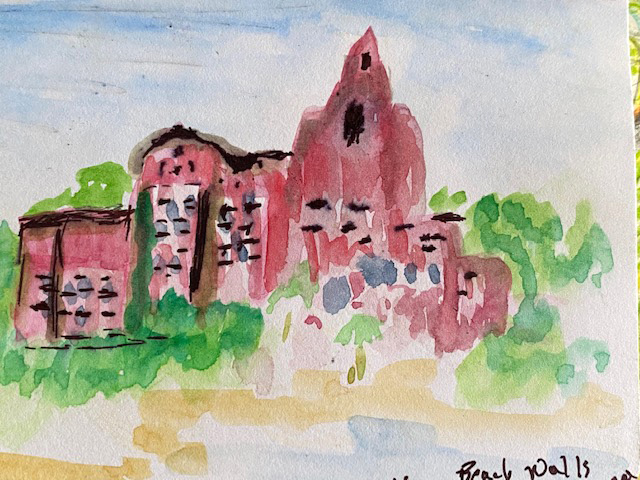 Magic Island yacht harbor; Outrigger beach; Pink Lady.
🎨 Hugh & Sandy have been off on an exploration of Peru, including Machu Picchu and the Galapagos, sketching all the while!
Here are Sandy's sketches first: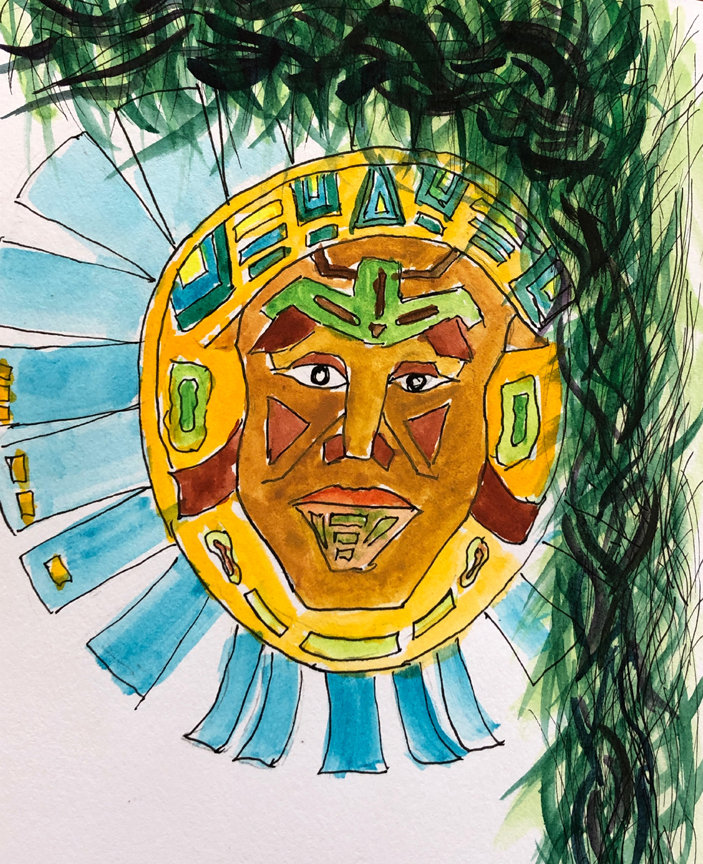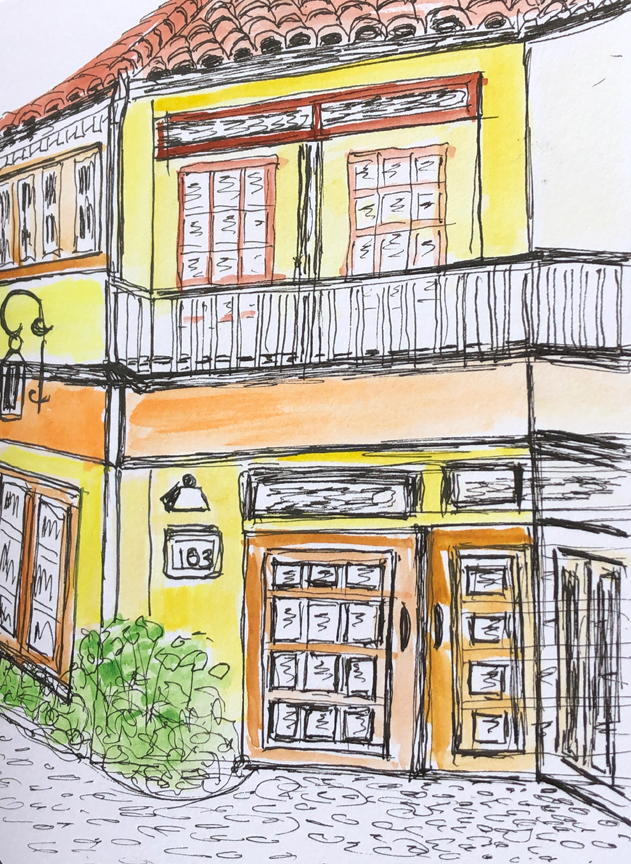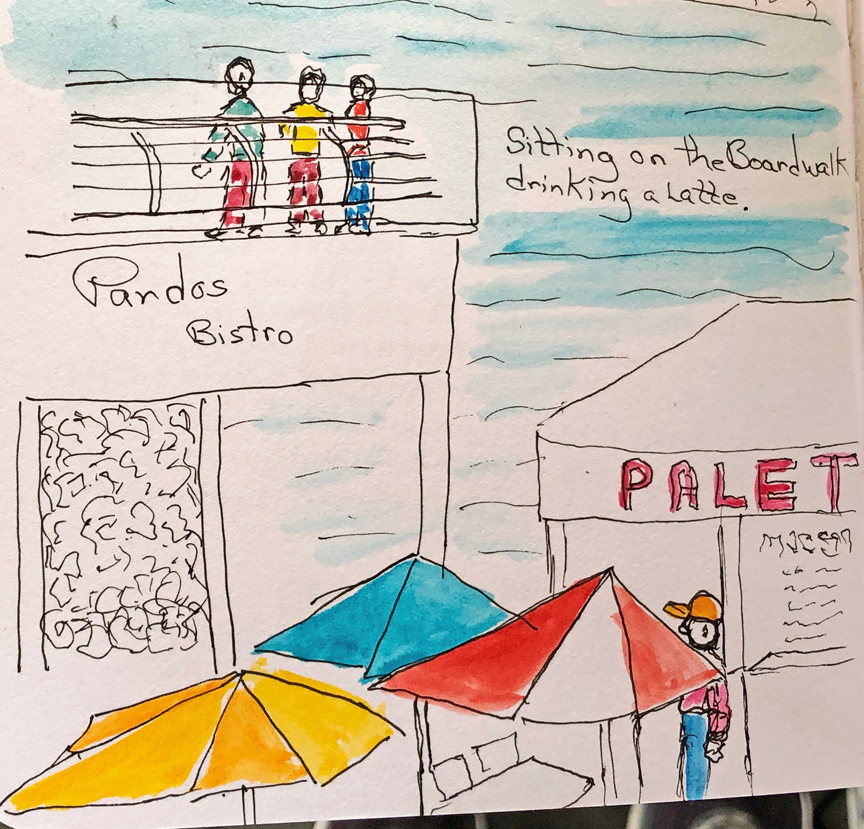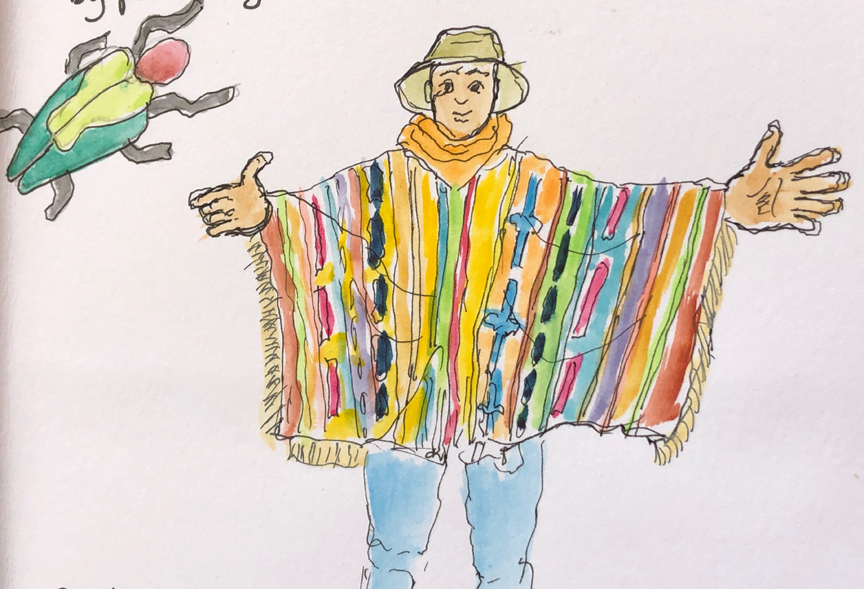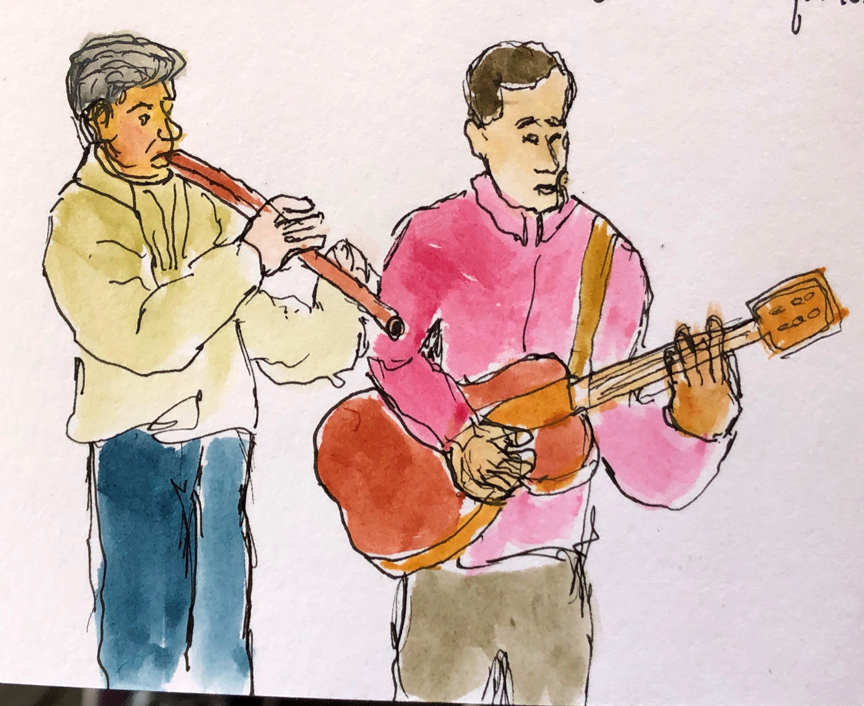 Sandy says that the canopy walk was well over 100 ft in the top of the jungle, with 12 platforms between the suspended walkways.
And here are Hugh's sketches: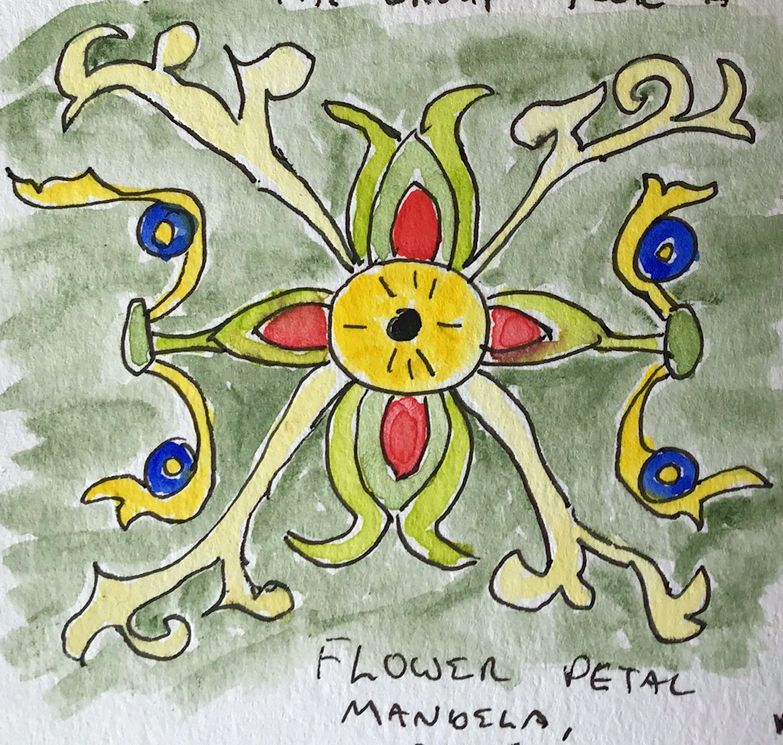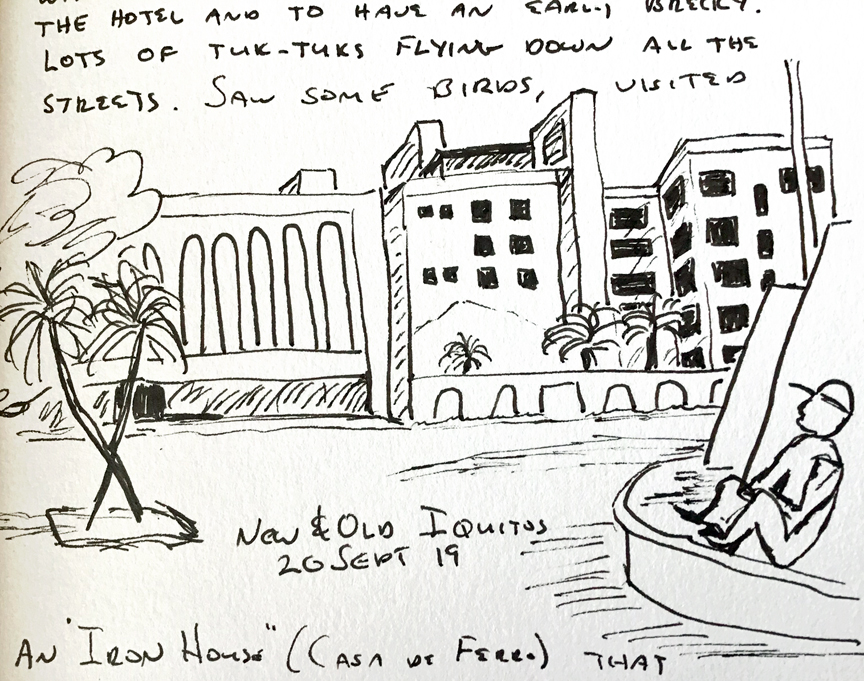 Mandala from a design in Lima. City center, Iquitos, Peru.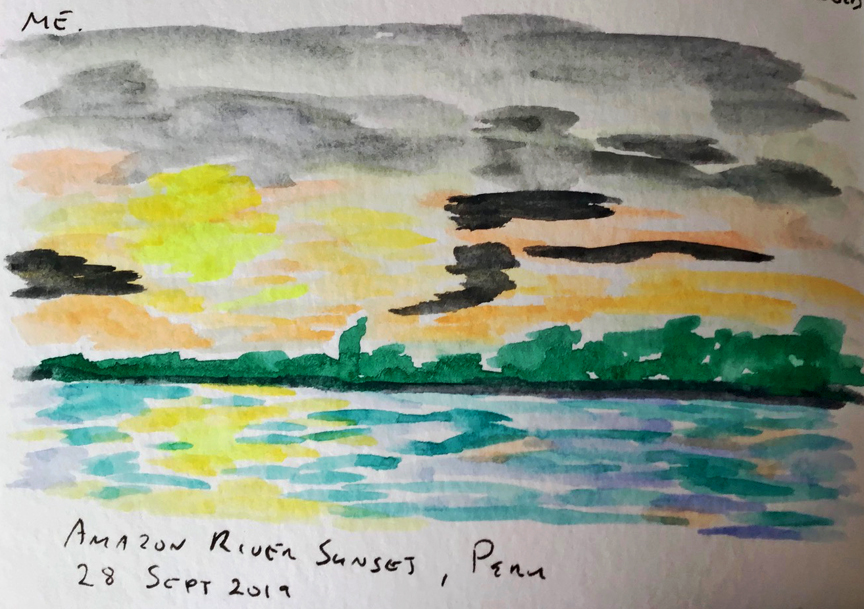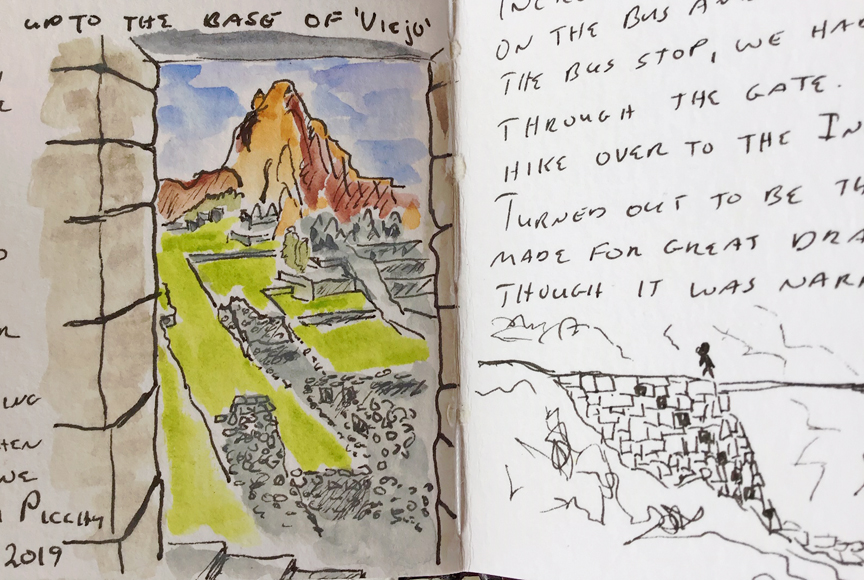 Amazon River, Peru. Machu Picchu: left – ruins; right – Inca Bridge.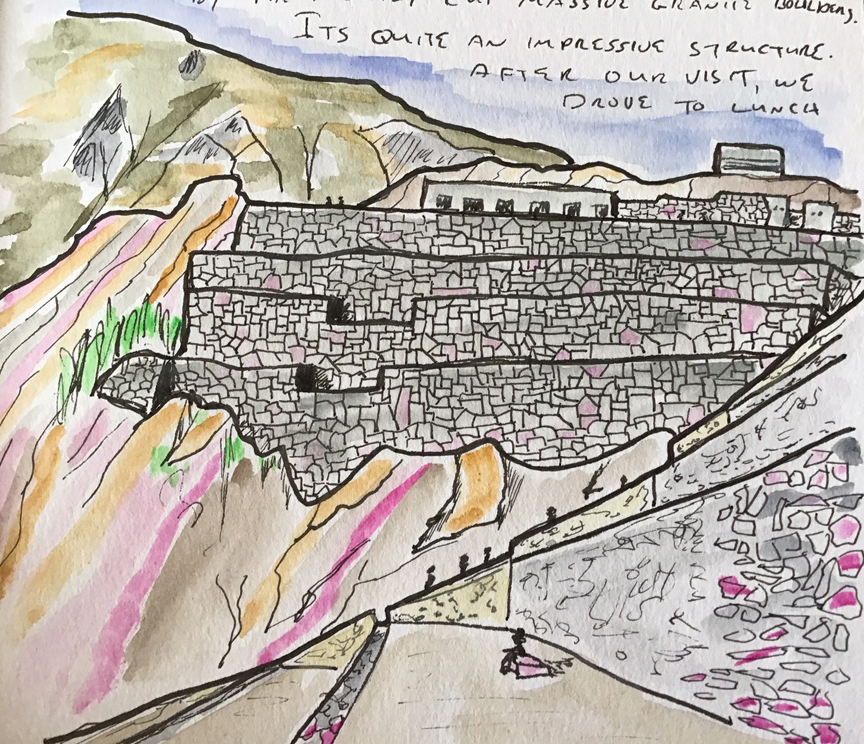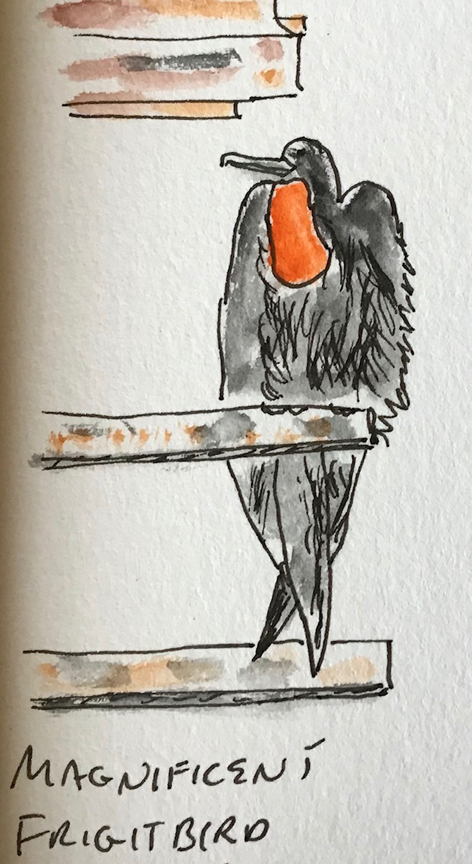 Inca ruins at Ollantaytambo, Peru, in the Sacred Valley.
🎨 Lots of folks traveling!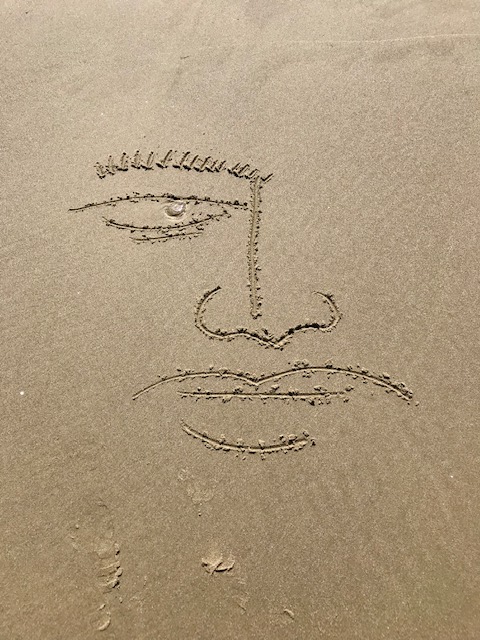 Bill is at the beach!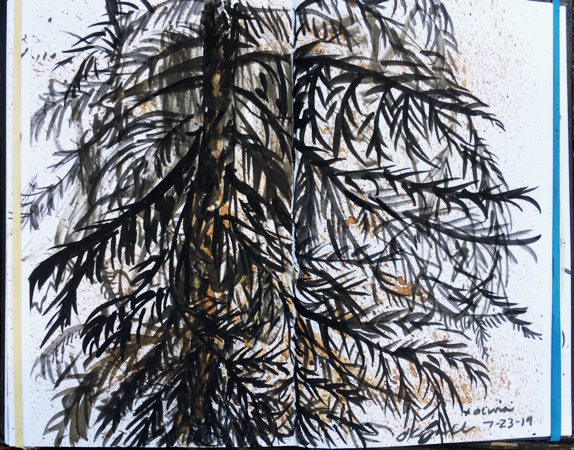 Ken, at Black Butte, sketches in collaboration with 2 year old Olivia.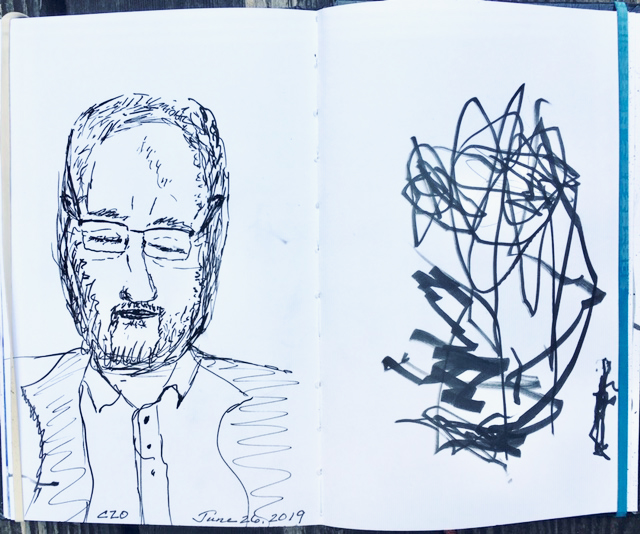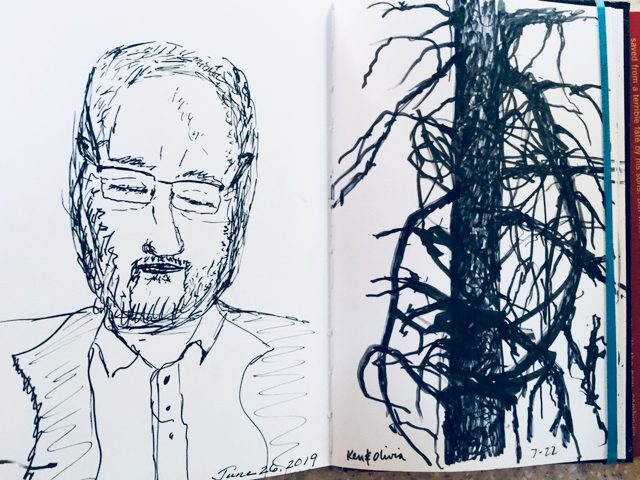 Here's how it happens: Olivia gets a page to "draw" on; Ken then looks around for like lines and voila! It's a tree, of course!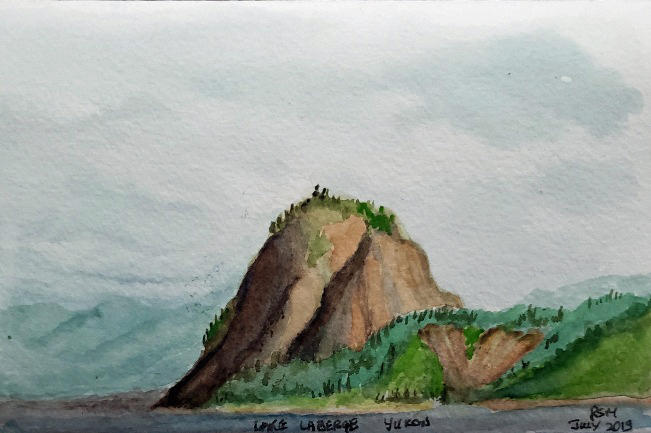 And Roger & wife are at Lake Labarge in the Yukon – wowzer!
🎨 June 24, 2019 – Cranbrook, Canada, at Roger's place!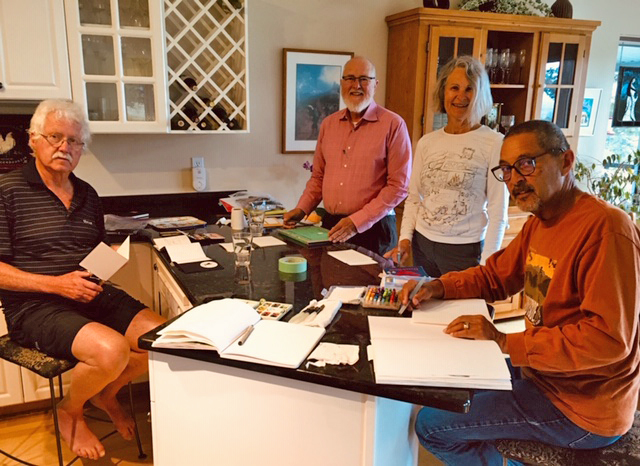 Roger, Ken, Sandy & Hugh (Cathy & Sharon not in photo).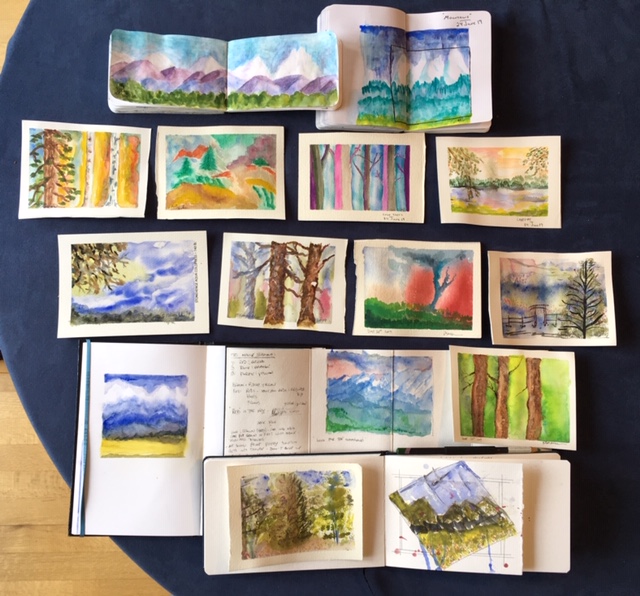 A wet-on-wet explosion! Sketches from the top left: Sandy, Hugh; Hugh, Sandy, Hugh, Sandy; Ken, Ken Roger, Cathy; Ken, Ken, Roger, Roger; Cathy, Cathy.
Enticing views, enticing art! I think they all enjoyed this.
🎨 June 19, 2019 – Here's Hugh's update, sketched from a coffee shop in Prince George: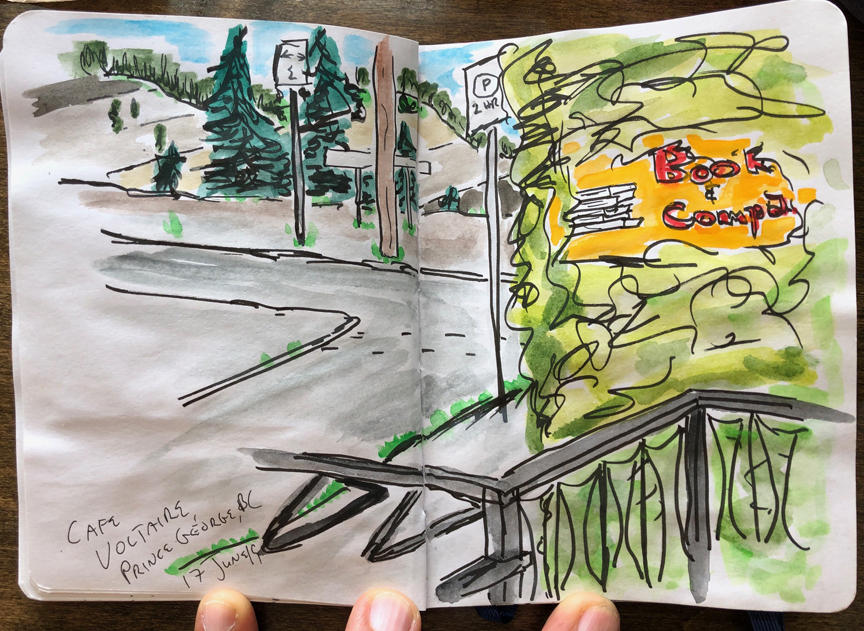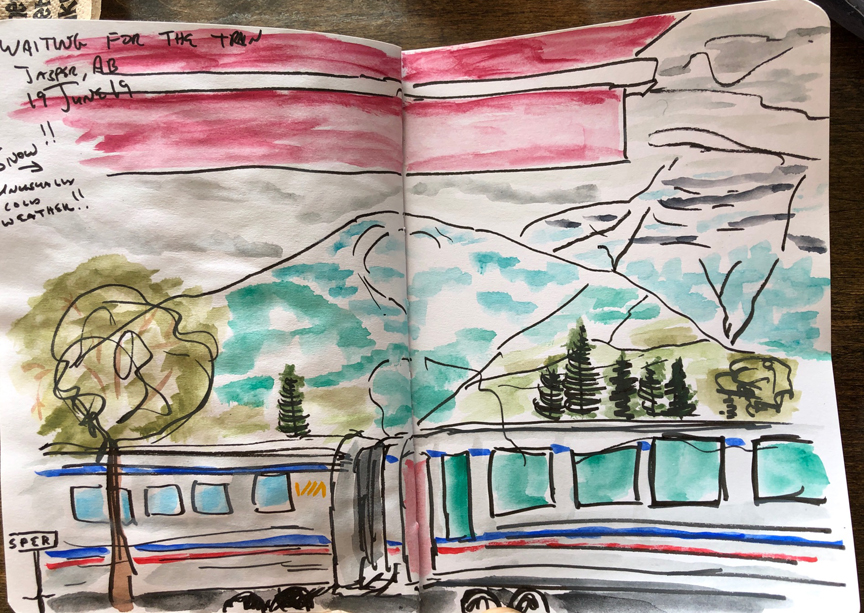 🎨 June 18, 2019 – while we were sketching at Cortesia, Bill and his wife Connie were celebrating their anniversary by sketching at Sunriver on the Deschutes River: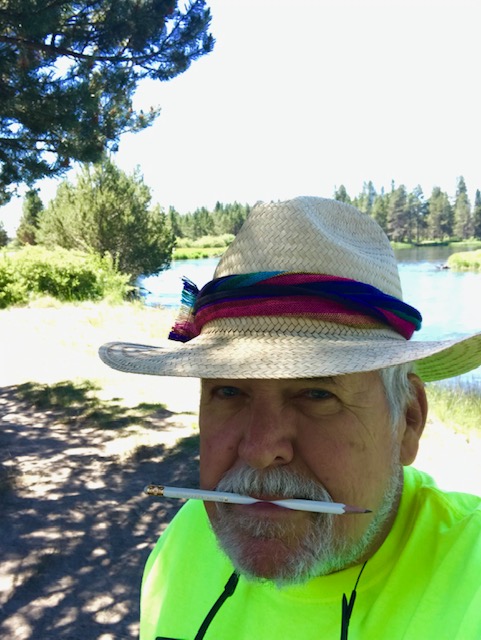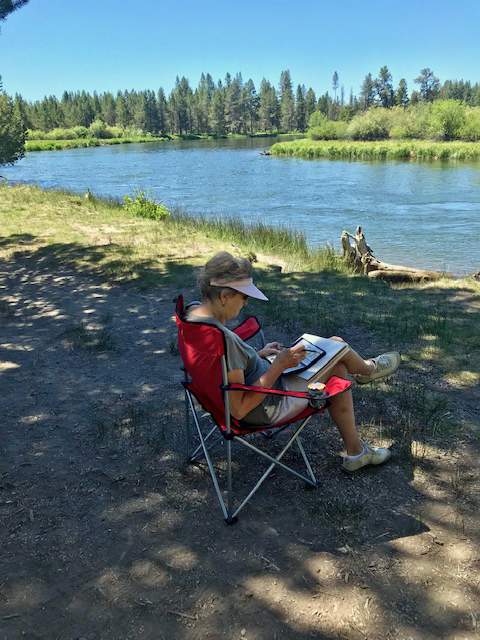 🎨 June10, 2019 – Update from Hugh & Sandy Larkin: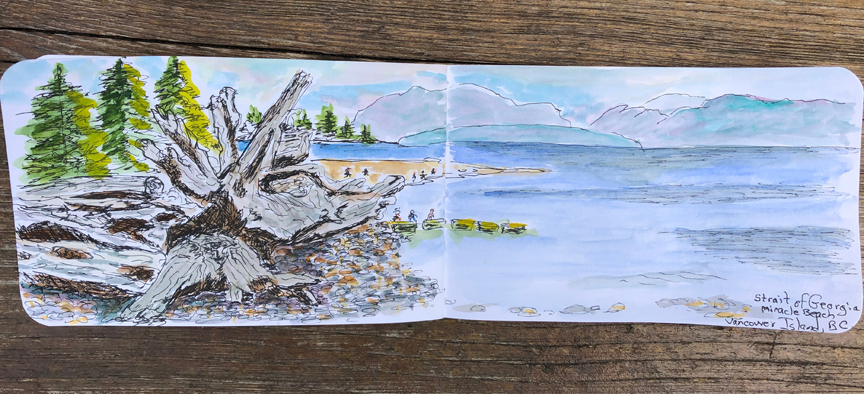 Sandy's sketch of Miracle Beach, Vancouver Island, BC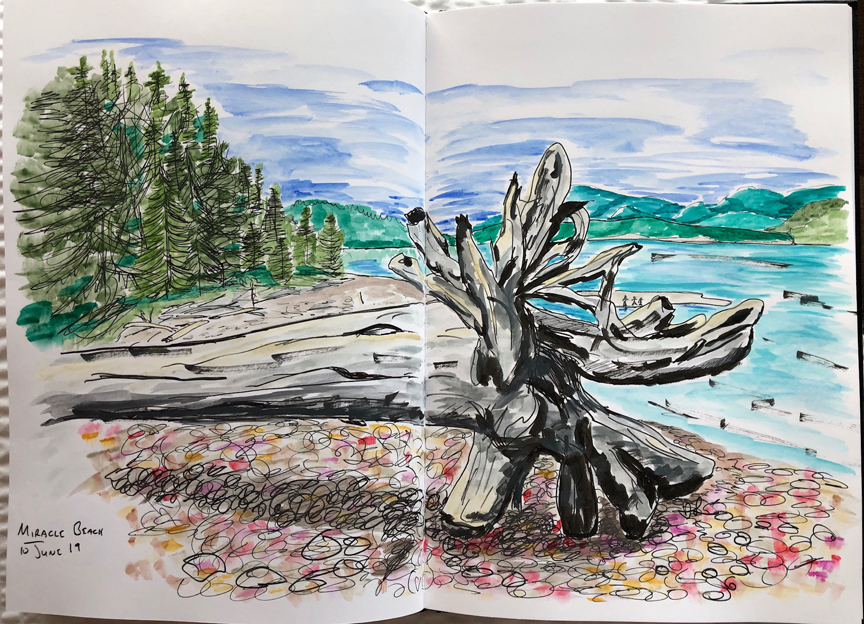 Here's Hugh version of the scene. Interesting what the eye selects.

Another sketch by Hugh, this of Port Hardy, BC.
🎨 Hugh and Sandy Larkin are on an adventure trip up to Canada and sent their sketches. Here are Hugh's first: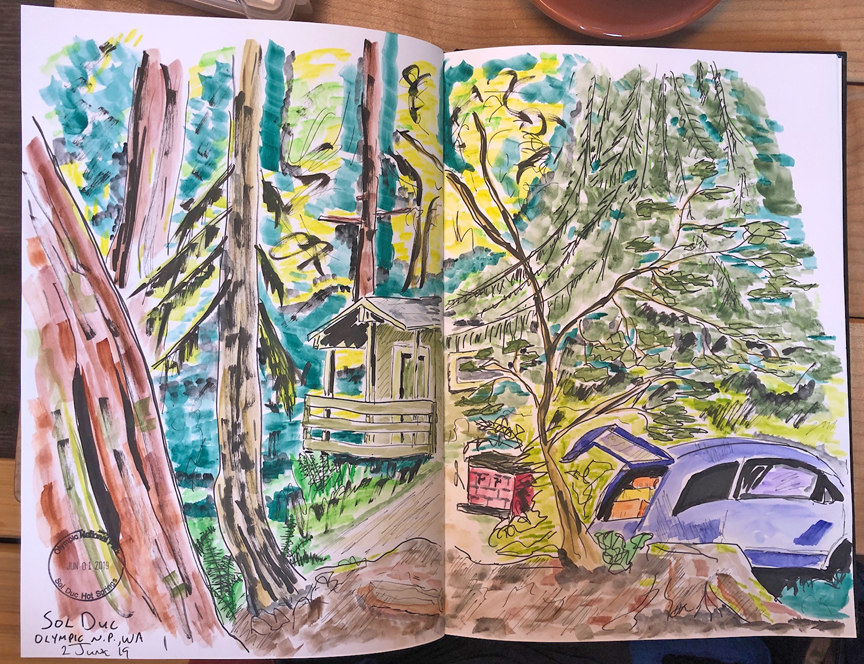 Sol Duc Campground, Olympic Forest, WA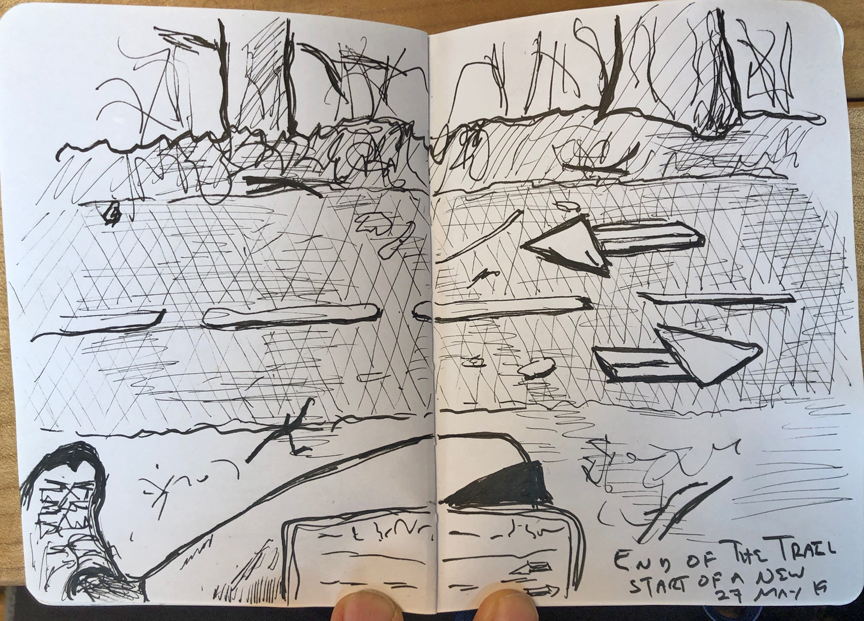 Bike Trail, Olympic Forest, Washington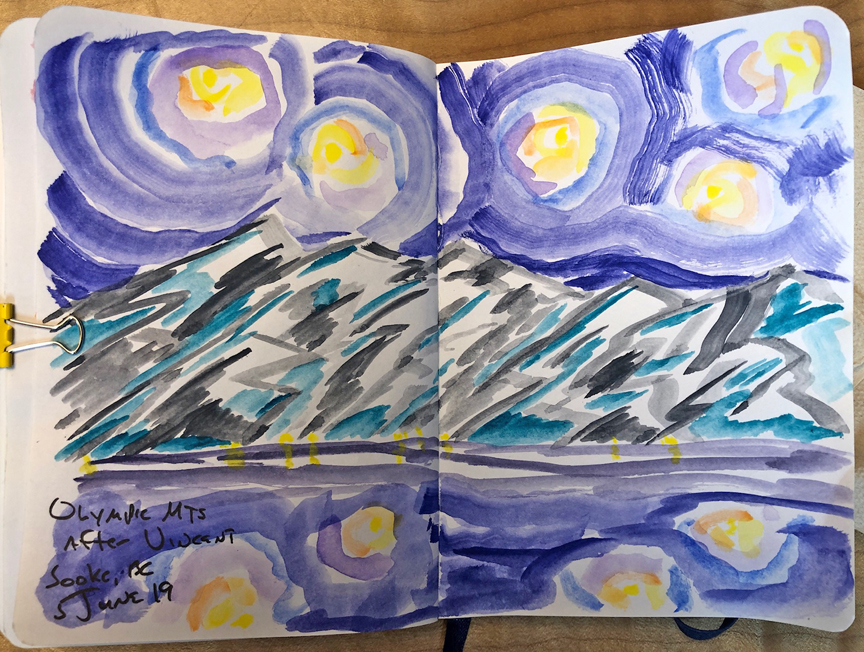 Olympic Moutains, after Van Gogh

Fisgard lighthouse, the oldest in British Columbia, Canada.
Here are Sandy's sketches: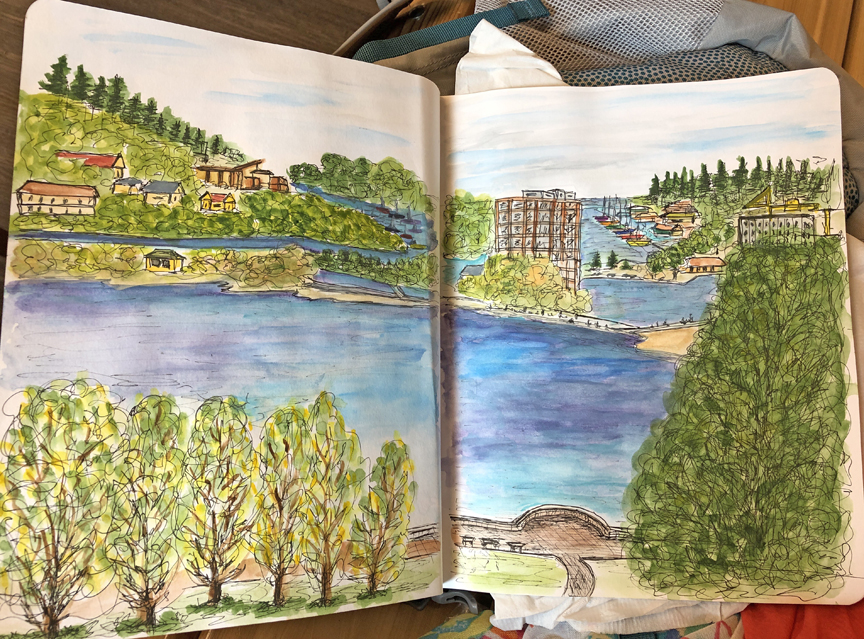 Olympic Campgrounds, WA

Campground site, Olympic Peninsula, WA.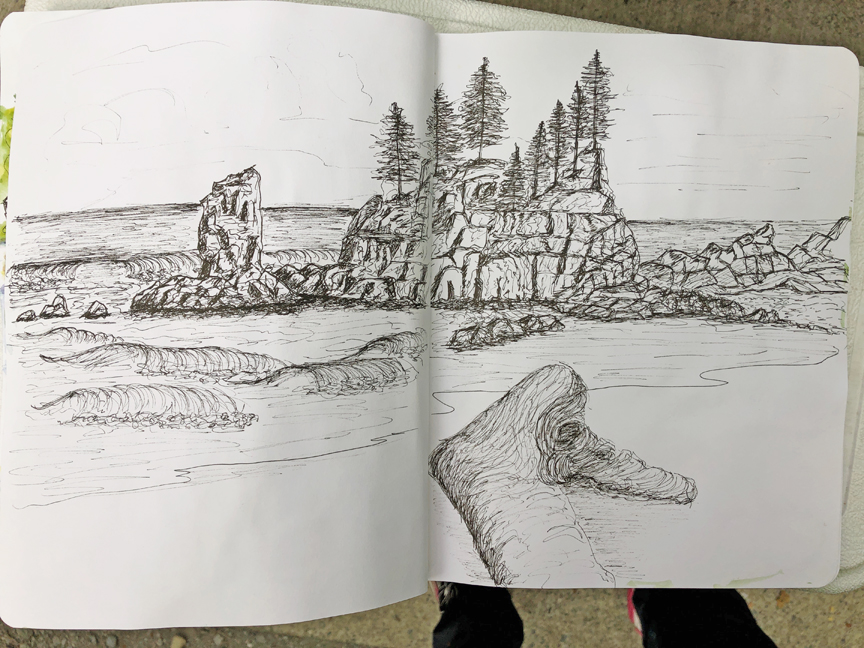 View of a little island off the beach, Olympic Peninsula.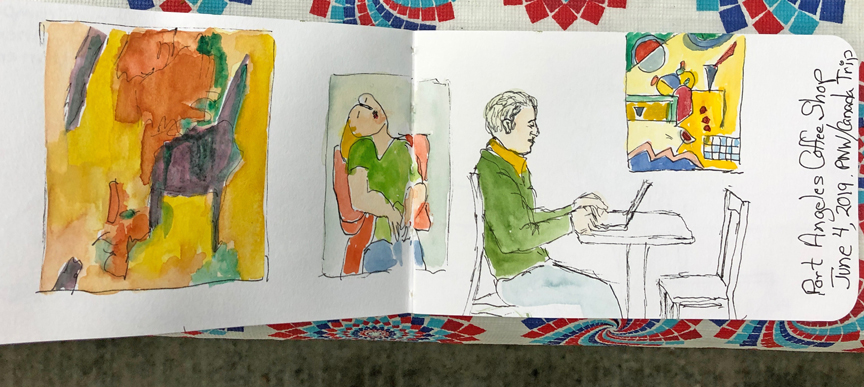 Abstract, vignettes from Port Angeles Coffee Shop.
🎨 Roger Mitchell (our Canadian correspondent) just returned from a trip to the Galapagos with wife Sharon, his year old grandson & his mother. He said he filled a small accordion sketch book with daily meditations. Here are a few sketches (& grandson caught in a shell):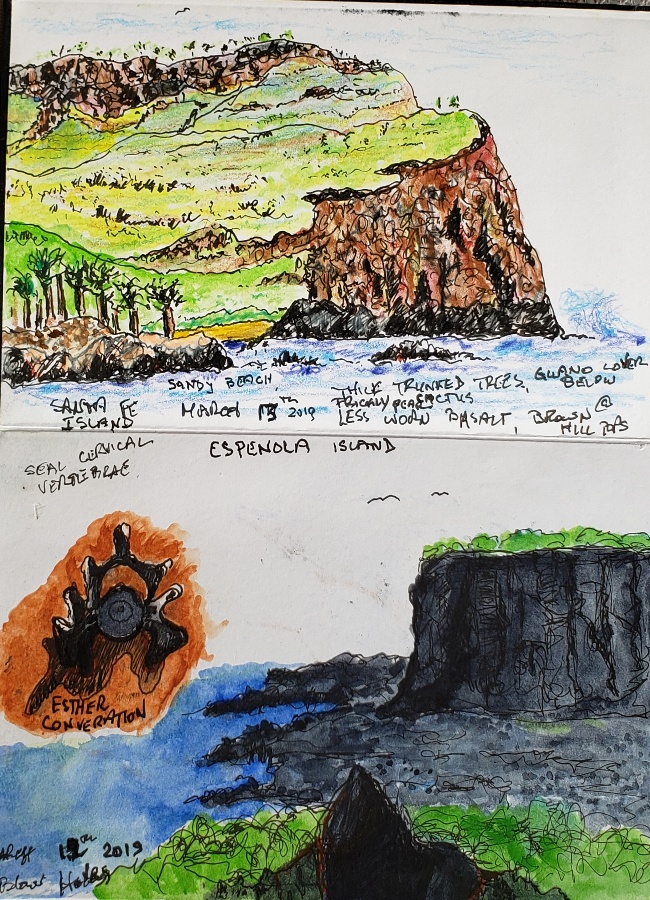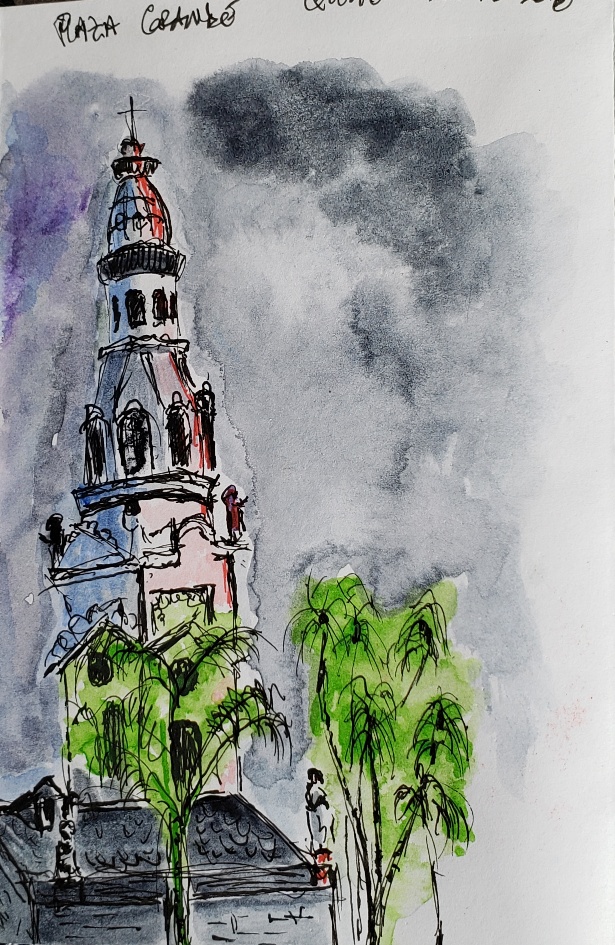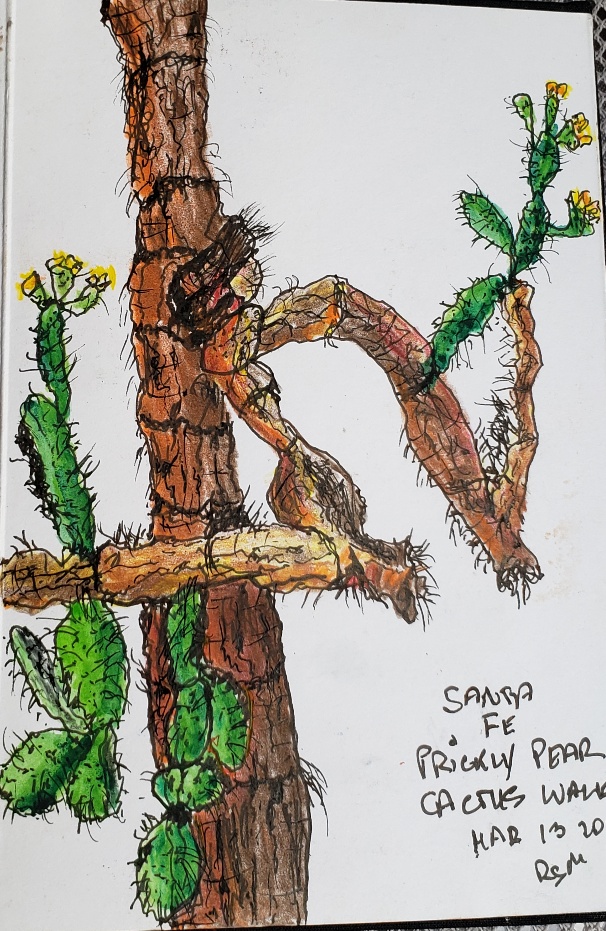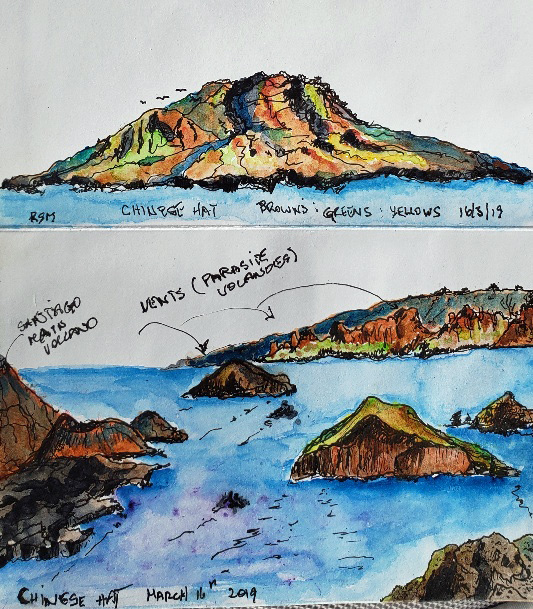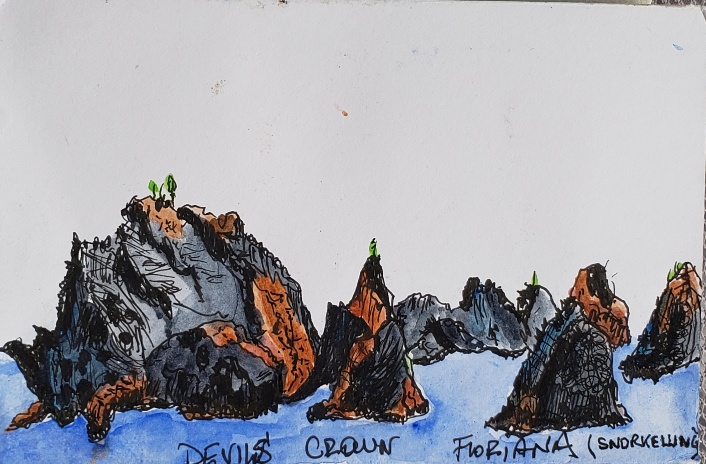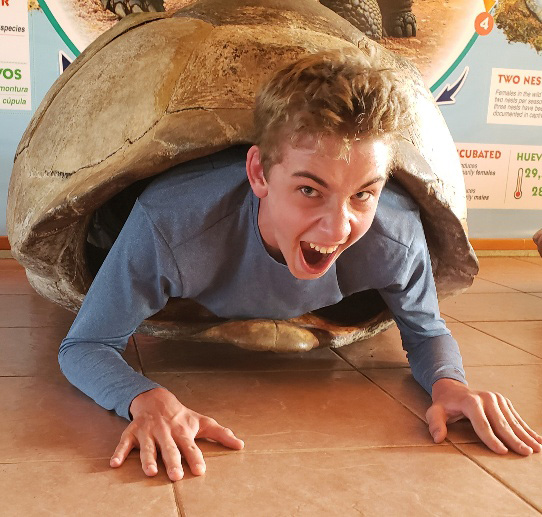 🎨 Two more sketches when it snowed: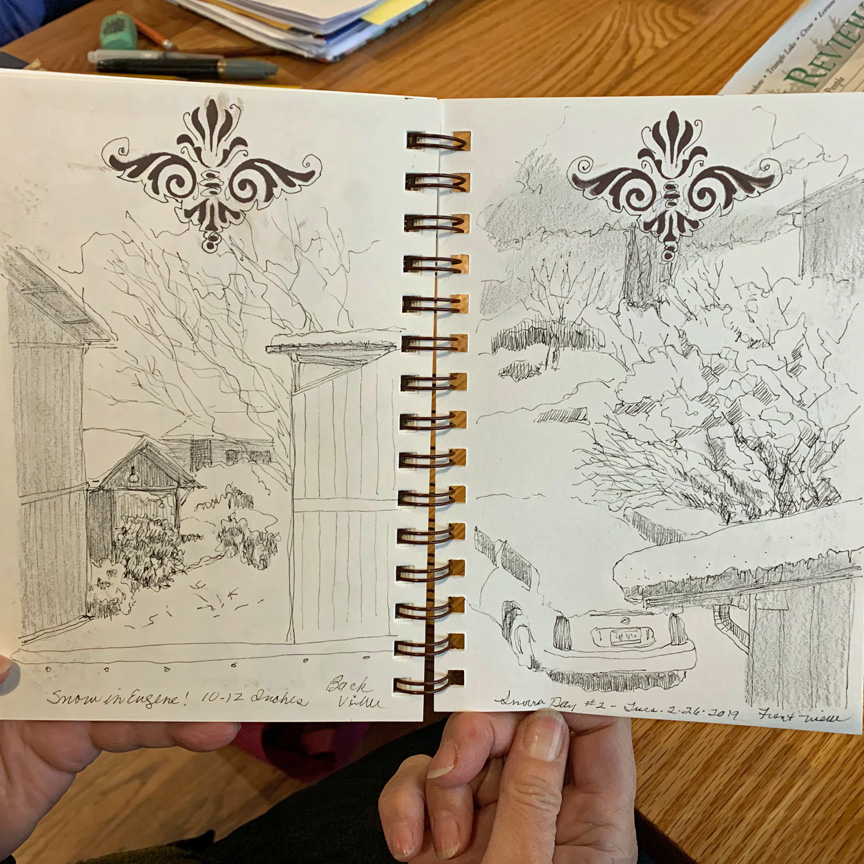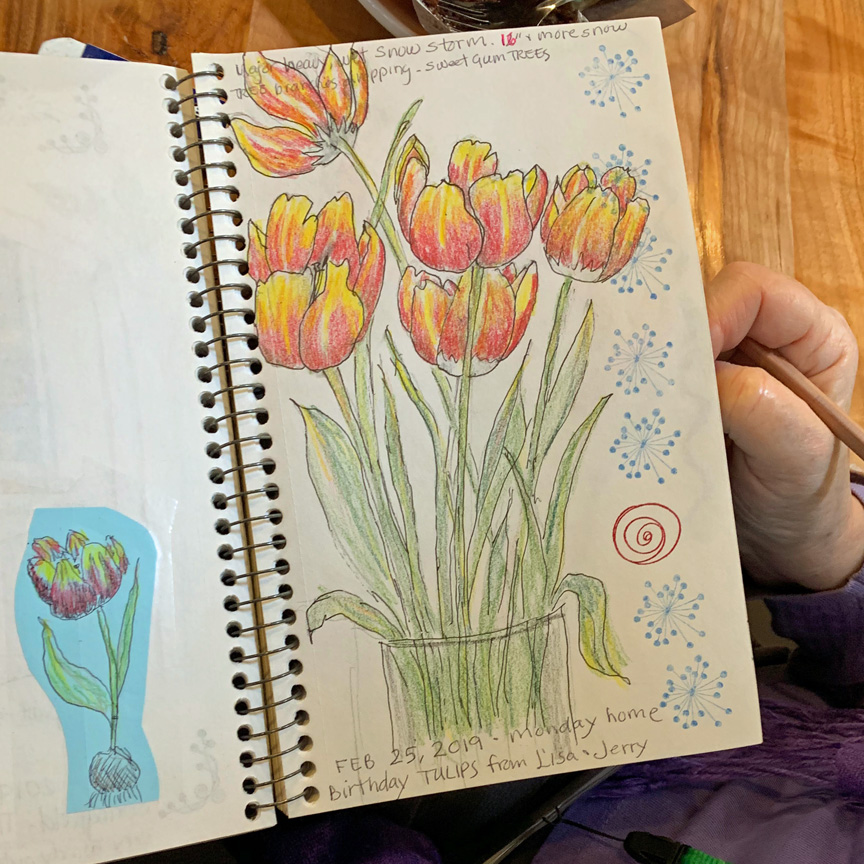 Snow scenes from Bev, then an antidote to snow sketch by Laura!
🎨 Just in, from Lealan's backyard: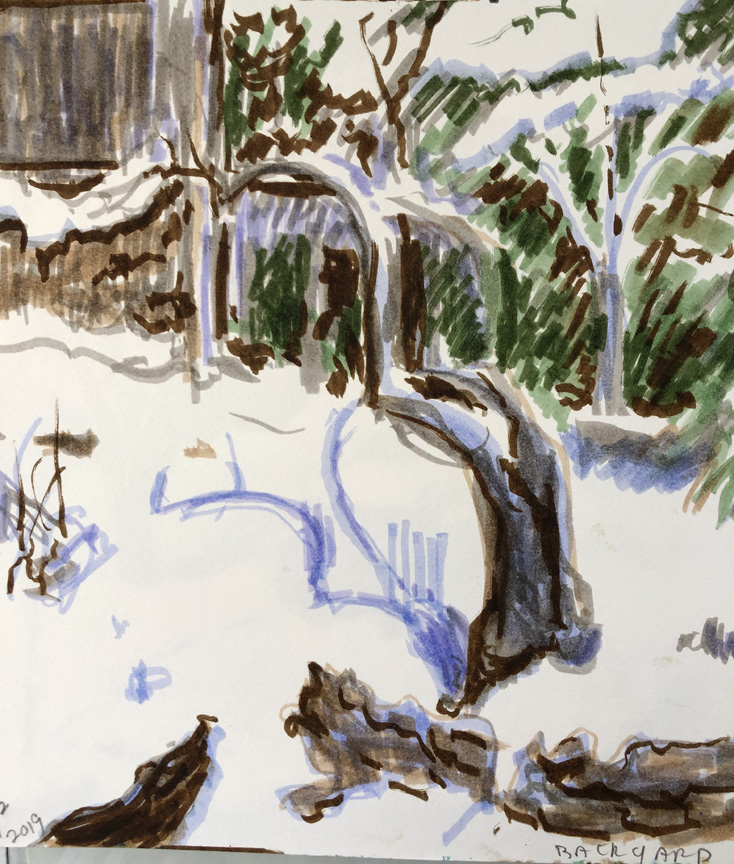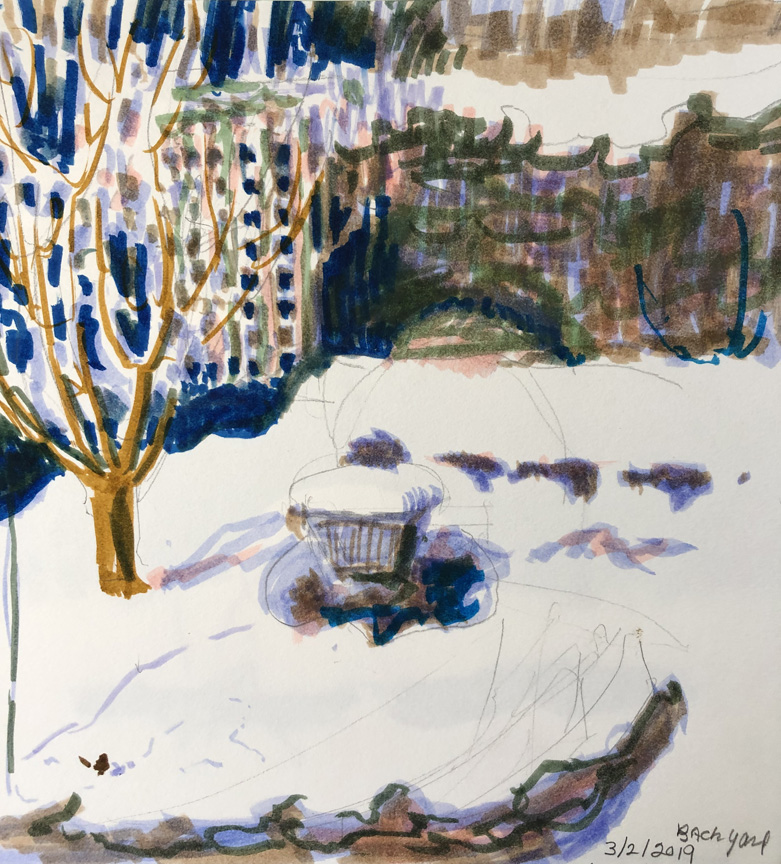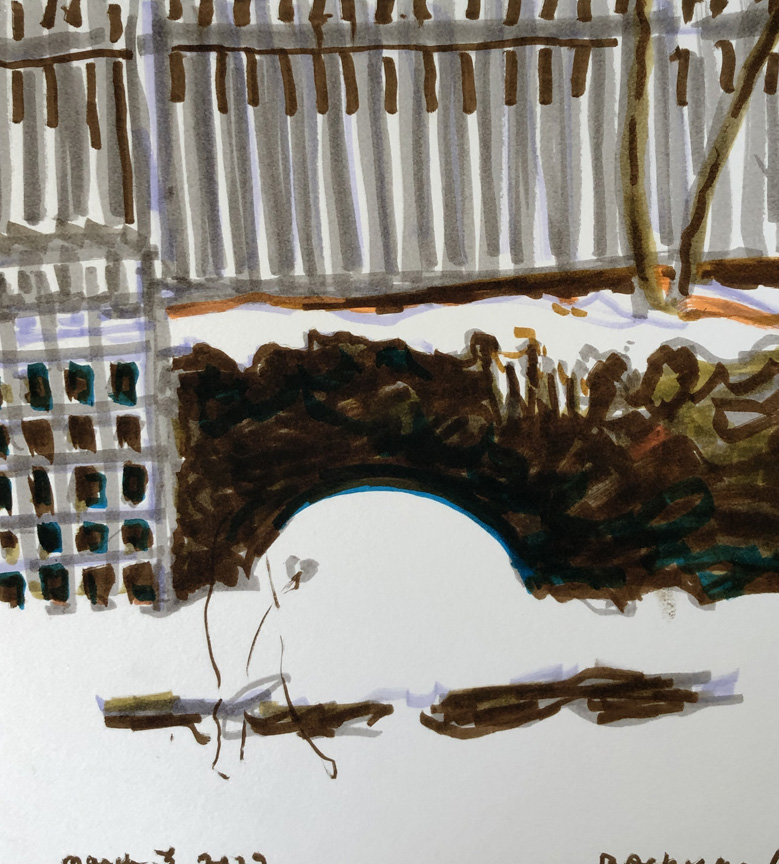 🎨 Our usual Tuesday sketching was derailed by a sudden down pouring of SNOW. So Ken sent out suggestions for drawing snow, and here's what people sent in: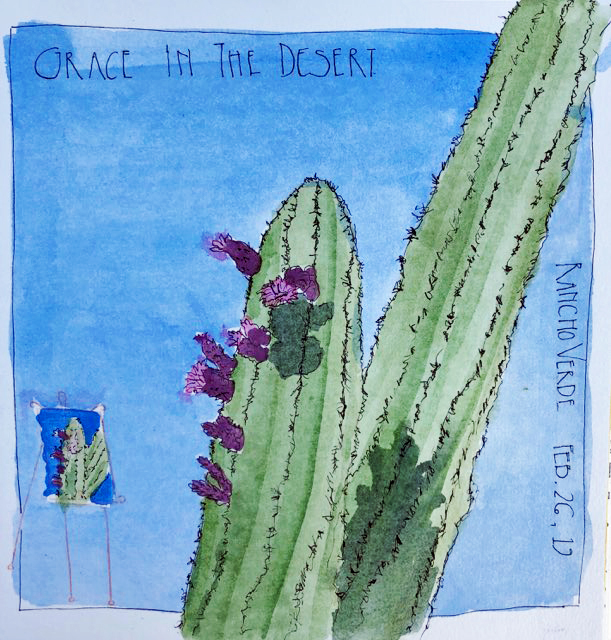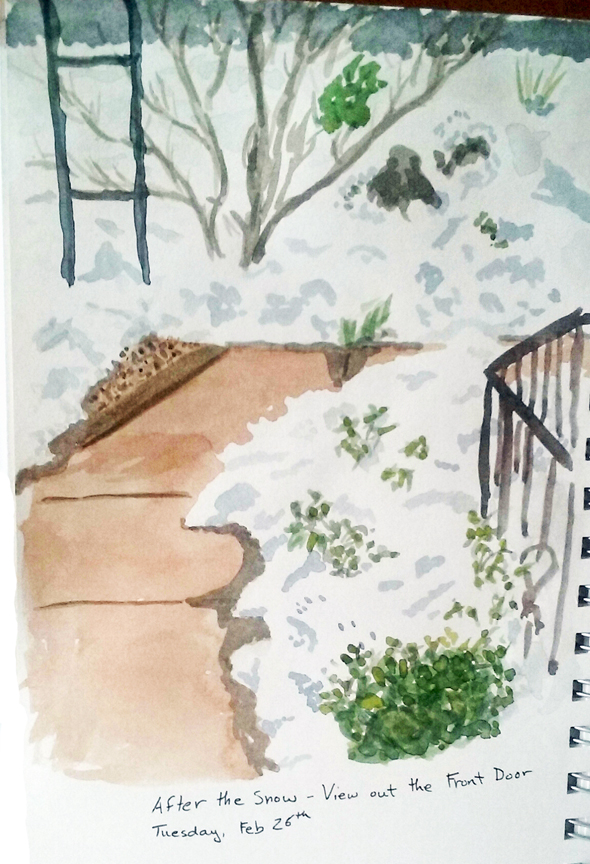 First from Katie, traveling; then from Daisy at home in the snow.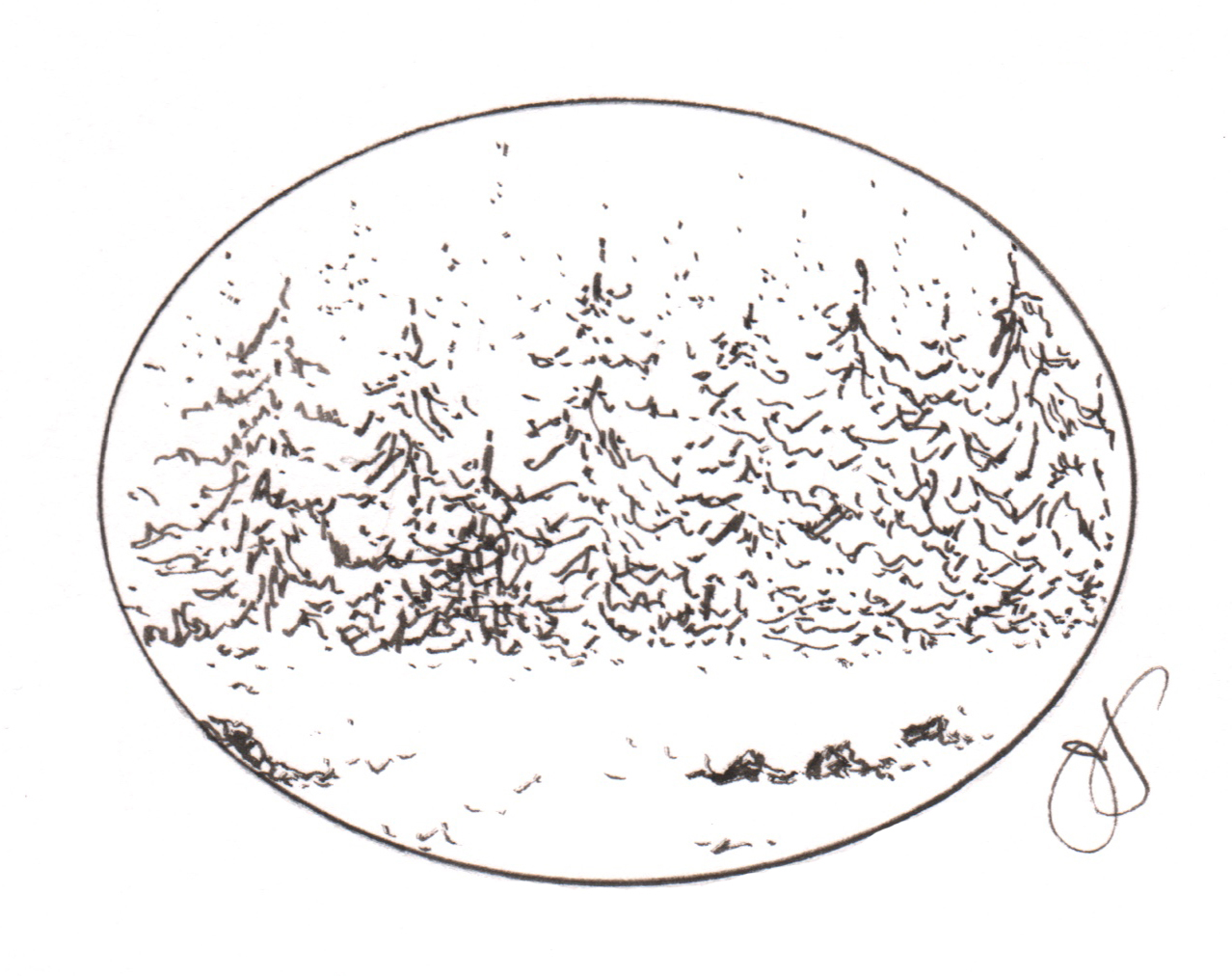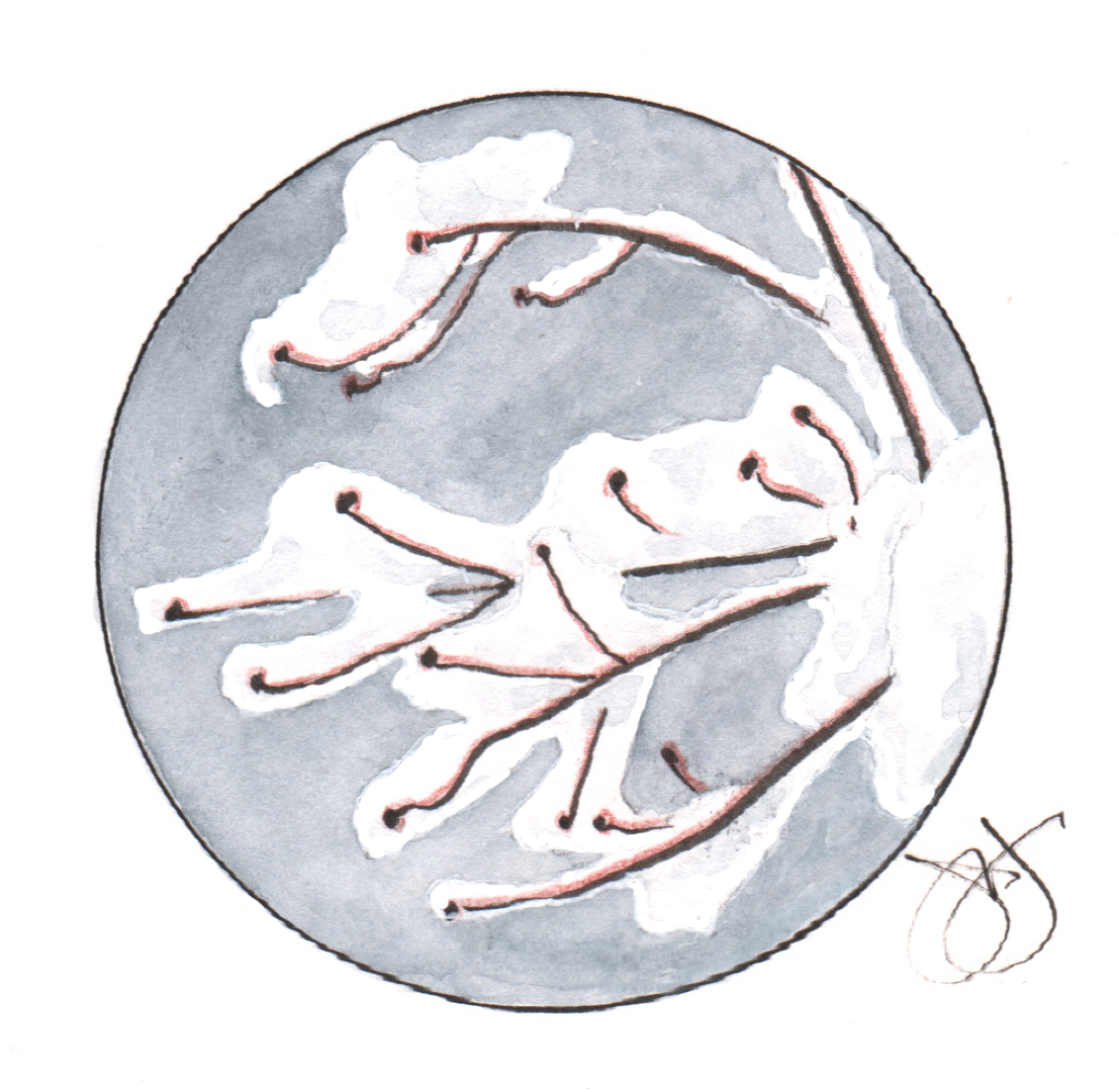 Then two from Jane looking out her windows at the wonderland.
🎨 This just in from Ken O'Connell in Taos: "Well I finally pulled out 24 colored pencils, 15 pens, and three brushes and decided less is more and drew with one medium ball point pen. The sun was very bright as it flashed off the snow this morning. Now that I see it smaller on my phone I see where I want to add some more darkness."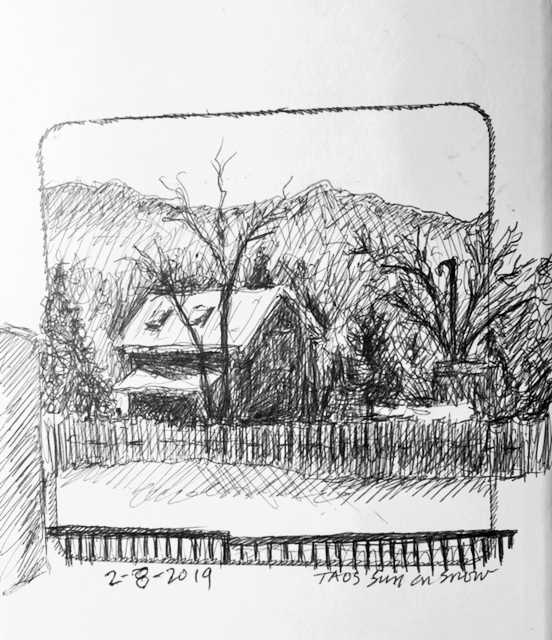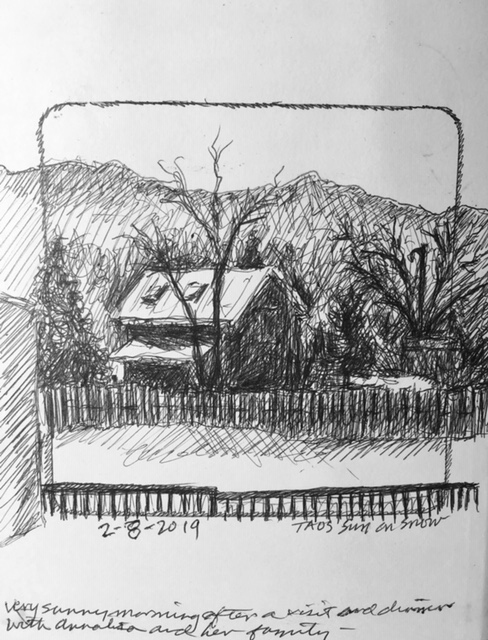 🎨 Katie Stocks is traveling to Cabo San Lucas, regaling us withsketches along the way: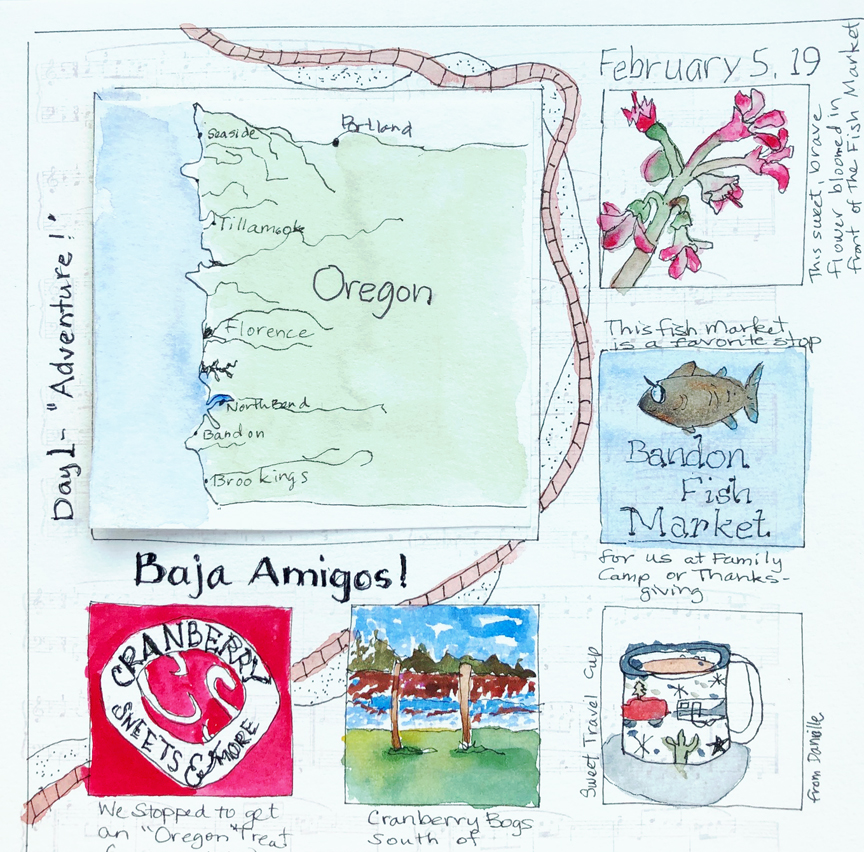 🎨 Our Canadian friend Roger Mitchell reports that it's -18C where he is, so there's less skiing and more sketching moments. This is his sketch from the wood pile:

🎨 Sean Smith has recently joined our group, but still has to work, so the evening of the day we went sketching, he did this at home:
🎨 Bill Kentta is vacationing in Mexico but hasn't forgotten about his sketch pals back home! He's added a sketch twist – drawing or quotes on pottery shards from the beach as found art!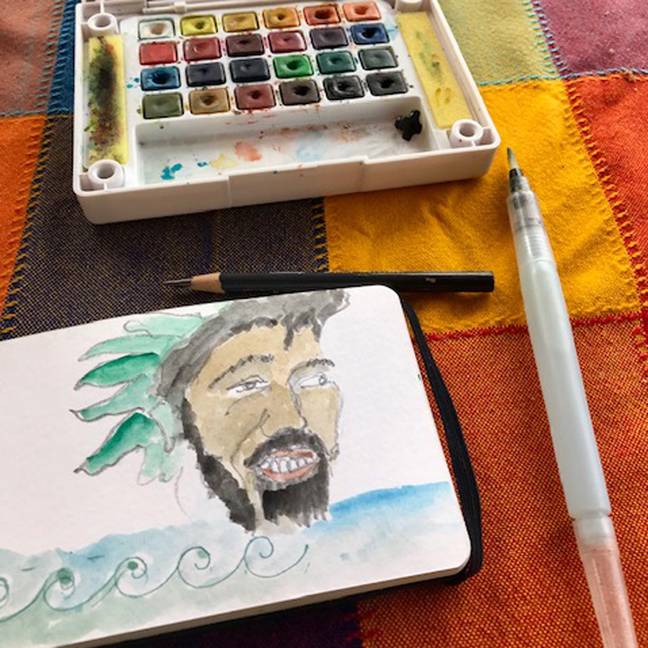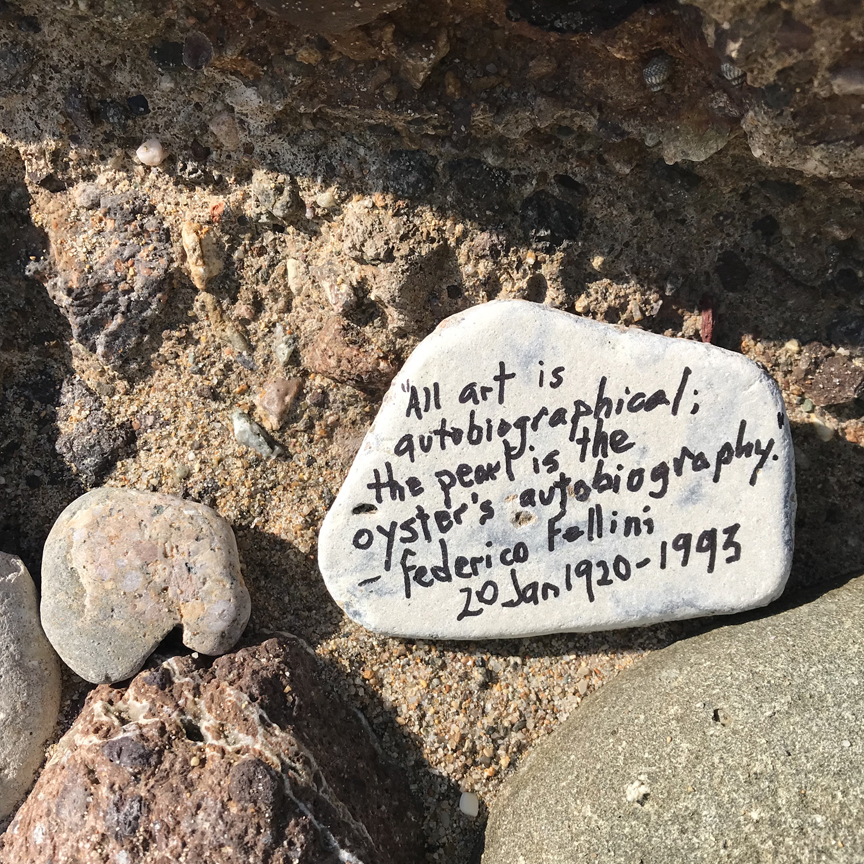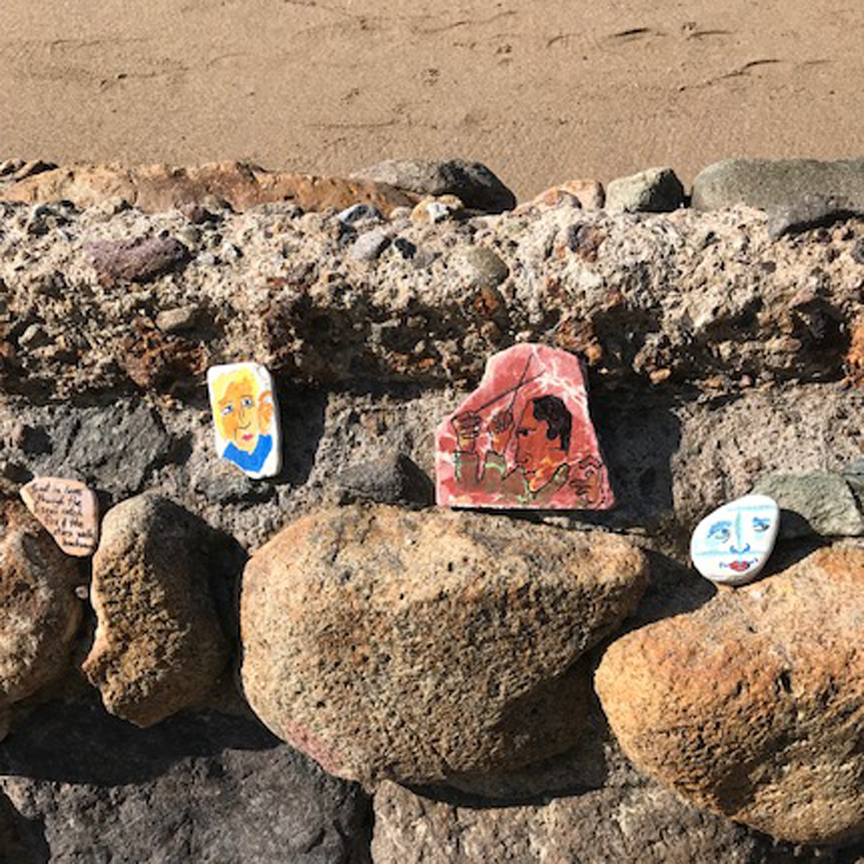 🎨 Roger Mitchell lives in Canada but connected with us on a sketch trip to Italy with Ken O'Connell. He's continued to sketch whether traveling or not. Below are his November 2018 sketches from Hawaii (makes you wish you were right there with him!).