We loved being at the newly renovated Friendly St. Market – open sheltered deck, pleasant surroundings, goodies nearby to sustain us.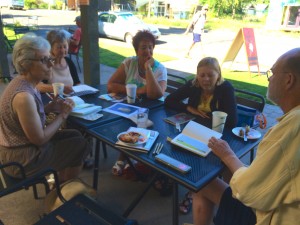 The early birds busy at the table: Barb Sommers, Heidi Sachet and her friend Renata, Barb Shirk, Erik Johnson (& Jane with camera).
As always, we began by looking at what people have been doing:
Barbara Shirk brought the invitation she did for the celebration of the shelter at the small dog park – her dog & Jane's are featured!
Heidi Sachet & Jane Harrison found sketching as a way to manage being at parties and gatherings – even ceiling lights were fair game!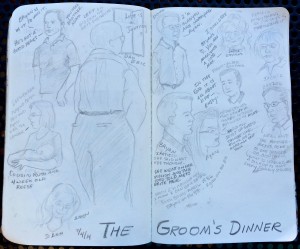 Barb Shirk did it, too, sketching participants at the Groom's Dinner.
Barbara Sommers had sketches from her back yard – so delightful!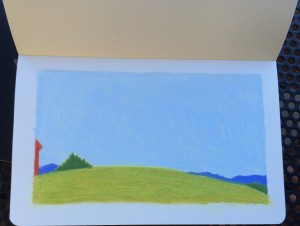 Erik's latest sketch in his unmistakeable color rich  style.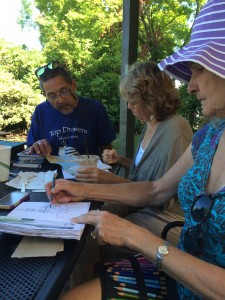 Then Hugh & Sandy Larkin showed up, and Penelope Youngfeather (who got to see Hugh's sketchbook from the Camino walk).
Hugh with a Camino sketch, and Sandy doing on a vineyard sketch.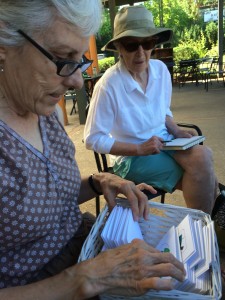 Jane brought sample of the cards she makes from her sketches, which Barbara Sommers looks through, with Jo Bogue-Hoffman.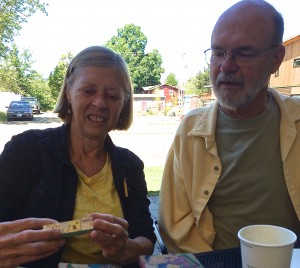 Barb Shirk shows Erik the folding blocks trick she developed to do changing vignettes from her last trip to Italy – we want a lesson!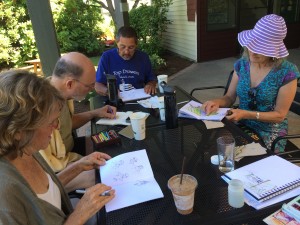 Then the stalwart folks got down to business.
Sandy put finishing touches on her vineyard, and Erik showed off his finished sketch of Sandy, sitting across from him.
Jane captured the deli wagon across the street, and Penelope captured all of us!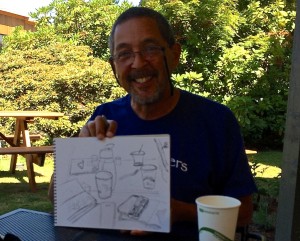 But Hugh topped it all off with a symbolic sketch of the group – whose artifact is whose? What a fun sketch.