Here we are (can you tell it's chilly? what a change!)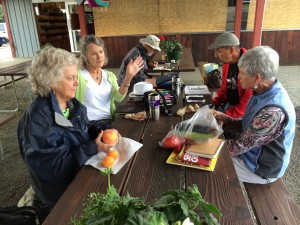 Barb A, Sandy, Erik, Hugh, Anne (Barb Shirk is off taking pictures of the goats, Jane's behind the camera).  And here's the view: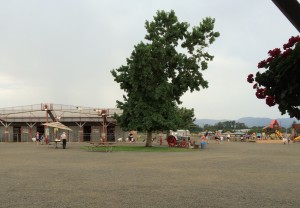 What you don't see is how the rain came thundering in, but you can see it in Erik's sketch at the bottom of this post.
Barb Shirk got up close to those goats – how to make them NOT look like her dog was her challenge, she said! Love those ears.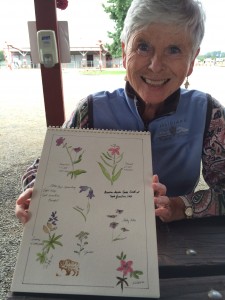 Anne shows her flowers from a sketching class she just finished at Yellowstone (our friend Suzie Garner was the teacher!).  Below she shares her landscape paintings with Sandy, Barb A, & Hugh.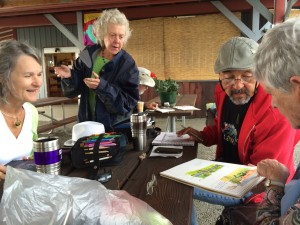 Sandy is continuing to work with her black toned paper – here with her Mondeluz colored pencils from Koh-i-noor (without water) – what a great effect!
Hugh finishes up a sketch of the view across the road, then adds watercolor to bring it to life.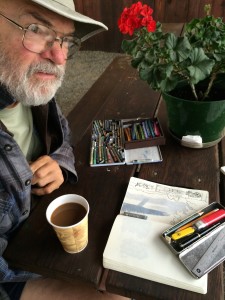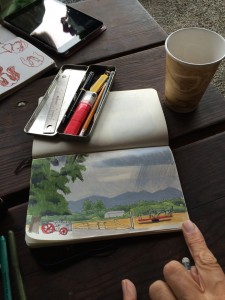 Erik keeps an eye out for the effect of the rain, and here's the nearly final version of his sketch – I'd say he got it!
Jane could't resist the aromatic strawberries (see her quick sketch above), and then Barb A. added two luscious apricots to the scene.
Barb stroked her water brush across the colored pencil sketch enriching the colors, while Sandy tried layers of color on hers. Hard to believe the little kid in the background was having ice cream – we were all grateful for sweaters, coats, & blankets!  And being together sketching, of course.